This straightforward sourdough bread recipe is a staple in our house. Made with sourdough starter, this naturally fermented bread has a fluffy, airy interior and crackly crisp crust. All the steps of making the bread are detailed out, as well as sourdough tips for beginners.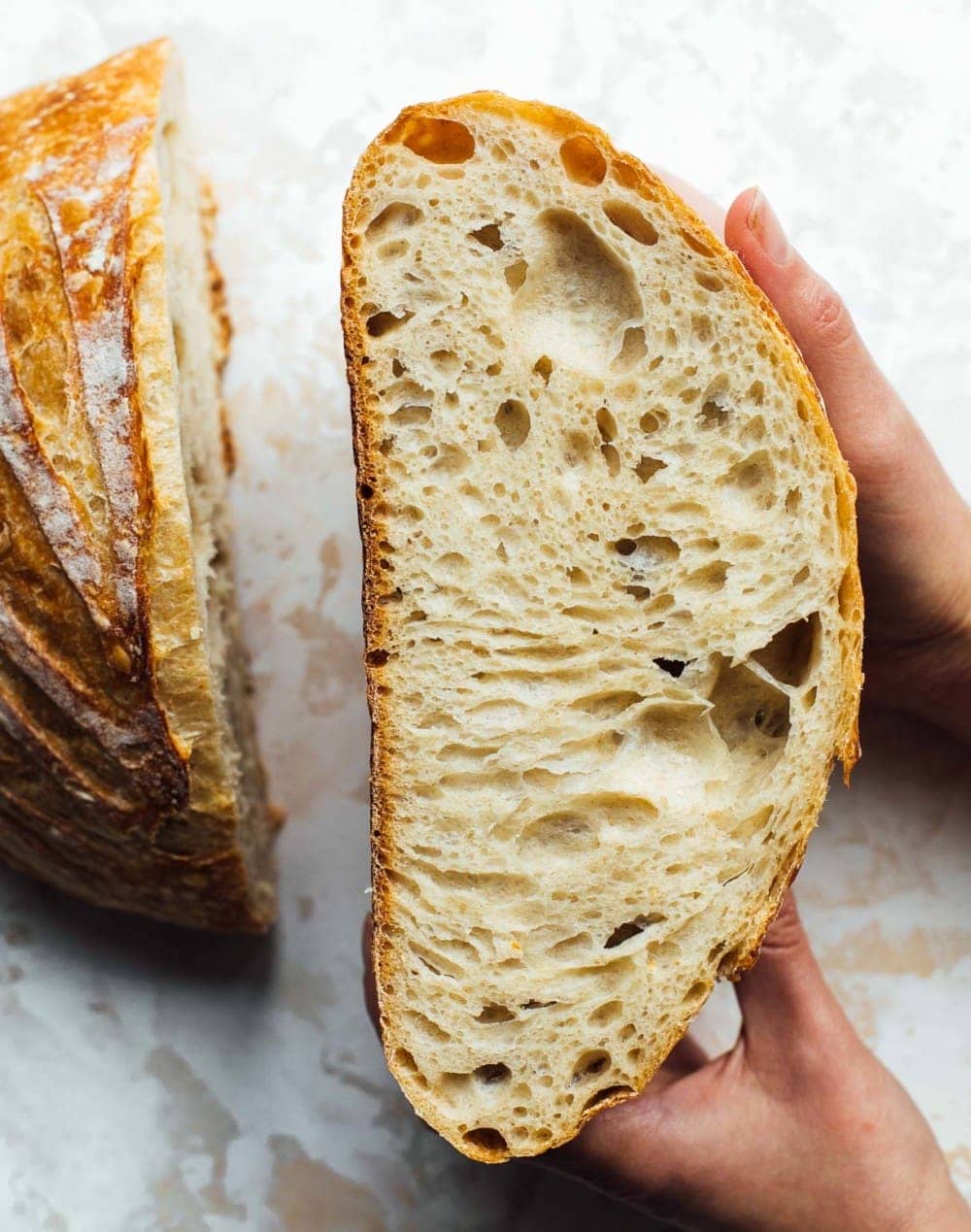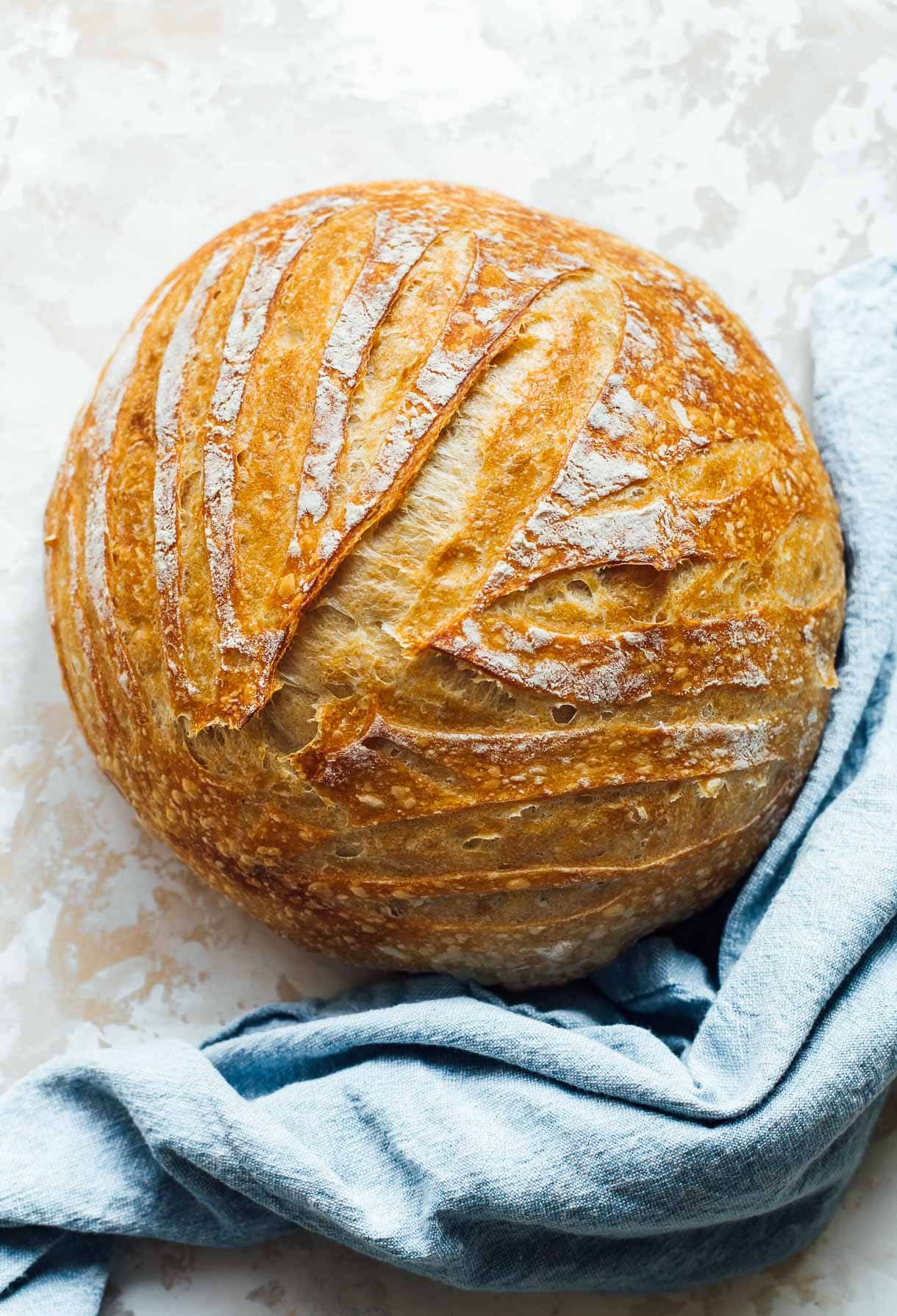 You know those recipes you know by heart and never have to look up? For me that's this basic sourdough bread recipe with starter, the one I make every week, that's completely achievable for beginners too. If you've been dreaming of fluffy, bouncy, true sourdough bread, you can make that happen in your own kitchen! I promise you.
Sourdough is all about learning by doing, and every time you get your hands in the dough, each step will make more sense.
I made my first sourdough loaf over 4 years ago, and I haven't stopped baking. In this post, I'll coach you through the basic steps and leave you with my favorite recipe. Then you can make your way to whole grain recipes, like my delicious rye sourdough.
This basic sourdough recipe is made from mostly bread flour, with just a small amount of whole wheat or whole grain flour to give it some additional flavor and color. This amount is super versatile depending on what flours you have in your pantry. I like to use einkhorn, spelt, red fife, or khorasan.
First things first: You're going to need an active sourdough starter. I suggest asking a friend who has lovingly fed and maintained their starter, to give you some of theirs. And you'll find it helpful to watch this Sourdough Starter video with my top 5 tips for beginners.
I also ship my 13+ year old starter to anyone in the U. S! You can order it here.
While you're getting started, this post with 5 Essential Sourdough Starter Tips for Beginners that I wrote may be helpful. It should answer many of your questions!
It's essential for your starter to be healthy and active, so that is has the ability to make your dough rise. If your sourdough has been in the refrigerator, take it out 2 days before you plan to bake and begin feeding it again.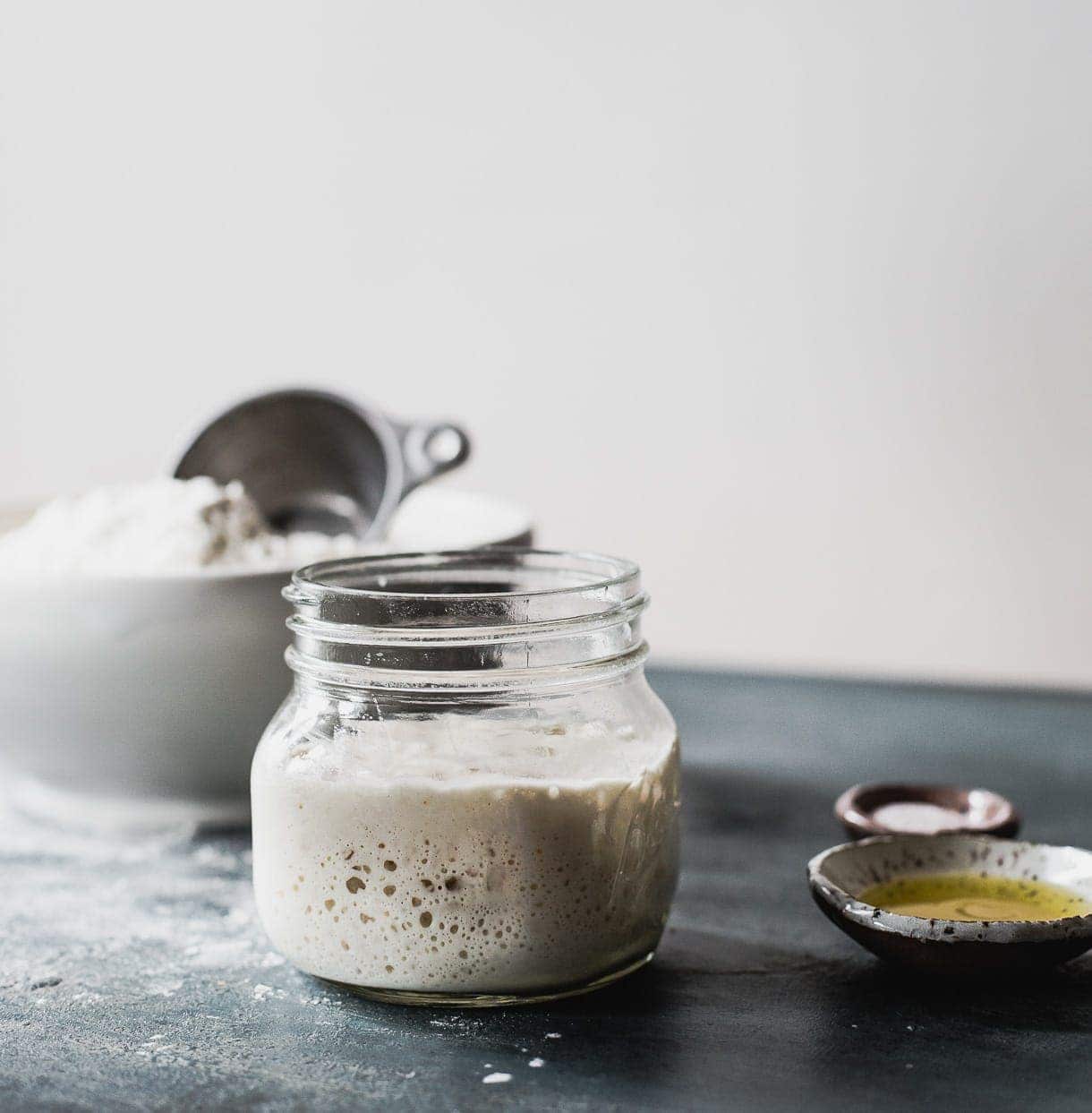 How do I know when my sourdough starter is ready to bake with?
The answer to this question comes from both experience and observing the starter behave, to understand how it reacts to feeding/not feeding, and temperature.
You can just look for these hints that the starter will give you!
a. It will have at least doubled in size. This will take place over 4-6 hours if the temperature in your house is around 70 degrees. If it's cooler in your house, it will take a bit longer. I put a rubberband around the jar, to mark the spot it's at right after feeding. Then, as time passes, you'll be able to keep track of how much it's rising.
b. You will see bubbles throughout the sides of the jar, and on top. The top will be a bit poofy and domed.
c. The float test is very helpful! When you think your starter is at it's peak, take a jar and fill with water. Then take a teaspoon of starter – you don't need a lot – and place it on top of the water. It it floats, you're ready to bake! If not, you'll need to wait or go through another feeding.
With the final rise, how do I know when my dough has risen properly and can be scored and into the oven for baking?
There's an easy test for this stage too, using a fingerprint. Gently press a floured thumb into your risen dough. You don't need to press down further than 3/4 inch.
If it indents and gradually releases, but still holds a finger shape, you're ready. If your fingerprint jumps right back up to flat, it needs more time to rise. If your fingerprint indents and doesn't bounce back at, it is overproofed. That's okay, just get it in the oven! It will still taste delicious, it will just not rise as well while baking
Once your sourdough starter is ready to bake with, here are the essential steps for baking. You can watch this step-by step tutorial of me making this sourdough bread recipe to help you as well.
Mix the dough, until shaggy.
Let dough sit, covered with a cloth, for a half-hour to an hour. This is referred to as the autolyse, which allows the flour to absorb the water, and the gluten strands to develop.
You can also complete the bulk ferment overnight in the refrigerator. The fermentation will not stop, but the cold temperature will effectively slow it down. This is also a way to get more of a sour flavor. If you do your bulk ferment this way, leave it on the counter for one hour before putting in the fridge so some activity can get started. Then cover bowl with a damp cloth. If you have a plastic bag of any kind, like shopping bag, covering the bowl and cloth with this will help ensure moisture stays in better, but not completely necessary.
Then, BAKE in a dutch oven, and await your golden loaf of sourdough!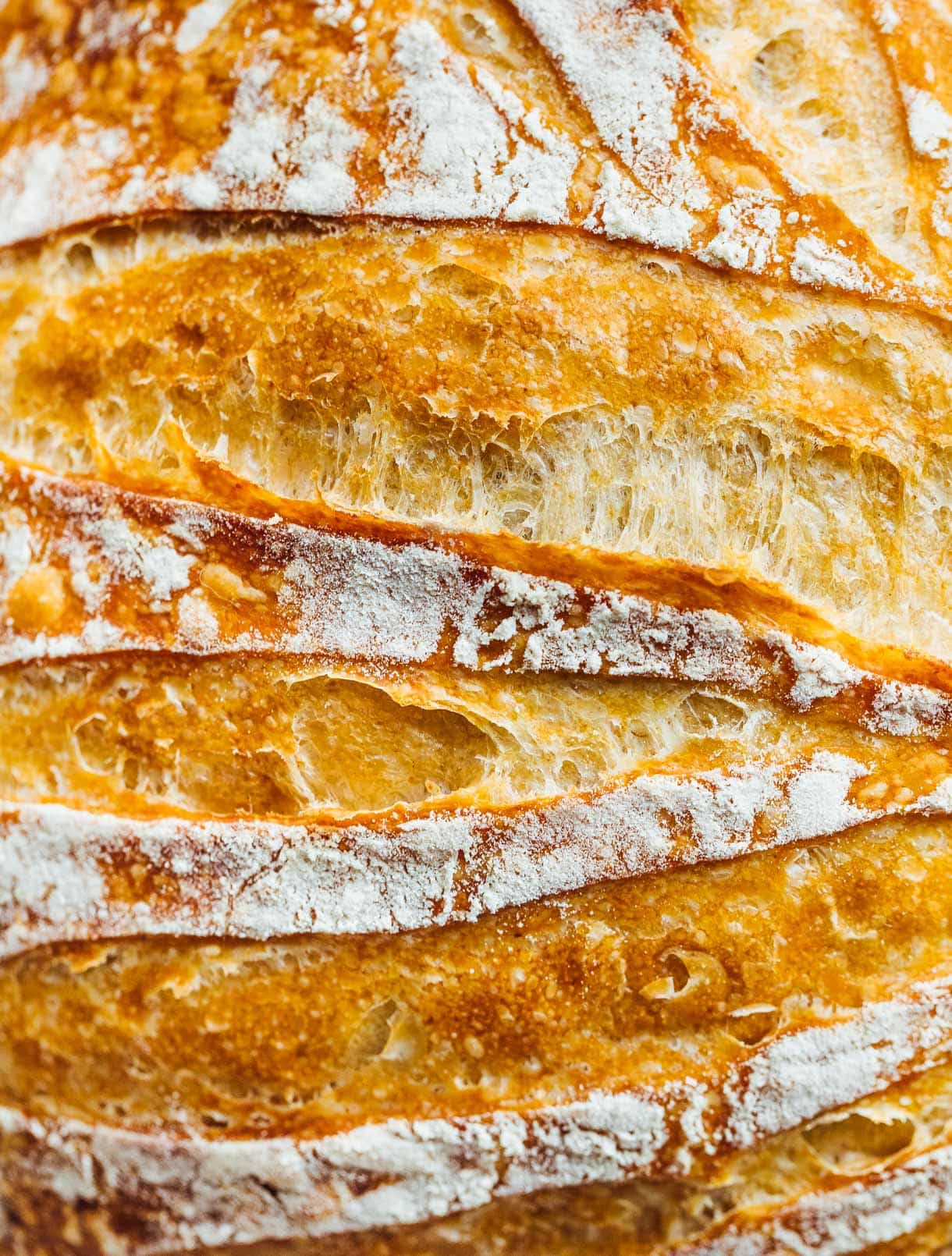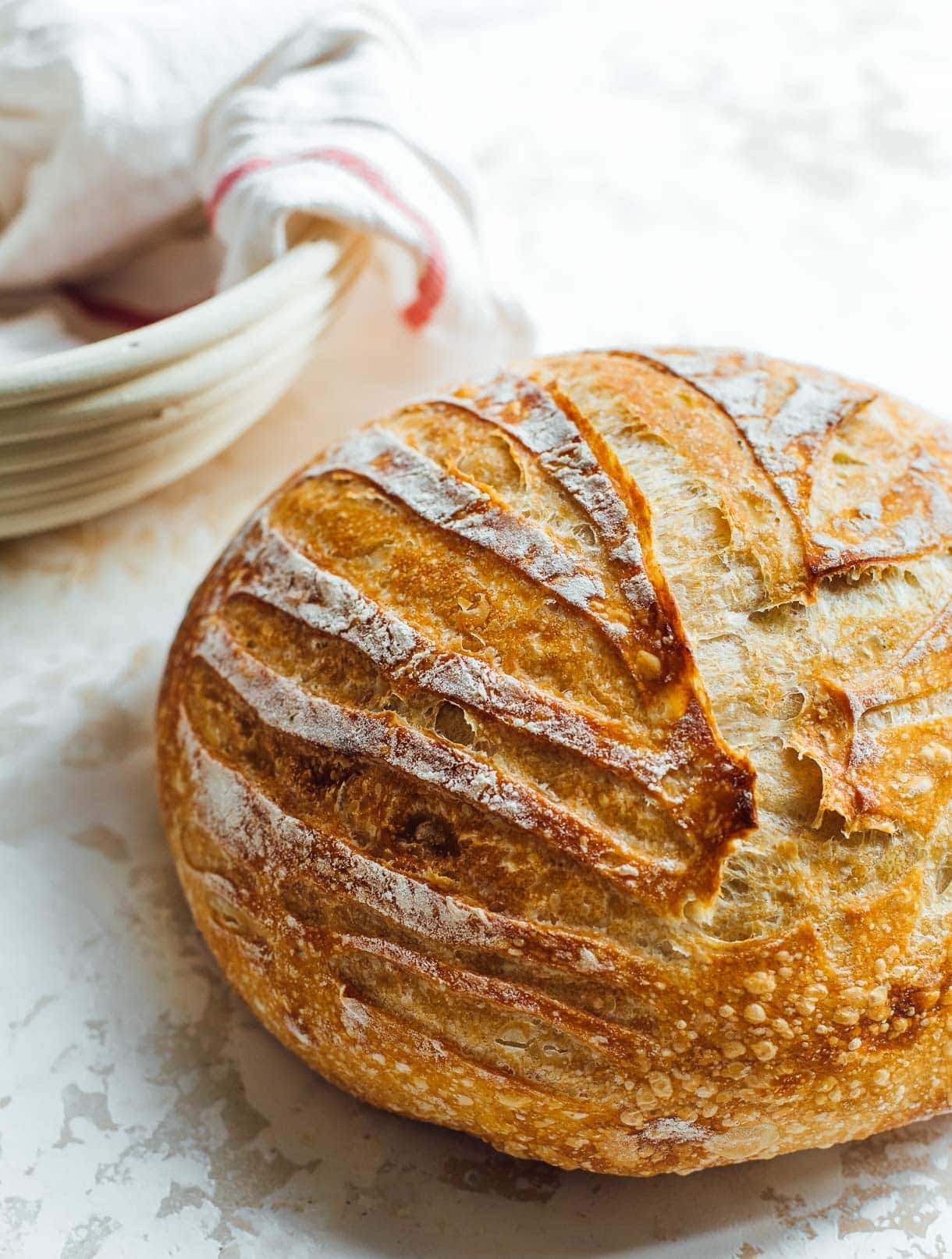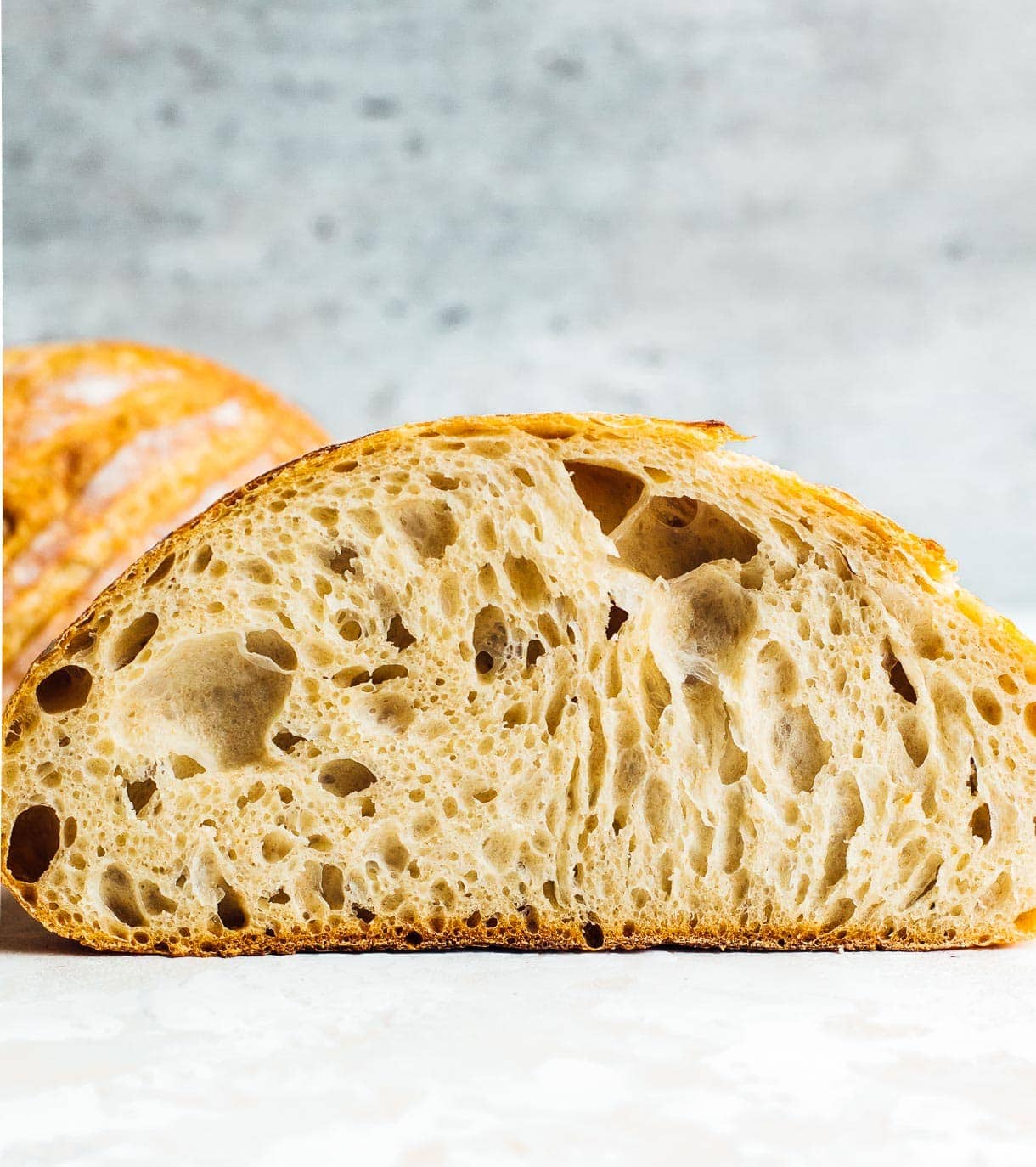 This recipe is an adaptation from many recipes and techniques I've tried, starting first with Artisan Sourdough Made Simple, The Perfect Loaf, then Tartine, Bake With Jack, and the list goes on. You'll find what works best for you over time, as well.
And the beauty of sourdough is that no bake with ever be exactly the same as the last, because you're working with an amazing living culture!
Feel free to ask me any questions you might have, or reference some of my other sourdough resources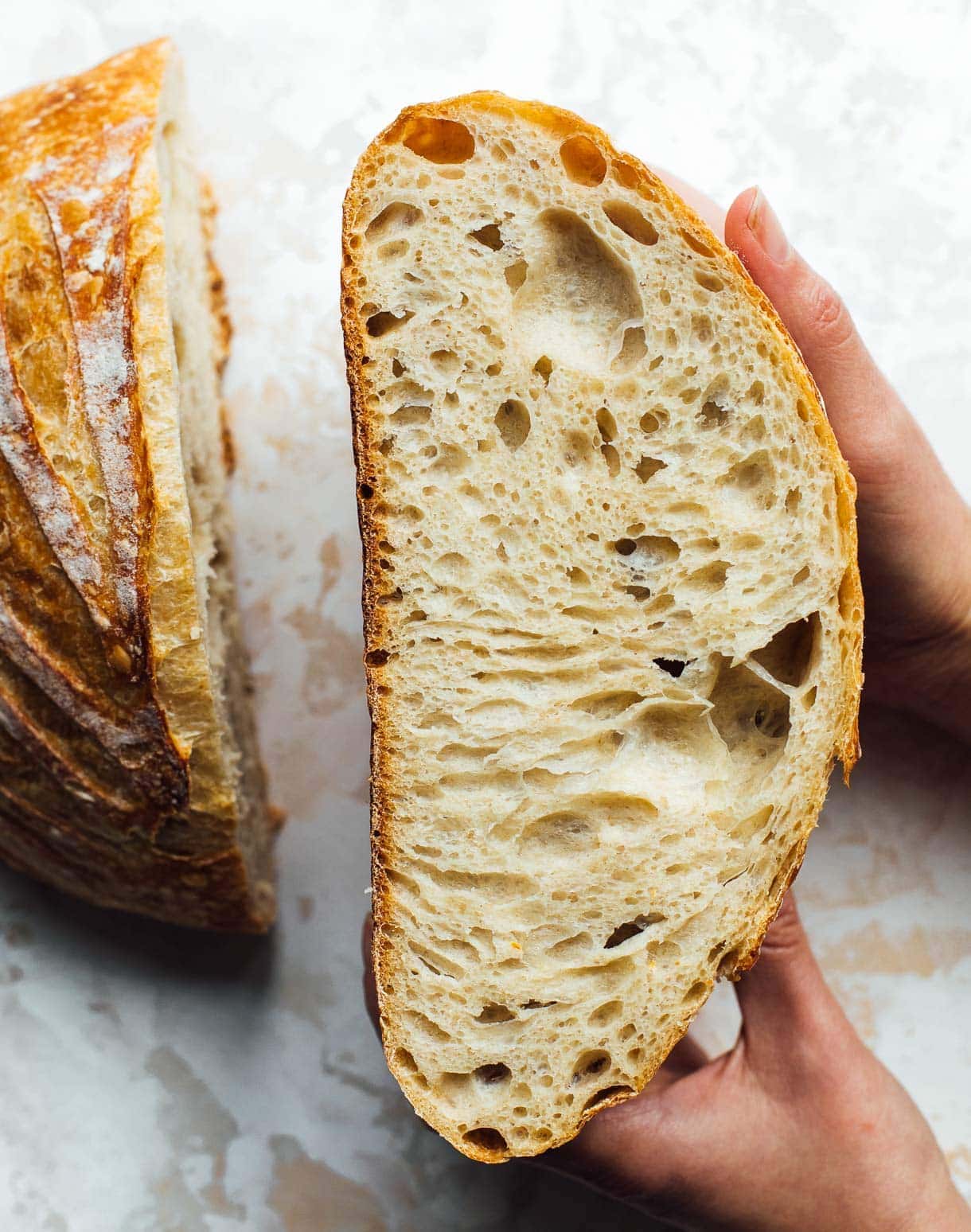 A naturally fermented sourdough bread that has a fluffy interior and golden brown crust. This is a great recipe for sourdough beginners, and walks you through the entire process of making a basic sourdough bread.
Prep Time :
Cook Time :
Additional Time :
Total Time :
active sourdough starter
organic bread flour
organic whole wheat flour of any type – traditional whole wheat einkhorn, red fife, spelt, khorasan
fine sea salt
In a large bowl, mix starter and water with a fork, until starter is dispersed.
Add flours and salt, mixing with a spatula first. Then with your hand until a shaggy dough is formed, just enough so that flour is not visible.
Cover with a damp cloth and let sit for 30 minutes to an hour.
Once rested, liberally knead the dough for one minute. Then perform your 1st of stretch and folds. Let rest for 30 minutes. Then perform your 2nd set. Let rest for 30 minutes. Then perform your 3rd set. Let rest for 30 minutes. Then perform your 4th and final set. 4 sets of stretch and folds, 30 minutes apart. Here is a video of how to do a stretch and fold. It is easy!
Once shaped, use a bench scraper to put the dough into a banneton (proofing basket) that has been liberally dusted with rice flour, seam side of the dough facing up (so the top of the dough is what is touching the bottom of banneton) when it is placed in banneton.
Once your dough has gone through its final rise and has risen slightly and is puffy on top, preheat your oven to 450 degrees F. You can test to see if your dough is ready by doing gently pressing a floured thumb into the dough. If it indents and gradually releases, but still holds a finger shape, you're ready! If you press your finger in and the indent doesn't move or release, that means it is overproofed (but still bake it!). If your fingerprint jumps right back up to flat, your dough is underproofed (but still bake it!). Let it ferment in half hour more increments, until ready.
Wait until oven is preheated, then place parchment over the top of your dough and flip over, so that the seam side is now on the parchment paper and you are able to score the top of the dough.
Score the dough with a bread lame, making sure to go at least 1/2 inch deep in a few spots so that dough can release gases. Otherwise your bread will not rise.
Place dough on parchment paper into a dutch oven, and put cover on it. Bake for 20 minutes, covered at 450 degrees F. Then remove cover, and bake for 25 more minutes, until bread is golden brown and crackly.
Remove from oven and place load on a cooling rack. Let cool for AT LEAST ONE HOUR before slicing. Otherwise the crumb will be squished and the texture will be gummy.
Today, I'm going to show you over 35 different sourdough bread ideas. This way you don't get stuck with the same old homemade sourdough bread recipe over and over again. From savory to sweet recipes, breakfast ideas, and even some ways to use old, or not so great bread.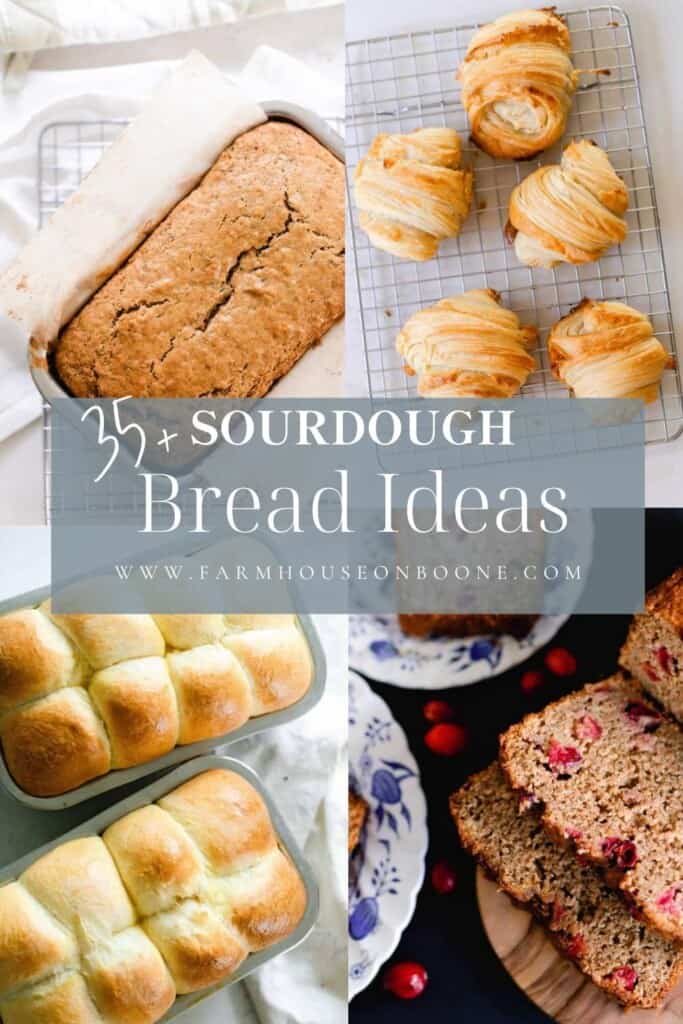 Who doesn't love good sourdough bread? I'm convinced that once someone switches to sourdough it is really hard to go back to regular ol' bread.
Conventional wheat bread just lacks so much flavor, especially when compared to sourdough. The wild yeast present in the sourdough starter adds so much flavor and complexity to a typically bland product.
As you may know, we love sourdough bread in this house and not just because it's delicious, but also because it is much healthier. You'll frequently find bowls or baskets full of some type of creation fermenting on the counter.
There are a lot of mouths to feed around here and I love being able to add a healthy carb to our meals to keep our bellies full and our energy stable.
FAQ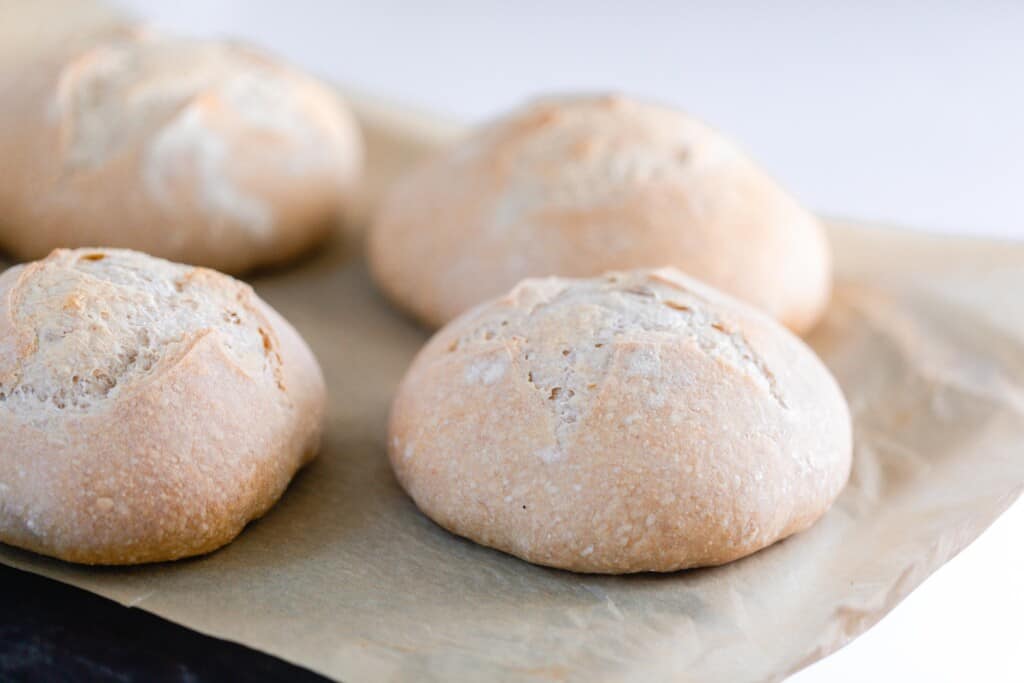 What goes good on sourdough bread?
Butter – To take the flavor up a notch, try this herb butter.
Cheese – Really any cheese you like.
Avocado – You can also add a fried egg for a really delicious breakfast, lunch, or brunch.
Bruschetta with fresh mozzarella
Garlic – I love making sourdough garlic bread.
Jam – I love this simple strawberry jam.
Peanut butter or any nut butter you prefer.
Pizza bread: Growing up my mom would make this all the time. Take a loaf of French bread, slice it in half long ways then top it with sauce, cheese, and your favorite toppings. Bake until the cheese is nice and melted.
What can I do with a loaf of sourdough bread?
There are so many things to be done with a humble loaf of sourdough bread. You can make sandwiches, use it to dip into runny egg yolks, turn it into French toast casserole, or bread budding, croutons, bread crumbs, stuffing, and more.
Is sourdough bread healthier than regular?
Yes. Sourdough bread is made with sourdough starter that contains natural yeast and bacteria from the air. Once the starter is combined with flour and allowed to rest, the fermentation process breaks down some of the gluten and phytic acid that is present in the flour. Not only does this make the flour more digestible, it also makes the nutrients more bioavailable.
Phytic acid is an anti-nutrient that binds up vitamins and minerals and doesn't allow the body to absorb them as well. Breaking down the phytic acid allows our bodies to absorb the nutrients present in the grain.
What can I do with hard sourdough bread?
My favorite option is to create something delicious with your hard, leftover sourdough bread, or a loaf that didn't rise well. For instance, you can easily chop up the bread to create french toast casserole, bread pudding, sourdough croutons, sourdough stuffing, sourdough breadcrumbs, or breakfast strata. In these recipes, hard or stale bread is soaked into a liquid making it soft and delicious again.
Is sourdough bread fattening?
Sourdough is a healthy bread option. It is full of probiotics, fiber, vitamins, minerals, all while having a lower glycemic index (aka it doesn't spike blood sugar as much as regular bread).
This post contains affiliate links, which means I make a small commission at no extra cost to you. See my full disclosure here.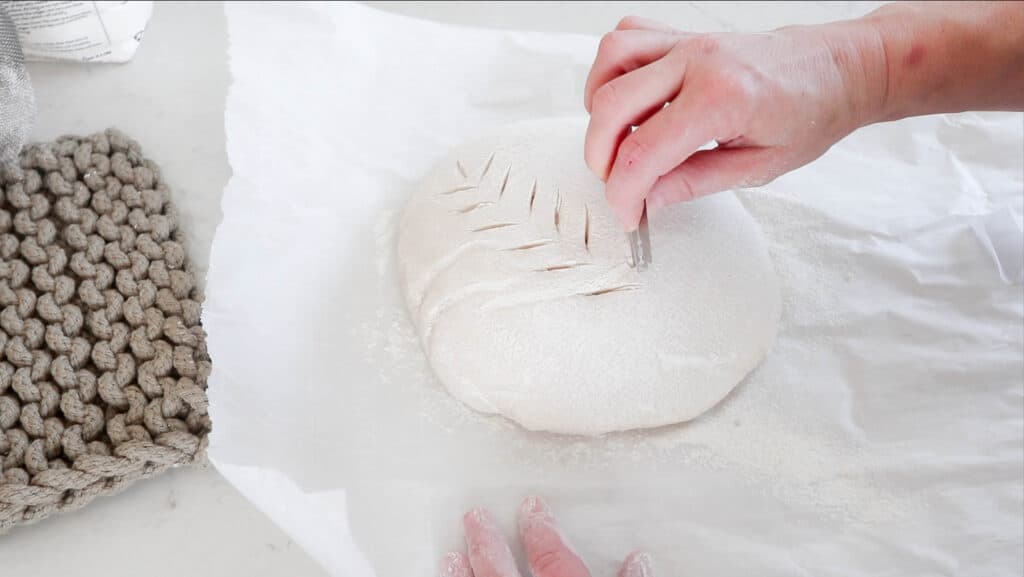 Dutch oven or loaf pans
Lame or a razor blade
Stand mixer with dough hook
Banneton Basket and bench scraper
Sourdough Bread Ideas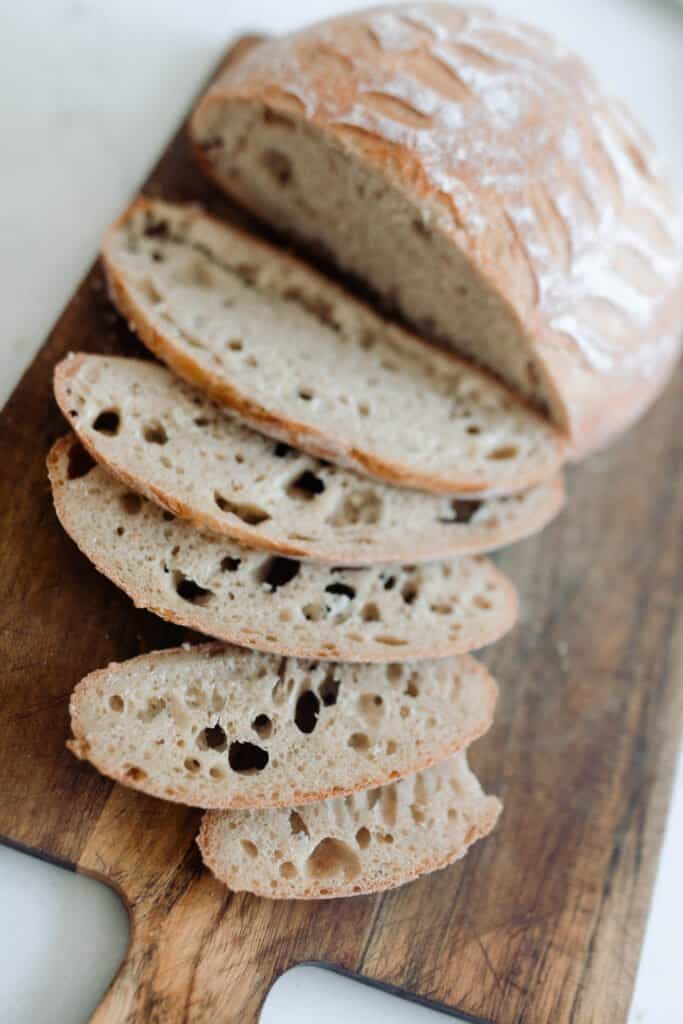 No-Knead Sourdough Bread
This is my go-to crusty sourdough bread recipe. It is a crusty bread that utilizes the stretch and fold method (rather than kneading). It has a delightfully soft texture and a deliciously tangy flavor.
Sourdough Bread Bowls
Just like the bread bowls you would buy from a restaurant, but risen with wild yeast. This recipe is the perfect vessel for your favorite soup.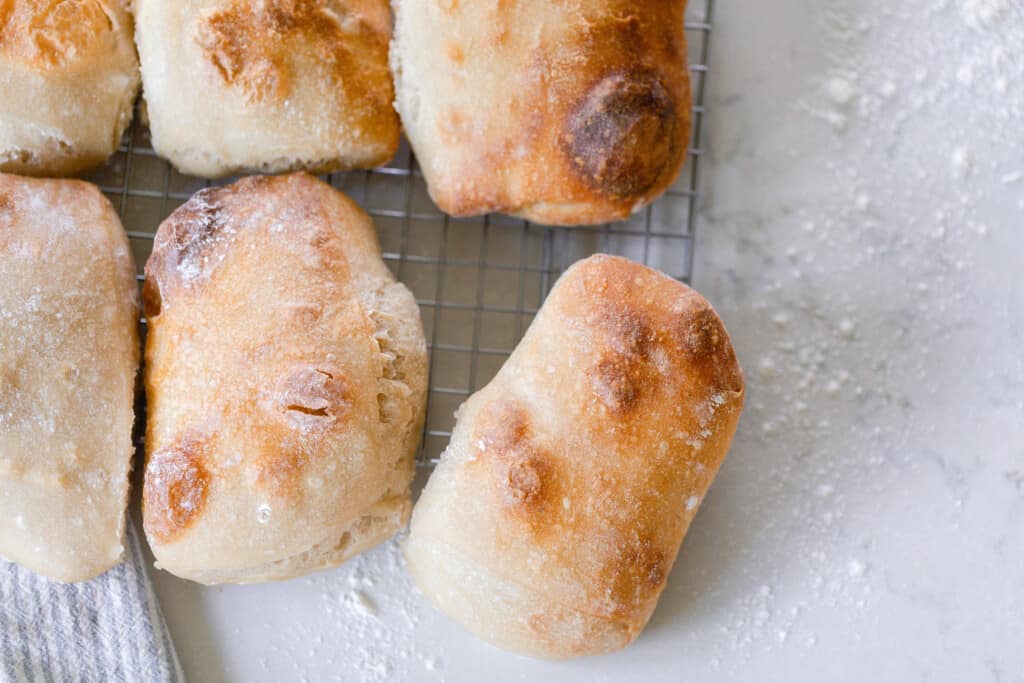 Sourdough Ciabatta Bread
Talk about deliciously addicting and chewy! This ciabatta bread is one of our absolute favorites. Dip in oil as an appetizer, or use this bread for your next sandwich lunch.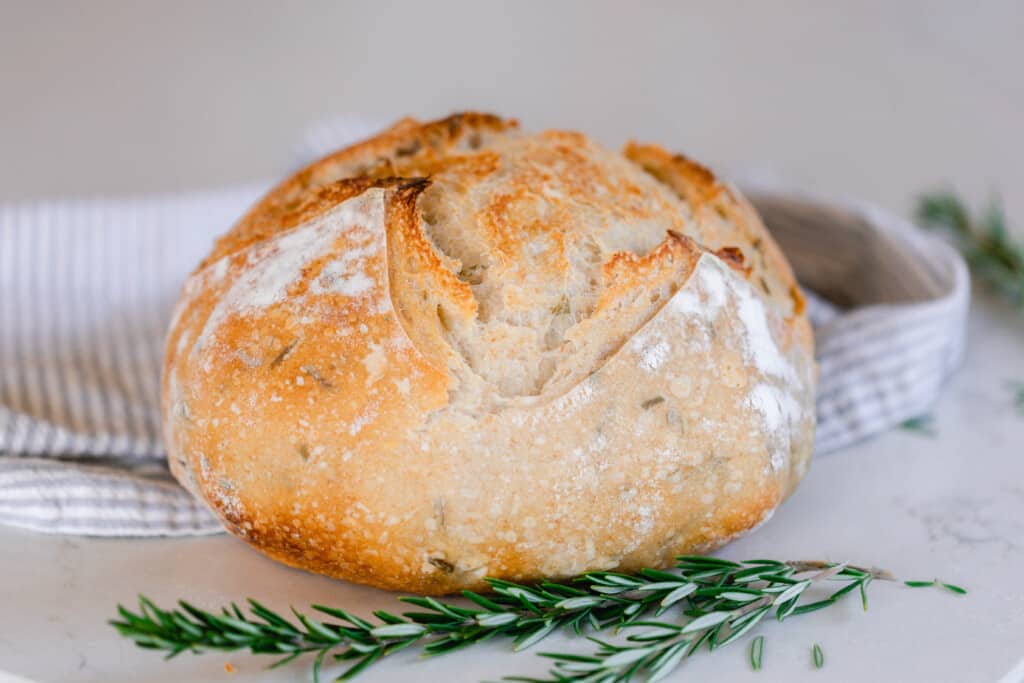 Rosemary Sourdough Bread
Crusty on the outside and chewy on the inside with lovely notes of rosemary flavor. I took my favorite sourdough bread recipe and added fresh sprigs of rosemary to make it oh so yummy.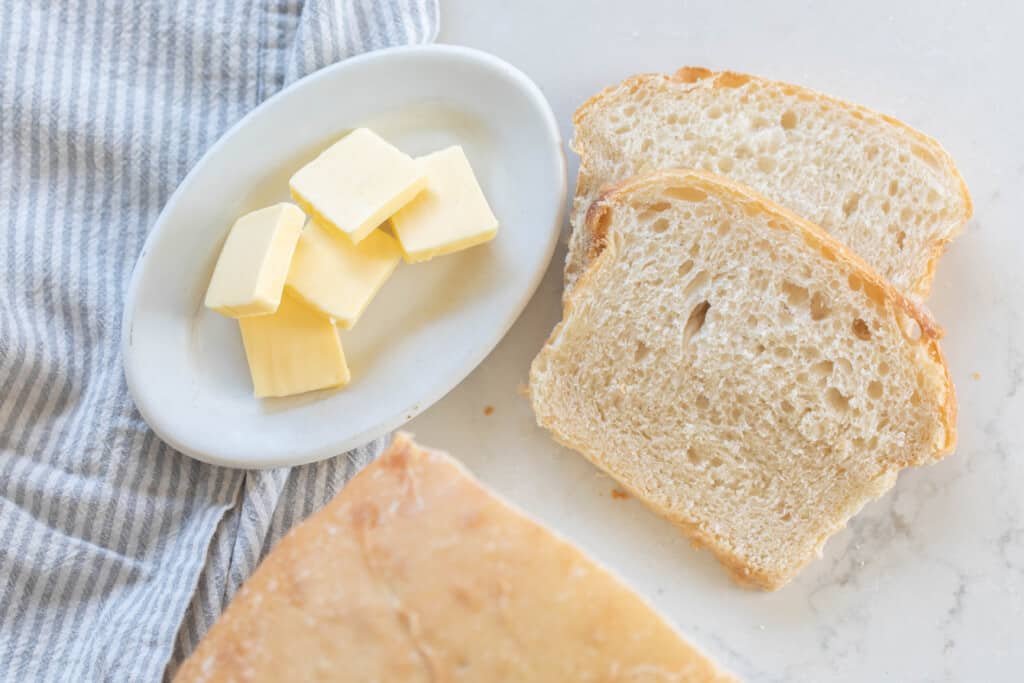 Sourdough Potato Bread
Seriously soft and delicious, with a fluffy inside and crispy outside. If you have left over baked or mashed potatoes, you need to keep this recipe in your pocket.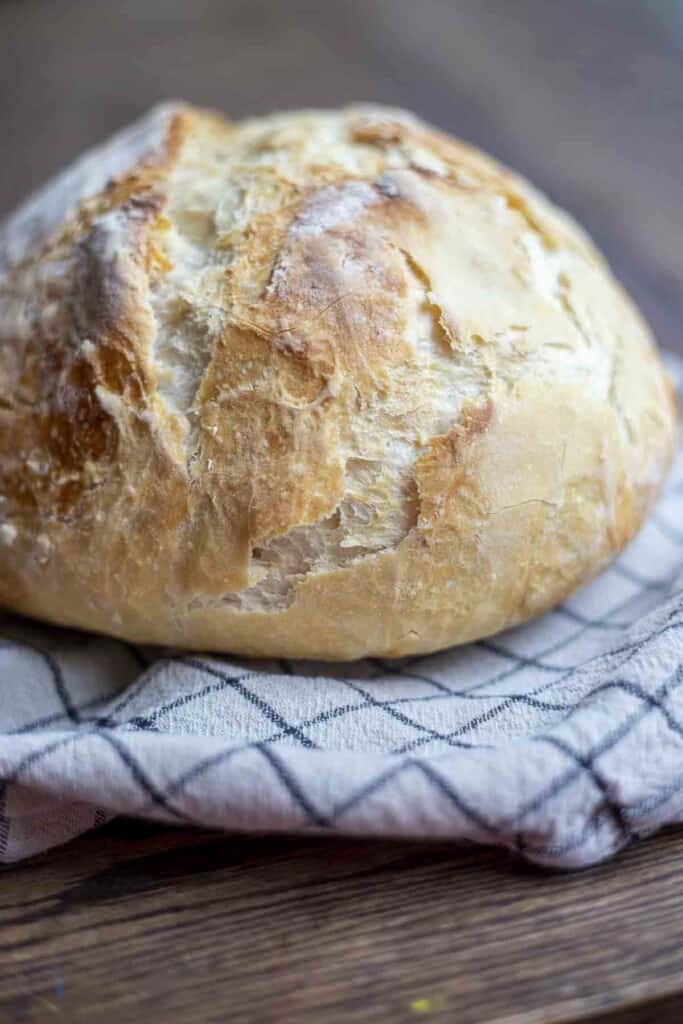 The Easiest No-Knead Sourdough Discard Bread
An easy way to use sourdough discard! This no-knead sourdough discard bread can be whipped up in just a few hours. It is fluffy on the inside and crunchy on the outside. This recipe utilizes commercial yeast.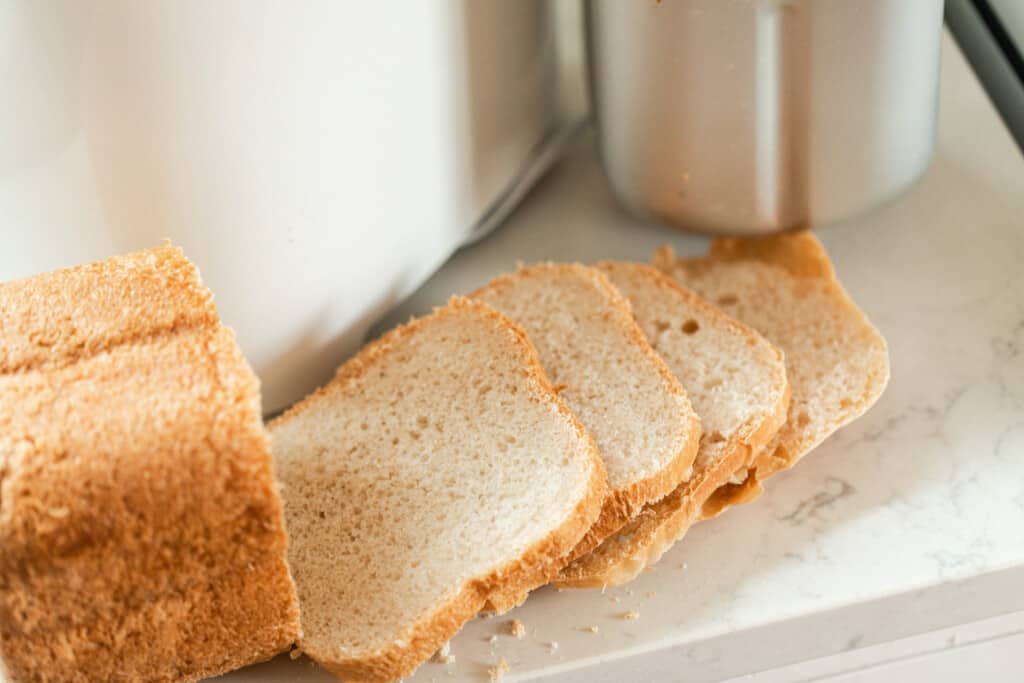 Bread Machine Sourdough Bread Recipe
This recipe is super easy. The bread machine does all the work, and you get to enjoy soft, butter bread without any hassle.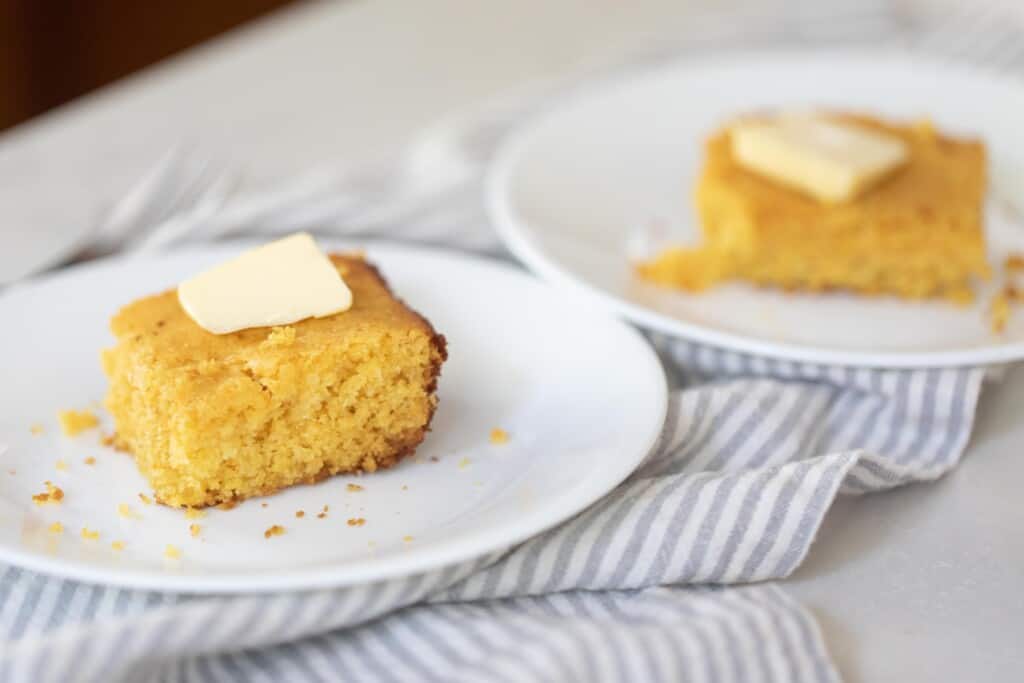 Sourdough Cornbread
Sourdough cornbread that can be fermented overnight or made into a quick recipe . The perfect combination of savory and sweet, with a hint of tanginess.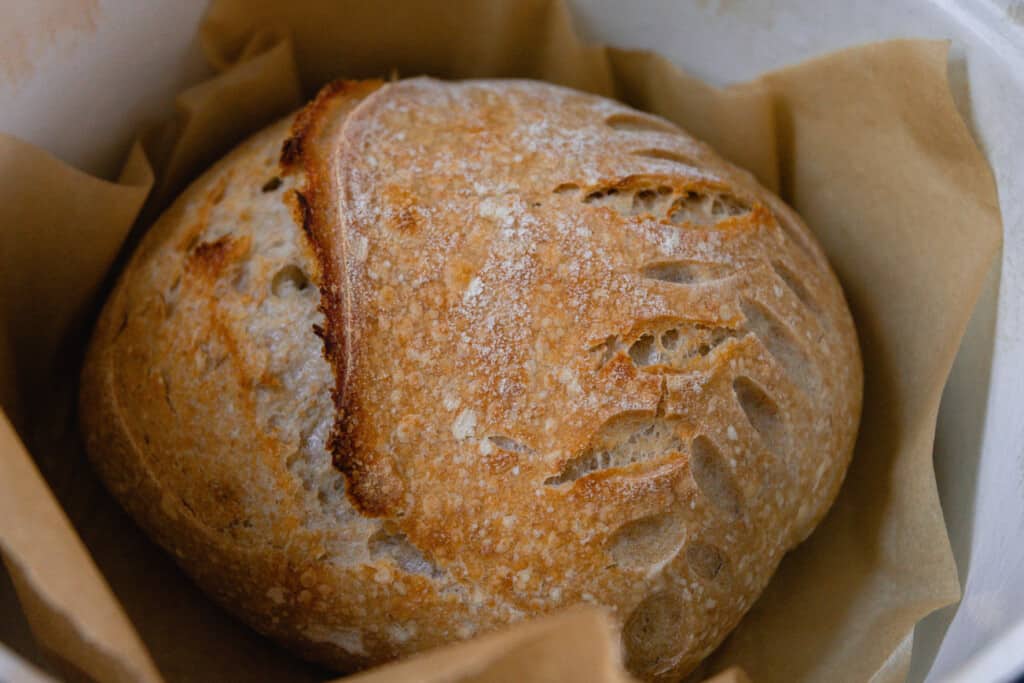 Spelt Sourdough Bread
A wonderful crusty exterior and chewy crumb, this no-knead bread starts with ancient spelt and is super easy to make.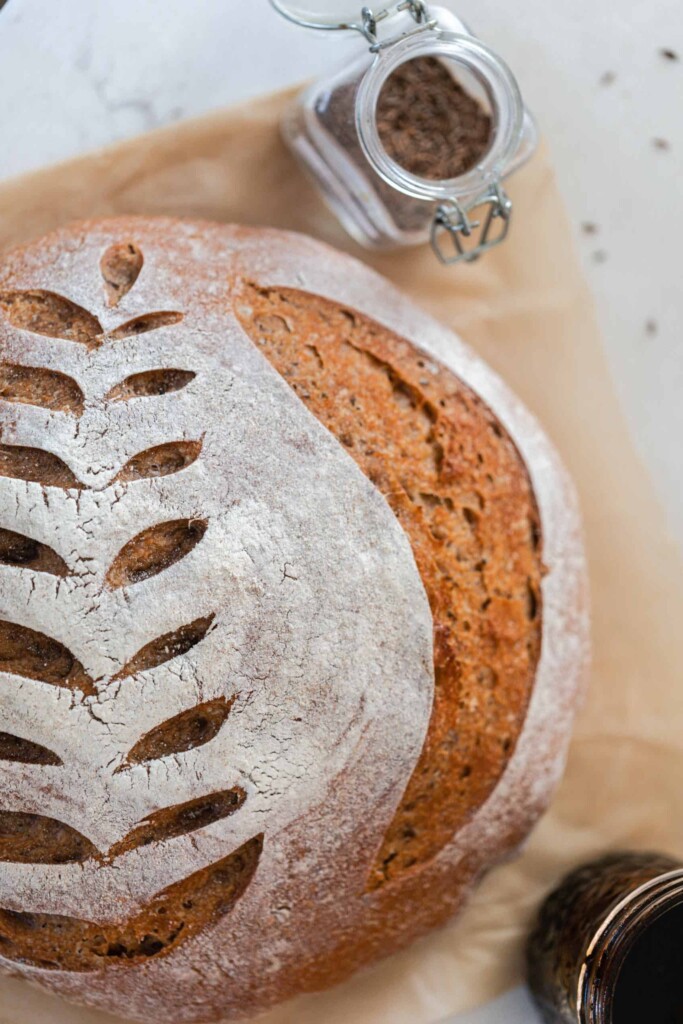 Sourdough Rye Bread
This recipe takes the complex flavors of rye and ferments it to make the yummiest crusty bread. Perfect for bread recipes for sandwiches.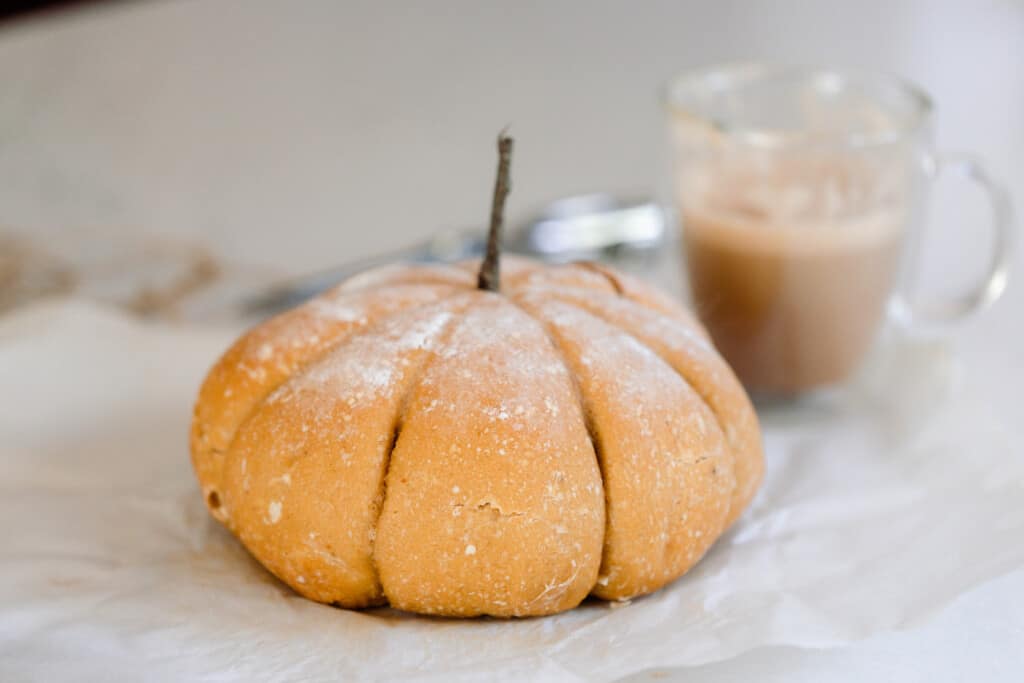 Pumpkin Sourdough Bread
This is not your typical bread. It is fun, pumpkin-shaped, and a little sweet with a little pumpkin spice. Super impressive and whimsical.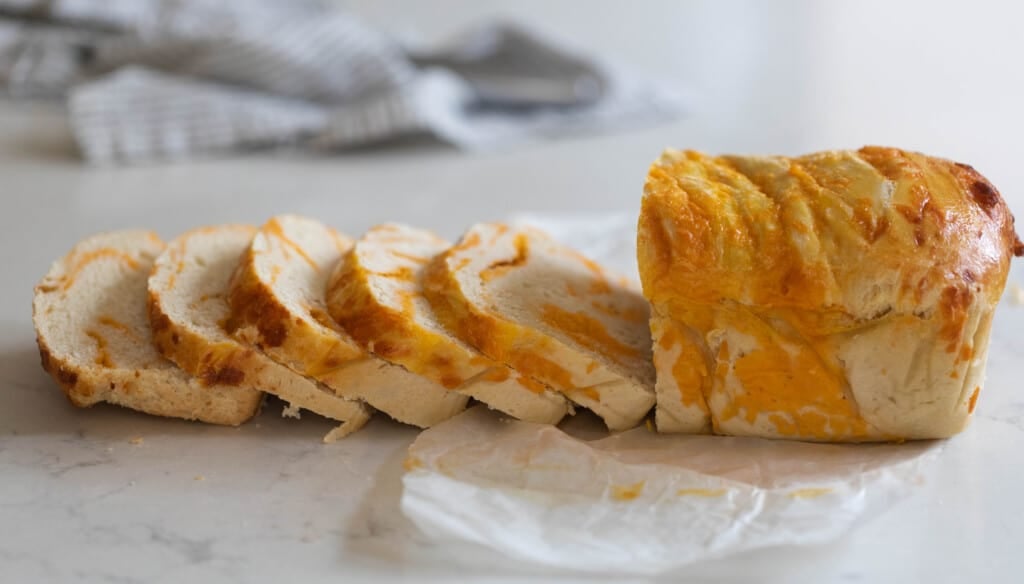 Sourdough Cheese Bread
Fluffy and tangy sourdough bread is rolled up and twisted with cheese. This beautiful loaf is baked until golden and melty.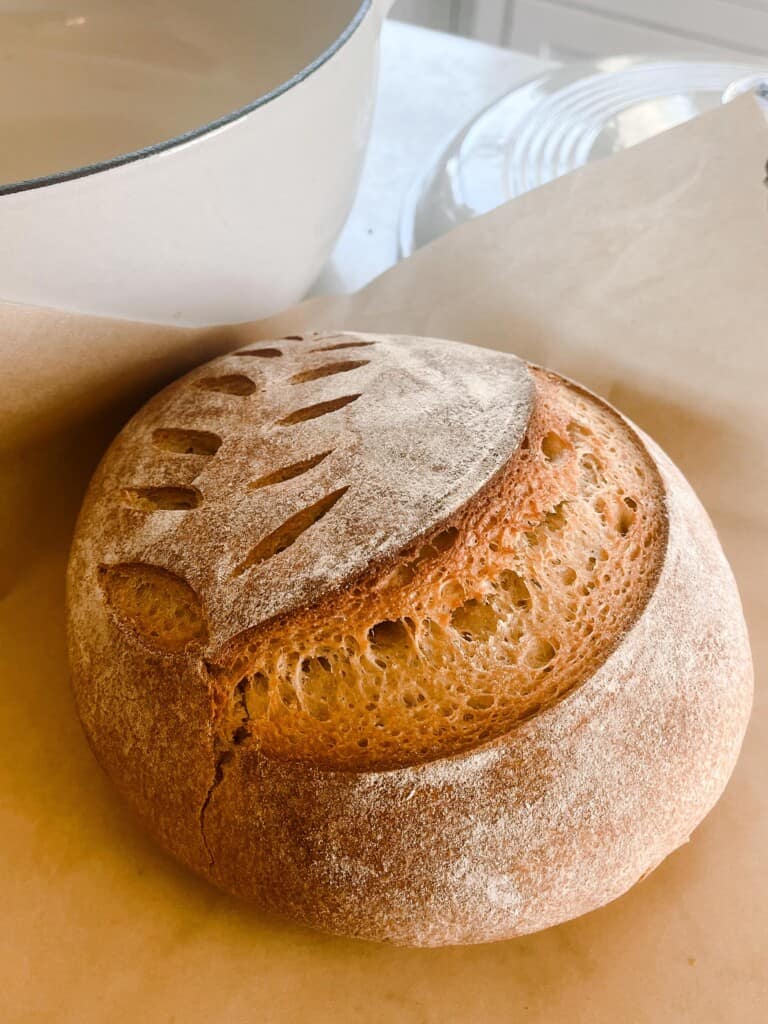 100% Whole Wheat Sourdough Bread
An easy and delicious whole wheat sourdough bread made with 100% whole wheat flour. Crusty on the outside and chewy on the inside. This no-knead bread is super healthy and hearty.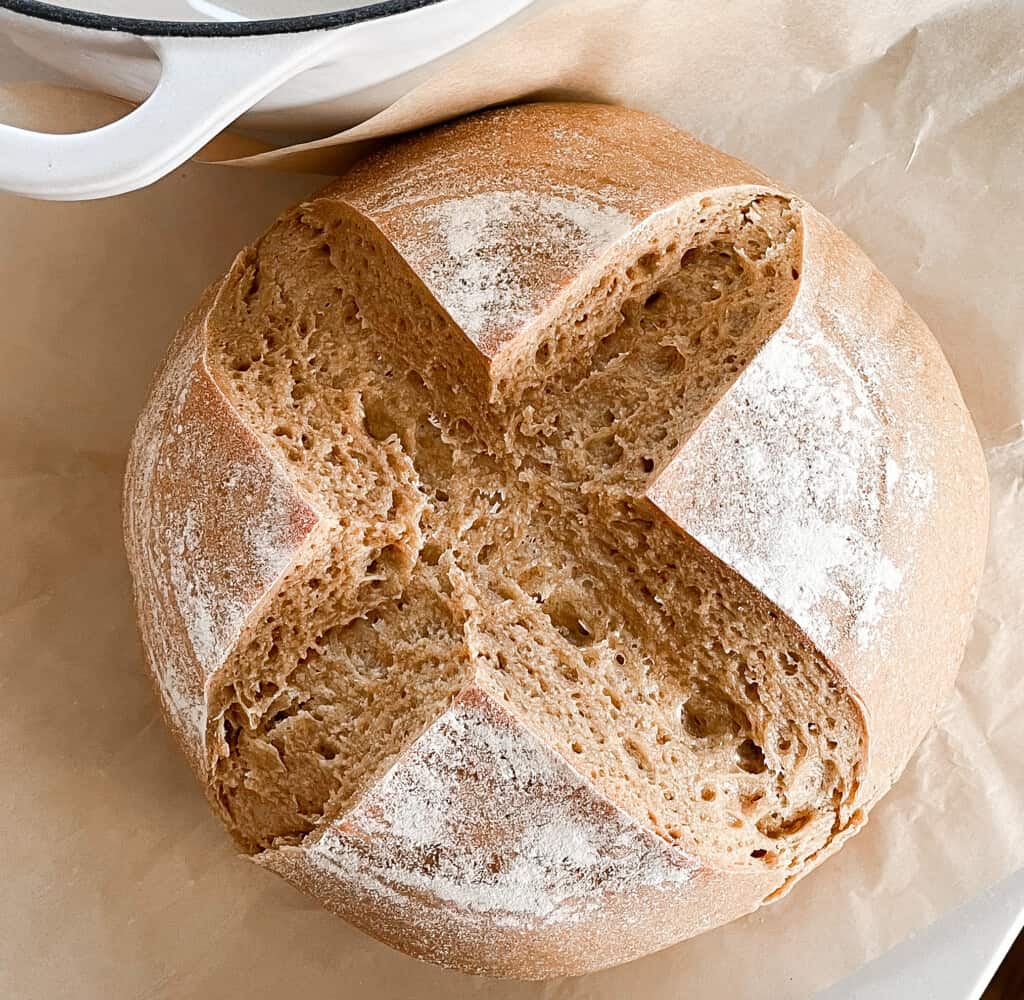 Einkorn Sourdough Bread
For those that love ancient grains, this einkorn sourdough bread is for you! This crusty boule is made with 100% einkorn for easier digestion and delicious nutty flavor.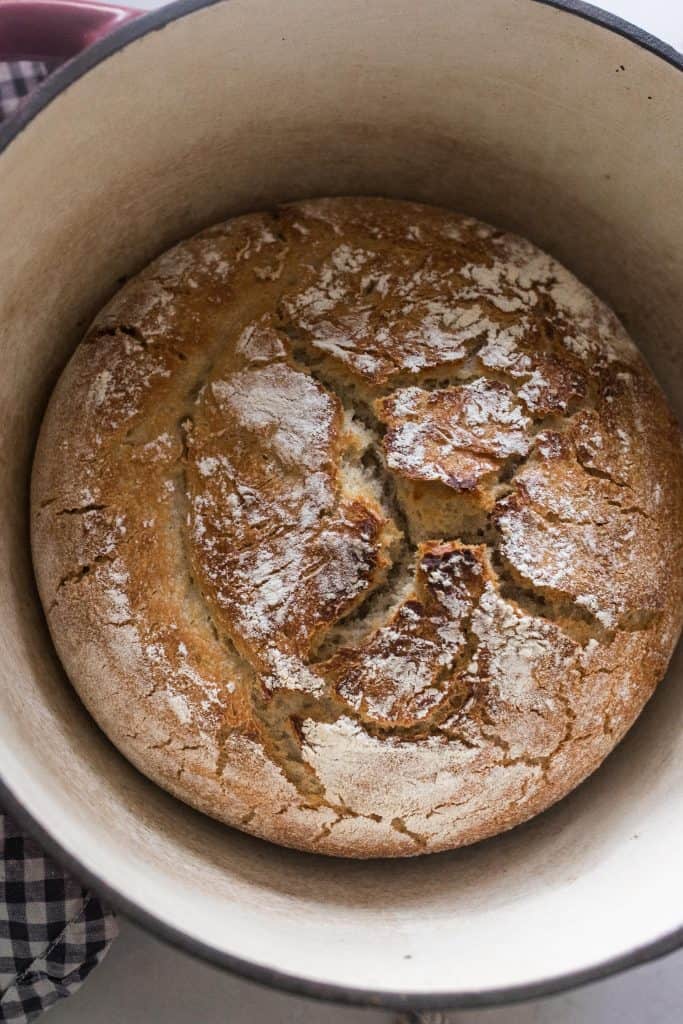 Easy Artisan Sourdough Bread
Delightfully chewy interior with a crusty exterior. This is a classic recipe you will want to make over and over again.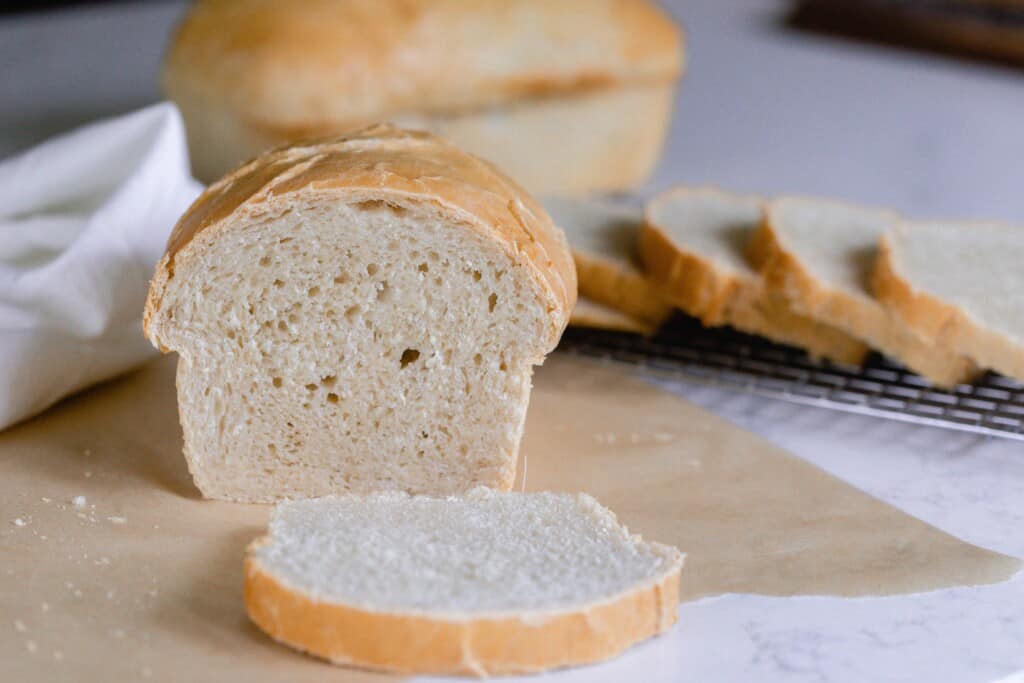 Sourdough Sandwich Bread
This is seriously the best sandwich bread ever. It is so light and fluffy with some tang. It makes all those basic store-bought loaves seem so blah. I promise, you will absolutely love it.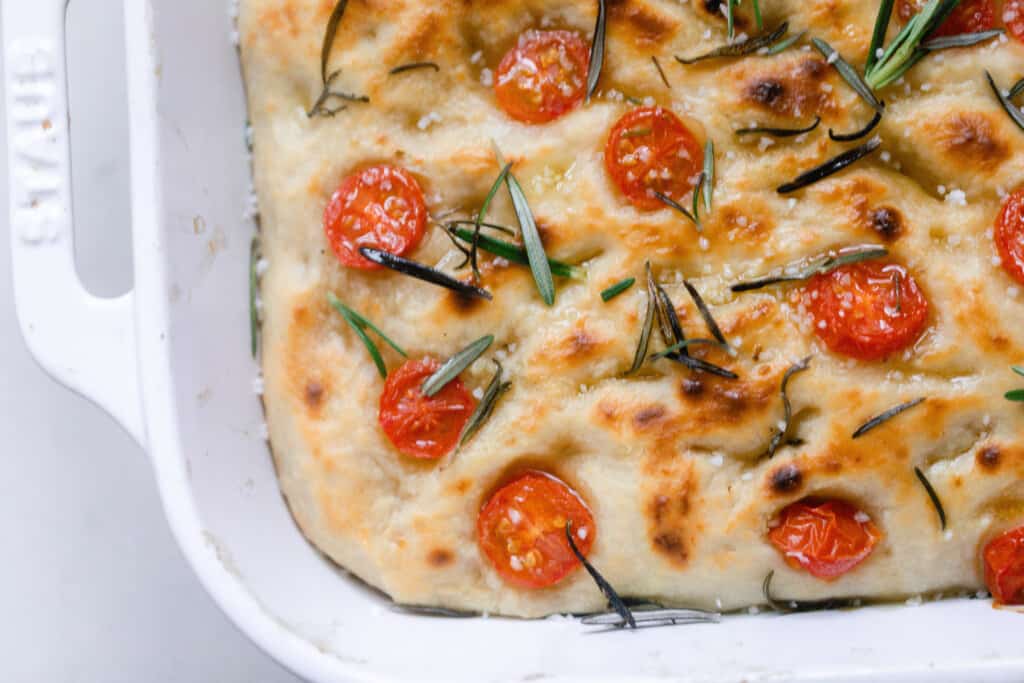 Easy Sourdough Focaccia
Soft sourdough bread with pockets of olive oil and sprinkled with salt. This Italian rustic bread will become a regular side gracing your table.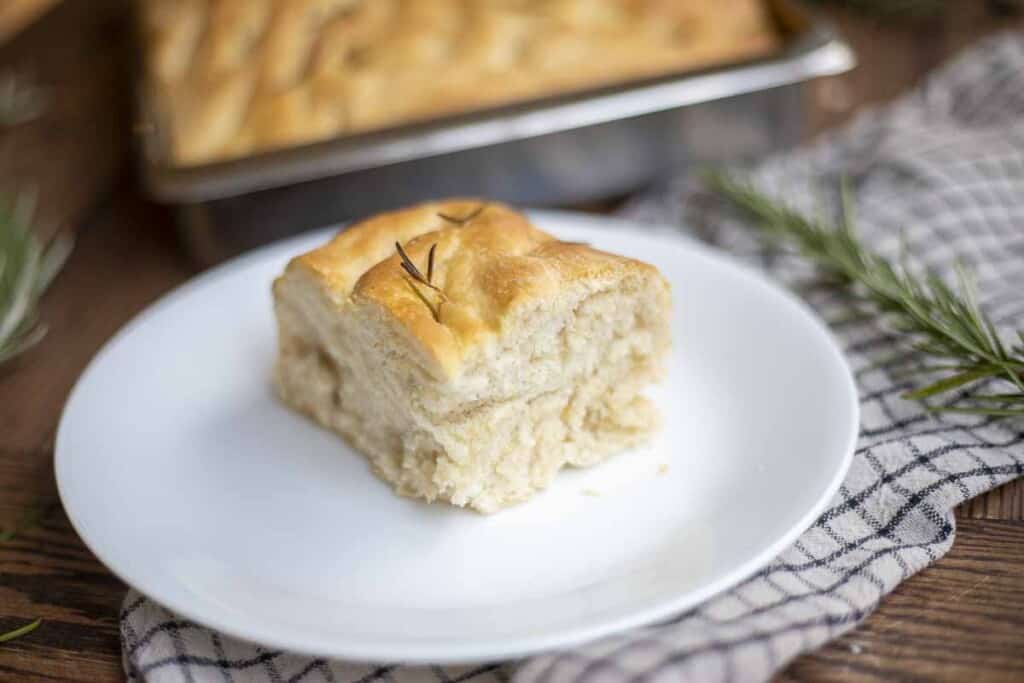 Sourdough Discard Focaccia
Similar to the recipe above, but this no-fail recipe includes commercial yeast, to ensure rise. This is perfect for when you are just starting out on your sourdough journey and you have to toss half your starter everyday.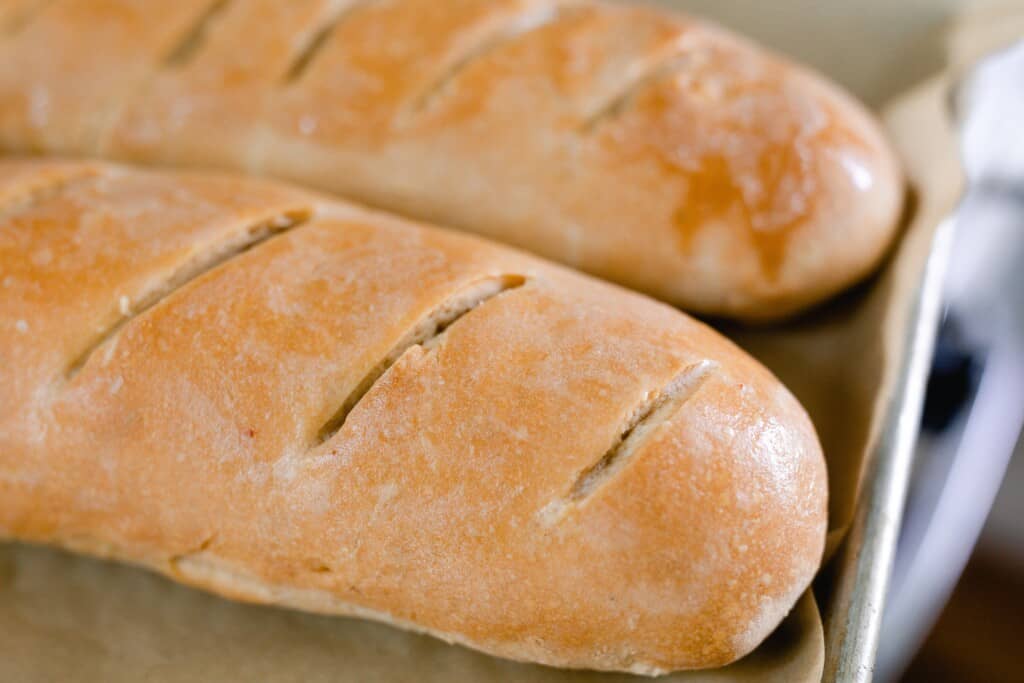 Sourdough French Bread
The best crusty long loaves are a staple in the farmhouse. Fluffy on the outside with a crispy crust thanks to lots of steam during baking.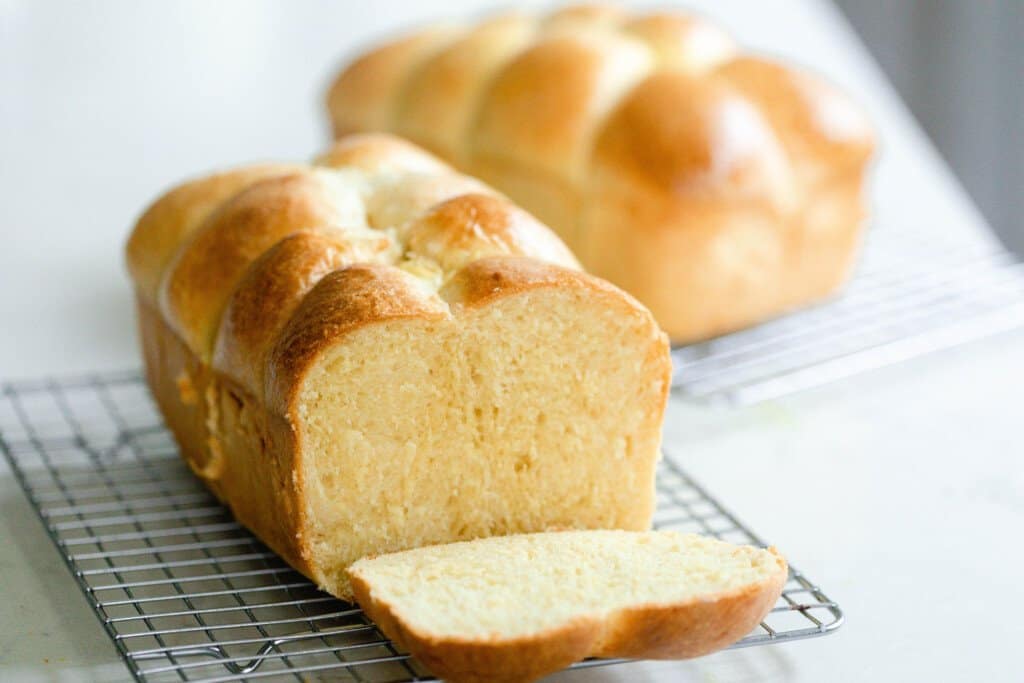 Sourdough Brioche
One of the most popular recipes here on Farmhouse On Boone. This enriched dough is fluffy, sweet and delicious.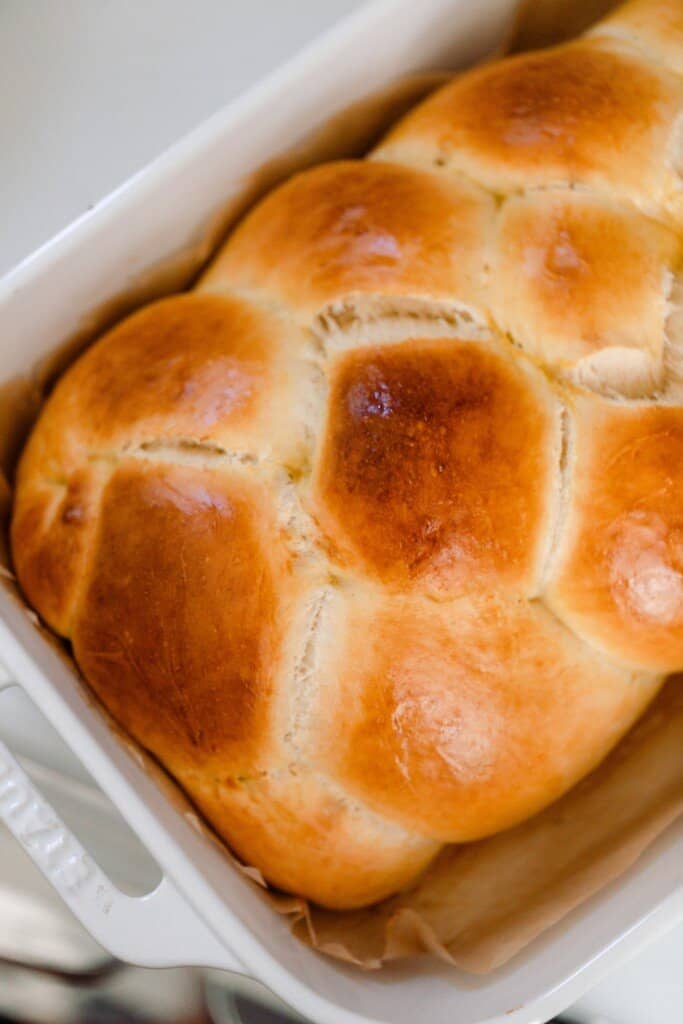 Easy Sourdough Challah Recipe
This sourdough challah bread is a braided loaf with a beautiful golden brown crust. Soft and fluffy texture on the inside and a beautiful crust on the outside, it's a perfect and versatile recipe to grace your table for a holiday feast or an average weekday.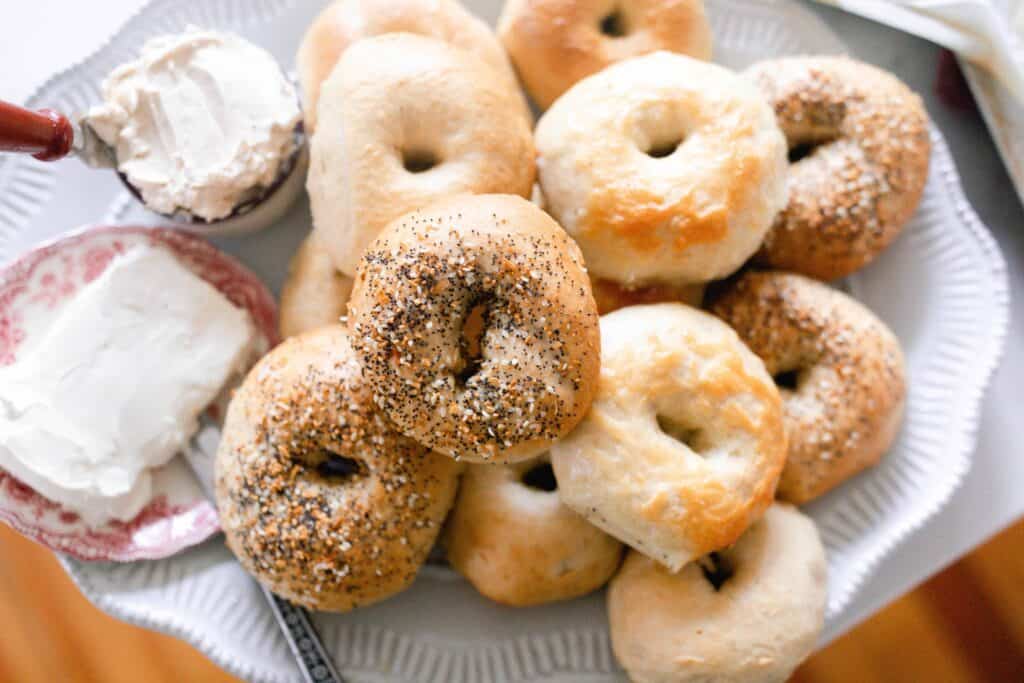 Homemade Sourdough Bagels
Is this technically a bread or more of a roll? Or maybe something different entirely! But we love to use sourdough bagels for sandwiches. Sourdough bagels are savory, chewy, crusty, and deliciously tangy.
Rolls Ideas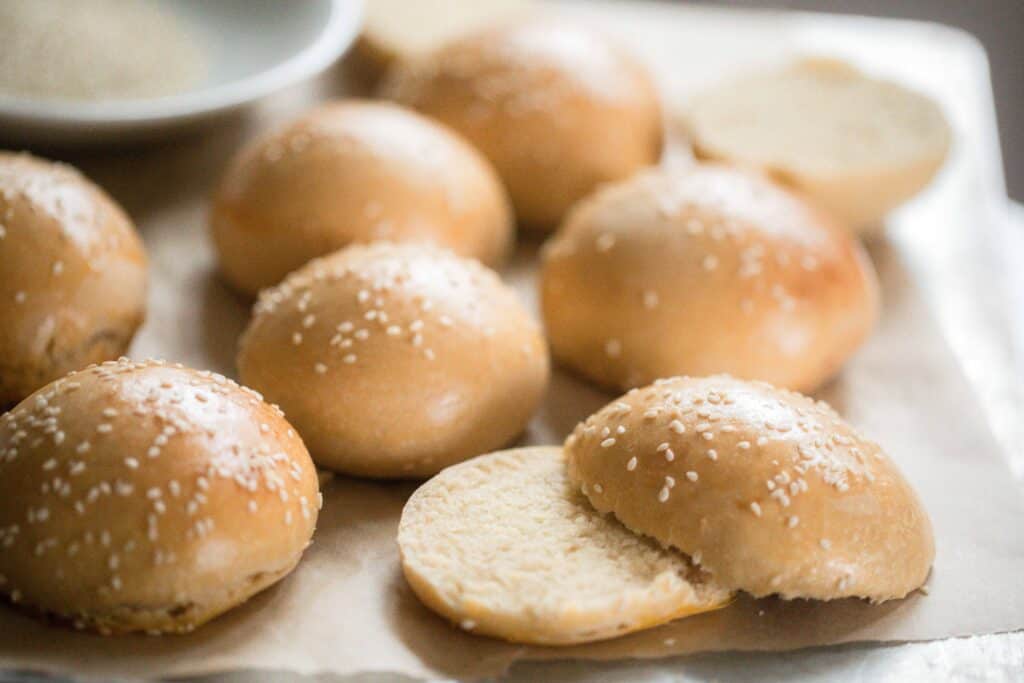 Sourdough Hamburger Buns
These soft and fluffy sourdough hamburger buns are the perfect way to serve hamburgers, sandwiches, pulled pork and more.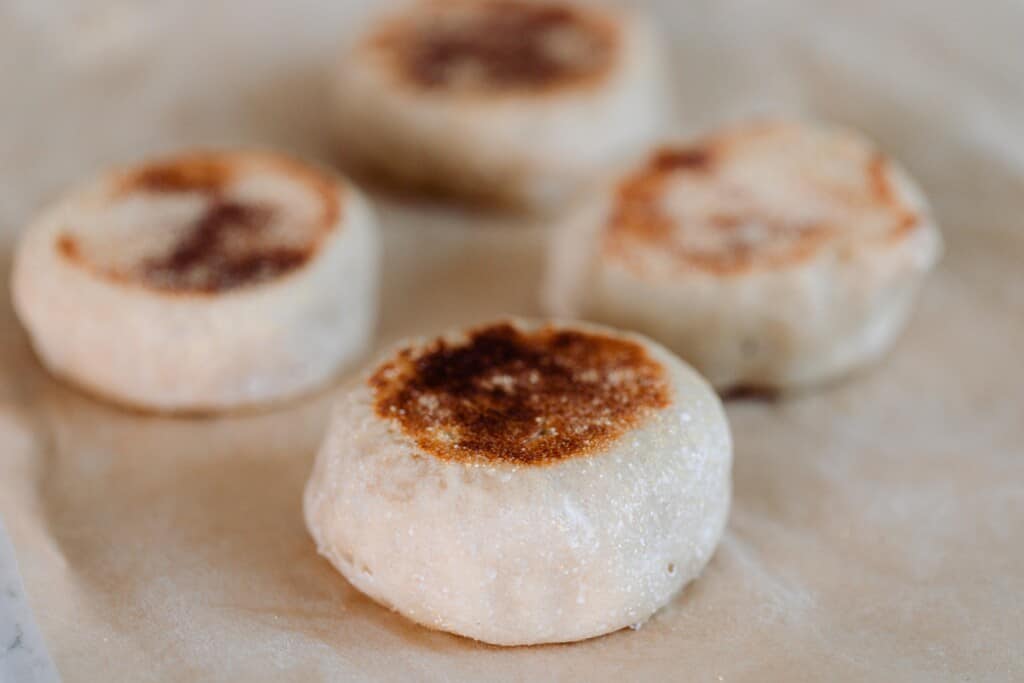 Sourdough English Muffins
This is my go-to for breakfast. Start this the night before and whip up in the morning for a hearty bread. The is best way to serve breakfast sandwiches in my opinion.
Sourdough Hot Dog Buns
A summer BBQ staple. These sourdough hot dog buns are light, fluffy, and packed full of flavor.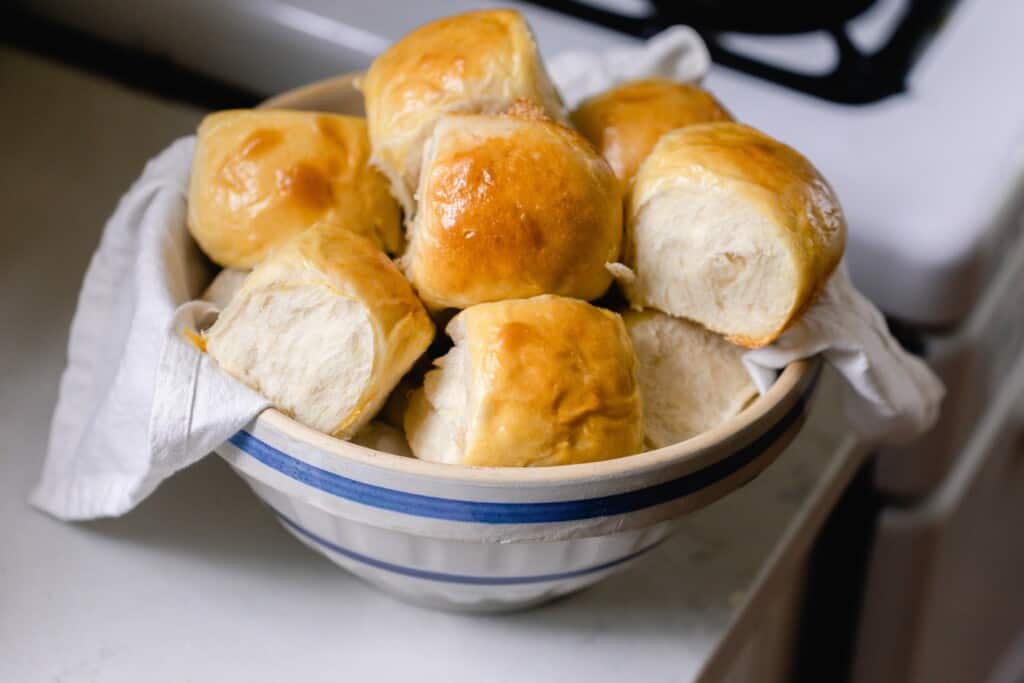 Sourdough Hawaiian Rolls
There is something very addicting about these sourdough Hawaiian rolls. These super fluffy and sweet rolls have a scrumptious pineapple flavor and slight sourdough tang.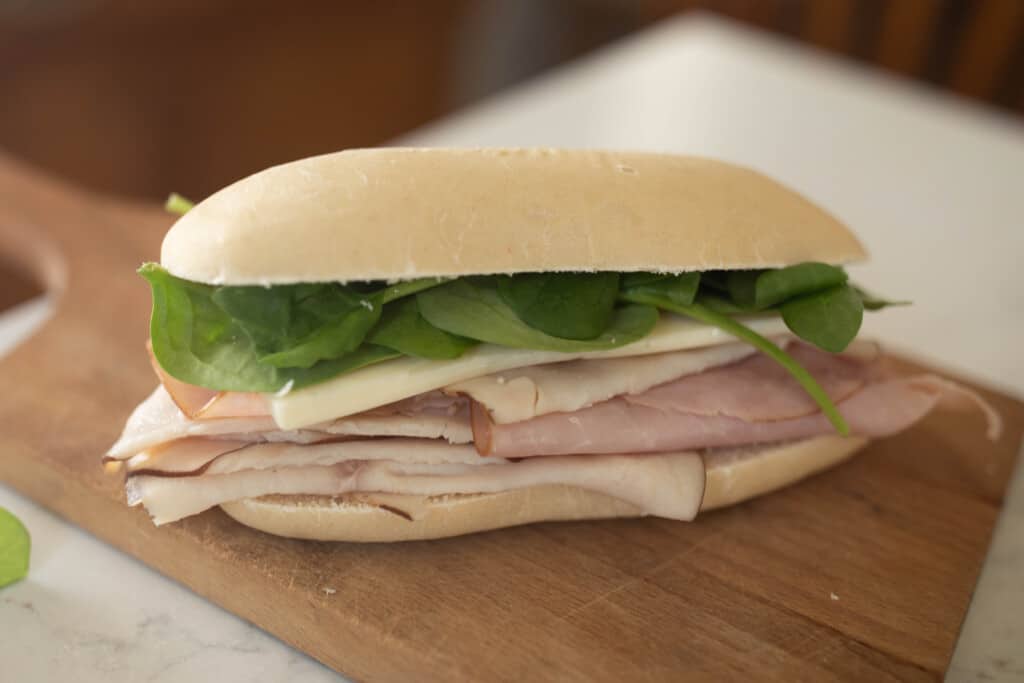 Sourdough Sandwich Rolls
Crispy exterior with a delightful crumb on the inside. The perfect sturdy bread for all your favorite sandwiches.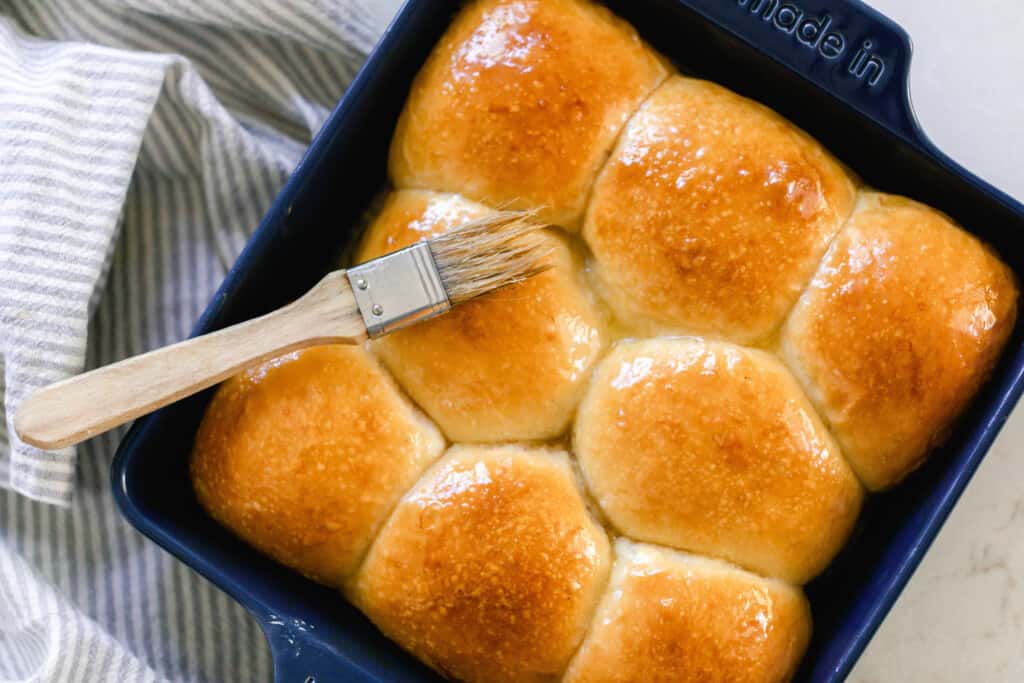 Easy Sourdough Dinner Rolls
A staple dinner roll, but risen with wild yeast. I've been told "these are the best rolls I've ever eaten!" on numerous occasions.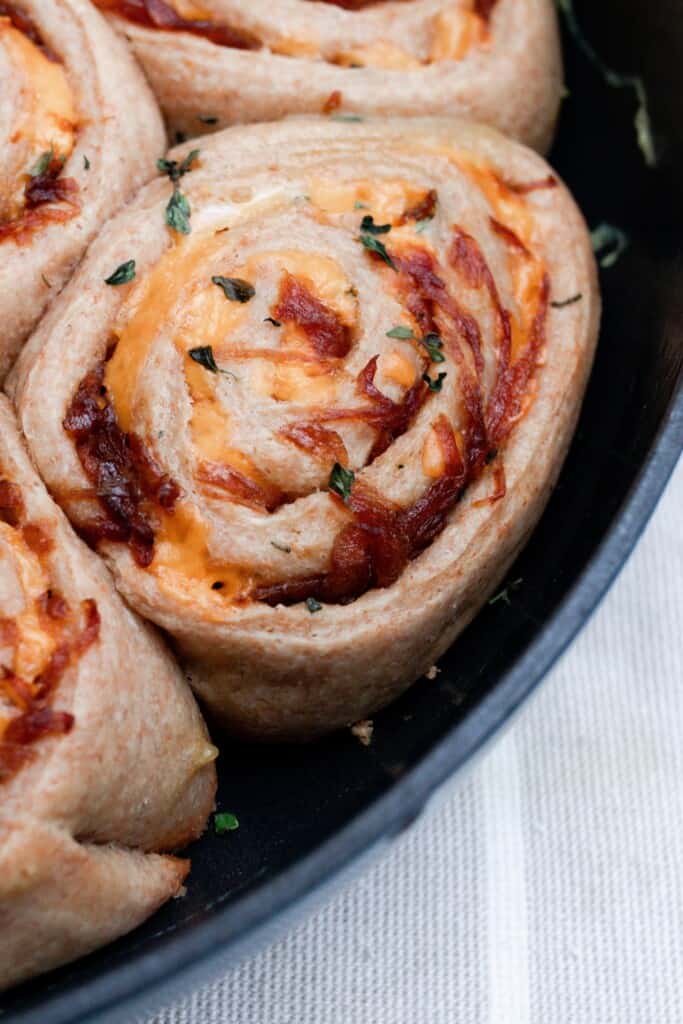 Sourdough Herb And Cheese Rolls
Sourdough biscuit dough that is rolled up with cheese and herbs for the yummiest side or appetizer. You could also add sliced ham to make ham and cheese rolls.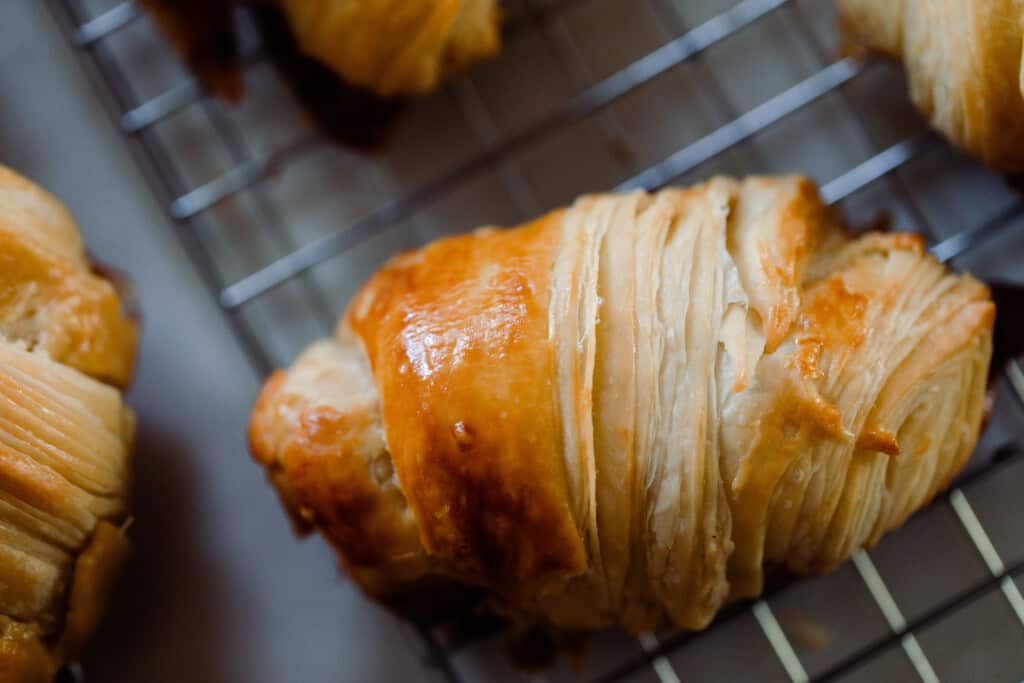 Sourdough Croissants
These flaky, buttery croissants are super decadent. Layers of pastry dough and butter are rolled up and baked. They make the best fancy sandwich bread.
Sourdough Hot Cross Buns
A fluffy spiced bun topped with a decorative cross and an apricot glaze make for a pretty easter treat.
Sweet Sourdough Bread Ideas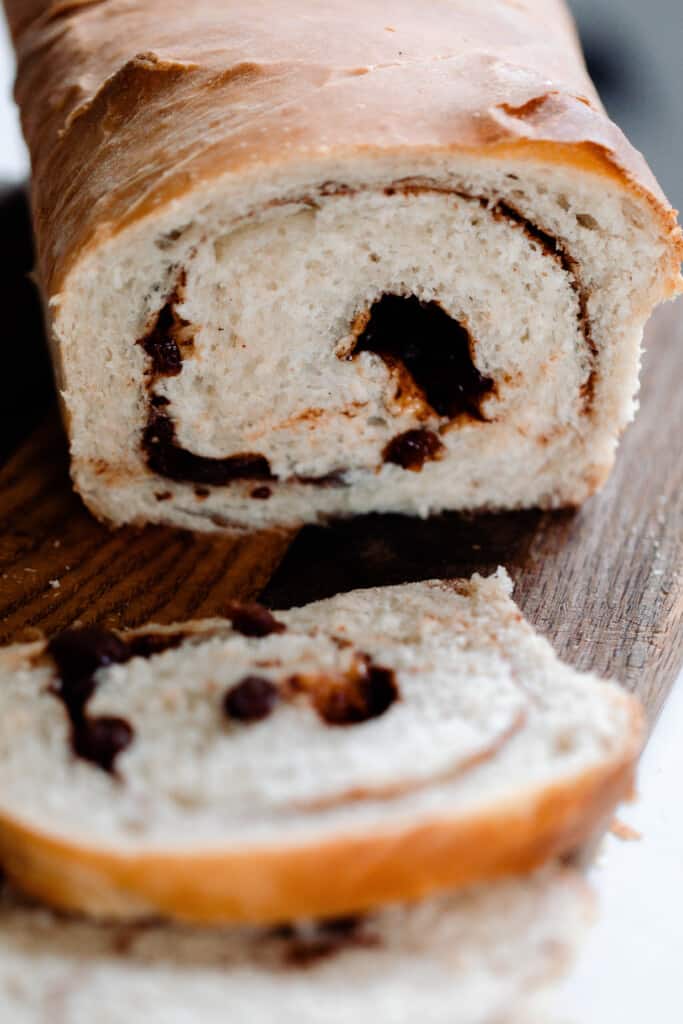 Sourdough Cinnamon Raisin Bread
A fluffy sourdough bread recipe with swirls of cinnamon and raisins. This makes a delicious breakfast or dessert. Take French toast up a notch by using this bread as the base.
Sourdough Chocolate Bread
A chocolate bread base with chocolate chips makes this double chocolate sourdough bread irresistible.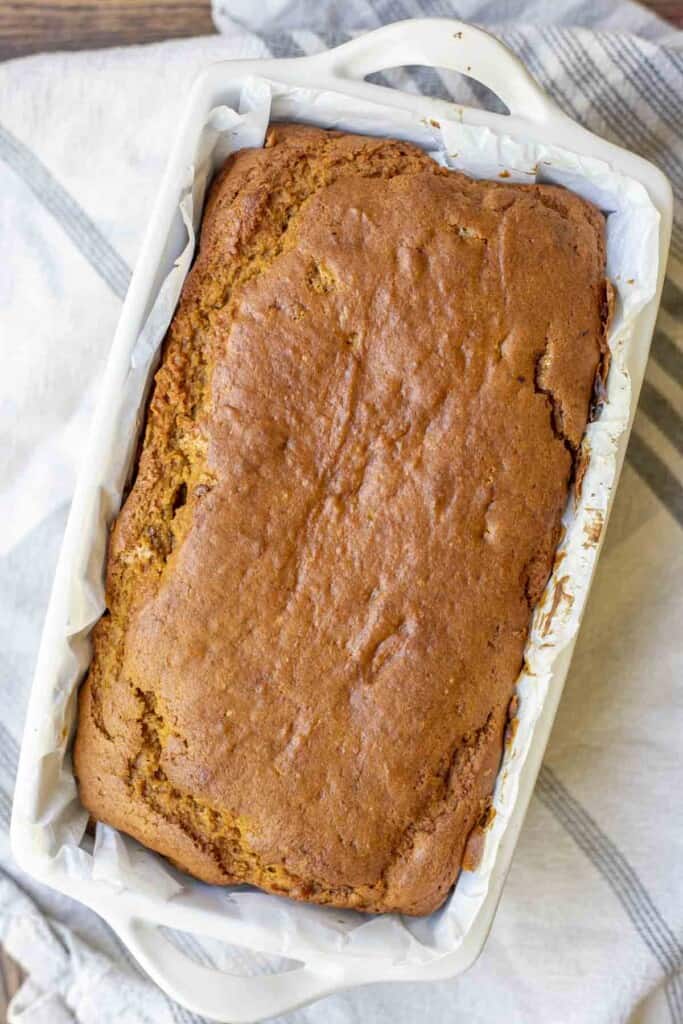 Sourdough Pumpkin Bread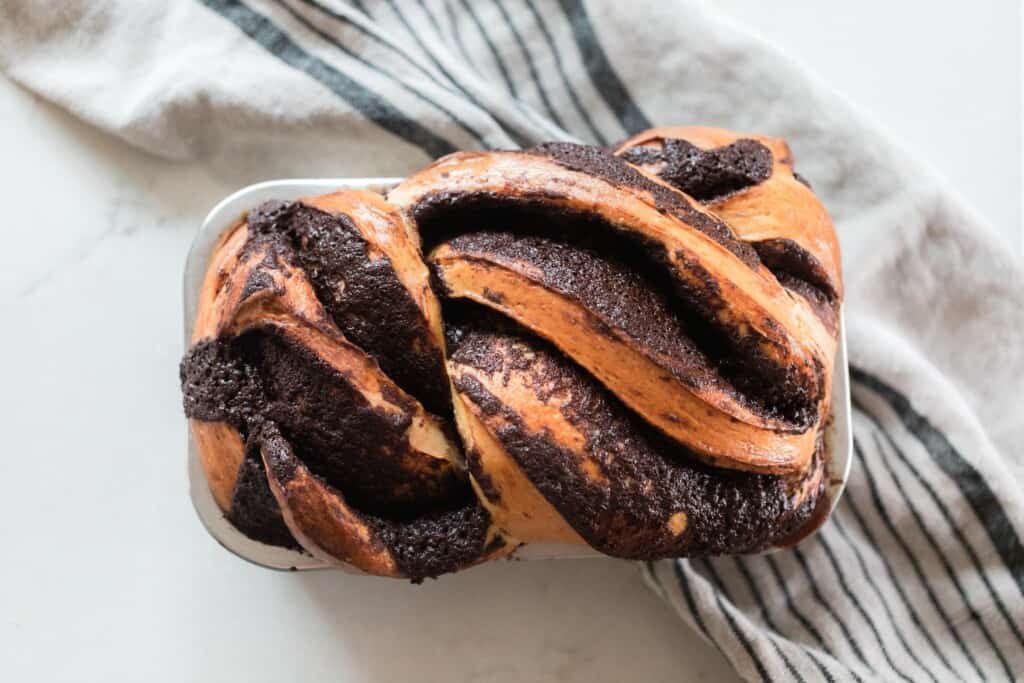 Sourdough Babka Recipe with Chocolate Filling
This is a newer recipe on the blog. A sweetened enriched dough is swirled with ribbons of chocolate to make a super decadent bread. You have to try it!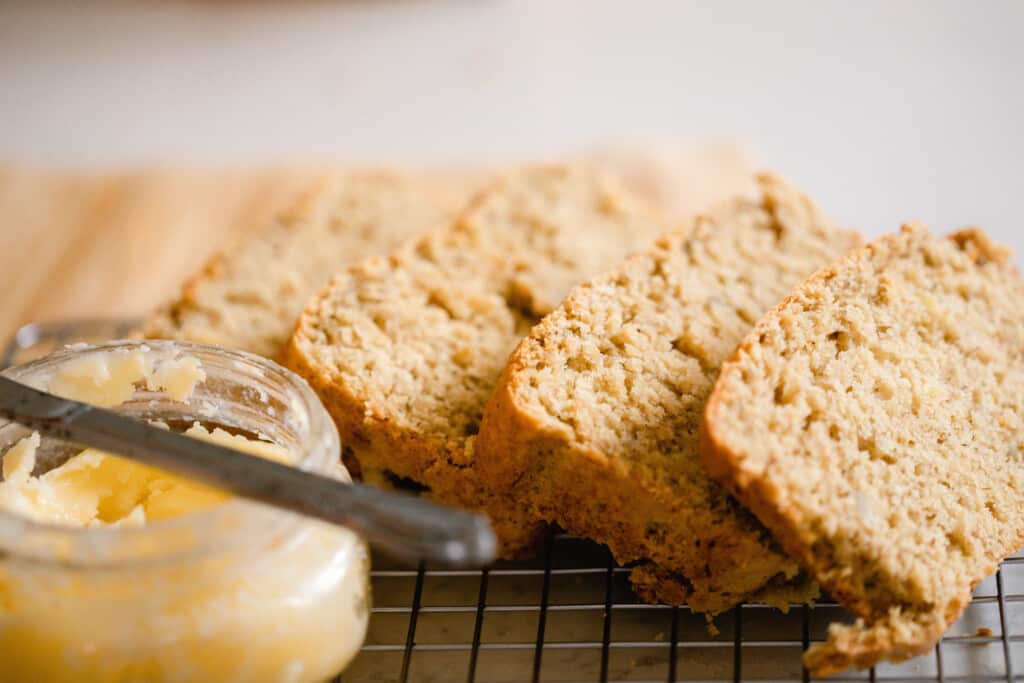 Sourdough Banana Bread
This light and fluffy banana bread is sweet, packed full of banana flavor, and will be your new go-to recipe. It can be made quickly or long fermented.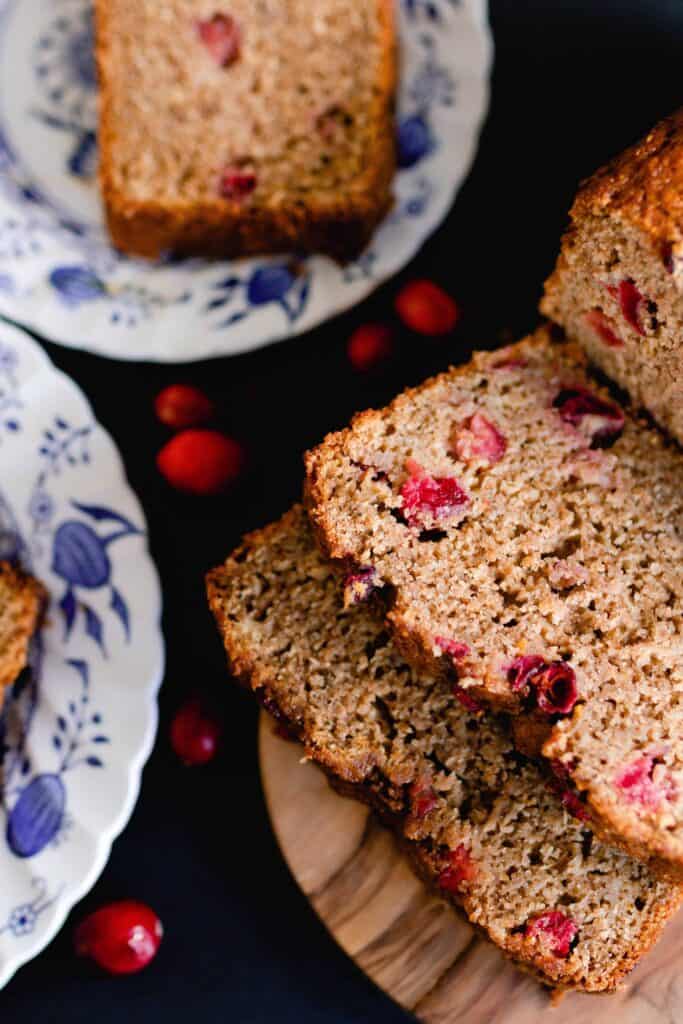 Sourdough Cranberry Bread
Such a lovely Christmas (or any time of the year) treat. A sweet banana bread batter and is flavored with bursts of orange and cranberries.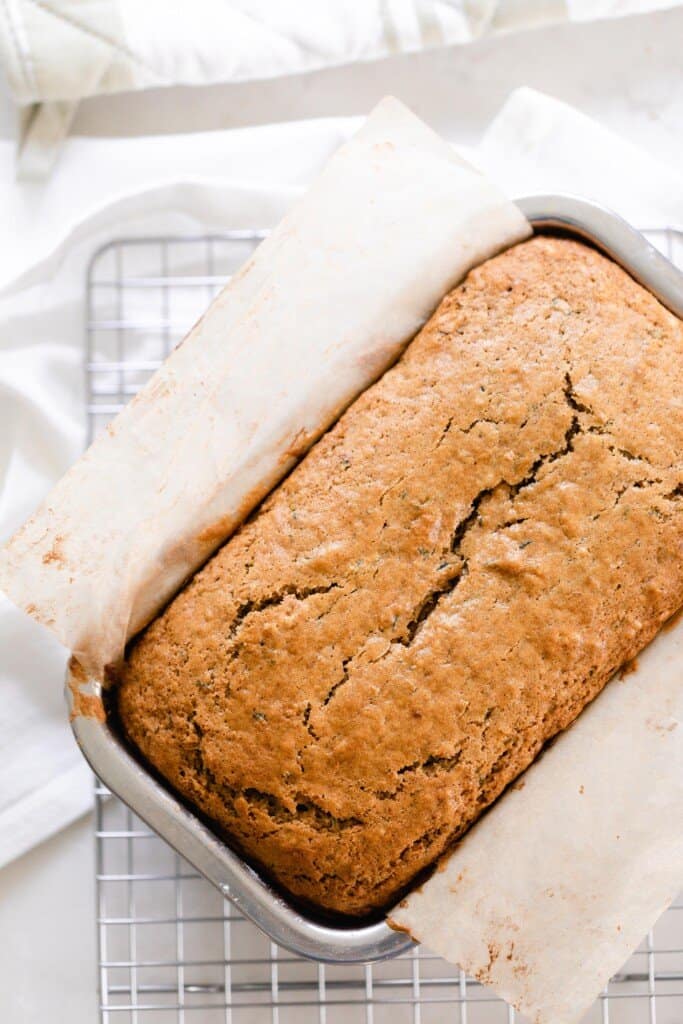 Sourdough Zucchini Bread
A deliciously spiced, moist bread packed with shredded zucchini. It's a great way to use up all those summertime zucchinis!
There you go! So many wonderful sourdough bread ideas! Make sure to pin this for later. It will be updated as more breads are created and perfected.
One of the biggest deterrents to making sourdough bread is nailing the timing. First, there's the question of your starter. Has it been fed recently enough? Will it be ripe in time for baking? And then there's the dough itself. Will you be available to divide, shape, and bake it when the recipe indicates? Do you need to quit your job in order to tend to your sourdough?
The answer to that last question is, happily, no — there's a better solution, and a delicious one: this killer recipe for Pain de Campagne (Country Bread).
Here's what makes it great: It can be made with unfed sourdough discard directly from your fridge. No need to prep eight hours before to have an active, ripe starter for mixing. It's mostly hands-off — the dough is developed with folds, rather than kneading, then goes straight into a long bulk fermentation that's flexible enough to fit your schedule. (Those folds also make this higher hydration dough easy to handle.) Once shaped, it undergoes another long rise, anywhere from 8 to 12 hours — whatever fits your schedule, not the bread's. The final loaf (which gets baked in a Dutch oven for bakery-worthy crust) has an open crumb, glossy interior, and gorgeous height.
Is this the bread you need in your life? Probably. The only bad thing about it is that it might ruin every other bread recipe for you.
Watch our own Martin make Pain de Campagne below, and see what you're missing:
https://youtube.com/watch?v=UL6ogX38NcY%3Fautoplay%3D0%26start%3D0%26rel%3D0
About Rossi Anastopoulo
View all by Rossi Anastopoulo
This chewy loaf has rich, deep, flavor with mild sourdough tang. Since it includes commercial yeast as well as starter, you're guaranteed a good, strong rise — even if your starter isn't quite up to snuff.
Instructions
Weigh your flour; or measure it by gently spooning it into a cup, then sweeping off any excess. Combine all of the ingredients, kneading to form a smooth dough.
Gently divide the dough in half; it'll deflate somewhat. Preshape each piece of dough by pulling the edges into the center, turning it over so the seam is on the bottom, and rolling under your cupped hands to form a ball. Let the dough rest, covered, for 15 minutes.
Spray the loaves with lukewarm water and dust generously with flour.
Make two fairly deep diagonal slashes in each; a serrated bread knife wielded firmly or a lame, works well here.
Bake the bread for 25 to 30 minutes, until it's a very deep golden brown. Remove it from the oven, and cool on a rack.
Tips from our Bakers
Why the range in yeast amount? If you're sure your starter is healthy and vigorous, and you don't mind potentially extending somewhat the rise times listed above, use 1 teaspoon yeast. If your starter seems a bit lethargic (or you want to keep your rise times on the shorter side), go with 2 teaspoons.
To make sourdough with fruit and nuts: If you'd like one of the two loaves in this recipe to be chockfull of fruit and nuts, knead 3/4 cup (96g) Baker's Fruit Blend and 1/2 cup (57g) toasted mixed nuts of your choice into half the dough after you divide it and before you preshape it (step 3). Proceed with the recipe as otherwise written.
For more recipes like this subscribe to our newsletter
View our privacy policy
Recommended Recipes
You've made a delicious loaf of fresh sourdough bread, now what? Here are 50 delicious recipes when you are wondering what to serve with that sourdough bread!
Sourdough bread is one of the most rewarding things to make. It is made simply with water, flour, and salt. You can make a hearty, rustic loaf with a little bit of patience and a bit of work.
Were you one of the people in the United States in 2020 that became obsessed with sourdough? I was! I first received my sourdough starter the Summer before but being home constantly made me bake delicious loaves of sourdough all the time! And it became my new obsession!
Sourdough bread is a bread made from flour, water, and salt. There is no commercial yeast. The only leavening agent is the naturally occurring wild yeast that is created from the fermentation of the flour and water. Because of this, sourdough bread is often referred to as "naturally leavened bread".
Sourdough bread requires a sourdough starter to rise the bread. A starter is filled with good lactic acid bacteria which aids in fermentation and natural yeast that gives the bread that traditional tangy taste.
During sourdough's fermentation process, good bacteria is created, and the gluten is broken down. Sourdough is actually the healthiest bread you can consume, because of all the amazing bacteria in the loaf.
Here are some of my favorite bread recipes:
How to Keep a Sourdough Starter
Sourdough discard is the portion of your sourdough starter that you are not feeding. When you are "feeding" your starter to make bread with, you add equal parts flour, water, and starter to a mason jar and let it rise at room temperature for a few hours.
You can't feed your entire starter, as it doubles and sometimes triples in size. That's a lot of starter to have on hand! If you are new to sourdough, be sure to check out this post all about how to keep your sourdough starter happy.
Not only can you make delicious crusty bread with your sourdough starter, but you can make all sorts of delicious baked goods with your leftover sourdough discard.
What to Do with Leftover Sourdough Bread
If you are like me, you can get a little ambitious when it comes to that beautiful white bread. You can cut slices of sourdough bread and place them in a freezer bag and freeze them for up to 3 months. Toast up a slice when you are ready and make some delicious avocado toast.
You can also make a slice of bread into sourdough French toast. French toast is best made with bread that is a day or two late anyway, and so good topped with pure maple syrup!
Sourdough breadcrumbs can also be made with a loaf of bread that maybe did not rise as much as you would like. It's the perfect way to reduce waste in the kitchen by using stale bread.
What To Top Sourdough Bread With
When delicious sourdough bread is the main ingredient, everything else tastes just a little better. Even if it's just a little bit of melted butter, that sourdough flavor makes everything better!
Cream cheese
Mashed avocado
Fresh jam, homemade is best, but storebought works too!
Hummus and cherry tomatoes
Frequently Asked Questions
What's the best way to bake a loaf of sourdough bread?
When you are baking a loaf, the best way to get that crunchy crust is to bake the loaf of bread in a Dutch oven. The Dutch oven keeps the steam in the pot and allows the crust to get hard and the inside have classic chewy texture. If you do not have a Dutch oven, any oven safe pot can work, just make sure it has a cover and that the dough is added to the pot with parchment paper or a silicone mat.
How do I get my sourdough bread to be very sour?
There are a few ways to get your sourdough bread to become sore. First, the age of your starter makes a big difference. The first time you make bread, it won't be as sour as the next time. As you continue to feed and bake with your starter, it adds more sour flavor to your bread. Another way to make your bread super sour is to let it ferment for a long time. After it rises the first time, place the large mixing bowl or banneton basket with the dough into the refrigerator. Let it sit there for at least 12 hours and the sour flavor will intensify.
What type of flour should I use when making sourdough bread?
The best type of flour to use for bread is bread flour. Bread flour has a higher protein content, and high protein means more gluten in your bread loaf.If you don't have bread flour handy, all-purpose flour can be substituted. You won't build up as much gluten as you would with bread flour, but the difference won't be very noticeable.Whole wheat flour can be used in sourdough bread as well, but you don't want to use all whole wheat flour. That can turn the bread very tough, and it would have a bitter flavor. I like to use 50% bread flour and 50% whole wheat flour.
What To Serve with Sourdough Bread
Creamy, cheesy, and ready in under 30 minutes, this Instant Pot Broccoli Cheddar Soup is so cozy on a cold Winter night. Let the Instant Pot do all the hard work for you in making this easy soup!
Homemade honey butter in 5 minutes or less! You need just three basic ingredients (and I'd bet you can guess what at least two of them are)!
Ready in 30 minutes, this Instant Pot Cauliflower Soup tastes just like a loaded baked potato soup, but with a fraction of the carbs! Top this soup with bacon, cheddar cheese, and scallions for a satisfying and delicious dinner!
Why not dip a large slice of sourdough into this smooth and creamy cashew cheese. With hints of onion and chives, it's a delicious spread of dip!
A great use for leftover ham, this Instant Pot Split Pea Soup has the long, slow cooked flavor of being on the stove all day, but it's made in a fraction of the time! It's so easy to make and so delicious!
Cream of Bacon Soup is the ultimate soul-soothing comfort food. Creamy and richly flavored with bacon, onions, scallions and cheddar cheese, this easy recipe comes together in less than an hour. The mild, savory goodness pairs perfectly with the tangy, complex flavor of sourdough bread.
This hearty and comforting Zuppa Toscana is made entirely in the Instant Pot! It is full of sausage, potatoes, carrots, and spinach. This soup is so easy to make and will warm you on the coldest of nights! And the best part, it's ready in under an hour!
Once you've tasted this homemade One Ingredient Crunchy Peanut Butter I don't think you'll want to buy it from a shop ever again! It's so easy to make, plus being additive free it's very healthy too! Perfect with a slice of sourdough bread!
Full of ground chicken, chunks of tomatoes, creamy ricotta, and broken lasagna noodles, this Instant Pot Lasagna Soup is a fast and easy weeknight dinner! This has quickly become a favorite soup in our house!
Pisto
Pisto is a super healthy and easy vegetable dish from Spain, sometimes called Spanish ratatouille. Pisto can be served as a main dish, side dish or tapa and is the perfect way to enjoy fresh seasonal summer vegetables
This hearty Instant Pot Minestrone Soup is ready in under 30 minutes and full of healthy vegetables! It's an easy soup to make on a cold, Winter night. Healthy vegetables and beans are surrounded by a rich, tomato broth to make the most delicious soup!
Cinnamon honey butter is a fantastic spread for sourdough bread! It's easy to whip up with just three ingredients and is sure to elevate any meal.
Loaded with veggies and lean chicken breast, this Instant Pot Chicken and Rice Soup is the ultimate comfort food! Warm spices, a flavorful broth, and brown rice create a delicious soup made entirely in the Instant Pot!
You will love this recipe for Herbed Bread Dipping Oil. It takes just minutes to prepare and is a fabulous appetizer. Seasoned olive oil is packed with the flavor of fresh herbs and garlic; you just need bread to accompany it and you're ready to go!
An easy weeknight meal, this cozy Instant Pot Ham and Potato Soup is ready in under 45 minutes. When you don't want to stand over the stove for hours, but want that homecooked taste, break out your Instant Pot!
This chana dal soup with split yellow lentils and spinach is flavored with delicious spices and packed with a lot of goodness. Use your sourdough bread to soak up all the amazing flavors.
Creamy and so easy to make, this Instant Pot Chicken Tetrazzini is an easy weeknight family meal! Ready in under 20 minutes, this dinner will become a new family favorite!
This Thai red curry potato lentil soup is the ultimate comforting dinner. It combines the flavors and textures of Thai red curry and red lentil dhal, comes together in just one pot and is perfect served with slices of crusty sourdough bread.
Crispy, crunchy, and a great use for leftover chicken breast, this Cranberry Walnut Chicken Salad Recipe is an easy weekday lunch! Make a big batch of this salad on the weekend and enjoy it throughout the week!
Creamy Tomato Soup is the ultimate quick and easy weeknight dinner. Made with simple and fresh ingredients, this comforting soup recipe is sure to become a family favorite.
This creamy and cheesy roasted broccoli and cauliflower soup is the definition of comfort! It's loaded with healthy vegetables, but the little bit of heavy cream adds silkiness and indulgence! This soup will warm you on the coldest of nights!
This savory creamy coconut delicata squash soup has a light, subtly sweet undertone that's the perfect bowl of comfort for a cold fall or winter day.
Easy to make and full of Summer flavors, this Roasted Cherry Tomato Soup is a delicious soup to make in the Spring! You'll never go back to the canned soup after you make your own!
This quick and easy Creamy Tortellini Soup Recipe is one of our favorite soups for a soup and bread night. It comes together fast, tastes great, and everyone enjoys it!
Ready in less than 20 minutes, this Instant Pot Peach Jam is the perfect way to preserve the sweetness of Summer! This jam is perfect slathered on bread with butter or topped on vanilla ice cream!
A delicious creamy sauce, tender chicken, penne pasta, and loads of flavor make Chicken Penne Alla Vodka an absolute family favorite! Pair with some charred bread to get every last drop of the sauce.
So easy to make and ready in less than an hour, Instant Pot Mixed Berry Jam is perfect way to preserve the sweetness of Summer!
This easy recipe for Smashed Eggs on Toast is something a little different for breakfast and gives you the perfect runny boiled eggs on sourdough toast in under 10 minutes.
Sweet and a little tangy, this Instant Pot Blueberry Jam is the perfect way to use up some extra blueberries you have this Summer. You won't go back to the premade stuff once you try this delicious jam!
Adapted from the recipe of a famous Singaporean Peranakan food author, Sylvia Tan, this easy spicy tuna dip is great for when you've nothing in the fridge! It only requires 4-ingredients from your pantry & about 15 minutes.
Instant Pot Apple Butter is a must make this Fall when you have lots of delicious, ripe apples in the house! It is full of warm and cozy spices, yet sweet enough to eat with a spoon with only a few simple ingredients! Slather it on sourdough, bagels, English muffins, or swirl it into oatmeal!
This creamy vegan roasted beetroot dip is made with white beans, zesty lemon, creamy tahini and delicious herbs. Nutrient-packed and vibrantly pink, this hummus is ready to enjoy with some bread or veggies in just 10 minutes!
Full of warm spices, this Instant Pot Pear Butter is the perfect way to use all those extra ripe fresh pears this Fall. And the best part is, there's no need to peel the pears!
Instant Pot Spaghetti is a savory meat sauce pasta is ready in 30 minutes. This easy pressure cooker entree is perfect for any night of the week.
Homemade Italian mini meatballs are surrounded by a ricotta and rich tomato sauce in this cheesy meatball sub dip. A fun twist on a classic meatball sub, this dip is easy to make and perfect for the big game!
This easy Vietnamese Chicken Curry is packed with flavor! It has very tender chicken thighs and a delicious stew made with coconut milk and fresh lemongrass. Cozy, hearty, and so delicious! Dairy free, gluten free, and all made in one pot.
What makes this stew an American Irish stew? The original recipes consist of only lamb, onions and potatoes and no other root veggies. Americans have made their own spin on the traditional stew – using beef and adding carrots for a different flavor.
Clam chowder without cream served in a sourdough bread bowl can taste just as thick and creamy as a higher calorie version.
Looking for something new for the grill? Treat your family to a delicious grilled and marinated flank steak. This delicious marinade can be made ahead of time. Just pull it out of the refrigerator when your ready to grill. Perfect for quick weekday meals!
This Guinness Beef Stew Recipe makes some of the best Irish Stew you'll ever taste. This is a perfect dinner for those times when you're craving something warm, hearty and filling. Made with beef chuck marinating in delightful aromatics and Guinness Beer, this incredible soup recipe is life-changing.
You will love this Italian gnocchi with sauce; rich tomato and herb al Pomodoro sauce coating pillowy potato pasta goodness, topped with melted and crispy cheese, and extra fresh herbs. A family-friendly dinner that you can make in just 30 minutes!
Eggplant Baba Ganoush Spread is a Middle Eastern favorite that makes everyone happy and makes a great snack. Babaganoush is a Mediterranean Roasted Eggplant Dip with tahini paste and lemon juice that is completely crowd-satisfier.
Spicy, creamy, and ready in under 30 minutes, this Instant Pot Buffalo Chicken Dip is a hit at any party! Perfect to add to your appetizer spread for the big game, serve this dip with chips, carrots, or toasted sourdough for a crowd-pleasing dish your guests will love!
Kick-off Meatless Monday with this delicious, creamy mushroom spinach and sun-dried tomato pasta! This vegetarian-friendly pasta is filled with flavor that will leave you wanting more. Make in just 30 minutes for lunch or dinner.
This Italian Pot Roast, aka Pizzaiola, is a hearty tomato-based chuck roast made easier with the Instant Pot or Crockpot.
This easy, 10-minute Spinach Garlic Butter Beans recipe is perfect for topping your sourdough. Creamy, smoky and packed with umami flavor, these deliciously healthy beans will become an instant family favorite!
Can you imagine anything more delicious than warm sourdough bread dipped into perfectly cooked egg yolks? This Perfect Baked Eggs recipe is an absolute match for tangy sourdough:
This pumpkin sausage soup has little baby sausage meatballs and diced sugar pumpkin with ribbons of lacinato kale. Don't you just want to dunk a crust of sourdough into that broth?
Sourdough bread and butternut squash go together! You'll want to use your sourdough to sop up every drop of this velvety, rich, and creamy Butternut Squash Soup
This turkey chili is a blend of ground turkey, tomatoes, spices and beans, all simmered together to make a delicious and hearty meal.
I've baked this loaf, or some variant of it, so many times I've lost count. This bread was born when I first got my hands dirty with flour and water. Its parent—if you could call it that—was originally Chad Robertson's Tartine loaf with his liquid levain, brought to life, not with intensive kneading, but rather a series of folds during bulk fermentation.
My best sourdough recipe has grown since then. It has developed a personality of its own as I've expanded my baking repertoire and investigated the many facets of baking naturally leavened sourdough. It's taken on and lost traits from many great bakers out there, borrowing from their inspiration and giving me a direction to raise this bread into something of my own. This bread is one that doesn't entirely taste like anything else I've had, and yet, still employs many of the same processes and ingredients.
That's one of the greatest things about bread: it can taste and look dramatically different just by changing the two hands that create it. Calling this post "my best sourdough recipe" is a lofty claim, but honestly, I do believe this is the best bread I've made thus far.
I sometimes revisit a discussion I had with a few readers of this site and their comments: "bread is just bread, it's something to be eaten and is something life-giving, isn't that enough?" I agree, but when something becomes a passion for you it's important to set lofty goals and get excited when breakthroughs are made. Isn't that the definition of a craft and the relentless honing required?
I've taken my best sourdough recipe from its most nascent form to its current stage and can trace through the years each change to its formula or process — and I'm sure I'll be changing things well into the future as it continues to evolve — a work-in-progress.
Yes it's excessive in some way, but there's an excessiveness to ambition as well.
Maybe the actual recipe for this bread isn't the most important part, but rather, the lessons and insights learned along the way as I continually hone my baking proficiency. I'm not claiming this recipe will yield the perfect loaf every single time, but I dare say it comes the closest for me—and that's exciting.
While the actual formula for my best sourdough recipe is simply a mix of flour, water, salt, and levain, there are many nuances here to pay close attention to; here are a few key things to successfully making this bread:
An active starter
An autolyse
A high hydration
Sufficient dough strength
Warm bulk fermentation
A long, cold proof
Before writing this post, I pulled out my trusty notebook and paged through the handwritten (and flour-ridden) pages to find any scribbled "ah-ha" moments or little notes jotted down in the margin, along with a few curse words peppered throughout, and have bundled them up into this entry (sans curse words to keep it clean). A compendium of sorts containing my insights, breakthroughs, and ah-ha moments.
My best sourdough recipe doesn't require an exotic blend of hard-to-find flour, a complicated multi-step levain build, or the use of a mechanical mixer. It's built around making this bread in your home kitchen.
My best sourdough recipe is very highly hydrated and can be challenging. Feel free to adjust the hydration to suit your environment and flour; as we know, each bag of flour can be different. If you're not used to working with high hydration dough, please start with hydration somewhere in the middle and slowly work up.
Want the best bread in your home kitchen?
Join the membership and receive ad-free reading, access to a members-only chat to ask baking questions, my full suite of baking spreadsheets, discounts on baking tools & supplies, live baking events, and more!
Flour Selection
I have consistently made incredible loaves with Giusto's flour; I only wish it was organic. Nevertheless, I find myself ordering a box of it here and there and enjoying the results every time. Of course, as I mentioned before, try whatever is local first (sadly, my source for local, organic flour is no longer) and what you like.
When trying new flour, remember to hold back more water than you might otherwise, and then slowly add it in at the end of mixing or throughout bulk fermentation. Now, on to my best sourdough recipe.
If you're brand new to baking sourdough, check out my Beginner's Sourdough Bread recipe; it has in-depth information on every step in the baking process.
My Best Sourdough Recipe
The target final dough temperature (FDT) is 78°F (25°C). This dough loves a warm ambient environment. Try to keep the dough at the listed temperatures if possible; use your oven with its light on inside, your microwave with a bowl of steaming water, or a proofer. I use my instant-read thermometer to check the dough temperature periodically throughout bulk.
Total yield: 190.00%; 1,800g
As I mentioned above, my best sourdough recipe is an extremely high hydration. If this is your first time working with this recipe, reduce the total water or hold water back during mixing to ensure your dough can handle the addition. The amount of water your dough will handle will vary based on your particular flour and environment—play it safe the first few bakes and work the water up gradually once you get a feel for the dough.
My Best Sourdough Recipe Method
Build the liquid levain in the morning and store somewhere warm around 77-80°F (25-26°C) ambient for 5 hours.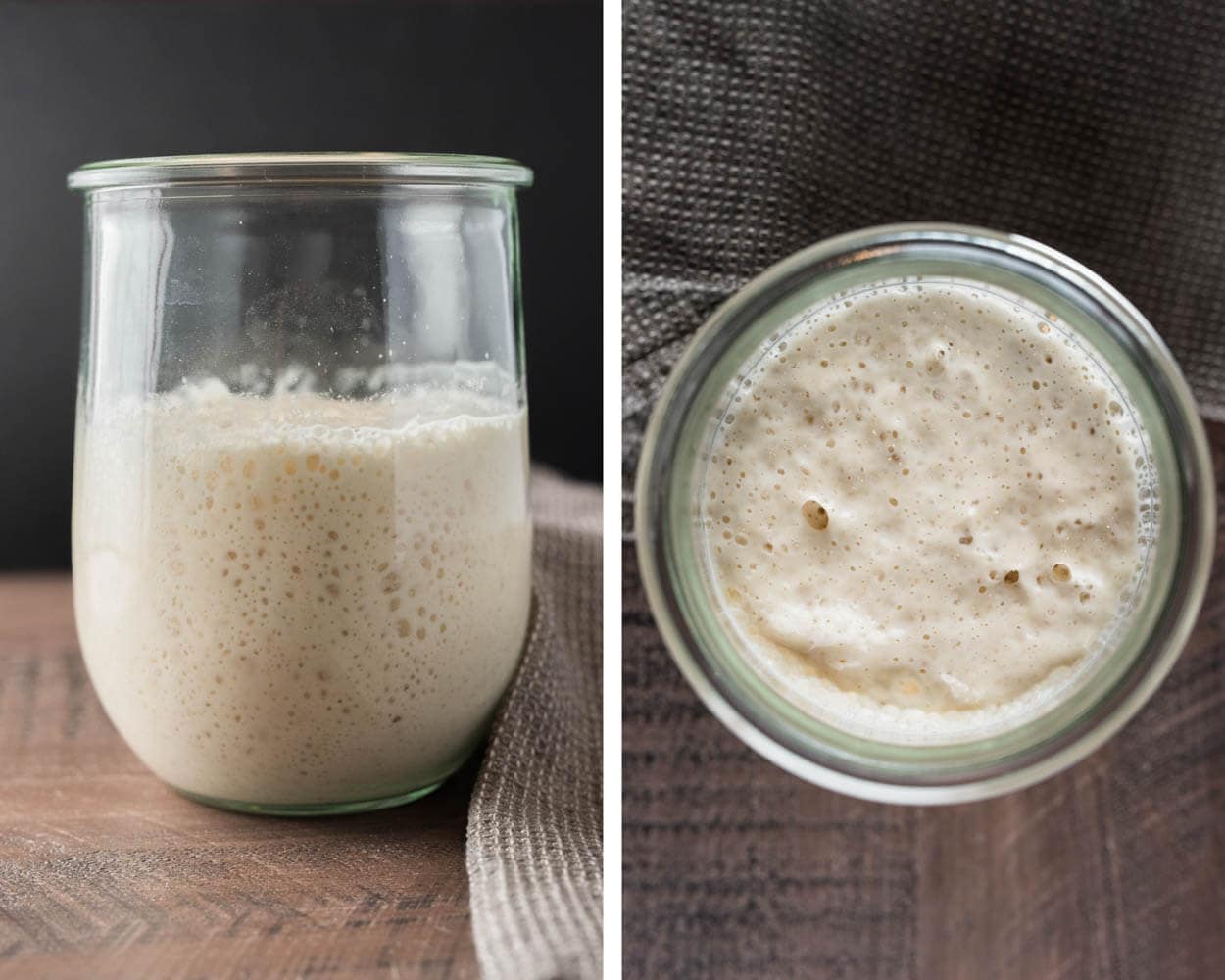 Ripe levain ready to mix into the dough
If you haven't yet read through my post on my sourdough starter maintenance routine, check it out for some helpful hints on what to look for when your sourdough starter and levain are ripe and ready to use.
Autolyse – 12
Mix the flour and water in a bowl until all the dry bits are incorporated, then cover. Ensure all dry flour is hydrated—store near levain (we want the dough's temperature to remain warm).
Mix – 2
Perform folds for about 2-3 minutes in the bowl. Grab under one side, pull up and over to the other side, then rotate the bowl a bit and repeat. I do this probably 30 times or so (it goes fast and easy). In the end, the dough should still be shaggy, but it will be more smooth and will start to hold itself together more in the bowl.
If you're a fan of the slap & fold mixing technique I've described in the past, you can do this but be aware that it is difficult at this hydration. It's best to first slap and fold the dough without adding all the reserved water to get the dough smooth and strong. Then, return the dough to the mixing bowl and slowly add the remaining water while folding the dough.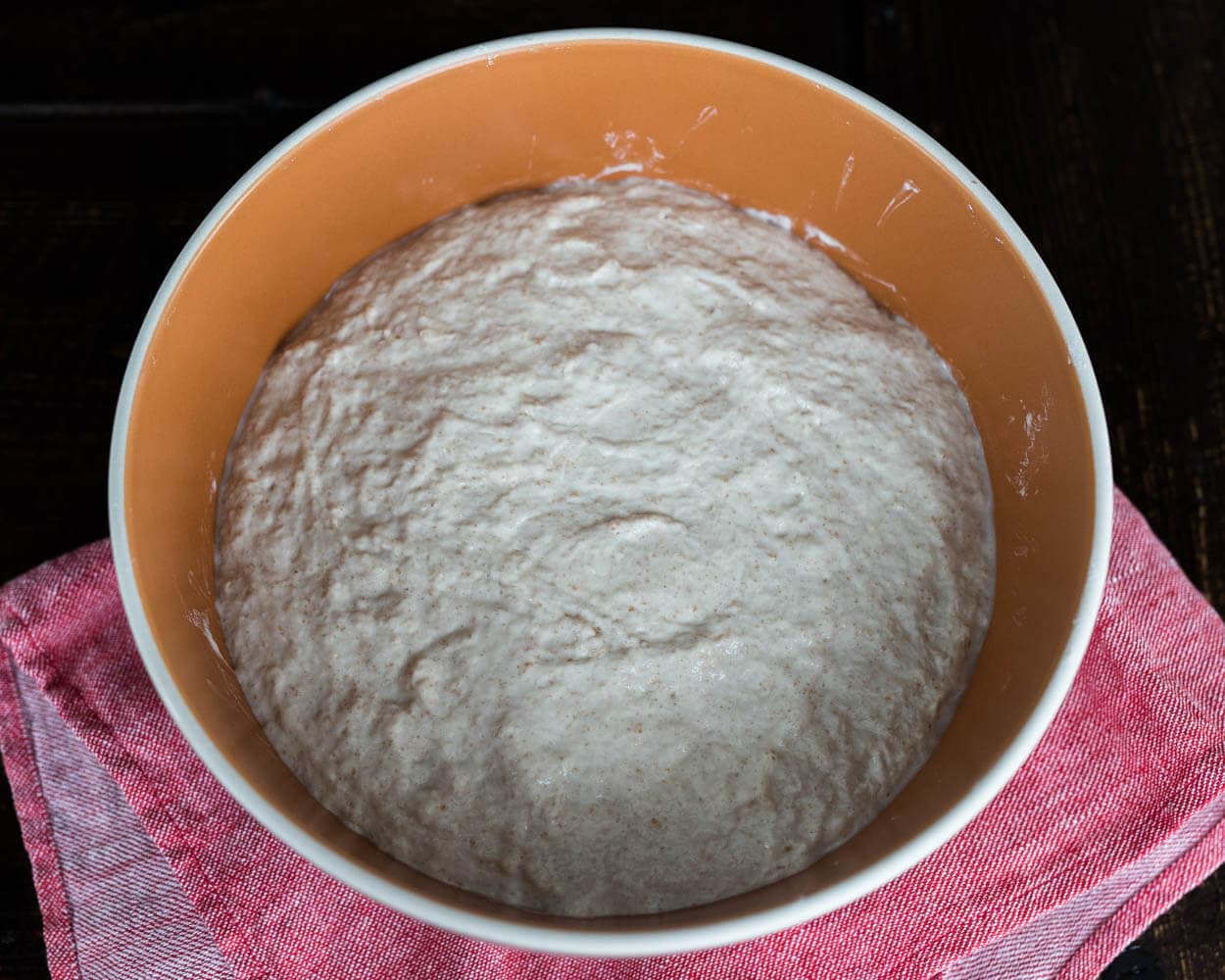 Dough at end of mixing
I find that the correct level of dough strength at this point is important. You want the dough to be smooth, elastic, and strong, but it doesn't have to be fully developed, and it will still be shaggy. We will continue to strengthen the dough through stretch and folds in bulk fermentation.
Transfer dough to a tub or thick-walled bowl for bulk fermentation.
Bulk Fermentation – 2
At 78°F (25°C) ambient temperature, bulk fermentation should go for about 4 hours. Perform six sets of stretch and folds during the bulk. The first three are at 15-minute intervals, and the last three are at 30-minute intervals. After these folds (2 hours and 15 minutes have gone by), let the dough rest for the remainder of bulk fermentation.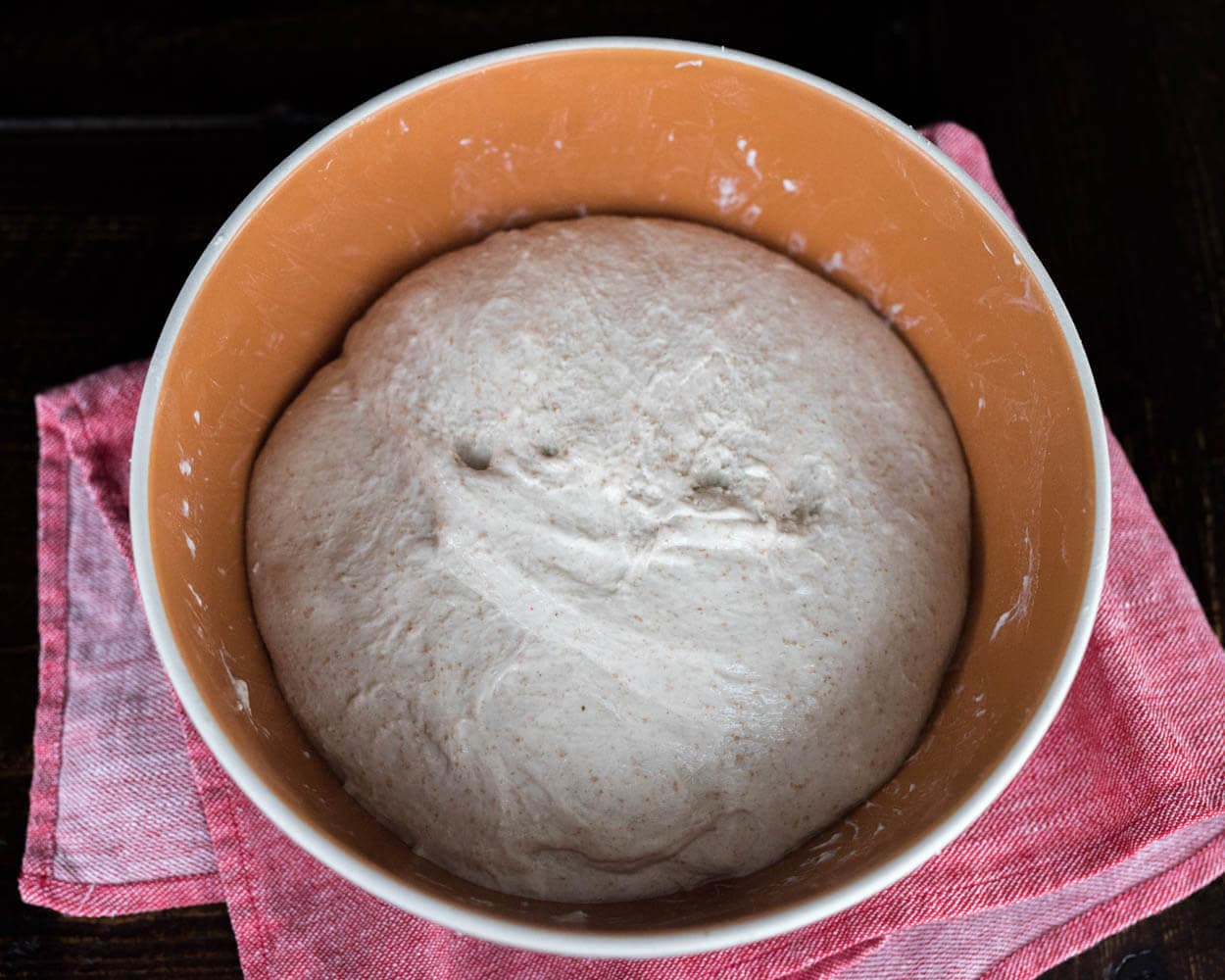 Dough at beginning of bulk fermentation
I stretch and fold more vigorously at the beginning of bulk than usual since it is extraordinarily slack and extensible (due to this recipe's high hydration and autolyse). Pick up one side of the dough with both hands and pull it up, just before tearing, and fold it over to the other side. Rotate your container and repeat 4 or 5 times. That is one set.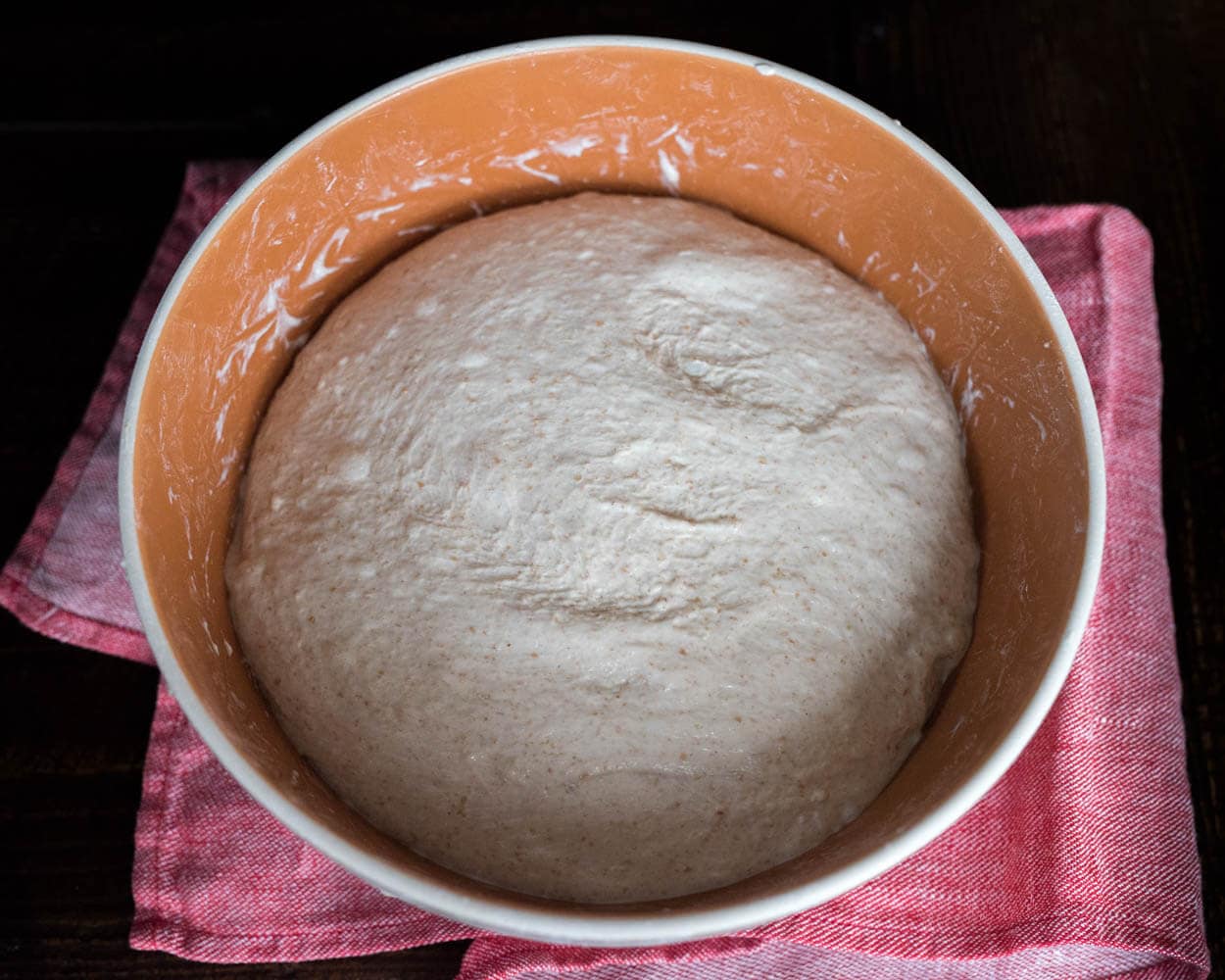 Dough after 2 hours in bulk fermentation
Above, you can see my best sourdough recipe dough halfway through bulk, after about 2 hours. There is no significant rise as of yet, but the edges are beginning to dome downward, and the dough's texture is smoothing out slightly. We still have several more folds to do and more strength to build.
It is essential that the dough is kept near 78°F (25°C) as much as possible (minor fluctuations up and down are ok). If temperatures dip down too far, you might have to extend the bulk fermentation duration to compensate, and vice versa. Use your judgment, the signs described below, and be flexible.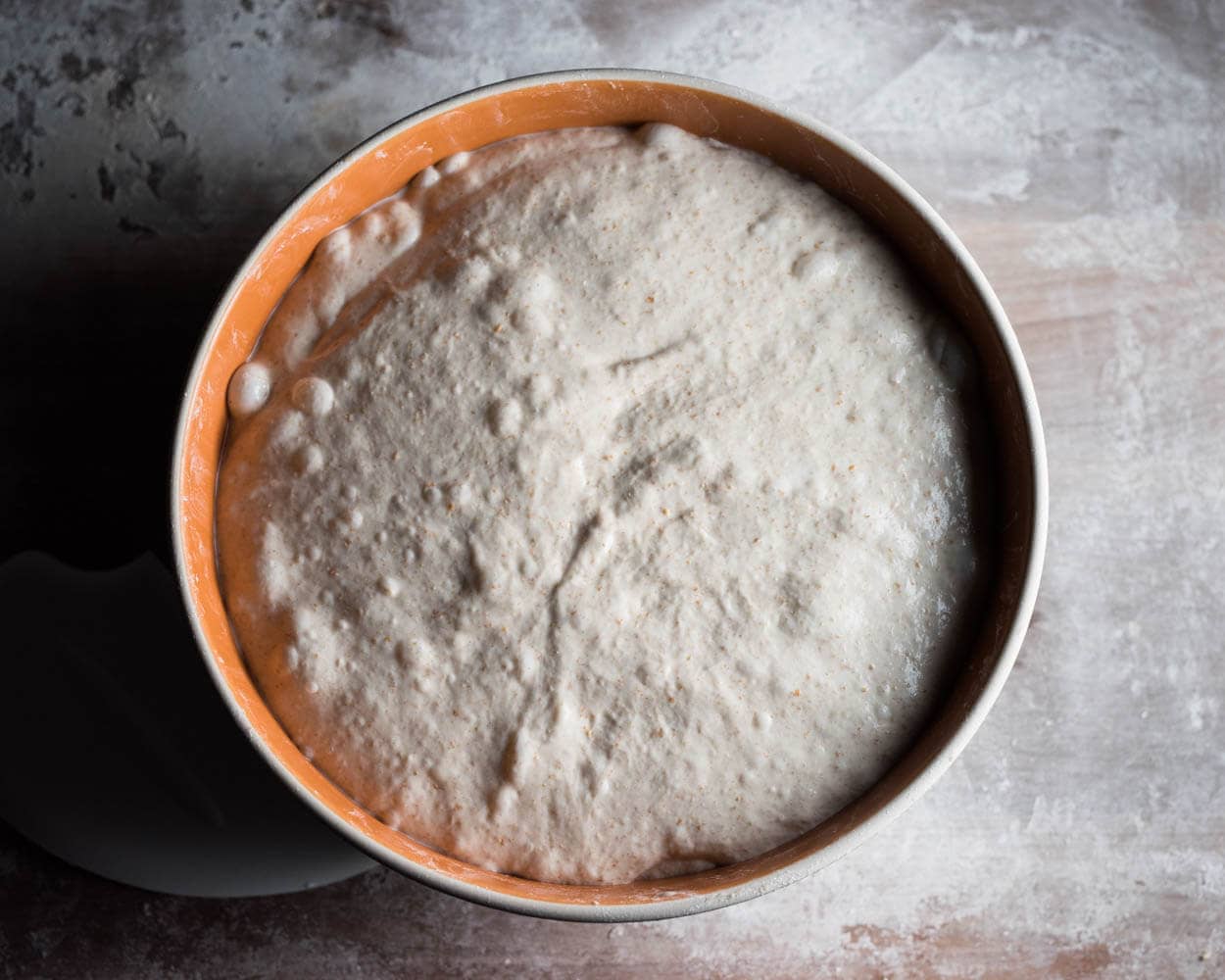 Dough at end of bulk fermentation
At the end of bulk, your dough should look very gassy, with some bubbles here and there, and the edges where the dough meets the bowl should be slightly domed. You can see all these signs in the image above.
When you gently shake the bowl, the entire mass jiggles from side to side—very alive. You'll also notice that compared with the photo at the beginning of bulk, the dough is smoother and holds its edges, folds, and creases more readily (most of the bumps and ridges you see are due to trapped gasses from fermentation).
Divide & Preshape – 6
Divide the dough into two halves and gently preshape each piece of dough into a round. Then, let the dough rest for 30 minutes, uncovered. Act quickly when handling this dough and rely heavily on your bench knife. I try to use my hands as little as possible when dealing with the dough at this point.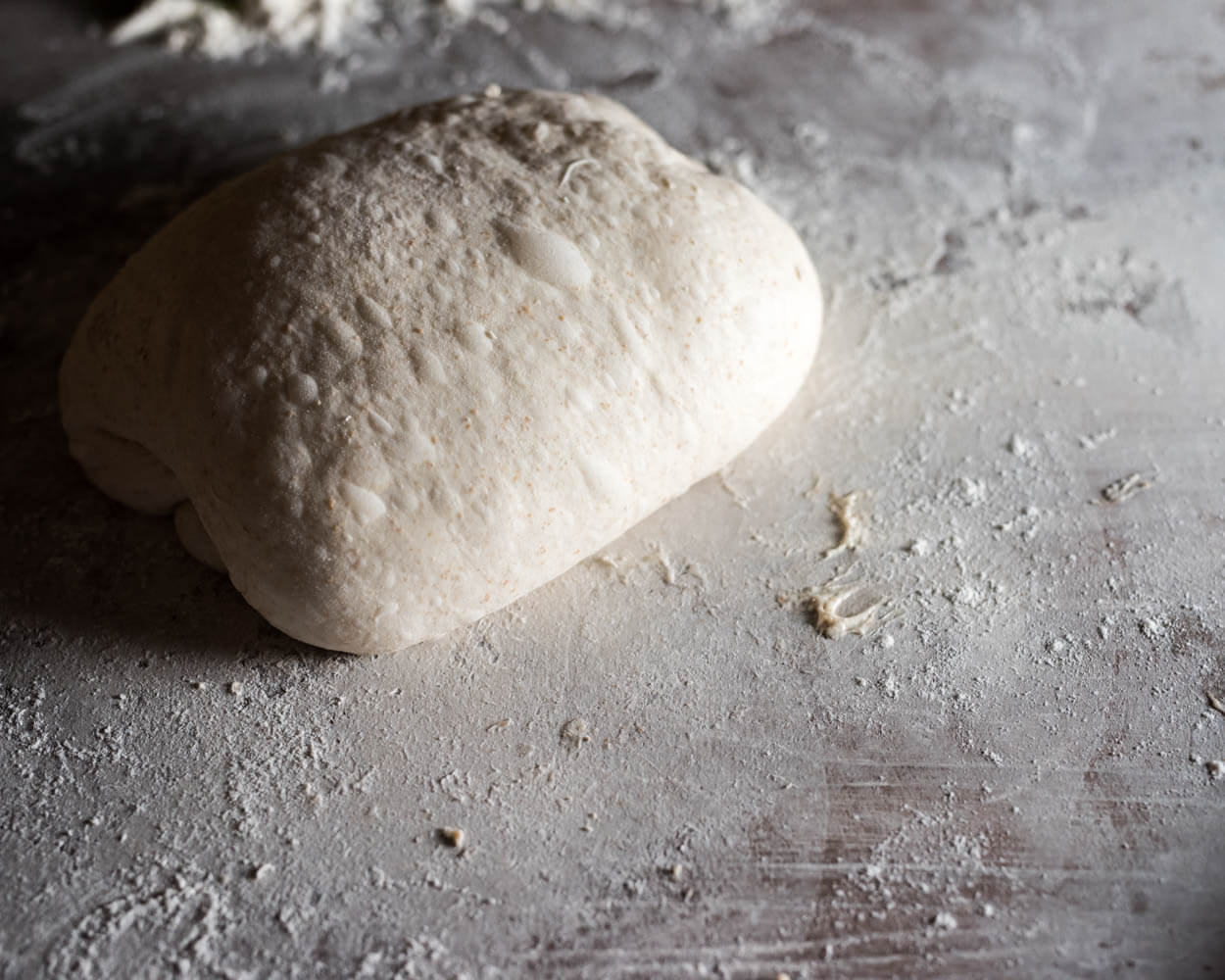 One shaped batard ready for its proofing basket
Lightly flour the top of your dough rounds and flour the work surface. With this recipe use a little more flour on the surface than normal, the dough will be extremely sticky and wet. Flip each round and shape into a batard (see notes below) or boule, whatever your preference.
Here's a video of how I shape a bâtard. With this dough, be sure to use the "slack dough" shaping method since the dough is such high hydration.
Flip pre-shaped round
Fold the right side over to cover left
Grab a little of the dough at the sides near the top and stretch it over the center, so the dough crosses. Imagine lacing up a shoe where you first grab your laces and cross them over
Repeat three times from top to bottom (the result will look like a laced up shoe)
Take the bottom and gently roll the dough up to the top and try to seal it slightly when done rolling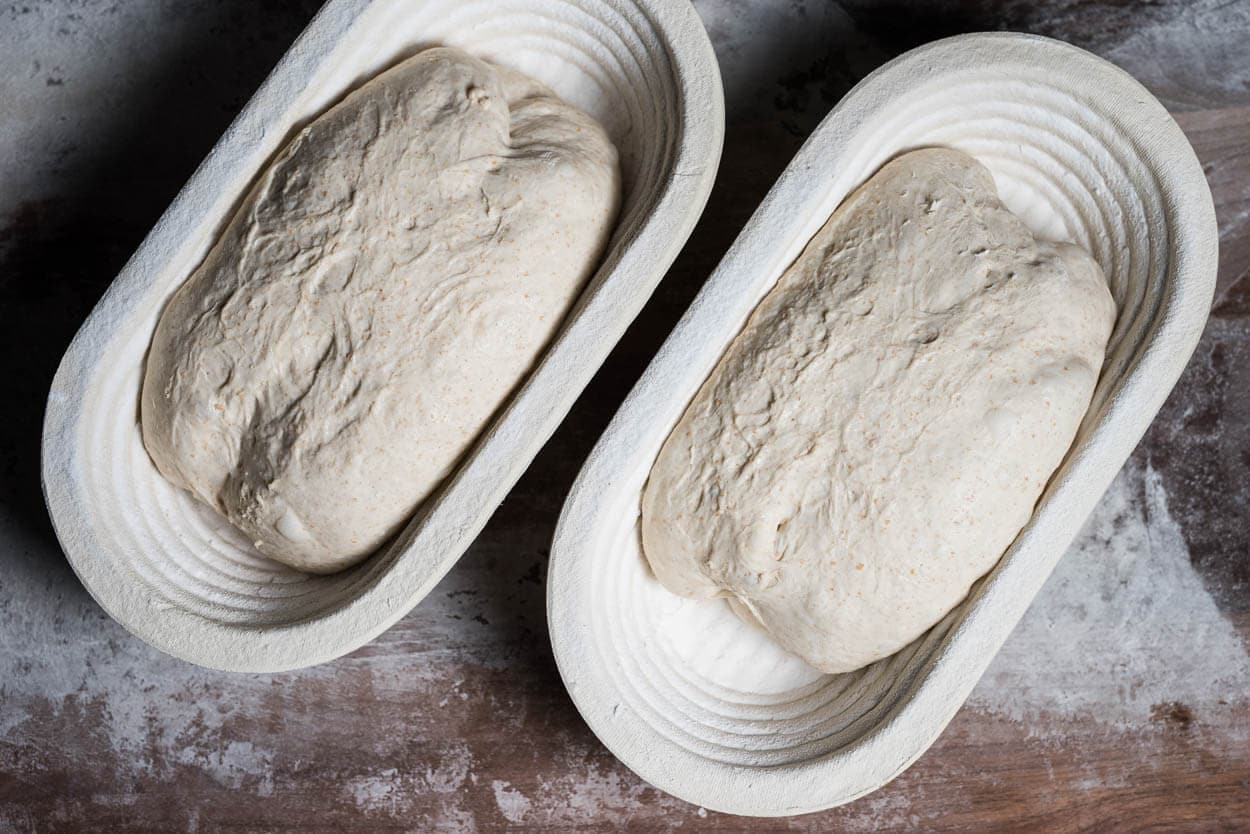 14″ long bannetons
After shaping, let the dough rest on the bench for a few minutes and then place it into a banneton that is lightly dusted with white flour. You'll see above my bannetons give the dough plenty of room to relax and expand in the fridge overnight. If your proofing container is on the smaller side, and you find your dough almost spilling over the edges, it might be time for a larger basket.
00 a. , the next day
Cover your banneton with plastic and place it in the refrigerator at 38°F (3°C) overnight.
Bake – Next Morning
Preheat your oven to 450°F (230°C). Remove the dough from the fridge (there's no need to let the dough come to room temperature) and uncover. Bake for 20 minutes with steam, then remove your steaming pans or Dutch oven/combo cooker lid. Then, bake for an additional 30 minutes until done to your liking. I like to bake rather dark, so I sometimes extend this second half of baking until I get the crust I'm looking for.
I scored the dough with a single, long slash to get that dramatic opening when baked. I keep the blade at a reasonably shallow angle so the taut skin created during shaping will "peel" back as the loaf rises. I steamed my oven in my usual way, described here in my post on how to steam your home oven for baking.
Once your loaf is done, remove and let cool on a wire rack for 1-2 hours. See my post on the best way to store the bread after it's baked for a few tips on keeping it on the counter and freezing if you think you won't get through both loaves in a week.
Conclusion
It's hard to put into words just how much I enjoy this "my best sourdough recipe." I bake it almost every week (sometimes multiple times if baking for friends and family), and yet every time I pull it from the oven, I smile. The crust color, the open and light interior, only the smallest perception of sour notes, and the way it crunches when toasted. I could go on and on.
With baking, every single bake is different no matter how consistent you try to be. It's the same with my Dad and his Italian restaurant, and the reason I'll sometimes get a call in the middle of the afternoon: "hey, the pizza dough is incredible today, you should head over and grab some."
Crust
As a kid, I was known to take slices of bread, cut out the center, and eat the crust. It used to anger my family because they'd reach into the breadbasket only to find slices of only the soft parts. That's how much I love the crust! Can you blame me, though?
I enjoy bread with a chunky, chewy crust, but this bread with its delicate and cracker-like crust takes the top spot for me. Even though I bake these rather dark, the crust remains thin and brittle, crackling under the slightest pressure. I love using the "heel" (the very end) of this bread to eat soup or combined with hefty slices of cheese. It's delicious.
Crumb
I think there's a balance to be had with bread like this. It's possible to let the crumb open up too much, but for me, this is just right. Scattered open areas with that translucent webbing spanning from wall-to-wall, a dynamic movement to these areas, almost show you how shaping was carried out.
Taste
This bread has an almost imperceptible hint of sour, and because of this, the wheat flavors from the flour come forward. It has an incredibly tender, soft crumb that almost dissolves in your mouth. It's one of those rare foods whereupon taking that first bite your mouth begins to water.
Description
This sourdough bread is one of my favorite recipes. It's a highly hydrated dough that results in a loaf with an open and lacey interior contrasted by a thin, crispy crust.
Levain
medium-protein bread flour
whole wheat flour
water
ripe sourdough starter
Main Dough
medium-protein bread flour
whole wheat flour
water
salt
ripe levain
Levain (9:00 a.m.)In a small container, mix the levain ingredients and keep at 78°F (25°C) for 5 hours.
Autolyse (12:00 p.m)In a medium mixing bowl, add 822g medium-protein bread flour, 64g whole wheat flour, 650g water, and mix until no dry bits remain. Cover the bowl and let rest for 2 hours.
Mix (2:00 p.m.)To the mixing bowl holding your dough, add 95g water (holding back any as necessary if the dough is too wet), 17g sea salt, and the ripe levain (from step 1). Transfer your dough to a bulk fermentation container and cover.
Bulk Fermentation (2:15 p.m. to 6:15 p.m.)Give the dough 6 sets of stretch and folds. The first three sets are at 15-minute intervals, and the last three sets are at 30-minute intervals.
Divide and Preshape (6:15 p.m.)Lightly flour your work surface and scrape out your dough. Using your bench knife, divide the dough in half. Lightly shape each half into a round shape. Let the dough rest for 30 minutes, uncovered.
Shape (6:45 p.m.)Shape the dough into a round (boule) or oval (batard) and place it in proofing baskets. Cover the baskets with a reusable plastic bag.
Proof (7:25 p.m. to 9:00 a.m. the next day)Cover proofing baskets with reusable plastic and seal them shut. Then, place both baskets into the refrigerator and proof overnight.
Bake (Preheat oven at 8:00 a.m., bake at 9:00 a.m.)Preheat your oven with a combo cooker or Dutch oven inside to 450°F (230°C). Remove your dough from the fridge, score it, and transfer it to the preheated combo cooker. Place the cooker in the oven, cover with the lid, and bake for 20 minutes. After this time, remove the lid (you can keep it in the oven or remove it) and continue to bake for 30 minutes longer. When done, the internal temperature should be around 208°F (97°C). Let the loaves cool for 2 hours on a wire rack before slicing.
Notes
This is a very highly hydrated dough. Don't add in all the reserved water during mixing if it feels like the dough is becoming overly weak, slack, or soupy.
Keywords: Bread, Sourdough, Naturally Leavened
You won't believe how easy it is to make Sourdough Bread at home. This beginner-friendly sourdough recipe does not require kneading and has straightforward and clear steps. Perfectly crusty on the outside and tender on the inside, you will love this chewy loaf bursting with rich, deep flavor.
Want to make sourdough bread at home but worried that it will be complicated? There is nothing tricky about making this recipe. You don't need a mixer or a bread machine, nor do you even have to knead the dough. This recipe is perfect for beginners, and this easy step-by-step guide will have you enjoying rustic sourdough bread from scratch in no time.
There is nothing better than a freshly baked loaf of sourdough. It has a slightly acidic, tangy flavor from the sourdough starter that will leave you wanting to eat the entire loaf in one sitting. This post will cover the basics of sourdough baking, and over time, you will master bread making! Want to make another loaf of bread? Try my artisan bread recipe, beer bread recipe, or brioche bread recipe.
What You Need to Make This Recipe
Water — use warm water that is between 80° and 85°F. If the water is too hot, you will destroy the enzymes in your sourdough starter, while cold water will slow them down. Water between 80° and 85°F is ideal for keeping the enzymes active.
Active starter — unlike regular bread, sourdough bread uses an active starter instead of yeast to help it rise in the oven. It's also what gives the bread its signature tangy flavor. See my full sourdough starter recipe to make your own.
Flour — I like using bread flour as it is higher in protein than all-purpose flour to form the gluten needed for a delicious, chewy loaf of sourdough bread.
Salt — you will need salt for flavor! If you skip the salt, you'll have a flavorless loaf of sourdough bread.