This 3 ingredient dump cake with canned fruit turned out great! A coffee cake breakfast or dessert I threw together & was surprised how well it turned out.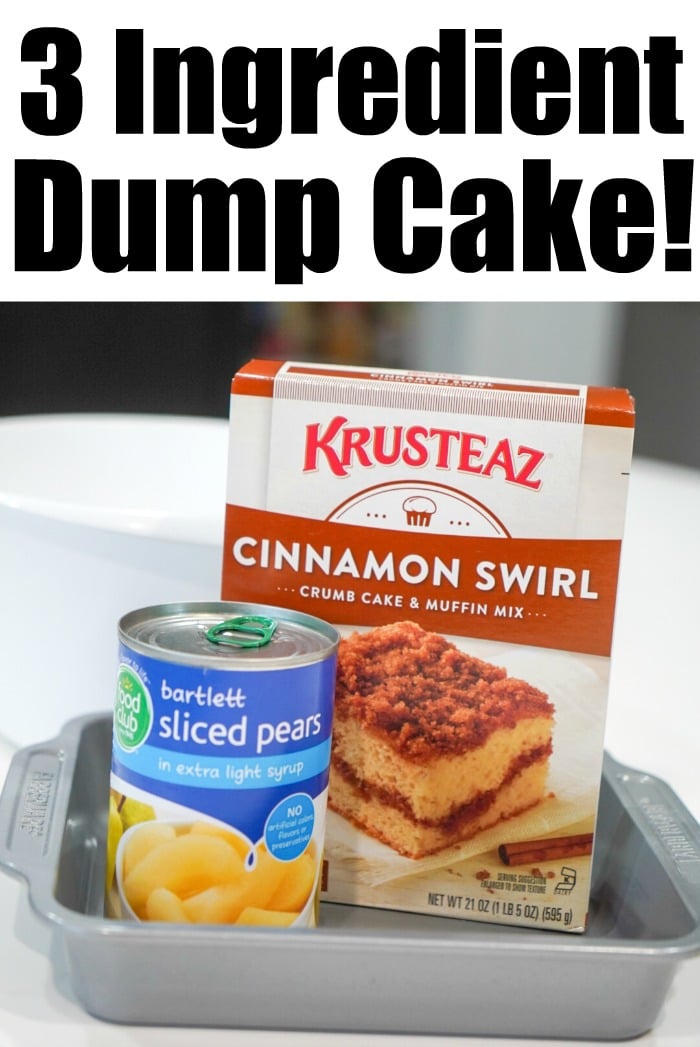 Canned Fruit Dump Cake
When it comes to easy desserts, it doesn't get any more simple than this one. It happened quite by accident too which are the best creations if you ask me. I was craving something sweet so I went to mixing. A friend said she once made a blueberry loaf with muffin mix and canned pears so I started with that idea.
Boxed cake mix recipes are the best, really. It has all of the leavening agents already in there so there is no need to measure out the baking soda, baking powder, salt, all that other stuff. You just choose the flavor or color you want to make and usually with an egg to stiffen it up and pie filling or canned fruit you have yourself bites of YUM.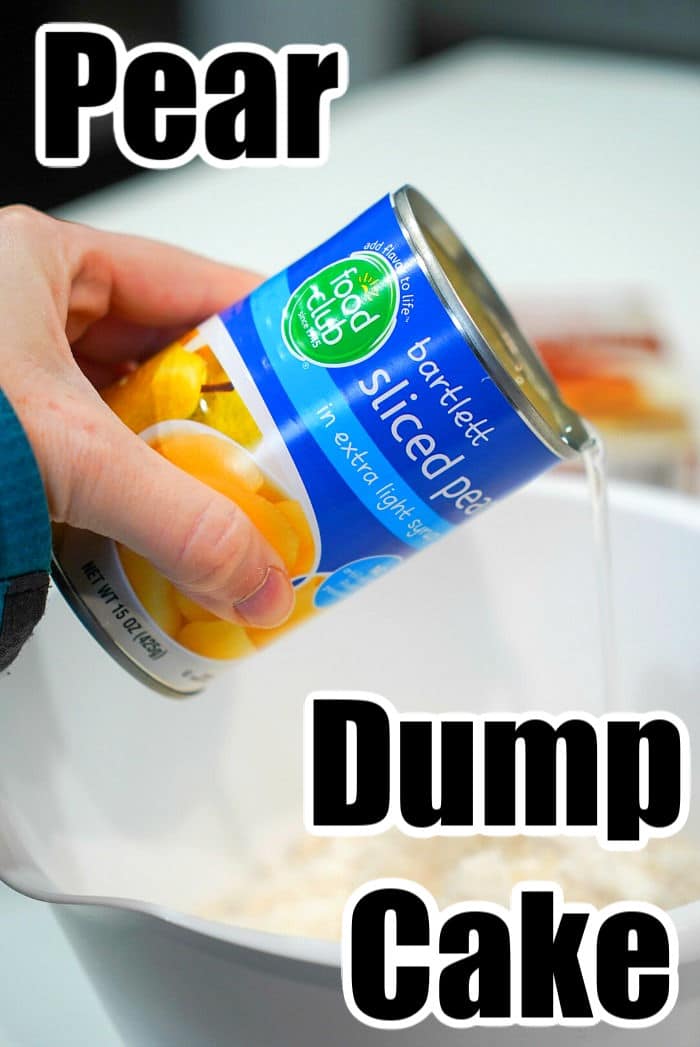 3 Ingredient Dump Cake With Eggs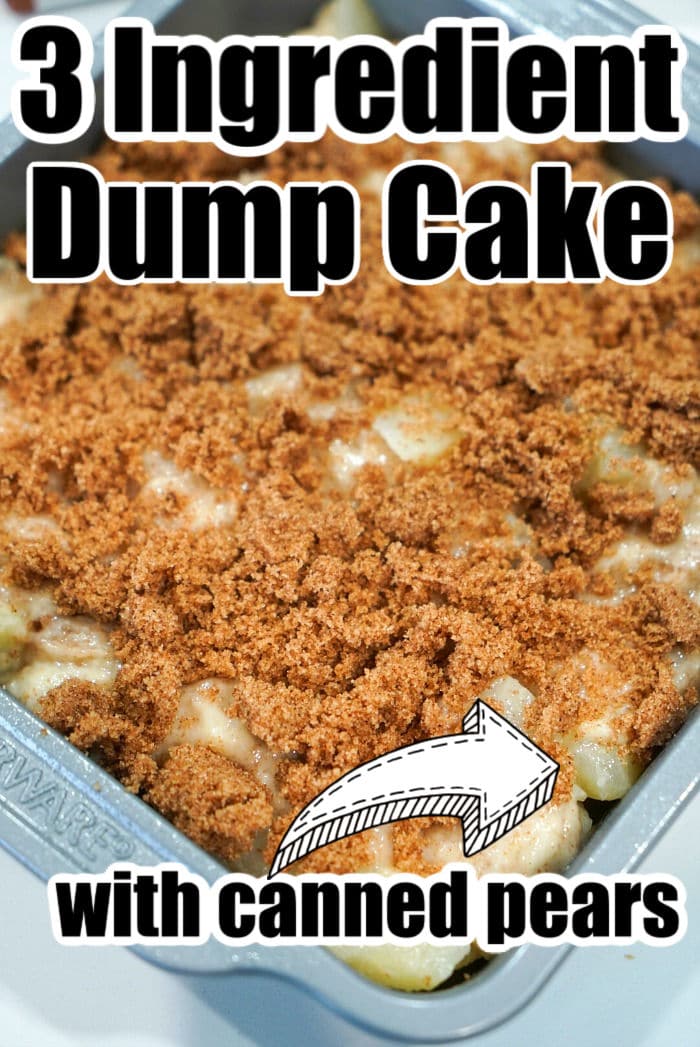 Dairy Free Dump Cake
We have several tweaks to this basic idea. This is the simplest of them all. If after you make this you love the texture and taste, but want a bit more homemade, try our peach cobbler pound cake too. Made in a bundt pan it's super pretty with canned peaches.
Do you stir a dump cake?
Typically, no. This would probably be an exception to the rule. Traditionally the filling is on the bottom with cake mix on top, not stirred. For this coffee cake dump cake, the ingredients need to be well incorporated.
Does a dump cake have to be refrigerated?
I never do. Warm is how it is typically served, with or without ice cream or whipped cream on top. Many times it is not even sliced, a scoop served warm with vanilla ice cream is perfect.
How do dump cakes work?
You really just need enough moisture for the dry mixture. An egg will stiffen up the mixture so you get the springy fluffy bite you would expect from a cake. There are a ton of varieties out there as you could imagine. You can find hundreds of different boxes of cake mix, canned fruit or pie filling works well and stick of butter or whisked poured over the top is traditionally used.
Many like our pineapple cherry dump cake use yellow cake mix with cherry pie filling or apple pie filling. This one is easier! This one has no butter and uses canned fruit instead. I haven't used anything other than coffee cake mix for this method, but may work with other mixes too.
Pear Dump Cake
This could easily be served as a Christmas brunch item rather than a dessert. We had some leftovers and enjoyed them the next morning ourselves.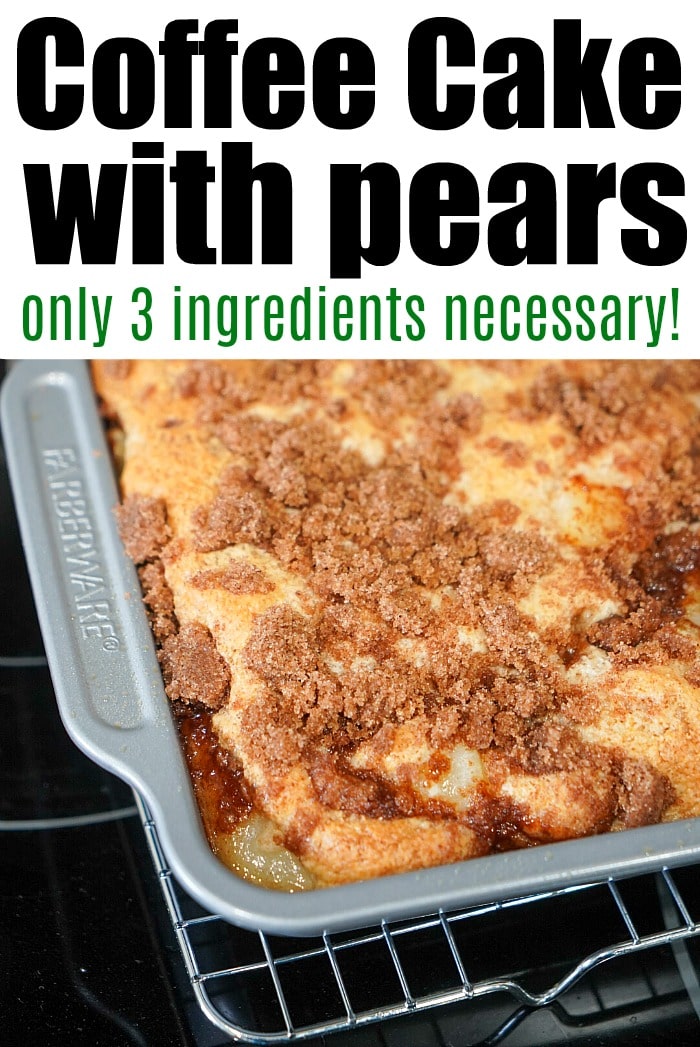 Dump Cake Ingredients
Like I said there is a variance amongst the recipe you are using. If you need a dairy free cake this one would work well since there is no butter or milk in it. Of course you should double check the back of the box though to ensure there isn't dry milk in it.
Coffee cake mix – I always use Krusteaz
hasn't been tested with any other brand or type of dry cake mix yet
hasn't been tested with any other brand or type of dry cake mix yet
Egg
Can of pears – peaches would work just as well
8×8 baking dish
Cake Mix and Canned Fruit Recipe
In a bowl mix the coffee cake mix (in white bag), 1 egg, 1/2 bag of brown sugar mix (in box) and liquid from canned fruit. Then you're going to want to preheat your oven to 350 degrees F now so it's ready.
With a knife, slice the sliced fruit in the can into smaller bite size pieces. Dump contents in the bowl and gently fold together.
Spray non stick spray into an 8×8 pan and pour batter in.
Smooth out so it's the same thickness across the pan.
Pour remaining brown sugar mixture on top of the cake (if you are using coffee cake). (could add nuts too)
Bake for 25 minutes and then cool on a cooling rack for at least 15 minutes before slicing and serving.
The middle may sink a bit but that is okay, that is because it's so moist. Unlike other dump cake recipes it does stay in tact more than others. As you can see here the fruit keeps it so tender inside and has chunks too so the texture is nice.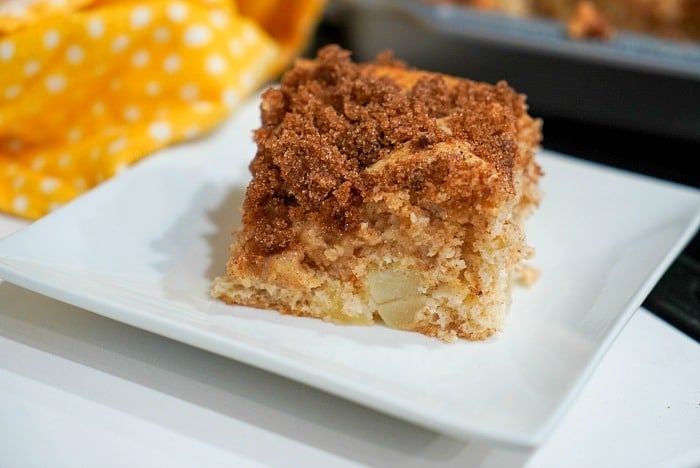 Do You Eat Dump Cake Hot or Cold
I mean there really isn't a wrong way to enjoy a dessert right?? Right out of the oven is amazing and if you put a dollop of whipped topping or ice cream on top it will melt too. Once it has cooled though you can taste the flavors of the fruit more though, if you ask me. Make it cold overnight in the fridge and it has an even different taste to it.
You could make this in a muffin tin for a totally different shape and to have it bake quicker. You'd only need about 18 or so minutes for that size with crust all the way around each one. No matter which one you choose, they're all easy and take less than 45 minutes to prep and bake. Here are a few others you're going to love:
For a really quick idea, make this no bake cake that's like an eclair! This one is best really cold if you ask me. I like to make, store in the fridge all day or overnight and then have a slice. Totally guilty of enjoying one for breakfast a few times honestly. I mean it does have eggs in it so?? 😉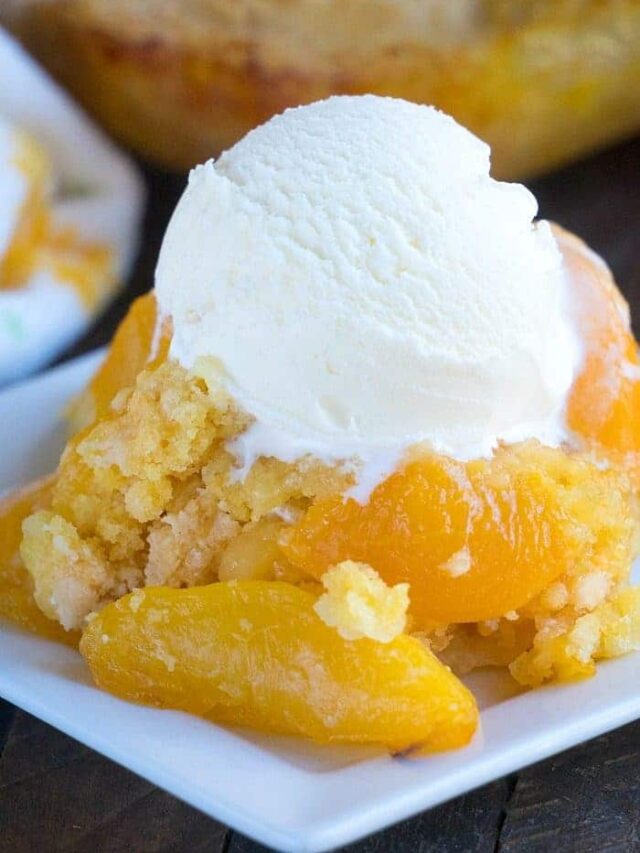 Should Leftover Dump Cake be Refrigerated
Because there is fruit inside it is a good idea to keep it cold in the fridge. You know I hate to waste food so please don't throw away what you do have left. Instead wait until it is totally cool and then transfer what you have into a sealed container, you could wrap in saran wrap too to keep all the air out. It will keep well for a few days, I'd warm it for 45 seconds in the microwave when you're ready.
Beyond about 48 hours the texture will begin to change so I would try and reheat within the day for the best flavor and feel to it. I've never frozen it and likely wouldn't do that. I can't imagine it would defrost without becoming mushy on the bottom. I'm too much of a texture gal to think this could ever turn out good.
This 3 ingredient dump cake with canned pears turned out great! A coffee cake breakfast or dessert I threw together & was surprised how well it turned out.
cinnamon, coffee cake, dump cake, pear
coffee cake mix 21 oz, Krusteaz
canned, sliced, cut again into diced pieces with juice in can
In a bowl mix coffee cake mix (not brown sugar bag, set aside for now), egg and liquid from can of pears.
Then add 1/2 of the contents of the brown sugar bag included in your boxed coffee cake and mix in.
Use a knife to dice diced pears in can smaller, then pour into your bowl and gently fold together.
Preheat oven to 350 degrees F. and spray the inside of a 8×8 pan with non stick spray.
Pour mixture inside pan and smooth so it's an even thickness across the pan.
Sprinkle remaining brown sugar mixture on the top and bake for 25 minutes.
Remove and put on cooling rack for at least 15 minutes to solidify before slicing.
Amount Per Serving (3 oz)
Calories from Fat 18
% Daily Value*
Saturated Fat 1g
Vitamin A 26IU
* Percent Daily Values are based on a 2000 calorie diet.
This Pear Cake Recipe with Streusel Topping is the perfect fall and winter treat – make it with fresh or canned pears for an easy dessert!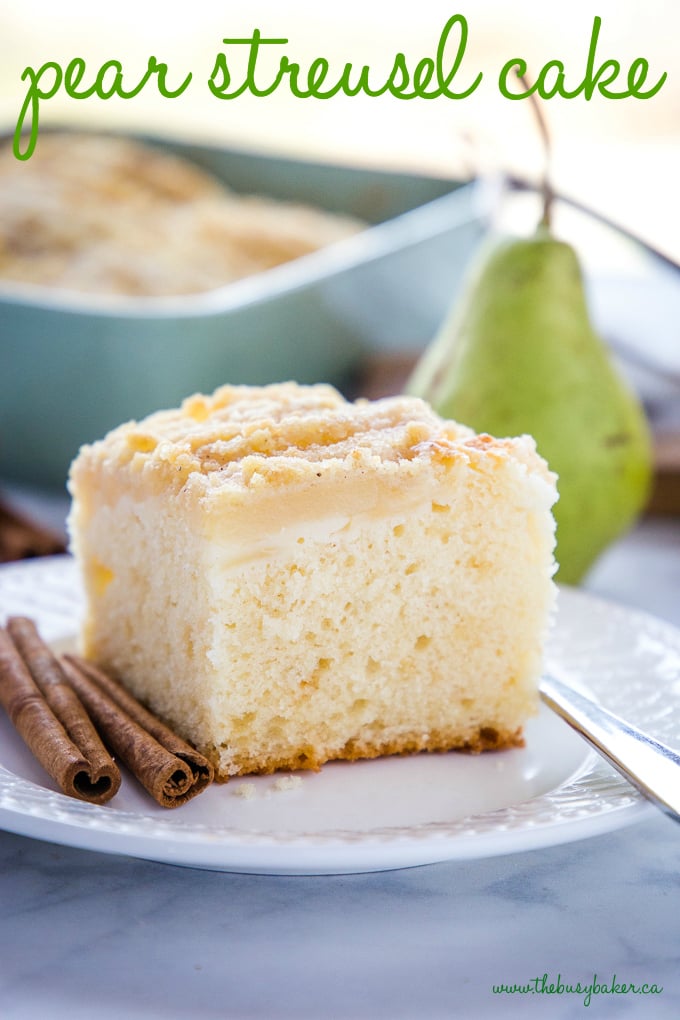 NEVER MISS A POST! FOLLOW ME ON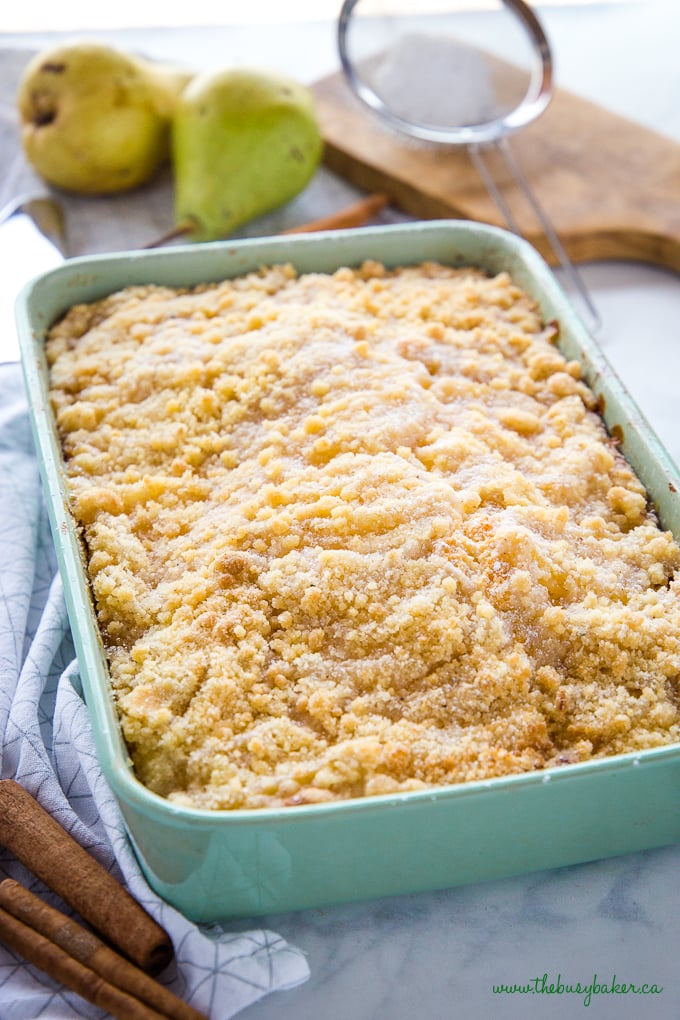 Like the look of this recipe? You'll love this Chocolate Layer Cake or this Classic Carrot Cake!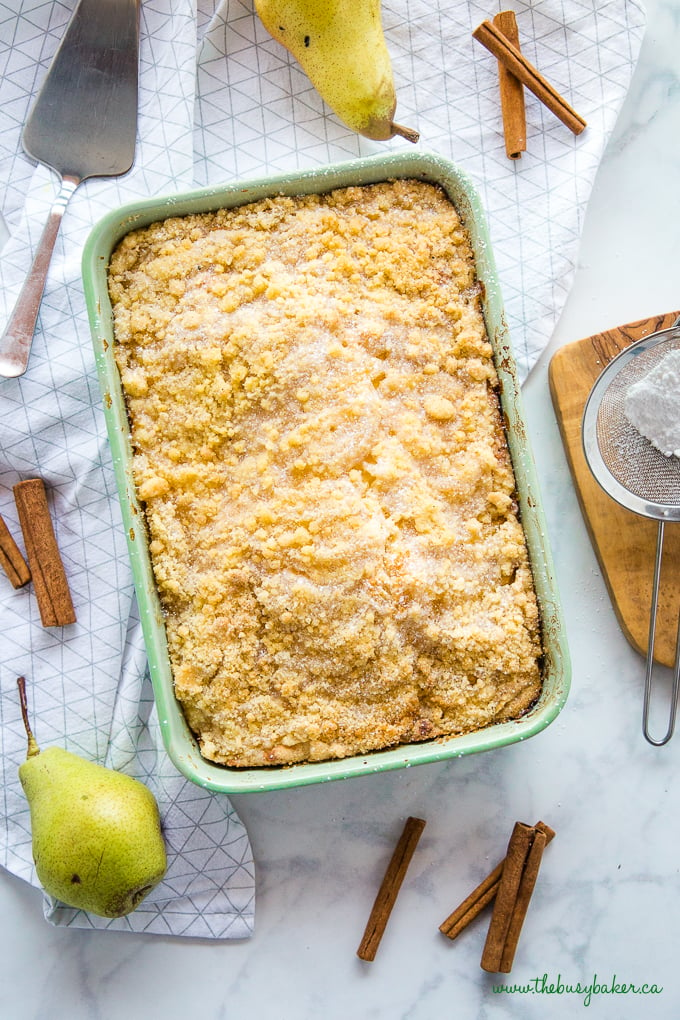 There's just something so special about a cake like this Pear Streusel Cake – we've been living in Europe for a number of years now and many Europeans have no time for traditional North American cakes made with mountains of frosting. That's just not a thing here, and if I had a dollar for every time someone said "it's too sweet!" after trying one of my North American-style cakes here, I'd be rich. But my baking style is slowly evolving and I'm embracing less sugary desserts like this cake that are just as rich and tender and delicious as anything from my home continent.
Pears are the perfect fruit for fall and winter, and this cake recipe is versatile enough that you can use fresh or canned pears! It's such a simple dessert that you are going to LOVE!
Get my guide to Easy No-Fail Muffin Baking!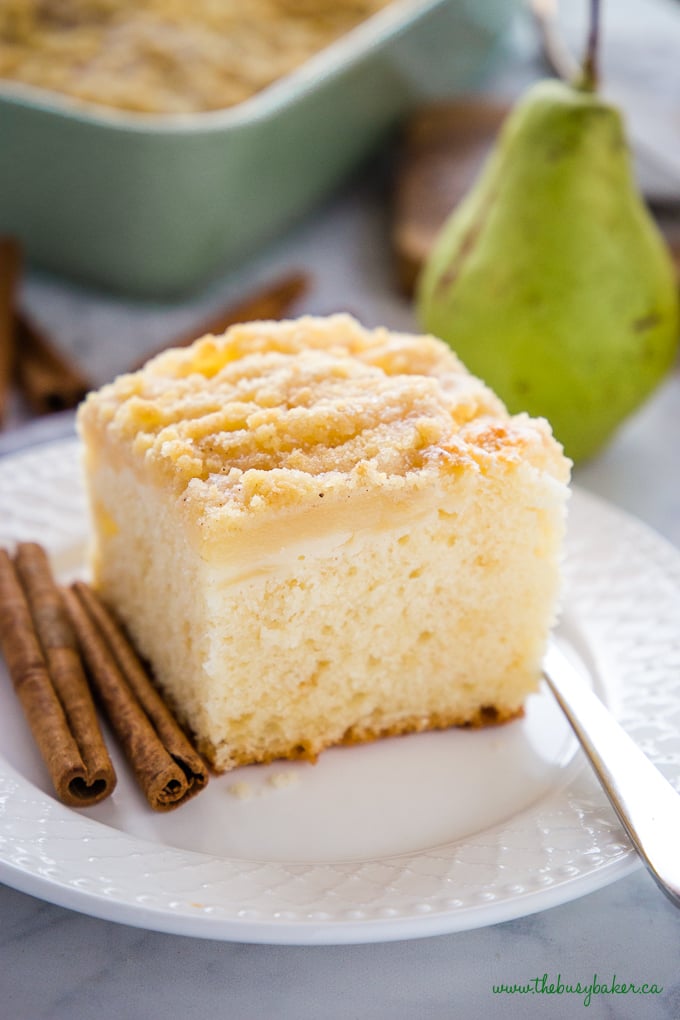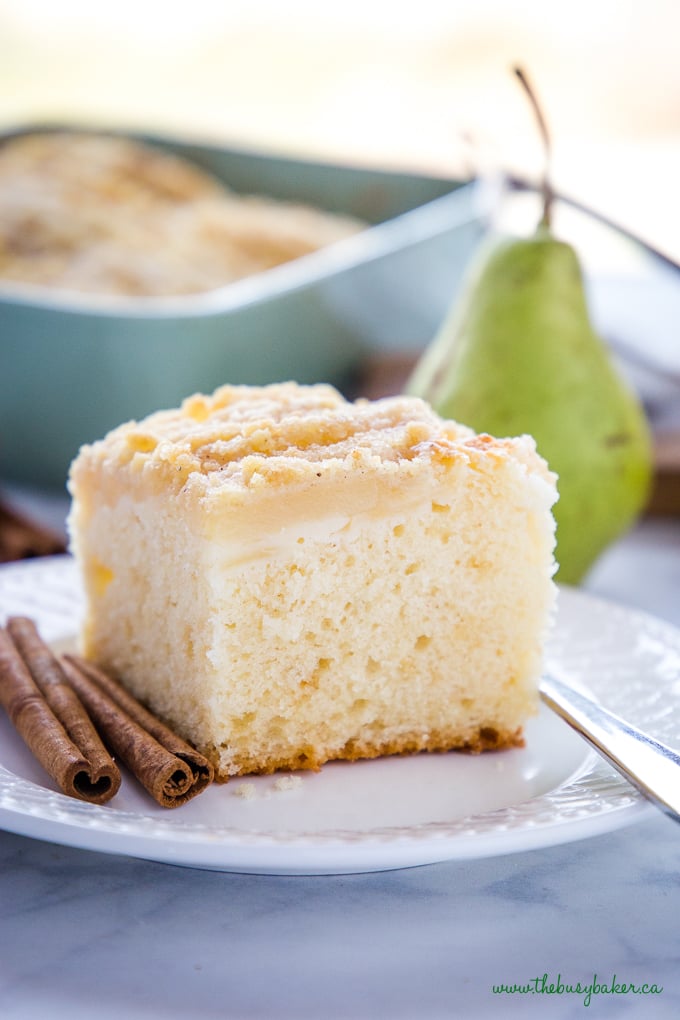 I hope you love this Pear Streusel Cake as much as we do! Let me know in the comments below, what's your favourite way to enjoy pears? I'd love to know!
Kitchen Products I recommend
unsalted butter at room temperature
eggs, at room temperature
milk, at room temperature
sour cream, at room temperature (full fat is best)
all purpose flour
unsalted butter for greasing the cake pan
fresh pears, peeled and thinly sliced (alternatively, use an 850 ml large can of canned pears)
For the streusel topping
Preheat your oven to 350 degrees Fahrenheit.
Feel free to use a hand mixer and large mixing bowl if you prefer.
Add the eggs and the vanilla and beat them in on medium speed until the mixture is smooth. It's a good idea to scrape down the bowl periodically to make sure everything is incorporated evenly.
Add the milk and sour cream and beat in these ingredients on low speed until they're combined.
To a separate bowl add the flour, the baking powder and the salt and mix these ingredients together with a fork or a wire whisk. Once they're all incorporated, dump the flour mixture into the bowl of the stand mixer with the wet ingredients. Turn the mixer on low and watch the batter come together. As soon as you see the batter form with streaks of flour throughout, turn off the mixer and remove the bowl.
Over-mixing at this stage can cause an overly dense and dry cake with large air bubbles, which you definitely don't want. Using a rubber spatula, scrape down the sides of the bowl by hand and gently fold in the remaining flour. Be sure to stop folding as soon as everything is combined.
Grease a 9×13 rectangular glass cake pan with some butter and pour the batter into the pan, using the spatula to push the batter into the corners and even out the surface. Don't worry, the batter will seem thick but it's supposed to be like that.
Spread the sliced pears over the top of the batter.
In a clean bowl mix together the flour, sugar and cinnamon for the streusel topping. Add in the melted butter and mix everything together with a fork until the mixture becomes crumbly.
Sprinkle the streusel mixture over the cake and the pears, making sure to spread it at evenly as possible and into all the corners.
Bake the cake at 350 degrees Fahrenheit for 47-50 minutes. When it's finished baking the topping will be slightly browned on top and when you insert a toothpick into the centre of the cake it will come out clean.
This cake is best the day it's made, but it stores well at room temperature for up to 2 days in an airtight container.
Pear Streusel Cake
Amount Per Serving (1 serving)
Calories from Fat 144
% Daily Value*
Saturated Fat 8gVitamin A 559IUVitamin C 2mg* Percent Daily Values are based on a 2000 calorie diet.Notice: Nutrition is auto-calculated, using Spoonacular, for your convenience. Where relevant, we recommend using your own nutrition calculations.
Peach Dump Cake has it all! Easy prep, a few simple ingredients, very little clean up, AND the flavor and taste of a dessert that took hours to prepare!
Scrumptious Peach Dump Cake with Ice Cream
Are you all about peaches? Here at Skip to My Lou, I am definitely all about peaches and would love for you to check out my Peach Cobbler Recipe and Delicious Peach Pie.
WATCH VIDEO AND LEARN HOW TO MAKE Peach Dump Cake
Looking for an easy dessert with super-fast prep time? Searching for a dessert with the flavor and taste of something you remember from childhood? I've got a winner for you with this easy peach cobbler with cake mix. Also called a dump cake or cake mix cobbler. Super simple ingredients and you can use your imagination to create variations on this theme. Simply layer fruit, spices, cake mix, and on top of the cake mix add butter.
Peach Dump Cake INGREDIENTS
You will need to make this recipe
Can of peaches
Yellow cake mix
Ground cinnamon
Butter
9×13 baking dish
Cooking spray
SUBSTITUTIONS OR ADDITIONS
No canned peaches on hand? You can use peach pie filling if you have that!
HOW TO MAKE Peach Cobbler Dump Cake
Preheat oven, prepare baking dish with cooking spray. Drain sliced peaches. Pour into baking dish.
Sprinkle cinnamon over the top of the peaches. Some people use spices like nutmeg, too. It is always okay to do what you like best.
Sprinkle dry cake mix on top of the peaches and spices. And on top of the cake mixture, add the pats of butter.
Bake until golden brown.
Serving and Storage
Serve this easy dessert recipe while still warm from the oven. A scoop of vanilla ice cream is the perfect companion for this easy peach dump cake recipe.
Store any leftovers in an airtight container in the fridge. Reheat in the microwave.
If you don't have an airtight container, a sheet of aluminum foil pressed carefully around the edges of the baking pan will work, too.
Peach Dump Cake
The fruit bubbles up and cooks the dry mix from the bottom up, while the melted butter works its way down.
sliced peaches in syrup
2 x 29-ounce cans
vanilla cake mix
Preheat the oven to 350°F. Spray a 9×13-inch baking dish with cooking spray.
Dump one can of peaches into the baking dish. Drain the liquid from the other can and add the peaches to the baking dish.
Sprinkle cinnamon evenly over the peaches.
Sprinkle the dry cake mix evenly over the peaches.
Sprinkle the frozen sliced or grated butter evenly over the cake mix. Do not stir.
Bake in a preheated oven for 45 to 55 minutes until the top is golden brown
Dump cakes are so gooey so it can be hard to determine when it is done. You might see some wet spots and spots that are more crispy.
Saturated Fat 6g
Trans Fat 0.5g
Polyunsaturated Fat 1g
Monounsaturated Fat 3g
Vitamin A 601IU
Vitamin C 4mg
More Things to Try
Thank you for stopping by today. I hope you enjoyed my Peach Dump Cake as much as my family and I do. Here are some more things I'd love for you to look at!
Peach Melba Upside-Down Cake
Sure, the pineapple upside-down cake is a classic. But why should one fruit have all the fun? Try our upside-down cake recipes featuring pears, peaches, rhubarb, carrots, apples—and pineapple, of course.
Peach Melba Upside-Down Cake
Hello, color! Sunny peaches and ruby raspberries dance across  a tender buttermilk cornmeal cake. It's divine with whipped cream—if you're into that kind of thing.
Spiced Pear-Chocolate Upside-Down Cake
Spiced Pear-Chocolate Upside-Down Cake
Under those gorgeous slabs of buttery fruit, this chocolatey cardamom-laced afternoon tea cake holds a buried treasure of juicy pear bits. (Word to the wise: Our testers recommend keeping the photo of the cake handy when you're slicing the pears.)
Double-Ginger Pineapple Upside-Down Cake
Double-Ginger Pineapple Upside-Down Cake
Crystallized ginger and powdered dry ginger add welcome zing to an American classic. Fanning the pineapple like flower petals is striking, but also functional—no bare spots between rings.
Crunchy Yogurt-Granola Upside-Down Cake
Crunchy Yogurt-Granola Upside-Down Cake
Pineapple who? No fruit here in this upside-down cake, just a brown sugary streusel-like layer of walnuts, coconut and granola baked under (then flipped over) a vanilla coffee cake.
Flourless Rhubarb-Almond Upside-Down Cake
Flourless Rhubarb-Almond Upside-Down Cake
Our naturally gluten-free cake swaps ground almonds for all the flour and wears a rosy blanket of tart rhubarb and chopped nuts.
Carrot and Honey Upside-Down Minis
Carrot and Honey Upside-Down Minis
Sweetly vying for a spot on your Easter brunch table, these cinnamony whole-wheat cakes bake over nests of glazed carrots. Serve warm with extra honey for drizzling.
Bourbon-Apple-Rye Upside-Down Cake
Bourbon-Apple-Rye Upside-Down Cake
We hid shredded apple in the cake for extra flavor and moistness, but the real star here is the gorgeous array of fall fruit, glazed with bourbon-infused caramel.
Cranberry Orange Upside-Down Cake
Cranberry-Orange Upside Down Cake
Credit: Blaine Moats
Invert this moist cake while it's still warm to reveal a fall kaleidoscope of glistening, tart berries and sweet mandarin oranges.
Three ingredient Peach Dump Cake is quick, simple, and utterly tasty. It is warm, gooey, and perfectly peachy!!
Peach Dump Cake is always a hit, and it's an easy dessert to make! Keep it simple with any of our dump cake recipes. We especially love Cherry Dump Cake and Apple Dump Cake.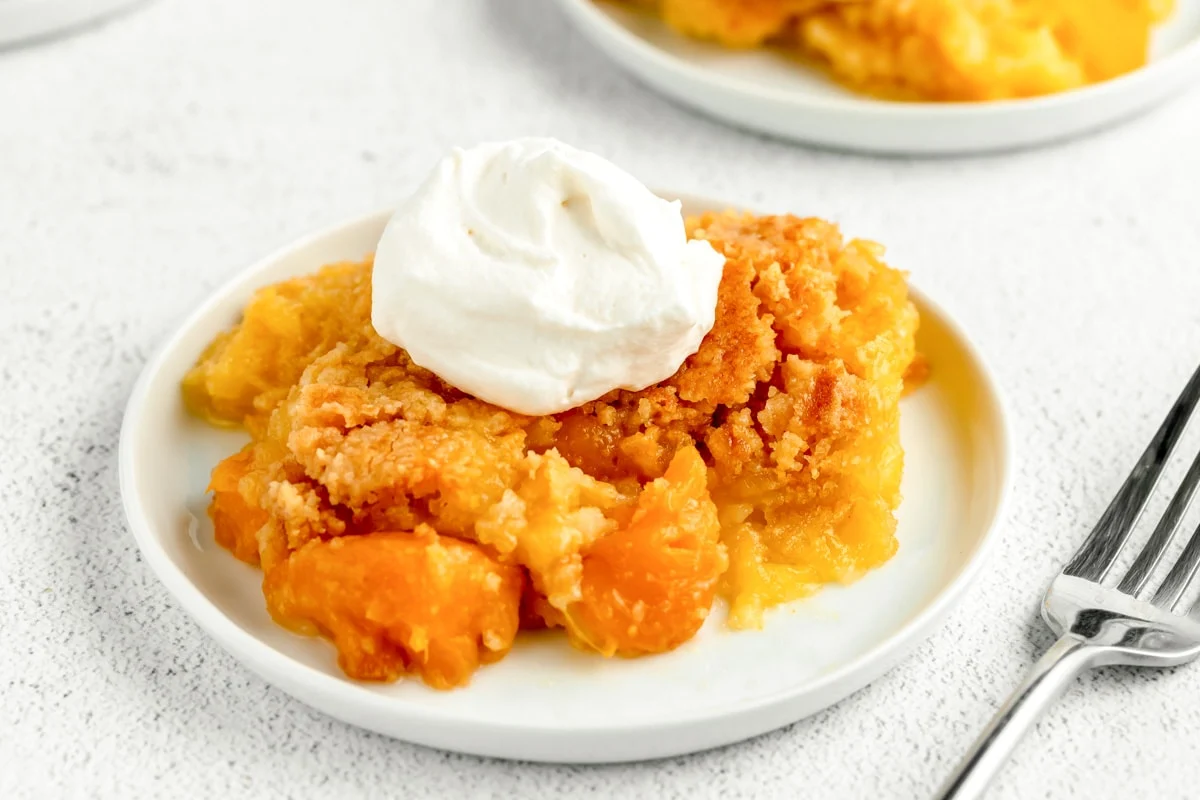 Like Peach Cobbler, but Easier!
A dump cake is similar to a cobbler, and one of my favorite go-to types of desserts.
Dump cakes are usually made with a base of cake mix plus some sort of fruit filling. They are usually dumped into a pan, stirred, and baked. Simple!
My first was our Pumpkin Dump Cake which quickly become a fall favorite, but we love peach treats in our home (especially Peach Cobbler) so we knew this Peach Dump Cake would be a hit – and it was!
We know Dump Peach Cobbler is especially delicious when it's chilly outside, but it's also appealing in the spring and summer because of its fruity-ness. Perhaps I'm just trying to find excuses to enjoy it all year long!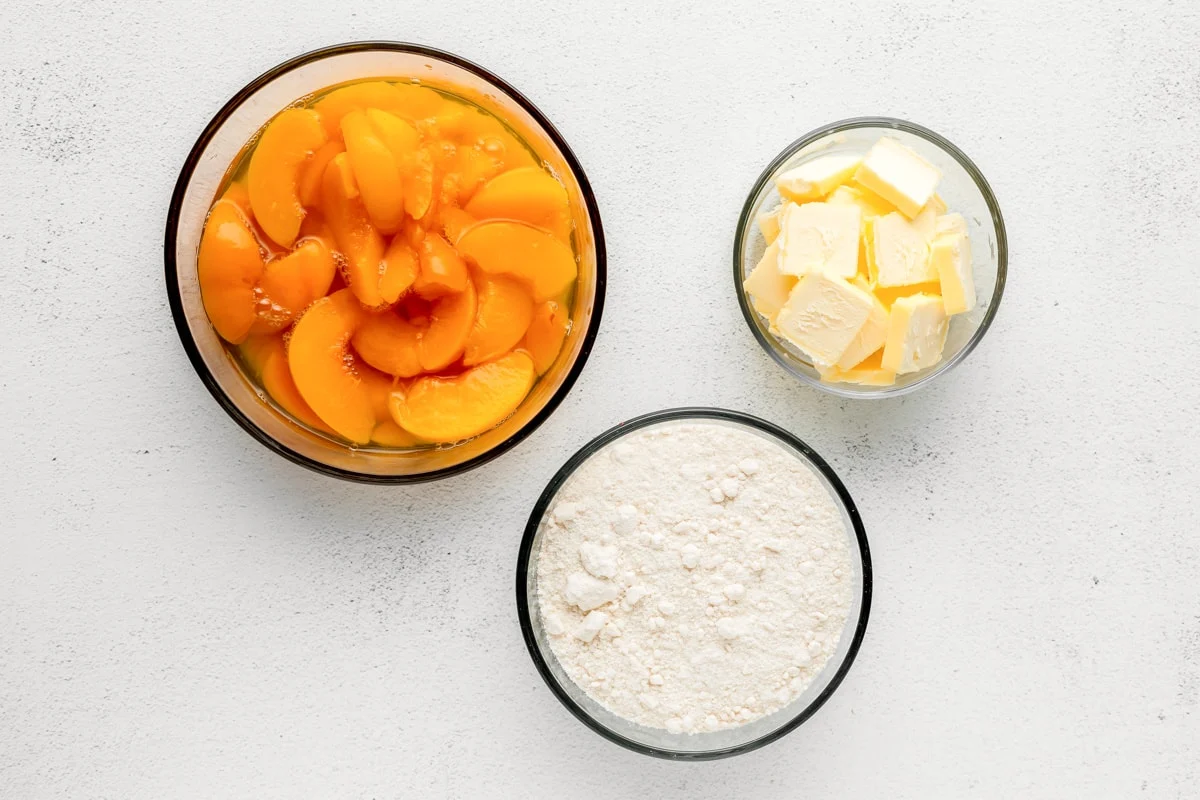 Just like the name, this cake is one you dump and go. It's so simple that you'll be wanting to try all the fruit varieties!
PREP. Preheat the oven to 350°F. Spread peaches, with the liquid into a greased 9×13 dish.
LAYER + BAKE. Sprinkle the cake mix evenly over the peaches. Cut the butter using a pastry blender and place the butter evenly over the cake mix. Bake for 40-45 minutes.
ENJOY! Serve warm on its own or with a scoop of Vanilla Ice Cream or dollop of Whipped Cream. However you serve it, we think you'll love it!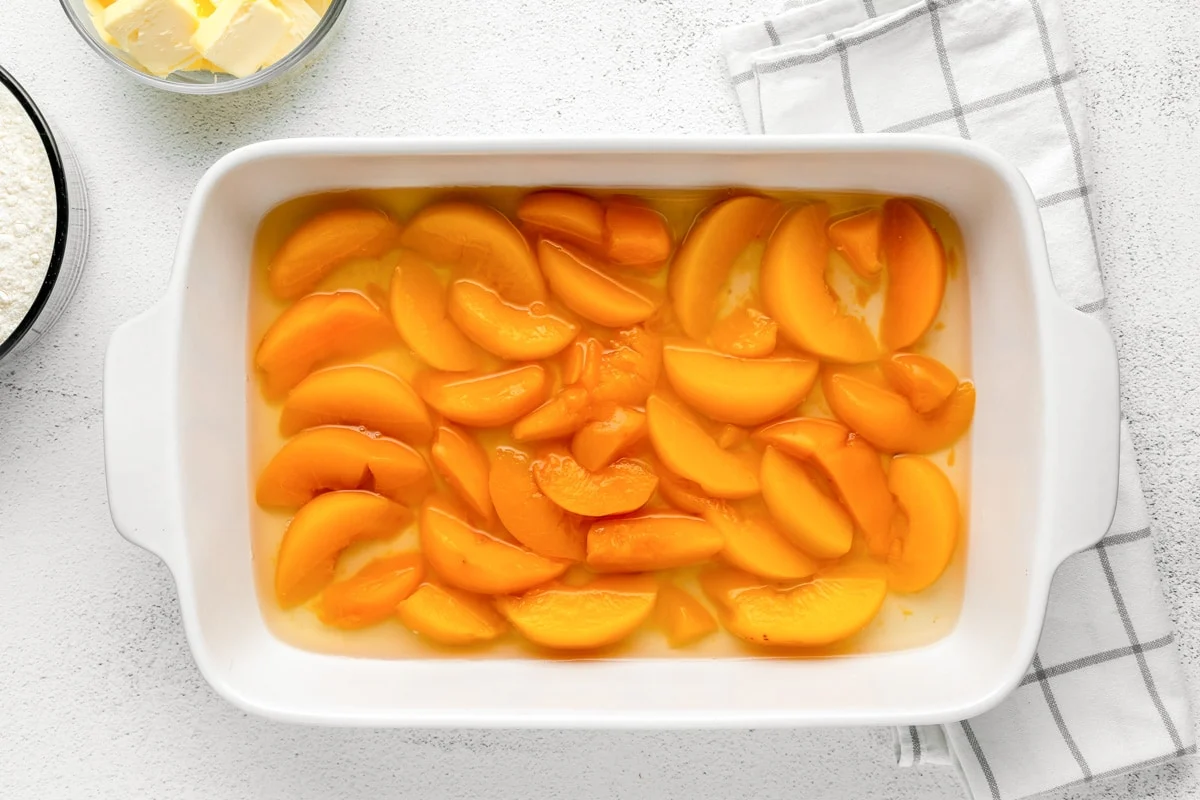 USing Fresh Peaches
Replace the canned peaches with fresh or frozen peaches. If using fresh peaches make sure they are not overly ripe – they'll produce way too much liquid, resulting in a runny dessert. Peel the skins off and slice them.
For each 29-oz can of peaches:
2 cups of sliced peaches, ¾ cup of white sugar, and a dash of salt. (For an even thicker peach sauce, mix in 1 tablespoon of cornstarch.) Bring to a boil over high heat.
Pour the peach mixture over the bottom of the dish and proceed with the recipe as instructed.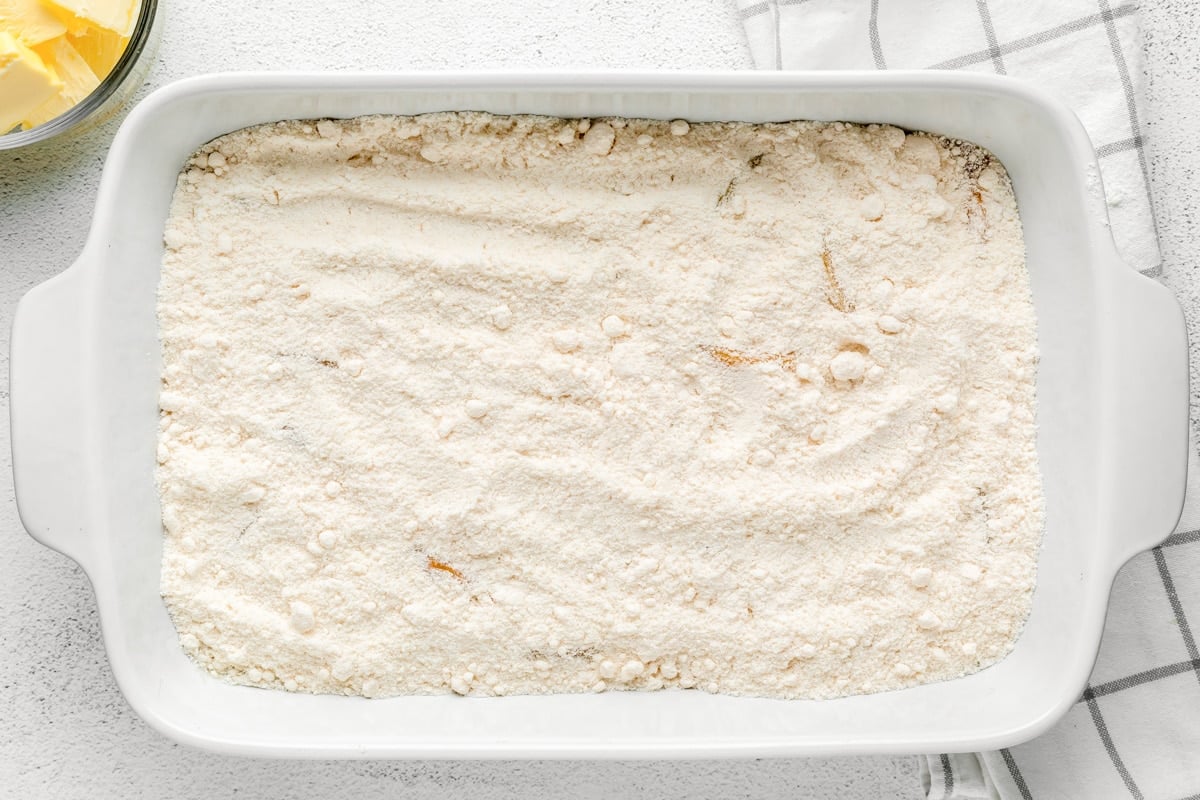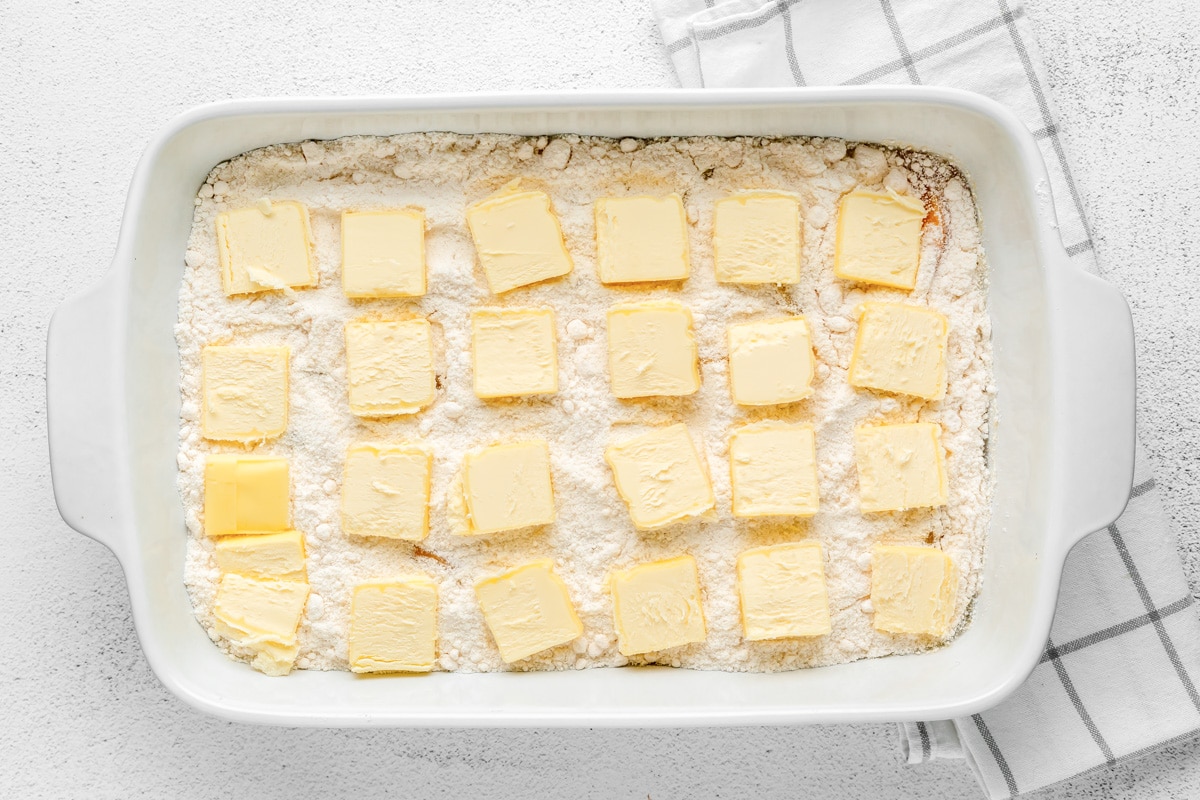 Dump Cake Tips
This Peach Dump Cake is so easy and delicious it's sure to become a family favorite! Here are a few handy tips when baking this tasty treat:
Time saver. Melt the butter in the microwave and then drizzle the melted butter on top of the cake mix before you bake it.
Make it a crisp. If you are wanting more of a "peach crisp" dump cake, add quick or old-fashioned oats to the cake mix before baking.
Other fruits we want to try: blackberries, blueberries, cherries, raspberries, and apples. Use the canned fruits for this and the instructions will be the same.
Use the dry cake mix only.
Use a regular can of peaches, not peach pie filling.
The recipe relies on the peach liquid, so do not drain the juice from the can of peaches.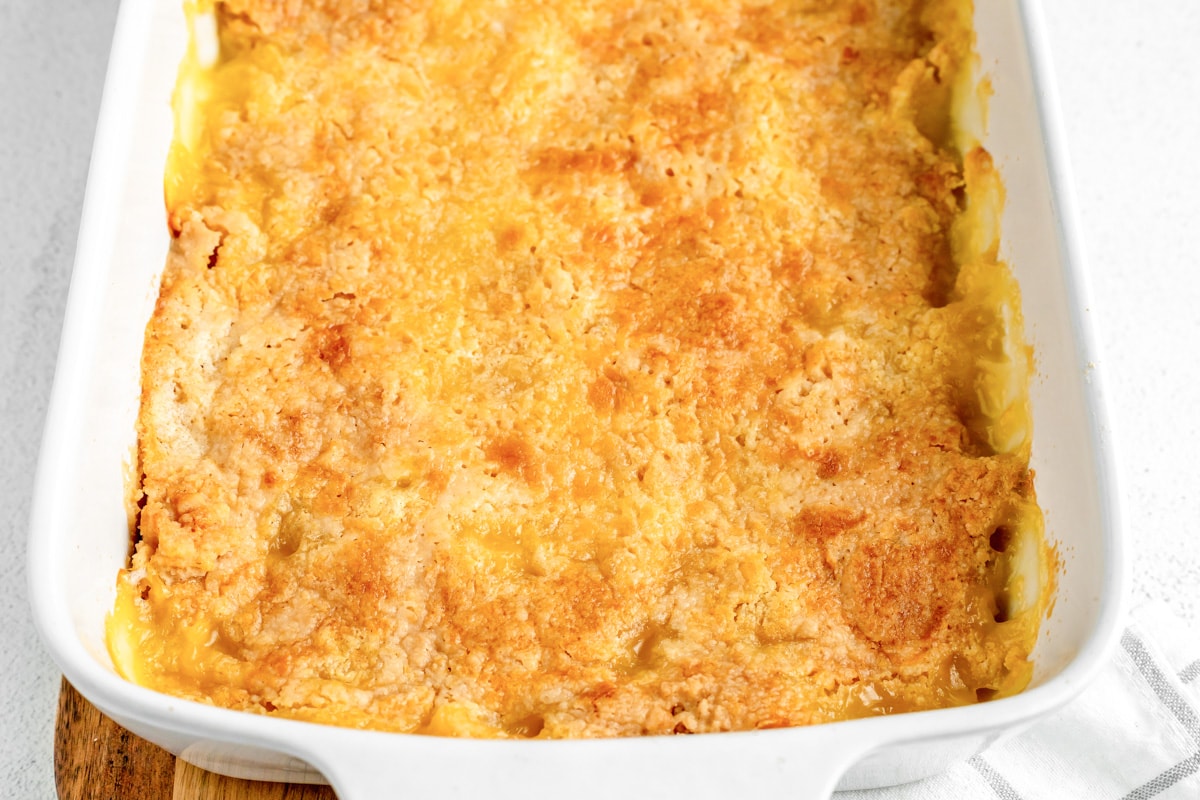 Variations
sprinkle chopped nuts like pecans or walnuts on top
sprinkle brown sugar and ground cinnamon over the top before baking
use a white cake mix instead of yellow
Make it in a crock pot. Dump the peaches and syrup in the bottom of a greased slow cooker. Melt your butter and mix it with your cake mix. Sprinkle over the peaches, making sure to break up any large pieces. Cook on HIGH for 2 hours or LOW for 4 hours.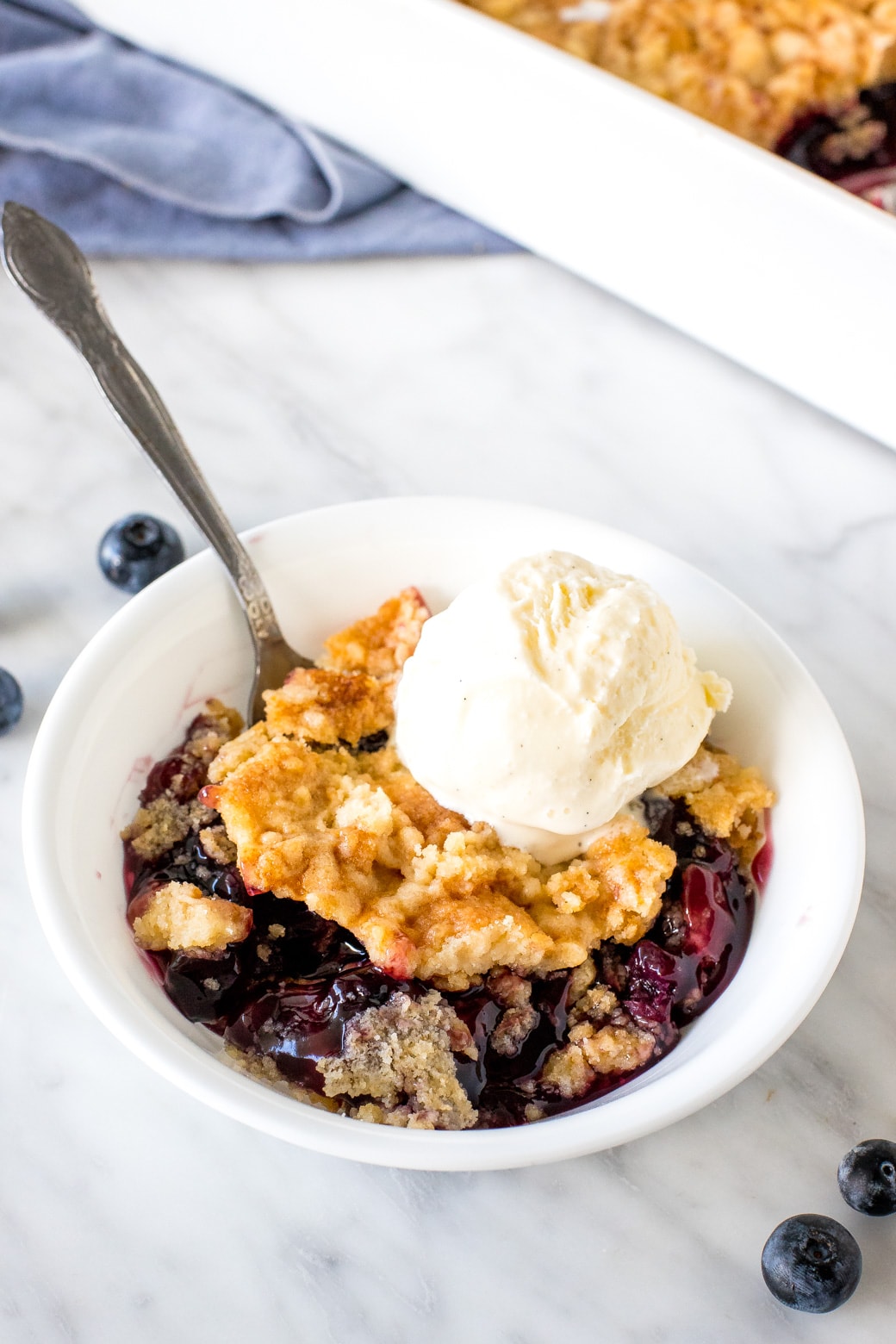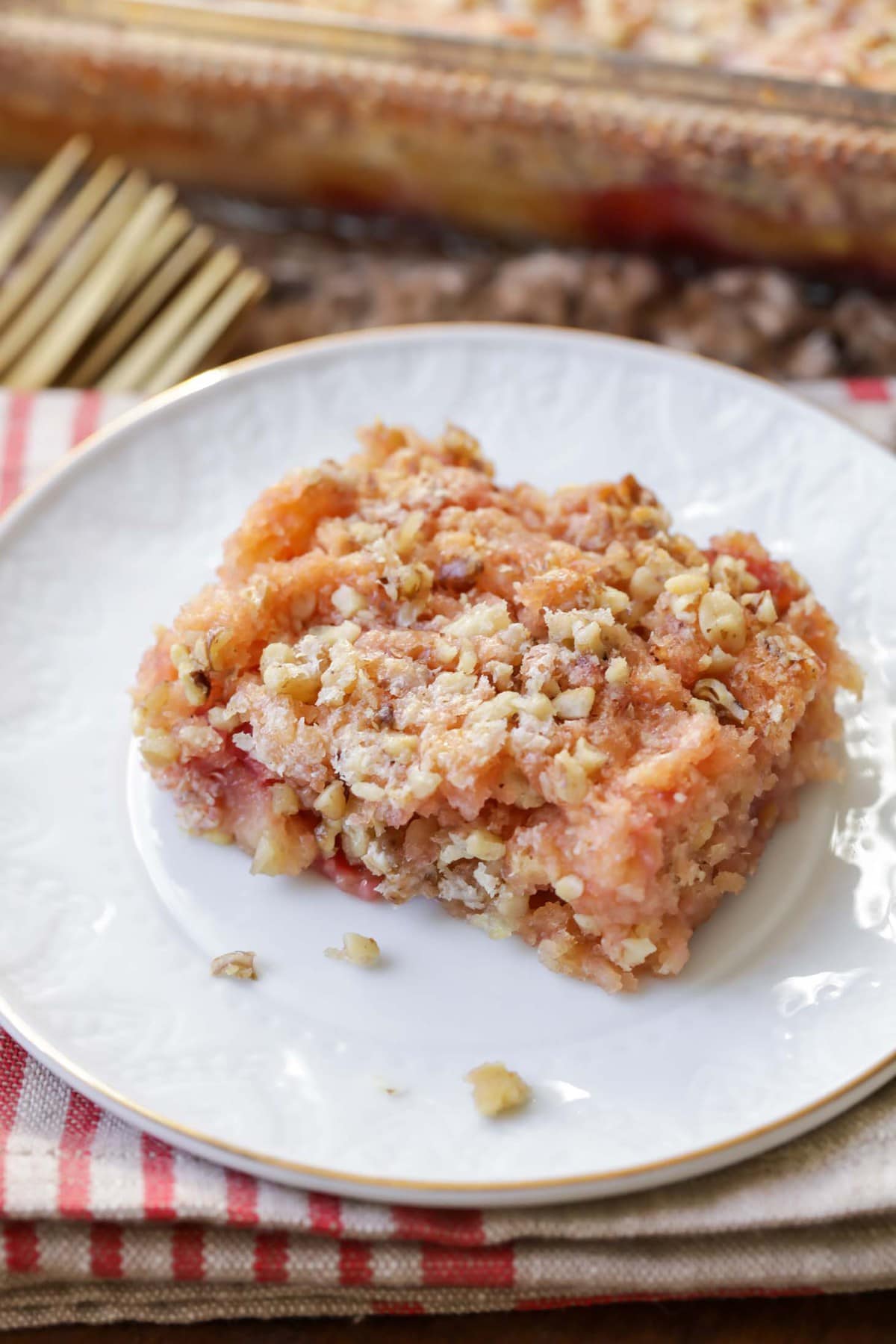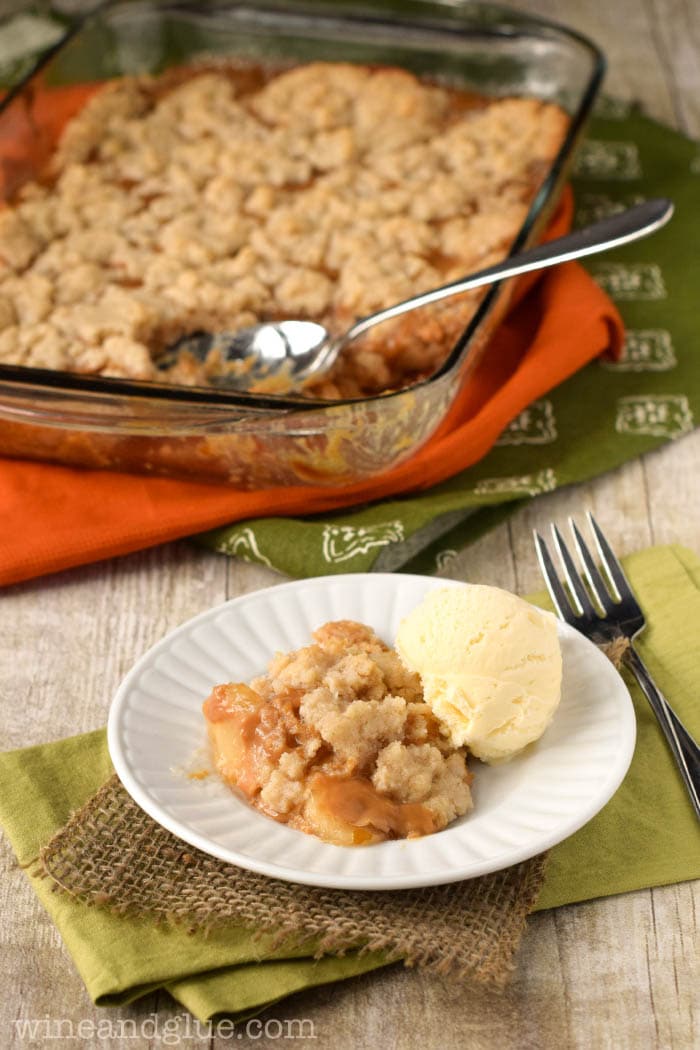 Storing info
STORE. Place leftover Peach Dump Cake in an air-tight container in the fridge for up to 3-4 days. Reheat in the microwave if wanting to enjoy it warm.
FREEZE. Store it in an airtight container. It should freeze well for up to 3 months. To reheat, thaw it in the fridge overnight. Transfer it to an oven-safe dish and warm it up in a 350° oven.
Who would have thought combining 3 simple ingredients could make a delicious, addicting cake?! We sure didn't, but we are so glad we can add this to the long go-to dessert list.
More delicious dump cakes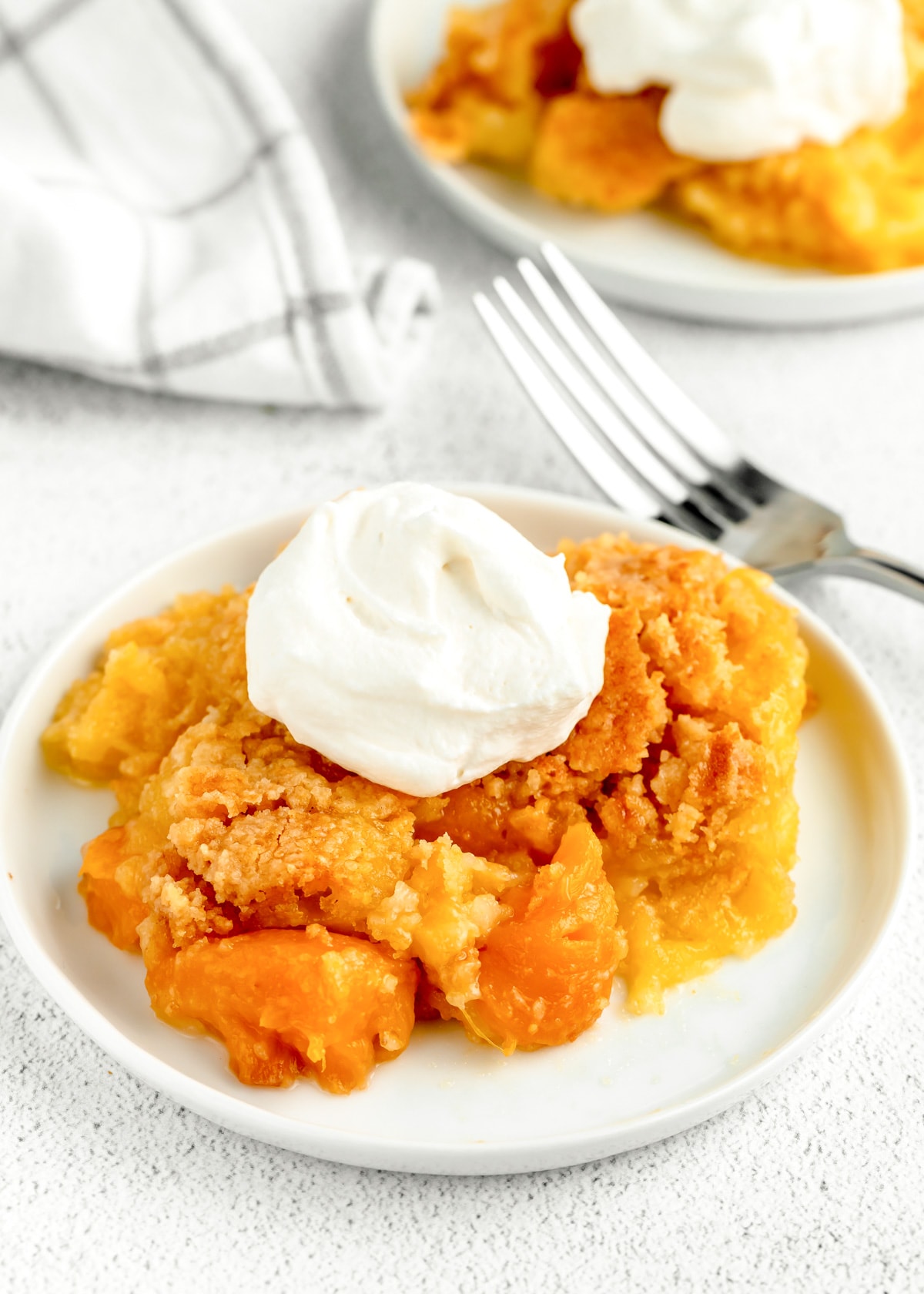 For more peach recipes, be sure to check out
Sliced Peaches in heavy syrup, undrained
yellow cake mix 15.25 ounce size
sliced into 24 cuts
Preheat the oven to 350°F.
Spread peaches, with liquid, into a 9×13 baking dish.
Sprinkle cake mix evenly over peaches.
Place butter evenly over the cake mix.
Bake for 40-45 minutes, until golden and bubbly. Serve warm or at room temperature.
Like this recipe?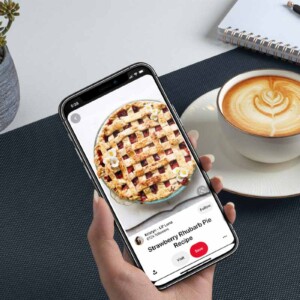 Jump to Recipe
My peach cake recipe is so easy that you'll be making it over and over again due to continual requests! There's no peach peeling necessary, so it saves, time, too! It's just the best peach cake recipe you'll find!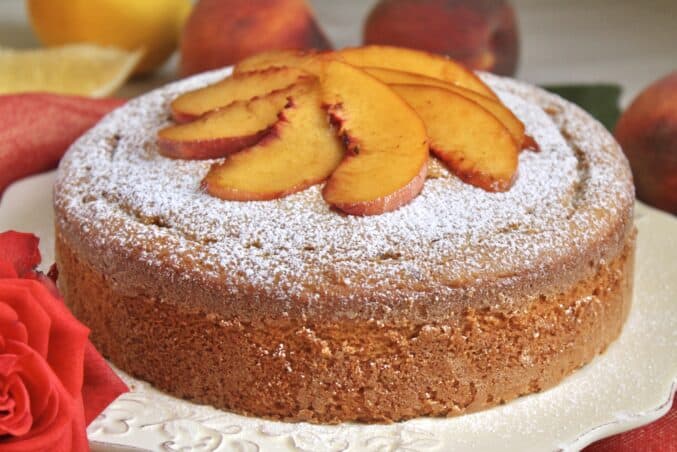 Peaches have to be one of summer's best fruits, but believe it or not, here in California peach season begins in May!
As an Amazon Associate I earn from qualifying purchases.
Fresh, freestone peaches.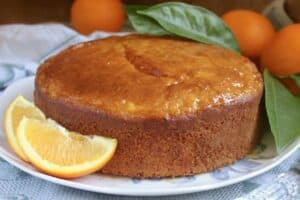 Sicilian whole orange cake
Now you'll see that many other sites have, erm, "discovered" this recipe, but have failed to give credit to where they found the recipe. 😕 Since the orange cake was such a success (almost 2000 amazing reviews to date), I experimented with other fruits and readers have loved the whole lemon cake and kumquat cake versions as well as a no peel apple cake and whole pear cake.
Pear cake (no peeling necesary)
I have made a gluten free Sicilian whole orange cake and gluten free Sicilian whole lemon cake, both of which don't taste like they're gluten free at all! I've also made this recipe in cupcake form using kumquats for these glazed and iced kumquat cupcakes: fantastic! The best part about this recipe, apart from the amazing results, is how easy it is to make these cakes. Peeling fruit is never involved!
I tell you this so you understand what a brilliant base that this original Sicilian whole orange cake recipe is! Of course, I had to try it last year with peaches, and no surprise, it was another marvelous addition to the list!
It has a delicious peach flavor and is perfect when served "naked", with some fresh peach slices on top. Or dust with some powdered sugar and serve with freshly whipped cream or vanilla ice cream. Peach lovers may even want to gild the lily and serve it with this delightful (and super easy) blender peach ice cream!
Whatever you choose will be a winner, because the cake is just that good!  Just look at that crumb! If you give it a try, please let me know by clicking the stars in the printable recipe card below. And if you're looking for other peach creations, don't miss this collection I put together with the best peach recipes I could find!
Can I use a Bundt or Loaf Pan to Make Peach Cake?
Peach cake freezes beautifully! Wrap it in freezer/parchment paper or aluminum foil to avoid it getting freezer burn, and then put into a freezer safe bag and freeze for up to two weeks.
Save this recipe so you can make it when peaches are in season wherever you live!
FULL PRINTABLE RECIPE BELOW
Preheat oven to 350°F (175°C)
Make the peach cake batter
Prepare an 8″ springform pan by spraying with oil (or butter) and lining in parchment paper (sides optional, if you want really clean sides), then spray the paper, too.
Place the sugar and eggs in a large bowl.
Beat with a mixer until light and fluffy, don't be scared to really get it thick.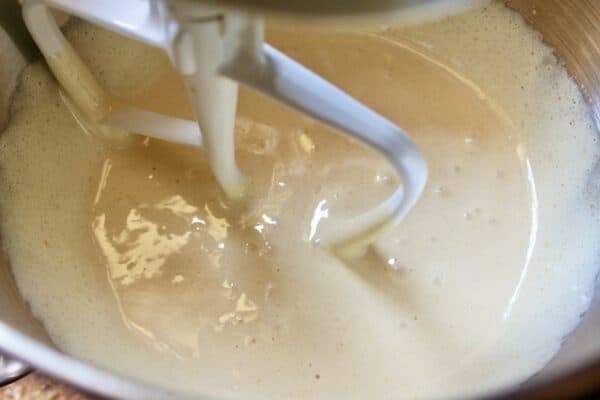 Sift the flour with the baking powder or Paneangeli, then add to the mixture in the bowl a little at a time along with the softened butter. Continue to mix until completely blended, then stir in the yogurt.
Place the peach pieces in a small food processor, or blender and squeeze some lemon juice on top.
Purée; leaving a few little pieces is best.
Pour into the batter (along with the vanilla if you used baking powder) and stir until evenly combined.
Pour the peach cake batter into the prepared pan.
Bake the Peach Cake
Spread the batter evenly in the pan, and bake until a cake tester comes out clean.
Allow to cool for about half an hour, then remove from pan.
Serve plain, or top with powdered sugar and/or peach slices. You can also serve with whipped cream or ice cream. Just be sure it's completely cool before slicing.
This cake will easily serve ten to 12 people, cutting into smaller slices.
On second thought, you may want to make two cakes for seconds!
Let me know what you think!
Have you signed up for my free subscription?
Don't miss another post!
3 eggs
1 1/8 c (250g) sugar
1 3/4 c (275g) all purpose flour
2 1/2 tsp baking powder (or 1 packet Italian Pane Degli Angeli vanilla baking powder)
1/3 c (100g) butter, softened
1/3 c (100g) plain Greek yogurt (yes, sour cream works, too)
(if using plain baking powder add 1 tsp vanilla extract)
Instructions
Prepare an 8″ springform pan by spraying with oil (or butter) and lining in parchment paper (sides optional, if you want really clean sides), then spray the paper, too.
Place the sugar and eggs in a large bowl and beat with a mixer until light and fluffy.
Sift the flour with the baking powder or Paneangeli then add to the mixture in the bowl a little at a time along with the softened butter. Continue to mix until completely blended, then stir in the yogurt.
Place the peach pieces in a small food processor, or blender and squeeze some lemon juice on top. Process the peaches until they are almost puréed.
Add the peach purée to the cake batter (along with the vanilla if you used plain baking powder) and stir until evenly combined, then put the batter into the prepared tin. Evenly spread the batter.
Serve when cool as is, or dusted with powdered sugar, top with peach slices and/or whipped cream or ice cream.
Notes
Bundt or loaf tins will also work.
1
Amount Per Serving: 8g 5g 0g 3g
Nutrition information is only estimated.
Christina's Cucina is a participant in the Amazon Services LLC Associate Program, an affiliate advertising program designed to provide a means for sites to earn advertising fees by advertising and linking to Amazon.com.
Prep: 15 min. Bake: 45 min. + cooling
Folks have been flipping over this peach upside-down cake for generations. This dessert is very popular with my family and guests. —Terri Kirschner, Carlisle, Indiana
3/4 cup butter, softened, divided
1/2 cup packed brown sugar
2 cups sliced peeled fresh peaches
3/4 cup sugar
1 large egg, room temperature
1 teaspoon vanilla extract
1-1/4 cups all-purpose flour
1-1/4 teaspoons baking powder
1/4 teaspoon salt
1/2 cup 2% milk
Directions
Melt 1/4 cup butter; pour into an ungreased 9-in. round baking pan. Sprinkle with brown sugar. Arrange peach slices in single layer over sugar.
In a large bowl, cream sugar and remaining butter until light and fluffy, 5-7 minutes. Beat in egg and vanilla. Combine the flour, baking powder and salt; add to creamed mixture alternately with milk, beating well after each addition. Spoon over peaches.
Bake at 350° until a toothpick inserted in the center comes out clean, 45-50 minutes. Cool for 10 minutes before inverting onto a serving plate. Serve warm.
Upside-Down Cake Tips
There are many delicious options besides peach for upside-down cake. Pineapple cake, whether baked in a cast-iron skillet or as adorable minis, is a classic. A little plum cake is perfect for summer, but there's no reason to stop flipping cakes when the weather turns chill! Why not highlight winter pears with gingerbread in a gorgeous upside-down cake?
How do you flip a cake upside-down?
Flip it quickly and carefully, being sure to protect your body. Once
the cake tests done, let it stand 10 minutes or as long as the recipe directs. (Larger cakes stand for longer than small ones.) Place a serving plate upside-down over the cake. Wear oven mitts if you're able, but the most important thing when flipping the cake is to keep the serving plate firmly aligned over (to catch!) the cake. If you can't wear mitts, protect yourself with hot pads or kitchen towels. Flip the cake in one smooth, easy movement, placing it plate-side-down on the counter. Then gently wiggle and lift the baking pan away.
What if you wait too long?
Just pop your cake back in the oven for a moment to help it warm up for a neat release.
How long will this cake last?
Sweet upside-down cakes are best served warm, the day they're made. But you can cool, then cover and refrigerate the leftovers for 2-3 days. Warm a piece up in the microwave to reignite that caramelly magic!
Research contributed by
Christine Rukavena, Taste of Home Book Editor
—Christine Rukavena, Taste of Home Senior Book Editor
Nutrition Facts
1 piece: 384 calories, 19g fat (11g saturated fat), 71mg cholesterol, 306mg sodium, 52g carbohydrate (36g sugars, 1g fiber), 4g protein.