Many types of bread are leavened (risen) with yeast, but if for some reason you can't eat yeast or would prefer not to then what are your options for bread which doesn't contain yeast? The good news is there are many options when it comes to yeast-free bread.
Below are just some varieties which can be made without using yeast as a raising agent:
Yeast-free sourdough bread
flatbreads such as wraps or chapatis
Irish Soda bread
Australian Damper bread
Yeast-free banana bread
Read on to find out more about bread which don't contain yeast and what ingredients or techniques are used to raise the bread instead. I'll also explain why some bread doughs generally need yeast to rise.
Why do certain breads contain yeast?
Yeast is a microorganism which is used in many types of bread recipes and also for brewing beer.
When it's used in bread dough it helps to create a fermentation process and produces gas bubbles which help the dough to expand and grow.
Yeast comes in either a fresh or dried form and it's generally the best way to produce a higher rise in bread than other leavening (rising) methods.
There are other options though, and I'll go on to explain them next.
Yeast free sourdough bread
Sourdough is an artisan and very pure way of making bread that doesn't contain any yeast.
You can buy sourdough in speciality bread shops, market stalls, deli's and some supermarkets or you can make it from scratch at home.
If you have a yeast intolerance, it's still worth checking the ingredients as some supermarket bread may still contain some yeast and the sourdough element is used as a flavour rather than a rising agent.
Where sourdough is made properly it's made using a sourdough starter which is usually made from flour and water, although in some cases additional ingredients such as apple may be added to boost the fermentation process.
The sourdough starter is then fed with more flour and water over time and becomes a bubbly lose dough-like ingredient which is added to dough ingredients and helps the dough to rise.
In many cases, sourdough bread can be made using just three ingredients, which are flour, water and salt – although additional ingredients can be added.
The rising process of sourdough takes much longer than bread which is risen using yeast. This longer process produces a crusty bread with a unique sourdough flavour.
If you can't eat yeast, sourdough is a good replacement for yeast type bread and you can use it in many ways, including:
Sandwich bread
Toast and toasted sandwiches
As a side dish to a main meal
For croutons
and many more.
You can also use the sourdough process to make other yeast-free bread types:
Sourdough focaccia style bread
Sourdough baguettes
Sourdough garlic bread
Pizza bases
Sourdough ciabatta
You can also use various types of bread flour to create a sourdough starter and within the dough ingredients or you can experiment with a mix of flour types. There really are unlimited options when it comes to using the sourdough process.

Yeast-free flatbreads
This might sound like I'm stating the obvious, but some flatbreads get their 'flat' look because the dough which is used to create is not allowed to rise before it's used.
If you can't eat yeast for a specific health reason and you're looking to buy yeast-free flatbread style bread, make sure you check the ingredients because there are many flatbreads which generally use yeast in the recipe.
Flatbreads which usually contain yeast are:
Naan bread
Pitta bread
Pizza
Sandwich style flatbreads
Focaccia
As a general rule, where a bread type has a puffed-up type look, then it probably contains yeast.
Flatbreads which don't usually use yeast in the recipe are:
Chapatis
Sandwich or tortilla wraps
No-yeast flatbread
These flatbreads are quick to make and are usually made from just flour, yeast and salt. No rising is required and in most cases, these types of flatbread are cooked in a pan rather than an oven.
TIP: Not sure if you have all the necessary bread baking equipment at home? Check out my recommended picks below (Amazon links):
Yeast-free Irish soda bread
Irish soda bread is a quick and easy yeast-free bread which is made using baking soda (also known as bicarbonate of soda) as the rising agent in the dough.
soda bread dough doesn't need to be given time to rise, you just combine the ingredients, shape and bake.
You can make soda bread using white or brown flour and you can add more flavours to the dough such as cheese and onion.
Soda bread is often made using buttermilk as the liquid element of the bread and this helps to create a soft and creamy looking texture.
It's quite a heavy bread, but it does work well as a side dish to soup and stews.
Find out how to make Irish Soda bread via the link below:
How to make soda bread

Australian Damper Bread
Australian damper bread is very similar to Irish Soda bread, but it's usually made with a self-raising flour as the leavening agent rather than baking soda.
Damper bread was traditionally baked in a fire, so it's a perfect bread to try on a camping trip inside a dutch oven (or stoneware style) lidded pot or pan.
Yeast-free banana bread
Most banana bread recipes are yeast-free, although there are some recipes out there which do use yeast – the majority don't.
Banana bread is more of a moist cake-like recipe which is usually leavened using baking powder or self-raising flour.
You can add extra ingredients to banana bread to create more flavour and texture, including nuts, dried fruit and spices to create a warm flavour.
Try one my yeast free banana bread recipes via the links below:
Ultimate moist banana bread
Banana and fruit tea bread
Also find out, what is banana bread eaten with.
I hope this post has helped you to find out more about yeast-free bread and maybe even try making your own.
Types of bread – the ultimate guide of bread from around the world
Bread making tips and techniques
This shortcut recipe for quick no yeast cinnamon rolls makes buttery, homestyle rolls that fluff up beautifully—and in record time! Since you're skipping the yeast, you can also skip the traditional dough rising and kneading and have cinnamon rolls in about 40 minutes. They're perfect for the times you crave homemade cinnamon rolls, and don't want to wait!
I've been on a quest to develop a recipe for quick cinnamon rolls that maintain all the flavor and fluff without the patience and work that yeast requires. (Because, in reality, I'm tired but still want to bake something. LOL.) My homemade cinnamon rolls take about 4 and 1/2 hours, or need to be prepped the night before. Even my easy cinnamon rolls require patience, rising, and kneading.
So if you want from-scratch cinnamon rolls NOW, make today's no yeast version.
These No Yeast Cinnamon Rolls Are
Convenient if you're busy and tired but still want homemade cinnamon rolls.
Ready in less than 45 minutes.
Soft, fluffy, and buttery.
NOT dense! Surprisingly not dense at all!
Packed with sweet brown sugar and cinnamon spice.
Slathered with tangy cream cheese icing.
Perfect as a special breakfast without all the work and waiting.
Plus, there's NO kneading, NO rising, and the dough comes together in just 1 bowl. And you can bake them in a pie dish, cake pan, or even as cinnamon roll muffins. This recipe is dynamite.
Key Ingredients & Why This Recipe Works
Baking Powder & Baking Soda: Since we're skipping yeast, we need to replace it with another leavener. (Unless you want to eat cinnamon hockey pucks for breakfast!) I tried the dough with only baking powder at first, but quickly learned the dense rolls benefitted from a little baking soda as well. With the crutch of baking soda, the next batch browned a little nicer and fluffed up more.
Cold Buttermilk: Since we're using a little baking soda, we need an acid in the dough. Buttermilk does the job, plus it also adds a little tang, a little fluff, and a little softness. (Like it does in pancakes!) And grab the buttermilk right from the refrigerator because cold milk keeps the otherwise soft and buttery dough workable.
Baking soda, melted butter, and buttermilk are also key ingredients in my no yeast bread recipe.
After a few trials and errors, I was shocked with the final result. These no yeast cinnamon rolls taste similar to the yeasted version and only took me about 40 minutes total. Obviously they're not as flaky and doughy as the traditional, but I don't think anyone would EVER notice or complain that there's no yeast. (My 10+ taste testers ooh'd and ahh'd without batting an eye!)
Here are all of the ingredients you need for the dough & filling:
How to Make Quick No Yeast Cinnamon Rolls
You can go from craving to eating warm, gooey from-scratch cinnamon rolls in record time. Here's how my recipe works:
Make the dough: Whisk the dry ingredients together, then add in the wet ingredients. The dough should be quite soft, but not overly sticky.
Shape the cinnamon rolls: Roll the dough into a 10×14-inch rectangle. This measurement doesn't need to be exact, so don't stress. Spread butter on top and then sprinkle with cinnamon and brown sugar. Tightly roll up the dough and cut into 12 pieces. Place in a greased pan.
Make the icing: While the cinnamon rolls bake, make the icing using cream cheese, butter, confectioners' sugar, and vanilla extract.
Eat: Slather the icing on your warm cinnamon rolls and enjoy!
Here are step-by-step photos so you know what to expect:
The assembly steps are exactly like regular cinnamon rolls, only without the rise time.
Before cutting, you can mark the 14-inch log with a knife to ensure you have 12 even rolls. That's what I usually do:
Expect a Soft Dough
Do not incorporate more flour than you need in this dough. I want you to embrace a soft dough. Instead of mixing more flour INTO the dough to make it workable, use extra flour when shaping the rolls. If the dough is sticking to your counter and rolling pin as you work, dust it all with more flour.
Bottom line: Mixing in more flour than you need could result in crumbly, dense rolls. Instead, use it when assembling the rolls.
Cream Cheese Frosting
This cream cheese icing uses a little more butter and a little less confectioners' sugar than the icing I typically use on cinnamon rolls. But I love that it doesn't use gobs of confectioners' sugar; it's a nice creamy, buttery, tangy blanket for your rolls. You could also try the maple version used on these pumpkin cinnamon rolls, or for a simpler topping, try this vanilla icing instead.
Can I Bake These as Cinnamon Roll Muffins?
Yes! If you love the slightly crusty, chewy exterior of a cinnamon roll that's been baked closest to the edge of the pan, try baking these no yeast cinnamon rolls as muffins. After cutting your 12 rolls, place them in a greased standard 12-count muffin pan. Each roll gets that crusty edge all the way around, and they puff up beautifully when they bake. Such a fun recipe!
If you ever need an even quicker and easier option, these mini (no yeast) cinnamon buns use packaged crescent dough.
And if you're on a roll (ha!), try these cinnamon roll cookies too. 😉
See Your No Yeast Cinnamon Rolls!
This shortcut recipe yields a dozen classic, homestyle cinnamon rolls that fluff up beautifully—without any yeast, kneading, or rise time. They're perfect for the times you crave homemade cinnamon rolls, and don't want to wait!
and 3/4 cups () all-purpose flour (spoon & leveled), plus more as needed for rolling
() granulated sugar
baking powder
baking soda
salt
large egg
(180ml) buttermilk, cold*
() unsalted butter, melted & slightly cooled
Filling
() unsalted butter, extra softened
() packed light or dark brown sugar
ground cinnamon
Cream Cheese Icing
() butter, softened to room temperature
() confectioners' sugar
pure vanilla extract
Preheat the oven to 375°F (190°C) and grease a round 9-inch pie dish or 9-inch cake pan. (See Notes for muffin pan instructions.) For extra buttery rolls, I like to grease the baking dish with 1–2 teaspoons of melted butter instead of non-stick spray.
Make the dough: Whisk the flour, granulated sugar, baking powder, baking soda, and salt together. Add the egg, buttermilk, and melted butter. Mix with a wooden spoon or rubber spatula until a dough forms. Dough will be very soft and slightly sticky. If it's too sticky and wouldn't roll, add more flour, 1 Tablespoon at a time, until dough seems workable. Do not add more flour than you need; a soft dough is good.
Place dough on a floured work surface and, using a lightly floured rolling pin, roll dough into a 10×14-inch (25x35cm) rectangle.
Fill the rolls: Spread softened butter (the softer it is, the easier it is to spread!) all over the dough. Mix the brown sugar and cinnamon together. Sprinkle all over the top. Roll it up tightly into a 14-inch log. Using a very sharp knife, cut into 12 rolls; each roll is slightly wider than 1 inch. Arrange rolls in the prepared pan.
Make the icing: In a medium bowl using a handheld or stand mixer fitted with a paddle or whisk attachment, beat the cream cheese on high speed until smooth and creamy. Add the butter and beat until smooth and combined, then beat in the confectioners' sugar and vanilla until combined. Using a knife or icing spatula, spread the icing over the warm rolls and serve immediately.
Cover leftover frosted or unfrosted rolls tightly and store at room temperature for up to 2 days or in the refrigerator for up to 5 days.
Notes
Make Ahead Instructions: If absolutely needed, you can make the dough and assemble the rolls the night before. Cover and refrigerate, then bring to room temperature before baking as directed. The rolls don't puff up quite as nicely since the baking powder initially activates once wet. For best results, bake right away.
Freezing Instructions: Baked rolls can be frozen for up to 2–3 months. Thaw overnight in the refrigerator and warm up before enjoying.
Buttermilk: Buttermilk is required for this recipe, but in a pinch you can make your own DIY version of buttermilk if needed. Add 1 teaspoon of white vinegar or lemon juice to a liquid measuring cup. Then add enough whole milk to the same measuring cup until it reaches 3/4 cup. Stir it around and let sit for 5 minutes. The homemade "buttermilk" will be somewhat curdled and ready to use in the recipe.
Icing Alternatives: If cream cheese isn't your favorite, you could top the rolls with vanilla icing, the brown sugar icing from these pumpkin donuts, maple icing from maple cinnamon rolls, or even the caramel icing from apple cinnamon rolls. Lots of options!
Keywords: no yeast cinnamon rolls
It is so often said that yeast is virtually irreplaceable, that a question like "what can you substitute for yeast when baking?" seems crazy.
Nothing, of course!
But that's not actually true.
Yeast is irreplaceable, in some respects.
But when it comes to baking, we're in a whole new arena.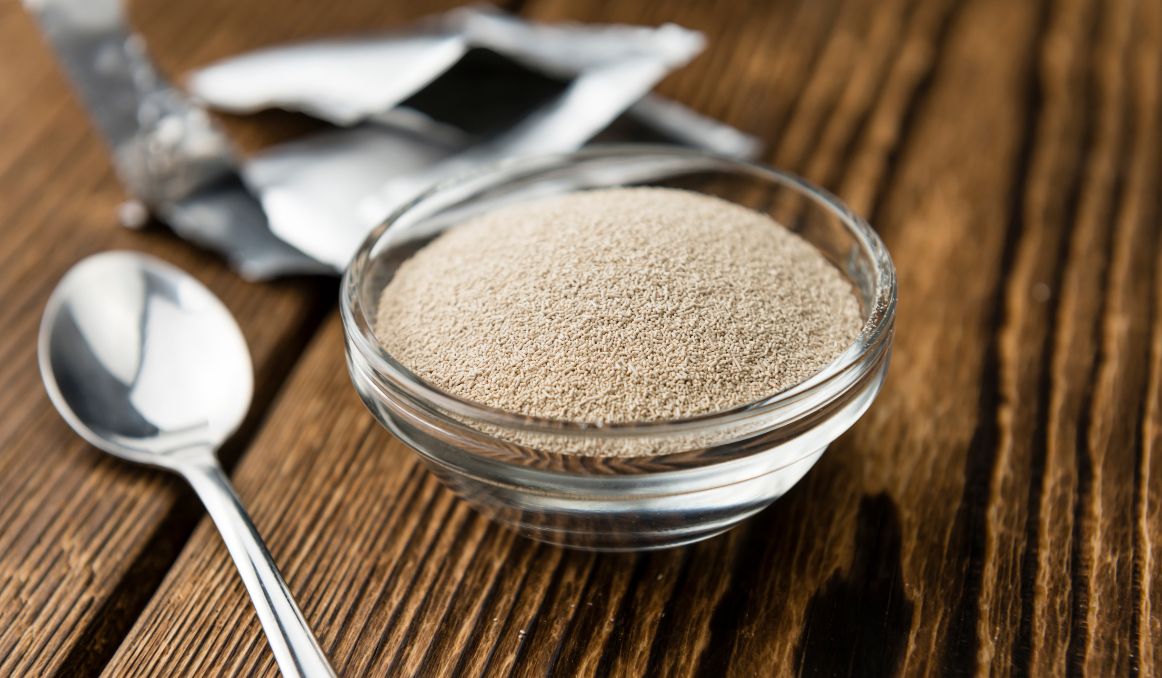 Yeast has long been known for its powerful role in baking and fermenting, to the point that it seems like a god among food ingredients.
And to think, it got its start as a meager little fungus.
It's true. Yeast is one of the oldest living organisms on earth. It has been around for millions of years, and, as far as we know, it has always had a single function: to find sugar, consume it, and convert that sugar to ethanol (alcohol) and carbon dioxide.
It does its job very well, and it is virtually unstoppable. As a single celled, eukaryotic life form, yeast can reproduce on its own or sexually, aerobically or anaerobically, and it exists on pretty much every surface and in the air all around us.
Its biggest enemy is heat.
While yeast will stagnate and lie dormant in temperatures that are too cold, it will die in extreme heat.
Yeast begins to die off at temperatures of 120 degrees Fahrenheit.
Yeast in Food
Interestingly, yeast was discovered by humans, for our food, accidentally, and even once we discovered it and utilized it, we did not really know what we were doing.
Wine has been a staple of civilizations pretty much since early mankind, and perhaps even before that.
Anthropologists have shown us that monkeys can make their own wine.
So even animals are getting in on the yeast game.
You see, once the sugar in fruit is exposed, yeast can get to work fermenting those juices into alcohol.
This is how we get wine: crushed grapes left out in the open air attract yeast, the yeast gets into that sugary must, and then it converts all those sugars to alcohol and carbon dioxide.
This is also how we get cider; simply replace grapes with apples or pears.
There are several other fermented juice drinks across civilizations that have this same process.
Beer was a bit more complicated because the grains in beer are not as sugary.
Archeologists think beer, along with bread, were happy accidents.
Most likely, a woman was out collecting her barley for her family, and for whatever reason left the basket out to get rained on for several days.
The small amounts of natural sugars hidden in the starches would have attracted the yeast in the environment, and the woman would have come back to find soggy grain covered in fizzing water.
Of course, she would have wanted to salvage what she could from her basket; we're talking about hard living thousands of years ago.
Knowing the water was fresh rainwater, and that the grain could be kneaded into dough for bread, she would have served the now grainy water to her family and put the dough in the oven.
To her great surprise and delight, the grainy water, an early form of ale, would have given her family a slightly euphoric effect, and the bread would have risen to a lighter, fluffier version that the unleavened bread she was used to.
From that point on, brewers and bakers learned to leave their products out to attract the yeast that converts wort (grain water) to ale and unleavened bread to the leavened stuff.
Over time, they also learned that roasted grains attracted even more yeast, and allowed for a higher alcohol content.
No Fermentation without Yeast
So, the reason many people will tell you there is no substitute for yeast is that you cannot make alcohol without yeast. It simply is not possible. The only ingredient on earth that will make alcohol is yeast.
But you don't need alcohol to make bread.
You see, the alcohol that is produced when the yeast converts the sugars in bread dough is baked off in the heat. Remember yeast dies at temperatures higher than 120 degrees F?
Well, alcohol evaporates at temperatures higher than 172 degrees F.
So, once you put that bread in the oven, the alcohol is almost completely baked out.
What you absolutely need is the carbon dioxide for the bread to rise, and that can be done with other agents.
What Can You Substitute for Yeast When Baking?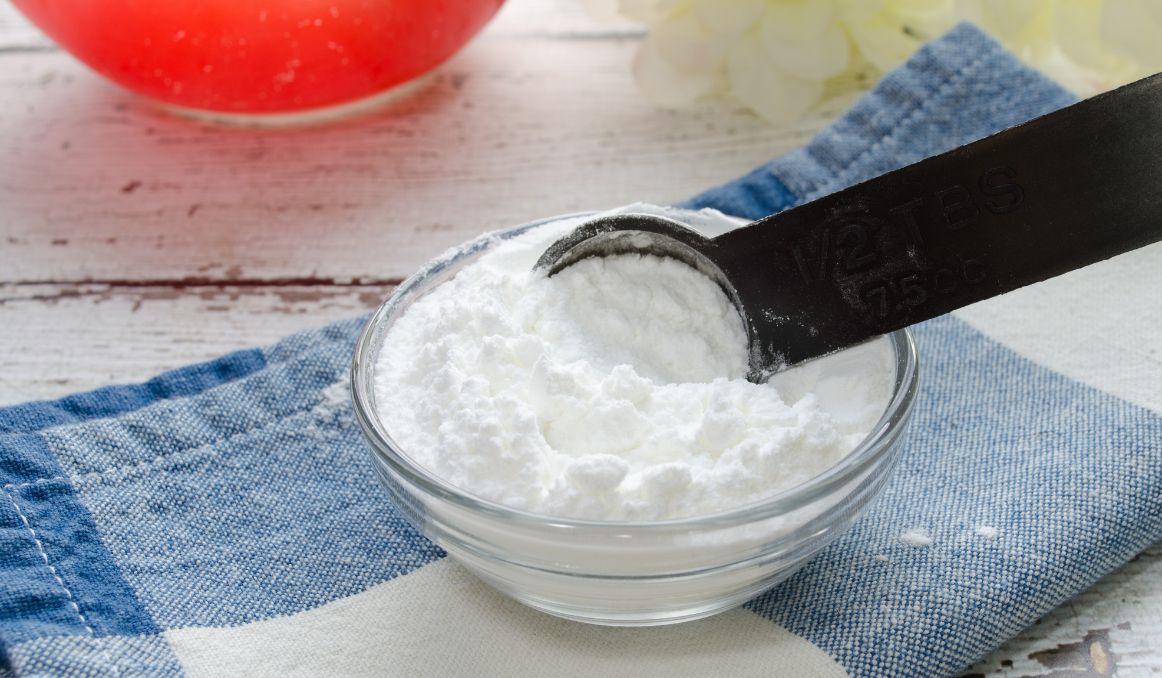 Three primary ingredients exist that will make your bread or other baked goods rise and be lighter and fluffier without yeast.
Do keep in mind, however, that nothing will fully replace yeast, so if you are dealing with a bread that you want super light and fluffy, you will need to find some yeast.
Baking Powder
Baking powder is a natural rising agent, as it is a sodium bicarbonate and an acid, basically it is baking soda and cream of tartar.
You can use an equal amount of baking powder to yeast as a substitute.
Baking Soda and Acid
Baking soda is only sodium bicarbonate, so it needs an acid like cream of tartar to be a rising agent.
You can substitute half baking soda and half acid for one part yeast.
So, if your recipe calls for one teaspoon of yeast, you would use ½ teaspoon of baking soda and ½ teaspoon of acid.
Your acids can be anything from cream of tartar to vinegar to lemon juice.
Egg Whites
Egg whites, when whisked or beaten vigorously for several minutes will create air pockets that help baked good rise.
You can substitute 2 egg whites per teaspoon of yeast.
In the end, you really can't replace yeast for all of its wonderful contributions to fermented foods and beverages, but fortunately, when it comes to baked goods, you can at least reach for some help in a pinch.
Also, check out these product pages, if you're into beer or wine making:
Love comfort food baking but always seem to be short on ingredients? It's totally possible to bake bread at home without yeast. In fact, there are yeast substitutes and yeast-free bread out there that taste just as good as their yeasty counterparts.
While experienced bread bakers might turn to sourdough starters when they are out of yeast, we wanted to find a way to get our homemade bread fix without that much work. We turned to Jennifer Tyler Lee, author of Half the Sugar, All the Love: 100 Easy, Low Sugar Recipes for Every Meal of the Day, for her recommendations on easy substitutes for making bread when you don't have yeast on hand.
Bake Beer Bread—and DIY Self-Rising Flour
"There are a few alternatives for feeding our desire for homemade bread, even when we don't have yeast on hand," says Tyler Lee. "Beer bread is one of the easiest types of bread you can make. It only requires a few basic ingredients, and it doesn't use yeast."
Many beer bread recipes call for self-rising flour—if you don't have that ingredient on hand, you can make your own from scratch by adding 1½ teaspoons of baking powder and ¼ teaspoon salt to each cup of pastry flour called for in a recipe.
Try using pastry flour if it's available (it has a lower protein content), but all-purpose flour will work, too. Gluten-free blended flours will work here as well. "Beer bread has a flavor akin to sourdough, with a slightly bitter aftertaste. Its crumb is moist but more crumbly than your typical chewy, traditional homemade yeast-based loaf."
Choose Quick Breads Instead
You might have heard the term quick bread before, but what does it mean? Essentially, quick breads are any breads that do not require yeast. Instead of using yeast to make the bread rise, quick breads rely on other leavening agents like baking soda and baking powder to get height.
"Quick breads, like banana bread, zucchini bread, and cornbread are delicious and easy alternatives to yeast-based bread and can satisfy cravings in a pinch," says Tyler Lee. Her recipe for banana bread gets its sweetness from dates, and her zucchini bread incorporates pineapple for a delicious twist with less added sugar. Both are easy and healthy takes on classic quick bread staples.
Try a No-Yeast Bread Recipe
No-yeast breads are another option. The flavor and texture won't be the same as your typical bakery loaf. And the unusual aroma, more like cheese than bread, comes from the fermentation process that the ingredients go through. If you've made homemade yogurt, you'll know what to expect.
"This recipe is more of a craft project than a quick and easy bread-making project," she says. "It could also be a great science experiment for those cooking with kids."
There's always matzo, too.
Do you like the taste of fresh bread? Most people do, and one of the things that make the bread taste so good is yeast.
Yeast is a fungus that helps leaven, or rise, bread.
It does this by eating the sugar in flour and producing carbon dioxide, gas, and alcohol.
That gas gets trapped in the gluten proteins in the flour and causes the dough to rise.
The alcohol evaporates out of the dough as it bakes.
But what if you don't have any yeast? You may think your only option is to go to the store, but there are actually several substitutes that you probably already have in your pantry.
Let's take a look at the five best substitutes for yeast in baked goods.
The 5 Best Substitutes for Yeast in Baked Goods
2 – Double-Acting Baking Powder
2 – Double-Acting Baking Powder
What's Yeast?
Yeast is a single-celled microorganism that is classified as a fungus.
It is used in brewing and baking, and it is also responsible for the fermentation of wine and beer.
Yeast cells are round or oval, and they reproduce by forming spores.
When yeast spores come into contact with water, they germinate and form new yeast cells.
Yeast cells are very active, and they produce carbon dioxide and alcohol as part of their metabolic process.
Yeast has been used in baking for thousands of years.
It is thought to have originated in ancient Egypt, and it was used to make leavened bread and beers.
Today, yeast is still used in the production of bread, wines, and beers.
It is also used to make soy sauce, vinegar, and other fermented foods.
Yeast has a slightly sweet taste, and it is often used to add flavor to bread and other baked goods.
It can also be used to create a chewy texture in dough.
When baking with yeast, it is important to activate the yeast cells by dissolving them in water before adding them to the flour mixture.
This will help the dough to rise and achieve the desired texture.
If your reaction to yeast is anything like mine, then you know that the struggle is real when it comes to avoiding all things bread related.
However, sometimes you just need a good loaf of bread or some freshly baked cookies.
That's where these substitutes for yeast come in clutch.
1 – Baking Soda and Acid
Baking soda, also known as sodium bicarbonate, is a common ingredient in many recipes.
It's a white powder that is often used as a leavening agent, meaning it helps breads and cakes to rise.
When combined with an acid, baking soda reacts and produces carbon dioxide gas.
This gas gets trapped in the batter, causing it to expand and resulting in a light and airy finished product.
Baking soda has a slightly salty taste and a fine, powdery texture.
It's available in most supermarkets in the baking aisle.
When substituting baking soda for yeast in a recipe, you'll need to use about three times as much baking soda.
For example, if a recipe calls for one teaspoon of yeast, you'll need to use three teaspoons of baking soda instead.
Keep in mind that using too much baking soda can result in a bitter taste.
Start with the smaller amount and add more if needed.
2 – Double-Acting Baking Powder
Baking powder is a common ingredient in many recipes, but what exactly is it? Baking powder is a leavening agent, which means that it helps baked goods to rise.
Double-acting baking powder is a type of baking powder that contains two chemicals: acid and base.
These two chemicals react with each other to create carbon dioxide gas, which makes baked goods light and fluffy.
Double-acting baking powder also contains moisture-absorbing ingredients, which helps to keep baked goods moist.
Because of its double-acting nature, this type of baking powder is often used in recipes that require a longer rising time, such as bread and pies.
It can also be used as a substitute for yeast in recipes.
When substituting baking powder for yeast, use one teaspoon of baking powder for every cup of flour.
This will help your baked goods to rise and be light and fluffy.
3 – Sourdough Starter
A sourdough starter is a fermented dough made from flour and water.
It's used to make sourdough bread, which has a unique taste and texture.
The starter itself is quite sour, but the finished bread is only slightly sour.
The fermentation process gives sourdough bread its characteristic chewy texture.
You can use sourdough starter in place of yeast in any recipe.
Just add it to the flour and water mixture and let it sit for a few hours before adding the other ingredients.
The longer the mixture sits, the sourer it will be.
So if you want a milder flavor, don't let it ferment for too long.
You can also add a bit of sugar to counteract the sourness.
4 – Beaten Egg Whites
Egg whites have a variety of uses in the kitchen, from lightening up cakes and cookies to providing structure in meringues and souffles.
They are also a common ingredient in homemade marshmallows and nougat.
When beaten, egg whites transform from a clear liquid into a stable foam with a glossy appearance.
The texture of beaten egg whites depends on how long they are beaten – for softer meringues, beat until just stiff, while harder peaks are achieved by beating until glossy and firm.
Egg whites can be used as a substitution for yeast in recipes such as pancakes, waffles, and quick bread.
When used in this way, they add extra lift and lightness to the finished product.
5 – Self-rising Flour
Self-rising flour is a type of flour that includes baking powder and salt.
It is often used in quick bread and biscuits.
The baking powder provides leavening, which results in a light and airy texture.
The salt adds flavor and helps to control the growth of bacteria.
Self-rising flour can be made at home by combining all-purpose flour, baking powder, and salt.
It can also be purchased pre-made at most grocery stores.
When using self-rising flour, it is important to keep in mind that the leavening action will begin as soon as the flour is moistened.
This means that the dough or batter should not be allowed to sit for too long before cooking.
Otherwise, the end result may be tough or dense.
Self-rising flour can be substituted for yeast in many recipes.
However, it is important to reduce the amount of liquid called for in the recipe, as self-rising flour will produce a more moist dough.
Conclusion
In baking, yeast is often used as a leavening agent to help the dough rise.
However, there are several substitutes that can be used in their place.
These include baking soda, baking powder, sourdough starter, beaten egg whites, and self-rising flour.
Each of these substitutes has different properties that will result in a slightly different final product.
However, all of them can be used to produce light and fluffy baked goods.
When substituting one of these ingredients for yeast, it is important to keep in mind the different properties of each one and to adjust the recipe accordingly.
Baking Soda and Acid
Double-Acting Baking Powder
Sourdough Starter
Beaten Egg Whites
Self-rising Flour
Instructions
Do you want to add a special flavor to your baked goods? Have you heard of instant yeast?
Instant yeast is an incredibly versatile ingredient that can help enhance the flavor and texture of bread, pastries, and other baked goods.
It's easy to use, but what do you do if you don't have it in one hand? Luckily, there are several substitutes for instant yeast that you can use in a pinch.
Let's take a look at how to cook with instant yeast and the top four best substitutes for it.
What's Instant Yeast?
Instant yeast is a type of added ingredient used in baking that provides leavening or the rising of doughs and batters.
It originated centuries ago, initially as wild yeast in sourdough starter recipes, which became more purified and harvested for commercial sale over time.
Instant yeast does not taste like anything as it does not add flavor to the finished dish; however, if not blended with flour first, it has an unpleasant and bitter aftertaste.
The great thing about instant yeast is that it can be added directly to the dry ingredients without having to be activated first by moisture, such as water or milk.
This makes it an extremely useful tool for bakers looking to save time when combining wet and dry ingredients simultaneously.
If you're in a pinch and don't have access to store-bought instant yeast, or you're looking for a more natural substitute, there are several options available.
Here are the four best substitutes for instant yeast:
1 – Baking Powder
Baking powder is a leavening agent used in baking to help give baked goods a light and airy texture.
Baking powder has a slightly tangy flavor, which makes it great for use in biscuits, scones, muffins, and other quick bread.
If you don't have any Instant yeast on hand but need to replace it in a recipe, you can use an equal amount of baking powder as an alternative.
Baking powder interacts with heat more quickly than Instant yeast, so be sure to adjust the oven temperature accordingly for the best results.
All in all, baking powder is a helpful tool for giving homemade baked treats an extra lift.
2 – Baking Soda and Acid
Baking soda and acid are two invaluable ingredients for any kitchen.
Not only do they together help create unique, flavorful dishes, but the combination of the two can also be used as a substitute for instant yeast.
When baking soda and acid are combined, it creates carbon dioxide needed to make the dough rise, giving it a light and airy texture.
Since the flavor of the combination is mild, this substitution allows any cook to impart their desired flavors while making use of existing ingredients on-hand.
A sourdough starter is a living entity created by the fermentation of flour and water.
Its origins can be traced back to the ancient Egyptians, and it has been used in bread baking for millennia.
It has a distinctively tangy flavor which enlivens the taste of any bread when added to it.
The sourdough starter can serve as a substitute for instant yeast – typically, 3/4 cup of starter will equal a packet of instant yeast in bread recipes.
Additionally, sourdough starters can add a unique flavor characteristic to many recipes that call for yeast, creating complex flavors that stand out from more traditional recipes.
4 – Active Dry Yeast
Active dry yeast is an essential ingredient to having tasty homemade bread, pizzas, and pastries.
It's a dry, granular yeast that has been dehydrated with heat which slows down the activity of the yeast giving you more control over the rising process.
It has a mild flavor and adds a subtle level of complexity and depth to recipes.
If you want to substitute active dry yeast for instant yeast, be sure to rehydrate it first in warm water – this will activate the enzymes within the yeast.
Since you'll need to add more active dry yeast to your recipes, be aware that this may make your finished product increase in sourness/acidity because there is more sugar available for fermentation.
In conclusion, instant yeast is a useful and convenient ingredient for baking, but it's not essential.
If you're in a pinch or looking for a more natural substitute, there are several options available.
Whether you choose to use baking powder, baking soda, and acid, sourdough starter, or active dry yeast – these alternatives can help give your baked goods an extra lift.
Just remember to adjust the oven temperature, rehydrate active dry yeast, and account for additional sourness when using these substitutes.
Baking Powder
Baking Soda and Acid
Sourdough Starter
Active Dry Yeast
Yeast ferments foods and drinks by eating sugar and releasing gas. In baked goods, this carbon dioxide is a leavening agent that lets your treats rise. And humans have been using yeast for a long time — since at least 5,000 years ago in ancient Egypt.
You should know how the yeast functions in your recipe, especially if you need to replace it. Why would you replace yeast? One of the biggest mistakes people make when baking with yeast is using yeast that's no longer fresh. If you find yourself with "bad" yeast and no time to run to the store, you don't find yeast at the store, or if you're allergic to it, we've got you covered. Here are the best substitutes for yeast.
Also, note that this isn't a quick replacement unless you already have some starter lying around. Scientific American says that it takes about two weeks to make a starter. Of course, considering how popular making sourdough bread became during the COVID-19 pandemic, there's a good enough chance you do have some on hand.
If that's the case, King Arthur Baking Company has some suggestions about how to use sourdough starter in your baking (apart from the obvious). Get ready to do some math. The outlet states that 1 cup of sourdough starter equals about 3 ½ ounces of liquid and flour each, meaning you need to subtract that amount from your recipe.
Here's where things get even more interesting. King Arthur Baking Company suggests replacing yeast with the sourdough starter and adding it to cakes, muffins, and pancakes, saying the starter adds an extra bit of "oomph" to baked goods.
Warren Price Photography/Shutterstock
Whereas yeast is a biological leavener, baking powder is a chemical one. "Chemical leavener" refers to the fact that they leaven through a chemical reaction.
Baking powder is made of baking soda and an acid, cream of tartar, or monocalcium phosphate. When they meet heat, they produce gas — carbon dioxide — and leaven your baked goods (via the National Library of Medicine).
There's a subtle yet essential difference between the way yeast and baking powder leaven foods. According to the Science of Cooking, yeast creates gas bubbles through fermentation because it eats sugar. This fermentation process is why you can make alcohol from yeast but not from baking powder. This fermentation is why you should give the yeast time to rise. It also offers yeasted foods their characteristic aroma.
Baking powder won't give you that same flavor, but in a pinch, you can use it in place of yeast in some recipes. Livestrong states that baking powder works as a yeast substitute in pizza dough and batter-based recipes, but not to try it in kneaded-bread recipes. The swap-out ratio is 1 teaspoon of baking powder for every cup of white flour, and 1 ¼ teaspoon for every cup of whole wheat flour.
Baking soda is a chemical leavener and is one of the ingredients of baking powder. If you've ever wondered what the difference between baking soda and baking powder is, that's it. So, for baking soda to work as a leavener, you need to add an acid to it. The easiest acids to do this with are vinegar, lemon juice, or yogurt.
Remember to cook your batter or dough immediately when using baking soda and an acid. Because the leavening process begins as soon as the acid and baking soda make contact, the longer it sits, the less efficacy it'll have. With that in mind, adding your acid towards the end of your ingredient mixing is best.
For every cup of flour you use, use ¼ teaspoon of baking soda. Use 1 tablespoon of an acid, like lemon juice, for every ¼ teaspoon of baking soda you've used (via Foods & Nutrition Encyclopedia). Bear in mind some recipes call for baking soda to begin with, such as this Irish brown soda bread recipe.
Eggs
The leavening power of eggs is twofold: their high water and protein content. The Science of Cooking says egg whites are 88% water, while yolks are about 50%. The liquid in the eggs turns to steam during baking, causing baked goods to rise dramatically. The proteins in eggs also help them leaven baked goods. Beating or whipping eggs (the whites in particular) causes the proteins to unwind and expand, allowing them to cover air bubbles.
If, for some reason, eggs aren't part of your diet, aquafaba — the cooking liquid from beans — can work here instead. It's best to use garbanzo beans or white beans since the aquafaba from darker beans won't look as much as egg whites. Beat and whip your aquafaba as you would egg whites and use them to leaven your baked goods. Aquafaba isn't as stable as egg whites are, so King Arthur Baking Company suggests adding ⅛ teaspoon of cream of tartar for every 2 tablespoons of bean liquid.
Greek yogurt
Because of its high acid content, you can substitute Greek yogurt for yeast. You need to first mix it with baking soda. Use a ½ cup of yogurt and a ¼ teaspoon of baking soda for every teaspoon of yeast your recipe needs. Remember to reduce the other liquid ingredients in your recipe accordingly.
Using yogurt has benefits beyond leavening, though. One of the suggested ways to use leftover yogurt is in baking because of the tangy moistness it imparts to your baked treats. It's also a way to cut back on the fat in a recipe (if that's something you're interested in doing). Yogurt is also high in protein, calcium, and potassium (via the USDA).
Note that this is a chemical leavening reaction, so it's not recommended for kneaded doughs. However, because yogurt itself is fermented, you'll be left with a zippy flavor a bit closer to traditional yeasted treats.
If you're out of yeast but have self-rising flour in your pantry, you're in luck. Self-rising flour is pre-mixed with baking powder and salt, so you don't have to worry about adding leavener. Self-rising flour is usually used for biscuits and muffins; anything that needs to be light and fluffy.
According to Bob's Red Mill, 19th-century English sailors invented self-rising flour so that they could bake better while out to sea. The flour received a U.S. patent in 1849.
Substituting with self-rising flour can get tricky and shouldn't be done for kneaded bread. However, if you're craving some yeast biscuits but don't have the little organisms on hand, opt for self-rising flour. This flour is a staple ingredient in Southern United States kitchens specifically for this purpose.
Note that self-rising flour doesn't keep as long as other flours, so it's best to buy it in smaller quantities than your other flours. If you want to make your own, mix 1 ½ teaspoon baking powder and ¼ to ½ teaspoon salt for every cup of flour.
Buttermilk
Basically, buttermilk is what it sounds like: It is the liquid byproduct of cream that has been made into butter. Baking soda and buttermilk combine to make a good substitute for yeast, particularly in gluten-free baking. The National Library of Medicine says that buttermilk is the best liquid for gluten-free baking due to its high-acid content, as well as because buttermilk can inhibit gluten from forming. When acid and baking soda meet, they work as a leavening agent.
If you can't find buttermilk at the store, you can also create buttermilk at home by mixing an acid such as 1 tablespoon of lemon juice or vinegar into 1 cup of any type of milk. You can also use 1 cup of milk and 1 ¾ teaspoon of cream of tartar. Or, kefir is a one-to-one ratio swap, according to King Arthur Baking Company.
Like all liquid yeast substitutes, you need to adjust the amount of liquid in your recipe when you use buttermilk instead of yeast. Healthline suggests using ½ teaspoon buttermilk and ½ teaspoon baking soda for every teaspoon of yeast your recipe requires.
Beer is made through fermentation and has yeast in it. In fact, both "baker's yeast" and "brewer's yeast" are Saccharomyces cerevisiae. But according to the University of Rochester, Saccharomyces cerevisiae has many strains, and different strains are better suited to different applications, such as baking or alcohol-making. Humans actually domesticated wild yeast to suit our needs and for individual processes. Also, according to the University of Rochester, the way yeast divides determines the flavor of the beer.
What does this all mean for your yeast replacement? For one, know that your baked goods will take on some of the distinct flavors of the beer you use. However, unlike other yeast substitutes, it does have that yeasty flavor.
Interestingly, it is not the yeast in beer that helps it leaven foods, but the carbonation, says King Arthur Baking Company. The company recommends always using fresh beer at room temperature and says that beer is particularly delicious in baked goods. It says you should pay attention to the flavor notes and pair them with your recipe. For example, dark beers are nuttier with nuts of coffee and chocolate and are particularly awesome in desserts. If you're more interested in something savory, try this beer bread recipe, which uses beer and baking powder for an extra rise. You could even try this with kombucha.
Steam
There are four types of leaveners: organic, chemical, mechanical, and physical. Steam is a physical leavener. According to Food A Fact of Life, steam increases the volume of foods as the air or liquid within a food evaporates. These can be liquids, eggs, or solids, like butter. In this way, steam is integral to all forms of leavening, though some foods rely on it more than others (via Britannica). Some baked goods that rely on steam are choux pastry and croissants. Batter-based foods, such as some biscuits, can get a boost by whipping air bubbles into the batter.
Because steam leavening relies so heavily on evaporation, it leaves an air pocket in products after rising. Suppose you want to use steam as a leavening agent. In that case, it's best to switch to a recipe that already relies on the process, such as this fluffy dutch baby recipe or homemade puff pastry.
Cream of tartar
You may be wondering, what is cream of tartar, really? Rest assured, your instincts that it's not related to the tartar sauce you use for fish and chips are correct. No, cream of tartar is a by-product of the wine-making industry and is scientifically known as potassium bitartrate or potassium hydrogen tartrate.
Cream of tartar is a common ingredient in baking powder, alongside baking soda. So, to use cream of tartar as a yeast replacement, you'll need to mix ½ teaspoon of cream of tartar and ½ a teaspoon of baking soda for every teaspoon of yeast your recipe needs. Cream of tartar is a good replacement for batters and quick breads, but not so much for kneaded bread.
Besides leavening, cream of tartar is an excellent stabilizing agent when whipping up eggs or aquafaba. It also keeps sugar crystals from forming, which is why you'll often see it in frosting and icing recipes. And though you won't be consuming much cream of tartar, you should know that just 1 teaspoon contains 11% of your recommended daily potassium intake requirement (via Healthline).
Make your own
While by no means a quick fix, making your own yeast is a fun project and a good idea should another yeast shortage roll around. Here's how to make your own yeast using raisins.
First, you need time and patience since the process takes just over a week. Next, grab 1 ¼ cups of either spring or filtered water. You can't use tap water here because the potential additives could ruin the process.
Then, get a tablespoon of sugar, a ½ cup of raisins, and a jar. Put all your ingredients in the jar. Cover it tightly with a paper coffee filter, and don't touch it for a week. After seven days, you'll notice bubbles and an alcohol-y smell. On the eighth day, the bubbles will be even bigger. At this point, you can strain the water and toss the raisins.
Next, add 1 ¼ teaspoon sugar and 1 cup of flour to your raisin water. Let it rise in a warm place before moving it to the fridge. You can use this starter in place of yeast in any bread recipe that calls for yeast. Note: You'll need to keep feeding this starter to keep it alive.
Rice bran
According to the book Rice Bran and Rice Bran Oil, defatted rice bran is a byproduct of making rice bran oil.
Home alcohol brewing comes with risks, so be careful before embarking on this project. According to Learning to Homebrew, you must keep everything sanitary so only the microorganisms you want to be growing are. The outlet suggests smelling your homebrew to test it — if it smells off or too chemically, don't drink it. And while you generally can't produce enough methanol in your homebrewing for it to be dangerous, you can burn a small amount of it to test it. If your beverage burns yellow instead of blue, it has way too much methanol.
SomethingSwanky is reader-supported. When you buy through links on our site, we may earn an affiliate commission at no extra cost to you.
If you're looking for the best substitute for yeast, we have them right here! Check out these best yeast substitutes for your baking.
Table of Contents
How Does Yeast Work?
Best Substitute For Yeast To Help You In A Pinch
5 Yeast Substitutes
When Can You Substitute Yeast?
When Not To Substitute Yeast
How Does Yeast Work?
It's aliiiive! It's aliiiive once it touches water. Active yeast is a single-celled yeast that releases carbon II oxide from flour by eating away at the sugars.
This causes bread, biscuits, rolls, and doughnuts to rise slowly and steadily. This is not the case with nutritional yeast, which can be activated and used as a seasoning for vegan foods.
If you use wheat flour, gluten will also aid in the rising process. The yeast activates by releasing gas bubbles from the proteins it contains. The starch in flour releases sugar for the yeast to eat and helps boost those bubbles when baking.
The dough is then cooked to a temperature high enough that the yeast dies and the stretchy, chewy gluten hardens into our favorite bread.
Best Substitute For Yeast To Help You In A Pinch
Yeast is an important ingredient in many bread recipes including pizza dough, dinner rolls, rolls of cinnamon, and most breads. It helps dough rise, which results in soft, pillow-like bread.
It's used for baking purposes as an instant or active yeast. It is a light brown powder made from a yeast called Saccharomyces cerevisiae.
Dry yeast activates when it is exposed to water and sugar. It begins to eat the sugar and digest it. This creates carbon dioxide bubbles which get trapped in the dense dough. These bubbles expand at room temperature and when heated, causing the dough (1).
This process, known as leavening, results in larger, fluffier, and softer baked goods that rise than those that don't rise, like flatbreads or crackers.
It may be a surprise to you that yeast is not required for this process. Many ingredients can replicate the yeast-like action in baking.
5 Yeast Substitutes
Baking powder is a key ingredient in any baker's kitchen. It usually contains baking soda and an acid, usually cream of tartar. Click To Tweet
Baking powder acts like yeast as a leavening ingredient. It can be used in two ways.
Reacting with liquid. The acid reacts with the baking soda when it is moistened to create carbon dioxide bubbles (2).
Reacting with heat. These bubbles of gas expand when heated and cause the dough (2) to rise.
Baking powder reacts immediately to heat and liquid. Baking powder doesn't require any additional rise time, unlike yeast. It can be used to make quick bread like biscuits, cornbread, cakes, and pancakes.
Baking powder can be used to replace yeast in baked goods. You should keep in mind, however, that baking powder won't have the same leavening properties as yeast. Click To Tweet
Baking powder can increase the rise of baked goods, but not as fast as yeast. Baking powder can be substituted for yeast in a 1-to-1 ratio.
Baking soda mixed with acid can be used to replace yeast. Baking soda and acid can be combined to produce the same reactions as baking flour (2).
Baking soda and acid can be used separately, but they won't make baked goods rise. You need to combine them to get the reaction to happen.
To replicate the yeast's leavening action, you can use these acids with baking soda:
Lemon juice
buttermilk
Mixing milk and vinegar in a one-to-one ratio.
Cream of tartar
You can substitute yeast for baking soda by replacing half the yeast with baking soda, and the rest with acid.
If a recipe calls to use 2 teaspoons of yeast, you can simply add 1 teaspoon baking soda and 1 teaspoon acid.
Baking soda and acid do not need to rise, just like baking powder. However, the leavening properties of baking soda and acid will not be as strong as yeast.
Baking soda and acid have the same reaction as baking soda, which results in a rapid rise. You can substitute yeast by using 50% baking soda and 50% acid.
Baking soda and acid have the same reaction as baking powder, which results in a rapid rise. You can substitute yeast by using 50% baking soda and 50% acid.
A sourdough starter is made from naturally occurring yeast. It is made from flour and water. It is used to make sourdough bread.
The yeast's natural fermentation process gives it a slightly tangy taste.
Some starters of sourdough are kept for years and continue to ferment to give artisan sourdough bread a strong flavor.
A starter sourdough yeast ferments the dough in the same way as instant yeast. It forms bubbles of carbon dioxide that give the dough a rise.
To replace a 2-teaspoon packet of yeast, you can make a sourdough starter from 1 cup (300g).
Reduce the amount you use of flour if your starter becomes too thick. If your starter is too thin, increase the liquid or reduce the flour until the starter is the right texture. The rise time for a sourdough starter is approximately twice that of yeast.
You add air to egg whites when you beat them. This helps with the leavening process. Club soda can be added to egg whites to aid in the process.
This method works well for cakes, muffins, and pancakes.
2 egg whites to 1 teaspoon yeast.
Separate the yolks from the whites if the recipe already contains eggs. Add the yolks to all the liquids. Mix the whites with some of your sugar. Once the whites are fluffy, fold them in with the rest of your ingredients, keeping air out of the batter.
Let's be clear, this is not a yeast substitute. However, because it leavens many baked goods it can help you make everything from pancakes to pizza if you have it in the pantry. It can be substituted for all-purpose flour in most cases as long as there is no yeast in the recipe.
Otherwise, it can cause excessive rising and cracking. Remember that self-rising flour already contains baking powder and salt. Adjust the recipe accordingly.
When Can You Substitute Yeast?
Although many recipes can be made with a yeast substitute, it is not always possible to make them work. These items can be baked with a yeast substitute:
When Not To Substitute Yeast
A yeast substitute will not always work in a recipe for kneaded bread. Substitute yeast doesn't have as much action as yeast to leaven the bread.
Some dietary requirements may require yeast to replace eggs. Instant yeast can be used instead of eggs to make vegan brownies.
Yeast is rarely used in cookies. However, yeast can be used to make cookies that look like cakes.
Some of my favorite recipes that use yeast are
Healthy cinnamon rolls
Sweet potato rolls
Honey whole-wheat pizza dough.
Homemade sweet potato soft pretzel bites.
Did These Rise To The Challenge?
Yeast adds airiness, lightness, and chewiness to baked goods, but in a pinch, you can replace it with alternative ingredients. From baking soda to self-rising flour, you're sure to find the perfect substitute for yeast in your recipe.
About the author
Taylor Munsell
Taylor resides in the mountains of Asheville, NC spending her time listening to her husband talk about plants and chasing her daughters and dogs to see what they're trying to eat now. She's a blogger by day and fiction writer by night. Words (and food) are her lifeblood. When not writing, Taylor can be found cooking, reading, eating way too much cheese, and trying to fit more gadgets in her kitchen.