Smore's and hot dogs are usually the go-to campfire snack, but there are other tasty treats you can roast on an open fire.
Biscuit dough
Campers are using a Wolf'em Marshmallow Roasting Stick's attachment to roast biscuit dough and make campfire eclairs. The attachment allows the dough to be wrapped around a wooden cooking form and creates a dough cup that once cooled is filled with vanilla pudding and topped with chocolate frosting, whipped cream or hazelnut spread.
Kampgrounds of America has a video that shows you how to do it with aluminum foil, cooking spray and a dowel.
For a slightly different treat, cook biscuit dough on a stick and dip it in butter and cinnamon sugar.
Banana boats
Also called tin foil bananas, there are slight variations on how to make these based on personal preference.
The basic concept is cutting open a banana, leaving the skin on, and stuffing with chocolate chips, caramel, chocolate sauce, peanut butter, marshmallow, strawberries or crushed graham crackers. The stuffed banana is wrapped in aluminum foil and cooked on a grate above the fire or warmed by sitting on the campfire's outer ring.
More: Tired of traditional s'mores? Campers reveal ways to level them up.
More: Michigan campers grumble about enforced state park check-in time
Some folks like to dig out a channel in the banana and then add the fillings or cut the banana in halves.
Georgia State Parks has a great video on how to do it.
https://youtube.com/watch?v=rT0BAfPCTL0%3Ffeature%3Doembed
Bread
If you want to go straight to dessert, cut white bread bread into four squares (another camper suggested French bread), dip the bread in sweetened condensed milk, roll it in either coconut or crushed graham crackers. Spray aluminum foil with non-stick spray and wrap. Put them by the fire to cook.
If you'd rather make both dinner and a dessert, you'll need a cast iron pie cooker. Put pizza ingredients between two pieces of bread and cook inside the pie cooker. You can make it Mexican inspired by filling with pre-cooked taco meat and cheese. Make it a cheeseburger with pre-cooked ground beef, cheese and pickles.
Use the same concept for dessert, but add canned pie fillings instead and try different types of bread like cinnamon.
Pretzels and cheese
Roast soft pretzel bites found at most grocery stores and dip in liquid cheese. It's one of the treats trending this summer.
Baked goods
Grab a box of plain or cinnamon doughnut holes or Twinkies from the store and give them a roast.
Cinnamon rolls can be cooked on the fire, too by placing them in a cast iron pie cooker.
Pizza rolls
Skip the microwave or oven when it comes to frozen pizza rolls and roast them on the fire instead. Some campers swear it's the best way to eat them.
You can keep it simple and roast strawberries or sweeten it up by wrapping a strawberry in marshmallow fluff and then roasting.
Love apples? Try apples with butter, brown sugar and cinnamon wrapped in foil.
Pineapple is another quick option that can be roasted on a stick.
Vegetables
Try mini peppers or mushrooms coated in olive oil, or roast jalapeno poppers.
Meat and seafood
Keep it simple by roasting bacon or shrimp on a stick.
► Stay connected and stay informed. Subscribe to the Detroit Free Press today.
I have been eating a lot of baked potatoes lately, mostly . Like most things that hang out in the oven for a long time, they are hot hot hot when they come out, which makes them hard to cut. But waiting for a hot potato to cool before you load it up with toppings is a bad strategy—you need that heat to melt the butter and cheese.
Here's how to split and load a hot potato without burning your little fingers.
Split the potato with a fork, not a knife
Knives cut to create slick, smooth surfaces, which is not what you want when loading a baked potato. (The butter will slide right off.) You want the inside of your spud to be craggy and fluffy, so the butter can seep into the crevices. To achieve this, repeatedly stab your fork into the top of the spud in a zigzag pattern, then press on the ends to reveal an interior that is ready to receive lots of butter.
Don't burn your little fingers
Baked potatoes are best served piping hot, a temperature not known for being kind to the skin. You could use (and dirty) a clean dish towel to gently press on the ends of the spud, or you could use the same kitchen tongs you used to remove the potatoes from the oven. Rather than squish them with the end of the tongs—which can result in a potato explosion—position the spud about halfway up the handle, then apply a gentle squeeze. (But sure, a kitchen towel works pretty well too.)
Add the cheese before the sour cream
A lot of people fully load their potatoes in the wrong order. They go butter, sour cream, cheese, bacon, and scallion, when they should go butter, cheese, sour cream, bacon, and scallion. This order allows the cheese to melt. So add the first two ingredients, mash everything up a bit, then close the potato and let it all mingle to form an -like base layer of potato magic. Let it sit for a minute or two, then open her up and add your sour cream, bacon bits, and chives or scallions.
Give it a salt crust
Nothing against a naked spud, but why not add a little glitter? Start by giving the potato a rubdown with your favorite fat—I like bacon grease (economical) or duck fat (a bit more pricey). Then, roll it around in a fine or medium-grain salt, and bake as usual to form a sparkly, savory crust.
Oven mitts are household items in kitchen drawers across the world, yet we don't give these essential safety equipment items too much thought. While decorative mitts may add to aesthetics, the pain of grabbing a batch of your signature chocolate chip cookies out of the oven and realizing those mitts don't actually do much to protect you from the heat is something we've all fallen for. Some kitchen items, like baking trays from your favorite sheet pan meals, can be large and awkward. Others can be heavy, like a cast iron loaded up with a whole roast chicken. Nothing ruins a meal quite like dropping everything on the floor because your oven mitt isn't adequately insulated.
Different styles and materials are all about personal preference, but what matters most is that they protect your hands from the heat of the oven and other hot pans. Our professional product testers put over 20 high-performing mitts to the test. By grabbing pans, baking dishes, and cast irons straight out of the oven and rating them on performance, design, and ease of cleaning, we determined which mitts could take the heat.
Pros: We loved these mitts for their high thermal capacity, exceptional grip, and smart design.
Cons: These mitts aren't great for broiling or grilling.
The Big Red House Heat-Resistant Oven Mitts were an obvious standout favorite. They were the only mitts to earn five out of five ratings across all categories. Our testers were impressed with the heat capacity, design, and grip. Plus, we loved that these mitts protect our forearms, too. Our testers said these mitts were super comfortable to wear — even when handling hot items — with no heat coming through even after 15 seconds of holding. And unlike other mitts with similar exceptional heat tolerance, these aren't bulky and are easy to maneuver.
The only negative our testers could find is that they aren't very well-suited for super high-heat tasks like broiling or grilling.
Price at time of publish: $17
Dimensions: 12.5 x 7 x 2 inches
Material: Polyester, cotton, silicone
Cleaning: Machine washable
Heat Protection: Up to 480 degrees Fahrenheit
Pros: The unique design of these mitts made them easy to grip and maneuver.
Cons: The shape of these mitts caused them to risk dipping into food or possibly flames.
You might not expect a 4-pack of pot holders for the price of one would be very good. But the Ritz Royale Collection Pot Holders don't sacrifice quality for quantity. We loved the design of these mitts; there are two slits to slide your hand into, plus a grippy texture on the other side to give an excellent grip. The flexibility of the dual slits made these some of the easiest to use and maintain a solid grip.
However, the design has a slight downside. Since the pot holder is rectangular and not the same shape as your hand, some inevitable overhang can inch too close to an open flame or dip into food.
Price at time of publish: $22
Dimensions: 8.5 x 5.5 x 0.75 inches
Material: Cotton canvas and terry
Cleaning: Machine washable
Heat Protection: Up to 500 degrees Fahrenheit
Pros: We loved these for their beautiful design, flexible glove, and high cuff.
Cons: These mitts felt somewhat expensive for the value.
The combo of soft cotton and flexible silicone makes the Food52 Five Two Silicone Oven Mitts something special. The silicone on the glove is thin but effective and is insulated exceptionally well, and its slim design makes it super flexible. Our testers loved the plush interior. One tester described it as a "luxurious experience," noting how the extra-long design protects forearms, too.
Oh, and did we mention how cute these are? Our testers all commented on their aesthetically pleasing design. The magnetic clip and loop make storing these in plain sight easy.
Dimensions: 15 x 7 inches
Material: Cotton and silicone
Cleaning: Machine washable
Heat Protection: Up to 650 degrees Fahrenheit
Pros: Our testers loved the extra flexible silicone coupled with the grooves for a superior grip.
Cons: The full silicone shell can be bulky.
The Mastrad Silicone and Cotton Mitt is the perfect marriage of silicone and cotton — it's a silicone outer shell with a removable cotton interior. The outer silicone shell is flexible and allows for a good grip, especially the small grooves on the inner portion of the tip of the glove.
The full silicone design can be a bit bulky, though. One tester noted that the shape of these can feel a bit awkward at first, but eventually you'll get used to it. The tip of the mitt can be challenging to control, and there's some risk of dipping into the food. However, since the outer shell is entirely silicone, it can easily be wiped clean or even washed in the dishwasher. We also loved that the inner cotton lining was removable and machine washable.
Dimensions: 11 x 5.5 x 3.5 inches
Material: Cotton and silicone
Cleaning: Silicone shell is dishwasher-safe; cotton lining is machine washable
Heat Protection: Up to 572 degrees Fahrenheit
Pros: This mitt is extra long, protects even more of the arm, and offers impressive heat resistance.
Cons: This mitt has a stiff thumb that makes it difficult to get a good grip
The grip on these mitts was also impressive; our testers said the glove was never too hot to handle — even after a full minute of holding a hot tray. However, the thumb felt inflexible to our testers, who noted that due to the stiff thumb of the mitt, it took a little finagling to get a grip on a shallow baking pan.
Price at time of publish: $20
Dimensions: 7 x 15 inches
Material: Cotton and silicone
Cleaning: Machine washable (inside out only)
Heat Protection: Up to 650 degrees Fahrenheit
Pros: This hot pad can be used as a trivet and is very affordable.
Cons: This mitt is small and circular, so it doesn't protect your hand as well.
Who doesn't love a multitasker? This hot pad-style mitt from Thermoworks can be used to pull a hot pan out of the oven and then placed under the pan right on the table. And, since they're only $7, it's easy to purchase a few to grab things with multiple handles or have extras to use as trivets. This mitt is 100% silicone, so it has unparalleled heat resistance — up to 600 degrees Fahrenheit. That said, since this mitt is a silicone circle, our testers felt it left much to be desired regarding hand and arm protection.
Dimensions: 7-inch diameter
Material: Silicone
Cleaning: Dishwasher-safe
Heat Protection: Up to 600 degrees Fahrenheit
Courtesy of Amazon
Pros: The glove style offers extra dexterity, and we loved the high heat resistance.
Cons: They didn't perform well when holding onto hot items from the oven.
Grilling and barbecuing can require temperatures twice as high as your regular oven, so mitts with extra-high heat resistance are necessary. The Grill Heat Aid Extreme Heat Resistant Gloves are safe up to 1,472 degrees Fahrenheit, but with high grilling temperatures, that's ambient heat. While we didn't feel like these worked as well when holding hot pan handles and grabbing trays out of the oven, that's not what they're made for.
However, our testers raved about the glove style. One tester said, "These gloves are great for tasks that require a sure grip — like flipping hot dogs, grabbing shallow dishes, and handling hot potatoes." Regular oven mitts can be cumbersome, but since these have individual fingers and silicone grips on both sides, it's like having heat-proof hands with extra grip, giving you superior control.
Price at time of publish: $30
Dimensions: 14.17 x 6.69 x 0.79 inches
Material: Silicone and aramid fiber
Cleaning: Machine washable
Heat Protection: Up to 1,472 degrees Fahrenheit
Pros: Use this as a pot holder or trivet to place hot items on top.
Cons: The silicone side makes it difficult to bend.
We love the OXO Good Grips Silicone Pot Holder because it's shaped like a trivet, but also has a pocket lined with soft cotton to mimic a traditional oven mitt. The silicone grip performed well, and our testers had no problem tightly gripping hot items without any heat interference. Our only complaint is that it's a bit inflexible. Our testers said, "it started straining my fingers just as the timer was going off," so after just 15 seconds, it became a bit uncomfortable.
Price at time of publish: $13
Dimensions: 9.75 x 7.5 x 0.25 inches
Material: Silicone and cotton
Cleaning: Machine washable
Heat Protection: Not specified
Our Favorite
We loved the Big Red House Heat-Resistant Oven Mitts best because of their high thermal capacity and exceptional grip. If grilling is more your speed, you'll love the Grill Heat Aid Extreme Heat Resistant Grill Gloves for the freedom you have with the glove style combined with their high heat resistance.
The Tests
Our testers started with a set of 23 oven mitts. To test heat resistance, testers evaluated each mitt's performance on things like grabbing hot pans, baking dishes, and cast irons out of the oven. They assessed each mitt on how long they could hold each hot item, how comfortable it was to use the mitt, and the flexibility of the material. At the end of the assessment, testers were asked to rate each mitt on its overall performance, design, ease of cleaning, and value.
Factors to Consider
Choosing between a classic glove-style oven mitt or a potholder style can be tricky. It's important to consider your needs and habits when shopping. A pot holder style is more versatile and flexible, but it's much smaller and can wrinkle and fold, posing a safety hazard. Glove style, on the other hand, protects your whole hand up to your forearm and the close-fitting design means there's nothing that could accidentally burn or catch on fire. The downside is that they can get dirtier and give you less precise control over your hands.
When you think of oven mitts, you probably have a mental image of a cloth, glove-like mitt that's thick and slightly rigid. While these types of materials are fairly good at insulating against heat, their bulky nature can be somewhat finicky when it comes to grip. Silicone, in contrast, is known for its low thermal conductivity, meaning the heat from a hot pan won't be passed on to you. Silicone is also very flexible, so it can easily wrap around whatever you're grabbing, but its inert smoothness means it can be slippery when wet or greasy.
Indoor or Outdoor Use
Some oven mitts are meant for indoor oven use, but many specialized mitts and gloves are on the market made specifically for grilling and barbecuing. Some oven mitts designed for indoor use just can't hold up to the conditions of outdoor cooking and aren't a safe choice. Since most outdoor cooking methods deal with open flames and extremely high heat, buying mitts made with this in mind will give you the performance and safety you're looking for.
When shopping for an oven mitt, ease of cleaning is a critical factor to consider. Oven mitts made of fabric can absorb liquids and stain, so most of them must be washed in the washing machine to clean them thoroughly. Silicone, for example, doesn't stain and can easily be wiped or rinsed for a quick cleanup. Always make sure you check the cleaning instructions before you buy; some mitts can't be cleaned in the washing machine or with a quick wipe and require a cumbersome hand-washing method that can get annoying fast.
Pro Panel Q+A
As is with most kitchenware, it's always best to check the manufacturer's recommendations for cleaning. Some are best suited to air drying over the dryer, so always be sure to check the tag or packaging. Others are made of nonabsorbent material, like silicone, and can be quickly rinsed or wiped with a soapy sponge. But generally, most cloth or fabric-type oven mitts and pot holders can be tossed in the washing machine.
Can you use a towel as an oven mitt?
Most professional chefs will say yes, but it's just not the safest option. Towels can be too thin and require a few folds to insulate appropriately, making it difficult to get a good grip leading to a higher chance of dropping. They can also dangle and burn or catch fire on a wayward corner. But the number one reason why you should avoid using a towel as an oven mitt is steam.
A steam burn can happen in a flash and is extremely painful. If a towel is even the tiniest bit wet, that water can quickly convert into steam once you reach into the oven or touch a hot pan and burn you instantly. While grabbing the towel you've been drying your hands on or wiping the counter with while cooking may be convenient, in the long run, no amount of convenience is worth the potential for a severe burn. Chef Galen Zamarra of The Lodge at Blue Sky in Park City, Utah, admits to using towels at work, but at home, he says, "I prefer silicone; it is washable with soap and water, doesn't burn like a cloth mitt can, and protects against heat better (even when wet)."
Are silicone oven mitts safe?
Every item in the kitchen can be unsafe when not used properly, and silicone oven mitts are no exception. Silicone can get extremely slippery if it gets wet or greasy, so like all kitchen items, responsible use and attention to surroundings are of the utmost importance. So long as they're used safely and for their intended purpose, silicone can be safe. It's an excellent insulator and a terrible conductor of heat, so it's one of the best materials for oven mitts.
What is the best material for oven mitts?
Which material you choose depends on your specific needs and preferences. The best material for oven mitts is one that is thick enough to insulate your hand from the heat, but not so thick you can't control your grip. Cloth oven mitts and silicone can both fit the bill. Some mitts have both materials and are the best of both worlds. Chef Trisha Pérez Kennealy, owner of the Inn at Hastings Park in Lexington, Mass., is a fan of this style. She says, "I like to use the oven mitts that have the silicon by the hand and cloth on the bottom; I find that the silicone is much easier to clean and maintain than washing oven mitts in the washing machine."
What Didn't Make the List
Nick DeSimone wrote and compiled this list. They have spent nearly a decade cooking in professional kitchens. During that time, Nick has spent hours handling hot pans and pulling sizzling trays out of the oven. They have experience using almost every type of oven mitt imaginable. These mitts were tested by our professional Food & Wine product testers. Each tester is an impartial culinary enthusiast with a passion for sniffing out the best of the best.
Steam burns hurt. Like really, really hurt. The small mark on my left forearm begs the question daily: Maurizio, was it worth it? But before we talk about my new baking badge of honor, let's concentrate on overcoming the challenges of baking good bread at home. While many of these challenges present themselves early in the two-day process (fermentation, flour selection, mixing, shaping, and so on), there is that crucial component at the end of this ordered procession: baking bread with steam in your home oven.
For your bread to rise to its potential, that outer, taut skin on your loaf needs to be able to expand and stretch before hardening off. Steam in the oven and subsequently on the surface of your loaves helps keep that skin pliable and stretchy during baking. If your dough dries and bakes too quickly on the exterior, it can harden off before it rises to its full potential (and you may not see a satisfying gringe, either).
So how can we get enough steam in the oven to keep those loaves rising? There are indeed methods abound, and each person has a different approach, but arguably the most popular choice at the moment, and the one I started with, is baking bread in a Dutch oven (see my guide on how to bake bread in a Dutch oven if you're not familiar). However, there comes a time when you might want to bake two (or more) loaves at a time, or perhaps your loaves are scaled more substantial than your Dutch oven can comfortably hold. An alternative is to bake directly on stones and generate sufficient steam in your home oven by some other clever means.
Professional baking ovens have steam on tap. Press a button, and a wave of steam sprays over the decks of newly loaded dough (however, there are always challenges, no matter what oven you use). Now there are home ovens that are "steam ovens," but the ones I've looked at are incredibly small. You might be able to fit two loaves, but I could also fit two Dutch ovens in my current home oven; no advantage there. Some other alternatives can't inject steam at a button press, but they are sealed to trap steam and have a method for generating steam. These look very promising but are on the expensive side.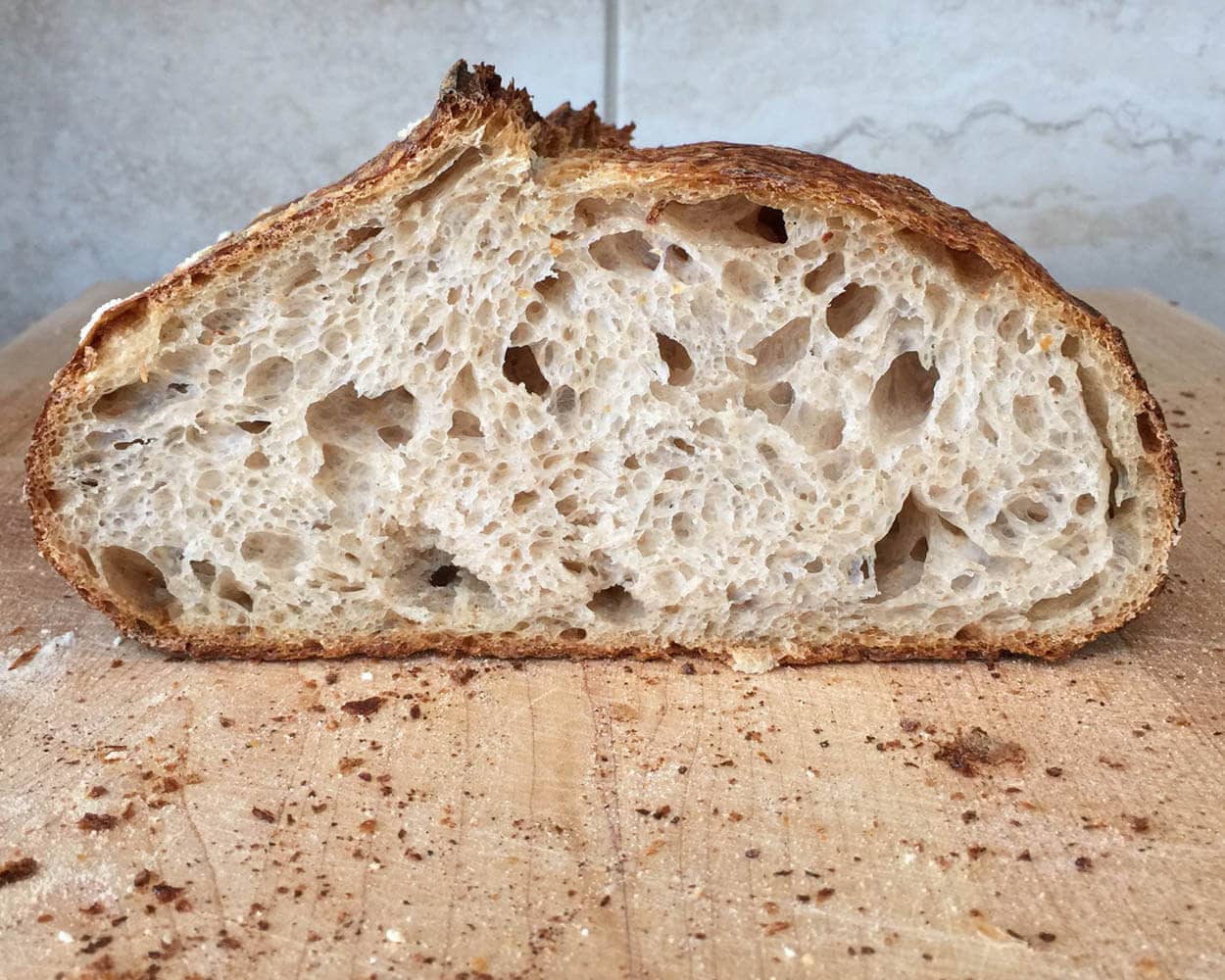 Since most of us bakers out there do not have one of these fancy ovens, we have to make do—read on to learn how baking bread with steam in your home oven can be a straightforward process.
Video on baking bread with steam
In the video below, you'll see my baking bread with steam from start to finish.
Tools for Steaming Home Oven
We first need to have the right set of tools for the job. Let's go over a few more additions to our home-baking arsenal:
Lava rocks
The first is a cast-iron pan filled with lava rocks1. Lava rocks are a primo choice because they get extremely hot, don't break down easily, and have tons of jagged sides and crevices for an incredible increase in surface area. What's the big deal about surface area? As cooler water comes into contact with a blisteringly hot surface, it instantly turns to steam. The more hot surface area you have, the more steam you generate. I found these lava rocks, specifically made for home BBQ grills, and they have turned out to be a perfect choice. They come in a fairly large bag, and I am still on my first handful — I probably have lava rocks for life.
Roasting pan
The second component is the heavy-duty stainless steel pan I use to hold the lava rocks. This stainless steel pan is great for a few reasons: it's super thick-walled, retains heat well, and holds up to abuse.
Rectangular baking pan
The last component is an old rectangular baking pan with small dish towels rolled tightly. I use an old pan around the kitchen and roll up three small towels in the center. The more towels you add, the more steam you'll generate. I use cheap, clean towels as these will eventually get scorched and need replacing.
Ten to twenty minutes before you start baking, you will boil some water and pour it over the towels in the rectangular pan, so they are fully drenched and steaming. You will then place this pan with towels back inside your oven. This pan will saturate the interior with steam before you even splash water on the lava rocks and will continue to do so well into the bake.
Optional Hand Spritzer
The final item is optional. A stainless steel hand spray bottle I use to spray in a bit more steam just before closing the oven door. I like to have the option to spray in a bit more steam if I feel it is warranted. Additionally, you could use this after 5-10 minutes into baking to quickly saturate the oven inside one more time. Some bakers, like Jeffrey Hamelman in Bread, recommend this second round of steaming in a home oven.
Not many new tools are needed, and if you think about it over the long run, you will probably save money as now we can bake 2-4 loaves at a time — no more wasting all that space in the hot oven. How do we do this now that we have the tool requirements squared away?
Baking Steam Method
Below is a quick visual showing where I have my pans, where the loaded dough goes, and where my baking stones are.
Now that we have a list of what things we need, where items will be placed, and why, let's get to the actual method (with the animated version below!).
Home oven steaming method
An hour before baking, turn on your oven (preheat)
10-20 minutes before loading your bread, boil water, pour over the towels in your rectangular baking pan, fully saturate them, and place them in the back corner of your oven
10-20 minutes after loading the pan, put each mass of dough on a separate piece of parchment paper
Place the dough and parchment underneath on a pizza peel
Score dough
Open the oven and slide the dough (with parchment) onto baking stones
Carefully toss 1 cup of ice into your cast iron pan with lava rocks
Quickly spray loaves a bit with a hand spritzer (optional)
Close the oven door and watch your dough rise
20 minutes later, remove both steaming pans (careful these are extremely hot) to stop steaming
Bake as usual until done
Whew, that's it! Here is the whole process (minus the preheating and drenching of towels) in one trendy baking-with-steam GIF:
Why do we use two sheets of parchment paper for our dough? When you use two sheets, you can adjust the space between the loaves as they bake, if necessary. One of the worst things to happen is when the dough expands and joins with another loaf; this reduces the overall rise of both loaves. If you notice the loaves start to get a bit close as they rise, quickly slide them apart.
After 20 minutes of baking, we remove the cast iron and rectangular baking pan, so no more steam is generated, allowing your loaves to crisp up and harden off.
Caution: Please be careful with this method: if you drop too much cold water on your oven door, you might crack the glass. I have never had this happen to me, but I know of at least one baker who had this issue. Be sure to keep the water off the glass.
Another approach to baking bread with steam
Baking bread in a sealed post is possibly the easiest method of baking bread with steam at home. You place your dough in a preheated pot, close the lid, and put that in your oven.
That method works incredibly well, but the drawback is you can only bake round loaves this way. You're limited to the realm of round pots.
Conclusion
I like this method for baking bread with steam in my home oven because it allows me to cook two large loaves of bread at a time. I plan to bake four loaves at a time, and this will let me do that with no problem. Baking with a Dutch oven (or combo cooker) works exceptionally well, and I might still use that method if doing only a single loaf or a highly hydrated one (the pan will help keep the dough together). Still, I find myself using this new method more and more. The results have come out smashingly.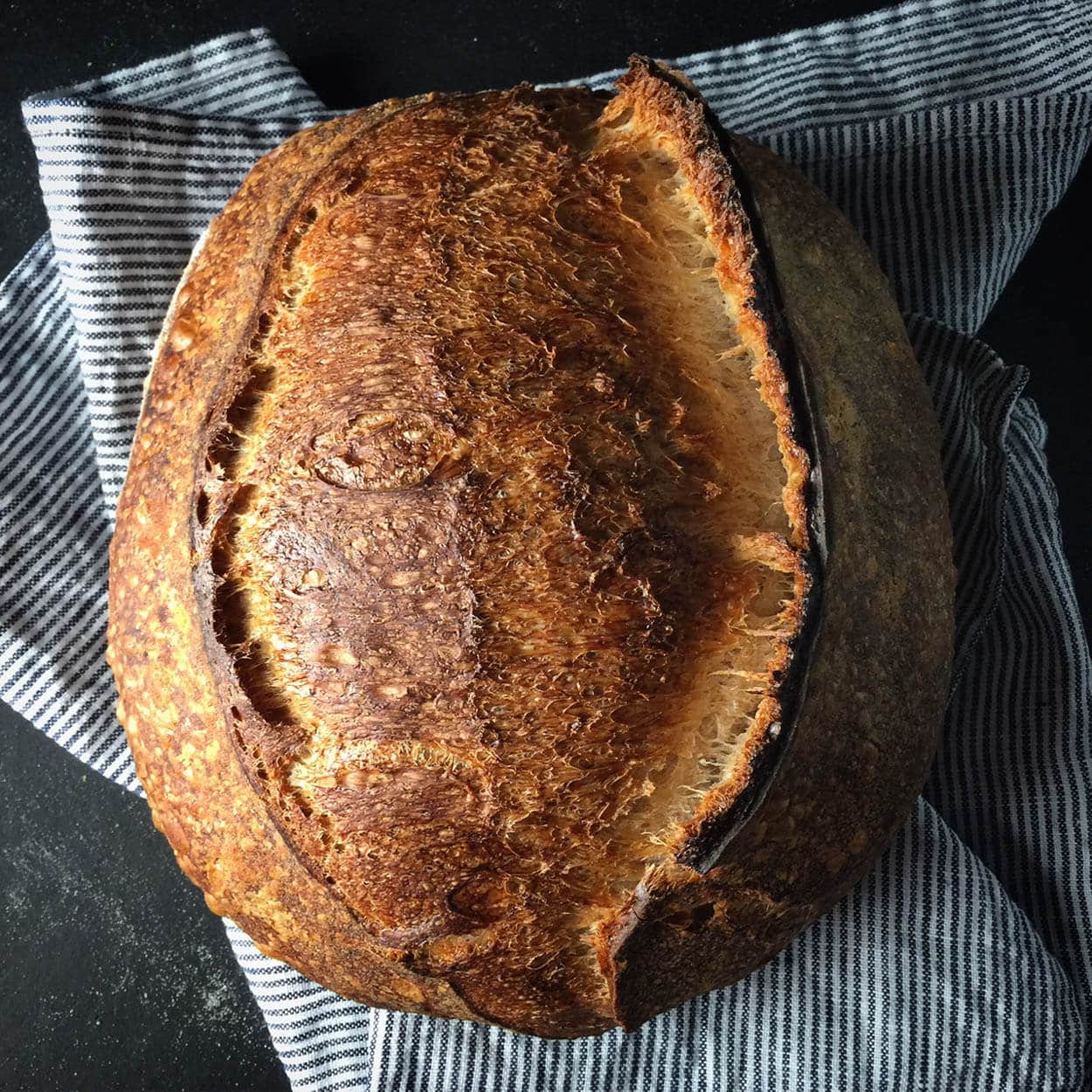 Any other steam generation recommendations out there? What do you use and why?
This is understandable as well. Parchment paper has been one of thetools for baking for professional chefs and bakers for ages. These days, if you love to cook at home, it's almost a given that you have been introduced to parchment paper and love it too.
What Is Parchment Paper?
Parchment paper is basically paper that has been coated with silicone. It can come in bleached or unbleached varieties, and the silicone makes the paper non-stick and heat-resistant, as well as water-resistant.
This makes it extremely versatile, so it is great for baking projects, layering in between desserts and candies, covering your workspace as you do messy things like roll out your dough, and you can even use it for decorating purposes, by rolling it into a little piping cornet to apply icing.
If that's not handy enough, you can also bend it into a little funnel to move dry ingredients like spices back and forth, you can use it to steam cook things like chicken and fish, and it's a great product to line your with, when you just want to cook something without making a huge mess.
Parchment paper is like the anti-mess weapon of the kitchen, and it makes for easy clean-up in many different ways. For added convenience, you can even buy parchment paper that is already pre-cut into sizes that you need.
But what about those days when you run out of your beloved parchment paper, and you have no time to run to the store? Or you simply haven't been introduced to the wonders of parchment paper, yet find you need it for some new baking project?
When the unthinkable happens, why not try using one of these alternatives?
Top Four Parchment Paper Substitutes
Wax paper is similar to parchment paper in that it has a thin on each side which makes it . It works well as a less expensive substitute to parchment, especially if you're using it for things like covering your counters for a messy project, or using it to layer between desserts or line the inside of dishes. It's also a smart and cheap way to keep the mess down.
You can cover your countertops with it the same as you would with parchment paper, and use it when measuring out dry ingredients. If you measure out your ingredients over the wax paper, you can then take it one step further and funnel any excess ingredient back into its container. You can either save the wax paper for another use later or toss it.
Wondering what the difference is between parchment paper vs wax paper can you put wax paper in the ovenThe biggest difference between parchment paper and wax paper is that wax paper is not heat-resistant. This means you cannot use it for baking, or even use it in the oven at all because the wax could melt and even catch fire inside your oven. Think of parchment paper as useful for projects that involve , and wax paper more useful for projects that don't involve . It all depends on your intended usage.
Summary: Unlike parchment paper, wax paper is not heat-resistant, making it unsafe to use when baking. Wax paper is best used to line dishes, measure ingredients, and prevent messy work spaces.
Silpat Baking Mat
For a substitute for parchment paper that you can use to bake too, you might consider a Silpat Baking Mat. These mats are more expensive than parchment paper, but the upside is they can last for years. They are made of silicone and are flexible and heat-resistant. This makes them a great nonstick surface for less messy baking projects, like baking cookies or bread rolls.
However, you can't use these mats to steam things in the oven or funnel ingredients. Also note that these mats cannot be adjusted for different projects without having to buy many different sizes, whereas with parchment and wax paper you can cut to the sizes that you need.
Summary: Silicone baking mats are a great baking alternative as they are heat-resistant and therefore safe to use in the oven. Use them when making traditional baked goods like cookies.
Great for Insulation
Aluminum foil is a viable substitute for parchment paper too, but again, depends on your intended usage. Foil is basically a very thin piece of aluminum. It can be great for lining the dishes and pans you are cooking with so that cleanup is easier.
However, unlike parchment paper and wax paper, foil doesn't have anything that makes it nonstick.
This means that you could end up with bits of foil stuck to your food when all is said and done. But like parchment paper, foil can be used for steaming things like chicken, fish, and veggies in the oven, and also used for covering dishes so they stay warm, wrapping up sandwiches, and wrapping up that you intend to freeze for a short period of time. You can use foil to make those little funnels to funnel ingredients, and even use it to line your stove plates to help keep them clean.
Another way some may use foil is to line the inside of the oven in an attempt to help with the mess factor. However, this is not recommended, because it can cause damage to your oven and also prevent a proper circulation of air which affects how your food cooks.  The bottom line is that you can use foil for many of the same things you would use parchment paper for, but it doesn't mean you always should. If parchment paper is for hot use, and waxed paper is for cold use, think of foil more as your alternative for insulating use.
Another nice thing about aluminum foil is that it can be recycled. Wax paper cannot. Finally, keep in mind that the purposes of parchment paper are often twofold. One, it's used to keep food from sticking. Two, it's used to lift foods that may be too delicate.
Moral of the story: if you absolutely must use foil for cooking or baking, cut it to the size that you need and make sure you grease it well so that your food doesn't stick.
Summary: Aluminum foil can endure high temperatures, but doesn't have the non-stick qualities of parchment paper. Be sure to grease it thoroughly if using it in the oven.
Simple, But Effective
When all else fails, you can go the old-fashioned route and grease your pans or baking molds. You can do this using a cooking spray like coconut oil or olive oil, or you can really go the old-fashioned route, and spread your grease around using a paper towel. You can do this with butter as well (a stick works great), it all depends on you and the type of grease you prefer.
After you have greased your , you will then want to sprinkle a bit of flour all over the and shake and roll it around so that the flour sticks to the grease. You want the flour to stick evenly and then tap out the excess into your sink.
Summary: In a pinch, greasing your pans or baking molds can work in place of parchment paper. Be sure to coat your pans with a thin layer of flour for best results.
Never Use Paper Grocery Bags
Sometimes, someone may say just use a paper grocery bag instead of parchment paper. This is a very bad idea, because of the high likelihood of the bag catching fire in the oven. This can even happen with temperatures that are relatively low.
Not only that, but paper bags are made of fibrous material that will affect how your food cooks and they have zero nonstick properties. You can't even grease it because the grease will just soak into the paper and be rendered useless.
And if you need more discouragement, keep in mind that many grocery bags have ink in them, which can become toxic when it mixes with your food. The only thing that you could try using a paper grocery bag for is to wrap food for storing.
But again, not the best solution by far. Again . . . do not use a paper grocery bag as a parchment paper replacement. There are much better alternatives.
Summary: There are many risks with using paper grocery bags as a parchment paper replacement, from the bag catching fire in the oven to toxic ink contamination. We strongly recommend using one of the other alternatives outlined in this article.
Random Parchment Paper Substitutes
Other ideas that might work if you mainly use parchment paper for wrapping food is to try wrapping your food in banana leaves, soaked corn husks, or even dried, soaked bamboo leaves. Obviously, these are not items you would just have lying around, so if you wanted to use these in lieu of parchment paper, you would have to plan ahead of time.
As you can see, parchment paper is extremely useful for many different things. In fact, the more you use it, the more you will find ways to use it! But sometimes, parchment paper is just not readily available, whatever the reason. This is when you need a parchment paper alternative.
Hopefully, these recommendations Bob's Red Mill have given you some good ideas to experiment with. Just keep in mind their differences, and make sure that whatever you intend to use it for is safe and doable. And do not, we repeat, use any of these alternatives in the oven if they are not intended to hold up to the heat because you will put yourself at risk of starting a fire and endangering yourself and your home. On that note, happy cooking.
Please don't panic about pie. Pie should be a source of joy, comfort, and camaraderie — not stress.
But it's hard not to worry. We've all seen the Paul Hollywood squint as he looms over bakers on TV, prodding and pointing out "soggy bottoms." While it's entertaining to watch from the couch, that image isn't helpful to have in your head when you're in the kitchen. So how do you avoid the dreaded soggy bottom once and for all? It's easier than it seems.
Comin' in hot
When it comes to pie, there are some basic moves that take you from an OK pie to a forkful of sigh. It's particularly important to heat things up; specifically, bake your pie on a preheated pizza stone or baking steel.
Why? Wet pie fillings + raw dough are a tricky combination. If the bottom crust doesn't set before the filling soaks in, it's going to be gummy. A metal pie pan placed on a preheated surface will set the bottom crust quickest; once cooked, the liquids from the filling above won't soak in, and as a result: no soggy bottom. (Using metal is crucial: Glass or ceramic pans don't transfer heat as efficiently, so they can be accomplices to a sad, soggy bottom.)
Photography and food styling by Liz Neily
A crispy, golden brown bottom crust, despite the juicy fillings above.
Parbaking is also an option
Parbaking your crust on a preheated surface is another way to avoid a gummy bottom crust, as it helps the crust set before shrinking.
Line the pan with foil and weights (I use sugar; check out this previous post about toasted sugar for details) and bake on the hot stone or steel for 10 minutes to help the dough set before filling. You won't be cooking the crust all the way, just giving the proteins a chance to set. PJ Hamel has more about that in her blog post on prebaking pie crust.
Don't have a pizza stone? Put your biggest cast-iron skillet on a rack in the lower third of the oven when you preheat it. If it will lie flat upside down, do that. Put a half-sheet pan underneath the rack with the cast iron on it to catch drips. Plop your pie pan right in (or on) the hot cast iron pan to bake.
This Lemon-Ginger Strawberry Pie is thickened with cornstarch, which helps prevent the filling from getting too juicy and creating a soggy crust.
Be thick about it
Of course, there are additional steps you can take for a crispier crust on the bottom. For instance, try precooking a particularly juicy filling. In addition, using the correct amount of thickener (check out our Pie Thickener Chart) keeps more of the filling's juice away from the dough, giving it a better chance of cooking properly. Instant ClearJel is especially great for this because you can see the consistency of the filling before it goes into the pie.
The right moves now mean perfect pie later
Everything is easy once you know. Set yourself up for a deliciously crispy pastry under all that yummy filling by treating your pie a little more like pizza.
Got your own tips? Tell us about your pie prowess in the comments, below.
Cover photography and food styling (Lemon-Ginger Strawberry Pie) by Liz Neily.
About Susan Reid
View all by Susan Reid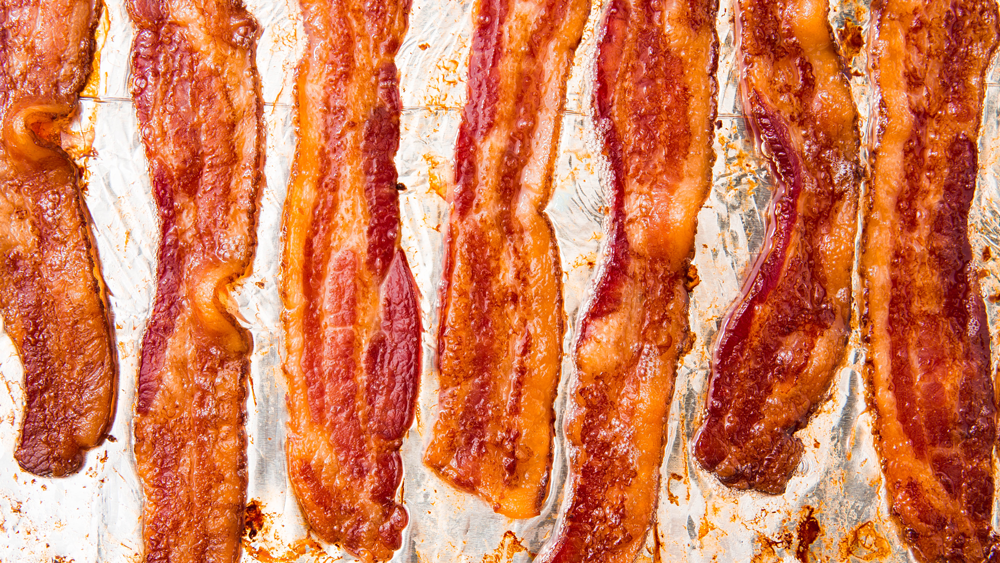 There are tons of ways to cook bacon, but after a lot of very hard, painful research (wink, wink!) we've determined that the smartest way to cook those slices is in the oven: there's less mess, you don't have to babysit it, and the bacon gets just as crispy. Of course, there are a few exceptions to this rule– if you're only cooking a few slices or you're planning to cook something else right away in the bacon fat, like in this loaded breakfast skillet– but in most scenarios, the oven is your best friend.
Here are our top tips for how to cook perfectly crisp bacon in the oven, every single time.
1. Any type of bacon works.
Standard, thick-cut, turkey . . . you can pop any of these in the oven and they'll come out great. Just keep in mind that your cooking time might vary: turkey bacon will cook much quicker, while thick-cut might take a few extra minutes.
2. Get your oven HOT!
Check that your oven is fully preheated to 400° before putting in your bacon. Since every oven is different and many built-in oven thermometers are inaccurate, we highly recommend using an external oven thermometer to make sure your oven is actually at 400°. If your oven is running hot, you might burn your bacon– tragedy!
3. Line your baking sheet with foil.
Before you lay out your bacon, line the baking sheet with foil. This makes clean-up (and bacon grease collection!) so much easier.
4. Use a cooling rack.
For extra crispy bacon, set a cooling rack inside your foil-lined baking sheet, and lay your strips on that. Elevating the bacon above the baking sheet allows the strips to cook from all sides, which makes them extra crispy! If you like your bacon with a little chew, or you don't have a cooling rack, skip this step. Your bacon will still be amazing.
5. Lay the bacon strips in a single layer.
If the bacon is overlapping or sticking together, it won't cook evenly, so make you arrange your bacon strips on the baking sheet in a single, even layer. That way you'll end up with perfect, evenly crispy slices.
6. Check it early.
Standard-cut bacon strips should take about 20 minutes to cook, but ovens can be finicky (see #2 above) and if your oven temp is off, the bake time might vary. Start checking your bacon after 15 minutes– no one wants burnt bacon.
BONUS: Save the bacon fat!
Pour that grease into a mason jar (or other glass container) and store in the fridge. Seriously though — saving the fat will be the best decision you make all week. You can use it to fry eggs, wrap asparagus and other vegetables, and pop popcorn!
Tried this method? Let us know how it went in the comments below!
Advertisement – Continue Reading Below
Ingredients
Nutrition Information
Per Serving (Serves 12)
4 g0 g0 mcg
Note: The information shown is Edamam's estimate based on available ingredients and preparation. It should not be considered a substitute for a professional nutritionist's advice.
Directions
Preheat oven to 400° and line a large baking sheet with foil. If using, line a wire rack on your baking sheet. Lay bacon in a single layer onto baking sheet or cooling rack, making sure not to overlap.Bake until your desired crispness, 15 to 25 minutes. (Thin slices will cook more quickly!)Drain on a paper towel-lined plate and serve.
Preheat oven to 400° and line a large baking sheet with foil. If using, line a wire rack on your baking sheet. Lay bacon in a single layer onto baking sheet or cooling rack, making sure not to overlap.
Bake until your desired crispness, 15 to 25 minutes. (Thin slices will cook more quickly!)
Drain on a paper towel-lined plate and serve.
How To Make A Bacon Weave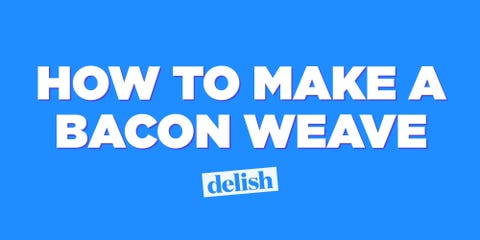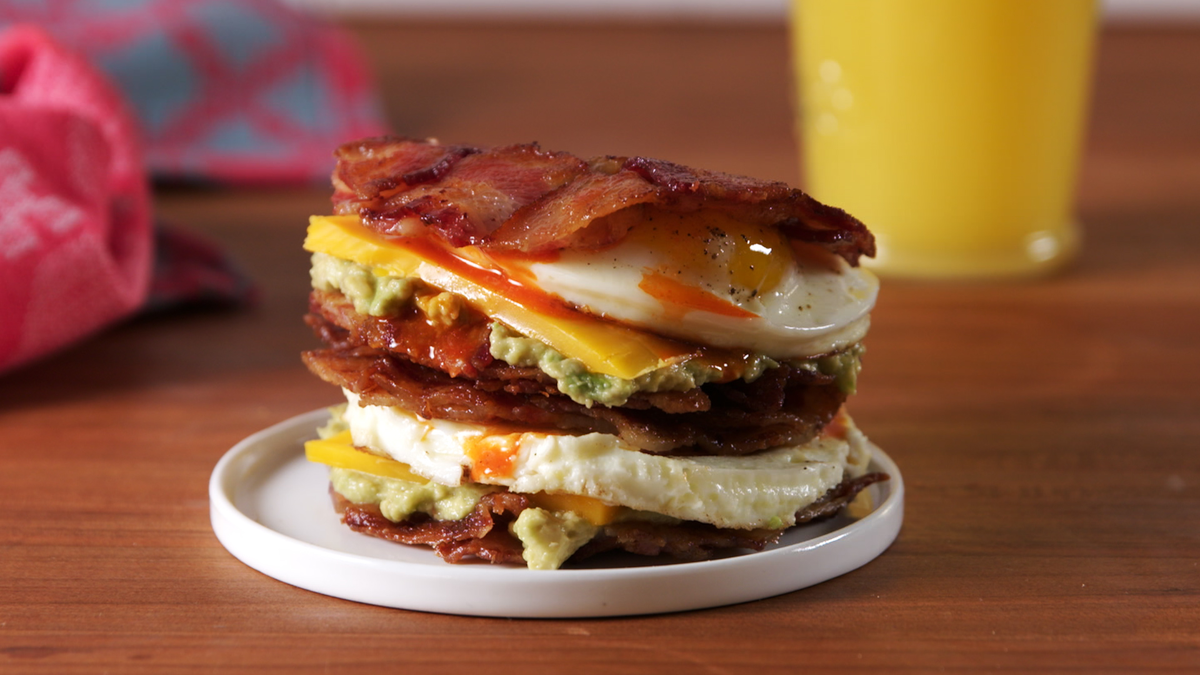 Lauren Miyashiro is the former Food Director of Delish. She graduated culinary school in 2016 and mastered the art of the Crunchwrap in 2017.