Who says whole wheat bread has to be dense, dry, and tasteless? This 100% whole wheat recipe features the delightfully nutty taste of wheat in a fine-grained, moist, faintly sweet loaf.
Instructions
Weigh your flour; or measure it by gently spooning it into a cup, then sweeping off any excess.
In a large bowl or the bowl of your stand mixer, combine all of the ingredients and stir just until the dough starts to leave the sides of the bowl. Let it rest for 20 to 30 minutes; this gives the flour a chance to absorb some of the liquid and the bran to soften, making the dough easier to knead.
If kneading by hand, transfer the dough to a lightly greased surface, oil your hands, and knead it for 6 to 8 minutes, or until it's smooth and supple. If kneading in a stand mixer, attach the dough hook and knead for 5 to 7 minutes at low speed, until the dough is soft and smooth. Adjust its consistency with additional flour or water, if necessary.
Transfer the dough to a lightly greased bowl, cover it, and let it rise until puffy though not necessarily doubled in bulk, 1 to 2 hours.
Gently deflate the dough, transfer it to a lightly oiled work surface, and shape it into an 8″ log. Place the log in a lightly greased 8 1/2″ x 4 1/2″ loaf pan and cover the pan loosely with lightly greased plastic wrap or a reusable cover.
Uncover the bread, place it in the oven, and bake for 35 to 40 minutes, tenting it lightly with aluminum foil after 20 minutes to prevent over-browning. A digital thermometer inserted into the loaf's center should register at least 190°F.
Remove the bread from the oven and turn it out of the pan onto a rack to cool. For a soft, flavorful crust, rub the top of the warm bread with a stick of butter. Cool completely before slicing.
Store the bread, well wrapped, at room temperature for several days; freeze for longer storage.
Tips from our Bakers
Want to make this bread with the help of your bread machine? Place the dough ingredients into your machine in the order listed and choose the dough or manual cycle. When the cycle is done, remove the risen dough and shape and bake as directed in the recipe above. Note: Due to the many brands of bread machine on the market and their different features, we can't guarantee you can bake this bread start to finish in your own machine; please use the dough or manual cycle instead.
The liquid sweetener you choose makes a difference. Molasses produces the darkest loaf, one with old-fashioned flavor. Honey yields a lighter, milder loaf. Maple syrup makes a less-sweet loaf — unless you use real maple syrup, in which case it'll be similar to a loaf made with honey, albeit with a faint hint of maple.
If you're someone who tends to taste whole wheat as somewhat bitter, try substituting 1/4 cup of orange juice for 1/4 cup of the water in this recipe. A bit of orange juice tones down whole wheat's somewhat tannic taste.
For more recipes like this subscribe to our newsletter
View our privacy policy
Recommended Recipes
This Easy Whole Grain Sandwich Bread is a rustic-looking sandwich loaf that's perfectly soft and fluffy, full of fibre and whole grain goodness and perfect for school lunches or serving with your favourite soups or stews.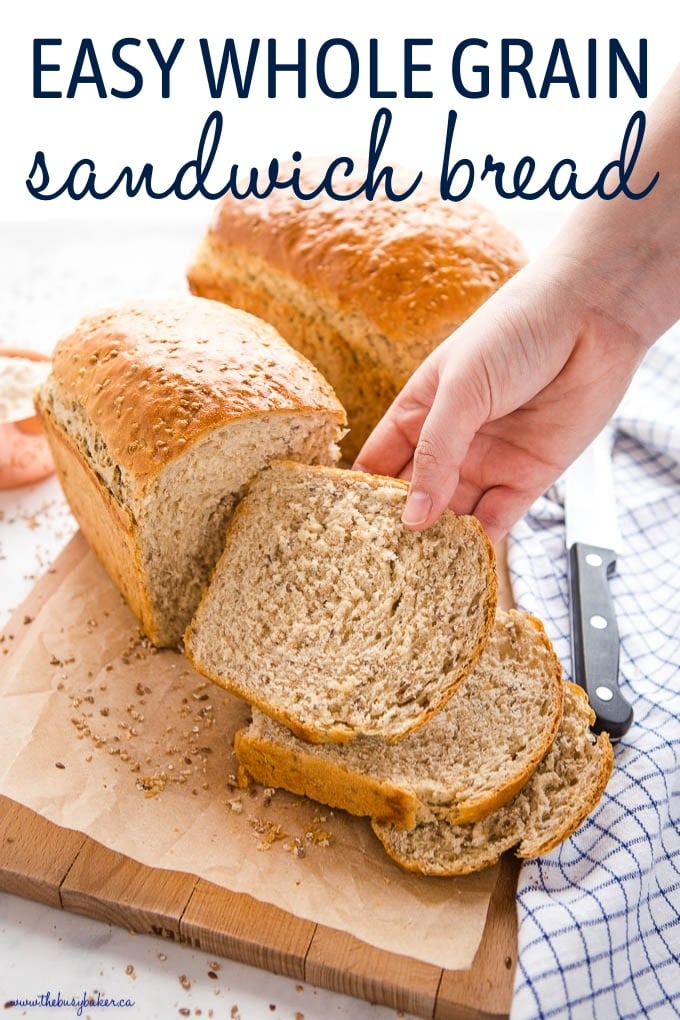 NEVER MISS A POST! FOLLOW ME ON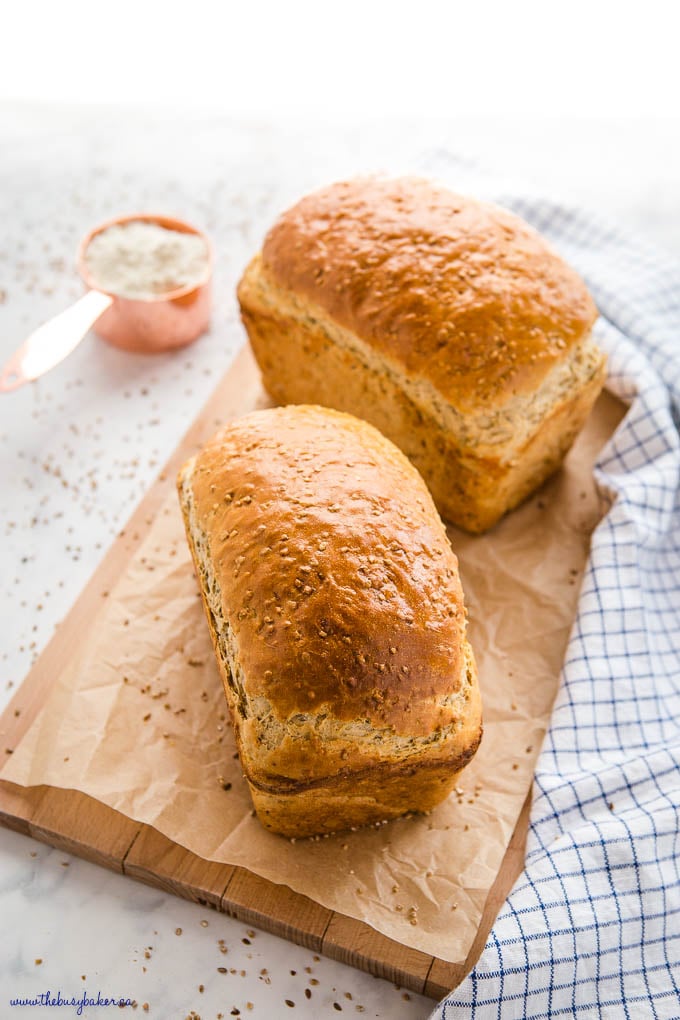 **I originally posted this recipe in February 2015. It was one of the first recipes I ever posted, so I'm re-sharing it today with a few small changes to make it even tastier, fluffier, and easier to make. And new (and improved) photos, of course!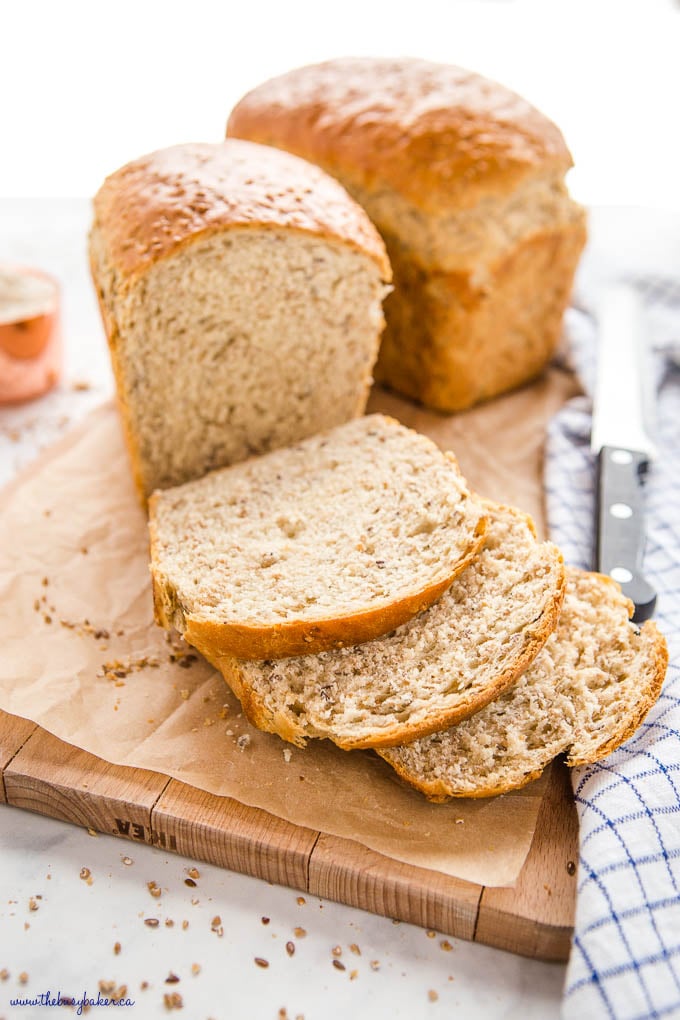 This Easy Whole Grain Sandwich Bread is the perfect healthy sandwich bread that's packed with fibre. We love using it for making sandwiches for school lunches, and it's absolutely delicious dipped in your favourite homemade soup or served along some hearty stew. Trust me, you're going to LOVE it!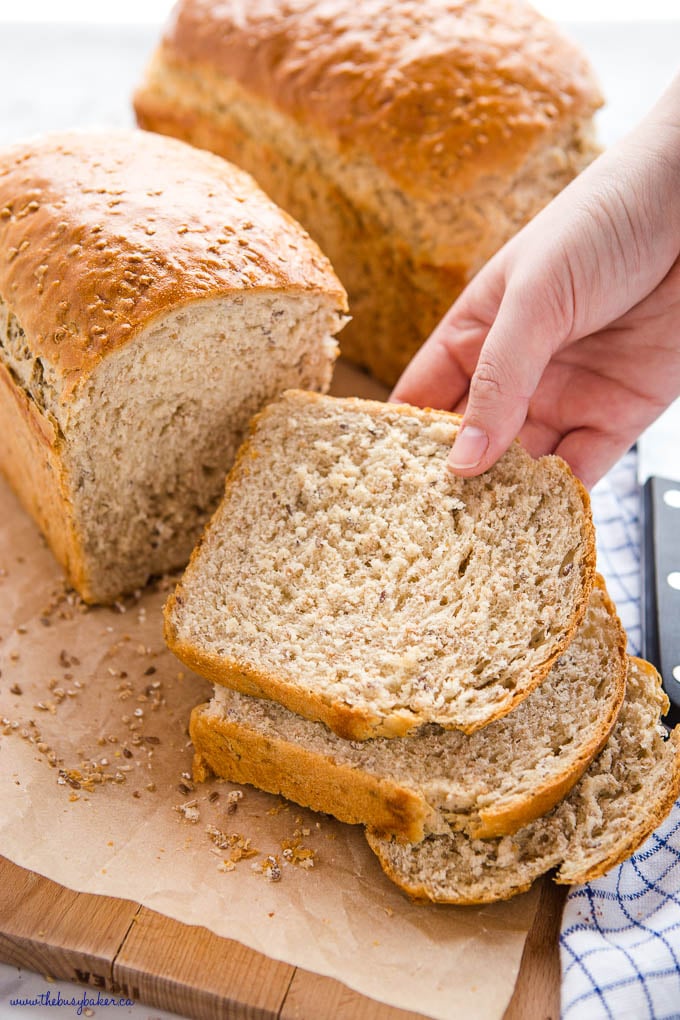 We seem to go through a fair amount of bread in our house (especially since my husband's snack of choice is a peanut butter and jam sandwich) and so several years ago I made a commitment to skip the bread isle at the grocery store and develop a simple, healthy recipe that I could build into my weekly food prep routine. This Easy Whole grain Sandwich Bread Recipe is so simple to make, very forgiving, easy to modify (according to the ingredients you have on hand) and it freezes well. It's perfect for beginners!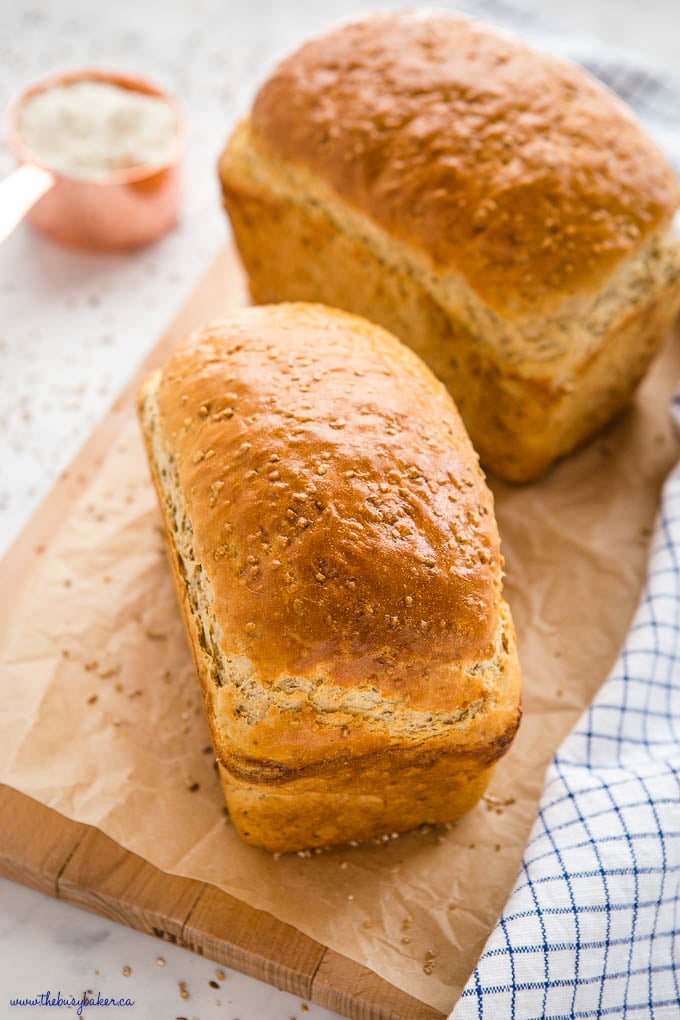 How to Make Soft and Fluffy Whole Grain Bread
Use part all purpose flour and part whole wheat flour. Whole wheat flour has a lower gluten density than white flour which means bread made with all whole wheat flour doesn't rise as quickly or as high, and it can tend to be more dense. Using part all purpose flour helps the bread rise well and gives it a great texture.
Soak your whole grains first. Soaking your whole grain mixture before you add it is a great way to soften the grains.
Use honey instead of sugar. Mixing in a few tablespoons of honey with the yeast and water can also help keep your whole grain bread nice and soft.
Replace the water with milk. Using milk instead of water makes the dough more tender and the crumb softer.
Let the dough rest for 15-20 minutes or so before kneading. This will give the gluten time to develop a bit and help with the rise.
Get my guide to Easy No-Fail Homemade Bread!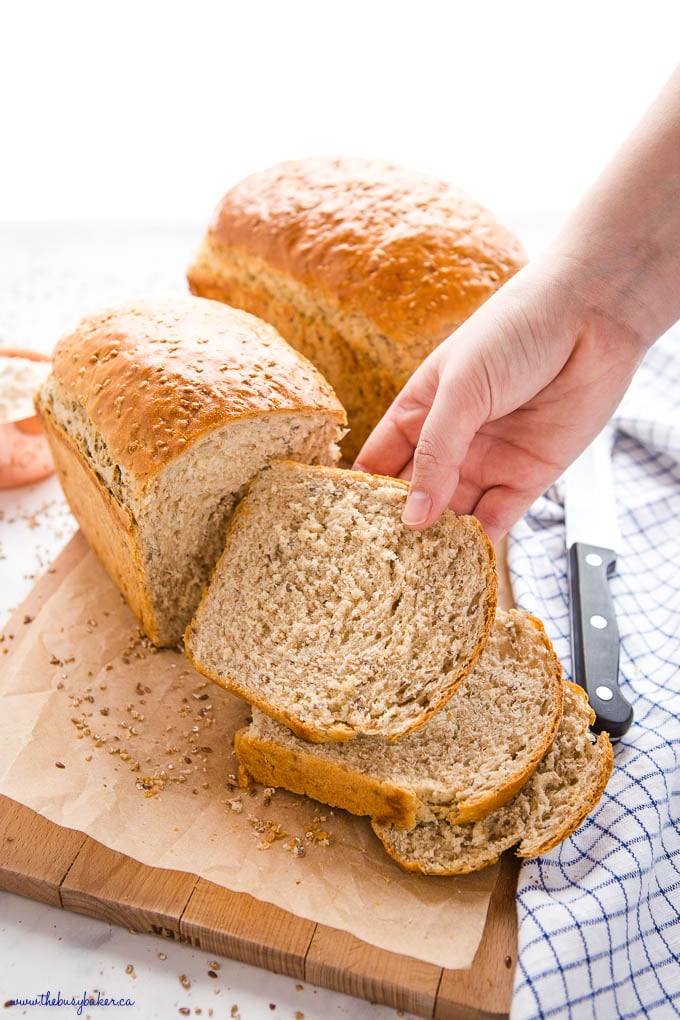 How to Shape Sandwich Bread
There's one trick I always use when making sandwich bread that makes it SO easy to shape the loaves to look just like sandwich bread from a bakery. When you punch down the dough after the first rise, flour your work surface and let the dough rest on the work surface in a ball for about 5-10 minutes. This will allow the gluten in the dough to relax, and it'll make the dough SO much softer and easier to shape! It's a simple trick that works every time!
To shape the loaf perfectly for sandwiches, follow these steps
Fold one short end into the middle and press with your fingers to seal.
Fold the other short end into middle and press with your fingers to seal.
Pinch the sides and pull them in slightly.
Flip the whole thing over and tuck the ends under again.
Place the loaf into the greased loaf pan and let rise a second time.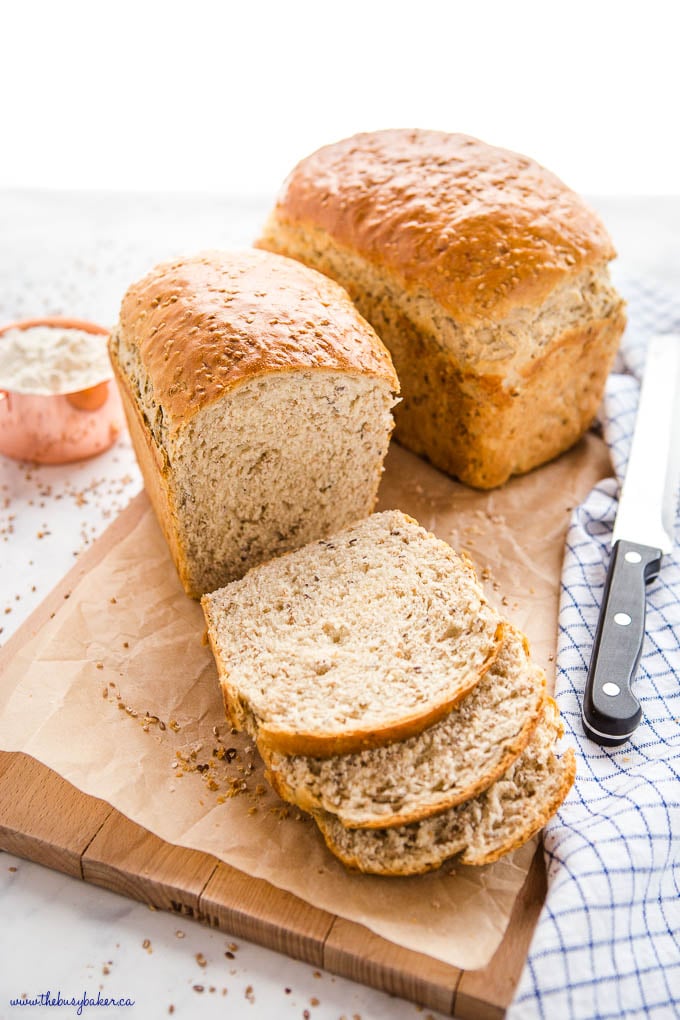 Ingredients for Whole Grain Bread
lukewarm water
yeast
honey
milk
vegetable oil
egg
salt
whole wheat flour
all purpose flour
multigrain mix (I use Red River Cereal that I keep in a bag in my freezer, specifically for this purpose)
approximately 1/2 cup extra flour for kneading (if necessary)
egg and water (to make an egg wash)
butter for greasing the loaf pans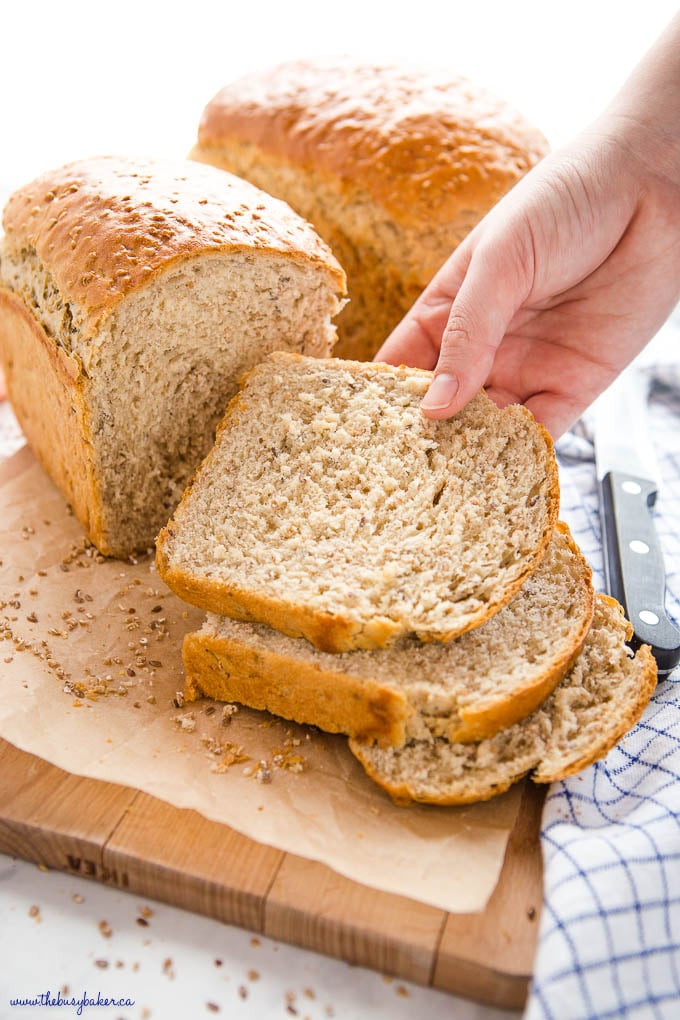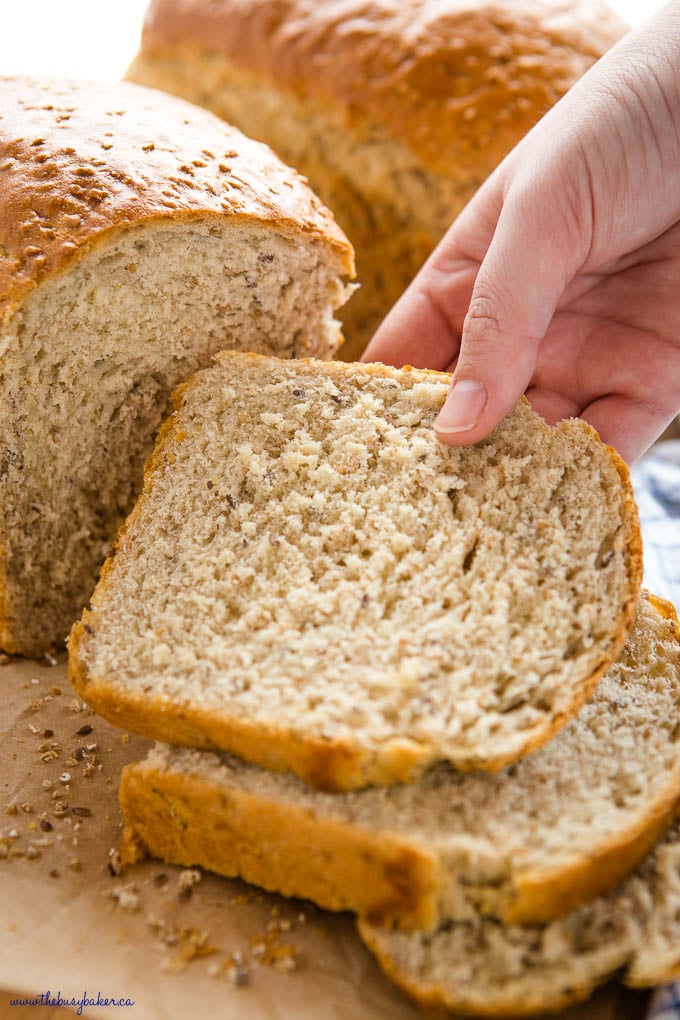 I hope you enjoy this recipe, and let me know how the bread-making process goes for you – Leave me a comment below!
KITCHEN TOOLS I RECOMMEND
Looking for even more delicious bakery-style bread recipes?
Recipe Video
active dry yeast
whole wheat flour
all purpose flour
(like Red River Cereal or other multigrain cereal mix containing cracked wheat, rye, and flax seeds)
For the egg wash (optional)
Add the water to a liquid measuring cup and add the yeast and honey. Stir to combine and set aside for a few minutes.
To the bowl of your stand mixer fitted with the dough hook, or to a large mixing bowl (if you plan to make the bread by hand), add the milk, oil, egg and salt and whisk together until combined.
Add the yeast mixture to the milk mixture and add the flours and multigrain mix on top (you can soak the multigrain mix for a few minutes in hot water first, if you want, but be sure to drain it well before adding. This step is not necessary).
Stir everything together well until a dough forms. Turn the dough out onto a floured work surface if making by hand, or knead the dough in your stand mixer with the dough hook attachment until the dough is smooth and elastic.
If making by hand, flour your hands and begin the kneading process. When kneading bread dough, always start by putting your hand under the edge of the dough farthest away from you and pulling it up and toward you. Then, push it down and away from you, and into the rest of the dough. Keep repeating this motion while turning the dough 90 degrees clockwise every few kneads. It's also important to scoop up the doughy and floury bits on the counter and knead them into the dough as well. The goal is to end up with a smooth and elastic ball of dough.
Once the dough has risen, grease 2 loaf pans with butter and set them aside.
Shaping the Loaves
Fold one short end into the middle and press with your fingers to seal.
Fold the other short end into middle and press with your fingers to seal.
Pinch the sides and pull them in slightly.
Flip the whole thing over and tuck the ends under again. Place the loaf into the greased loaf pan.
Second Rise and Baking
Preheat your oven to 400 degrees Fahrenheit. Place the shaped loaves in their pans under a clean tea towel (I have a few I reserve just for this purpose) and let them rise for 25 minutes.
Check them after 15 minutes, to make sure they haven't over-risen. If they're ok, wait at least another 10 minutes before checking again. They should be larger but not so large that they're overflowing the pans.
This second rise is very important. If the loaves under-proof they'll be dense and chewy. If they over-proof, they'll have large holes (especially right under the crust) and they'll fall apart easily.
As always, the loaves will continue to bake on the inside even after you've removed them from the heat of the oven, so it's important to resist the urge to cut into them until they have cooled almost completely.
Each loaf yields about 10 good slices of sandwich bread, and since this recipe makes 2 loaves it yields about 20 slices in total.
This bread freezes well in an airtight bag or container for up to 2 months. Store it at room temperature in an airtight bag or container for up to 3 days.
This Whole Grain Bread Recipe makes a deliciously soft and tender loaf with a sweet nutty flavor. It makes the Best Whole Grain Bread and is easy to pull off. An organic bread recipe, it's one you'll feel good about feeding to your family.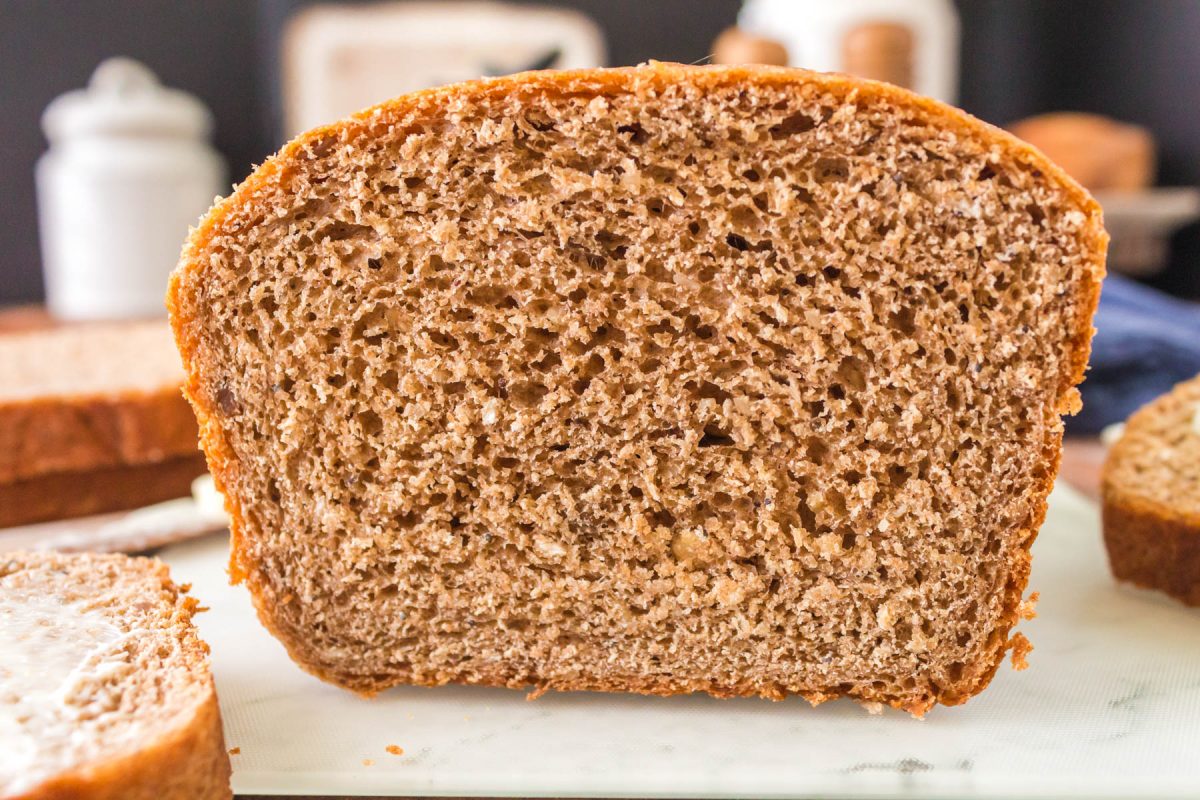 Soft and tender Whole Grain Bread
Whether you just want to eat a little better or want delicious soft and tender bread, you're going to love this Honey Whole Grain Bread Recipe!
Why You'll Love This Organic Bread Recipe
A simple recipe. This is an organic bread that's easy enough to make for your everyday bread.
Better for you than white bread. You will be baking bread that your family will love and that you'll feel good about serving. Some people think that bread that's good for you tastes like cardboard. Not this one, it's a slightly sweet nutty loaf that uses only whole grains and no dairy or added refined sugar.
Easy variations. Baking a delicious loaf of Whole Grain Bread is just as easy as baking a loaf of any other type of yeast bread. The difference is what you are looking for. We find that a loaf of Honey Whole Wheat bread is over the top in flavor and texture.
If you put two loaves of bread in front of us, I'm going for the one loaded with as many additions as possible. I love adding nuts, spices, fruits, seeds, and the list goes on. Check out our huge list of variations in this post that you can use to customize the loaf differently every time you make it.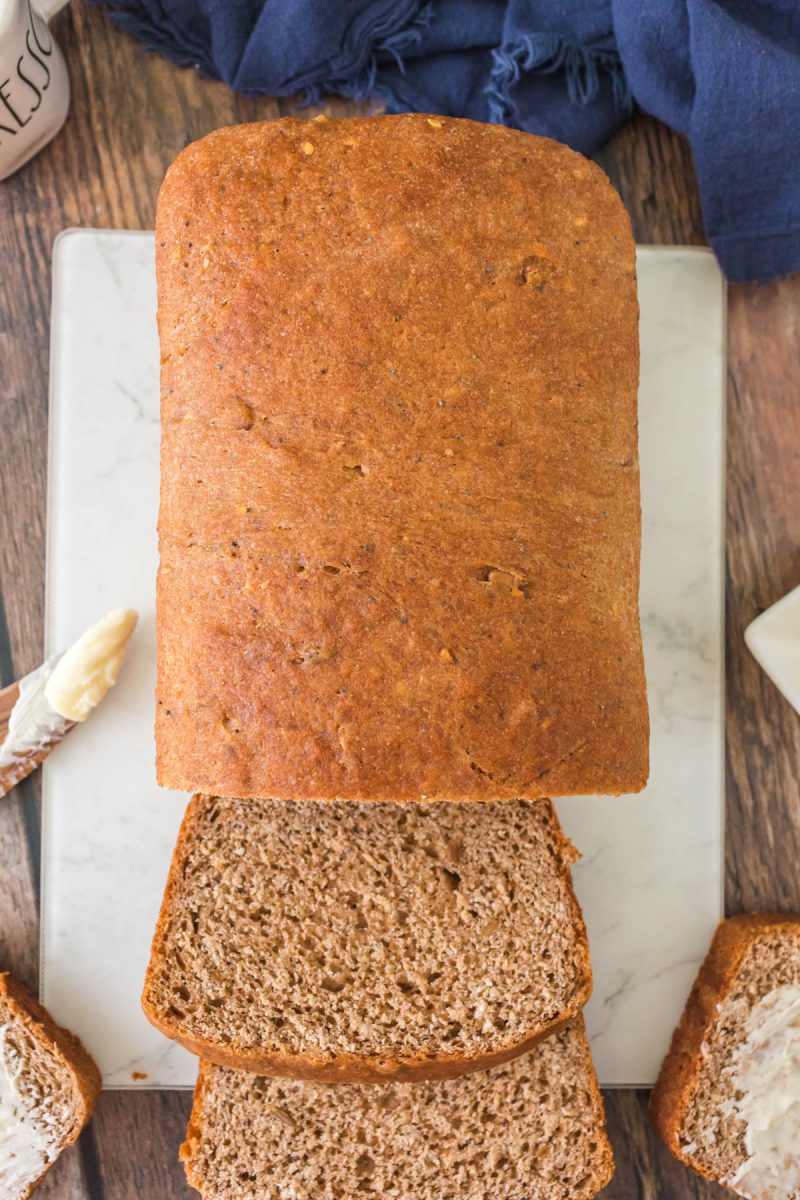 Equipment Needed To Make Multigrain Bread Recipe
Bread and what they call it can be darned right confusing. Just because they call it "whole grain", doesn't necessarily mean it's 100% whole grain. What?
What is whole-grain? Whole grain bread is made up of grains that are fully intact meaning that they haven't undergone processes that remove their bran and germ, not to mention nutritional benefits.
Wheat flour isn't always whole grain. You need to look for the word "whole". Flour that has had the bran and germ processed is referred to as "refined flour" like all-purpose flour or flour that isn't listed as whole grain.
Is whole-grain bread healthy? In addition to tasting good, there are benefits to eating whole grains. Whole grains provide more vitamins, minerals, and higher fiber than refined ones which is important for your digestive health.
Organically Grown is another confusing term. The USDA states organic bread must contain ingredients that are grown without the use of pesticides, synthetic fertilizers, sewage sludge, genetically modified organisms (GMOs), or ionizing radiation.
The Whole Grains Council is another great source of information when it comes to clarifying these terms.
Whole Grain Bread Recipe Ingredients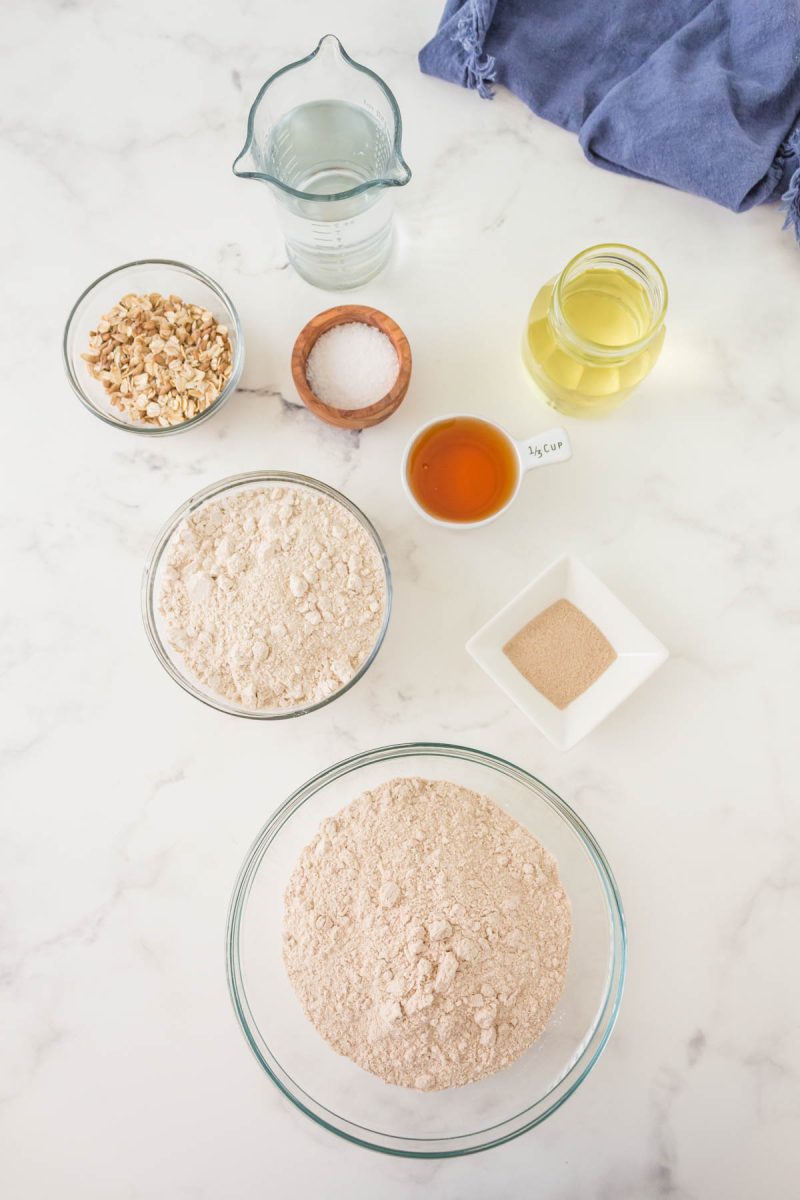 Honey Whole Grain Bread Ingredients
Spelt Flour – Explained below, spelt flour can be substituted with whole wheat flour.
Whole Wheat Flour – We used organic WHOLE wheat flour.
Honey – We prefer locally grown honey. Use what you have available or prefer.
Instant Yeast – Also referred to as rapid rise or quick rise.
Vegetable oil – Any neutral oil will work such as canola, grapeseed, or olive oil.
Salt – We prefer using fine sea salt when making bread because we like the way it dissolves.
We add it to the liquid ingredients instead of the dry ingredients. The larger grain sea salts tended to sink to the bottom of our dry ingredients instead of blending with them.
We add it to the liquid ingredients instead of the dry ingredients. The larger grain sea salts tended to sink to the bottom of our dry ingredients instead of blending with them.
Whole Grain Blend. This is our own blend. You can use your own mix of grains or even leave them out altogether.
Hemp Hearts – We took the opportunity to add hemp hearts that have great nutritional value. This is optional.
Water – In this recipe, any water that you would drink will work.
What is Spelt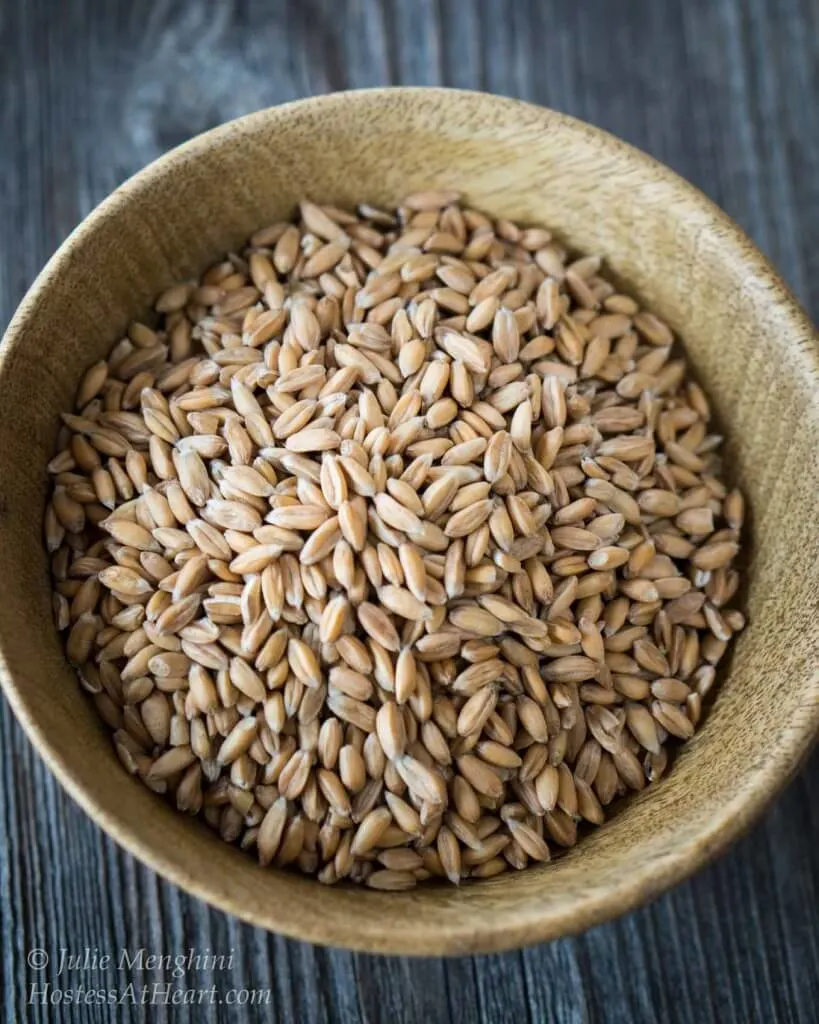 Spelt is an ancient whole grain in the wheat family but is not wheat!
It lacks the gluten that wheat has so it's said to be tolerated by gluten-sensitive people. It's not recommended for people with celiac disease.
Spelt has a nutty flavor that we love. However, because spelt lacks the structure of other flours it's best to mix spelt flour with another flour, such as wheat or all-purpose flour at a 50/50 ratio.
We found out the hard way when we initially made our Spelt Sandwich Bread.
Please note, that the recipe card has more complete instructions. This is intended as an overview.
How to Make the Best Whole Grain Bread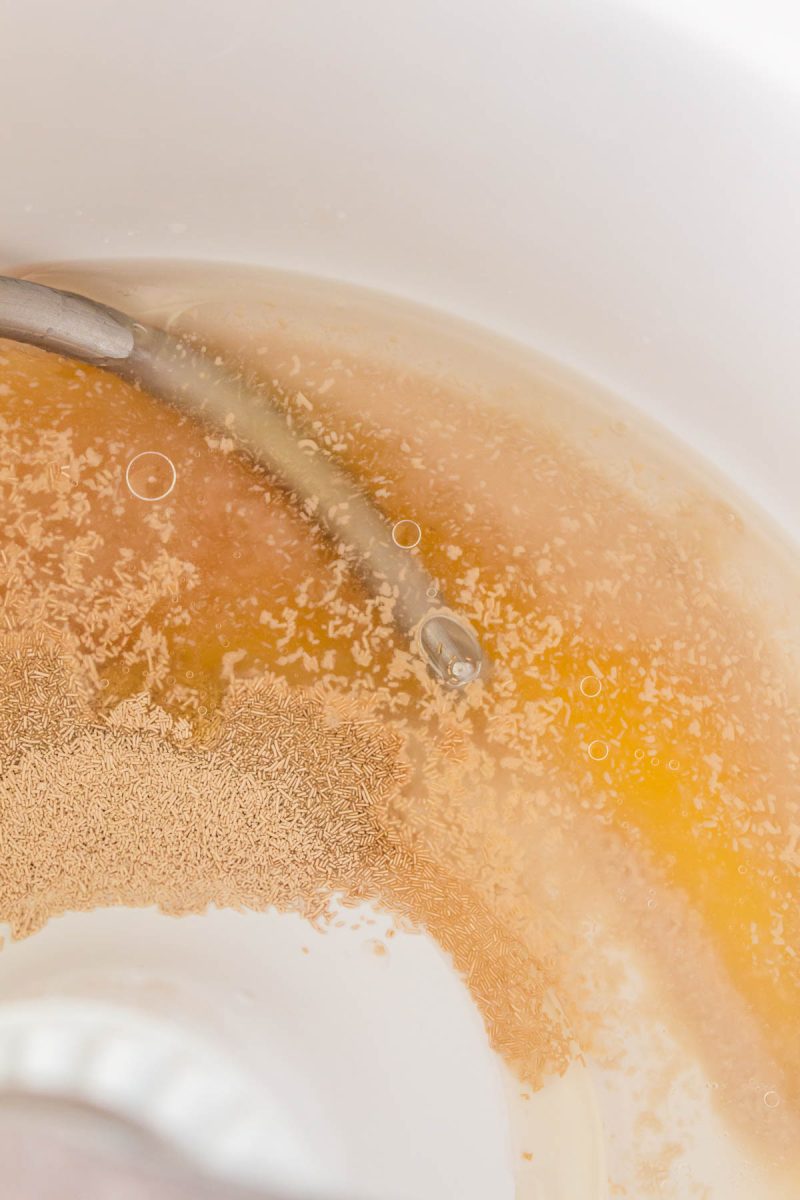 Combine Wt Ingredients
Combine the honey, vegetable oil, yeast and warm water. Let this mixture sit while you combine dry ingredients to make sure the yeast is actually working.
Combine the dry ingredients.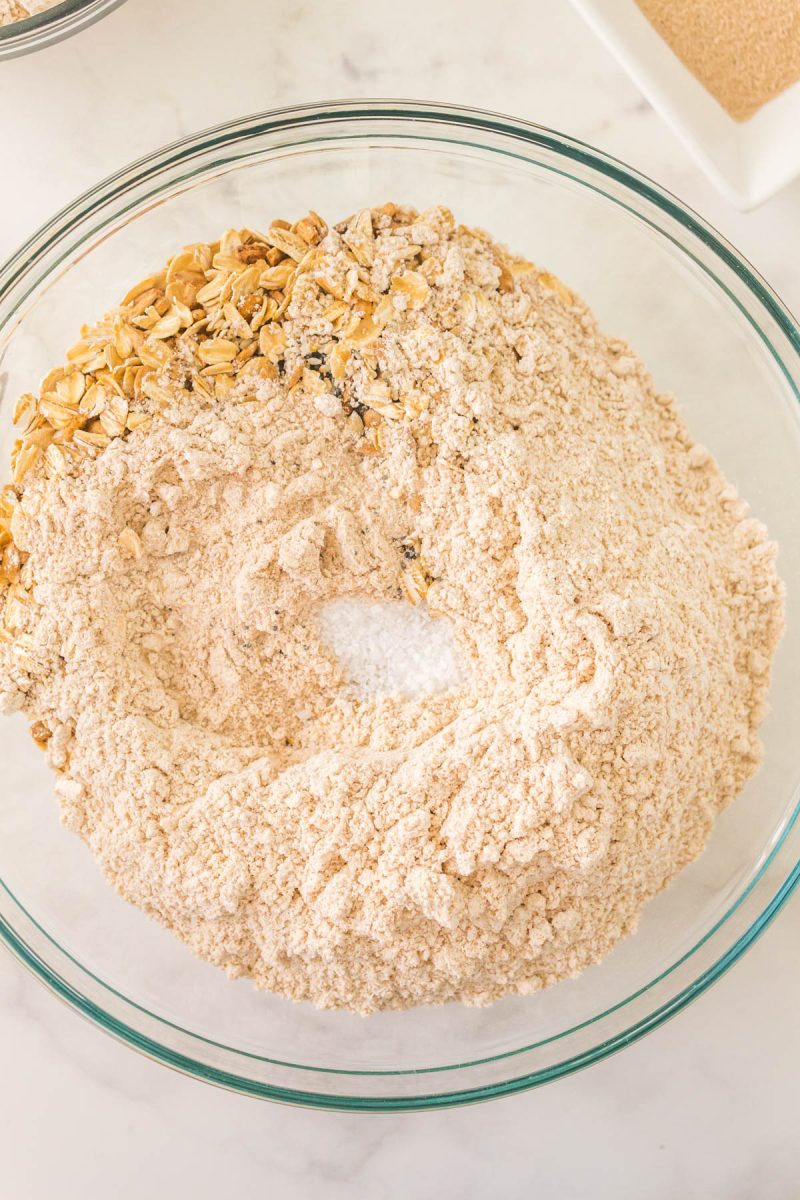 Combined Dry Ingredients
In a large bowl combine whole wheat flour, some of the spelt flour, the salt, organic whole grain bread blend and hemp hearts.
Mix the wet ingredients and combine.
Mix the wet ingredients together and then gradually add the dry ingredients. Add spelt as needed. Continue to mix it for four minutes. Knead the dough either using the mixer or by hand only until smooth.
Rise the Whole Grain Bread dough.
Oil the dough, cover it and let it rise until doubled.
Form the Loaf.
Remove the dough from the bowl. On a lightly floured surface, shape it into a sandwich loaf and let it rise in a bread pan for another hour.
Bake and cool your whole grain organic bread.
You will need to bake it for up to forty-five minutes
What to Pair with The Best Whole Grain Bread
Our honey whole grain bread makes a fantastic sandwich! It is hearty enough to hold up to several sandwich ingredients and just nutty enough to work with a variety of flavor profiles.
Why make sandwiches on store bought sandwich bread when you can make homemade bread so easily? This bread is also fantastic with soup, salad, or any meal where a loaf of bread is a welcome addition. It also works well as toast with butter, preserves, or jelly.
Substitutions – Additions – Variations
Add seeds such as sunflower seeds or pumpkin seeds.
Nuts. Walnuts or pecans would be delicious.
Herbs. Dried or fresh thyme or rosemary.
Dried fruit. Add raisins, apricots, or your favorite dried fruit to the dough.
Top the loaf with seeds or oats for another whole-grain element.
How To Reheat & Store the Best Whole Grain Bread
It's best to store Organic Honey Whole Grain Bread at room temperature for 2 to 3 days.
Can I Freeze and Thaw Multigrain Bread Recipe
Bread may be frozen in an airtight container for up to 3 months. Thaw slices in the toaster. Thaw a partial or whole loaf by setting it out on the counter (still in it's container) until it reaches room temperature.
Frequently Asked Questions for this Multigrain Bread Recipe
No. This recipe uses spelt and wheat flour so it is a multigrain bread. It can easily be made into whole grain wheat bread by using all whole grain wheat flour.
Which is healthier whole wheat or whole grain?
They are equally nutritious since both whole grain and whole wheat use the entire kernel.
Tips to Make the Perfect Whole Grain Bread Recipe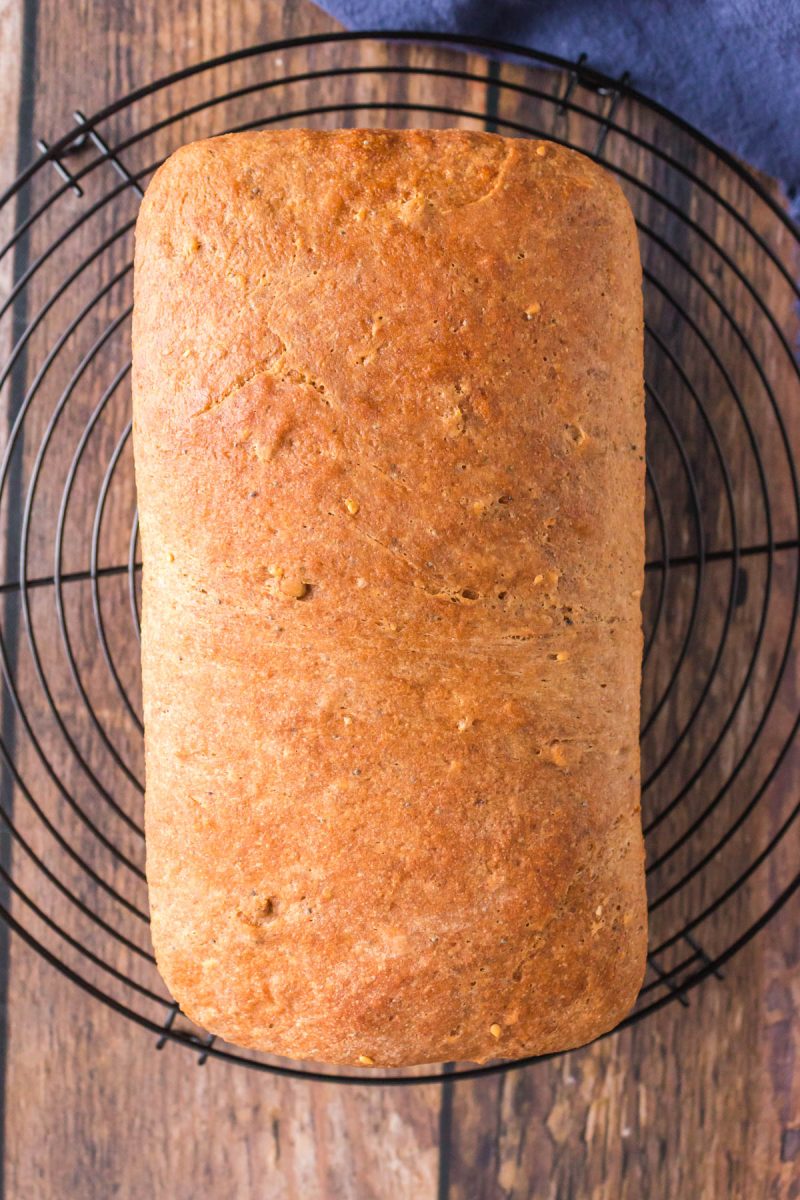 Thoroughly cool bread before cutting.
Make sure you let the bread cool completely before attempting to slice it. Otherwise, it will get smashed by the slicing process.
Do not over-knead the bread dough. This recipe does not depend on a lot of kneading to come out beautifully.
It's a very sticky whole grain bread dough, so make sure you use vegetable oil and coat the bowl, the bread dough, oil it again after shaping it to fit the pan, and oil the baking pan. You can use a very small amount of oil each time, but give it a light coating.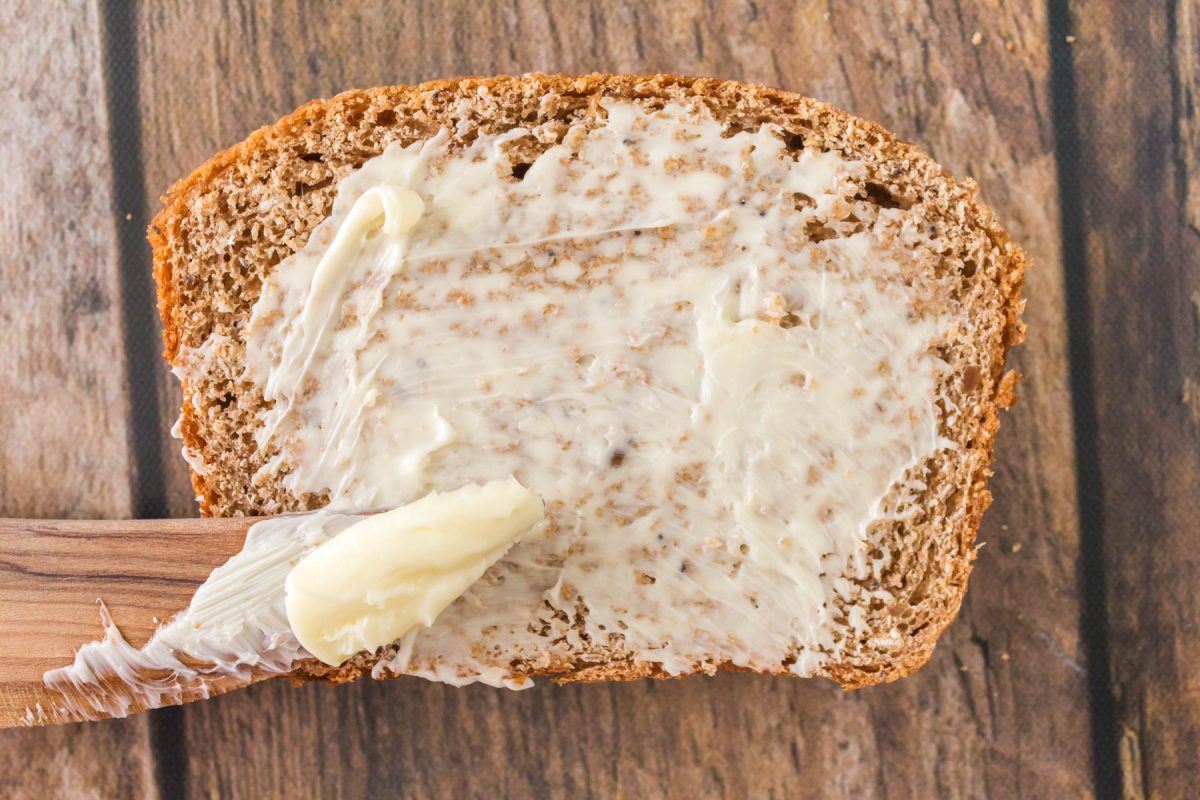 Whole Grain Wheat Recipes
As we said, you can replace the spelt flour in this Honey Whole Grain Bread recipe with delicious whole-grain wheat flour. Here are some of our favorite wheat flour bread recipes!
ourdough Multigrain Bread
Harvest Grain Bread
Harvest Whole Wheat Muffins
Apple Banana Bread
Organic Whole Grain Bread Blend
If you tried this delicious recipe, don't forget to rate it and leave me a comment telling me what you think. I love hearing from you!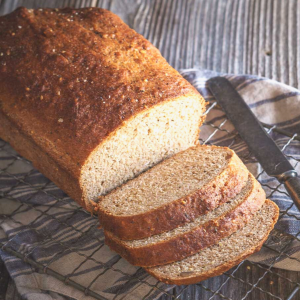 This Organic Honey Whole Grain Bread Recipe makes a delicious hearty loaf that is soft and tender with a sweet nutty flavor.
Almost No-Knead Bread, Organnic Honey Whole Grain Bread, Whole Grain Chicken Wrap
canola or vegetable oil
whole wheat flour
1 to 1-1/2
Organic Whole Grain Bread Blend
In a small bowl or the bowl of an electric stand mixer, combine honey, vegetable oil, yeast and warm water. Let sit while you combine dry ingredients.
In a large bowl combine whole wheat flour, 1/2 cup spelt flour, salt, organic whole grain bread blend and hemp hearts. Whisk to combine.
If using an electric stand mixer fitted with a dough hook, mix wet ingredients together. On low, gradually add dry ingredients. Add additional spelt flour 1/2 cup at a time until the dough comes away from the sides of the bowl. The dough will be wet but not overly sticky. Continue to mix for 4 minutes.
Oil a large bowl and pat the dough into a ball. Put into the bowl turning once to oil both sides. Cover with plastic wrap and place the bowl in a warm area. Also to rise until doubled, approximately 1-1/2 hours.
Shape into a sandwich loaf and put the dough into a 9×5 oiled loaf pan. Spray or brush the top lightly with oil. Cover the dough until it just peaks the pan, approximately 1 hour.
Carefully remove the plastic wrap and bake in a oven for 35-45 minutes or until dough measures to with an instant-read thermometer.
Remove bread from the pan immediately and allow to cool completely on a cooling rack before cutting.
Let me know how it was!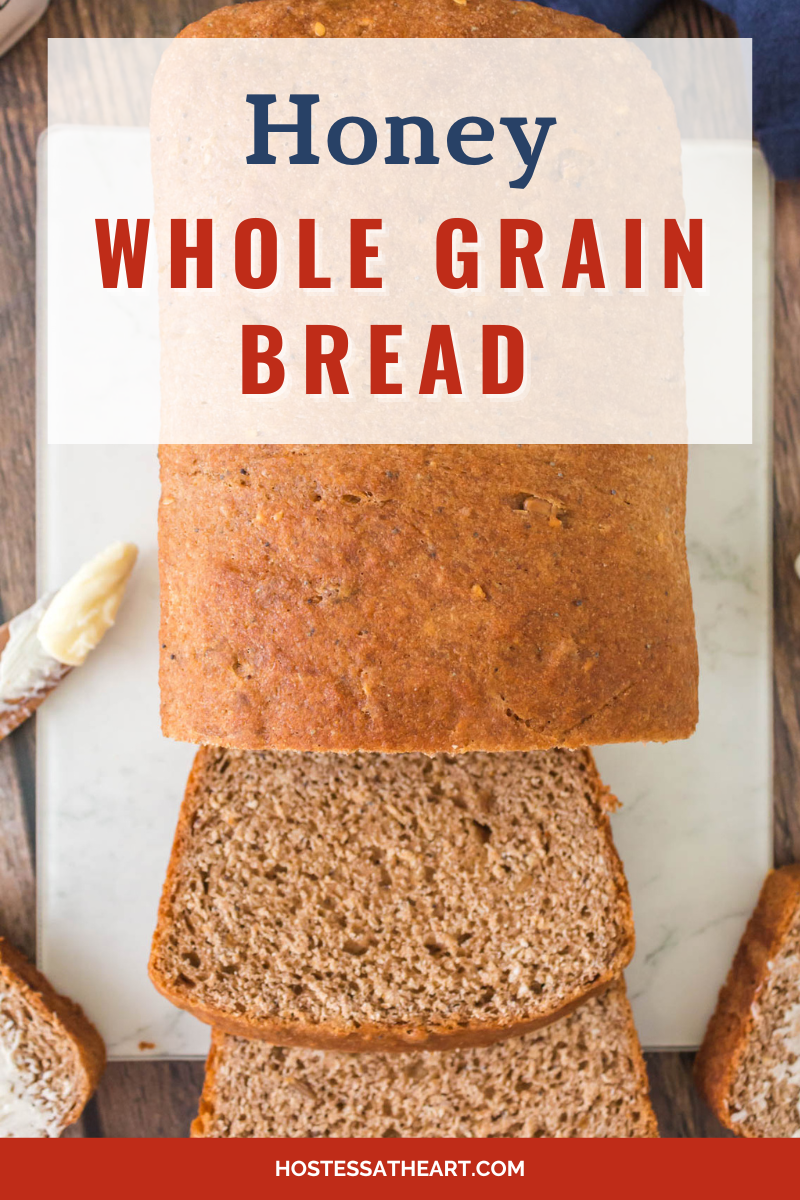 I first made this recipe as a part of a bread-baking group. The theme was "Healthy Bread" from our host, Pavani, the creator behind Cook's Hideout. Here are more Healthy Bread recipes that our fellow #BreadBakers have baked!
This soft, high-rising loaf has lots of whole grains and a pleasant, nubbly texture that's great for sandwiches, toast, or your dinner bread basket.
Weigh your flour; or measure it by gently spooning it into a cup, then sweeping off any excess. Combine flour with the rest of the ingredients in a large bowl or the bucket of a bread machine. Mix and knead by hand, stand mixer or bread machine until the dough is smooth and supple, adding additional liquid or all-purpose flour as needed.
Turn the dough onto a lightly oiled work surface, and shape it into a 9″ log.
Bake the bread for 30 to 40 minutes, or until it's golden brown and its internal temperature registers 190°F on an instant-read thermometer.
Remove the bread from the oven, remove it from the pan, and allow it to cool on a rack.
With a crunchy exterior and chewy interior, Seeded Multigrain Sourdough Bread is texture rich with an earthy blend of grains and seeds to make a crave-worthy loaf. This sourdough is vegan friendly.
mini, 1 lb boule cross section
Celebrating Multigrain Sourdough Bread
Thrilled to be back on gluten after an eight month hiatus, seeded multigrain sourdough bread is the first thing I made. I couldn't believe how resilient the sourdough starter was after having been neglected for far too many months. After all, I was focusing my efforts on a gluten free sourdough starter and bread recipe, which you can now find here: my gluten free starter and gluten free sourdough bread!
In the mean time, we feast on seeded multigrain sourdough bread!
This seeded sourdough bread recipe is an adaptation on my Yeasted Multigrain Sandwich Bread, a bread I made often before learning how to make sourdough bread. Chock full of grains including a 10 grain cereal, oats, and quinoa, I also add sunflower and flax seeds to create more texture and flavor.
Making sourdough bread isn't hard, but, it's a process that takes a little planning and practice. I used to say I think about sourdough longer than it takes me to create a loaf. And while this was the case at one time, now that I know how to make it, manipulate the rise time through retardation if needed, shape and proof the dough, and bake sourdough, the process doesn't seem so daunting any more. Its become closer to second nature, and I don't think about it as much. A little more brain space is always good!
How to Make Seeded Multigrain Sourdough Bread
The process is pretty straightforward but it takes a bit of planning. I typically mix the night before and bake early on a weekend morning because I have a bit more flexibility then. While you sleep, your little dough baby is growing! Here's how to make it (see recipe card below for full details):
First, in the evening, prepare the soaker by pouring hot water over the mixture of seeds and grains.
Second, mix the dough using a previously fed, active and bubbly sourdough starter, water and a mixture of bread and whole wheat flour. Rest the dough for 30 minutes.
Third, mix in the soaker, mixing and incorporating the grains and seeds into the sticky dough. Rest the dough for 30 more minutes.
Fourth, fold the dough. Begin bulk fermentation after the first fold or rest again for 30 minutes and perform a series of up to two more folds resting for 30 minutes between the folds. The additional folds are optional, but are beneficial in building structure and creating a beautiful crumb (pictured in this post). Do it if you have time.
Fifth, bulk ferment the dough at room temperature for 8-14 hours. The time will depend on ambient temperature, and your specific sourdough starter.
Sixth, shape the dough into one, 2 lb boule or two, 1 lb boules.
Last, score and bake!
The aroma wafting through the house is so warm and inviting, you'll want to rip into the bread as soon as it comes out of the oven.
How Long Does it Take for Sourdough to Rise?
Sourdough rise (bulk ferment) time depends on several factors: ambient temperature, and how active your starter is. Also, a firmer dough will take longer to rise than a well hydrated dough.
When fermenting at room temperature, bulk rise time in summer will differ from winter rise times.
How To Tell When Sourdough Has Risen Enough
it no longer looks or feels dense
is jiggly when the bowl is shaken
you may see a few large bubbles on the surface of the dough
Why Allow The Bread To Cool After Baking
How Do You Store Sourdough Bread?
Store sourdough bread at room temperature on a cutting board or counter, cut side down. Although freshest the day made, it will store this way for 3-4 days. If you need to cover the bread, place it in a paper bag.
Refrigerating bread dries it out and will ruin its texture.
For longer storage, place the bread sliced or whole in a freezer bag and freeze for up to two weeks.
What is the Best Vessel to Bake Sourdough Bread In?
I use two vessels to bake sourdough bread. One is a 10″ cast iron skillet with deep dish skillet for a lid and the other, a 7 quart Staub Dutch oven. I recommend either or both, but I've noticed the Staub bakes the bottom of the bread darker than the cast iron, sometimes it's burnt. This may have to do with the differing materials the vessels are made of.
UPDATE (5/20) Burnt Sourdough Bottom:  After testing various methods to remedy the too dark bottom problem, as commenters have mentioned on this sourdough recipe (and on many other non V&B recipes – this is not uncommon in the sourdough world), I've finally found the simplest solution ever (duh!). Simply place a sheet pan on the oven rack under the rack your baking vessel is setting on.  This helps protect the vessel from the most intense heat of the oven. The two images below show one of the boules I baked using this method.
Prior to doing this, I used a method I learned from The Perfect Loaf who suggests using a double layer parchment or a dusting of course cornmeal alone or under the parchment. Doing this offers a bit of distance between the bottom of the dough coming in direct contact with the base of the vessel. But I still had a bit of too dark bottom. Now, I exclusively use the sheet pan method.
1 lb Mini Boule
A Few Sourdough Bread Recipe Notes
Because kitchen temperatures vary, be sure to use the time suggestions in the recipe as such. Let the bread guide your process rather than the clock.
Mini Boules? Yes please! This sourdough recipe can be made into one, 2 lb boule or two, 1 lb boules. The one pound boules are fabulous for bread or dipping bowls, or if you're baking for one or two and want to freeze or give away the second loaf. Both sizes make decent size sandwich bread.
TIP: This recipe calls for 10 grain cereal. If unavailable, a combination of polenta, millet, quinoa, and/or amaranth can be subbed, but the flavor will be different.
Whole wheat bread flour can be difficult to find. If unavailable this recipe will also work using whole wheat flour with similar results. Whole wheat bread flour renders the dough a bit easier to work with, however (more stretchy).
Freezer friendly? Yes please! Store baked bread in a freezer bag either whole or sliced for up to two weeks. Thaw at room temperature or if using for toast, toast directly from freezer to oven.
For a tutorial on how to make a sourdough starter, see my post on how to make a sourdough starter.
Makers Notes
So happy to read y'all are enjoying the bread in the comments below. Keep those tips comin'! Here are a excerpts from the community:
Dara Said: "I didn't have all the ingredients the recipe called for so I used a combination of sunflower seeds, oats, hemp seeds, flax seeds, and millet."
Samantha Commented: "I did 3T each of quinoa, rolled oats, pumpkin seeds, sunflower seeds. I did 3 cups all purpose unbleached white flour and 1 cup whole wheat bread flour and 1/2 cup spelt. I also subbed honey for maple syrup."
Robyn Said: "I made a few changes: all quinoa instead of cereal grains, hemp seeds instead of flax and added pumpkin seeds and sunflower seeds."
Nichole Said: "I've taken this one, and increased the proportion of whole grains and it's so yummy. I use 60 grams whole wheat bread flour, 240 of bread flour, 130 whole wheat flour and 70 of buckwheat. I also halved the maple syrup."
Looking for an easy sourdough bread recipe to start with? Check out my Everyday Sourdough or Multigrain Gluten Free Sourdough Bread post.
My Sourdough Toolkit (affiliate links)
**Advanced Prep Required – you'll need a sourdough starter** See "MAKERS NOTES" in the blog post above for ingredient subs from the V&B Community!
Total time above does not include the amount of time for fermentation and proofing which takes between 8-14 hours, depending on ambient temperature.
This recipe makes one, 2 lb (907g) boule or two, 1 lb (453g) boules. Servings above are a rough estimate based on the size and how thick each slice is cut. ______________________
Example Bakers Schedule:
Friday-Saturday: feed starter.
Saturday night: mix dough and ferment overnight.
Sunday morning: shape dough, allow to rise, bake.
For the Soaker
10 Grain Cereal
Hulled Sunflower Seeds
For the Dough
previously fed, bubbly and active
2 1/2 Tbs
1/2 C + 1 Tbs Whole Wheat Bread Flour or whole wheat flour
Fine Sea Salt
Shape the Dough: In the morning, and with damp fingertips, coax the dough into a floured work-surface. If making two boules (1 pound / 453 grams – each), moisten the cutting end of the bench scraper and cut the dough in half.   For one or two boules, with moist fingers, take a portion of the dough, gently stretch it towards you and fold it over towards the center and pressing it down gently. Repeat this process until you work the dough all the way around. Using a bench scraper flip the dough over and let rest for 10 minutes. Meanwhile, line an 8-inch (20cm) bowl with a towel or lightly flour a banneton (or two as needed). Scrape any excess flour away on your work-surface using the bench scraper and using a spray bottle with water, lightly sprits the surface of the work-surface. This will help the dough grip the surface and help create a taught dough. With lightly floured hands and using the bench scraper again as needed to help move the dough (the dough is sticky), cup your left hand around the dough and pull the dough toward you in a circular motion with the bench scraper in the right hand, to tighten its shape and create a taught skin. Use the bench scraper as needed to work the dough as this dough is sticky. Re-flour your hands as needed.Once the surface is taut, give it a good dusting of flour and smooth it over the top. With one swift move, use the bench scraper to scoop the dough up and, place the dough into the bowl/banneton, bottom side up. Sprinkle the bottom of the dough with a dusting of flour.
Second (proof) Rise: Cover the bowl with a damp tea towel and let rest for 30 minutes to 45 minutes. The dough is ready when it looks puffy and has risen slightly but has not yet doubled in size. Preheat the oven to 500F (260C). Arrange a rack in the center of the oven, and another just below it. Place a sheet pan on the bottom rack (see UPDATE just below). Cut a sheet of parchment paper to fit the size of your lidded baking vessel leaving enough excess around the sides to transfer the bread to the pot. UPDATE: Burnt Sourdough Bottom:  After testing various methods to remedy the too dark bottom problem, as commenters have mentioned on this sourdough recipe (and on other non V&B recipes – this is not uncommon in the sourdough world), I've finally found the simplest solution ever (duh!). Simply place a sheet pan on the oven rack under the rack your baking vessel is setting on. This protects the bottom of the vessel from the most intense heat of the oven.
Bake: Place your lidded vessel on the center rack and reduce heat to 450F (232C). Bake, lidded, for 20 minutes. Remove the lid and continue to bake for 30 -35 minutes, for one, 2 lb boule. If baking two, 1 lb boules, continue to bake lid off for 15-20 minutes. To check if the bread is ready, check the internal temperature of the loaf. It should read between 190F-205F when done.  When finished, transfer to a wire rack. Cool for 1 hour before slicing. Sourdough is best consumed on the same day it's baked, but it lasts for 3-4 days stored at room temperature.  Store at room temperature cut sides down.This bread freezes beautifully. Store baked bread in a freezer bag either whole or sliced for up to two weeks. Thaw at room temperature. This bread can go from freezer to toaster to make the most delicious toast!
*If 10 grain cereal is not accessible, polenta, millet, quinoa and/or amaranth can be used – a mixture is best or Bob's Red Mill also makes a 7 grain cereal that is delicious in this recipe!
**If whole wheat bread flour is unavailable this recipe will also work using whole wheat flour with similar results. Whole wheat bread flour renders the dough a bit easier to work with (more stretchy).
Total time listed above does not include the amount of time it takes for fermentation and proofing which takes between 8-14 hours, depending on ambient temperature.
GOT DISCARD?  Give my Sourdough Oat Pancakes and Sourdough Biscuits a go!
Recipe inspired by The Clever Carrot's Artisan Sourdough Made Simple and adapted from my yeasted Multigrain Bread.
At some point, every bread baker wonders if there isn't more to life than refined flour and the fluffy, snow-white crumbed loaves it produces. Don't get me wrong: I love white flour breads myself, and I still bake them regularly. But limiting yourself to working with just one type of flour, and a mild-mannered one at that, is akin to cooking with just one spice, exclusively. There is a whole world of possibilities in bread baking beyond what white flours alone can provide, and there are ever more options for the baker ready to make the leap into using whole grain flours.
Of course, one reason we use white flour is that it is a grain that has been distilled to its structural essence—nearly pure gluten and starch, it is the scaffolding that breads and other baked goods require to have their appropriate shape and texture. Because whole grain flours contain all of the other components of the grain, they necessarily have less of these structural elements, so there is a risk when working with them that breads' texture and rise will suffer. The good news is that in many instances results may change, but not necessarily for the worse, and there are ways to minimize these changes if that's your goal. Meanwhile, even adding a modest amount of whole grain flour to your breads will pay major dividends in flavor, character, and nutrition.
While bakers have recently discovered novel ways to utilize whole grain flours without losing what makes their breads wonderful, it is white flours that are new, relatively speaking. Roller mills, the first machines to efficiently allow the separation of grains into their various parts, were invented around 1870, which is not that long ago in terms of the history of baking. And before that, whole grain baking was the norm, so there is a long tradition of techniques and recipes to look to. And nowadays there are more and more options for whole grain flours, whether made from wheat and its relatives, or from other non-gluten-forming grains.
A wheat berry, or "kernel," has three major parts: bran, germ, and endosperm. Bran is the protective shell of the grain, shielding it from moisture and pests. The germ is the future grain plant, waiting for the proper environmental conditions to spring to life. And the starch- and protein-containing endosperm is the energy reserves the future plant will draw upon until it begins to photosynthesize. It's the endosperm from which white flour is derived, and it comprises about 80% of the grain's weight. But it is in the bran and germ where most of the flavor, aroma, oils, vitamins, and minerals in the grain lies, and it is those things you gain when you opt to bake with more whole grain flours.
Finding Flours
Before you can begin to work more whole grain flours into your breads, you'll need to procure some, and the simplest place to look for whole grain flours is your local supermarket. Whole wheat flour is something that has been available on supermarket shelves for many years now, but there are more choices now than ever, many of them from small-scale millers. And supermarkets increasingly stock flours milled from other grains, whether they're close wheat relatives like spelt, einkorn, or rye, or other grains such as buckwheat, cornmeal, millet, oat, and teff.
You might also be able to find interesting whole grain flours at your local farmer's market or specialty food store. And there are a wide range of flours available for sale online from baking supply companies and directly from specialty millers like North Carolina's Carolina Ground, Texas's Barton Springs Mill, and Los Angeles's Grist and Toll, to name but a few. Finally, if you happen to own a tabletop flour mill (such as one of the relatively affordable and compact Mockmill mills), then you can even make your own flour from the wide variety of whole grains—like quinoa, barley, amaranth, and farro—available in supermarkets and beyond.
Storing Whole Grain Flours
The oils in the germ of whole grains are perishable once exposed to oxygen, which makes whole grain flours far more perishable than refined ones, giving them an unpleasant, rancid odor and flavor. For this reason, it's best to buy these flours well before their sell-by date, in small quantities, and to use them up as quickly as possible. (One advantage to buying flour from small-scale millers is that they tend to specialize in freshly-milled flours, so you can be sure they have the best flavor possible.) Cold storage will slow things down; if you have room in your freezer, place the flour in a well-sealed container like a jar, freezer bag, or vacuum-sealed bag and store it there.
Whole Grain Flour Swaps
Once you get your hands on any of these whole grain flours, using them in your baking is as simple as swapping out a portion of the white flour in a tried-and-true recipe for the whole grain one. Making this move will definitely have an effect on the structure of the loaf, since doing so automatically lowers the concentration of gluten in the dough. How much it does so depends upon what percentage of whole grain flour you use, and whether that flour is gluten-forming or not.
Gluten-Forming vs. Non-Gluten-Forming Flours
Gluten is the protein that gives bread structure; without gluten, it would be hard to achieve a lofty brioche or a baguette with a wild, open crumb. Only wheat and its nearest relatives—such as spelt, emmer, and kamut—contain gluten-forming proteins, or at least the kind favored by bakers. While rye and barley contain proteins that are considered off-limits to those with gluten sensitivity or celiac disease, they don't form gluten networks in bread. This is why it's far easier to substitute a gluten-forming flour for white flour than it is to use a non-gluten-forming flour.
(In case you are wondering why I keep saying "gluten-forming" proteins instead of just "gluten," here's why: gluten is made up of two smaller proteins, gliadin and glutenin. These are present in wheat and its relatives, but they don't link up to form gluten until flour meets water to form a dough.)
Bran Drain
But whether or not your whole grain flour makes gluten, there is another reason substituting it will affect the bread's structure: the presence of bran. As I mentioned above, bran serves as a protective shell for the grain. As a result, it is extremely hard and resistant to breaking down into fine particles during milling. Bran in a dough acts like microscopic razor blades, cutting gluten and wreaking havoc on the dough's structure.
Start Slowly
The good news is that, gluten-forming flour or not, most of the time these effects are not something to stress about, particularly when you limit the amount of whole grain you substitute. Yes, the loaf might not be as tall or as holey, but it will still be nice, and the benefits in flavor will make a welcome trade-off. Obviously, everything is recipe-dependent, but I find that you can usually swap out as much as 25% of the white flour for whole grain without drastic consequences. And you don't even need to go that high to give your breads a boost in flavor and character; even 5 to 10% whole grain is more than noticeable. In fact, I almost never make 100% white flour breads any longer; even the "whitest" of them include a minimum of 5% rye or whole wheat flour.
Almost All-Whole Grain Breads
I generally do not recommend exceeding 25% whole grain when using non-gluten-forming flours in place of white flour, since if you do, you likely won't have enough gluten to keep the dough structure intact. As for gluten-forming flours: Once you exceed about 25% whole grain flour in a recipe that started out with 100% white flour, you'll likely need to start making changes to the recipe formula and method. You can start experimenting on your own or look for well-tested recipes for examples of how others approach this.
Increasing Hydration
Often this begins with adding more water; whole grain flours absorb more water than refined ones, so you need to add more water to achieve a dough that's a consistency similar to the one that white flour creates. More water means that the dough's structure will suffer, since more water means less gluten overall. This means you'll likely need to build structure in other ways, such as kneading the dough longer and/or adding folding steps during the first proof. ("Folding" is the fancy term that bakers use for the "punching down" step that many older bread recipes call for, though "folding" is usually done repeatedly during the proof, a step that helps build additional structure.) Go easy as you begin experimenting; even a modest 2 to 5% additional water will make a big difference, and it is better to err on the side of caution and inch up further next time around rather than overdo it and end up with a soupy, hard-to-work dough.
Pull Out the Sifter
You can also remove some of the bran from the whole-grain flour using a fine-mesh kitchen sifter. (It helps to have one with a tight mesh—mine removes about 10% of the total flour weight, or more than half of the bran in whole wheat flour. And be sure to weigh the flour for the recipe after sifting, not before.) With even this small amount of bran removed, the dough structure will be drastically improved and it will likely need less water overall. You can use the reserved bran in other recipes (like muffins, granola, or banana bread), or do as they do in Genzano, Italy: use it to coat the exterior of the loaf after shaping, where it will toast and lend the crust a nutty flavor and a distinctive appearance.
Consult the Experts
As for breads using a high percentage of or even 100% whole grain flours, you are better off starting with a recipe designed specifically for that purpose, rather than doing a complete swap in a white flour one, since the recipe developer has likely already worked out whatever challenges such formulas produce.
Working whole grain flours into your breads might seem intimidating at first, but with a bit of experimentation, it eventually becomes second nature. And the payback in added flavor and character is well worth the extra effort.
#anovafoodnerd Debra Best bakes the best bread with the Anova Precision Oven
How to proof bread with your Anova Precision Cooker
Brace yourselves, bakers: homemade soaked whole grain bread will be a long labor of love!
On top of an extended soaking period of at least 12 hours, you'll need a good chunk of the next day to dedicate to mixing, kneading, proofing, shaping, baking, and cooling.
So, why even bother, you ask?
For the love of the craft! For the pride of baking something wholesome and healthy! For living out your best existence as an artisan home baker!
I bake, therefore I am.
Whole grain bread has earned its notoriety as being a difficult dough – its texture can be unreasonably tough to work with, and it doesn't always yield the most pleasing final product, especially when things go wrong.
Failing to create the right mix of ingredients, or improper proofing, can lead to loaves that are excessively dense and doughy.
For the best success, it's all about achieving the right combination of baking techniques and ingredients to get a whole grain bread that is delicious.
And not dense, hard as a rock, and ultimately inedible.
With the addition of some all-purpose flour, it still has enough fluff to make it a great loaf to enjoy for your daily meals.
And soaking the majority of the dry ingredients in water, olive oil, and apple cider vinegar for 12 to 24 hours also improves the final texture and rise.
Soaking the dry ingredients helps to hydrate and soften them, allowing the proteins and starches in the flour and oats to absorb the liquid ingredients. This helps with the kneading process, making the dough easier to handle.
And here's another bonus to this process:
The soaking process is just one area where patience is required for this recipe. Continue holding on to that virtue, because you'll still need it throughout the recipe!
If you aren't patient, you won't get anywhere near the desired results.
Take all the necessary time with the fermentation process, both when you're proofing the bulk dough and when you are proofing the shaped loaves or rolls.
It can take double (if not triple) the amount of time to let the dough double in size, compared to other doughs.
Again, it's just the nature of the ingredients, in addition to the temperature/humidity levels of your home. The bran tends to "cut" the development of the gluten network, slowing the proofing process.
A labor of love is always worth it, in the end.
Description
whole wheat flour
all-purpose flour
old-fashioned oats
room temperature water
apple cider vinegar
olive oil, plus more for greasing
For the Yeast Mixture
warm water (110-115°F)
honey
2 1/4 teaspoons (1/4 ounce or small package) active dry yeast
For the Final Dough
kosher salt
to 1 cup all-purpose flour, as needed
For the Soaked Grains
Whisk together the whole wheat flour, 1 cup all-purpose flour, and the oats until combined in a large bowl. In a separate smaller bowl, whisk together the 1 1/2 cups room temperature water, buttermilk, honey, and oil.
Add the wet ingredients into the dry ingredients, and combine with a sturdy spoon, a plastic bench scraper, or your hands. Continue mixing together until a dense and slightly sticky dough forms.
Cover the bowl tightly with plastic wrap, and let soak for 12 to 24 hours at room temperature.
Once the mixture has soaked for the appropriate amount of time, continue with the recipe.
Activate the yeast by whisking together the 1/4 cup warm water and honey in a small bowl until the honey is completely dissolved. Evenly sprinkle the yeast onto the water, and whisk to blend. Let the mixture sit for 5 to 10 minutes, or until the yeast is activated and the mixture looks frothy.
For Mixing the Final Dough
Once combined, transfer the dough to a lightly floured work surface and knead for approximately 8 to 10 minutes by hand until the dough is smooth and elastic, adding the remaining flour as needed if the dough seems too sticky.
Lightly grease two standard loaf pans with olive oil. Punch down the dough and divide into 2 equal pieces. Working with one piece at a time and keeping the other under a clean kitchen towel, roll it to fit inside the loaf pan. Repeat with the remaining dough.
As the dough is rising, preheat the oven to 350°F.
Transfer the pans to the oven and bake for 35-40 minutes, until the bread has risen significantly and is golden brown on the top and sides.
Remove the pans from the oven and rest in the pans for 15 minutes before removing from the pans and cooling completely on cooling racks.
You can also make the dough using a stand mixer with the dough hook attachment.
soaked, whole wheat, grain, bread, oats