Price & Deals
Pinch to zoom-in further
SEE MORE DETAILS
How To Use Silicone Molds?
You can arrange the molds on a baking sheet or pan. Grease them with some cooking spray or oil. Add the batter to the molds and even it out to ensure an optimal shape. Bake according to instructions, but don't use a temperature over 375F (190C). Finally, remove the baked cookie from the mold and serve the beautiful design.
What Can A Silicone Mold Be Used For?
Many creative uses for silicone molds exist. In the kitchen, you can use them to make cookies, cakes, and other dough in your favorite shapes. Outside the kitchen, molds can serve to make candles and bath bombs, and other purposes.
Are Silicone Molds Good?
At JB Cookie Cutters, we use top-grade silicone with a food-safe rating. That ensures you can use it in the kitchen for your cookies. There's no need to use a releasing agent since the mold is flexible.
What Can Be Made In Silicone Molds?
Silicone molds are suitable for different materials. That includes soap, wax, plaster, resin, PMC, polymer clay, etc. The most popular silicon mold used in households is to create unique cookie shapes.
Can Silicone Molds Go In The Oven?
The great advantage of silicone molds made by JB Cookie Cutters is that they are oven-safe. You can bake cookies or treats at temperatures up to 375F (190C). Silicone doesn't even have heat distribution, meaning it'll take more time for the lower cookie section to bake.
Is Silicone Safe For Baking?
Yes, silicone is 100% safe for baking. JB Cookie Cutters creates molds that you can put in the oven up to 375F (190C). It's important not to use a broiler, and don't forget to be careful when handling hot molds!
What Are The Pros And Cons Of Silicone Bakeware?
Silicone baking molds are flexible, ensuring they don't require a releasing agent. The bakeware is easy to use, even if you are a newbie. The item won't rust or corrode, and it's dishwasher-safe. The downside is you need to be careful to keep the temperature under 375F (190C) since prolonged exposure to extreme heat might melt the silicone.
Can You Bake Brownies In A Silicone Mold?
Imagine making heart-shaped brownies for your household members! You can bake brownies in our food-safe silicone molds. Pick the desired shapes and arrange them on a baking sheet. Put the sheet in the oven, sit back and relax while your unique brownies are getting ready!
How Long To Bake Cake Pops In Silicone Mold?
It should be enough to bake cake pops for around 15-20 minutes. The simplest way of checking if they are done is to use a toothpick. After you remove the pops from the oven, allow them to cool down before serving.
How To Get Jello Out Of A Silicone Mold?
You put the jello in the fridge to cool down. Once you remove it, put the mold's bottom into warm water for 15-20 seconds. Grab a plate and turn over the mold to get the jello out of the item.
What Is The Best Way To Clean Silicone Molds?
You can put the molds in a dishwasher rack on the top shelf. If you notice residue, you can use white vinegar (or baking soda) and boiling water to clean the mold, but make sure to rinse it thoroughly.
Add to Cart
Pop it (details big 3,6cm 4*4 pcs) handmade
Handmade silicone mould for creating decor Pop it• 100% food-grade silicone, FDA and LFGB approved B..
Add to Wish List
Compare this Product
Quickview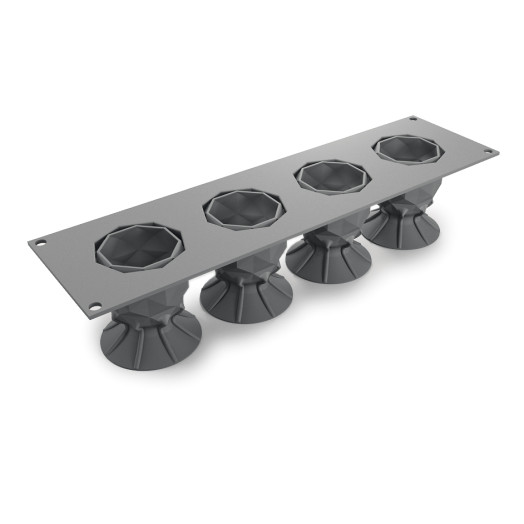 Pineapples cakes silicone mould
ORIGINAL silicone pastry mould for cake Pineapples cakes• 100% food grade silicone, FDA and LFGB app..
Pearls cake silicone mould
ORIGINAL silicone pastry mould for cake Pearls• Exclusive step-by-step recipe for Peach-apricot cake..
Pastry knife 300 mm 2900 series in black Arcos
Blade: NITRUM Stainless SteelSize Blade: 300 mm (12″)Handle: PolypropylenePastry Knife / Cake Knife..
Pastry bags Martellato 40cm 100pcs Italy
Pastry bags are an indispensable assistant to the pastry chef in the kitchen. Disposable pastry..
Pastry bags Martellato 30cm 100pcs Italy
Pastry bag S, 100pcs China
Disposable pastry bags are designed to accurately and meteredly dispense cream, sauce, mousse and ot..
Pastry bag M, 100pcs China
Pastry bag L, 100pcs China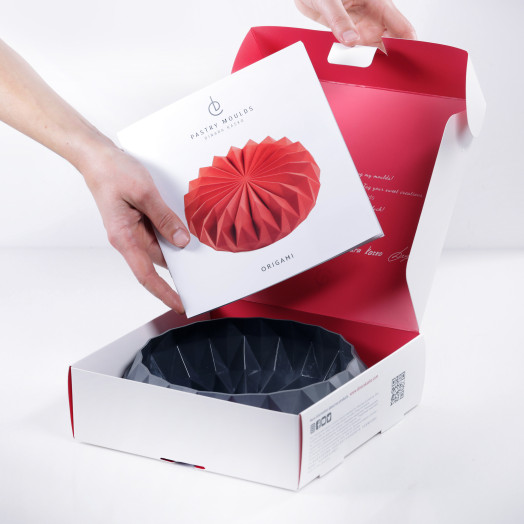 Origami cake silicone mould
ORIGINAL silicone pastry mould for cake Origami Cake • Exclusive step-by-step recipe for A..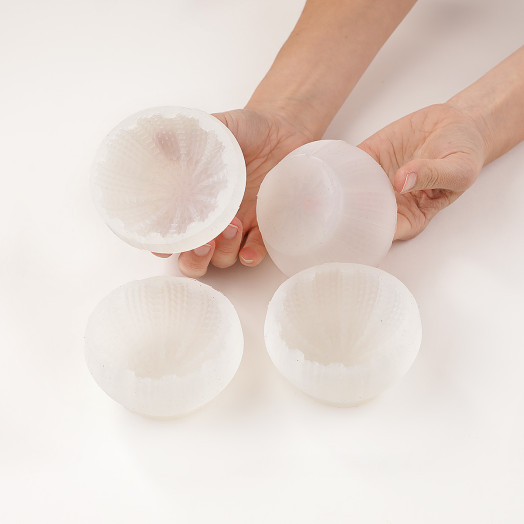 Mini Shapka cake silicone mould handmade
Original silicone pastry mould for Mini Shapka cake, handmade• 100% food grade silicone, FDA and LFG..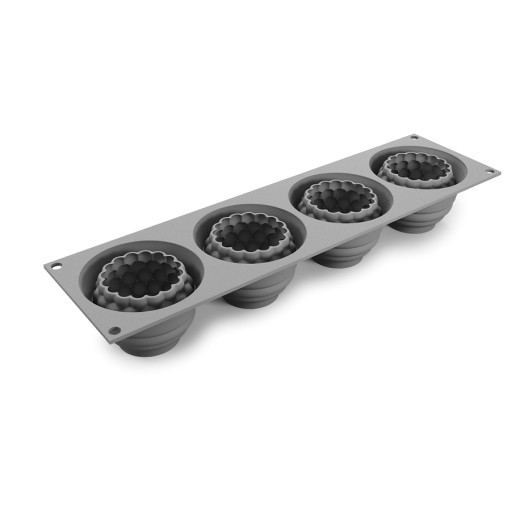 Mini Pearls cake silicone mould
ORIGINAL silicone pastry mould for cake Mini Pearls cake• Exclusive step-by-step recipe for cake in ..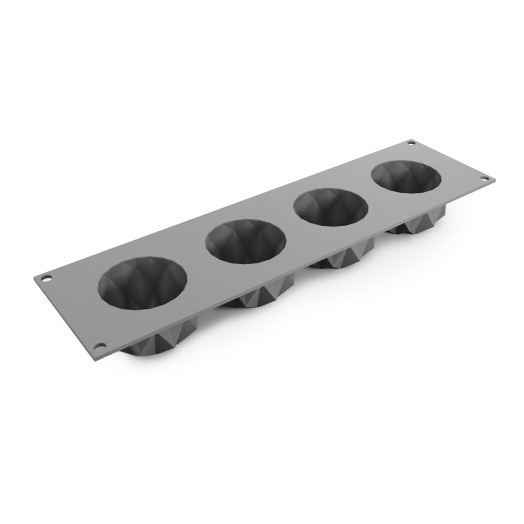 Mini Origami cakes silicone mould
ORIGINAL silicone pastry mould for cake Mini Origami cakes• Exclusive step-by-step recipe for cake i..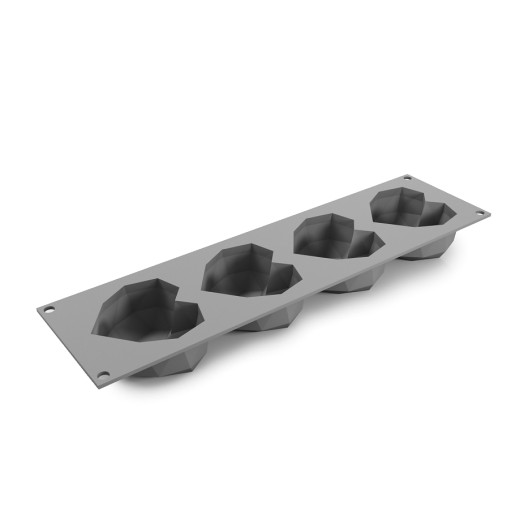 Mini Hearts cakes silicone mould
ORIGINAL silicone pastry mould for cake Mini Hearts cakes• PACKING INCLUDES: 1 silicone mould for ca..
Mini Heart Balloon cakes silicone mould
ORIGINAL silicone pastry mould for cake Mini Heart Balloon cakes• Exclusive step-by-step recipe for ..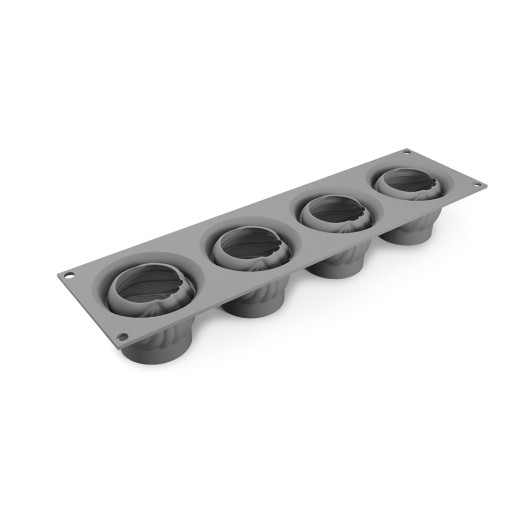 Mini Dunes cake silicone mould
ORIGINAL silicone pastry mould for cake Mini Dunes• Exclusive step-by-step recipe for cake in four l..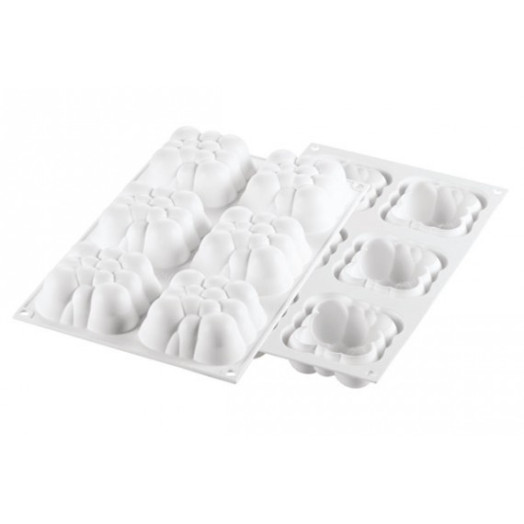 Mini Cloud silicone mould by Silikomart and Dinara Kasko
ORIGINAL silicone pastry mould for mini cake Cloud• Exclusive step-by-step recipe for cake (English,..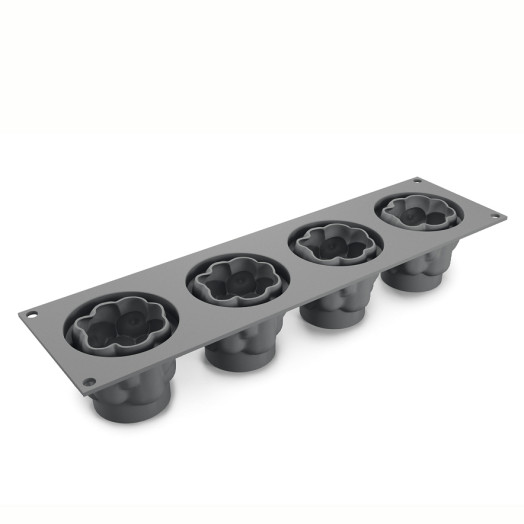 Mini Cherry cakes silicone mould
ORIGINAL silicone pastry mould for cake Mini Cherry cake• Exclusive step-by-step recipe for a cherry..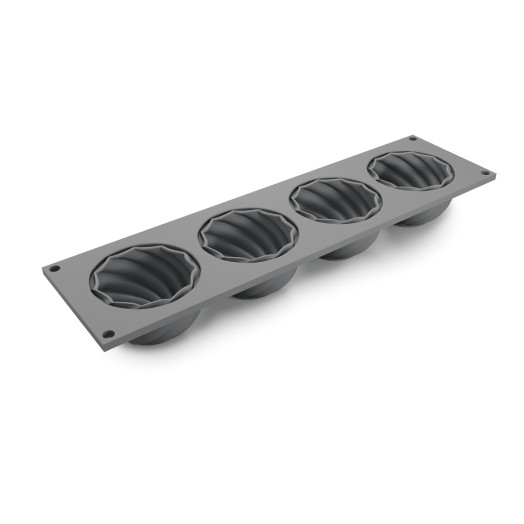 Marshmallow cakes silicone mould
ORIGINAL silicone pastry mould for cake Marshmallow cakes• Exclusive step-by-step recipe for a apric..
Lotus tart silicone mould
ORIGINAL silicone pastry baking mould for Tart LotusExclusive step-by-step recipe for tarts in four ..
Round baking panA round springform pan should be part of the basic equipment in the bakery of every hobby and professional baker. The round baking pan is versatile for cakes and pies of all kinds. The mold consists of two parts: the base and the removable ring with stainless steel closure. The bottom can thus be exchanged and replaced by, for example, a tube bottom. At RBV Birkmann you can also find the springform pan as a set with two bottoms: a flat and a tube bottom. Another round baking pan is the fruit bottom pan and the quiche & tart pan. They also have the typical features, such as the scalloped edge for that familiar look. The fruit bottom dish conveniently has a recess on the edge so that the bottom can be lavishly topped after baking. The quiche & tart pans have a loose lifting base that makes it easy for you to remove the finished pastry from the baking pan round. The small baking pan round for delicious muffins in two sizes also has great features and the small delicacies succeed both sweet and salty in no time. The baking pans are made of carbon steel and have a non-stick coating. The baking dish can be easily cleaned by hand after baking, so as not to damage the non-stick coating. Discover your round baking pan from Birkmann.Square baking panAn absolute classic among the square baking pans is the loaf pan. The square baking pan owes its name to its design. Box cakes are easy and quick to bake: Simply mix a batter and pour it into the square baking pan. Then bake in the oven and the whole house smells of delicious cake, which gets shapely contours thanks to the high-quality baking pan. The loaf pan is not the right one for you? Then take a look at the square and rectangular springform pans. They consist of a base and a rim and are also ideal for pasta bakes or lasagnas. Also loaf pans are suitable not only for sweet delicacies, but also for hearty dishes such as meat loaf. For breads, take a look at the bread baking molds from Birkmann from the Laib & Seele series. Here you will also find molds that are sourdough resistant or have a perforation.Mini loaf panDiscover also our mini loaf pan. The baking pan is designed for eight small cakes. The non-stick properties ensure easy removal of the pastries from the mold. In the enclosed recipe booklet, you will find recipes for hearty little breads.Heart baking panIn the assortment of Birkmann you will find two baking molds in heart shape. On the one hand, a springform pan with a diameter of 22 cm for shapely heart cakes. The great non-stick coating allows you to bake great cakes that can be easily removed from the heart baking pan after baking. On the other hand, there is also a high-quality heart baking pan made of cast aluminum. This bundt cake pan will delight you with its modern look, detailed contours and unique gold-colored coating. Browse through our online store and discover the great variety of Birkmann baking molds in all kinds of shapes.Square baking panA special square baking pan is the square baking pan. Of course, the square springform pan is not only suitable for classic cakes, you can also bake cinnamon buns or apple-poppy seed buns in it perfectly. For a larger quantity, the rectangular springform pan is even better.Another baking pan square is the brownie tray. With handles on the sides, this square baking pan is especially easy to use. It is pulled from one piece, so no dough sticks to the corners. The brownie tray is great for small parties or even kids' birthday parties. Because let's face it, who can resist those little chocolatey cakes? Wreath moldThe wreath pan is characterized by a straight or tapered tube in the center of the baking pan. Thanks to the tube, the cake is baked perfectly even in the center and is easier to remove from the wreath form after baking. The bundt is a cake that is suitable for any baking occasion due to its diverse recipe ideas. Thus, a good wreath form for a bundt should not be missing in any household. You can find the wreath form at Birkmann in sizes Ø 16 cm to Ø 24 cm. The carbon steel from which the baking pan is made has an exceptional material thickness for stability and a particularly even heat conductivity for perfect browning. A typical Frankfurter Kranz mold is the springform pan with a tube bottom. With it, your cake gets the typical look of a Frankfurter Kranz. The baking pan is available in different sizes, such as the wreath mold Ø 26 cm. Mini ring cake tinsAre you enthusiastic about small pastries? Then discover our mini wreath molds, such as the mini bundt cake pan or the donut mold. Try it right away and bake beautiful mini cakes in wreath form. Saddle of venison moldThe saddle of venison mold is characterized by its special look. The typical grooves give your cake a special look. After baking, the saddle of venison can be decorated classically with chocolate and nuts or in all colors of the rainbow and fruits. The high-quality saddle of venison mold is drawn from one piece, which is why you can easily remove your cake from the baking pan afterwards. Discover the unique saddle of venison mold! Baking frameThe baking frame square is a real highlight among our products. It is made of a high-quality wood and is especially ideal for baking bread. Thanks to the wood, your bread will get a very special taste. With the baking frame for bread you can bake two or four loaves at the same time. The baking frame square adjustable made of stainless steel can be individually adjusted to the size of your pastry. This makes layering and spreading your cakes and pies a breeze. The baking frame adjustable is also heat resistant, so it can be used for baking as well. Baking trayA first-class baking tray is also a must in a well-equipped kitchen. We offer two high-quality, extendable baking trays that you can customize to fit the size of your oven. One baking tray comes with perforation, which ensures extra crispy bottoms and baking results. In addition to these two baking sheets, we also carry a baking sheet with a lid and an extra high rim, which is great for holding delicious pastries and food. Buy baking sheet and bake great, varied pastries. Cake ringA cake ring is especially great for keeping cakes in proper shape while layering and spreading, and for stabilizing an elaborate cake. The cake ring adjustable can be extended individually to the required size. You can also find it in our shop as a cake ring high, especially suitable for modern layer cakes. The cake rings are also suitable for baking, because they are heat resistant up to 230 ° C.Ihre Backform nach Form bei RBV BirkmannIhr Onlineshop für erstklassiges Backzubehör – bei RBV Birkmann finden Sie viele hochwertige Backformen. Entdecken Sie unser vielfältiges Sortiment und bestellen Sie Ihre Backformen ganz einfach zu sich nach Hause. Die Lieferzeit beträgt in der Regel 2 – 3 Werktage nach Zahlungseingang. Bei einem Bestellwert von 25,00 € erfolgt der Versand Ihrer Ware kostenlos, darunter berechnen wir Ihnen für einen sicheren Versand 3,50 € Porto. Wir bieten Ihnen verschiedene Zahlungsarten über PayPal, Sofort-Überweisung oder Kartenzahlung an. Wir liefern nur an Adressen in Deutschland und bemühen uns stets um eine zuverlässige, schnelle Abwicklung Ihrer Bestellung. Um die Freude für das Backen immer wieder zu entfachen, begeistern wir jedes Jahr mit neuen Backformen und angesagten Designs – bei RBV Birkmann finden Sie garantiert das richtige Produkt zum Backen!Alle Preise bei uns im Shop sind inkl. Mwst. angegeben.
Types of Bread
12 PCS Silicone Cake Mold Magic DIY Bake Snakes Mould Shape Tools for Various Dessert,Design Your Cakes in Any Shape
Round Silicone Pan Set – 6 Pack 4 – 6Inch Baking Cake Mold, Quick Release Baking Pans for Muffin, Cupcake, Layer Cake, Cheese Cake, Rainbow Cake and Chiffon Cake
4.8 out of 5 stars100+ bought in past month$1.00 coupon applied at checkout Thu, May 11 Ships to Netherlands
AILEHOPY Silicone Cake Molds Bread Pie Flan Tart Molds Large Round Sunflower Chrysanthemum Shape Non-Stick Baking Trays for Birthday Party DIY -Blue Red Purple
Palksky Charlotte Cake Pan Silicone, Nonstick, 8 inch Round Cake Molds for Baking
Staruby Silicone Cake Mold Baking Pan Round 4 Inch Non-Stick Bakeware Pan Reusable Cake Pan, Red, Set of 6
4.5 out of 5 stars300+ bought in past monthThu, May 11 Ships to Netherlands
Highly rated and well-priced products
8 Inch Silicone Charlotte Cake Pan -Set of 2- Round Baking Molds for Cheese Cake,Chocolate Cake, Rainbow Cakes, Strawberry Shortcake, Brownie Tart Pie
Silicone Cake Mold Cake Shapers Magic Snake DIY Baking Square Rectangular Heart Shape Round Cake Mould,Pack of 8
Kenond 9. 5 Inch Silicone Cake Pans, Non-stick Fluted Cake Pan with Sturdy Handle, Cake Baking Molds,Perfect Bakeware for Cake, Jello, Gelatin, Bread, Para Gelatinas (Pink)
6-Cavity Large Cake Molds Silicone Round Disc Resin Coaster Mold Non-Stick Baking Molds, Mousse Cake Pan, French Dessert, Candy, Soap (Green)
AIFUDA 3 Pcs Silicone Cake Bread Baking Molds, Large Swirl Cake Mold Castle Cake Mold and Double Flower Cake Mold for Birthday Party DIY
Aokinle European Grade Top-Level Silicone Cake Mold, Non Stick 9 inch Fluted Tube Cake Pan for Jello,Gelatin, Silicone Baking Molds for Cakes, Round Baking Pan, BPA Free Bakeware
IELEK Silicone Fulted Pan Cake Nonstick Jello Molds Tube for Baking
Palksky Silicone Molds for Baking (2 Pack) 6-Cavity Large Round Disc Mold/English Muffins Pan/Resin Coaster Mold Non-Stick for Hamburger Chocolate Cake Pie Custard Tart Whoopie Pie Egg Pan