If one-bowl, no-mixer sheet pan cakes aren't in your baking repertoire you're missing out on one of the best-kept, most delicious entertaining secrets!
A memorable day
I'll never forget the first time I ever tasted a sheet pan cake. It was over 40 years ago and I was working on the surgical floor at a nearby (at the time) hospital. One of my co-workers, who was a bit older and had a reputation for being an amazing cook, brought a large, flat, foil-covered pan into work one day. She left the pan in the nurse's lounge and told us to enjoy the "Texas Sheet Cake" whenever we had time to take a break.
The first bite of that long-ago cake had me smitten for life! The cake itself was super moist, tender and loaded with great chocolate flavor and the creamy, silky-smooth frosting was a fabulous crowning glory for the delicious cake. I begged that clever co-worker for the recipe and the rest is sheet pan cake history.
Easy-peasy!
When I checked out the recipe, I could hardly believe how super, super easy it was. Just melt some butter, add the remaining ingredients and pour it into a pan. No mixers, no fancy steps, no time-consuming directions. Texas sheet cake became one of our all-time favorite recipes and that little recipe card turned yellow and became frayed and stained from much use and love.
A rose by any other name.
As the years went on, I adapted that original recipe in myriad ways. I sprinkled toffee bits or salted, roasted pecans, walnuts or sliced almonds on the top. I added a splash of mint to the icing, swirled a little raspberry jam into the cake batter before baking and lots of other fun variations.
At one point, I discovered you could bake this same fabulous chocolate cake in other types of pans and then pour the icing over the top. It transformed the simple cake into a gourmet-looking dessert (think of a French petit four) so I gave it a gourmet-sounding name and called it my "Chocolate Obsession Cake".
And when I started the journey of this little blog back in 2011 called The Café Sucre Farine (that I was sure only my sisters and a few close friends would ever look at) I featured the Chocolate Obsession Cake as one of the early entries. It's been super popular ever since!
The original Texas Sheet Cake recipe, all dressed up! The moistest, most delicious cake you'll ever have the pleasure of meeting. Also, the easiest, which might be the best part! Chocolate Obsession Cake.
An old friend dressed in new clothes
This delicious, one-bowl, no-mixer Peanut Butter Texas Sheet Cake is one of our favorite desserts EVER! It's also one of the quickest and easiest cakes you'll ever make!
Besides being ridiculously easy (one-bowl, no mixer), this Funfetti Sheet Cake is also moist, tender, ridiculously delicious and so FUN with a magical kaleidoscope of multi-hued polka dots!
If you're looking for a super easy cake that's tender, moist, comes together quickly, feeds a crowd and is incredibly delicious, this Lemon Poppy Seed Sheet Cake is IT!
With just one bowl and no mixer, this super delicious, Ridiculously Easy Applesauce Cake comes together in minutes. Make the vanilla bean icing while the cake bakes (and creates amazing aromas) and wait for everyone to come running!
With just one bowl and a whisk, you can put together this FABULOUS Caramel Buttermilk Sheet Cake. The melt-in-your-mount caramel icing is as easy as the cake!
This fabulous one-bowl, no-mixer pumpkin sheet cake is super moist, has an amazingly tender crumb and you can put together in just minutes!
This fabulous Vanilla Bean Sheet Cake with Fresh Strawberry Icing comes together super quickly with just one bowl, a whisk, no mixer needed!
And we're back to where we started! The original Texas sheet cake all dressed up in holiday attire. The festive, candy cane-studded, vanilla-peppermint buttercream is truly "the icing on the cake"! Ridiculously Easy Chocolate Peppermint Sheet Cake for your holiday entertaining!
Bon Appétit and happy easy baking!
P.S. Stay tuned! I've got an idea for a brand new, crazy delicious holiday variation. Coming up!
Thought for the  day:
Jesus said to him,
"I am the way, and the truth, and the life.
No one comes to the Father except through me."
John 14:6
What we're listening to for inspiration:
If you enjoy any of these recipes, please come back and leave a star rating and review! It's so helpful to other readers to hear your results, adaptations, and ideas for variations.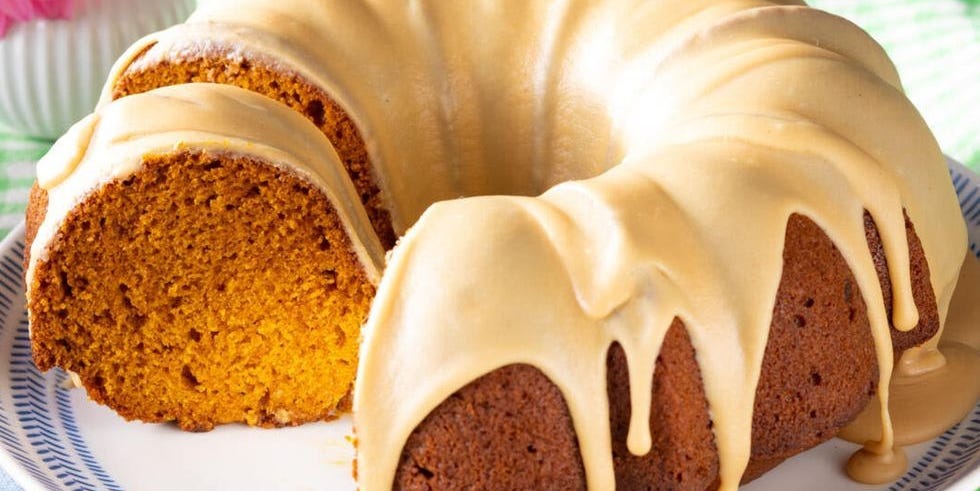 If you're baking a homemade cake, there are tons of options to choose from: frosted layer cakes, over-the-top trifles, or even sheet cakes that are fit for a crowd. But if you want to whip up a foolproof cake that's both simple and decorative at the same time, you can't wrong with a classic Bundt cake.
These Bundt cake recipes will make delicious desserts every single time from seasonal flavors like pumpkin and gingerbread to everyday favorites like chocolate, red velvet, and lemon pound cake. Whether it's a Christmas cake, a birthday cake, or just a cake for enjoying on a Sunday afternoon, they're an easy way to make any day feel like a special occasion.
Advertisement – Continue Reading Below
Pumpkin Spice Cake
Not only is this cake made with pumpkin puree and pumpkin pie spice, but it's also topped with a caramel glaze that's perfect for anyone with a sweet tooth.
Get the Pumpkin Spice Cake recipe.
Christmas Rum Cake
Adding rum, brown sugar, and chopped pecans might just be the best way to doctor up a box of yellow cake mix and vanilla pudding mix. Go ahead and try it!
Get Ree's Christmas Rum Cake recipe.
Mini Bundt Cakes
These pretty little Bundt cakes have three different glazes depending on your preference: blackberry, dark chocolate sea salt, and maple-whiskey. Of course, you can always make all three!
Get the Mini Bundt Cakes recipe.
Carrot Cake
You can make this carrot cake into a layer cake, a sheet cake, or even a Bundt cake. Either way, Ree says, "It's flavorful. It's basic and wholesome and natural. And if it's in my house, it's gone in two seconds."
Get Ree's Carrot Cake recipe.
Perfect Pound Cake
The Pioneer Woman
The best part about this pound cake is that you can have a slice at any time of day—for breakfast with a cup of coffee or for dessert with a scoop of ice cream!
Get Ree's Perfect Pound Cake recipe.
Orange Crush Cake
If you've ever made a classic 7-UP pound cake, you already know the wonders that soda can make when added to cake batter. This time, it's orange flavored soda, along with a deliciously bright orange glaze.
Get Ree's Orange Crush Cake recipe.
Lemon-Lime Cake
Ree used an intricate Bundt pan to make this citrusy cake, which is perfect for holding those pools of lemon-lime glaze. But any style Bundt pan will work, too.
Get Ree's Lemon-Lime Cake recipe.
Pumpkin Bundt Cake with Cream Cheese Filling
It's no secret that Southerners love to whip out a pretty Bundt pan for stunning results. With just a drizzle of icing, you have dessert ready for company without having to wrangle cake layers and fillings. But the true and unsung hero of pound cake recipes everywhere is the tube pan. The two pans are often interchangeable, but if you don't have a tube pan, these incredible recipes are going to convince you it's time to add one to your kitchen collection. The hollow tube in the center of the pan conducts heat so even the densest cakes cook through. Unlike intricate Bundt pan designs, tube cake pans usually have straight sides, which makes them ideal for light and airy recipes like angel food cake. Whether you're looking for a simple cake recipe like old-school pound cake or want to try something a little fancier like a new coffee cake or Orange Peel Pound Cake, these recipes prove it's time to dust of your tube pan.
Cream Cheese Pound Cake
Photographer: Jennifer Causey Food Stylist: Ana Kelly Prop Stylist: Kay Clarke
Recipe: Cream Cheese Pound Cake
Any time we need to make a recipe more indulgent, creamy, and delicious, we turn to cream cheese. This pound cake recipe is proof that it always works.
Caramel-Frosted Pound Cake
Recipe: Caramel-Frosted Pound Cake
Of the few ways you can make a classic Southern pound cake better, homemade caramel frosting is at the top of the list.
Coconut Pound Cake
Recipe: Coconut Pound Cake
Craving coconut cake but not in the mood to ice a layer cake? We've got the most delicious solution for you.
Buttermilk Pound Cake
Recipe: Buttermilk Pound Cake
For Southerners who always have buttermilk on hand, this tender recipe that uses it in the cake and custard sauce is a no-brainer.
Mexican Chocolate Pound Cake
Recipe: Mexican Chocolate Pound Cake
A drizzle of Mexican chocolate sauce on top of this moist pound cake takes the presentation from good to great.
Texas Pecan Cake
Photographer: Jennifer Causey Food Stylist: Rishon Hanners Prop Stylist: Audrey Davis
Recipe: Texas Pecan Cake
This recipe from the Lone Star state combines two old-school Southern desserts—pound cake and fruit cake.
Key Lime Pound Cake
Recipe: Key Lime Pound Cake
Craving a tropical getaway? A cool slice of this pound cake should do the trick.
Sweet Potato Pound Cake
Recipe: Sweet Potato Pound Cake
Fall's favorite spud gets its chance on the dessert table with this seasonal pound cake recipe.
Cinnamon Coffee Cake
Recipe: Cinnamon Coffee Cake
Whether for book club, the new neighbors, or a weekend brunch, this is your new go-to coffee cake recipe.
Old-Fashioned Pound Cake
Recipe: Old-Fashioned Pound Cake
Southerners know an old-fashioned pound cake is best when finished off with a dollop of homemade whipped cream and fresh berries.
Classic Chocolate Pound Cake
Victor Protasio; Prop Styling: Heather Chadduck; Food Styling: Erin Merhar
Recipe: Classic Chocolate Pound Cake
If you have a chocolate lover in your family, this decadent cake should be your next baking project.
Angel Food Cake
Recipe: Angel Food Cake
Light and fluffy angel food cake is the ultimate cure for a drab day.
Million Dollar Pound Cake
Beth Dreiling Hontzas
Recipe: Million Dollar Pound Cake
Seven ingredients in exchange for a pound cake that's worth a million dollars? A total bargain.
Orange Cake
Hector Manuel Sanchez
Recipe: Orange Cake
Brighten up your table with this sunny citrus cake that can be made in your tube pan or Bundt pan.
Sour Cream Pound Cake
Recipe: Sour Cream Pound Cake
This pound cake has actually graced the cover of the June 2006 issue of Southern Living, so you know it's tried-and-true.
Cranberry-Orange Bundt
Photographer: Isaac Nunn, Prop Stylist: Julia Bayless, Food Stylist: Ruth Blackburn
Recipe: Cranberry-Orange Bundt
This winning sweet-tart combination will shine on your holiday dessert table, but is simple and homey enough to have on hand if guests stop by on a weekday.
Thyme-Cornmeal Pound Cake
Greg Dupree; Prop Styling: Heather Chadduck Hillegas; Food Styling: Emily Nabors Hall
Recipe: Thyme-Cornmeal Pound Cake
Cornmeal adds a pleasant texture to the rich pound cake, and the notes of thyme can also be swapped for lavender or rosemary for a floral hint.
Carrot Bundt Cake
Victor Protasio, Food Stylist Ruth Blackburn, Prop Stylist Heather Chadduck
Recipe: Carrot Bundt Cake
With its pretty swoops of icing and festive spray of crystalized ginger, pecans, and carrot chips, our Carrot Bundt Cake, which you can also bake in a tube pan, is made to impress.
Lee Ann Womack's Buttermilk Pound Cake
Courtesy of Lee Ann Womack
Recipe: Lee Ann Womack's Buttermilk Pound Cake
Lemon Bundt Cake
Photography: Caitlin Bensel, Food Styling: Margaret Dickey, Prop Styling: Kay E Clarke
Recipe: Lemon Bundt Cake
Winter or summer, citrus is always in style, providing a light, bright, fresh burst of flavor.
Pistachio Pound Cake
Micah A. Leal
Recipe: Pistachio Pound Cake
A nut lover's dream, this cake is packed with pistachios. A loaf pan makes a great day cake, but pull out the tube pan if you want to dress it up a little.
Pumpkin Pound Cake
Photographer: Antonis Achilleos, Prop Stylist: Claire Spollen Food Stylist: Margaret Dickey
Recipe: Pumpkin Pound Cake
Welcome fall with a dazzling Pumpkin Pound Cake. Whether you bake it in the simple tube pan or choose an intricate Bundt or cake pan, it'll deliver on the comforting flavor of the season's favorite gourd.
Peach Cobbler Pound Cake
Photographer and props: Jennifer Causey Food Stylist: Emily Nabors Hall
Recipe: Peach Cobbler Pound Cake
Warm, sweet, and spicy, our pound cake shows off the best of summer's peach bounty. If you throw it in a tube pan and drizzle on some caramel, this simple dessert becomes worthy of company.
Jocelyn Delk Adams' Sour Cream Pound Cake
Recipe: Jocelyn Delk Adams' Sour Cream Pound Cake
Every baker needs a classic sour cream pound cake in the recipe tin. If you don't, this one should do the trick.
Orange Peel Pound Cake
Recipe: Orange Peel Pound Cake
Apple Butter Pound Cake with Caramel Frosting
Antonis Achilleos; Prop Styling: Mary Clayton Carl Jones; Food Styling: Emily Nabors Hall
Recipe: Apple Butter Pound Cake with Caramel Frosting
Two of fall's most comforting food items combined? There's nothing cozier. Apple chips add the final flourish.
Lemon Blueberry Pound Cake
Recipe: Lemon Blueberry Pound Cake
If the electric frosting isn't enough to win over the crowd, then the tender cake and pockets of juicy berries should do the trick.
Auntie's Apple Cake
Recipe: Auntie's Apple Cake
A drizzle of brown sugar frosting that's praline-esque takes this luscious fall cake over the edge of delicious.
Sheet Cakes Are the Best Cakes (and These 11 Recipes Prove It)
They're low fuss, feed a crowd and travel well.
These easy recipes, like the one for this yellow sheet cake with chocolate frosting, may have you making cake all the more frequently.
Margaux Laskey, a senior staff editor for New York Times Cooking, prefers sheet cakes for their frosting-to-cake ratio.
A lofty layered cake is a lovely thing when the occasion calls for one, but sheet cakes, while maybe not quite as impressive, have a lot going for them. Not only are they easier to bake — no annoying trimming or crumb coatings required — but they also feed a crowd and travel well, so you might just find yourself making cake more often. And who doesn't need more cake in their life? Here are 11 of our favorite sheet cake recipes, including Texas sheet cake, tres leches cake and St. Louis gooey butter cake.
Texas Sheet Cake
Genevieve Ko's riff on the fudgy classic calls for sprinkling the top of the cake with chopped pecans instead of stirring them into the frosting. If you like a bit of salt with your sweets, scatter the top with flaky sea salt before serving.
Impossibly lush yet somehow light, Samantha Seneviratne's cake is soaked with a combination of three milks: whole, condensed and evaporated. The whipped cream on top tempers the sweetness.
Recipe: Tres Leches Cake
Hawaiian Guava Cake
The happiest cake in all the land, Kiera Wright-Ruiz's adaptation of Alana Kysar's cake is moist and tender from pink guava concentrate. If you can't find pink guava concentrate, you can use white, and add a few drops of red or pink food coloring.
Recipe: Hawaiian Guava Cake
Lemon Sheet Cake With Buttercream Frosting
Lemon cakes are always a hit. This one from Yossy Arefi is tender and tangy from a quarter-cup of lemon juice in the batter, as well as lemon zest and juice in the buttercream frosting.
Mochiko, or sweet rice flour, gives this big-batch dessert a chewy marshmallowy texture and lends it a natural sweetness. You can serve this crackly surfaced cake without frosting, or top it with a tangy passion fruit glaze. (Ombré optional.)
Recipe: Butter Mochi
Yellow Sheet Cake With Chocolate Frosting
Namoura is a Lebanese cake made from semolina flour and soaked in syrup while it's still warm, so it's sticky sweet in the best way possible. Amanda Saab, a social worker and home cook who lives near Detroit, from whom this was adapted, likes to add a little lavender extract to the syrup, but you could also use rose or vanilla.
Recipe: Namoura (Syrup-Soaked Semolina Cake)
Eric Kim's pound cake is rich with cream cheese and butter, then finished with a layer of raspberry preserves, lightly salted whipped cream and a generous sprinkling of crushed freeze-dried raspberries.
OK, so no, it's not exactly a cake, but these cheesecake bars from Samantha Seneviratne have all of the (crowd-pleasing, easily transported) benefits of a sheet cake. They're also no-bake, which means less futzing in the kitchen.
Recipe: No-Bake Cheesecake Bars
Louis Gooey Butter Cake
The possibly true story goes like this: In the 1930s, a St. Louis baker mixed up the proportion of butter in one of his coffee cakes. Instead of tossing it, he sold it by the square, and it was a hit. This yeast-risen, five-star version is adapted from Molly Killeen, a St. Louis native and the owner of Made by Molly.
Recipe: St. Louis Gooey Butter Cake
Buttermilk Bundt Cake with Lemon Glaze
Every baker needs a go-to bundt cake recipe. This is the ultimate buttermilk bundt cake, nicely browned on the outside, with a soft, tender crumb.
Mom's Classic Chocolate Cake
This chocolate cake is on our list of the 40 Best Ever F&W Recipes, and for good reason. The semisweet, creamy frosting hits just the right balance, but longtime F&W test kitchen supervisor Marcia Kiesel said, "the original was served right out of the pan, no frosting at all, and that's my favorite way to eat it."
Classic Carrot Cake with Fluffy Cream Cheese Frosting
A classic carrot cake is a crowd-pleaser and can work in traditional layers, in a loaf pan, or even as cupcakes. Pastry chef Jodi Elliot prepares the ultimate version of the 1970s favorite: moist and not too sweet.
Jacques Pépin's Favorite Pound Cake
The French call pound cake quatre-quarts ("four-fourths") because it is made with equal parts flour, sugar, eggs, and butter. Chef Jacques Pépin's mother, aunt, and cousin all have their versions. He likes to fold in candied citrus peels to make a French fruit cake; he also loves plain slices dipped in espresso.
Basque Cheesecake
2020 F&W Best New Chef Tavel Bristol-Joseph bakes a perfectly creamy cheesecake, without a water bath and with no risk of a cracked or sunken top, by incorporating whipped cream cheese with heavy cream in the batter. To make the cake properly, you're going to have to burn it. The more caramelized it gets, the sweeter and creamier the batter becomes, intensifying the flavor.
Maria Cookie Icebox Cake
Toasty, slightly sweet Maria cookies were an after-school snack staple for pastry chef Paola Velez while growing up in the Bronx. Here, she transforms those beloved cookies into an icebox cake, layered with a sweetly spiced cream filling, topped with luscious dulce de leche, and festooned with strawberries and flowers.
Double-Chocolate Bundt Cake with Ganache Glaze
Many bundt cakes are dense and buttery, but this one is surprisingly light and incredibly moist under its silky chocolate glaze. Strong-brewed coffee in the batter intensifies the chocolate flavor while balancing the sweetness.
Maple-Bourbon Banana Pudding Cake
This cake is as good as a holiday dessert as it is for Sunday brunch. As it bakes, it develops a sweet, rich sauce at the bottom of the dish.
Crunchy Milk Chocolate-Peanut Butter Layer Cake
The genius of this layer cake is its extraordinarily crunchy filling, made with almonds, salted peanuts, creamy peanut butter, chocolate, and Rice Krispies. The silky milk chocolate ganache frosting is the finishing touch.
Tres Leches Cake with Strawberries
Many versions of this dessert, made by soaking sponge cake in condensed milk, evaporated milk, and cream, are too sweet and wet. This one from chef Soledad Correa is perfect, with just a hint of cinnamon.
German Chocolate Cake
This pound cake is made especially rich by swirling in the chocolate-hazelnut spread Nutella. Serve it with coffee ice cream for an extra-special treat.
Plum Upside-Down Cake
This pretty cake is moist and buttery, with plenty of sweet and tangy caramelized plums on top. It's great for a festive dessert or weekend treat.
Molten Chocolate Cakes
Just about every restaurant in the U.S. offers a version of this creation from chef Jean-Georges Vongerichten. But his supremely rich and chocolaty original is in a class by itself. It might seem complex, but this recipe is actually quite easy to make and ready in under an hour.
Coconut Chiffon Bundt Cake with Coconut Frosting
Joanne Chang is an expert on all kinds of desserts, from elegant French to homespun American like this classic coconut cake.
Triple-Cheese Cheesecake with Amaretti Crust
This killer cheesecake has a light, creamy texture and fantastic crunchy crust made from honey graham crackers and amaretti cookies. Bonus: It's a no-bake recipe.
Best-Ever Birthday Cake
Celebrate any day with a big slice of this super-fun sprinkle cake. Sour cream adds a perfect tangy balance to the easy chocolate frosting — and gives this kid-at-heart cake a delicious grown-up twist. The key to a tender crumb is to cream the sugar and butter longer than you think — at least five minutes — to incorporate plenty of air into the batter. We love a mixture of sprinkles to top the cake for an extra-festive look.
Carrot and Orange Cake with Sour Cream Glaze
This carrot cake from cookbook author Nik Sharma is something special. "Chopped pieces of dried apricots and candied orange peels give each slice of cake a spot of unexpected fruit sweetness, while the pistachios add texture to the soft cake," he says. "Serve it with a cup of warm tea or coffee to complete the experience."
Red Velvet Cake
Abby Hocking / Food & Wine
This towering cake is made with deep red cake layers and lots of cream cheese frosting. Unsweetened cocoa powder and red food coloring give the cake its signature hue.
Strawberry-Honey Cake with Sour Whipped Cream
This floral, honey-inflected strawberry cake from chef Eli Dahlin is his springy take on a sticky toffee pudding. The more holes you poke in the cake, the more the honey syrup will penetrate every last bite.
Vanilla-Scented Cornmeal Cake with Olive Oil Buttercream
Pastry chef Kristin Ferguson prepares this deliciously fruity pineapple upside-down cake in individual ring molds and pairs the mini cakes with homemade buttermilk ice cream.
Double Chocolate Layer Cake
"This is the most fabulous chocolate cake that I've ever made," Ina Garten declared when F&W ran her recipe in 2007. The buttermilk keeps the cake moist and light, and the bit of coffee in the cake and frosting keeps the sweetness in check.
Strawberry Shortcake for a Crowd
"It doesn't get much easier than strawberry shortcake, but this family-style version I created definitely makes it foolproof," food writer Ben Mims says. "Instead of punching out all those small cakes, the dough is pressed into a pan and baked as one giant cake, which is much quicker and less stress-inducing, especially when you want an effortless dessert for a weeknight that truly takes no time at all."
Coconut Cake
This dainty dessert was in vogue in the 1920s for ladies' gatherings. Traditionally made with marshmallow frosting, the cake was famously served to President Truman during a trip to Florida in the 1950s.
King Cake with Caramel Crunch
"A traditional part of Mardi Gras for the last 300 years in New Orleans (and beyond), these cakes are more like brioche than 'cake' as we know it," pastry chef and cookbook author Kelly Fields says. "The yeast-raised dough is braided, sometimes around various fillings, formed into a ring, and baked. Afterwards, it's topped with green, purple, and gold sugar to represent faith, justice, and power, respectively, a nod to the 'three kings.' A token of some sort, be it a bean or plastic baby, is stuffed randomly inside, and tradition states that whoever gets the slice of king cake with the token has to host the next party!"
Banana–Chocolate Chip Snack Cake with Salted Peanut Butter Frosting
Juicy peaches and nutty almond meal pair up in this summery, vegan take on a classic upside-down cake. The almond meal adds a soft texture to the cake and helps it hold together as the peaches soften and sweeten during baking.
Cocoa Cola Bundt Cake
Traditional Coca-Cola cake, a staple of the American South, usually comes in the form of a chocolate sheet cake that's doused in a gooey glaze. In her modern-day version, cookbook author Vallery Lomas flips tradition on its head by making a cola-flavored cake with cola-flavored icing. She adds warming spices into the cake, like cinnamon and nutmeg, along with a dash of both orange and lemon zest, deepening the cake's chocolatey, cola-y flavor.
Baked Alaska
Baked Alaska, the meringue-topped and torched layered ice cream cake, is a classic restaurant dessert, often served tableside with a fiery effect. Bring the sweet treat home with this simple step-by-step method that takes advantage of creamy (and customizable) store-bought ice creams and sorbets; an easy, buttery pound cake; and just enough time in the freezer between layers to ensure success.
Honigkuchen (Gluten-Free Honey Cake)
Inspired by German cake recipes from a 13th-century cookbook, chef Alex Hrabovsky and his wife, Reana, developed this gluten-free version using almond and gluten-free flours. With its malty, molasses notes, buckwheat honey gives this cake its signature flavor.
Chocolate Party Cake with Dark Chocolate Ganache and Homemade Sprinkles
Rich, chocolaty, and so very festive, this cake is worthy of a party. Ganache has many applications in pastry, and here chef Paola Velez uses it to make the silky-smooth frosting to top her chocolate cake. If you're making the sprinkles from scratch, remember to start one day ahead so they can dry overnight.
Lemon Chiffon Cake with Blueberry-Coriander Buttercream
Pastry chef Sasha Piligian channels summer vibes to make this epic layer cake. She starts with two flavor-packed components — a tart-sweet Meyer lemon curd for the filling, and a coriander-spiced blueberry jam to flavor and tint her fluffy Swiss meringue buttercream frosting. The addition of beaten egg whites to the batter keeps the lemon chiffon cake layers light and airy. For a final flourish, she embellishes the frosted cake with edible flower petals, mint leaves, pools of glistening jam, fresh berries, and sliced citrus.
Strawberry Icebox Cake with Maple-Ginger Cream
If you love strawberry shortcake, this inspired icebox dessert is for you. Buttery, rich shortbread cookies make an easy base for the cake, layered with plenty of sliced strawberries and a creamy filling with hints of spicy fresh ginger and sweet maple syrup. A topping of strawberries macerated in maple syrup adds a final burst of berry flavor.
Lemon Cake with Cream Cheese Frosting
Layers of delicate flavors from lemon, honey, and extra-virgin olive oi­l — which helps keep the cake moist and imparts mild fruitiness — come together in this one-bowl batter. Stacked with a fluffy and rich lemon–cream cheese frosting, this easy layer cake is a keeper. Be sure the butter and cream cheese are softened for the smoothest frosting.
Chocolate Blackout Cake
This one is for chocolate lovers. Pastry star Gale Gand layers her phenomenal, high-rising cake with an intensely chocolaty custard and coats it with cake crumbs.
Bûche de Noël with Mascarpone Cream and Dark Chocolate Ganache
Bûche de Noël is the ultimate winter celebration cake, and this one is a cut above the rest. Mascarpone stabilizes the whipped cream filling so that it can be chilled overnight without weeping. Slivered toasted almonds stirred into the ganache frosting give it a "tree bark" look and add contrasting texture to the silky filling and tender cake. Meringue mushrooms add an extra wow factor; these can be made a few days ahead.
Double-Decker Meringue Cake with Summer Berries
The meringue topping expands as this stunning cake bakes, so be careful not to spread it all the way to the edges of the cake batter — this will make it easier to remove the cake from the pan. Top with whatever berries are in season at your market, or use your favorite sliced stone fruit.
Bananas Foster Cheesecake
Bananas Foster Cheesecake.Jennifer Causey / Food Styling by Ali Ramee / Prop Styling by Christina Daley
Creamy bananas and spiced rum-brown sugar caramel come together for both the filling and the topping in this cheesecake mashup. The cinnamon-scented buttery crust doubles down on nutty flavor by using both pecan sandies and pecans. The cheesecake is made extra silky with the addition of sour cream, but the real flavor magic happens thanks to vanilla and more spiced rum.
Breton Butter Cake
Known as kouign amann, this classic cake from Brittany is made with bread dough and butter and has a caramelized sugar top. This easy version, prepared with store-bought bread dough or pizza dough, has been adapted from Home Baking.
These fantastic 9×13 cake recipes might not have fancy decorations, but they're ideal for crowds and are crazy easy to make.
So don't let dessert intimidate you. After all, sheet cakes are classics, and these recipes are just like your grandma used to make.
Want to save this recipe? Enter your email below and we'll send the recipe straight to your inbox!
Of course, you can turn practically any recipe into a 9×13 cake. So if you've got a favorite vanilla sponge, feel free to double it up and bake it in a 9×13 pan.
But if you're new to the sheet cake world, these 9×13 cake recipes are a terrific place to start. Enjoy!
Vanilla Sheet Cake with Whipped Buttercream Frosting
Let's start with something simple that everyone loves: vanilla sheet cake with buttercream frosting.
It's sweet, rich, and melt-in-your-mouth delicious.
The cake is light and fluffy, and the icing is smooth and scrumptious. It's a soft, spongy delight, and the whole family will want seconds.
Best Ever Chocolate Cake
I usually scoff when someone claims to have the "best" recipe for something. After all, their best and my best may not be anything alike.
However, this might be the best chocolate cake I've ever tried. It's incredibly moist and has a wonderfully springy texture.
Plus, it has an insane amount of chocolate flavor. You could easily overdo it with this one, not that you'd mind.
Amish Cake
Have you ever eaten anything made by the Amish? If so, you know how good their food is.
This Amish cake is no exception.
In traditional Amish fashion, it uses one bowl and simple, easy-to-find ingredients.
Fortunately, there's nothing simple about its flavor. Instead, it's sugary sweet and ultra-moist.
And the brown sugar and nut topping? Divine.
This rich, chocolatey cake is a particular favorite in my house; only we like it thicker and fluffier.
That's why I use a 9×13 pan instead of the standard 18×13.
Keep everything else the same as the recipe. Just swap out the pans and increase the bake time to 35-40 minutes. Easy-peasy!
Chocolate-Mayonnaise Cake
Want to lock the most possible moisture into your cake? Use mayonnaise.
I know it sounds crazy, but I guarantee your grandma used it in her cakes. And we all know that grandmas know their way around a kitchen.
Everything about this cake is rich and decadent. From the soft cake to the indulgent ganache frosting, it's all incredible.
Sour Cream Coffee Cake
That said, sour cream will do the trick if you don't have mayo on hand.
This dense, chewy cake features loads of cinnamon and brown sugar flavor plus a crumbly streusel topping, making it perfect for fall.
Serve it with tea or coffee for breakfast, brunch, or dessert, and everyone will love it.
Who needs lemonade when you can have bright, zesty lemon cake instead?
Plus, you can top it with lemon glaze or lemon frosting. Either way, you won't be disappointed.
Fresh Strawberry Sheet Cake
This fresh, summery cake is delectable, and it looks just as good as it tastes.
Put away the food coloring and additives because this pretty-in-pink cake uses natural ingredients for its lovely hue.
You'll add fresh pureed strawberries to the cake and the frosting. That's a double whammy of sweet strawberry goodness you won't want to miss.
Blueberry Coffee Cake
Of course, if blueberries are more your thing, you might prefer this recipe instead.
It's a dense, hearty coffee cake that's sweet enough for dessert but filling enough for breakfast.
There's plenty of tart and tangy blueberry flavor in every bite, and the buttery streusel topping helps sweeten the overall taste.
What more could you ask?
And this recipe makes it simple to enjoy.
It doesn't matter if it's Easter or Thanksgiving – carrot cake is the way to go.
Chocolate Coca-Cola Cake
I'll never understand how Coke, buttermilk, and chocolate can taste so good together.
To this day, that combo sounds like a recipe for disaster.
Luckily, I've eaten enough chocolate Coca-Cola cakes to know better. It doesn't get much richer, moister, or more chocolatey than this cake.
It's a lot like the Texas sheet cake above. But, I find the silky-smooth icing even sweeter in this one.
If you need something to please a hungry crowd, give it a try.
Angel Food Layer Cake
Don't you just love the light sponginess of angel food cake? Now imagine that but in layers.
Also picture a cream cheese filling, whipped cream, and cherry pie filling on top.
Angel food cake shouldn't be so sinfully delicious, but who am I to argue?!
Butterfinger Poke Cake
Fudge marble cake mix is one of the prettiest box cake mixes around. With a few simple alterations, you can make it one of the tastiest, too.
Poke holes all over the top and fill them with a blend of caramel and condensed milk.
Add more of that sweet concoction to the top of the cake and let it chill.
After several hours, add whipped cream and crushed Butterfingers. I like to use more caramel sauce, too.
This cake is every Butterfinger lover's dream come true.
You just can't beat good, old-fashioned banana pudding.
Or can you?
If you love light, fluffy cake, then yes, you can. This cake tastes overwhelmingly like bananas and uses fewer than ten ingredients.
I'd say that might just be the new winner.
This red velvet cake recipe is for a layered round cake. However, as we all know, red velvet is a classic, so if you want to make it 9×13 style, go right ahead!
Spray the pan with nonstick cooking spray, and mix the batter according to the recipe.
Then, pour and spread the mixture evenly in the pan. It'll take about 35 to 40 minutes to bake.
Key Lime Cake
This striking green cake is light and tender.
Meanwhile, the frosting is thick, creamy, and full of fresh, bright flavor.
If you already enjoy key lime pie, you'll appreciate this fluffier, cakier version.
Pumpkin Spice Cake with Cream Cheese Frosting
Want a dense, soft cake that smells as good as it tastes? Then, give this pumpkin spice cake a try.
The boxed spice cake mix is fragrant, rich, and easy to bake.
The cream cheese frosting adds a sweet tanginess that perfectly complements the spices.
It's a culinary masterpiece, and it only takes eight ingredients to make. You're welcome.
Ooey, chewy, and supremely buttery, gooey butter cake is an excellent brunch dessert.
It's sweet, tangy, and tender with a slightly crunchy crust.
Its mild flavor and interesting texture make it more like a breakfast bar. Luckily, that means you can enjoy it any time of day.
You don't have to love Mexican food to enjoy tres leches cake. It's one of those light, fluffy delights that's universally appreciated.
It uses three different types of milk (tres leches) to make it exceptionally moist. I'd almost say it's juicy!
Add a little heavy whipping cream and some strawberries for a final touch. It'll put a smile on everyone's face.
Funfetti Cake
If you grew up in the 90s, funfetti cake was probably a birthday party staple. I know it was in my house.
Overflowing with sprinkles and topped in vanilla buttercream, it's easy to make and even easier to love.
If you want to go all out, use plenty of food coloring to make rainbow icing, too!
Ruby Red Grapefruit Poppy Seed Cake
Grapefruit cake isn't nearly as well-known as other 9×13 cake recipes. And that's a shame because it's ridiculously delicious.
It's light and brightly tart with a tender sweetness underneath.
Plus, you'll top it with grapefruit Swiss meringue buttercream, which is just as delectable and decadent as it sounds.
It's also stunning. The pretty pastels are just lovely.
It's the ideal cake for Easter. However, its unique appearance also makes it a hit at birthday parties and baby showers.
Oreo Ice Cream Cake
This is ice cream cake in the truest sense of the words. It's a layer of sweet, cold ice cream on top of a layer of crushed Oreos.
Add hot fudge sauce, whipped cream, and more crushed Oreos for a genuinely indulgent treat.
Maraschino Cherry Cake
Does the thought of juicy maraschino cherry cake make you weak in the knees? If so, you aren't alone.
Its lovely pink color and soft-as-a-cloud texture are borderline addictive. It's the vibrant cherry flavor that really seals the deal, though.
The cake itself is so good that it hardly needs any icing. Of course, a little extra sweetness doesn't hurt 😉
Snickers Poke Cake
What's more decadent than a chocolate cake filled with sticky caramel sauce?
How about that exact cake with vanilla frosting, chocolate syrup, and chunks of Snickers on top?
This over-the-top dessert is sweet and sugary to the max.
As an occasional treat, though, it's off-the-charts incredible.
Peanut Butter Cup Eclair Cake
This peanut butter cup eclair cake has it all.
It's silky smooth with crunchy chunks of Resee's on top. Plus, it's full of chocolate and peanut butter yumminess.
Best of all, it's a no-bake recipe that takes just 15 minutes to pull together.
Just be sure you budget enough time to let it chill – it needs at least 8 hours to set properly.
Pineapple Upside-Down Dump Cake
I'm always amazed by how genuinely fantastic pineapple upside-down cake is.
You start with a box of plain yellow cake mix, then add some pre-sliced pineapples, and end up with pure bliss.
The cake's sweetness is remarkable against the tartness of the pineapples and cherries. The crunchiness of the pecans adds a nice touch, as well.
Oh, and you can't beat it for juiciness. Every bite is divine.
Caramel Apple Poke Cake
Want to see a family event devolve into chaos? Bring this cake and tell everyone there's only one piece left.
Last year, I made it for Thanksgiving, and I didn't even get a piece! They'd devoured every last bit of toffee and drop of caramel before I could blink.
If you want to keep dessert leftovers to a minimum, this cake is the way to go.
Peach Dump Cake
Peach dump cake is like peach cobbler with a lighter, more pillowy crumb. And you can't beat it for simplicity.
You'll need just four ingredients that get "dumped" into a 9×13 pan. Once baked and golden brown, it'll smell like summertime in Georgia.
Caramel Apple Dump Cake
Caramel apple dump cake is just as straightforward.
It still uses butter and yellow cake mix, but you'll substitute apples and caramel pieces for peaches and brown sugar.
Easy Coconut Sheet Cake
This sweet, tropical, coconut-flavored cake is 100% drool-worthy. Better yet, you'll make it with boxed cake mix, so it's quick and easy.
Luckily, it tastes so fantastic that no one will know it's not entirely homemade.
Top Tip: Add canned pineapple to the batter if you want it extra juicy. The pineapple and coconut taste so good together and make it extra moist.
Chocolate Chip Cake
This cake is cinnamony, sugary, and chocolatey – a terrific combination. It's also soft and tender with gooey, melted chocolate chips.
It's like a chocolate chip cookie, but bigger and fluffier. Yum!
Top it with some vanilla ice cream to make it even yummier.
Blackberry Cake with Coconut Cream Cheese Frosting
This cake is unimaginably gorgeous, and it tastes even better than it looks.
The blackberries are tangy and bright, while the raspberry Jello is tartly sweet. Together, they pack a wallop of flavor.
You'll use real blackberries, too, and they give the cake more than flavor – they also make it juicy and moist.
It's super tasty, but you won't stop there. You'll also top it with rich, sweet-n-tangy coconut cream cheese frosting.
It may seem like an odd combination – coconut and blackberries. Try it just once, though, and you'll be hooked.
There's nothing else quite like it.
Incredible Butterscotch Cake
This cake is like eating a Werther's Original; only it's much softer and creamier. The flavor, though, is pure butterscotch.
It's rich and warm and tastes like absolute happiness on your tongue. You'd be hard-pressed to find anything more comforting.
Get out your Bundt pan for one of these beautiful cakes, perfect for any get-together from church coffee hour to a holiday feast. Draped with icing or studded with fruit, a cake baked in your fluted tube pan is bound to wow.
Everyone raves about this pretty lemon sour cream pound cake—and it sure doesn't last long with my family. It also freezes beautifully, so why not make two and pop one into the freezer for another day? —Annettia Mounger, Kansas City, Missouri
Go to Recipe
Cherry Chocolate Marble Cake
Cherries and chocolate are natural partners that make desserts such as this simply scrumptious! The marbled effect is easily achieved by layering the two contrasting batters. —Sandra Campbell, Chase Mills, New York
Olive Oil Cake
A good olive oil cake isn't overly sweet, so it can just as easily be a breakfast treat or an afternoon snack as it can be a dessert. —Lisa Kaminski, Wauwatosa, Wisconsin
Chocolate Comfort Cake
This moist and delicious chocolate cake is usually the first dessert to go. People even eat the crumbs. It's always my top choice for holiday dinners. —Ellen Riley, Murfreesboro, Tennessee
Raspberry Moscow Mule Cake
This Moscow mule cake is my favorite cake I've ever made from scratch. It's so moist and flavorful, and it reminds me of my favorite cocktail. —Becky Hardin, St. Peters, Missouri
Blueberries and Cream Coffee Cake
This blueberry coffee cake is my go-to recipe for all of our holiday get-togethers because it's perfect for breakfast or dessert. It's easy to make, and it's the most delicious coffee cake I've ever had. —Susan Ober, Franconia, New Hampshire
This Key lime pound cake was inspired from a basic pound cake recipe that I like to play around with. It's now the only cake requested at every gathering. The unfrosted cake freezes well. —Pat Stewart, Canton, Georgia
Buttermilk Cake with Caramel Icing
This fabulous cake and caramel frosting are so tender, it melts in your mouth. It's been a family favorite since the '70s and it goes over really well at church potluck meals. —Anna Jean Allen, West Liberty, Kentucky
Margarita Cake
This margarita cake is perfect for a picnic on a warm day. You'll be surprised at how closely it tastes like the real thing. These other margarita dessert recipes are delicious, too. ?—Dawn Lowenstein, Huntingdon Valley, Pennsylvania
Streuseled Zucchini Bundt Cake
Inspired by an abundance of zucchini, I found a new way to use it up in this spiced and lightly sweet cake. It even won a blue ribbon at our county fair! —Regina Stock, Topeka, Kansas
Purple-Ribbon Pumpkin Cake
I belong to a Christmas village collectors' club and we all bring a potluck dish to our monthy meetings. The cake is always a hit. It's one of my family's favorite Thanksgiving desserts, too, and disappears before the pumpkin pie does. —Debby Powers, Ponte Vedra Beach, Florida
Jelly Donut Cake
Cake. Doughnuts. Now you don't have to choose between the two. Impress your family with this easy jelly-filled cake. Try your best to center the jelly in the middle of the half-filled Bundt pan so that it will not leak out the edges of the cake. —Colleen Delawder, Herndon, Virginia
Citrus-Raspberry Coffee Cake
Orange and lemon beautifully complement the raspberry flavor in this dense cake. Add a dusting of confectioners' sugar for a pretty finishing touch. —Pat Harlow, Cataldo, Idaho
Banana Pound Cake
I adapted a basic pound cake recipe from my great-aunt for this treat. It makes a moist cake that pops out of the pan perfectly. —Nancy Zimmerman, Cape May Court House, New Jersey
Ginger-Glazed Lemon Bundt
Tangy ginger, tart lemon and puckery cranberries make this melt-in-your-mouth cake as crisp—and gorgeous—as autumn. —Taste of Home Test Kitchen
Decadent Fudge Cake
Everyone loves the rich flavor in this decadent cake made with four types of chocolate. —Anna Hogge, Yorktown, Virginia
Lemon Pound Cake
Citrus trees grow abundantly in California, and I'm always looking for new recipes which use the fruit from the orange and lemon trees in my yard. This lemon pound cake is one of my favorites! My mother passed this recipe down to me. —Richard Killeaney, Spring Valley, California
These fruit Bundt cake recipes are a sweet way to incorporate freshness into your favorite desserts.
Heavenly Praline Cake
A moist cake and generous frosting are filled with the fabulous flavor of caramel. The candied pecans are almost a dessert by themselves!—Jennifer Rodriguez, Midland, Texas
Mint Swirl Fudge Cake
Mint pairs with a silky, mild chocolate flavor for this colorful, beautiful cake that will be the talk of the holiday buffet. —Heidi Kelly, Norwood, Missouri
Blueberry Sour Cream Coffee Cake
Holiday breakfasts would not be the same at our house without this delicious coffee cake. Whenever I take it anywhere, everyone raves about it and wants the recipe. —Susan Walschlager, Anderson, Indiana
Cranberry-Almond Pound Cake
When you want an extra-special dessert for the holidays, it's hard to beat a seasonal homemade cake. I like to drizzle mine with a simple but elegant glaze flavored with amaretto. —Jackie Howell, Tucson, Arizona
Peanut Butter Bundt Cake
This peanut butter Bundt cake with frosting is heavenly to me. I use smooth peanut butter, but crunchy would work, too. —Karen Holt, Rock Hill, South Carolina. Learn how to frost a Bundt cake with three techniques that add flavor, sweetness and an eye-catching finish.
Lemon Poppy Seed Cake
This luscious lemon poppy seed cake recipe uses cake mix and pudding mix for an easy dessert highlighting the classic flavor combination. —Betty Bjarnason, Egbert, ON
Chocolate Almond Cake
Fluffy white homemade frosting tops this rich chocolate almond cake. Sliced toasted almonds on top add a little crunch. —Sherri Gentry, Dallas, Oregon
Gingerbread with Fig-Walnut Sauce
I experimented with aniseed this past holiday season and fell in love with the licorice flavor. It really enhances the gingerbread spices and fig sauce in this extraordinary cake. —Shelly Bevington-Fisher, Hermiston, Oregon
Surprise Carrot Cake
A cousin gave me this carrot cake recipe. It's a wonderful potluck pleaser with its "surprise" cream cheese center. My husband and our two young children love it, too! —Lisa Bowen, Little Britian, Ontario
Red Velvet Pound Cake
This delicious red velvet pound cake is the perfect combination of flavors. Make sure the cake has cooled before icing it; for extra crunch sprinkle some roasted pecans on top. —Robin Smith, Old Fort, North Carolina
Coconut Fudge Cake
"A big piece of this moist cake is a chocolate and coconut devotee's dream," notes Johnnie. "You should see my husband, children and grandkids smile when I serve it."
Double Chocolate Espresso Pound Cake
Two of my biggest loves in life—chocolate and coffee—come together in this velvety pound cake. Grate some extra chocolate on top and thank me later. —Rachel Bernhard Seis, Taste of Home Senior Editor
Almond Apricot Coffee Cake
The nutty aroma and delicate fruit flavor make this cake special enough to serve to company. Strawberry or raspberry preserves can be used as a tasty variation. —Sharon Mensing, Greenfield, Iowa
Brown Sugar Pound Cake
This tender pound cake is the first one I mastered. You'll want to eat the browned butter icing by the spoonful. It tastes like pralines. —Shawn Barto, Winter Garden, Florida
Whether garnished with fresh berries and sprigs of rosemary or just served plain, this rich cake is fabulous. It bakes to a beautiful golden brown and it's definitely a keeper! —Edgar Wright, Silver Spring, Maryland
Choco-Scotch Marble Cake
This recipe was given to me many years ago by a friend. Teaming chocolate with butterscotch for a marble cake makes it more flavorful and colorful than the usual chocolate-vanilla combination. This rich family favorite is very moist and keeps well.
-Pam Giammattei, Valatie, New York
Pear Bundt Cake
Next time you make cake from a mix, try my easy and delicious recipe. The pears and syrup add sweet flavor and prevent the cake from drying out. And since there's no oil added to the batter, this tender fall-perfect cake is surprisingly low in fat. —Veronica Ross, Columbia Heights, Minnesota. Don't forget to try our favorite Nothing Bundt Cake recipe.
Rum-Glazed Pumpkin Cake
For years, my co-workers were taste testers as I worked on a recipe for pumpkin cake. This version wins, hands down. —Gilda Smith, Santee, California
Contest-Winning Moist Chocolate Cake
You don't have to spend a lot of time to serve an elegant and delicious dessert. Just mix up the batter in one bowl, bake and get ready for people to love this moist dark chocolate cake recipe. —Christa Hageman, Telford, Pennsylvania
Ginger-Walnut Tube Cake
My husband, Ken, loves this tube cake with its bits of crystallized ginger. Feel free to drizzle it with a lemony glaze. —Nancy Zimmerman, Cape May Court House, NJ
Pina Colada Tube Cake
We named this a "pina colada" cake because it has coconut, pineapple and rum. It's a soothing finish at the end of a big spread. —Debra Keil, Owasso, Oklahoma
Aunt Lou's Fresh Apple Cake
My Great-Aunt Lou made a luscious fresh apple cake recipe that became a family tradition. My mom makes it for our annual beach trip to the Outer Banks. —Cristy King, Scott Depot, West Virginia
Now that I've retired from teaching, I have more time to bake. This buttermilk pound cake is the one I make most often. It is a truly southern recipe, and one I think can't be topped—once people taste it, they won't go back to their other recipes with buttermilk. —Gracie Hanchey, De Ridder, Louisiana
Almond Chocolate Cake
When our son and daughter were teenagers, our house was the hang-out for their whole group of friends. This rich chocolate almond cake was a regular on the menu. —Char Safley, Raleigh, North Carolina
Breakfast Apple Cake
Baked in a pretty tube pan and drizzled with icing, this breakfast cake will be a highlight of your holiday menu. I adapted the recipe from one of my grandmother's. —Shaunda Wenger, Nibley, Utah
Raspberry Swirl Pound Cake
Bake this up when you want to treat your family to something special and sweet. The raspberries and mint add a springtime freshness, too. —Carly Curtin, Ellicott City, Maryland
Easy Pistachio Tube Cake
Mixes make this light cake easy, and a fluted tube pan gets it holiday party-ready. Go for the pistachios on top—the extra crunch is worth it. —Dina Crowell, Fredericksburg, Virginia
Pumpkin-Citrus Tube Cake
Cranberry-Filled Orange Pound Cake
I made this for a holiday dinner with my family. Everyone loved the cran-orange flavor and the sweet glaze drizzled on top. For a fun variation, include 2/3 cup flaked sweetened coconut when adding the orange juice to the batter, and sprinkle the finished cake with toasted coconut. —Patricia Harmon, Baden, Pennsylvania
Fluted Lemon Cake with Fresh Fruit
This citrusy, golden-brown cake looks especially beautiful baked in a fancy fluted pan. Serve each slice with a dollop of whipped cream and fresh fruit. —Donna Pochoday, Morristown, New Jersey
Coconut Pound Cake with Lime Glaze
This pound cake is the best! Oven temps will vary, so if the cake is not done after 1 hour and 20 minutes, continue baking in 5-minute intervals. Use fresh, not bottled, lime juice for the glaze. —Jo McFarland, Sterling, Virginia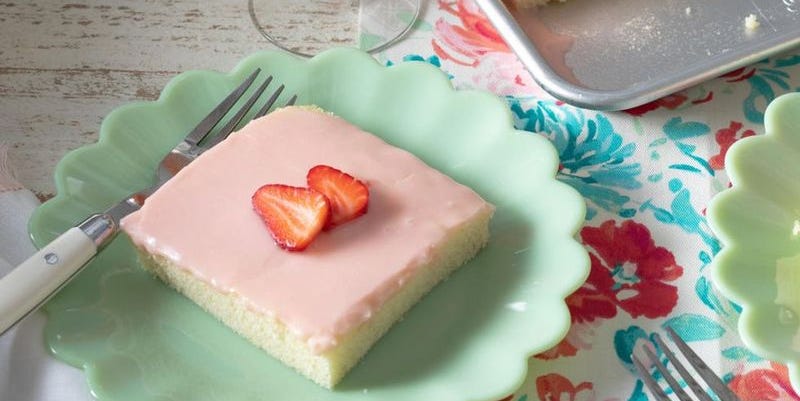 Ahead, find our all-time favorite sheet cake recipes, including tried-and-true spring cakes, carrot sheet cakes, peanut butter sheet cakes, and so much more. Don't worry, chocolate dessert lovers: We've got you covered, too. (Expect all the moans and groans.)
Flag Cake
Ina Garten's flag cake is incredibly popular for a reason—it's the perfect Fourth of July finale! If it's not a patriotic holiday, simply sprinkle the berries all over the cake for a less holiday-specific dessert.
Get the Flag Sheet Cake recipe.
Sigrid's Carrot Cake
Sigrid was one of Ree's mother's closest friends, and she would often bring this carrot cake over when she visited (yup, you can make it as a sheet cake, and Ree often does!). The recipe is downright dreamy.
Get the Sigrid's Carrot Cake recipe.