Photo: Fred Hardy; Food Stylist: Margaret Monroe Dickey; Prop Stylist: Hannah Greenwood
1 hrs 10 mins
The recipe for refrigerated quick-pickled cucumbers and onions is more of a common concept than an exact formula. It involves sliced fresh cucumbers and onions, vinegar, water, sugar, salt, and pepper.
Plunk the vegetables into a clean jar, stir the rest together, and then pour it into the jar, cover, and refrigerate until chilled. It's so quick and easy that people who make no other homemade pickles can do it perfectly, all summer long.
What Is Quick Pickled Cucumbers and Onions?
People call this concoction Cucumber and Onion Salad, or perhaps Cucumber and Onion Refrigerator Pickles or Quick Pickles, or simply Cucumbers and Onions. It's so common in many Southern households that most people have never given any thought to what they call it, much less what it's called elsewhere.
The variety of names tells us how people like to eat it. Some use it as a salad or slaw. Others use it as pickle relish on or alongside sandwiches.
How To Make Pickled Cucumbers and Onions
The proportions are a matter of taste and opportunity. We use what we have and tinker with the amounts until it tastes good to us.
Many of us prefer small, seedless cucumbers, but any fresh, crisp cucumber is a contender. If the cucumber seeds are a gloppy mess, slice the cucumbers in half lengthwise and scrape out the offending seeds with the spoon. Peel the cucumbers only if the skins are bitter or tough.
We can use spring onions, sweet onions, red onions, or good ol' yellow onions, cut into strips or rounds depending on their size and shape.
The vinegar should be simple, something we can buy by the gallon jug if we wish, and the water keeps the vinegar from taking over and making us cough.
Some people use a little sugar, others a lot. It's the same with the salt and pepper. Some people add garlic, and others think that's frivolous. Even the jar can be the size that suits us.
How Long Can You Store Quick Pickles?
A batch of pickled cucumbers and onions keeps for several days. Many cooks reuse the brine a few times and simply add more cucumbers and onions to the same jar.
Why You'll Love These Pickled Cucumbers and Onions
We Southerners make this because it's easy and delicious, and we can enjoy it multiple ways. We make it because we grew up eating it, so we have the taste memory. We tend to like pickled things seasoned with vinegar, sugar, salt, and pepper. We eat this because we sure do get a lot of cucumbers in our gardens and farmers markets each summer, and this is a smart way to use them up.
For anyone who doesn't make Cucumbers and Onions by rote out of generational habit, here's a basic recipe to get started. Please tweak as needed.
Ingredients
fresh cucumbers, thinly sliced (peeled if necessary)
onions, thinly sliced
garlic clove, finely chopped (optional)
white distilled or apple cider vinegar
sugar, or to taste
salt, or to taste
ground black pepper, or to taste
Directions
Here's how to make pickled cucumbers at home! One of my favorites to add to salads, on sandwiches and snack on. These are easy to make, full of flavor and take 5 minutes to prep.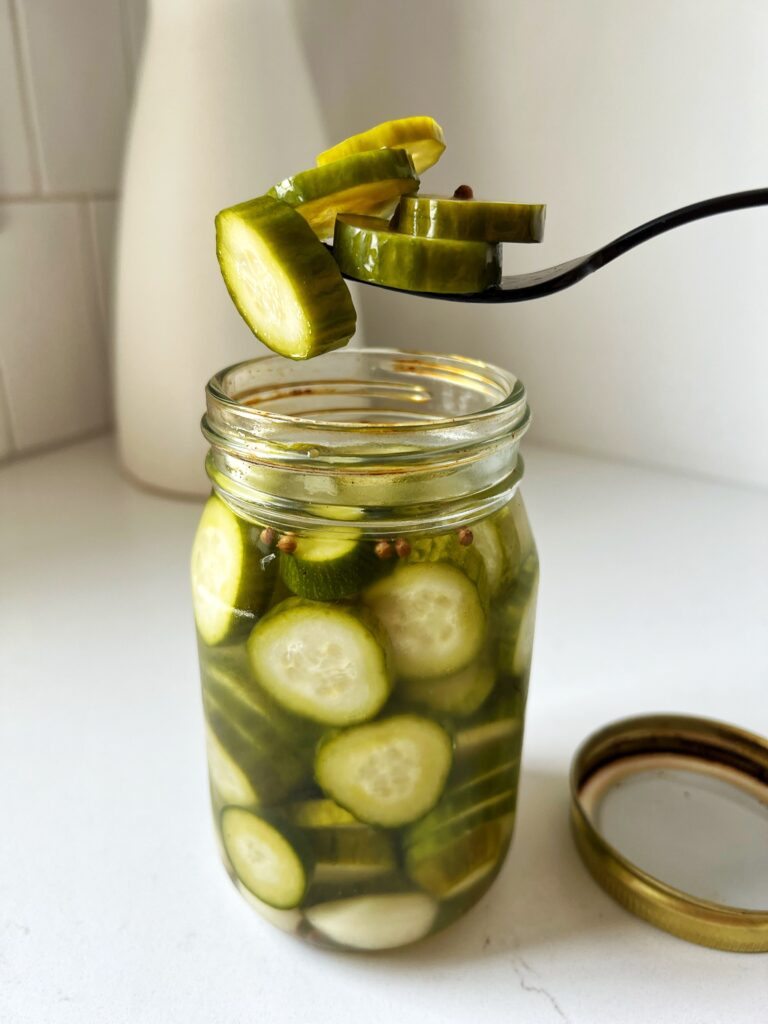 I am HOOKED on making these pickled cucumbers. They are my absolute favorite to add into salads, onto my bagels with lox (so good) and they are delicious even just for snacking.
This recipe was inspired by our obsession with pickles and how we go to the farmer's market as often as we can to stock up. But sometimes with two kids – that just isn't as realistic as we hope. So we decided to start making our own. And my 3 year old is also obsessed so we are all snacking on these every single day. They only take about 72 hours to prime in flavor but it takes 5 minutes to prep. So while that sounds like a long time to get the cucumbers perfectly pickled, it is minimal effort to prep.
What ingredients you need to pickle cucumbers
Mini cucumbers
Water
Organic distilled vinegar
Peppercorns
Coriander seeds
Garlic cloves
Cut cucumbers into 1/4 inch slices
Add cut cucumbers into a mason jar and add in water and organic white vinegar
Add in peppercorns, coriander seeds and garlic cloves
Cover with lid and shake
Place in refrigerator for 72 hours to pickle
FAQs about making your own pickled cucumbers
How long does it take for cucumbers to become pickled? It takes a solid 72 hours to get them prime pickled form. But you can of course eat after a day or so – but the longer the better!
What kind of cucumbers do you use for these? I buy mini seedless cucumbers from the store to make these. One of my kids favorite to snack on and dip in hummus too, so we always have them on hand.
How long do these pickled cucumbers last? They stay good for a couple months in the fridge. But we go through them pretty quickly.
A few of my favorite things to add these pickled cucumbers to
BLT Chicken Salad
Copycat Sweetgreen Kale Caesar Salad
Paleo Sweet Potato Bun Lamb Burgers (Whole30)
Delicious Crispy Rice Salad (gluten-free)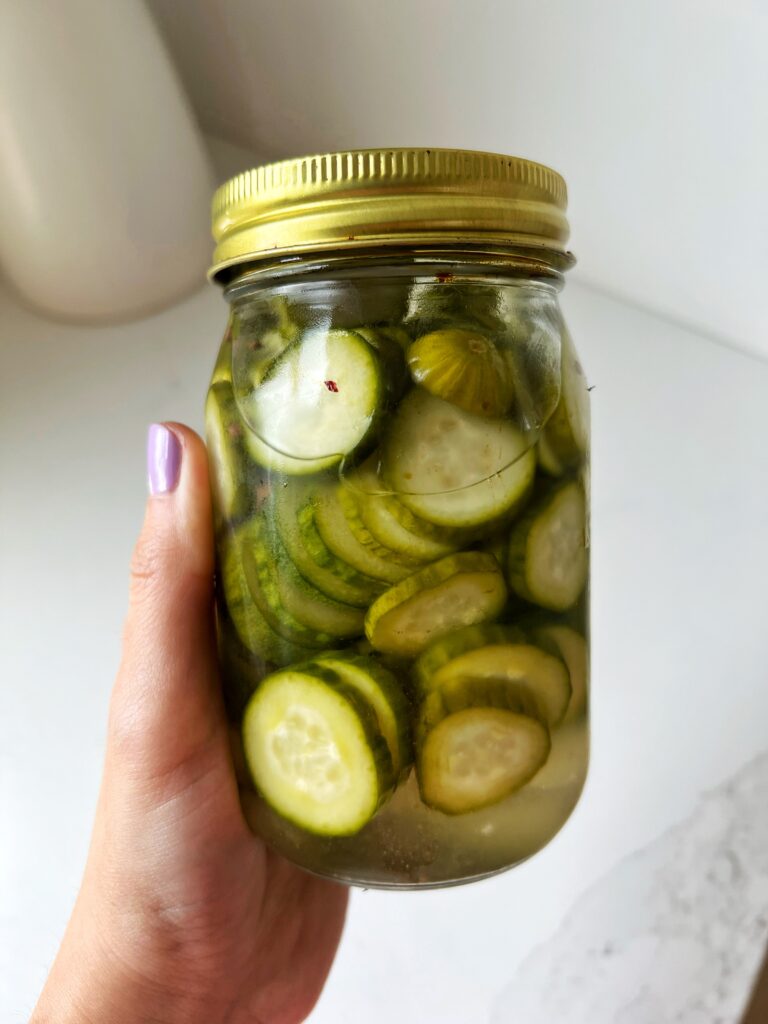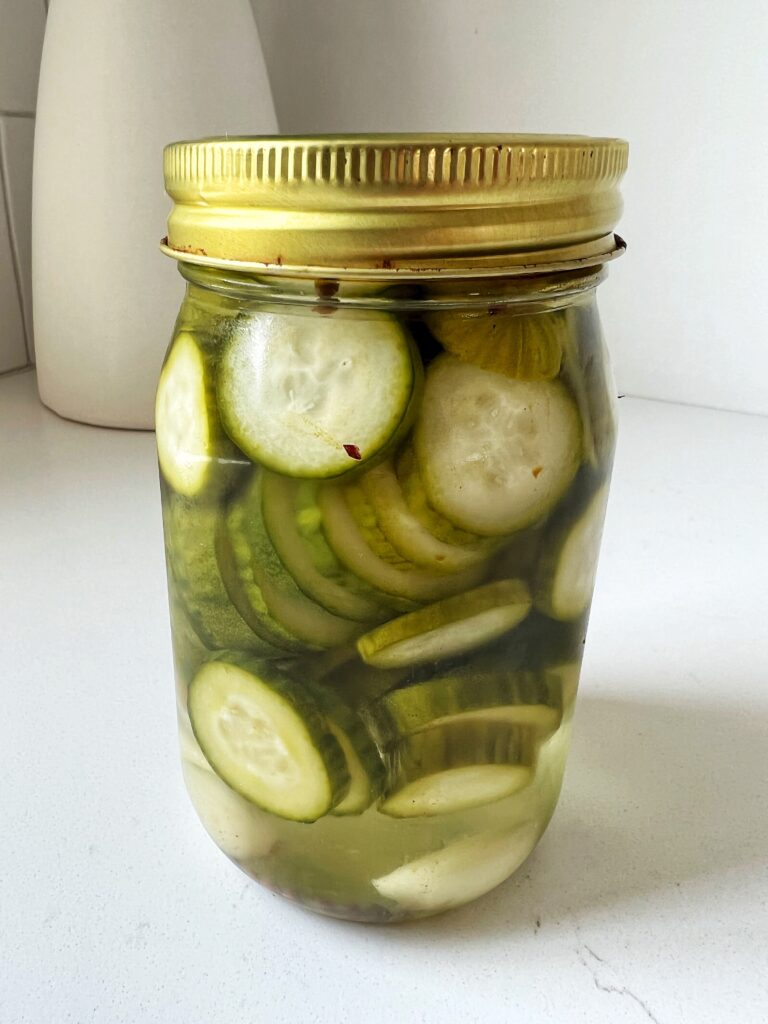 How to Make Your Own Pickled Cucumbers
Notes
*Store in fridge for up to 1 month
The easiest Quick Pickled Cucumber Recipe! Crunchy, tangy and ready to eat in 30 minutes! We go through buckets of these every summer and serve them on sandwiches in salads and along side every thing off the barbeque. Tastes like summer in a jar!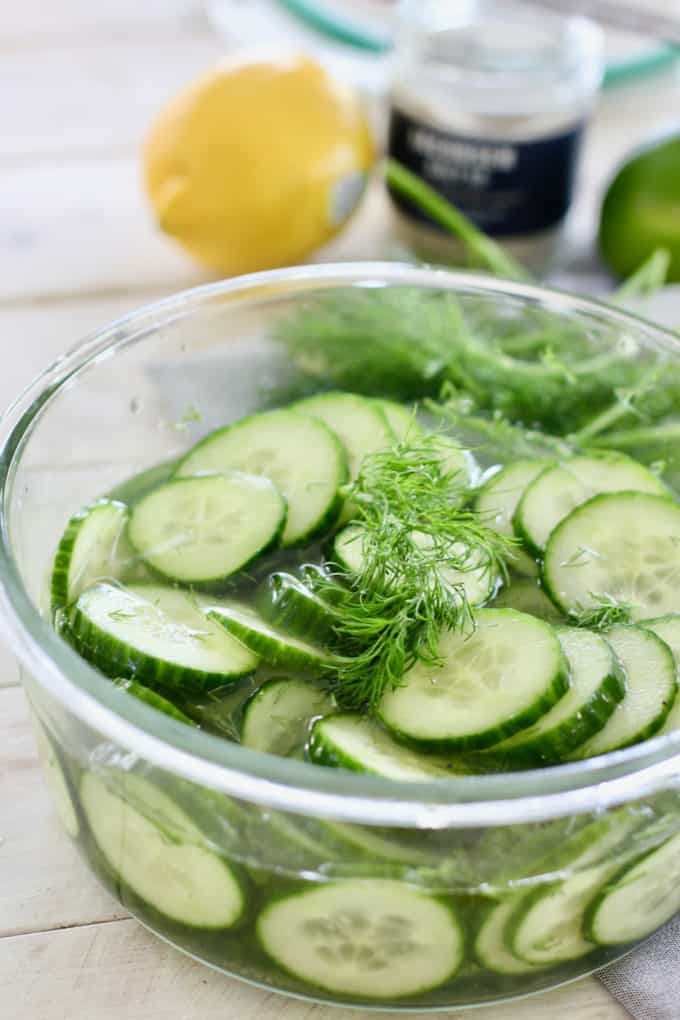 What kind of vingar is best for pickling cucumbers?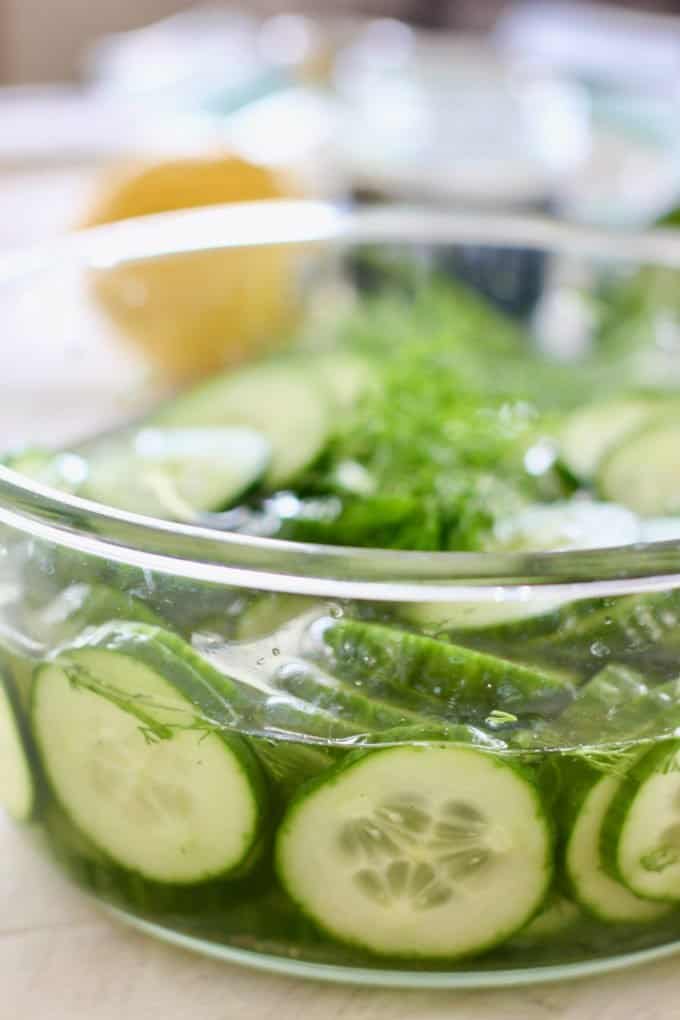 What kind of cucumbers should I use to pickle?
PRO TIP: Don't toss the pickling vinegar when your cucumbers are gone! Toss in more cuc's and make another batch!
Check out our Super Easy Pickled Onions as well!
Kathi & Rachel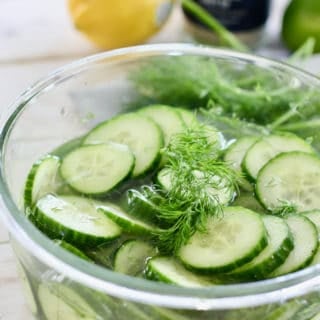 white or apple cider
fresh dill chopped –
Combine vinegar, water, sugar and salt in large bowl with lid.
Whisk until sugar and salt are dissolved.
Add cucumbers and fully submerge in liquid. Store in refridgerator for at least 30 minutes and up to one week.
PRO TIP: Don't toss the pickling vinegar when your cucumbers are gone! Toss in more cuc's and make another batch!
Reader Interactions
This post may contain affiliate links. Please read my disclosure policy.
This refrigerator pickles recipe is super-easy to prep in just 5 minutes, it's customizable with your favorite seasonings, and it yields the most delicious, fresh, crisp homemade pickles.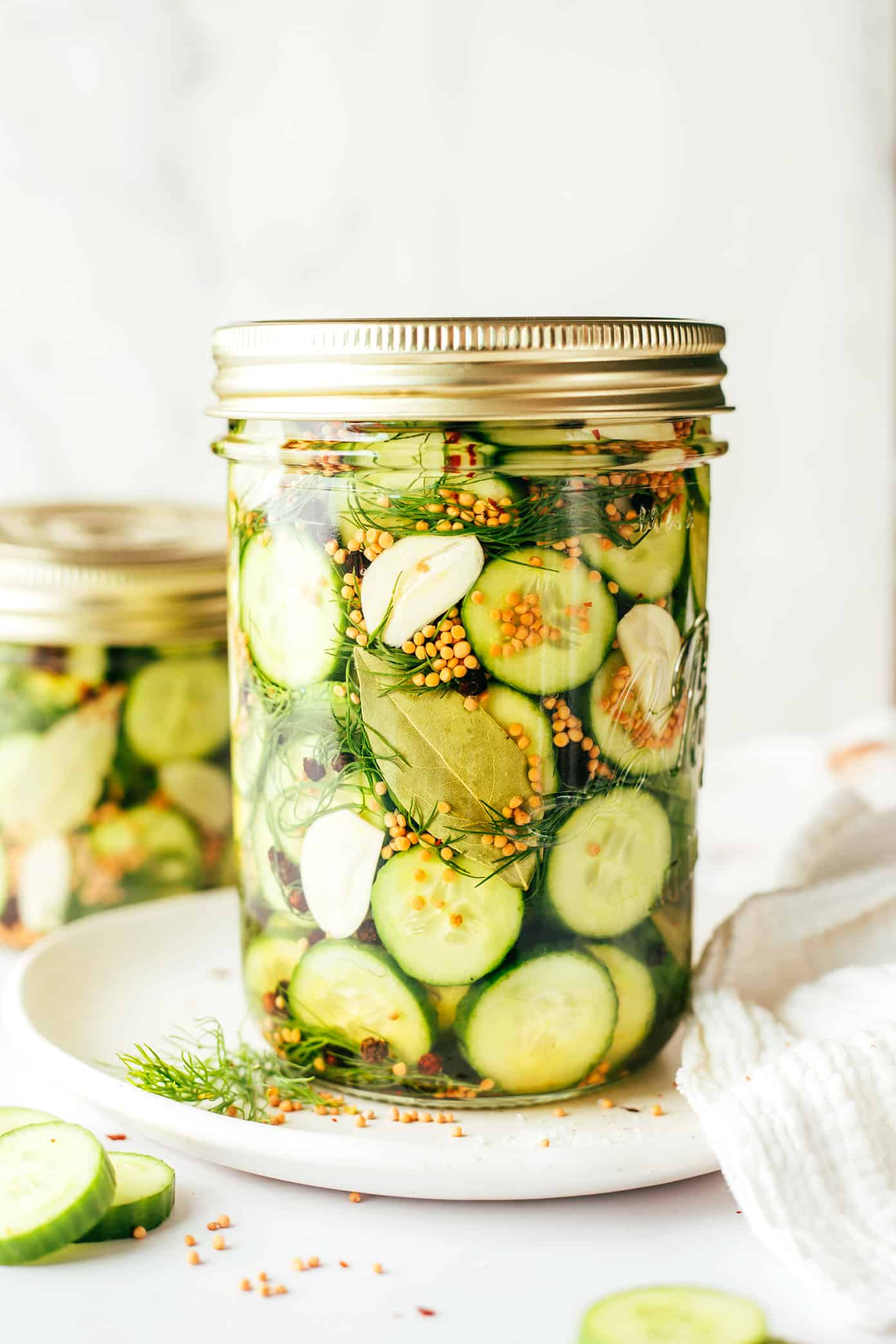 Got a pickle craving? Quick — let's make a batch of homemade pickles together! ♡
We've been making this refrigerator pickles recipe on repeat this summer, especially while ripe cucumbers are in season. And while I know that everyone has their own preferences when it comes to the perfect pickle, in my book, it doesn't get any better than this simple recipe. Inspired by Grillo's famous fresh pickles, these homemade pickles are perfectly crisp and crunchy, they're loaded up with a fresh blend of garlicky-dill-bay seasonings, they are salty and vinegary but not overly so, and WOW are they delicious.
They are also amazingly quick and easy to make, requiring only about 5 minutes of prep time and at least a few hours to pickle. (Or if you have the patience, they're even more delicious the next day.) They're also naturally gluten-free and vegan. And while they are wonderful in burgers, sandwiches, salads, cocktails and more, here in our house we're obsessed with just popping them plain as a quick snack. There's nothing more satisfying in my book than that crisp cucumber crunch!
So gather up your ingredients and let's make a quick batch of homemade pickles together!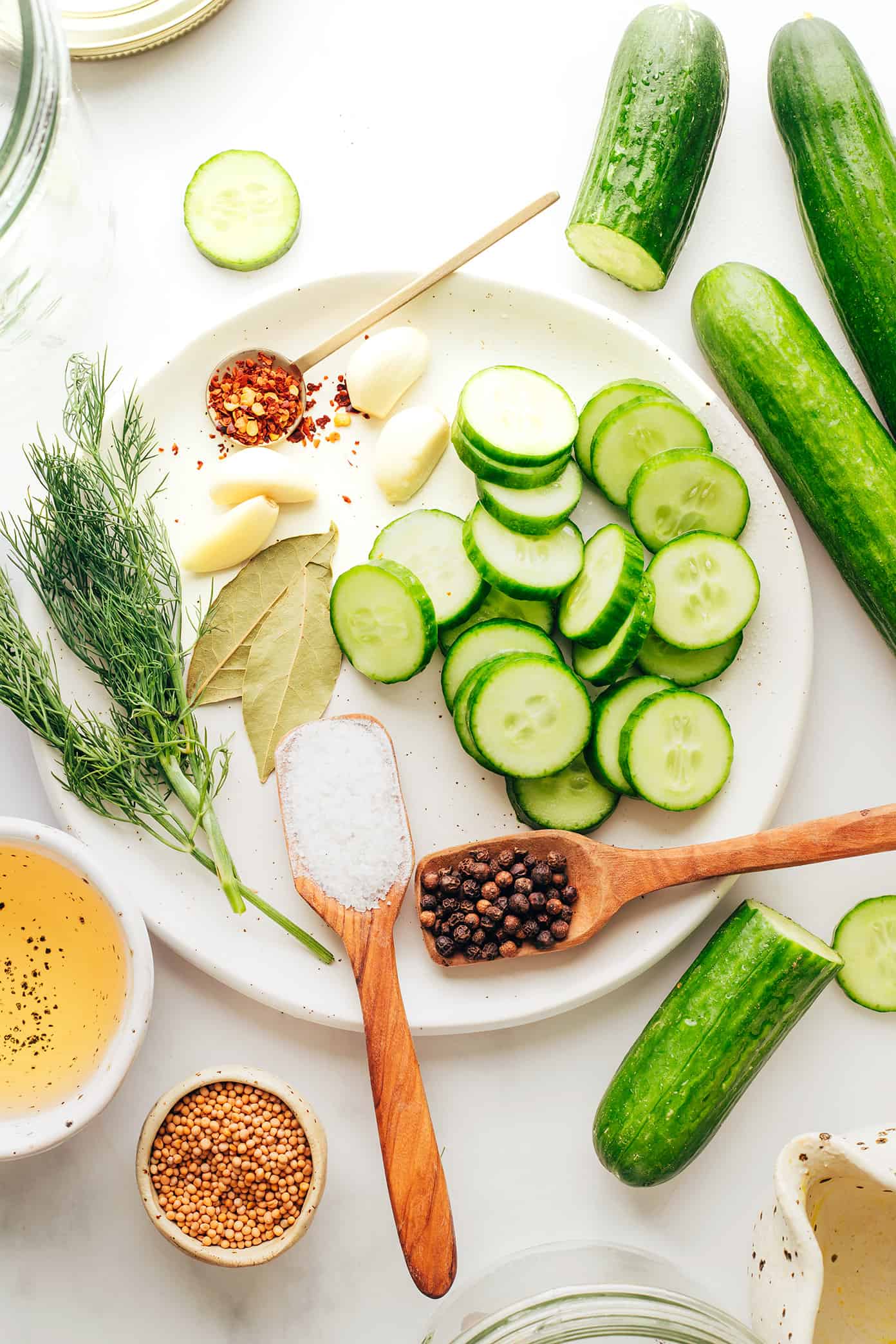 Homemade Pickle Ingredients
Before we get to the full homemade pickle recipe at the bottom of this post, here are a few notes about the ingredients you will need:
Cucumbers: I'm partial to using mini Persian cucumbers in this recipe, whose extra-crisp texture and minimal seeds work well for pickles. That said, English cucumbers also work great in this recipe.
Dill: I love packing basically as much fresh dill as possible into my jars of homemade pickles, but feel free to add however much fresh dill you prefer.
Garlic: Likewise, feel free to add however much or little fresh garlic that you prefer. I recommend slicing the garlic cloves as thinly as possible so that its flavor can permeate the cucumbers quickly.
Seasonings: We love making refrigerator pickles in our house with a combination of bay leaf, mustard seeds, black peppercorn, fine sea salt, and crushed red pepper flakes. But see notes below for other seasoning ideas you're welcome to try. (If you are looking to make Grillo-style pickles, leave out the mustard seeds and crushed red pepper flakes.)
Vinegar: I recommend either rice vinegar or distilled white vinegar in this recipe, both of which provide a mellow, clean flavor to the pickles. Apple cider vinegar would also work, but I find its flavor to be slightly too sweet for my taste.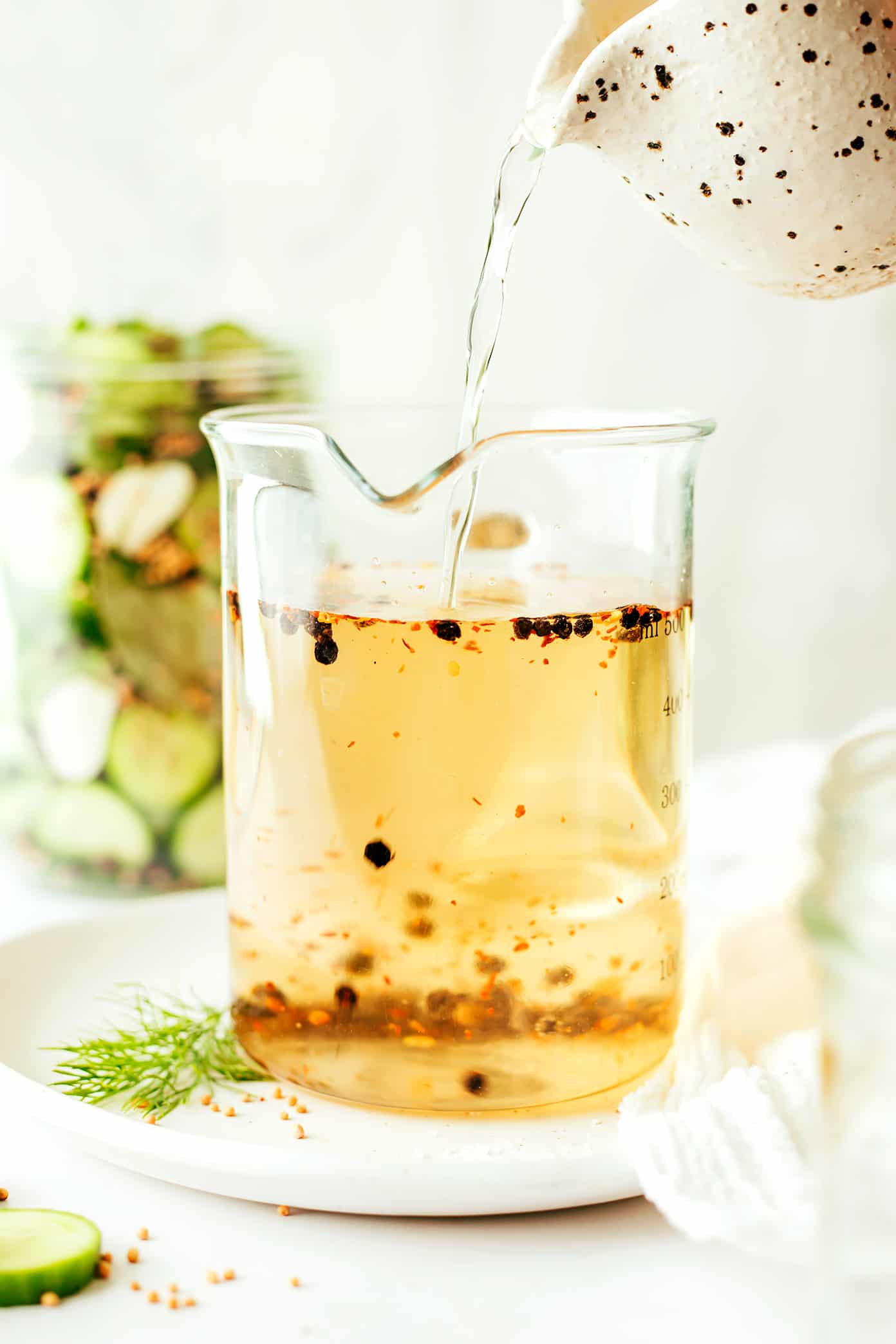 How To Make Pickles
Layer the pickles. It's much easier to add the large ingredients (cucumbers, dill, garlic, bay leaf) to the jar adding the brine, in order to help everything fit.
Mix the brine. No need to heat the brine for this recipe unless you are adding sweetener (see note below). I typically measure and stir everything together in a measuring jar, then add it to the pickle jar. But if you could alternately just mix the brine directly in the pickle jar itself.
Combine. Cover the jar and give it a good shake to combine all of the ingredients. Then I also recommend pressing down any cucumbers so that they are completely submerged before refrigerating the jar.
Refrigerate. I love this recipe best after the pickles have soaked overnight. But they will be delicious and ready to enjoy after just a few hours if you're needing a quick pickle recipe!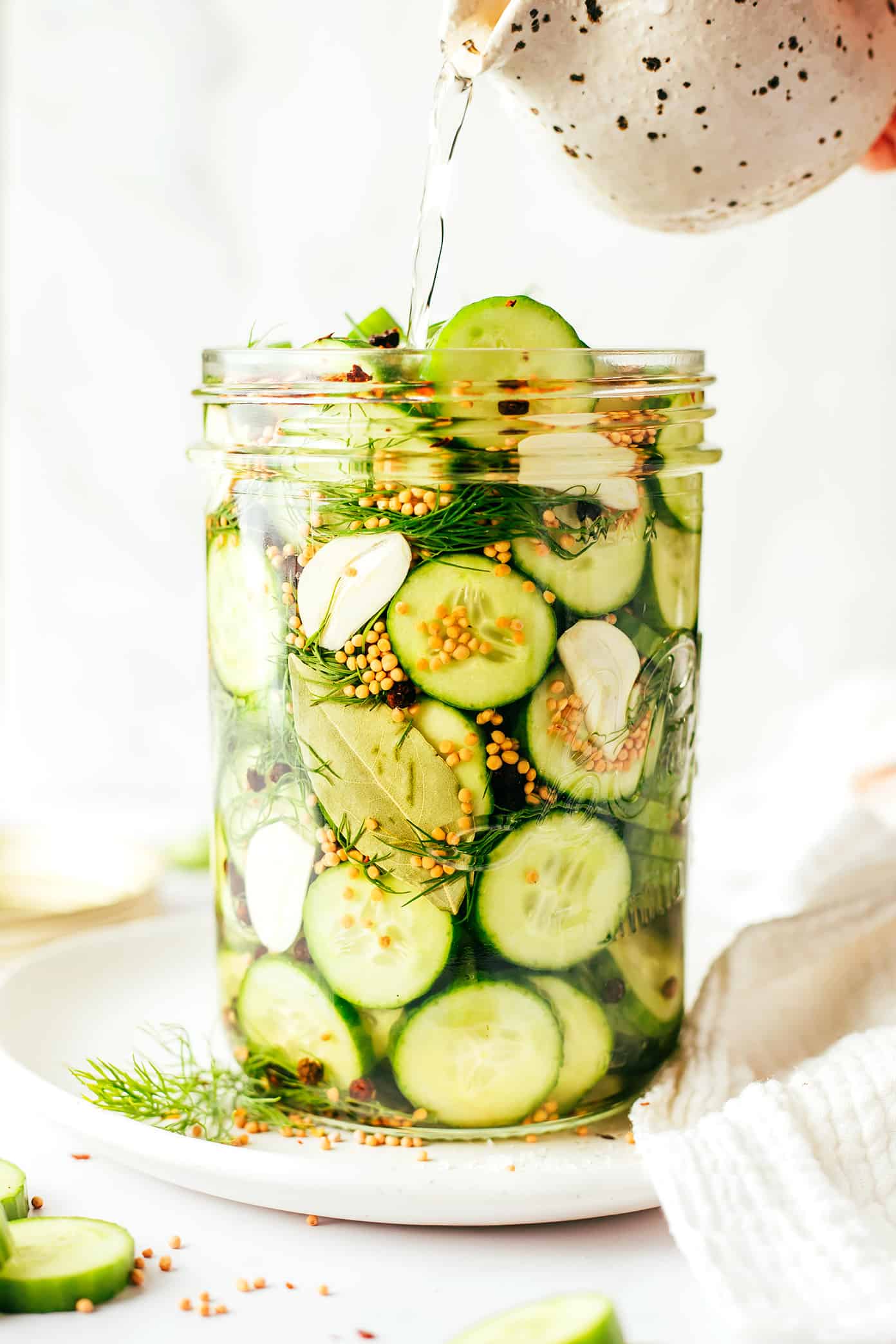 Homemade Pickle Recipe Variations
Here are a few additional ways that you're welcome to customize this homemade pickle recipe:
Use different fresh herbs: Add whatever other herbs you love, such as fresh basil, chives, mint, oregano, rosemary, tarragon or thyme.
Use different spices: Add whatever other spices you love, such as celery seeds, coriander seeds, fennel seeds, or whole cloves.
Make pickle spears: Instead of slicing the pickles into coins, slice them lengthwise into long spears.
Make sweet pickles: To sweeten this recipe, heat 2/3 cup of the water until it is very hot, then stir in 1 to 3 tablespoons of your preferred sweetener (such as honey, maple syrup, or granulated sugar) and stir until dissolved. Stir 2/3 cup cold water into the hot water, in order to cool it to room temperature. Then add to the recipe as directed.
Make spicy pickles: Instead of adding crushed red pepper flakes, add your desired amount of sliced chile peppers (such as jalapeño, serrano, or Thai bird chiles) to the brine.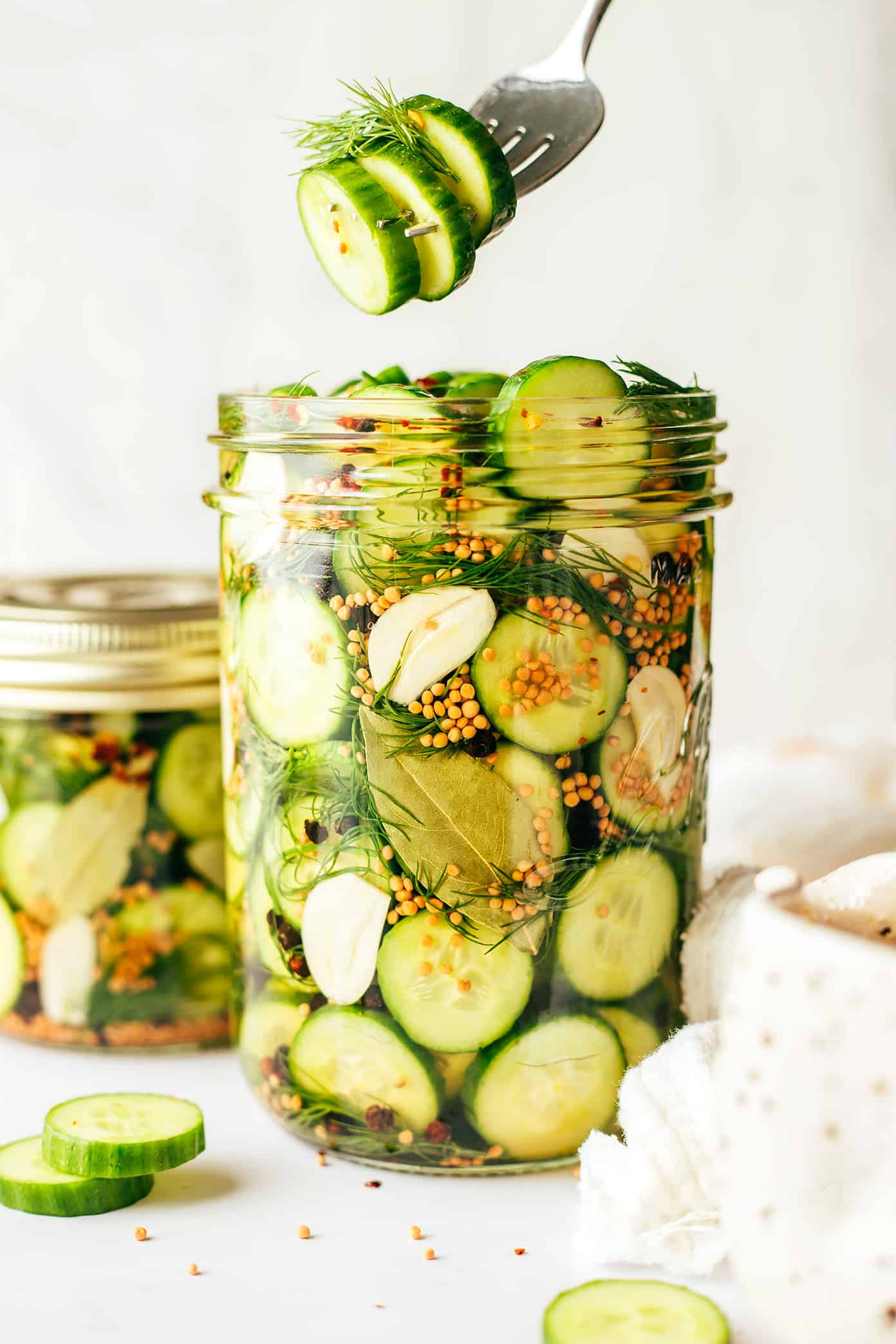 Can you can this recipe? No. This is a refrigerator pickle recipe and is not designed to be canned in a hot water bath for long-term storage.
Can you re-use the pickle brine? To err on the side of safety, I recommend always creating a new brine for each batch of pickles.
How to store refrigerator pickles? They should always be stored in a cool refrigerator in a clean, sealed jar.
How long do these pickles last? As mentioned in the recipe below, for optimum food safety, we recommended that you eat these refrigerator pickles within 1 week. That said, we often keep ours for up to 2-3 weeks in the refrigerator, using a clean fork or spoon each time to remove the pickles (no double-dipping to avoid adding bacteria), and have not had any issues. But please use your best judgment.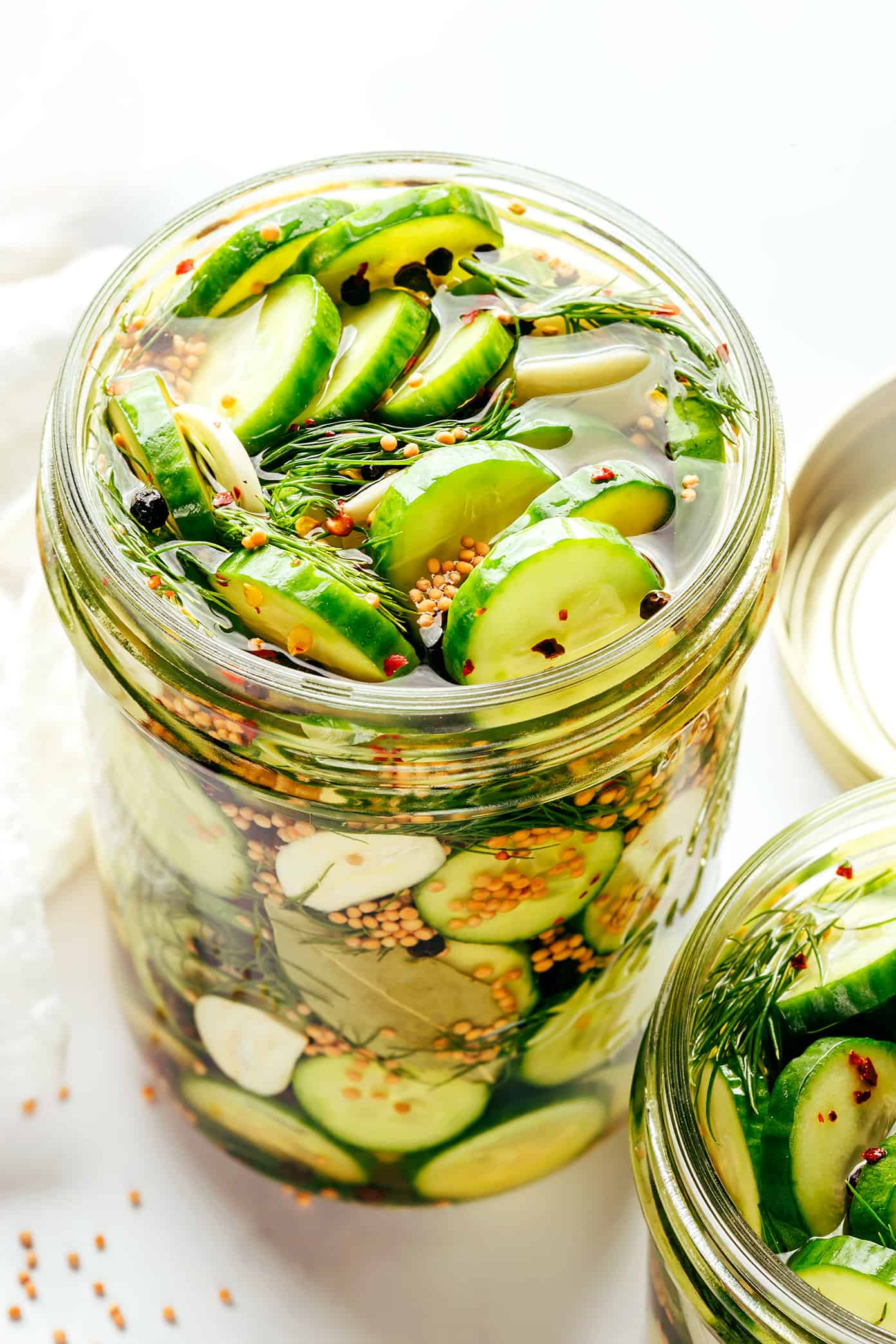 Description
This easy homemade pickles recipe only takes about 5 minutes to prep and makes perfectly crisp and delicious pickles that you'll LOVE!
Mix the brine. In a measuring jar, briefly whisk together the water, vinegar, salt, peppercorns and crushed red pepper flakes until combined.
Combine. Pour the brine over the cucumber mixture. Then cover the jar securely with a lid and give it a good shake to combine. If needed, press the cucumbers down so that they are more or less fully submerged.
Refrigerate. Refrigerate for ideally at least 1 day before eating, although the pickles will be lightly brined and ready to enjoy after just a few hours if you would like. Pickles can be stored in a sealed jar in the refrigerator for 1 week.*
Cucumbers: Alternately, you could use 12 ounces of English cucumber (about 1 large English cucumber).
Salt: I strongly recommend using fine sea salt for this recipe instead of iodized table salt. (That said, if you only have iodized table salt on hand, please note that you will need to use half the amount.)
Storage time: For optimum food safety, we recommended that you eat these refrigerator pickles within 1 week. That said, we often keep ours for up to 2-3 weeks in the refrigerator, using a clean fork or spoon each time to remove the pickles (no double-dipping to avoid adding bacteria), and have not had any issues.
Recipe edit: This recipe was edited in July 2022. The original recipe called for one (12-ounce) English cucumber, used less vinegar (3 tablespoons), more salt (1.5 tablespoons), and no mustard seeds.
These ​​Quick Pickled Cucumbers are ready to eat in 1 hour! There's no canning required and they stay crisp for months.
So, I wanted to try my hand at making some quick pickles at home. Especially since it gives you a chance to customize your flavorings. Like spicy pickles (I do! ✋)? Add in some red pepper flakes or sliced fresno chiles. Like them packed with flavor and extra zesty? Add in plenty of garlic and fresh dill.
So, if you've ever wanted to learn how to pickle cucumbers in vinegar, now's your chance! You'll be amazed at just how easy it is.
These Quick Pickled Cucumbers are not only the perfect topping for your Air Fryer Hamburgers, but they're also a simple staple you can enjoy within 1 hour. The punchy vinegar-based pickling brine is poured over sliced English cucumbers, left to sit, and then are ready to eat. It's that easy!
The best part? There's no special equipment or heat-sealed jars needed and you don't need to sanitize the jars ahead of time either. Just pour the room temperature brine over the vegetables in any clean mason jar you have at home and you're done!
Easy pickled cucumbers are packed with herbs, peppery and punch flavors, and just a hint of spice. This is all thanks to the handful of flavor-boosters in the brine, like:
Chile peppers
Peppercorns
Bay leaf
Mustard seeds
Dill
Even after months, the pickled cucumbers remain crisp, juicy, and fresh. Use them anywhere you love the briny bite of pickles! Hamburgers, hot dogs, in a Cubano sandwich, on a meat and cheese board, and so much more. There's always room for pickles on the table!
The best cucumbers for refrigerator pickles
Generally, small, thin-skinned cucumbers are best when quick pickling. English, Persian, or Japanese cucumbers are all great options.
Stay away from thick, waxy, and bumpy skinned cucumbers, like Kirby cucumbers. These are better off in canning pickle recipes because they stay crisp and crunchy for months and months. Your pickles would still taste amazing, but they wouldn't be ready to eat until at least 3 or 4 weeks.
What's in pickling brine?
The brine is made up of the classics, as well as a handful of flavor-boosters:
Vinegar – White vinegar is the traditional choice when pickling cucumbers. However, if you appreciate a deeper flavor profile, feel free to use rice vinegar or apple cider vinegar instead.
Water
Salt and peppercorns
Mustard seeds
Sugar – Both white or brown sugar work well.
Fresh herbs – Dill and a bay leaf are all you need.
Garlic and onion – Peeled garlic cloves and green onions infuse savory and peppery flavors right into the pickles.
Spicy peppers – Sliced jalapenos, fresno chiles, another spicy pepper, or a pinch of chili flakes add a subtle pop of heat! These can be omitted if you aren't a fan of spicy food.
How to make quick pickled cucumbers
Start with the brine. Mix the vinegar, water, salt, peppercorns, mustard, sugar, and bay leaf in a saucepan. Bring it up to a boil, then reduce the heat and let it simmer. Afterward, take it off the heat and let it cool slightly.
Slice the cucumbers. Either slice the cucumber into ½-inch thick rounds (for sandwich slices) or quarter each cucumber into spears.
Slice the jalapenos, peel the garlic cloves, and slice the white part of the green onions into rounds.
Pack it all into jars. Tightly pack the cucumbers, garlic, jalapenos, green onions, and dill into jars. Pour the cooled brine overtop to fully submerge the vegetables.
Cover the jars with a lid and leave them to pickle. Enjoy!
How long does it take to pickle cucumbers?
Usually, it can take 3 to 4 weeks to pickle cucumbers but these quick pickled cucumbers can be eaten in as little as 1 hour! They taste even better after they've sat overnight.
How long do they last?
The pickles can be used for up to 2 months. Just keep them in a sealed jar in the fridge to keep them tasting crisp and fresh.
What else can I pickle?
Just about anything you like! Use this brine or a variation of it to make pickled red onions, carrots, green beans, radishes, jalapenos, cauliflower, asparagus, and so much more.
Keep it simple – The brine is bursting with herbaceous and tart flavors with just a hint of spice. Instead of going all-out, keep it simple by omitting the chile peppers, peppercorns, bay leaf, and green onion.
Add color – A pinch of turmeric in the brine will add a nice golden color. It's a must when making homemade bread and butter pickles.
More herbs and seeds – Dill is a must but you can also use fresh thyme, oregano, rosemary, caraway seeds, etc.
Onions – Swap the green onions for a thinly sliced sweet onion or red onion.
Uses for homemade pickles
Hamburgers and hot dogs
Cheeseburger Soup
Dill Pickle Vodka Martini
Cubano Sandwiches
Game Day Grazing Board
Tea sandwiches
On their own as a briny snack
And anywhere that could use a punchy, briny bite!
Did you try these quick pickled cucumbers?
(or fresno chiles, optional)
(white parts only)
In a saucepan, combine the vinegar, water, salt, peppercorns, mustard, sugar and bay leaf. Bring to a boil over high heat. Reduce heat to low and simmer for 10 minutes. Remove from heat and let cool slightly while you prepare the vegetables.
Slice the cucumber into ½" thick slices. Slice the jalapeno, removing the ribs and seeds if you would like them less spicy. Peel and thinly slice the garlic. Slice the green onions.
Tightly pack the cucumbers, jalapenos, garlic, and dill sprigs in jars.
Add the cooled brine to the jars, being sure that the vegetables are completely submerged.
Cover and refrigerate for at least an hour, for the best flavor, let sit overnight.
Check out the web story here.
When you have a surplus of cucumbers, look no further than this easy recipe for Refrigerator Pickles. You can make them with just 10 minutes of prep and 6 hours to brine. You don't even need to turn on the stove!
If I'd known how ridiculously easy it was to make crispy, salty, dilly, tangy pickles, our refrigerator would never have been without them – especially in summer months. No cooking required. Zero. You don't even have to boil water.
Ingredients You Need to Make Refrigerator Pickles
Fresh Kirby Cucumbers: or other pickling cucumber or English cucumberWhite Vinegar: or apple cider vinegar or white wine vinegarKosher Salt: I used Diamond Crystal brand kosher salt – if using Morton brand, use half the amount called for in this recipe (Morton's Kosher salt is finer and saltier.)Fresh Dill: dried dill is not a good substitute here
What are Refrigerator Pickles?
Refrigerator Pickles are made without the typical steps of canning, made instead with raw cucumber slices and brine – very little effort and they're ready to eat within hours. The upside of this is that they easy to make and incredibly crispy and delicious. The downside is that they are not shelf stable, i.e., but will last several weeks in the refrigerator. (Good luck on them lasting that long!)
Kirby cucumbers and fresh dill sprigs look to me like pickles. But pickles require a whole canning process, right? A variety of spices, sterilized canning jars, boiled brine, and achieving a proper seal. So what's a lazy girl to do?
So I looked around at some of my favorite food blogs and came across this recipe from Deb of Smitten Kitchen. Ironic as Deb is the antithesis of lazy.
Could it really be this simple? Yes.
More FAQ
How long will refrigerator pickles last?
Store refrigerator pickles in the refrigerator (they're not shelf stable) and plan to enjoy them within one month.
How long do you let refrigerator pickles sit before eating?
These will be ready to enjoy in just 6 hours, but will be even more delicious (and stronger) the longer they stand in the refrigerator.
What kind of jars do you use for refrigerator pickles?
Use any clean (ideally sterilized) canning jar with a tight fitting lid.
What is the difference between refrigerator pickles and canned pickles?
Refrigerator pickles are quick and easy to make, but they don't go through the typical canning process and are not shelf stable. Where traditionally canned pickles can be stored at room temperature, refrigerator pickles must be stored in the refrigerator.
Do you have to water bath refrigerator pickles?
No. Just remember that they must be store in the refrigerator.
Why these aren't for everyone (i. , do you like pickles with BIG flavor?).
I'll warn you that these homemade pickles are intensely flavorful. If you're on the fence about liking vinegary, piquant dill pickles, these aren't for you. But should you be in the piquant pickle loving camp, you'll find these addictive.
Recipe Options
For a milder vinegar flavor, use apple cider vinegar or white wine vinegar instead of standard white vinegar.
To add a bit of spice, stir a teaspoon of whole black peppercorns, raw jalapeño slices, or ¼ teaspoon or more of red pepper flakes. You can also add celery seed, mustard seed, and/or whole garlic cloves for added depth of flavor. For a touch of sweetness, stir in a teaspoon or more of granulated sugar or honey.
More Pickling Recipes to Try
And if you happen to love the magnificent Mama Lil's Bread & Butter Pickles & Peppers: sweet pickles that are also spicy and salty. You can make something similar with a simple riff on this refrigerator pickle recipe – Spicy Bread and Butter Pickles.
And definitely don't miss my other quick pickles:
How to Make Refrigerator Pickles
Step 1: Fill clean jar with thinly sliced cucumbers (ideally Kirby).
Step 2: Stir brine ingredients together (kosher salt, vinegar and chopped fresh dill) and pour over cucumber slices.
Step 3: Close jar lid and shake to distribute brine. Refrigerate for at least 6 hours then enjoy!
Refrigerator Pickles Recipe Video
SUBSCRIBE TO VIDEOS
Easy Dill Lovers Refrigerator Pickles
When you have a surplus of cucumbers, look no further than this easy recipe for refrigerator pickles. You can make them with just 10 minutes of prep and 6 hours to brine. You don't even need to turn on the stove!
thinly sliced Kirby cucumber
chopped fresh dill
Add cucumber slices to a clean 1-pint jar.
Add vinegar, salt and dill. Close the lid and shake to distribute ingredients. (Liquid will not cover cucumber slices. Don't worry. The salt will draw liquid from the cucumbers in a couple of hours.)
Place the jar in the refrigerator and remember to shake it once or twice in the next few hours.
easy, gluten free, quick, summer, vegan, vegetarian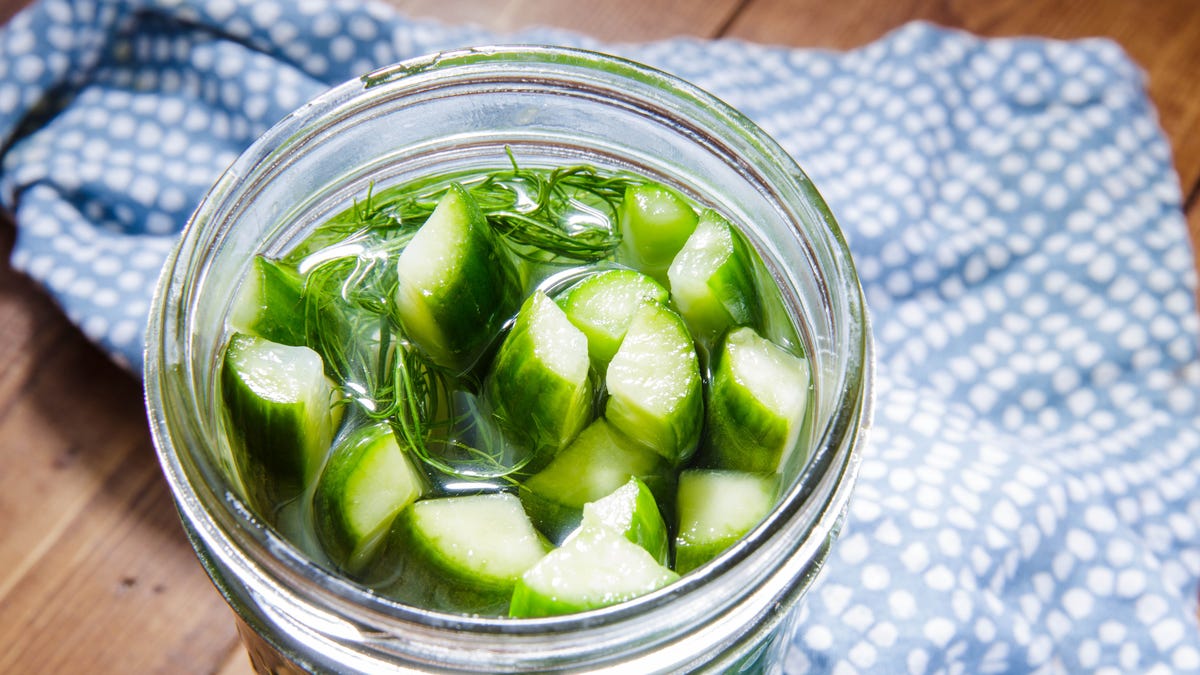 Pickles of all kinds are a good cook's shortcut to better meals. Sure they taste great on sandwiches or eaten right out of the jar, but they can add a ton of flavor and texture to a dish. The tart kick of a freshly made pickle combined with their crunch can be added to anything from fish tacos to scrambled eggs.
The best part is? Not only can you pickle almost every fruit and vegetable, but it is a very simple process that uses ingredients you almost definitely have in your house right now. Here's everything you need to know about pickling:
What kind of cuke should I use?
We highly recommend using either Persian or Kirby cucumbers. They're both classic and stay nice and crunchy. Use Persian if you're not so into seeds. That's what we used here. They also pack nicely because they're super straight and thin.
Does the type of vinegar matter?
Can I add other flavors?
Yes! We kept it simple by adding a few crushed garlic cloves and fresh dill, but feel free to get creative. Add mustard seeds, whole black peppercorns, crushed red pepper flakes, or even fresh chiles for a kick!
What jar should I use?
We love mason jars for the job, but you could even use an old (washed) pickle jar. Just always be sure to use a clean jar with a tight lid.
How long does it take to "pickle"?
We say wait at least 2 hours for the pickling to kick in, but if you can, try to give it 24 hours for max flavor.
How long will it last?
These pickles will last for up to a week in your refrigerator, but we doubt you'll have any left at that point 😉.
Once you've mastered these classic pickles, the possibilities are endless. Save the brine for your Thanksgiving turkey, make a savory cheesecake (we're serious), or just add to sandwiches!
Editor's note: This recipe was update to add a video and more information about the dish in the introduction on August 22nd, 2022.
Advertisement – Continue Reading Below
1lb.Kirby or Persian cucumbers
3cloves garlic, peeled and crushed
2large sprigs fresh dill
1 c.
3/4 c.
1 tbsp.
Nutrition Information
Per Serving (Serves 10)
0 g0 g0 mcg
Note: The information shown is Edamam's estimate based on available ingredients and preparation. It should not be considered a substitute for a professional nutritionist's advice.

Rian Handler is a food writer, editor, and recipe developer with a fierce love for sour gummies.
Homemade cucumber pickles are the best way to add flavor and crunch to your sandwiches, salads, and side dishes. Not only are they delicious, but they are incredibly simple to make!
Pickled cucumbers are an iconic favorite side and these quick pickles take only a few minutes to put together.
They are simply cucumbers that have been pickled in a pickling brine, vinegar, or other solution.
The delicious pickles are left to ferment for a period of time just like our grandmothers used to make. And they taste amazing with meats or other fresh vegetables.
Pickles have been around for thousands of years and are a popular addition to burgers and sandwiches, such as my French Dip Sandwiches.
If you want the best cucumber it is for this is one that has been pickled to perfection and is crispy and snappy.
Homemade pickles can be made in our own home kitchen with little effort and taste even better than those found at the grocery store making the best pickles.
Plus, you can use thick slices or thin slices of cucumber to suit your personal fancy.
Why you'll Love This Pickled Cucumber Recipe
You will love this recipe and so will your family because you can flavor and slice your pickles exactly as you prefer.
Kids typically love pickles as an easy midday snack.
They elevate the flavor of any sandwich while adding a nice texture as well.
They taste amazing by themselves as a light snack and on a variety of sandwiches such as a hot juicy burger right off of the grill.
Fresh cucumbers are the perfect addition to a picnic basket as well, especially if they are pickled.
This is our favorite way to take simple recipes and elevate them.
If you want some easy dinners, grill a meat, whip up a salad, and add a side of pickled or spicy cucumbers.
Tell me about this Quick Pickled Cucumbers Recipe
Taste- Pickled cucumbers taste great with a sandwich, make a great side dish, are great additions to a charcuterie board and are even delicious as a snack all by themselves!
Texture- They are a great addition to your summer meals to add extra flavor and some crunch.
Ease- This cucumber pickle is easy to make and are ready to eat within three days with little time, ingredients, and preparation making for a quick pickled cucumber recipe.
Time- Most of the time involved is spent with the jar resting in the refrigerator so you get the best flavor.
Ingredients for Pickled Cucumbers
Water– Filtered water is best because it contains less chemicals than tap water.
White vinegar– You can use white vinegar or apple cider vinegar for this recipe.
Sugar– Normal, granulated (raw) sugar, caster (superfine) sugar (which dissolves quicker), and regular white sugar can also be used for this recipe.
Salt– To get crisp pickles use only kosher or sea salt. Iodized (table) salt will turn ferments black and mushy.
Cucumbers– Fresh cucumber varieties such as gherkin, English, Kirby, and Persian cucumbers can be used for this recipe depending on what type of pickles you prefer.
Cloves of minced garlic– You can use fresh garlic or garlic from a jar for this recipe.
Heads of fresh dill– You can use fresh dill or you can substitute dry dill weed to add to your  pickled cucumbers.
How to Make Quick Pickled Cucumbers in three easy steps
Prepare the vinegar brine Stir water, vinegar, sugar, and salt together in a medium saucepan over high heat. Bring to a boil; remove from heat and cool completely.
Combine cucumber slices, garlic cloves, and fresh dill in a large glass mason jar. Pour cooled vinegar mixture over cucumber mixture. Seal canning jar with lid.
Refrigerate for at least 3 days and enjoy within 1 week of making them.
Good Cucumbers for Pickling
Gherkin Cucumbers– a small variety of cucumber that is the perfect size for snacking
English Cucumbers– these are long and thin and come covered in plastic and make the perfect round or oblong pickle for sandwiches
Kirby Cucumbers– these cucumbers are wonderfully crunchy for eating raw but they are flavorful enough for pickling as well and have a thicker skin that remains nice and crunchy
Persian Cucumbers– these are smaller cucumbers with smooth skin and less water content
Best Ways to Enjoy Crisp Pickles
Hamburgers- great on the burger or on the side
Hotdogs- great addition to your hotdog as an alternative to relish
Fried chicken sandwiches- adds a cool kick to your chicken
Cold cut sandwiches- a perfect addition to any deli meat sandwich
Hot submarine sandwiches- a nice complement to any hot deli meat sandwich as well
Pulled pork sandwiches- a great side to a hot sandwich that adds a cool crunch
Potato Salad- dice and add to your favorite recipe
With deviled eggs- pickles and eggs are an enjoyable afternoon snack
On a charcuterie board- pickles are a great compliment to your boards
Egg salad- pickles compliment cold salads and eggs well
Tuna salad- pickles add a delicious crunch and tang to tuna salad
As a snack- So good they can be enjoyed all by themselves or on a cracker with a slices of horseradish
With cheese- pickles and your favorite cheese make for a great snack
Tips for getting the Best Pickled Cucumbers
Choose the right variety choosing thicker skin over thinner skinned varieties.
Look for consistent sizes of cucumbers (not too big and not too small) which will help with uniform crunchiness over all.
The age of the cucumber, which can usually be determined by size, again sticking to medium sized cucumbers, will have the perfect thickness of skin.
Use fresh unwaxed cucumbers and kosher or sea salt for crisp pickles.
Be sure to let the brine cool completely before combining with the cucumbers.
I know that it is tempting but be sure to allow your pickles to sit and ferment for three days soaking up all of the seasonings and flavor before eating.
Enjoy your pickled cucumbers within a week of making them.
Variations for Easy Pickled Cucumbers
Spicy Refrigerator Pickles- Add ½ teaspoon of red pepper flakes to give a spicy kick to these easy refrigerator pickles.
Sweet Refrigerator Pickles- If your family loves sweet pickles, add a ¼ cup of white sugar to the brine before adding the cucumbers to it.
Substitutions and Add Ins for Crunchy Pickles
Dill Pickles- 2 tablespoons dry dill weed for fresh dill
Black Peppercorns- Add whole peppercorns for ultimate flavor
Other tasty additions- a teaspoon mustard seeds or thyme
Quick Pickling- Add apple cider vinegar for white vinegar
Add in sliced red onion for a bit of tang
Celery Seeds- These seeds have a strong flavor and give an earthy taste to your crispy pickles.
Recipe for Cucumber Pickles
Easy Recipe for Pickled Cucumbers
Ferment in Refrigerator
In a medium saucepan, stir water, vinegar, sugar, and salt together. Bring it to a low boil and then remove from heat.
In a large mason jar, add your cucumber slices, garlic, and fresh dill.
Allow the brine to cool and then pour it over the jar of cucumbers. Make sure the liquid covers the cucumbers completely.
Refrigerate the cucumbers for 3 days and eat them within one week of making them.
Choose the right variety choosing thicker skin over thinner skinned varieties.
Look for consistent sizes of cucumbers (not too big and not too small) which will help with uniform crunchiness over all.
The age of the cucumber, which can usually be determined by size, again sticking to medium sized cucumbers, will have the perfect thickness of skin.
Use fresh unwaxed cucumbers and kosher or sea salt for crisp pickles.