Want my FREE batch cooking guide?
Put everything for this recipe into the slow cooker, and it not only creates a rich chocolate sponge, but also it's own thick and delicious chocolate custard hiding underneath! What is this magic?!
The Slow Cooker Chocolate Orange Pudding takes 5 minutes to prep, and then can be left to do its thing in the slow cooker. In less than 3 hours you have the chocolate orange dessert of dreams.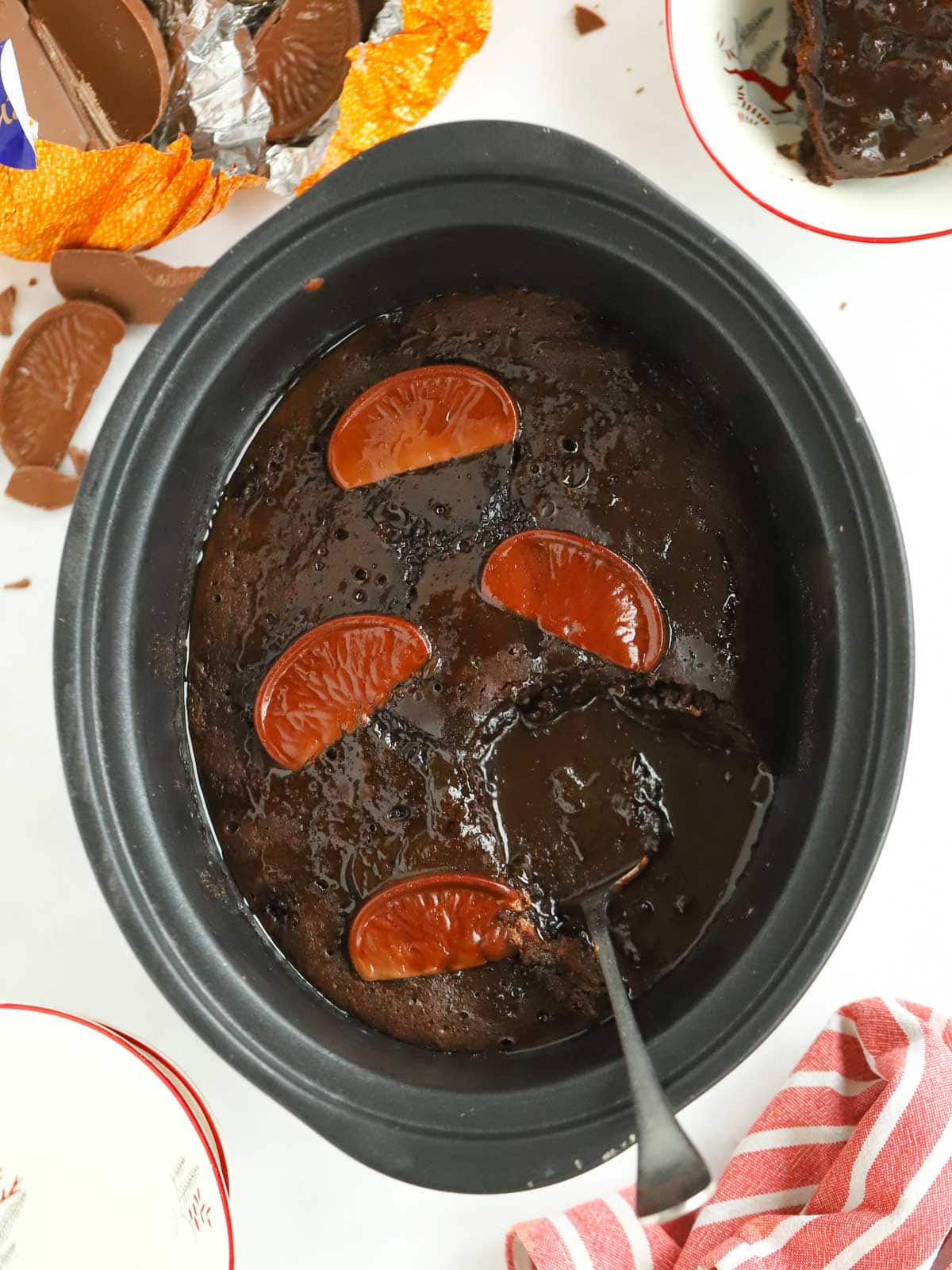 I'm not exaggerating when I say I think this might be the BEST thing I've ever made in my slow cooker!
Not only is it soooo good, it's also perfect when you're cooking for guests because you can get it all ready hours in advance and then serve it straight out of the pan into bowls.
I love to make this at Christmas, when I need some easy dessert options that don't take any time or need for kitchen space – or a place in the oven! This one is perfect for chocolate lovers and is just the ultimate comfort food at any time of year though.
Why you'll love this recipe
⭐️ After a little prep it cooks itself
⭐️ Oozing chocolatey deliciousness
⭐️ Perfect for cooking for guests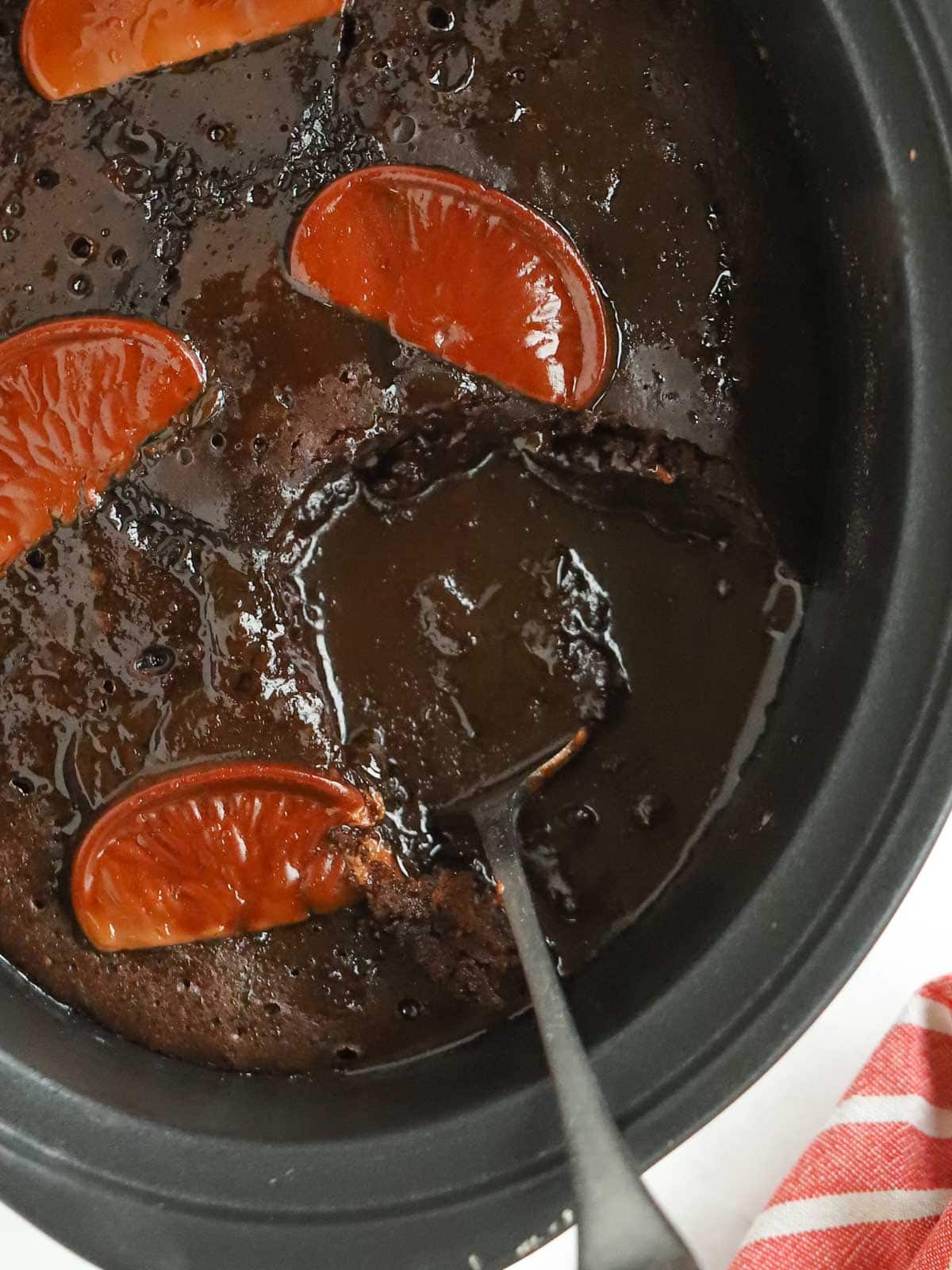 About this Slow Cooker Pudding
This recipe is a bit like magic. Instead of dumping in all of the ingredients and then mixing together, with this you sort of carefully layer them up, then pour over boiling water gently – at which point it will all look a bit odd, but keep the faith!
Then you can leave the pudding up to about 2.5 hours it's firm in the middle, and serve up straight from the slow cooker pan.. Add some ice cream on the side and you're done! (Did I already mention how utterly heavenly this pudding is?!)
Other delicious chocolatey slow cooker recipe to try in winter is my Slow Cooker Hot Chocolate. Or if it's a slow cooker dessert you're after, try my Slow Cooker Apple Crumble.
What you'll need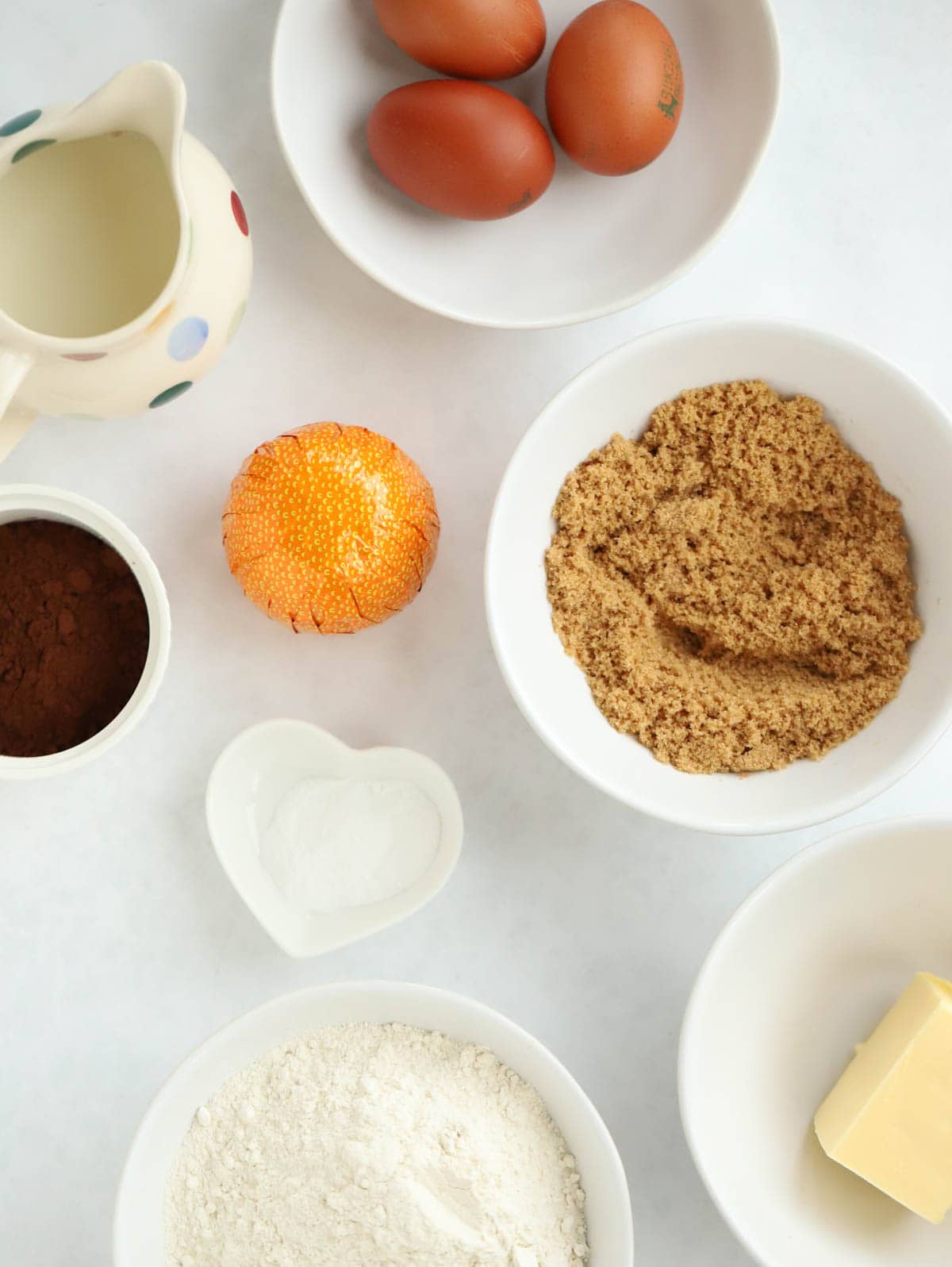 Butter – Salted or unsalted is fine.
Self-raising flour
Soft light brown sugar
Cocoa powder
Baking powder – Don't forget this, it helps to make the pudding rise!
Eggs – Medium or large.
Orange Extract – This is available from the baking department of most supermarkets now. It adds heaps of flavour.
Milk – Semi-skimmed or whole milk.
Terry's chocolate orange
Boiling water
How to make it
2. Tip the mixture into the slow cooker and press in the Terry's Chocolate Orange segments.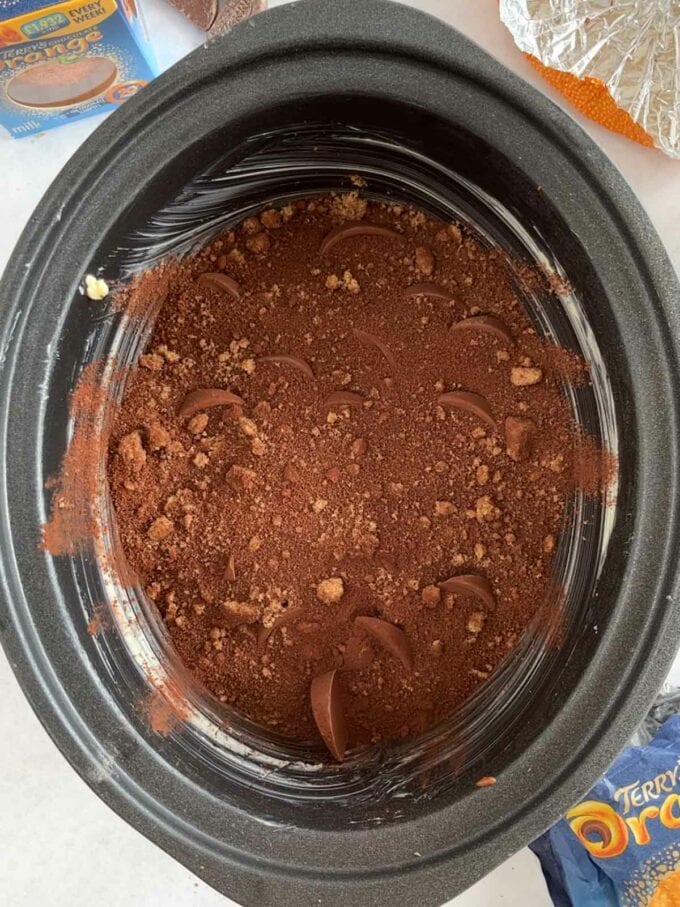 3. Mix cocoa powder and brown sugar together and sprinkle evenly over the top.
4. Gently pour the boiling water over the top of the pudding, put the lid on, then cook as per the recipe card below. Add a few more segments on top and serve.
Leftovers
In the fridge You can keep this recipe in the fridge for 3 days. Reheat fully in the microwave before serving.
Top tip
If your slow cooker is the ceramic type (that is NOT non-stick) I would recommend lining it with baking paper before cooking this cake. Just squash a large sheet into the shape of the cooker (so there are no gaps for the sauce to escape). There will be no need to use the butter to grease it in this case.
FAQ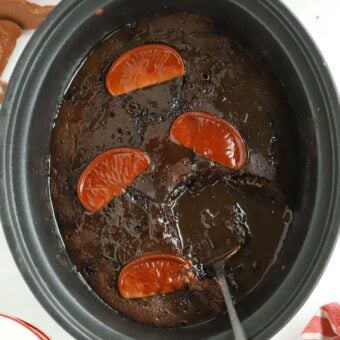 This slow cooker pudding is the ultimate dessert indulgence, with an oozing chocolatey sauce and delicious sponge filling. Make it ahead of time and leave to cook until it's time to serve.
For the sponge pudding mixture
Grease the slow cooker bowl very well with the 20g butter.
In a large bowl, mix all of the sponge pudding ingredients together until smooth. Put into the greased slow cooker and smooth out.
Add chocolate orange segments evenly on top, pressing them into the mixture. (Keep a few segments back for decoration at the end.)
In another small bowl, mix the sugar and cocoa powder for the topping. Sprinkle this evenly over the top of the cake batter.
Carefully pour over the boiling water. (It will all look a bit odd at the moment, but keep the faith!)
Put the lid on the slow cooker and cook on HIGH for 1.5 – 2.5 hours until the cake is firm in the middle.
Lining: If your slow cooker is the ceramic type (and is NOT non-stick) I would recommend lining it with baking paper before cooking this cake. Just squash a large sheet into the shape of the cooker (so there are no gaps for the sauce to escape) there will be no need to use the butter to grease it.
Fruity, creamy and delicious this Mandarin Orange Pie is a no-bake dessert recipe that we crave at the holidays and potlucks!
Also known as Mandarin Orange Icebox Pie and Pig Pickin' Pie this, cream pie dessert with mandarin oranges and crushed pineapple is memorable! Very similar to the icing on our Pig Pickin Cake the flavors are bright and creamy.
Our Mandarin Orange Pie Recipe is chilled and perfect for hot days when you don't want to get weighed down by something heavy.
Although this no-bake pie is made without jello it reminds me or our Orange Delight and the frosting on our Orange Dreamsicle Cake.
The sweet fruit flavors play so well with the instant vanilla pudding and are made creamy by the sour cream and fluffier by the Cool Whip. Whether you pour this concoction into a pie crust or serve as pudding with an angel food cake it's so delicious!
Ingredients Needed
Sour Cream – Makes the filling super creamy and adds just a little tang.
Instant Vanilla Pudding – I use the regular kind, but the dessert can be made sugar free by using a sugar free pudding. One big box works great, but two small ones work fine too.
Can of Crushed Pineapple – Ultra fine pieces of sweet pineapple in natural juice is my favorite flavor in this pie. Do not drain the pineapple as the juice will mix with the pudding mix to help it dissolve.
Mandarin Oranges – Pick up a can in lite juice and be sure to drain well. I like to get a bigger can and keep some to garnish the pieces when serving.
Cool Whip – Or the store brand of whipped topping should be defrosted and gently folded in until smooth and creamy.
Graham Cracker Crust – Is the easiest serving method, but enjoying as a dip with graham crackers works fine too.
How to Make Pig Pickin Pie
In a medium sized mixing bowl stir together drained mandarin oranges, sour cream, instant pudding mix and undrained pineapple.
Then add whipped topping and fold in.
Continually scrape the sides and bottom of the bowl.
Fold the spatula into the center of the mixture gently and repeatedly until everything is the same color.
Pour into a pie crust and garnish with extra slices on mandarin oranges.
If using a purchased crust turn the plastic liner on top upside down. The inverted lid serves as a cover for the pie.
Store in the refrigerator for up to 3 days. Taste best chilled!
More Easy No-Bake Dessert Recipes
Lime Jello Salad is a cool, green classic dessert that is still incredibly popular!
Cherry Cheesecake Pie also uses a graham cracker crust from the store and is one of my mom's best recipes.
No-Bake Pumpkin Pie is great in a crust or as a pumpkin flavored dip.
Smores Pie uses marshmallow creme to give the creation a little something extra between the chocolate and graham cracker crust.
instant vanilla pudding
lite juice, drained
graham cracker pie crust
In a large mixing bowl stir together sour cream, crushed pineapple (do NOT drain), drained oranges and pudding mix.
Fold in whipped topping and mix well.
Chill until firm enough to spoon into a pie crust or serve over angel food cake. Enjoy!
As an Amazon Associate I earn from qualifying purchases.
Reader Interactions
Save space in your oven on Thanksgiving with this Crock-Pot sweet potato casserole.
Crock-Pot Sweet Potato Casserole Ingredients
These are the ingredients you'll need for this slow cooker sweet potato casserole:
· For the sweet potatoes: canned sweet potatoes, butter, white sugar, brown sugar, milk, eggs, and orange juice· For the topping: chopped pecans, all-purpose flour, more brown sugar, and more butter
How to Make Crock-Pot Sweet Potato Casserole
You'll find the full, step-by-step recipe below — but here's a brief overview of what you can expect when you make this sweet potato casserole in a Crock-Pot:
1. Make the sweet potatoes: Place the drained sweet potatoes in a bowl and mash until smooth. Add butter and sugars, then add the remaining ingredients (milk, eggs, and orange juice) until they're well-combined.2. Make the topping: Combine the chopped pecans, brown sugar, flour, and melted butter in a small bowl.3. Cook the casserole: Transfer the sweet potatoes in the prepared slow cooker. Sprinkle the topping over the sweet potatoes. Cover and cook on high for three to four hours.
Can You Make This Sweet Potato Casserole In the Oven?
If you'd rather make this sweet potato casserole in the oven, you totally can! Just layer the sweet potatoes and topping in a prepared baking dish, then bake at 325 degrees F for 30 minutes (or until the topping is golden brown).
More Thanksgiving Slow Cooker Inspiration
· Slow Cooker Stuffing· Slow Cooker Mashed Potatoes· Slow Cooker Green Bean Casserole
Allrecipes Community Tips and Praise
"I love this recipe," raves suebee2001. "I have been using it for a few years or so. I like the convenience of using the slow cooker, which leaves more room in the oven for other dishes. It has been a hit on holidays! I also like that it is so easy to make."
"This is delicious and VERY easy," according to DETSHER77. "I omitted the orange juice and added vanilla extract. Also I doubled the topping which really makes the dish."
"Delicious and so easy to make," says MARIANNEH. "I added some pumpkin pie spice, but other than that I stuck with the recipe. A big hit at our family Thanksgiving dinner."
Editorial contributions by Corey Williams
Combine 2 cups sugar, water, and cinnamon in a saucepan over medium-high heat. Squeeze in orange juice and add juiced halves. Bring to a boil and boil vigorously for 8 minutes. Remove from heat and allow to cool while you prepare the cake.
Preheat the oven to 350 degrees F (175 degrees C). Lightly grease a 9×13-inch baking pan with some olive oil.
Remove phyllo sheets from the package. Tear each sheet roughly into shreds and pile up in the baking pan. Let shredded phyllo dry out a little while you prepare the remaining ingredients. Cut 1 orange in half, and slice 1 half into very thin half-moons to garnish the cake. Zest and juice the remaining 2 1/2 oranges.
Cook's Notes
Ensure that you get the wet yogurt wet mixture evenly distributed throughout the phyllo sheets; if you don't, you may end up with some doughy spots throughout the cake. To make this easier to avoid, be sure to dry the shredded phyllo sufficiently before adding the wet mixture.
When pouring the syrup over the cake, ensure you pour cool syrup over the hot cake (not hot syrup over hot cake). You can use a ladle to slowly pour it over, letting it soak in between each addition.
Our decadent slow-cooker dessert recipes—including chocolate-loaded puddings and dreamy cheesecakes—won't disappoint. Simply flip on your Crockpot, and enjoy!
Many people don't think of using a slow cooker to make dessert, but I like having this hot, scrumptious apple treat waiting to be served when we finish up our dinner. I start it in the morning and don't think about it all day. —Jacki Every, Rotterdam, New York
Rice Pudding
For an old-fashioned sweet treat just like Grandma used to make, try this slow-cooker rice pudding. It has a rich cinnamon flavor and is made wonderfully light after whipped cream is stirred in at the end. —Jennifer Bennett, Salem, Indiana
Molten Mocha Cake
When I first made my decadent slow-cooker chocolate cake, my husband's and daughter's expressions said it all. Now it's one of my daughter's favorites. Later, I gave one of these cakes to our next-door neighbors. Turns out their teenage son, who'd answered the door, ate the whole thing without telling anyone else about it! —Aimee Fortney, Fairview, Tennessee
Pineapple Upside-Down Dump Cake
This dump cake recipe is wonderful topped with vanilla ice cream or whipped cream. It works well with gluten-free and sugar-free cake mixes too. —Karin Gatewood, Dallas, Texas
Fudgy Peanut Butter Cake
I clipped this easy peanut butter cake recipe from a newspaper years ago. The house smells fantastic while it's slow cooking. My husband and son enjoy the cake with ice cream and nuts on top. —Bonnie Evans, Norcross, Georgia
Gooey Peanut Butter-Chocolate Cake
Here in Wisconsin, winter weather is extreme. A hot dessert is just the thing to warm us up. This slow-cooked chocolate cake gets its crunch from a sprinkling of peanuts. —Lisa Erickson, Ripon, Wisconsin
Chocolaty Peanut Clusters
I turn to my slow cooker to prepare these convenient chocolate treats. Making candies couldn't be any easier! —Pam Posey, Waterloo, South Carolina
Old-Fashioned Tapioca
My family loves traditional tapioca, but I don't always have time to make it. So I came up with this simple recipe that lets us enjoy one of our favorites without all the hands-on time. —Ruth Peters, Bel Air, Maryland
Minister's Delight
A friend gave me this recipe several years ago. She said a local minister's wife fixed it every Sunday, so she named it accordingly —Mary Ann Potter, Blue Springs, Missouri
Slow-Cooker Cinnamon Roll Pudding
A slow cooker turns day-old cinnamon rolls into a comforting, old-fashioned dessert. It tastes wonderful topped with lemon or vanilla sauce or whipped cream. —Edna Hoffman, Hebron, Indiana
Cinnamon Spiced Apples
If you're feeling festive, scoop some vanilla ice cream over a bowl of these cinnamon spiced apples. They're homey, aromatic and just plain heavenly. —Amie Powell, Knoxville, Tennessee
Black and Blue Cobbler
It never occurred to me that I could bake a cobbler in my slow cooker until I saw some recipes and decided to try to make my favorite fruity dessert. It took a bit of experimenting, but the tasty results are "berry" well worth it. —Martha Creveling, Orlando, Florida
Caramel Pecan Pumpkin Cake
Use your slow cooker as a cake maker for a seriously yummy dessert that is easy enough for any weekday and tasty enough for a holiday meal. It frees up oven space, too. —Julie Peterson, Crofton, Maryland
Butterscotch-Pecan Bread Pudding
Bread pudding fans just might hoard this yummy butterscotch version. Toppings like whipped cream and a butterscotch drizzle make this dessert absolutely irresistible. —Lisa Varner, El Paso, Texas
Tropical Cranberry Cobbler
The sunny island flavors of pineapple and orange go so well with the tart cranberries in this dessert. A scoop of vanilla ice cream makes it a tasty treat. —Jeanne Holt, St. Paul, MN
Butterscotch Apple Crisp
This sweet treat is a cozy way to warm up winter nights. Sliced apples are sprinkled with a tasty topping made with oats, brown sugar and butterscotch pudding mix. Served with ice cream, the dessert is always well received. —Jolanthe Erb, Harrisonburg, Virginia
Caribbean Bread Pudding
A completely unexpected dessert from the slow cooker, my bread pudding is loaded with wonderful tropical flavors. I like to garnish it with a slice of fresh pineapple, whipped cream and a cherry—just like a pina colada! —Elizabeth Doss, California City, California
Slow Cooker Fruit Compote
I use canned goods and my slow cooker to whip up an old-fashioned treat that's loaded with sweet fruits. It makes a cozy dessert or even a change-of-pace side dish for large parties. —Mary Ann Jonns, Midlothian, Illinois
Raisin Bread Pudding
My sister gave me the recipe for this delicious bread pudding that's dotted with raisins. It's a big hit with everyone who tries it. A homemade vanilla sauce comes together quickly on the stovetop and is drizzled over warm servings of this old-fashioned, tasty treat. —Sherry Niese, McComb, Ohio
Slow-Cooker Bananas Foster
The flavors of caramel, rum and walnut naturally complement fresh bananas in this classic dessert made easy! —Crystal Jo Bruns, Iliff, Colorado
Slow-Cooker Tequila Poached Pears
It's an unusual dessert to make with tequila, but it is deliciously refreshing with fresh pears and mint. Bring out this creative sweet when you want to impress dinner guests. —Nancy Heishman, Las Vegas, Nevada
Crunchy Candy Clusters
These cereal and marshmallow clusters are so simple that I make them for the holidays each year, as my family looks forward to them. —Faye O'Bryan, Owensboro, Kentucky
Pumpkin Cranberry Bread Pudding
Savor your favorite fall flavors with this scrumptious bread pudding, served warm with a sweet vanilla sauce. Yum! —Judith Bucciarelli, Johnson, New York
Slow-Cooker Flan in a Jar
Spoil yourself or the people you love with these delightful portable custards. They're a cute and fun take on the Mexican dessert classic. Tuck a jar into your lunchbox for a sweet treat. —Megumi Garcia, Milwaukee, Wisconsin
Coconut Mango Bread Pudding with Rum Sauce
All the fun flavors of Puerto Rico come together in a dessert that's both exotic and familiar. Topped with a brown sugar rum sauce, it's even better with vanilla ice cream or whipped cream. —Jennifer Jackson, Keller, Texas
Slow-Cooker Mixed Fruit & Pistachio Cake
This cake is easy to make on a lazy day and is a guaranteed delicious dessert that can be enjoyed for several days—if you can make it last that long. It's also wonderful for fall weather and the holidays. —Nancy Heishman, Las Vegas, Nevada
Caramel Apple Fondue
I serve this warm caramel dip with sliced apples while we're watching football games on Sunday afternoons. It really warms us up. —Katie Koziolek, Hartland, Minnesota
Chocolate Peanut Drops
This is a recipe that I got from a friend, who got it from her sister, and between the three of us we've handed it out everywhere! The chocolaty candies couldn't be easier to make in the slow cooker and, depending on the size of your spoon, you can get dozens of candies from one batch. So easy and great for gifts.—Anita Bell, Hermitage, Tennessee
Warm Rocky Road Cake
When it's warm, this reminds me of super moist lava cake. And until I made this, I didn't think a slow-cooker cake could be so attractive. It's a real winner. —Scarlett Elrod, Newnan, Georgia
Cinnamon-Apple Brown Betty
If I had to define the "Betty" of Apple Brown Betty, she'd be a smart and thrifty Southern gal with a knack for creating simple, soul-comforting desserts. In this sweet dish, spiced apples are slow-cooked between layers of cinnamon-raisin bread cubes for a wonderful twist on the traditional oven-baked classic. —Heather Demeritte, Scottsdale, Arizona
Slow-Cooker Peach Crumble
I look forward to going on our beach vacation every year, but I don't always relish the time spent cooking for everybody. This slow-cooker dessert (or breakfast!) gives me more time to lie in the sun and enjoy the waves. Melty ice cream is a must. —Colleen Delawder, Herndon, Virginia
Slow-Cooker Cherry Buckle
I saw this recipe on a cooking show and came up with my own version. When the comforting aroma of this homey dessert drifts through the house, it's hard not to take a quick peek inside the slow cooker —Sherri Melotik, Oak Creek, Wisconsin
Apple Butterscotch Crisp
I give this classic dessert a rich twist with butterscotch pudding. The warm apple filling bubbles to perfection in a mini slow cooker. —Jolanthe Erb, Harrisonburg, Virginia
Strawberry-Banana Pudding Cake
This luscious pink pudding cake is so easy to put together. Top it with ice cream and fresh fruit, and you have one very happy family. —Nadine Mesch, Mount Healthy, Ohio
Slow-Cooked Strawberry Rhubarb Sauce
This tart and tangy fruit sauce is excellent over pound cake or ice cream. I have served this topping many times and have gotten rave reviews from friends and family. —Judith Wasman, Harkers Island, North Carolina
Chocolate Espresso Lava Cake
When a chocolate craving hits, I whip up this cake my aunt inspired. It's gooey and saucy but not crazy sweet. It's also potluck-perfect. —Lisa Renshaw, Kansas City, Missouri
Warm Cinnamon-Apple Topping
You'll quickly warm up to the old-fashioned taste of this cinnamon-apple topping. Spoon it over vanilla ice cream or slices of pound cake. —Doris Heath, Franklin, North Carolina
Amaretto Cherries with Dumplings
You can't beat the combination of almond flavor with cherries. These light and fluffy dumplings are heavenly. Topped with the sauce and ice cream, it makes for a scrumptious dessert. —Taste of Home Test Kitchen, Milwaukee, Wisconsin
Apple Pie Oatmeal Dessert
Warm and comforting oatmeal desserts bring back memories of times spent with my family around the kitchen table. I serve this dish with sweetened whipped cream or vanilla ice cream as a topper. —Carol Greer, Earlville, Illinois
Cinnamon-Raisin Banana Bread Pudding
My family likes to change the toppings for this luscious dessert. We use berries, chopped nuts or fruit, ice cream, whipped cream or caramel topping. If I'm making the dessert for adults only, I love to add a little rum to the milk mixture to give the pudding extra flavor. —Aysha Schurman, Ammon, Idaho
Slow-Cooker Rhubarb Strawberry Sauce
We recently started growing our own rhubarb, and we live in a part of Oregon where strawberries are plentiful. I created this to drizzle over ice cream and filled a crisp with the rest. —Kim Banick, Salem, Oregon
Cherry & Spice Rice Pudding
I live in Traverse City, the Cherry Capital of the World. What better way to celebrate our wonderful orchards than by using plump, tart dried cherries in my favorite desserts? This slow-cooked rice pudding recipe always turns out wonderful. —Deb Perry, Traverse City, Michigan
Elvis' Pudding Cake
I love the flavors of peanut butter and banana together, and this slow-cooker pudding cake is just like eating an Elvis sandwich, only sweeter! Banana chips add a surprisingly crunchy texture; find them near the dried fruit in your grocery store. —Lisa Renshaw, Kansas City, Missouri
Bread Pudding with Bourbon Sauce
There's nothing better than this comforting bread pudding recipe on a cold, wintry day. The bourbon sauce makes the dessert taste special, but it's so easy to prepare—the slow cooker does most of the work! —Hope Johnson, Youngwood, Pennsylvania
Tropical Compote Dessert
To make a more adult version of this recipe, use brandy instead of the extra tropical fruit juice. —Taste of Home Test Kitchen
Burgundy Pears
These warm spiced pears elevate slow cooking to a new level of elegance, yet they're incredibly easy to make. Your friends won't believe this fancy-looking dessert came from a slow cooker. —Elizabeth Hanes, Peralta, New Mexico
Pumpkin Pie Pudding
My husband loves anything pumpkin, and this creamy, comforting pumpkin pudding recipe is one of his favorites. We make our easy pudding all year long, but it's especially nice in the fall. —Andrea Schaak, Bloomington, Minnesota
Cranberry Stuffed Apples
Cinnamon, nutmeg and walnuts add a homey autumn flavor to these stuffed apples, while the slow cooker does most of the work. —Graciela Sandvigen, Rochester, New York
Slow-Cooker Berry Cobbler
I adapted my mom's yummy cobbler recipe for slow cooking. With the hot summers here in Arizona, we can still enjoy this comforting dessert, and I don't have to turn on the oven. —Karen Jarocki, Yuma, Arizona
Gingerbread Pudding Cake
Super-moist cake gets all spiced up in this scrumptious slow-cooked dessert. If you want it a little sweeter, drizzle it with maple syrup. —Barbara Cook, Yuma, Arizona
Slow-Cooked Blueberry Grunt
If you love blueberries, then you can't go wrong with this easy dessert. For a special treat, serve it warm with vanilla ice cream. —Cleo Gonske, Redding, California
Apple-Nut Bread Pudding
Traditional bread pudding gives way to autumn's influences in this comforting dessert. I add apples and pecans to this slow-cooked version, then top warm servings with ice cream. —Lori Fox, Menomonee Falls, Wisconsin
Make sure you look at our collection of the best slow cooker cake recipes.
Pink Grapefruit Cheesecake
Cheesecake from a slow cooker? It's true! I experimented a few times to turn this iconic dessert into a slow-cooker classic. Give it a try. You'll be amazed at the results! —Krista Lanphier, Milwaukee, Wisconsin
Chocolate Pudding Cake
This rich, chocolate pudding cake is one of my favorites. I like to serve it warm with a scoop of vanilla ice cream. Whenever I take it to parties, everybody wants the recipe. —Paige Arnette, Lawrenceville, Georgia
Slow Cooker Spiced Poached Pears
Some of the many reasons I love this dessert recipe are: it's on the healthy side; it's easy to make; the recipe can be mostly prepared in advance of company arriving; and the presentation is lovely.—Jill Mant, Denver, Colorado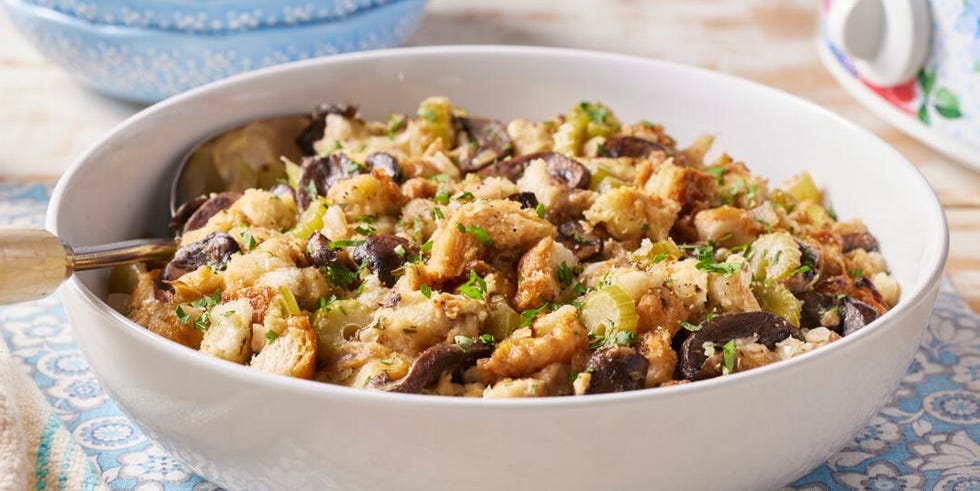 Planning an epic Thanksgiving menu is no easy feat—there's the mashed potatoes, stuffing, cranberry recipes, and other Thanksgiving sides to think about. (And don't even get us started on the turkey. That thing will take up precious oven space for nearly the entire day!) So this year, make your holiday a little less stressful by preparing a few Thanksgiving slow cooker recipes instead.
Here, you'll find creative ways to put your handy slow cooker to good use—so you can save both time and space in the oven. From appetizers (like slow cooker dips) to Crock-Pot stuffing, green beans, and mac and cheese, this list of slow cooker recipes has everything you need for the holidays from start to finish. There's even a recipe for slow cooker turkey that's perfect for a smaller Thanksgiving dinner. Of course, in planning any festive feast, we can't forget about the Thanksgiving desserts. Ahead, you'll find fun twists on apple crisp and pecan pie—both of which can be made right in the Crock-Pot! Plus, your slow cooker is a great tool for keeping seasonal cocktails warm. Try the slow cooker cider or spiced wine for a cozy drink your guests will love.
Just remember, Thanksgiving doesn't have to be a stressful holiday. The key is just to get dinner on the table while still enjoying time with family and friends. "I never feel overwhelmed at Thanksgiving!" Ree Drummond says, "To me, that defeats the purpose of a holiday."
Advertisement – Continue Reading Below
Crock-Pot Stuffing
There's no rule that says stuffing needs to be cooked in the turkey. In fact, this slow cooker stuffing ensures you'll have a moist, creamy interior and toasty sides every time.
Get the Crock-Pot Stuffing recipe.
Slow Cooker Brisket
Feeding a crowd? You may want to have another main course to serve alongside your turkey and this slow cooker brisket is just the thing. It's rich, tender, and so easy to prepare thanks to a shortcut ingredient.
Get the Slow Cooker Brisket recipe.
Slow Cooker Turkey Chili
This comforting chili is perfect for a casual Friendsgiving or for anyone who's a fan of easy make-head meals. The whole thing can be prepared and stored in the freezer for up to three months!
Get the Slow Cooker Turkey Chili recipe.
Beatriz da Costa
Are your turkey and ham competing for cooking space? Consider making the latter in the slow cooker this year. You'll still have a beautifully glazed ham and the main bird can finish up in the oven.
Get the Slow Cooker Ham recipe.
This sweet potato pie recipe takes simple tubers and turns them into a smooth and luscious filling bursting with brown sugar and bold spices. The flavorful mixture bakes in a buttery homemade pie crust. It's a tasty dessert for any occasion!
Table of Contents
Sweet potatoes are unique root vegetables that you can use in sweet and savory dishes. This recipe is similar to making a pumpkin pie, but the main ingredient is more readily available throughout the year. When cooked, the flesh becomes creamy and loaded with caramel notes. It makes for an ideal base filling.
To enhance the tuber's natural sweetness, I start them in a cold oven and bake them until fork-tender. The combination of sugars, orange juice, and warm spices in the custard-like filling turns each slice into an irresistible dessert. You'll be happy to know that you can prepare some components ahead of time to make assembly easier.
Step 2. Break down the butter
Step 3. Hydrate the dough
Making a sturdy pie crust
I use a combination of flour, salt, butter, and water, a traditional Pâte Brisée pie crust. It makes a sturdy structure to hold the wet filling but is still tender. Cut the butter into 1/4-inch pieces, then incorporate it into the flour using an electric mixer until coarse with pea-sized bits of fat.
Chill and rest the dough in plastic wrap for at least 4 hours, or I prefer overnight. This duration gives the gluten time to relax, so the texture doesn't taste tough.
Step 4. Rest the dough
Step 5. Bake the potatoes
Preparing the potatoes
I find that baked sweet potatoes yield the most flavorful filling. The Garnet variety has a bright orange flesh that's moist with a honey-like flavor. I start with the spuds wrapped in aluminum foil and then place them on a baking sheet in a cold oven. This cooking method allows the maltose (a disaccharide found in starches) to break down and convert to sweeter-tasting glucose (a simple sugar).
This conversion stops at 170ºF (77ºC), so not preheating the oven first is beneficial for the spuds. It takes about 75 to 90 minutes to tenderize. You'll start to smell caramel aromas from the oven to tell it's ready. If you like, you can bake and remove the flesh, then chill for up to 2 days before using it.
Step 7. Form the crust
Shaping the dough
Roll out the dough slightly less than 1/4-inch thick. This size will ensure a robust shell but is easy enough to cut through. I use a 9-inch pie plate to shape the crust. A glass pie pan makes it easy to monitor the color change. Freezing the shell for 20 minutes firms up the butter so it doesn't shrink too much during baking.
Step 9. Puree the roasted potatoes
To make the pie smooth in texture
I puree the sweet potatoes in a food processor. Cool it down over an ice bath before combining it with the egg custard base. If you add it to the eggs when hot, it will curdle and cook them, giving them a graining texture.
Step 10. Bake the crust
Blind bake the crust
The sweet potato filling is naturally high in moisture, so to prevent the bottom of the crust from becoming soggy, it needs to be blind-baked at 375ºF (191ºC). This technique involves partially baking with pie weights to set the shape and then removing them to cook further.
Making the pie filling
In a stand mixing bowl, combine the sweet potato puree with granulated and brown sugar, eggs, heavy cream, orange juice, and vanilla extract. Together, the added sweeteners and acidic juice enhance the earthy flavor of the potato. To add baked notes, cinnamon, nutmeg, and ginger, add a punch of spices.
Mix until combined
Step 11. Make the filling
Bake the pie
The pie shell does not need to be cooled down. Just spread the filling evenly inside. Only add in enough before it hits the edges. You may have leftovers, especially if the crust shrank during blind baking. The moderate oven temperature at 350ºF (177ºC) allows the custard to be gently set without overcooking the crust.
The moisture that evaporates from the filling creates a steamy environment in the oven. Because of this, the shell doesn't brown as quickly. If needed, you can fold some foil over the edges to slow down the cooking process.
Step 12. Bake the pie
How long to bake sweet potato pie?
It takes about 50 to 60 minutes of baking time. To tell when the filling has been set, it should be firm when touched and hold its shape. Also, if the tip of a knife or toothpick inserted in the center comes out clean, it's ready.
Cool before serving
Allow the pie to cool down before serving, about 3 hours at room temperature. If you're not eating right away, you should refrigerate the pie. It contains eggs, dairy, and fresh sweet potatoes, so it should be chilled to prevent spoilage.
Baking with pie weights
This recipe for sweet potato pie is unique in that you almost wholly bake the pie crust. The wet potato filling can cause it to become raw in taste if not properly prebaked. The weights are only left in about half the time. That's because to achieve a flaky bottom crust; the dough needs to be exposed to heat, which allows the steam to escape and dry out. If the weights are left in, they trap the moisture, creating an undercooked pastry.
Pin this recipe to save for later
Sweet Potato Filling
Prepare the Ingredients – Add ice cubes and water to a measuring cup. Cut the butter into 1/4″ cubes. Place both items in the refrigerator until ready to use.
Rest the Dough – Press the dough into a 1" thick round disc and wrap it in plastic, then place it in a resealable bag. Store in the refrigerator to rest for at least 4 hours, overnight, or up to 2 days.
Form the Crust – Place the rolled-out dough into a 9-inch pie dish and gently press against the sides and bottom. With a paring knife, trim the excess leaving a 1/2″ overhang. Tuck the excess underneath the bottom crust edges. Crimp by pinching the pointer and thumb fingers. Place the crust in the freezer for 20 minutes.
Preheat the Oven – Place the oven rack in the center position. Preheat to 375°F (190°C). Place the pie dish on a sheet pan.
Storing: A whole pie can be completely cooled, covered, and refrigerated for up to 2 days. Leftovers can be refrigerated for up to 5 days. Let the pie come to room temperature for the best crust texture after chilling.
Make the Potatoes Ahead: The pureed potatoes can be used the same day or stored for up to 2 days in an airtight container.
Amount per Serving
% Daily Value*
* Percent Daily Values are based on a 2000 calorie diet.
Tried this recipe?
Filed under: American Baking Christmas Desserts Fall Halloween Pie Sweet Potatoes Thanksgiving Vegetables Winter
This post may contain affiliate links. Please read my disclosure policy.
I'm a culinary school graduate, cookbook author, and a mom who loves croissants! My passion is creating recipes and sharing the science behind cooking to help you gain confidence in the kitchen.
You May Also Like
1 hr 24 mins
Appetizers & Snacks
Chocolate Aztec Popcorn
This post may contain affiliate links, view our disclosure policy for details.
This is the BEST no-bake Orange Creamsicle Cheesecake that will remind you of the old-fashioned creamsicle bar! It's a quick and easy recipe that can be made in about 10 minutes. You'll need 5 simple ingredients: cream cheese, orange juice concentrate, sweetened condensed milk, and whipped cream all combined to make a filling and poured in a graham cracker crust.
Orange cheesecake is fluffy and creamy and one of those desserts everyone loves! PLUS, it's best made-ahead! That's my kind of easy no bake dessert!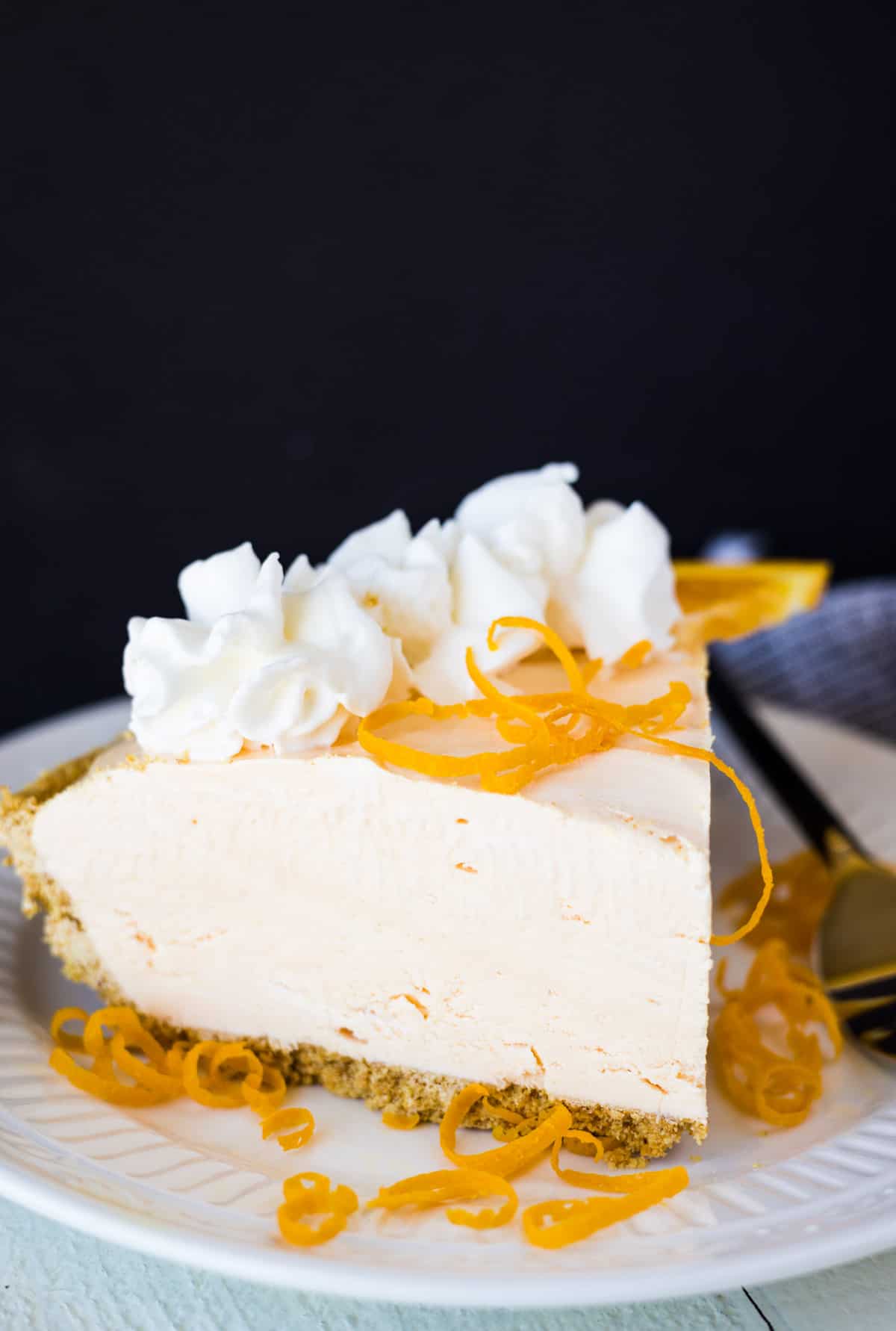 I love classic or traditional baked cheesecake, but sometimes I love no-bake cheesecakes because they're so easy to make and practically fool-proof. No to mention super creamy and decadent! Really, I'm all about an easy no bake recipes like Banana Cream Pie with Pudding, Chocolate Banana Cream Pie, No Bake Peach Icebox Cake, and No Bake Lemon Cheesecake.
This orange cheesecake is so creamy and dreamy which makes it a great choice for the holidays, especially Easter and Christmas. But, it's also awesome for BBQs and picnics because you don't have to turn on the oven!
Table of contents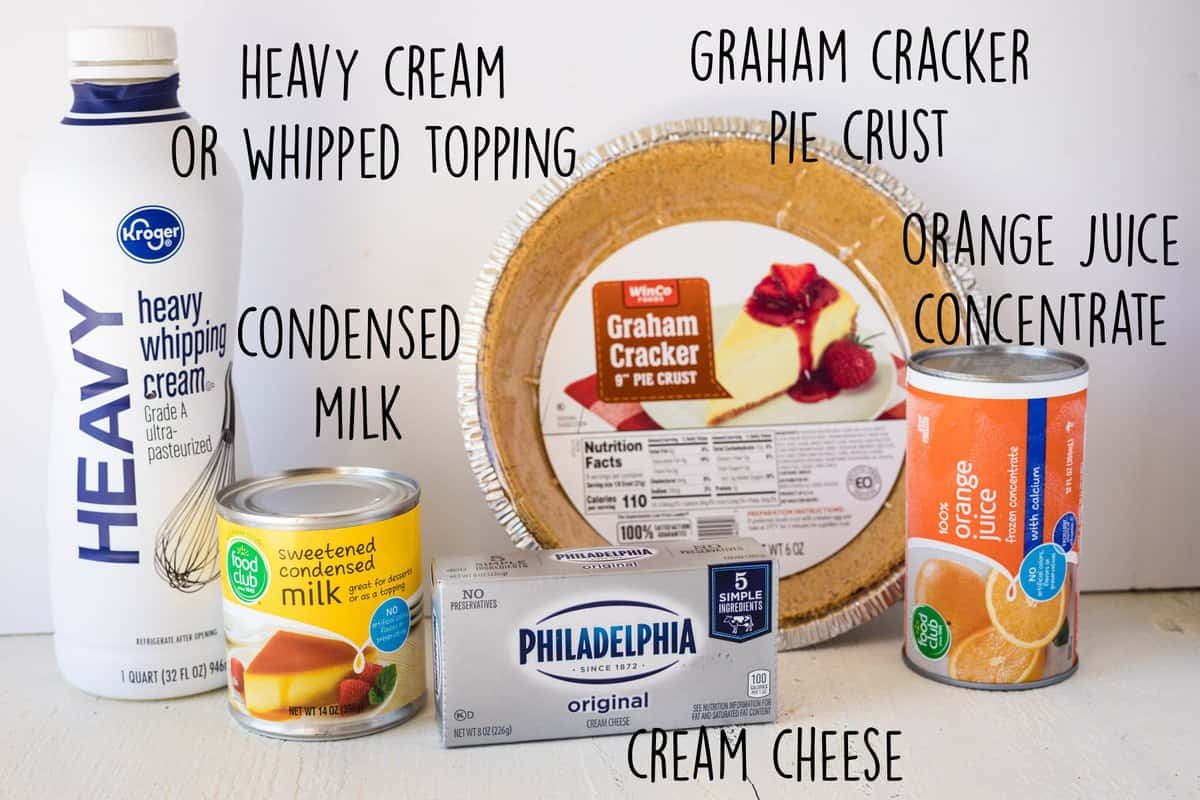 Let's talk about the options!
Crust: I love using a premade graham cracker crust because I always keep a few on hand. They keep well in a dark cool place. Nilla wafer crust or chocolate crust made with Oreos are both great options too. You could also make it using a gingersnap crust. Feel free to make a homemade crust if you have time!
Orange Juice: This is the frozen concentrate. You'll thaw it before using it.
Cream Cheese: I always recommend regular, full-fat cream cheese because I think it tastes better and because low-fat cream cheese has higher water content and can change the consistency of the pie. I prefer Philadelphia cream cheese.
Whipped Cream: Homemade whipped cream from heavy cream is so much better than frozen whipped topping. You can use either though.
How to Make No-Bake Orange Cheesecake
You literally only need about 5-10 minutes to make this cheesecake, BUT you need at least 3 hours to let it freeze, overnight is even better. It's an important step and it will make it much easier to slice without making it look like a melted orange creamsicle in a cheesecake!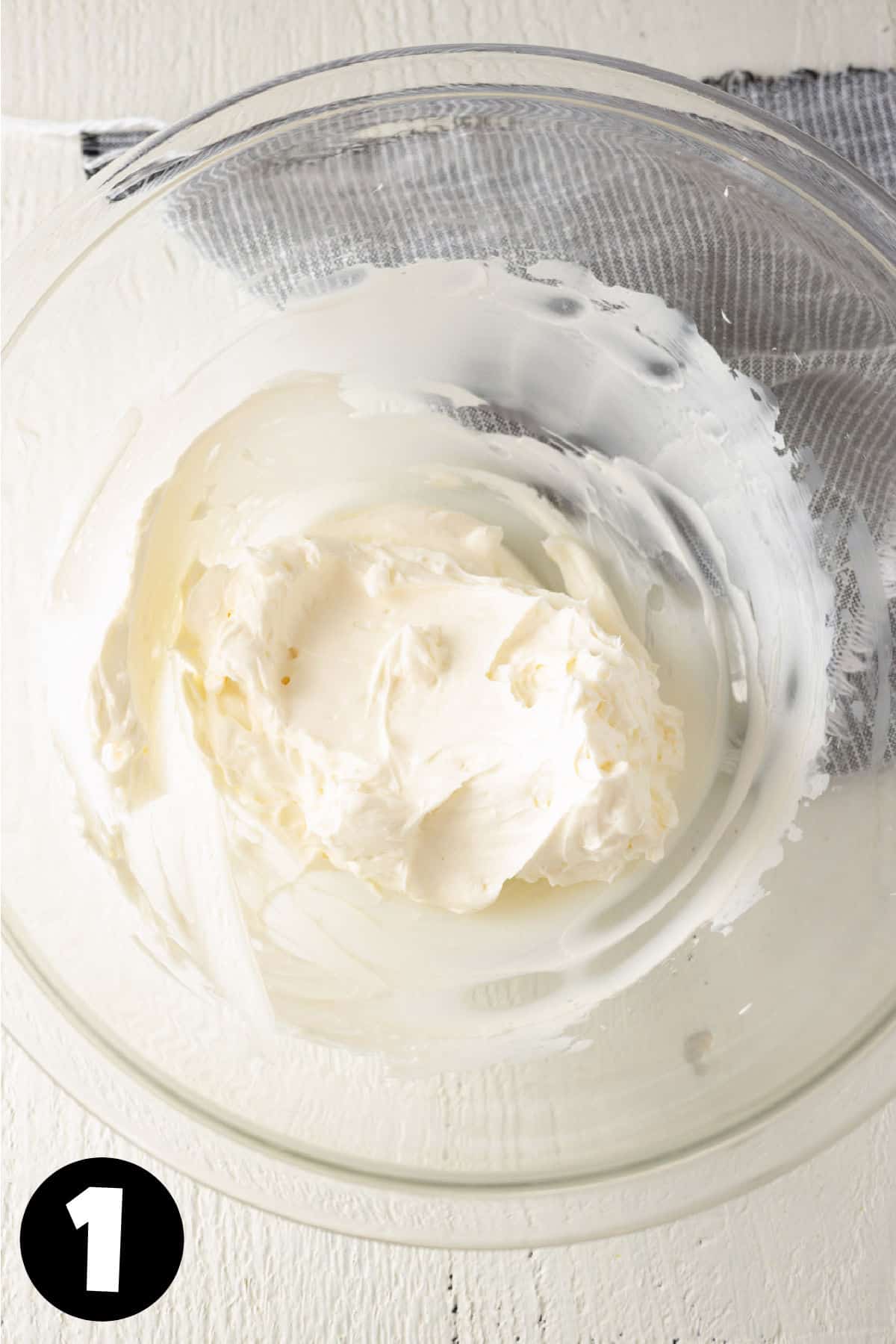 Step 1: Add room temperature cream cheese to a mixing bowl and beat with an electric mixer until light and fluffy, about 1 minute.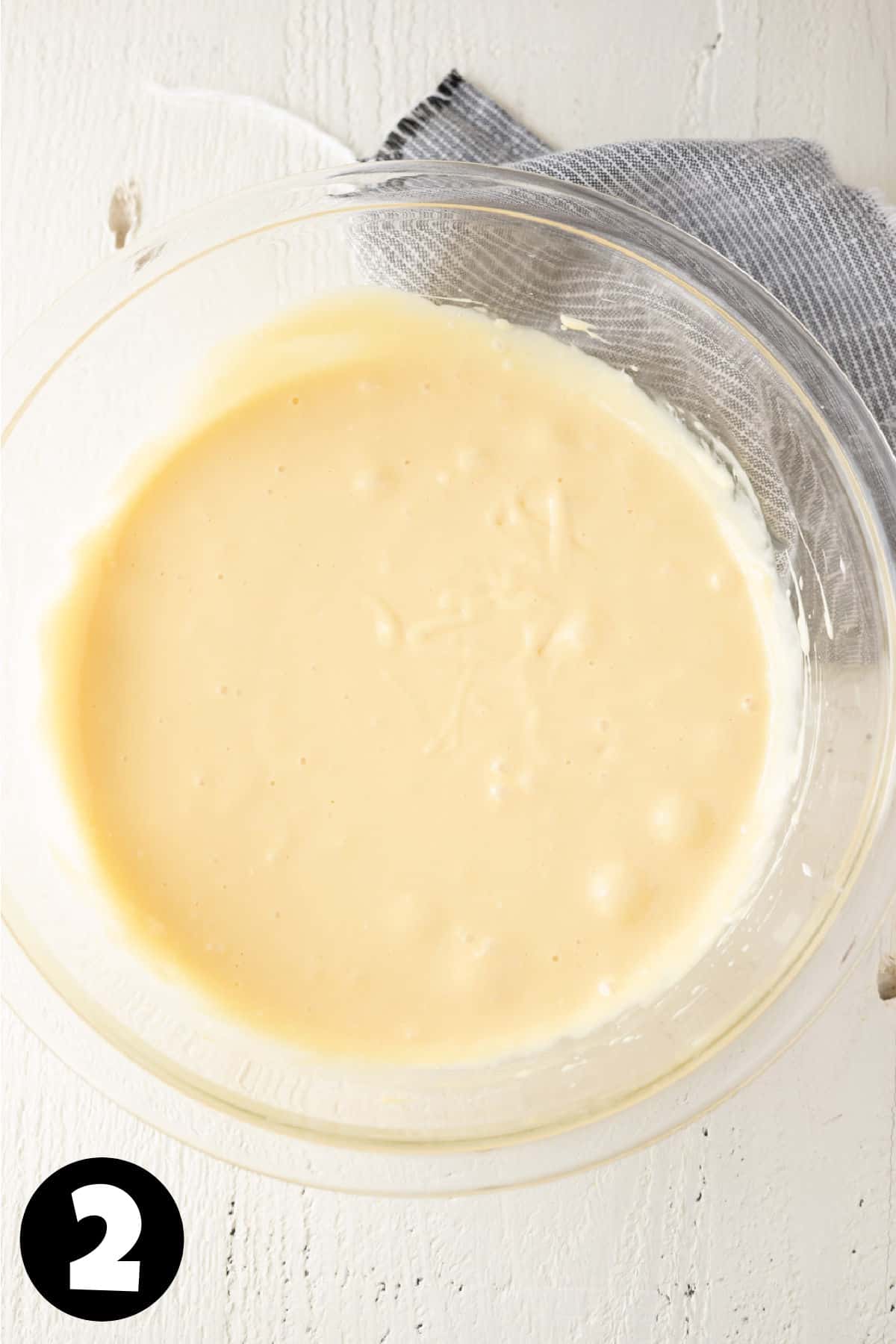 Step 2: Add condensed milk, thawed orange juice concentrate, and vanilla extract (optional). Mix until combined.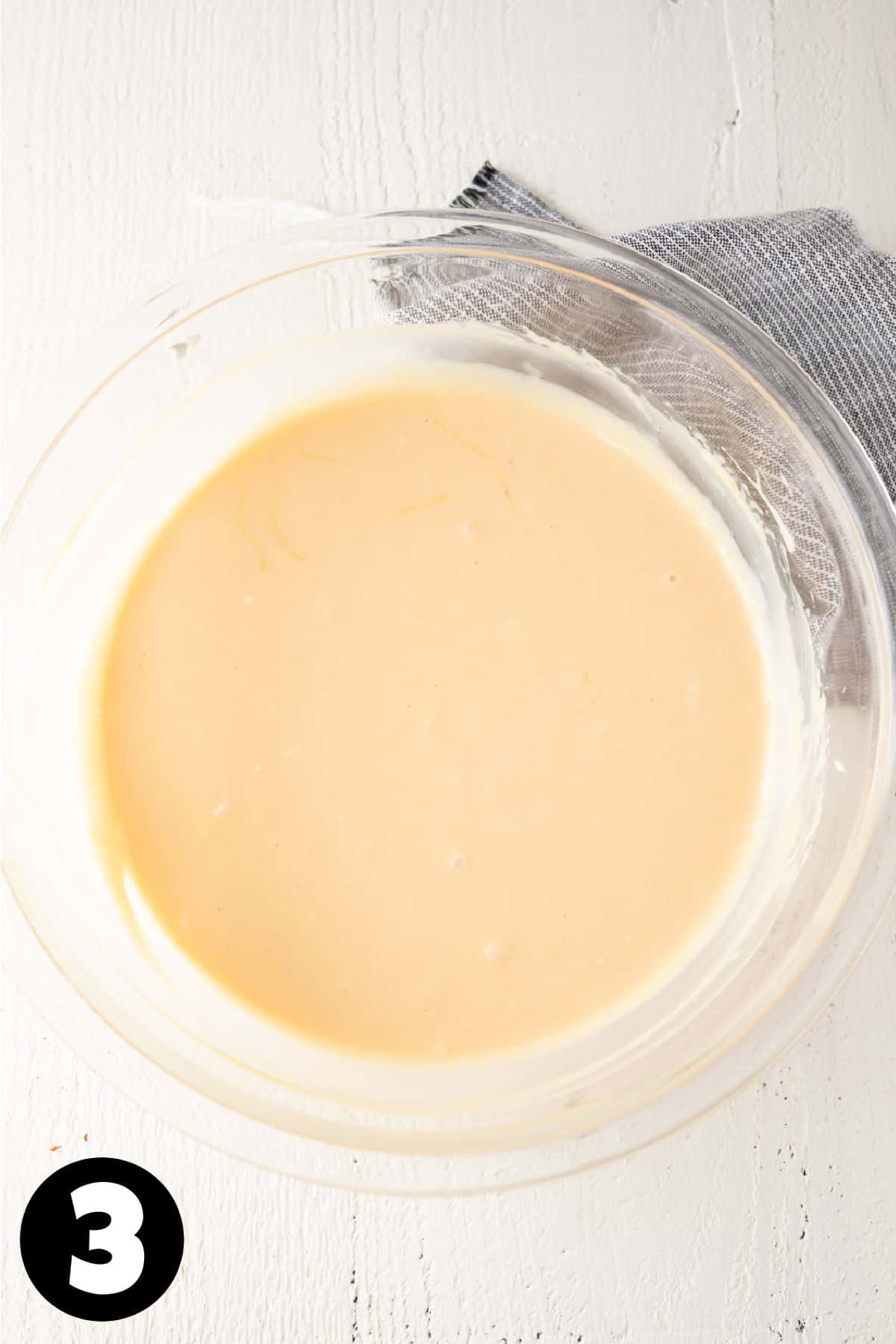 Step 3: You can add a couple of drops of orange food coloring to really drive home that this is an orange cheesecake. It's totally optional. TIP: I never have orange food coloring so I add two drops of yellow food coloring and 1 drop of red food coloring. Start with a little and add more until you get the color you're looking for.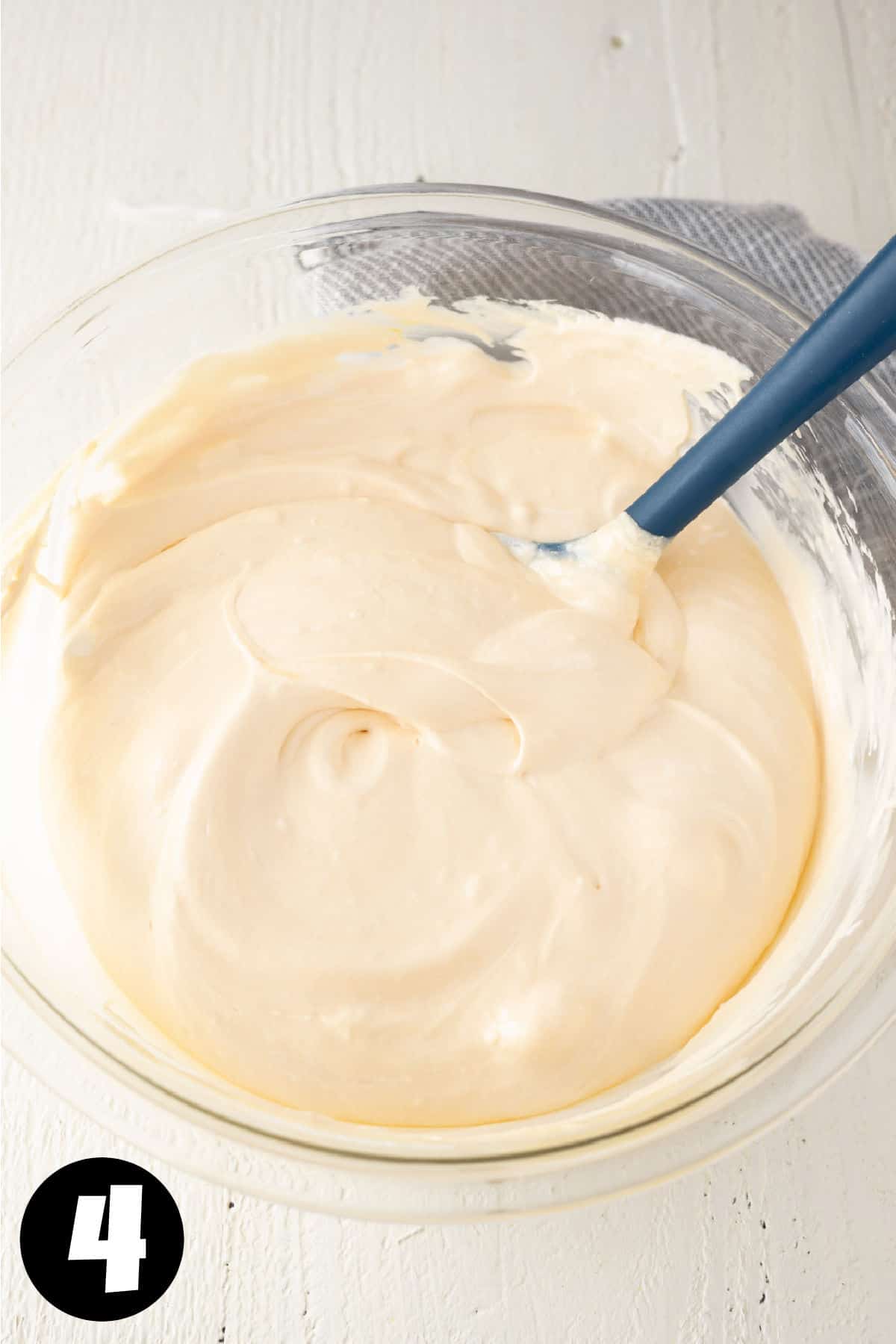 Step 4: Fold whipped cream into the cheesecake mixture. Be gentle so the whipped cream stays nice and fluffy!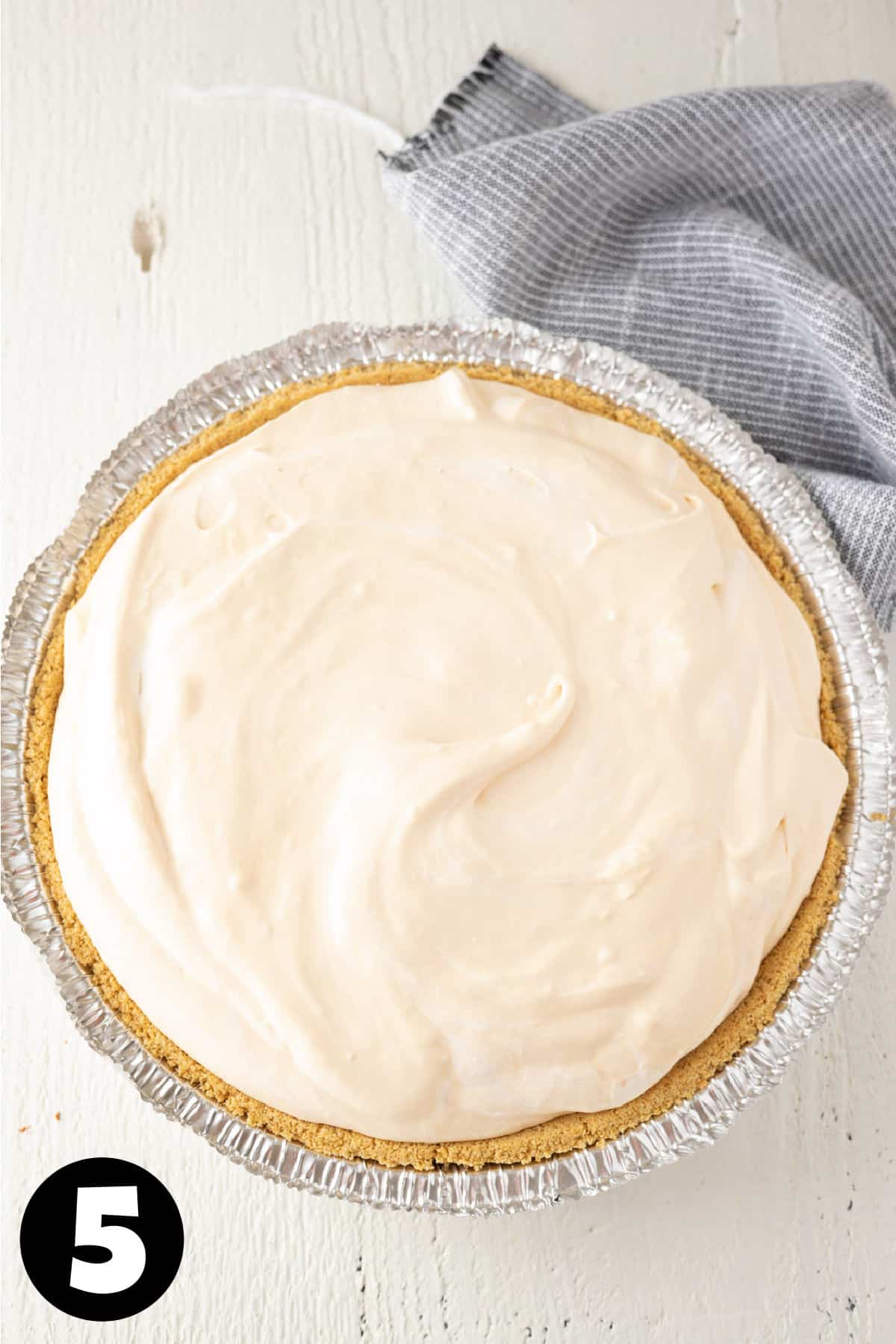 Step 5: Pour cheesecake filling into a homemade graham cracker crust or prepared crust. Freeze it for at least three hours, or refrigerate for 6 hours. This will make it easier to slice.
Make sure the cream cheese is at room temperature before you start making the cheesecake. Otherwise, the orange cream cheesecake filling will have little lumps in it.
Condensed milk is NOT the same thing as evaporated milk. Condensed milk has had some of the liquid cooked off and has sugar added to it. It's thick and incredibly delicious all by itself!
You can make different flavors of this cheesecake by using different kinds of juice. Lemonade and limeade are great options. I assume grape juice and fruit punch would be delicious too. Use coordinating food coloring to emphasize the flavor.
Topping Ideas
I'm sure you can get super creative with ideas, Anything that pairs with orange flavor goes. Here are a few of our favorite ways to garnish it. Oh, and it's best to garnish it just before serving.
Whipped Cream
Orange zest
Drizzle with raspberry sauce
Drizzle with chocolate hot fudge sauce
Chocolate curls
FAQs
How to thicken no bake cheesecake?
No bake cheesecake has to chill for several hours to set up. It's also important to make sure the whipped cream is whipped until it has stiff peaks, then gently fold into cheesecake filling so it doesn't deflate the whipped cream.
Can I freeze a no bake cheesecake?
Yes! I always freeze this orange no bake cheesecake because it helps it to set faster. A no bake cheesecake will keep in the freezer for about 2 months. A thawed frozen cheesecake shouldn't be frozen a second time.
How long will no bake cheesecake last in the fridge.
As I said, I always keep this orange cheesecake in the freezer. You can keep in it and other no bake cheesecakes in the fridge for up to 5 days. I prefer eating them within 3-4 days though.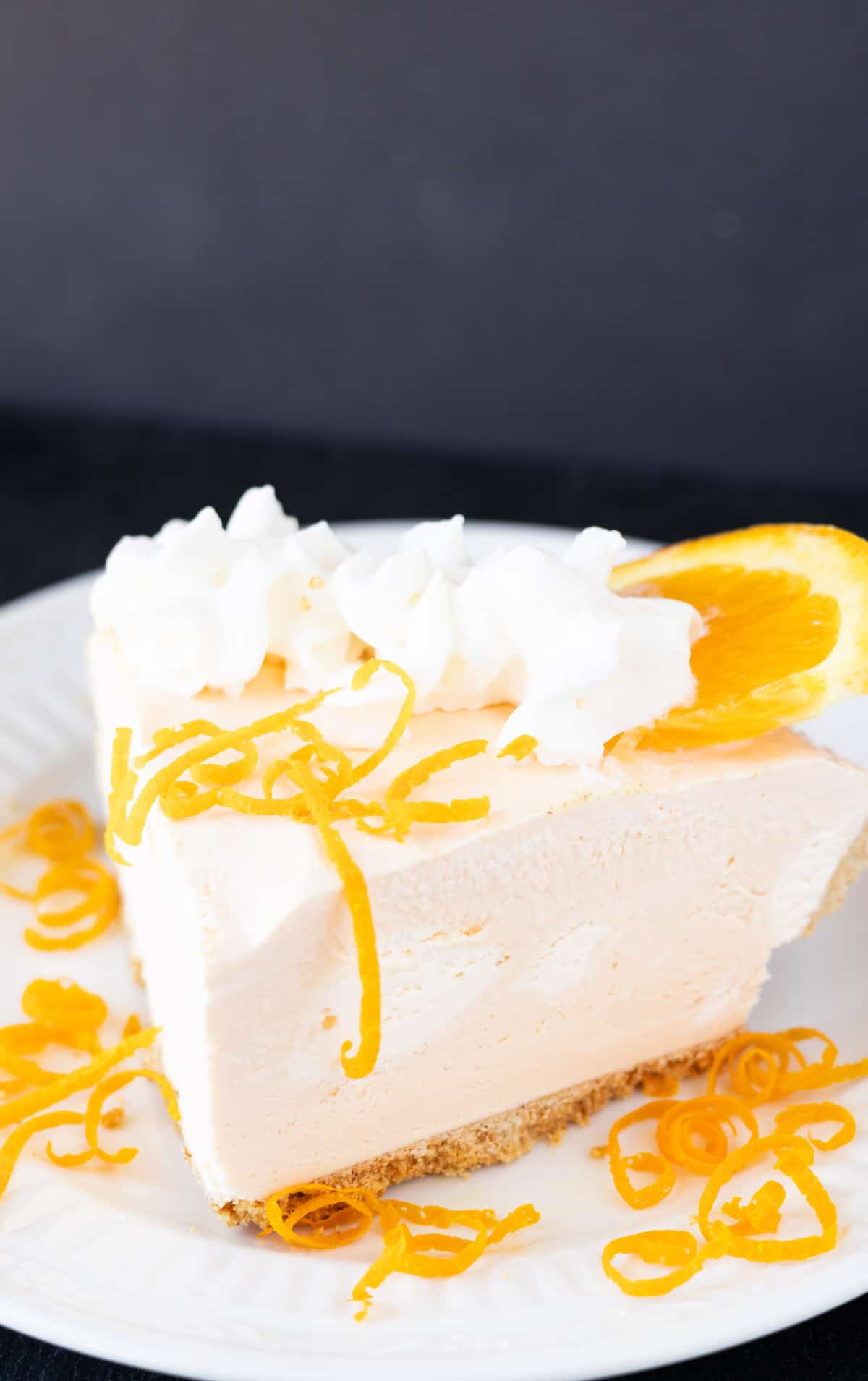 Other Orange Recipes
Cranberry Orange Bread
Slow Cooker Orange Drumsticks
Slow Cooker Orange Chicken
Orange Knots
Orange Spinach Salad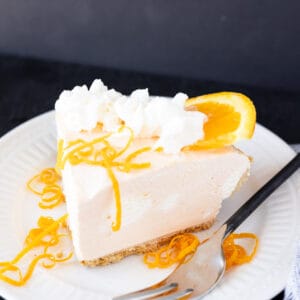 No-Bake Orange Cheesecake tastes like an old-fashioned orange creamsicle in a pie form! It can be made in about 10 minutes with orange juice concentrate, cream cheese, sweetened condensed milk, and whipped cream in a graham cracker pie crust!
graham cracker pie crust
sweetened condensed milk NOT evaporated milk
frozen orange juice concentrate
a couple drops of yellow and red food coloring
Beat room temperature cream cheese until fluffy.
Add sweetened condensed milk and thawed orange juice concentrate. Mix until incorporated. You can also add a teaspoon of vanilla extract if you'd like. Trust me, it's good!
Gently fold whipped topping into the orange pie filling.
Pour pie filling into the graham cracker crust and spread evenly.
Refrigerate for at least 6 hours or freeze for at least 3 hours. I prefer freezing the pie overnight.
You can easily make a homemade pie crust if you'd like.
A chocolate pie crust is delicious.
To store the pie:
The cheesecake will stay firmer if it's stored in the freezer. Keep in an airtight container or tightly wrap with foil and it will last up to three months.
Orange cheesecake will keep in the fridge for up to 3-4 days.
Sweetened condensed milk:
Tried this recipe?
No Bake Orange Creamsicle Pie is a creamy sweet citrus orange pie in a vanilla wafers cookie crust. No bake pie recipe that's simple to make & tastes incredible!
This orange creamsicle pie will bring back nostalgic memories of your childhood with the creamy orange sherbet and vanilla flavors. Made with minimal steps and ingredients you won't believe how incredible this orange creamsicle pic recipe really is.
We are making this orange creamsicle pie with cream cheese to make it rich and creamy. We also use marshmallow fluff and whipped topping to make it extra sweet and fluffy. Every slice is so light and airy that you are going to want another slice. This creamy pie is addictingly good and an absolutely perfect treat for a hot day. Try it soon and see why we are going crazy over this orange creamsicle pie recipe!
Why you should try this No Bake Pie Recipe
Perfect for any occasion. This pie can be presented for holidays like Easter or Memorial day but it also does great as a simple dessert for any day of the week. Garnish your pie with a little whipped cream, orange slice, or orange zest and it'll be ready to make its debut on any table.
This recipe is versatile. While you can't beat the classic combination of vanilla and orange, you can switch it up a bit. Use any flavored sherbet you want, including lime or raspberry, and make this recipe truly unique.
Minimal steps and ingredients. With only 5 or 6 ingredients and steps, you can whip up this pie in no time and have it chilling in the freezer ready to go.
Orange Creamsicle Pie Ingredients
Vanilla wafers: You will need 1 ½ cup of vanilla wafers for the cookie crust.
Butter: Use 5 tablespoons of melted butter to help bind the cookie crumbs together.
Cream cheese: To make the filling creamy, rich, and more stabilized you will need 8 ounces of softened cream cheese.
Marshmallow fluff: Using 1 7-ounce jar of marshmallow fluff is needed to help get the pie filling to the perfect consistency and sweetness.
Orange ice cream: Use 2 cups of your favorite (softened) orange creamsicle ice cream or orange sherbet to help flavor this pie well.
Whipped topping: You will need 1 8-ounce tub of thawed whipped topping to help make the pie filling fluffy and light. Use additional whipped topping for garnish, if desired.
Best way to soften ice cream for pies
For some no-bake pie recipes that call for ice cream, you will need softened ice cream. The best way to do this is to transfer the ice cream from the freezer to the refrigerator 20-30 minutes before using. Or you can let it sit on the counter at room temperature for 10-15 minutes as well. If you forget this step, you can soften ice cream in the microwave for about 30 seconds too.
How to make No Bake Orange Creamsicle Pie
Start by crushing the vanilla wafer cookies in a food processor until you produce fine crumbs.
Then, add in the melted butter and pulse together until just mixed.
Next, press your cookie crumbs into the bottom of a 9-10 inch pie plate and then set it aside.
Using an electric hand mixer, whip together the softened cream cheese and marshmallow fluff in a large mixing bowl.
Then, add in the softened ice cream and stir together until combined.
After that, fold in the whipped topping until it has been well incorporated.
Assembly
Proceed to pour the creamsicle filling into the prepared pie crust.
Next, place the pie into the freezer for about 4 hours to set and chill.
If desired, top the pie with some additional whipped cream and orange slices as garnish.
Slice, serve chilled and enjoy!
No Bake Orange Creamsicle Pie is a creamy sweet citrus pie in a vanilla wafer cookie crust. No bake pie recipe that's simple to make & tastes incredible!
How to Serve No Bake Orange Cream Pie
After your pie has chilled for at least 4 hours (preferably overnight) garnish the top with some whipped cream and fresh orange finishes like sliced oranges or orange zest. I recommend letting the pie rest for about 10 minutes before trying to slice it so that it is easier to cut through. Note that you don't want to add the garnishes until ready to serve because they will not look as pretty if too far in advance.
In a food process crush the vanilla wafers until you produce fine crumbs.
Add the melted butter to the cookie crumbs and pulse till just mixed.
Press the cookie crumbs into the bottom of a 9-10 inch pie pan. Set aside.
Using an electric hand mixer, whip together the softened cream cheese and marshmallow fluff in a large mixing bowl.
Then, add in the softened ice cream and stir together until combined.
After that, fold in the whipped topping until it has been well incorporated.
If desired, top the pie with some additional whipped cream and orange slicesas garnish.
Slice, serve chilled and enjoy!
No Bake Orange Creamsicle Pie is a sensational and delicious dessert that your whole family will love. This no bake pie recipe is prepared quickly and a great dessert for those hot summer days!
How long is creamsicle pie good for?
Storing this pie in the fridge, in an airtight container, the leftovers will last up to 5 days. This pie can also stored in the freezer for up to 3 months. This should give you plenty of time to savor those leftover slices.
Can I use storebought graham cracker crust?
Absolutely! Save time and effort and just buy a crust already made. You can use any flavored pie crust you want so go ahead and get creative with some fun pairings.
Can I make my own cool whip?
If you don't want to use cool whip topping, you can go ahead and make your own whipped topping instead. You will need roughly 3 cups of homemade whipped topping to replace the 1 8-ounce tub needed.
HOW DO YOU MAKE STABILIZED WHIPPED CREAM?
4 ounces of cream cheese (softened to room temperature)
1/3 cup powdered sugar
1 tsp vanilla
1 cup heavy whipping cream
Beat the whipping cream just until soft peaks form.
Add in the cream cheese, powdered sugar and vanilla. Whip on high until mixture is smooth.
Store in the refrigerator until ready to use, up to 3 days.
A little tip for making whipped cream faster: use a metal bowl and place the bowl in the freezer for about 30 minutes before you make the whipped cream. This will significantly decrease the amount of time that you will need to beat the whipped cream – the process will go much faster!
Check out these other terrific no bake desserts that you'll adore
With a combination of orange and vanilla in every bite, this no-bake orange creamsicle pie recipe is one to enjoy all summer long. Packed with sweet and tangy flavors in every slice this is one dessert you're going to want to hold on to.