No-bake bars and cookies are just as delicious as baked versions, but they won't heat up the house or take up valuable oven space. These delectable desserts are quick, easy, and—most importantly—don't require an oven!
No bake desserts are the easiest way to treat yourself to something sweet and decadent! When that sweet tooth hits, why wait for the oven to warm up?
With these quick and easy recipes, you'll be well on your way to a delicious no bake dessert in a flash!
Get 20 of the top tried and true no bake dessert recipes right here in this simple guide.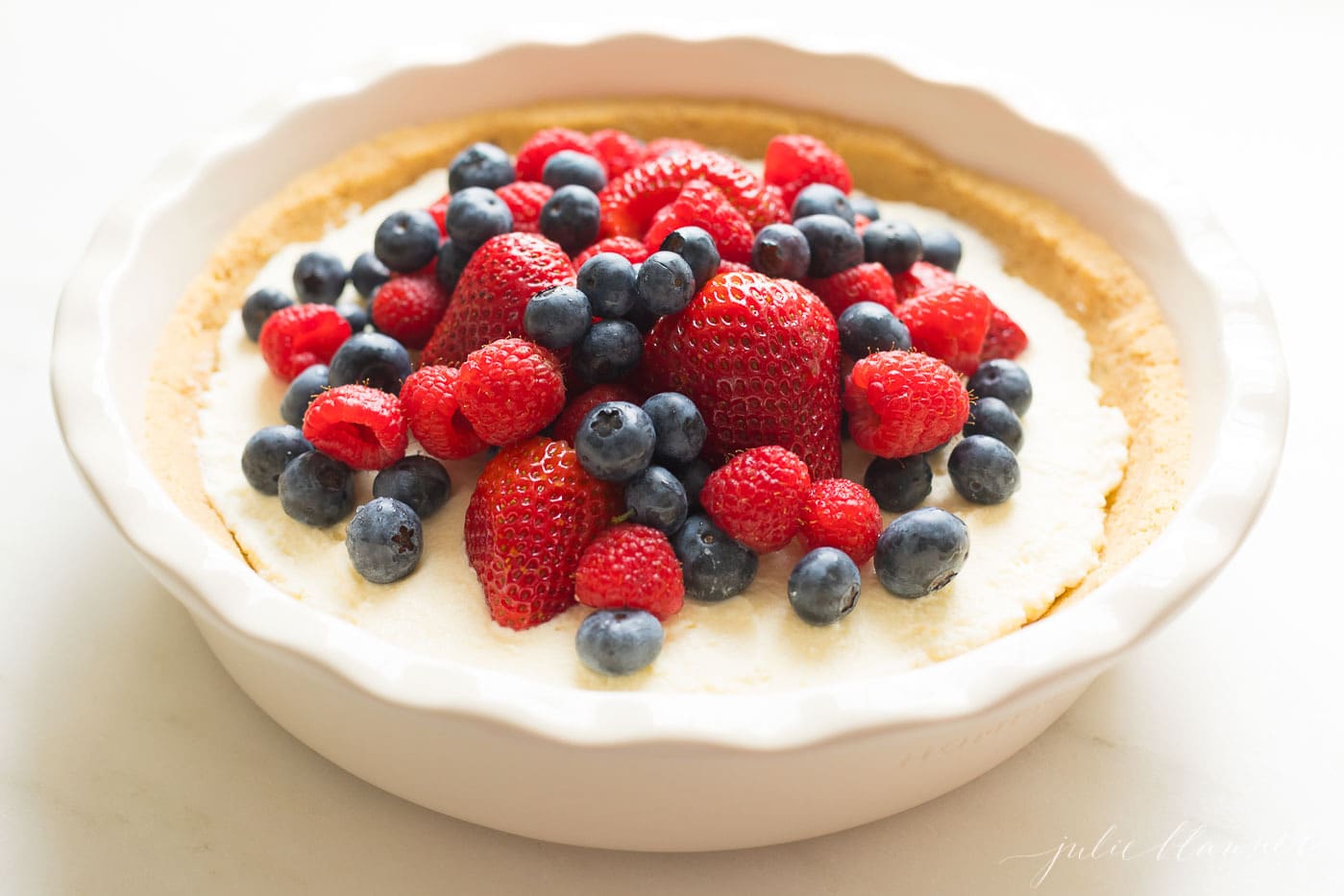 From pies to cookies to bars and everything in between, no bake desserts are wonderful way to create a sweet treat without using your oven.
No bake desserts have a long tradition in our family kitchens, and are much-loved by moms and kids alike! What's not to love? Especially when we can avoid turning on the oven in the heat of summer, no bake desserts are a serious winner.
Another reason to love them? You can also make many of these recipes in a healthier way, skipping heavy ingredients like refined flour and sugar.
If you love a good no bake dessert as much as we do, you're in for a treat!
Today, we're gathering 20 of our best tried and true no bake desserts into one complete guide. Use the drop down Table of Contents menu to navigate this post, and don't forget to pin and save for later!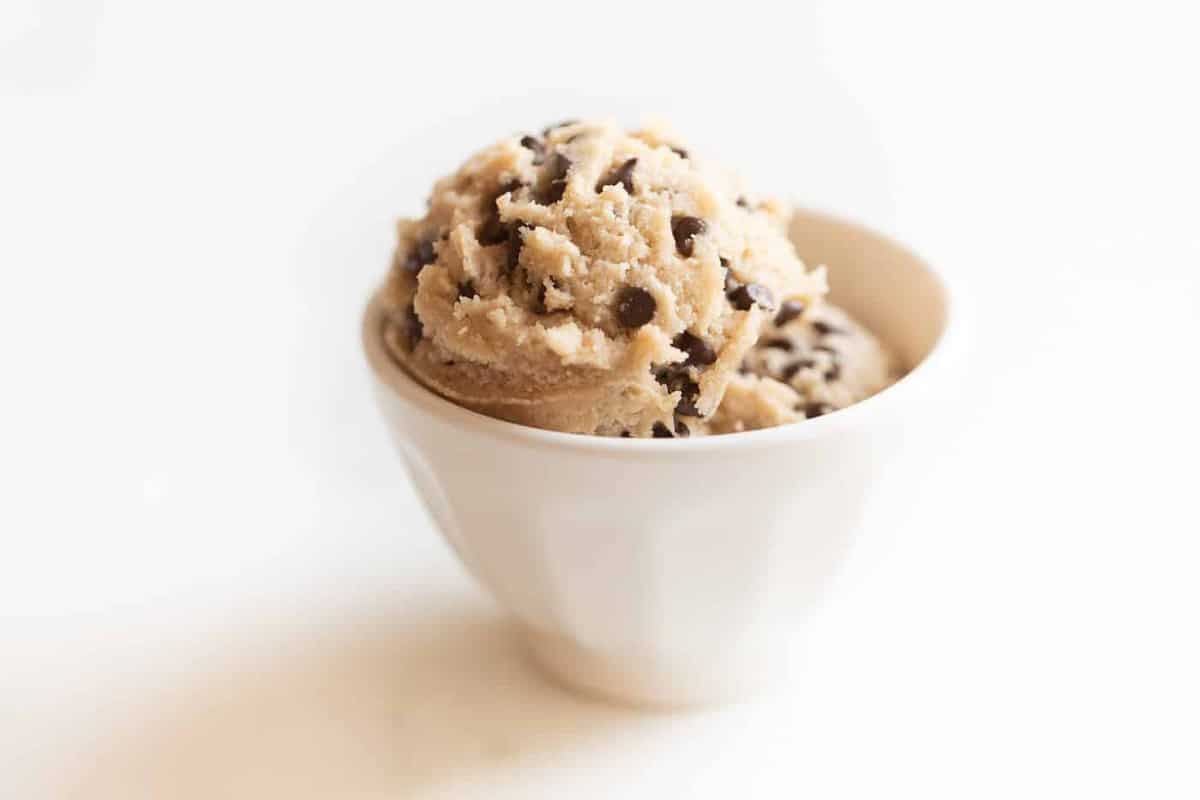 Chef Jason Smith—former winner of "Food Network Star" and "Southern County Bling" creator—loves a no-bake dessert and he loves eclairs, so he decided to merge the two and create this quick and easy no-bake eclair cake. To give it extra flavor and texture, he added crunchy peanut butter to the filling and sprinkled chopped peanuts on top. Rach calls the sweet treat "gorgeous" and "next-level!"
Ingredients
3 cups heavy whipping cream
3 cups half-and-half
Two 3 ½-ounce packs French vanilla instant pudding mix
4 ounces cream cheese, left at room temperature until very soft
½ cup crunchy peanut butter
2 sleeves graham crackers
One 16-ounce container chocolate frosting
Preparation
In a large bowl, whip the cream until stiff peaks form, then set aside. In another large bowl, stir together the half-and-half, pudding mix, cream cheese and peanut butter until creamy. Fold in the whipped cream.
In a 9 x 13-inch baking dish, arrange a single layer of graham crackers, spoon half of the cream mixture over the crackers and smooth it out. Arrange another single layer of graham crackers over the cream layer, then spoon the remaining cream mixture over the crackers and smooth it out. Arrange the final single layer of graham crackers over the cream mixture.
Place the frosting in a microwave-safe bowl and microwave it just until softened, about 15 seconds. Stir the frosting, then spread it over the graham crackers. Cover with plastic wrap and refrigerate for 3 hours or overnight. When ready to serve, sprinkle with chopped peanuts.
More to Watch, Cook + Read
Post-Pandemic Oversupply = MAJOR Deals on These 3 Product Categories
Pandemic-related inflation and supply chain issues have generally led to rising prices—but these 3 product categories are actually in oversupply + MAJOR sales.
Freezer Meal Prep: Chicken + Veggies With 3 Marinade Options
Yes, We Can Actually Change Our Metabolism
Citing new research, Dr. Will Li explains how we are all born with the same metabolism, why it slows down for some + how we can speed it up.
Quick and Easy Air Fryer Chicken Wings With 3 Sauce Options
Chicken wings are so quick and easy in an air fryer + extra tasty paired with honey Buffalo, garlic Parmesan or sweet & spicy gochujang sauce!
Tour: Inside Clinton Kelly's Retro Cozy Connecticut Home
Clinton Kelly takes us on a tour of his Connecticut home featuring retro furniture, huge skylights, and gorgeous views. Talk about a dream house!
Doctor-Approved Healthy One-Pan Chicken, Rice + Kale
This Week on the Show
No bake cookie butter bars are the perfect no bake dessert for those with nut allergies. This amazing treat is nut and peanut free! This easy recipe only needs 5 ingredients and will satisfy your sweet tooth!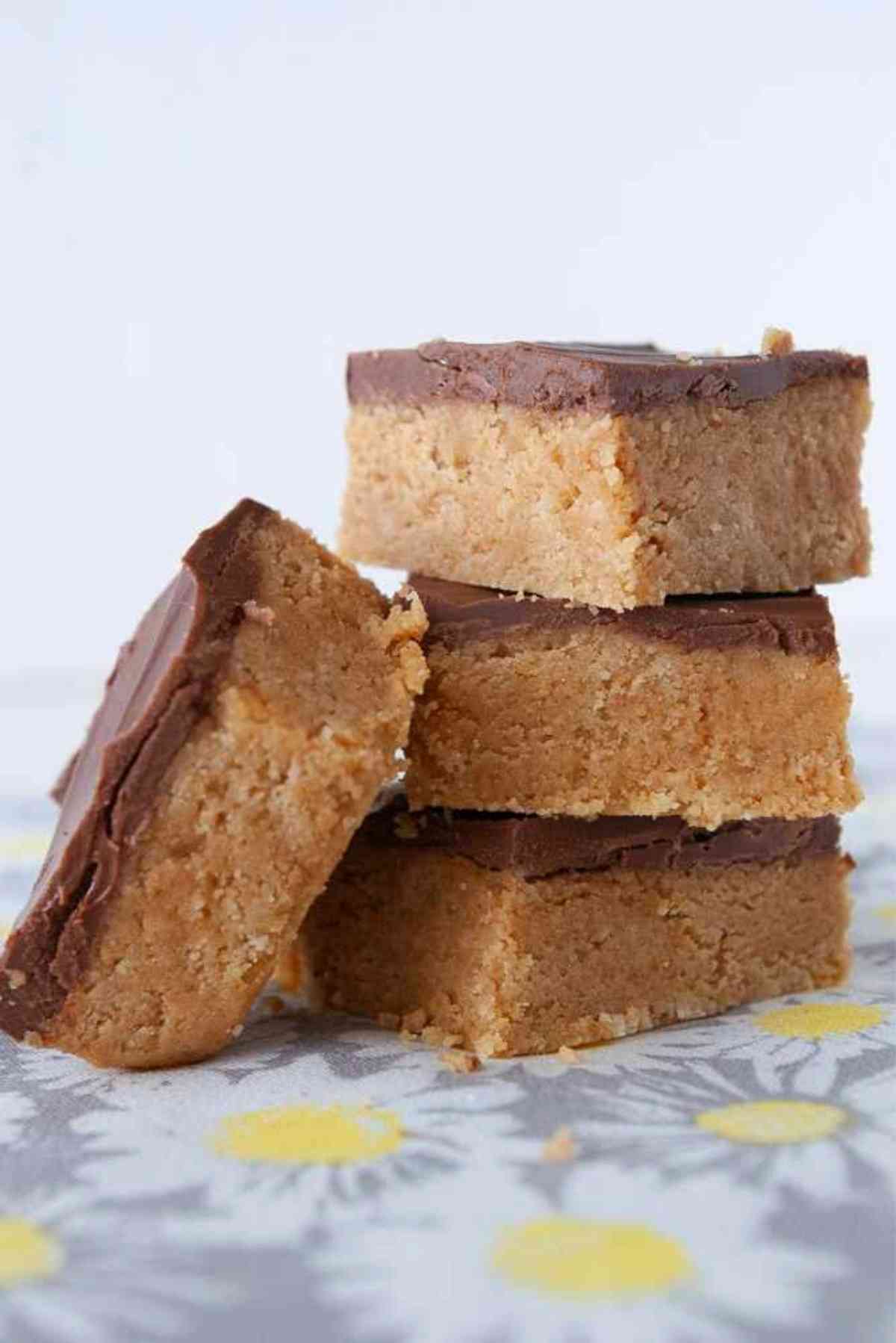 Stack of sweet cookie butter bars!
Why You'll Love This Recipe
Cookie bars with that amazing cookie butter flavor!
A delicious no bake recipe for no bake bars with NO Peanut Butter!!!!
Ingredient Notes
Cookie Butter – Cookie Butter is also known as Biscoff spread or just speculoos cookie butter. It's make from speculoos cookies.
Nilla Wafers – I use these instead of graham crackers because the graham crackers overpowered the flavor of the cookie butter.
Butter – I used salted butter. If using unsalted butter add ½ teaspoon salt to the cookie butter layer.
Chocolate Chips – You can use either milk chocolate or semi-sweet chocolate chips.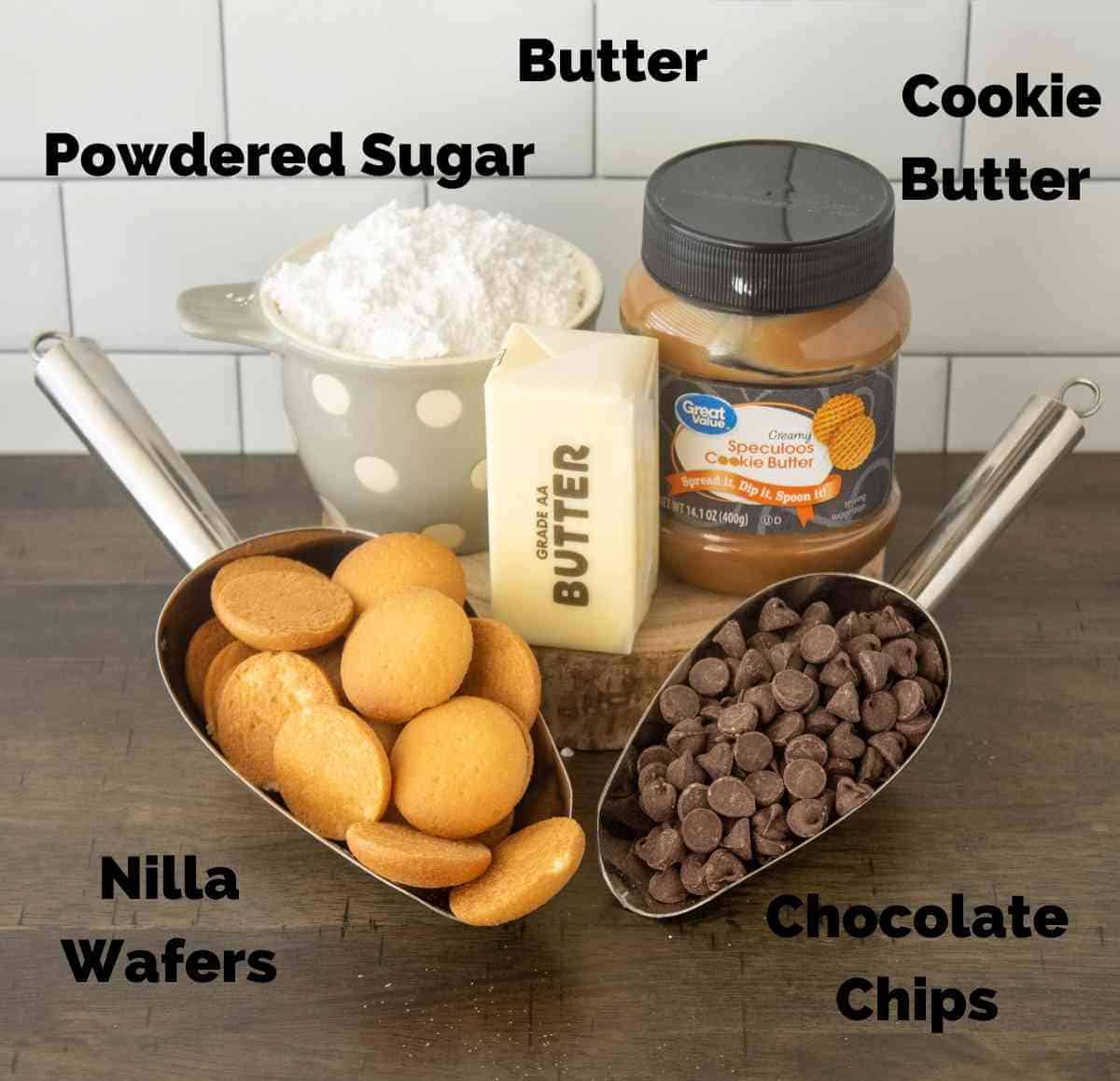 5 ingredients needed to make Biscoff Cookie Butter Bars!!!
Couple Things You'll Need
Line a 9×13 baking dish or 9×13 baking sheet with parchment paper or wax paper to easily lift the entire dessert out of the pan for slicing.
To prepare the cookie layer crush the Nilla Wafers into fine crumbs in a food processor. You can also crush them in a ziploc bag with a rolling pin.
NOTE – An 11 oz box of Nilla Wafers will give you 2 ½ cup of crumbs.
Measure the wafer crumbs and powdered sugar into a large mixing bowl and stir to mix. This could also be quickly mixed up with a stand mixer fitted with the paddle attachment.
Add the smooth cookie butter and melted cup butter to the bowl.
Mix very well.
Press dough into the prepared pan in an even layer.
Melt the chocolate carefully in the microwave in a small bowl for the chocolate layer and spread over the top of the bars.
Chill for 1 ½ hours before lifting out of the pan, cutting and serving.
Store leftover bars in the fridge in an airtight container.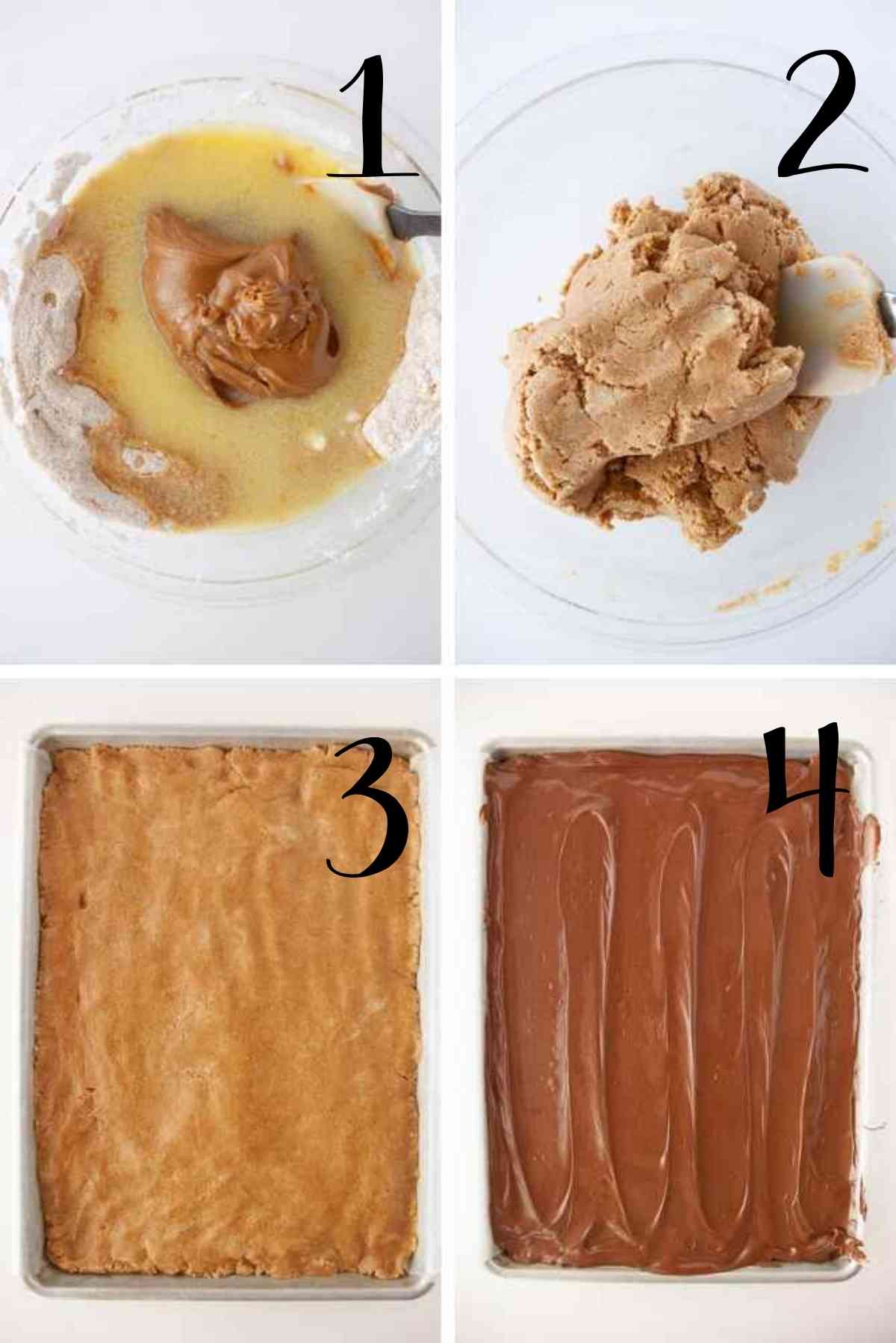 Mix, press and chill! No baking! So Easy!
Recipe FAQs
What is cookie butter?
Cookie butter is a food paste made primarily from speculoos cookie crumbs, fat, flour, and sugar. The ingredients are mixed until it becomes spreadable on a sandwich. In countries like Belgium, the Netherlands, and France, it is a common alternative to nut butter and chocolate spreads.
Does cookie butter contains nuts?
Nope!  It does not!  So this is a great choice for those allergic to nuts!
Description
No bake cookie butter bars are the perfect no bake dessert for those with nut allergies. This amazing treat is nut and peanut free! This easy recipe only needs 5 ingredients and will satisfy your sweet tooth!
Nilla Wafer Crumbs
Powdered Sugar
Butter, melted
Cookie Butter
Chocolate Chips
In a food processor, crush the nilla wafers into fine crumbs.
Stir the nilla wafer crumbs and powdered sugar together.
Melt the butter. Pour the melted butter and cookie butter it into the crumbs and powdered sugar. Mix well until it all comes together in a big glob.
Press into the bottom of a 9×13 pan.  If you are wanting to lift these out to cut them, then you will need to have lined the pan with wax paper or parchment.
Melt the chocolate chips carefully in the microwave and spread the melted chocolate over the cookie butter bars.
Refrigerate for 1 ½ hours.  Cut into small squares.  You should get 36-48 squares depending on how small you cut them.
An 11 oz. box of Nilla Wafer will give you between 2 ½ and 3 cups of fine crumbs.
1 ¼ Cups of Cookie Butter is the same as a 14 oz jar of cookie butter.
Keywords: no bake bars, cookie butter recipes, cookie butter cookies, cookie butter bars
Thanks for stopping by! Before you go, be sure to check out a few of my most popular recipes!
Any nutritional analysis on this Site is based on an estimate, calculated by Nurtifox plugin (or other third-party source) from the individual ingredients in each recipe. Variations may occur for various reasons, including product availability and food preparation. We make no representation or warranty of the accuracy of this information.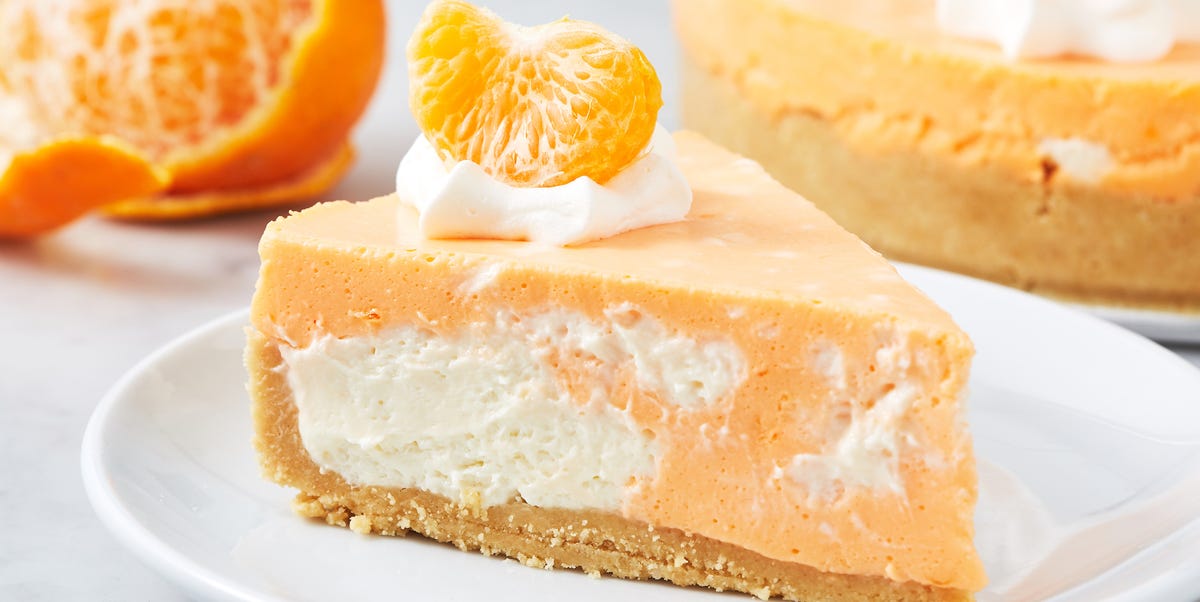 There are a TON of reasons you might want to make a dessert without having to turn on your oven. Maybe your oven isn't working quite right, or is too full of other, more important things (like a Thanksgiving turkey or Christmas ham). Maybe you're cooking with kids and don't want them going in and out of a hot oven. Maybe it's just too dang hot out (or inside your apartment, radiator heat'll get ya!), and you want to avoid turning on the oven at all costs. Whatever the reason, these 70 no-bake desserts are for you.
Some dessert recipes are inherently no-bake, like truffles, ice cream, or fudge, and we've included a number of our favorites here. Others are easy shortcuts to more complicated desserts, and that's where the meaning of no-bake really shines. Love cheesecake, but hate water baths? Yeah, us too. Make our no-bake blackberry cheesecake bars, our no-bake pumpkin cheesecake, or our lemon-blueberry mini cheesecakes, or our banana pudding cheesecake bars instead. More of a cake or pie fan? Try our éclair cake, our chocolate fluffernutter pie, our lemon icebox cake, or our mint chocolate chip pie. They'll scratch that itch without having to roll out dough or deal with cake layers. We will say, while making these recipes themselves is a lot easier, there is often a bit more patience required—check to see if these need to set up for a few hours/overnight and plan accordingly. Your future self will thank you.
While these are no-bake, that doesn't necessarily mean no-cook. We've included some recipes here that are cooked on the stove, or involve minor heating up of ingredients (more power to you to melt your chocolate in the microwave). Some, like our buckeyes, our no-bake oatmeal cookies, or our chocolate-covered strawberries, are still crazy easy to make. Others, like our peanut brittle, halva, or chocolate almond toffee take a little bit more finesse (and sometimes a candy thermometer). Even so, we think they're the kind of recipes you should have in your dessert arsenal, and make a great addition to any dessert table, year-round. (Hot tip: They also make awesome holiday gifts!)
Advertisement – Continue Reading Below
Fantasy Fudge
Fantasy fudge is a shortcut fudge that is just as good as the real thing. Our two favorite things about it are that 1) it's quick to make and 2) it's totally customizable! Not only can you use any chocolate you like, but you can also choose whatever mix-ins you want.
Get the Fantasy Fudge recipe.
No-Bake Oatmeal Cookies
Use the base of these impossible-to-mess-up cookies as your launchpad, then stir in some additions to make them your own. Unsweetened shredded coconut, almond extract, chocolate peanut butter or Nutella, and chopped nuts all add extra depth to these cookies. Use a crunchy peanut butter or almond butter if you like too.
Get the No-Bake Oatmeal Cookies recipe.
Oreo Truffles
Raid the cookie and candy aisles to jazz these up—a bit of crushed candy or changing up the variety of Oreo can add a fun boost of flavor and color to your truffles. Make sure to save a little extra too, so you can top each truffle with some crumbs.
Get the Oreo Truffles recipe.
Bourbon Balls
If you're looking for a boozy treat to get the party started, these bourbon balls are calling your name. Made with finely chopped pecans, crushed vanilla wafer cookies, and of course, bourbon, these no-bake cookie truffles highlight the flavor of the bourbon while taming its typical burn. Warning: You won't be able to stop at one!
Get the Bourbon Balls recipe.
Banana Split
Topped with fruit syrups, chocolate sauce, whipped cream, and a cherry, few desserts are as recognizable as an ice cream sundae, and this recipe will help you make the ultimate version. The truly classic banana split features strawberry and pineapple syrup as well as chocolate sauce, so we've got it all for you here.
Get the Banana Split recipe.
Chocolate Toffee
This recipe is really simple, but toffee in general can be a littttlllleee fussy. Our biggest piece of advice: WHISK CONSTANTLY! The moment you walk away from the saucepan, the butter and sugar will separate.
Get the Chocolate Toffee recipe.
Confetti Squares
If you need a quick and easy dessert idea, these peanut butter and chocolate confetti squares are the perfect thing. They are a breeze to put together and after a quick chill in the fridge, everyone will go crazy for them. Rainbow marshmallows make for an extra fun pop of color, so use them instead of boring 'ole white.
Get the Confetti Squares recipe.
Peanut Butter No Bake Cookies Recipe is a peanut butter lovers delight. No need to heat up the kitchen when you can make this no bake treat.
No bake cookies are so easy to make when the craving strikes. I love that you can whip these up in minutes.
We have been making this easy no bake cookies recipe and it never disappoints. I started thinking about making something similar but without the cocoa powder.
The results? This easy peanut butter not bake cookie recipe was so easy and everyone said it was amazing! Now, we love the chocolate version still but this peanut butter version is equally delicious too!
I love having more options for no bake cookies. Yum! Oh and we also love Pretzel no bake cookies too. The salty and sweet combination is so good.
Why did my No Bake Cookies not set?
Typically, if the cookies are gooey you did not boil them long enough. Make sure to not skip that step as they do need to boil for a certain amount of time for the cookies to reach the desired consistency.
Once your mixture starts to vigorously start to boil, set a time for 60 seconds. After 1 minute then your mixture is set. If you do not allow it for the peanut butter mixture to boil then it could cause it not to set.
Salted Butter
Granulated Sugar
Milk
Vanilla Extract
Creamy Peanut Butter
Quick Oats (don't use old fashioned oats)
How to Make No Bake Cookies without Peanut Butter
Yes, you can make these no bake cookies with crunch peanut butter. This gives the cookies texture and a little extra crunch.
Can you Make No Bake with a Different Nut Butter?
Yes, this no bake cookie would be delicious with natural peanut butter, almond butter, Sunflower Seed Butter or cashew butter. You can even use Nutella for a tasty twist on this classic cookie.
Can you Mail No Bake Cookies?
Yes, you can mail no bake cookies. Make sure to cover them completely with plastic wrap and place in a container. Ship the cookies in a heavy cardboard box.
Are Peanut Butter No Bake Cookies Gluten Free?
Yes, just make sure your oats are gluten free when preparing these cookies. Some oat are not gluten free.
Tips for Peanut Butter No Bakes
Chocolate Chips – Add in chocolate chips to make chocolate peanut butter no bake cookies. My favorite combination is chocolate and peanut butter.
Measuring Ingredients – Make sure to measure ingredients as the recipe card ingredients. This ensures that your cookies are soft, chewy texture and creamy.
Prepare Ingredients – We recommend getting all the ingredients together before starting to make the cookies. This makes the process go much smoother.
Boil Butter Mixture – Make sure to allow the butter mixture to boil for 60 seconds. This ensure the peanut butter cookies set.
Old Fashioned Oats or Quick Cooking Oats?
We recommend using quick cooking oats when making these cookies. The quick oats are broken down into small pieces which allows the cookies to have a better texture.
How to Freeze No Bake Cookies
These No Bake Peanut Butter Cookies freeze well. The perfect cookie to prepare ahead of time. Place cookies in an air tight container or freezer bag and freeze. They will stay fresh for up to 2 months.
When ready to thaw, place on the counter and enjoy.
Recipe Variations
Chocolate Chips – This recipe would be delicious with added chocolate chips. Feel free to add in milk chocolate, dark chocolate chips or peanut butter chocolate chips.
Nuts – You can easily add in chopped nuts to this cookie recipe.
Melting Chocolate – Melt chocolate and drizzle over the top of the peanut butter cookies.
Cocoa Powder – Add in cocoa powder for chocolate oatmeal peanut butter no bake cookies. Sugar, milk, and cocoa powder mixed with peanut butter makes a delicious cookie.
Maple Syrup – Feel free to mix maple syrup with the cookie mixture to make a warm flavored cookie.
Add more Oatmeal – If you prefer a more chewier cookie, add in more oatmeal to the mixture.
How to store
You can store the cookies in an airtight container at room temperature. They do not need to be refrigerated.
Print peanut butter no bake cookies recipe
Cool at Room Temperature
creamy peanut butter
don't use old fashioned oats
Line two baking sheets with parchment paper or set out approximately 29 cupcake liners.
In a 2.5 to 3 quart medium saucepan combine butter, sugar and milk.
Set over medium heat, and cook stirring frequently until it reaches a full boil.
Allow mixture to boil 60 seconds without stirring.
Remove from heat, immediately add in vanilla, peanut butter and quick oats.
Stir mixture until well combined then, using a medium (2 Tbsp) cookie scoop or two spoons drop mixture onto lined baking sheets or into cupcake liners.
Store cookies in an airtight container at room temperature.
This recipe will work with your favorite type of nut butter – almond butter, cashew butter or sunflower seed butter.
More Peanut Butter Cookies
All Recipes Dessert
Oreo Desserts
To All the Moms who Struggle with Dinnertime
Save hours in the kitchen every week and reclaim precious family time without blowing your budget. Join the Lazy Day Cooking Club.
About the Author
Hi, I'm Carrie. Welcome to Desserts on a Dime!
Frequently Asked Questions
What can I bake without an oven?
From incredible ice cream recipes to candies, cookies, pies and bars, there are so many wonderful ways to make a dessert without an oven!
How long do no bake cookies take?
Many of these no bake desserts take just 5-10 minutes of hands on time, but do require some time in the refrigerator to set up and serve. Often, an hour in the fridge is plenty of time!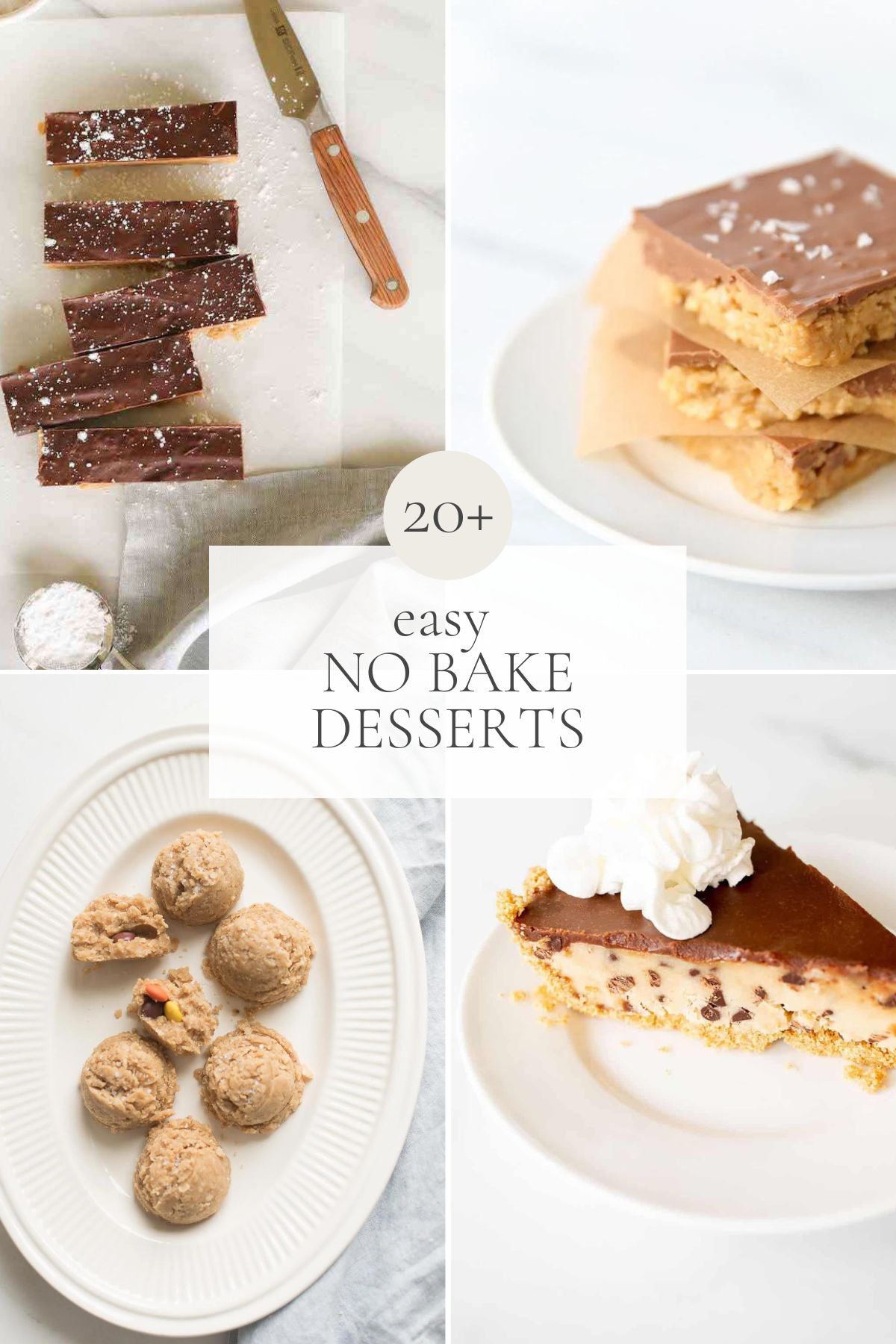 Chocolate-Cherry Dips
This chocolate no-bake cookie recipe might trick your guests into thinking you spent all day baking in the kitchen. But really, these easy chocolate-cherry treats don't require much effort. Just sandwich a scoop of creamy cherry filling between two vanilla wafers, dip in melted chocolate, add sprinkles if you're feeling fancy, and let them cool. You'll have a showstopping dessert in minutes not hours.
Chocolate Cheesecake Bars
Any collection of no-bake dessert bars must include cheesecake bars, like this chocolate version. Spike the cream cheese frosting with chocolate liqueur for a rich, boozy finish. Top off this sweet recipe with chocolate chips to add even more decadence to these extra-chocolaty bars.
Coconut-Date Cracker Bars with Browned Butter Glaze
Crackers make for a super easy, buttery crust that balances the browned butter topping (and a tasty change from graham crackers). The coconut-date layer adds bursts of flavor and texture, and the dates do double duty as a natural sweetener. You can freeze these no-bake dessert bars for up to a month, so feel free to get a jump on your holiday dessert-making now.
Pistachio Bars
These gorgeous no-bake bars are SO pretty when they're sliced. You can truly appreciate the layers of pistachio-graham cracker crust, pistachio pudding, and luscious chocolate ganache. With a sprinkle of extra pistachios on top, this pistachio dessert is eye-catching and enticing even before you make the first cut.
Prizewinning Caramel Apple Bars
These six-ingredient bars may look complex, but they only take 25 minutes to toss together. Let them sit for an hour before enjoying the peanut buttery, caramel-appley, nutty fusion of flavor. Indulging in one of these yummy no-bake bars is healthier than having a traditional caramel apple for dessert thanks to the higher protein and smaller serving size.
No-Bake Cake Batter Puppy Chow Bars
Colorful sprinkles and vanilla extract are the secrets to capturing the flavor of cake batter in these no-bake bars. Toss them with butter, marshmallows, cereal, and vanilla candy coating to make this easy treat. A final sprinkle of powdered sugar is the finishing touch.
No-Bake Browned Butter Cookie Dough Bars
If you love edible cookie dough, these no-bake bars are a must-make. Stick with our classic browned butter chocolate chip or try one of our variations like cake batter, monster cookie, and peanut butter cup. We recommend baking a batch and storing them in the freezer for up to 3 months so you've got a treat whenever a craving hits!
No-Bake Irish Cream Pudding Bars
If you find yourself reaching for a taste of the cookie dough before your cookies go in the oven, here's an easy no-bake dessert to try. In order to make raw flour safe for eating, all you have to do is spread it on a shallow baking pan and pop it in the oven for a few minutes. From there, you can build the cookie dough of your dreams. Choose from chocolate chips, sprinkles, peanut butter cups, you name it!
More Dessert Inspiration
Choose your recipe and print the free printable recipe card
Double check your ingredients for prep, and plan in advance based on the total time for chosen recipe.
Estimated nutrition information is provided as a courtesy and is not guaranteed.
No-Bake Peanut Butter-Oat Bites
Reminiscent of peanut butter cookies, this no-bake cookie recipe is peanut butter and honey at its core. Coconut, oats, chocolate, and fruit make these bites look pretty, but they also amp up the flavor. Roll each ball through shredded coconut before chilling to give the exterior a fancier finish.
20 Easy No Bake Desserts
You'll see several no bake cheesecakes and pies on this list, and they are one of the best no bake desserts around!
This no bake cookie butter cheesecake is dangerously delicious and packed full of sweet and creamy goodness. It's the easiest way to throw a luscious dessert together in a flash, with just four filling ingredients.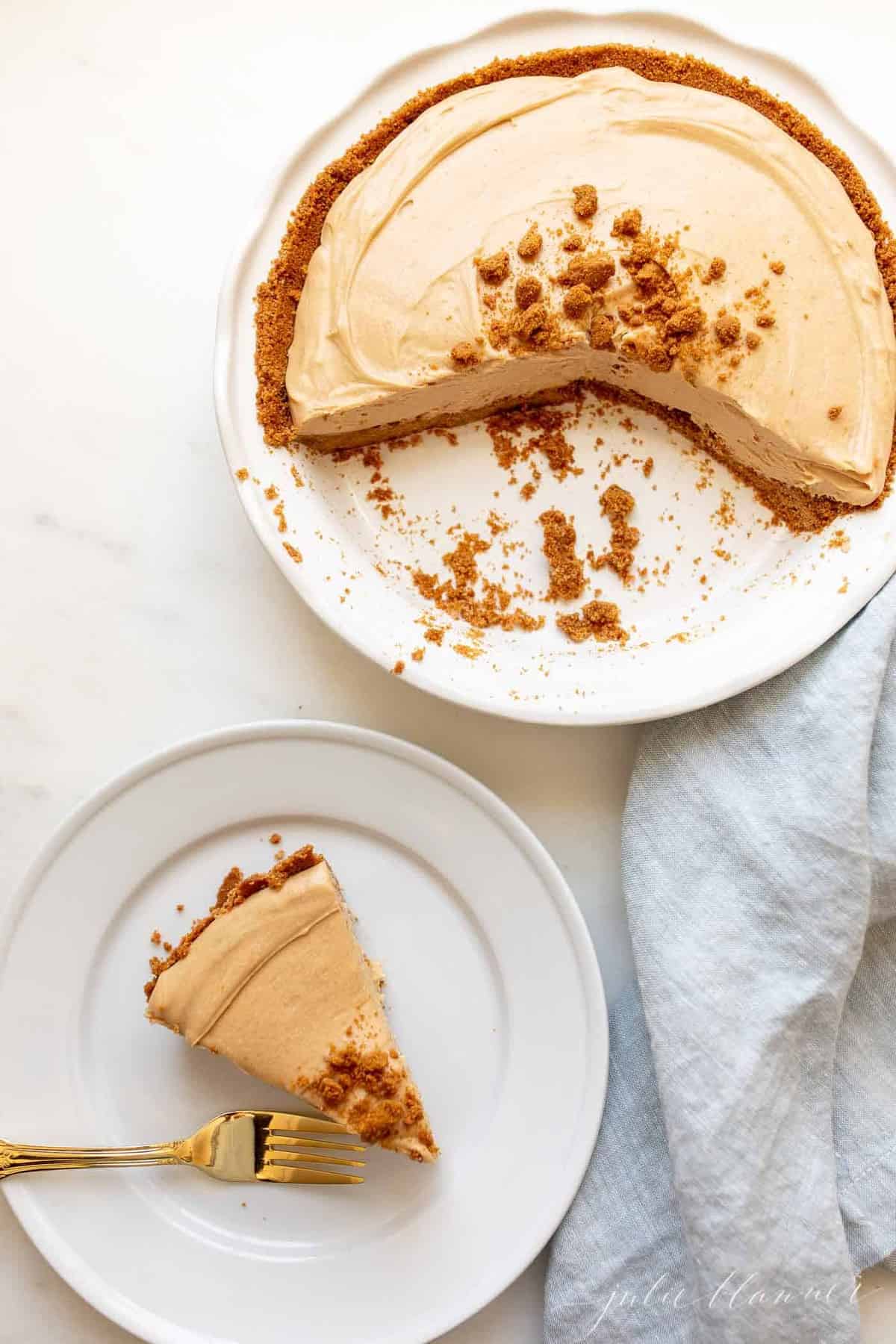 No Bake Lemon Pie
This is a light and flavorful easy no bake lemon pie. No baking translates to an effortless, yet gorgeous dessert that is loaded with beautiful berries.
With a simple shortbread cookie crust and decadent mascarpone lemon filling, this no bake lemon pie feels special enough for guests. However, it's simple enough for any night of the week!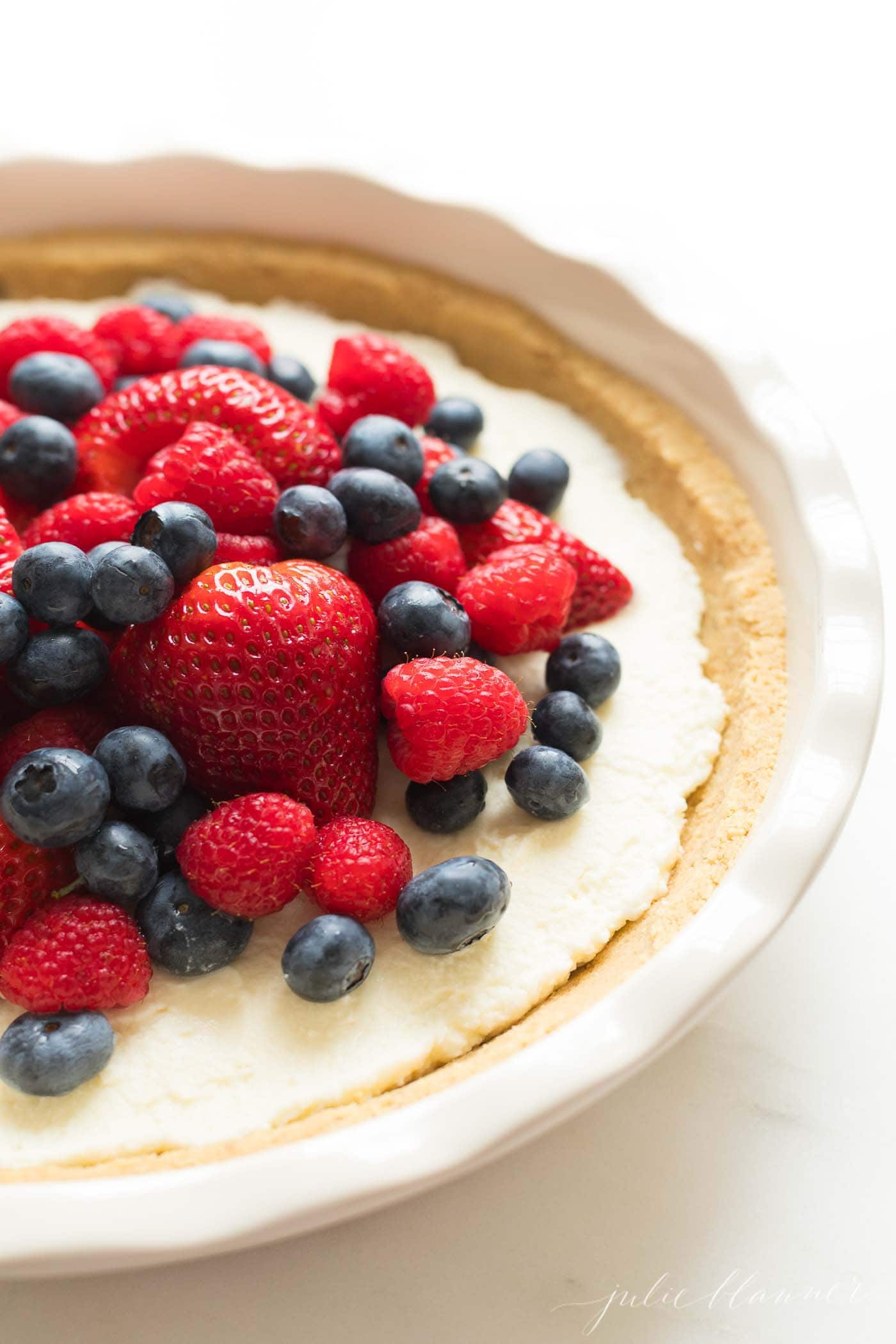 Easy No Bake Peanut Butter Cheesecake
This is an easy No Bake Peanut Butter Cheesecake recipe that is creamy, crunchy, and decadently rich.
Whether you prefer an Oreo or chocolate Graham cracker crust, the choice is up to you. It's delicious with both, and you won't believe how easy it is!
With only five ingredients and 10 minutes of your time, you'll have a crowd-pleasing peanut butter dessert for any holiday or special occasion.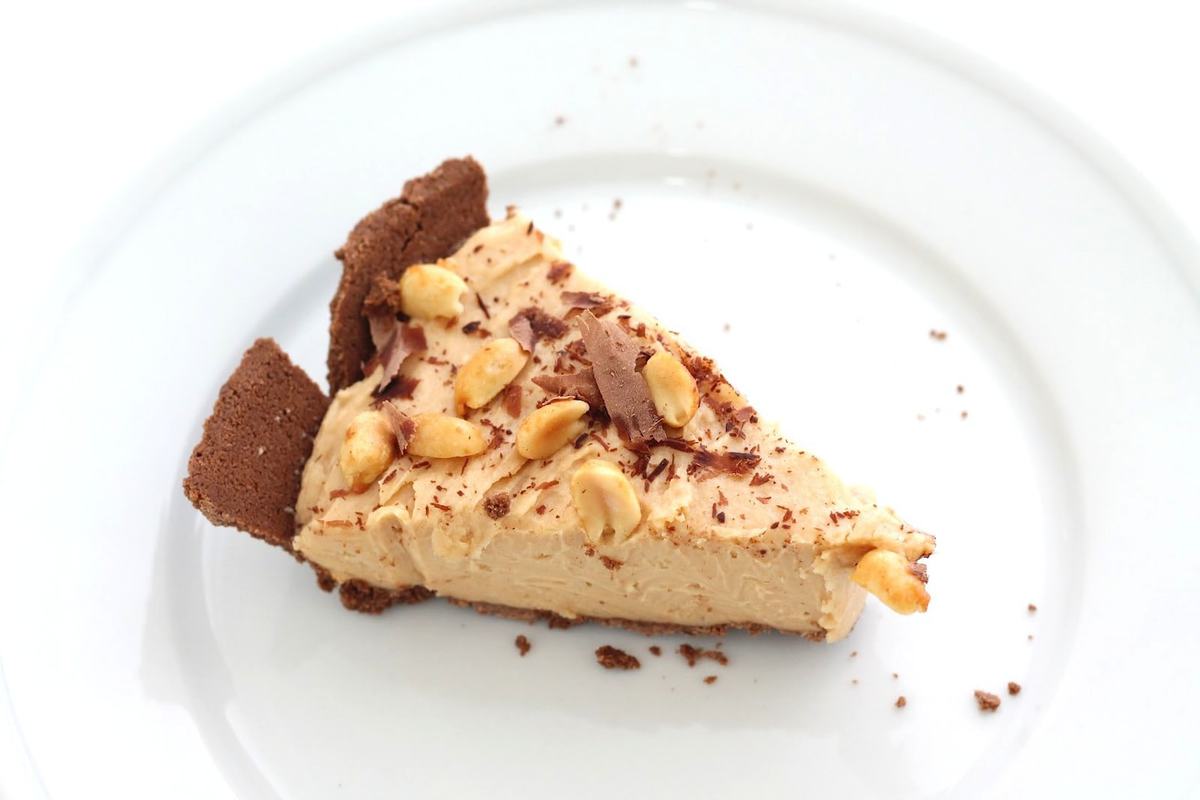 No Bake Peanut Butter Bars
No Bake Peanut Butter Bars that are gluten free, sweet and salty and oh so delicious! This easy Peanut Butter Bars recipe uses just 5 ingredients – peanut butter, chocolate chips, butter, chips and powdered sugar.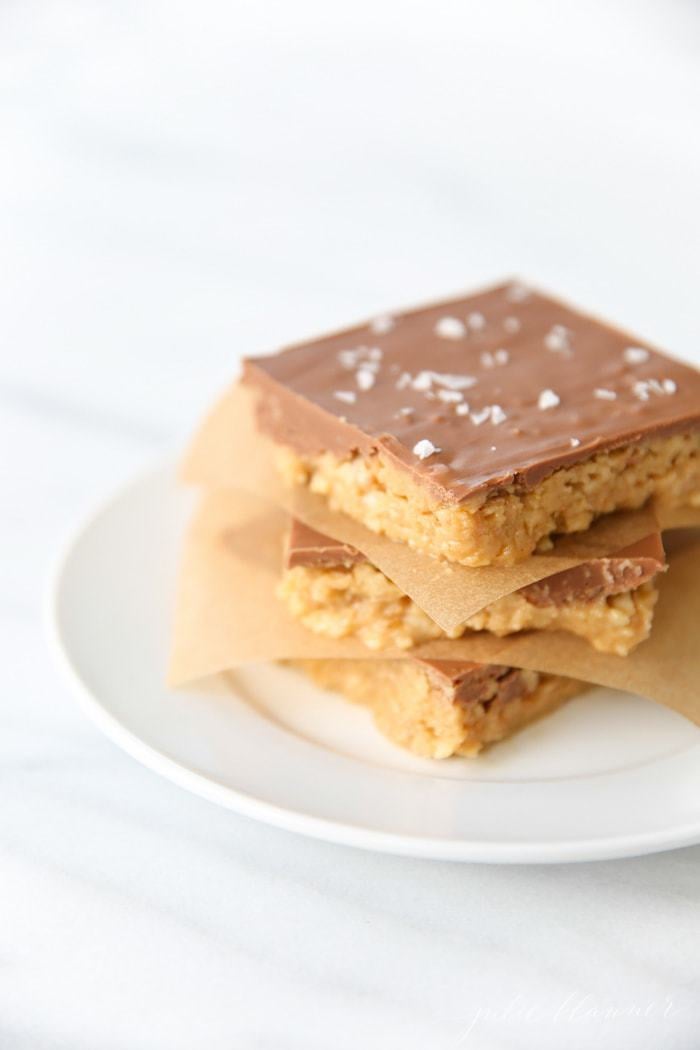 Lucky Charm Treats
Lucky Charm Treats are an easy 10 minute no bake dessert or snack made with just 3 ingredients! These sweet and buttery treats are soft and chewy packed with a crunch and colorful marshmallows!
Lucky Charm Treats are a fun twist on classic rice Krispy treats, made with lucky charms and extra marshmallow goodness! With just one bite, you'll realize you've struck gold at the end of the rainbow!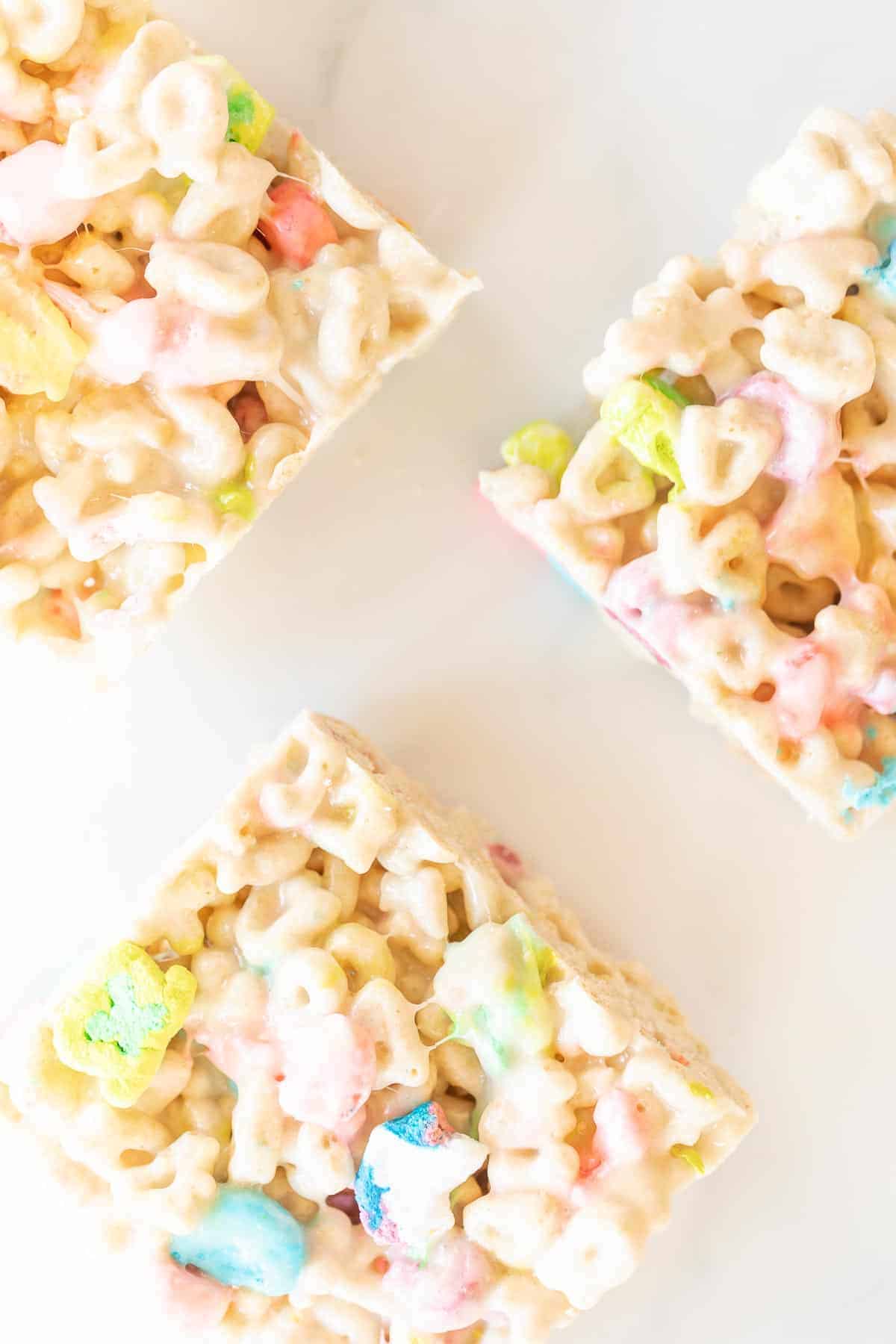 Easy No Bake Cookies
These easy no bake cookies are perfect for when you want a sweet treat in a hurry! These sweet and salty snacks are made with a homemade trail mix and chocolate, and you can make a batch in just 5 minutes!
They're a great treat for the whole family.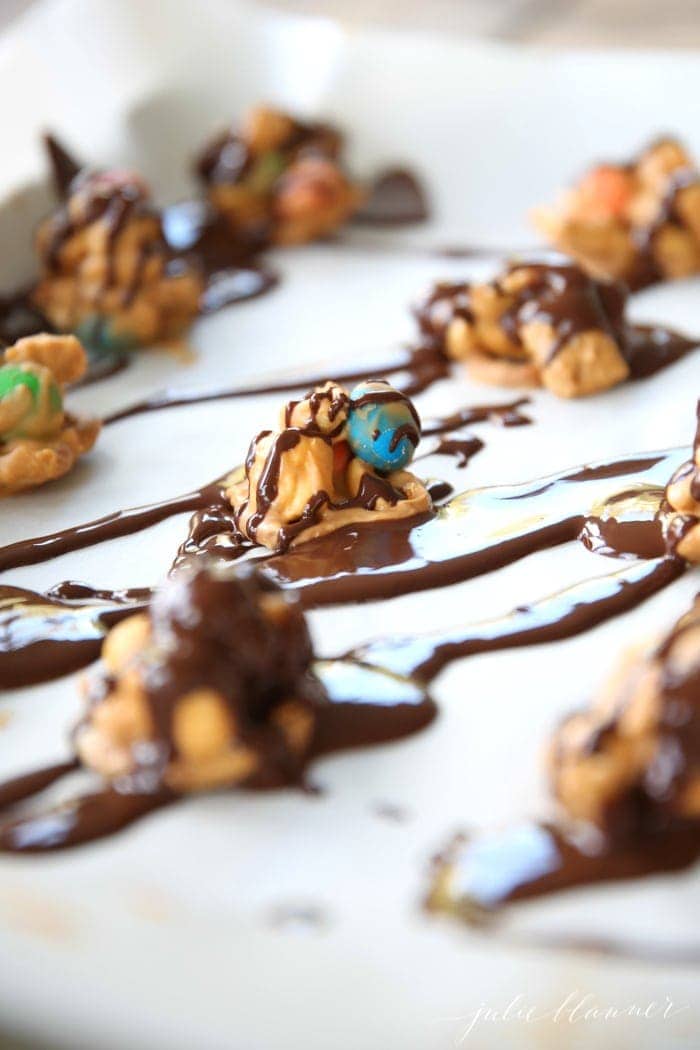 No Bake Peanut Butter Oatmeal Cookies
No Bake Peanut Butter Oatmeal Cookies are easy to make, packed with protein and stuffed with Reese's Pieces for good measure.
They're made with just seven ingredients and are ready to devour in 10 minutes!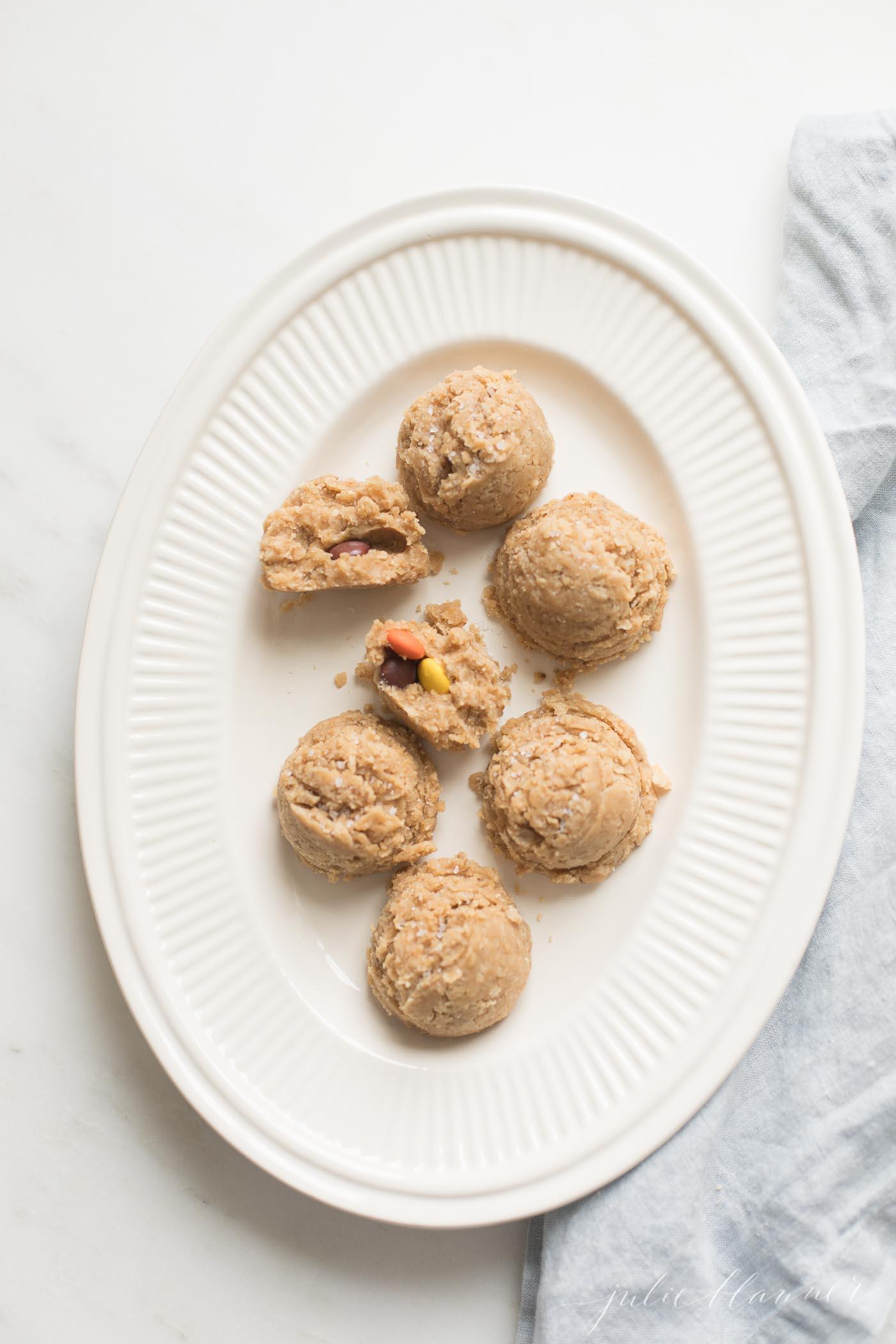 No Bake Granola Bars
Learn how to make delicious No Bake Granola Bars in just 10 minutes with only 4 ingredients! These Peanut Butter Granola Bars are the perfect make-ahead breakfast or snack that you'll feel good about.
They are packed with protein and easily made gluten-free.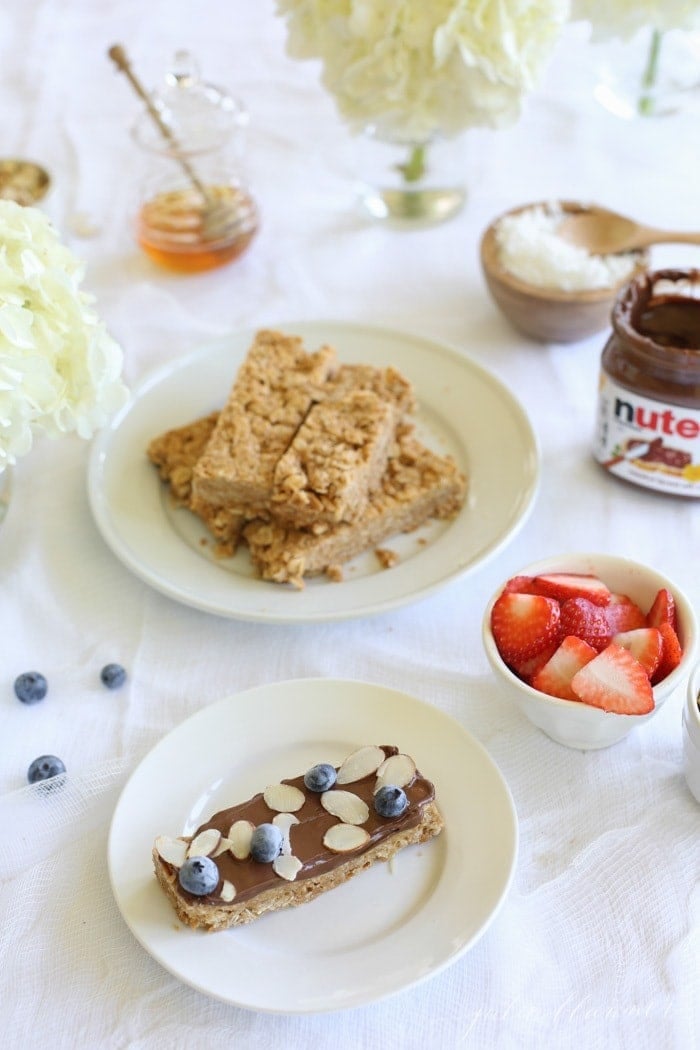 Easy No Bake Cheesecake Recipe
Easy no bake cheesecake recipe that gives you a fresh bakery taste in minutes. With just a few ingredients, this no bake cheesecake is too good to pass up. Perfect to make individual cheesecakes or one larger one and finish with your favorite toppings.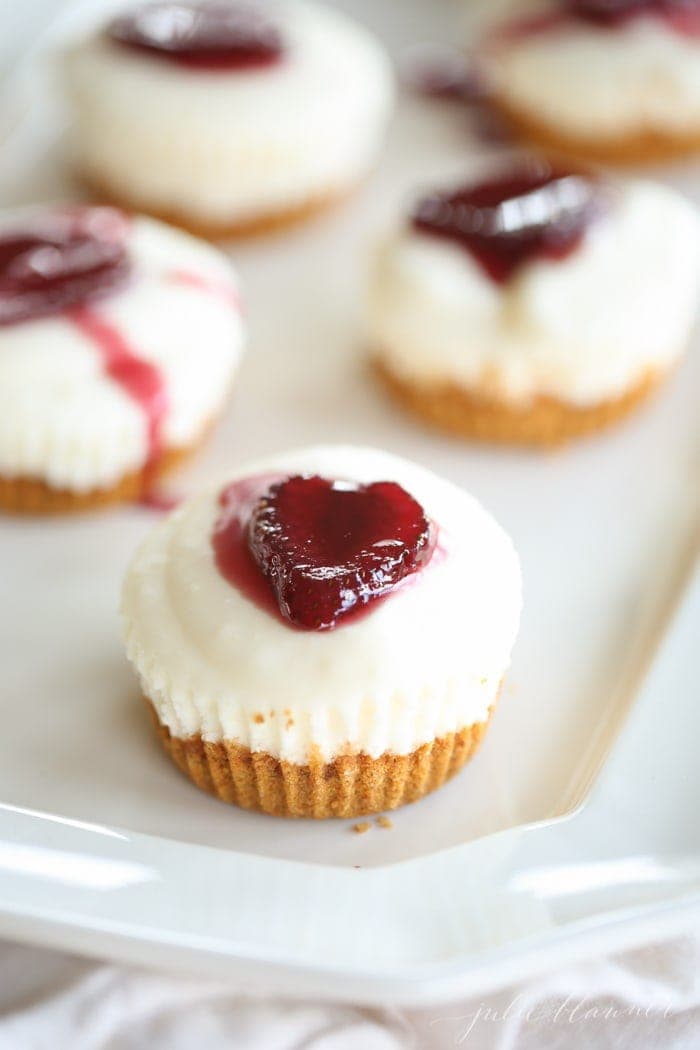 Easy No Bake Pumpkin Cheesecake Recipe
This Easy No Bake Pumpkin Cheesecake Recipe can be whipped together (literally) in five minutes! It's about time that can of Libby's pumpkin puree was put to good use.
With five simple ingredients, it's the best pumpkin cheesecake for the holiday season – less time in the kitchen and more time with your loved ones!
No Bake Butterscotch Birds Nest Cookies
This is a classic recipe for easy no bake Easter Cookies that look like adorable egg nests! Birds nest cookies are made with just seven ingredients – no oven required.
They are darling when served as an Easter treat, or anytime you want to celebrate all the joy that spring brings. Crunchy, sweet and salty with butterscotch and peanut butter, these birds nest cookies are sure to be a hit.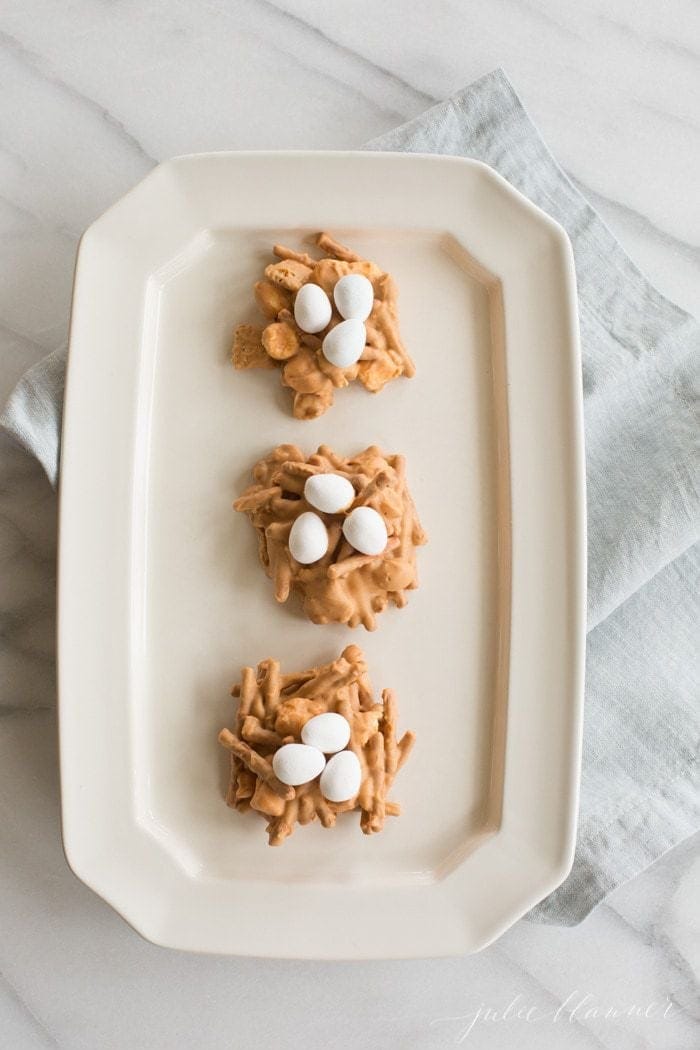 Edible Egg Nests
Easy No Bake Leftover Halloween Candy Recipe
An easy No Bake Leftover Halloween Candy recipe is a perfect way to use up all that trick or treat candy. A little sweet, a little salty and a lot of crunch from all those candy bars (hello, snickers!).
It's a festive holiday dessert wrapped into a bar – I dare you to have just one!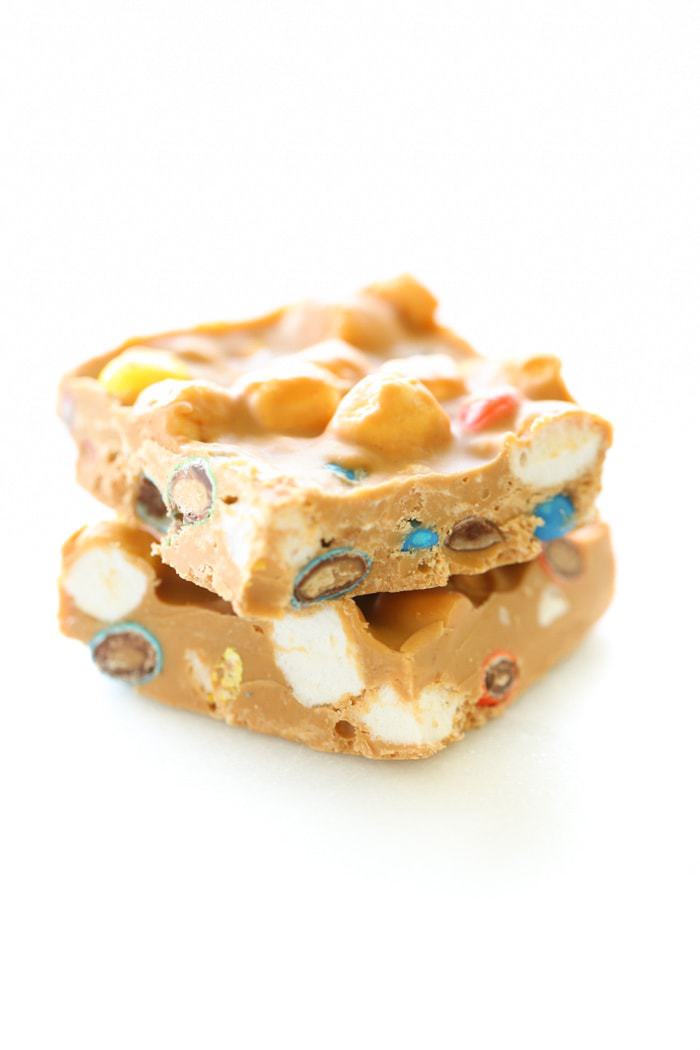 Speculoos Cookie Butter Bar Recipe
This Speculoos Cookie Butter Bar recipe (thank you Trader Joe's cookie butter) will satisfy your sweet and salty tooth! This no-bake cookie butter bar has a crunchy, salty chip crust and a layer of silky, smooth chocolate.
A simple holiday treat everyone will love!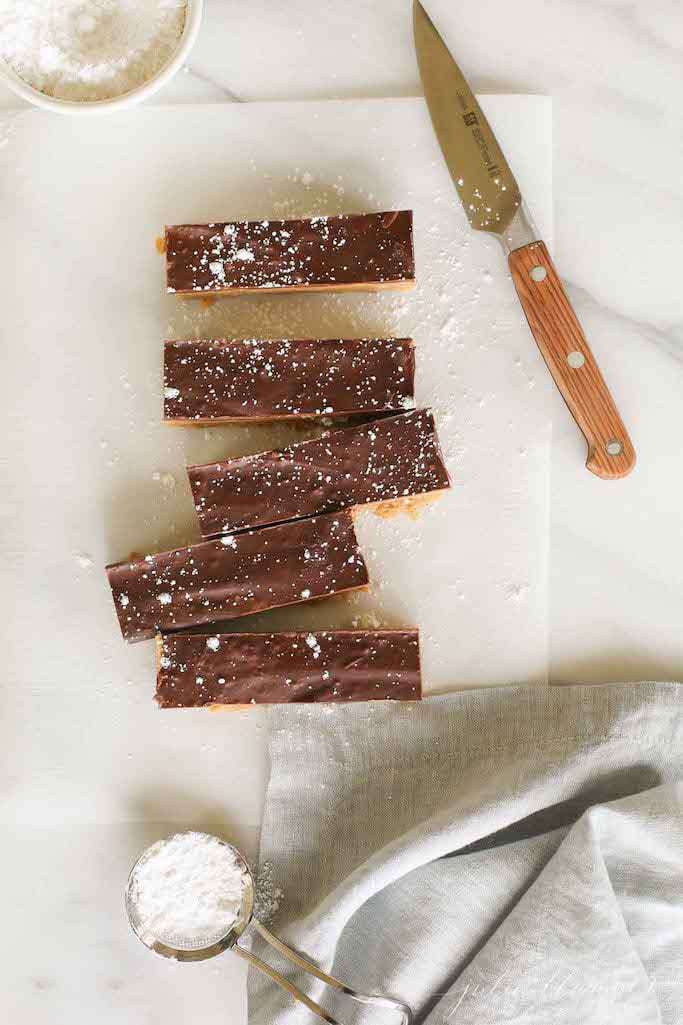 No Bake Butterscotch Bars
These four ingredient sweet and salty Butterscotch Squares come together in just minutes – literally! Get this incredible no bake Butterscotch Bars recipe for an indulgent treat that tastes like old-fashioned butterscotch candy.
Halloween Oreos
It doesn't get more "no bake" than this! These Mummy Halloween Oreos are one of the easiest cookies you'll every make, no baking involved! Just drizzle melted white chocolate onto Oreos. Add some candy eyes for the cutest and most delicious little mummy cookies.
They're a fun treat that will bring smiles and giggles to everyone.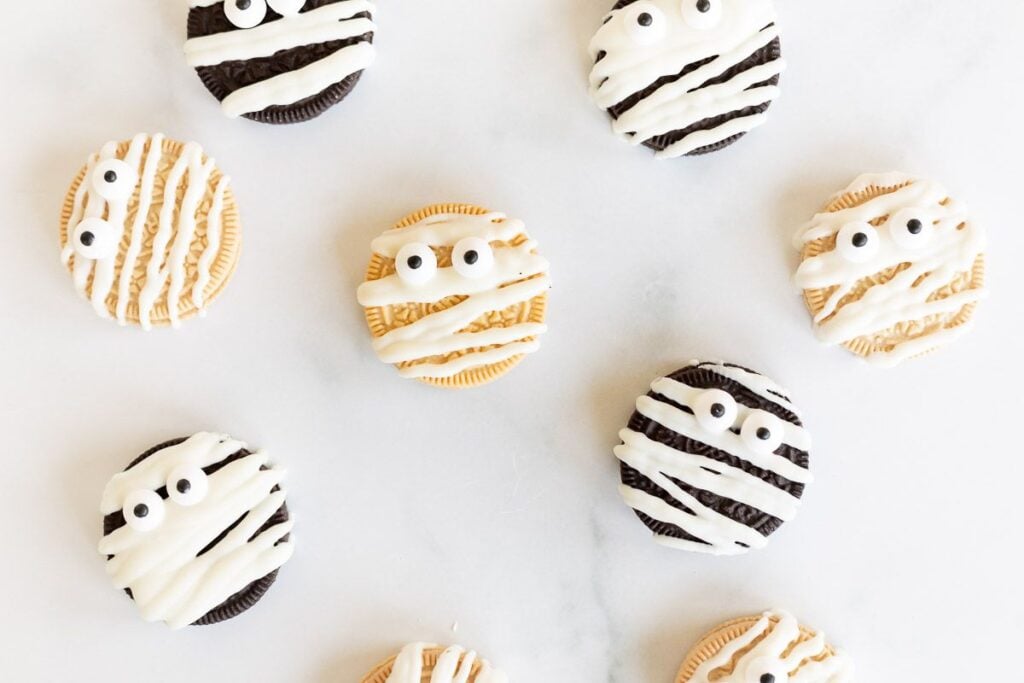 Edible Cookie Dough With Chocolate Chips
This edible cookie dough recipe is the perfect sweet treat! So easy to make, this no bake recipe is a family favorite and is great to serve as a dessert or as a mid afternoon snack.
This eggless cookie dough comes together quickly and is made with pantry staple ingredients.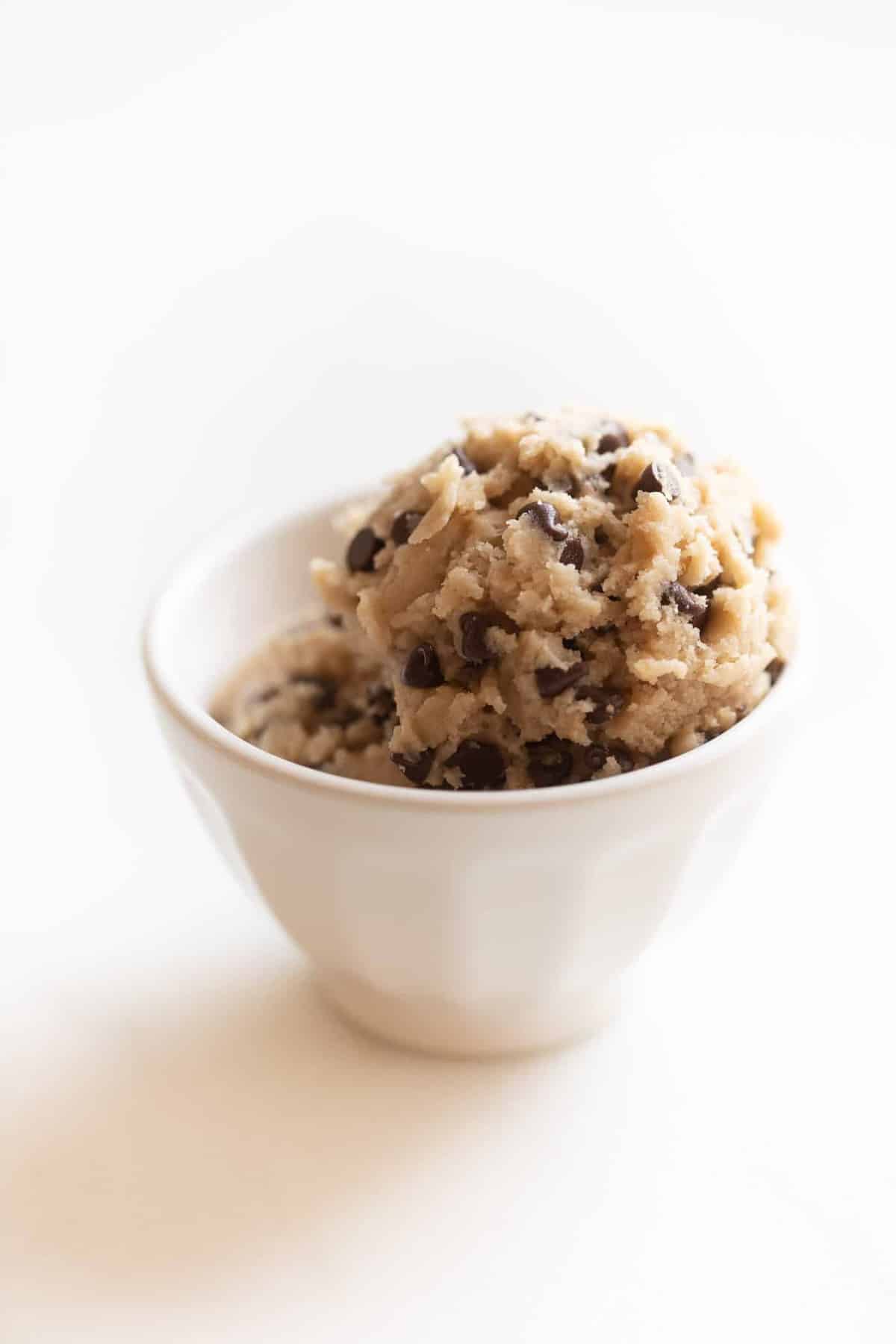 Cookie Dough Pie
This cookie dough pie recipe is every bit as delicious as you're imagining it to be! It's bursting with sweet and salty chocolate chip cookie dough, a buttery, crispy graham cracker crust, and a layer of decadent chocolate sauce on top.
It's an unforgettable cookie dough dessert you'll want to make TODAY!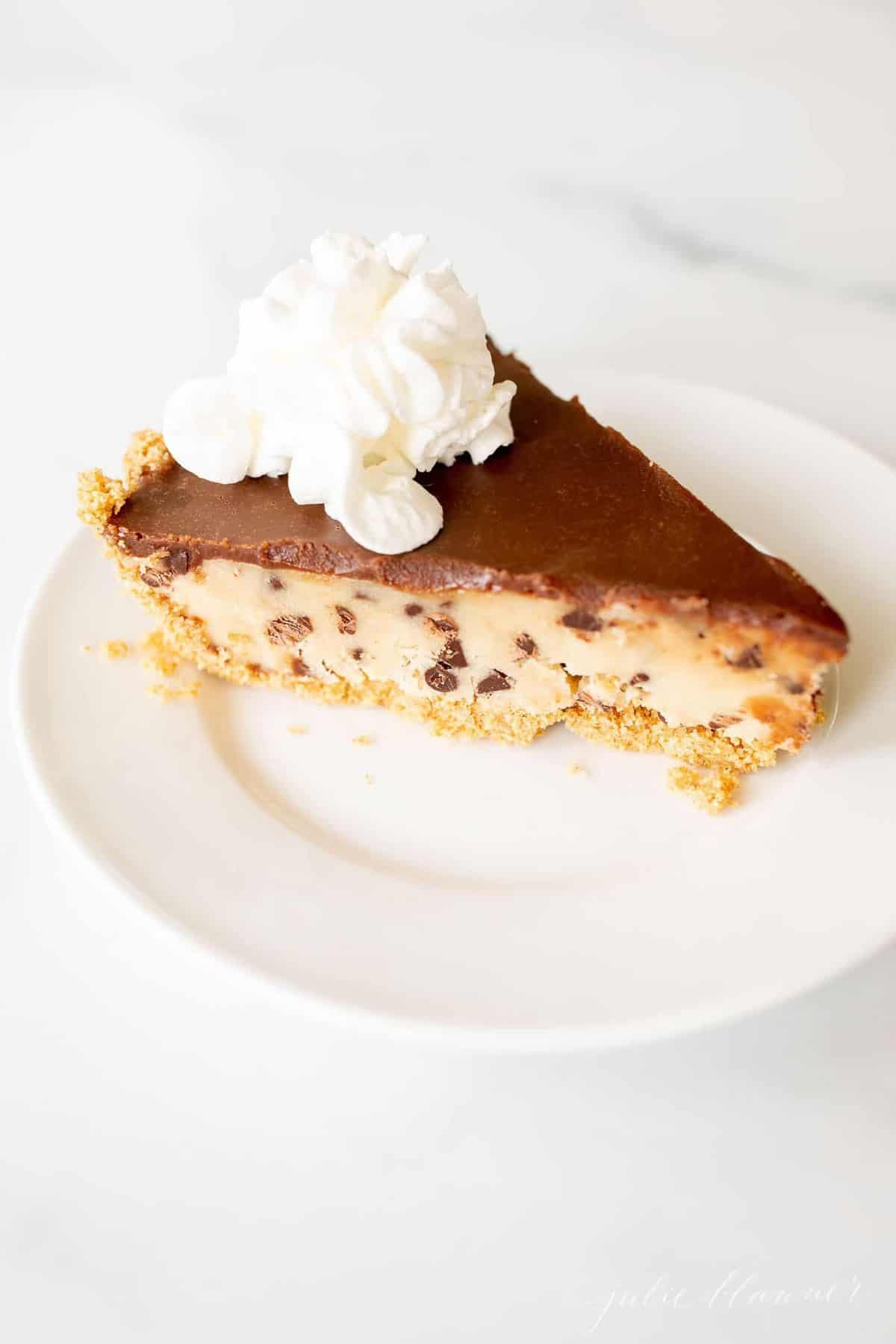 Rudolph Nose Dough Balls No Bake Christmas Cookies
These chocolate covered Rudolph Nose Dough Balls will be the hit of your Christmas get together! They're amazing edible cookie dough truffles covered in a red chocolate shell for a one of a kind no bake Christmas cookie.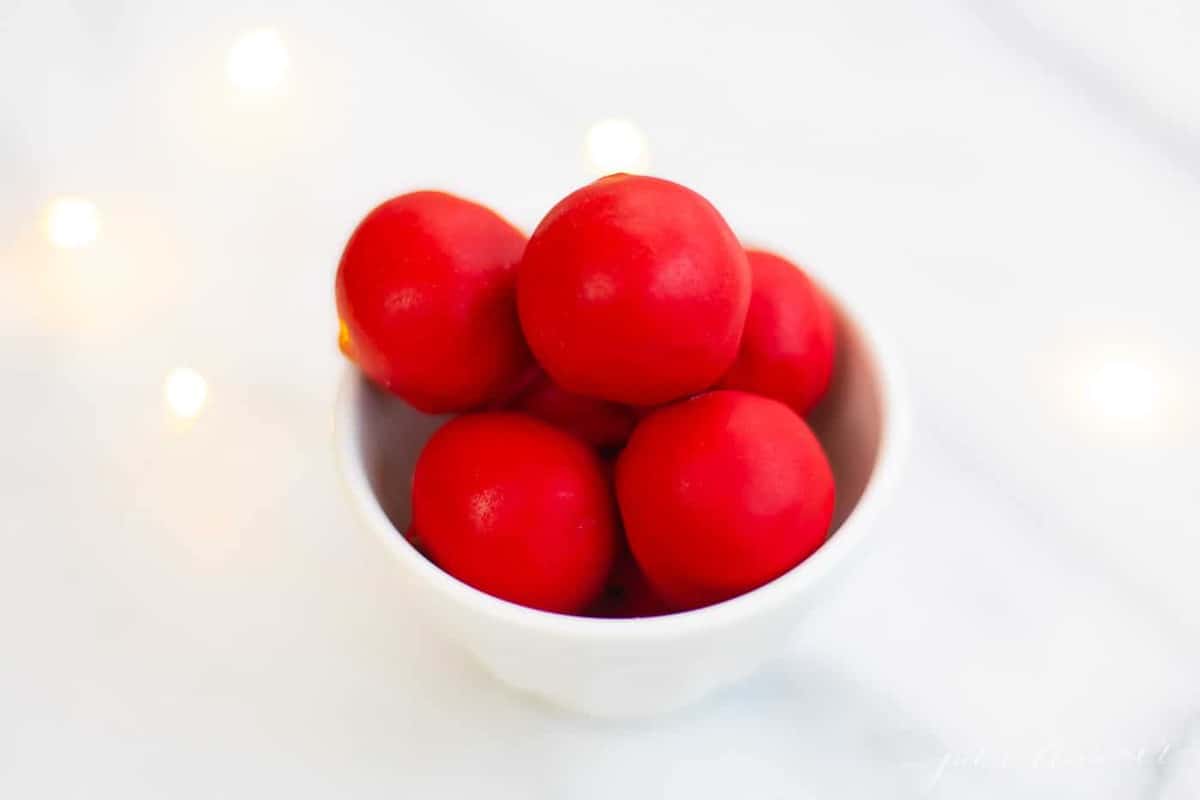 Preacher Cookies
These delicious preacher cookies come together in less than 10 minutes with ingredients you probably always have on hand. These chocolate no bake cookies are the perfect treat to satisfy a sweet tooth, any time you have a craving!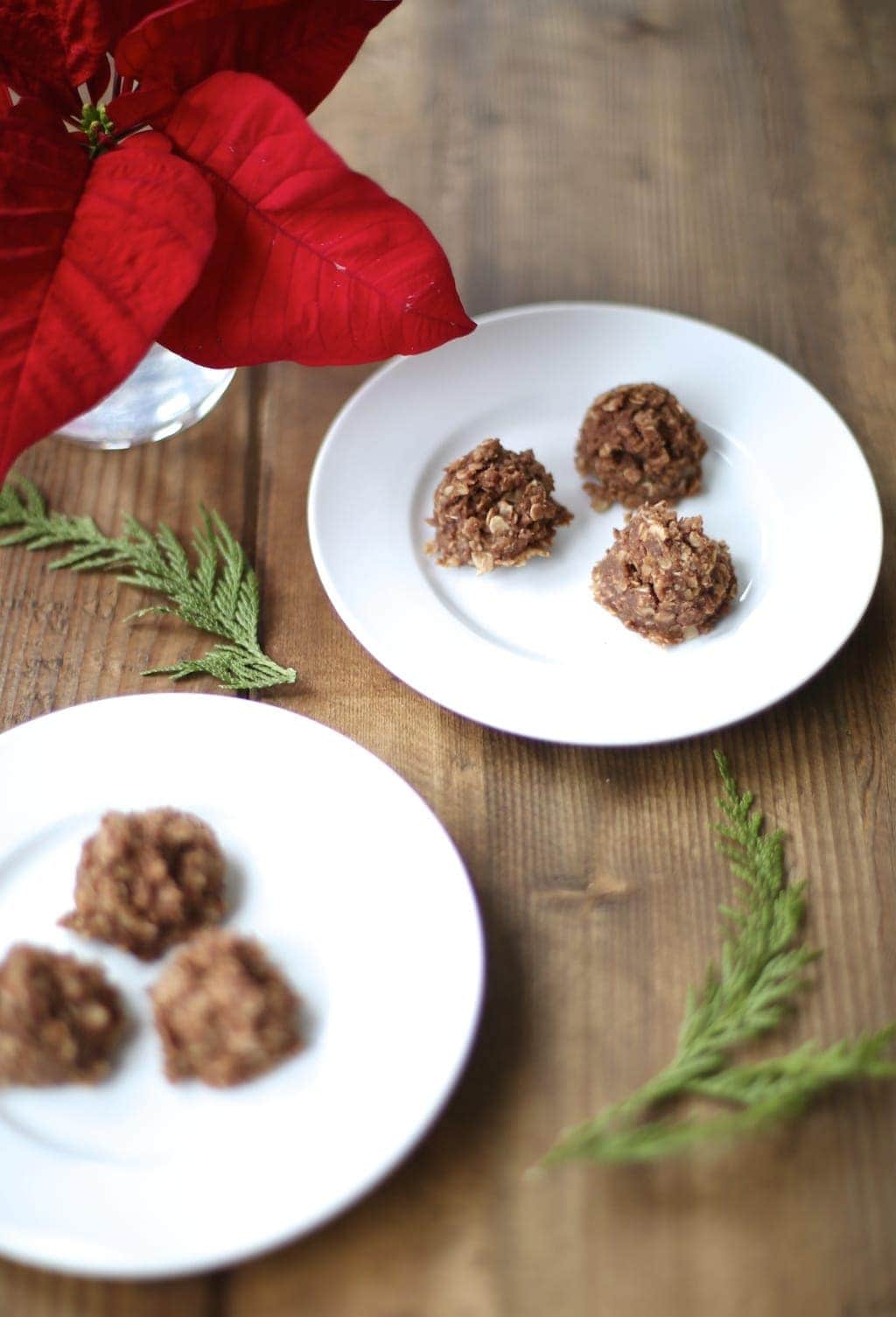 Christmas Wreath Cookies
These classic Christmas wreath cookies are fun, festive and come together in 15 minutes! It's an easy no bake cookie recipe everyone loves!
No bake Christmas wreath cookies, also known as cornflake wreath cookies or holly berry cookies, are an easy no bake festive treat that's quick and easy! They're a fun addition or alternative to cutout sugar cookies.
Join Our Community
Let's keep in touch! Receive exclusive content, including never-seen-before photos, our favorite home decor DIYs and more!
Neapolitan Marshmallow Treats
The classic Neapolitan flavors, chocolate, strawberry, and vanilla, shine in these easy marshmallow treats. Take a cue from on of our BHG home cooks and customize it with your favorite flavors. "I used raspberry jam instead of strawberry!"
Peanut Butter Truffles
Just as good as no-bake peanut butter bars, this chocolate peanut butter cookie is essentially the same thing in bite-size ball form. Dark chocolate pairs with creamy peanut butter in these decadent treats. And you can make your homemade truffles look like they came from a fancy bakery by sprinkling with chopped peanuts before the chocolate is set.
Classic No-Bake Cookies
These classic no-bake oatmeal cookies are one of our all-time favorites. Rolled oats, peanut butter, and chopped peanuts make for an extra tasty cookie, while a scoop of cocoa powder makes them chocolaty to boot. In fact, this easy recipe only takes 20 minutes of hands-on time. The other 30 minutes is just testing your patience while you wait for them to cool.
Key Lime Cheesecake Bars
Rather than spending a huge part of your day making a cheesecake from scratch, make these no-bake cheesecake bars. They're still creamy and delicious but a lot less work. Lime gelatin and key lime wedges give these bars their tang, while cream cheese and cottage cheese (yes, cottage cheese!) make them smooth and creamy. This no-bake dessert might even be gobbled up faster than key lime pie.
No-Bake Butterscotch Bars
Love Butterfinger candy bars? Then you've got to make these no-bake butterscotch bars that use Butterfingers as one of the main ingredients. We mixed some of the chopped candy bars into the butterscotch pudding layer, and the rest are sprinkled on top of the chocolate frosting. Each square is like your own homemade candy bar!
No-Bake Lemon Drops
Get ready to pucker up for this no-bake cookie recipe. It's got a double dose of sour. Tangy crushed lemon drop candies are mixed into the cookie, and then each ball is rolled through even more crushed candies. Though these no-bake lemon cookies are small, they pack a ton of citrus flavor into a one-bite dessert.
Cranberry-Vanilla Cereal Drops
Maybe our fastest no-bake cookies ever, these crunchy gems take just a few minutes to assemble once you melt the candy coating. Even better, you only need five ingredients to make these cookies. Since they're so speedy, simple, and delicious, we're ready to name them our best no-bake cookie recipe ever when time is at a premium.
Chocolate-Marshmallow-Peanut Clusters
Peanut-lovers, add this peanut butter no-bake cookie recipe to the very top of your list of desserts to try. Chocolate and peanut butter help hold together honey roasted peanuts and mini marshmallows in this tasty crunchy and chewy dessert. The recipe makes about 45 servings, so you'll be able to serve a crowd.
Test Kitchen Tip: Prepare these no-bake treats on baking sheets lined with waxed paper to prevent sticking and have less mess to deal with later.
4-Layer Nougat Bars
If you're having trouble getting your no bake dessert to set up, throw it in the fridge for a little while.
Peanut butter is wonderful for no bake recipes! A lot of my no-bake recipes work well with store bought, or even homemade peanut butter or even the natural kind, depending on your preference.
Most importantly, choose something the whole family will love. That way you don't have to eat it all yourself!
Dulce de Leche Pretzel Bites
Sweet-and-salty pretzel bites easily make any dessert plate look more festive. A decadent dulce de leche filling is sandwiched between two crunchy pretzels then covered with vanilla candy coating. Since dulce de leche is sticky enough to hold the pretzels together on its own, this is a rare no-bake cookie recipe without peanut butter (great news for anyone with allergies!).
No-Bake Lemon Dreams
Make these sweet-tart treats with off-the-shelf sugar cookies and luscious lemon curd. Decorating the edges with stars or rosettes (of piped-on purchased frosting) gives these cookies a gourmet look. The easy no-bake cookie recipe looks homemade but lets you skip the time-consuming baking and go straight to the fun of cookie decorating.
Yummy No-Bake Bars
Peanut butter and chocolate are like the PB&J of the dessert world: a perfect match! This is especially true in the form of no-bake peanut butter bars. A sweet peanut butter-cereal crust is topped with layers of creamy vanilla pudding and rich chocolate frosting. If you want to add a little crunch to your no-bake bars, add a sprinkle of peanuts on top.
Chocolate-Raspberry Bites
As this no-bake cookie recipe proves, chocolate and raspberry are a truly decadent combination. Spread sweet raspberry jam between two chocolate wafers, then add a thick layer of chocolate icing and let it drip over the side for effect. For a fresh finish, try adding a raspberry on top of this no-bake dessert (before the chocolate fully hardens).
White Chocolate-Cranberry Crispy Treats
These crispy bars are a jazzed-up version of the classic rice cereal treats. Make them stand out by adding your favorite dried fruit, chopped nuts, and flavored baking pieces. You can easily make these no-bake dessert bars a treat for the holidays by mixing in nutmeg, dried cranberries, and chopped pecans.
No-Bake Butterscotch-Pretzel Bars
A pretzel-peanut butter crust holds these bars together but lets the butterscotch flavor shine. Everything about this dessert is delicious (you can't go wrong with peanut butter desserts, after all), but it's the combination of salty and sweet in every bite that makes this one of our best no-bake bars.