Nanaimo Bars
This easy and delicious dessert bar hails from Canada, and we can't get enough of it (and its gorgeous layers)! It's first layer is chocolate, second is a custard-y buttercream, and the third (the best TBH) is a stellar combo of graham cracker crumbs, coconut, and toasted pecans. You're going to be obsessed.
Get the Nanaimo Bars recipe.
Layered No-Bake Strawberry Cheesecake is a quick and easy cheesecake recipe. It's a light and refreshing spring and summer cake with fresh strawberries nestled on a Golden Oreo crust, vanilla cheesecake layer, and lick-the-bowl-good strawberry filling. There's no artificial flavor and colors!!!
This easy cheesecake recipe was inspired by my No-Bake Strawberry Jello Lasagna, you must check it, too.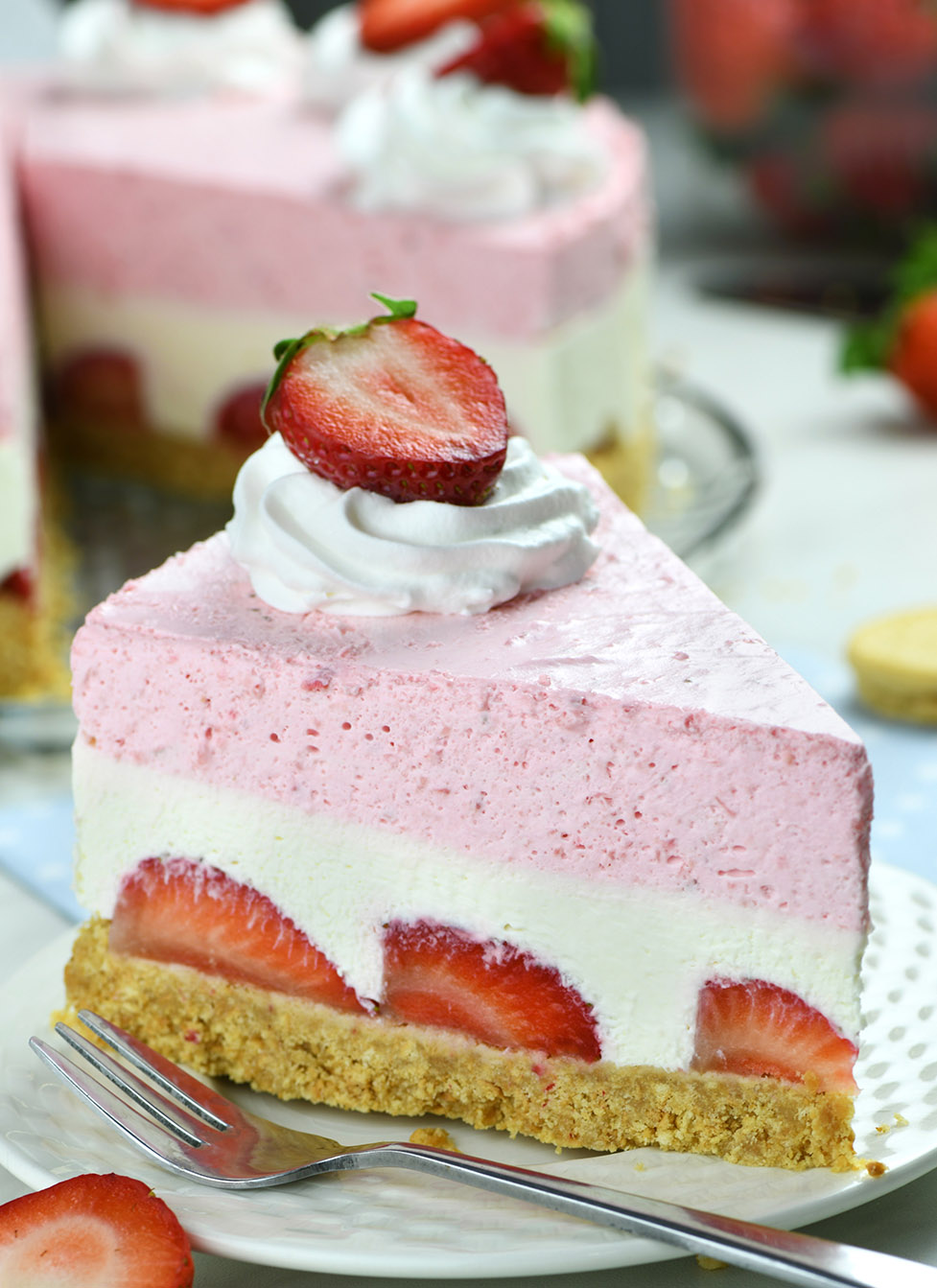 You should never have to choose between a slice of pumpkin pie and a slice of cheesecake—not when you can so easily have both. It's just as simple as it sounds.
A layer of graham cracker crust sits underneath a modest layer of cheesecake that supports a layer of pumpkin pie filling. All three layers are distinct, but they bake into a beautifully sliceable cheesecake that is quite literally the best of both worlds.
Micah A. Leal
Cheesecake on its own is downright delicious, but because of how rich it is, a slice of cheesecake is often difficult to finish without feeling too full. Because of this, cheesecake is often paired with something bright and flavorful (raspberry, chocolate, etc.) to help balance the dessert.
A layer of pumpkin pie is the ideal compliment in a slice of cheesecake because it replaces half of the cheesecake normally present in a slice,. It's also richly spiced to offset the density of the cheesecake, making it more palatable.
A slice of this dessert is equal parts rich cheesecake and custardy pumpkin pie, making it entirely reasonable to consider a second slice. The cheesecake bakes in a water bath, allowing both layers to cook gently. Once the cheesecake has had plenty of time to chill, the cake is easy to cut to reveal the two contrasting layers present in every slice.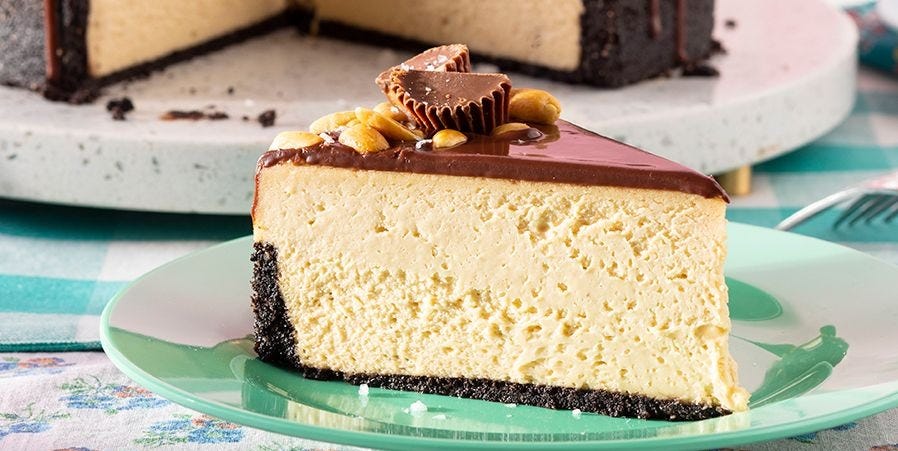 Rich, decadent, creamy—these are just some of the words we'd use to describe cheesecake. Another word that comes to mind? Bakery! Yes, many people might resort to buying a cheesecake made by a professional pastry chef, but the fact of the matter is, anyone can make them right at home! In fact, these easy cheesecake recipes prove that the velvety smooth dessert can be made for just about any occasion. Whether you're looking for a quick no-bake dessert, a bake sale treat, or a special occasion cake recipe that's a total show-stopper, there's a cheesecake on this list that's right for you.
When it comes to flavors, we've got them all! From chocolate to peanut butter, and everything in between! Of course, there are tons of seasonal spiced cheesecakes, pumpkin desserts, and Christmas cheesecake recipes, like the caramel apple cheesecake or the comforting cinnamon roll cheesecake. But you'll also find cheesecakes made with fresh berries and light l flavors. Looking for a cheesecake to satisfy your coffee craving? Try the mini coffee cheesecakes made with Oreo cookie crusts.
Whichever cheesecake you choose, just be sure you're prepared with the right bakeware: some cheesecakes call for using a springform pan, while others are made in baking pans, pie pans, and even muffin tins.
Advertisement – Continue Reading Below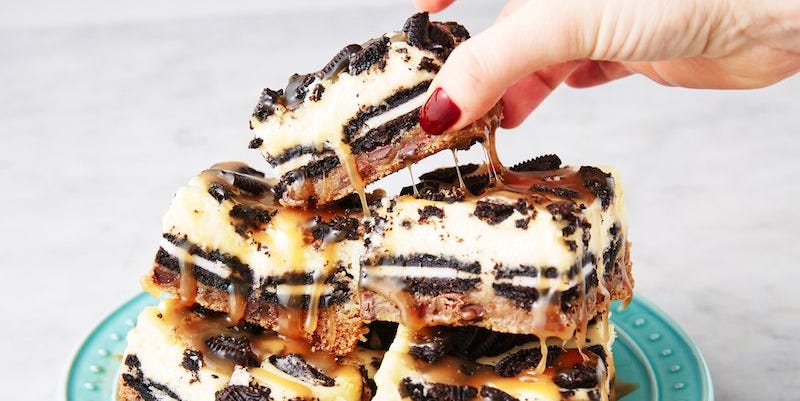 When you hear the word "layered", you might be thinking LOTS of steps and ingredients. It's true, some traditional layered desserts do take a bit more effort than the average sweet, but not all! If you're looking for something to show off your skills, you can't go wrong with our tiramisu, our napoleon cake, our walnut and pistachio baklava, or our copycat Cheesecake Factory Oreo cheesecake. They'll blow the minds of whoever you serve them to.
If you're looking for something in the middle, try a bar or an ice cream cake. Many of our recipes—like our strawberry shortcake ice cream cake, our millionaire shortbread bars, our Oreo cheesecake bars, or our baked Alaska—utilize a mix of store-bought and homemade ingredients to great effect.
Want even more creative desserts? Check out our favorite ways to decorate a cake, our best unique holiday cookies, and our top no-bake desserts too.
Prep: 35 min. Bake: 70 min. + chilling
I love both red velvet cake and cheesecake. So why not combine them into one stunning red velvet cheesecake recipe? It's best when served chilled, right out of the fridge. —Melissa Gaines, Knoxville, Tennessee
Our editors and experts handpick every product we feature. We may earn a commission from your purchases.
Ingredients
Preheat oven to 325°. Line bottom of a 9-in. springform pan with parchment; grease paper.
In a large bowl, beat cream cheese and sugar until smooth. Beat in sour cream, flour and vanilla. Add eggs; beat on low speed just until blended. Pour into prepared pan. Place on a baking sheet.
Bake until center is set, 40-50 minutes. Cool on a wire rack 10 minutes. Loosen sides from pan with a knife. Cool 1 hour longer. Refrigerate until ready to assemble, covering when completely cooled.
For cake, increase oven setting to 350°. Line bottoms of 2 greased 9-in. round baking pans with parchment; grease paper.
In a large bowl, beat sugar, oil, buttermilk, eggs, food coloring, vinegar and vanilla until well blended. In another bowl, whisk flour, cocoa, baking soda and salt; gradually beat into sugar mixture.
Transfer to prepared pans. Bake until a toothpick inserted in center comes out clean, 30-35 minutes. Cool in pans 10 minutes before removing to wire racks; remove parchment. Cool completely.
For frosting, in a large bowl, beat cream cheese, butter and vanilla until smooth. Gradually beat in enough confectioners' sugar to reach desired consistency. Place 1 cake layer on a serving plate. Spread with 1 cup frosting. Carefully place cheesecake over frosting.
Spread cheesecake with another 1 cup frosting. Top with remaining cake layer. Frost top and sides of cake with remaining frosting. Refrigerate overnight before serving.
Nutrition Facts
1 piece: 896 calories, 66g fat (28g saturated fat), 166mg cholesterol, 676mg sodium, 70g carbohydrate (51g sugars, 1g fiber), 9g protein.
Recommended Video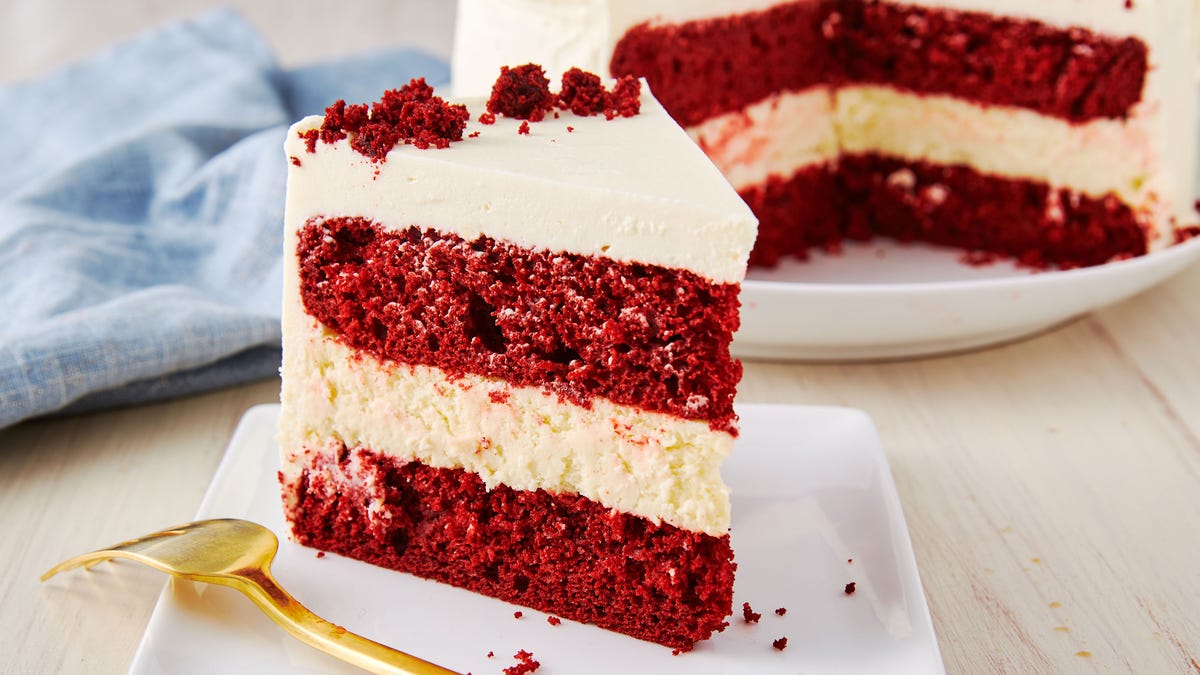 In our humble opinion, if you make just one dessert this Valentine's Day, this should be it. After all, why choose one classic when you can have both in one bite? With layers of decadent red velvet cake and rich cheesecake, this is the ultimate two-in-one dessert when you just can't decide what to serve. The best part? This dessert is adaptable to how much effort you want to put in: Make the red velvet cake from scratch if you prefer, or use a boxed mix—either way, this cake will taste just as incredible as it looks.
What is a red velvet cheesecake cake?Exactly what it sounds like: part cheesecake, part red velvet cake (head here to learn all about what red velvet cake really is). The layers get sandwiched together and then frosted all over in a cream cheese frosting for an impressive layered dessert that's truly got it all.
Do I need to make all three layers from scratch?The cheesecake layer comes together quickly, with just cream cheese, sugar, egg, a little sour cream for tanginess, and vanilla. For the red velvet layers, you can make it from scratch with our super-easy red velvet cake recipe or use a boxed mix if you prefer.
Serving.This cake looks stunning all on its own, but if you're looking for a bit of extra decoration, use some cake crumbs as a festive garnish! While using your serrated knife to carefully shave off the rounded top of the cakes, save your scraps. When it's time to decorate your cake, crumble them up and sprinkle on top of your frosted cake for the ultimate presentation.
Can I make this ahead of time?Yes! You can bake off the red velvet layers and cheesecake layer up to 2 days in advance. Let the red velvet cake layers cool, then wrap tightly in plastic wrap and store at room temperature. (Never store cake in the refrigerator or it will get dry and crumbly!) After the cheesecake bakes, you'll transfer it to the freezer to cool and firm up. If you want to make this ahead, leave it there—wrapped in plastic—and let thaw in the fridge for assembly.
Made this? Let us know how it went in the comments below!
Butter, for cake pans
All-purpose flour, for cake pans
1box red velvet cake mix, plus ingredients called for on the box
For the Cheesecake Layer
28-oz. packages cream cheese, softened
2/3 c.
1/3 c.
1 tbsp.
1tsp.pure vanilla extract
1/4 tsp.
For the Cream Cheese Frosting
28-oz. packages cream cheese, softened
1/2c.(1 stick) butter, softened
2 1/4 c.
1tsp.pure vanilla extract
Nutrition Information
Per Serving (Serves 1)
269 g6 g10 mcg
Note: The information shown is Edamam's estimate based on available ingredients and preparation. It should not be considered a substitute for a professional nutritionist's advice.
Jump to Recipe
Lime Layered Cheesecake is the perfect slice of creamy, tangy dessert heaven. This is a true layer cake made with cheesecake layers instead of regular cake layers.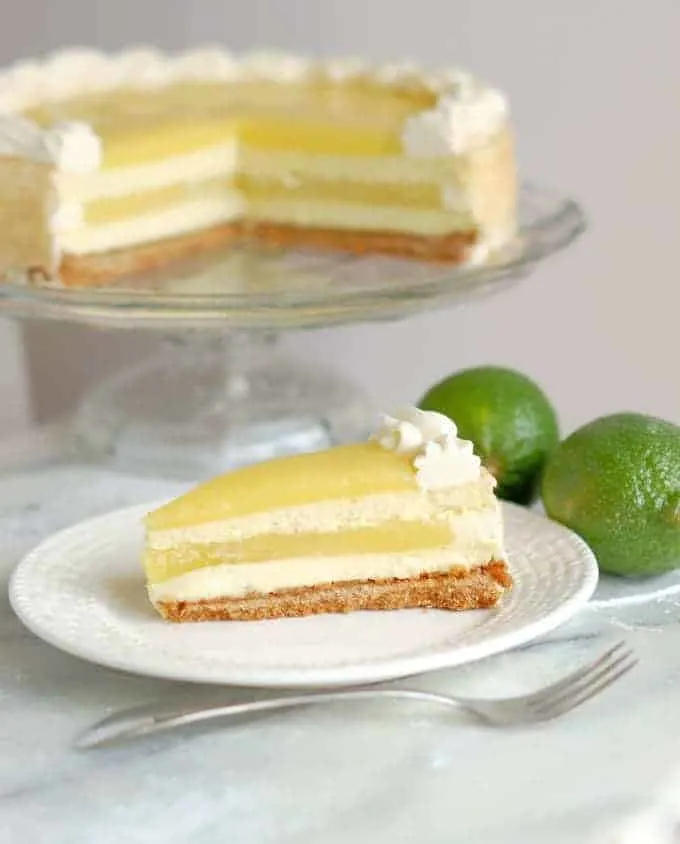 As I've confessed before, despite the fact that I ran a successful custom cake business for 10 years, and I know exactly how to create the best cake recipes, cake is probably my least favorite dessert.
It's not that I don't think cake tastes good, I do, especially a good scratch-baked cake. I enjoy a slice of Bundt or pound cake with a cup of tea. But I will always choose a pie, tart, custard or cheesecake before a slice of layer cake.
Over the decade that I baked cakes for a living, I went out of my way to include non-traditional fillings and layers to make my cakes less cake-like. I put a giant cookie at the bottom of my Chocolate Chip Cookie Cake to make it better. Some of my other popular flavors had mousses, brownies, curds and cheesecake between the layers.
How I invented Layered Cheesecake
One of my personal favorite flavors from my cake business was the "Key Lime Cake". That cake is made with layers of vanilla cake, lime cheesecake, graham cracker crunch and lime curd. With this Lime Cheesecake recipe I've taken that concept one step further and eliminated the "cake" all together.
I love the contrast of tangy lime curd with creamy cheesecake. By adding a graham cracker crust to one of the layers we also have a nice crunchy element as well.
Is Layered Cheesecake really tricky to make?
Don't skip the step where you line the pans with parchment rounds. This makes getting the frozen cheesecake layer out of the pan much, much easier.
The cheesecake should be baked all the way through to the center. Because these layers are much thinner than a regular cheesecake they won't continue to bake after coming out of the oven.
You'll need to work with the layers while they're frozen so you can build the cake without smooshing the layers.
The lime curd  is made with just enough gelatin so it will hold it's shape when the cake is cut. When you pour soft lime curd between the frozen cheesecake layers it will set quite quickly and adhere to the cheesecake layers for a seamlessly layered cake.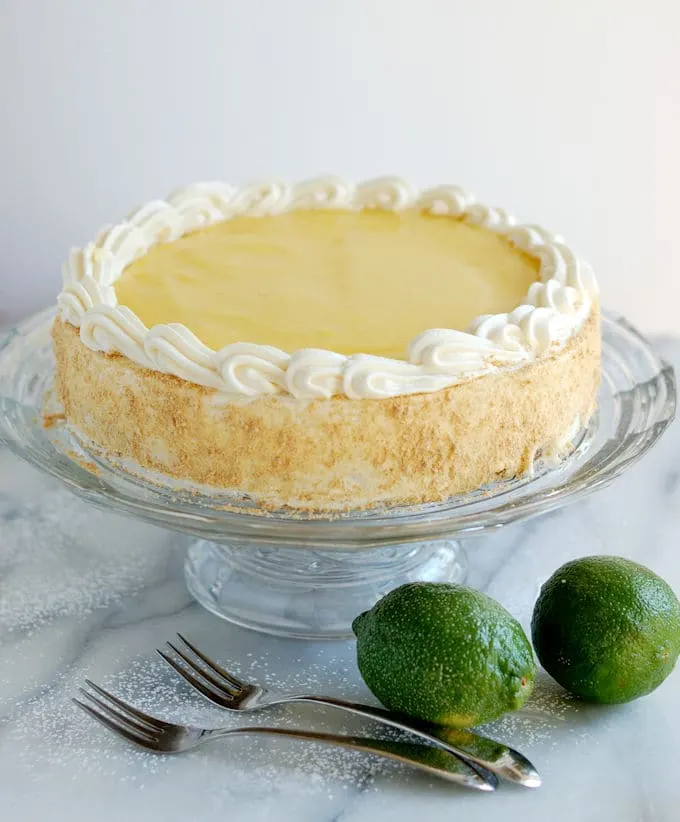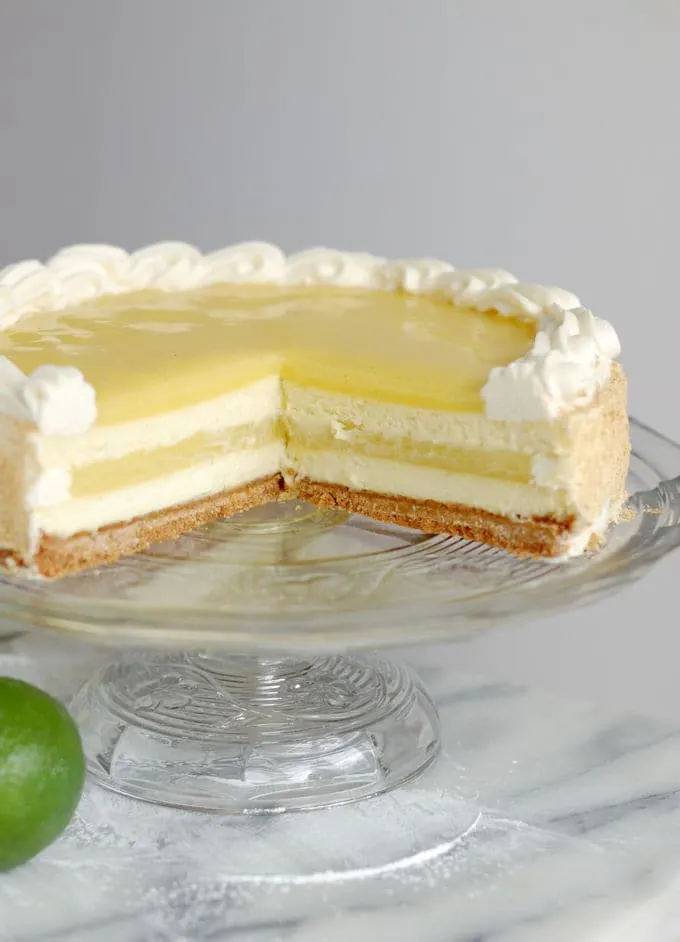 Just when you thought cheesecake couldn't get any better, it does.
If you want to make another cheesecake that breaks all the cheesecake rules check out this recipe for San Sebastian Cheesecake. You might also want to try Chocolate Cherry Cheesecake Tart or Blueberry Cheesecake Tart.
Watch the recipe video to see how-to put together this stunning Lime Layered Cheesecake
If you love this recipe, please consider giving it 5 stars.
6 tablespoons (3 oz, 84g) unsalted butter, melted
1/4 cup (2 oz, 56g) granulated sugar
1/2 teaspoon ground cinnamon
Cheesecake batter
2 cups (16oz, 450g) cream cheese, room temperature
1 cup (8 oz, 224g) granulated sugar
Finely grated zest from 1 large lime
3/4 cup (6 oz, 168g) sour cream, room temperature
3 large eggs plus 1 yolk, room temperature, whisked together
1 tablespoon vanilla extract
Assembly
2 cups lime curd made with gelatin.
2 cups (1/2 recipe) Cream Cheese Frosting
Graham cracker crumbs for decoration
Instructions
Preheat the oven to 350°F. Line two 9″ pans with parchment paper. Don't skip the parchment liner or it will be almost impossible to handle the cheesecake layers later.
Combine the graham cracker crumbs, sugar and cinnamon in a mixing bowl. Pour the melted butter over the crumbs and toss to combine. Dump the crumbs into ONE of the prepared pans and pat down to an even layer.
Make the Cheesecake batter
In a large mixer bowl or stand mixer bowl, use the beater attachment to cream the cream cheese until soft and smooth. You're not trying to add air, just soften the cream cheese. Keep the mixer on low speed. Scrape the bowl and the beater.
Add the granulated sugar and lime zest, mix until no lumps of cream cheese remain. Scrape the bowl and paddle attachment again. Add the sour cream, scrape the bowl and paddle attachment again.
With the mixer running on low speed add the eggs/yolk in 2 batches, Scrape the bowl and paddle attachment between batches. Add the vanilla and lime juice and mix until combined.
Divide the batter evenly between the two prepared pans. Set the pans into slightly larger pans and pour an inch of warm water into the larger pan.
Allow the layers to cool to room temperature then place the pans in the freezer several hours or overnight. The layers should be frozen solid.
To remove the cheesecakes from the pans dip the bottom of the pan in a bowl of very hot water, run a knife or spatula around the sides of the cake and flip it out onto a flat plate. Alternately, you can flip the pan over and run a propane torch across the bottom of the pan. Remove the parchment round from the bottom and flip right side up. If not assembling the cake immediately, wrap the cheesecake layers and freeze until ready to use.
Assemble the Cake
Warm the curd in the microwave and set it aside until it is room temperature but still soft and pourable.
Place the frozen cheesecake layer with the graham cracker crust onto a serving platter, crust side down. Fill a piping bag with cream cheese frosting. Pipe a 1 inch "dam" of cream cheese frosting around the edge of the cheesecake layer.
Pour 1 1/4 cups of lime curd onto the cake and spread evenly. The cream cheese "dam" will hold the curd in place until it sets.
Set the other frozen cheesecake layer onto the curd filling. Ice the sides of the cake with cream cheese frosting. Press graham cracker crumbs onto the sides.
Pipe a border around the top edge of the cake. Pour the remaining lime curd onto the cake and spread to a smooth finish.
Refrigerate until the curd is set. Serve chilled.
Notes
The layers must be baked until they are set all the way to the center. Do not take them out of the oven while the middle is still soft.
The cheesecake layers can be made ahead, wrapped and frozen until ready to assemble. The lime curd can be made ahead and refrigerated for several days or frozen for several months. The cream cheese frosting can be made ahead and refrigerated. Bring the frosting back to room temperature and re-whip before using.
Peanut Butter Cheesecake
Calling all peanut butter lovers! This chocolate and peanut butter cheesecake is ultra-decadent. Adding cocktail peanuts and flaky sea salt for garnish helps to cut the sweetness.
Get the Peanut Butter Cheesecake recipe.
Oreo Cheesecake Bites
Instead of your typical cookie crumb crust, each one of these cute mini cheesecakes sits on a full Oreo cookie! It's basically two desserts in one!
Get the Oreo Cheesecake Bites recipe.
Caramel-Pumpkin Gingersnap Cheesecake
The Pioneer Woman
This isn't just a pumpkin cheesecake, it's a caramel pumpkin cheesecake with two very-rich layers of caramel sauce. You really don't need much to finish this sweet dessert, but a crumble of extra gingersnap cookies adds a nice crunch.
Get Ree's Caramel-Pumpkin Gingersnap Cheesecake recipe.
No-Bake Strawberry Cheesecake
No-Bake Strawberry Cheesecake is the perfect summer sweet treat and uses only a few ingredients: Golden Oreo crumbs, butter, cream cheese, heavy whipping cream, powdered sugar, vanilla, gelatin, and fresh strawberries.
This cake is so light and creamy. The white layer is classic vanilla no-bake cheesecake. The strawberry filling is something between a mousse and a cheesecake. It's made with more whipped cream and less cream cheese, than the vanilla layer. Therefore, it's very light and airy, and full of fresh strawberry flavor. Instead of strawberry-flavored gelatine, I used fresh strawberries for flavor and color.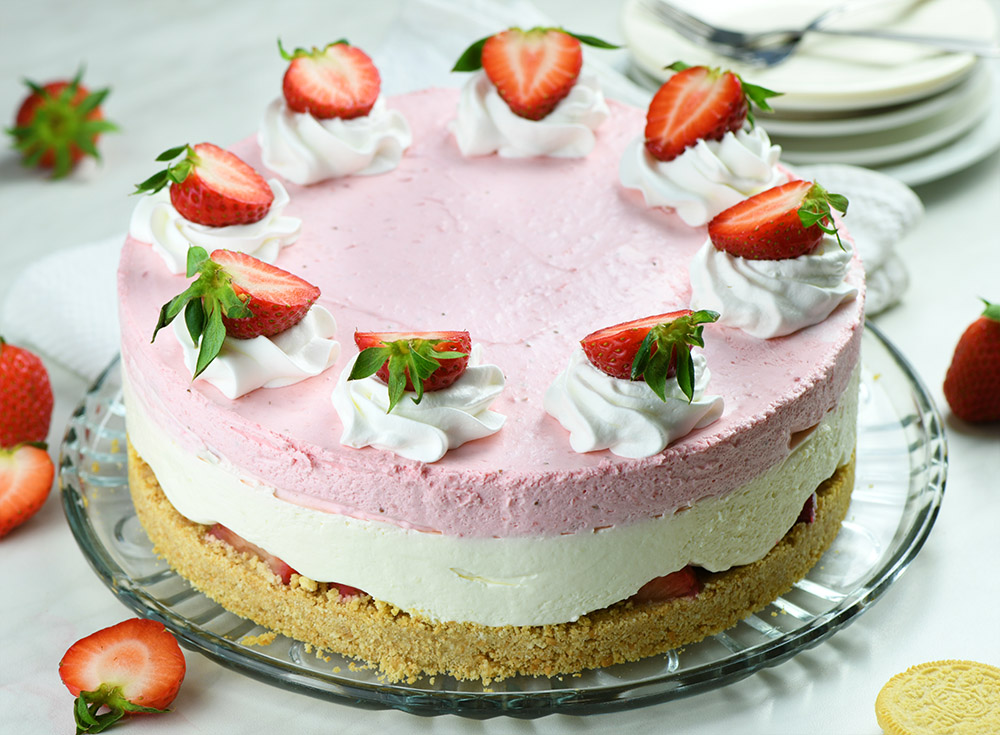 No-Bake Lemon Cheesecake
This bright and zesty cheesecake is lighter in texture than other dense cheesecakes partly because it's not baked. Instead, this airy, whipped cheesecake will add a touch of freshness to your dessert table.
Get the No-Bake Lemon Cheesecake recipe.
Walnut and Pistachio Baklava
Sticky and rich, baklava is a Turkish and Greek dessert made of layered sheets of phyllo dough, nuts, spices, sugar, and/or honey. Our version uses walnuts and pistachios, but feel free to use whichever nuts you like the most.
Get the Walnut and Pistachio Baklava recipe.
Magic Cookie Bars
Though dump cakes might be the easiest dessert to make, these bars are a close second. And we'd reckon that these are even more customizable and more delicious. We encourage you to find your ideal flavor and ingredient combinations to discover the true magic of these bars.
Get the Magic Cookie Bars recipe.
Copycat Cheesecake Factory Oreo Cheesecake
With five indulgent layers of chocolate and Oreos, this dreamy cheesecake is extremely decadent. Though it certainly takes some time to come together (most of the layers need time to chill), it's mostly hands-off prep. Once everything is chilled, assembly is a breeze!
Get the Copycat Cheesecake Factory Oreo Cheesecake recipe.
No-Bake Cheesecake vs. Classic (Baked) Cheesecake
In the first place, no-bake cheesecake eliminates a lot of the worries that might keep you from making a cheesecake. It doesn't go in the oven, so there's no fuss with the water bath or waiting to cool down. Also, no worries about cracks in the top.
Besides the obvious, the texture of a baked cheesecake can be dense. A no-bake cheesecake is light and airy, plus no need to turn on the oven=PERFECT SUMMER TREAT!
Cream cheese, heavy cream, and gelatin come together for a filling that firms up in the refrigerator.
Oreo crumbs and butter crust—no baking there either! They're pressed down and as the butter cools, it keeps the mixture together. There's no need to bake it to keep it together.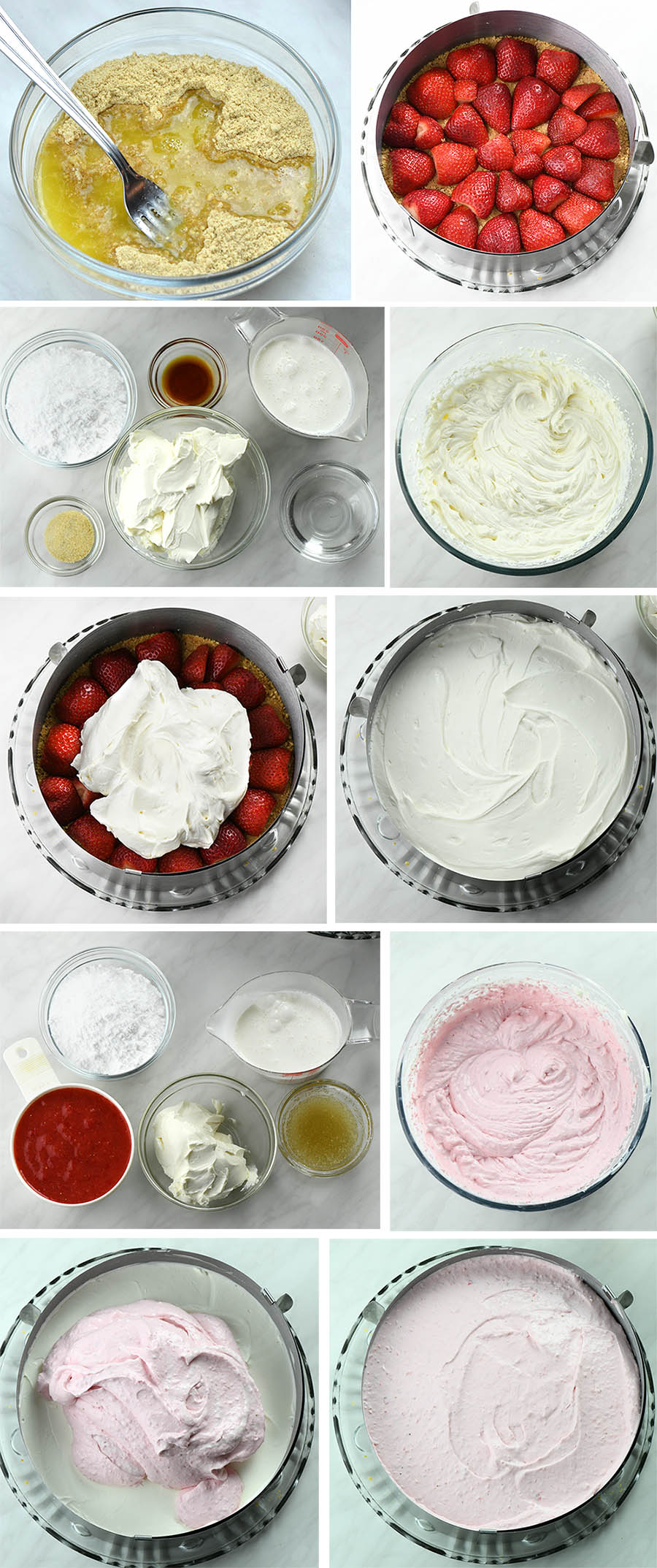 Best-Ever Parfait
When you're in the mood for a sweet treat, but don't want to load up on something heavy like cake or cookies, give this parfait a try! A compote might sound like a lot of work, but it's actually very simple. Made with a mixture of fruit (fresh or frozen), water, and sugar, you can turn pretty much any fruit into a delicious, syrupy sauce in no time at all.
Get the Best-Ever Parfait recipe.
Frozen Samoa Pie
Even when Girl Scout Cookie season is over, you can still satisfy your Samoa cookie cravings. This frozen pie is layered with all of the coconut, caramel, and chocolate you love, and can be enjoyed any time of year.
Get the Frozen Samoa Pie recipe.
Cheesecake Brownies
The only thing that can make fudgy, chocolate brownies better is a layer of swirled cheesecake on top! Your kids will love them, too!
Get the Cheesecake Brownies recipe.
Key Lime Pie Cheesecake Bars
Tangy key lime pie takes on a new form in these crowd-pleasing bars made with a chocolate crust. Look for bottled key lime juice to get the authentically bright flavor.
Get Ree's Key Lime Pie Cheesecake Bars recipe.
Mini Turtle Cheesecakes
Ree Drummond is a big fan of mini cheesecakes. "They're simpler, provide more immediate gratification (relatively speaking) and you can freeze them and just pull out what you need when you need it," she says.
Get Ree's Mini Turtle Cheesecakes recipe.
Pumpkin Cheesecake
Pumpkin spice fans will love this classic cheesecake that's perfect for any holiday occasion—from Thanksgiving to Christmas and every big feast in between.
Get the Pumpkin Cheesecake recipe.
Banoffee Pie
You could use a pre-made crust, dulce de leche, and whipped cream in a can and get this done in 15 minutes—we won't judge. But if you're looking for that extra special touch this Father's Day, we recommend going old school and making everything from scratch. If you've never had homemade whipped cream, you're in for a treat, and this trick for making dulce de leche is seriously cool (see step 1).
Get the Banoffee Pie recipe.
Banana Pudding
Banana pudding is one of our all-time favorite desserts. It's a classic Southern recipe, and for good reason; luscious layers of pudding, whipped cream, ripe bananas, and wafer cookies are completely impossible to resist.
Get the Banana Pudding recipe.
Tips And Tricks for No-Bake Cheesecake Filling
There are a few things to keep in mind for this no-bake cheesecake filling:
First, make sure the cream cheese is at room temperature. It should feel soft when you press on the package. Cold cream cheese becomes lumpy when mixed and you won't be able to get the light and fluffy texture. Let it warm on the counter for at least two hours before making the cheesecake.
Sift the powdered sugar so there are no clumps when you mix it with the cream cheese.
Use gelatine. As long as you use the gelatin in the no-bake cheesecake, it will keep its shape. The gelatin in this recipe helps firm up the cheesecake and makes it easy to slice.
Dissolving the gelatin-sprinkle the gelatin over the cold water in a microwave-safe bowl. Stir to moisten – it will look like applesauce. Set aside for 5 minutes to soften, then microwave the gelatin for 20 to 30 seconds, until the gelatin is dissolved and liquid. Set aside to cool. If you don't have a microwave, place the gelatine in a small metal pot and melt it on the stove over low heat, stirring constantly.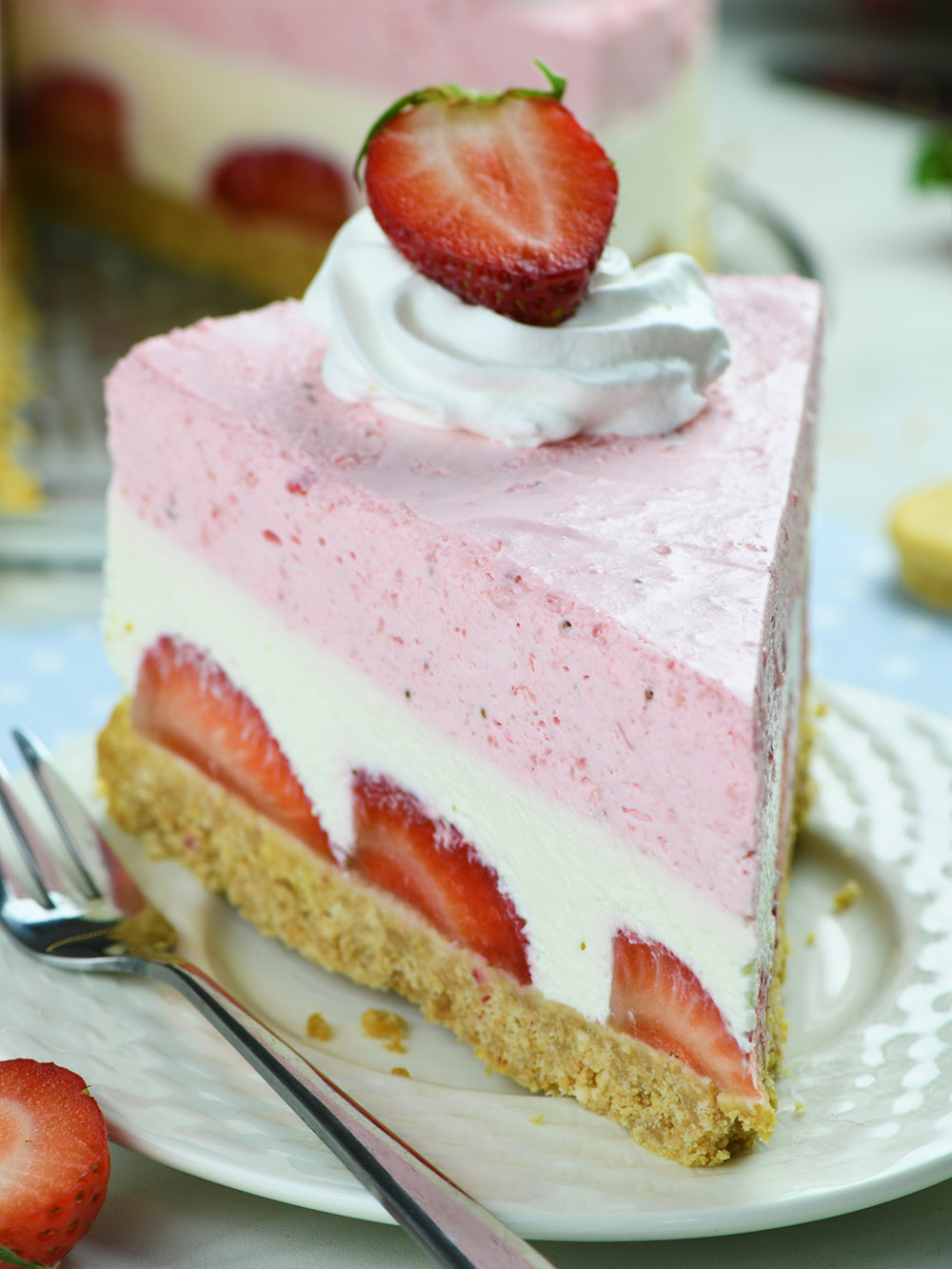 Layered No-Bake Strawberry Cheesecake
Golden Oreo cookies
unsalted butter-melted
– . fresh strawberries, hulled and sliced in half
Vanilla Cheesecake Layer
1 1/4 teaspoons gelatin
1 1/2 Tablespoon cold water
. cream cheese-room temperature
powdered sugar
vanilla
heavy whipping cream
Strawberry Layer
teaspoons gelatin
1 1/2 Tablespoon cold water
. cream cheese- room temperature
heavy whipping cream
powdered sugar
. strawberries(pulsed in a food processor)
For Garnish
Strawberries
Whipped cream
Prevent your screen from going dark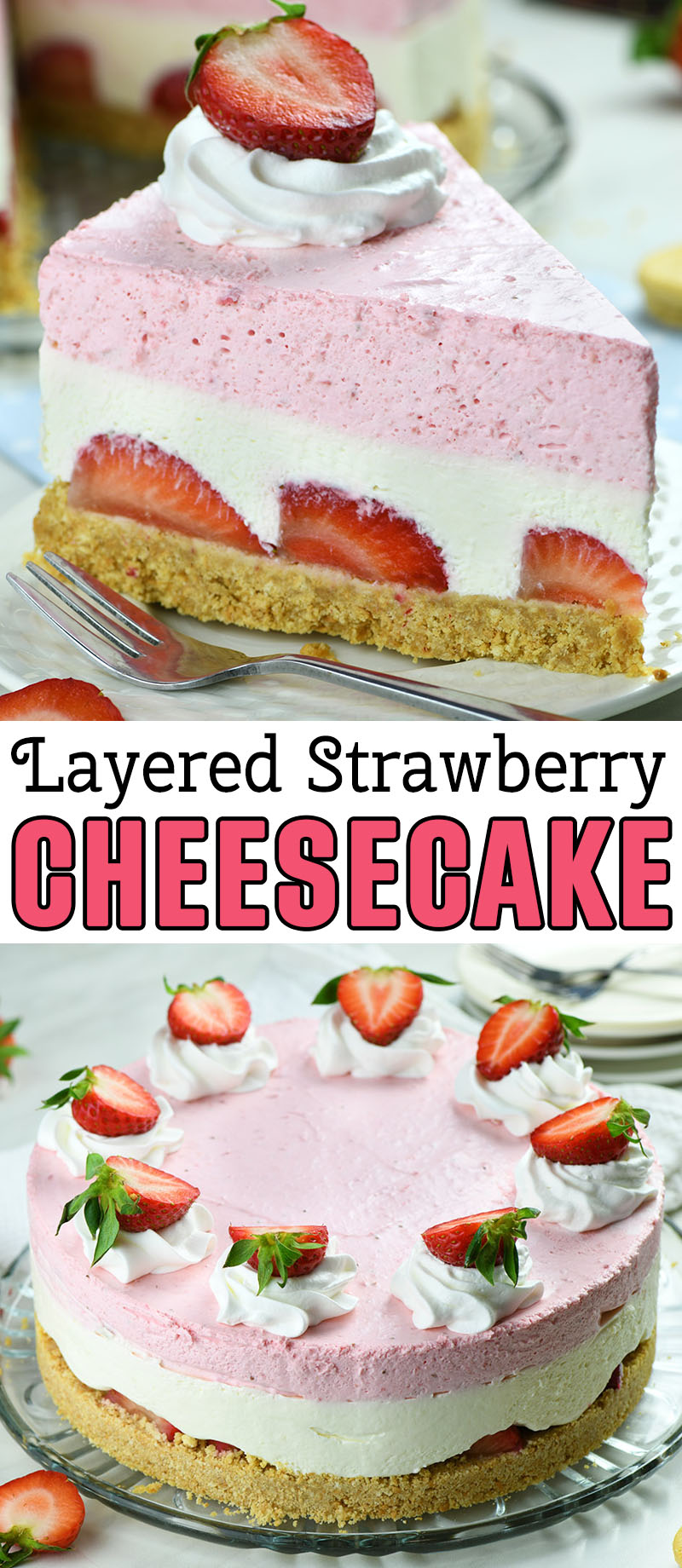 Caramel-Apple Cheesecake
This rich and creamy cheesecake has apples, cinnamon, and buttery caramel in every bite. It's even better than the famed Cheesecake Factory version!
Get the Caramel-Apple Cheesecake recipe.
Dirt Pudding
Dirt pudding is a classic kids' recipe that everyone should know how to make. Using crushed Oreos to mimic dirt and garnishing with gummy worms might sound kind of silly, but the truth is this: This creamy and indulgent layered dessert tastes ridiculously good, is incredibly easy to whip together, and is equally as fun to make as it is to eat.
Get the Dirt Pudding recipe.
Cherry-Topped Cheesecake
Although the creamy cheesecake filling is divine, you might find that the chocolate cookie crust and sugary cherries steal the show in this decadent dessert.
Get Ree's Cherry-Topped Cheesecake recipe.
Brownie Lasagna
Get the Brownie Lasagna recipe.
Tiramisu
Italian tiramisu is admittedly a bit of a process to make, but it's so worth it. Set yourself up for success by keeping your workspace as tidy as possible, particularly when dipping your ladyfingers in the rum and coffee.
Get the Tiramisu recipe.
Directions
Preheat oven to 350º and butter and flour two 9″ cake pans. Prepare red velvet cake batter according to box instructions.
Divide batter among prepared cake pans and bake until a toothpick inserted in the center comes out clean, 30 to 32 minutes. Let cool slightly in cake pans, then invert onto a wire rack to cool completely. Using a serrated knife, level out tops of the cake so they're flat (save scraps for decorating!).
Make cheesecake layer: Line a 9″ springform pan with parchment and spray with cooking spray. In a large bowl using a hand mixer or the bowl of a stand mixer fitted with the paddle attachment, beat cream cheese and sugar until fluffy and combined, 3 minutes. Add eggs, one a time, until combined. Add sour cream, flour, vanilla, and salt and beat until combined.
Make cream cheese frosting: In a large bowl, beat cream cheese and butter until light and fluffy, then add powdered sugar and vanilla and beat until combined.
Assemble cake: On a cake platter, place one red velvet cake. Top with cheesecake layer, pressing down firmly, then top with second red velvet cake.
Using an offset spatula, frost cake with cream cheese frosting.
Garnish with red velvet cake crumbs before serving.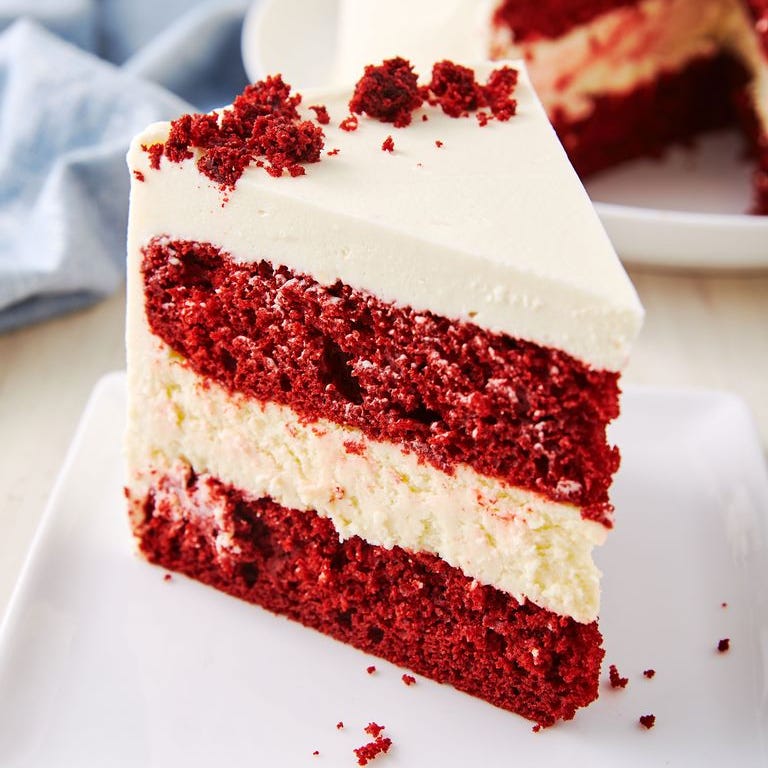 Lindsay Funston is the current Executive Editor at Delish, where she manages all food, culture, video and social content. She's worn many hats at the brand over the years: traveling the country in pursuit of pickles, creating gravity-defying "cheese pulls", and almost burning down the Delish kitchen with marshmallow cupcakes.
Blueberry Cheesecake
Not only is this cheesecake stuffed with fresh blueberries, but it also has a pretty layer of blueberry compote poured right over the top. Talk about a show-stopping dessert!
Get the Blueberry Cheesecake recipe.
Mango Cheesecake
You don't need to turn on the oven for this tropical cheesecake. It's a no-bake treat that's sweet, fruity, and so refreshing.
Get the Mango Cheesecake recipe.