Today, I'm going to introduce you to a traditional Korean sweet called Yakgwa. It's a deep-fried layered cookie made with honey, sesame oil, ginger, and soju, and covered in a sweet, sticky syrup. When you chew one bite, syrup bursts out of the cookie and it's juicy and crumbly in your mouth. Sesame oil, honey, ginger, and cinnamon together have a really distinct flavor and make this cookie unique and irresistible.
Traditionally Koreans had them only on special occasions: weddings, birthdays, festival days, and also death anniversaries. I remember going to my grandmother's house on festival days. She was waiting for us with yakgwa piled up like a mountain on a large tray. She made so many that she didn't have time to press them into nice shapes, she just cut them into diamond-shaped cookies. The sticky syrup overflowed to the bottom of the tray and she used very thinly cut threadlike ginger matchsticks as a garnish. The ginger thread was really pretty!  I did it the same way in this recipe, just like my grandmother.
Good yakgwa has layers. You can see them in the cookies and they soak up all the syrup. A tip for making these layers is that you shouldn't knead the dough like you would when making knife-cut noodles. Kneading creates gluten and makes the dough chewy, so we knead as little as possible. Instead we are grabbing, forming, shaping, and then folding the dough over itself to create those layers. I use my small rolling pin to press, stretch, and shape the dough to get it the way I want it.
Korean grocery stores sell yakgwa, so you can find these cookies very easily. But the difference in taste between homemade yakgwa and commercially sold yakgwa is huge. You can judge for yourself, if you want. Enjoy the recipe and let me know how you and your family enjoy your own homemade yakgwa!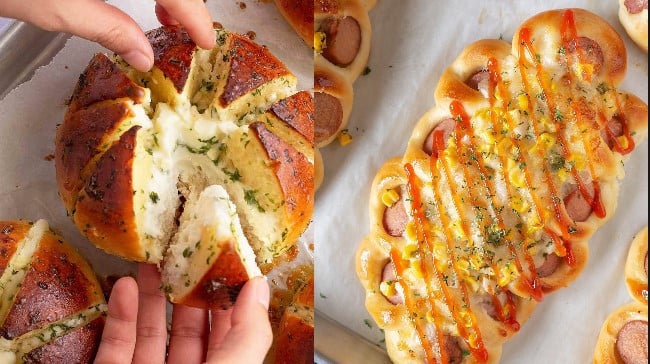 Renowned for their mild sweetness and scrumptious taste, Korean pastries offer a delightful alternative for satisfying your sweet cravings without going overboard. If you're in the mood for a sweet treat without overindulging, these twelve Korean pastries are a perfect choice!
1. Hodukwajah: Also known as walnut cookies, these pastries are made with a cake-like dough with red bean paste and an actual piece of walnut inside! They aren't hard like a typical cookie, but they are quite moist and soft! But be careful, you can't just eat one!
2. Kkwabaegi: So this may not look like something so new, but Korea has put a twist to the classic braided doughnuts you see! Korea's version is much more chewy and airy because they use glutinous rice flour within the dough! Deep fry it and then cover it in sugar, and you have one of the most simple yet classic pastries!
3. Korean Garlic Bread: Usually, everyone knows garlic bread to be something savory, but Korea's version has a hint of sweetness to it! Bursting with buttery goodness, who would've known garlic bread could taste yummy with some sweetness?
5. Manjoo: Similar in texture to the walnut cookies, manjoo stalls can be found in almost every single underground train station! It's the perfect blend of pastry with custard cream or white bean paste, even better when it's piping hot, especially on a cold winter day!
6. Soboro Bbang: Looking like asteroids, don't let its appearance fool you! This bread is light, airy, and the crunchy peanut-flavored topping is the best part. It's nutty, yet not overpowering and is perfect with a cup of coffee!
7. Sesame Mochi Bread: These are for sure some unique pastries because when you bite into it, all you get is mostly air! With a slight black sesame taste!
8. Yakgwa: Deep fried cookies smothered in honey ginger syrup; these are traditional Korean cookies that have the iconic flower design imprinted upon them! Chewy, yummy, and bite sized that just melts in your mouth!
9. Omelette Bbang: You'd think this pastry is a savory pastry, but rather it's a thick pancake-like bread that is then topped off with whipped cream and strawberries!
10. Croffle: Of course, you can't forget the viral croffle! With a waffle made with croissant dough, you get the best of both worlds! Top it off with a scoop of ice cream, and your sweet tooth will thank you!
11. Chapssaltteok: If you love all things chewy, then you're bound to love these bite-sized glutinous mochi treats! A thin layer of chewy mochi that encases sweet red bean paste; just be careful these are pretty messy pastries to eat!
12. Rice Wine Bbang: Featured in the K-drama "She Was Pretty," rice wine bread is light, airy, and really feels like you're biting into a cloud! Made originally with traditional Korean rice wine, also known as makgeolli, what makes this pastry so unique is that it's not baked but rather steamed!
Have you ever tried any of these Korean pastries?
From Korean BBQ to kimchi fried rice, Korean cuisine is famous for its complex flavors and spice, but are you familiar with mouth-watering Korean desserts?
Korean desserts use traditional Korean ingredients to make sweet treats with deep flavors and unique textures.
Ingredients such as rice, soju, pine nuts, and melon may not be common in American desserts, but they're utilized sublimely in the Korean desserts on this list.
From crunchy, nutty candy to sweet and soft rice balls, you'll be astounded by the various recipes on this list.
If you love Korean food, you have to try these 21 scrumptious Korean dessert recipes!
This adorable pastry is the Korean version of Japanese taiyaki, a popular snack during the cold winter months!
These charming little fish can come with a variety of fillings, such as custard, chocolate, Nutella, or red bean paste.
You can also make it savory with ham and cheese!
Dalgona Candy has a sweet and luscious flavor and texture that melts in your mouth.
It's made with melted sugar and baking soda, resulting in a crunchy candy that looks like a cookie!
It has a sweet honey flavor with the richness of caramel for a delightful treat, making it perfect for every occasion.
If you love a small and elegant dessert, you'll love these cute Korean tea cookies, which come in all kinds of flavors.
This kind of cookie is soft and delicate with a sweet, chewy dessert experience.
Some common flavors include sesame, matcha, and red bean. The best part is these are easy to make, even for people who aren't the most confident bakers.
If you want a Korean dessert that you can get away with eating in the morning, save this recipe for sweet pancakes!
They're made with dark brown sugar, giving them a rich and toasty flavor that blows normal pancakes away.
These hot cakes are fluffy and flavorful and take minutes to make.
A Pepero cake is an elegant chocolate cake using rolled wafers to add a surprising crunch.
You can make this cake quickly and easily, making a moist and tasty cake in less than an hour.
You can also get creative with this chocolate wafer cake, using your favorite chocolate or wafers to make it unique.
Here's a Korean dessert you can drink!
This sweet rice drink is a distinct experience, with a barley smell and a well-balanced flavor.
If you love malted milkshakes, you'll be obsessed with this earthy but sweet flavor.
It has a sort of nutty, slushy texture, depending on the ingredients you incorporate.
Sujeonggwa is a spicy Korean punch often consumed as a light dessert.
It features pine nuts, cinnamon, ginger, and other warm spices that many people associate with autumn.
Some consider this drink a Korean version of fall drinks like warm apple cider or a hot toddy. It can be served chilled or piping hot when it's cold outside.
Koreans know how to incorporate rice into everything and make it taste fantastic, and this bundt cake is no exception.
With sweet rice flour, bean paste, and standard cake ingredients, this bundt cake has an unassuming appearance but a mighty powerful flavor profile.
One of the most decadent Korean desserts is this Korean honey pastry, made with pine nuts, soju, and rice syrup.
This sweet pastry is traditionally fried and then coated in an indulgent rice syrup that is sweet and sticky.
It's a chewy, brightly-flavored pastry, perfect for when you want to treat yourself.
This half-moon rice cake dessert has a distinct and unmatched herby flavor you don't find in too many desserts.
It includes pine needles, sesame oil, tea powder, and other intriguing ingredients which combine to make a mesmerizing flavor.
The cakes have a bouncy texture and are soft and smushy when you bite into them.
If you want a healthy Korean dessert, try this fancy melon dish.
This dessert is perfect for people of all ages, from babies to grandparents, thanks to its healthy ingredients and mushy texture.
It's a combination of melon balls with sweetened milk cleverly served in the hollow melon for a beautiful presentation.
Banana Tteok isn't the most common Korean dessert, so you can widen your foodie horizons by making this recipe.
It's a simple recipe that combines bananas with rice powder or a different binder, resulting in this soft balls that look like donut holes.
But the rice cake balls are boiled, making them healthier than fried donut holes.
It doesn't get easier than this microwave rice cake.
You can make this luscious Korean dessert in less than 10 minutes and still experience all the wonderful Korean flavors you want.
The tiny rice cakes use sweet rice flour for the traditional Korean flavor, and the soybean coating makes for a soft, powdery mouthfeel.
This Korean dessert can be made with a variety of nut fillings, but I love this chestnut black sesame recipe because the flavor is deep and cozy.
You can make these sweet waffles in the morning and treat yourself to a fancy Korean breakfast, or make them for dessert and plop a scoop of ice cream on top.
Hwajeon is undoubtedly one of the most beautiful Korean desserts you can make.
They are little pancakes with fresh flowers in them, usually pear blossoms or rose petals.
You can enchant and impress your guests with these vibrant and elegant pancakes. And once you get the hang of this dough recipe, you can make these anytime.
Way better than a snowcone, this shaved ice dessert features red beans and freshly cut fruit for a colorful and refreshing dessert.
The shaved ice is filled with sweetened condensed milk for a creamy texture similar to ice cream but with a bolder taste.
This Korean dessert puts classic fruit cakes to shame!
It's a sweet rice cake made with dried fruits and nuts, offering a complex flavor profile of fruit and the delectable crunch of your favorite nuts.
I love this recipe with pine nuts, pumpkin seeds, and chestnuts, but you can use your favorite nuts, like pistachios or pecans!
A lovely Korean treat is these pan-friend sweet dumplings.
You're probably familiar with Korean savory dumplings, but this recipe is a sweet version of those yummy dough pockets.
With fresh flowers in the dough and a decadent filling like red bean paste, these will become your new favorite dessert.
A lesser-known but fabulous Korean dessert is gangjeong, a crunchy, nutty candy.
It's a rice candy syrup, so it has a super chewy and slightly tacky texture with a distinct crunch.
I love this specific recipe for gangjeong because it uses homemade rice syrup, which tastes better than the store-bought stuff.
One of the more interesting Korean desserts is yeongeun jorim, braised lotus roots.
Lotus flower roots aren't a common ingredient, but these sweet soy roots have a tender texture and captivating flavor.
They're sticky and perfectly gooey, traditionally served as a side dish in the fall.
A classic Korean dessert you've likely seen is sticky rice dumplings.
You can often find these at Korean restaurants or Asian supermarkets, but nothing beats homemade ones.
They are sweet and chewy with the vibrant flavor of red bean paste. A brilliant reason to make these is they keep for a long time, so store them in the fridge as a delicious snack.
Final Thoughts
Try these delicious Korean desserts and learn about desserts from around the world on our blog, like British desserts or French cake recipes!
Ingredients
This page may contain affiliate links. If you click through and make a purchase, we'll earn a small commission, at no additional cost to you.
Erin lives in East Passyunk and enjoys checking out the local restaurants in South Philly and beyond. Her favorite restaurants are those with spicy food and outdoor seating so that she can bring along her dog, Miss Piggy.
Korean desserts are sweet, colorful, and fun! From shaved ice to pastry to donuts, you can make Korean treats right in your own kitchen.
Take a break from Korean recipes that are full of bold flavors and tons of spices.
Want to save this recipe? Enter your email below and we'll send the recipe straight to your inbox!
Korean desserts may not be as popular as kimchi or bibimbap, but they could be the next hit at your dining table.
Whether you want something warm and sweet or cold and sugary, I have every Korean dessert recipe that will put you in a good mood.
Make room for these desserts in your meal rotation, because no one will stop you from making each one!
Korean Shaved Ice
Also known as bingsu, this Korean shaved ice dessert will cool you down on a hot summer day!
Its most popular variety is called patbingsu, which means ice shavings with red beans.
Along with the red bean paste, patbingsu may include other sweet toppings like chopped fruits, fruit syrup, and condensed milk.
You can also try other variations of this Korean dessert like Oreo bingsu. For a simple yet fun twist, top it off with ice cream or breakfast cereals.
Fish-Shaped Pastry
This Korean fish-shaped pastry is bursting with sweetness from the red bean filling. Its texture will also excite your senses with crunchy edges and chewy insides.
Having a fish-shaped taiyaki pan is important to make these cute pastries. Serve as is on a rainy day or with a glass of milk for a delightful afternoon snack.
Korean Poached Pears
A poached pear, or baesuk, is both a dessert and a remedy for coughs and sore throats.
Infused with flavors from peppercorn, ginger, and honey, this poached pear is one of the most delectable and nutritious desserts you'll ever have.
While this recipe requires you to poach the pears, you can also try another cooking technique, like steaming.
Korean Sweet Rice Drink
Who would've thought that rice makes a great punch? This Korean sweet drink only needs a few ingredients — barley powder, rice, sugar, and water.
The result is a slightly sweetened barley-flavored drink that you will gulp down in seconds.
The best part is this recipe requires only five minutes of prep time. Leave the rest to your rice cooker!
Korean Watermelon Punch
This Korean summery drink uses the thirst-quenching watermelon as its main ingredient. If you're looking for the perfect drink for an outdoor summer party, this is it.
To make the traditional version, use honey or sugar dissolved in water for the base. For a lighter version, use a soft drink instead.
Meanwhile, adding milk can make your drink a little heavy. Feel free to mix in other fruits like melon, pineapples, and blueberries for a tastier punch.
Korean Sweet Pancakes
Sweet pancakes from Korea are chewy, sweet, and chock full of warm flavors.
When you break into their crispy outer shell, you'll find a delicious filling made from cinnamon, brown sugar, and chopped walnuts.
The best way to enjoy these pancakes is to eat them hot.
All that syrupy goodness will leave a memorable taste that you'll want again for the next day's dessert or breakfast!
Sweet Rice Cake
Looking for a healthy and delectable dessert? Yaksik, it is!
Yaksik, or sweet rice cake, is made using glutinous rice, nuts, dried fruits, and honey.
Of course, anything with honey is good for you, because of its numerous health benefits.
This recipe yields a rice cake that's sticky and chewy. So you'll know you made it right when the rice grains are intact.
Serve yasik for breakfast with a cup of coffee to start your morning healthily.
Pepero Cake
Pepero is a popular South Korean snack manufactured by Lotte Confectionery. A box of Pepero is filled with cookie sticks dipped in chocolate.
This snack is so famous that the Koreans dedicated a special day for it: Pepero Day.
It's held every 11th of November, and people give Pepero sticks to each other as a sign of love.
You can show extra love by turning these thin sticks into a cake!
With chocolate-covered swiss roll as its filling, this Pepero cake will capture the hearts of chocolate lovers.
Sweet Red Bean Porridge
Red beans are pretty versatile. This time, you can use them to make a sweet porridge!
When it's chilly and you want something sugary and warm, this is the recipe to try.
Along with glutinous rice flour, sugar, and salt, you can make this velvety smooth porridge.
It's lightly sweetened, but you can add more sugar or honey depending on your taste.
Red Bean Popsicles
Again, the great red bean is the star of this recipe. But for this dessert, you'll have to blend the beans until they become a paste and then blend again with condensed milk.
This mixture will go into the popsicle molds, creating a yummy and creamy red bean popsicle!
Add a chewy texture to this dessert by mixing a small cup of whole beans into the red bean paste.
Korean Honey Pastry
This honey pastry, also known as yakgwa, is traditionally served during festive days in Korea.
It's a deep-fried cookie soaked in honey syrup, resulting in a moist texture and sweet taste.
Ginger is also included in the honey syrup for a more flavorful impact.
If you're looking for a bit of crunchiness, sprinkle chopped nuts on top of the cookies.
Korean Donuts
These stunning fried donuts only need a dusting of powdered sugar and sometimes a little bit of cinnamon to taste.
Serve with a glass of milk because it's the ultimate duo!
Dasik
Cookies for royalty — that's dasik in a nutshell. These Korean tea cookies were served with traditional tea during the Silla and Goryeo Dynasty.
Now, you can make these elegant cookies at home with this simple recipe. But take note that making the perfect dough takes practice and patience.
You'll also need dasik molds if you want to achieve the authentic look of these sweet treats.
Korean Half-Moon Rice Cakes
These rice cakes are a star during Chuseok, one of the major holidays in Korea. They're lightly sweet and chewy with a subtle pine tree flavor.
The fillings for these rice cakes vary, but the most common are sweetened sesame seeds and mung beans.
The fun part is coloring the dough. You can use your own food coloring options, or color them naturally using kabocha, mugwort, and dried fruit powders.
Korean Red Bean and Mochi Cake
Craving more sweet red beans? This mochi cake will satisfy you at once!
This chewy cake is filled with red bean paste and is topped with roasted chestnuts and walnuts. The best part? It's super easy to make.
Just dump everything into the mixing bowl and whisk away. Bake for 45 minutes, and you're done!
Korean Cinnamon Punch
Cinnamon punch is a traditional dessert drink in Korea and is often consumed during New Year's Day and Chuseok.
While some love to drink this punch hot, I love it when it's icy cold! Take it out of the fridge, drink, and you'll still get the warming flavors of cinnamon and ginger.
Sweet Rice Mini Bundt Cakes
These mini-bundt cakes have a similar texture to cornbread —  crunchy on the outside and chewy on the inside.
This recipe requires common ingredients such as butter, egg, milk, and vanilla extract.
Brown and sweet rice are also included in the ingredient list as they give a nice texture to the cake.
Plus, combining them makes a healthy dessert rich in fiber and nutrients.
Korean Sponge Candy
This iconic sponge candy is a popular sweet treat sold by street vendors in Korea.
Using just two ingredients — sugar and baking soda — you'll get a toffee-like lollipop.
The steps to making this sponge candy are pretty easy, too. All it takes is some mixing, heating, and pressing.
Do it with the kids for a fun weeknight activity!
Red Bean Mochi
Winter months in Korea means it's time for some red bean mochi!
And yes, you guessed it right. It's another dessert that uses sweet red beans as a paste.
But honestly, I don't mind because it's such a delicious treat.
Cooking the mochi in a microwave will make things easy. Using a store-bought red bean paste is also a great shortcut if you don't have the time to make one.
Korean Coffee
Also known as dalgona coffee, this dessert drink is a chilled coffee made special with a velvety smooth and sweet foam on top.
This recipe is perhaps the easiest one on this list, with only three ingredients and five minutes of prep time.
Of course, making the coffee may take longer if you do the whipping by hand.
Besides, once you get that frothy coffee concoction, it will all be worth it!
Walnuts Wrapped in Persimmon
Dried persimmons with halved walnuts are a portable snack that pairs well with green tea or cinnamon tea.
Drying the persimmons in direct sunlight may take up to 3 days, but the rest of the cooking steps are quick and easy.
To speed things up, feel free to use a food dehydrator or store-bought dried persimmons.
Infuse your palate with an utterly unique and sumptuous spread of flavors and textures, and give these Korean desserts a try when you're next in South Korea.
A cuisine renowned for its color, flavor, and creativity, the sweeter side of Korean food offers up a world of mind-boggling fusions and sweet and savory combinations that both tickle the tongue and satisfy the stomach.
Guided by a local writer, let's delve into the colors, textures, and flavors of Korean desserts through 19 must-try dishes to seek out at restaurants, eateries, and food markets in South Korea.
1 – 식혜 (Sikhye) – Sweet Rice Drink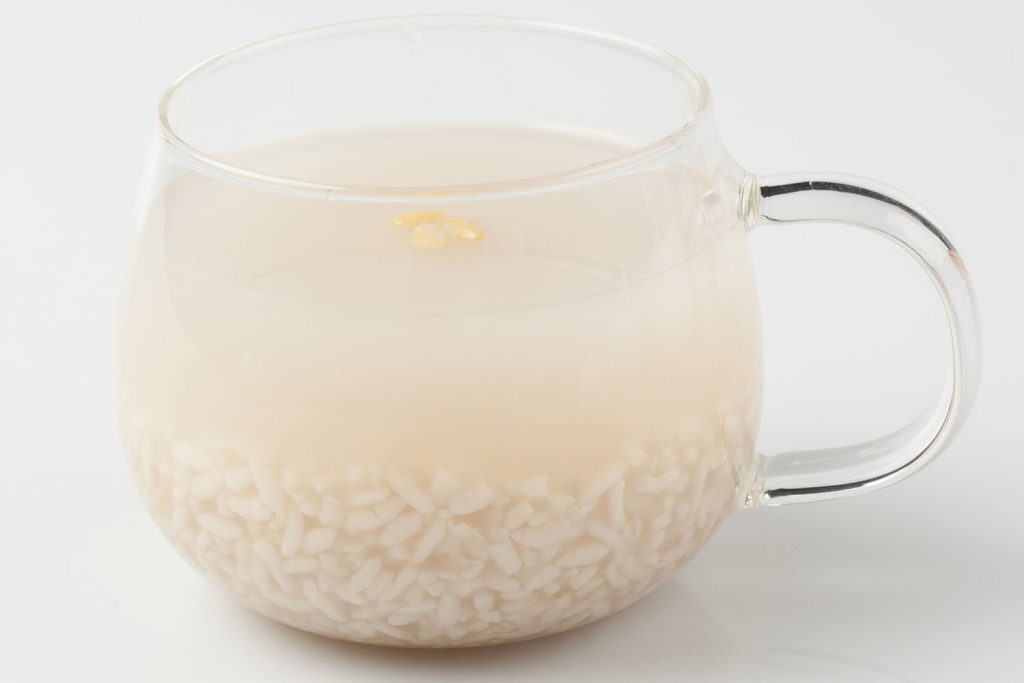 Rice fermented in malt water may not sound too appetizing, but you may change your mind after trying Sikhye, a traditional Korean drink, known for its refreshing and sweet taste.
Although generally Sikhye is made only with rice, malt water, and some water, additional ingredients may be added to enhance its beloved flavor. Pumpkins, sweet potatoes, buckwheat, barley, corn, among others, can be added for a little variance.
Aside from helping in digestion, Sikhye is refreshing and cools you down, which is probably why it is so popular at the Jjimjilbang. So if it is extra hot outside, or if you've had an extra spicy meal, grab yourself some Sikhye!
2 – 호떡 (Hotteok) – Fried Pancakes with Nuts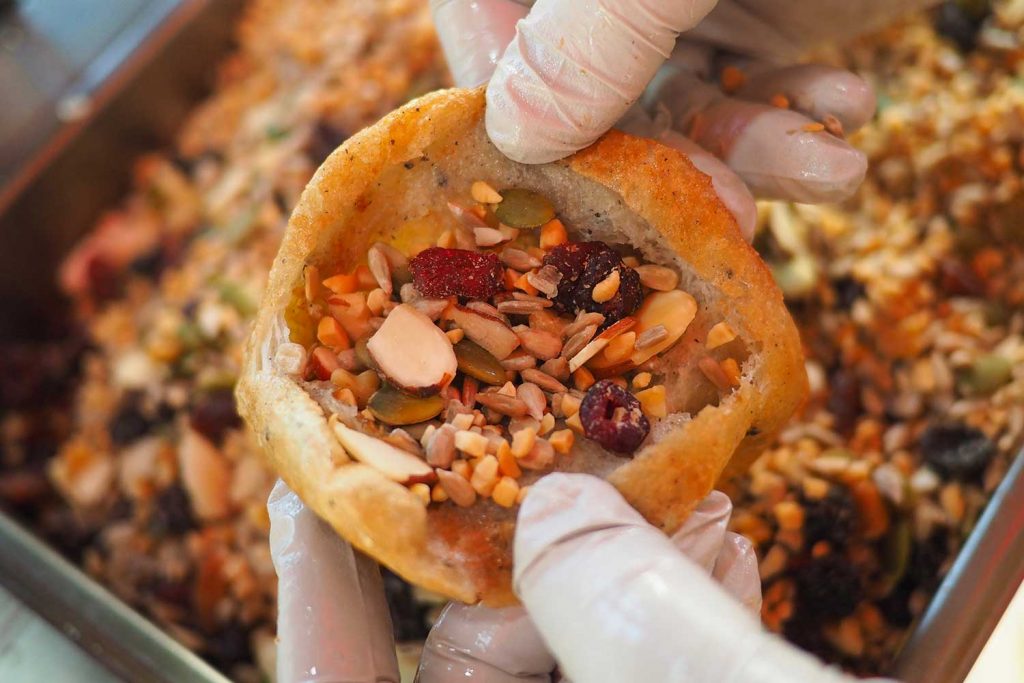 Simply put, Hotteok is made by filling a small roll of dough with sugar and other nuts, then baking or frying the dough flat. Hotteok looks like a small flat pancake sandwich, with a rich and delicious nut and syrup filling. Considered a street food, the exact origin of this dish is unknown, but it is thought to be inspired by a type of flat Chinese bread.
The filling has been adapted to cater to Koreans and includes various nuts, sugar, cinnamon, among other ingredients. The batter is usually sticky, with comparisons to tteok (Korean rice cake), and it is cooked on a flat griddle, pressed flat in the process.
Since it is a hot dessert and a street food, it is popular when winter approaches. But cafes also serve them with an ice cream scoop on top, so it can be enjoyed all year round!
3 – 달고나 (Dalgona) – Sugar Candy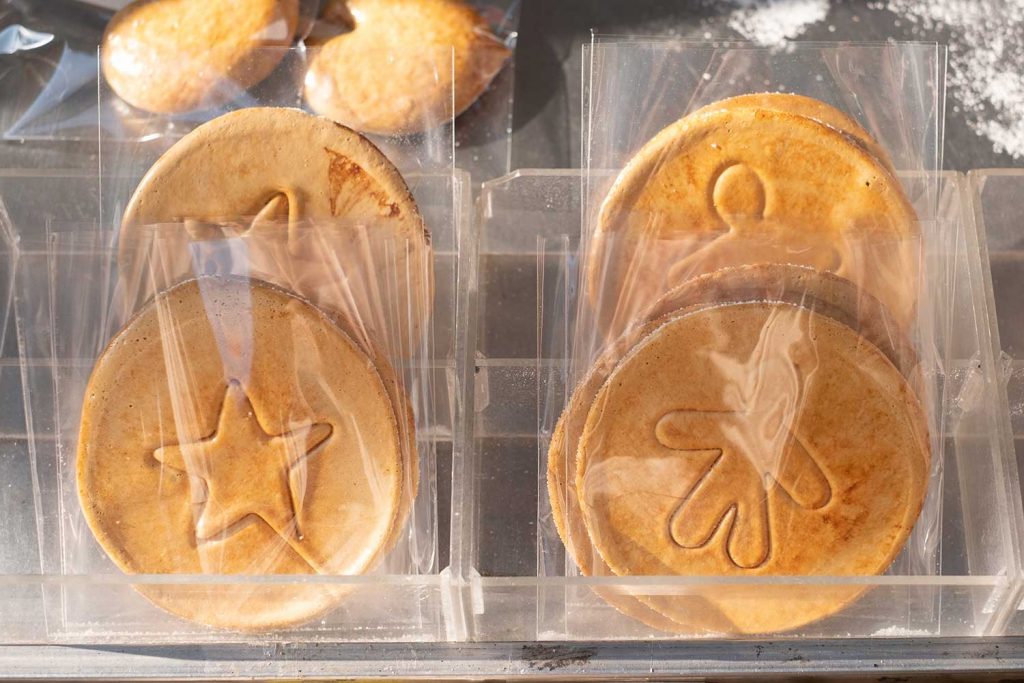 Dalgona is a type of caramel, made by heating sugar with a little baking soda. A renowned street food and delicious dessert, back in the 1970s, when it first gained popularity, there wasn't an official name for it, so different regions had different names for this sweet street food.
The term "Dalgona," which may have derived from the word "sweet" (달다, dalda) was used in the Metropolitan areas, and in time spread to become the name that it is known as today.
In the early 2000s, there were even DIY machines that you could make Dalgona with. The machine would dispense a certain amount of sugar, and came equipped with a heating area and a cooling area. Today, DIY home kits are sold for that iconic Dalgona experience from the comfort of your own home.
4 – 수정과 (Sujeonggwa) – Cinnamon Drink
Sujeonggwa is a traditional Korean drink of ginger and cinnamon, with sugar or honey added for that sweet taste. Sujeonggwa is reddish-brown in color and has a tea-like consistency. It is served cold and can be garnished with Gotgam (dried persimmon) and/or nuts (pine nuts to be specific).
Records of Sujeonggwa can be found in a book of royal celebrations, 수작의궤 (Sujakeuigwe), which dates back to 1765. This confirms the long history of Sujeonggwa as a traditional Korean drink.
Being a delicacy, in the past, it was prepared for new year's celebrations. Today, however, it can be enjoyed all year round, and there is even a canned version, making it that much easier to purchase and drink this beloved beverage.
5 – 화채 (Hwachae) – Fruit Punch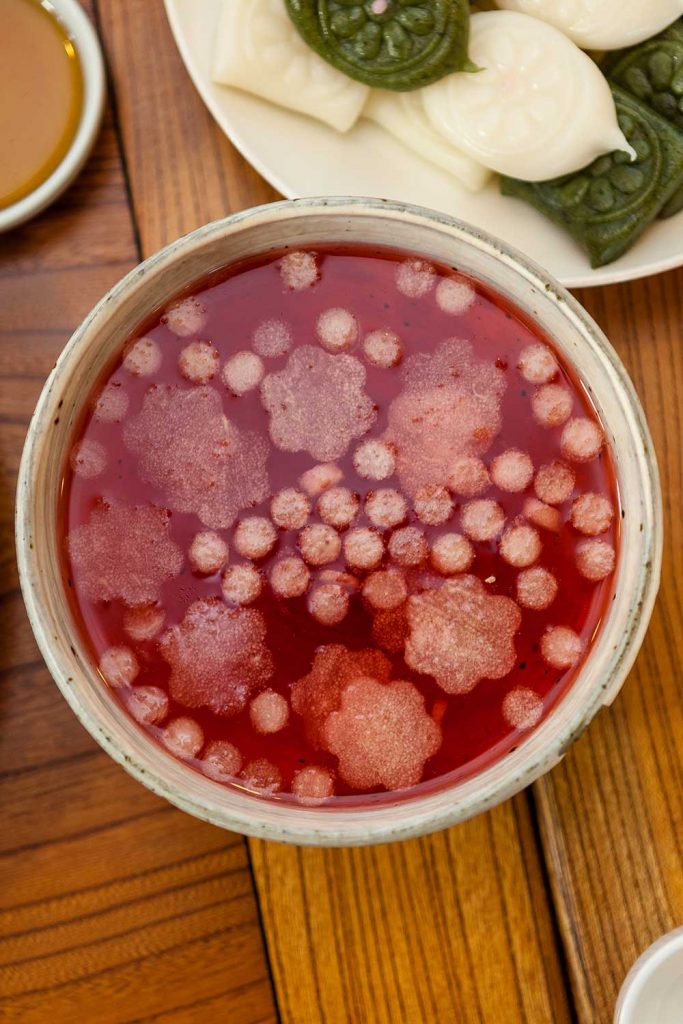 Hwachae is a refreshing drink, packed with fruits and served cold, that is popular during summertime. Records of Hwachae can be found as early as 1829 (진찬의궤, Jinchan Uigwe), and at this time, since ice was not readily available, people would dunk the fruits in river water to keep them cool. During winter, when fresh fruits were scarce, they would make the punch with dried fruit as a substitute.
These days, Hwachae is commonly paired with watermelon, which is a popular fruit during the summer season. The watermelon is skinned, and the outer layer is used as a bowl to drink Hwachae from.
You can add a wide range of fruit to Hwachae, and dunk them in soda, milk, or other drinks, and even add ice, sugar, honey, or condensed milk to make your Hwachae. The possibilities are endless!
6 – 엿 (Yeot) – Korean Taffy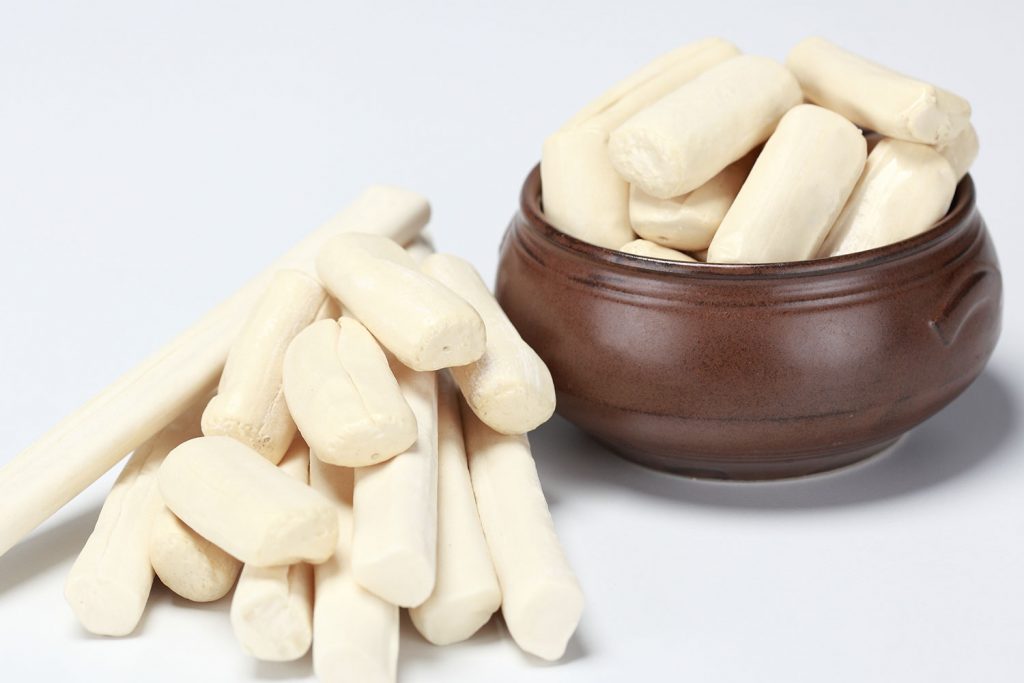 Yeot is actually a general term for sweets made from rice, corn, sweet potatoes, and other ingredients steamed with mixed grains. The ingredients are fermented in malt water and drained before the water is boiled until it becomes slightly sticky.
If the Yeot is boiled until it reaches a syrup-like liquid-state, it is known as 물엿 (Mul-yeot, literally "water-yeot"). If it is boiled to a thicker consistency, it is called 조청 (Jocheong, which is used like a sweet dip or as honey), and if it is cooled to harden, it becomes 갱엿 (Gaeng-yeot).
If making Gaeng-yeot, the candy is stretched and aired, becoming the solid form of Yeot, which so many Koreans enjoy as a sweet snack at all times of the day.
7 – 곶감 (Gotgam) – Dried Persimmons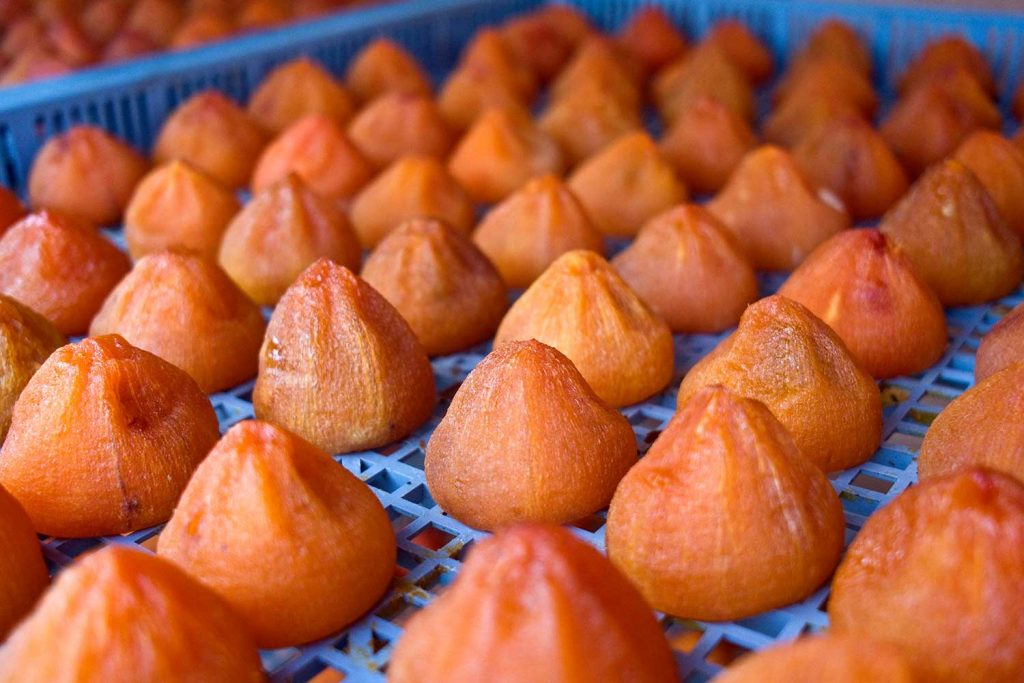 Simple and straight to the point, Gotgam is dried persimmon. Fresh persimmons are full of moisture and can go bad relatively quickly, but dried as Gotgam, this dish can be enjoyed as a sweet treat any time of the year. Gotgam is usually covered with a type of white dust, formed from dried sugar or glucose.
To make Gotgam, unripe persimmons are peeled and hung in a well-ventilated place that receives a lot of sunlight. When the persimmons are dried with about 1/3 of the moisture still intact, they can be deseeded (although optional), then completely dried in an enclosed area. In fact, the whole process can take up to five months to get the perfect Gotgam.
Gotgam is commonly served at special celebrations, such as Korean weddings or festivals. Since it is a naturally preserved good, it is considered to be a treat, and it is even given out as presents to special guests.
8 – 약식 (Yaksik) or 약밥 (Yakbap) – Sweet Rice Cake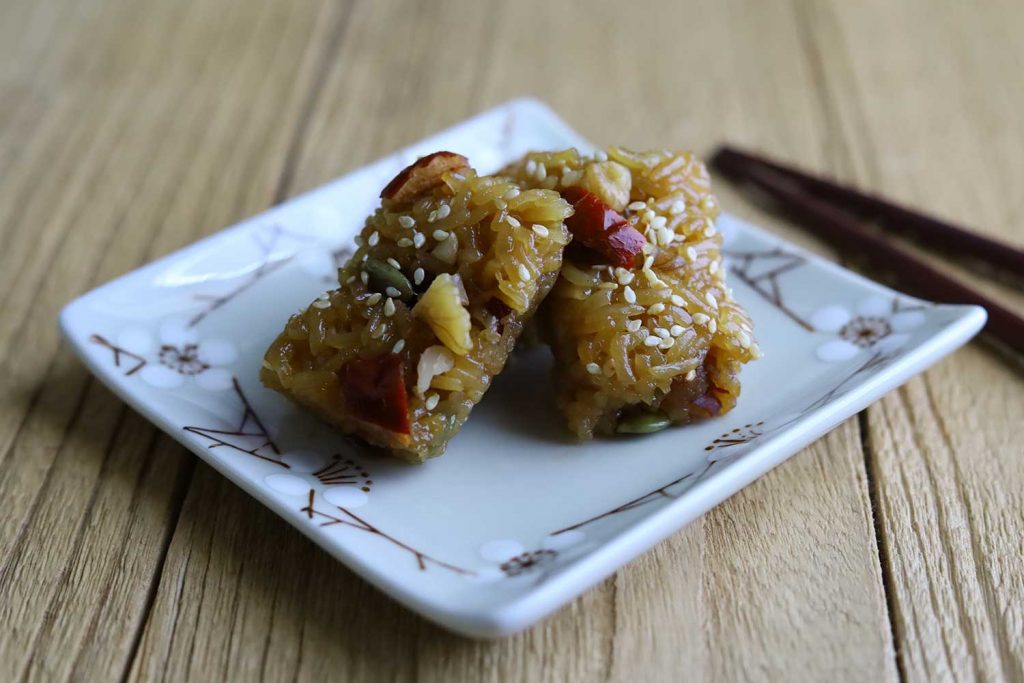 Yaksik or Yakbap is a type of Korean rice cake, wherein sticky rice mixed with chestnuts, Jujube fruit, pine nuts, and is seasoned with sesame oil, honey or brown sugar, soy sauce, and cinnamon.
Unlike most other types of Korean rice cake, the rice is not made into a paste, and the grain is intact. The general color of Yaksik is brown due to the seasoning.
It is a seasonal dish that is eaten during Daeboreum (정월 대보름), which celebrates the first full moon of the lunar new year. Today, you can find it premade, and sold in portions in various rice cake shops, enjoyed as a snack.
9 – 다식 (Dasik) – Pressed Sweet Grain-Based Batter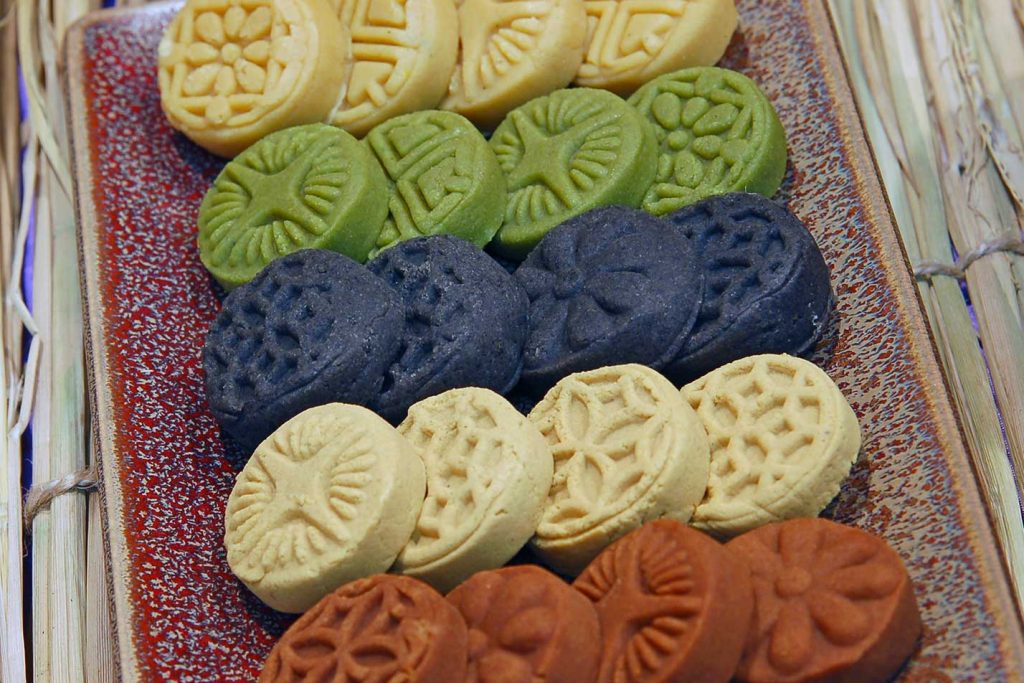 Dasik is a rich snack that is usually eaten with tea. It consists of a mixture of grains, nuts, medicinal herbs, and starch, that is made into a batter with the addition of rice flour and honey. The batter is then pressed in a Dasik mold and served.
Dasik is molded into many different shapes and styles, and this delightful dessert gives locals and tourists alike an insight into the beauty of traditional Korean design.
Since the batter is made with honey, it has a strong, sweet flavor, which makes it a perfect pairing for any form of hot tea. Offset with the earthy flavor from the grains, Dasik is an intriguing sweet treat, with a unique sweet and savory flavor profile.
10 – 경단 (Gyeongdan) – Small Rice Cake Ball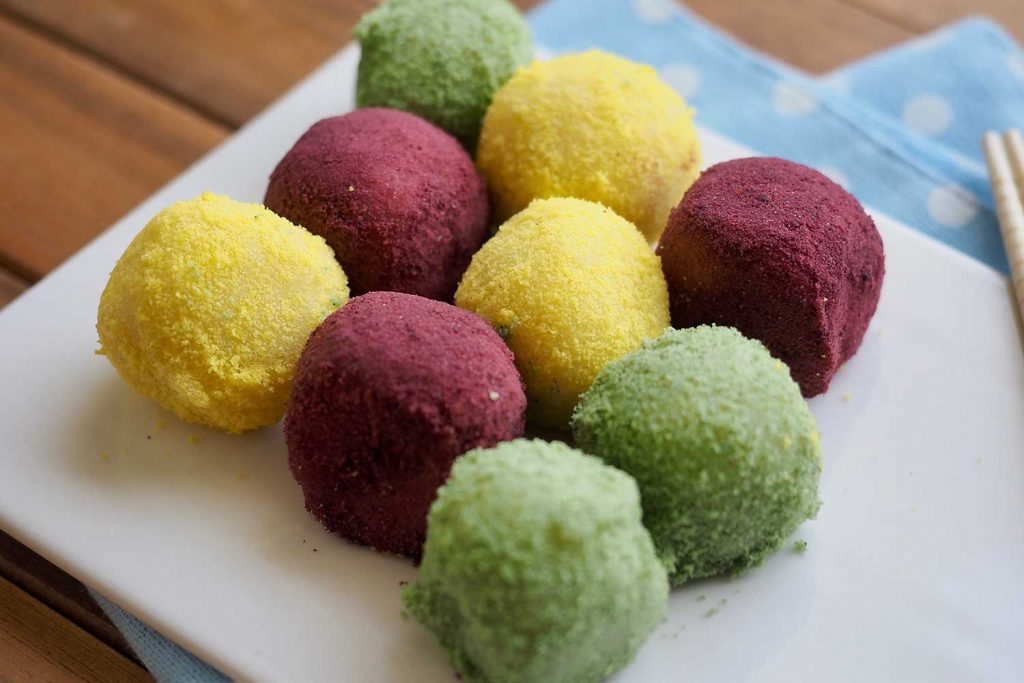 Gyeongdan is a type of Korean rice cake, made from a batter of rice flour or broom corn flour and shaped into bite-size balls. These are then boiled in hot water, and once cooked rolled on powdered grains, honey, or mul-yeot (malt water syrup).
Gyeongdan is similar to Japanese Dang, with the main difference being that Dango is served on a stick and covered in seasoning, while Gyeongdan is rolled into the grains and/or seasoning.
Depending on what Gyeongdan is covered in, it can be given specific names, such as bean power Gyeongdan, pine nut Gyeongdan, sweet potato Gyeongdan, and many other names.
11 – 엿강정 (Yeot-Gangjeong) – Molded Fried Grains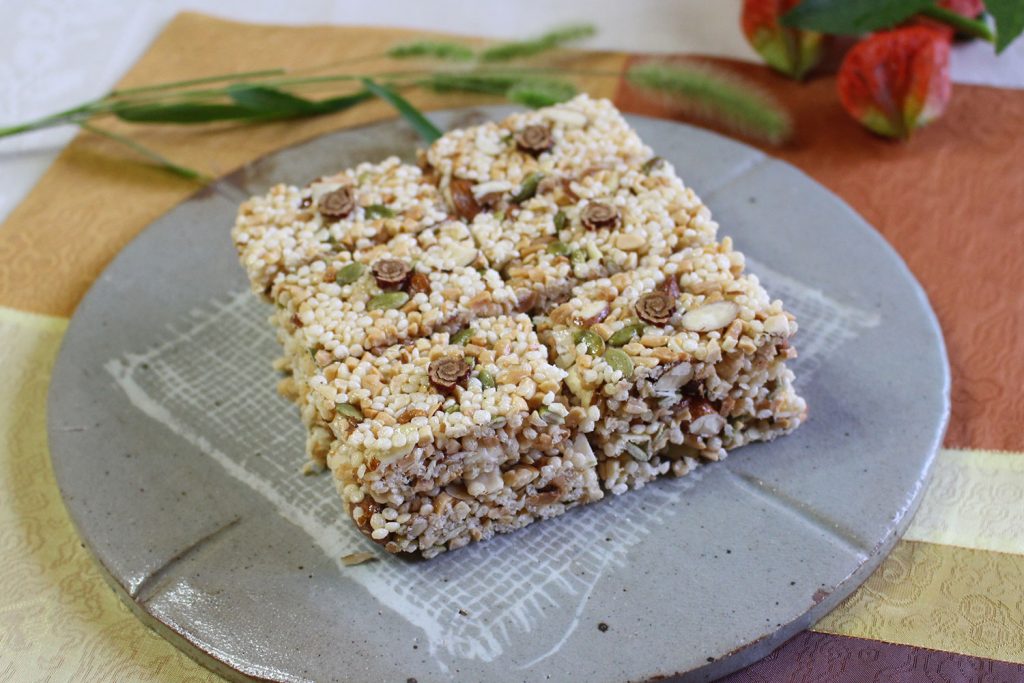 Yeot-Gangjeong is a type of Korean snack, similar to a candy bar, consisting of nuts, seeds, beans, and puffed grains, among other ingredients. The grains are toasted or fried, and are mixed will mul-yeot (malt water syrup) to allow the mixture to stick together. From there, the grains are cut into bars to be wrapped.
This treat is usually eaten during holidays or at celebratory feasts. In modern times, they are not made at home, but are given as gifts when visiting family members during holidays.
12 – 약과 (Yakgwa) – Deep-Fried Sweetened Batter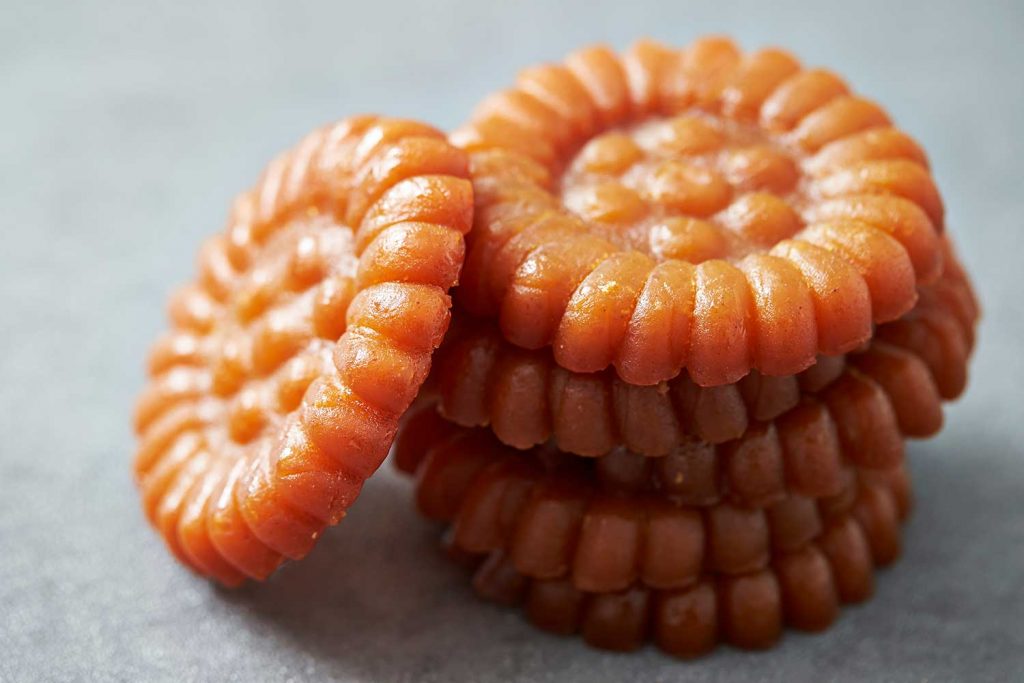 Yakgwa is a type of traditional Korean cookie, wherein a batter of fine flour, seasoned with a little sesame oil, is mixed with honey and some liquor. The mixture is then pressed in a mold of a traditional Korean design, before being deep-fried in oil.
Yakgwa has existed since the Goryeo Dynasty (founded in 918, and became Korea in 1392, currently parts of North and South Korea), and is also commonly offered to the ancestors during Jesa, a memorial ceremony held during holidays or the anniversary of the ancestor's death.
Yakgwa has a rich, dark brown color, due to the sesame oil, honey, and deep-frying process, and is renowned for its soft, chewy texture.
13 – 증편 (Jeungpyeon) – Fluffy Rice Cake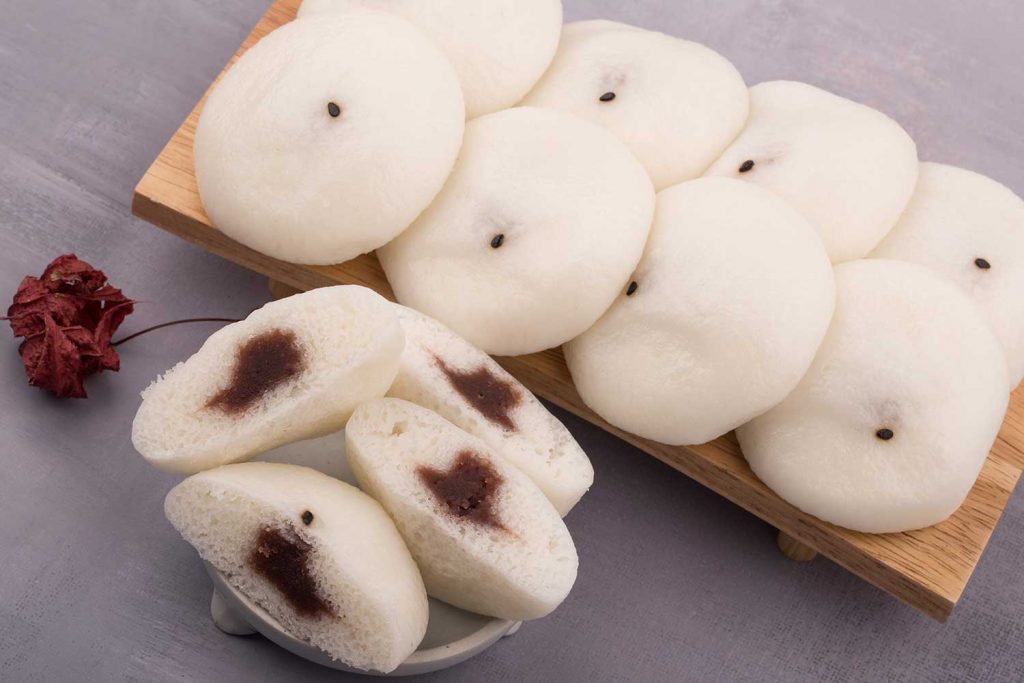 Jeungpyeon, also informally known as Sultteok, is a type of rice cake wherein rice flour is mixed with makgeolli (Korean rice wine). The batter is first fermented, then topped with chestnuts, jujube fruit, pine nuts, sesame seeds, and edible flower, and steamed until fully cooked.
It is known to have a slightly pungent smell due to the use of makgeolli, and its taste is slightly sour due to the fermenting process.
Jeungpyeon is actually a summer staple, as the summer heat helps in the fermenting process. Its texture, due to the makgeolli, is very light and fluffy, and it has a similar consistency to that of a sponge cake.
14 – 유과 (Yugwa) – Rice Batter Puffs Coated in Honey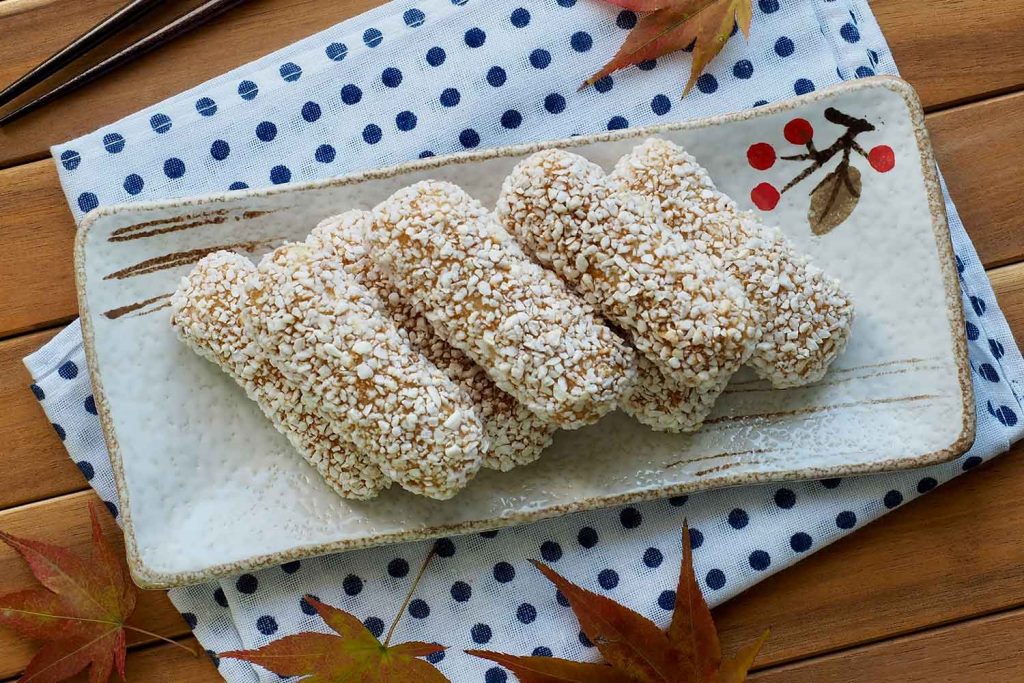 Yugwa is a type of traditional Korean snack. It is made from rice flour and makgeolli (rice wine), mixed and rolled into a thin batter and dried for several days to become light and crispy.
Once fully dried, the Yugaw batter is deep-fried, then covered in a malt-water syrup known as Jocheong. Yugwa is sticky due to the use of syrup, hence it is rolled in grains or puffed rice, which will line its exterior.
Due to the makgeolli's fermentation, the fried Yugwa has a light and crunchy texture, while the Jocheong adds a chewy and sticky consistency.
Yugwa traditionally was a snack enjoyed by royalty. With its light, crunchy bite, sweet caramelized syrup, and savory, nutty flavor, it's not difficult to understand why after your first bite!
15 – 정과 (Jeonggwa) – Candied Fruit/Roots/Seeds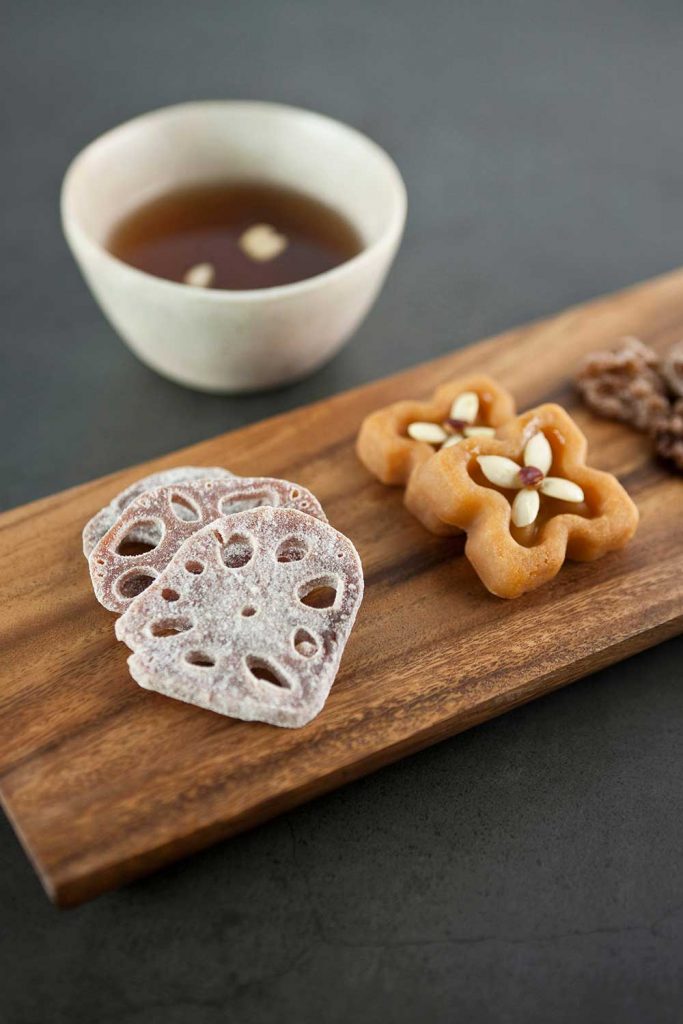 Jeonggwa is candied fruit, made from medicinal root crops, such as ginseng, ginger, and balloon flower root, topped with sugar.
Sugar was traditionally rare in Korea, so Jeonggwa was considered a delicacy, which only the noble class could enjoy up until the 20th and 21st centuries. Ginseng Jeonggwa, in particular, was and still is considered to be a very luxurious sweet treat.
Since Jeonggwa can be made from various fruits, it can have a wide variety of colors and fruity flavors. The candying process also means Jeonggwa can be preserved for a long time, making it an ideal food to store throughout the year.
Today, medicinal root crops, which are generally bitter, are enjoyed as Jeonggwa and given to children to improve their health.
16 – 양갱 (Yanggaeng) – Sweet Red Bean Jelly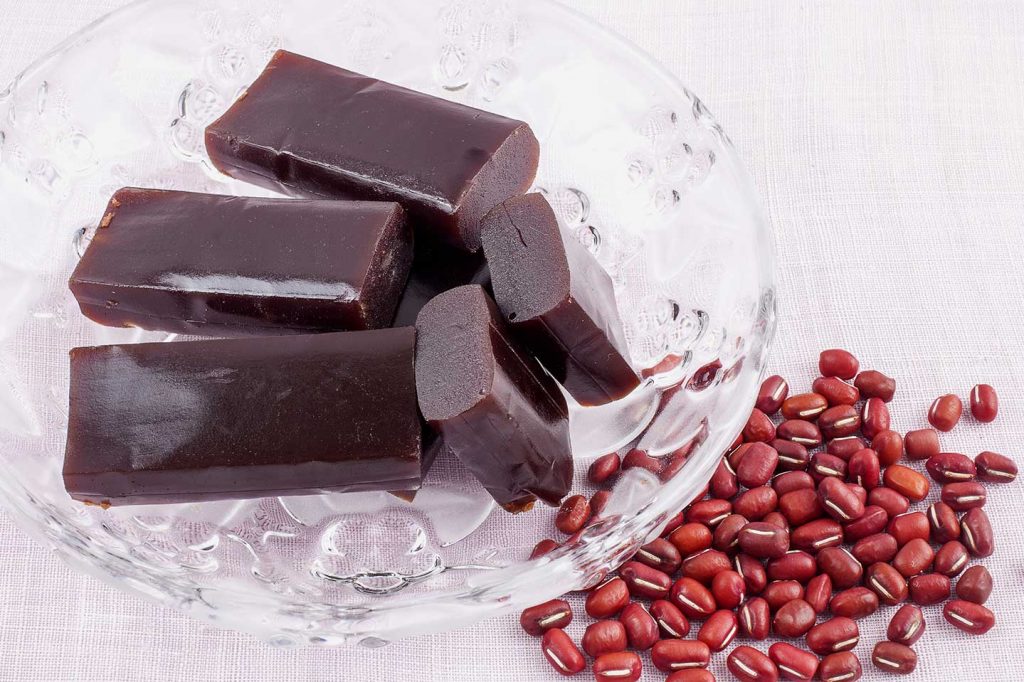 Yanggaeng is a modern Korean snack, closely connected to Japanese Wagashi. Korean Yanggaeng is made from red beans or chestnuts, agar, and sugar. The ingredients are powdered, mixed together, placed in a mold, and steamed. Finally, the steamed mixture is chilled to a jelly-like consistency.
Classic Yanggaeng is made from red beans, hence is renowned for its reddish-brown color, but Yanggaeng made with chestnut powder, and a lighter brown in color, is also a popular version of this sweet jelly.
17 – 맛탕 (Mattang) – Deep Fried Sweet Potatoes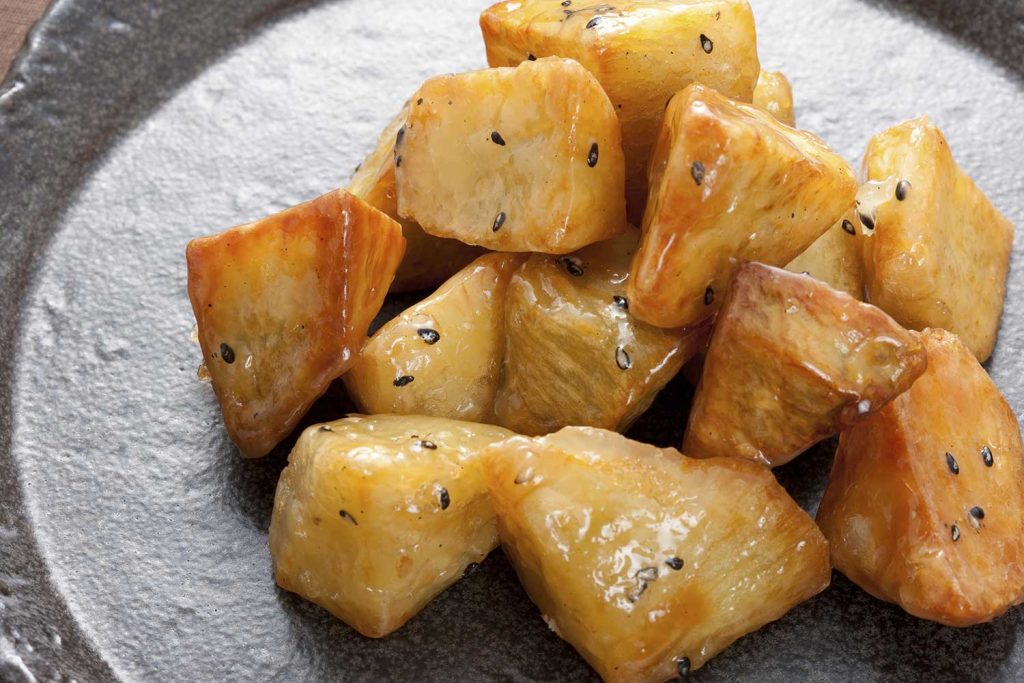 Inspired by the Chinese dish Ba Si, Korean Mattang is a scrumptious dish of candied sweet potatoes. Ba Si and Mattang are similar in that both consist of sweet potatoes covered in syrup, creating a candied potato that has a crunchy bite and a deliciously soft center.
In making Ba Si, the sugar is mixed with the oil when the sweet potatoes are cooked. But in making Mattang, the sweet potatoes are cooked or fried first, then lightly sautéed with syrup. Mattang is commonly topped with sesame seeds, and can be enjoyed as a snack, on its own, or even as a side dish to a main meal.
18 – 빙수 (Bingsu) – Shaved Ice Dessert with Toppings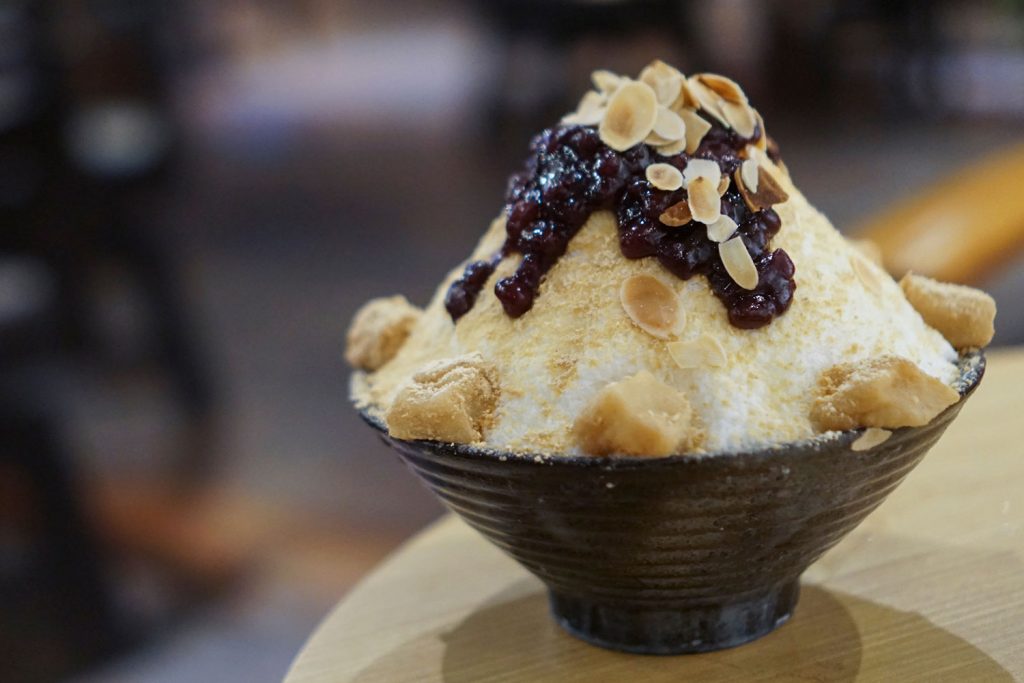 A perfect dessert for hot summer days, Bingsu is a decadent dish of shaved ice, topped with syrup, red beans, fruits, rice cakes, and plenty of other sweet ingredients.
It is believed the dish was invented by scholars during the Joseon Dynasty (founded in 1392), who were the first to shave mounds of ice and top the ice with various fruits, initially creating a type of Hwachae (as mentioned above). From there, through the ages, Bingsu continued to evolve and grow in popularity.
The classic Korean Bingsu is widely considered to be Pat-Bingsu (red bean Bingsu). It is a dish of shaved ice, topped with sweet red bean paste, finished with sugar or milk.
These days, Bingsu is an iconic Korean dessert. Throughout Korea, there are even franchise shops that specialize solely in Bingsu, and you can find an incredible array of toppings and flavors, from red beans to tropical fruits, rice cake to even cheesecake!
19 – 미숫가루 (Misu Garu) – Grain Powder Drink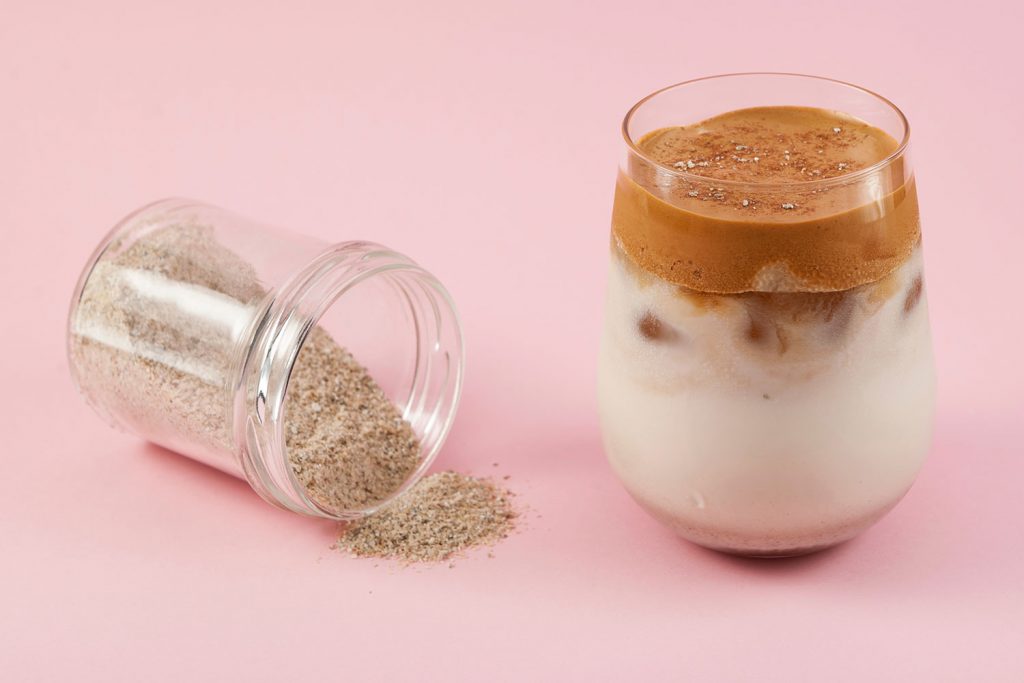 Misu Garu literally means 'powder drink', and traditionally contains up to 10 different grains that are steamed, dried, and finally powdered. The grains used in this beverage vary from sticky rice, barley, soybeans, yulmu (Job's tears), along with many others.
To make Misu Garu, you simply add water or milk to the powdered mixture, then stir to create the drink. For a sweeter taste, you can add sugar, honey, or condensed milk to the mix.
Because it is full of grain powder, Misu Garu has a thick consistency. It is a beverage high in protein and low in calories, so it is a good substitute for a quick breakfast, and can even work as a protein shake.
Korean Desserts Summary
Scrumptious, colorful, and fusing flavors in a mind-blowing way, traditional Korean desserts truly pull out all the stops when it comes to decadence, taste, and creativity.
During any visit to South Korea, keep your eyes peeled for these beautiful desserts. Try as many as you can, savor their flavors, and delve as much as you can into the vast world of Korean food: you will not be disappointed!
You Might Also Like to Read:
Save and Pin for Later
Keep these authentic Korean desserts for safekeeping for a future visit to South Korea, by saving this article to one of your foodie travel Pinterest boards.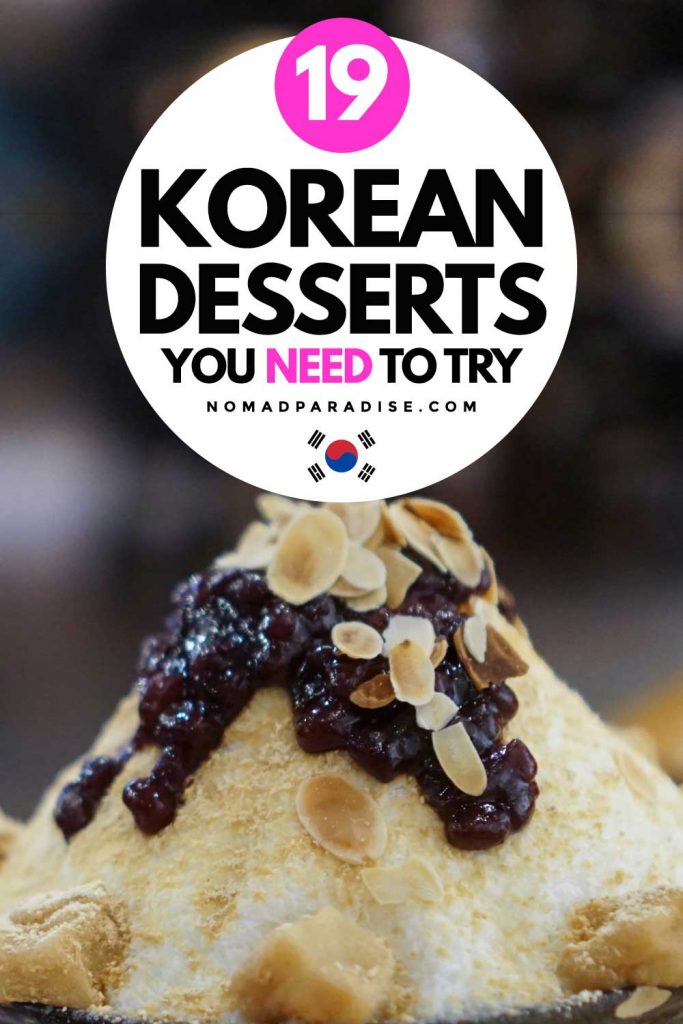 Images licensed via Shutterstock
Directions
Sift the flour through a coarse mesh strainer into a large bowl.
Drizzle the sesame oil and the cooking oil over the flour, circularly. Add the cinnamon powder.
Using a rice scoop (or a wooden spoon), mix the oil in with the flour until well blended. To get rid of the larger lumps, gently rub the flour between your both hands, a little bit at at time, breaking up the lumps. Keep doing it until the big lumps are gone and the flour is well blended with the oil.
Sift the seasoned flour into a bowl or an airtight container.
Cover and set aside. You can refrigerate it for later if you're not going to make the cookies right away.
Mix the flavored honey
Combine the ginger juice, salt, honey, soju, and black pepper in a small bowl.
Mix well with a wooden spoon until the honey is dissolved. Set aside.
Make the coating syrup
Add the flavored honey and soju mixture to the oiled flour a little by little as you mix it in. Use a wooden spoon (or a rice scoop) in a chopping motion to mix it up, as opposed to kneading it in like bread or noodles. Eventually it will look like crumbled dough but it will form roughly into one lump.
Put the dough on your large cutting board or workspace. Press and gently grab the dough with both hands to shape it up a bit, without kneading.
Poke some holes in the middle of the cookies with a chopstick so the dough cooks evenly in the oil.
Fry the cookies
Yakgwa is fried 2 times. The first fry is done longer at a low temperature, about 250°F (120°C), and the second fry is shorter at high temperature, about 330°F (165°C). The first fry cooks the cookies evenly and slowly so the layers gradually expand. If we use high temperatures the cookies won't cook on the inside and expand, and the outside will burn. The second fry is at a high temperature to make a nice brown color on the outside and to make the cookie a bit crunchy.
1st fry
2nd fry
Fry the cookies and turn them over for 2 to 3 minutes until both sides of each cookie turn a nice brown.
Remove them from the oil and put them into a stainless-steel strainer over a bowl.
Coat the cookies in syrup
Drain the excess oil for a minute, then add all the cookies to the coating syrup in the pan.
Mix them with a wooden spoon and let them sit in the pan at least 3 to 4 hours up to overnight, turning them over a couple of times now and then to soak them evenly.
Serve
Use a slotted spoon to remove the cookies from the pan and place some on a plate.
Garnish with pumpkin seeds and/or pine nuts, and/or threads of ginger.
Serve with your favorite tea of coffee. I usually eat them with green tea. You can freeze these cookies for months.
Makes about 20-24 cookies
For the flour and oil blend
2 cups all-purpose wheat flour
2 tablespoons toasted sesame oil
1 tablespoon cooking oil (grape seed oil, vegetable oil, or corn oil)
½ teaspoon cinnamon powder
For the flavored honey mix
2 teaspoons grated and squeezed ginger juice
¼ teaspoon Kosher salt
a pinch of ground black pepper
¼ cup honey
½ cup soju
For the cookie coating syrup
1 teaspoon grated and squeezed ginger juice
½ cup water
½ cup rice syrup (or corn syrup)
1 tablespoon sugar
¼ teaspoon cinnamon powder