Easy & Delicious Chana Dal made in the Instant Pot (Pressure Cooker). Split Chickpeas cooked with ginger, garlic, onion, tomato and flavorful spices, to make a comforting soup. Vegan & Gluten free.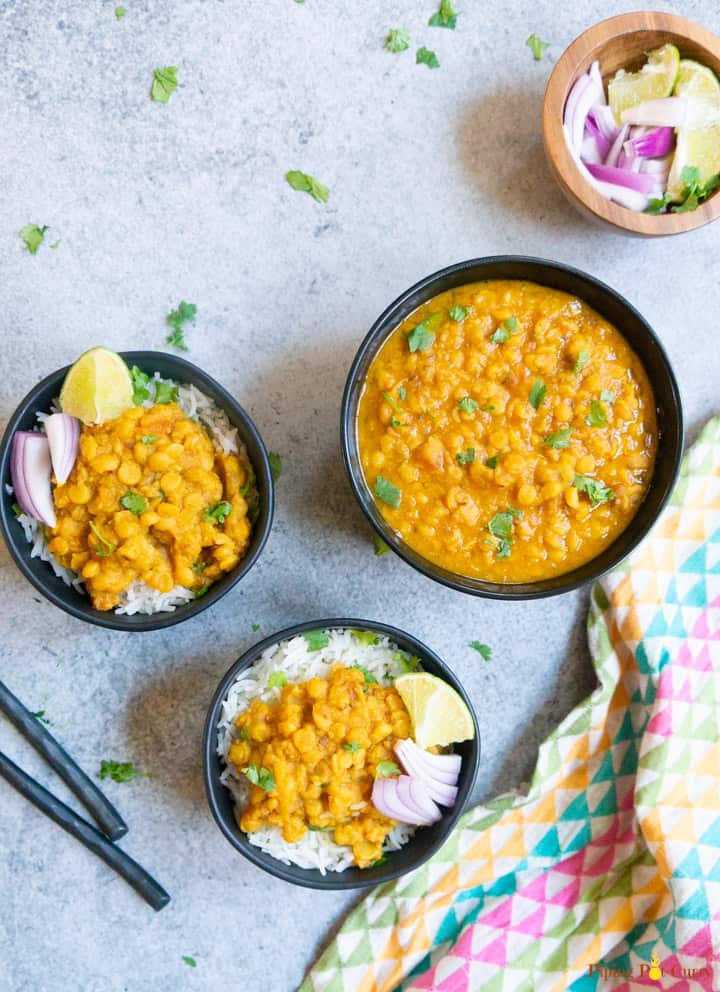 Looking for dinner ideas for Meatless Monday? Enjoy this delicious & Healthy Chana Dal. It is perfect with a side of steamed broccoli and basmati rice. If you want to pair with an Indian style vegetable curry, Aloo Gobi or Saag Paneer are great options.
For vegetarians in Indian, dal (lentils) is the main component of the meal. A typical meal includes dal, vegetable curry (subzi), roti (flatbread) and/or rice with some salad. And there are enough varieties of dals to prepare a different one each day of the week. If you are curious, check out my this collection of 15 Lentil & Bean Recipes in the instant pot.
If you don't have Chana Dal at hand, you may want to check Dal Fry with Toor Dal, Green Moong Dal or Brown Lentil Curry recipe.
What is Chana Dal?
Chana Dal are dried brown chickpeas that have been split and skinned. It is also called Split Chickpeas or Bengal Gram. These wonderful little beans pack a powerhouse of nutrients as well as protein into the dish. Chana Dal is also rich in fiber, and has a low glycemic index.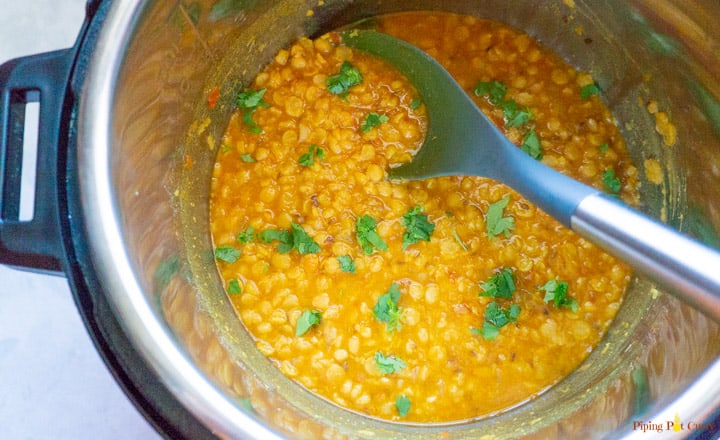 The best part about lentils are that they are budget friendly and affordable by all. Chana Dal is usually used as lentil curry in North India and for tempering in South India. But there are other dishes that can be made such as Chana Dal Pilaf or Halwa (sweet pudding).
Curious about pulses used in Indian cooking? Check out my detailed guide about Indian Pulses.
How to cook Chana Dal in Pressure Cooker?
Chana Dal takes a bit longer to cook compared to other split lentils such as Toor Dal or Moong Dal.  I prefer to soak chana dal for about 30 minutes before cooking. Although they will cook just as well with a few extra minutes in the instant pot without soaking.
Traditionally Chana Dal was boiled in a pressure cooker and tempering was prepared separately in a pan. Then the boiled dal was added to the tempering and simmered to infuse flavors. However now with the instant pot, I like to make this as a one-pot dish. Hence in this recipe, I prepare the tempering with ginger, garlic, onions, tomatoes and spices in the instant pot. Then add the chana dal, water and cook at high pressure.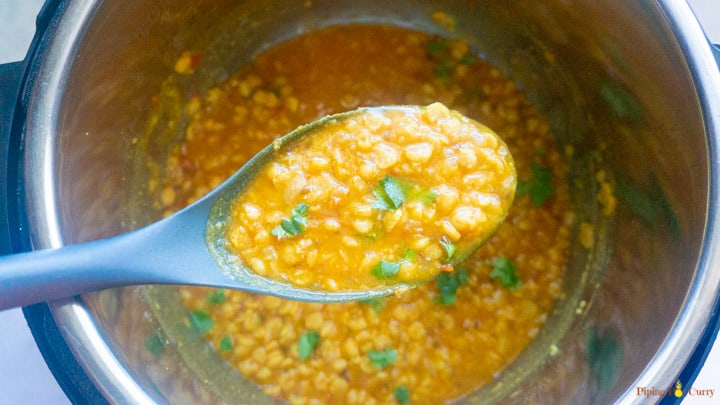 Once cooked, sprinkle in some lime juice and garnish the chana dal with cilantro. If you like to make this even more nutritious, then add some spinach right after the dal is cooked. Stir and let it sit for 5 minutes. Spinach Chana Dal is ready to be enjoyed.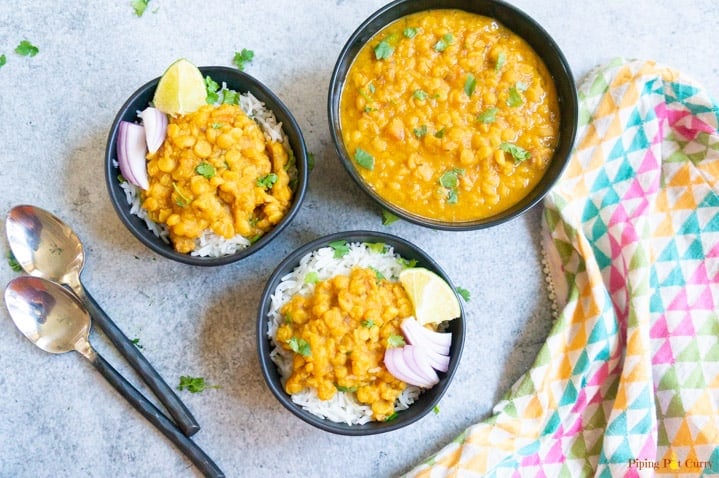 Give a rating by clicking the ★ below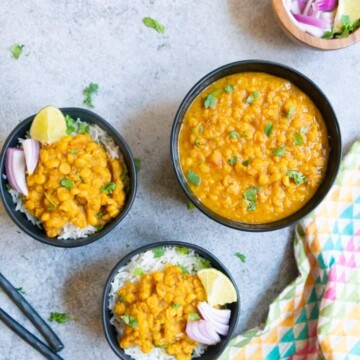 Instant Pot Chana Dal Recipe (Split Chickpeas Soup)
Easy & Delicious Chana Dal made in the Pressure Cooker. Split Chickpeas cooked with ginger, garlic, onion, tomato and flavorful spices, to make a comforting soup. Vegan & Gluten free.
Dairy-free, Gluten-free, Nut-free, Vegan, Vegetarian
Instant Pot/Pressure Cooker
Split Chickpeas (Chana dal)
Cumin seeds (Jeera)
optional, skip for gluten-free
for cooking, increase to 2.5 cups if not soaking the dal
Spices
Ground Turmeric (Haldi powder)
Red Chili powder (Mirchi powder)
Coriander powder (Dhaniya powder)
Soak Chana dal along with the water for soaking for 30 minutes. Then drain the soaking water.
Start the instant pot in sauté mode and heat oil in it. Add cumin seeds and asafoetida.
Once the cumin seeds start to change color, add the onions, garlic, ginger and saute for 2 minutes.
Add tomatoes and spices and stir them well. Add chana dal and water for cooking. Stir it all up. Pressure Cancel and close the lid with vent in sealing position.
Change the instant pot setting to manual or pressure cook mode at high pressure for for 12 mins. If you skipped soaking, cook for 15 minutes at high pressure.
After the instant pot beeps, let the pressure release naturally. Add lime juice and give a good stir.
Garnish with cilantro and serve chana dal over rice.
Chana Dal foams, so if you double/triple the recipe make sure to only fill up to half of the pot.
Make Spinach Chana Dal – Add spinach after opening the instant pot, right after pressure cooking. Cover and let it rest for 5 minutes.
Vegan Variation: To keep this recipe vegan, don't use ghee.
Gluten free Variation: Use gluten-free asafoetida or skip it.
Note: Nutrition values are my best estimates. If you rely on them for your diet, use your preferred nutrition calculator.
easy, instant pot, pressure cooker
Reader Interactions
Jump to Recipe
Print Recipe
Are you trying to figure out to how to cook lentils in a rice cooker? Do cooking lentils on a stove may make you feel frustrated as you have to pay close attention to the heat and water level? If so, this article is for you.
A rice cooker is a hand-free appliance designed not for cooking rice only, but also for soup, stew, and other foods such as beans, grains, porridge, and so do lentils.
Cooking lentil, a powerhouse of protein and fiber, with a rice cooker is incredibly easy and yield delicious result. Let's learn how to do so today!
Make yourself a tasty and nutritious bowl of lentils using a rice cooker.
Instead of worrying about overheating or overboil on the stove, you can make your lentils with a rice cooker with these few steps:
Step 1: Rinse the lentils
You put those lentils in a strainer and rinse under water to remove any dust or debris.
Step 2: Put the lentils into the inner pot
Transfer those lentils from the strainer to the inner pot.
Step 3: Add water
You use the ratio of 2 cups of water for 1 cup of lentils.
Step 4: Turn on the cooker
As usual, the manufacturers of rice cookers have specified the cooking time, and you can prepare other foods during this hand-free time.
Step 5: Cooked
After a time, the cooker will turn to the "warm" mode, which means your lentils are ready to use.
So, before going to detail about cooking lentils in a rice cooker, let's take a look at those superstar lentils.
What Are Lentils?
Lentils are a kind of legume that is relative to beans, peas, nuts. Some archaeological evidence shows that lentils are one the oldest grain consumed by a human from 8500-7500 BC. Lentils are a rich source of protein and fiber.
When combining lentils with other whole grains, the protein content in lentils is equal to meat.
In Europe, lentils are often combined with some form of pork. While in most Asian countries, lentils are frequently combined with rice because those two have similar cooking times.
Besides the wealth in protein and fiber, a ½ cup of cooked lentils have some other nutritions as:
Lentils are used as edible legumes, but their seeds are a starch source for textile and printing.
Lentils have a cousin relationship with beans
How Many Types Of Lentils?
There are various kinds of lentils with different colors and textures. Below are some of the most common types.
Different varieties of lentils
Or the other name is French lentils. This kind of lentils has a peppery taste, which makes them the best choice for salad. Green lentils content a lot of iron, antioxidants, and magnesium.
Another kind of green lentils is Le Puy. These green-grey lentils are harvested in the Le Puy region in France and are known for their best taste and texture. Le Puy lentils have the highest price among those lentils.
Delicious vegan lentils burger
With green lentils, there are two common uses of whole lentils. Brown lentils are multi-purpose lentils, while they can be used in salad, veggies burgers, or even in soup. The taste of brown lentils is quite mild and earthy.
There are two types of red lentils: whole red lentils and split red lentils (or yellow lentils). While whole red lentils have a red color, split lentils are near to orange. The second type of lentils with the husk removed makes them disintegrate quicker than the whole one.
For that reason, split lentils are easy to lose their shape and used as a thickener for soup or used to puree. Split red lentils have a milder and sweeter taste than green lentils, and they will turn golden when ripe.
In many Asia countries and the Indian subcontinent, red lentils are preferred to make the Dal.
The other name for them is black lentils. The name Beluga is derived from beluga caviar for the perfect lenticular shape, flatted, shiny, and dark of those lentils.
This type of lentils is a surprising match for other protein and vegetable dishes. Black lentils are the wealthiest nutrition lentils with a taste similar to black peas.
Lentils Are Used In Health-Conscious Diets
The high portion of dietary fiber in lentils will help you prevent blood sugar disorder and lower cholesterol. The high content of protein and fiber with low fat makes this small pulse a giant in losing weight.
½ cup of cooked lentils will provide you 32% of daily needed fiber, and their protein content is enough to fuel you for the whole day.
Due to the amount of nutritions content, lentils are a rich source to provide protein and other minerals such as iron, potassium, magnesium for vegetarians. Lentils are also a source of acid folic, which is an essential nutrient for pregnancy.
Lentils are a rich source of protein in the salad
When compared to other pulse legumes, lentils do contain a low level of the non-nutritional factor. However, these non-nutritional factors will get lost during the culinary process (soaking and cooking)
The tannin, which causes the bitter taste, stays in the seed coat of lentils and removed when dehusking.
The level of non-nutritional factor in lentils is lower than fava beans
How To Cook Lentils In A Rice Cooker?
Rice cooker used to cook rice? It is a myth idea when your countertop rice cooker can go well with a number of things beyond rice, such as beans, chickpeas, soups, bakes, and the superstar protein source, lentils.
In fact, there are so many applications to rice cookers that many people tend to compare rice cookers with instant pots. Of course, these two are not the same, but the versatility these two kitchen appliances can offer is certainly impressive.
Cooking lentils is not as complex as you think when there are just a few steps to make a delicious and nutritious lentil bowl.
It's time to cook up some tasty lentils with your rice cooker!
Just like how different rice requires different water ratio in rice cookers, different lentils may need a discrepancy of water potion and cooking time. Here is the standard recipe to cook lentils in rice cookers. You can adjust the portion of water according to how firm you want lentils to be.
1 cup of lentils
2 cups of water
A strainer
A spoon
A rice cooker
Salt (this is optional)
For most types of lentils, you don't need to soak them before cooking. My advice here is worth spreading lentils on the top of the table to check for small stones or unwanted debris before you wash them under cold water.
As easy as pie, with those simple steps, you will have your own tasty nutritious lentils:
Rinse Lentils
Lentils are different from other legumes that they do not require to soak before cooking. However, you need to rinse them with cold water to eliminate all the dust and unwanted debris.
Transfer to the Inner Pot
After washing lentils, you should drain them for a few minutes to get rid of the excess water. At that time, you can prepare the inner pot by spraying it with a layer of oil before putting all the lentils in.
Oil will bring a glowy lentil after cooking, and olive oil is recommended to use.
Close The Lid, Plugins, And Start Cooking
After those steps, you close the cover of the rice cooker and plugin. Remember that you should dry your hand before plugging it to prevent any unwanted accidents.
Then turn on the rice cooker. Most of the rice cookers have specified the time and it is about 20 to 30 minutes.
Stir The Lentils
When the cooking time passes a half, you open the lid and stir them with the spoon. Check for the firm of lentils whether they are soft enough. You can season the lentils with salt at this time
Finish Cooking
When the cooking time totally passes, stir the lentils again and serve them with your foods.
Watch this video: How to Cook Brown Lentil
https://youtube.com/watch?v=gA5BJN2fBYk%3F
Even that the process is easy but here, I have some tips for you to utilize your cooking time:
Lentils will double or triple in size: It is different from rice that the lentils will bloom 2 to 3 times rather than rice. When you think a cup of lentils is too small, their cooked form may give you a big surprise.
So, considering the capacity of your rice cooker and the number of lentils after blooming are what you might think for the lentils you want to cook.
Eyeball measurement: Besides the standard potion of lentils and water, there is another way to check for the appropriate water level in the cooker oven. One inch of water above the top surface of lentils is suitable.
Stir through the cooking time: When the time passes a half, you should stir the lentils to check for their stiffness and cook evenly.
Seasoning after cooking: Don't add salt or any acidic ingredients into lentils before you start to cook them. It is because salt will tough the lentils, and your cooking time will not be enough.
Lasting the simmer time: Except for the spit red and the black Beluga, those other lentils need more than 5 to 10 minutes for cooking. For this, you could let your cooker in the "warm" mode for a bit longer than the spit red and the black Beluga when cooking those other types of lentils.
About cooking time: Regularly, the manufacturers of the rice cooker have specified the time for cooking. The average time is about 20 to 30 minutes due to the brand of your rice cooker.
You should check for the cup measurement of your rice cooker as well as the adjustment time in case your lentils are less or exceed the standard measure to cook.
Recipes For Lentils Cooked By The Rice Cooker
Do you feel eager to try to cook lentils in those convenient households? Before you try that, check out my recipes below. You may find the lentils recipe of your palate.
These lentil recipes will delight your taste buds.
This recipe is used from the story of Queen Esther who lived on the diet of seeds, pulses, and nuts when she was not allowed to eat non-kosher food. Even though she was living in the King's place in Persia.
Ingredients
2 tbsp olive oil
1 leek
2 sweet potatoes
3 carrots
250g Le Puy lentils
750ml hot vegetable stock
3 oranges
2,5cm fresh ginger
200g spinach leaves
2 tbsp of toasted almond
Dried coriander
Salt and freshly ground black pepper
Direction
Are you get ready? Here is the direction to cook lentils in the Jewish recipe:
Prepare for the ingredients: You trim and dice the leek; peel and dice the sweet potatoes and carrots; peel and grate the fresh ginger; peel and cut oranges into segments. Rinse the lentils under cold water to get rid of any dust or debris.
Sautee the ingredients in the rice cooker: Turn on the rice cooker and heat the olive oil. Then add leek, sweet potatoes, carrots, ginger together for 10 minutes.
Add lentils: Stir the lentils with the mixture and add hot vegetable stock.
Close the lid: Cover them with the rice cooker lid and let it cook for 40 minutes
Toast the almond: While you are waiting for them to cook, you toast the almond in a separated pan with no oil.
Add spinach: After 40 minutes, stir the spinach leaves with the mixture of lentils and remove them from the rice cooker with cloves.
Season and use: Taste with salt and black pepper. Serve the food with dried coriander and toasted almond.
Lentils Dal Rice Recipe
Needless to say, dal is a staple companion food from the Indian subcontinent in which lentils are the main ingredients. This recipe is a combination of dal, lentils, and rice in one pot.
½ cup of brown lentils
¾ cup of basmati rice
2 russet potatoes
1 medium carrot
2 cloves garlic
1 large yellow onion
2 tbsp minced ginger root
2 tbsp coconut oil
Herbs
1 tsp cumin powder
1 tsp turmeric
1 tsp paprika
2 tsp coriander
⅛ tsp cinnamon
Seasons
2 tsp kosher salt
3 tbsp brown sugar
Garnish
Chopped fresh cilantro
Lime wedges for squeezing
Directions
A luscious dish of Lentils Dal Rice with pronounced flavors from cumin, turmeric, and paprika is made by these few steps below:
Prepare for the ingredients: You chop the carrot and russet potatoes into dice; rinse and drain the bastima rice and brown lentils. Then put all the herbs into a bowl to mix them.
Heat the rice cooker and saute the herbs and ingredients: Turn on the rice cooker, saute the onion and ginger in coconut oil with a large and non-stick saute pan until the onion is semi-translucent. After that, add the garlic and herbs into the pot.
Stir with the other ingredients: Add the carrot, potatoes with a tablespoon of water; stir frequently. Until there is a glaze-like spice coating on the vegetables, add lentils, rice, and 3 cups of water.
Serve with cilantro and a wedge of lime.
FAQs
I'm sure that you got a lot more unanswered questions. So this part is for you:
How much water do I need?
The standard ratio between lentils and water is 1:2. However, the level of water also depends on the type of lentils and the firming you want.
Usually, red split lentils and beluga lentils are the two lentils that easier to contain their shape after cooking while the others do not. You can reduce or increase the water to keep its shape or soften as your taste.
Why are my lentils mushy?
There are two reasons. Firstly, your lentils absorb too much water. The split lentils absorb water easier than the whole lentils, making them quickly soften than the others.
Secondly, you overcooked your lentils. Lentils need time to soften but you should check for the firmness and softness while cooking to make sure that they won't become mushy or still too firm.
What if I did not rinse the lentils?
Even though you buy a bag of lentils from the grocery store, you have to rinse them with water before using them. They are husk, dust, or even small stones left in a bag of lentils during the packaging process.
You don't want to chew lentils with any husk, dust, or gravel, right?
What about reheating the leftover lentils?
My advice is you should cook and eat lentils at one time.
There are many vitamins and minerals within lentils lost during the culinary process.
Especially the insoluble dietary fiber, which reduces the risk of colon cancer, will lose gradually in cooking and warm holding and reheating.
How soft is perfect for lentils?
There is no obvious answer to this question due to the use of different kinds of lentils. Red split lentils are frequently used in soup as a thickener to be as soft as possible for this kind.
Furthermore, green and brown lentils are usually used in salads, which needs them to soften but still keep their shape.
What About Cooking Lentils By Electric Pressure Cookers?
The pressure cooker has a tightly fitting lid that will shorten the cooking time while food is cooked under high pressure. When using it for lentils, the cooking time is about 7 to 10 minutes.
The electric pressure cooker is automatic, and you don't have to worry about whether your lentils firm yet over time.
Oh Wait! Did You Feel Satisfied With My Sharing?
Cooking lentils in a rice cooker is an effortless experience for you to try with your kitchen household and enjoy the superpower of nutrition by eating lentils.
I hope that my writing above will give you helpful information about lentils and how to use lentils.
Course: Main course
Lentils are a nutritional-rich and delicious dish that fit basically any diet. Let's learn how to make these tasty grains using a cooker today.
Rinse the lentils with cold water.
Spray the rice cooker pot with cooking oil.
Drain the lentils and put them into the rice cooker.
Stir the grains halfway.
Nutrition Facts
4 servings per container
Amount Per ServingCalories169
% Daily Value *
Total Fat
0.5g
%Saturated Fat
0.1g
%
Saturated Fat
0.1g
%
Sodium
588mg
%
Potassium
460mg
%
Total Carbohydrate
28.8g
%Dietary Fiber
14.6g
%Sugars
1g
Dietary Fiber
14.6g
%
Sugars
1g
Protein
12.4g
%
* The % Daily Value tells you how much a nutrient in a serving of food contributes to a daily diet. 2,000 calories a day is used for general nutrition advice.
Reference
Lentils.org (2021), www.lentils.org.
Lentils (2021) The Nutrition Source of Lentils. https://www.hsph.harvard.edu/nutritionsource/food-features/lentils/.
Ganesan. K, and Xu, B. (2017) Polyphenol-rich lentils and their health promoting effects. International journal of molecular sciences.
Table of Contents
Inspired by red lentil dal, this somewhat non-traditional red lentil curry emphasizes convenience and ease, relying on pantry staples and the Instant Pot. Just 5 minutes of prep, then sit back and relax! Comforting and full of flavor, this Instant Pot curry is vegan, gluten-free, and oil-free.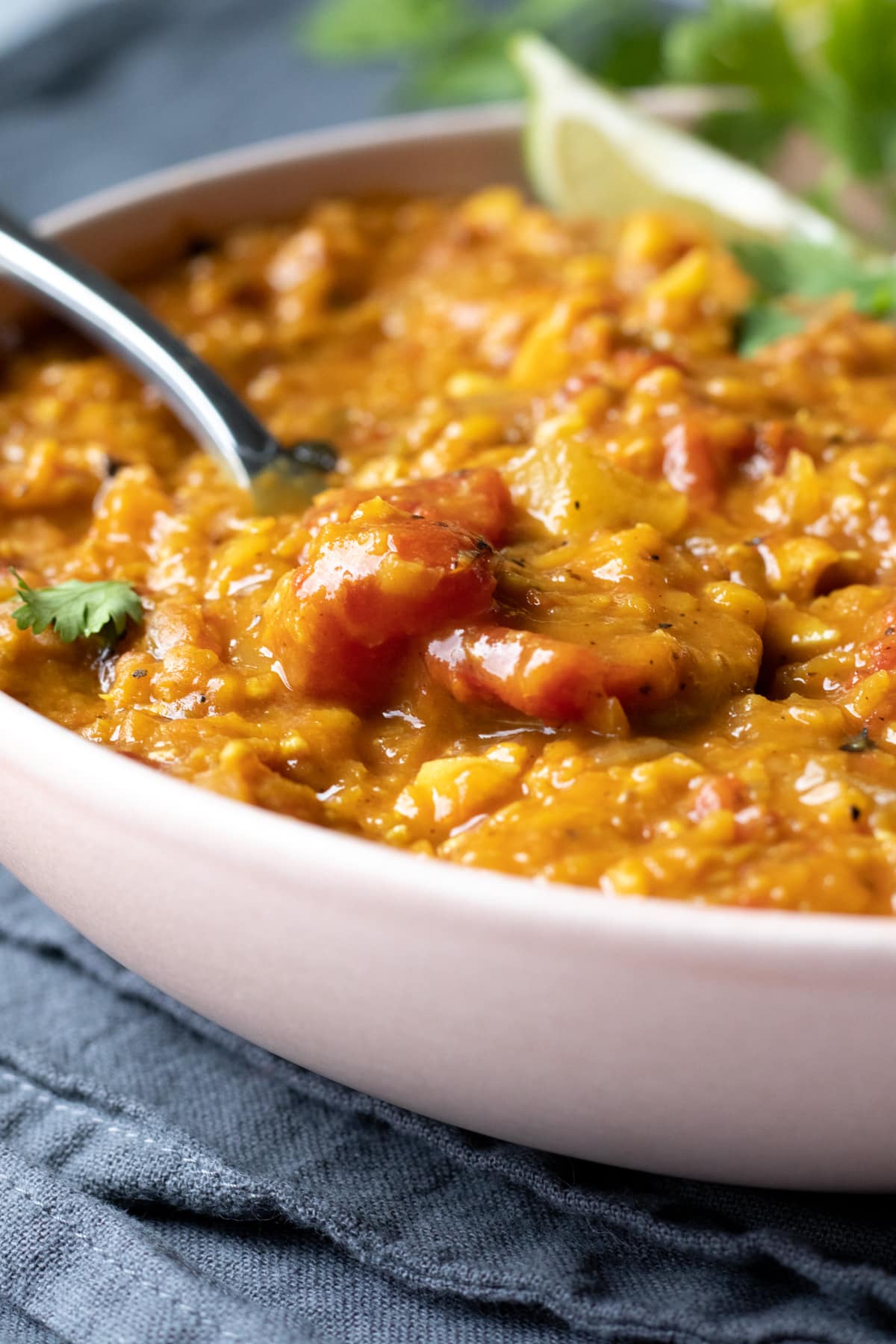 With endless days at home plus a hot and humid summer, lately I'm often so tired by dinner time that even the thought of whipping up one of my go-to weeknight veggie sautés is too much. And that's exactly how this Instant Pot Red Lentil Curry was born.
I also had some pantry items to use up, like fire roasted tomatoes, red lentils, and soy curls.
But mainly, I just wanted to just throw some ingredients in the Instant Pot, press a button, and sit the heck down.
You know what I mean? I wanted zero fuss and zero standing at the stove.
To my surprise, that first experimental batch was AMAZING! It was so delicious I couldn't wait to make it again.
I've changed the recipe a bit each time, trimming down ingredients and choosing only the most essential ones to make this lentil curry as easy and accessible as possible.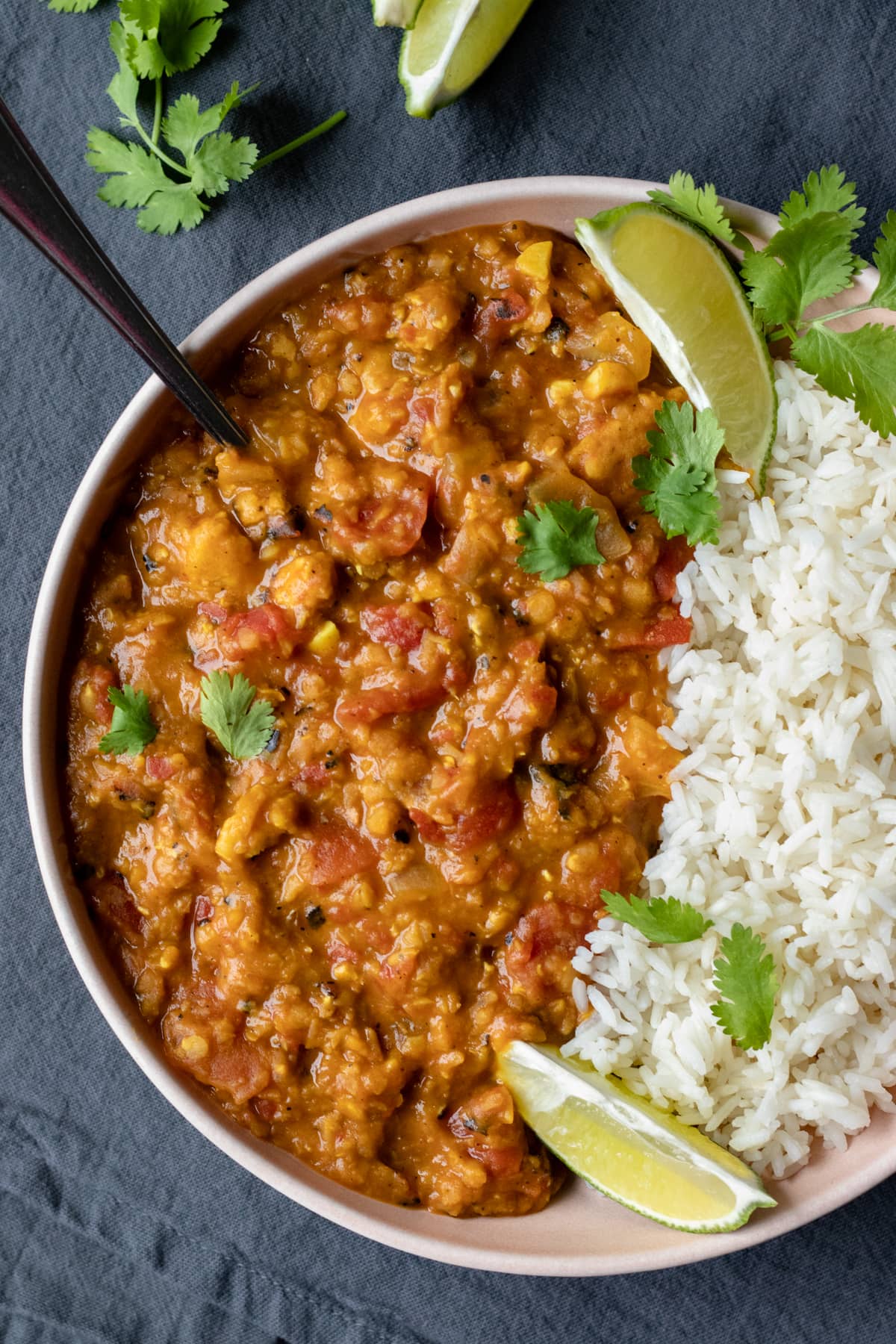 Ingredient Notes
I mentioned this is a non-traditional take on red lentil curry. So what liberties did I take? First, it has more tomatoes than it should because I needed to use up a 28 ounce can. But when that turned out to be delicious, I decided to stick with it.
Second, I added soy curls (I also tested TVP) because I had plenty on hand. I've tested the recipe multiple times alternating between TVP and soy curls, and both are great! So use whichever you prefer.
TVP adds a ground meat texture, while soy curls are larger pieces, though you can use your hands to break up the soy curls as you add them to the Instant Pot.
We really enjoy the additional protein source because it makes the curry even more filling and gives it a meaty and hearty bite. But if you don't have either one of those ingredients on hand, simply increase the red lentils to 1 ½ cups.
See the recipe card below for amounts and full instructions.
red lentils – whole or split, either is fine
canned diced tomatoes – fire-roasted or regular
light or "lite" coconut milk – the type in a can, not the refrigerated variety
TVP or soy curls, optional
yellow onion
garlic
ginger root
curry powder
ground cumin
tamari or soy sauce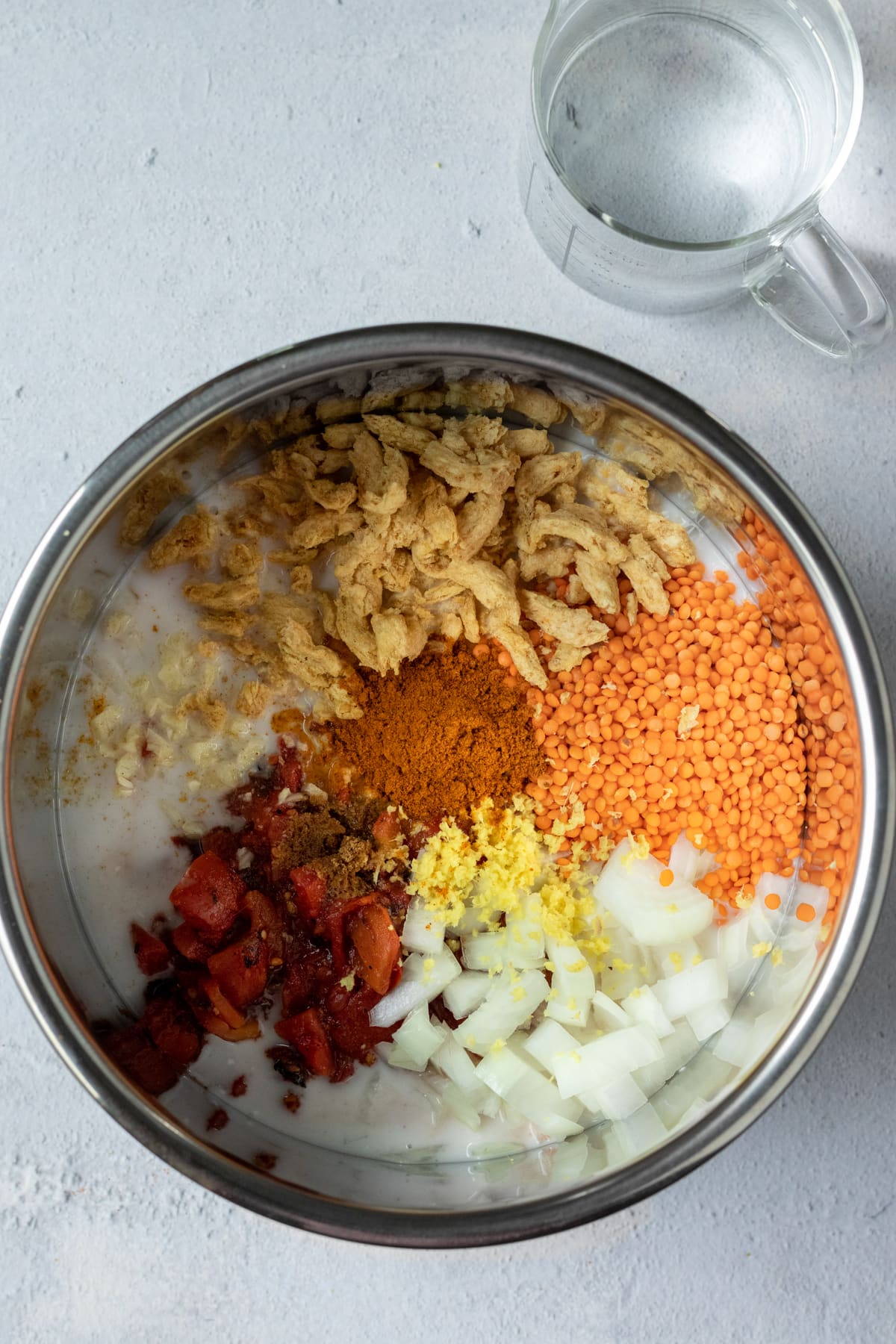 The Easiest Red Lentil Curry
The only ingredients you have to chop to prepare this curry are onion and garlic. How great is that?
If you have a microplane zester, use it to zest the fresh ginger. If not, go ahead and finely mince the ginger, as well.
Now, the fun part:
Toss everything in the Instant Pot, give it a really good stir, and cook on high pressure for 5 minutes.
Place a dish towel over the steam vent, and quick release the pressure.
And that's it. You're ready to eat!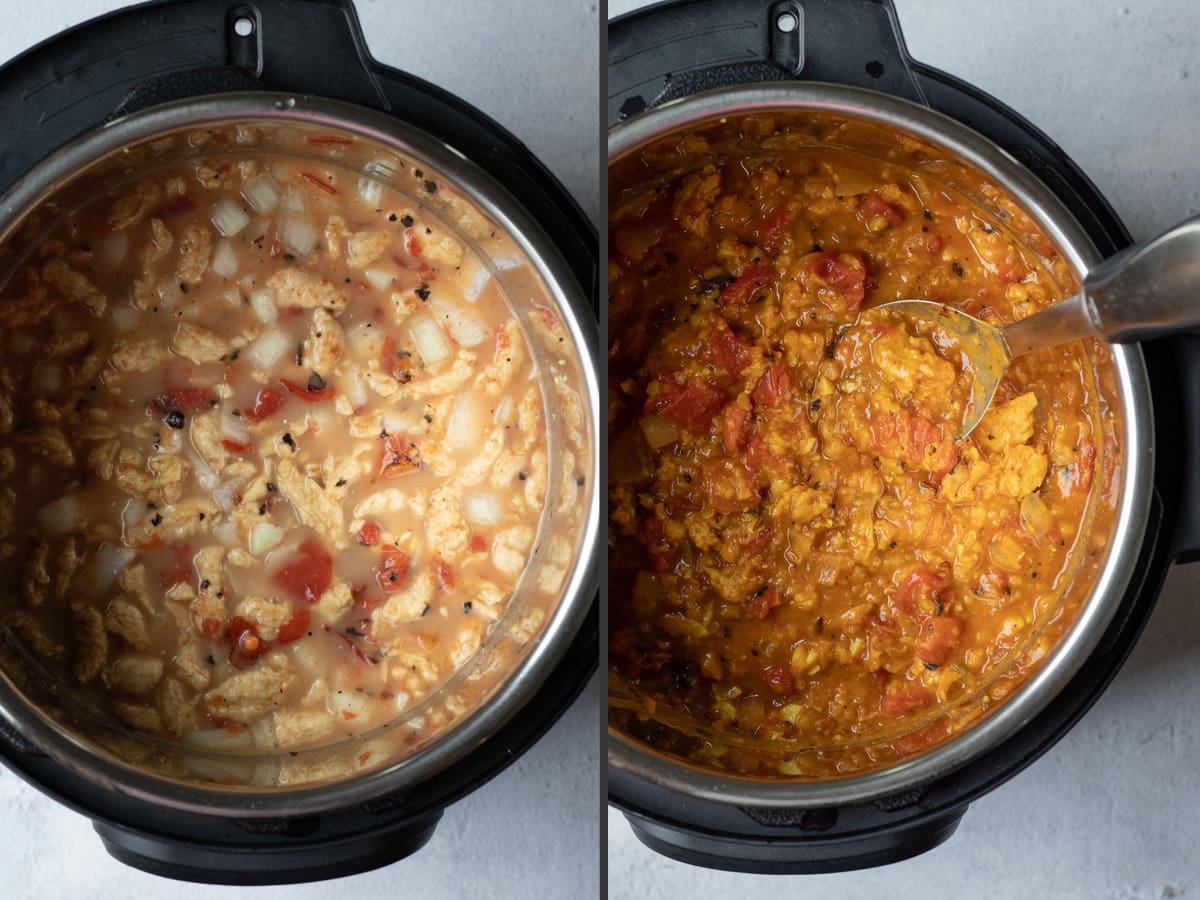 How to Cook Red Lentils
One of the best things about this recipe, aside from the flavor, is that you don't have to worry about pre-soaking the lentils. Red lentils cook up quickly and easily, making them perfect for this easy Instant Pot red lentil curry.
Simply rinse the lentils before adding them to the pot, and you're good to go.
Serving Suggestions
I actually prefer to eat this lentil curry on its own because it's just so good! Of course, it also pairs well with potatoes, quinoa, and rice.
And not that this curry is especially spicy, but a dollop of Instant Pot Cashew Yogurt adds a nice, cooling element.
Garnish with plenty of fresh cilantro, assuming you're a fan, and a fresh squeeze of lime juice.
Variations
other veggies – if you have other veggies that need to be used, feel free to add them to the pot. Try chopped carrot, bell pepper, or mushrooms. For something green, stir in baby spinach immediately after cooking.
spicy – if you're into spiciness, a dash of cayenne plus extra black pepper are also great.
without TVP or soy curls – the absence of these dry ingredients means you can increase the red lentils to 1 ½ cups, if desired.
Storing Leftovers
This red lentil curry reheats beautifully and is a great dish to add to weekly meal prep. It will keep in the refrigerator for up to 5 days.
The leftovers can also be frozen for longer storage.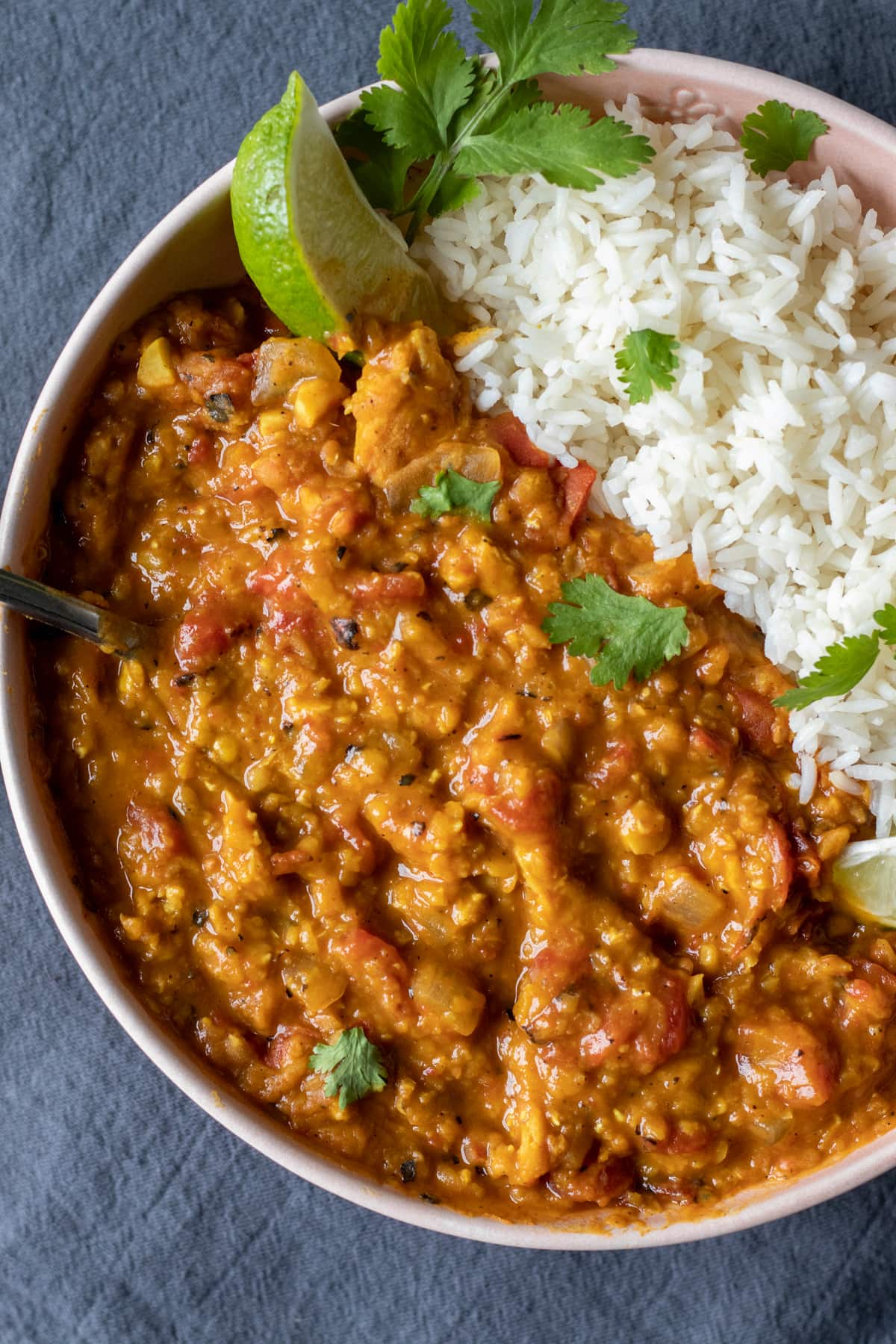 You might also like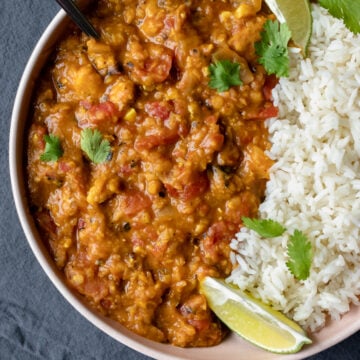 This non-traditional red lentil curry is the perfect weeknight dinner when you're low on time and energy and need a filling and healthy dish ASAP. So comforting and delicious, with just 5 minutes of hands on prep time! Vegan, gluten-free, oil-free.
Yield: Makes about 7 cups.
yellow onion, chopped
4 to 6
piece of fresh ginger, peeled and zested or minced
can light coconut milk
can diced tomatoes, fire-roasted or regular
dry red lentils, rinsed –
mild curry powder
tamari (for GF) or soy sauce
fine sea salt
For serving
cooked rice or potatoes
cilantro and lime
Note: to avoid a burn warning on the Instant Pot it's important to measure accurately and avoid major adjustments to the the wet/dry ratio.
Combine all ingredients in the Instant Pot (onion – water), and stir very well. If using soy curls/TVP, these go in dry; no need to soak first. Lock on the lid, set to sealing, and cook on high pressure for 5 minutes.
Carefully flip the toggle to manually release the pressure. Serve with rice or potatoes, a squeeze of lime juice, and fresh cilantro, if desired. Lentil curry is also great with a dollop of plain vegan yogurt.
*If omitting soy curls/TVP, increase lentils to 1 ½ cups, if desired.
Storage
Store leftover lentil curry in an airtight container in the refrigerator for up to 5 days. Can also be frozen for up to 2 months.
Nutrition information is an estimate and will vary depending on the exact amounts and specific products and ingredients used. We calculate this information using the online calculator cronometer.com.
Instant Pot recipes are all the rage, so it's only natural that we take a step back from our beloved Crock-Pots to revisit a truly classic cooking method: pressure cooking. You're probably picturing the terrifying pot of years past that was known for leaving remnants of green beans on the ceiling. Well, times have definitely changed. Electric pressure cookers of today are more like a fast version of a slow cooker and have little-to-no risk of taking your eyebrows off. Whether you're looking to invest or you were gifted one and have no idea what to do with it, keep reading to discover easy pressure cooker recipes that are perfect for a beginner.
Fluffy Instant Pot Quinoa
Fun fact — your pressure cooker's rice setting does a lot more than just cook one type of grain. Try quinoa, then dress it with your fave salad toppings. (via Brit + Co.)
Baked Potato Soup
Pressure cook potato soup, purée it in a blender, then top it with your favorite potato fixings like bacon and green onion. (via Brit + Co.)
Instant Pot Carnitas
Pressure-cooker carnitas start with pork shoulder, aromatic veggies, adobo sauce, and beer, but add your go-to herbs and seasonings to make it yours in this simple slow cooker recipe. (via Brit + Co.)
Instant Pot French Dip Sandwich
This French Dip Sandwich Pressure Cooker Recipe is Pinterest's most popular Instant-Pot recipe, and once you see the step-by-step close-ups, you'll understand why. (via Brit + Co.)
Weeknight Saucy Pineapple BBQ Chicken Bowls
This easy pressure cooker dish reminds us exactly of summer nights, and makes for a simple weeknight meal! (via Half Baked Harvest)
Instant Pot Shredded Chicken
Prep this super simple shredded chicken in the pressure cooker to have on hand for weeknight salads, tacos, wraps, and more. (via Feel Good Foodie)
Instant Pot Shrimp Pasta with Vodka Sauce
If anything's vodka sauce-infused, you can count us in. Plus, this recipe makes a hearty dish so easy. (via A Spicy Perspective)
Instant Pot Lima Beans and Ham
Simple and nutritious lima beans and ham is one dish anyone can master with their pressure cooker. The ham infuses each bite with smokey flavor, while the beans become tender and creamy without having to be soaked the night before. (via The Blond Cook)
Instant Pot Zuppa Toscana
This Olive Garden copycat soup recipe is concocted in the pressure cooker, allowing all of the good, comforting flavors to soak in. (via Salt & Lavender)
3-Ingredient Pressure Cooker Mexican Chicken
Spicy, saucy, tender chicken for tacos, burritos, and more is easy to cook up in your pressure cooker. Best of all, the recipe requires just three ingredients, so you don't have to spend a ton of time rooting through your cabinets before you get cooking. (via Gimme Some Oven)
Vegan BBQ Jackfruit "Pulled Pork"
Prep this amazing vegan pulled pork in the pressure cooker, to fill some healthy tacos with! (via Chef Bai)
Pressure Cooker Zucchini Basil Soup
When you think of pressure cooker meals, you probably picture a giant roast or a heavy meat-laden stew. This veggie soup is just the opposite and is perfect as a light starter for any weeknight meal. (via My Food Story)
Instant Pot Risotto
Making risotto can sometimes be a feat, but with the pressure cooker, it doesn't have to be. This easy recipe delivers a delicious bowl of risotto in a matter of minutes. (via Two Spoons)
Pressure Cooker Ribs
The way you cook ribs will forever be changed after you use a pressure cooker. This simple recipe contains ingredients already found in your cupboard. (via Leite's Culinaria)
Lemon Chicken Soup
This soup is oh-so comforting, but still light on the flavoring, thanks to the citrusy lemon. (via The Endless Meal)
Pressure Cooker Pinto Bean And Chard Burritos
The pressure cooker isn't just for heavy comfort food-style dishes. You can whip up these healthy pinto bean, chard, and brown rice burritos in a flash, so you can eat something nutritious at the end of a long, stressful day. (via Kitschen Cat)
Pressure Cooker Blueberry Cornmeal Breakfast Cake
We tend to whip out our pressure cooker at dinner time, but it's just as effective at churning out hands-off breakfasts, too. Cornmeal cake studded with blueberries stays ultra moist in your cooker, making for an indulgent morning meal. (via Kitschen Kat)
Instant Pot Lentil Stew
When you just need a cozy meal, this lentil stew is the perfect solution. (via Salt & Lavender)
Pressure Cooker Coca-Cola Baked Beans
Cooking homemade baked beans from dried legumes normally takes hours to yield a tender result. With the pressure cooker, all that flavorful sauce is imparted into the beans in a fraction of the time for one tasty side dish. (via Kitschen Cat)
Cheesy Chili Mac
There's no need to make a questionable dinner from a box when you can make the same thing from scratch and feel good about it. (via Chattavore)
Carrot Cake Steel Cut Oats
Steel-cut oats usually take more time than you have for breakfast in the morning, but with a pressure cooker, you can have them ready before you perfect your mascara. (via Kitschen Cat)
Pressure Cooker Rice Pudding
This rice pudding is a versatile dish that you can have for breakfast, dessert, or a quick snack. Serve warm straight from the pressure cooker, or chill for a couple of hours if you like it cold. (via Pressure Cooking Today)
Cacio e Pepe
This is a delicious recipe you can make with pretty much what you almost always have in your fridge/pantry: spaghetti, pepper, some grated cheese, butter, and broth. Mix up your pasta rotation with something a little creamy and peppery this week! (via Instant Pot)
How to Cook Artichokes in a Pressure Cooker
Homemade whole artichokes are a delicious and impressive appetizer for a fancy dinner party. Make a huge batch of these for your next girls' night in, and the ladies will thank you almost as quickly as they'll dip these in melted garlic butter or lemon aioli. (via Kalyn's Kitchen)
Pressure Cooker Summer Italian Chicken
One trick to producing a fantastic meal when using a pressure cooker is to finish your dish with fresh ingredients to balance the taste of the cooked food. This Italian chicken stew is full of marinated flavor and topped with lots of fresh herbs. (via Nom Nom Paleo)
Instant Pot Paleo Beef Stew
Paleo pals, unite! This pressure-cooked beef stew is super easy to make, and will fill you with all the good and warm flavors you crave. (via The Endless Meal)
This article has been updated from a previous post.
Brit + Co may at times use affiliate links to promote products sold by others, but always offers genuine editorial recommendations.
From Your Site Articles
Related Articles Around the Web