with a creamy quark filling tastes delicious. The biscuit cake with dates and nuts does not need to be baked and is easy to prepare.
Please review recipe:
with a creamy quark filling tastes delicious. The biscuit cake with dates and nuts does not need to be baked and is easy to prepare.
Please review recipe:
Ingredients
360 g quark
70 g butter, soft
2 tbsp powdered sugar
1 p. Vanillin sugar
300 g dates
100 g roasted walnuts
100 g biscuits
1 tbsp cocoa
1 tbsp water
40 g white chocolate
1 tsp oil
Chocolate shavings, after at will
Utensils
Hand blender
Food processor
Bowl
Kitchen spatula
Kitchen brush
Instructions
Put the quark, softened butter, powdered sugar and vanilla sugar in a bowl.
Use a hand blender to mix everything together to form a quark cream.
In a food processor, grind the dates, walnuts, biscuits and cocoa powder to a sticky biscuit mass.
Lay out the biscuit mass on cling film, pressing the mass down firmly with wet hands.
Spread the cream on top and roll up into a roll.
Put the biscuit cake in the fridge overnight.
Top the biscuit cake
The biscuit cake from the Detach the foil, trim the edges straight.
For the chocolate icing, melt the white chocolate and stir in a little oil.
Cookie cake with chocolate icing as desired and top with chocolate shavings.
That could also be interesting
This no-bake cake is made from biscuits, cottage cheese, and sweetened condensed milk. A sweet cream of cottage cheese and condensed milk is divided and cocoa is stirred into one half. Then biscuits, bananas and cream are layered alternately. After cooling in the fridge, the biscuit cake is topped with walnuts and served.
Please review recipe:
This no-bake cake is made from biscuits, cottage cheese, and sweetened condensed milk. A sweet cream of cottage cheese and condensed milk is divided and cocoa is stirred into one half. Then biscuits, bananas and cream are layered alternately. After cooling in the fridge, the biscuit cake is topped with walnuts and served.
Please review recipe:
Ingredients
400 g quark
200 g sweetened condensed milk
1 tsp cocoa
2/3 cup milk
30 biscuits
1 banana
vanillin sugar, to taste
walnuts, for decoration
Utensils
bowl
spoon
large cake plate
cake ring
Instructions
Mix together half of the curd and half of the condensed milk with vanilla sugar.
In another bowl, mix together the second half of the curd with the remaining condensed milk and cocoa.
Place a cake ring on a flat plate.
A layer of biscuits Place on the plate.
Spread the light quark-vanilla mixture over the layer of biscuits.
Place slices of banana on top of the cake and spread with the cream.
Place the next portion of biscuits on top of the quark mixture and distribute the quark-chocolate mixture .
Place the cake in the fridge for several hours to set.
Decorate the biscuit cake with walnuts and enjoy with coffee.
That could also be interesting
Chocolate biscuit cake was the late Queen Elizabeth's favorite cake, and this is the no bake recipe from former royal chef Darren McGrady.
Chocolate biscuit cake from the British royal kitchen
Chocolate biscuit cake is Queen Elizabeth's favorite cake ~ she would take a small slice every day with her tea, until the cake was finished, and then she'd start on a fresh one! She reportedly had her chefs bring along this special chocolate cake wherever she traveled, and the cake was so popular in the royal family that it was Prince William's groom's cake at his wedding to Kate Middleton.
After researching this tea cake I wasn't entirely sure I'd like it, but I was wrong! I gobbled up an entire piece right in the middle of my photo shoot. The combination of the mousse-like chocolate filling with the crunch of the biscuits and the chocolate layer on top is really delicious. I'm a fan!
Just four ingredients for British chocolate biscuit cake
Queen Elizabeth was famously not a 'foodie'. Her tastes in food were surprisingly simple and homey and this no-bake 'fridge cake' is a good example. Just four basic ingredients make up this no-bake recipe. A fifth ingredient, a raw egg, is in the original recipe, but I've left it out because raw eggs aren't considered safe to consume in the US. You could, if you like, use a pasteurized egg.
English rich tea biscuits

Look for English

rich tea biscuits

in larger supermarkets and specialty stores. Cost Plus World Market carries them as well. I used

McVities Digestive Biscuits

which are very similar to rich tea biscuits. These not too sweet wheat biscuits remind me a little bit of American graham crackers.

butter
granulated sugar

if you happen to have superfine bakers sugar, that's ideal, but otherwise, regular white sugar will do.

dark chocolate

melted chocolate is used in the filling and also as the icing on top. Honestly use whatever good quality chocolate you like, whether chips, or bar chocolate. Dark chocolate is specified in the original recipe and that's what I used.
How to make a British chocolate biscuit cake
Break or chop the biscuits into pieces. Beat butter and sugar together until fluffy, then beat in melted chocolate. At this point the British recipe has you beat in a raw egg, but I left that out.
2. Fold in the biscuit pieces so that everything is evenly blended.
3. Fill prepared cake pan, cover with plastic, and refrigerate until chilled and firm.
4. Invert cake out onto a rack. Remove plastic wrap.
5. Pour melted chocolate over cake and spread over top and sides with an offset spatula.
6. Allow the chocolate to set up at room temperature, and slice.
Final thoughts on chocolate biscuit cake…
This cake is vey good, and unique, at least as far as American desserts go. It's quite rich, so thin slices are best. It actually reminds me of a KitKat candy bar, in cake form! I hope you give it a try, I think you'll love it like I did.
More British inspired food
Chocolate biscuit cake was the late Queen Elizabeth's favorite cake, and this is the no bake recipe from former royal chef Darren McGrady.
8 inch cake pan (the original recipe uses a 6 inch cake ring.)
for the cake
British tea biscuits

, (I used

McVities Digestive Biscuits

.)

butter, at room temperature

dark chocolate, melted
chocolate topping
garnish, optional
mini chocolate chips. You could also use chocolate sprinkles, or chocolate curls.
Butter or spray your pan, then line with plastic wrap, with long ends. This will make it easier to invert after the cake chills.

Break or chop your biscuits into pieces. The original recipe says to break them into pieces the size of almonds. I chopped mine a little larger than that. Set aside.

Cream the soft butter and sugar until light and fluffy. Beat in the melted chocolate until everything is completely combined.

Fold in the chopped biscuits until they are evenly distributed.

Spread the mixture into your prepared pan. You want to make sure to fill all the nooks and crannies so there are no air pockets. Cover with plastic wrap and refrigerate for 3 hours. Note: You could also leave it overnight.

When the cake has chilled, run an offset spatula or other thin blunt knife along the edge to loosed the cake from the sides of the pan. Invert onto a rack that is set over a sheet of parchment paper. Peel off the plastic.

Pour the melted chocolate over the top and sides of the cake, using an offset spatula to smooth it out. Add your garnish, if using, while the chocolate is still wet.

Allow the topping to set at cool room temperature before slicing.

The cake can be stored at room temperature, but for overnight I would refrigerate it. Let it sit on the counter for 30 minutes for easier slicing.
*Recipe lightly adapted from former British royal chef Darren McGrady. The changes I've made are to omit the raw egg, and to increase the amounts of butter, sugar, and chocolate for the filling to account for a larger 8 inch pan.
British, cake, chocolate, dessert, no bake
Nutritional information is provided as a courtesy and is an estimate only. This information comes from online calculators. Although The View from Great Island attempts to provide accurate nutritional information, these figures are only estimates.
Paneer Cheesecake recipe with step by step pictures. Delicious indian style cheesecake made with paneer which is super easy to make and taste delicious.
Paneer Cheesecake Recipe
Paneer cheesecake taste creamy and milky. This cheesecake is super easy to make and taste so delicious. You don't need cream cheese to make this dessert. You need a packet of paneer to make this.
A cheesecake is a sweet dessert with one or more layers. The main, thickest layer is made up of a soft, fresh cheese, eggs, and sugar. If there is a bottom layer, it is usually a crust or base made of crushed cookies, graham crackers, pastry, or occasionally sponge cake.
Paneer, also known as ponir or Indian cottage cheese, is a fresh acid- set cheese made from cow or buffalo milk that is popular in the Indian subcontinent. It is a soft cheese that is not aged and does not melt. It is made by curdling milk with a fruit or vegetable-derived acid, such as lemon juice.
Similar Recipes,
Mascarpone Cheesecake
Strawberry Cheesecake
Mango Cheesecake
Mango Custard Cheesecake
Ingredients for Paneer Cheesecake Recipe
Paneer
Paneer has a mild, milky flavour and a dense crumbly texture that complements the strong spicy flavours found in many traditional Indian dishes. Because it does not melt like other cheeses, chunks of it can be stirred into soups or curries and stay whole.
Digestive Biscuits
A digestive biscuit, also known as a sweet-meal biscuit, is a type of semi-sweet biscuit that originated in Scotland. Two Scottish doctors invented the digestive in 1839 to aid digestion.
Sweetened Condensed Milk
Sweetened condensed milk is cooked until it thickens and becomes a creamy caramel-like pudding that can be used in a variety of dessert recipes. Its delicious on its own, with ice cream, in coffee, or spread on apple slices.
Gelatin
It acts as a natural adhesive in foods such as jams, jellies, and gummy candy such as gummy bears.
IF YOU MAKE THIS RECIPE OR ANYTHING FROM YUMMY TUMMY, MAKE SURE TO POST IT AND TAG ME SO I CAN SEE ALL OF YOUR CREATIONS!! #YUMMYTUMMYAARTHI AND @

YUMMYTUMMYAARTHI

ON INSTAGRAM
Paneer Cheesecake Recipe | Indian Cheesecake Recipe
Paneer Cheesecake Recipe with Step by Step Pictures. Paneer Cheesecake needs just few ingredients and taste absolutely delicious.
FOR BASE:
Digestive Biscuits – 200 grams

Butter – ½ cup melted
FOR TOPPING:
Paneer – 200 grams

Thick curd – ½ cup

Sweetened condensed milk – 1 can

Gelatin – 2 tblsp

Water – ¼ cup

Whipped Cream – 1 cup
Take a 8 inch cake pan and line with cling wrap. Set aside.

Whip some cream and set aside.

Take biscuits and crush them. Add melted butter and mix well. Pour it in the prepared pan and put them in fridge untill needed.

Now take paneer, curd in a blender and puree till smooth.

Take it in a bowl. Add condensed milk and mix well.

Take gelatin in a bowl. Add water and leave them to soak for 10 mins.

Heat it gently so gelatin is melted.

Now add this to the paneer mix and fold gently.

Add in whipped cream and fold.

Spoon this over biscuit base and chill in fridge overnight.

Slice and serve.
Paneer Cheesecake Recipe Step by Step Pictures
1)Take paneer in a blender
2)Add in thick yogurt
3)Grind till smooth.
4)Take digestive biscuits in a bowl.
6)Add in melted butter.
8)Spoon this into a spring form pan
9)Take cream cheese in a bowl
10)Add in condensed milk
12)Take gelatin in a bowl
13)Add water and soak for 10 mins
14)now pop this in microwave and melt for a min.
15)Add this to the paneer mix
16)Whip some cream
17)Add the paneer mix in this.
19)Spoon this over the biscuit base
20)Chill in fridge for few hours. Slice and serve.
Frequently Asked Questions
What is real cheesecake made of?
A classic cheesecake is a study in simplicity. One of the most popular types of cheesecake is made with just three simple ingredients: cream cheese, sugar, and eggs. Different countries and places have their own spin on tradition, often using ricotta, mascarpone, and quark instead of cream cheese.
Is cream cheese and paneer same?
No, paneer and cream cheese are not the same thing. Though they are both made in the same way by separating cheese curds from whey, they begin at different points. While Paneer is made entirely of milk, Cream Cheese is made with a milk-to-cream ratio of 1:2.
Creamy and mousse-like, these no-bake cheesecakes are served in individual cups for the perfect dessert. They're rich, decadent, and so incredibly simple to make! A guaranteed crowd pleaser.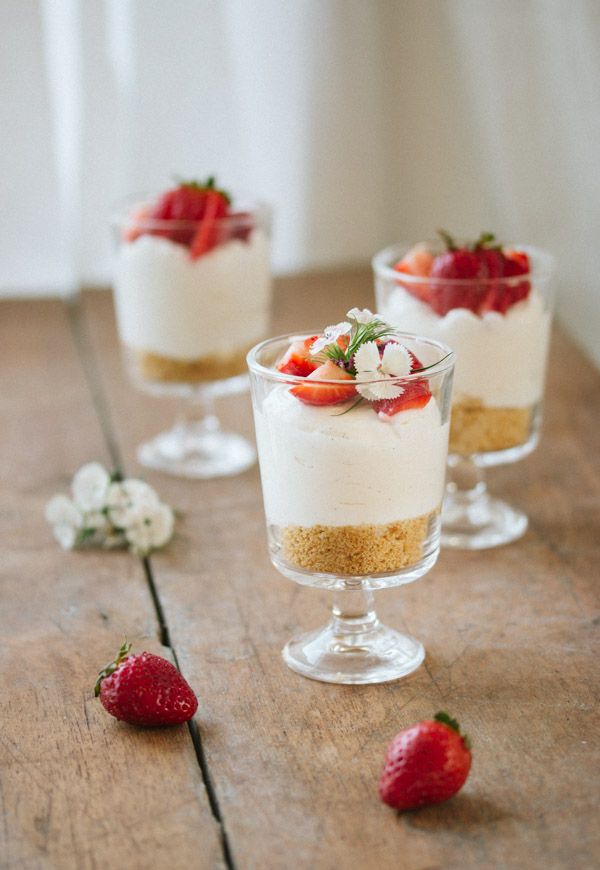 Even though it's still pretty warm here, fall is right around the corner and I've been recipe testing lots of yummy pumpkin and apple-filled recipes. But this week I was really craving something cold and didn't feel like turning on my oven. So I decided to whip up a batch of these hassle-free, no bake cheesecake cups because they are probably one of the simplest recipes to make and taste like absolute heaven.
The bottom layer is made of cookie crumbs, and the filling is a rich, creamy cheesecake mousse. And it tastes even better than it sounds. Plus, I just love deserts served in jars or glasses, don't you? It makes them look so ornate and unique.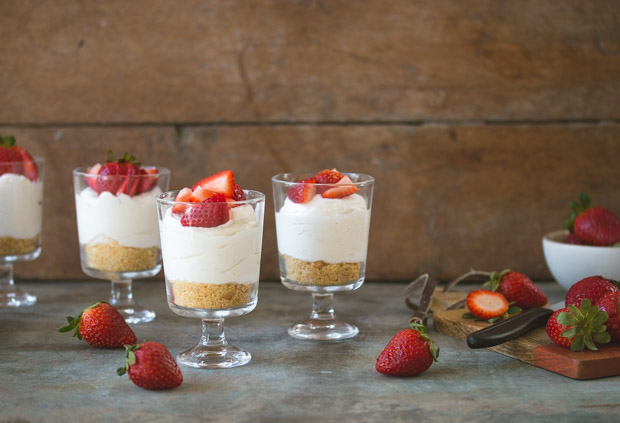 How to make individual cheesecake cups
Make the crust. In a bowl, mix together graham cracker or other cookie crumbs and melted butter until the crumbs are completely moistened – they should feel like wet sand. Then, divide them evenly and press them firmly into your serving cups to form a crust
Make the filling. In an

electric stand mixer

fitted with the paddle attachment or using a

handheld mixer

, beat the cream cheese with sugar until smooth. If the cream cheese is soft enough, you can do this by hand with a whisk, but I find that a mixer is much easier. Combine the lemon zest and vanilla. Lastly, whip the cream in a separate

mixing bowl

until soft peaks form, and fold the cream into the cream cheese using a

rubber spatula

until completely combined.
Put into cups. Use a spoon or

piping bag

to evenly place the cheesecake filling on top of the crusts.
Garnish. You can use any fruit that goes well with cheesecake as a garnish, like strawberries, cherries, raspberries, blueberries, or any tropical fruits. I love to use whatever is in season.
Storage. Keep these cheesecakes refrigerated until serving.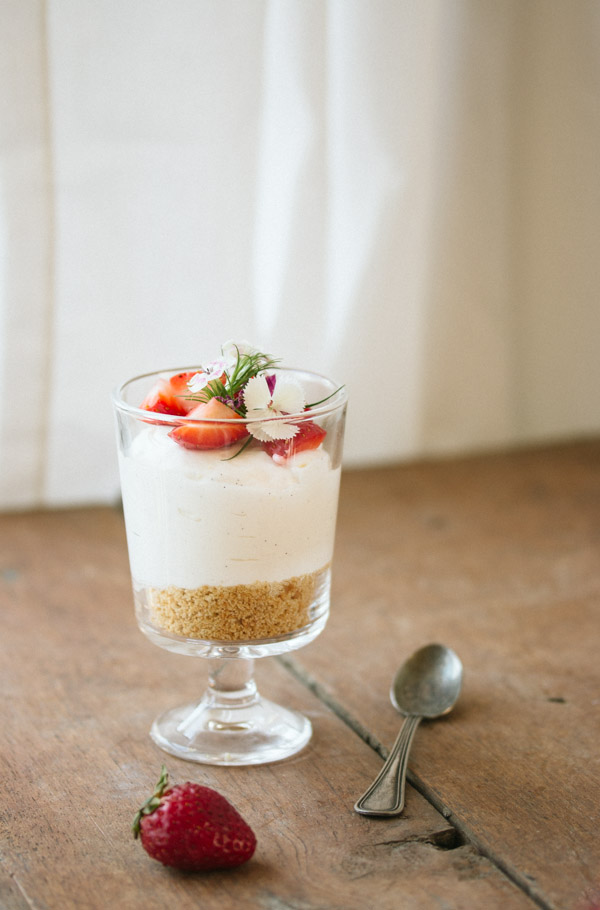 Tips for making individual cheesecake cups
Temperature:

Make sure the cream is cold before whipping. Otherwise, it may not whip up into nice, fluffy cream.
To avoid lumpy cheesecake batter, make sure the cream cheese is room temperature before beating it together with the sugar.

Garnish:

If using fresh berries that aren't quite sweet enough, toss them with a bit of granulated sugar. Evn if they do have enough natural sweetness, you may want to toss them with lemon juice, zest, or berry jam for extra flavor.
You can also top the cheesecakes with

chocolate ganache

,

lemon curd

,

berry sauce

, jam, or sugared nuts.
Another option is to use this same recipe to make individual trifles, which means arranging it in layers. I made one trifle in a jar, as you can see below, to give you an idea of what it looks like. For a trifle variation, fresh berries or lemon curd is especially good.

Cream cheese: Use bricks of full-fat cream cheese for this recipe. Cream cheese that comes in tubs is less firm, typically because it is lower in fat and won't work as well for this recipe.

More delicious cheesecake recipes: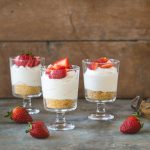 : individual glasses (150ml each)
Creamy, rich, and smooth, these no-bake cheesecake cups are easy to make and taste amazing.
---
For the Crust:
(85g) graham cracker/digestive biscuit/vanilla cookie crumbs (pulse in a food processor or blender until finely ground.)

(25g) unsalted butter, melted
For the Cheesecake Filling:
(225g) cream cheese, at room temperature

(100g) granulated sugar

pure vanilla extract

lemon zest, optional

(240 ml) heavy cream

Diced fresh fruit, for topping




, for topping
Make the crust: In a medium bowl, mix together crumbs and melted butter until combined and crumbs are moistened. Divide evenly between individual serving dishes (about 2 tablespoons per serving dish). Press on the mixture with your fingers to form a crust layer.

Make the filling:

In a large bowl, combine cream cheese and sugar, and whisk well until combined and completely smooth. You can also use an electric stand mixer fitted with the paddle attachment to beat the cream cheese, or use a handheld mixer. Add in vanilla and lemon zest. Set aside to let sugar dissolve into the cream cheese. Using an electric mixer fitted with the whisk attachment, whisk heavy cream until soft peaks form. Avoid overbeating. Using a rubber spatula, gently fold half of the whipped cream into the cream cheese mixture, then fold in the other half. Evenly spoon (or pipe using a piping bag) about ½ cup of filling into each serving dish.

Top with fresh fruit or any other topping you like (read above post for suggestions). Cover and place in the fridge for at least one hour before serving, or up to 2-3 days.
HurryTheFoodUp is reader-powered. If you click through using links on our site we may earn a small commission at no cost to you.
I love a delicious cheesecake, don't you? With a crunchy, buttery base and a smooth and silky top, this is cottage cheese cheesecake of my favorite recipes for health-conscious cheesecake lovers.
And as it's high protein it's a great option if you want a creamy dessert that loves your waistline as much as you do.
Jump to
Ingredients
Let's take a look at what main ingredients we have in this recipe.
For this delicious dessert, I've gone for something a bit different on the base. Rather than the traditional cheesecake base of digestive biscuits, I've chosen to use ground-up granola.
It still gives us a lovely crunchy, crumbly base and is perfect for this healthy cheesecake recipe.
I then combine it with melted butter which holds it all together nicely and not only gives a buttery taste but it also helps it go golden brown in the oven.
However, you can still use a biscuit base if you prefer. If you're aiming for being health-conscious, aim for low-fat biscuits if possible.
On top of the cheesecake before baking I added some fresh berries. I recommend raspberries or blueberries.
The heat from the oven as it bakes really helps the berries to burst so they can release all their flavor and help the cheesecake taste even more amazing!
How many calories are in a healthy cheesecake?
There are a sensible calories in this healthier cheesecake.
It also has grams of protein which will help you feel fuller than a regular cheesecake will.
Here is an overview of the rest of the information for this healthy dessert recipe.
Health benefits
You may ask what health benefits can come from eating cheesecake, but the best part about this dessert is that it's a protein cheesecake (we love a good high protein pudding).
It has all the taste of some of the best cheesecake recipes but the key ingredient that is helping on the health side is the cottage cheese.
Having a high-protein ingredient means it is great at helping us to feel fuller for longer. This is important if you are eating a diet that is aimed at weight loss.
You shouldn't deny yourself any food groups when it comes to watching your weight.
Within a calorie-controlled diet, it is great to get that sweet fix with healthy cheesecake recipes like this one.
Cottage cheese can also help when building muscle. It's also high in B vitamins, selenium, and calcium which help to support bone strength.
Although I have reduced the amount of sugar to keep it a low-fat cheesecake recipe, it is still loaded with taste and flavor.
This all comes from the natural ingredients like the vanilla, lemon, and berries that I've added.
Subscribe to get our FREE 7-Day Vegetarian High Protein Meal Plan for Weight Loss
Ideal for weight loss

Easy vegetarian recipes only

Automated grocery lists

Use on mobile or download as PDF
How to make cottage cheese cheesecake?
2 hours and 45 minutes.
Prep time:

First of all, preheat the oven. Then use a food processor to grind up the granola. Melt the butter and combine it to form a firm layer on the bottom of a springform pan.

Crunch time:

Place the base into the oven to crisp up in just 6-8 minutes.

Cheesecake filling time:

For the creamy cheesecake filling mix together the eggs, cream, sugar, salt, cornstarch, cottage cheese, and flavorings until thick and shiny.
Pour this batter over the base and top with the raspberries or blueberries. An ideal baking tray is about 20cm x 28cm. I also tried it in a circular 26cm pan and that was fine too.

Bake time:

Bake the cheesecake in the oven for 30 minutes. You'll know when it's ready because it should hold firm but still have a slight jiggle to it.

Rest time:

Once it's out of the oven and cooled, rest it in the fridge for 2 hours and then it's ready to serve, enjoy!
Cheesecake FAQs
We've answered some of your key cheesecake questions!
How many calories are in cottage cheese?
There are 98 calories in 100 grams of cottage cheese.
How to store cheesecake?
It is best to keep the cheesecake in an airtight container inside the fridge for 3-4 days (if you can make it last that long!).
What to serve with cheesecake?
You can serve your cheesecake with more fresh fruit, or you could add low-fat whipped cream or natural yogurt.
Can I make cottage cheese cheesecake ahead?
You can make cheesecake ahead of time as long as it's used within 48 hours to keep it at its freshest.
Is cheesecake healthier than cake?
Cheesecake certainly can be healthier than cake. Taste.com gives some reasons why in their article.
For this easy dessert, I chose lower amounts of sugar and a high-protein ingredient to make this a nice healthy cheesecake.
What can I replace sugar with in cheesecake?
To replace the sugar you could use a sugar-free alternative such as Xylitol or Stevia which is a plant-based alternative.
What sweets can I eat while trying to lose weight?
Within a calorie-controlled diet, you can eat most sweets while trying to lose weight. However, it is best to aim for around 200 calories for a dessert.
Staying within this guideline means you can still enjoy a sweet treat but that will also help you stay on track with your weight loss.
Recipe Variations
Next time you could try this cheese cake a different way:
Different base: If you don't like granola or you can't get hold of it from the grocery store, you can use a low-fat graham cracker crust or similar biscuit base.
Different protein: If you don't have any cottage cheese you could try low-fat cream cheese as an alternative.
Different size: I think this recipe would work well to make mini cheesecakes.
Different fruit: If you don't have raspberries or blueberries you could use blackcurrants or redcurrants instead.
More Recipes Like This
If you like this recipe I'm sure you're going to love these too:
Cottage Cheese Cheesecake
Now you really can have your cake and eat it with this healthy high protein cheesecake. Low on sugar but not low on yum!
low sugar granola or muesli

(alternatively sweet, low-fat biscuits like Graham crackers)

low fat cottage cheese

(or use regular cottage cheese if you'd prefer)

(medium or large)

(or ½ vanilla bean)

raspberries or blueberries
Preheat the oven to 200 C, 390 F.

Process or grin the granola (or biscuits if using) roughly. Place it on a baking pan.

1 ½ cups low sugar granola or muesli

Melt the butter and drizzle over the granola. Mix until incorporated.

3 tbsp butter

Press the granola mix into the base of a circular 26cm baking tin (or rectangle 20cm x 28cm) with your hands until you have an even layer.

Put the pan into the oven for about 6-8 minutes, until lightly golden brown. Then take it immediately out of the oven.

Meanwhile, blend the cottage cheese, eggs, cornstarch, cream, sugar, lemon zest, vanilla extract and salt until completely homogenous, shiny and creamy.

3 cups low fat cottage cheese, 2 tbsp cornstarch, ⅓ cup cream, 4 tbsp sugar, ¼ tsp salt, 1 tsp vanilla extract

Pour batter over the cookie base and scatter the berries on top.

½ cup raspberries or blueberries

Bake for 30 minutes until most of the cheesecake is solid and the center still has a bit of a jiggle when moved and the edges have some browning.

Take out of the oven and rest for at least 2 hours in the fridge.
Cottage Cheese Cheesecake
Amount per Serving
% Daily Value*
* Percent Daily Values are based on a 2000 calorie diet.
This is no average cheesecake recipe and it has quickly become one of my favorite desserts.
It has that amazing cheesecake flavor but doesn't interrupt my healthy eating plan. I can still get the best results from my healthy diet (that's as long as I don't accidentally eat the entire thing!).
There is also a weekly high-protein meal plan available to help you gain muscle and tone up.
Dave
I'm not a foodie, although I do love eating. I believe food should serve us and our goals, not hinder. Taking control and responsibility for what I eat is important to me.
Abril
Creator and photographer of this wonderful recipe!
I am a recipe developer and food photographer from Quito, Ecuador. I work with websites and blogs from around the world developing recipes and photographing them. I also work with online and print magazines writing about food. I dedicate my work in the kitchen and through the lens to explore food from different backgrounds, origins and diets. I would describe my style as "comfort food with a twist". My goal is to create recipes that are homely, yet attractive, delicious and have something different and exiting to them.