Wake up on the right side of the bed with this top-rated waffle recipe.
Meredith Food Studios
Waffle Ingredients
You likely already have all the ingredients you'll need for this waffle recipe. If not, here's what to add to your grocery list:
· Eggs: This waffle recipe starts with two whole eggs, whisked until light and fluffy.· Flour: All-purpose flour adds gluten, which gives the waffles structure. You can also use whole wheat flour.· Milk: Whole milk lends richness and moisture. Plus, it helps create the ideal batter consistency.· Oil: A neutral oil, such as vegetable oil, ensures the waffles are nice and moist.· Sugar: A tablespoon of white sugar adds the perfect amount of sweetness.· Baking powder: Baking powder acts as a leavener, which means it contributes to the waffles' light and fluffy texture.· Salt: A pinch of salt enhances the other flavors. Don't skip this step!· Vanilla: A dash of vanilla adds complexity and enhances the overfall flavor.· Cooking spray: You'll need to spray the iron with nonstick cooking spray before you start making the waffles.
How to Make Waffles
You'll find the full, step-by-step recipe below — but here's a brief overview of what you can expect when you make the best waffles of your life:
1. Make the batter: Whisk the eggs, then add the flour, milk, and oil. Whisk in the sugar. Stir in the remaining ingredients.2. Make the waffles: Pour the batter onto the hot, prepared waffle iron. Cook until golden brown and repeat with the remaining batter.
Waffle Toppings
For the most traditional experience, top each waffle with butter and maple syrup. But that's not the only way to enjoy this top-rated recipe! Try one of these delicious ways to take your waffles up a notch:
· Blueberry sauce· Nuts (such as pecans or walnuts)· Vanilla glaze· Nutella· Homemade whipped cream· Fresh berries (such as blueberries or strawberries)
How to Serve Waffles
Pair these waffles with classic breakfast fare (think scrambled eggs, bacon, or yogurt). If you're serving them for lunch or dinner, consider serving them with fried chicken! Chicken and waffles is never a bad idea, after all.
Can You Make Waffles Ahead of Time?
Yes! We recommend making the batter ahead of time and cooking the waffles just before serving. For make-ahead waffle batter, simply prepare the batter according to the recipe and cover. Refrigerate for up to one week and whisk before using.
How to Store Waffles
Allow the leftover waffles to cool, then transfer them to an airtight container. Store in the refrigerator for up to three days. For best results, reheat in a toaster or toaster oven.
Can You Freeze Waffles?
Yes, you can freeze waffles for up to three months. Arrange them in a single layer on a baking sheet and flash freeze for a few hours or up to overnight. When the waffles are frozen solid, transfer them to an airtight container or freezer-safe bag. There's no need to thaw — reheat them the way you would store-bought frozen waffles (in the toaster or microwave).
Allrecipes Community Tips and Praise
"Great basic waffle recipe," says Charlotte Wardrop. "I add nutmeg and cinnamon and a touch more vanilla to really make the recipe kick. Also if you have matcha powder on hand you can add some to make a great matcha waffle!"
"Totally perfect as written," according to Angie In Progress. "No changes necessary. Quick, easy, crispy on the outside and just sweet enough to be totally delicious!"
"Very easy and good recipe for homemade waffles," raves AngPayne. "My family loves waffles anytime of the day and being able to keep the batter in the fridge is perfect for my busy schedule!"
Editorial contributions by Corey Williams
Directions
Preheat a waffle iron according to manufacturer's instructions.
Whisk eggs in a large bowl until light and fluffy. Add flour, milk, and vegetable oil and mix to combine. Whisk in sugar, then mix in baking powder, salt, and vanilla just until smooth, being careful not to overmix.
Nutrition Facts (per serving)
* Percent Daily Values are based on a 2,000 calorie diet. Your daily values may be higher or lower depending on your calorie needs.
** Nutrient information is not available for all ingredients. Amount is based on available nutrient data.
Jump to Recipe
Want to learn how to make waffles at home? Today's recipe teaches you how to make perfect fluffy Homemade Waffles in your own kitchen. Keep a jar of the dry waffle mix on hand for your next weekend brunch! And always make sure to have the buttermilk syrup handy!
Be sure to try our Pumpkin Waffles if you're looking for another flavor! Serve this easy breakfast with a side of our delicious fruit salsa for the perfect way to start your day!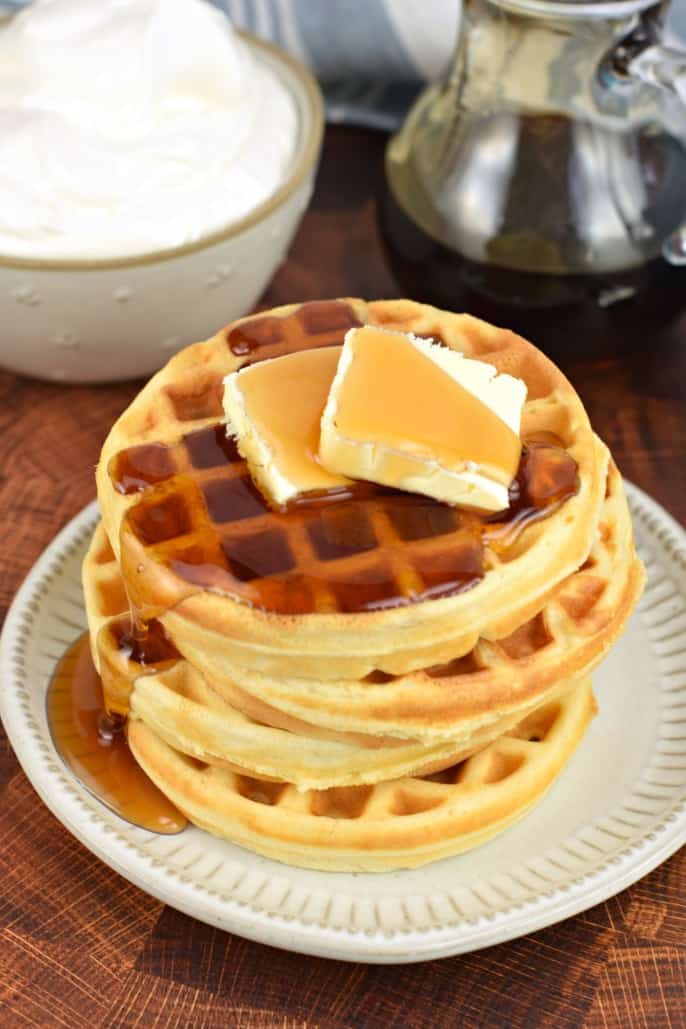 Why Make Waffles at home
Waffles are the superheroes of weekend breakfast! There's nothing like sleeping in on a Saturday morning, then stumbling out of bed to sit down to a plate of freshly made waffles drizzled with real maple syrup.
Of course, I'm usually the one making the waffles so that the rest of my family can have that experience but, you know what? It's worth it.
I'll gladly be the one manning the waffle iron if it means I get to have homemade waffles as my reward.
Never made homemade waffles before? I'm here to help!
This recipe creates perfect waffles with buttery crisp edges that yield to a fluffy interior.
Homemade Waffles sweep the floor with the frozen toaster waffles—and you can even freeze leftovers!
Making waffles from scratch is hardly any more difficult than using a waffle mix. Boxed waffle mix can definitely be convenient but really just saves you the step of mixing the dry ingredients together.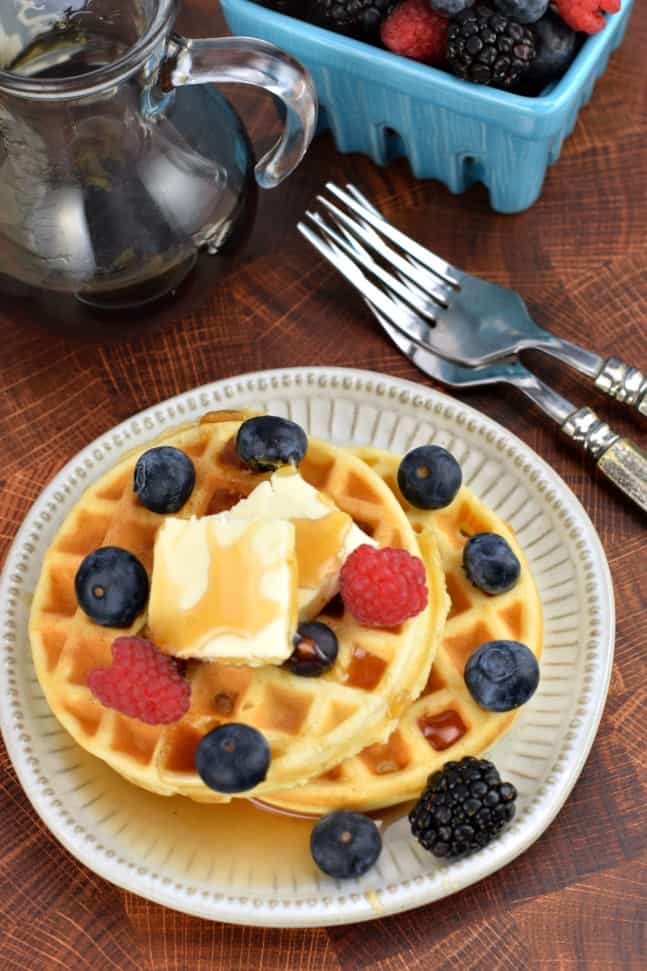 Here's what you need to make these waffles.
PRO TIP: You can keep the dry ingredients in an airtight container so it's available anytime you want waffles!
For the dry waffle mix:
All Purpose Flour
Baking Powder
Sugar
Kosher Salt
Combine these ingredients in a bowl, then proceed with the recipe. If you like, you can make this in advance to store. Then the next time you want waffles, pull it out and use it just like you would use a storebought waffle mix!
Wet ingredients to add to the waffle mix:
Eggs
Milk
Melted Butter
Vanilla Extract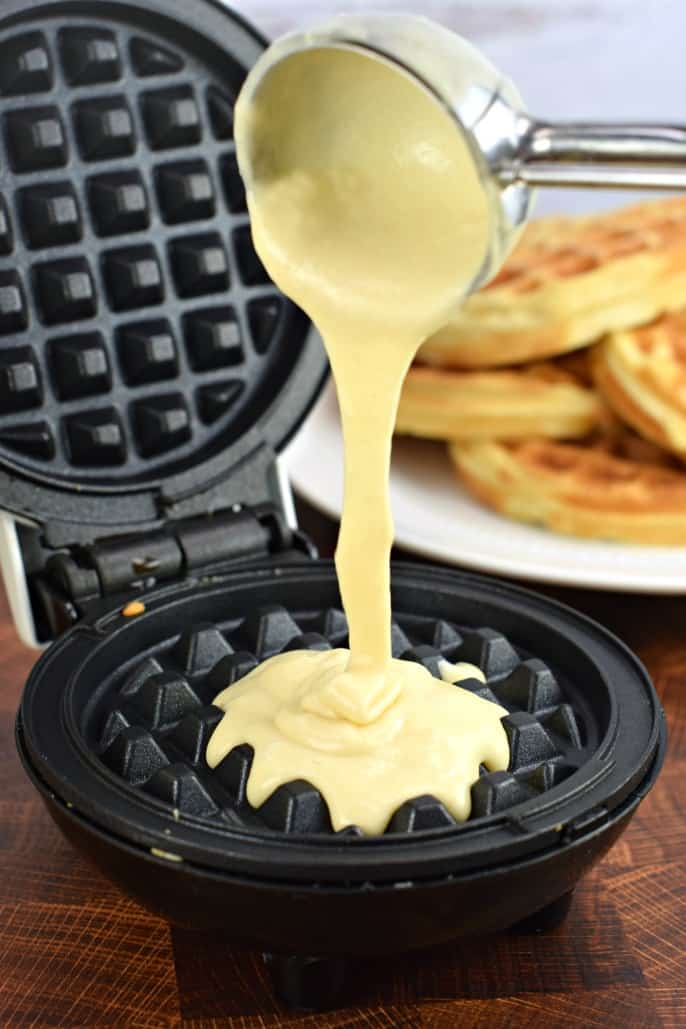 Step by Step Instructions
Make the batter. Mix together the wet ingredients in a large mixing bowl. Pour it into the dry mix and whisk to combine. Let sit for a few minutes while you preheat your waffle iron.
Prepare your waffle iron. Preheat your waffle iron. Spray waffle iron with baking spray before the FIRST batch only.
Cook! Ladle batter into preheated waffle iron and cook until golden brown. Carefully remove the waffle and repeat with remaining batter. Keep waffles warm until ready to serve!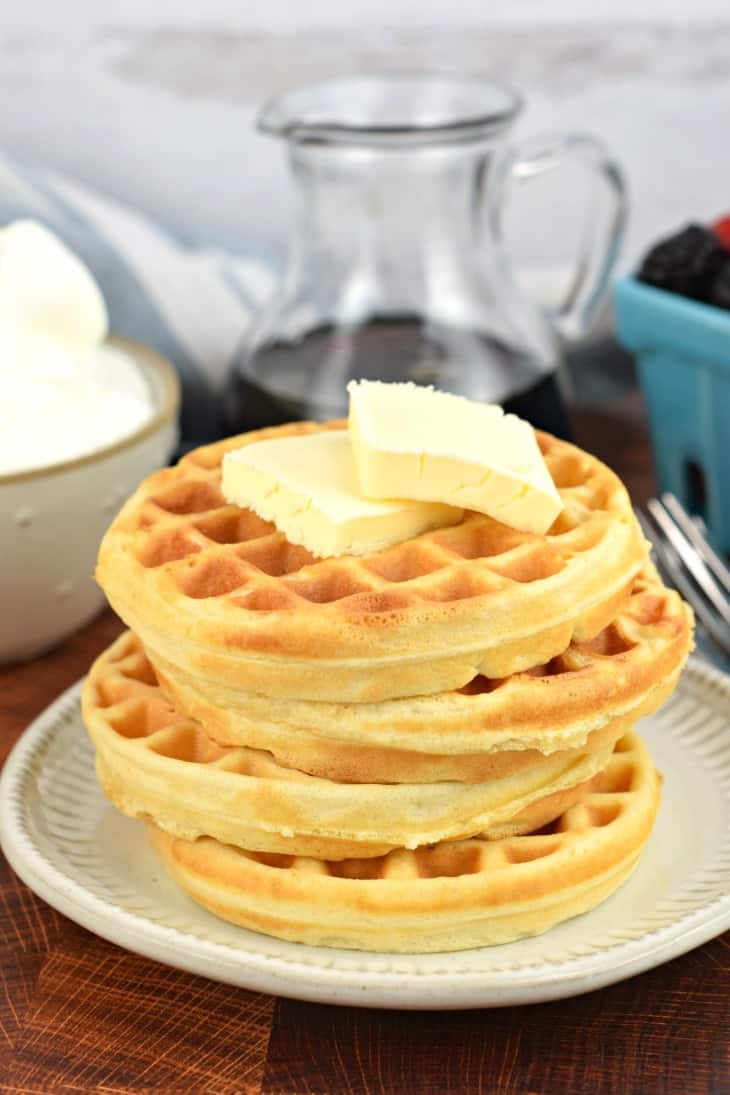 Waffle squares were built for catching pools of maple syrup and butter.
Fresh fruit and whipped cream are also heavenly on these waffles!
Berry Syrup is also delicious on homemade waffles.
If you haven't tried my homemade buttermilk syrup yet, DO IT. Only 5 ingredients and 5 minutes, you'll love the rich flavor!
Oh and I can't forget to mention, dessert waffles. A scoop of cold vanilla ice cream on top of a warm waffle just about makes me weak in the knees. (My kids have no complaints about them, either.) Add a drizzle of our homemade chocolate syrup to complete the treat.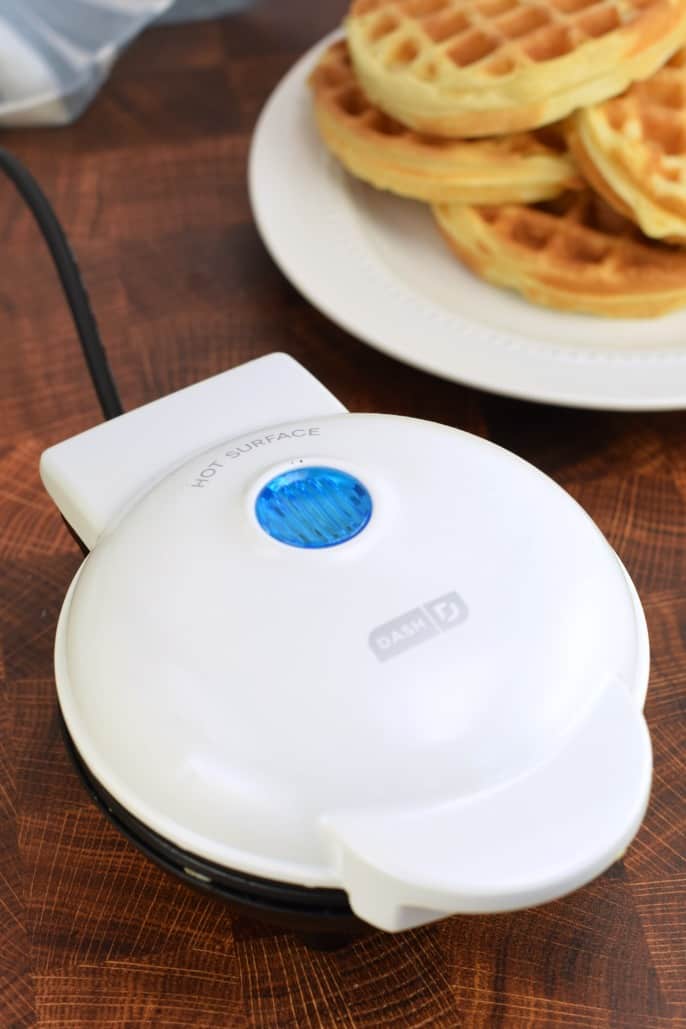 Why do my waffles stick to the waffle iron?
Make sure your waffle iron is hot enough before adding the batter. An iron that's too cool won't cook the inside of the waffle thoroughly making it more likely for the waffle to split and stick to the pan.
What if I don't have cooking spray?
Substitute a very thin layer of butter or vegetable oil on the waffle iron. The key here is thin! Too much oil or butter will make the waffles greasy.
Can I use homemade pancake batter?
Waffles have a higher percentage of sugar and fat in the batter, which results in the crispy edges. I wouldn't substitute one for the other.
Tips and Tricks
Waffles aren't difficult to make and this recipe always does the trick. Here are some other tips I've gathered over the years to help you make the best waffles possible:
Along with a good waffle recipe, you need a good waffle iron! I love my Dash Waffle Iron. It's inexpensive, easy to use and clean and always makes golden brown waffles.
Keep waffles warm until ready to serve by setting them on a baking pan in the oven on the "warm" setting.
Looking for low carb or gluten free? Use the Dash waffle maker to make Chaffles. Cheesy buns with no carbs!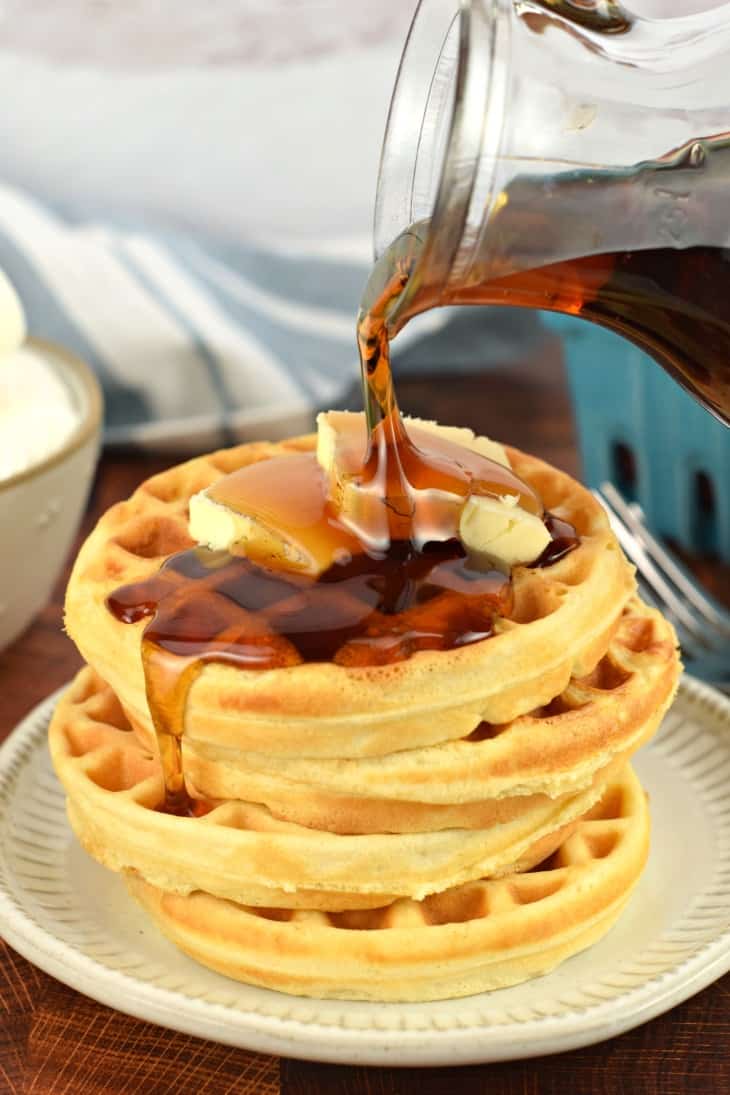 Make a big batch of homemade waffles on the weekend and store any extras in the freezer. Then you'll have convenient toaster waffles for weekday breakfasts, but with all the good taste of homemade!
To freeze waffles.
Let all the waffles cool completely.
Transfer to freezer bags with a sheet of wax paper between layers of waffle to prevent sticking. Store in the freezer until ready to use.
To reheat frozen waffles:
Place individual waffle in a toaster or toaster oven and heat until cooked through.
You can also reheat frozen waffles in an oven at 350 F. Cover the waffles loosely with foil to keep from drying out as they heat.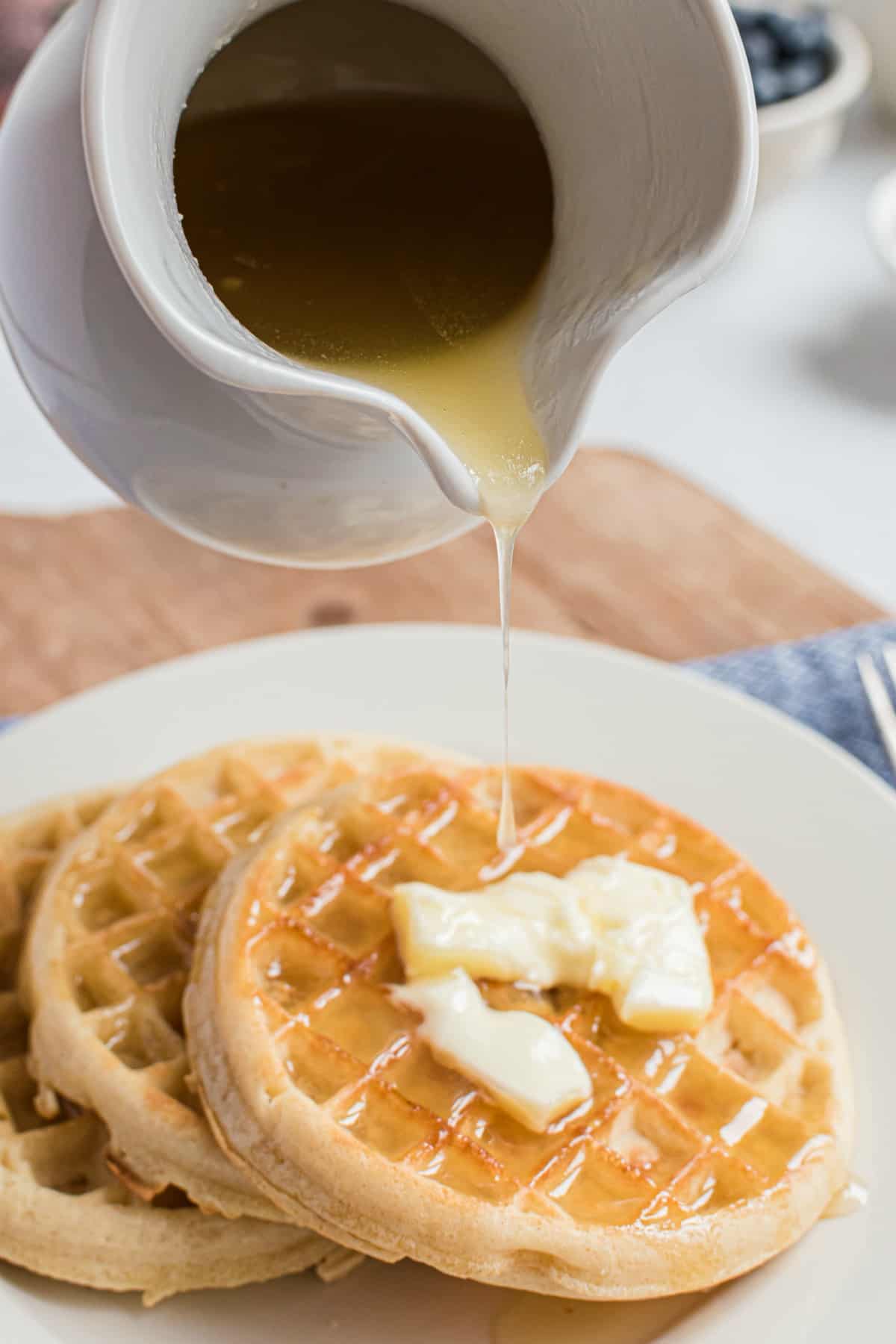 More Easy Breakfast Ideas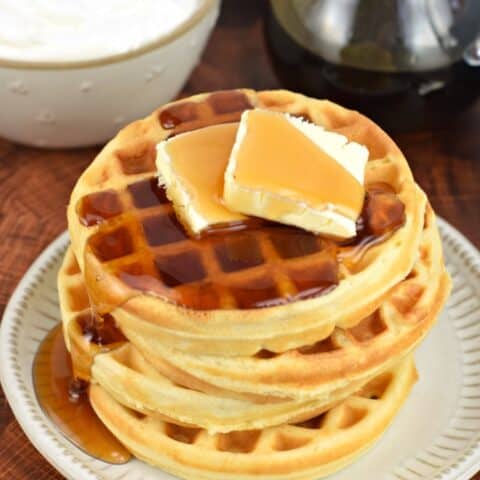 Today's waffle recipe teaches you how to make perfect fluffy Homemade Waffles in your own kitchen. Make sure to have the maple syrup handy!
2 cups all-purpose flour
2 Tablespoons granulated sugar
2 teaspoons baking powder
1 teaspoon kosher salt
2 large eggs
1 ½ cups milk
⅔ cup unsalted butter, melted
1 teaspoon vanilla extract
Preheat waffle griddle.
In a mixing bowl, combine flour, sugar, baking powder and salt. This can also be stored and made ahead for later.
In a small bowl, whisk together eggs, milk, melted butter, and vanilla extract.
Pour the milk mixture into the flour mixture and whisk until combined. Let sit for several minutes while iron heats up.
Serve and enjoy.
Notes
I love this inexpensive, single use Dash waffle iron
Cool waffles completely and freeze for later. To reheat, use a toaster and cook until heated through.
See the blog post for lots of tips and tricks and substitutions.
Yield
1Amount Per Serving: 12g 7g 0g 4g
*Nutrition facts are an estimate and not guaranteed to be accurate. Please see a registered dietitian for special diet advice.
What are you waiting for? Make these simple best-ever waffles for breakfast this week . . . or better yet, plan on breakfast for dinner! No one is ever disappointed to have hot homemade waffles on the menu.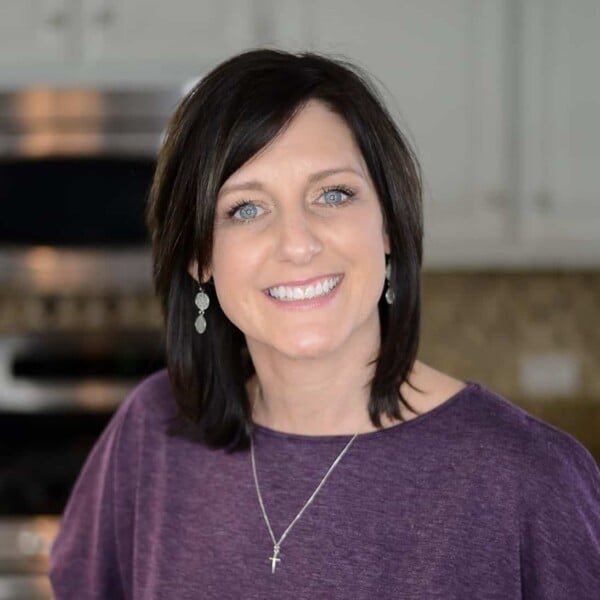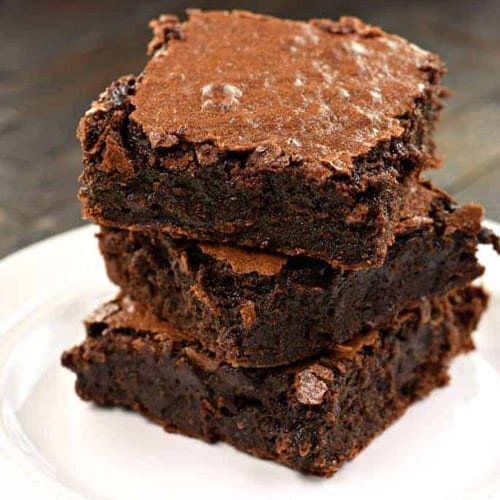 Categories: Breakfast and Brunch
This Homemade Waffle Recipe uses just a handful of ingredients that you likely have on hand already!
Crisp on the outside, fluffy on the inside, these waffles are delicious drizzled with melted butter and syrup. The perfect start to any weekend morning!
Below you'll find the secret to perfect homemade waffles!
The Secret to The Best Waffles
This tip is what makes this the best waffle recipe; extra fluffy with a crisp exterior. It will only take an extra 2-3 minutes, but it will make a big difference in the texture.
Separate the egg whites from the yolks and beat them until stiff peaks form. Then, fold the beaten egg whites into the waffle batter.
If you are short on time, you can skip this step, but I highly recommend it!
This light, fluffy homemade waffle recipe is easy and takes just minutes of prep. The rave reviews will make it worth the extra step of whipping the egg whites!
Separate the eggs and beat the egg whites until stiff. (Optional but recommended). This extra step makes this recipe extra fluffy compared to other waffle recipes.
Mix dry and wet ingredients (per recipe below). Fold in whipped egg whites.
Serve with your favorite toppings.
To Keep Waffles Warm
This waffle recipe is great for a crowd and can easily be doubled or tripled. Keep waffles warm in the oven as you make more batches so everyone can eat at the same time (and make oven bacon to keep warm at the same time too)!
Preheat the oven to 225°F and place a baking pan in the oven. As the waffles are finished cooking, place them on the baking pan to stay warm while you make the remaining waffles.
Tips for The Best Waffles
You can skip the step of separating the egg and beating the whites, but it really makes these waffles amazing.
Do not overmix the waffle batter; it should be a little bit lumpy.
Preheat your waffle maker and lightly oil with vegetable oil. Cooking spray isn't recommended as it can cause a sticky residue.
Put enough batter so the waffle is almost full, it will run out to the edges a little bit.
Waffles are incredibly versatile and accommodating to so many different toppings.  They can be served as bread in a gravy-rich meal (like a hot turkey sandwich), or as a dessert.
Sweet: fresh berries or strawberries and whipped cream, cinnamon sugar, or apple butter, are great options but nothing tops a great waffle recipe like real maple syrup.
Savory: Sausage gravy, fried chicken (for fried chicken & waffles), or even top with a poached egg.
Can you use pancake mix for waffles?
The batter in this waffle recipe is not the same as pancake batter. Waffle batter uses more egg (plus we beat the whites separately and fold them in) for the most fluffy waffles ever! The extra egg in a waffle batter makes a crispy exterior surrounding a moist, fluffy inside with lots of air pockets.
While you certainly can cook pancake batter in your waffle iron, they won't have the same texture or flavor that classic waffles have. Pancake mix or a pancake recipe will be a bit denser and won't be as crisp on the outside.
How much batter do I add to the waffle maker?
This can vary based on the type of waffle maker, if you have the manual for your waffle maker it will usually indicate how much batter to use (Belgian waffle maker will need more batter than a regular waffle maker).
Add enough batter so the bottom of the waffle is almost full. A little batter will run out to the edges so you don't have to fill the whole plate and the batter will expand as it cooks.
What temperature do I cook waffles at?
Some waffle makers just have an off and on, but others require you to select a temperature. If your waffle maker requires a temperature, cook the waffles At 400°F. This gives the a great crust.
How to clean a waffle maker.
Unplug the waffle maker and let it cool. Wipe the surface with a damp cloth to remove crumbs and any leftover batter. Wipe off any stuck-on bits with a silicone or wooden spatula (don't use metal, it can damage the surface). Wipe the inside of the waffle maker with a damp cloth or sponge, then dry.
Avoid using sharp tools or products on the nonstick surface.
How to Reheat Leftovers
Mix up some extra batter because waffles store well in the fridge or freezer and are easy to reheat in the microwave, toaster, or oven.
To Store: Cool completely before storing in freezer bags or containers. They will keep up to two weeks in the refrigerator and up to four-six months in the freezer.
To Reheat: Just remove as many as you need and place straight into the toaster oven on the medium or light setting until heated through. They can burn easily, so keep an eye on them
Did you enjoy this Waffle Recipe? Be sure to leave a rating and a comment below!
Nothing beats fluffy homemade waffles! These waffles are extra fluffy with a crisp exterior.
Preheat the waffle iron according to the manufacturer's directions (or to 400°F if your waffle maker has a temperature guage).
Place flour, baking powder, sugar, and salt in a large bowl. Whisk to combine.
In a small bowl, mix egg yolks, milk, butter, and vanilla extract. Set aside.
In a separate medium bowl, beat egg whites with a mixer on medium high speed until stiff peaks form. *see note
Add the egg yolk mixture to the dry ingredients and stir to combine. Gently fold in the egg whites.
I use unsalted butter. If your butter is salted, skip the salt in this recipe.
Egg Whites:  Beating the egg whites and folding them in makes the fluffiest waffles. This recipe can be made without beating the egg whites as well. If you do not beat the egg whites, reduce milk to 1 1/2 cups, and add whole eggs to the butter mixture.
To Keep Warm if Making Batches:  Preheat the oven to 225°F and place a baking pan in the oven. As the waffles are finished cooking, place them on the baking pan to stay warm while you make the remaining waffles.
Buttermilk Waffles: To make buttermilk waffles, reduce baking powder to 1 1/2 teaspoons and add 1/2 teaspoon of baking soda. Replace milk with buttermilk.
Tips for the Best Waffles
Don't overmix the batter, it should be lumpy.
Preheat the waffle maker and lightly oil with vegetable oil. Do not use cooking spray.
Put enough batter in the iron so the waffle is almost full, it will run out to the edges a little bit.
Nutrition information provided is an estimate and will vary based on cooking methods and brands of ingredients used.
Recipes you'll love
About the author
Subscribe to receive weekly recipes and get a FREE Bonus e-book: Quick & Easy Weeknight Meals!
You can unsubscribe anytime by clicking the "unsubscribe" link at the bottom of emails you receive.
These are hands down the best homemade waffles you will ever make. They are crispy on the outside and soft and fluffy on the inside.
The Story Behind The BEST Homemade Waffles
I am a pancake girl through and through. Seriously, if you offer me pancakes it will be terribly hard for me to turn it down. Especially if they are unique in flavor like these Blueberry Danish Pancakes.
My husband and kids on the other hand, are huge fans of waffles. In fact, one of my kids eat a waffle with Nutella on it every morning. For years I have tried to love them, but I just don't. Instead, I always leave my empty plate regretting my breakfast choice.
For some reason, I knew there had to be a waffle recipe out that I could learn to love. For the past year, I have searched high and low for the perfect waffle recipe, but never found it. They were either too sweet, too chewy, or too tough.
However, I found a great base recipe over at Preppy Kitchen. It had rave reviews, but it just wasn't the perfect recipe for me. I found it was too runny and need quite a bit more flour. With a few changes, I present you the BEST waffle recipe. Seriously, though, it's really the best and will become a new favorite at your house.
Not only do these make your house smell amazing, but the taste so incredible. In fact, one of my children threw a fit one Saturday morning that I was making these and insisted I made my Light and Fluffy Buttermilk Pancakes instead. After one bite, however, he was sold and wound up eating two entire waffles. They are huge!
S for The BEST Homemade Waffles
Yes! I prefer to bake muffins without them, but you can definitely use them.
Can I freeze these?
Absolutely! I would suggest freezing them individually wrapped in plastic wrap and thawing them unwrapped.
How should I store these?
These stay great on the counter for 2-3 days as long as they are covered.
What type of waffle maker should I use?
I used a large Belgium waffle maker. However, you can use whichever waffle maker you have at home. Just adjust the amount of batter accordingly so it's not overflowing.
Can I substitute the butter for oil?
I have found the using butter in the waffle batter produces the best tasting waffle. Not only does it taste great, but the texture is also fluffier. However, if you are in a pinch, you can substitute vegetable oil.
Additional Recipes You Will Love
In a medium-sized mixing bowl, whisk together all of the dry ingredients.
Add in the eggs, vanilla, and butter. Give it a quick little mix to break up the egg yolks.
Slowly add in the two cups of milk and whisk to combine.
If you are using a belgium waffle maker, use ½ cup of batter. Cook according to your waffle iron.
Enjoy hot and fresh with syrup and butter.
Post navigation
This recipe is for a very typical plain waffle, crisp and golden, perfect with maple syrup and butter or berries and whipped cream. When made with pastry flour it will be extra crispy, and light as air inside. When made with all-purpose flour the waffle has a bit more body — still light, but chewier on the inside. The optional pecan meal or almond flour add a nice nutty flavor.
about 10 large (8″) waffles
In a medium-sized mixing bowl, beat together the eggs, buttermilk, melted butter, and vanilla.
In a separate bowl whisk together the dry ingredients.
Combine the wet and dry ingredients, stirring just until nearly smooth; a few small lumps may remain.
Tips from our Bakers
View our privacy policy
Recommended Recipes
This post may contain affiliate links. Please read our disclosure policy.
Making waffle mix from scratch is not as hard as it may seem. In fact, it's a lot easier than you might think! All you need is some simple ingredients and a waffle iron. In this recipe post, I will teach you how to make crispy waffles at home that are sure to please your taste buds. So what are you waiting for? Let's get started!
WHY learn to make your own waffle mix
Yummier than store-bought waffles. Homemade waffles are not only tastier and more satisfying, but you can also control the ingredients that go into them. This means that you can make them healthier by using whole wheat flour or adding in some extra protein powder. Plus, they're a lot cheaper than buying premade mix from the store.
100x Better Than Frozen Waffles. If you've ever had a frozen waffle, then you know that they can be pretty disappointing. They're often soggy, bland, and just plain unappetizing. But when you make your own waffles from scratch, you can be sure that they'll be light, fluffy, and full of flavor.
Waffle makers are relatively inexpensive. If you don't already have a waffle iron, they're actually quite affordable. You can find them for as low as $20 at most stores. And once you have one, you'll be able to make waffles whenever the mood strikes!
Ingredients to Make Waffles
All-purpose flour. Substitute ½ of the flour for whole wheat flour.
Granulated Sugar. Just a small amount of sugar is used to lightly sweeten the waffles. You can use brown sugar for a richer sweetness.
Baking powder. This leavens the pancake batter and creates bubbles making it lighter.
Salt. Accentuates the flavors.
Eggs. This adds texture and richness making your waffles extra fluffy. Use a small mashed banana or ¼ cup applesauce as a replacement.
Milk. Use whatever you have, from skim to full-fat. Non-dairy milk works, too.
Butter. Butter adds richness and moisture for the best flavor, but using an equal amount of vegetable oil or olive oil is acceptable, too.
Vanilla. A must-have aromatic for sweet waffles. If making a savory waffle, leave this and sugar out.
While you can use a pre-made waffle mix, nothing beats a waffle made from scratch. The great thing about this recipe is that it only requires a few simple ingredients that you probably already have in your kitchen.
Mix Batter
In a medium bowl, stir together the flour, sugar, baking powder, and salt.
In another, larger bowl, whisk the eggs together until blended. Whisk in the milk, melted butter, and vanilla until combined.
Then slowly start adding the dry ingredient mixture.
Fold the wet and dry ingredients together until just combined. Don't overmix; the batter may be slightly lumpy.
Cook Waffles
Grease the preheated waffle iron with nonstick cooking spray. Ladle in enough waffle batter to fill the waffle iron almost to the edges, and close the iron.
Cook until the waffles are golden brown and crisp.
TIPS FOR making Crispy waffles at home
Don't over-mix your waffle batter. Stir the ingredients together until you don't see any more streaks of flour, but no more than that. That's because over-mixing waffle batter can cause the gluten in the flour to develop and get tougher. This may result in chewy waffles.
Grease the waffle iron. Not all waffle irons need this since most are non-stick. However, greasing the waffle iron before adding the batter helps them crisp up more and get a beautiful golden color.
Make a large batch of the dry ingredients at once. If you make waffles often, mix up a big batch of the dry ingredients and store them in an airtight container. That way, all you have to do is add the wet ingredients when you're ready to make waffles.
Use club soda or seltzer water for extra crispy waffles. When making the batter, substitute some of the milk with club soda or seltzer water. The carbonation helps create a crispy exterior.
Popular substitutions & additions
Choose your sweetness level. This waffle batter has just a tablespoon of sugar in it, so it's not super sweet. If you like a sweeter waffle, feel free to add a second tablespoon of sugar—or, on the other hand, if you want something more savory, leave the sugar out altogether.
Switch out the flavor. This recipe is great as written, but feel free to make it your own by adding in a tablespoon of lemon or orange zest or a teaspoon of cinnamon.
Throw some add-in's into the batter. Some great ideas include small or cut-up berries, miniature chocolate chips, and toasted nuts or coconut.
Use wheat flour instead of white. For a more nutritious waffle, substitute half of the all-purpose flour with whole wheat flour.
What to serve with your waffles
2-Ingredient Strawberry Sauce
Homemade Whipped Cream
Homemade Nutella
Chocolate Granola
Fresh fruit like strawberries, bananas, blueberries or anything you like.
HOW TO REHEAT & STORE Homemade waffles
Waffles are best eaten fresh but will keep in an airtight container.
To reheat, pop them in the toaster until warmed through. You can also reheat it in the oven until crisp again.
HOW LONG WILL waffles LAST IN THE FRIDGE?
Cooked waffles will keep in the fridge for up to a week.
CAN I FREEZE homemade waffles?
Yes! Waffles freeze really well. Place them in a freezer-safe bag or container, and they'll last for up to three months. When you're ready to eat, just pop them in the toaster or oven until warmed through.
FREQUENTLY ASKED QUESTIONS
Do I have to use a waffle iron?
No, you don't have to use a waffle iron to make this recipe. You can use a pancake griddle or even a regular frying pan. Just cook the batter like you would pancakes. The waffle batter is denser than a pancake mix, so the pancakes will be a little thicker.
What can I use instead of milk?
If you're looking for a non-dairy option, you can use almond milk or any other type of plant-based milk. You can also use water in a pinch, but the waffles may not be as flavorful.
What's the best way to keep waffles warm?
The best way to keep waffles warm is to place them on a wire rack set over a baking sheet and keep them in a 200°F oven until you're ready to serve.
MORE cooking tutorials
melted and cooled
Nonstick cooking spray
fresh fruit, or maple syrup for topping, as desired
Preheat a waffle iron according to the manufacturer's instructions.
In a medium bowl, stir together the flour, sugar, baking powder, and salt. In another, larger bowl, whisk the eggs together until blended. Whisk in the milk, melted butter, and vanilla until combined, then whisk in the dry ingredient mixture. Don't overmix; the batter may be slightly lumpy.
Grease the preheated waffle iron with nonstick cooking spray. Ladle in enough waffle batter to fill the waffle iron almost to the edges, and close the iron. Cook until the waffles are golden brown and crisp, 6-8 minutes, then remove the waffles to a plate and repeat with remaining batter. Makes 10-12 waffles.
Serve the waffles hot, topped with butter, fresh fruit, and syrup, as desired.
Tip: For extra crispy/airy waffles, replace half of the milk with seltzer water.
Nutrition information provided is an estimate. It will vary based on cooking method and specific ingredients used.