Easy homemade granola recipe with oats, honey, coconut, pecans, and a delicious crunch. Perfect for snacking, breakfast or dessert!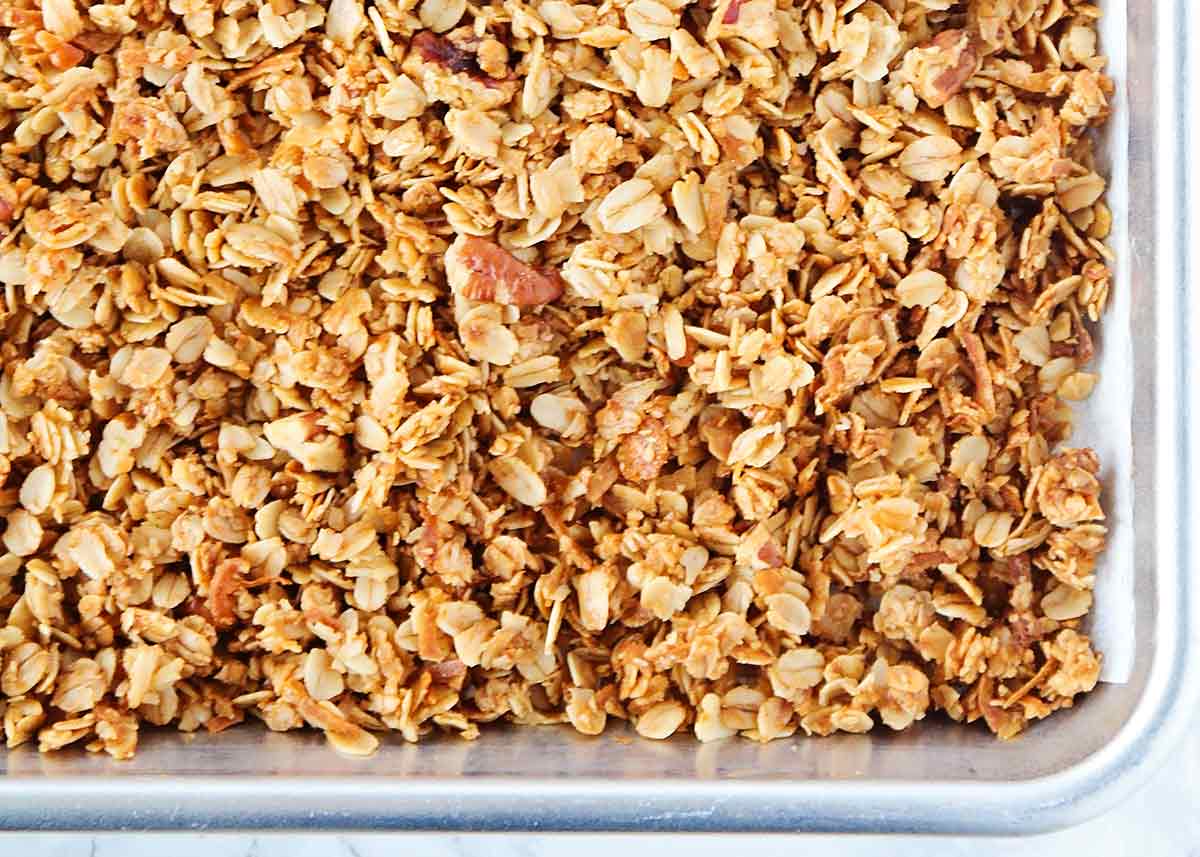 This homemade Granola recipe comes together quickly and easily in a few simple steps. Crispy, healthy, and delicious, this recipe is full of crunchy clusters made with sweetened oats, almonds, and more. Perfect for snacking or spooning over yogurt for breakfast.
Once you make this homemade granola recipe, you will want to make it again and again. This homemade version is so much more delicious, fresh, and light compared to a store-bought bag. It is so easy to make: combine your favorite ingredients, add them to a sheet pan, and bake. Your kitchen will also smell amazing as it bakes.
This granola recipe makes for a delightful breakfast or snack. Enjoy it on its own or on top of yogurt, cereal, a smoothie bowl, oatmeal, and more. Simple but delicious, this versatile recipe is full of flavors and textures you'll love. Want another easy breakfast recipe? Try my quiche Lorraine recipe, strawberry rolls recipe, or chocolate chip scones recipe.
A healthy and delicious Homemade Granola recipe. Our recipe is simple and filled with tasty, crunchy bits. You can eat it plain or swirled into yogurt, made into a parfait, top some oatmeal with it, there are so many different options. Everyone will love this delicious snack!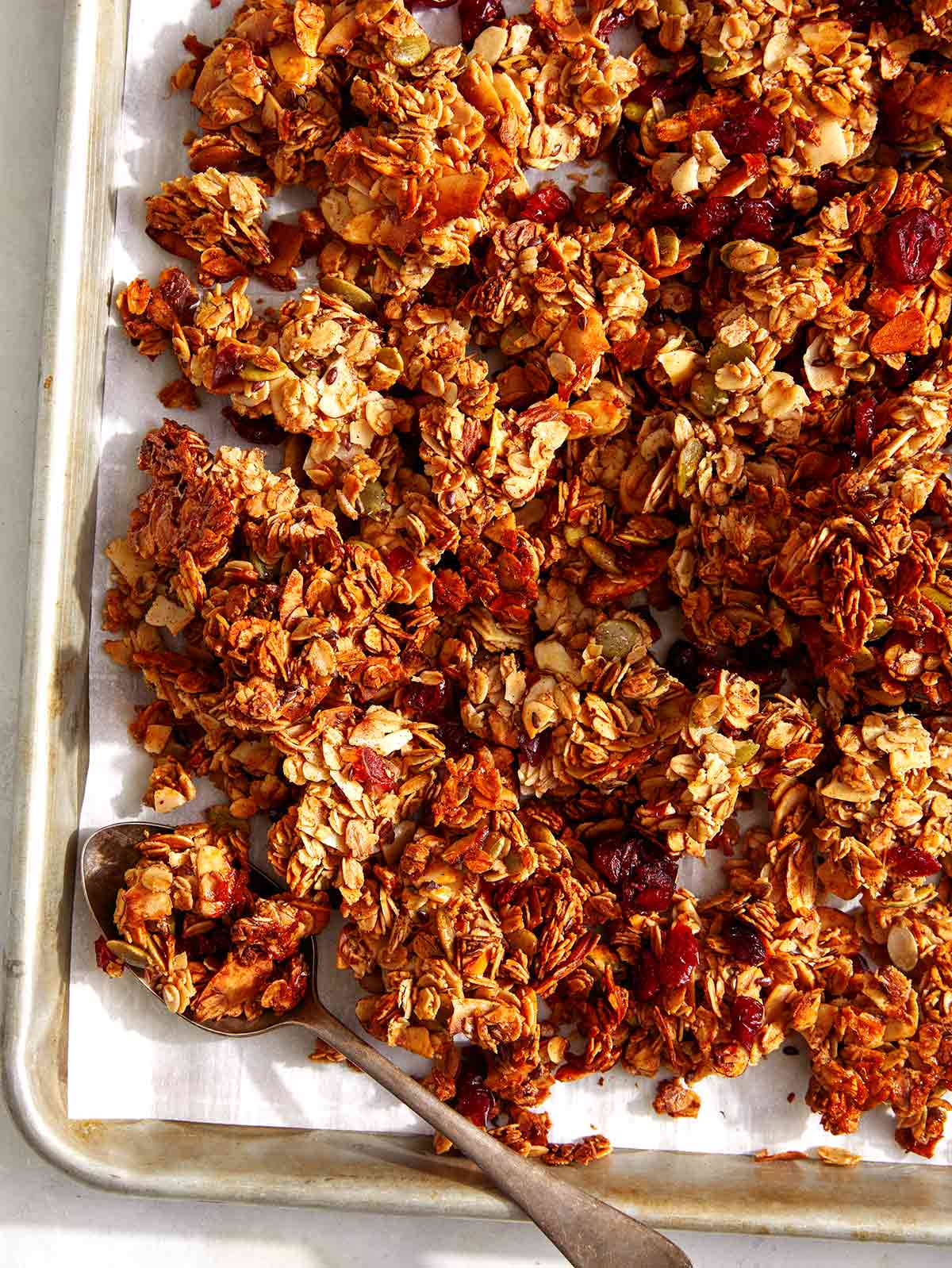 Growing up we didn't really eat Homemade Granola in our household, or any granola really. I'm not sure why we didn't, it just wasn't something we had around. It wasn't until I got to college that my granola consumption skyrocketed! I started stirring some into my morning yogurts and carrying bags of it around to all my classes as my go-to snack.
After buying dozens of different brands of granola I finally started making my own and LOVED IT! It was great being able to mix and match different ingredients based on my likes and dislikes. I was also able to cut out white and brown sugar (like lots of store-bought granolas use) and swap it our for honey instead (pure maple syrup works great too!). I also love adding our homemade granola to different recipes like our Blood Orange and Beet Salad over Honeyed Yogurt. It's SO good!
How to Make Homemade Granola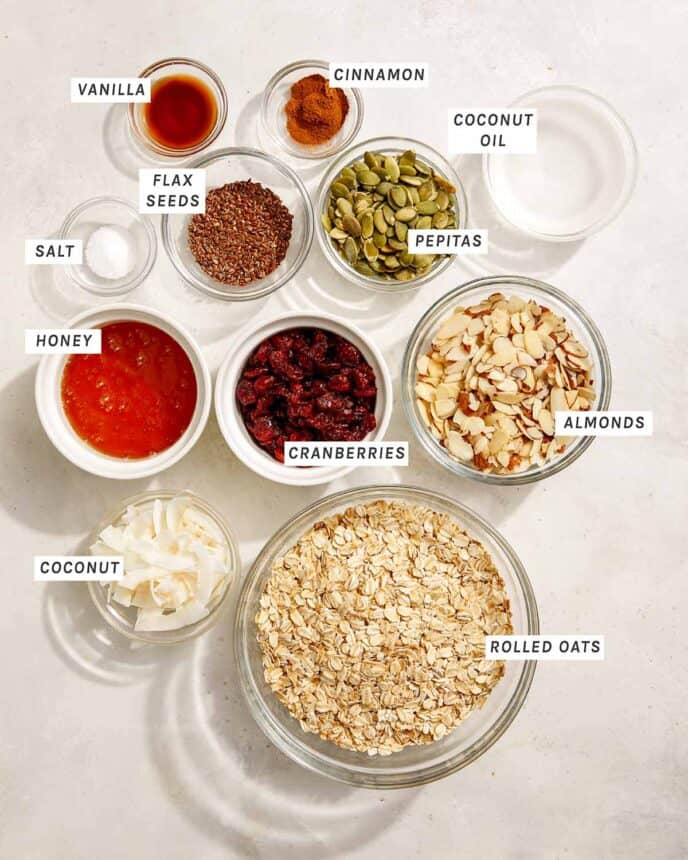 Process
Preheat oven to 325˚F. Line a rimmed baking sheet with parchment paper.
In a large bowl combine oats, almonds, pepitas, coconut, and flaxseeds.
Stir together.
Add honey, coconut oil, vanilla, salt, and ground cinnamon. Stir together until granola is completely mixed together and evenly coated.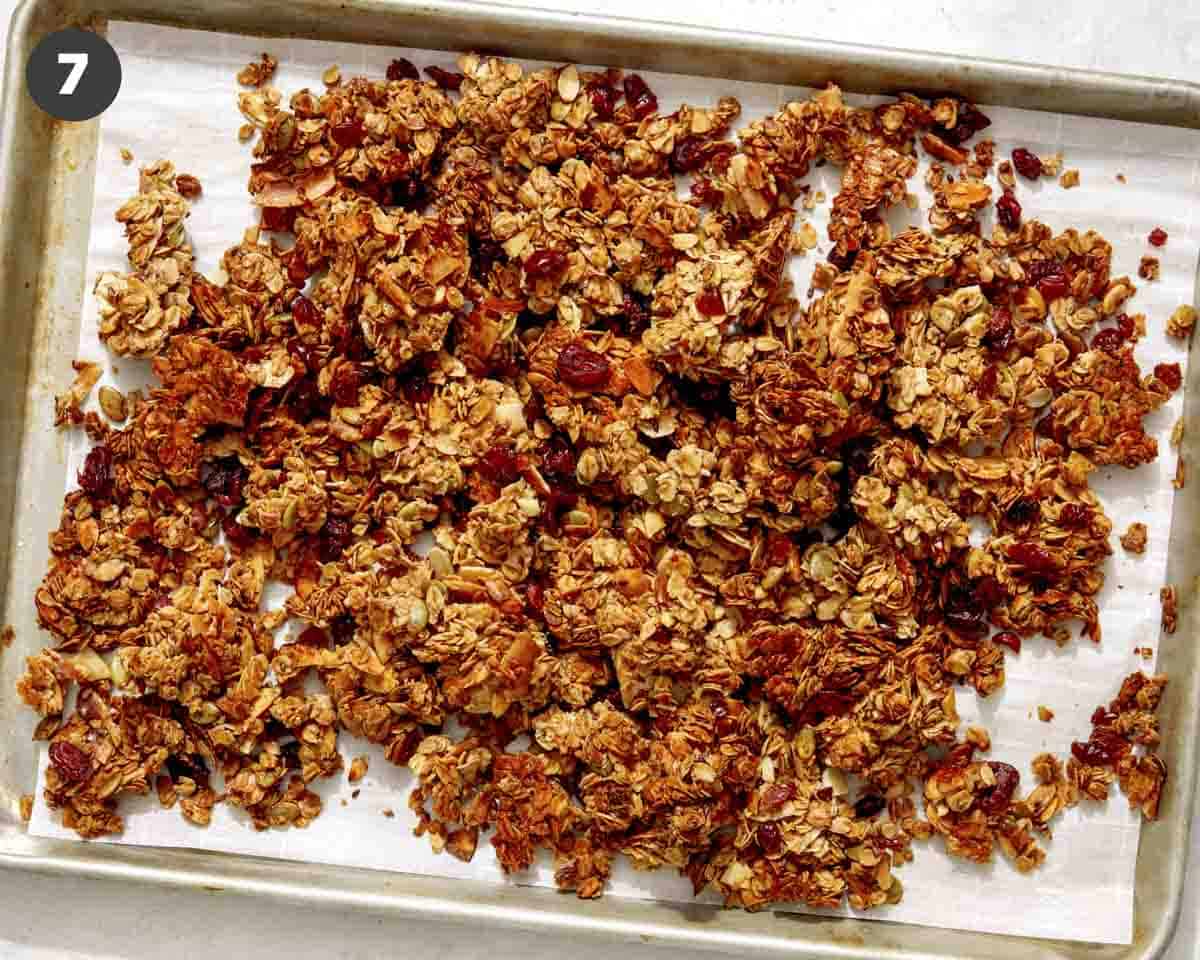 Tips and Tricks for Success
Cool the granola completely before breaking it into pieces to achieve big, crunchy, clumpy granola chunks! Don't stir the granola while it's baking or right when it comes out of the oven.
Don't deviate from the dry ingredients to and wet ingredients ratio, even if you swap out ingredients (for different nuts and dried fruit).This will ensure everything toasts nicely and sticks together well.
Add the dried fruit once the granola is done baking. This will prevent the dried fruit from burning.
Line a rimmed sheet pan with parchment. This is to prevent the granola from sticking to the baking sheet.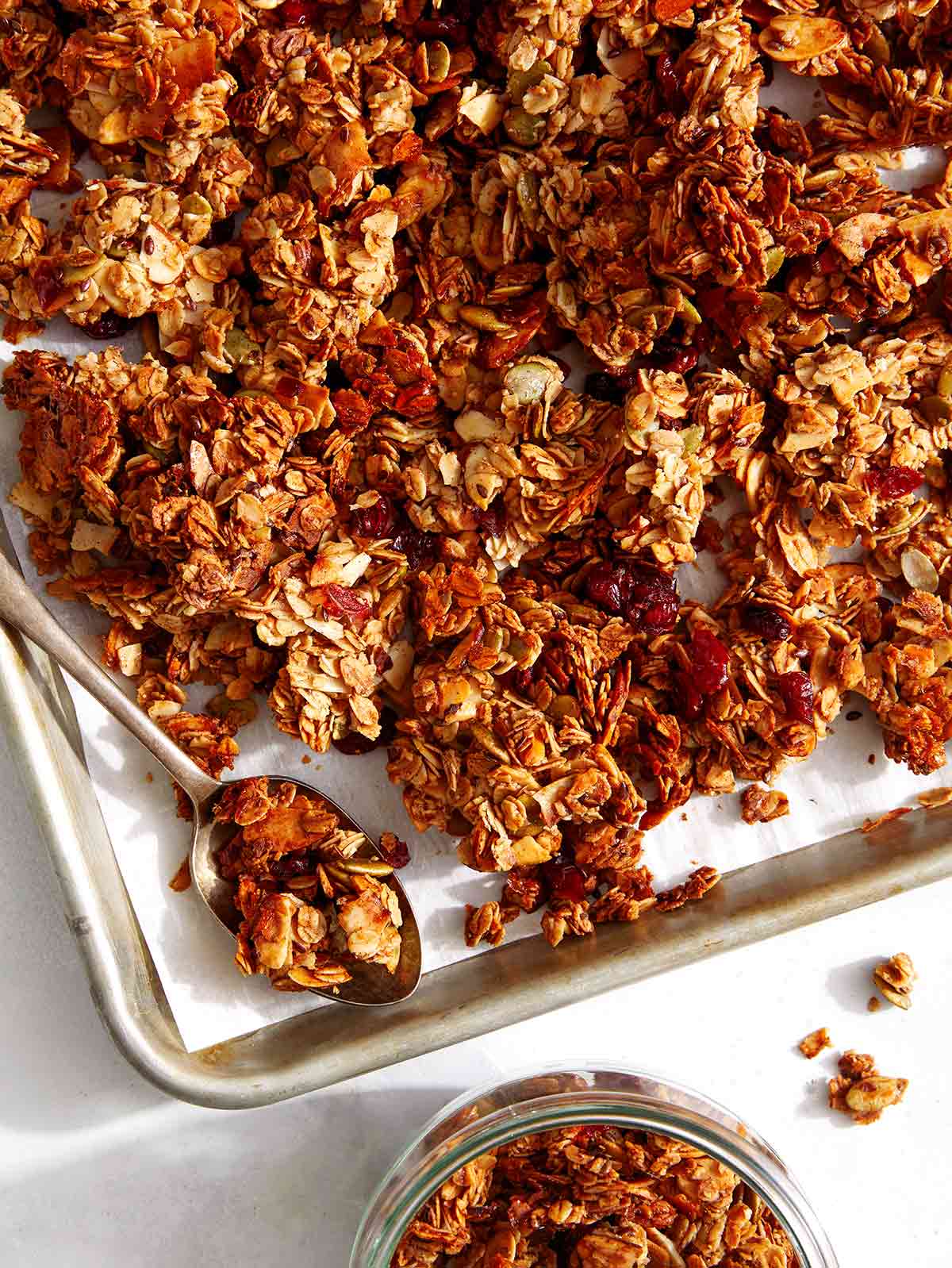 Homemade Granola Variations
My favorite thing about making my own granola is the endless ingredient combinations!
Replace the almonds and/or pepitas (pumpkin seeds) with other nut like pecans, walnuts, hazelnuts, cashews, pistachios, and sunflower seeds.
Use equal amounts of maple syrup instead of honey!
Swap out the dried cranberries for dried cherries, raisins, dried blueberries, or dried apricots.
Add chocolate chips, cacao nibs, white chocolate chips, or butterscotch chips(once the granola comes out of the oven) to the mix!
Swap the flaxseed out with hemp hearts or use a mixture of both!
Storing Instructions
Our homemade granola recipe can be stored in an airtight container, in a cool dry place for up to 2 weeks. Cool granola completely before transferring to an airtight container.
Our granola recipe can also be frozen in an airtight container, with as little air as possible, for up to 2 months. Thaw for a few minutes at room temperature before enjoying.
Why We Love Our Homemade Granola
We love our easy granola recipe for many reasons:
We use a natural sweetener (honey) rather than a processed sugar.
It has great crunch, texture and flavor from a good balance of oats, nuts, fruit, oil, and sweetener.
It's much healthier than most store-bought versions.
It's very easy to make and lasts for a couple weeks in the pantry.
More Delicious Snack Recipes You Will Love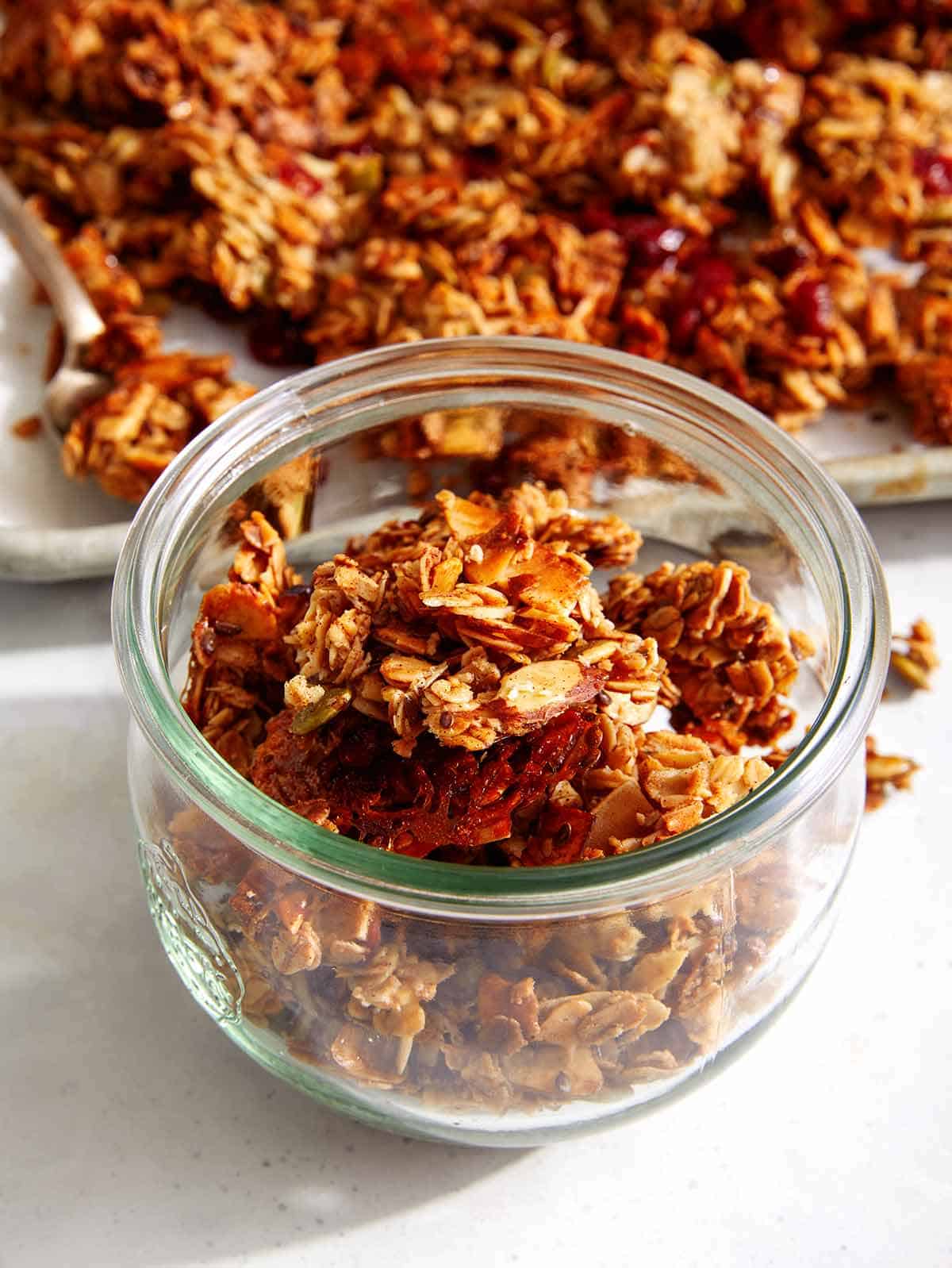 Subscribe to never miss a recipe.
unsweetened coconut chips broken up if the pieces are long
melted coconut oil
**Recipe makes about 2 quarts and 1 serving is about 1 cup**
granola recipe, healthy snack recipe
Jenny Park is half of Spoon Fork Bacon. She is also a food stylist and recipe developer. One of her favorite foods is donuts. #sfbJENNY
This homemade granola recipe is easy and only takes a few simple pantry items. Combine rolled oats, a sweetener, oil, and your favorite mix-ins for a healthy whole-grain breakfast or snack. Then bake until crispy clusters form. That's it!
Table of Contents
I love having a stash of granola to grab as a wholesome snack or to use for my breakfast cereal. Store-bought versions may be convenient but often pricey for the amount in the bag. The ingredients you need are all shelf-stable, so loading up on oats, sweetener, and oil in bulk allows you to make large batches of granola at home anytime. You'll get way more yield for your hard-earned dollar.
There's no stirring involved in this baked method. Combine the ingredients, press them into a sheet pan, and let the oven do its magic. I use whole almonds, sweet cranberries, and salty roasted pepitas for various textures and tastes. Once you learn the base ratio of essential ingredients, you can customize the recipe any way you like!
The essential ingredients you need
Use a neutral oil
Fat is needed to ensure the granola becomes crispy but not dry, brittle, or burnt. Any type of cooking oil that's neutral-tasting can be selected with a moderate smoke point above 325ºF. My top picks are avocado oil, melted coconut oil, light olive oil, and vegetable oil.
Sweeteners enhance the crunchiness
Using a sweetener like a maple syrup or honey to coat the oats adds a touch of sweetness and crispiness. The type you chose is based on your flavor preference. I like maple for its deep molasses notes. The sugar solids remain as the water in the sweetener gets driven off in the hot oven.
The sugar lightly cooks and caramelizes with deep candied flavors, creating that sought-out crunch as the granola cools. To increase the base's sweetness level, add 1 to 3 tablespoons of brown sugar, granulated sugar, or coconut sugar to the mix.
Compress for hearty clusters
Making homemade granola allows you to control the size and shape of the oat clusters. The grains pack closer and stick together with the sugar in the maple syrup by compressing the oats on a parchment paper-lined baking sheet, similar to making granola bars.
Wait until after the granola cools before you break them apart so that the sugars can bind, harden, and hold the oats together. Unlike most recipes, do not stir during the baking process unless you want the mixture to be more separate and pourable.
Elevate and cool to dry
When removed from the oven, the granola will look golden brown but not dry and crisp. This is where heat transfer from the warm pan helps to dry out the rest of the moisture.
Place the tray on a wire rack to help circulate air under and around so the oats can gradually cool completely at room temperature. After about an hour, they'll become super crunchy. Patience is important!
Get creative with different add-ins
This recipe uses whole almonds, pumpkin seeds (pepitas), dried cranberries, cinnamon, and nutmeg to add flavor to the mix. However, any type of nuts, seeds, spices, and dried fruit can be substituted.
Nuts: Almonds (raw, roasted, sliced, slivered), pecans, walnuts, cashews, peanuts, coconut flakes (toasted is delicious!). Use 1 to 1 ½ cups total of any combination.
Spices: Cinnamon, nutmeg, ginger, cardamom, curry powder, turmeric, black pepper, or chili powder. Use ½ to 1 teaspoon of the spice mix.
Seeds: Pumpkin seeds, sunflower seeds, flaxseeds, chia seeds. Use ½ cup of the bulkier seeds and 1 to 4 tablespoons of flax or chia.
Dried fruit: Cherries, cranberry, raisin, apricot, pineapple, papaya, banana chips. Use ½ to 1 cup of dried fruit.
Use these oats in particular
The only type of oats that should be used is old-fashioned rolled oats. There are instant and quick-cooking options, but when mixed with liquid, they hydrate too much and can become mushy if not baked immediately. Use rolled oats as they don't get immediately soggy when added to milk or yogurt.
Pin this recipe to save for later
old fashioned rolled oats
, raw or roasted
Preheat the Oven – Set the oven rack to the upper-middle position. Preheat to 325ºF (163ºC). Line a large sheet pan with parchment paper and set aside.
Whisk the Sweetener and Spices – In a large bowl whisk together maple syrup, salt, cinnamon, and nutmeg. Add the oil and whisk together until combined and slightly thickened.
Add the Oats and Nuts – Add the rolled oats, almonds, and pepitas, and stir to thoroughly coat the dried ingredients with the maple syrup mixture.
Finish and Store – Break the granola into clusters, then add in dried cranberries, and stir to combine. Transfer to an airtight container and store at room temperature.
Recipe Yield: 9 cups
Serving Size: cup
Storing: Store in an airtight container for up to 2 weeks, or frozen for up to 1 month.
Oil Substitute: Coconut oil, light olive oil, or vegetable oil can be substituted for avocado oil.
Amount per Serving
% Daily Value*
* Percent Daily Values are based on a 2000 calorie diet.
Tried this recipe?
Filed under: American Appetizers & Snacks Baking Batch Cooking Breakfast Dairy Free Grain Make Ahead Video
This post may contain affiliate links. Please read my disclosure policy.
I'm a culinary school graduate, cookbook author, and a mom who loves croissants! My passion is creating recipes and sharing the science behind cooking to help you gain confidence in the kitchen.
You May Also Like
1 hr 10 mins
Roasted Beet Hummus
A lot of people took up bread baking during the covid pandemic, but my culinary deep dive was actually into granola, seeing how I was already a sourdough bread baker. With lockdowns and remote school, much more breakfast was being consumed inside my house, and granola with yogurt somehow became the top breakfast and late night snack choice for almost everyone in my family. Even these days, with two of my kids away at college, I still make a two-quart batch of granola every week, and now that I have the Mockbake Flake Lovers Flaker, I've been exploring using other grains along with rolled oats in my base recipe.
I want to give a big nod to the recipe that inspired mine: Cookie and Kate: Healthy Granola Recipe. I've been making that recipe less sweet and oily over time by adding more of all the other ingredients but not changing the maple syrup and oil amounts. My family's taste buds have adjusted to crave a barely sweet granola. Presently, I use 6 cups of rolled/flaked oats instead of the original 4 cups. (The recipe below is given in weights and volumes.)
Oats, flaxmeal, coconut shreds, pecans, and cashews
Oats, Sprouted Rye Berries, and Other Grains
This granola recipe calls for rolled or flaked oats paired with flaked sprouted rye berries, but you absolutely can use only rolled oats or try whatever other grain strikes your fancy e.g. buckwheat. If you have a flaker, you can flake most grains and seeds; just avoiding large legumes or very oily nuts that won't pass through.
Flaked oats on the left; rolled oats on the right
Spices
I tend to skip the spices in my granola, but a teaspoon of ground cinnamon along with the pinch of salt in the oat mixture can boost the granola's flavor and make it quite aromatic.
Sweetener and Fat
This recipe calls for 1/2 cup of sweetener and a 1/2 cup of oil. Maple syrup and honey are the two sweeteners I use most often. Honey can be a bit unwieldly to stir, but if you measure your honey into a microwave safe container, you can heat it a bit so it's thinner.
If you happen to make candied orange peel and have leftover sugar syrup, that is a neat sweetener to use as well.
Light olive oil and avocado oil are the fats I favor. Butter is an option as well, but comes through a little more desserty.
600g flaked oats mixed with light olive oil and maple syrup
Nuts
Nuts go into the granola about halfway through baking to prevent them from burning. I like to include at least one type of nut. Pecans, walnuts, and cashews are easy favorites in the nut department and you can buy them already in small "pieces." When I use large or whole nuts (almonds), I smash them into smaller pieces by putting them in a bag and tapping them with a meat mallet. Chopping on a cutting board works as well. Note that pistachios are tasty but burn easily, so if you want to use them, add them after the bake with the dried fruit. Cashews are less prone to burning than pistachios, but you still need to keep an eye on them.
Seeds and Coconut Flakes
Like nuts, seeds and coconut flakes go into the granola about halfway through baking so they get toasted but not burned. Some options include pumpkin seeds, sunflower seeds, flax seeds, and chia seeds. My favorite is coarsely ground flax seeds. I like the texture and their high ratio of omega-3 to omega-6 oils. You can pulse whole flax seeds in a spice grinder or pass them through the Mockbake Flaker twice. Chia seeds are also tasty and rich in omega-3s.
Flax seeds can be ground in a spice grinder or passed through the Mockbake Flaker twice, as in this photo
Dried Fruit
Raisins, currants, dried cranberries, chopped dried dates, apricots, and figs are all delicious options in granola. They should be added at the end of the bake because they shrivel up and burn when added earlier, especially the smaller fruit/pieces. I usually skip the dried fruit and I buy frozen berries instead. I microwave about 1/2 cup of frozen berries in my breakfast bowl for a minute to defrost them, then add plain yogurt and granola on top–maybe a sliced banana too.
Yogurt, berries, and granola made with home-flaked oats
Final Texture
This granola will set in chunks if you don't stir it at any point in the baking process and you also let it cool before breaking it up and storing it. However, there isn't much sweetener to hold it together, so it does have a looser texture than most storebought granola. Of note, my granola tends to be more chunky when I use flaked oats rather than rolled. Even when only a portion of the grains are flaked, the exposed starches seem to bind the granola better.
Half batch of all home-flaked granola
Storage
I recommend storing the granola in a jar at room temperature. A plastic container or bag is fine too. I find that the granola is freshest within a couple weeks of making it.
As for the ingredients, I store all my seeds and nuts in the freezer to extend their shelf life, and my whole grains and rolled oats are in sealed containers at room temperature.
Make delicious, fresh granola using a variety of ingredients with this framework of a recipe. Pick the oil and sweetener you prefer, and use fresh nuts, seeds, oats, and sprouted grains. Whether you flake your own oats and grains or you buy rolled oats, this granola is full of flavor and fiber. Say goodbye to the one-dimensional sweetness of so many storebought granolas.
6 cups rolled/flaked oats or other grains (600g) (I used 500g flaked oats and 100g flaked sprouted rye berries)
½ cup light olive oil, canola oil, or avocado oil (110g)
½ cup maple syrup or honey (170g)
pinch of salt
Preheat your oven to 350F.
In a large bowl, thoroughly mix the the flaked or rolled oats and sprouted rye, oil, sweetener, and salt. Honey can be briefly microwaved to make it more mixable.
Bake for 15 minutes. Remove from the oven and add the nuts, flaxmeal, and coconut on top of the half-baked granola.
Return the sheet to the oven and bake 10 minutes more until everything is lightly toasted.
Remove from the oven and don't stir the granola unless you prefer a loose granola. Add the dried fruit on top if desired.
Let the granola cool for at least 30 minutes before breaking it into chunks to store in a jar, tupperware, or bag.
Shopping List
The wise woman who said "a balanced diet is a cookie in each hand" might not have specifically had these Granola Cookies in mind, but I can't think of a cookie recipe more fitting of the phrase!
These healthy granola cookies are nutritiously crafted with 100% whole grains (a combo of whole wheat flour and oatmeal granola) and include plenty of peanut butter for added protein and that hubba hubba flavor.
If you are a fan of these Healthy Peanut Butter Oatmeal Cookies, I know you'll love these peanut butter granola cookies too.
Both wholesome and sweet, if you are looking for a more nutritious cookie to add to your diet, these beauties strike a true balance.
These cookies earn the "granola" in their name in two different, delicious ways.
First, they incorporate granola into the batter. The granola creates surprise bits of texture and makes the cookies all the more addictive. If you've ever opened a bag of granola and not been able to stop snacking, you know the feeling! For recipes, check out my Healthy Granola and Ridiculously Addictive Maple Quinoa Granola in my cookbook. Or, use your favorite store-bought granola.
Second, they play on the granola concept by including other classic granola mix-ins like dried fruit, nuts, and chocolate chips.
Know that these healthy granola cookies are thick, soft, and chewy, and that the use of granola itself does not make them crunchy.
Rather, the granola creates dimension and makes every bite a sweet surprise. (If you prefer crunchy granola cookies, baking these longer will only dry them out, not create more crunch; I'd suggest trying these Vegan Peanut Butter Cookies instead).
Along with bringing a little texture to these oatmeal granola cookies (the oatmeal is the granola itself), the Honey Oat Granola also is a delectable stand-alone product for your pantry.
In addition to using it to bake cookies, try granola stirred up with fruit and yogurt, on top of cooked breakfast oatmeal for texture (it's dreamy on top of these Overnight Slow Cooker Steel Cut Oats), and scatter it over a scoop of ice cream for dessert.
These peanut butter granola cookies further embody the spirit of granola because you can add any number of mix-ins to the recipe, such as chocolate chips, dried fruit, or nuts.
Here, dried cranberries and pecans are a perfect combination. Just like these hit Healthy Oatmeal Cookies, you can mix in whatever dried fruit or nuts you have in your pantry.
How To Make Granola Cookies
These versatile cookies are quick to whip up and can be customized to any of your favorite mix-ins.
Peanut Butter. Incredibly scrumptious, creamy goodness that flavors every bite of these cookies. I recommend using a shelf-stable creamy peanut butter for this recipe, as the natural kinds that need to be stirred can separate in baking.
Brown Sugar. For just the right amount of sweetness and to help the cookies be ultra moist and chewy.
Milk. I used nonfat milk, but any milk you have on hand will work here.
Vanilla + Cinnamon. While they don't overpower the cookies, these two cozy ingredients enhance the other flavors in an all-important way.
Bob's Red Mill Granola. As we discussed above, I love using Bob's Red Mill Honey Oat Granola for this recipe, but their Classic Granola would also be delicious here.
Mix-ins. A spectacular combination of chocolate chips, dried fruit, and chopped nuts. These mix-ins round out the granola vibe and make the cookies impossible to resist.
Beat the butter, peanut butter, and sugar together until combined.
Beat in the egg, milk, and vanilla.
Add the cinnamon and salt.
Add the flour, mixing until the dough comes together.
Stir in the granola, chocolate chips, cranberries, and nuts.
Drop cookies onto a parchment-lined baking sheet, flattening the tops slightly.
Bake at 350 degrees F for 10 to 13 minutes. Let cool, then DIG IN!
Make Ahead and Storage Tips
To Store. Leftover cookies can be stored in an airtight storage container at room temperature for up to 1 week.
To Freeze Baked Cookies. Freeze cookies in an airtight freezer-safe storage container for up to 3 months. Thaw and enjoy as desired.
To Freeze Cookie Dough. Scoop the unbaked cookies onto a parchment-lined baking sheet as directed, and freeze until solid. Transfer the frozen cookies to an airtight freezer-safe storage container for up to 3 months. Remove and bake from frozen as directed, adding a few minutes to the baking time if needed.
More Favorite Healthy Cookie Recipes
No Bake. If you like the sound of granola cookies no bake style, these Energy Balls are a tried and true recipe with a similar flavor. Be sure to check out my Healthy No Bake Cookies too.
Grain Free. In need of a grain-free cookie recipe? Check out my crowd-pleasing Almond Flour Cookies or Coconut Flour Cookies.
Fun Flavors. You'll love the unique flavors of these Pumpkin Snickerdoodles, Carrot Cookies, and Apple Oatmeal Cookies.
And all these delicious cookie recipes!
Because of this variability of possible nutritious mix-ins, these simple granola cookies are ideal to serve to kids, either as a dessert or as an extra-special snack.
I can also attest that adults love them! I recently brought these cranberry granola cookies to an outdoor gathering, and several of my neighbors asked for the recipe on the spot. Don't be surprised when you receive requests too.
WELL PLATED COOKBOOK NEWS & UPDATES
Good Morning America – Thank you to everyone who tuned in this week to watch me cooking live on GMA! You can now view the segment online here and see the recipes here.
Well Plated Live – 8/31. TONIGHT at 8 p.m. EDT. I'll be cooking the Lemon Chicken Pasta Salad with Tarragon and Grapes from The Well Plated Cookbook and taking your questions. Free and open to all! If you have the cookbook, you can purchase the ingredients and cook along. Register here.
LIMITED TIME – Purchase an Autographed Copy. Order your copy through Erin's local bookstore and enter your personalization details at check out (first names only please). Orders can ship to the continental U.S. Four copies or more ship free. Currently 20% off.
unsalted butter at room temperature
creamy peanut butter*
light brown sugar
nonfat milk or milk of choice
pure vanilla extract
white whole wheat flour
check out my healthy granola
mini chocolate chips
or other dried fruit of choice: raisins or golden raisins, chopped dried cherries, chopped dried apricots
chopped nuts of choice: pecans almonds, or walnuts (I used pecans)
Place a rack in the center of your oven and preheat the oven to 350 degrees F. Line a baking sheet with parchment paper or a silicone baking mat.
In the bowl of a stand mixer fitted with the paddle attachment or a large mixing bowl, place the butter, peanut butter, and brown sugar. Beat on medium-high speed for 2 minutes, until lightened in color and smoothly combined.
Scrape down the bowl. Add the egg, milk, and vanilla and beat to combine. Stop the mixer to scrape down the bowl again as needed.
Sprinkle the cinnamon and salt over the top.
Sprinkle on the flour. Mix on low speed, just until the dough comes together and all bits of dry flour disappear.
By hand or with the mixer on low, gently stir in the granola, chocolate chips, cranberries, and nuts.
Bake the granola cookies for 10 to 13 minutes, until lightly browned and dry to the touch at the edges and still slightly soft and the centers. The cookies will look a little underdone in the middle, but do not over bake or they will be dry. Let the cookies cool on the baking sheet for 3 minutes, then gently transfer to a wire rack to finish cooling completely. (I slide the parchment paper straight onto the rack).
*While runny nut butters made with only nuts (or nuts and salt) are my favorite for snacking, in baking they are less predictable. I recommend using a peanut butter that is stable at room temperature (I used Jif Natural).
TO STORE: Leftover cookies can be stored at room temperature for up to 1 week.
TO FREEZE: Freeze cookies in an airtight freezer-safe storage container for up to 3 months. Thaw and enjoy as desired. See blog post above for tips to freeze unbaked cookie dough to have on hand.
Join today and start saving your favorite recipes
Create an account to easily save your favorite recipes and access FREE meal plans.
Sign Me Up
This post contains some affiliate links, which means that I make a small commission off items you purchase at no additional cost to you.
Hi, I'm Erin Clarke, and I'm fearlessly dedicated to making healthy food that's affordable, easy-to-make, and best of all DELISH. I'm the author and recipe developer here at wellplated.com and of The Well Plated Cookbook. I adore both sweets and veggies, and I am on a mission to save you time and dishes. WELCOME!
This post may contain affiliate links. Please read our disclosure policy.
If you've always wanted to learn how to make granola, you'll love this easy step-by-step tutorial. Homemade granola requires a few basic ingredients, allows for endless customization, and makes for a great healthy snack to enjoy on its own, with milk, yogurt, or on top of baked goods like muffins.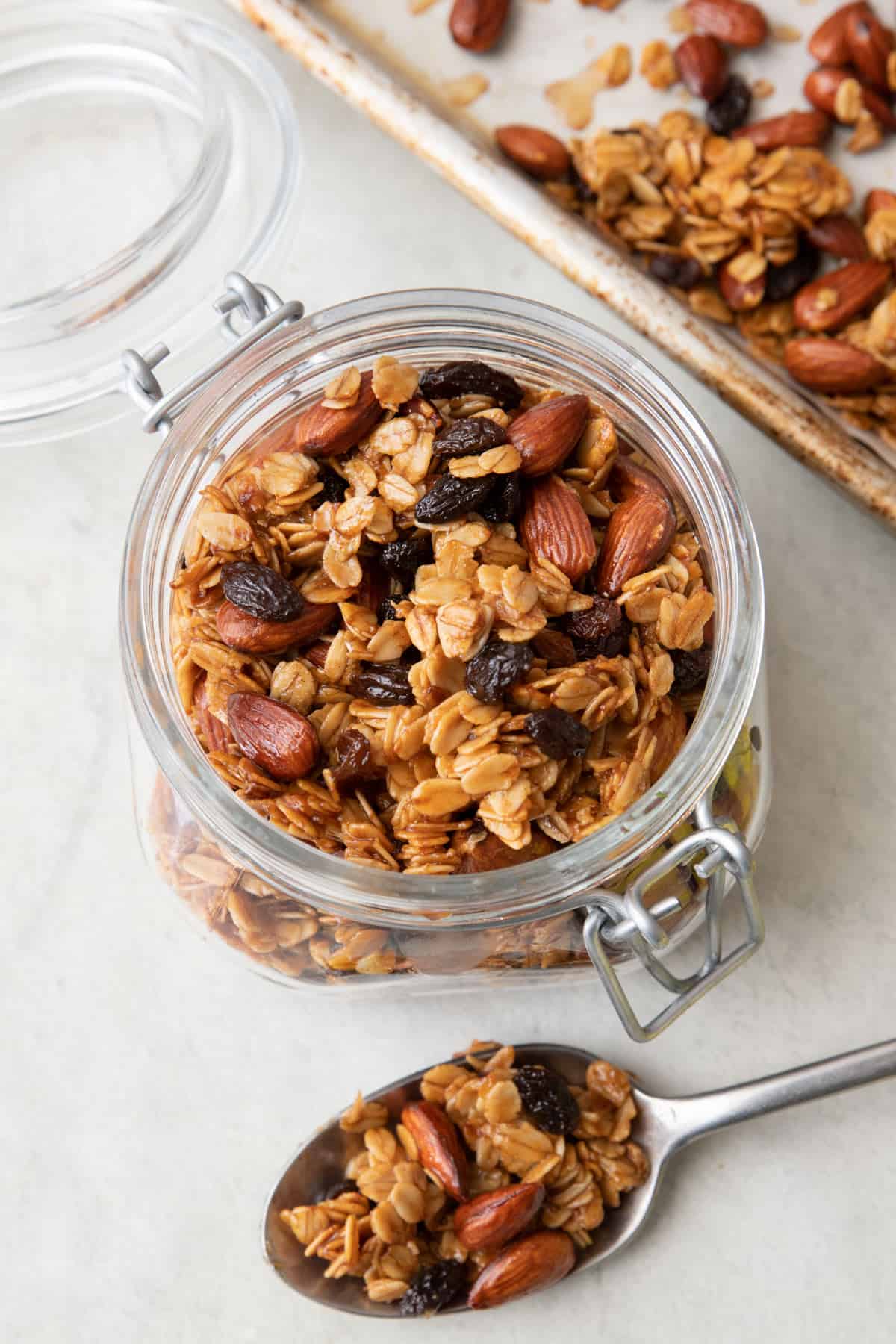 What I love about this recipe are the large caramelized clusters that form on the baking sheet. The granola comes out crunchy, slightly sweet, and perfectly flavored. If you enjoy this easy granola recipe, you will love this sweet, crunchy chocolate granola!
WHY learn to make your own granola
So easy to make. It doesn't get much easier than this to make homemade granola from scratch. It's as simple as mixing, roasting, and tossing in to get a toasty, deliciously crunchy snack without much fuss.
Completely customizable! Granola includes a handful of staple ingredients: oats, nuts, dried fruit, a sweetener, and oil, leaving a lot of room for various flavors. Try walnuts, macadamia nuts, pecans for the nut option, and raisins, dried cranberries, golden raisins, dried papaya, or any other fruit you like. You can also choose between using honey or maple syrup for the sweetener and coating. You can add and adjust the spices to match whichever ingredients you choose. Add pumpkin spice with pumpkin seeds to the mix, or sprinkle with some cajun seasoning for a spicy granola.
Have granola ready to enjoy in the pantry. Make a batch to store in the pantry for something sweet and crunchy to add to your cereal, oatmeal, ice cream, or for snacking.
It costs less and tastes better. Homemade is always better, and you can make 3-4x more granola for the same price as buying a bag. The initial cost may be more, but in comparison to store-bought, you can easily make an abundance of granola for less and have leftover ingredients for other recipes. You may even prowl the pantry for ingredients you have on hand. Plus, it has a decent shelf life when stored correctly, so you can make large batches and different flavors for all the granola you can handle!
Granola recipe ingredients
Old-fashioned rolled oats – Oats are so versatile and are the base of granola because they hold their shape while cooking, resulting in a crunchy, toasty bite. Choose certified gluten-free oats for gluten-free granola.
Nuts/Seeds – This recipe uses whole almonds, but you can use any nuts and seeds you'd like. Other choices include cashews, walnuts, pistachios, macadamia nuts, peanuts, chia seeds, flax seeds, sunflower seeds, and even squash seeds.
Dried fruit – Dried fruit adds a fantastic chewy texture and a bit of sweetness. I used raisins for this batch, but you can easily swap them out for another dried fruit such as golden raisin, cranberries, banana chips, papaya, or whatever you may have on hand.
Seasoning and spice – These are seasoned lightly with cinnamon, salt, and vanilla. Switch them up if you'd like, but I recommend not skipping on the salt, which helps to balance and elevate the ingredients' natural flavors.
Coconut oil – You could also use avocado oil or olive oil, which is essential to this granola recipe for crisp and crunchy bits. Olive oil is perfect for a savory bite.
Sweetener – Making granola with a sweet glaze is so good! I use honey, but you could also use maple syrup.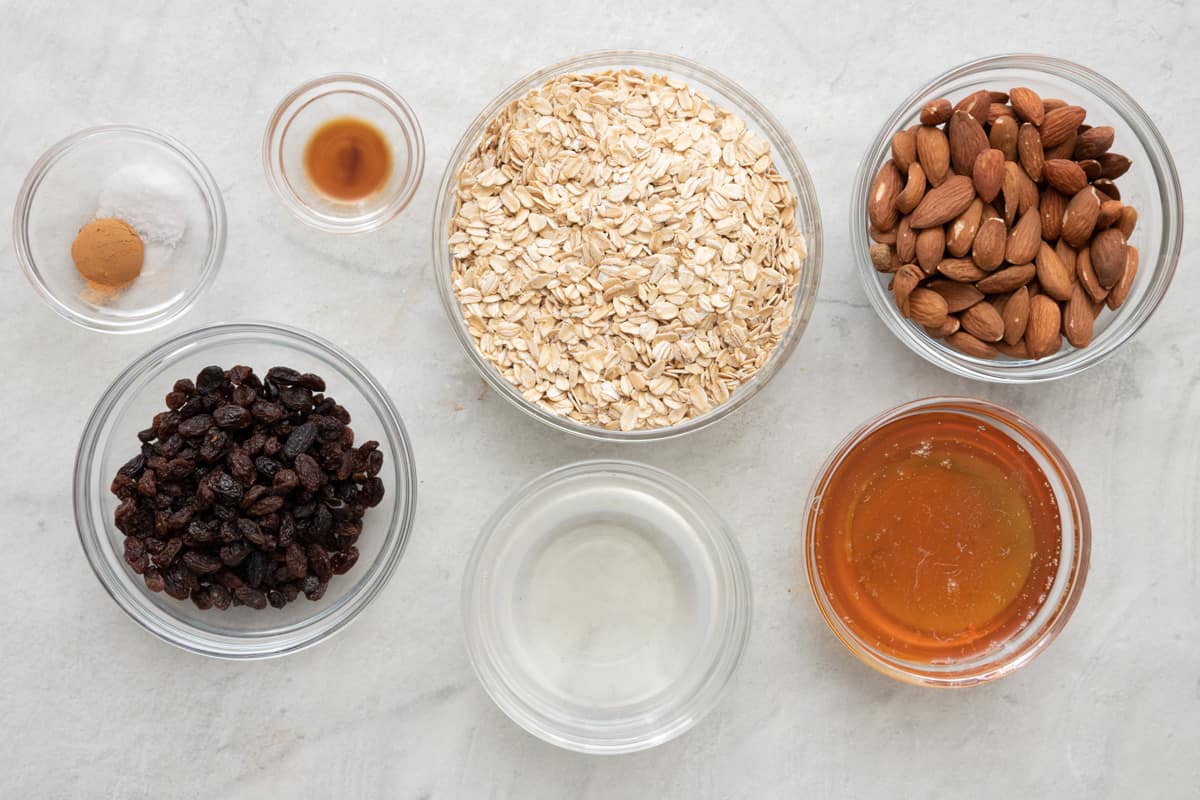 HOW TO MAKE granola from scratch
In a large bowl, combine nuts, oats, cinnamon, and salt, tossing to combine.
To the oat and nut mixture, toss in the oil, honey, and vanilla until well coated.
Spread the honey-coated nut and oat mixture onto a parchment-lined baking sheet in an even layer and bake, tossing halfway through and until golden brown.
Once done baking, allow to cool completely. Stir in the dried fruit and any optional add-ins you'd like. Break them into smaller pieces before storing them in an airtight container.
TIPS on How to Make Granola at Home
Granola is so easy to make yourself that you'll never want to go back to store-bought again! These quick tips on how to make granola will generate deliciously crunchy results every time!
Make it chunky. There are a few tricks to make granola have those signature chunks where a few oats, nuts, and dried fruit are gathered together for a deliciously crunchy bite. Press the ingredients onto the baking sheet before baking so the pieces are already touching. While it bakes, only stir the mix once, enough for it to cook evenly but stay together. Then when it comes out of the oven, press on the oat and nut mixture one more time so it sticks together while it cools. Then, you can break the pieces into whatever size chunks you'd like!
Add dried fruit after baking. Wait until the end of baking to toss in the dried fruit, as it will burn if added to the tray beforehand. Try to mix it in while the granola is still warm if you're looking for chunky pieces.
Mix in your favorite additions. I love traditional granola with oats, nuts, and dried fruit, but you can certainly kick it up a notch and create an irresistible blend of crunchy, salty, sweet additions. Try tossing in candied walnuts, chocolate chips, coconut flakes (halfway through baking), chia seeds, and whatever your heart desires after baking. Toss citrus zest into the mix before baking for a fresh, zingy addition.
Don't over-bake the granola. You want an even golden brown toasty finish without going too far. If it cooks too long, the sugar will break down and may burn, preventing the ingredients from sticking together to form chunky pieces.
What to eat with granola
Making granola from scratch is super easy and an excellent topping for some of my favorite recipes. You can enjoy them for breakfast, a quick snack, or a dessert. There are many options to include this homemade crunchy honey-coated oat and nut snack in your recipes.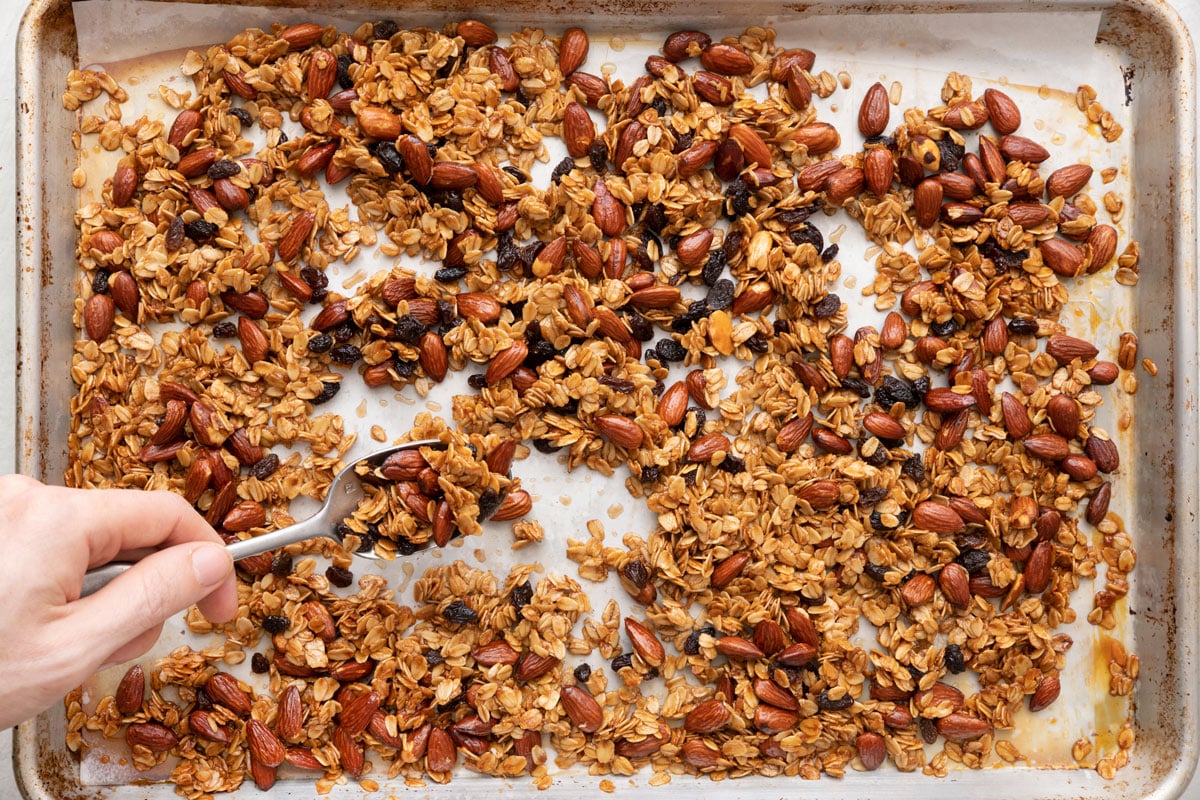 More Homemade Granola Recipes to Try
Once the granola has completely cooled, store it in an airtight container at room temperature.
HOW LONG WILL Granola LAST in the Pantry?
Granola stored in an airtight container glass may have a slightly longer shelf life than if stored in plastic. It can last up to a month but will vary depending on the container and how often the jar is opened.
CAN I FREEZE Granola?
Absolutely, and freezing granola is the best way to extend its quality and freshness. You can freeze it for up to 3 months. When ready to use, remove from the freezer and allow to come to room temperature before storing on the counter.
FREQUENTLY ASKED QUESTIONS
My granola is soggy. Can I fix it?
If your granola is soft, you can do a quick roast on them. If this is the case after baking, they likely needed more time to toast thoroughly. If they are soggy after storage, they may have been stored while still warm. To fix this, spread the granola on a baking sheet and heat it in a 400-degree oven for about 5 minutes. This quick high temp bake is only for reheating and should only be done for a few minutes to prevent burning.
How to make granola crunchy?
To get a crunchy granola, cook it at a low temperature and stir it at least once to ensure all the ingredients have room to toast. Cooking at a low temperature allows the oats and nuts to dry entirely while roasting without burning for a crunchy bite.
How long does it take granola to harden?
After baking, set the baking sheet on a cooling rack and allow the granola to cool and dry thoroughly for about 45 minutes to an hour. It should no longer be sticky and will be dry to the touch before storing.
MORE cooking tutorials
Preheat the oven to 300˚F. Line a large baking sheet with parchment paper.
In a large bowl, combine oats, nuts or seeds, cinnamon and salt. Add the coconut oil, honey and vanilla and stir again until the mixture is well combined.
Allow the granola to cool completely, then stir in the dried fruit and any optional add-ins you'd like. Break the granola into smaller pieces and store in an airtight container.
*Serving size is ¼ cup of granola.
Nutrition information provided is an estimate. It will vary based on cooking method and specific ingredients used.
Why I Love it
Homemade granola is simple to make and can save money, is customizable, and stays fresh even longer than store-bought granola. You will love how quick and easy it is to make knowing all of the ingredients are fresh and delicious!
Cost-effective. Making homemade granola is much cheaper than store-bought!
Less than 30 minutes. It takes less than 30 minutes, which is always a win in my book.
Customizable. Add in your favorite mix-ins and make fun variations.
Versatile. Use it for snacking, smoothies, oatmeal, yogurt, and more.
Stays fresh for a long. Granola will keep for up to a month stored in an airtight container.
Table of Contents
Store the cooled granola in an airtight container for up to 1 month at room temperature. Using an airtight container is important as the granola can become stale. It also has to be thoroughly cooled before storing as it'll become soggy if sealed too early.
Can I freeze leftovers?
If you want to freeze granola, freeze it in an airtight container with as little air as possible. Freeze this granola recipe for up to 3 months and thaw on the counter before using.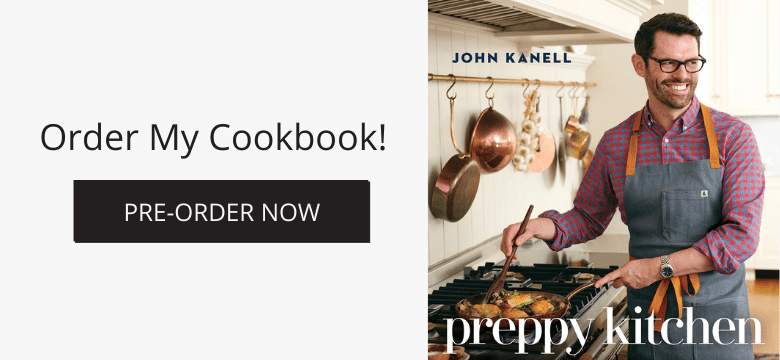 If you've tried this Granola recipe, then don't forget to rate the recipe and let me know how you got on in the comments below, I love hearing from you!
Crunchy, flavorful, and easy to make, this homemade Granola recipe is a household favorite. Made with only a handful of ingredients, this homemade version is so much better than store-bought!
vegetable oil or melted coconut oil
maple syrup or honey
pecans, or other nuts and seeds (120g)
(such as cranberries or raisins) (120g)
Preheat the oven to 325F. Line a large rimmed baking sheet with parchment paper.
In a large mixing bowl, whisk together the oil, maple syrup, cinnamon, and salt. Add the oats, almonds, and coconut, and stir until everything is well-coated.
Pour it out onto the prepared baking sheet and spread it into an even layer.
Give the granola time to cool before you enjoy it! Granola will continue to crisp up as they cool.
I prefer a lower heat and slower bake time to get a more evenly toasted and crisp granola with less risk of burning. However, if you like toastier granola, you can bake this recipe up to 350F. Keep in mind the higher the temp, the quicker it will bake. I'd recommend stirring every 5 minutes after the initial 10 minutes.
Do not add the dried fruit too early to the granola. The dried fruit will burn, and it'll also lose its chewiness.
If you want to add additional add-ins, such as chocolate chips, stir them in at the end when the granola has cooled, or the chocolate will melt.
I highly recommend lining the sheet pan with parchment paper as it'll make stirring the granola easier and prevent it from sticking to the pan.
Ways to Use Granola
Granola is SO versatile and delicious. Add it to your breakfast, have a light lunch smoothie with it, or eat it as a snack in your hand. All these choices are delicious and so good! Check out some of my favorite ways to use it below!
Yogurt bowl with fresh fruit
Hot oatmeal or overnight oats
Smoothies or smoothie bowls
On top of peanut butter banana toast
Eat with a bowl of milk
As a topping for baked apples or peaches
Eat plain for a snack
Make breakfast popsicles
Sprinkle on top of vanilla ice cream
These pantry staples are a perfect blend of sweet and savory mixed together! Granola is a great way to stay healthy and eat the right foods when snacking or adding extra substance to yogurt or cereal. This is a healthy granola recipe that is a great combination stirred together!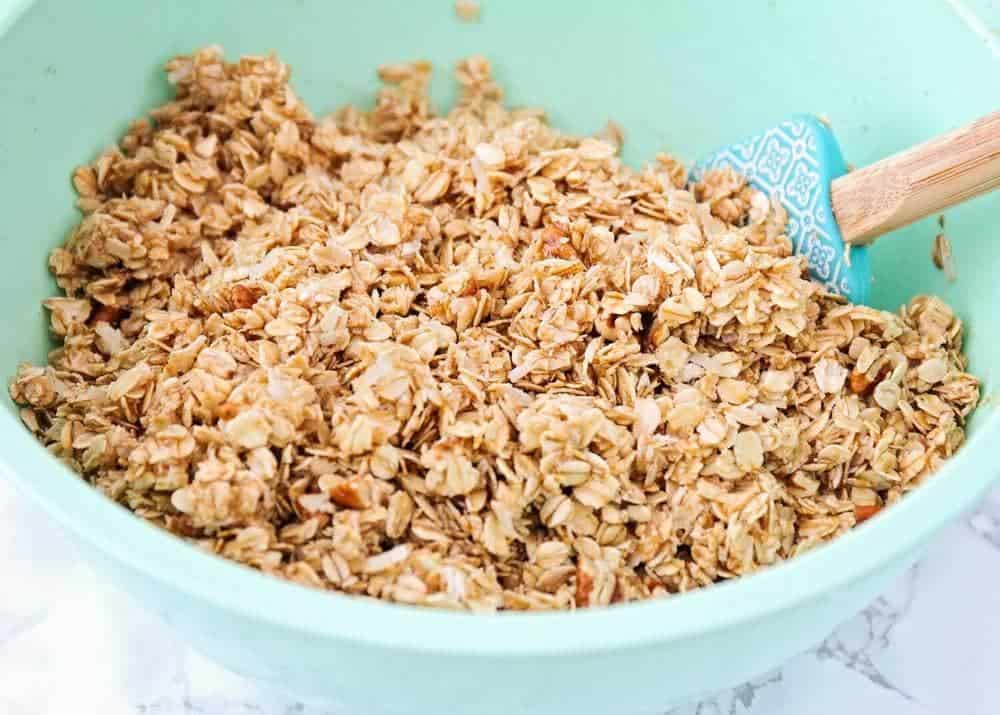 Find the full printable recipe with specific measurements below.
Old-fashioned oats: Heart-healthy rolled oats are perfect for baking in this recipe. Avoid quick oats and use real oats that come in a tall package. If you are gluten-free you can find the packaging for that as well.
Canola oil: This gives the oatmeal a crisp outside. For lighter oil, you can use coconut oil!
Honey: Combine honey and make it sticky but also holds the granola ingredients together on the baking sheet. Maple syrup works well to substitute if needed.
Vanilla: Just a pinch full of vanilla extract gives this granola just what it needs!
Salt: Another pinch of salt will help balance all the flavors together.
Brown sugar: Add sweetness to the homemade granola. This will melt together and is a subtle hint of deliciousness.
Coconut: Coconut flakes are always delicious and give a light and tasty texture and flavor.
Pecans: I love adding hearty nuts that can aid in protein as well.
More Healthy Snacks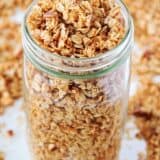 ↑ Click stars to rate now!
Easy homemade granola recipe with oats, honey, coconut, pecans and a delicious crunch. Perfect for snacking, breakfast or dessert!
rolled old fashioned oats
melted coconut oil , or canola oil
light brown sugar
(I prefer a mix of cashews, almonds or pecans)
Additional nuts, seeds or craisins (I love adding in 1/2 cup golden berry blend from TJ)
Preheat oven to 300°F. Line or grease a 15×18 jelly roll pan and set aside.
Mix all the ingredients in a large bowl and stir until combined. Spread granola mixture out evenly onto a greased jelly roll pan.
Bake for 7 minutes. Remove from oven and stir. Put back in the oven for 7-10 more minutes or until it reaches desired crunchiness. It will harden more as it cools, so be careful not to burn. Remove from oven, stir and let cool.
Store granola in an air tight container.
chocolate chips (wait to add until after baking)
chopped dried fruit
extra nuts such as macadmia nuts or walnuts
chia seeds, cinnamon
To store: Place in an airtight container or bag and keep at room temperature for up to 1 month.
Nutrition provided is an estimate. It will vary based on specific ingredients used.
Did you make this recipe? Don't forget to give it a star rating below!
What You Need to Make This Recipe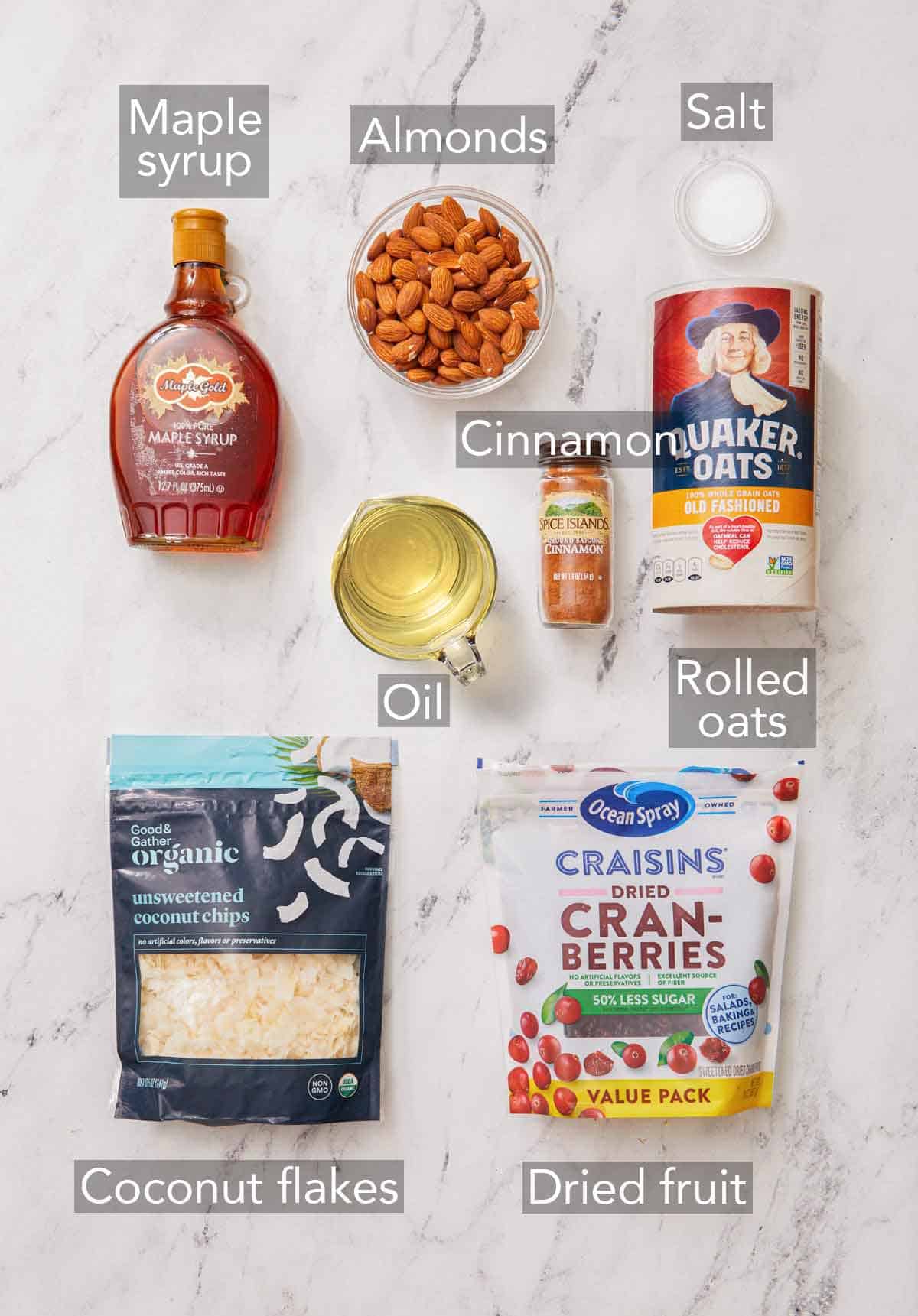 Oil — you can use vegetable oil or melted coconut oil for this granola recipe. The oil will ensure everything gets crispy in the oven. You cannot skip the oil, or the texture will not be the same.
Sweetener — you can use honey or maple syrup to sweeten the granola. If you are going with maple syrup, double-check the label to make sure it is real maple syrup, not pancake syrup.
Oats — you will need old-fashioned rolled oats to make granola. Quick cooking oats will not hold up in the oven, and steel-cut oats will yield a different texture.
Nuts and seeds — feel free to use your favorite nuts and/or seeds. I use almonds, but some other ideas of what you can use are pecans, walnuts, cashews, pistachios, sunflower seeds, and pumpkin seeds.
Coconut flakes — I love the texture and flavor that coconut flakes add. It's refreshing, toasty, and crispy. If you're not a fan of coconut flavors, you can leave it out.
Dried fruit — dried cranberries or raisins are great, but you can also try dried cherries, apricots, or your favorite dried fruit.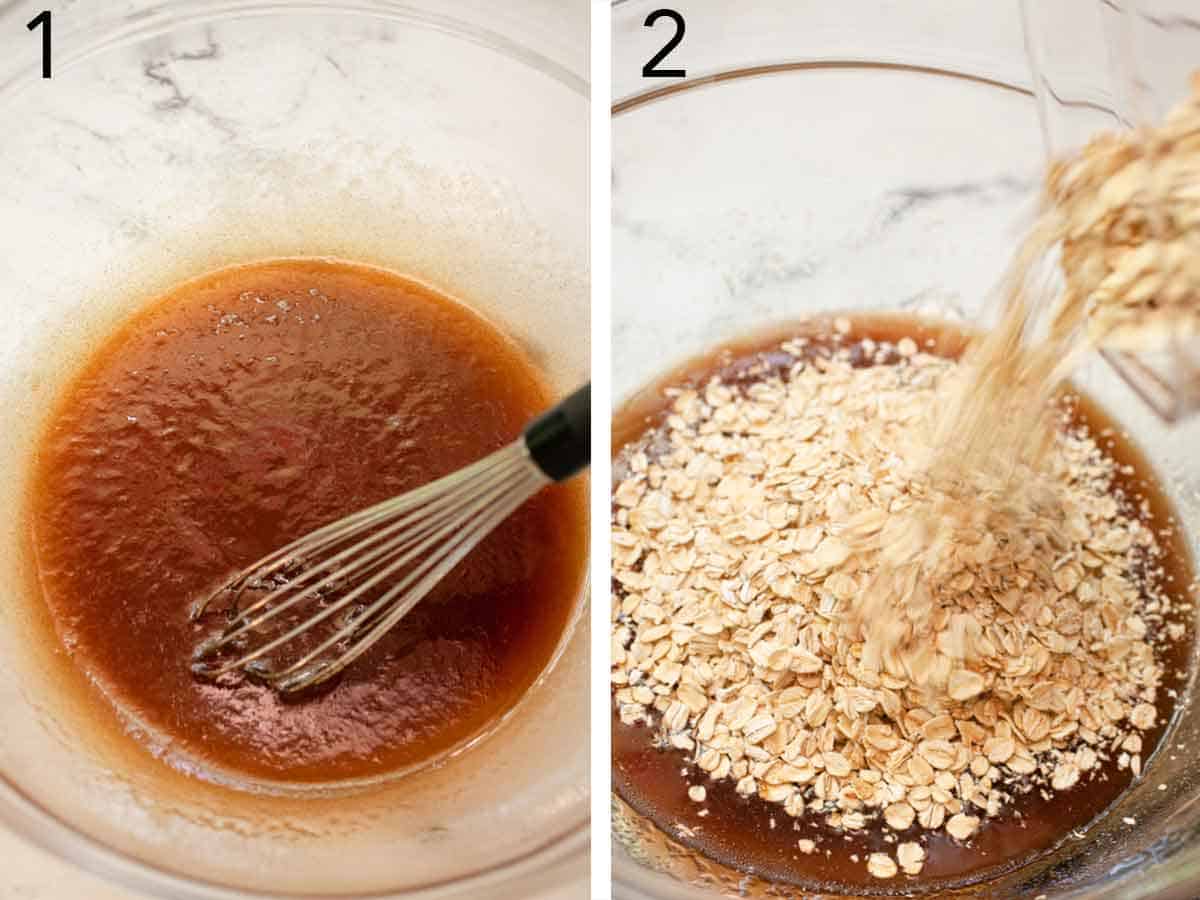 1. In a large mixing bowl, whisk together the oil, maple syrup, cinnamon, and salt.
2. Add the rolled oats to the bowl.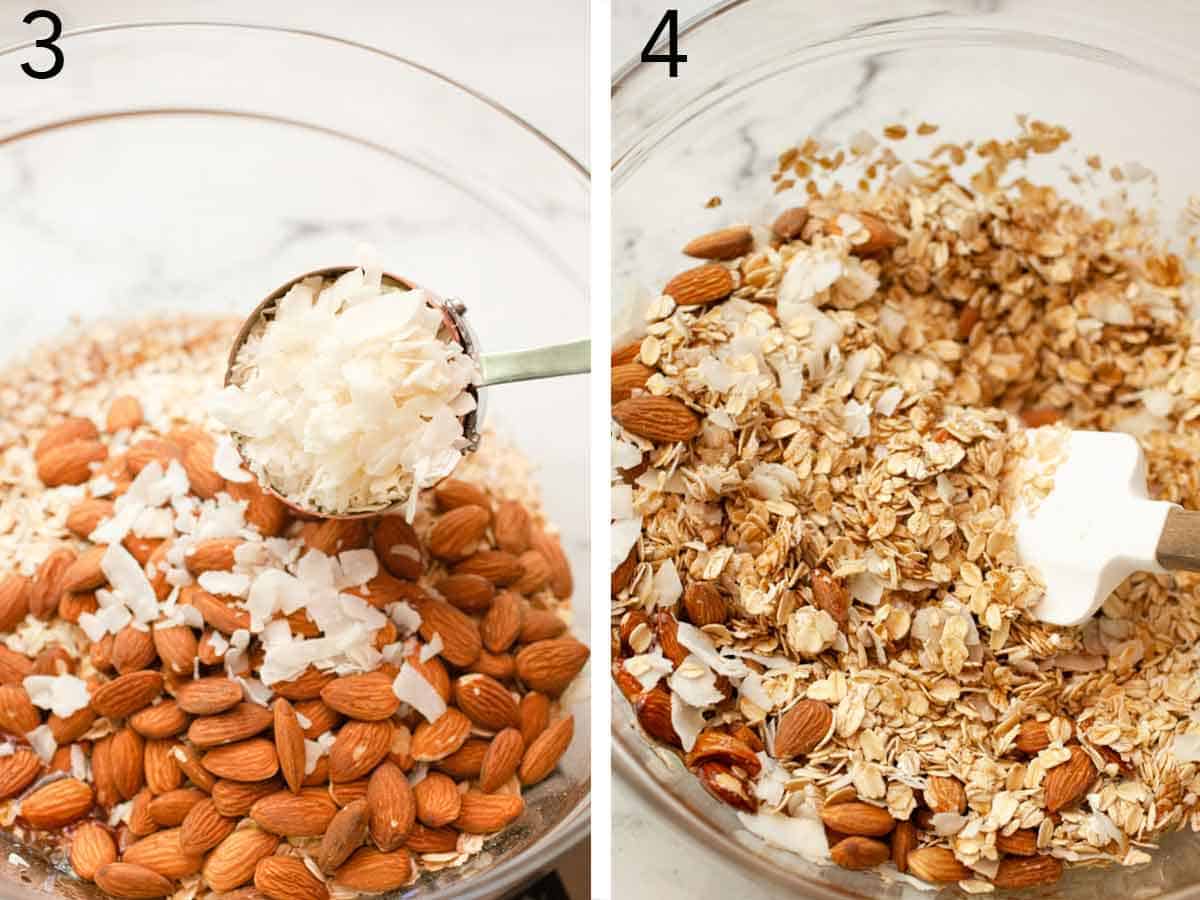 3. Add the almonds and coconut.
4. Stir until everything is well-coated.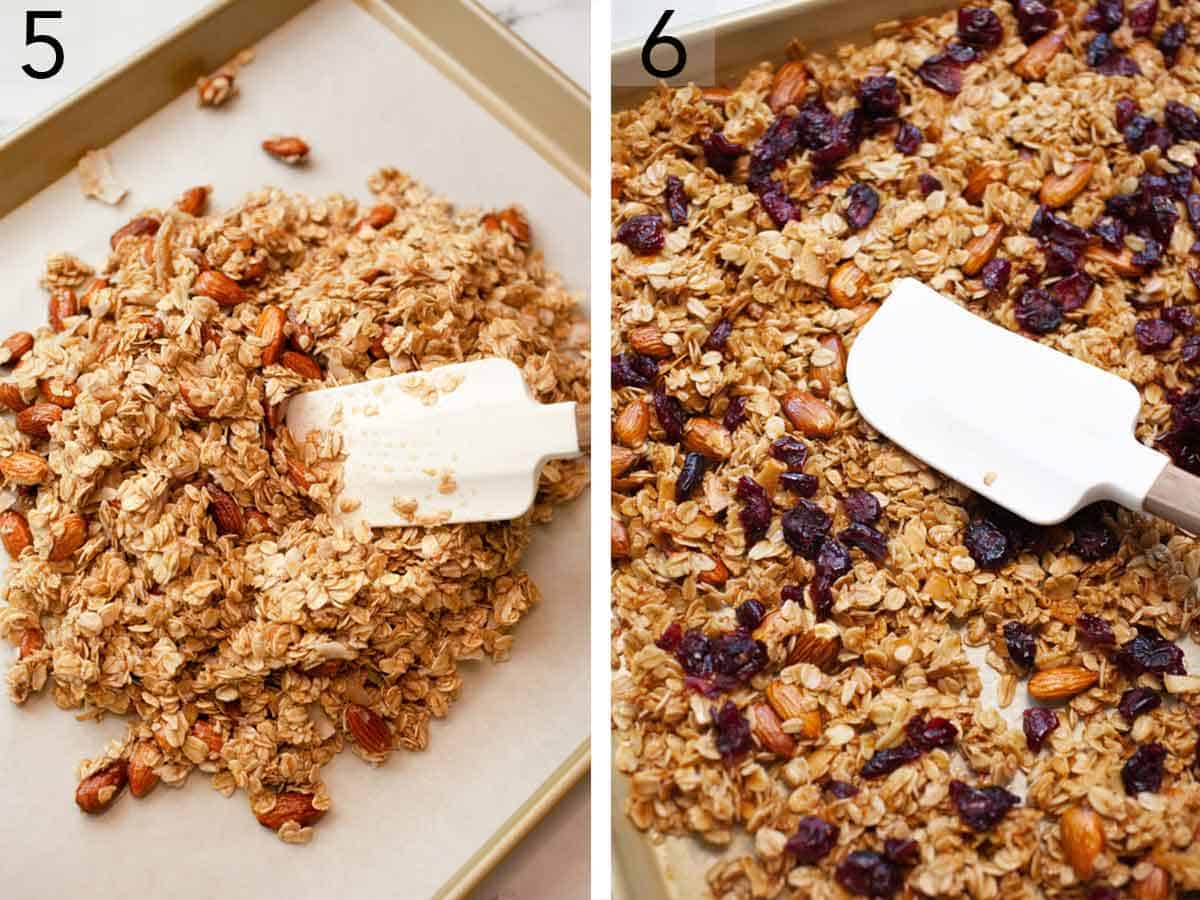 5. Pour it onto the prepared large rimmed baking sheet with parchment paper and spread it into an even layer.
6. Bake the granola recipe for 30 minutes, stirring every 10 minutes, or until golden brown. Sprinkle with the dried fruit. For clumpy granola, press firmly into an even layer with a spatula. Let cool completely, about 1 hour.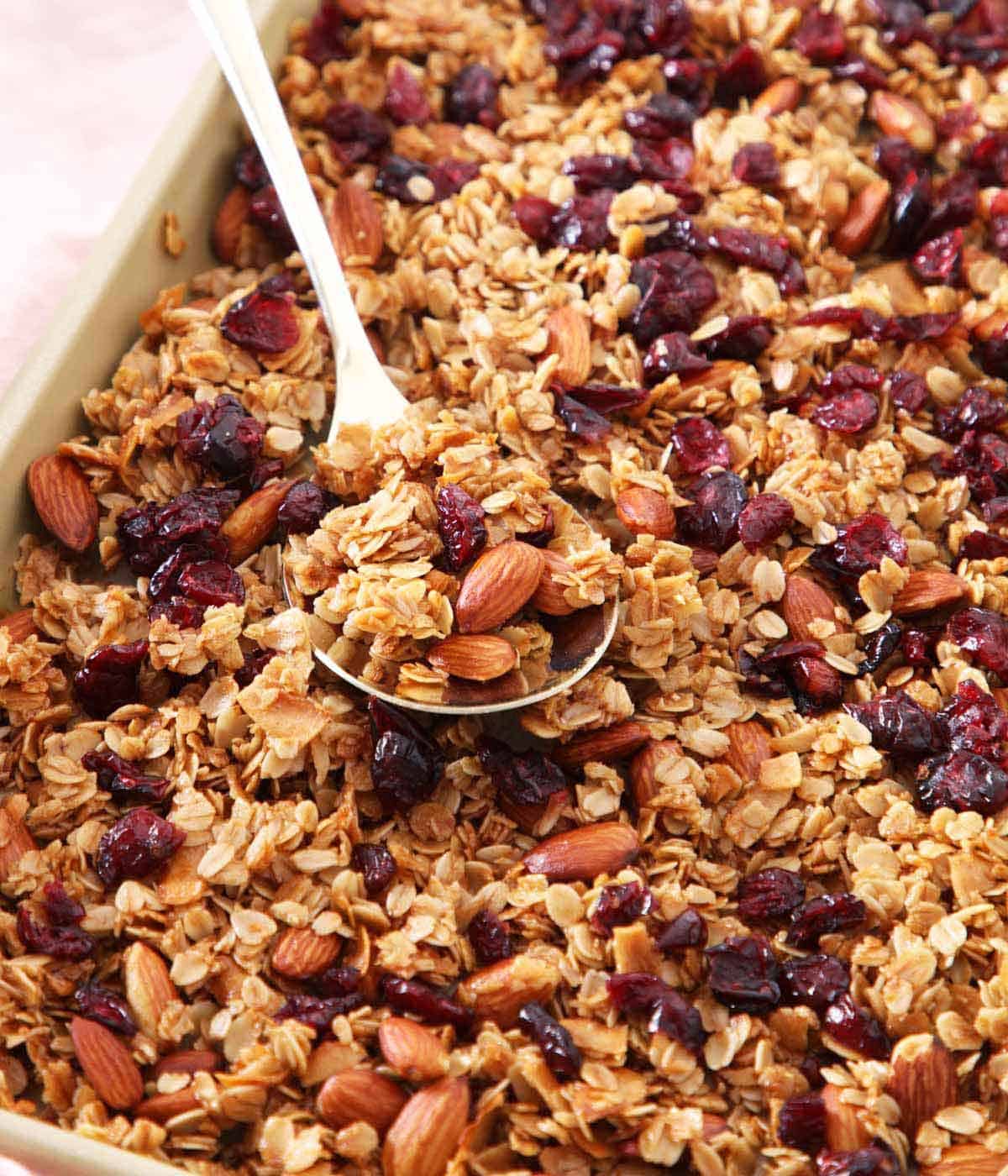 5 star review
"I always love granola. I tried this one and it was perfect. From now on i'll prefer home made granola than buying an instant one. Thanks for the recipe!"
In just a few steps you can have easy homemade granola baked in minutes. It is a soft and crunchy texture with a sweet and savory flavor. "Wow" your tastebuds with this amazing granola!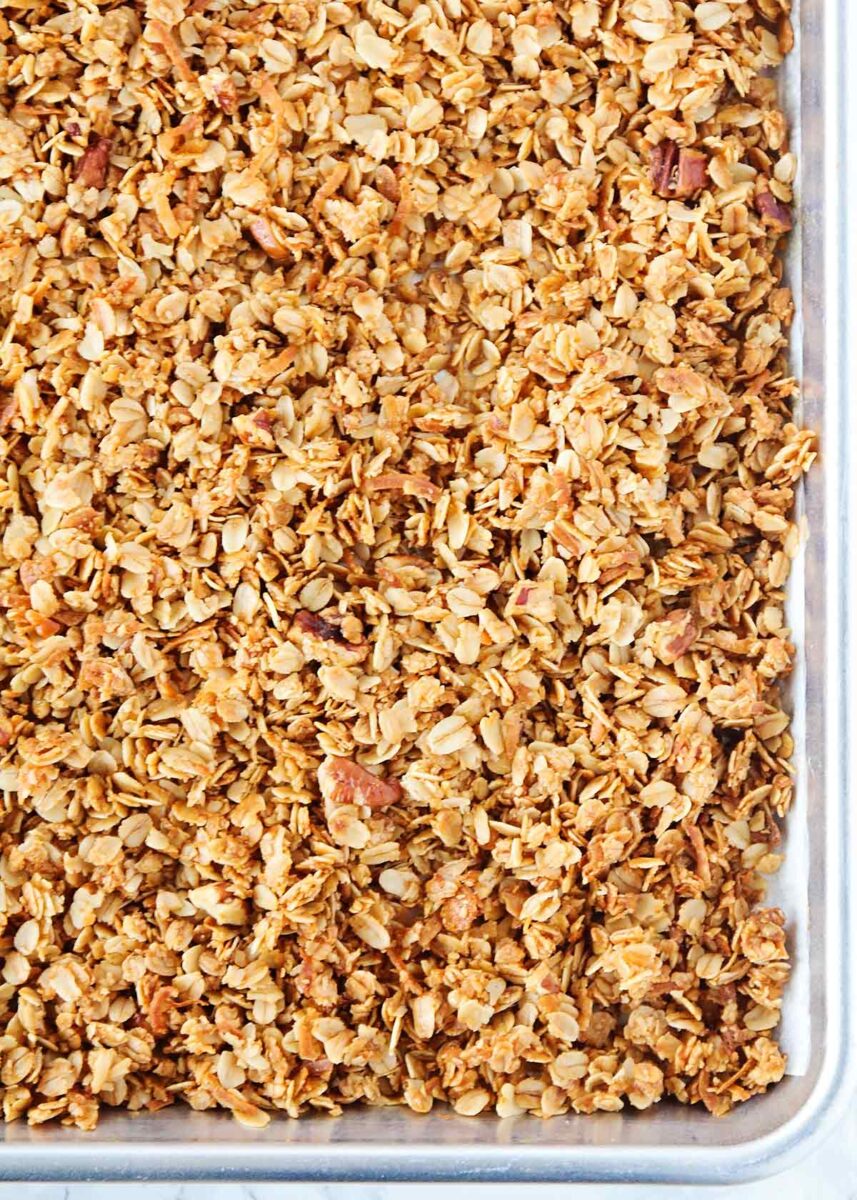 Preheat oven and line pan. Preheat oven to 300°F and use parchment paper or grease a jelly roll pan. Set aside.
Mix ingredients together. In a large bowl, mix all dry ingredients until combined. Spread the granola mixture out evenly onto the jelly roll pan.
Bake granola. Bake the granola for 7 minutes, then remove it from the oven and stir. Place back in the oven and bake for 7-8 more minutes. Remove, stir and let cool.
Optional Add-In's
Create the best granola blend with these extra add-in ideas! Make it even sweeter or healthier with these extra options for the best granola recipe. So many choices and options to use!
Chocolate: Add a little sweeter ingredient with white or chocolate chips. Even peanut butter chips are delicious!
Dried fruit: Apricots, dried cranberries, raisins, or dried cherries give a natural sweetness that is chewy and delicious.
Other nuts: Try almonds, peanuts, or walnuts for classic nuts. If you are more adventurous try it with sunflower seeds, pistachios, or pumpkin seeds.
Small seeds: Chia seeds and flax seeds add a minimum amount of flavor.
Seasoning: Cinnamon or ground ginger, or pumpkin spice gives a savory flavor.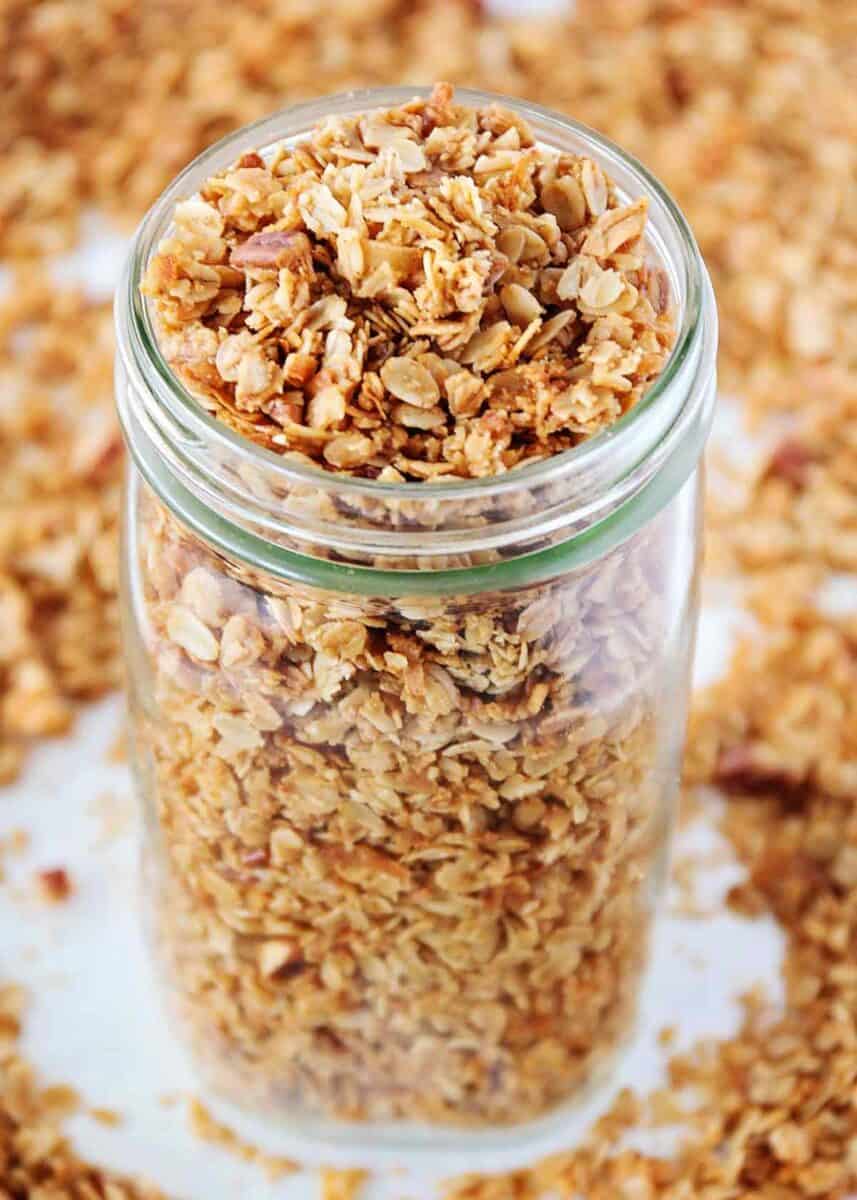 Recipe FAQs
Is eating homemade granola healthy?
It depends on what is added to the granola but more than likely it is a healthy combination. There are natural sweeteners that help and then add-ins that can take away the healthiness but adds sweetness to the homemade granola.
Is it cheaper to make homemade granola?
It may not seem like it when purchasing all the ingredients but yes, it is less expensive to make homemade granola. You can make several batches of granola with one trip to the grocery store and it tastes better too!
Why is my homemade granola not crunchy?
When baking at a high temperature in the oven, the nuts and oats can become overcooked or even burnt before the other ingredients can properly dry out and become crispy in the oven. Cook your granola low and slow in the oven. Stir it occasionally to make sure that it is evenly cooking throughout the baking sheet.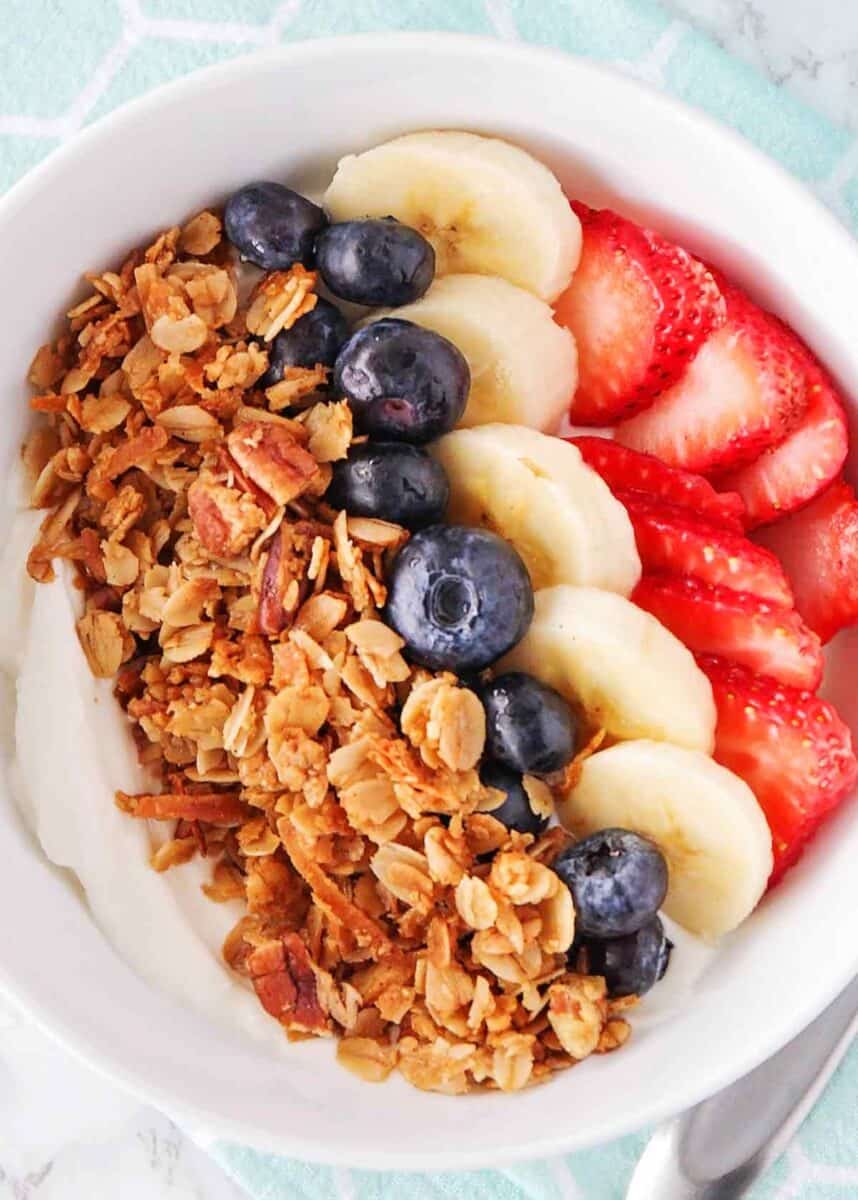 Pro Tips for Making This Recipe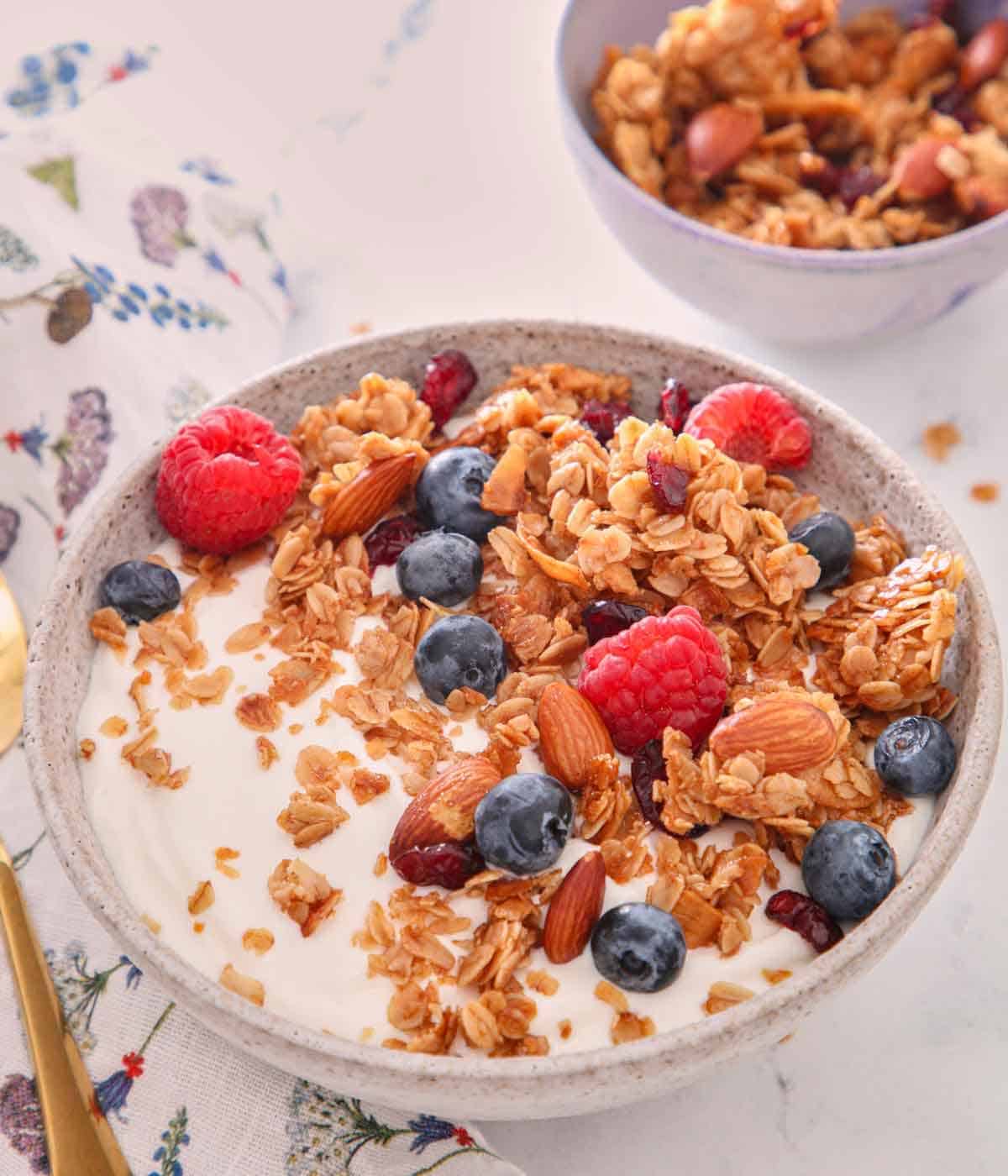 Healthy Easy-to-Make Homemade Granola
Granola is one of my favorite healthy snacks. It tastes amazing on yogurt, smoothies, oatmeal, or even plain. Perfectly crunchy with a delicious sweet taste!
I now make this recipe every month as well and my whole family loves it! It is really easy to make and is great served on greek yogurt with fresh-cut strawberries. It's slightly crunchy, chewy, and sweet.
This granola definitely beats my typical "cereal" breakfast. It also makes a great snack as well. Top with a little ice cream or whipped topping and you've got yourself a nice little treat.
Register
Add granola to an airtight container or bag. I love to store it in a glass mason jar. It will keep for up to 1 month stored in an airtight container at room temperature.
Are you loving easy breakfast recipes to make?! Honey nut cherrieos peanut butter bars, baked oatmeal, or kale smoothie for a delicious snack or morning treat!