Sheet Pan Pancakes – These oven-baked pancakes are fluffy and tender, no griddle needed! Our easy sheet pan breakfast recipe is great to feed a crowd with barely any effort.
aked German Pancake Recipe – This baked German pancake recipe (aka Dutch baby pancake) is made with only 5 ingredients plus a pinch of salt for a delightful breakfast or brunch. The batter is ready in 5 minutes and the German pancake puffs like magic in the oven. Top it with sugar, syrup, or your favorite berries –  you'll want to make it every day! Enjoy!
The absolute best German Pancakes recipe! Only six simple ingredients and five minutes to prepare, this easy breakfast is a sure family favorite!
German Pancakes was one of my favorite breakfasts growing up, and I've loved watching it become one of my kids' favorite breakfasts now. They love how the german pancakes puff up in the pan while they cook in the oven.
Top them with powdered sugar and syrup and they're to die for!
If these are new to you (as they were to my husband, Jeff), make them! Make them NOW! You wont regret it. 🙂
What are German Pancakes?
German pancakes, often called Dutch Baby pancakes are baked pancakes made from eggs, milk, flour and vanilla. The pancakes are baked in a metal or cast iron pan, puff up in the oven and then fall as they cool.
How to make German Pancakes
Add 5 tablespoons of butter to a 9×13 inch baking and place it in your preheating oven to melt.
Meanwhile, add the eggs, milk, flour, salt and vanilla to a blender; cover and blend until smooth. Pour batter into the baking dish, over the melted butter.
3. Bake until the edges are golden brown and puffy, about 22-27 minutes.
4. Serve warm, sprinkle generously with powdered sugar and syrup.
I've found that the pancakes puff up more when baked in a metal pan, but a glass pan also works.
We love to serve German pancakes with homemade pancake syrup and powdered sugar, but many people like them served with fresh squeezed lemon, butter or fruit toppings.
CONSIDER TRYING THESE BREAKFAST FAVORITES
Classic French Toast
Easy Homemade Egg Benedict
Egg and Sausage Breakfast Taquitos
Preheat oven to 425 degrees F.
As oven preheats, put the butter in an un-greased 9×13-in. baking dish and place in oven, just until melted.
Place the eggs, milk, flour, salt and vanilla in a blender; cover and process until smooth. Pour batter into baking dish, over melted butter.
Bake, for 22-27 minutes or until edges are golden brown and puffy.
To serve, sprinkle generously with powdered sugar and syrup.
Did You Make This Recipe?
Have you tried this recipe?!
RATE and COMMENT below! I would love to hear your experience.
Welcome! I'm Lauren, a mom of four and lover of good food. Here you'll find easy recipes and weeknight meal ideas made with real ingredients, with step-by-step photos and videos.
This website may contain affiliate links and advertising so that we can provide recipes to you. Read my privacy policy.
German Pancakes are a hot and puffy golden pancake that only requires 5 minutes of prep! This classic breakfast is always a huge hit at our house!
We love a good classic breakfast at our house. Try this Breakfast Casserole,  these delicious Quick 45 Minute Cinnamon Rolls, or my Grandma's Perfect Fluffy Pancakes for a breakfast the family won't be able to get enough of!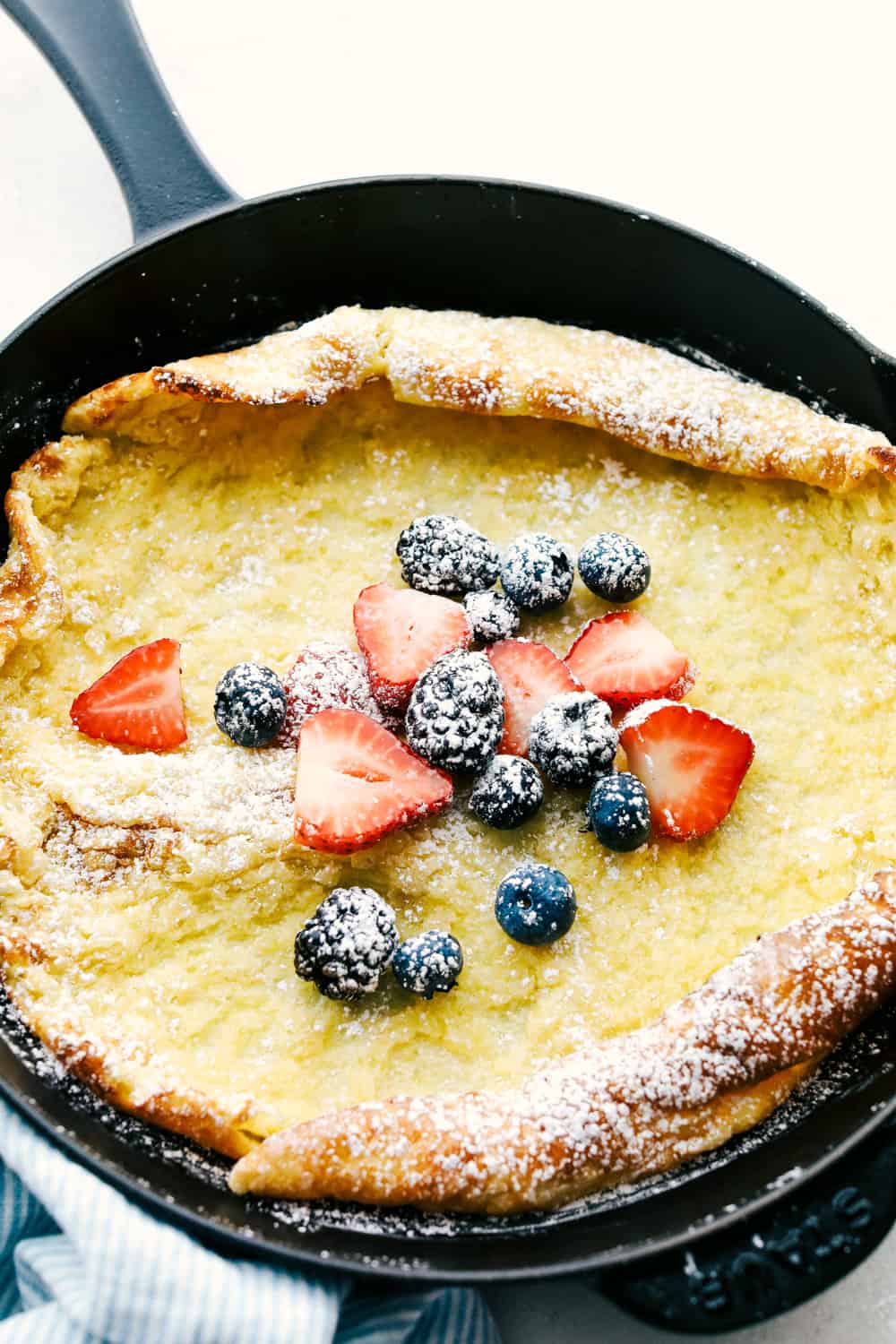 German Pancakes Recipe
Breakfast is always a struggle at our house because mornings are always so busy! I love to surprise the kiddos with a delicious and hot breakfast at least once a week before school. That is why we love German pancakes at our house. They only take 5 minutes of prep with ingredients that you have on hand. This breakfast is totally doable, even for the busiest families!
My kids love to watch things baking in the oven and this recipe is the best to watch! As the german pancakes bake in the oven, they get puffy and golden. Once we take them out, I love sprinkling them with some powdered sugar and topping them with some syrup and berries. But the best part about pancakes is that you can make them however you like!
Are German Pancakes really from Germany?
German Pancakes or Dutch Baby Pancakes are not German Pancakes the way they are prepared in Germany. The American "German Pancakes" are more like a popover, either entirely baked in the oven or started in a pan and finished in the oven.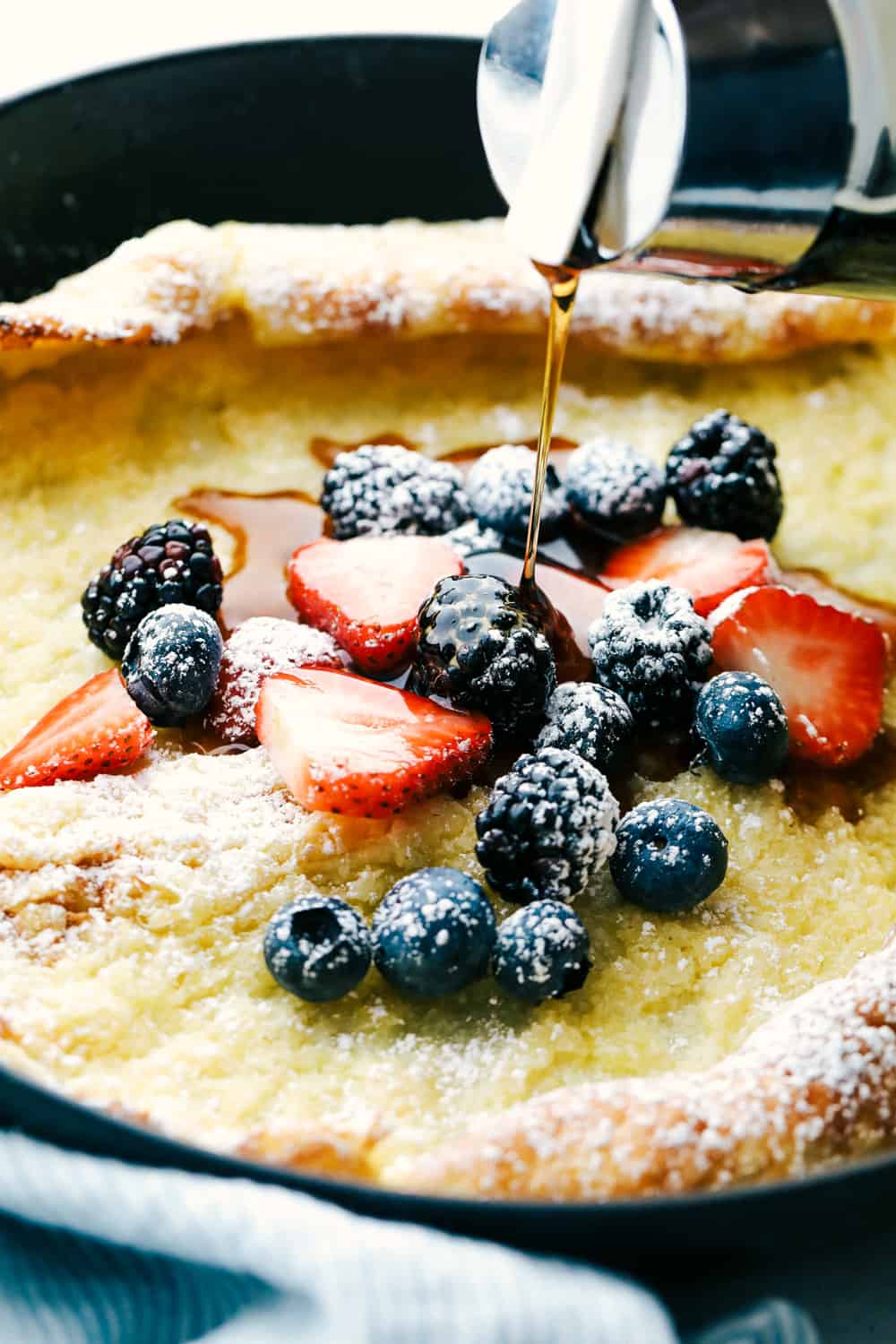 German Puff Pancakes Ingredients
If you haven't tried this classic breakfast, you need to make it. We absolutely love it at our house, and it is so fun and easy to make! It is sure to be a huge hit with family or guests!
Flour: All-purpose flour is best for it to thicken.
Eggs: This helps with the form and taste of the pancake.
Milk: This helps make the batter creamy and smooth.
Butter: Melt the butter before adding it to the batter.
Sugar: The sugar sweetens the pancakes up!
Salt: Just a pinch will help it rise.
How to Make German Pancakes from Scratch?
Make this German pancake recipe even easier by adding the batter to a blender for about 30 seconds. Start with blending the wet ingredients together first and then add the dry ingredients until they are smooth. Once the lumps are out, place the batter in the cast iron skillet.
Whisk Together: Preheat oven to 450 degrees. In a medium-sized bowl, whisk the eggs, milk, melted butter, salt, and sugar. Add the flour and stir until incorporated, being careful not to overmix.
Bake in a Skillet: Add one tablespoon of melted butter to the bottom of a 9 or 11-inch cast iron skillet. Pour the batter into a skillet and bake for 12-18 minutes or just until the edges start to brown. Top with desired toppings.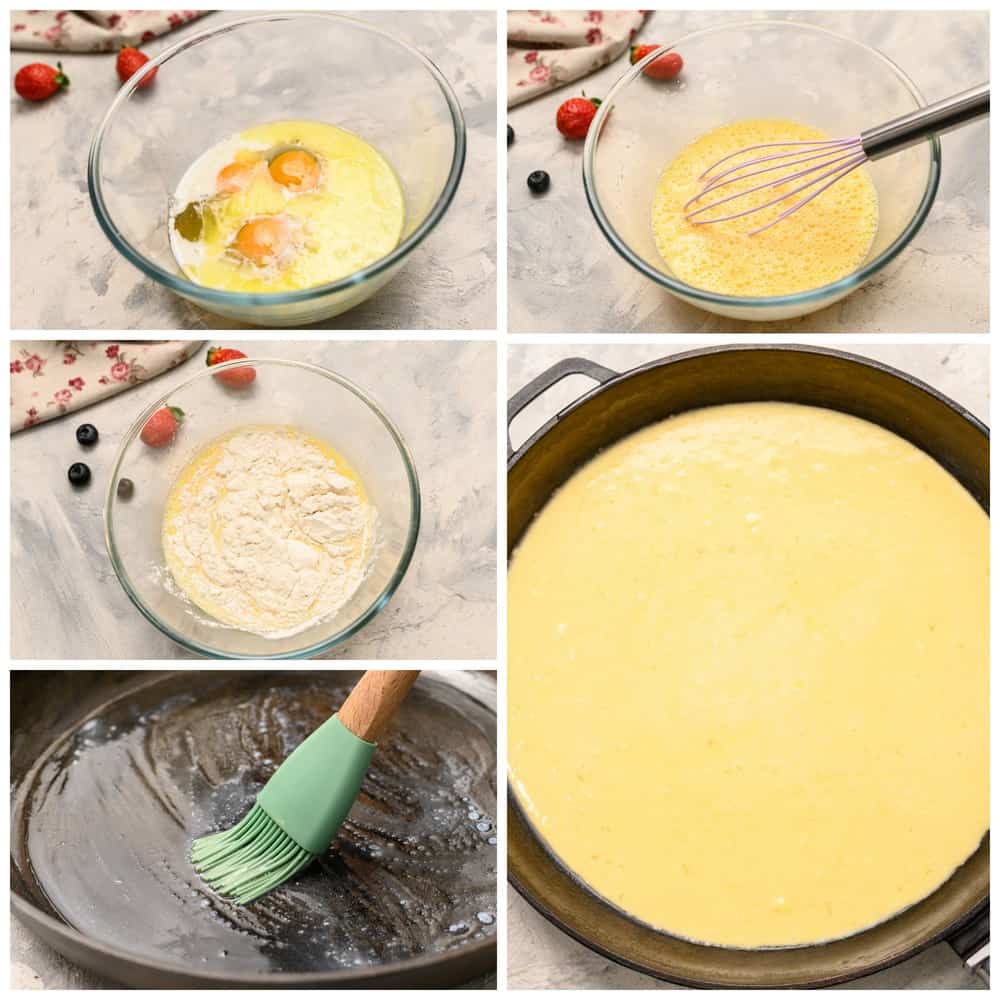 Tips and Tricks
The best thing about baking German pancakes is watching them rise up and over the pan while baking in the oven. Getting that nice fluffy texture and high rise takes a few tips and tricks to make the perfect German pancakes.
Eggs: Fresh eggs are best! Taking the time to whisk each egg individually will also help fluff up the pancake. This does take extra time but can be so worth it!
Flour: For best results, use all-purpose flour to help with the rise and thickness of each pancake.
Preheating the pan: Before adding the batter to the pan, it helps to melt butter ahead of time to help the pancake rise. The butter will help as a non-stick agent, which creates a taller rise and also keeps the pancake from sticking to the pan.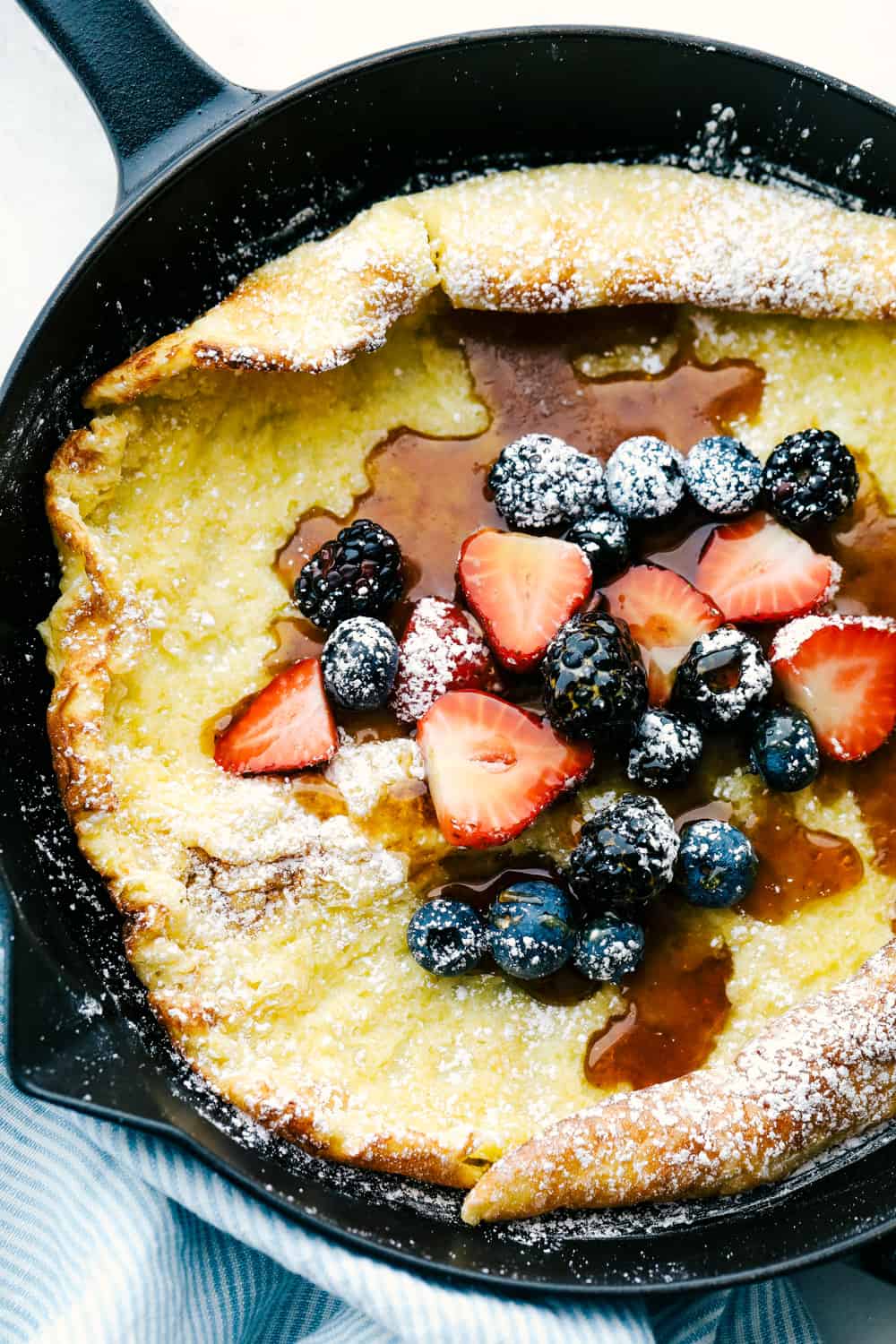 Optional Toppings to Try
Traditionally adding syrup or sprinkling powdered sugar are always popular choices. Once the German pancake is baked and ready to serve, add your favorite toppings and create a delicious breakfast everyone will love.
Syrup: Buttermilk syrup or any berry syrup.
Jam: Strawberry jam is my favorite!
Fresh Berries: Raspberries, strawberries, and blueberries go together so well and balance out the sweet flavor of German pancakes.
Powdered Sugar: Sprinkle some powdered sugar over the top!
Chocolate Chips: Add the chocolate chips right on top of the pancake while it is warm.
Cinnamon Sugar: A little more sweetness!
Nutella: This adds a delicious, chocolatey taste!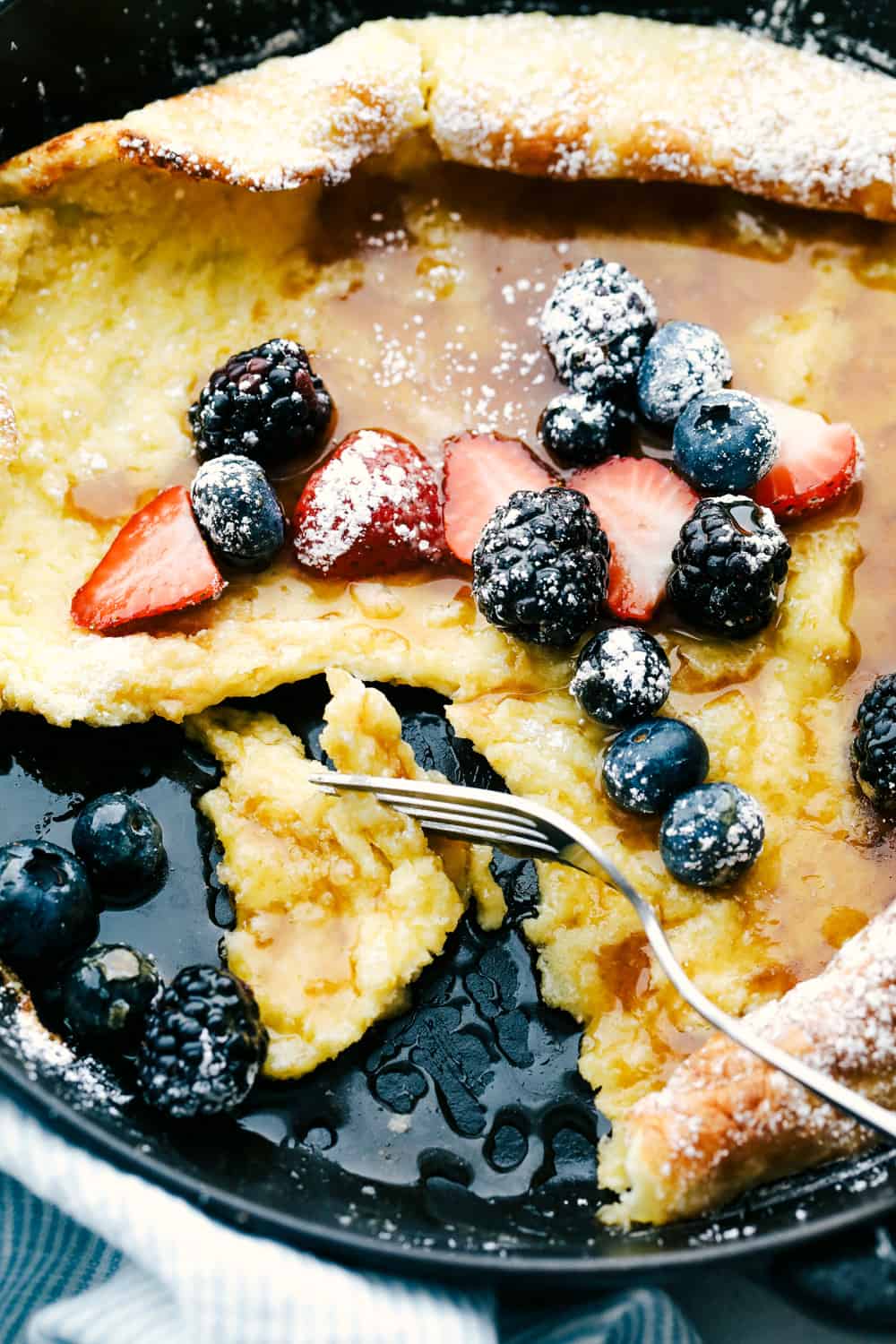 All nutritional information is based on third party calculations and is only an estimate. Each recipe and nutritional value will vary depending on the brands you use, measuring methods and portion sizes per household.
german oven pancake, german pancakes
Alyssa Rivers
German pancakes in the oven are the best breakfast ever. Sweet topped with fresh fruit and syrup or powdered sugar feeds a crowd cheap. If our air fryer pancakes are too small, make these in a 9×13 pan.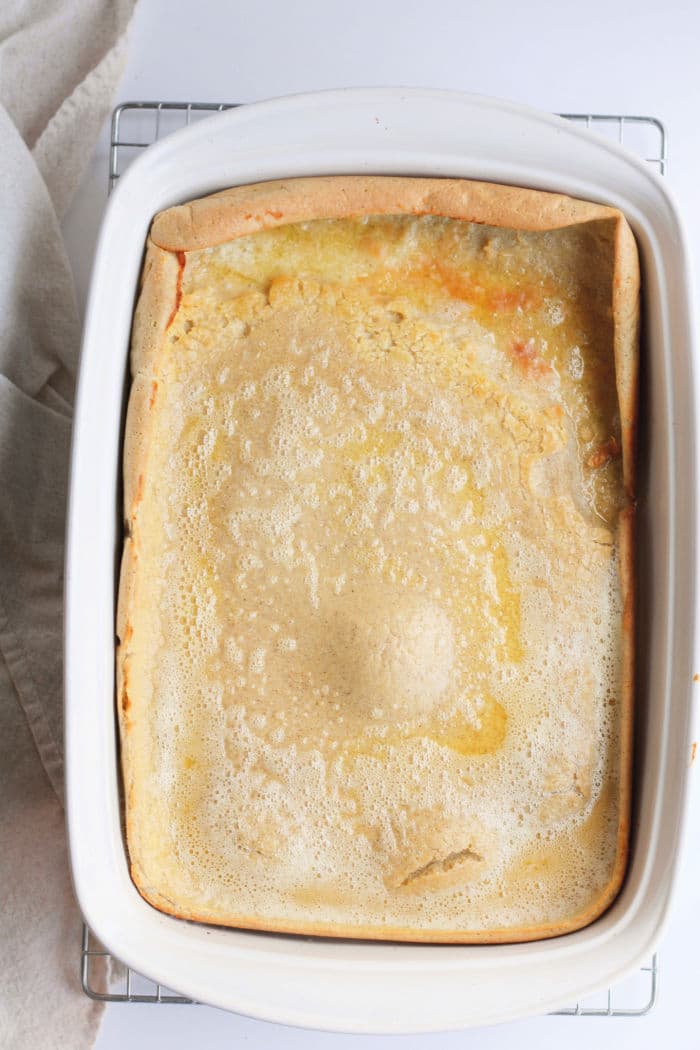 So you don't want to stand at the stove while everyone enjoys one another at your next brunch? We have the answer, pancakes in the oven it is. Just mix up the batter, pour it right in, bake and slice so everyone gets a piece. Get ready for an easy German pancakes recipe y'all. (affiliate links present)
Ok so it's the holidays and you are cooking for a crowd. You want to make an easy Christmas breakfast where you're not standing at the stovetop while others get to chat. You can totally make these blender pancakes super quick and bake in no time.
If you needed to double it go ahead and use two pans at the same time. OR make one at a time but make the batter once and keep in the blender until you're ready for pouring. Unlike making homemade waffles one at a time each batch will serve about 4 if each person gets 2 at a time. Top with lots of fruit and they're nice and filling.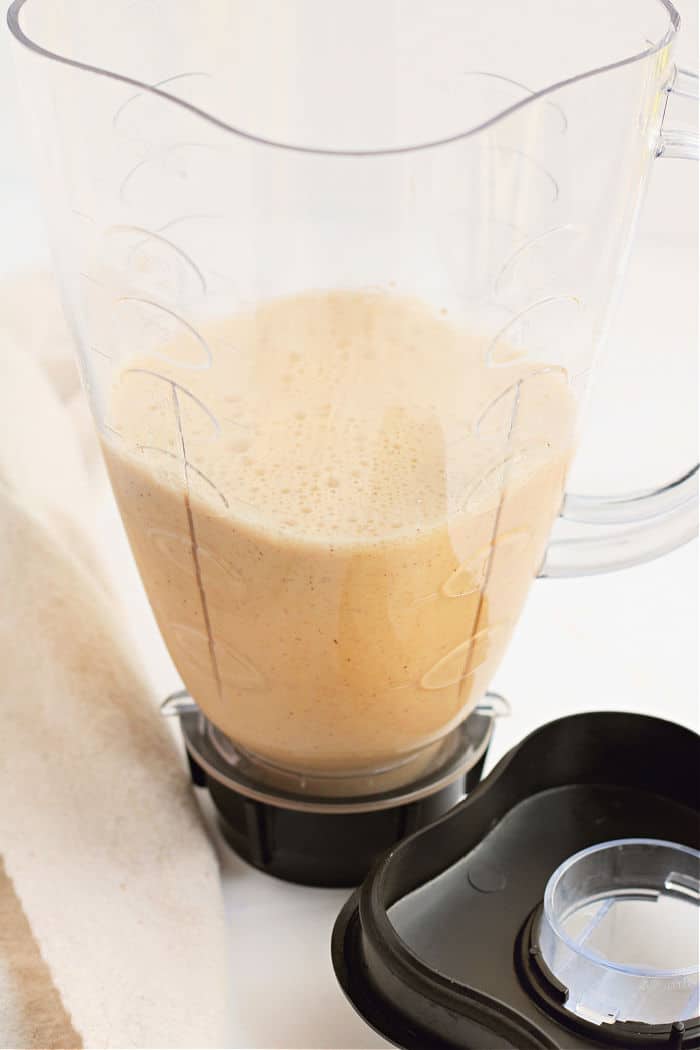 How to Bake a Pancake in the Oven
We're going to use a casserole dish for this. You want high sides to keep the liquid inside. It will rise just a bit but not a ton. It kinda' lifts real high and then at the end it deflates. If you've ever had German pancakes in the oven before you know what I mean with that explanation.
Something like Bisquick pumpkin pancakes won't rise quite as high if you made those instead.
Pancake Sheet Pan
You could use a sheet pan so long as it had really high sides like this one. A nice and easy way to slice these would be to use a pizza cutter!! Yeah, just slide it across and over again for about 8 pieces per pan full. 2 each is about right for us, if you have teenage boys they may want more than that. lol
The butter goes in first and then your mixture. You don't really need non stick spray because of this, it will slide right out at the end. If you use a boxed mix you would omit this and I'd recommend a spray of vegetable oil just so it doesn't stick. Casserole dishes tend to have a nice slick coating though so that depends on your pan of choice.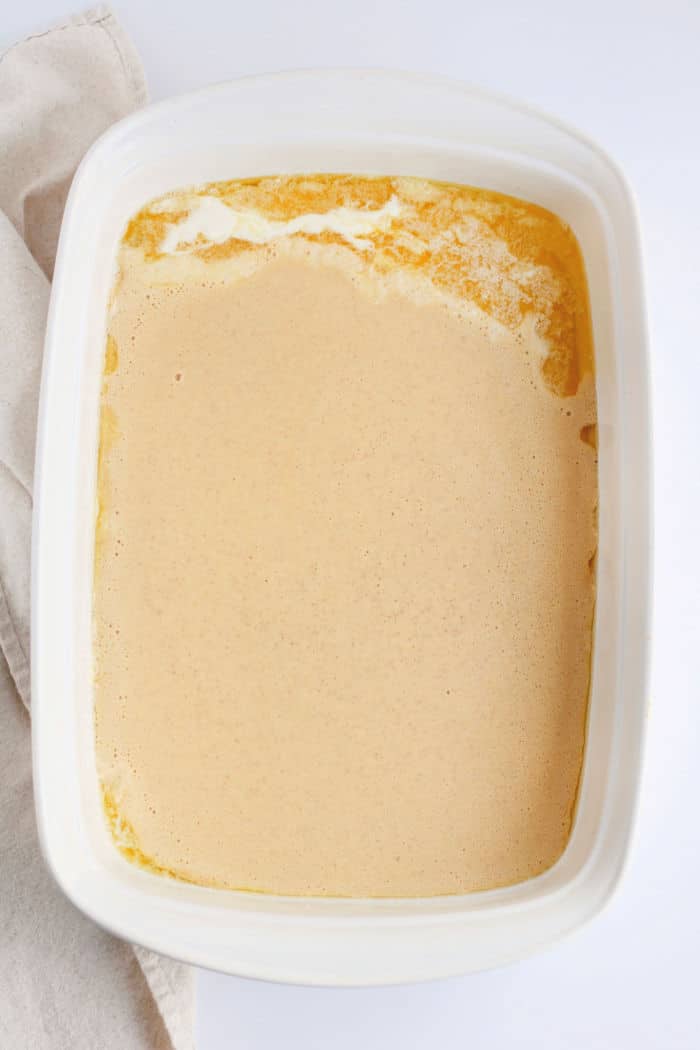 German Pancakes in the Oven
This is how to make homemade German pancakes. I mean you could just use pancake mix and use that but believe me, this combo is so much better and sweeter. You can pair it with our Bisquick muffins if you want more options in the morning too. Here's what you need to make this homemade version;
Melted butter
6 eggs
Milk, whole or 2% is best
1 c all purpose flour
make sure you measure flour properly so they don't become too denseI haven't tried with wheat flour, that wouldn't really make fluffy pancakes like we want
make sure you measure flour properly so they don't become too dense
I haven't tried with wheat flour, that wouldn't really make fluffy pancakes like we want
White sugar
Just a bit of salt
A pinch of cinnamon is great for this
And some vanilla extract
Just throw your wet and dry ingredients in a blender for best results, that will make it nice and smooth in like a minute. Then melt butter, pour the batter into the baking dish and you're ready. One of our all time favorite breakfasts made with bacon in the oven with aluminum foil on another shelf.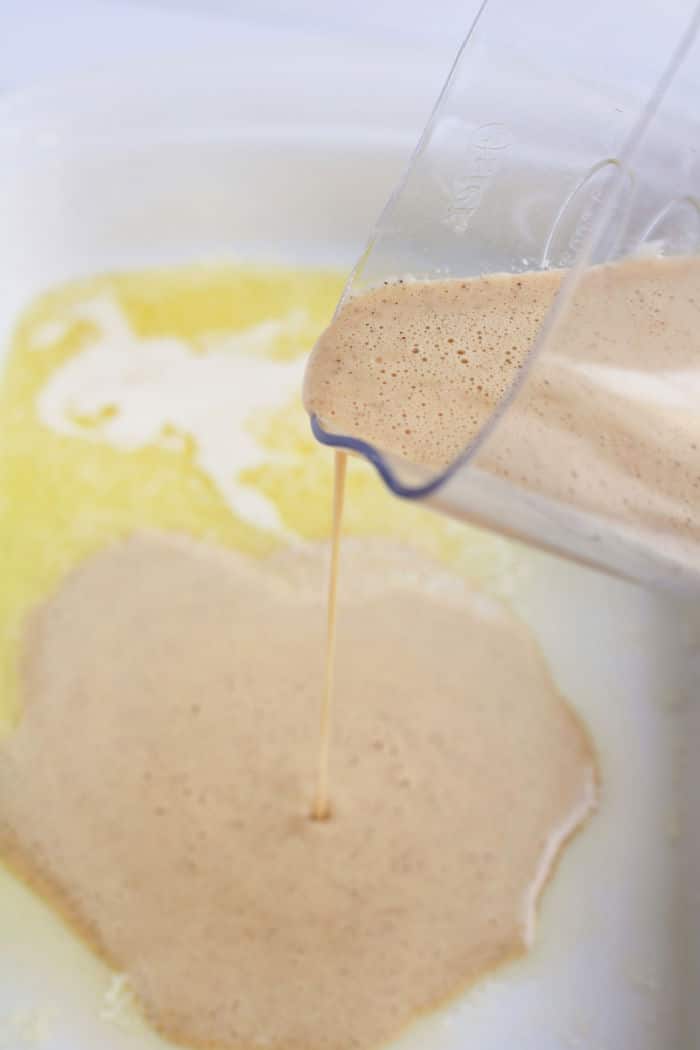 How long do you keep pancakes in the oven?
Bake time is about 20 minutes or so. If you want to double the pancake batter you may need to increase the timing. I would suggest that you split into 2 pans instead of making a much larger one at once.
Baked Pancakes
Instructions are for the oven. If using a cast iron skillet you'd need to divvy it up into 2 or 3 batches, depending on the size of your pan to make a sort of batch of dutch baby pancakes on the stovetop. Here's a quick rundown of how to make these at home;
Always preheat the oven to 425 degrees F. at the beginning.
Cut the butter into pats and put them in an ungreased 9×13 pan.If you wanted to double I'd use the same pan as in our 1/2 sheet cake Put into the oven while it is preheating. Remove pan when the butter is melted.
Cut the butter into pats and put them in an ungreased 9×13 pan.
If you wanted to double I'd use the same pan as in our 1/2 sheet cake
Put into the oven while it is preheating.
Remove pan when the butter is melted.
Crack the eggs, add the milk, your all purpose flour, white sugar, salt, cinnamon, and vanilla into a blender for 15 seconds until fully mixed.
Pour this into the prepared baking dish over the butter.
Pour this into the prepared baking dish over the butter.
Bake for 20-25 minutes until the edges are golden brown and puffed up.
Use a knife of pizza cutter to slice into 8 equal pieces and serve with toppings like; whipped cream, melted peanut butter, chocolate chips, fruit, Whataburger honey butter, or maple syrup like traditional pancakes.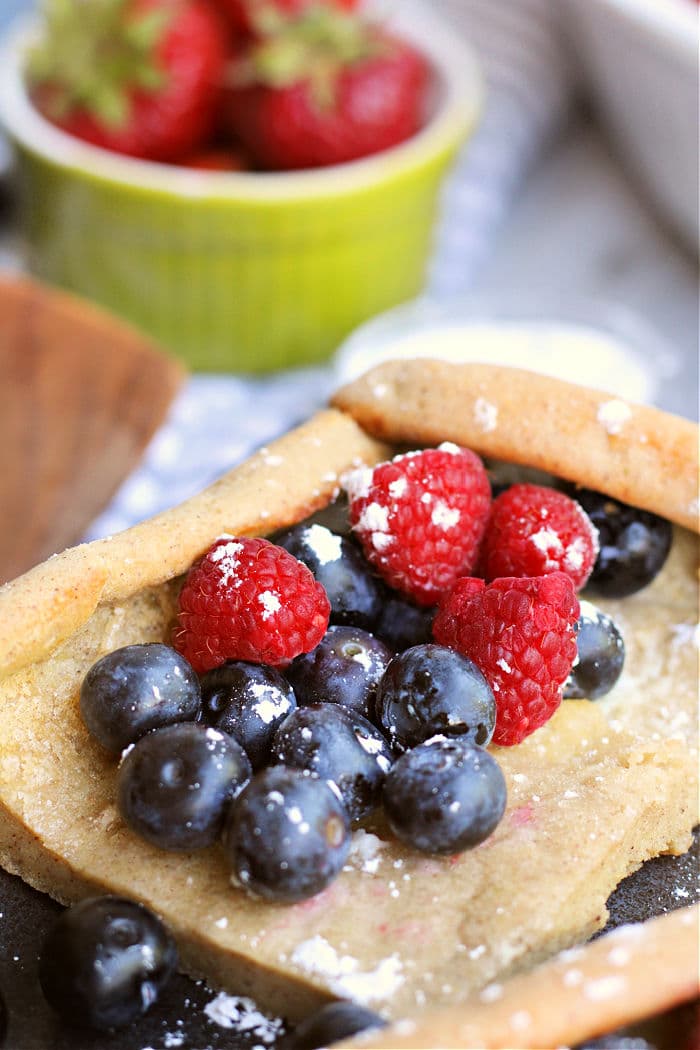 What temperature do you cook pancakes at?
If you make our homemade version below, 425 works best for them to really poof up. Same goes for making toast in the oven. Using boxed mixes on a griddle or in the oven the best recommended heat level is 375 F.
Can you put pancake mix in the oven?
Let's say you wanted to use just a box that is already mixed up and you just add the ingredients necessary on the back, that is fine too. I would instead eliminate the butter and just spray with non stick spray. If you love pancakes but don't want to stand at a griddle all morning, try this.
Mix pancake batter as directed on the back of the box.
Preheat oven to 375 degrees F
Pour batter into a prepared 9×13″ pan
If you are in need of a gluten free easy breakfast this works well because you can fix mixes with alternatives to flour. Then provide a bowl full of fresh fruits that everyone can enjoy to fill those tummies.
This yellow box is the usual choice for most though. Want to add a bit of added flavor into the mix? Squeeze in some fresh lemon juice too.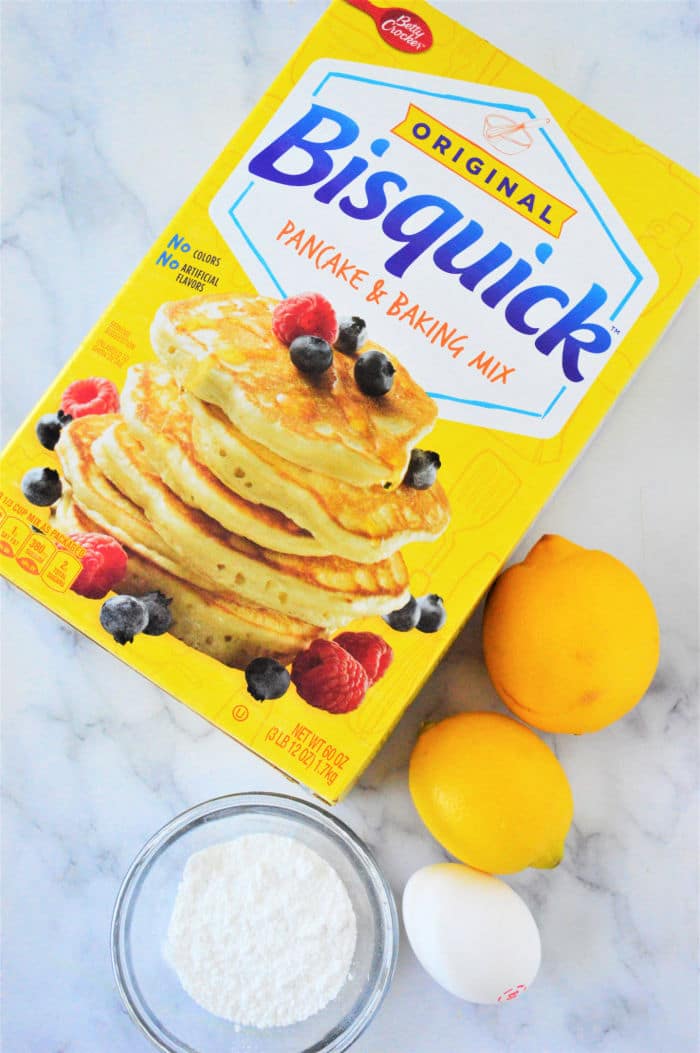 How to save leftover pancakes
Ok so you hate to waste food but you made too much. Well you can save them but of course they are better fresh. In order to prevent them getting wet in the fridge you should put a piece of paper towel in between each piece, inside that baggie. To warm in the microwave just heat for 30 seconds or so.
Something else we have done is to keep them in a bag on your countertop until dessert time comes. Instead of angel food cake you can use these instead. That is right, load up the strawberries and whipped cream on top with a bit of glaze to sweeten it up more. It's a great recipe to enjoy as a sort of strawberry shortcake treat.
How to use leftover pancakes
I've got it (because I hate wasting food). You can make a few air fryer sausage links and roll them inside one of your cakes. Dip in some syrup and you've got breakfast for dinner. BAM! I love a two for one y'all.
Can you make pancakes in microwave?
You can!! If you just want enough for one person you can give our pancake in a mug a whirl. I mean so fun right?? Not enough for a really hungry boy but for me when I want something late at night or just quick in the morning it works.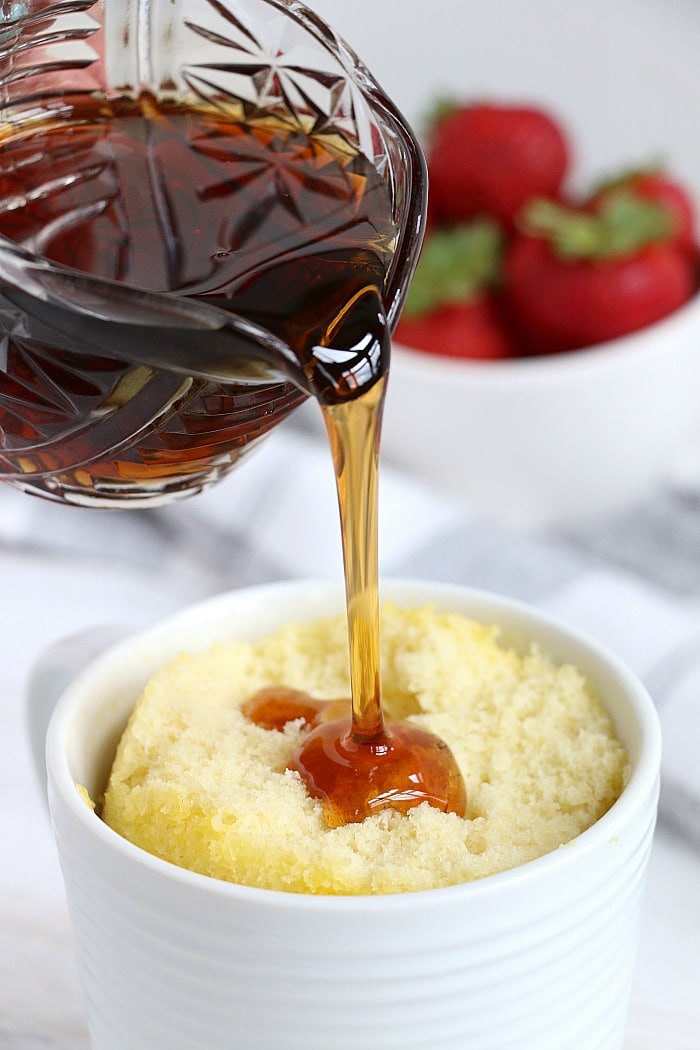 Pancakes in a microwave
Y'all this is just too fun. If you want more than just that little mug full it is possible to make one that looks like it was made on the stovetop. Just plop a large dollop of prepared mix on a plate and then, you just;
Make this batter or boxed variety
Use a side dish microwave safe plate sprayed with non stick spray
Spoon a heaping Tbsp in the middle of it
Put into microwave
Cook on high heat for 1 minute until cooked in the center
If not done after 60 seconds, close again and add another 10 seconds at a time until done
Top with goodies and enjoy
I think we've discussed all of the out of the box thoughts when it comes to this fun morning dish, oh wait there is one more. Have one of those popular 7 in 1 appliances you can cook all the things in? We have a few and Instant Pot pancakes have been a thing around here.
For those we used the more protein packed Kodiak cakes that is thicker and seemed to work better in the egg mold that was necessary.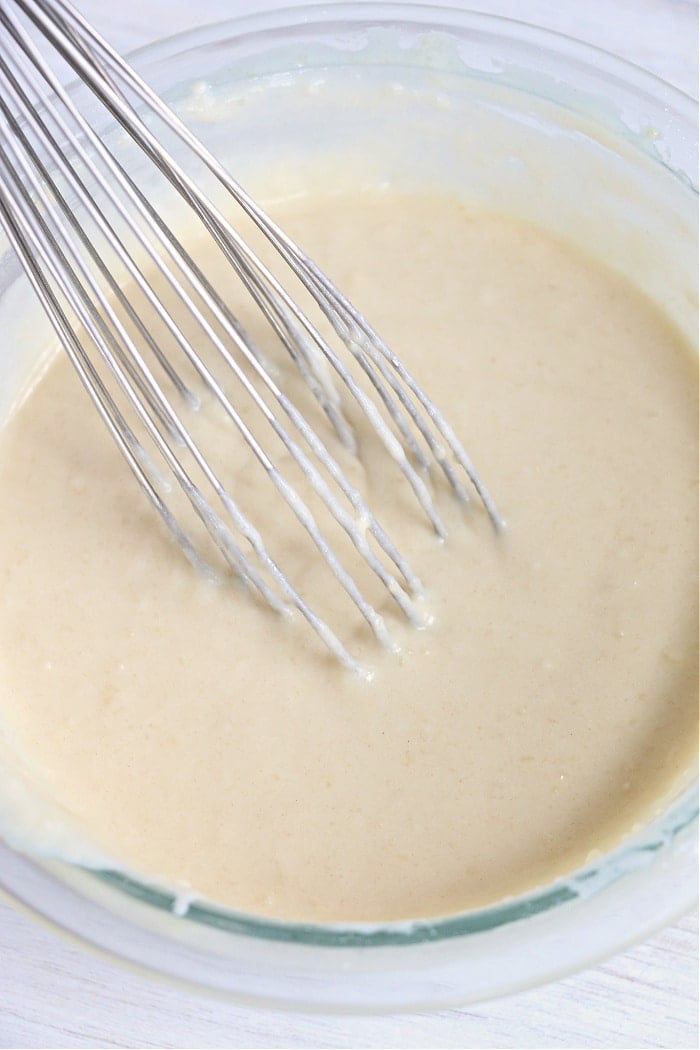 Next to our cinnamon roll breakfast casserole this is our fave. I mean one is usually more appropriate than the other depending on how many people you're feeding right? That is why I like to have all the instructions in my back pocket. I do love easy peasy though. I mean I am a foodie but don't always like to remove myself from the fun in order to cook, it's true.
For your next get together I suggest making pancakes in oven so you too can please everyone but be part of the activities at the same time. You can have both and host all the holidays at the same time. If you live somewhere that is hot all the time (clears throat, Arizona) you may prefer the other methods that don't heat up your house.
baked, german pancakes, pancakes, sheet pan
Preheat the oven to 425 degrees F. Cut the butter into pats and put them in an ungreased 9×13 pan. Place the pan in the oven while it is preheating. Remove when the butter is melted.
Place the eggs, milk, all purpose flour, sugar, salt, cinnamon, and vanilla in a blender for 15 seconds until fully mixed. Pour into the prepared baking dish over the melted butter.
Bake for 20-25 minutes until the edges are golden brown and puffy. Slice into squares and serve immediately.
Amount Per Serving (1 oz)
% Daily Value*
Saturated Fat 8g
Trans Fat 1g
Polyunsaturated Fat 1g
Monounsaturated Fat 4g
Vitamin A 596IU
Vitamin C 1mg
* Percent Daily Values are based on a 2000 calorie diet.
This post may contain affiliate links. Please read our disclosure policy.
Start your morning with the Sheet Pan Pancakes for an easy-to-make breakfast with so many add-in possibilities! There's something for everyone to enjoy, even the picky eaters, when you can split the batter into different flavors. Whether you love fresh berries or sweet additions like chocolate chips, this pancake recipe is quick to prepare and bakes in the oven in no time! Your hands are free to get your morning going instead of standing over the stove flipping pancakes.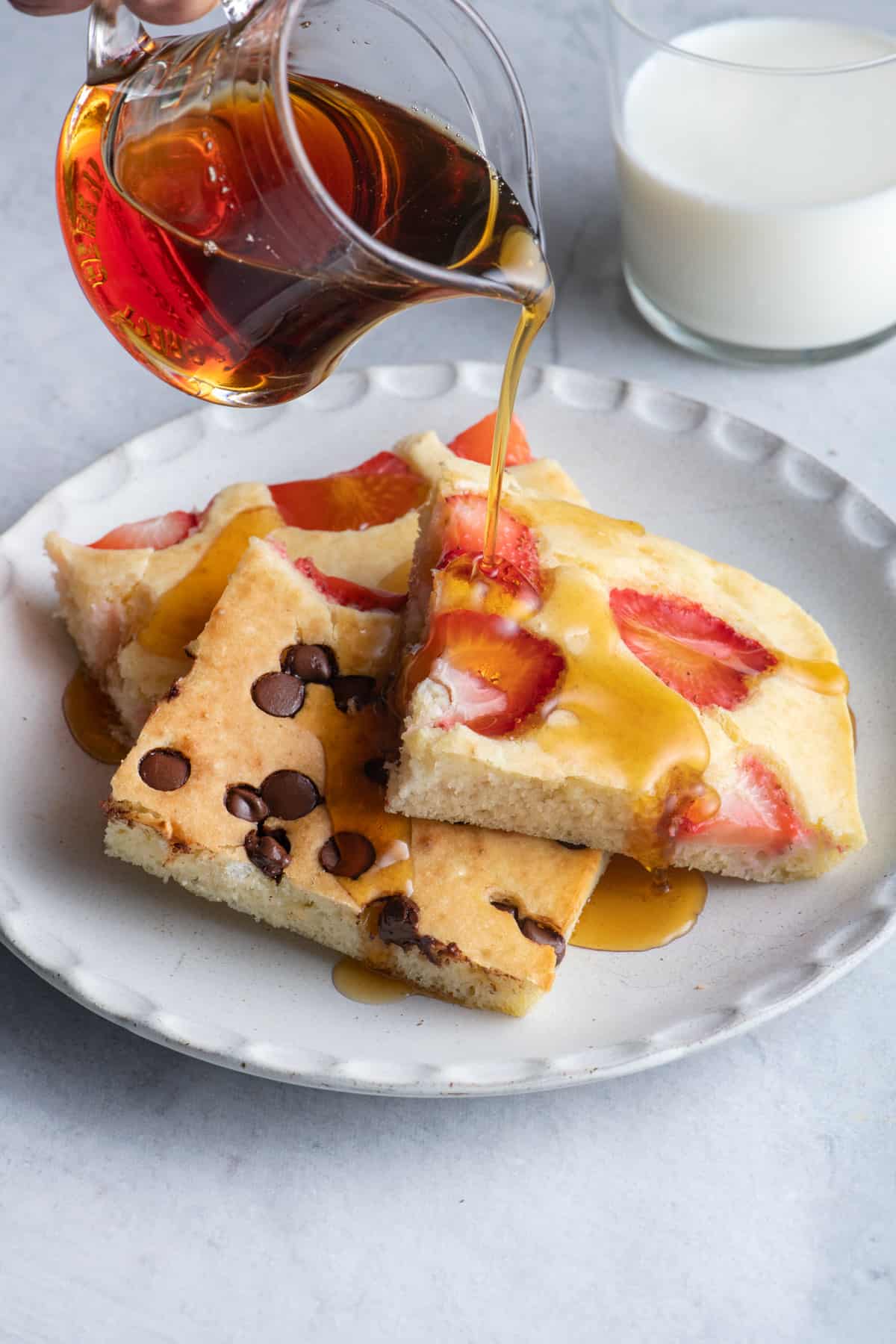 Sheet pan pancakes are perfect for a quick family breakfast and feeding a crowd if you're planning a special occasion get-together. These baked pancakes are ideal for serving many people without all the extra work. Standing over a frying pan and flipping just a few pancakes at a time can be daunting, so this recipe is precisely what you need to make a bunch of pancakes that bake up in about 15 minutes.
What are Sheet Pan Pancakes?
Sheet pan pancakes are a quick and easy pancake recipe made for baking. The difference between making traditional pancakes in a skillet and these sheet pan pancakes is simply baking the batter in a thin layer on a baking sheet. You'll have perfectly fluffy pancakes customized with whatever toppings you're craving baked right into the batter. Pancakes in the oven make cooking a family breakfast that much easier, and the kids will love all the possibilities of creating their favorite pancake flavor combo.
Why you'll love this Sheet Pan Pancakes Recipe
All the possibilities for add-ins. Once you add the batter to the sheet pan, you can sprinkle in your favorite fresh fruit, chocolate chips, shredded coconut, granola, or whatever you're craving!
A winner for kid's breakfast ideas! If you have a picky eater, this is an excellent option for breakfast. It allows them to see and feel what they're eating and choose what they want to add. Plus, for kids who love getting involved in the kitchen, you'll offer a simple and fun breakfast they can help make.
No fuss pancake recipe. All the ingredients are mixed in one bowl for a quick and easy pancake batter. Once you pour it into the sheet pan and added toppings, it's hands off from there! Place in the oven to bake into a soft and tender pancake and cut into squares for everyone to dive in and enjoy their favorite pancakes.
Ingredients to make Easy Sheet Pan Pancakes
There are just 8 simple and standard ingredients to make pancakes in the oven, and you likely already have most of these in the pantry or fridge.
Dry ingredients: flour, sugar, baking powder, and salt.
Wet ingredients: milk, eggs, melted butter, and vanilla extract.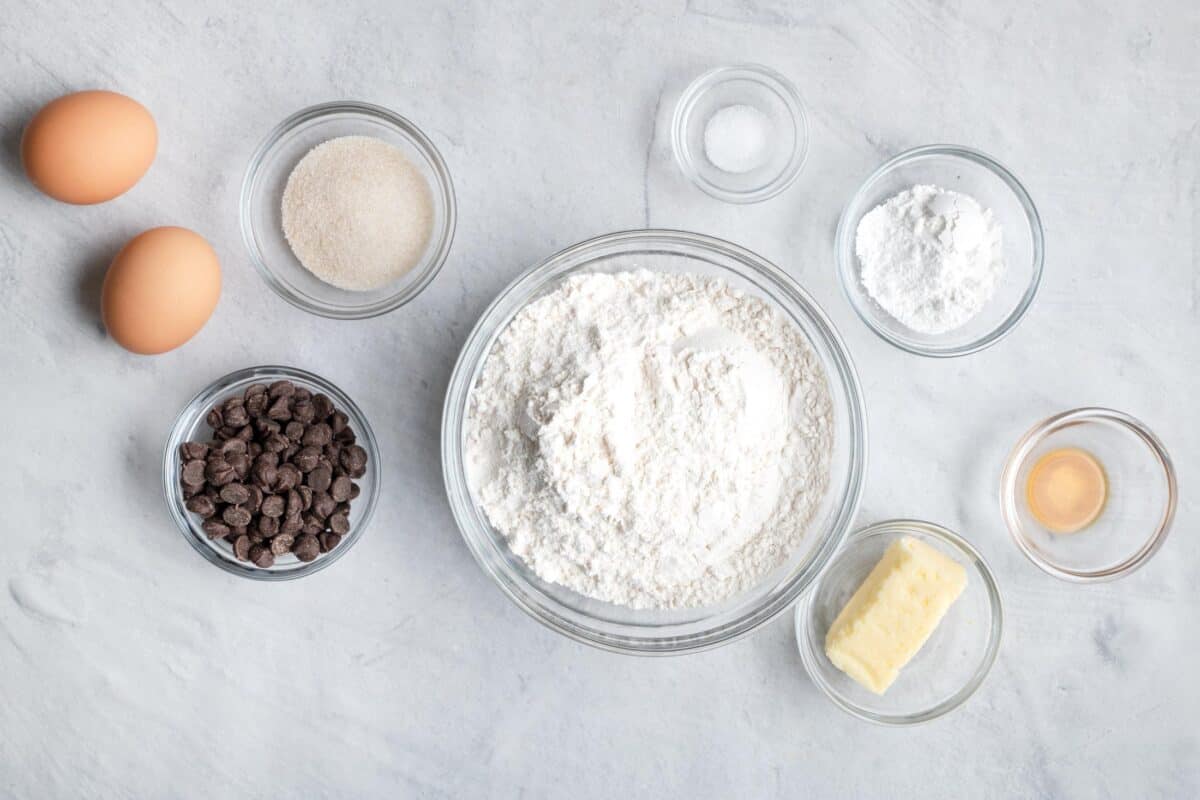 How to make Sheet Pan Pancakes
Preheat the oven and grab a bowl, whisk, and sheet pan to make this easy pancake recipe with your favorite add-ins.
Mix Batter
Whisk together dry ingredients in a bowl.
Make a well in the flour mix and add in wet ingredients.
Whisk the wet and dry together until fully combined.
A few lumps are okay, and the batter is ready for the sheet pan.
Bake Pancakes in Sheet Pan
Pour the pancake batter onto the prepared pan, spreading evenly. To each corner, sprinkle the chocolate chips, blueberries, strawberries, and bananas.
Bake until lightly golden and cooked through. Cut and serve immediately.
Tips for making Pancakes on a Sheet Pan
Use parchment paper for good safety. If you have a good sheet pan and grease it well, this should not be necessary because no pancakes will stick to the pan. However, the parchment paper will help if your pans are older or foods tend to stick to them.
Try to avoid frozen fruits as toppings. While you can use any toppings you'd like, the idea of sectioning the sheet pan pancakes might get lost if the frozen fruit juices start to bleed into other non fruit sections.
Make sure to spread evenly. Use the back of a spatula or lightly tap the sheet pan on the counter before popping it in the oven to remove any air bubbles and ensure even baking.
Use the right size baking sheet. While testing this recipe, the result is to give you the same favorite fluffy pancake as if cooking in a pan, so the size of the baking sheet matters. If too small, the batter may overflow and not cook thoroughly. If too large, you'll have a thin pancake that may overcook. So for the best fluffiest sheet pan pancakes, I recommend using a 13 by 18-inch rimmed baking pan.
Don't overmix. When whisking together the wet and dry ingredients, you want to combine them until it starts to come together, but you can still see small pea size lumps. If you continue to mix it past this part, gluten develops, resulting in a tough, chewy pancake instead of the ideal tender and fluffy pancake.
Popular Pancake substitutions & additions
Making sheet cake pancakes is so much fun, and you can really get creative with all the flavor possibilities. Switch out or add a few more ingredients for a delicious bite. Mixing in the add-ins to the batter incorporates them into the pancake for a burst of flavor in every slice!
Make a cinnamon swirl sheet pan pancake. Combine cinnamon, brown sugar, and melted butter. Add dollops of the mix to a section of the sheet pan pancake batter and use a knife or toothpick to swirl the cinnamon into the batter. You can then add bananas, top with baked apple slices, or leave it as is.
Try chocolate pancake batter. Stir in cocoa powder with the dry ingredients and mix as instructed. You'll have a rich, thick pancake batter to add toppings. Chocolate chip chocolate pancakes or walnut chocolate pancakes would be really delicious and yummy. Even strawberries, raspberries, or bananas would pair well with cocoa pancakes.
Add nuts. Sprinkle walnuts, pecans, almonds, or your favorite nutty addition into the batter before baking. Use a spatula or spoon to gently push them down or stir them in before pouring the batter into the sheet pan to fully incorporate them.
Switch up the chips. Our family loves chocolate chips, especially in pancakes, but you can also use white chocolate chips or another flavored baking chip.
What to serve with your sheet pancakes
Baked sheet pan pancakes are best when freshly made. If saving leftovers, let them cool and transfer to an airtight container or wrap them tightly. To reheat, place them on a sheet pan, cover them with foil, and reheat in a 350°F oven. Start checking after five minutes. Or put in the microwave with a damp paper towel or microwave-safe cover on top, and heat at 30-second intervals until hot.
How long will Baked Pancakes last in the fridge?
Sheet pan pancakes with add-ins such as fresh fruit will last in the fridge for up to 2-3 days when tightly wrapped in plastic wrap or stored in refrigerator bags.
Can I freeze Cooked Pancakes with Fruit added?
Yes, slice into squares and freeze for up to 3 months. When you're ready to serve the frozen pancakes, let them thaw in the fridge. Then place the pancakes on a baking sheet and cover them with foil to reheat.
Frequently asked questions
What is the trick to making sheet pan pancakes fluffy?
Use room-temperature ingredients for fluffier pancakes. This will keep your butter get nice and melty to incorporate into the batter. Using baking powder and not over-mixing the pancake batter are also key to getting tall, tender, fluffy pancakes.
How long does it take to bake pancakes?
Cook sheet pan pancakes in the oven at 425°F for 15-17 minutes. Use the toothpick method to check for doneness for around 15 minutes. If it comes out clean, they are ready to be removed from the oven.
Can I make these pancakes dairy-free?
Absolutely! Switch out the dairy ingredients for plant-based butter and milk alternatives. You can use soy, oat, or almond milk.
Why are these pancakes baked at such a high temperature?
Pancakes baked in a very hot oven allow the baking powder to react more quickly and assist in the perfect rise. You'll have fluffier pancakes that cook quicker!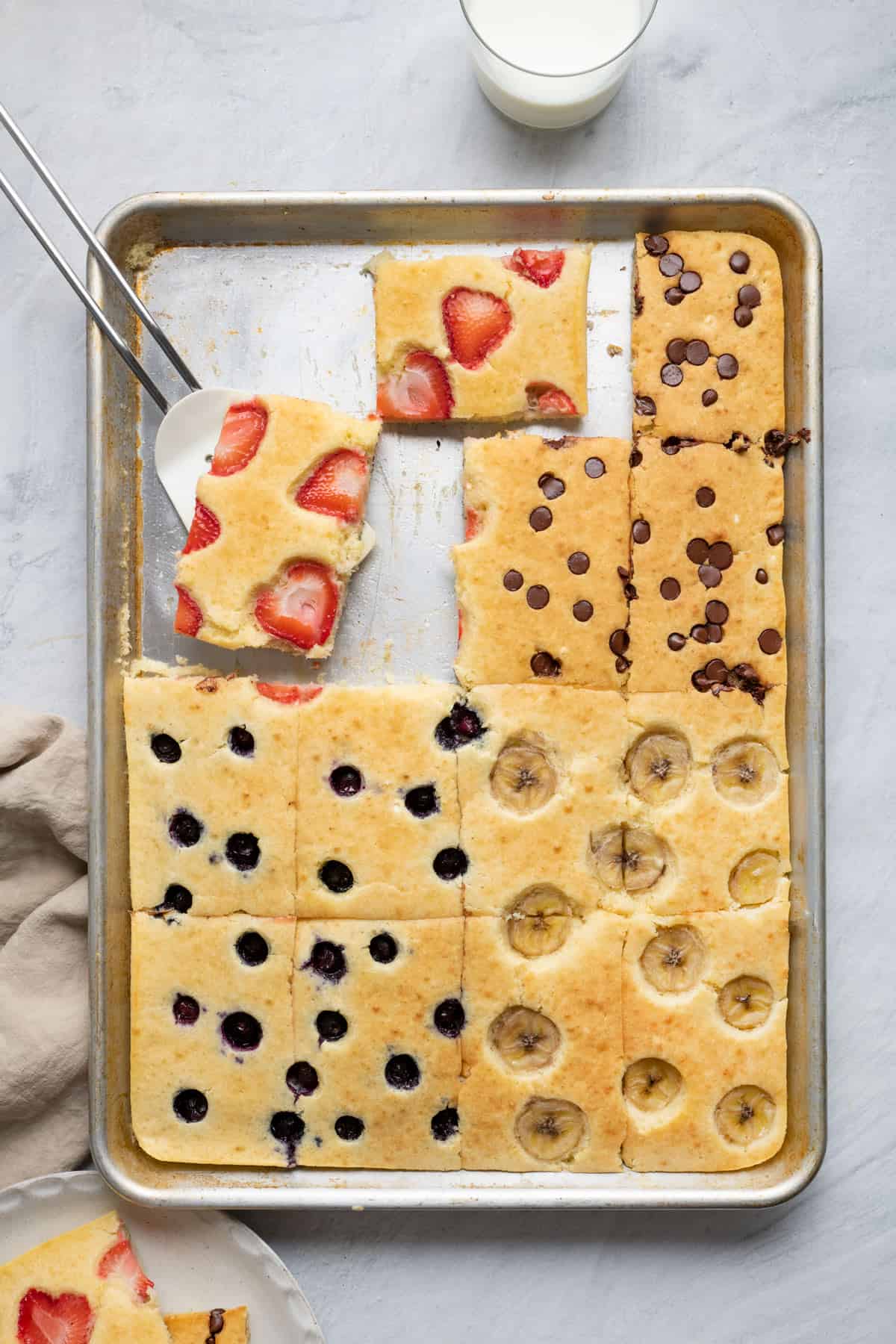 More pancake recipes
Preheat the oven to 425°F degrees. Generously grease a 13×18 baking sheet with cooking spray.
In a large bowl, whisk together the flour, sugar, baking powder and salt. Make a well in the center of the dry ingredients and slowly whisk the milk, eggs, melted butter and vanilla extract into the dry ingredients until well combined; some lumps are fine.
Pour the pancake batter onto the prepared pan, spreading evenly.
Sprinkle the chocolate chips in one quadrant, blueberries in another, strawberries in another and finally, bananas in the last quadrant. Bake until golden brown, 15-17 minutes.
Divide into 12 portions and serve immediately with maple syrup, if desired.
*Nutrition does not inlude topping additions.
Nutrition information provided is an estimate. It will vary based on cooking method and specific ingredients used.
This oven pancake cooks up so gorgeous – with big, puffy golden brown edges and buttery crispness across the top. Just 6 ingredients and 5 minutes prep time!
Hands down, the most requested breakfast and brunch dish that we eat in our house is German Pancakes. It makes a lovely addition to the common French Toast or blueberry pancakes with maple syrup rotation. Growing up, my mom would bake these puffy oven pancakes for special occasions like a Sunday morning or Christmas morning and this has become one of our favorite breakfast recipes of all time.
They are an easy breakfast – so simple to make and require just 5 minutes of prep work, so we have oven pancakes almost weekly around here. Typically, we serve ours with lemon juice and powdered sugar sprinkled over the top of the german pancake; we also add berries on the side.
Nearly every weekend and sometimes on a good weekday, my husband makes German Oven Pancakes for the kiddos. Sometimes we spring for a breakfast casserole like this Cheesy Egg Bake or absolutely scrumptious Breakfast Crepes, but our favorite breakfast recipe is this puff pancake recipe.
Table of contents
Since Graham took over breakfast duty a couple years ago, the kids have learned that he almost always says yes to a batch of German pancakes and they remain a favorite recipe. Why does Graham make such a fancy breakfast so often? Because they take less than five minutes to prepare, feed our whole family, and they are perfect for a busy morning.
How to Make Perfect German Pancakes
We make the batter in a blender, which makes the process SO simple. Turn on the oven to 400 degrees and place a stick of butter (1/2 c.) in a 13 x 9 inch glass casserole dish; place the pan with butter in the oven while it's heating. Use real butter – you can reduce the amount if you're trying to cut back on calories, but the melted butter really is what makes these dutch baby pancakes such a delicious breakfast.
The pancake cooks up so gorgeous – with big, puffy golden brown edges and buttery crispiness across the top. It uses simple ingredients and takes about 30 minutes to bake – you'll know it's done when the edges are puffy and deep, golden brown. Unfortunately, the pancake falls some within a few minutes of removing it from the oven, but it still looks cool and the best part is eating it, anyhow! We douse ours with a bunch of lemon and powdered sugar. Berries are good, too!
Variations and Substitutions
Can I make German Pancakes gluten free?
With the rise in grain-free and gluten-free recipe needs, I have been asked a number of times if this oven pancake recipe can be made gluten-free. I'm here to tell you – YES!!! I simply substituted the all-purpose flour in the basic recipe with a gluten-free flour (I used the all-purpose gluten free rice/potato/tapioca flour from Trader Joe's.)
Aside from puffing just a tad bit less than the traditional puffy german pancakes, the taste and texture of this gluten-free version is indistinguishable from the original version. We served this gluten-free version with our favorite combination of powdered sugar and lemon juice and even the kiddos thought it tasted exactly the same.
Can I use less butter in this German Oven Pancake recipe?
Okay, okay, I know that the traditional recipe has an entire stick of butter in it – you can see the delicious butter pooling on the top of the pancake and I, personally, think it's absolute heaven! But the teeny tiny healthy voice in my head, as well as maaaannnnny a commenter, have cried for an oven pancake version with less butter. I HAVE HEARD YOUR CRIES! If you need to feel less guilty, you can simply reduce the amount of butter in the recipe. Cut it in half, reduce it down to even just a couple tablespoons. The puff pancake will still turn out golden brown and yummy, and your guilty conscience will back off a bit. (But I stand firm in that the butter makes this breakfast a true splurge in all the best ways!)
What can I substitute for the butter?
If you need to cut the butter completely out of this recipe, you can swap in the health community favorite – Coconut Oil.
As you can see in the photos, substituting coconut oil in this recipe still results in a gorgeous, golden brown German pancake with a huge degree of puff (more than usual, even). The flavor is still good – it's just not buttery. Obviously. The texture remains the same, and you actually can use a whole lot less coconut oil – try just 2-4 tablespoons.
You will taste the coconut oil in the baked pancake, and as long as you like coconut flavor, this is a wonderful variation. I served the coconut oil version of this oven pancake with passion-fruit syrup and orange slices on the side and it was exquisite! So so delicious.
Can I make this recipe dairy free?
Of all the variations, substituting almond milk for the cow's milk had the biggest impact of all. I did a straight swap without changing anything else in the recipe which means I did still use butter. If you need absolutely no dairy, try combining this version with the coconut oil version above. The German pancake did not puff as much, and the texture was less dense.
The pancake didn't taste bad, and if you can't drink cow's milk, this dairy free version will work. I'm now curious how the recipe would turn out if I tried other types of milk. The almond milk did give the pancake a different flavor – and it no longer tasted right with my usual lemon and powdered sugar topping. However, serve this version with maple syrup and you have yourself a win.
What else can I add to my German Pancake?
Once the butter has melted, proceed by pouring the batter over a metal spoon and into the prepared pan. Cook per the recipe until the pancake is puffy and golden brown. If you wish, sprinkle some sliced almonds over the top of the pancake during the last 10 minutes of baking. This apple German pancake was tasty and less sweet than some of the other versions. Consider topping with an extra dose of cinnamon sugar, some homemade buttermilk syrup, or a big heap of sweetened whipped cream!
Are German Pancakes from Germany?
I'm not certain that anyone has a definitive answer to this common question. My recipe was passed down from my mother and although my maternal side immigrated from Germany, I don't believe my recipe came from Germany. I think that what we make and call a German pancake nowadays is a recipe that was developed in America in the early 1900's.
I've had many readers comment that yes, indeed, a German pancake is from Germany. Other readers who are German have never heard of such a thing. Essentially, the German Pancake is a large popover. These fluffy pancakes are a favorite among brunch recipes. It is very similar to a Yorkshire Pudding, but is made with butter rather than the traditional beef drippings. It probably has its recipe roots in Germany or Europe at large, but this version is more popular as an American recipe. Wherever its origins, it is a dish that spans generations and nationalities.
Why do some people call these Dutch Babies? Are they from the Netherlands?
My understanding is that the term "Dutch Baby" came from an American restaurant owner. His little girl, unable to pronounce the word "Deutsche" (meaning German), began calling them Dutch babies and the name stuck. These pancakes are not from the Netherlands.
Why didn't my pancake get puffy?
Do you make German Pancakes at home? Do you call them something different like oven pancakes or German puff pancakes? I still would like to try cooking them on the stove top in a cast iron frying pan – maybe next time!
Place 1/2 cup butter in a heavy 9 x 13 glass baking dish.
Set baking dish (with butter) in the oven and preheat to 400 degrees.
In a blender, combine milk, eggs, vanilla, flour, and granulated sugar.
When the butter is completely melted (before it browns or burns, though!), pour the batter over a metal spoon into the baking dish.
Cook 30-40 minutes or until the pnacake is set in the middle and the edges are very puffy and golden brown.
Remove from oven. Garnish with lemon juice and powdered sugar and serve immediately.
Serve with lemon and powdered sugar.
Serve with fresh raspberries and/or strawberries.
Serve with a drizzle of maple syrup!
Why We Love This Pancake Recipe
Pancakes are easy enough to make, right? Why do you have to put them in the oven?? Well obviously, you don't. However, pouring pancake batter into a sheet pan and popping it in the oven takes out a lot of the busy time of flipping pancakes over a hot stovetop.
While Sheet Pan Pancakes cook effortlessly in the oven, you have time to casually scramble eggs or cook sausage patties. There's no need to stress over and juggle all your breakfast dishes on the stovetop at once. Also, all the pancakes are ready at the same time!
PLUS, less mess, less chance of burning the pancakes, and just as much breakfast fun! Enjoy making this easy recipe with your choice of tasty toppings – in fact, everyone in the house can choose what goodies to include in their section of baked pancake.
Serving Suggestions
Serve sheet pan pancakes with classic toppings like butter and warm maple syrup. Special occasion? Add a generous dollop of whipped cream or sprinkle chocolate chips on top, too!
This sweet breakfast treat is delicious with savory dishes. Pair with cheesy scrambled eggs or spicy breakfast sausage for a hearty meal.
And a side of fresh fruit is always great with breakfast.
Ingredients You Need
All-purpose flour – can be gluten-free flour
Granulated sugar – or your preferred granulated sweetener, like coconut sugar
Baking powder – for perfectly fluffy baked pancakes
Salt – just a pinch
Buttermilk – store-bought or homemade buttermilk, or whole milk
Eggs – room temperature is best for baking
Vanilla extract – a must-have ingredient for baked sweets
Butter – unsalted butter
Plus your favorite add-ins and toppings! In the photos shown here, we have one pancake with blueberries – you can use fresh or frozen. The other has sliced bananas, chocolate chips, and sliced almonds.
Pro Tip: In a hurry? You can use this method with pancake mix. Simply use 3 cups of mix with the appropriately measured add-ins.
Easy Sheet Pan Pancakes (Oven Baked Pancake Recipe)
Oven baked pancakes are fluffy and tender, no griddle needed! This easy sheet pan breakfast recipe is great to feed a crowd with barely any effort.
Add-Ins As Shown
fresh or frozen OR
sliced bananas + ½ cup chocolate chips + ¼ sliced almonds
More Add-In Ideas
Raspberries or blackberries
Peanut butter chips
Macadamia nuts + white chocolate chips
Chopped pecans + brown sugar
Preheat the oven to 425°F. Set out a large 13 x 18-inch "half sheet pan".  (Or you can use two 9 x 13-inch baking dishes.)
Melt the butter. Brush 2 tablespoons of melted butter over the sheet pan, making sure to coat the edges and corners well.
Set out or large mixing bowl. Combine the flour, sugar, baking powder, and salt. Mix well. Then add in the buttermilk, eggs, and vanilla, then beat until smooth. Finally, mix in the remaining 6 tablespoons of melted butter.
Pour the batter into the sheet pan. Use a spatula to spread the batter evenly across the entire sheet pan. Sprinkle the blueberries, or your preferred toppings, evenly over the top of the pancake batter.
Bake for 12 to 17 minutes, until lightly golden on top. Cut and served warm, with butter and maple syrup.
In a hurry, you can use this method with pancake mix. Simply use 3 cups of mix with the appropriately measured add-ins.
Top this oven-baked pancake recipe with any toppings you like! You can split the batter into two baking dishes to make two flavors at once, or even top each side of the same sheet pan with different toppings.
Leftovers: Store cooled pancakes in an airtight container in the fridge for up to 3 days. To freeze, wrap in plastic wrap and store in an airtight zipper bag for up to 3 months.
Reheat sheet pan pancakes in short bursts in the microwave at 50% power. To keep them from drying out, I suggest you wrap each piece in a layer of slightly damp paper towel when microwaving.
5 SECRETS EVERY CHEF SHOULD KNOW
1. To make the german pancake: Preheat your oven to 425ºF (220ºC). As the oven preheats, put the unsalted butter in a 9×13-inch baking pan and place it in the oven until melted.
2. Place the eggs, milk, flour, salt, and vanilla extract in a blender and pulse until smooth. Pour the batter into the hot baking dish over the melted butter.
3. Bake the german pancake, for 22-27 minutes or until the edges are golden brown and puffy. Sprinkle the German baked pancake generously with powdered sugar, maple syrup, butter, or any other toppings you like. Enjoy! ❤️
Preheat the oven to 425°F. Set out a large 13 x 18-inch "half sheet pan" baking sheet. *Or you can use two 9 x 13-inch baking dishes, or four 8 X 8-inch dishes.
Melt the butter. Brush 2 tablespoons of melted butter over the sheet pan, making sure to coat the edges and corners well.
Set out or large bowl. Combine the flour, sugar, baking powder, and salt. Mix well.
Then add in the buttermilk, eggs, and vanilla. Whisk until smooth.
Finally, mix in the remaining 6 tablespoons of melted butter. Small lumps in the batter are fine.
Pour the batter into the sheet pan.
Use a spatula to spread the batter into an even layer across the sheet pan.
Sprinkle the blueberries, or your preferred toppings, evenly over the top of the pancake batter.
Get the Complete (Printable) Easy Sheet Pan Pancakes Recipe Below. Enjoy!
Lastly, bake for 12 to 17 minutes.
When it's done the sheet pan pancake will be a light golden color. A toothpick inserted in the center should come out clean.
Cut into 12 even slices, and serve warm.
How to make the german pancake
Making an oven-baked pancake is very easy. Simply throw eggs, milk, flour, salt, and vanilla in your blender until smooth. In the meantime warm the baking pan in the hot oven and melt butter in the baking pan. Pour the pancake batter into the warm baking pan over melted butter and bake in the oven for about 25 minutes. The pancake will puff in a spectacular way and should be golden on the edges.
Use 3 cups of boxed mix with the appropriately measured add-ins, like milk and eggs. This will cut several minutes of prep time!
What makes pancakes fluffy and rise?
The right combination of eggs and baking powder is what makes the fluffiest baked pancakes. Also, be sure to not over-mix the batter.
How do you make gluten-free pancakes?
Swap all-purpose flour with whatever GF baking mix you like. Similarly, use a gluten-free boxed pancake mix.
Can you make this a dairy-free recipe?
Yes! Swap traditional dairy ingredients with your fave plant-based butter and milk subs. Soy, almond, and oat milk are all great alternatives!
How many days are leftover pancakes good?
Wondering what other goodies can go on sheet pan pancakes? The sky's the limit! Here are just a few of our favorite toppings and add-ins to get you going:
Sliced strawberries
Raspberries, blackberries, or other fresh berries
Shredded coconut
Toffee chips
Peanut butter chips
Macadamia nuts + white chocolate chips
Chopped pecans + brown sugar
Tips for the baked german pancake recipe
You can make the German pancake in any baking dish you like, but we found out that a metallic pan allows for a better sear on the edges. You can also use a large cast iron skillet to make the baked pancake.
You can add 2 or 3 tablespoons of dark rum to the pancake batter for a nice flavor.
How to serve the baked pancake
This German pancake does get nice and puffy in the oven, changing form every time. When you remove the pan from the oven the pancake will start to collapse as it cools, just like a souflé. So we recommend serving the German pancake immediately! Use a sharp knife to cut the pancake into squares or rectangles.
German pancake toppings
Keep the baked German pancake leftovers covered in your refrigerator for one day. Reheat gently in the microwave or enjoy at room temperature.
Delicious distraction for you
Arrange these tiles correctly to reveal something delicious!
New: Meal PlannerPlan your weekly meals instantly from anywhere on the webTry the Meal Planner!
The best german pancake recipe
A German pancake sometimes called a Dutch Baby pancake, is a large crepe-like popover pancake, similar to a crepe but way thicker. You only need six ingredients to make a delicious, fluffy baked pancake and you don't have to stand by the stovetop flipping pancakes all morning long. The gigantic, buttery pancake puffs up in the oven, making a fun, light, and fluffy pancake that everyone will love! Serve the German pancake hot, right out of the oven with your choice of toppings: confectioner's sugar, berries, maple syrup, nuts, caramel, jam, or anything you like!