ingredients you need to make these fluffy, tender homemade biscuits.
When I am sick of cooking and sick of answering the question, what's for dinner? I turn to breakfast for dinner.
I've made biscuits every way that you can imagine and have used lard, butter, Crisco, milk, buttermilk and heavy cream to bind them and make them flaky.
I learned to make biscuits by measuring flour, salt and baking powder and I've used self-rising flour as well. I watched seasoned biscuit makers mix biscuits by touch and feel with lard, buttermilk and self-rising flour. Since their biscuits are some of the best I've ever eaten, I made it their way as well. And, the verdict is that I like them all for different reasons and different purposes.
I used to think that a cream biscuit made with heavy cream and a touch of sugar should be reserved for strawberry shortcake or the top of a sweet fruit and biscuit cobbler. But then I made Nathalie Dupree's Two Ingredient Biscuits. With a name like that, it's essential for any biscuit maker to give them a try.
Nathalie Dupree is a chef and the author of 15 cookbooks including "Southern Biscuits" that she wrote with Cynthia Graubart. She is generally regarded as the "Grand Dame" of Southern Cooking and is a woman who was ahead of her time working in kitchens when literally no other women were doing it. She is as gracious as you would expect a southern hostess to be and as peppery and straight forward as her cuisine.
The first time I baked up a batch, I had to eat my words, and it was a delicious penance. The texture of the Two Ingredient Biscuits is soft and fluffy; tender and more refined than it has a right to be. The crumb is moist but not greasy at all.
I used self-rising White Lily flour which is made from soft winter wheat and it is low in protein and gluten. This is important because even if you over-work your biscuit dough, it is almost impossible for the biscuits to turn out tough and hard which can happen when you use standard all-purpose flour. If you don't have White Lily flour in your local grocery store, you can buy it online. You can also substitute cake flour—add an additional 2 tablespoons for every cup of all-purpose flour in the recipe—and you can buy self-rising cake flour.
If you have always wanted to make biscuits and feel like it's not your thing, try this recipe. I promise it will deliver. And, if you already have a favorite biscuit recipe, keep this one in your back pocket for those times when you want a batch of fresh homemade biscuits in a fraction of the time. Because the cream is both the liquid and the fat, they come together as fast as any mix and taste 100% better! With this recipe, there is no excuse not to make your biscuits from scratch.
celebrate and when they are as easy as Nathalie Dupree's Two Ingredient Biscuit, there is no excuse not to bake them!
Two Ingredient Biscuits
Adapted from Nathalie Dupree
I use Natalie's basic "Two Ingredient Biscuit" recipe and add my family technique of buttering the dough and folding it several times to create flaky layers which technically makes these biscuits three ingredients if you are counting. This step is optional and the biscuits are terrific without the layers of butter. You can also drop dough on your baking sheet instead of rolling them out to make excellent "Drop Biscuits."
Makes 14 (2-inch) biscuits
Ingredients
2 (generous) cups White Lily self-rising flour, plus more for rolling
1 1/2 cups heavy cream, divided
½ stick or 2 ounces unsalted butter, melted, optional
Biscuit cutter: My favorite is a wooden cutter from Riley/Land
Small baking sheet such as ¼ sheet pan or square 8-inch cake pan.
Method
1. Preheat oven to 425°F degrees. Fit baking pan with parchment paper.
2. Whisk a generous 2 cups flour in a large bowl. Add 1 ¼ cups cream and stir with a fork.
3. If there is some flour remaining on the bottom and sides of the bowl, stir in just enough reserved cream to incorporate remaining flour into dough. (If the dough is too wet, use more flour when shaping.) The dough should be sticky.
4. Lightly sprinkle a cutting board pastry mat with a couple tablespoons of flour. Flour your hands as well. Place dough in the center and if it is sticky, sprinkle it lightly with flour. Press it out with your hands until it is a flat thin disc.
6. At this point, I pat the dough into a round and use a rolling pin to lightly roll it out before I cut the biscuits. Note: I roll the dough into a ½-inch-thick round for normal biscuits, but if you want bigger biscuits, roll it out to ¾-inch-thick for tall biscuits, or a 1-inch-thick for giant biscuits.
7. Dip a 2-inch biscuit cutter into reserved flour and cut out biscuits, starting at outside edge and cutting very close together, being careful not to twist the cutter. If you twist the cutter, you will seal the edges and they won't rise as well. I combine the scraps to make additional biscuits, although Southern bakers warn that they will be slightly tougher.
8. Move biscuits to prepared pan. Bake in the middle rack of oven until light golden brown, about 12 to 16 minutes. Your oven may take longer depending on how brown you like your biscuits. Remove biscuits from oven and brush tops with softened or melted butter. Place on a cooling rack or in a basket lined with a cotton or linen towel.
9. Serve immediately.
Chef notes
The best biscuits are light, fluffy and flaky, and these definitely fit the bill. They're also quick to make and great for soaking up gravy and serving with fried chicken.
Technique tip: Cutting straight down with the biscuit cutter (rather than turning or twisting) allows the biscuits to rise higher.
Swap option: Swap 1 tablespoon of sugar for the honey. If using sugar, leave out the baking soda.
Preparation
Preheat oven to 450°F. In a medium bowl, stir the flour, baking powder, salt and baking soda until well combined. Cut in the butter using a fork or pastry blender, until mixture looks like fine crumbs.
Heat honey in microwave for 10 seconds, then add milk. Stir milk into flour mixture until it forms a soft dough and leaves the side of the bowl (dough will be soft and sticky).
Lightly sprinkle flour over a cutting board or countertop. Place dough on floured surface; gently roll in the flour to coat. To knead dough, fold dough toward you. With the heels of your hands, lightly push dough away from you with a short rocking motion. Move dough a quarter turn and repeat 10 times. Dough should feel springy and smooth.
On the floured surface, flatten dough evenly, using your hands or a rolling pin, until dough is 1/2 inch thick.
Before cutting each biscuit, dip a 2½-inch round cutter into flour to lightly coat it so it will cut cleanly through the dough without sticking. To cut, push the cutter straight down through the dough without twisting or turning. Cut the biscuits as close together as possible. On an un-greased cookie sheet, place biscuits about 1 inch apart for biscuits with crusty sides, or place with sides touching for biscuits with soft sides.
Bake 10 to 12 minutes or until golden brown. Brush with melted butter and sprinkle with sea salt. Immediately remove from cookie sheet. Serve warm.
Jump to Recipe
Homemade southern biscuits are made with just four ingredients and cook up buttery, flaky and delicious in about 15 minutes.
This easy homemade biscuits recipe is perfect for serving with any meal and would make your grandmother proud.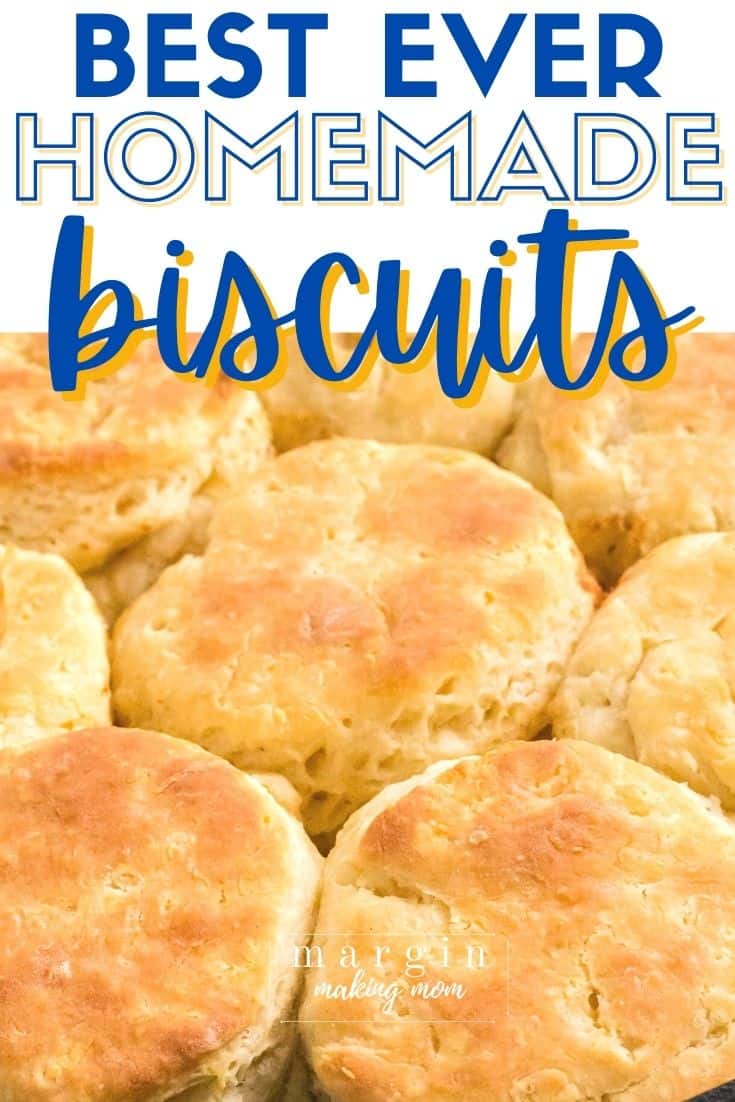 Note: This post may contain affiliate links for your convenience. If you make a purchase, this site may receive a small commission at no additional cost to you. You can read my full disclosure policy here.
There is something about biscuits that conjure up thoughts of an apron-clad, flour-dusted grandma working hard to get an early morning breakfast on the table for her busy family.
She makes the dough and pops a pan of biscuits into her farm kitchen oven while bacon sizzles on the stove and a barn cat laps up yesterday's leftover milk from a saucer on the other side of a screen door.
It's an idyllic picture that we're really not that far removed from, but in many homes, canned biscuits have become the norm.
Let's be honest, canned biscuits may be convenient (especially for these chicken and dumplings with canned biscuits), but there is no comparison between the canned flaky biscuits and a batch of soft, fluffy, homemade biscuits.
More Simple Breakfast Recipes: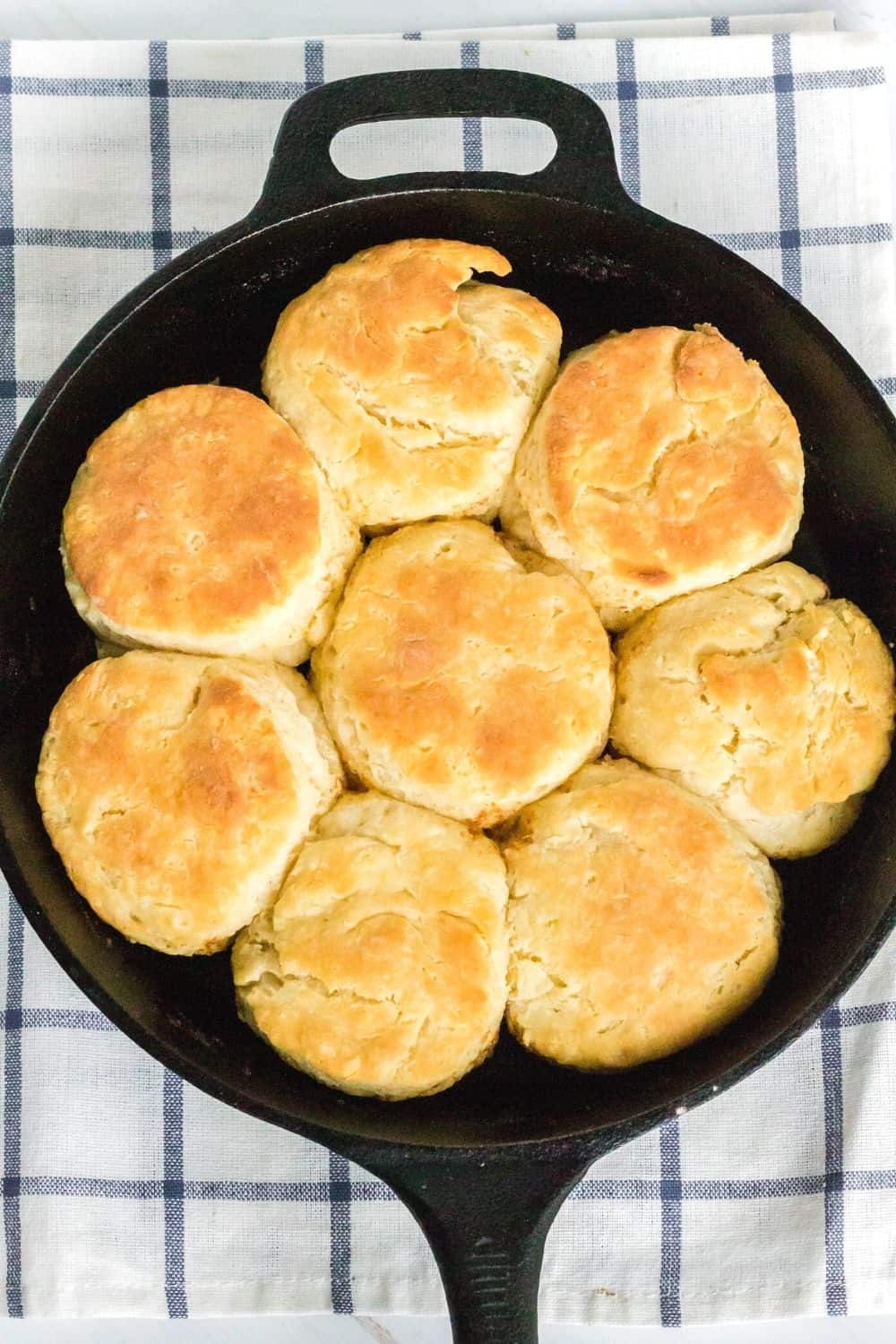 Southern Homemade Biscuits
Here's a secret–making biscuits from scratch is so simple, and you probably didn't even realize you have everything you need on hand.
Everyone needs a delicious and easy homemade biscuit recipe and these southern homemade biscuits fit the bill.
There are no hidden ingredients, no sugar, and you can mix the 4-ingredient dough in just minutes–no need to fight just to open the can!
I love to spread these easy homemade biscuits with Instant Pot Apple Butter or Instant Pot Peach Jam. They'd also be delicious with sausage gravy!
You can also enjoy a buttery biscuit alongside Copycat Cracker Barrel Chicken and Dumplings or simply top it with fresh strawberries and whipped cream for a delicious dessert!
Of course, they're also amazing with a smear of salted butter, too. Your grandma would be proud!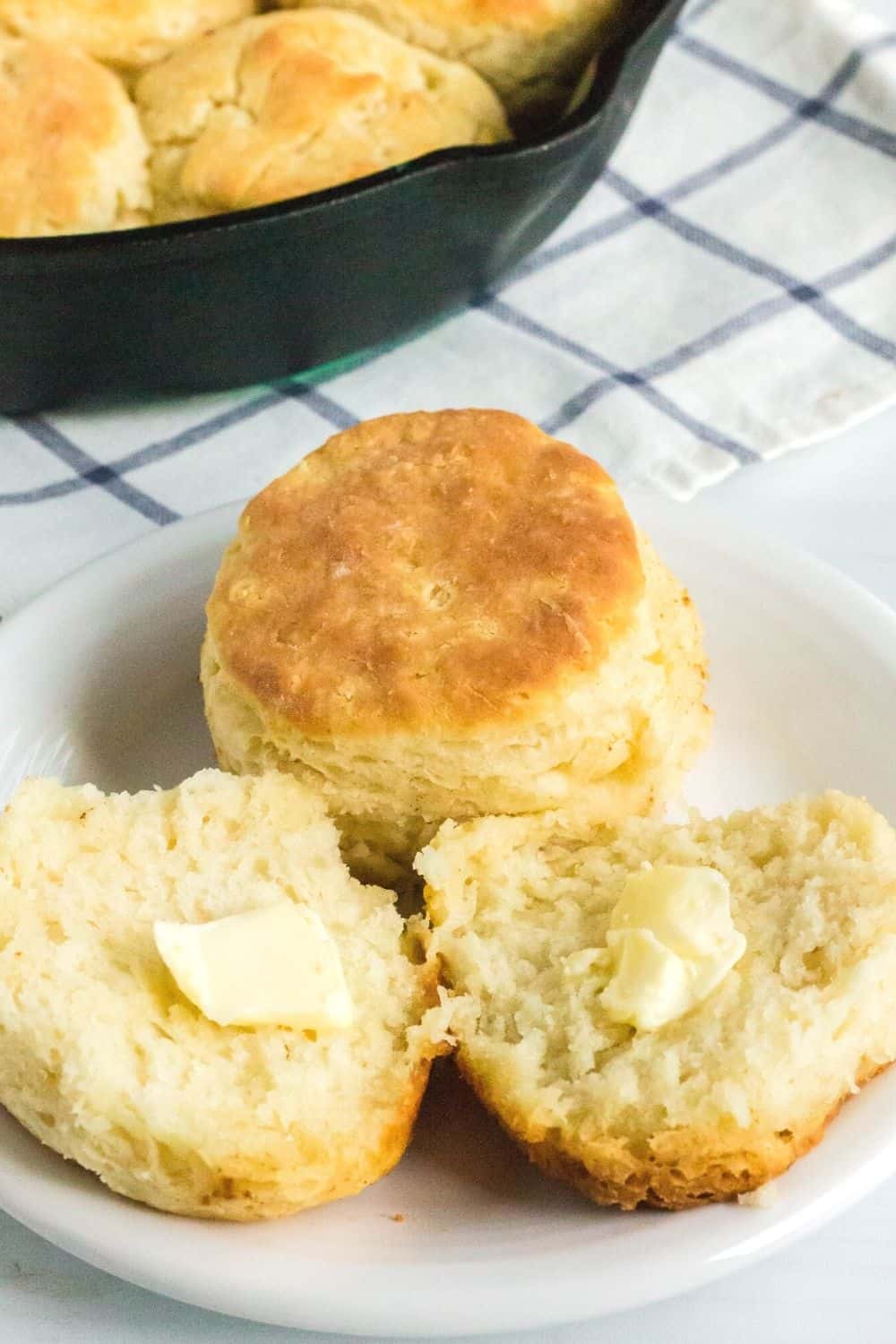 The Secrets To Easy Homemade Biscuits
Honestly, for several years, I've been using a different biscuit recipe. And I thought those biscuits were pretty darn good.
But once I started tweaking the recipe a bit, I realized what I'd been missing out on. In my opinion, these are the best biscuits–they are simply heavenly!
Making buttery and fluffy biscuits doesn't have to be mysterious. If fact, it's really quite simple. Here are some of my tips and tricks:
Use Cold Ingredients – If you want incredibly fluffy biscuits, keep your ingredients cold. I will often stick the milk and sour cream mixture back into the fridge while I mix the butter and flour. You can also freeze the butter for a bit to make sure it's super cold. Room temperature butter will be too difficult to grate.
Grate the Butter – It's SO much easier to cut the butter into the flour if it's been grated instead of cubed. Trust me on this one.
Don't Over Mix – Overworking dough can make your biscuits tough. This dough will not be completely smooth, so lumps are to be expected. Mix the ingredients until just combined.
Mix By Hand – I love my stand mixer as much as you do, but biscuits need to be mixed by hand. Invest in an inexpensive pastry cutter if you must but a fork or just your hands will work perfectly.
Don't Add Too Much Flour – When you're patting out the dough for cutting, it can be tempting to add a bunch of flour. Just give it a light dusting–enough so you can handle the dough. I use my bench scraper so it doesn't stick to my hands too much.
Use Cast Iron – Cooking biscuits over melted butter in a cast iron skillet gives them crispy bottoms that I adore.
Don't Fear The Sour Cream – Sour cream is a scary ingredient for many people, but baking with sour cream is going to give you flavorful, light, fluffy biscuits–even better than using buttermilk, in my opinion.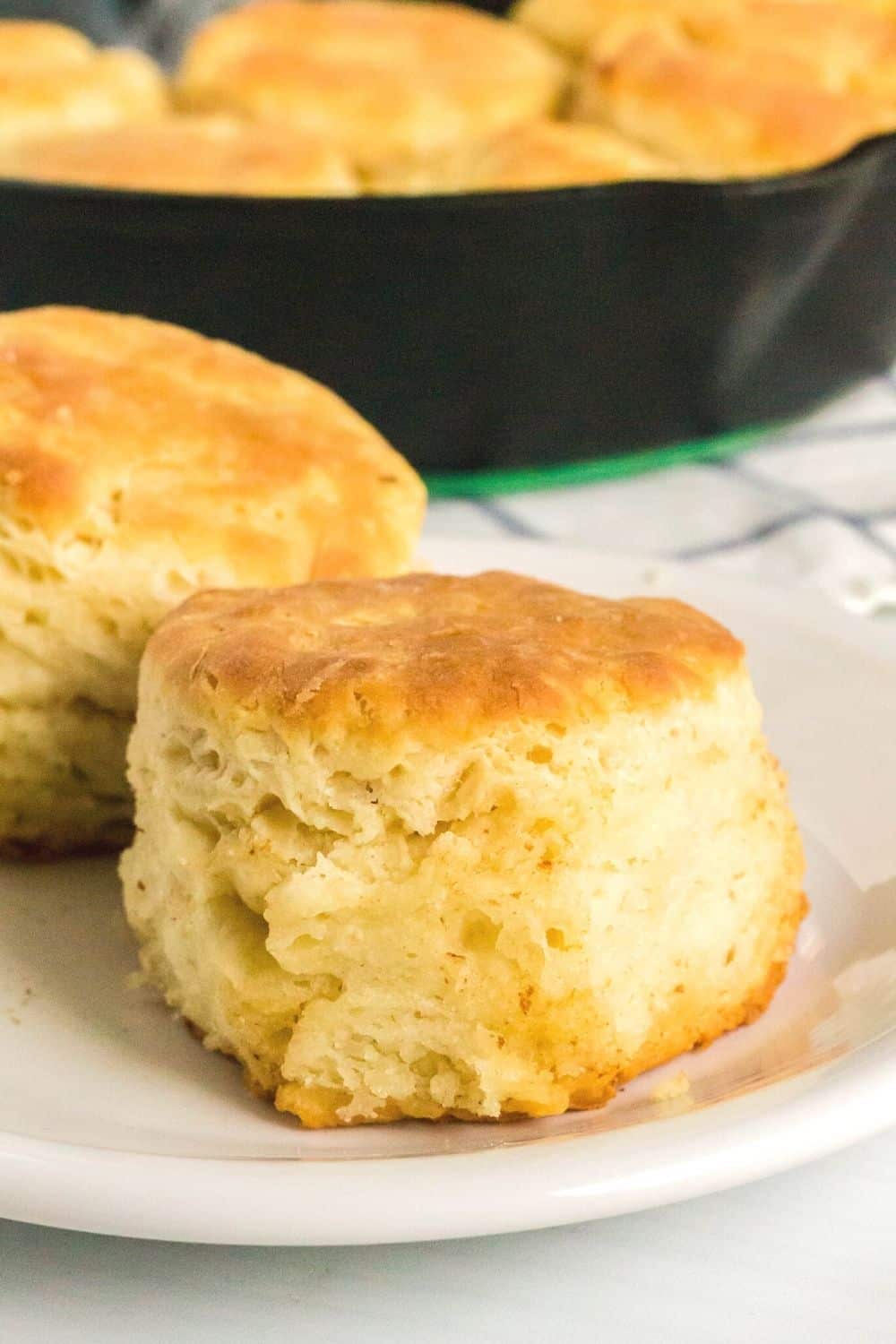 How to Make Biscuits with Sour Cream
It's really easy to make these southern homemade biscuits. All you need is a few simple ingredients!
Ingredients You'll Need
Milk (I prefer whole milk or 2% milk)
Sour Cream (I use full-fat sour cream)
Self-Rising Flour
Unsalted Butter
How to Make this Easy Biscuit Recipe
(Full printable recipe is available below)
Prepare the dry mix. Add self-rising flour to a large bowl–that's all the dry ingredients required! Next, you'll use a box grater to grate the butter. Use a pastry blender or a fork to blend the butter into the flour, and coarse crumbs are no larger than peas.
Grating the butter with a cheese grater eliminates the need for a food processor to cut the butter in!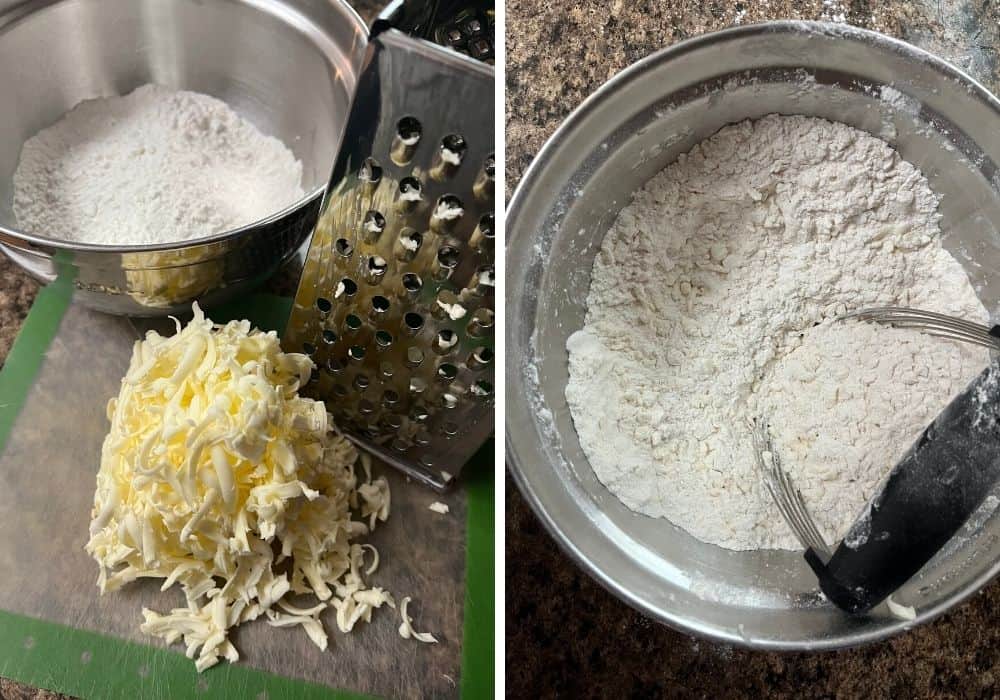 Combine the wet ingredients and make the dough. Next, you'll whisk together the milk and the sour cream until no lumps remain. Then, you'll stir the milk into the flour mixture with a wooden spoon to form a slightly wet and sticky dough.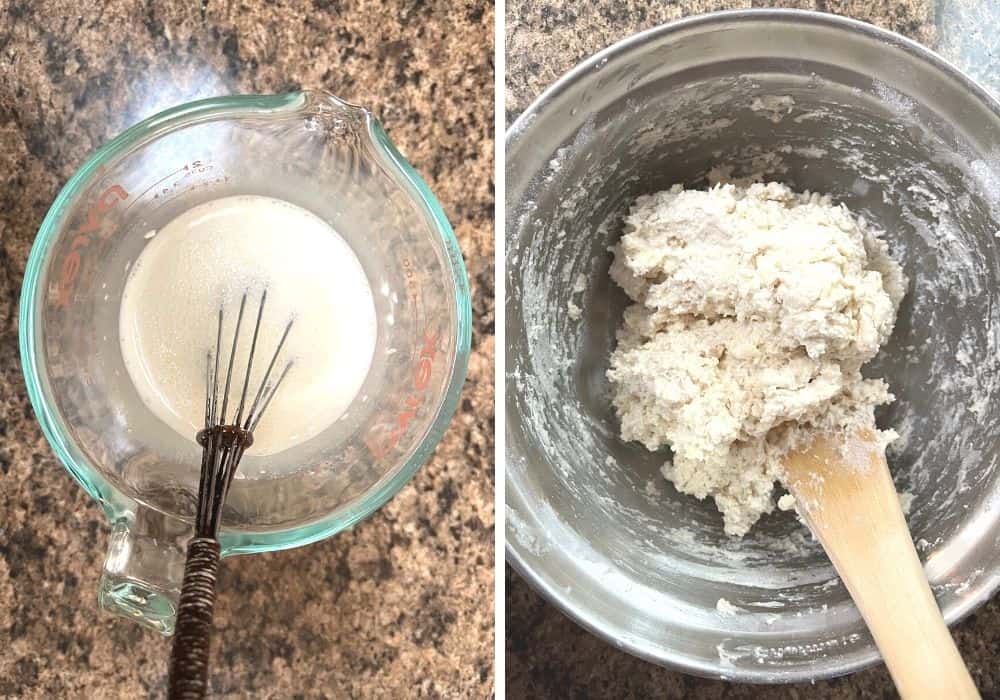 Form the biscuits. Turn the dough onto a lightly floured surface and gently fold the dough over on itself 3-4 times (I use a bench scraper for this) before flattening into a 1-inch disk.
You don't even need a rolling pin–just your lightly-floured hands or a bench scraper!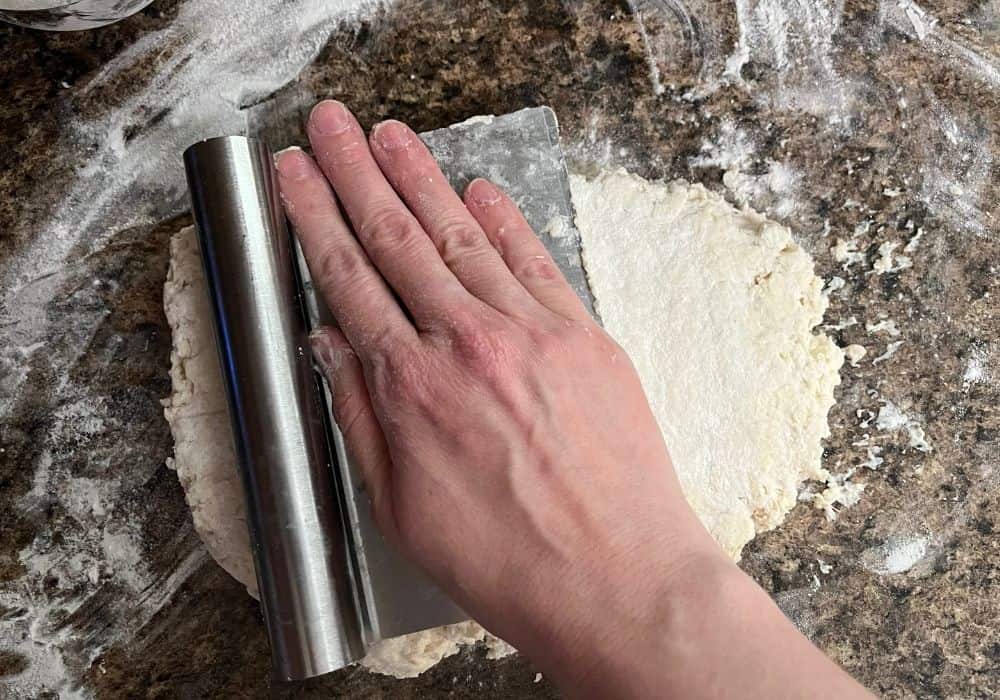 Then, use a lightly-floured round biscuit cutter to cut the dough into biscuits. Gently press and fold scraps together and repeat until no scraps remain.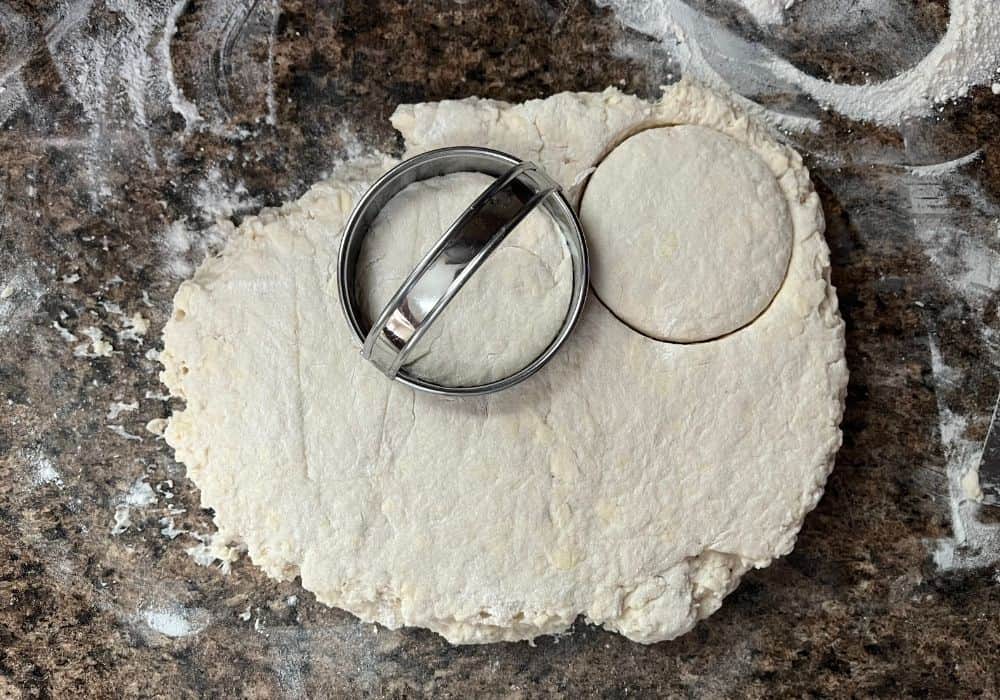 Bake the biscuits. Last, you'll melt butter in a skillet (I let it melt in the oven while preheating, but you can do this on the stove top if you prefer) and add the biscuits to the melted butter.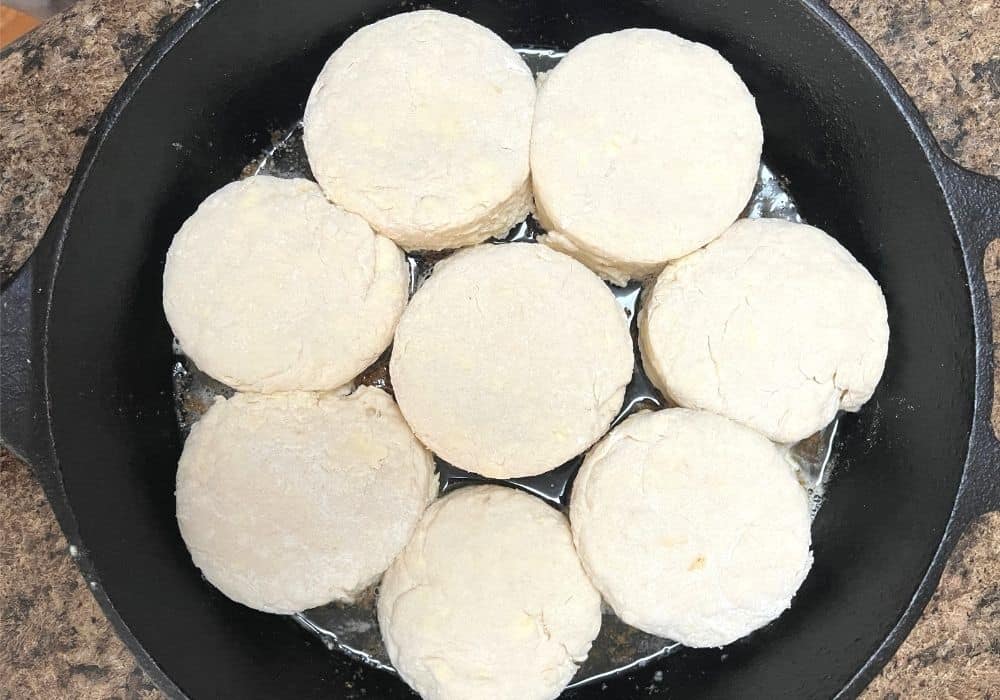 Transfer to the preheated oven and bake for 14-16 minutes, until your perfect biscuits are golden brown on top.
Enjoy a warm biscuit fresh out of the oven!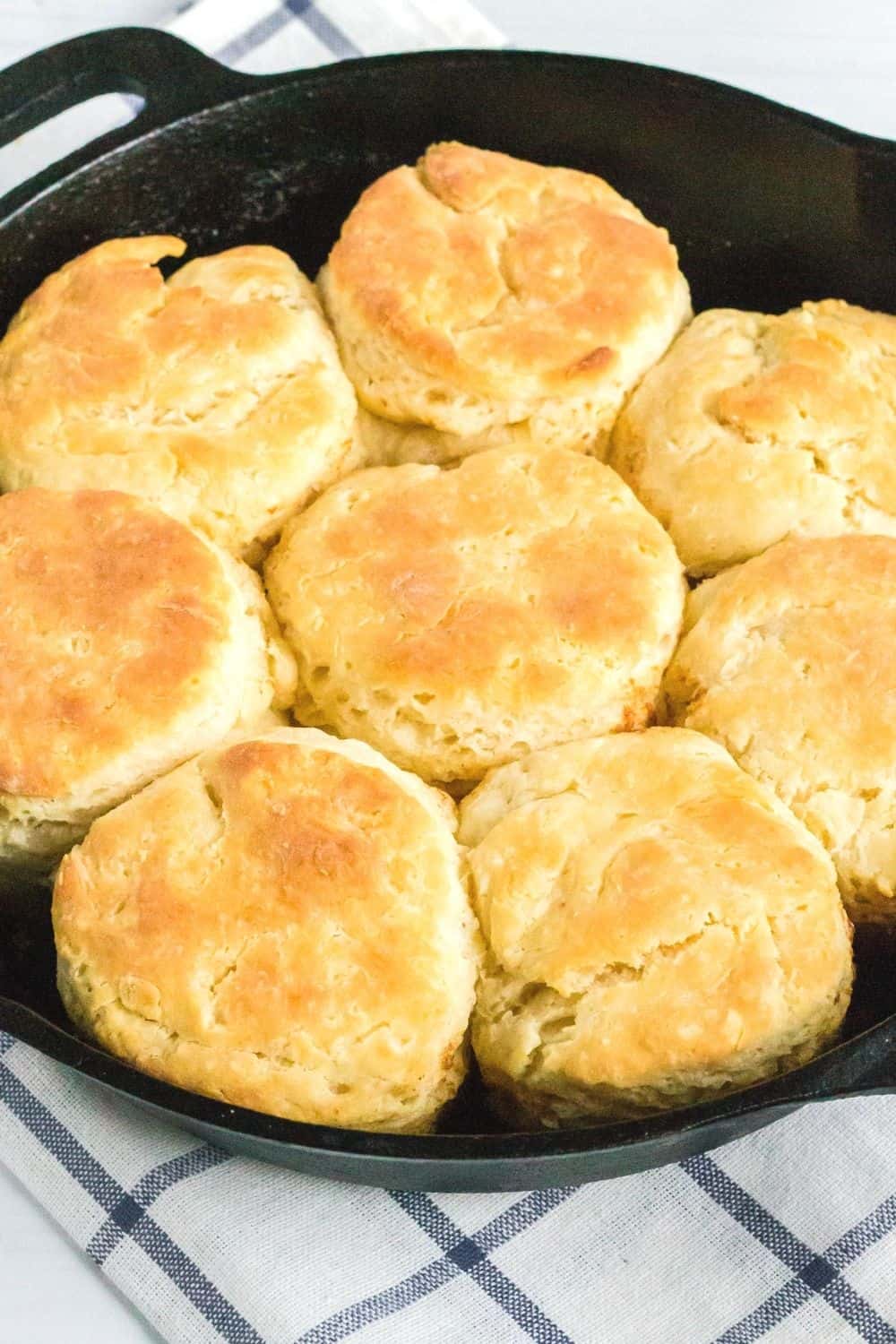 Notes and Adaptations
If you don't have sour cream on hand, you can use 1 1/4 cup buttermilk instead of the milk and sour cream.
If you don't have self-rising flour, you can make your own using all purpose flour, baking powder, and salt.
I love the crispy bottoms on these biscuits from baking in a cast iron skillet. However, you can also bake them on a baking sheet lined with parchment paper if you prefer.
Store leftovers in an airtight container. You can also freeze them in a freezer bag once they're cooled completely.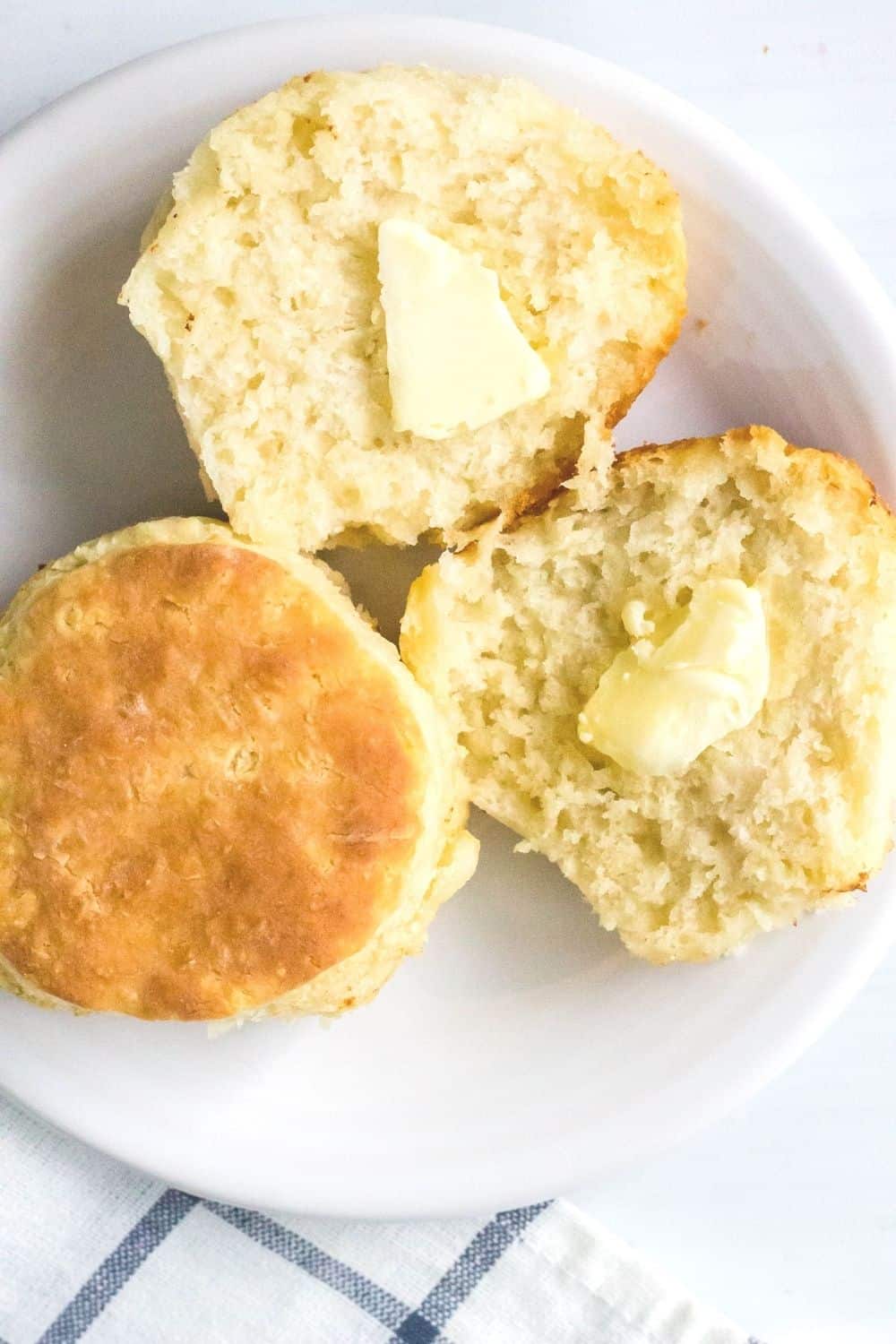 1 cup milk
1/4 cup sour cream
2 cups self-rising flour
3/4 cup + 2 TBSP unsalted butter, divided
Instructions
Preheat oven to 450F.
In a small bowl or liquid measuring cup, whisk together milk and sour cream until no lumps remain. Set aside.
Using a wooden spoon, stir the milk mixture into the flour mixture, stirring just until combined. The dough will be somewhat wet and sticky.
Add remaining 2 TBSP butter to a cast iron skillet and place in the oven to melt while you cut out the biscuits.
Turn the dough out onto a lightly floured surface. Dust the top of the dough with flour. Use a bench scraper to fold the dough over onto itself 3-4 times, dusting lightly with flour as needed (for fluffiest biscuits, you want to handle the dough as little as possible and add as little extra flour as possible).
Pat the dough to 1-inch thick using your bench scraper. Dip a round biscuit cutter into flour and use it to cut biscuits, pushing straight down into the dough (no twisting) to cut. Combine scraps of dough and pat down again, repeating the process until no dough remains.
Carefully remove pre-heated skillet from the oven and swirl to coat the bottom with the melted butter.
Place biscuits into skillet so they are touching each other, then transfer skillet to oven. Bake for 14-16 minutes, until biscuits are golden-brown on top.
Remove from oven and serve warm.
If you don't have sour cream on hand, you can use 1 1/4 cup buttermilk instead of the milk and sour cream.
I love the crispy bottoms on these biscuits from baking in a cast iron skillet. However, you can also bake them on a baking sheet if you prefer.
Yield
1Amount Per Serving: 5g 3g 0g 2g
Nutrition information is automatically calculated and is not guaranteed for accuracy.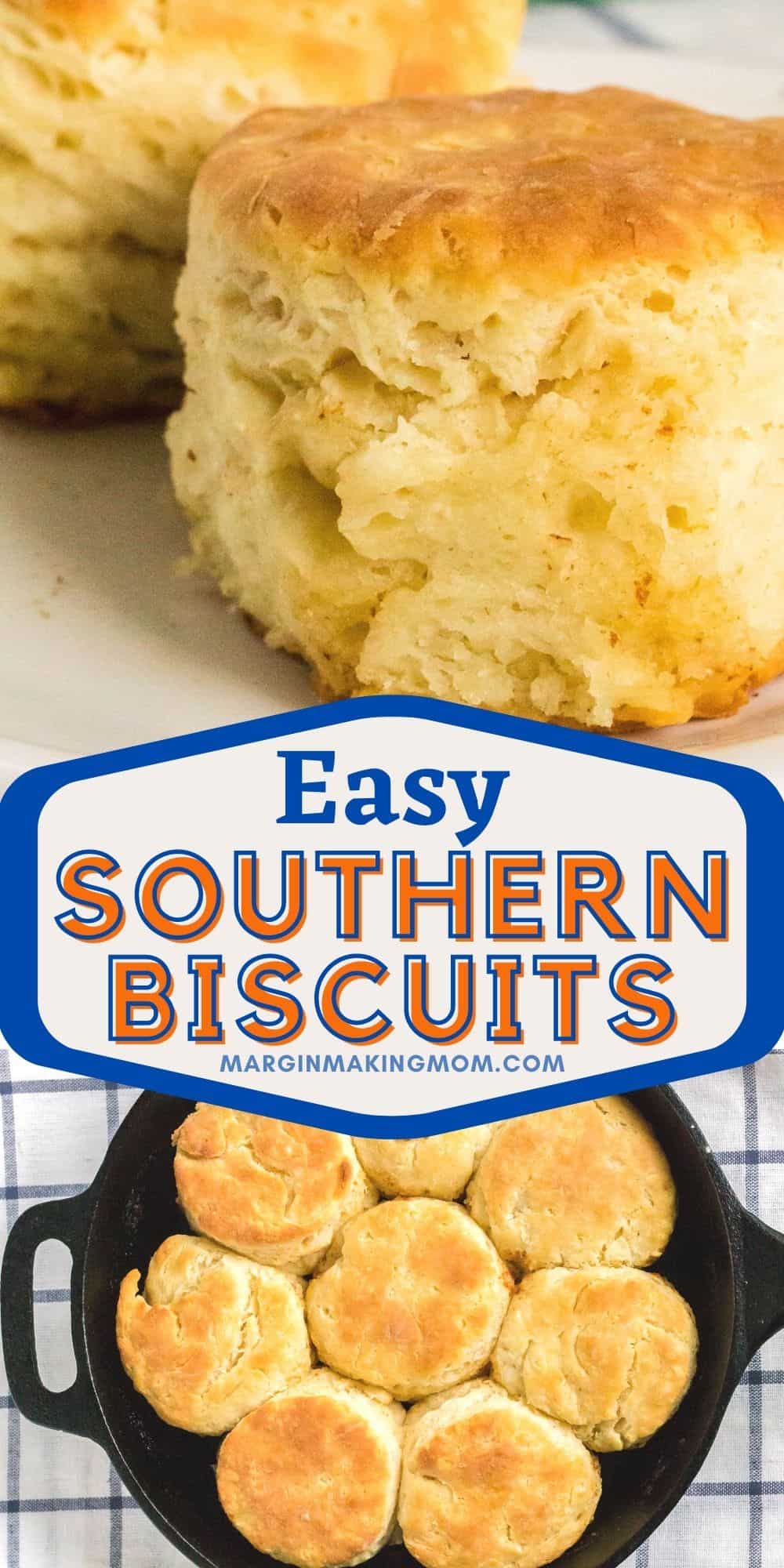 Get the Instant Pot Meal Plan Jumpstart
Join the free community and you'll learn simple ways to easily create tasty food for your family, as well as immediate access to the FREE Instant Pot Meal Plan Jumpstart to help you get a tasty dinner on the table in a flash!
Free Resource Library
Enter my free resource library for my latest printables and resources! Password is 'IHEARTMARGIN' — please copy and paste that in at the link above. Thanks for being a subscriber!!
Looking for a homemade biscuit recipe that's perfect for beginners and experienced cooks alike? Your search ends here. This tried-and-true recipe is beloved by the Allrecipes community because it's easy to make with just five ingredients, it calls for kitchen staples you probably already have on hand, and it's absolutely delicious.
Basic Biscuit Ingredients
Here's what you'll need to make this top-rated biscuit recipe:
FlourAll-purpose flour holds the ingredients together. Also, the protein in flour (when combined with moisture and heat) creates gluten, which provides structure.
Baking PowderBaking powder, not yeast, is used as a leavener in this easy biscuit recipe. It causes the dough to expand, giving the biscuits volume and texture.
SaltSalt acts as a flavor enhancer and it strengthens the protein in the dough.
ShorteningShortening is made of purely fat, unlike butter which contains water and milk solids. This means it's better at reducing (or "shortening!") gluten strands, resulting in a soft and crumbly biscuit.
MilkCold milk adds moisture, flavor, and structure to the biscuit dough.
You'll find the full recipe below, but here's a brief overview of what you can expect:
Prepare the Dough
Sift the dry ingredients (flour, baking powder, and salt) into a large bowl. Cut in the shortening, then add the milk. Mix until the dough is soft and doesn't stick to the side of the bowl.
Knead and Roll
Turn the dough out onto a lightly floured surface and knead briefly. Roll the dough into an even sheet that's about ½-inch thick.
Cut and Bake
Use a lightly floured biscuit cutter to cut out the biscuits. Place the cut biscuits on an ungreased baking sheet. Re-roll the dough, repeating the cutting process, until all the dough is gone. Bake in an oven preheated to 450 degrees F until golden brown.
What to Serve With Biscuits
Top your biscuits with homemade sausage gravy, jam, honey butter, or the spread of your choice. You can also pair them with breakfast meats — such as bacon, sausage, or chicken — or serve them with a hearty soup or stew (you can't go wrong with a classic beef stew).
More inspiration: 10 Ways to Dress Up Your Homemade Biscuits
How to Store Biscuits
Store homemade biscuits in an airtight container (or, if you want to go the extra mile, wrap them individually in aluminum foil) at room temperature for up to two days. To make them last for up to a week, store them wrapped or in an airtight container in the fridge.
Can You Freeze Biscuits?
Yes! You can freeze homemade biscuits. Just place them in a freezer bag, squeeze out the excess air, seal the bag, and store in the freezer for up to three months. Thaw frozen biscuits in the fridge, microwave, or oven.
Allrecipes Community Tips and Praise
"What a simple yet delicious recipe for a basic biscuit," raves Gringuito. "Halved the recipe and added some freshly grated cheese for flavor. Served with soft salted butter to make them extra rich and tasty."
"My family likes to have these straight out of the oven, smeared with some jam and butter," according to Rita. "The leftovers are paired with soup."
Editorial contributions by Corey Williams
Nutrition Facts (per serving)
* Percent Daily Values are based on a 2,000 calorie diet. Your daily values may be higher or lower depending on your calorie needs.
** Nutrient information is not available for all ingredients. Amount is based on available nutrient data.
You are here: Easy Drop Biscuits
Easy Drop Biscuits are a simple, quick and easy biscuit recipe that comes together in about 15 minutes!  These biscuits are perfect with gravy or a nice addition to any meal!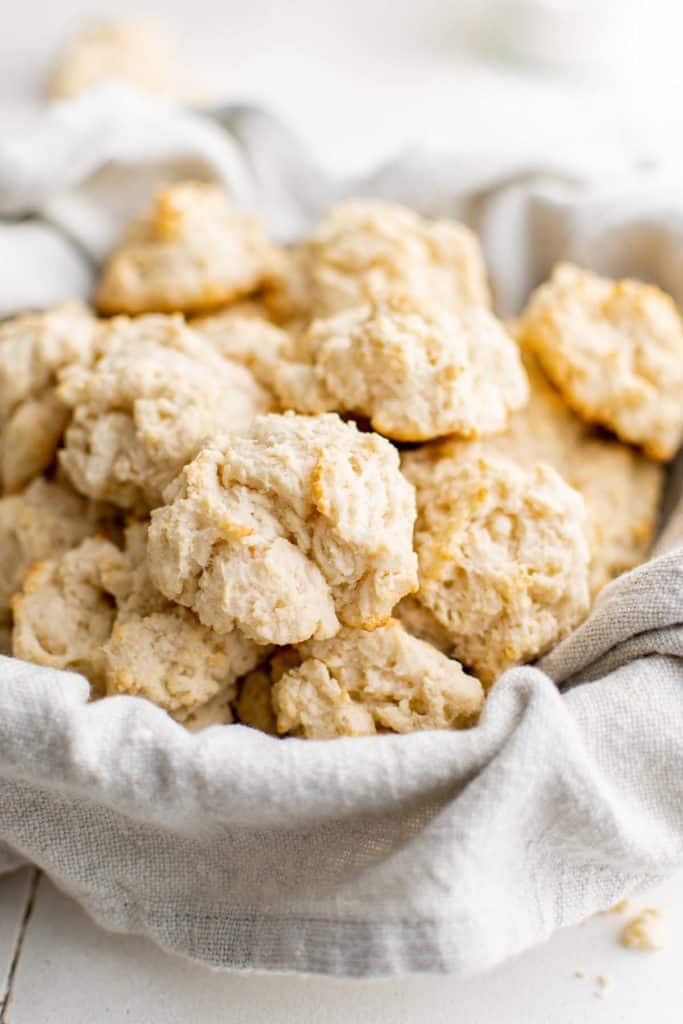 Drop biscuits are a staple recipe in my house!  They go perfectly with almost any meal, but especially with our Best Sausage Gravy for breakfast or a big bowl of Homemade Tomato Soup!  My recipe uses simple ingredients that you probably already have in your pantry.  We use flour, baking powder, melted butter, milk, and a few seasonings to pull these biscuits together in only 15 minutes or so.  There are no special steps, and my favorite part is that we use melted butter rather than cold butter to keep these even easier!
What are Drop Biscuits?
Drop biscuits are a type of biscuit that is made from scratch!  They are called "drop" because there is no rolling out or cutting of the dough.  They are simply biscuit dough dropped onto the pan from a spoon and then baked.  This makes them much faster and easier to make than traditional biscuits that are cut into circles/squares and rolled.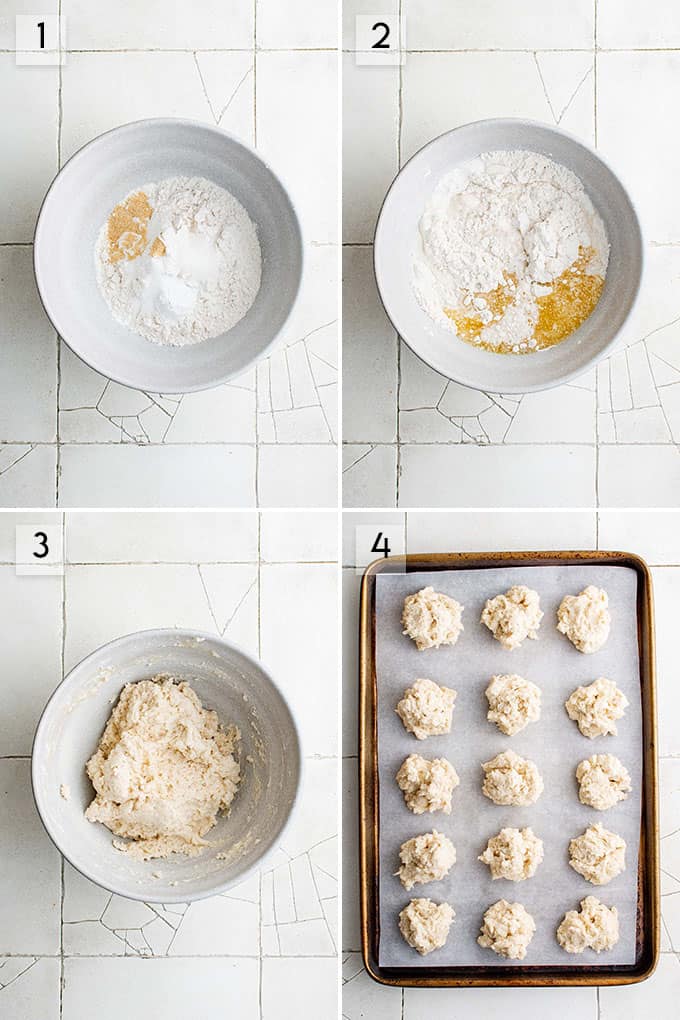 How To Make Easy Drop Biscuits
The first step is, of course, to preheat your oven to 425 degrees.  Prepare a large baking sheet with either butter, non-stick spray, or parchment paper.
Next, I like to go ahead and cut my stick of butter into cubes, then melt it in the microwave.
While the butter is melting, I whisk together the flour, baking powder, salt, sugar, and garlic powder in a large bowl.
Then, add the milk and butter to the flour mixture and stir just until all of the flour is moistened.
Drop the dough by heaping Tablespoons onto your prepared baking sheet and bake for 8-11 minutes until they are golden.
Optional:  If you choose you can brush these with extra melted butter right when they come out of the oven!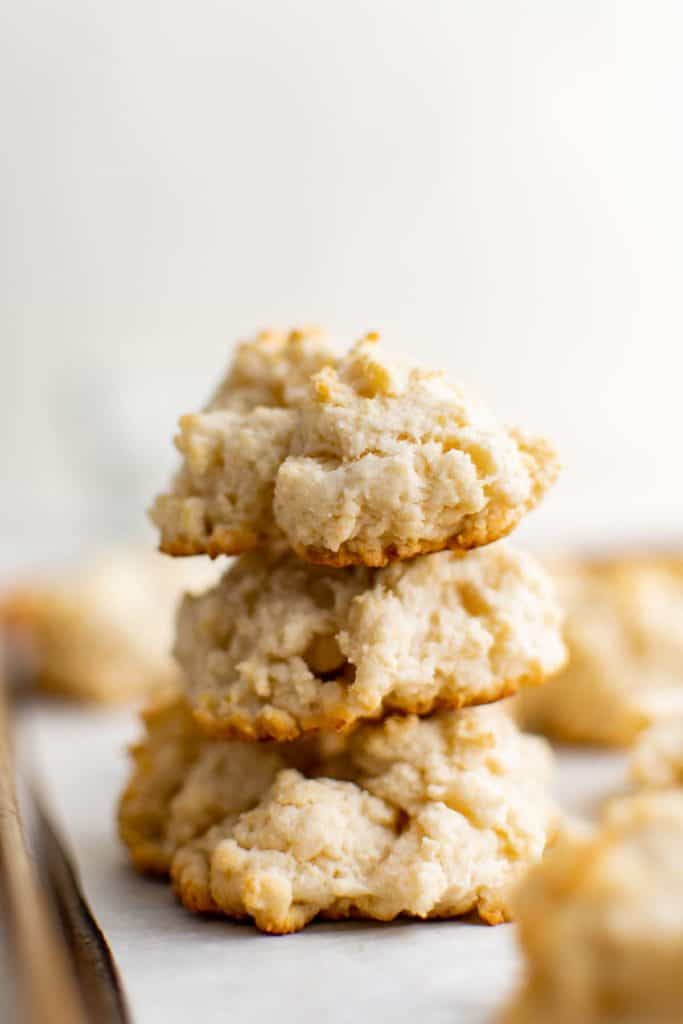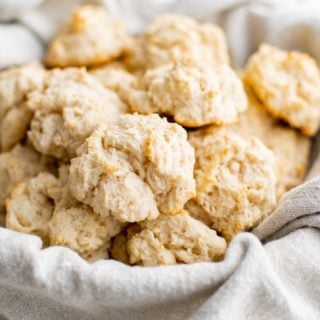 Preheat oven to 425 degrees.
Prepare a large baking sheet with non-stick cooking spray or parchment paper and set aside.
In a large bowl whisk together the flour, baking powder, sugar, salt, and garlic powder.
Stir the butter and milk into the flour mixture just until moistened.
Drop the batter by heaping Tablespoons onto prepared baking sheet.
Bake for 9-11 minutes until golden.
Reader Interactions
This is a classic no-fail recipe to make the Best Baking Powder Biscuits, passed down from generation to generation. These are flaky and buttery. Actually, one of the first things I ever baked as a kid!
This biscuit recipe is fantastic when paired with a warm comforting main dish like Classic Chili Con Carne or Taco Chili. I also love this recipe with various soups like Three Cheese Broccoli Soup or a Creamy Potato Soup.
If you took home economics in middle school, do you recall the very first thing you ever made in that class?
Taking this class and thus the meals in the class wasn't the first time I ever cooked per say, since I'd helped my Mom in the kitchen for years prior.
Yet, this class in middle school was the first time I made a recipe without Mom by my side, and her kitchen tools laid all around.
I think it was a form of reality smacking me in the butt to be honest.
I needed to cook in life and I had to learn to cook anywhere. Thats what this class was for.
The very first thing I made in this class was Baking Powder Biscuits. The recipe is from an old coiled book from parents of kids years prior, with the school logo on the cover.
To give this person full credit for this original recipe, I'll say: Thanks Jane.
I do love this book, all those tried and trues from various families. Passed down from the unknown, like the best kept secrets all in one coiled book.
I think of this time and that book every time I make this type of biscuit, a time of learning. Hey Ma, look at me now!
These baking powder biscuits are way better than refrigerated biscuits from the grocery store, you'll love the flaky layers. They have the best flavor.
Even after all these years, this is one of my favorite recipes.
Ingredients to make Homemade Biscuits
All Purpose Flour – for best results
Baking Powder
Salt
Shortening
Milk
How do you make homemade fluffy biscuits?
Pre heat oven to 350 degrees Fahrenheit. Sift dry ingredients into a large mixing bowl.
Cut in shortening with a pastry cutter (or pastry blender) or use two knives until the mixture has the appearance of fine crumbs.
Add milk to the large bowl. Add in a small portion at a time to the dry mixture, stirring with a fork or spoon.
You'll want coarse crumbs, and until the dough forms a ball around the spoon.
Turn raw biscuit dough out onto a lightly floured surface and knead gently 10 times.
Pat or roll dough with a rolling pin until about 1.5-2 cm thick.
Cut with floured cookie cutter, with even pressure.
Let the unbaked biscuits stand on an ungreased cookie sheet for 10 minutes before baking.
Bake in a preheated oven for about 15-20 minutes. Actual baking time will depend on the size of biscuits, and your oven. They are done when the tops turn lightly golden brown.
Cool on a wire rack and enjoy these best biscuits. We like to enjoy a fluffy biscuit while still warm.
Oven biscuits are a perfect side dish with any kind of soup and stew. They are popular to serve with sausage gravy too.
They pair nicely with holiday dinners like Crockpot Ham, Beef Stew and Chicken Pot Pie. We serve ours alongside Garlic Pork Roast and Crockpot Chicken Pot Pie.
You can also use these to make delicious breakfast sandwiches. They are also the best tea biscuits, alone or topped with jam.
Homemade biscuits have a tendency to dry out really fast when exposed to much air at room temperature. Once warm biscuits have cooled, it's time to get them covered as their shelf life clock starts ticking.
The best way to store biscuits is to put them in an airtight container or wrap individual biscuits with plastic wrap or saran wrap.
If these flaky baking powder biscuits will be eaten rather quickly, a resealable freezer bag will do. This is so they don't dry out.
How to Reheat Biscuits
It only goes without saying, you're going to have some leftover biscuits to enjoy at a later time. You'll want them warm and moist later as well. Hard biscuits aren't preferred, after all.
So how do you reheat biscuits to avoid them being soggy or dry? There are a couple of different ways and different methods to get once again hot biscuits.
Reheating Biscuits in a Microwave
Place biscuits on a plate or in a microwave safe container. Cover or wrap them with damp paper towels (squeeze out excess moisture first) or a moist towel and reheat in the microwave oven until warm.
Using a damp paper towel gives them moisture and prevents drying, without the reheating process causing them to be too soft inside and too hard outside.
The microwave method once might be the best option just for convenience in being the quickest way.
How to Reheat Biscuits in the Oven
On a cookie sheet (or baking sheet) with parchment paper, bake your biscuits for 5 minutes at 350 degrees F. You could also wrap an individual biscuit in aluminum foil (tin foil) and put them directly on the oven rack.
When warm, take them out and brush with butter or olive oil. While this method takes longer, it's the best method.
Reheat biscuits in a toaster oven
You can also reheat biscuits by cutting them like a bagel and placing them in a toaster or toaster oven. This way the reheated biscuits are warm and also crispy!
This Easy Baking Powder Biscuits recipe is just that. I actually made the perfect batch on my very first try years ago, its no-fail.
Since then, this homemade biscuit recipe is still made often – a favourite of mine. Simple, SO FLAKY, and buttery good.
My entire family thinks they are so much better than the Red Lobster Biscuits mix and cheddar bay biscuits you can buy in stores.
Easy enough for a teen, but great enough to be my one and only biscuit recipe from then on. They made the best fresh biscuits ever, I simply adore this easy biscuit recipe.
And yes, I still bring out that very same coiled book of recipes when I make delicious Biscuits.
Though I know the recipe by heart, I don't want to risk missing an ingredient. Plus I just love pulling out this book.
Because this recipe? Perfection just as it is.
As I said, I make Baking Powder Biscuits most often with my Classic Chili. In fact if you head over to the chili recipe, you can see the biscuits in the corner of the photo.
Do you remember the first recipe you ever made, solo?
2 cups Flour
2 tbsp Baking Powder
1/2 tsp Salt
1/2 cup Shortening
Sift dry ingredients into a mixing bowl
Cut in shortening with a pasty blender or two knives until the mixture has the appearance of fine crumbs
Add milk, a small portion at a time to the dry mixture stirring with a fork or spoon until the dough forms a ball around the spoon
Turn dough out onto a lightly floured board and knead gently 10 times
Pat or roll out dough to 1.5-2 cm thick. Cut with floured cookie cutter with even pressure. Let stand on ungreased baking sheet for 10 minutes before baking
6 Servings
Amount Per Serving:
4g
Created by Tammi Roy
It's quick and easy to have the best flakey biscuits on the table in 20 minutes with three ingredients and my three baking tips. Why save homemade biscuits for special occasions? This simple biscuit recipe makes them perfect for any time. So, let's get started, and you'll see these truly are the easiest 3 ingredient biscuits ever!
This post may contain affiliate links. As an Amazon Associate, I earn from qualifying purchases at no extra cost to you. See my disclosure policy here.
What You'll Learn in this Post
What 3 Ingredients You Need for the Easiest Homemade Biscuits
How to Make This Simple Biscuit Recipe
Additional Prep Tips for the Best Homemade Biscuits
Frequently Asked Questions
Easiest Ever 3 Ingredient Biscuits Recipe
I love biscuits or scones. Doesn't everyone? Like many, though, I hadn't had positive experiences making them.
Well, this fast and easy homemade biscuits recipe will completely erase all of those past mistakes. Making the best 3 ingredient biscuits is within your reach! I guarantee it.
What 3 Ingredients You Need for the Easiest Homemade Biscuits
Self rising flour (for all purpose flour, see below)
Heavy cream
Salt
If you don't have self rising flour in your pantry, see how to make your own easy self rising flour below.
Before you know it, you'll pull these delicious, flaky 3 ingredient biscuits with heavy cream out of the oven.
No cream on hand? We have simple biscuit recipes that don't use cream, too!
Check out our tender Buttermilk Drop Biscuits that use buttermilk instead of cream. Or our 3 ingredient drop biscuits that use milk and butter. For a little kick, try our cheddar jalapeno drop biscuits.
How to Make This Simple Biscuit Recipe
Read on to discover my 3 simple tips for creating the perfect from-scratch biscuits in only 20 minutes using these 3 basic – but must have – ingredients.
Easy Baking Tip #1
Initially, I thought self-rising flour was the secret ingredient for making the perfect biscuit. After all, that's what I used the first time my biscuits came out beautifully flakey and tall.
Then I began using organic flour, and I couldn't find an organic self-rising flour. So, I did what anyone would do and turned to Google.
Through a little research, I found that soft winter wheat is an ideal flour for making biscuits. It's low in protein and has a lower gluten.
A search for organic soft winter wheat brought me to organic 00 flour. I already used that for pizza dough. But, after trying it, it's one of my favorite flours to use for biscuit making.
TFN's Tip: Make your own self-rising flour to keep on hand.
Special flours aside, you can use all purpose flour with the changes below OR use self-rising flour.
Turn All-Purpose Flour to Self-Rising Flour
Turn all-purpose flour into self-rising flour with this simple recipe. It makes enough for two batches of biscuits.
4 cups of flour
2 tablespoons of baking powder
1 teaspoon of salt
Mix well, and store in a container at room temperature.
Easy Baking Tip #2
Heavy cream is high in fat and is easy to use. You could use a combination of butter and buttermilk or milk to get that amount of fat. But, it requires more mixing.
Pouring in cold cream is just easier.
Trust me. You don't want to try substituting whole or low-fat milk for heavy cream in this simple biscuit recipe! Heavy cream makes all the difference in the world for the best moist and flaky biscuits.
Here's a quick comparison: heavy cream contains 36-40% milk fat, while whole milk has 3.5-4% milk fat. When making biscuits with just 3 ingredients, the right amount of fat is essential for the best and flakiest biscuits!
If you're looking for that classic buttery flavor from using cold butter in your biscuit recipe, brush on a little melted butter after baking. Or make my easy drop biscuits made with milk and butter.
Or, you can even add a pat in the middle before baking to give them that buttery taste.
Easy Baking Tip #3
The first important technique is folding.
The dough is patted out flat and folded like a letter several times over to create those beautiful layers.
The second technique to perfection is properly cutting the dough.
Press down and come straight up when you are cutting out the biscuits from the dough.
NO twisting! Moving the cutter side to side seals up the edges and prevents them from rising.
So, it's straight down and up for the highest rise!
If you're looking for biscuits you can make without a biscuit cutter, check out our cheddar bay biscuits recipe. Just mix, drop, and bake. They truly are that easy!
Additional Prep Tips for the Best Homemade Biscuits
Consider using a food processor to mix the ingredients, especially if your kitchen is warm. On the other hand, keeping the dough as cool as possible is essential during preparation. So, the less you handle the dough, the better.
Heavy cream is an essential ingredient. It has a high-fat content (36%-40%). Compare that to milk's fat content of 3-4% for whole milk and 2% for low-fat. High fat is an essential ingredient of biscuits. So again, don't substitute regular milk or half-n-half for the cream in these homemade biscuits.
Use a cast-iron skillet for baking instead of a sheet pan to create "cathead" style pull-apart biscuits. These biscuits are clustered together.
A hot oven is essential for the best rise possible. Wait until your oven is to temperature before adding the 3 Ingredient biscuits.
Use these biscuits as a dessert? Skip the salt and substitute it for a tablespoon of sugar. Then you have the perfect shortcakes for that fruit!
Now that you know the easy baking tips for making the perfect 3 ingredient biscuits let's make a batch – or two!
These truly are the easiest homemade biscuits ever.
Get more Easy Recipes Using Self Rising Flour:
Frequently Asked Questions
How do you make biscuits rise evenly?
Space biscuits 2 inches apart on the baking sheet. This allows the cut biscuits to cook evenly yet rise tall.
How do you make biscuits taste better?
If you want the most luscious biscuits ever, brush the tops with melted butter after they come out of the oven. Brushing the butter on after baking lets the butter soaks into the baked biscuit, so you get a great buttery flavor in every bite.
Easiest Ever 3 Ingredient Biscuits Recipe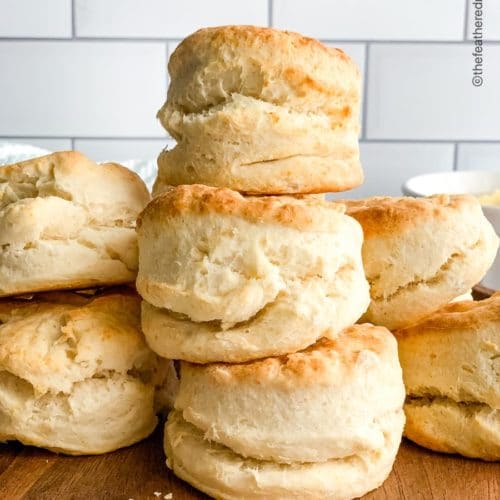 It's easy to have hot, flakey, delicious homemade biscuits on the table in just 20 minutes with my 3 simple baking secrets and only 3 ingredients.
Breakfast, Side Dish, Dessert, Brunch
(see notes for all-purpose flour)
(don't substitute milk, heavy cream is a must!)
Keep cream in the fridge until you're ready to use it.
Add flour and salt to a medium bowl. Pour in cold cream and stir with a heavy wooden spoon until mixed. Preheat oven to 475 degrees.
Cut biscuits with a 3″ biscuit cutter. Press down and bring straight up. Do not twist biscuit cutter. Pat excess dough out, cut, and repeat process again.
You can use all-purpose flour in place of self-rising flour, with these additions:
2 cups of all-purpose flour, 1 tbsp baking powder, 1/2 tsp fine salt. Mix well.
Let us know what you think!
Now that you know my 3 easy baking tips and that you only need 3 simple ingredients to make the easiest and most delicious self-rising biscuits, go and make some!
Preheat the oven to 425°F.
Place the flour in a bowl. Work in the butter or shortening just until crumbs are the size of large peas.
Add 2/3 cup (152g) of the milk or buttermilk, and stir until the mixture holds together and leaves the sides of the bowl, adding more milk or buttermilk if needed.
Scoop the dough onto a well-floured surface, and fold it over on itself several times, using more flour as needed to prevent sticking.
Cut biscuits with a sharp, round 2″ cutter, dipping the cutter into flour between cuts to reduce sticking. Or cut the rectangle into 12 small rectangular biscuits, which will allow you to skip the step of re-rolling and cutting scraps.
If you've used a round cutter, pat the scraps together, and cut additional biscuits.
Bake the biscuits for 10 to 14 minutes, or until they're a light golden brown.
Remove them from the oven, and serve hot. Cool leftovers completely, wrap airtight, and store at room temperature for several days; freeze for longer storage. To refresh Easy Self-Rising Biscuits that have been stored at room temperature, place on a baking sheet, tent lightly with foil, and bake in a preheated 350°F oven for 10 to 13 minutes, until heated through.
Tips from our Bakers
To make a sweeter, shortcake-type biscuit, add 3 tablespoons sugar to the flour, and 1 teaspoon vanilla to the milk.
For cheese biscuits, mix 1/2 teaspoon dried mustard and a pinch of cayenne pepper with the flour; work in the butter or shortening, then toss in 1 cup shredded cheese before adding the milk.
Don't have self-rising flour? Try our recipe for Buttered Biscuits using all-purpose flour.