This list has 17 excellent flaxseed recipes to suit any hunger craving you may have.
Whether you're looking for meatloaf, pancakes, bread, or even cookies, there's a recipe on this list for you.
Want to save this recipe? Enter your email below and we'll send the recipe straight to your inbox!
If you're wondering why anyone would want to eat more flaxseeds, there are numerous reasons.
Flaxseeds are a superfood. They're high in omega-3 fatty acids, fiber, and protein.
They can also help improve cholesterol and may reduce the risk of cancer or lower blood pressure.
They'll make you feel fuller when you eat and can help with controlling your blood sugar.
So now that you know why they're so good for you, let's check out a few flaxseed recipes to help you eat more of them in the future.
Grain-Free Beef and Sausage Meatloaf
Adding flaxseed to your meatloaf provides even more protein, a bit of fiber, and allows you to keep it grain- and gluten-free.
Plus, this meatloaf is just delicious. It's incredibly herb-flavored and has just enough spice in it to "kick it up a notch."
This meatloaf recipe isn't the only one I use, but it's one of my all-time favorites.
Flaxseed Pancakes
These vegan-friendly and gluten-free pancakes aren't quite as light and fluffy as traditional pancakes, but they're much more filling and just as tasty.
In fact, they're actually sweeter than regular pancakes because you'll sweeten the batter with maple syrup before cooking the pancakes.
Best of all, they'll take only seven ingredients, and you can make over half a dozen in less than 30 minutes.
Vegan Black Bean Burgers
If you need a secret ingredient to ensure your vegan black bean burgers aren't mushy and have plenty of protein, reach for the flaxseeds.
Along with the garlic, cumin, cilantro, and other ingredients, they make this burger one of the best vegan burger options there is.
Plus, you can fry them, bake them, or grill them, so however you feel comfortable cooking patties, you're all set with these vegan ones.
Peanut Butter Breakfast Cookies
You can even add flaxseeds to cookies! These peanut butter breakfast cookies are simply scrumptious.
They're chewy, tasty, and full of things that are both good for you and that taste good, including oats, chocolate chips, flaxseeds, brown sugar, peanut butter, and more.
Whether you eat them for breakfast, dessert, or a snack, you'll certainly enjoy them.
Vegan Flaxseed Pudding
If you're looking for a low-carb way to start your day, you can't beat this four-ingredient flaxseed pudding.
All you'll need are flaxseeds, non-dairy milk (or water), salt, and your chosen sweetener.
You can whip it up in 10 minutes with no cooking needed. It's an easy, flavorful way to start your day.
Banana Almond Flax Smoothie
If pudding for breakfast isn't really your style, this smoothie is another excellent breakfast option.
It has plenty of nutty banana flavor and is naturally sweetened with honey.
It, too, is easy to make, requiring only seven ingredients (eight if you add ice) and 5 minutes of your time.
If you're often in a hurry in the mornings, this recipe is the way to go.
Keto Flaxseed Bread
One of the hardest things to live without on the keto diet is bread.
You never notice just how many things you use bread for until you're not supposed to have it.
Since keto has become more popular, stores now sell keto-friendly breads, but those are usually super expensive and don't have many slices in the pack.
Save yourself some trouble and money by making your own keto-friendly flaxseed bread.
It's delicious, has an excellent texture, and boasts only 3 net carbs per serving.
Flaxseed Wraps
If you prefer wraps to bread, check out this flaxseed recipe instead.
It's just as straightforward and delicious as the bread, but it caters to a different type of "bread" eater.
Super Green Smoothie Bowl
Anyone who knows me knows that I love pretty food, and the super green smoothie bowl is gorgeous.
I love its bright green color, and once you add colorful berries for toppings, it's even lovelier.
Luckily, it tastes great, too. Plus, it's vegan-friendly and gluten-free.
You can make it in 10 minutes with fewer than ten ingredients, and you can add whatever toppings you like best to tailor its flavor better to suit your tastes.
Paleo Almond Butter Banana Muffins with Flaxseed
These banana muffins are so fluffy and moist that you won't even realize they're good for you. The chocolate chips also add a nice dash of decadence to them.
They'll make an excellent breakfast or snack option, and they taste so good that even the kids will love them.
Homemade Granola
I'm a firm believer in making things from scratch, especially if doing so is simple and doesn't take a lot of time or effort.
That way, you can keep things as healthy and as natural as possible without having to worry about what kind of additives are in the store-bought versions.
This homemade granola is a favorite of mine.
It's crunchy, sweet, spiced, and nutty, and it tastes every bit as good – maybe even better – than what you buy at the store.
It takes only 40 minutes to make, and you can create big batches and store them for future use.
No-Bake Breakfast Bar
These no-bake breakfast bars are another breakfast option that looks much too indulgent to be healthy.
However, since you'll pack them with honey, coconut oil, nut butter, oats, almonds, flaxseed, and more, they are actually healthy.
Of course, most people are just going to notice their rich chocolate and nutty flavor, and that's okay! Eating healthy shouldn't mean sacrificing taste.
Flaxseed Twisty Sticks
These fun twisty sticks look exciting and unique, and they taste just as fantastic as they look.
They're crunchy and herby, featuring flavors like garlic, oregano, onion powder, and others.
They're an excellent grab-and-go snack that you can quickly eat in the car, at the office, or on your morning walk without having to worry about the mess.
Flax Egg
Flax eggs aren't something you'll eat by themselves, but they'll make an excellent substitute for regular eggs when baking, making them perfect for vegan-friendly recipes.
You can make them with nothing more than flaxseed and water, and it takes only 5 minutes.
They'll also work well in a pinch if you're baking and realize you ran out of eggs.
Flaxseed Porridge
I'm not sure why porridge gets such a bad rap, but people I know just never seem to give it a chance.
But this flaxseed porridge is phenomenal! With it, you'll get notes of coconut, cinnamon, figs, dates, and almonds. Plus, it's healthy, filling, and easy to make.
If you're on the fence about porridge, give this recipe a try. I think you'll enjoy it.
No-Bake Energy Bites
These bite-sized balls of yumminess are full of more than just energy; they're also overflowing with flavor!
You can whip up two dozen or so of these treats in just 20 minutes, and they're insanely good.
They're chewy with just a little crunch, and they taste like your favorite granola bar, only in miniature form.
Flaxseed and Blueberry Oatmeal
Finally, if you're looking for a simple way to work more flaxseed into your diet, add it to your morning bowl of oatmeal.
This particular oatmeal uses only eight ingredients: whole milk, water, oats, flaxseed meal, salt, fresh blueberries, chopped and toasted pecans, and maple syrup.
It's a sweet, hearty treat that'll help start your morning off right.
Of course, you can adjust the toppings to suit your tastes if blueberries, pecans, and maple syrup aren't your thing.
If you've ever been intrigued by a bag of flaxseed at the grocery store but had no idea how to eat flaxseeds, you're not alone. Flaxseed is a — you guessed it — seed that's high in fiber and omega-3 fatty acids, and its reputation as a "superseed" makes it a popular add-in to many recipes. However, those new to the plant-based seed might not know the best recipes for flaxseeds or even how to eat flaxseed at all. Don't sweat it; try these flaxseed recipe ideas from food and nutrition experts to help you make flaxseed eating a part of your regular routine and reap all the health benefits of flaxseeds.
Health Benefits of Flaxseed
Before diving into how to eat flaxseed, you need to know why the tiny seeds are worth adding to your regular diet in the first place. Eating flaxseed benefits both your body and your brain, and flaxseed is the richest plant source of omega-3 fatty acids, according to the Cleveland Clinic. These healthy fats help reduce inflammation, balance hormones, and prevent heart disease, diabetes, and inflammatory diseases such as arthritis. At the same time, flaxseed is also low in saturated fat (a type of dietary fat in which the fatty acid chains have all single bonds), which has traditionally been associated with high cholesterol and an increased risk of heart disease, according to the American Heart Association.
On top of the aforementioned omega-3s and fiber, flaxseed contains zinc, iron, vitamin E, and calcium, among other vitamins and minerals. Flaxseed is also a great source of lignans, potassium, and magnesium, says Danielle Omar, a registered dietitian and health coach. And finally, flaxseed is high in fiber and can help relieve constipation.
How to Eat Flaxseed
Now that you know why flaxseed eating should be a priority, it's time to learn how to make use of it in the kitchen. For starters, you can buy flaxseed either whole or milled. "Trouble is, the omega-3 of flaxseeds is located in the seed, and unless you chew them thoroughly, they can be difficult to digest," explains Shari Portnoy, a registered dietitian and researcher.
Luckily, there's an easy fix: "To get the benefit of flaxseed, grind it in a blender, coffee grinder, or food processor," advises Portnoy. Oh, and "make sure you refrigerate the flaxseed meal, as the oils in it can become rancid," says Ariane Hundt, M.S., a New York City–based clinical nutritionist.
Aim to eat one to two tablespoons of flaxseed daily to reap maximum health benefits, suggests the Mayo Clinic. "I suggest buying the seeds whole and storing them in the fridge, then grinding them yourself to preserve freshness," recommends Omar. "You can also purchase 'cold milled flax' seed, which can increase the shelf life of ground flax," she adds.
Below, find a few creative ideas for how to eat flaxseed with any meal of the day.
As a Muffin Ingredient
To double down on the fiber content of flaxseed, try using flaxseed in a recipe that already features fiber-rich content such as bran. "I buy Uncle Sam's cereal and use their muffin recipe but add 1/2 cup of ground flaxseeds," recommends Portnoy. "Since flax helps as a laxative, you get the benefits of the cereal and the extra flax."
Not in the mood for muffins? Flaxseed is an easy addition to pretty much any baked good that you'd like to make more nutritious.
As a Vegan Egg Substitute
You don't need to stick to sprinkling flax into your baking batters, either. Instead, use flaxseed as an egg replacement (sometimes called a "flax egg" in vegan recipes). For any recipe that calls for eggs, try using "2 tablespoons of flax with 2 tablespoons of water to replace one egg," explains Omar. This flaxseed flex is an easy way to make baked goods both vegan and omega-rich. (Try these pistachio-raspberry thumbprint cookies first.)
As a Yogurt Topper
If you're wondering how to eat flaxseeds without a ton of effort, try sprinkling 2 tablespoons of ground flax on your Greek yogurt for a protein-packed yogurt bowl, suggests Hundt. "Greek yogurt is high in protein and ideal for muscle building and filling up," she says.
As a Breakfast Ingredient
Yogurt isn't the only healthy breakfast that could benefit from a dash of flaxseed. You can add a tablespoon or two of flaxseed to oatmeal, smoothies, or protein shakes to bulk them up so you stay full. In pancake batter, they make a great replacement for eggs. Or roll your French toast in flaxseed before it hits the skillet, advises Jennifer Tuma-Young, a certified coach and public speaker.
As a Breadcrumbs Substitution
The benefits of flaxseed eating aren't reserved for breakfast or sweet treats, points out Hundt. They're a simple, healthy, delicious addition to almost any meal — flaxseed has a delicate, nutty taste that does not overpower other flavors. Try adding it to the coating of recipes such as chicken parmesan, coconut-crusted tilapia, or eggplant parm, suggests Tuma-Young.
As a Crunchy Topping for Salads, Soups, and Sandwiches
Try adding toasted flaxseed to salads, soups, and sandwiches for a pleasant crunch. But when it comes to cooking with flaxseed oil, be warned: While flaxseed oil has a concentration of the plant's omega-3 fats, it has a low smoke point, so it's not recommended for cooking. However, flaxseed oil is good for salad dressings and other foods you aren't heating up.
As an Added Ingredient in Most Recipes
To make flaxseed eating a regular part of your diet, add flaxseed to recipes you already know and love, suggests Alyssa Phillips, a physician's assistant with a degree in nutrition. For instance, you can try mixing flaxseed into your meatloaf, meatball, and casserole recipes, she recommends. You can also add flaxseeds to whole grain pizza crust or bread mix, or even into your veggie burger.
Learn how to make and use a flax egg using just two ingredients and simple step-by-step instructions.
If you're wanting to eat a more plant-based diet, then I know this post will be super helpful for you. Learning how to replace eggs in baking was one of the first things I learned how to do when I switched to a plant-based diet. Ain't nobody wanting to miss out on baked goods!!
What is the purpose of eggs in baking?
Before we jump into how to replace eggs in baking, I think it's important to talk about the purpose of eggs in baking. Egg yolks provide fat and help emulsify foods, such as liquids and fats. They also provide richness and a velvety texture. Egg whites are amazing for creating foam that holds its shape and can create a light and airy texture. When used together, whole eggs provide both fat and richness as well as a lightness and leavening.
Due to eggs thick, goopy texture, they also help bind ingredients together so as to help keep baked goods from crumbling.
So as you can see, eggs can play many important roles in baking!
How to replace eggs in baking
Flax egg: binding agent
Chia seed egg: binding agent
Fruit purees (applesauce, mashed banana, pumpkin puree, etc.): binding agent
Silken tofu: binding agent
Baking soda + acid: leavening agent
Aquafaba: leavening and binding agent
Yogurt: leavening agent
Obviously, if you use a fruit puree to replace eggs in baking, then the flavor of the fruit may come through in your baked good. I personally love to use a combination of a flax or chia egg plus baking soda and an acid. The flax egg helps bind all the ingredients together and the combination of the baking soda and an acid provides a light, fluffy texture.
Flax Egg Ingredients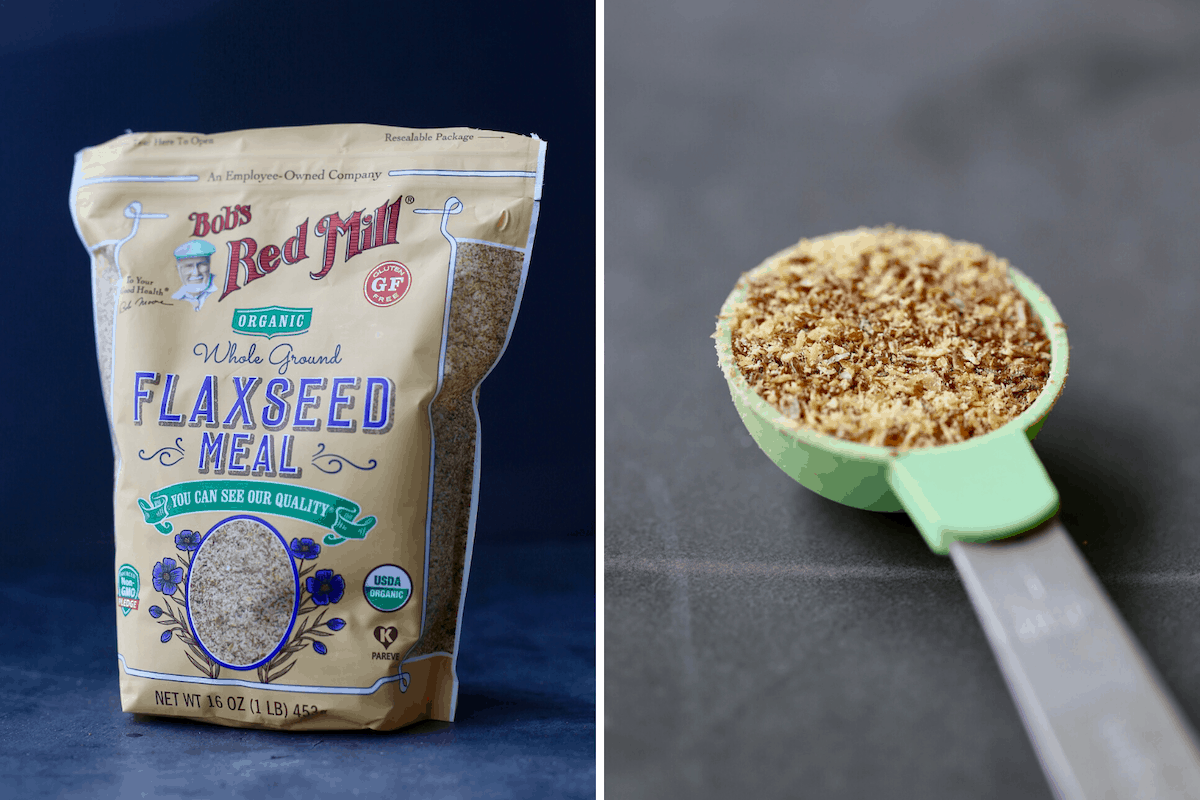 A flax egg consists of two simple ingredients:
1 tablespoon of ground flaxseed meal
3 tablespoons of water
Making a flax egg is super simple. All you have to do is stir 1 tablespoon of ground flaxseed meal into 3 tablespoons of (preferably warm) water and let the mixture thicken for about 5 minutes.
The ground flaxseed meal will thicken as it sits in the water and will become a goopy, thick mixture which is perfect as a binding agent in recipes!
Step 1: In a small bowl, stir together 1 tablespoon of ground flaxseed and 3 tablespoons of (warm) water.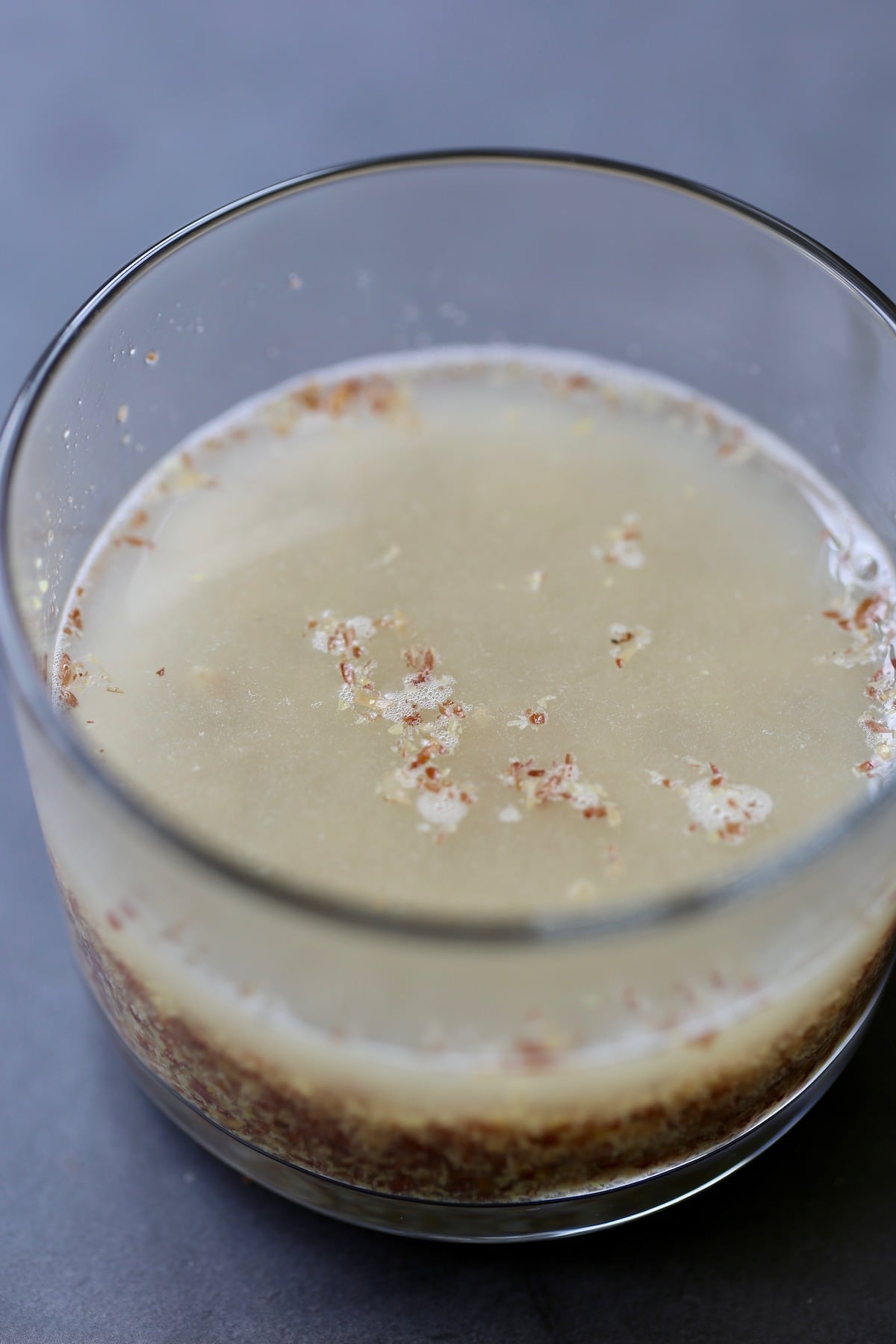 Step 2: Allow the mixture to sit for 5-10 minutes or until thick and goopy.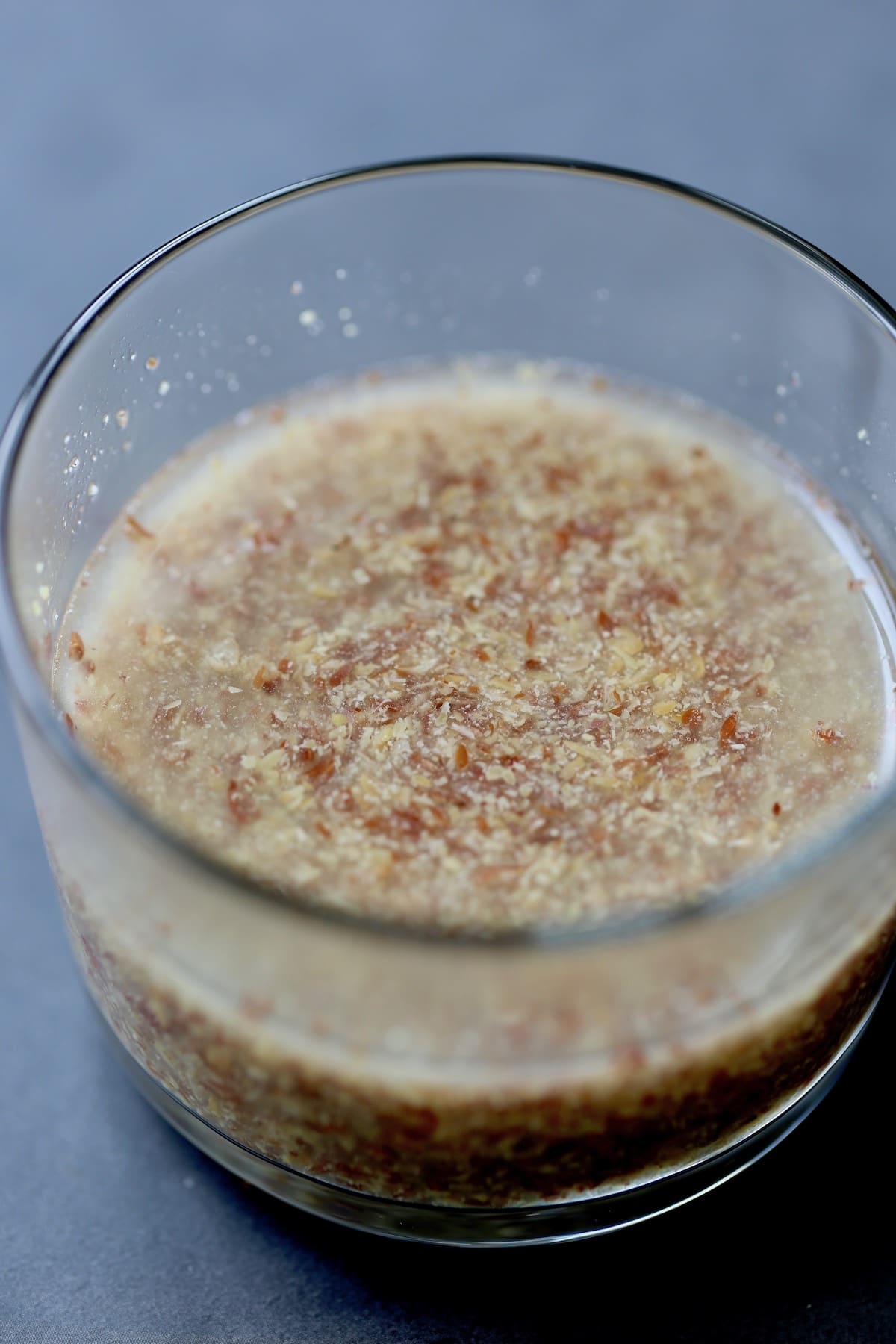 Step 3: Use the thickened flax egg right away!
How to use a flax egg in baking
When using a flax egg in baking, I recommend making the flax egg first thing so it has time to thicken while you prepare the other ingredients. Then you simply use the flax egg as you would a normal, cracked, beaten egg. Simply add it into the other ingredients according to the recipe instructions.
How long can you keep a flax egg?
I would recommend making your flax eggs only as needed and not preparing them in advance. Since they take only a few minutes to make, preparing them right before you need them usually isn't a problem. Ground flaxseed tends to go rancid fairly quickly unless refrigerated or frozen, so I don't recommend storing flax eggs.
What is the best kind of ground flaxseed to use when making a flax egg?
You can use whatever brand of ground flaxseed you want when making a flax egg. Flaxseeds can be either brown or golden in color, but both work the same when making a flax egg. One thing you may want to consider is that brown ground flaxseed may add dark speckles to whatever you're baking. If you prefer to have your lighter baked goods uniform in color, then simply use golden flaxseed meal.
How to grind flaxseeds into flaxseed meal
If you can't find ground flaxseed, but have access to whole flaxseeds, you can simply grind the whole flaxseeds into flaxseed meal yourself. The best ways to do this is in a coffee or spice grinder. However, you can also use a high speed blender. Just make sure you don't grind the flaxseeds too long or else they will start to form a butter or paste.
Recipes using flax eggs
How to Make and Use a Flax Egg
Requiring just two ingredients and 5 minutes of time, you can quickly learn how to make and use a flax egg to replace eggs in baking!
Warm water isn't necessary, but I find it makes the flax egg thicken faster.
Let me know how it was!
Lately the media has been spending alot of time talking about "healthy omega 3 fats." And it's about time! Most people are woefully deficient – getting only about 1/3 of what's recommended.
Therefore, in this newsletter, rather than discussing all the different types of healthy fat available today, we're going to narrow in on flax seeds.
The flax primer
Now, most of you are likely familiar with flax seeds and flax oil. And your knowledge likely resides somewhere between "flax is good for me" to "flax has alpha linolenic acid, which can be converted to the powerful fatty acid, EPA".
Regardless of your pre-existing knowledge, here's a little primer.
Primarily, flax contains alpha-linolenic acid, an omega-3 fatty acid. ALA falls under the subheading of polyunsatured fat.
Humans evolved on diets consisting of marine life and/or inland plants which provided abundant omega-3 fats. This resulted in an omega-6/omega-3 ratio that was around 1:1.
Currently, humans don't get nearly enough omega-3 fats from things like flax, hemp, walnut, perilla, salba, and fish oil. As a result, most people consume a ratio of about 16:1 – an intake that's out of balance.
Therefore, purposefully adding omega-3 rich fats has become not only popular, but necessary. And the two most popular omega 3 foods are flax seeds and fish oil.
The benefits of flax
While we've spoken extensively about fish oil on this site, we figured it was time to list some of the unique benefits of flax – specifically flax seeds.
Constipation
2 tablespoons of flaxseeds has been shown in research studies to alleviate constipation.
So, if you're suffering from infrequent bowel movements, you can add 2 tbsp of flax to improve things.
This is much less expensive than fiber supplements.
Also, the calorie load is low. 2 tbsp = 80 calories (6g fat, 4g carbs, and 4g protein).
Flax to EPA
Flax has ALA, which can be converted to EPA.
For this conversion, we need delta-6-desaturase.
Well, good old delta-6 is inhibited by high blood sugar levels, high saturated fat consumption, and alcohol intake.
So if your diet is poor, flax won't do you much good when it comes to converting into the really healthy omega 3 fats.
Menopause
This is one of the most common problems treated by eye eye docs.
Dry Eye Syndrome is caused by poor lubrication of the eye, leading to burning, itching, irritation, redness, blurred vision the improves with blinking, excessive tearing, discomfort after periods of watching TV or working on a computer.
Interestingly, people that consume more omega-3 fats (from flax) have a lower incidence of dry eye syndrome.
Reduced cholesterol
Those that consumed 3 tablespoons of ground flaxseeds per day for 60 days had significant reductions in total cholesterol, bad cholesterol, and triglycerides.
These improvements are similar to those seen when taking the powerful statin drugs (which carry with them some nasty side effects).
Flax in your diet
Now, while these benefits are groovy, I find that many folks simply don't know how to include flax in their diet.
Here are some great suggestions:
Combine ground flax with cinnamon and use as a dip for fruit (like apples)
Sprinkle ground flax over berries
Mix ground flax in super shakes
Add ground flax to whole grain cereals
Add ground flax to salads
Add ground flax to salad dressing
Sprinkle on cooked vegetables
Add ground flax to hummus
Add ground flax to nut butters
Combine flax and cinnamon to canned pumpkin
Add to Gourmet Nutrition recipes like pancakes, bars, cookies, muffins
In fact, here's one great recipe, right from our new book, Gourmet Nutrition – The Cookbook For the Fit Food Lover, that incorporates flax seeds.
Gooey Chocolate Chip Muffins
6 large or 12 small
Prep time
Everybody loves chocolate chip muffins. So even though they're a decadent treat, we decided to include a GN version here, including a variety of ingredients designed to improve the overall nutritional profile of the classic muffin mix. Be forewarned, however. These muffins are still high in calories and in carbs. So you'll want to make sure to earn them in the gym and eat them post exercise.
1/2 cup unsalted butter (room temperature)
4 whole omega 3 eggs
¼ cup coconut milk
1 teaspoon vanilla extract
1 1/2 cups whole-wheat flour
1/2 cup flax meal
6 scoops chocolate protein powder
1 tablespoon cocao powder
1 teaspoon baking powder
1 teaspoon Splenda
½ cup chocolate chips
½ cup dried fruit
Instructions
Preheat oven to 350 degrees F.
Combine all ingredients together in a mixing bowl and stir with a wooden spoon until combined.
Lightly coat a nonstick muffin pan with spray and then fill each muffin almost to the top.
Place in the oven and bake 10 minutes or until the top is set.
Cool, portion and store in the freezer individually wrapped.
Variations and options
Substitute the dried fruit in this recipe with seeds or crushed nuts.
For some additional healthy fat, slice and coat with natural almond or peanut butter.
Nutritional information
Too much flax?
Ok, now that you know how to incorporate flax into your plan, the big question is this: can you eat too much? The answer: of course. Just like with every other food – overconsumption can be a problem.
Raw flaxseeds, along with other nuts/seeds (about 12,000 of them) contain cyanogenic glucosides. Consuming too many of these compounds over time can cause an accumulation in the body and toxic (even life threatening) reactions.
So, how much is too much? Well, up to ¼ cup per day of ground flax should pose no health risks. Further, as cooking the seeds will render the glucosides harmless, you could cook your flax seeds (in your baked items, for example).
What about fish oil
A discussion of fish oil is beyond the scope of this week's newsletter. Instead, we're focusing on flax. However, if you'd like to know more about the other healthy fats and/or fish oil specifically, take a look in our forum area.
Additional flax info
Before we wrap up, we wanted to drop a few more notes about flax:
Learn more
The best part? They're totally free.
To check out the free courses, just click one of the links below.
Wholesome cookies with flaxseed that are easy to make and taste delicious!
Here's a recipe for one of my household's favorite snacks. While they aren't much to look at, they are a wholesome treat that is kid and toddler friendly.
Here's what I like about them: they contain 100% whole grains, each cookie has a half teaspoon of ground flax seed, and they have no preservatives or artificial anything in them.
Oh yeah, and they are pretty easy and cheap to make to boot!
How To Make Flaxseed Cookies
First, whisk together all the dry ingredients.
The recipe calls for ground flaxseed, which you can buy or make yourself from whole flaxseeds.
I buy whole organic flax seeds from the bulk section of our local health food store (Weaver Street Market) and grind them myself in an electric coffee grinder.
At $1.79 per pound they are very affordable.
Then plop a stick of slightly softened butter (20 seconds in my microwave does the trick) into the mix and mash the butter into the dry ingredients with your fingers until the mixture resembles coarse sand, like this.
Then add the egg and mix it in with your hands.
Make 24 little balls of dough, flatten them slightly, and place them on an ungreased cookie sheet. Then bake them in a preheated oven for 10-12 minutes.
While they aren't very photogenic, they are a Delicious and somewhat healthy snack to grab when you need a boost.
I hope you enjoy this recipe for flaxseed cookies!
Originally inspired by this whole wheat shortbread.
1 1/2 cups whole wheat flour
1/4 cup ground flaxseeds
1 tsp baking powder
pinch of salt
1/2 tsp cinnamon
1/3 to 1/2 cup of sugar, depending on how sweet you want to make them
1 stick of unsalted butter
1 large egg, lightly beaten
Whisk the first six ingredients together. Mix the butter into the dry ingredients until the mixture resembles coarse sand.
Add the egg and mix thoroughly. Make the dough into small balls, flatten slightly, and place onto an ungreased cookie sheet.
Bake for 10-12 minutes and remove from the cookie sheet immediately.
Yield
1Amount Per Serving: 4g 2g 0g 1g
You will also love these recipes:
What is Flaxseed?
Flax, or flaxseed or linseed, basically comes from the flowering plant from the Linaceae family.
If you've never eaten flaxseed before, now's a great time to start! Naturally a good source of dietary fiber and omega-3, flaxseed is a great addition to your diet, and I've been trying to incorporate it more in the foods I cook and eat.
From quick breads such as this flaxseed coconut bread, this easy flaxseed bread and this flax almond bread, to even flaxseed breakfast porridge, banana flaxseed waffles, and flax eggs (as an egg replacer), there are so many ways to cook and use flaxseed!
In a large mixing bowl, beat the oil and sugar together until combined.
Add the eggs and almond milk and mix well to get a pale yellow mixture.
In a medium bowl, whisk the gluten-free all-purpose flour, baking powder, salt, flaxseed meal, and ground cinnamon together to combine.
Add the flour mixture to the bowl with the wet ingredients and mix well to combine.
Divide batter evenly between the muffin cups in the muffin mold (approximately 1/2 cup of batter each).
Bake for 30 to 35 minutes until the flaxseed muffins are golden brown on top and a toothpick inserted comes out clean.
Let the flaxseed muffins cool for at least 5 minutes in the muffin mold before removing them, and then allow them to cool completely at room temperature on a wire rack before enjoying.
Description
Slightly sweetened with a hint of cinnamon, these easy flaxseed muffins are tender with a moist crumb and perfect for breakfast or an anytime snack! Super easy to make, with flaxseed meal being the secret ingredient for extra fiber, this recipe for flax muffins is totally gluten-free and dairy-free too, but no one would know! Bake a batch or two and freeze to enjoy homemade muffins anytime!
Preheat and Grease: Preheat oven to 350F and grease a muffin tin or silicon muffin mold.
Beat Oil and Sugar: In a large bowl, beat the oil and sugar together until combined.
Add Eggs and Milk: Add the eggs and almond milk and mix well to get a pale yellow mixture.
Whisk Dry Ingredients: In a medium bowl, whisk the gluten-free all-purpose flour, baking powder, salt, flaxseed meal, and ground cinnamon together to combine.
Combine Dry and Wet Ingredients: Add the dry ingredients to the bowl with the wet ingredients and mix well to combine.
Divide Batter Between Muffin Mold Cups: Divide batter evenly between the cups in the muffin mold.
Bake Until Golden: Bake for 30 to 35 minutes until the muffins are golden brown on top and a toothpick inserted comes out clean.
Cool and Enjoy: Let the muffins cool for at least 5 minutes in the muffin mold before removing them and letting them cool completely on a wire rack before enjoying.
Notes
Oil: I like to use sunflower oil because I always have a bottle of it on hand. You may also use any other vegetable oil (such as olive oil, avocado oil, or melted coconut oil) or melted dairy-free butter. Alternatively, if you are not lactose-intolerant, feel free to use melted butter or ghee instead.
Sugar: I use white sugar but you can also use light brown sugar, dark brown sugar, maple sugar or coconut sugar if you prefer. Alternatively, if you are diabetic or insulin-resistant, I highly recommend using Lakanto monkfruit sweetener (a 1:1 substitute for normal sugar that is zero-glycemic index and will not raise your blood sugar).
Eggs: Eggs are necessary in this flaxseed muffin recipe because they provide structure and help the muffins to rise. If you prefer not to use egg yolks, you can use 8 egg whites instead of 4 whole eggs. I have not made this recipe egg-free, and I'm not sure how that would turn out as the eggs are essential in binding the ingredients together.
Milk: I like using my 5-minute homemade almond milk, but you may also use other non-dairy milks (such as cashew milk, tigernut milk, rice milk, soy milk, sunflower seed milk, or coconut milk). Alternatively, if you are not lactose-intolerant, you may use normal dairy milk instead.
Gluten-Free All-Purpose Flour: I highly recommend using a good quality gluten-free all-purpose flour blend that is made up of lighter flours/starches (such as rice flour, corn starch, tapioca starch, potato starch) to ensure you get a light and fluffy texture. I do NOT recommend using a flour blend with heavier flours such as garbanzo bean flour as that will result in a denser texture.
Baking Powder: Baking powder is necessary to help the muffins rise, so I do NOT recommend omitting it. If you are Celiac or gluten-intolerant, make sure to use certified gluten-free baking powder.
Flaxseed Meal: I used brown flaxseed meal in this recipe, but golden flaxseed meal will work just as well! The only difference is that golden flaxseed meal has a milder taste, compared to brown flaxseed meal which has a nuttier taste. Here's my recipe for how to grind flaxseed meal in just 5 minutes (grinding it fresh is way better than storebought flaxseed meal that may have turned rancid)!
Cinnamon: I love using a bit of ground cinnamon for a hint of sweetness and extra flavor. However, if you don't like cinnamon, feel free to leave it out instead.
Storing/Freezing: To store, place the flaxseed muffins in an airtight container and store in the refrigerator for up to 5 days. To freeze, place the flax muffins in a freezer-safe container or ziplock bag and freeze for up to 3 months. Let muffins thaw completely overnight in the refrigerator before eating.