Jump to recipe
This is one of those foods I wouldn't dream of eating as a child, but now as an adult can't get enough of. Summer seems like the perfect time for this egg salad recipe. Boil some eggs to keep in the fridge for an easy lunch. Or make this egg salad ahead of time and pack it for a day at the beach, lake, or water park.
Cottage cheese has become one of my favorite ingredients. I especially love this Good Culture brand. Oh my gosh it's the best! The first time I bought it I didn't love it. I tend to do this with all my favorite things. It has a different consistency than most cottage cheese (which I now love about it) and just overall different taste. When I eat my old favorite, Knudson now, it seems sweet and just weird. I find this at Kroger stores and Target if you want to try it. Target usually always has these snack size ones that are just the right amount for this recipe or for pairing with some Pop Corners chips. If you haven't tried Pop Corners with cottage cheese, you're missing out on a great high protein snack!
If you don't want to boil eggs on the stove, have to wash your whole instant pot, or start your oven, this egg cooker is very convenient. It's something I ordered for Chad for Christmas thinking it would just be something silly, but he uses it ALL the time. The kids actually use it also, they love hard boiled eggs.
Cottage cheese is a nice addition to this egg salad because it boosts the protein so much. It also significantly reduces the need for extra mayo, resulting in less fat overall. If you're not a cottage cheese fan I get it, I think the egg salad hides the cottage cheese well in this one.
Do the macros include the bread pictured?
No. The macros for this one is just for the egg salad so you can put it on whatever you like. It's great on bread, rice cakes, or you can eat it with crackers or chips.
Ingredients
8 large eggs (fresh eggs peel better)
1/2 tablespoon mustard
5.3 oz container Good Culture Cottage Cheese (19p/3c/3f)
2 stalks green onions, diced
celery salt
dried dill
paprika
salt & pepper
Instructions
Begin slicing up your hard boiled eggs and place in a small mixing bowl. Discard 2 of the egg yolks so you're only using 6 yolks total.
Add the mustard, cottage cheese, green onions, and spices. Mix well. I don't measure the spices when making this one, sorry! I recommend a pinch of each and adding extra as you see fit.
Put over the top of your favorite bread or a rice cake! Top with some extra green onions and paprika.
* Percent Daily Values are based on a 2,000 calorie diet. Your daily values may be higher or lower depending on your calorie needs.
Stay Fit Mom
You won't miss the mayo in this easy Cottage Cheese Egg Salad recipe. It's a filling lunch or a hearty snack whenever you need a protein boost!
But over the years I've had a love/hate relationship with cottage cheese.
First, I hated it.
Now, I love it.
I'm fairly simple that way.
Egg salad on the other hand? It will forever own my heart.
I recently discovered (out of necessity, more than anything else, when I realized I was running low on eggs) that you could mix these two protein powerhouses together to create a satisfyingly tasty batch of egg salad.
Stuffed between two pieces of hearty whole-grain bread, this egg salad makes the kind of lunch I could eat day after day.
I prefer my egg salad as I do my deviled eggs — with a bit of dill and a touch of mustard. The day I made this I also sprinkled on a few fresh chives, and quickly decided my brilliance knows no bounds
Okay, well, maybe that last part's a stretch, but chives + egg salad is sandwich perfection. Trust me.
Give this quick and easy recipe a try the next time you're looking for a filling lunch option!
hard-boiled eggs**, coarsely chopped
cottage cheese*
golden mustard
salt
dried dill
lemon juice
Notes
*A thicker cottage cheese works best here. I highly recommend using Friendship Dairies if it's available in your area. If yours contains more liquid, let it drain in a fine sieve before mixing.
**If you're not making hard-boiled eggs in the Instant Pot, you should be! Never have another hard-to-peel egg again! Here's the 3-Quart Instant Pot I use.
Affiliate Disclosure
Disclosure: Some of the links on this site are affiliate links. This means that, at zero cost to you, I will earn an affiliate commission if you click through the link and finalize a purchase.
A healthier version of "cream cheese" frosting for your cakes, cupcakes, and cookies. Learn how to make frosting from Greek yogurt.
The classic coffee shop scone gets a gluten free makeover in these Gluten Free Raisin Scones.
These cake mix blueberry crumble bars are an easy dessert recipe the whole family will love!
This easy recipe for fudgy peanut butter cup brownies is a peanut butter lover's dream! They're an easy treat your whole family will love!
This super easy recipe starts with a basic easy fudge recipe and adds in traditional s'mores ingredients. It will quickly become one of your family's favorite treats! Bonus: No candy thermometer required!
This protein packed veggie egg bake is an easy meal prep to stock your fridge with for a quick breakfast or snack. It's light & fluffy and comes together so easily!
Veggie Egg Bake
I've been obsessed with Starbucks sous vide egg bites for years and have been wanting to come up with my own version for a while. I tested this veggie egg bake a couple of times and think I finally perfected the texture.
This simple recipe is light, yet filling. It's made from a base of eggs, cottage cheese, and shredded cheese with a little tapioca flour to really give it the ideal texture.
The cottage cheese adds an extra boost of protein. Its blended together with the eggs and cheese, so if you're not a fan of the cottage cheese curds, don't worry, you won't even taste it!
This recipe easily turned into a weekly staple. My husband and I finish them within 3-4 days, and we never get sick of them. If you wanted to change up the flavors, feel free to use your favorite cheese blend and veggies.
How to make an egg bake
This recipe is really quick to throw together, and requires just a few simple ingredients. Here's what you'll need:
eggs
cottage cheese
shredded cheese- I used a mix of mozzarella and cheddar
tapioca flour- the flour really helps give these egg bars the ideal texture. Without it, the end result is a little more spongey. I don't recommend skipping the flour, but you can use arrowroot or all-purpose flour instead
veggies: red bell pepper, spinach, onion & scallions
spices: salt, pepper and garlic powder
Blend the eggs, cheese and cottage cheese together in a blender or food processor until smooth.
Mix that together with the chopped vegetables, spices and tapioca flour
Pour everything into a greased baking dish
You'll be left with the perfect breakfast or snack to enjoy throughout the week. I pop mine in the mini oven or microwave to warm when I'm ready to serve, and love to top it with hot sauce for an added kick.
Serve these with whole grain toast, avocado, yogurt, or just as is! Either way, you're going to love this simple recipe.
More breakfast recipes you'll love
shredded cheese, plus more to top. I used mozzarella and mild cheddar
tapioca flour, or substitute arrowroot, rice flour or all-purpose flour
red bell pepper
Directions
Preheat the oven to 375 F
Add the eggs, cottage cheese and shredded cheese to a blender or food processor and pulse together for 30-40 seconds until smooth. Transfer the mix to a large bowl
Finely chop the peppers, onions, & spinach and add them to the egg mix with the salt, pepper and garlic powder.
Add in the tapioca flour and whisk everything together until smooth.
Grease an 11 x 7 or 9 x 9 baking dish with a little olive oil and pour the mixture into the pan. Sprinkle the top of the dish with an extra 2-3 tbsp of shredded cheese
Bake for 25-30 minutes, until the top if firm to touch.
Let cool for 10-15 minutes, then slice into 6 or 8 pieces.
Keep refrigerated for up to 5 days. Rewarm in the microwave or oven when ready to serve.
Did you make this recipe?
This cottage cheese egg salad recipe is the recipe you didn't know you needed. Loaded with protein and low on carbs, you're going to fall in love with this easy and satisfying combination. Plus, it's made from simple ingredients that you most likely already have on hand.
I like to enjoy this cottage cheese egg salad over fried bread with sliced avocado and sliced jalapeno. However, you can enjoy this cottage cheese egg salad in a wrap or over a bed of greens. Another option, is to grab your favorite crackers or vegetables and use them to scoop the egg salad directly into your mouth. No judgement here. No matter what, you're going to love this recipe.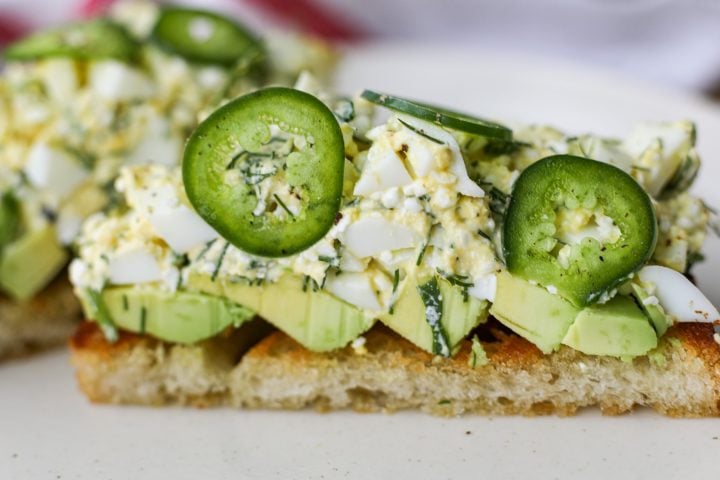 Other Ingredients you can add to Cottage Cheese Egg Salad
What's great about this egg salad is that you can customize it however you like. Try adding chopped Italian parsley, cilantro or basil. If you enjoy a crunch, add a rib of diced celery and/or onion. If onion is too strong of a flavor, you can try adding diced shallots or chives instead. Feel free to get creative and really make this recipe your own.
Ingredients Needed for Cottage Cheese Egg Salad
Hard Boiled Eggs – For this recipe you'll need six hard boiled eggs. Be sure to peel them and separate the yolks from the whites.
Cottage Cheese – You can use whatever cottage cheese you enjoy most. I used low fat cottage cheese and it worked perfectly.
Dijon Mustard – You'll need two teaspoons of Dijon mustard for this recipe. It adds a depth of flavor that's hard to resist.
Lemon Juice – You'll need one tablespoon of freshly squeezed lemon juice for this recipe. It adds a bright tart flavor to the recipe.
Seasoning – Season with salt and cracked black pepper.
Herbs – I added freshly chopped dill, but you could add Italian parsley, basil, spinach or whatever herbs or veggies you enjoy most.
Green Onions – You can use freshly chopped green onions or chives in this recipe. Either would work perfectly.
How to Make Cottage Cheese Egg Salad
Hard boil six eggs. Once they're cool, peel them and separate the yolks from the whites.
Add the yolks to a large mixing bowl. Then, add Dijon mustard, lemon juice, cottage cheese, salt and cracked black pepper. Mix until well combined.
Next, add the diced egg whites, chopped dill, and chopped green onion. Mix until well combined. Chill and serve.
Storage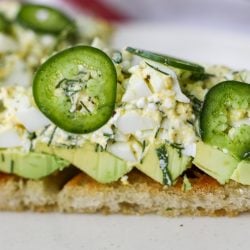 hard boiled eggs, peel and separate the whites from the yolks
low fat cottage cheese
cracked black pepper,
Hard boil six eggs. Once they're cool, peel them and separate the yolks from the whites.
Add the yolks to a large mixing bowl. Then, add Dijon mustard, lemon juice, cottage cheese, salt and cracked black pepper. Mix until well combined.
Next, add the diced egg whites, chopped dill, and chopped green onion. Mix until well combined. Chill and serve.
Egg Salad with Cottage Cheese
Cottage cheese gives a classic egg salad a little something extra. The fresh herbs lend a welcome springy punch.
I sat in front of the television with my husband as he flipped through channels recently. He stopped when colorful pocket knives appeared on the screen, prompting the comment, "They're still around–how many knives can they sell?" We've been in this very situation before, channel surfing and landing on a home shopping program, wooed by the assortment of knives (with no intention to buy), pausing the surfing for a few minutes, beguiled by the calm, friendly voice of the gentleman trying to convince us that we need to own a set of three pocket knives. My husband attests that they are quite useful but he prefers a utilitarian over decorative design. I don't know if this is the same gentleman whose voice we've heard the past twenty years but it was nice to run across the soothing, friendly sound again.
I read once that the interview process to be a host for a home shopping program involved being given a simple object–a pencil or an eraser for example–to see how effectively the candidate can sell it to an audience. Which brings me to today's recipe.
This egg salad had been at risk of languishing in my drafts folder because I didn't know how to present it. The recipe isn't new or exciting or exotic. I don't prepare egg salads very often but when I have one I'm reminded how much I like it. Not giving it much thought, I default to a classic preparation with mayonnaise, mustard, relish, celery and onion.
How am I doing? Do I have what it takes to sell on television? Or even just this egg salad?
No? Well, I would agree. Even the new SEO rating feature that's recently appeared on my WordPress dashboard is giving this post a C+ rating so there seems to be a consensus.
But it's okay. We've enjoyed this egg salad several times over the past few weeks and I dare say that revamping my classic recipe was a good decision..even if I lack the charm of the shopping network's knife guy.
5 or 6
eggs, hard boiled, cooled and peeled
low-fat cottage cheese
celery, chopped finely
onion or shallot, chopped finely
fresh dill, chopped
fresh chives, chopped
pinch salt and ground pepper
onion powder (optional)