Do you want to treat your relatives with delicious, tender and sunny pastries? Then make carrot buns with raisins and dried apricots.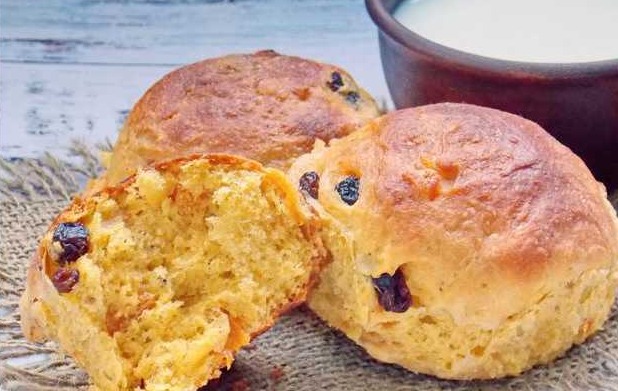 Cook: 4 hours 20 minutes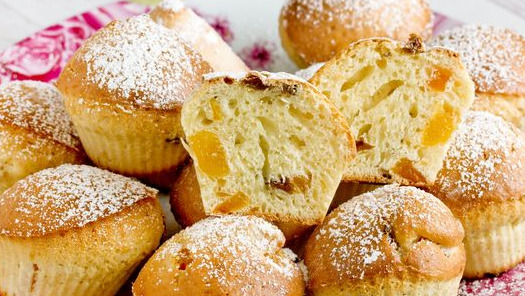 Sour cream muffins with dried apricots and raisins are baked goods for all occasions. Beautiful in section, fragrant, soft, porous, perfectly baked – just a miracle, not muffins! What is also remarkable is that neither butter nor sunflower oil is used in the recipe. I love homemade cakes of this kind and I highly recommend this recipe to you!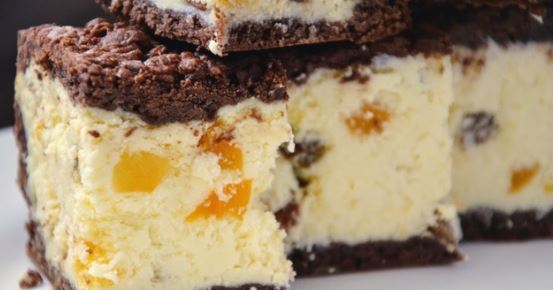 The most delicious recipe for cheesecake with raisins and dried apricots, which goes well with chocolate dough. This cheesecake, or cottage cheese casserole, can be prepared without chocolate dough. It is advisable to bake the cheesecake in the oven only from homemade fatty cottage cheese, then it turns out to be truly tender, juicy, and very tasty!
Pies are baked dishes, which are usually made from dough stuffed with various sweet or savory products. The pie can have only the bottom crust, as well as the upper and lower crusts, between which is the filling. Sweet pies are often baked from dough, into which the filling is stuffed. For a sweet filling, it is better to use ingredients that do not flow out of the cake when baking it. This is raisins, dried apricots, rice, candied fruits. Cake with dried apricots or other ingredients can be prepared on the basis of soda or yeast dough.
A cake with dried apricots and raisins from a soda dough is quickly prepared and remains fresh for a long time. The ingredients for the fruit pie are listed below .
For the test:
210 grams of margarine.
3 eggs.
Lemon zest.
150 g of sugar sand.
2 thin glasses of flour.
½ teaspoon of baking soda (quenched with a few drops of boiling water).
Milk for obtaining the test of the desired consistency.
Breadcrumbs.
140 g raisins (washed and dried).
100 g dried apricots (washed and dried, cut into pieces).
50 grams of grated candied fruits.
Sugar glaze is optional.
Stir the melted margarine to a stable foam (a little left to grease the forms), sugar, lemon zest, gradually add the eggs, whisking to a homogeneous mass. Pour in the flour and add slaked baking soda. Stir, the dough should fall from the spoon with difficulty, if it is too thick, then add milk. Candy, raisins and dried apricots are mixed in the dough. The form for baking is smeared with margarine, sprinkled with breadcrumbs, spread the dough in it and bake at a temperature of 170 ° C for 50 minutes, the first 35 minutes the oven door is not opened. Before serving, pie with dried apricots, candied fruits and raisins can be covered with sugar glaze.
Apricot cake before baking is sprinkled with a sprinkler, that is, sweet crumbs. Pie with dried apricots is made on the basis of yeast dough.
3 thin glasses of flour.
100 g of sugar sand.
30 g of yeast.
¼ liter of milk.
125 grams of margarine or butter.
Lemon zest.
1 egg.
1 packet of vanilla sugar.
1 pinch of salt.
¼ liter of milk.
400 g dried apricots, washed and soaked in warm water (boiled) for 1 hour, the water before use, poured, slightly dried, cut in half.
100 g of sugar sand.
4 eggs.
Lemon zest.
For the scraper:
100 g of granulated sugar.
1 teaspoon of cinnamon powder.
1.5 faceted glasses of flour.
125 g butter butter.
In accordance with the recipe make a yeast dough, close it and put the minutes for 30 in a warm place. Shake eggs, milk, lemon zest and sugar. Prepare the shreisel from flour, butter and cinnamon. Roll out the dough on a sheet, oiled, slightly raise the edges. On the dough tightly laid apricots, pour a mixture of whipped eggs with milk, sprinkle with a streak. Bake in preheated to 200 ° C oven. Cake with dried apricots will be ready in 40 minutes.
From white rice and dried apricots on the basis of a thick pastry bake a pie with rice and dried apricots. 4 servings will require:
85 grams of margarine.
2 faceted glasses of flour.
1 egg.
½ tablespoon of tea soda food (pre-extinguish a few drops of steep boiling water).
60 g of sugar sand.
Salt.
2 tablespoons milk spoons.
Lemon zest.
100 g of white rice.
8 dried apricot fruits.
50 g of butter, as well as an additional amount for lubricating the molds.
3 eggs.
½ liter of milk.
Vanilla sugar.
For the dough, the flour is sieved and mixed with all the ingredients. Divide the dough into 4 parts, roll them out and spread them into molds, oiled, puncture the fork, put in an oven heated to 170 ° C. When the dough is ready, take it out of the molds and put it aside. The oil is heated in a frying pan, add dried apricots and rice. Stir with a wooden spatula, pour in the milk so that it only covers the mixture of rice and dried apricots. Cook on low heat with continuous stirring, gradually pouring the rest of the milk. Continue cooking, stirring until rice absorbs milk. It will take 15 minutes (depending on the quality of the rice). Spread the mixture into a bowl, add the vanilla sugar and mix. Separate the egg white from the yolk. Add the yolks and sugar to the rice with dried apricots, allow the mixture to cool. Whisk the proteins to hard peaks, gradually introduce them into the chilled filling. Fill each cake with filling and smooth with a knife. Place the pies in the oven, heated to 180 ° C for 20 minutes. Ready pies are served (hot, warm or cold) with fresh apricot sauce, syrup or cream.
Some of my earliest childhood memories is that of my mum and babushka baking fresh Sweet Piroshki with Apricots (Пирожки с абрикосами). Coming home after school to these fresh baked goodness with a glass of cold milk was perfect.
Some of my earliest childhood memories is that of my mum and babushka baking fresh Apricot Piroshki (Пирожки с абрикосами). Coming home after school to these fresh baked goodness with a glass of cold milk was perfect.
Are Piroshki only Savory?
There are many ways to make Piroshki, most popularly with meat or potatoes, but you can also make fruit piroshki all well. Blueberry Piroshki are my favorite. There are different styles to make fruit piroshki, not all are made completely enclosed in dough.
This recipe similar to a version of Apricot Kolaches, that are popular in Hungary, Czechia, Eastern Europe, and strangely in Texas. This isn't the Polish Kolacz, which is flakier and usually uses cream cheese in the dough, but these Apricot Piroshki uses a sweet yeast dough recipe.
Sweet Piroshki Filling
Dried apricots are used when making this piroshki filling, so you can make them all year round, even when it's not apricot season. It's almost like using an Apricot jam as a filling. You can make jam year round from dried fruit! The 2 photos below show the difference in color from store-bought dried apricots, compared to home dried. The color will be darker if using homemade dried apricots.
So why do we use home dried apricots for piroshki filling? I find that store bought dried apricots don't taste as good as homemade dried apricots. This is because store dried apricots are usually picked before they are fully ripe, and the flavor just isn't as flavorful as homemade dried apricots. You can add apricot jam to your apricot filling mixture to sweeten it, just make sure it's not too runny. It should have the consistency of a thick jam. You can also use dried plums to make Plum Piroshki filling.
How to make Sweet Yeast Dough
I use a bread maker to make the sweet yeast dough, as it's a timesaver, and I don't need to worry about kneading and raising the dough. Just drop in the ingredients and come back to ready made yeast dough. The sweet dough recipe basically the same one I use when making Russian Vatrushki, filled with Farmer's Cheese. However, check out my Sweet Yeast Dough made from scratch, a more traditional way. The video is below! Use whatever sweet dough method you prefer.
Making Sweet Piroshki
My mum would make large trays of sweet Pirozhki, taking up most of the day, and freeze extras for later. I don't usually have the time to dedicated a full day of baking, so this recipe makes about 30 Apricot Piroshki. I have made this recipe twice in one day. As soon as the first batch of sweet dough was ready, I put in a second batch in the bread maker. While it was mixing and rising, I baked the first batch Apricot Piroshki, finishing just in time to start the second batch.
You need to plan ahead when making this recipe. The rehydration of the dried apricots needs to be started the night before. After they re-hydrate, you need a stick blender to blend it into the consistency of jam.
This method of sweet Piroshki uses a criss-cross method (at least that's what I'm calling it). Traditionally Piroshki are fully enclosed, like my Blueberry Piroshki. For some reason, babushka always made these Apricot Piroshki this way. I think it looks a little more fancier than the usual method. When you roll out your dough circles, make 2 cuts on opposite sides of the pirozhok, place the apricot filling inside. Pull the edges of the slits, and cross over the filling, and through the opposite slit. This is my fancy criss-cross method. 😂
The Piroshki need to rise in a warm place for about 40 minutes. A quick egg wash and they're ready to be placed in the oven. They take about 10-15 minutes to bake, until they are golden brown.
Sweet Piroshki served hot from the oven, with a glass of cold milk sounds perfect for me! They're sweet and delicious, sweet Piroshki are a tasty made from dried apricots (or prunes). Freshly baked goods are always the best! Bon Appetit! Приятного аппетита!
Sweet and delicious, Apricot Piroshki are a tasty yeast dough pastry made from dried apricots (or prunes). Delicious from the old country! (Пирожки с абрикосами)
Eastern European, Russian
Sweet Dough Ingredients for Bread Maker
of dried apricots
2 egg yolks and 1 teaspoon whipping cream
Prepare the apricots the night before to allow enough time for rehydration. Place dried apricots into a small saucepan and fill with enough water just to cover the apricots. Bring to a boil, remove from heat, cover with a lid and allow to cool overnight. In the morning, strain the water and mash the apricots together. I used a stick blender or food processor to mix the apricots. Add sugar to taste. Should have the consistency of a thick Apricot jam. You can add Apricot jam
Place sweet dough ingredients in the order listed up into your bread machine and select the dough program. It will take around 90 minutes to complete the cycle. Alternatively, prepare dough the traditional way as per video.
When the sweet dough is ready, place on a floured surface and gently knead. When the dough is ready, carefully place onto a very lightly floured surface. Roll out the dough into a long sausage shape. You want to cut into pieces that are approx. the size of a golf ball, or slightly bigger (or you can pinch off golf ball pieces from the dough). You should get 24-30 pieces from this recipe. Cover pieces you aren't working on with cling wrap so they don't dry out.
Carefully brush the piroshki with an egg wash. Place in a 350°F/180°C preheated oven and bake for 10-15 minutes, until golden brown. Cool on a wire rack.
To make and egg wash, I use 2 eggs and a teaspoon of whipping cream. Simply beat them together.
For chocolate dough:
Flour – 350-400 g
Butter – 150 g
Eggs – 2 pcs.
Sour cream with a fat content of at least 20% – 2 tbsp
Sugar – 100 g
Baking powder (baking powder) – 2 teaspoon
Dark cocoa – 3 tbsp or 30 g
Salt – a pinch
For curd mass:
Cottage cheese (preferably homemade) – 1.5 kg
Eggs – 6 pcs.
Butter – 100 g
Vanilla or cream pudding – 1 sachet or corn starch – 3 tbsp
Sugar – 300-350 g
Seedless raisins – 100 g
Dried apricots – 100 g
Lemon – 1 pc.
Vanilla sugar – 2 tbsp
Also Like
Carrot Sweets with Dates, Dried Apricots, and Raisins
Cheesecake with Raisins and Dried Apricots (in the Oven)
Pilaf with Dried Apricots, Raisins and Prunes
Cottage Cheese Casserole with Dried Apricots and Raisins
Muffins with Sour Cream, Dried Apricots and Raisins
Curd Casserole with Carrots and Dried Apricots
Cinnamon Raisin Buns
Raisins – Quark – Buns
Muffin – Raisin Bun
Quark and Raisin Buns
Dried Apricot Porridge
Butter Buns with Streusel and Raisins
Coconut Cookies with Dried Apricots
Corn Muffins with Dried Apricots
Dessert Dried Apricot Salad
Comments for "Carrot Buns with Raisins and Dried Apricots"


Directions
Combine eggs and sugar in a bowl.
Add sour cream (I used 20% sour cream).
Whisk until smooth.
Mix flour with baking powder and sift into a bowl with the base of the dough.
Stir the dough on a slow mixer.
Rinse and dry the raisins and dried apricots. Cut dried apricots into small cubes, proportional to the raisins. Add raisins and dried apricots to the dough.
Stir the dough so that the additives are evenly distributed in it.
Divide the dough into muffin tins (I used silicone tins, I didn't grease them with anything). From this amount of dough, 12 muffins are obtained.
Transfer the finished muffins to a plate. When they're cool, you can sprinkle them with powdered sugar.
Muffins with sour cream, dried apricots, and raisins, can be served.
Enjoy your meal!
Sour cream – 230 g
Eggs – 2 pcs.
Sugar – 200 g
Flour – 230 g (1.5 cups of 250 ml)
Baking powder – 1 teaspoon with a slide
Dried apricots – 50 g
Raisins – 50 g
Cheesecakes with Pumpkin, Semolina and Dried Apricots
Cheesecake with Apricots
Apricots – Cheesecake
Cheesecakes with Raisins in a Pan
Dried Squid (in the Oven)
No-bake Apricot Cheesecake
Comments for "Cheesecake with Raisins and Dried Apricots (in the Oven)"
Lemon Sour Cream Muffins
Apricot Sour Cream Jelly with Chocolate
Comments for "Muffins with Sour Cream, Dried Apricots and Raisins"
First, you need to rinse the raisins and dried apricots, pour hot water, and leave for 15 minutes. Then drain the water and dry the dried fruit with a paper towel. Then cut the dried apricots into small cubes.
Grind soft butter with sugar and salt. Add eggs, sour cream and grind well into a homogeneous mass. Then add the sifted flour mixed with sifted cocoa and baking powder and knead the dough. The dough should be tender, elastic, not sticky to your hands.
Divide the dough into two parts – large and small. Wrap a smaller part of the dough with cling film and put it in the freezer.
Spread the other (most) part of the dough with your hands on parchment over the entire bottom and sides of your mold (I have a 26×26 cm mold), making uniform sides from the dough. Then send the form with chocolate dough to the refrigerator for 30-40 minutes.
During this time, prepare the curd mass. Pass the cottage cheese through a meat grinder with fine holes so that it becomes homogeneous and airy.
Add pudding or starch, raisins, chopped dried apricots, 2 tablespoon. tablespoons of lemon zest, juice of half a lemon, as well as melted and slightly chilled butter. Mix everything well.
At the very end, beat the egg whites with the remaining sugar until fluffy and firm (soft) peaks. Add the whipped egg whites in portions to the curd mass and mix gently.
Take the form with the dough out of the refrigerator, distribute the curd mass over the entire form. Take out a smaller part of the chocolate dough from the freezer and grate on a coarse grater on top of the curd mass.
Remove the finished curd pie from the oven, let it cool completely in the form.
Only then carefully remove the cheesecake pie from the mold, turning it over on a board or a large plate. And most importantly, it is very important to let the finished cheesecake stand for at least 10-12 hours, or better all night.
When the cheesecake stands well, it will set perfectly and acquire its own special structure and unique taste. A fragrant delicate cheesecake with raisins and dried apricots, complemented by crunchy chocolate dough, is ready. The weight of the finished product is 3.5 kg.
Bon appetit and good baking!
For the dough:
Wheat flour – 340 g
Carrots – 150 g
Butter – 40 g
Sour cream 25% – 50 g
Yolk – 1 pc.
Water – 60 ml
Dry fast-acting yeast – 1 teaspoon
Sugar – 3 tbsp
Dried apricots – 60 g
Raisins – 40 g
Vanilla sugar – 8 g
Ground cinnamon – 2 g
Ground ginger – 2 g
Salt – 1/8 teaspoon
Milk – 60 ml
Sugar – 1 tbsp
Butter – 20 g
Vanilla sugar – 8 g