Relatives and friends, having tasted this waffle cake, will definitely note your culinary talent. And such a cake is prepared very simply and quickly.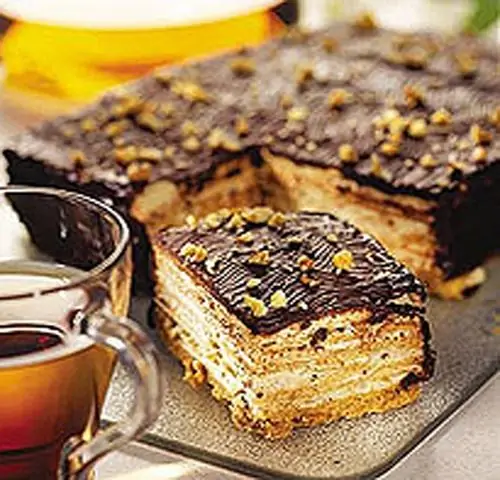 It is necessary
– 1 egg yolk
– 4 egg whites
– 15 g of gelatin powder
– 400 g vanilla waffles
– 100 g butter or margarine
– 100 g sugar
– 150 g dark chocolate
– 200 g unsalted nut mixture
– 3 tbsp. l. caramel topping
Instructions
First, preheat the oven to 180 degrees. Finely chop 100 g waffles by hand. Beat the yolk with a mixer and mix with waffle crumbs. Take a baking dish and line it with parchment so that the edges of the dish are also covered with paper. Pour a mixture of waffle crumbs and beaten yolk into a mold, about a centimeter thick. Put in the oven for 8-10 minutes, then cool directly in the mold.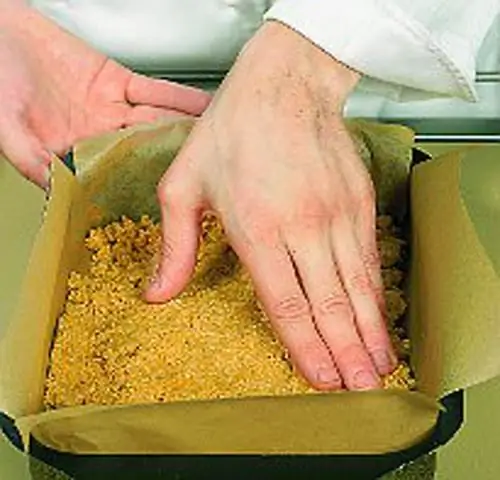 Step 2
Soak gelatin in 30 ml of cold water. Then heat, stirring constantly, until the gelatin grains dissolve. Chop the nuts with a knife. Whisk the whites with half the sugar until fluffy, add caramel topping. Without stopping whisking, pour in the gelatin and add the nuts. Mix the resulting mass well and refrigerate for at least forty minutes.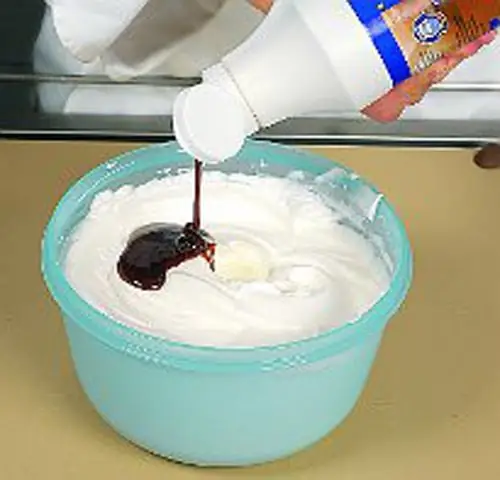 Step 3
Then remove the protein soufflé from the refrigerator and spread it on the waffle base, without removing it from the mold, in a not very thick layer. Divide the waffles into layers. Place a layer of the resulting waffle strips on top. Alternate layers of waffles and cream until you run out. The cake can now be removed from the mold.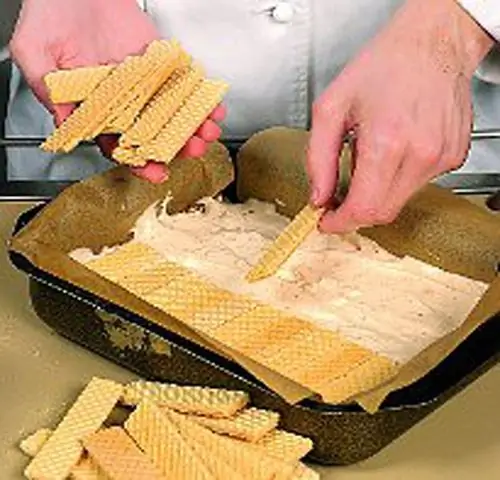 Step 4
For decoration, melt the chocolate in a water bath. Mash the butter with the remaining sugar. Mix everything thoroughly, and grease the surface and sides of the cake. Refrigerate for soaking.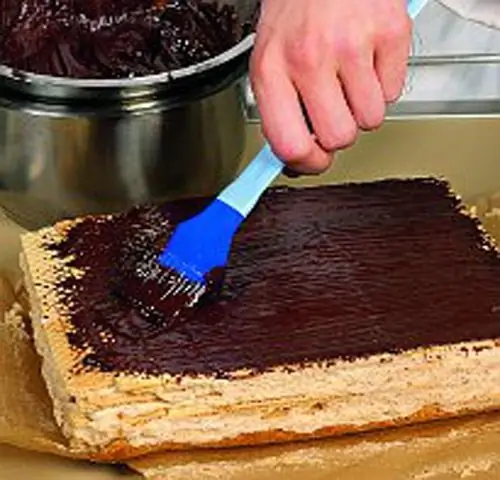 The finished waffle cakes are simple and unpretentious, you can read it on the packaging, but with their help you can create real culinary masterpieces. Depending on what to miss waffle cakes, these dishes can be quickly divided into desserts and snacks. With some options, we will introduce you today.
Waffle cake with mushrooms and chicken
Wafer cakes – 5 pcs .;
Cheese hard – 150 g.
mushrooms (fresh) – 400 g;
onion – 2 pieces;
chicken breast – 600 g;
cream (fat content not less than 30%) – 1/2 st;
curry – 1/4 tsp.
nutmeg – 1 pinch;
salt, pepper black ground – to taste.
sour cream – 2 tbsp. spoons;
mayonnaise – 2 tbsp. spoons;
egg white – 1 pc.
Chicken breast boil in salted water, cut into small pieces and fry until golden, along with finely chopped onions. In the end, add curry.
Separately fry mushrooms chopped with plates. Season with nutmeg, pour the cream and stew with a closed lid for a few minutes. We connect the chicken with mushrooms.
For sauce mix sour cream with mayonnaise and add whipped into the foam protein. At the bottom of the baking dish we lay out the waffle cake, soak it with sauce and spread the filling on top, then again the cake – and repeat everything. Collect the cake from above and along the sides with sprinkled grated cheese and send to bake in the oven for literally 5 minutes, until the cheese forms a golden crust.
What else can be impregnated with waffle cakes?
Of course, something delicious and sweet. Any cream (sour cream, butter, curd, chocolate, custard) or jam, everything – from melted in a microwave toffee to boiled condensed milk can be used.
Wafer cakes – 2 pcs .;
powdered sugar – 500 g;
lemons – 4 pieces;
dates (without pits) – 50 g;
orange candied fruits – 50 g;
almonds – 200g;
rum – 2 tbsp. spoons.
Grind sugar powder with lemon juice. Add the grated zest of one lemon, pieces of dates, crushed almonds, candied fruits and rum. We lubricate this mass with all the wafer cakes, except the top. Press the cake with a small load and leave it overnight in the refrigerator. In the morning, for beauty, it can be covered with orange or chocolate fondant.
How to make waffle cakes at home?
eggs – 5 pcs .;
sugar – 2 tbsp. spoons;
flour – 1 item;
sour cream – 1 item;
butter – 50 g;
lemon juice – 1 tsp;
lemon peel (grated) – 1/2 tsp.
salt – 1 pinch.
Whisk eggs with sugar for at least 5 minutes, until fluffy foam. Gradually introduce sifted flour, add sour cream and zest. We give the dough to brew for 15 minutes.
A special form-waffle iron is heated on a small fire. Open the ladle just in the center of pour a portion of dough, close and fry on the stove, half a minute on each side. Ready-made waffles can be poured with honey, jam or cream, decorated with fruit and served to the table.
The cake cake has become so popular that today it heads a separate direction of unsweetened desserts. This is a multi-layered product, where wafers, pancakes, pita bread are used as cakes, and salted ingredients are the "cream". A wide selection of the latter, led to a variety of recipes, a small part of which is presented below.
How to cook a cake?
Cake unsweetened diner is simply prepared and does not limit the choice of ingredients. As a basis, you can use waffle or puff cakes, pancakes, crackers, lavash. With regard to the filling, here there is where to "sweep": the cakes are interlaid with fried vegetables, mushrooms, boiled eggs and chicken, salmon, cottage cheese and cheese.
Typically, fillings for snack cakes do not require heat treatment after formation, so it is important that they consist of quality and fresh products.
Meat snack cake is made from raw minced meat, so it is necessary to be roasted in the oven.
Snack cake from waffle cakes – recipe
A cake cake made of waffle cakes is a win-win option for meeting unexpected guests. Store wafer cakes do not need cooking, they have a porous texture that facilitates rapid soaking, and are absolutely tasteless than they are ideal for any filling. In this version – it's herring, carrots, cheese and mushrooms.
wafer cakes – 6 pcs .;
herring – 200 g;
onion – 1 piece;
mayonnaise – 200 g;
cheese – 100 g;
champignons – 250 g;
boiled carrots – 2 pcs.
Onion and mushrooms fry and beat with a blender.
Whisk in the blender herring, onions and carrots.
Lubricate the cakes with mayonnaise, alternating fillings.
Decorate with cheese.
Refrigerate the diner ice-cream cake for an hour.
Snack cake "Napoleon" made from ready-made cakes
The cake "Napoleon" is a salty interpretation of the legendary dessert. Unlike the latter, it is full of varieties of fillings, and given the laborious process of baking cakes, allows the use of store. The only condition is a juicy filling, cakes with it will soak faster and the cake will turn out soft and gentle.
packing of ready-made cakes – 1 pc .;
salmon – 350 g;
cream cheese – 350 g;
shrimp – 250 g;
cucumber – 1 piece;
greens – 60 g;
caviar – 80 g.
Stir the cheese with greens and oil the first cake.
Add the pieces of fish. Top – slices of cucumber.
The next cake is made with cheese and shrimps.
Upper – decorate the caviar.
Cool the snack cake for 3 hours.
Snack cake made from pita bread with mushrooms
Traditionally, a snack cake made from pita bread is stuffed with mushrooms. This is due to the peculiarity of lavash quickly soaked and limp, which is impossible with a juicy and not watered mushroom filling. From mushroom juice lavash ceases to be "rubber", but does not turn into a mess, so the cake perfectly keeps the shape and still gets the flavor.
onion – 350 g;
sheets of lavash – 2 pcs .;
oil – 60 ml;
champignons – 550 g;
cheese – 100 g.
Mushrooms and onions fry and scroll in a blender.
Cut the pita into 8 squares.
Lay out on each filling and form a cake.
Sprinkle with cheese.
Bake the mushroom cake before melting the cheese.
Snack cake from puff pastry
Most housewives make snack cake from layered cakes. These cakes have a neutral taste and are characterized by a light, airy texture, so a well-soaked cake just melts in the mouth. The only drawback – cakes slowly soaked, so they are abundantly greased with mayonnaise and insist in the cold for at least 5 hours.
puff pastry – 500 g;
Bulgarian pepper – 3 pcs .;
spinach – 250 g;
egg – 4 pieces;
ham – 250 g;
a clove of garlic – 4 pieces;
mayonnaise – 125 g.
Divide the dough into 6 cakes and bake at 180 degrees for 20 minutes.
Bake the pepper. Peel off the peel, and pulp – purify.
Spinach the spinach.
Eggs grind, ham – cut.
Mix mayonnaise with garlic.
Lubricate the cakes with mayonnaise and lay the filling.
Cool the snack cake for 5 hours.
Snack cake from pancakes
Snack pancake cake strikes with variety. This applies not only to fillings, but also cakes, which can be made from classic, lush yeast or dense American pancakes. In this recipe, the cake consists of thin pancakes with milk and herring, onion and egg fillings, which are traditional for Russian culinary.
pancakes – 15 pcs .;
fillet of herring – 350 g;
onion – 4 pieces;
eggs – 3 pieces;
parsley – 40 g;
green onions – 80 g;
mayonnaise – 20 g;
oil – 40 ml.
Stir eggs with herring and green onions.
Whisk mayonnaise with herbs.
Caramelize onions.
Collect the cake: herbs, herring, fried onions.
Repeat the layers.
Snack cake of crackers with canned food
A snack cake of crackers is a dish of impetuous preparation. The use of ready-made biscuits as a basis reduces the process itself, and the filling of canned fish makes the dish affordable and easy. The cake does not even need to be cut: it is already divided into portions, each consisting of round crackers lined with a petal shaped flower petal.
round crackers – 50 pcs .;
mayonnaise – 140 g;
boiled eggs – 4 pcs .;
Sardine in oil – 240 g;
cheese – 100 g;
onions – 40 g;
parsley – 20 g;
clove of garlic – 2 pcs.
Onion grind in a blender, stir the fish with a fork, cheese and 3 eggs with sodium.
Stir eggs, cheese, 60 g of mayonnaise and garlic.
Lay out 10 crackers "chamomile".
Lubricate with egg paste and mayonnaise.
Apply a second layer of fish, onions and mayonnaise.
Repeat the layers.
Decorate the cake with a grated egg.
Scandinavian snack cake
Sandwiches with fish – it's good, but much more original cake fillet fish. Especially if it is made according to the Scandinavian prescription. A distinctive feature is the bread crumbs of the round loaf, but the filling represents a combination of several varieties of fish and cheese-sour cream sauce, which softens the bread, making the cake soft and gentle.
fillet of salmon – 160 g;
fillet of smoked fish – 160 g;
round bread – 1 piece;
egg – 3 pieces;
sour cream – 160 g;
mustard – 40 g;
oil – 70 g;
cream cheese – 160 g;
cucumber – 1 piece;
greens – 40 g;
soy sauce – 20 ml.
Cut the bread from the bread. Cut the crumb into 3 cakes.
Whisk the smoked fish and butter.
Combine soy sauce with mustard.
Mix sour cream, greens and cheese.
Lubricate the first cake with fish mixture.
The second – cover with mustard and salmon.
Third soak sour cream. Decorate with cucumbers and eggs.
Snack cake with smoked chicken
The recipe for a snack cake is convenient in that it allows you to change the composition of the filling according to your preferences. So, many housewives love to prepare salads with smoked chicken , because this is the most affordable way to add a dish of delicate taste and delicious flavor of haze. This filling is also appropriate for a snack cake made of pancakes with curd cream.
pancakes – 10 pieces;
smoked chicken breast – 550 g;
canned honey mushrooms – 350 g;
cottage cheese – 300 g;
sour cream – 20 g;
horseradish – 20 g.
Cut the breast and mushrooms.
Whip the cottage cheese with sour cream and horseradish.
Lubricate each pancake with curd, spread out the filling and formulate the cake.
Snack liver cake
Liver cakes are incredibly popular. This is due to the simplicity of their preparation, satiety, ease and the benefit that the product brings. Cakes are made from beef, pork, turkey or chicken liver. In the case of the latter, the cakes are distinguished by a homogeneous, smooth texture and a very delicate, light liver taste.
chicken liver – 700 g;
flour – 40 g;
egg – 1 piece;
onion – 2 pieces;
carrots – 1 piece;
mayonnaise – 20 g;
sour cream – 40 g;
oil – 60 ml.
Scroll the chicken liver in a meat grinder and mix with flour and egg.
Fry 4 pancakes.
Spasertuyte onions and carrots and mix with sour cream and mayonnaise. Spread the cakes.
Cool the snack cake from the chicken liver for 2 hours.
Snack cake from courgettes
A cake made from squash pancakes is a summer, bright, incredibly tasty and healthy dish. Zucchini – a dietary product, so this cake can be eaten without any restrictions. Especially if you use low-fat cottage cheese, garlic, rukola and cherry as an filling, the sourish taste of which will subtly shade the sweetness of squash cakes.
zucchini – 550 g;
flour – 125 g;
egg – 2 pieces;
baking powder – 5 g;
oil – 80 ml;
cottage cheese – 400 g;
a clove of garlic – 3 pieces;
arugula – 50 g;
cherry – 7 pcs.
Stir grated zucchini with egg, flour and baking powder.
Fry pancakes and grease them with curd-garlic stuffing.
Garnish with cherry and arugula.
Snack cake with crab sticks
Puff pastry cake – a recipe, as close to salads. This can be used and give your favorite dishes a new look and taste. The most popular was and remains a salad with crab sticks. It can be put on waffle cakes, adding a layer of cheese and, replacing for convenience of serving, canned corn for pickled cucumbers.
crab sticks – 400 g;
cakes – 5 pcs .;
mayonnaise – 200 g;
mustard – 20 g;
sour cream – 200 g;
boiled egg – 3 pieces;
cheese – 120 g;
pickled cucumbers – 200 g.
Whisk mayonnaise with mustard and sour cream.
Lubricate the cakes with dressing and lay out the filling in random order.
Ukrainian Dulce de Leche Waffle Cake: classic and easy 3-ingredient dessert your whole family will love! This waffle cake is the easiest dessert, requires only 3 ingredients and about half hour of your time!
This post may contain affiliate links. Read my disclosure policy.
This dessert had always been a staple at every Slavic home and it's a must at Christmas! These can last for a week in refrigerator and you never get tired of eating them. Our family, just like any other Slavic family love dulce de leche filled desserts, such as this cake, Peach Pastries and Oreshki.
Ukrainian Dulce De Leche Waffle Cake Ingredients
2 packages plain wafers (9 layers, 9" diameter)
2 (14 oz) cans dulce de leche
1 stick unsalted butter (softened)
How to Make Ukrainian Dulce de Leche Waffle Cake
In a medium bowl, combine 2 (14 oz) cans dulce de leche and 1 stick unsalted softened butter. Beat on high speed until smooth, about 3 mins. Spread cream on wafers, making sure to cover the edges. Cover only 1 side of each wafer layer and keep stacking until you have 5 layers. Place cake under a cutting board with a pot of water on top. Place plastic food wrap between each 5-layer cake to keep the dulce de leche from getting onto exterior side of each cake (you don't want it messy). Let is sit under the press for an hour. Slice it up and enjoy or wrap each 5-layer cake separately into plastic food wrap and refrigerate. These taste better cold!
More Dulce de Leche Desserts to Explore
packages plain wafers , (9 layers, 9″ diameter)
(14 oz can) dulce de leche
stick unsalted butter – softened
Spread cream on wafers, making sure to cover the edges. Cover only 1 side of each wafer layer and keep stacking until you have 5 layers.
Place cake under a cutting board with a pot of water on top. Place plastic food wrap between each 5-layer cake to keep the dulce de leche from getting onto exterior side of each cake (you don't want it messy). Let is sit under the press for an hour.
Slice it up and enjoy or wrap each 5-layer cake separately into plastic food wrap and refrigerate. These taste better cold!
As they say, you can't forbid living beautifully. We will add that it is tasty to eat too. On the agenda is waffle cake, beloved by many housewives, cooks and just kids. You don't need to have the skills of a three-Michelin-starred chef to make this masterpiece. It will be enough that you just know how to hold a mixer in your hands and whip the ingredients according to the recipe.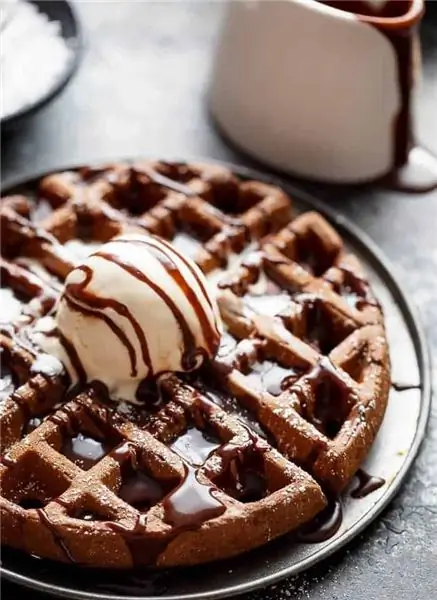 Waffle cake with chocolate
Waffles are a taste familiar to everyone from childhood. According to legend, the Greeks were the first to create this wonderful culinary creation. But, fortunately, they failed to keep the secret of the recipe, and the world saw a new dessert. The people of Germany also fell in love with the waffles. After all, the word "waffle" in translation from German into Russian means "honeycomb". If you think about it and take a closer look at the pattern, you will notice that it really resembles a honeycomb. But in order to give all people the opportunity to feel like chefs, the American engineer Cornelius Swarthout invented a machine in 1869, which was later called a waffle iron.
Today we will focus on the recipe for a waffle cake, and not one, but several.
What products are needed for the cake
Its basis is always made up of cakes, which are a dime a dozen in the modern food market. But you must agree that it is better to bake them at home, knowing what they are made of. And here are some tips for those who still dare to bake a waffle base at home:
To make the dough beautiful and airy, use only yolks. Reduce your sugar intake and replace most of it with powdered sugar.
Waffle dough should be similar in consistency to pancake dough. Subject to all culinary norms and recipes, it will turn out to be liquid. To give it porosity, you can use a baking powder.
It is necessary to bake the cakes in special waffle irons at a temperature of 180 degrees. Three minutes will be enough. To prevent the resulting crust from sticking to the apparatus, grease it in advance.
There are many options for waffle cakes, but today we are going to break down only a few of them.
Pineapple cake
In general, there is no strict specificity as to whether something else can be added or not. This primarily depends on the person himself. You can add whatever your heart desires to the dessert: chocolate, nuts, fruits, berries. Let's find out the recipe for pineapple waffle cake.
You will need:
3 squirrels;
mass of marzipan – 200 grams;
60 grams of milk;
60 grams of premium flour;
fresh pineapple;
icing sugar – 120 grams;
300 grams of 33% cream;
orange liqueur (alternatively, you can use Coentrau);
cinnamon.
Cake preparation
To begin with, grate marzipan very finely, then add slightly whipped proteins to it. It is not recommended to beat them too much, mix thoroughly with a whisk. Next, mix the icing sugar with flour and a pinch of cinnamon. After completing all these steps, you should have a batter.
Then we take out a baking dish, grease it and fry crispy waffles.
The next step is to peel the pineapple. Divide the fruit into two parts: simply chop one with a knife, and the other – bring to the consistency of puree in a blender. Now take the cream and whisk it until a very thick foam, gradually stirring in the orange liqueur and pineapple puree.
Now you need to grease the wafer cakes with creamy pineapple cream, lay them one on top of the other (in a stack). Alternate: for example, on one layer you put nuts, on the other – finely chopped pineapples. Finally, coat the waffle cake with cream, as in the photo, from different sides so that no gaps are visible.
With the help of a pastry bag, you can decorate our cake with the remains of the cream.
This dessert should be served immediately, as the waffles can easily lose their firmness and become less crispy.
Waffle cake with blueberries and yogurt
Such a cake will appeal to all lovers of sweets and will please even those who are skeptical about this sweetest. Spend less than five minutes reading the recipe and about 40 minutes cooking, you will delight the whole family with an original and delicious dessert. Let's move on to the blueberry waffle cake recipe.
600 grams of cottage cheese;
600 grams of yogurt (if there is no classic yogurt, you can take blueberry);
300 grams of waffles;
300 grams of blueberries;
butter 100 grams;
400 grams of powdered sugar;
one pack of gelatin;
a glass of cream (10%).
Cooking method
Break the waffles bought in the store into small pieces and put them in a separate bowl. Then melt the butter and pour it over the resulting waffle crumb. We level the surface with a spatula and tamp it slightly.
We take cottage cheese, yogurt, sugar and beat until smooth. Peel and rinse the blueberries. Let the water drain, lightly dry the berries. Now you need to rub it with your hands or with the help of kitchen utensils. Mix the resulting puree with the curd mass. Soak gelatin in cold water.
Warm up the cream just a little and add gelatin to it. Pour the resulting solution into the curd mixture, where the blueberries are.
Put the curd mixture with blueberries on a waffle crumb filled with ghee. We put the cake in the refrigerator for several hours so that the curd layer has time to harden slightly. After the specified time, you can take out the dessert and enjoy it over a cup of tea.
Waffle cake with condensed milk
This type of cake is considered one of the most popular in the world, because everyone loves condensed milk. To make this dessert, it will take just the minimum amount of your time, but you will enjoy and remember the taste for a very, very long time.
purchased cakes;
a jar of boiled condensed milk;
100 grams of peanuts;
50 ml of milk;
100 grams of dark chocolate;
50 grams of butter.
Cooking process
If suddenly there is no boiled condensed milk on the counter, you can take an ordinary one. When you come home, just cook it yourself: place the jar in water and simmer for about an hour over low heat. Finally, let's move on to the waffle cake recipe, you could see the photo above.
Melt the butter and add it to the condensed milk. Stir until a homogeneous consistency is obtained.
Put the cake on a special plate for the cake. Top it with condensed milk and sprinkle with pre-chopped nuts. On top of the first cake we put the second, third, etc. We coat each layer with condensed milk and sprinkle with chopped nuts. We do this with all the cakes except the last one.
We cover our cake with the last cake, then cover it with baking paper and put a weighting agent on top very carefully. It is needed in order to compress all layers of the cake well. While this is happening, let's start making the chocolate frosting.
Pour milk into a saucepan and bring it to a boil. Put chocolate and butter broken on the wedges there. We wait until the chocolate is completely dissolved. Then let the glaze cool slightly and thicken. Or you can use the remains of boiled condensed milk. Just brush the sides and top of the waffle cake with it. The photo below is just such a recipe. Additionally, you can decorate the dessert with ground hazelnuts or walnuts.
Remove the weighting agent from the cake. We coat the side edges and the top with chocolate icing and sprinkle with nuts. We put it in the refrigerator so that the icing hardens, and the cake turns out to be richer and more delicate in taste. Waffle cake with condensed milk is ready!
The article clearly showed how to make a homemade waffle cake. Even the most inexperienced cook will cope with such a task. You do not need special skills and efforts when baking wafer cakes, everything will be done by a special frying pan or technique.
Bon Appetit everyone!
This no-bake dulce de leche waffle cake is a classic Eastern European treat. You'll love the combo of crunchy wafers and creamy dulce de leche filling!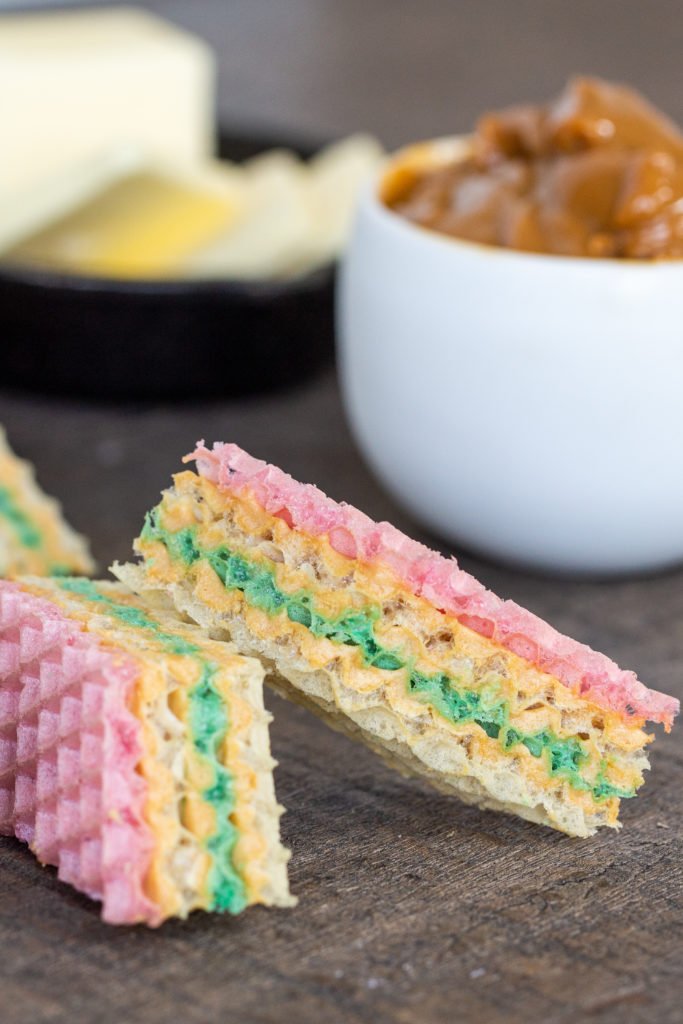 Chances are you've had a store bought waffle cake cookie. But when you make this cake homemade, the filling and the flavors are so much more more brilliant! It touts a depth of flavor and texture that you simply won't find in pre-packaged desserts.
Finding Waffle Cake Sheets: Most European stores sell waffle cake sheets in a variety of flavors and colors (you can also find them on Amazon). Go ahead and mix and match them and have fun with it!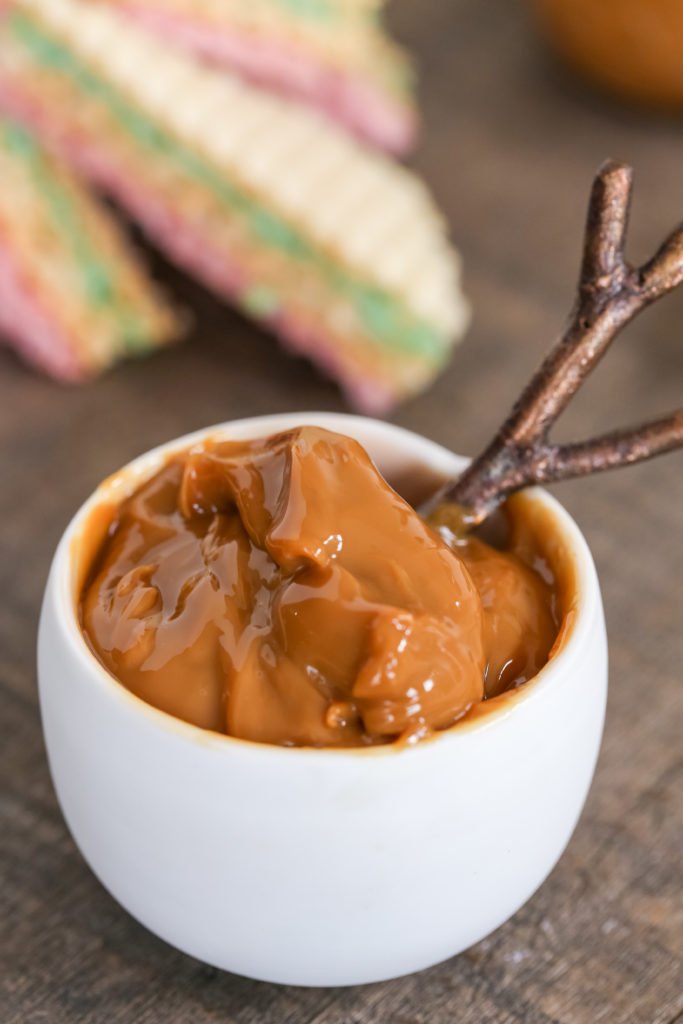 Dulce De Leche Waffle Cake 101
This waffle cake is a classic Eastern European treat. You'll find a ton of different versions online, each with minor differences depending on where the baker comes from. What remains the same is how fun they are to eat and how easy they are to make.
Flavor: The flavor of this dulce de leche cake is the perfect combination of slightly sweet wafer crackers and creamy, buttery dulce de leche filling. Is there more to say?
Texture: The texture of this cake is crispy on the outside and creamy and chewy on the inside.
Time: From start to finish, this quick cake only takes 20 minutes to put together.
Did you know? Dulce de leche is simple cooked sweetened condensed milk.
Making this simple cake only requires a bit of mixing and assembling.
Make the Filling: Using a hand mixer or stand mixer, beat the dulce de leche and softened butter over high speed until smooth.
Assemble the Waffle Cake: Using a spatula, spread the filling mixture over a waffle cake layer. Stack a layer on top and repeat the process until you have four wafer layers (keep the top layer plain!).
Slice the Cake: Next, slice the cake into small pieces on a cutting board. Assemble the cake pieces on a serving plate and refrigerate the pieces until you're ready to serve them. Enjoy!
Homemade Dulce De Leche: Have an Instant Pot? Whip up your own dulce de leche from scratch using our easy Instant Pot dulce de leche recipe.
Tips & Tricks for Nailing this Waffle Cake Recipe
Although making this waffle cake recipe won't turn your kitchen into a science experiment, a couple of tips will help you along the way.
Storing & Freezing Waffle Cake
It's best to keep the waffle cake either refrigerated or in the freezer in between snacking. Here's all you need to know.
Refrigerator: To keep the cake on hand for up to 2 weeks, keep it stored in an airtight container in the fridge.
Freezer: To keep the cake on hand for 2-3 months, store it in the freezer in an airtight container or plastic storage bag. BTW, frozen waffles taste like caramel ice cream – so darn good!
FAQ
It's not a good idea to mix the dulce de leche waffle cake filling without a stand mixer or hand mixer. Dulce de leche is a little too thick to mix by hand, so the help of the bowl of a stand mixer and a paddle attachment will be greatly welcome.
Are dulce de leche waffle cakes supposed to be crispy or chewy?
Dulce de leche waffle cake is supposed to be crispy on the outside from the waters and soft and chewy on the inside. In short, you want the perfect balance of both!
Is dulce de leche waffle cake supposed to be eaten hot or cold?
Dulce de leche waffle cake requires absolutely no baking whatsoever, so it's best eaten cold or at room temperature. Some people even like to eat the little cakes frozen!
What happens to dulce de leche waffle cake the longer it sits in storage?
The longer dulce de leche waffle cake sits at room temperature, the softer it will get. If you want it to keep it's original texture, you must keep it stored in the fridge or freezer in between snacking.
More Dulce De Leche Recipes
Dulce De Leche Sandwich Cookies – Buttery, chocolate-dipped cookies filled with dulce de leche
Golden Key Cake (Dulce De Leche Cake) – Dulce de leche cake with chopped hazelnuts
Dulce De Leche Macarons Recipe – French sandwich cookies
Dulce de Leche Cake Roll – 6 ingredient cake roll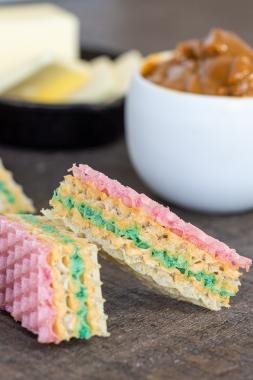 This classic Eastern European waffle cake recipe features premade waffle layers alternated with sweet dulce de leche filling. Colorful, fun, and so festive!
Using a hand mixer or stand mixer, beat the dulce de leche and softened butter until smooth in consistency.
Using a spatula, apply the dulce de leche mixture over a waffle cake layer. Stack on another layer and repeat until you have four cake layers (make sure to leave the top one plain).
Cut the waffle cake into bite-sized pieces. Refrigerate the cookies until you're ready to serve them. Enjoy!
Amount Per Serving
% Daily Value*
Saturated Fat 7g
Vitamin A 355IU
* Percent Daily Values are based on a 2000 calorie diet.
About Author

Natalya Drozhzhin
Natalya founded Momsdish to demonstrate that placing a homemade meal on the table is not hard at all. Natalya makes cooking easier and approachable, by simplifying the ingredients, while still producing the same great taste.