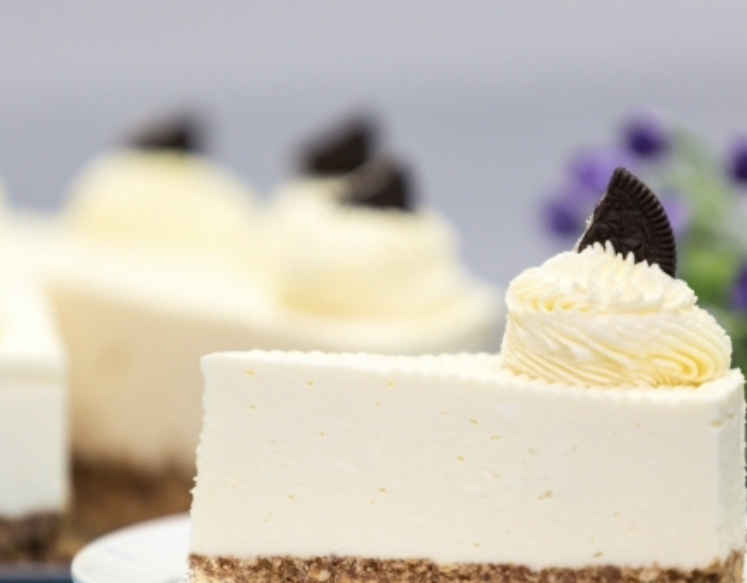 A no-bake curd cheesecake with gelatin-based on shortbread and cottage cheese rather than cream cheese.
You can prepare curd pie without baking in an original and quick way. Minimum costs, maximum pleasure. The pie is perfect for a festive sweet table.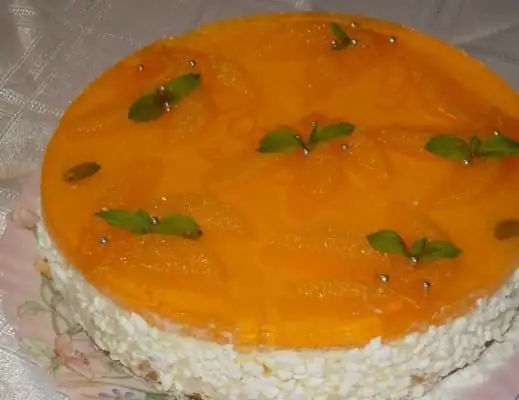 Cottage cheese-orange cake without baking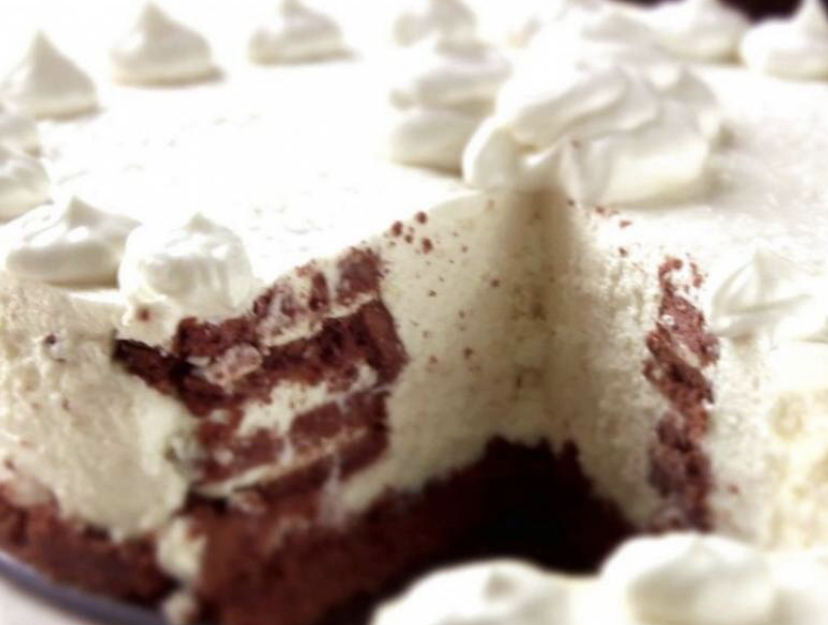 Since ancient times on the Bright Sundayit is customary to cook yeast cakes with raisins, candied fruits, dried fruit and a delicate protein glaze. However, there is another batch for Easter, no less beautiful, fragrant and tasty, not only sweet, but spicy and spicy.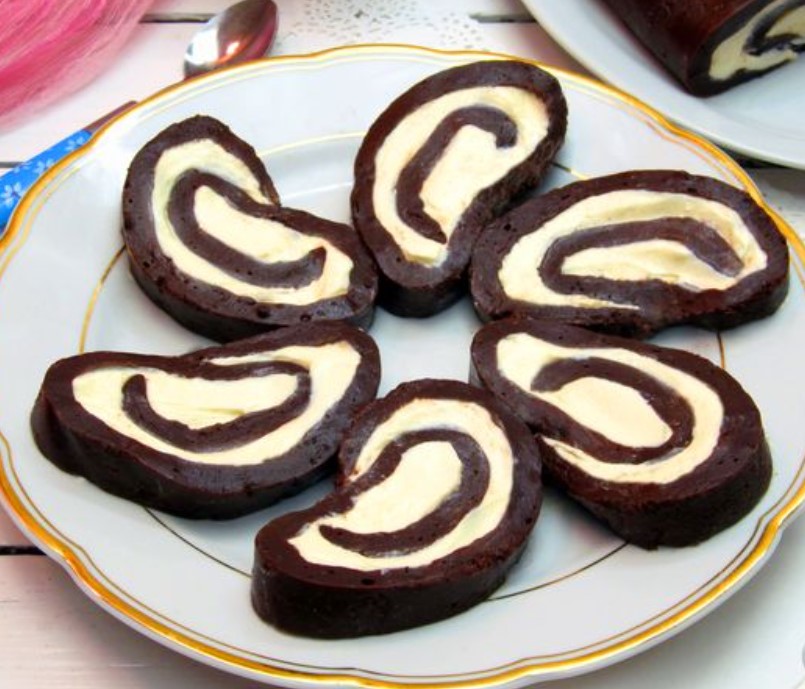 Chocolate curd roll is a very tasty and delicate dessert with a chocolate-creamy taste. Such a roll is prepared without baking, from two layers – a chocolate base with gelatin and a curd-butter filling. Treat yourself to such a wonderful and easy-to-prepare dessert!
Along with Easter cake and painted eggs, Easter is one of the main dishes of the Resurrection holiday. Easter cottage cheese is a very tasty and healthy dessert. If you are afraid to make raw Easter with eggs, then you can do it without them, it will taste great anyway!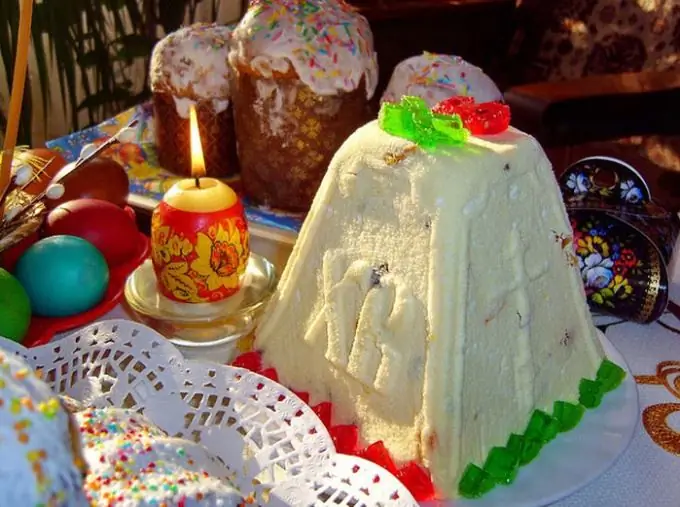 Easter cottage cheese without adding eggs
Suddenly I wanted something tasty, but I do not want to turn on the oven. Then we will tell you how to make a cake of cookies and cottage cheese without baking. Such an airy and delicate dessert is prepared incredibly simply, make sure of it yourself.
Cake "Domik" of cookies and cottage cheese
cocoa – 35 g;
milk pasteurized – 105 ml;
sugar – 55 g;
shortbread cookie – 305 g;
sour cream – 65 ml;
cottage cheese – 515 g.
We combine in a bowl of cottage cheese with low-fat sour cream and pour out the sugar. Grind everything with a blender until smooth. On the table lay out a sheet of foil and put in one row 4 pieces of shortbread cookie, dipping it first into warm milk. Next, distribute the curd mass from above and spread it with a knife. Now cover again with the second layer of cookies and similarly lay out 4 layers of shortbread cookies and cottage cheese mass. The remaining cottage cheese is connected with cocoa and we spread this mass from above with a triangle. Attach the cookies in the form of a roof and wrap the cake in foil. We send the dessert for 1 hour to the fridge, and then carefully remove the foil and water the quick cake from the pastry and cottage cheese melted chocolate.
Cake with cookies and cottage cheese with gelatin
cottage cheese is low-fat – 715 g;
sugar 205 g;
cream – 205 ml;
shortbread cookie – 125 g;
butter – 105 g;
gelatine – 20 g;
vanillin – 5 g.
Cottage cheese we grind through a sieve, we throw sugar, vanillin, we pour in some cream and whisk all with a blender until the cream consistency is obtained. We leave the curd cream for 15 minutes, and in the meantime, pour the remaining cream gelatin and stir. We remove the butter from the refrigerator in advance and leave it at room temperature. The container with gelatin is placed in a water bath and, continuously stirring, the mixture is heated until the crystals dissolve completely. Then we remove the dishes from the plate, cool it, add it to the curd cream and whisk again to splendor. Cover the top with a lid and remove it for 15 minutes in the refrigerator. Cookies crushed into small crumbs, add a soft creamy oil and thoroughly grind your hands. The form for baking is covered with parchment paper, we compact the sand crumb onto the bottom and spread the curd cream. We level the surface, tighten the food film on top and remove the cake in the fridge for 3 hours.
Cake of cookies, cottage cheese and condensed milk
shortbread cookie – 685 g;
coconut fine shavings and chocolate sweets – for decoration.
For curd cream:
butter – 105 g;
cottage cheese – 255 g;
sugar – 185 g;
vanillin;
cinnamon – 1 tbsp. a spoon.
evaporated milk – 365 ml;
milk – 105 ml.
So, first let's prepare the cream for the cake: curd the cottage cheese several times through the meat grinder and mix with the creamy softened butter. Next, throw sugar, cinnamon, vanillin and mix. To make another cream, whip the remaining butter with condensed milk for about 5 minutes. Now we take the form, lay on the bottom of the shortbread cookie, cover it with warm milk and distribute half of the curd cream with cinnamon. Then lay out the second layer of cookies and pour out a little liquid cream with condensed milk. Similarly, we treat all the remaining cookies and creams. We decorate the finished dessert with chopped candies and sprinkle with coconut chips if desired. Cover the cake with food foil and clean for a day in the fridge for impregnation. That's all, delicious and soft cake of cookies and cottage cheese without baking is completely ready! Gently remove the shape and cut the delicacy into pieces.
Also Like
No baked Cheesecake without Gelatin
Cheesecake without Baking with Cottage Cheese
Cake without Baking from Cookies and Cottage Cheese
Jellied Fish without Gelatin
Panna Cotta Without Gelatin
Cottage Cheese and Chocolate Roll Without Baking
Chocolate Cheesecake without Baking
Classic Cheesecake without Baking
Cold Cheesecake without Baking
Caramel Cheesecake Without Baking
Cheesecake "Sakura" without Baking
Cheesecake with Kiwi without Baking
Cheesecake with Peaches without Baking
Comments for "Cheesecake from Cottage Cheese without Baking with Gelatin"


How to cook a sweet Easter cookie, video instruction
Sweet pastry for Easter is not onlyyeast cakes, "Panetone" or "Colomba", but also a tasty, crumbly and melting shortbread cookie with a delicate protein glaze. How to make this delicacy at home, explains in detail the video recipe.
Easter without baking, recipe with photo of curd dessert
This easy dessert is convenient in that it does not requirebaking. True, it needs to be cooked almost a day before the holiday, so that the cream cheese-creamy-oily mass froze and acquired the necessary cream-jelly consistency.
Necessary ingredients
cottage cheese 10% – 1 kg
icing sugar – ½ kg
fatty cream – 200 ml
eggs – 4 pieces
butter 82% – 250 g
nuts – 150 g
fruit candied fruits – 350 g
raisin black – 150 g
Step-by-step instruction
Dry curd twice wipe through a sieve to make it fluffy and soaked with the necessary oxygen. Introduce softened butter and mix until creamy consistency.
Eggs and powdered sugar beat up with a blender until a thick foam and add to the curd mass. Pour a thin cream of room temperature and whisk until smooth.
Nuts dry in the oven, grind and combine with raisins and candied fruits, cut into cubes.
Pasochnitsu vystelit gauze, folded in two rows. Fill the form with curd mass, tightly seal, cover with gauze edges, place in a deep bowl and send for a day to the refrigerator.
At the end of time carefully remove from the form, remove gauze, decorate and serve on the festive table.
Easter bunny with stuffing
In Italy, housewives, in addition to the traditional cakewith candied fruits, be sure to serve a juicy pigtail with a filling of cheese, salami and green olives. How to cook it, tells a detailed recipe. If the acute taste is not too fond of, you can replace the green olives with black, and hard cheese with low-fat cheese.
For the test
flour – 600 g
olive oil – 30 ml
water 370 ml
fresh yeast – 12 g
salt – 10 g
olives without stones – 150 g
salami – 150 g
cheese – 150 g
eggs – 4 pcs + 1 yolk
poppy – 25 g
Sesame seeds – 25 g
pumpkin seeds – 25 g
Sift flour through a sieve.
From the dough, separate a piece weighing approximately 150 g for decoration, the remaining amount divided into 3 equal parts and hands to form long sausages of medium thickness.
Skalku wipe with olive oil and roll the first sausage into a thin strip 9-10 centimeters wide. Put it on salami, cut into cubes. Connect the edges of the dough and tighten it securely.
The second sausage on the same principle to fill with cheese, grated, and the third – olives, chopped semirings.
Wide baking sheet to lather food parchments. At the bottom, expand all three strips filled with the filling. Whisk the yolk with a fork, then with a silicone brush, coat the dough on top with a yolk mass.
The first strip is abundantly sprinkled with poppy seeds, the second – pumpkin seeds, the third – sesame seeds and carefully, trying not to tear the dough, plunge into a loose braid. Connect the edges to the ring.
From the remaining 150 grams of dough to form thin strips length of 14-16 centimeters.
Raw eggs thoroughly wash, dry and dryto place on top of the spit at an equal distance from each other. Lightly press into the dough to hold on tight and additionally secure with crossed thin strips of dough.
Leave the product for 20-25 minutes to come, then put in the oven and bake for 40-50 minutes at a temperature of 180 ° C.
Ready for the Easter braid slightly cool and serve to the table with fresh vegetables and herbs.
Instructions
In a blender, grind the cookies until finely crumbled. Melt the butter until semi-liquid and combine with the crumb. Stir with a spoon until smooth. Place the mixture on the bottom of the springform pan. This is how the first cake will turn out.
Step 2
Cooking the filling. Dissolve gelatin in milk. Let it sit for about 10-15 minutes. Then heat on the stove without boiling. Cook over low heat for 5 minutes. At this time, in another bowl, combine the curd with the Mascarpone cheese. Add vanilla sugar and granulated sugar. Next, pour in the milk-gelatin mixture and add the orange zest. Mix the whole mixture with a mixer.
Step 3
Put the prepared curd filling on the cake in a mold and smooth the surface with a spoon.
Cut the orange pulp into large pieces and place on top of the cake. Pour a thin layer of orange jam over the cake. Then refrigerate for 3 hours until the jam hardens.
Curd 500 Gram
Butter 60 Gram
Powdered sugar 130 Gram
White chocolate 100 Gram
Gelatin 30 Gram
Cookies 500 gram
Water 70 Milliliters
Cream 33% 500 Milliliters
Vanilla sugar 1 Teaspoon
Remove the butter from the refrigerator ahead of time. It should become soft.
Pour boiling water over dried fruits, hold them for a couple of minutes and drain the water.
Rub the curd through a sieve. If there is no strainer, use a wooden spatula or mixer. Achieve uniformity of the curd.
Step 4
Add butter to the curd, stir. Then add sour cream and icing sugar. Whisk everything.
Step 5
Add dried fruits, nuts and candied fruits to the resulting curd mass, mix.
Step 6
Lay out the paste box with gauze folded two or three times.
Step 7
Pour the curd mass into the pasta, close the bottom and place a press on top.
Step 8
Refrigerate Easter for 12 hours.
Step 9
After the specified time has elapsed, turn the Easter onto a plate. You can additionally decorate it: in the upper part lay out the letters "ХВ" with candied fruits or dried fruits, and on the sides depict a cross or flower sprouts.
Cottage Cheese Roll with Apples and Chocolate
Baked Cottage Cheese
Cottage Cheese Rolls with Chocolate, Walnuts and Dates
Roll of Chocolate Pancakes with Cottage Cheese and Banana
Rolls of Chocolate Pancakes With Cottage Cheese and Fruits
Cheesecake from Cottage Cheese without Baking with Gelatin
Roll "Bounty" (without Baking)
Chocolate Rolls Without Egg
Chocolate Cake without Baking
Chicken Rolls with Cottage Cheese
Cottage Cheese Pasta Bake
Chocolate Dumplings with Cottage Cheese
Chocolate Melted Cottage Cheese
Comments for "Cottage Cheese and Chocolate Roll Without Baking"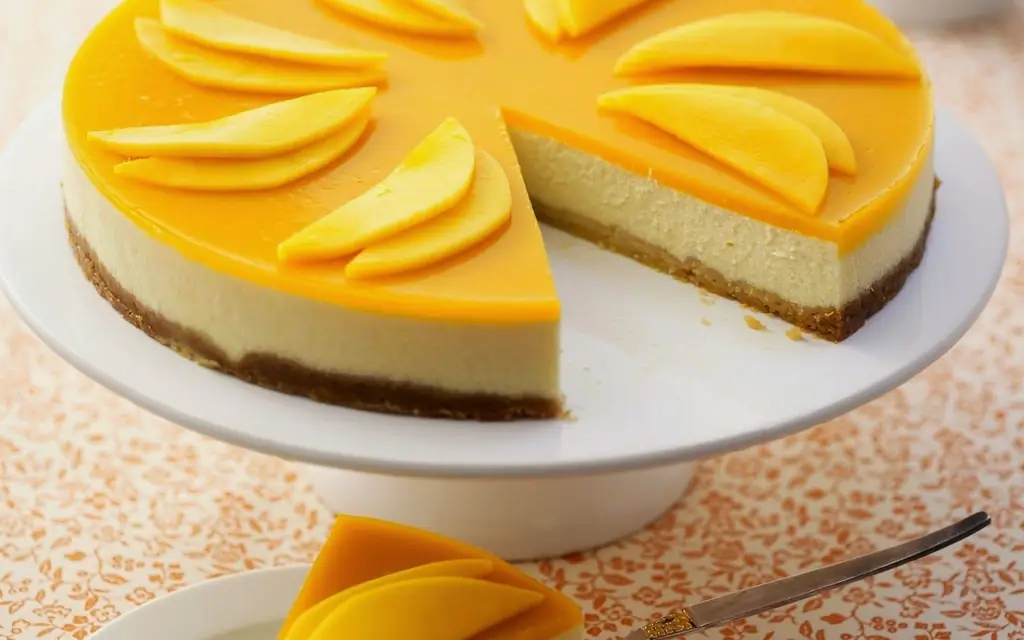 How To Make Homemade Cottage Cheese Cheesecake Without Baking
Cheesecake is a very popular, but at the same time quite high-calorie and expensive dessert. However, some components of the cheesecake can be replaced, and then you get a budget PP version of a delicious cheesecake without baking.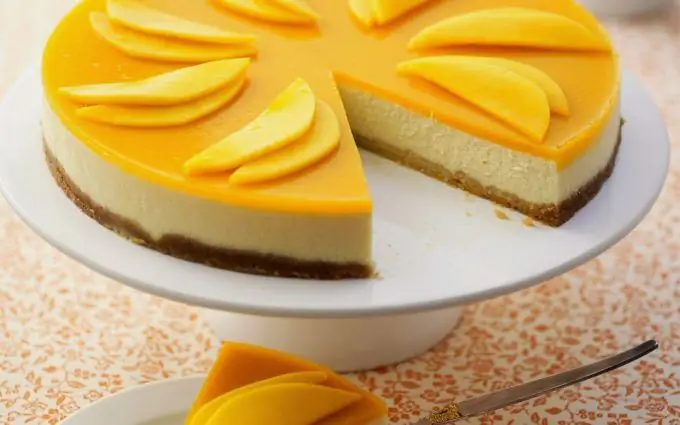 How to make homemade cheesecake with cottage cheese without baking
For sand base:
Shortbread cookies – 250 grams;
Butter – 100 grams.
For the curd layer:
Fat-free cottage cheese – 400 grams;
Sugar – 150 grams;
Cream 10% – 200 milliliters;
Gelatin – 2 tablespoons;
Vanillin – sachet.
For the fruit layer:
Canned fruits (peaches, pineapples, mangoes) – 2 cans;
Gelatin – 1 tablespoon;
If the syrup in canned food is too sour, you can adjust it with sugar at your discretion.
Step by step recipe
The first step is to prepare the gelatin. Soak two tablespoons of gelatin in a glass of water to form the gelatinous mass for the curd layer of our no-bake cheesecake. Drain the syrup from one can of canned fruit and soak another tablespoon of gelatin in it. We leave the resulting liquids at room temperature for one hour.
At this time, we begin to prepare the sand base. We take the simplest shortbread without flavorings and grind it into small crumbs. It is best to use a blender, but you can also manually use a hammer. If crumble with a blender, then do it in portions so that the cookies crumble evenly. Make sure that there are no large pieces of cookies left in the base. Next, you need to melt 100 grams of butter in the microwave, pour it into the sand crumbs and mix very thoroughly. We spread the sand mass on the bottom of the mold, ram it and press it very well, level the surface. We put it in the refrigerator until the next layer is ready.
Mix water with gelatin thoroughly, pour into a saucepan and put on fire. We heat until the gelatin granules are completely dissolved, but do not boil. Remove from heat and cool. We do the same with another glass: pour the gelatin syrup into a saucepan or heat-resistant bowl, heat until smooth, cool.
During this time, you need to remove canned fruits from two cans and cut them into thin slices. When the curd hardens, the fruits are laid out on top of it and poured with gelatin syrup. You can do the opposite: pour the syrup, and then put the fruit on the frozen jelly. Then you need to put the mold in the refrigerator for another 3-4 hours so that all layers are frozen. A healthy dessert is ready. Bon Appetit!
It is necessary
– a split baking dish;
– blender;
– mixer;
– dry biscuits 300 g;
– butter 80 g;
– milk 100 ml;
– gelatin 15 g;
– zest of 1 orange;
– curd cheese Mascarpone 250 g;
– cottage cheese 250 g;
– sugar 100 g;
– vanilla sugar 10 g;
– orange 1 pc.;
– orange jam.
Directions
Pour cold water over gelatin and leave for a couple of minutes to swell.
For the base, mix 300 g of cookies with a blender into small crumbs. Add the softened butter to the crumb and stir.
Place the crumbs in a split form and tamp tightly.
Grind the curd with an immersion blender to a creamy state. Then add the icing sugar and stir.
Melt gelatin and white chocolate in the microwave or a water bath. Add them to the curd mass along with the vanilla sugar.
Place the chilled cream in a cold dish and beat with a mixer until firm peaks. Add them to the curd mass and stir gently with a spatula.
Send some of the fillings into the mold, flatten, then lay out the cookies and cover with the filling again. Alternate layers like this. Cover with cling film and refrigerate for 2 hours.
Use a dry knife to separate the cheesecake from the pan, remove it and garnish with whipped cream.
Enjoy your meal!
To prepare cheesecake from cottage cheese with cookies without baking, prepare the products.
Fill gelatin with water and leave for the time indicated in the instructions.
Let's start preparing the base. Grind the cookies in a blender or grind them with a rolling pin. Melt the butter, add to the crushed cookies. Mix well. The result is a mass that resembles wet sand.
We put the cookies in the form. We tamp. Let's put it aside.
Punch the cottage cheese with a blender or rub it through a sieve. Add powdered sugar and vanillin. We mix. We work with a silicone or wooden spatula. No whisks and no beating! We don't need air bubbles in the finished dessert.
Melt the chocolate in a water bath, add it to the bowl with the curd mass. We mix.
Dissolve gelatin in a water bath or a microwave. Add to the curd mass. And mix again.
Whip the cream until soft peaks and send to a bowl. And mix again.
Put cottage cheese on a sand base. Then my son and I decided to dispose of the oreo cookies and did this: we laid out part of the curd mass, on top of it – cookies, and covered with the remaining curd mass.
We level the surface. Cover with plastic wrap and remove the cheesecake from cottage cheese with gelatin without baking in the refrigerator for 2-3 hours. It is possible for the night.
The finished cheesecake can be garnished as desired. I whipped cream with powdered sugar.
Cheesecake without Baking "Cow"
Cheesecake without Baking (Recipe)
Cheesecake without Baking with Cherries
Comments for "Cheesecake without Baking with Cottage Cheese"
– Cottage cheese (at least 5-9% fat, preferably 18%) – 500g
– Sour cream (20-30% fat) – 100g
– Butter – 100g
– Powdered sugar – 100g
– Raisins, dried apricots, nuts, candied fruits – to taste
Shortbread cookies – 300 g
Butter – 100 g
Cottage cheese – 500 g
Powdered sugar – 130 g
White chocolate – 100 g
Cream 35% – 500 ml
Vanillin – on the tip of a knife
Gelatin – 30 g
Water – 80 ml
European pastries for Easter – English buns with cinnamon
The buns, cooked according to this recipe, resemble small cakes. You can serve them on individual serving saucers, along with sweet sauces or fruit syrups.
flour – 660 g + 2 tbsp
Milk 3.2% – 335 ml
dried fruits – 220 g
ground cinnamon – 1,25 tbsp
granulated sugar 70 g
eggs – 2 pieces
butter – 4.5 tbsp
dry yeast – 8 g
salt – 1 tsp
ground nutmeg – ½ tbsp
Flour sift through a kitchen sieve and rub withbutter. Sprinkle yeast, spices, crushed dried fruits, salt and sugar. In a thin trickle, pour in the milk of room temperature, beaten with a blender, along with the eggs.
Knead all the ingredients for 15 minutes, then form a ball, wrap the food with plastic wrap and send for 1 hour in a warm, dry place.
When the dough half increases in size, mold out of it the same round buns with a diameter of not more than 5 centimeters.
Arrange the blanks on a baking tray and bake a little in the oven. Then remove, make a neat cruciform cut on top with a sharp knife and leave it on the table for 40 minutes.
2 tablespoons of flour mixed with 5 tablespoons of water, stir well, place in a pastry bag, and then apply thin strips inside the grooves of cruciform incisions.
Send the buns in the oven, heated to 200 ° C, bake until redness for 20 minutes, cool slightly and serve to the table with hot drinks.
For the basics:
Milk – 400 ml
Eggs – 2 pcs.
Sugar – 100 g
Starch – 40 g
Cocoa powder – 25 g
Gelatin – 15 g
Cottage cheese – 200 g
Butter – 75 g
Sugar – 70 g
Milk – 50 g
Vanilla sugar – 10 g