Learning how to make a sweet dough recipe is something every cook needs to do. So many different recipes can be made from a basic recipe. Large
batches can be made, divided into small portions and kept in the freezer
for convenience. By rolling the dough out in different sizes, shaping
differently and adding various fillings you can produce baked goods
which appear totally different. No matter how you shape it or what the
filling is, everything made from this dough is absolutely delicious.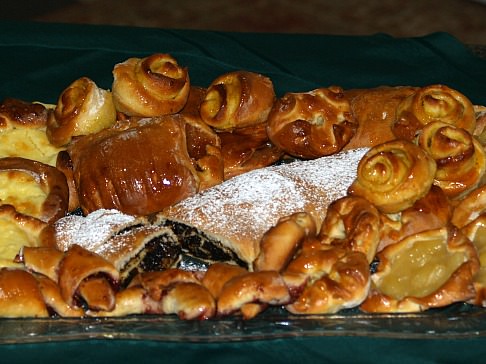 How to Make Sweet Dough Recipes
Most countries have learned how to make a sweet dough recipe of their own version but
have very similar ingredients. Here in the United States we use all the
recipes brought to this country. Some of these recipes are made with
leavening like baking powder, but I love the ones made with yeast. These
pastries are very popular in most countries at holiday time. In Hungary this dough is used
to make hamentachen, kipelach, kuchen and cheese delcalech recipes
which are all very good. In Germany you will find many recipes using
sweet dough for kuchen, coffee cakes and a large variety of fried
donuts.
As you can see every country has a recipe, but of all
the countries and their recipes the most famous all over the world is the way the Danish learned how to make a sweet dough recipe. These Danish pastries are well
known for the light flakiness after baking. The Danish recipes
are about the same as from other countries. So what is the
difference? It must be in the rolling. The dough is chilled and rolled.
It is then buttered; the dough is folded over, and then rolled again.
After chilling again, it is rolled out, buttered, folded and chilled.
You get the message? This is a process of rolling which the Danes use;
see why their pastries are so delicious?
This sweet dough recipe is turned into many Danish pastries.
The pastries are cut into many shapes and sizes; sometimes they are
simply topped with sugar, frosting or chocolate. Other times you will
see the pastries stuffed with jams or custards. Other popular fillings
are nuts, dried fruits or toffees. Whatever your choice I will guarantee
you will not be disappointed with the delicious flaky taste of these  Danish pastries. One simple and easy recipe that I like is for orange rolls made from a sweet dough recipe; I don't know where
this originated but these rolls are very good.
HOW TO SHAPE SWEET DOUGH
Combs: Cut dough into 5 inch squares, filling in center, brush edges with egg wash, fold dough over and pinch to seal, cut slits along 1 side.
Sweet Dough Comb Shape
Danish: Cut dough into 5 inch squares, filling in center, brush edges with egg wash, pinch edges up to make a round rim OR using 5 inch squares, fold 2 opposite corners in over filling.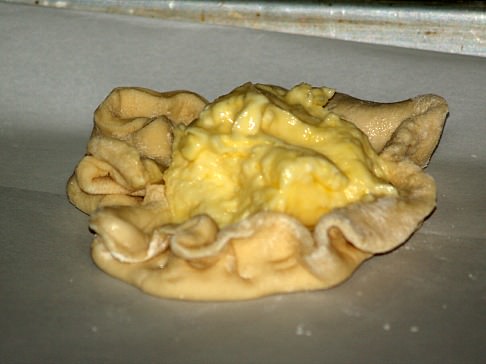 Sweet Dough Danish Shape
Rings: Cut dough 3 X 5 inch rectangles, brush edges with egg wash, spread filling over half missing wash, fold dough in half, cut small slit in center, fold dough through slit making a doughnut shape.
Sweet Dough Ring Shape
Crescent: Cut dough in triangles, spread with jam, roll up tightly, bend corners in to form crescent.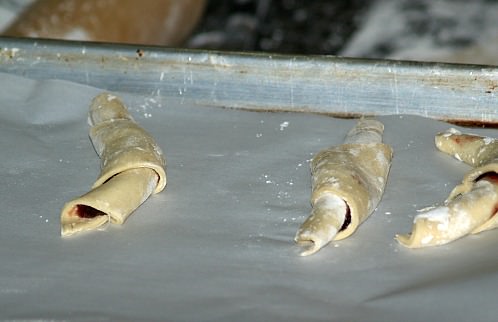 Sweet Dough Crescent Shape
Pinwheel rolls: Roll dough about 6 X 12 inches ¼ inch thickness, spread with filling, from long side, roll up like jelly, slice about 1 inch thick, place in buttered regular size cupcake tin cut side down.
Sweet Dough Pinwheel Shape
Love letters (not pictured):  Cut 5 inch squares, filling in center, fold to opposite corners in over filling, then fold other 2 corners in slightly to shape like an envelope.
HOW TO PREPARE SWEET DOUGH FILLINGS
Apple: Cook 4 peeled cored sliced apples, ¼ cup water, 1 tablespoon lemon juice, ½ teaspoon cinnamon; stir in 2 tablespoons cornstarch mixed with ¼ cup water until thickened.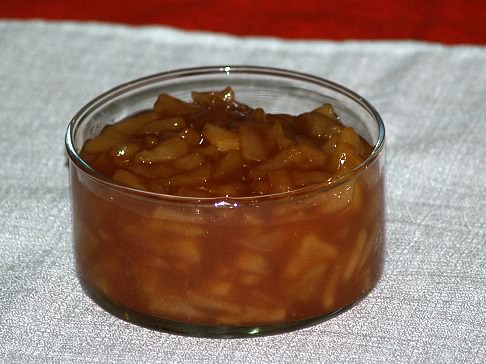 Sweet Dough Apple Filling
Pineapple: 1 can drained crushed pineapple, 2 tablespoons cornstarch, ½ cup pineapple juice; stir until thickened.
Sweet Dough Pineapple Filling
Poppy seed: Combine 2 ½ cups ground poppy seeds, 1 cup sugar, ½ cup raisins, 2 teaspoons grated lemon peel; mix well.
NOTE: I like poppy seed filling but I do not like the filling which you purchase in cans at the grocery store.
Sweet Dough Poppy Seed Filling
Jam Filling: 1 Jar 10 or 12 ounces jam.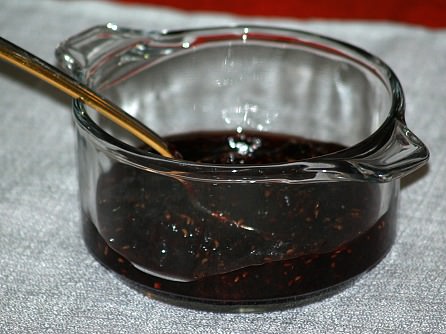 Sweet Dough Jam Filling
Almond: Combine 1 can (8 ounces) almond paste with 1 egg yolk.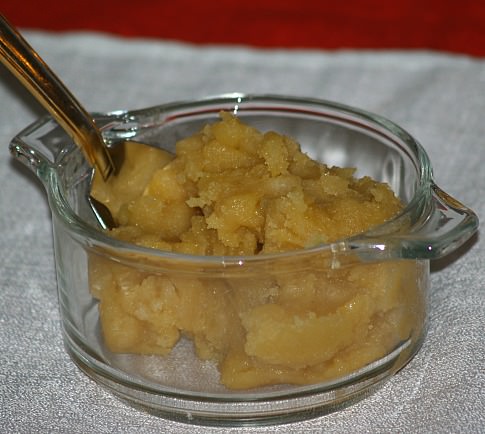 Sweet Dough Almond Filling
Cream cheese: Combine with mixer 8 ounces softened cream cheese, ½ cup powdered sugar, 1 egg yolk and 1 teaspoon grated lemon peel.
OPTION: Stir in ¼ cup dried currants.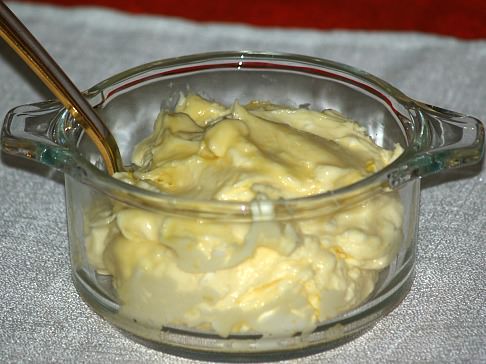 Sweet Dough Lemon Cream Cheese Filling
SOME ADDITIONAL BASIC FILLINGS for the sweet dough recipe
Sprinkle with cinnamon sugar mixture
Sprinkle with nuts
Sprinkle with raisins
Spread with canned prune filling
NOTE: Might try a combination
NOTE: To get a lighter flakier pastry, let pastries on tray set in a warm place about 30 minutes before baking; if cold dough, let set about 45 minutes.
HOW TO MAKE SWEET DOUGH RECIPE like these ORANGE ROLLS
Sweet Dough Orange Filling
Make a thick spread with powdered sugar, melted butter, a little orange juice and grated orange peel. Roll sweet dough about ½ inch thick, spread with this filling and then roll up dough lengthwise jelly roll fashion. Cut in 1 inch sections and let rise in greased cupcake tins. Bake at 350F degrees for about 20 minutes or until done.
DANISH PASTRY RECIPE
¼ Cup sugar
1 Teaspoon salt
1 Teaspoon ground cardamom
2 Packages dry yeast
4 Cups flour
1 ¼ Cups milk
1 Egg
1 ½ Cups butter
Combine sugar, salt, cardamom, yeast and 1 ½ cups flour in a large bowl.
Heat milk over low heat until very warm (120F to 130F degrees).
With mixer on low speed beat liquid into dry ingredients just until blended; beat in the egg.
Increase mixer to medium speed and beat a couple more minutes.
Beat in another ½ cup flour; stir in enough flour to make a soft dough.
Turn dough out onto a floured surface and knead until smooth and elastic; add more flour if needed.
Shape dough into a ball; cover and let set 30 minutes.
Place butter in refrigerator to chill.
Roll dough out on floured surface into 18 X 9 inch rectangle.
Remove top sheet of wax paper from butter; invert butter over 2/3 of dough leaving ½ inch margin on three sides.
Remove other sheet of wax paper; fold unbuttered 1/3 of dough over middle 1/3 to make 9 X 6 inch rectangle.
With rolling pin press dough together around edges to seal in butter.
Roll dough to an 18 X 9 inch rectangle; fold dough crosswise to make 9 X 6 inch rectangle.
Wrap and chill for 30 minutes; roll, fold and chill two more times.
Cut dough into quarters; work with 1 piece at a time keeping other pieces chilled.
Roll dough to a 12 X 8 rectangle; cut into 6 four inch squares.
Beat 1 egg with 1 tablespoon water and brush over squares; place squares on ungreased cookie sheet.
Place 1 tablespoon filling in center of each square.
Bring one corner of square over the filling then the other corner to shape foldovers.
To make envelopes bring all four corners to center to enclose filling.
Bake at 350 F degrees for about 20 minutes or until light brown.
BASIC SWEET DOUGH RECIPE
½ Cup milk
½ Cup sugar
1 ½ Teaspoon salt
¼ Cup butter
½ Cup warm water
2 Packages dry yeast
2 Beaten eggs
4 ½ Cups flour
Scald milk and stir in sugar, salt and butter; cool to lukewarm.
Measure warm water into a large bowl; sprinkle in yeast and stir until dissolved.
Stir in lukewarm milk mixture, beaten eggs and half of the flour; beat until smooth.
Stir in remaining flour to make slightly stiff dough; turn dough out on lightly floured surface.
Knead dough until smooth and elastic; place dough in a greased bowl turning to grease top.
Cover and let rise in warm place until double in bulk about 1 hour.
Punch dough down, roll out of floured surface; cut and shape as desired.
Set in warm place about 30 minutes.
Bake 350 degrees the TIME DEPENDS ON SHAPE AND FILLING. Bake to golden brown.
RICHER SWEET DOUGH RECIPE
¾ Cup milk
½ Cup sugar
2 Teaspoons salt
½ Cup butter
½ Cup warm water (105 to 115F degrees)
2 Packages dry yeast
1 Egg
4 Cups flour
Measure warm water into large bowl; sprinkle in yeast stirring until dissolved.
Stir in lukewarm milk mixture, egg and half the flour; beat until smooth.
Stir in remaining flour to make fairly stiff batter.
Cover tightly with plastic wrap and refrigerate for at least 2 hours; shape as desired.
Set in warm place about 45 minutes.
Bake at 350 degrees TIME DEPENDS ON SHAPE AND FILLING; bake until lightly brown.
BEAR CLAWS RECIPE
This recipe is made from any yeast sweet dough recipe.
1 Recipe of sweet dough
2 Tablespoons melted butter
1 ½ Cups chopped dates
1 ½ Cups raisins
¾ Cup chopped nuts
5 Tablespoons sugar
1 Teaspoon lemon rind
1 Egg yolk
2 Tablespoons water
Roll out ½ of dough recipe on floured surface to 9 X 18 inch rectangle.
Brush dough with melted butter.
Combine dates, raisins, ½ cup chopped nuts, 3 tablespoons sugar and lemon rind.
Sprinkle half of the filling over the rectangle dough.
Fold outside third of dough over center third; fold again to make a three layer strip 18 inches long.
Pinch dough to seal edges; cut strip dividing into 9 two inch sections.
On one of the open sides make 4 (1/4 inch) cuts on each section; place on greased baking sheets.
Make into bear claws by separating the five cut sections; repeat with remaining dough.
Combine egg yolk and water to brush rolls; sprinkle with remaining chopped nuts and 2 tablespoons sugar.
Let rise uncovered in warm place about 1 hour or until double in bulk.
Bake 350 degrees for 20 to 25 minutes or until brown.
HUNGARIAN SWEET DOUGH RECIPE for Kuchen
As with most sweet dough recipes you can use different types of fillings.
2 Packages dry yeast
1/2 Cup warm milk
1 Cup sour cream
¼ Cup melted butter
½ Teaspoon salt
¾ Cup sugar
Flour
Dissolve yeast in warm milk; let set for 5 minutes.
Add butter, sugar, salt and sour cream; beat in 3 cups of flour.
Turn dough out onto a lightly floured surface; knead in enough flour to make a soft smooth workable dough.
NOTE: If dough gets too dry it will be tough.
Cover and let rise in a warm place until doubled in bulk.
Punch down and roll.
TO MAKE KUCHEN RECIPE
Roll the Hungarian sweet dough recipe ½ to ¾ inch thick; spread with a desired filling (see list above).
NOTE: Leave clear 1 inch on sides and 2 to 3 inches on bottom.
Roll up jelly roll fashion; place seam side down on greased baking sheet; pinch ends to seal.
Let rise about 1 hour; brush with beaten and bake at 350F degrees for 40 to 45 minute
This basic sweet dough recipe gives you a tender, soft crumb, and can be made into any sweet bread or roll you'd like.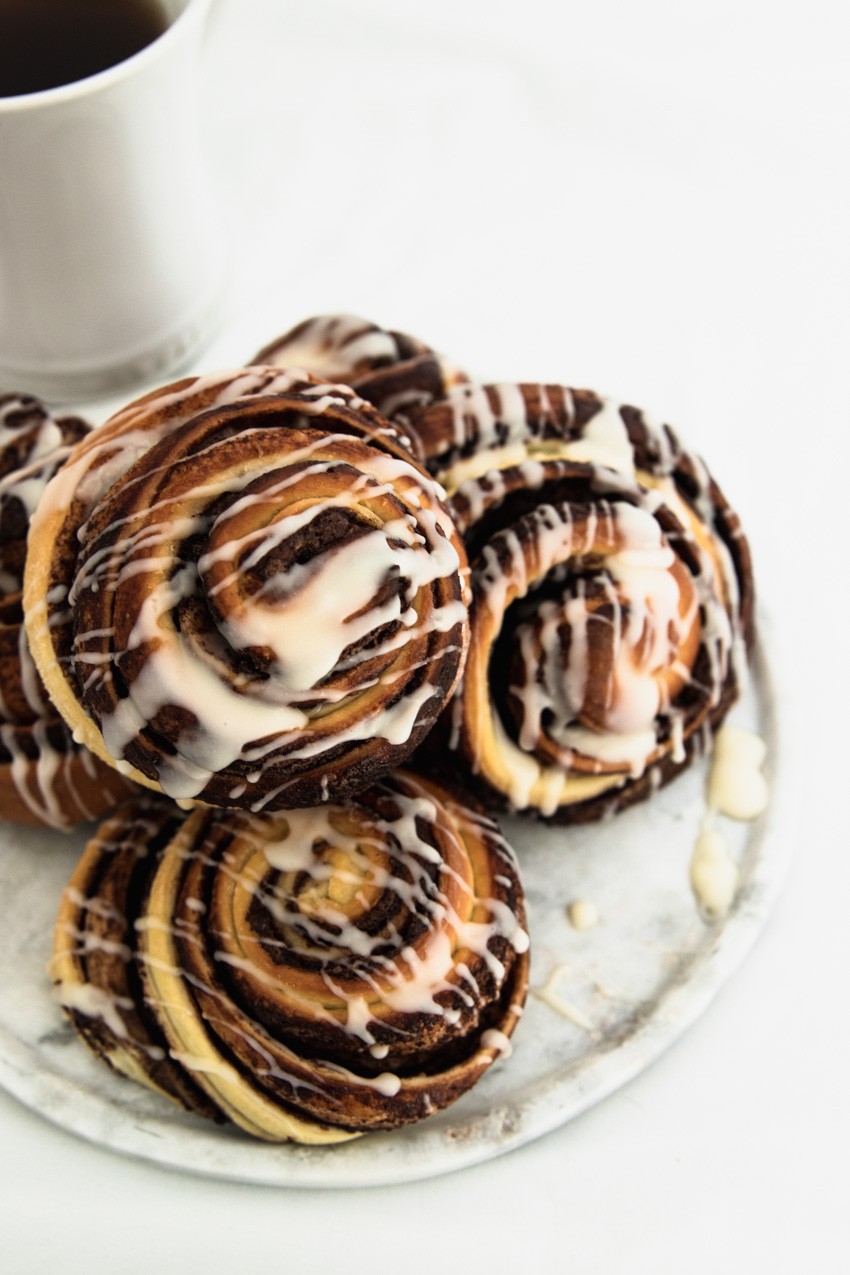 This basic sweet dough is one of those useful recipes that offers so many incredible options. Want to make cinnamon rolls? You can do that. Have a sweet loaf in mind, stuffed with delicious things? You can make it all happen with this dough.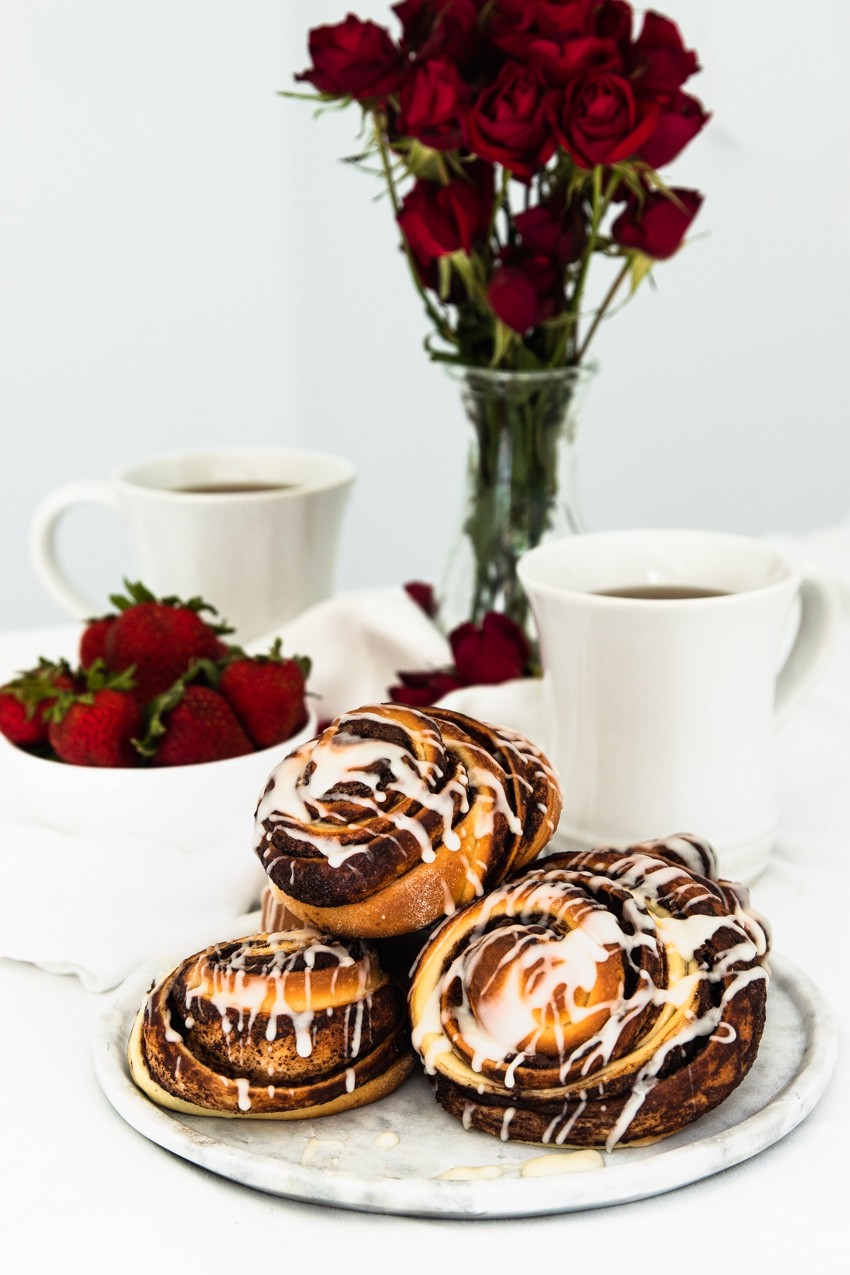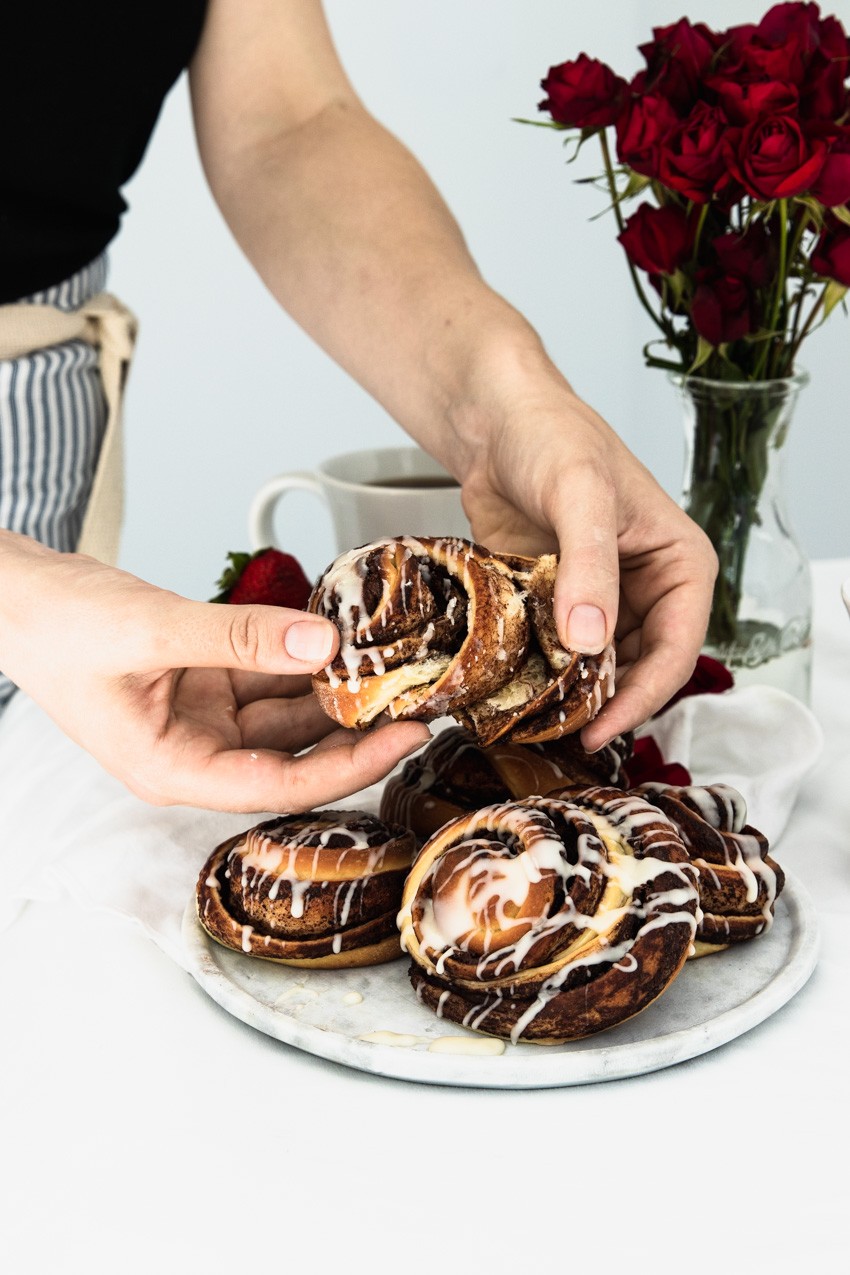 How to Make Basic Sweet Dough
Begin by setting out your eggs to come to room temperature.
Next, place the butter in a sauce pan and melt it down completely. Add the milk and continue to heat until it reaches between 100-110° F, then pour it into the bowl of a stand mixer.
Lightly beat the egg in a separate bowl, then stir into the rest of the wet ingredients.
Add the flour and salt to the bowl and turn the mixer on low , stirring with the dough hook until the flour has all been absorbed and the dough has come together. Then turn up the mixer to medium and knead for 4-6 minutes, or until the dough has come together on the hook in a ball.
When the dough has doubled, use it to make rolls, twists, loaves, or whatever you'd like!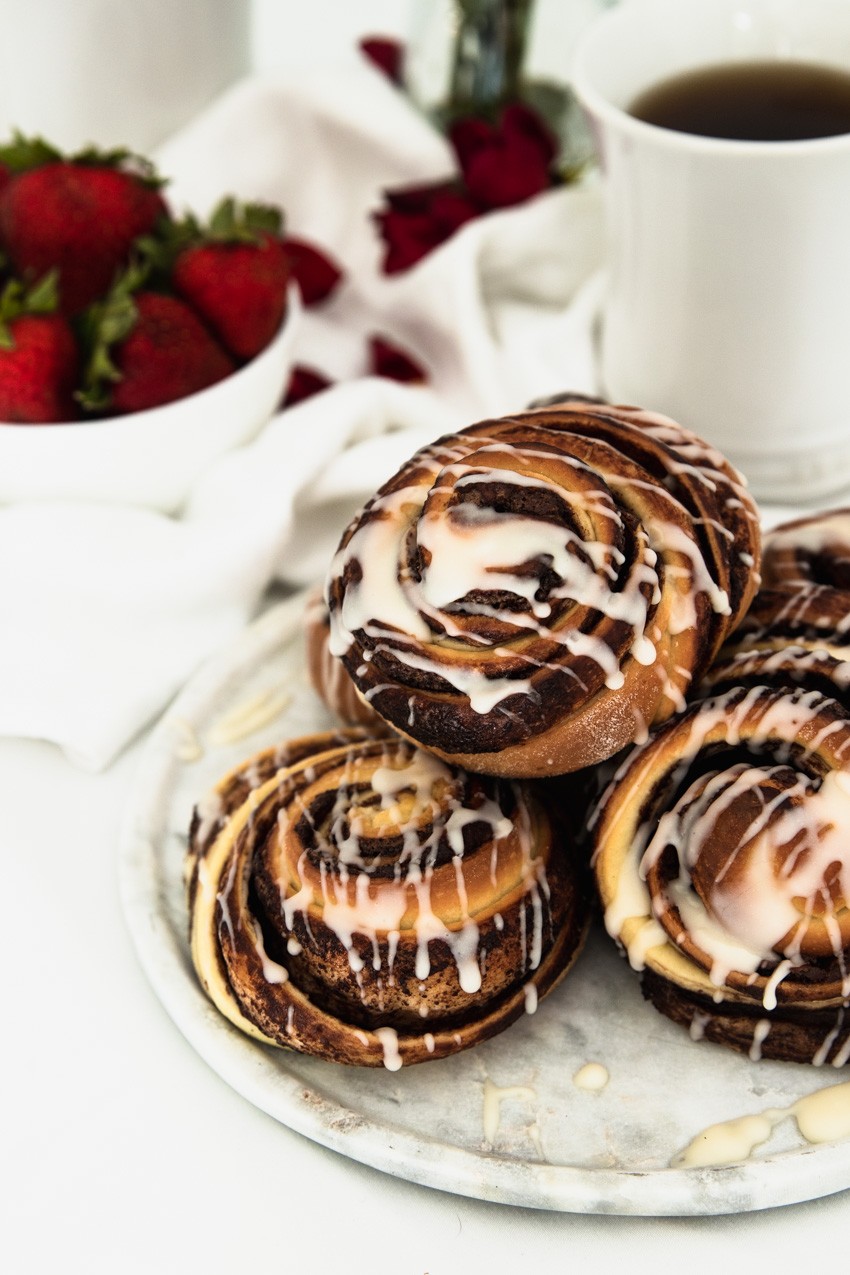 How To Make Nutella Swirls
Bake them at 350F for 25-30 minutes, or until they are golden brown, then remove them from the oven and allow to cool before glazing.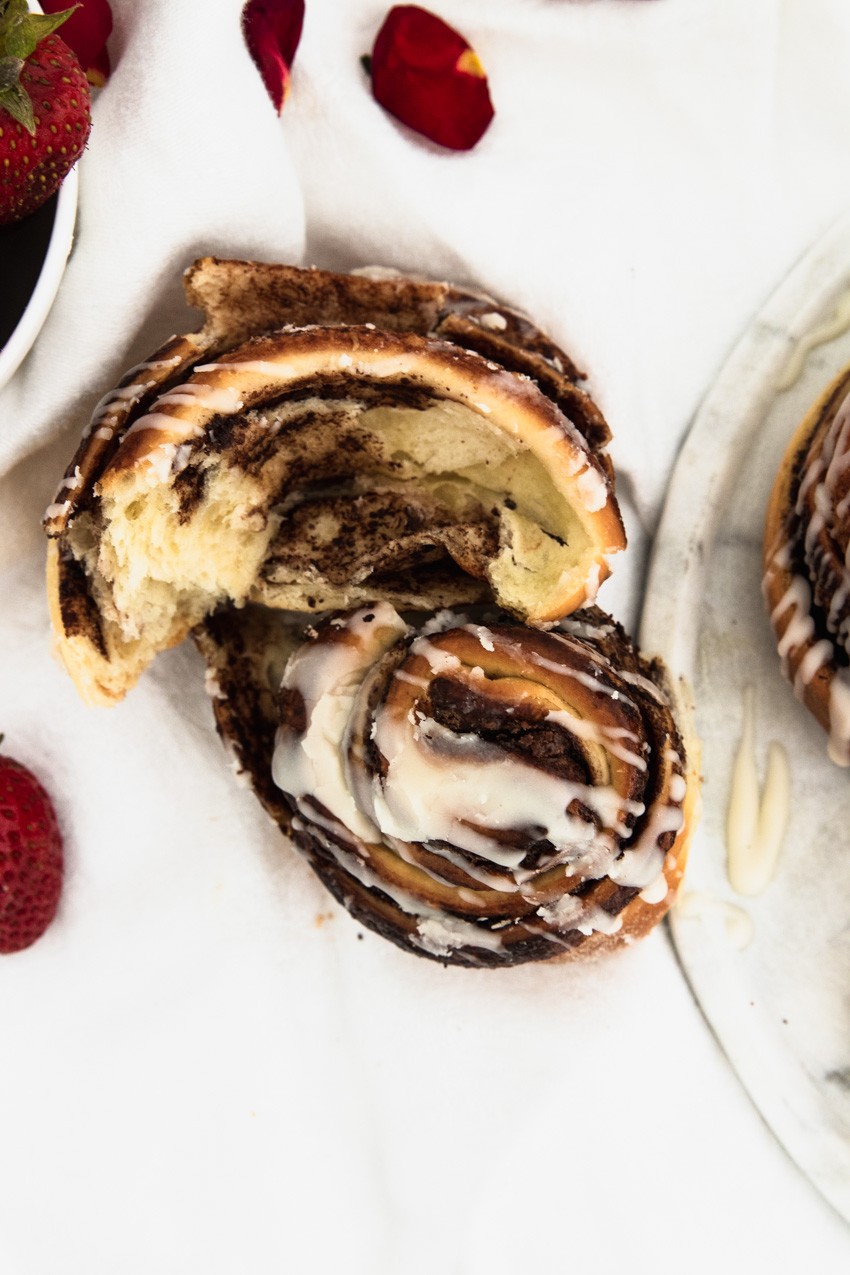 Recipe Notes and Tips
If your yeast is a bit on the old side and you're not sure it's active, try testing some before using it in the dough. Simply sprinkle a pinch or two over a cup of warm water. If it dissolves and becomes foamy in 5-10 minutes, it's active and safe to use. If it simply sinks and doesn't do anything, you'll need to get new yeast.
After adding the flour, your dough may look wet, soft, and unworkable. But don't be tempted to add extra flour! As it rises, the gluten will build structure in the dough. It will still be soft, but workable, and will give you a tender, delicious dough. Adding extra flour will make it dry out more quickly.
After shaping your loaves or rolls, you can pop them in the refrigerator overnight and bake in the morning. So easy!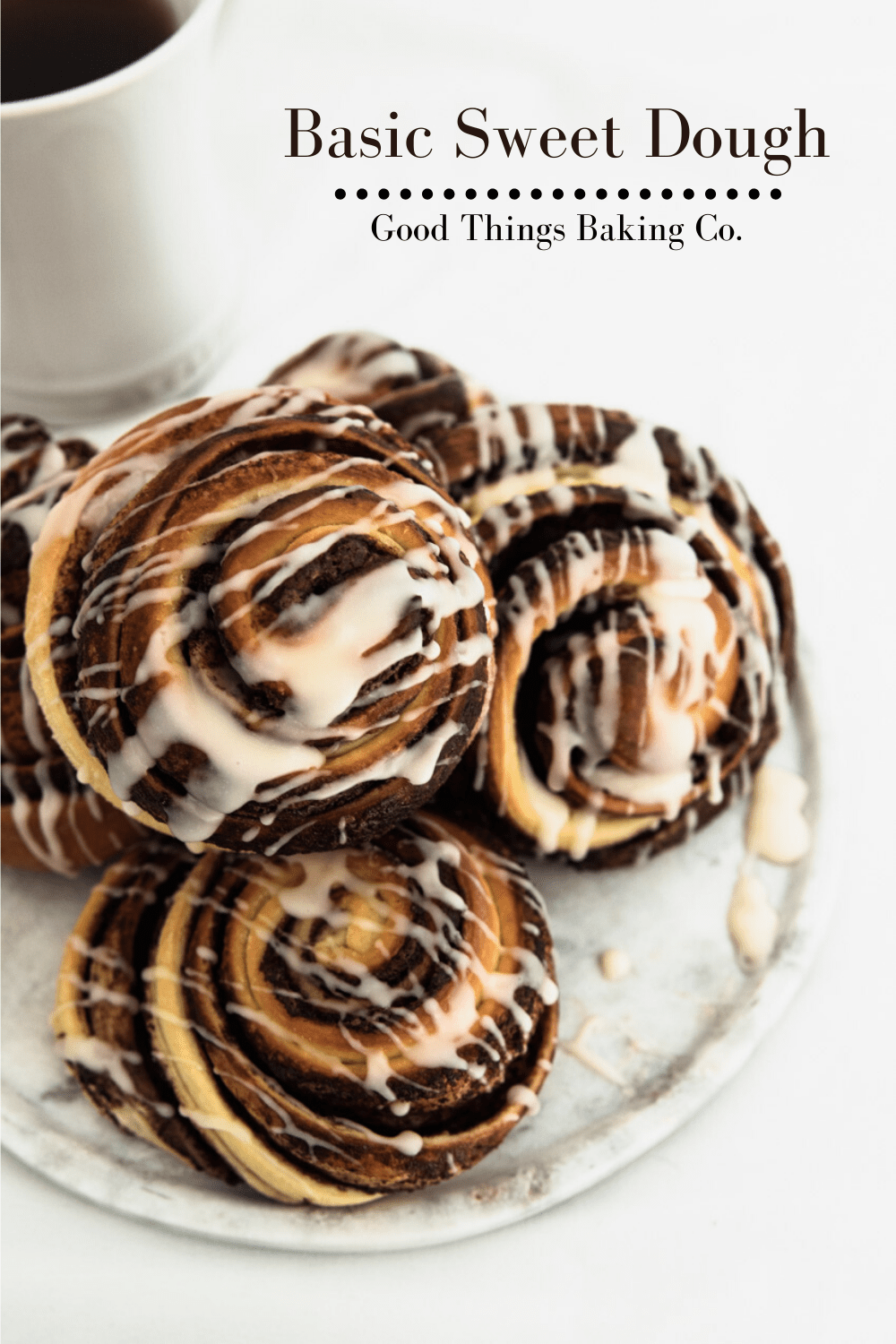 Other Recipes You May Enjoy
. () butter
(.) whole milk
1 1/2 tsp. () instant yeast
. () white sugar
large egg
() all-purpose flour
. () salt
Melt the butter in a small saucepan, then remove it from the heat. Add the milk and pour it into the bowl of a stand mixer fitted with a dough hook. Measure the temperature to be sure it's between 90F and 110F. If it's hotter than  110F, allow it to cool so that it doesn't kill the yeast. Sprinkle the yeast, then the sugar, over the warm milk and butter, then give it a stir to wet all of the yeast. Allow it to sit for five to ten minutes, or until the yeast is foamy. Lightly beat the egg in a separate bowl, then add to the milk & yeast mixture.
Add in the flour and salt and turn the mixer on low until the dough has come together into a ball. Turn the mixer up to medium and knead for 4-6 minutes, or until it is a smooth and taut. Remove the dough from the mixing bowl, shape the dough into a ball, and place it into a greased bowl. Allow it to rise for 1 -1 1/2 hours, or until doubled in size. At this point, you can use it to make a variety of sweet breads or rolls. Simply shape however you like, then cover with a cloth and allow to rise for about another hour, or until the dough is soft and puffy.
For the Knots Pictured: Divide your dough into 6 equal portions. Roll each one out into a rectangle (it doesn't have to be completely square) that's about 4″x7″, then brush on melted butter. Sprinkle with about a teaspoon of sugar, then mini chocolate chips. Roll them up along the long side, then pinch the seams to seal. Roll the dough "log" under your hands while applying gentle pressure to stretch and lengthen it, then turn a simple knot with the dough. Mix the leftover melted butter with about a tablespoon of milk, then brush it on the outsides of the knots and sprinkle with sugar.
Bake at 350F for 20-25 minutes, or until the outside a golden.
10 minutes, + 2-3 hours rising
Breads & Pastries
Basic Sweet Dough Bread
This master recipe for Chocolate Sweet Dough is richly flavorful, pillowy soft, and versatile for filled bread or sweet rolls.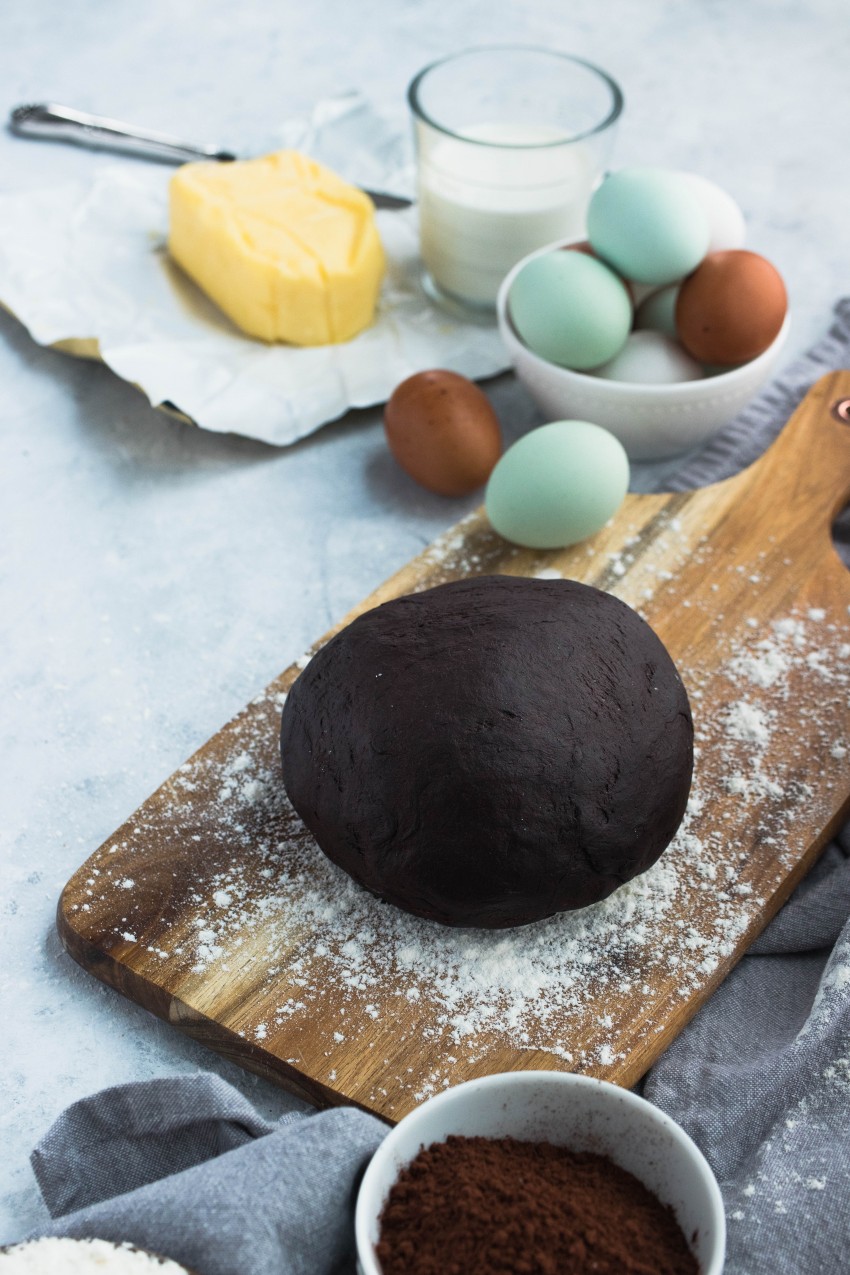 Did you know that Micah and I spent the first three months of our marriage living in France? It was a kind of extended working honeymoon. The weeks were spent working from our little apartment, and the weekends were spent hopping on trains to visit the surrounding cities and countries. But before running to the train station, we always stopped at one of the bakeries along the way. Of course, walking so many kilometers all over Europe took care of the butter and carb consumption extras for us.
One of our favorite things from the pastry case was the tourbichocs, a roll of plain and chocolate sweet dough swirled together. There was a little bit of chocolate inside them, and a light layer of glaze. They were perfectly soft, and lightly sweet.
Ever since we came home, I've been trying to recreate those rolls. That was almost six years ago, for reference. The struggle has been the chocolate sweet dough. I haven't been able to find a recipe that gave me the flavor and texture I needed. It was supposed to be super soft, and not too sweet. Such a recipe eluded me, or simply doesn't exist. I even read a million (actually more like ten) recipes in French, and no dice.
Until now, that is.
This Chocolate Sweet Dough is everything I was looking for– deeply flavorful, and with a pillowy texture. Because of the milk, eggs, and butter in the dough, the gluten will never develop the strong elasticity of regular dough. But that's a good thing! It's what keeps the dough soft enough to sleep on, not even joking.
Because of the milk, eggs, and butter in the dough, the gluten will never develop the strong elasticity of regular dough. But that's a good thing! It's what keeps the dough soft enough to sleep on, not even joking.
I like to use dark unsweetened cocoa powder for this recipe because it has a noticeably richer, deeper chocolate flavor. But if all you have on hand is regular unsweetened cocoa powder, go for it! The only swap I wouldn't recommend is using Dutch processed cocoa powder, as it has very different acidity levels and will affect the outcome of your bread.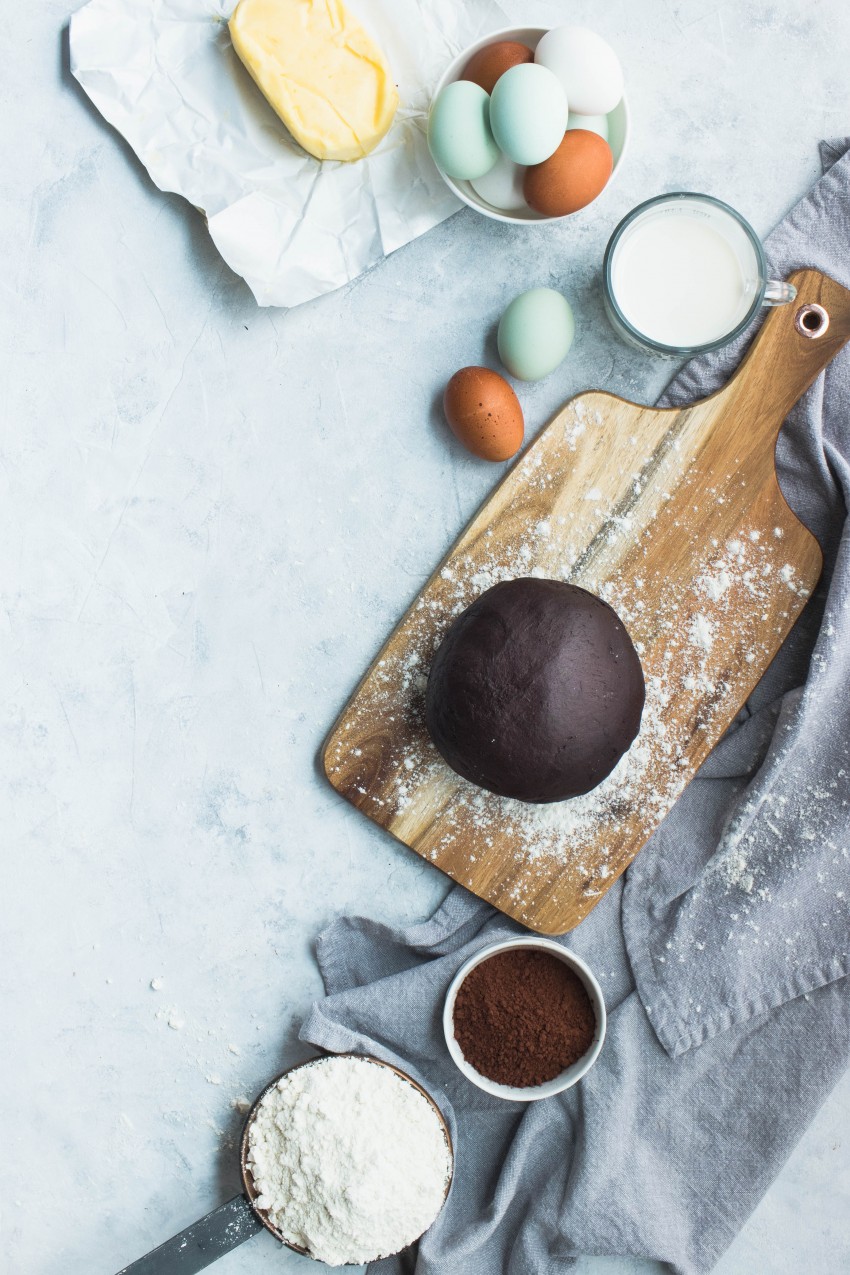 And it's as versatile as can be. You can make it into a filled swirl bread, or swap out your favorite sweet roll dough for breakfast this weekend. So many options from one little dough recipe–why haven't I done this before?
Other Recipes You May Enjoy (Click Captions to View)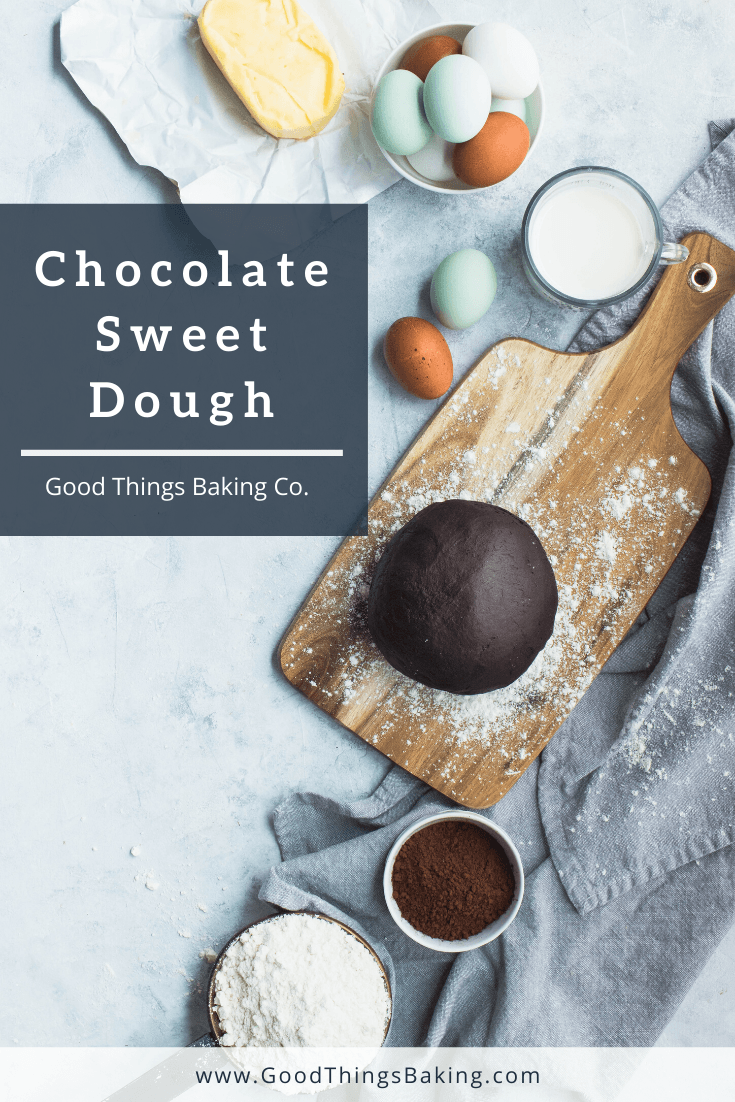 (.) whole milk
. () butter
. () yeast
. white sugar
egg
2 1/4 cups () all-purpose flour
() dark cocoa powder (see notes)
. () salt
In a small sauce pan, melt the butter over medium-low heat. Once it is completely melted, add the milk and heat until it is between 100 and 110 degrees. If you don't have a thermometer, just make sure that the mixture feels lukewarm– neither hot or cold to the touch. If it is too hot, allow it to cool.
Once the milk and butter have reached the correct temperature, pour them into the bowl of your stand mixer, fitted with a dough hook. Sprinkle the yeast and sugar over the top, and give it a stir. Let it sit for 5-10 minutes, or until the yeast has dissolved and become foamy.
Beat in the egg with a fork. Sift the flour, dark cocoa powder, and salt into the wet ingredients and mix on low until combined. Turn the mixer up to medium, and knead for 6 – 8 minutes, or until the dough is smooth and elastic.
I've used both dark and regular cocoa in this recipe, and while either works just fine, I prefer the taste and color of the dark.
The addition of the fats (butter and milk) cocoa powder makes the kneading process take longer, so be patient! The dough will never have the kind of elasticity that a fatless dough will, but that helps give the finished product it's soft, tender texture.
Chocolate Sweet Dough, Chocolate Bread
Satisfy your sweet tooth with this top-rated sugar cookie recipe. It comes together with just a few ingredients you likely already have on hand — and the sugar cookies turn out perfect every time.
Meredith Food Studio
How to Make Sugar Cookies
You'll find a detailed ingredient list and step-by-step instructions in the recipe below, but let's go over the basics:
Sugar Cookie Ingredients
These are the simple ingredients you'll need to make the best sugar cookies of your life:
· Flour: This easy sugar cookie recipe starts with all-purpose flour.· Leaveners: Baking soda and baking powder act as leaveners, which means they help the cookies rise.· Butter: Two sticks of butter add moisture and richness.· Sugar: Of course, you'll need sugar for sugar cookies!· Egg: An egg lends more moisture and helps bind the cookie dough together.
How to Make Sugar Cookies From Scratch
Here's a quick overview of what you can expect when you make homemade sugar cookies:
1. Mix the dry ingredients in one bowl and the wet ingredients in another.2. Gradually blend the flour mixture into the butter mixture.3. Roll the dough into balls and bake until the edges are golden.
How to Decorate Sugar Cookies
Want to go the extra mile? Try topping these sweet cookies with our sugar cookie frosting and/or sprinkles.
How Long Do Sugar Cookies Last?
Store the cooled cookies in an airtight container for a few days at room temperature or up to one week in the fridge. If you've frosted your cookies, stack them with wax paper between each layer to prevent sticking.
Can You Freeze Sugar Cookies?
Yes! You can freeze baked sugar cookies and sugar cookie dough.
· To freeze baked cookies: Allow the baked cookies to cool completely. Arrange them in a single layer on a baking sheet, cover, and freeze for about three hours or up to overnight. Transfer the now-frozen cookies to a zip-top bag or freezer-safe container. Wrap in at least one layer of foil for extra protection. Freeze for up to two months.· To freeze cookie dough: Roll the dough into balls and place on a parchment-lined baking sheet. Cover and freeze for about three hours or up to overnight. Transfer the frozen cookies to a zip-top bag or freezer-safe container. Wrap in at least one layer of foil for extra protection. Freeze for up to two months.
Allrecipes Community Tips and Praise
"Perfection," raves TSAF. Was asked to make drop sugar cookies for a wedding, and I'm thrilled with the results. Used a stand mixer and creamed the butter and sugar for at least 3 minutes, scraping down the bowl a few times."
"I know this will sound melodramatic, but I've been looking for a good sugar cookie recipe my whole life," says ILOVEFOOD!. "I had accepted the fact that I would never find it when I tried this recipe. The cookies baked up crispy and buttery, just the right amount of sweetness, chewy for days."
"Perfect recipe for a Saturday morning when your 3-year-old wants to make cookies," according to jkozelj. "Happy to say it's a toddler-proof recipe! For the adults out there, add some vanilla extract and a good pinch of salt."
Editorial contributions by Corey Williams
Many of our childhood memories are filled with dough, whether its stealing chocolate chip cookies from the jar placed inside the top kitchen drawer or swiping cake batter directly from the mixing bowl. Who could have imagined that some of the most mouthwatering desserts in the world could be made from a simple mixture of flour and water?
History of Dough
The origin of dough is so ancient that no one knows exactly when it was first made. However, prehistoric archeological findings showed that people may have begun using flour in their diet about 30,000 years ago.
During that time, simple water was added to flour to create the first dough. It was then flattened and cooked over hot stones. These early creations were invented due to "mistakes." It took over almost 20,000 more years before people starting cultivating wheat and making food out of it.
This way, they were able to settle down, feed more people, and create an improved social structure which made the basis of present-day societies.
Some years later, people discovered yeast, which took the dough to a whole new level.
As cultures have developed, so have the recipes for dough.
What's the Difference?
Have you ever chanced upon a cookie recipe that tells you that the desserts are dough or better-built? If you don't know the difference, we can tell you.
The dough is a mixture of chiefly flour with low water content. As such, it is from enough to be kneaded by hands and molded into shapes. Batters contain more liquid content than dough and have a runny texture. They are usually mixed with hand or electric mixers.
Main Categories of Dough
For the sake of practicality, the several hundred kinds of dough can be subdivided into two main categories: leavened and unleavened dough.
Leavened Dough
The leavened dough is fermented for a period of time until it achieves its final form. The rising is done through leaveners, like yeast, baking soda, and baking powder. The fermented dough can be created by two methods:
Sponge Dough Method
Sponge dough method involves creating a mixture of flour, water, and yeast, which is left to rise until it at least doubles in size. Then more flour, sugar, salt, and fat is added to the dough and kneaded. This method gives the bread a flakier texture with a slightly different flavor.
Straight Dough Method
In the straight dough method, all the ingredients are combined in a single session and then kneaded to a smooth and elastic consistency. Kneading depends on the type of bread you want to make.
Examples of baked food made from leavened dough include all kinds of pieces of bread, pizza, pretzels, and most rolls.
Unleavened Dough
The unleavened dough does not require any leavening agent and is used for all baked goodies that do not need to rise but instead stay thin and flaky. These kinds of dough usually have a higher percentage of fat, which prevents them from hardening.
Some examples of baked treats made from unleavened dough include shortcrust pastry, crackers, flatbread, tortillas, and pasta.
Types of Pastry Dough
If you are interested in making pastries, you will find that dough can be categorized as laminated and non-laminated. Both these types of dough can be leavened or unleavened.
Laminated Pastry Dough
Laminated dough involves folding and refolding pieces of pastry slathered with butter many times until many layers are created. Gluten is also developed during the folding process.
Examples of unleavened laminated dough include phyllo dough and puff pastry dough. An example of leavened laminated dough includes the breakfast favorite, the croissant.
Non-Laminated Pastry Dough
The non-laminated dough includes rubbing in fat or butter into the flour without folding it. Unleavened non-laminated pastries include choux pastries, éclairs, and pie dough. Leavened non-laminated pastries include the brioche.
Textures of Dough
Dough that has a higher amount of fat, less water, and less gluten, is less elastic than bread dough and can be made with two different textures: flaky and mealy.
Flaky Dough
A flaky dough texture is created by mixing the fat with the flour for a smaller amount of time. This results in bigger chunks of fat spread unevenly in the flour, but it also depends on the type of fat used and the temperature in which it is added to the flour. When the dough is rolled out, it creates a layer of fat and a flaky texture once the dough is baked.
The flaky dough is best used to make top crusts of pastries but can also be used as bottom crusts for liquid fillings.
Mealy Dough
Mealy dough makes crusts that are crisper and more compact. The texture is created by incorporating small fat particles evenly in the dough, which creates a denser texture. The dough cannot absorb as much water as flaky dough can and dough requires the fat to be mixed in longer so that the mixture looks like cornmeal. After baking, the crust is short and tender.
This kind of dough works well for liquid fillings, like custard, especially if you don't blind bake the crust (partially baking the crust beforehand). It is also the perfect dough for making bottom crusts of fruit pies as it does not get soggy.
There are several kinds of dough that have been created around the world. Some of the most popular types are listed below:
Bread Dough
Bread dough is the most common type of dough. This dough can be made from different types of wheat and various amounts of water and yeast. Bread dough needs to be kneaded carefully for a long time to develop the gluten so that the bread can become firm yet elastic and rise beautifully while baking.
Bread dough can be made from a single or a combination of flour giving it a different taste and texture. There are some bread types that use baking soda as leaveners instead of yeast. This bread are known as soda bread.
Sourdough is one of the oldest types of bread dating back to 3700 BCE in Switzerland; however, the origin of sour bread fermentation is believed to be in the Fertile Crescent several thousand years before that.
The bread is made by naturally occurring bacteria in the flour called lactobacilli, and yeast. The ingredients generally consist of a starter that includes flour and water and some salt. These pieces of bread have quite a soft crust with a chewy middle and large air bubbles. It also has a very long shelf life.
Sourbread, as the name indicates, has a sour taste due to the lactic acid produced by the bacteria. No milk, yeast, fat, or sweetener is added to the bread, which makes it markedly different and more natural than other types of bread.
Rich Dough
The Rich dough is a type of leavened dough that is fortified with eggs and fats, like butter, oil, cream. If properly made, this dough can stretch thin, has a smooth texture, and is translucent.
The rich dough can make bread that is soft, fluffy, and tender, like cake, as the extra fat in the flour shortens the gluten. Although this dough can have high sugar content, sugar is not necessary to produce rich dough.
Pie Dough
Pie dough crusts were first created in the Middle Ages. However, unlike the modern versions that often comprise of fruit filling, these pies were meant to preserve and contain meat, giving birth to dishes like Cornish pasties.
Pie dough is made from a few standard ingredients including flour, water, salt, and fat in different ratios. Some ore advanced recipes also include baking powder or vinegar, or flavoring agents like eggs, lemon juice, cider, and sugar. The flour is often all-purpose but can be a combination of bread, pastry, or cake flour.
The fat incorporated into the pie dough can be butter, shortening, or lard and even oil and is used cold and hard. The success of a pie crust depends on how cold the ingredients are kept, how the fat is distributed into the flour, and how much gluten is developed. The resulting texture can be flaky or mealy and tender, with a beautiful golden brown color.
Pate Brisee
Pate brisee is a type of pie dough, also known as mealy pie dough. This is one of the most popular pie dough and is perfect for creating desserts with fluted edges. The dough is made from one part water, two parts, butter or fat, and three parts flour, and can be mixed together to resemble cornmeal.
This delicious French pastry dough is made without sugar and works well for liquid fillings, like custards. It also typically contains one egg for every pound of flour and other ingredients like lemon juice, salt, and vanilla extract, for flavor.
Pate Sucree
Pate sucree literally translates to sugar dough and is also known as the short dough. Like the pate brisee, this dough contains one part water, two parts fat, and three parts flour by weight. It also contains an egg for every pound of flour and has several flavoring agents, just like pate brisee. However, it has a much higher sugar content, giving it a sweet taste. The flavor is more cookie-like also and it is the preferred dough for making dessert tarts and cookies.
Pate Sablee
Sablee dough is one of the most popular ingredients used to make crumbly, compact, and crispy desserts. The term translates literally into "sandy dough" and it is named so because of its cookie-like, crumbly texture.
This delicate dough is made by creaming fat with sugar, then incorporating eggs, and then flour in the end. The crust is either partially or whole baked prior to filling (blind baking). Some recipes also require egg yolks for a more tender crust, though this is not necessary.
The dough is quite sweet as it requires 15 percent sugar and sometimes 15 percent ground almonds as well. It can also be baked as it is to make delicious cookies.
Puff Pastry Dough
This flaky puff pastry dough was invented by French baker, Cladius Gele, and is laminated, unfermented dough. Unlike other basic types of dough, puff pastry requires a lot of hard work and effort.
There are two steps to making a puff pastry: the dough is first rolled out around butter. It is then turned, rolled, and folded many times and giving long resting sessions so that the butter spreads evenly throughout the dough. As the dough is baked, the water evaporates and the butter melts, separating the layers of dough and giving the puff pastry its distinctive layers and buttery, crisp, and flaky texture.
Because of its many fine layers, the pastry is also known as leaf pastry.
Puff pastry dough can be used to make napoleons or other desserts or savories.
Phyllo Dough
Phyllo dough was created during the Byzantine period in Istanbul and today is renowned as the pastry of pies. The word "phyllo" means "leaf" in Greek and is given to the dough because the pastries made from it have a thin, light and delectable texture.
Phyllo dough involves stretching the unleavened dough into very thin, translucent sheets. The dough is popularly used to make Middle Eastern desserts like the decadent baklava.
However, if you add some vegetable fat to the mixture, you can get a thicker version of phyllo dough. This dough can be used to make crisp, crumbly pie crusts, especially for meat pies.
Choux Pastry Dough
The concept of choux pastry was first invented in 1540 to commemorate the wedding of Catherine de Medici with King Henry II. The choux pastry dough is fortified dough paste that requires egg, milk, butter, and water to make. It is not strictly a dough since the liquid content is high in it and it is piped through a pastry tip.
If the dough is formed perfectly, it can produce a crispy crust, a light interior, and a perfect golden brown color. During baking, water evaporates, leaving the center somewhat empty and hollow.
This space can be filled with whipped cream, custard, or jelly. Therefore, the dough is used to make a mouthwatering variety of desserts, including éclairs, cream puffs, croquembouche, profiteroles, and Paris-Brest.
Croissant Dough
Croissant dough is very similar to a pastry puff dough but with added yeast for some extra fluffiness. The dough is created by enfolding butter and taking it to a series of turns to create central layers of butter in between the dough sheets. During baking, the steam separates the layers of dough.
Although a lot of hard work is involved in it, if the lamination is successful, the resulting bread is very light and flaky in texture.
This dough can also be wrapped around chocolate or almond paste before they are baked.
Brioche Dough
The dough used to create brioche pastries is non-laminated, yeast-based dough, which is mixed with butter and eggs. The resulting bread is soft like cake and has a tender, creamy, and slightly sweet consistency, without the signature crunchiness or crispiness that is associated with most pastries.
This dough is typically rolled into balls to make its characteristic round shape though it can also be made into an ordinary loaf shape. Brioche Nanterre is made by placing two loaf-shaped sections of brioche dough side by side and baking them. When the dough rises, the two separate sections fuse together.
Kourou Dough
Kourou dough is a type of rich dough made with butter and eggs, and sometimes milk and even yogurt. Unlike the puff pastries which require a large amount of fat content, Kourou dough needs only a bit of oil to mold it into the perfect form.
The Kourou dough results in a crunchy and slightly drier texture, but is extremely flavorful. It is one of the preferred types of dough for making tarts, quiches, pies, and turnover.
Pasta Dough
Who doesn't love pasta? Pasta dough is made from unfermented dough, typically consisting of wheat, eggs, and salt. Sometimes, rice flours, bean flour, or legume flour is used to make the dough gluten-free and give it a different taste.
This dough is quite hard and requires a lot of kneading so that it is moistened all the way through. The pasta dough can be rolled into sheets or molded into different shapes. However, the best part is that it can be used both fresh and dried.
Fresh pasta dough can be made with the hand at home and baked or boiled. Dry pasta is store-bought and has an extremely long shelf life.
Are you hungry yet? If you are, go ahead and try making these versatile and mouthwatering types of dough at home, which can create some of the best savory and sweet dishes of all time.
Home20 Different Types of Dough for All Kinds of Baked Goods