Mushrooms and herbs add a delicious earthy flavour to this easy bread stuffing recipe that can be made in the oven or stuffed into a big ole turkey. No need to wait until Thanksgiving dinner to enjoy though. This bread stuffing recipe makes a great side dish any time of the year.
Stuffing in my house is just as important as the roasted turkey at Thanksgiving dinner and every family has its own special recipe. My mom just used onions and spices and loaded it up with black pepper and to be honest it was never my favourite. My mother-in-law takes a whole different path and makes meat stuffing. Sort of like having a meatloaf stuffed into the turkey with red peppers and herbs. It is delicious but not traditional by any stretch.
My recipe is a take on a traditional bread stuffing but with the addition of fresh herbs and cremini mushrooms giving it a lovely earthy and savoury flavour that I just can't get enough of.
Ingredients You'll Need for Bread STuffing
Bread cubes – Cut a crusty french style bread into 1″ cubes and dry them out. firmer crusty style bread holds together best when combined with the chicken stock.
Onions – Rough chopped. I prefer to use white or yellow onions.
Celery ribs – Adds a little crunch and texture to the stuffing.
Mushrooms – Button or Cremini mushrooms are best because they are firm, easy to find and offer a nice earthy flavour.
Butter – Used to sautee the onions, celery and mushrooms with and the fat helps to crisp up the bread when baked.
Chicken stock – The moisture that makes stuffing what it is. Soft and custard-like on the inside with a little crunch on the outside if baked in the oven. Helps to soften the bread and blend all the flavours together.
Garlic – Minced fine.
Parsley – Fresh is best but if you can't find fresh use only 1 1/2 tbsp of dried parsley.
Sage – Rough chop fresh sage leaves and then rub the pile of chopped sage between your hands to release the oils. You can also purchase dry rubbed sage but only use 3/4 of a tsp for dried in this recipe.
Rosemary – Packs a punch of flavour so use sparingly. Remove the rosemary leaves from a fresh sprig and rub between your hands to release the oil. Then dice finely. Use 1 tsp of fresh or 1/4 tsp dried.
Poultry Seasoning – Various herbs and seeds ground up. The fine grind helps to more easily incorporate the herbs throughout the recipe adding great things to many holiday recipes like turkey, chicken, gravy and stuffing.
Salt and pepper
Methods for drying bread for stuffing
If you have time – Then cut a large loaf of crusty french style bread up into 1″ cubes and lay out flat on a cookie sheet overnight or for a few hours. Turn the pieces over about 3-4 hours in so that both sides can dry out fully.
The fast way – Cut the french crusty bread into 1″ cubes like above and layout on a cookie sheet. The place in the oven which as been pre-heated to 250 F for about an hour and a half. Turning them over halfway through to make sure they dry out on both sides. This will also give you a chance to take a look at them. Every oven is different so if they are dry earlier take them out. You do not want the bread to brown.
Making the mushroom bread stuffing
After you have the bread dried in the fashion that suits you are your poor planning which is usually my case you can now move on to actually making the stuffing.
Melt butter in a pan over medium heat. Add onions, garlic, mushrooms and celery and sautee until softened.
Add chicken broth.
Add the herbs, seasoning, salt and pepper and mix. Let simmer for one minute.
Place the dried breadcrumbs in a large bowl and then pour the liquid mixture with the onions etc over the bread pieces and mix until the bread is softened and evenly mixed. If more moisture is needed because breadcrumbs are still dry add another 1/2 – 1 cup of warm water to add. Pour into a greased baking dish and bake at 325F for 40-50 min or until top becomes drier and slightly browned.
Can you stuff the turkey with this stuffing?
Yes! I usually don't though because it means that you need to cook your turkey longer and risk drying the turkey out. Baking inside the turkey means that the juices from the turkey will run into the stuffing that is in the bird which adds flavour but also adds the potential risk of salmonella poisoning.
If you are fine with the additional cooking time be sure to use a meat thermometer stuck all the way into the centre of the turkey where it will reach the stuffing and ensure the internal temperature reaches 165 F before eating.
The addition of the chicken broth and butter adds all the fat and flavour you will need so I highly recommend baking separately in the oven.
WEEKEND DINNER & HOLIDAY DINNER MENU RECIPES
Mushrooms & Herb Bread Stuffing Recipe
Mushroom & herbs add a delicious earthy flavour to this easy bread stuffing recipe that can be made in the oven. Perfect for the holidays!
Large sautee pan
2-quart baking dish
dried bread pieces 1″ in size
cremini or white mushrooms cleaned and sliced
fresh rubbed sage
Preheat oven to 325°F.
Melt butter in a large saucepan over medium heat. Add mushrooms, onions, garlic and celery and cook until tender.
Pour in chicken stock. Add parsley, sage, rosemary, poultry seasoning, salt and pepper. Let simmer for 1 minute.
Add dried bread cubes to a large bowl. Pour mushroom and herb mixture over the bread crumbs and mix to moisten the bread crumbs. They should be moist but not overly mushy. Add 1/2 – 1 cup of warm water if additional moisture is needed and mix.
Grease a 2-quart baking dish. Add the uncooked stuffing to the baking dish. Bake for 40-50 minutes or until the stuffing is slightly browned on top. Remove from oven and serve.
Tightly seal and store in the fridge for up to 3 days.  Reheat in the oven or microwave.
Stuffing Inside Turkey:
Do not overstuff.
Ensure the internal temperature of stuffing reaches 165F before consuming.
Do not stuff the turkey the night before.
The information shown is an estimate provided by an online nutrition calculator. It should not be considered a substitute for a professional nutritionist's advice.
For the step-by-step version of this recipe, check out the How To Make Butter Smothered Green Beans & Cashews Story.
PIN IT FOR LATER!
There is something special about these crispy mushroom slices coated into golden breadcrumbs, flavoured with various herbs. These make delicious snacks for nibbling on their own or can be served with your favourite dip. For a light vegetarian meal, serve with a bowl of green salad!
They are so delicious that you will end up eating them as soon as they come out of the oven. Let's see how to make these delicious mushrooms!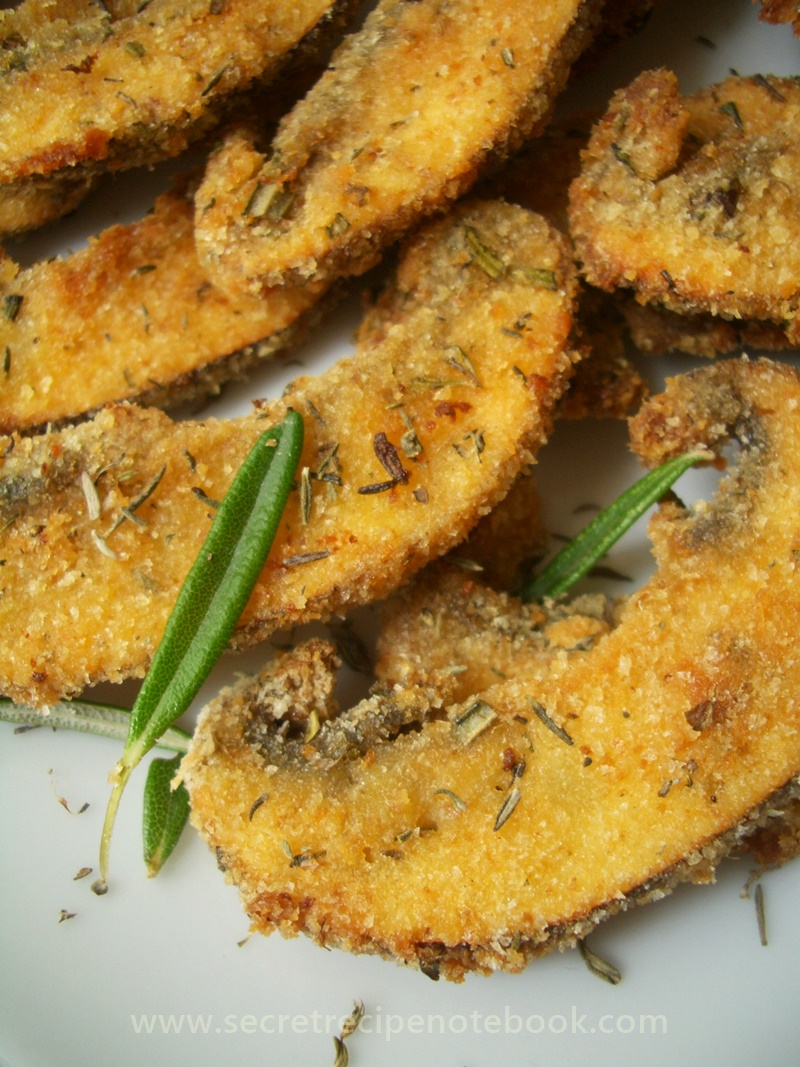 This webpage contains affiliate links. Please read our
What you'll need for crispy breaded mushrooms
The list of ingredients for this recipe is really short and preparation is quick and simple. For this recipe you will need:
WHITE or BROWN (CREMINI) MUSHROOMS: We used brown mushrooms but white button mushrooms will also work fine. Choose medium to large mushrooms of the same size.
FINE BREADCRUMBS: Fine dried breadcrumbs are perfect for this recipe so they make super crispy thin coating.
OLIVE OIL: Use good quality olive oil and be sure to brush generously each mushroom slice. This ensures mushrooms not to dry out and to become crispy and delicious once baked.
How to make baked breaded mushrooms
Making these amazingly delicious meal is so simple once you have ready your ingredients. Here are the steps to make them:
Slicing mushrooms
First gently wipe each mushroom with a damp kitchen paper (don't wash them as they will soak up too much water) and remove the stems. Cut mushrooms vertically into 2mm thick slices on a cutting board using a sharp knife.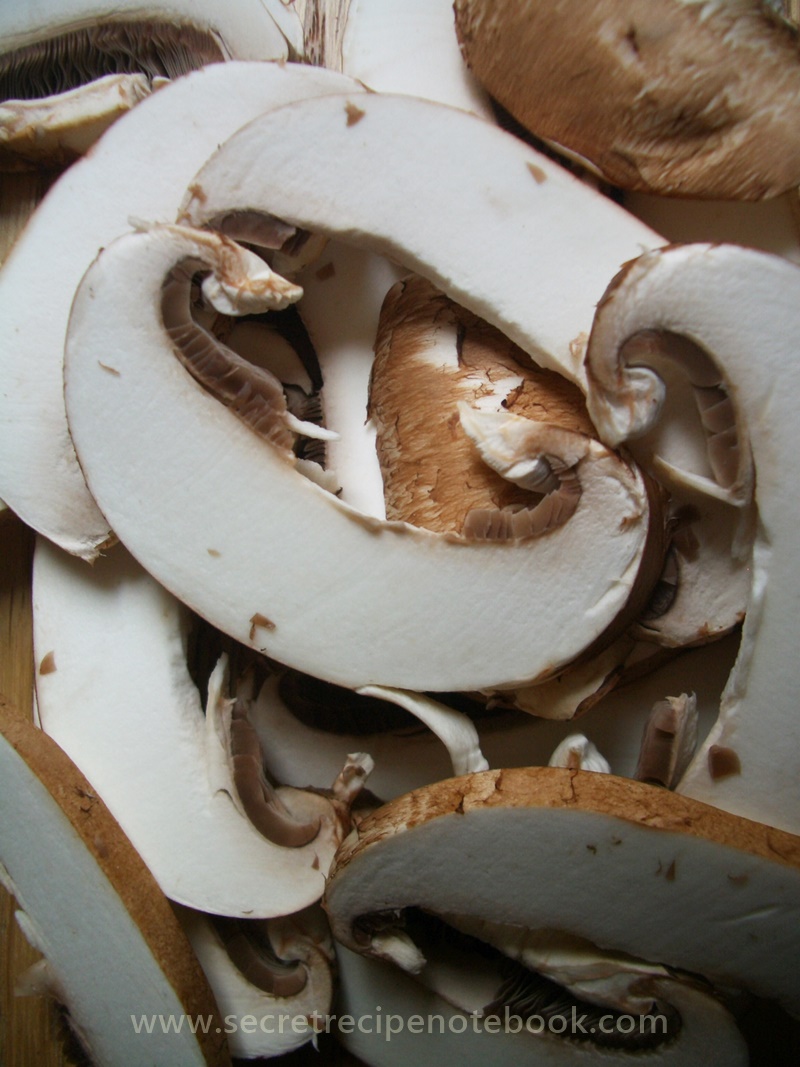 Preparing breading
For the breading you will need 3 deep medium-sized bowls. Place the flour, salt and pepper in one. Whisk eggs and water in another bowl. Mix together breadcrumbs and herbs of your choice in the laste one. You are now ready for breading.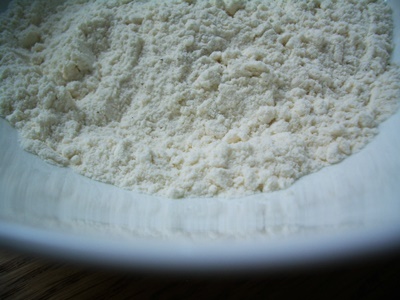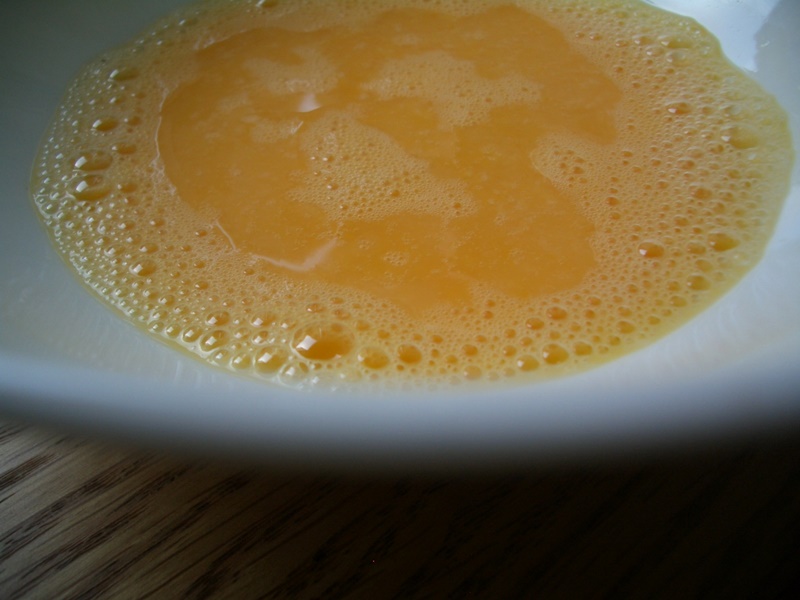 Breading mushrooms
Breading is easy, just work in batches. First toss 4-5 mushroom slices into the flour, tap them and transfer to the eggs. Now, using two forks dip them completely into eggs and then transfer to the bowl with breadcrumbs.
Turn them to coat completely into breadcrumbs. Place on a plate until ready to bake (cover with some clingfilm and keep in the fridge).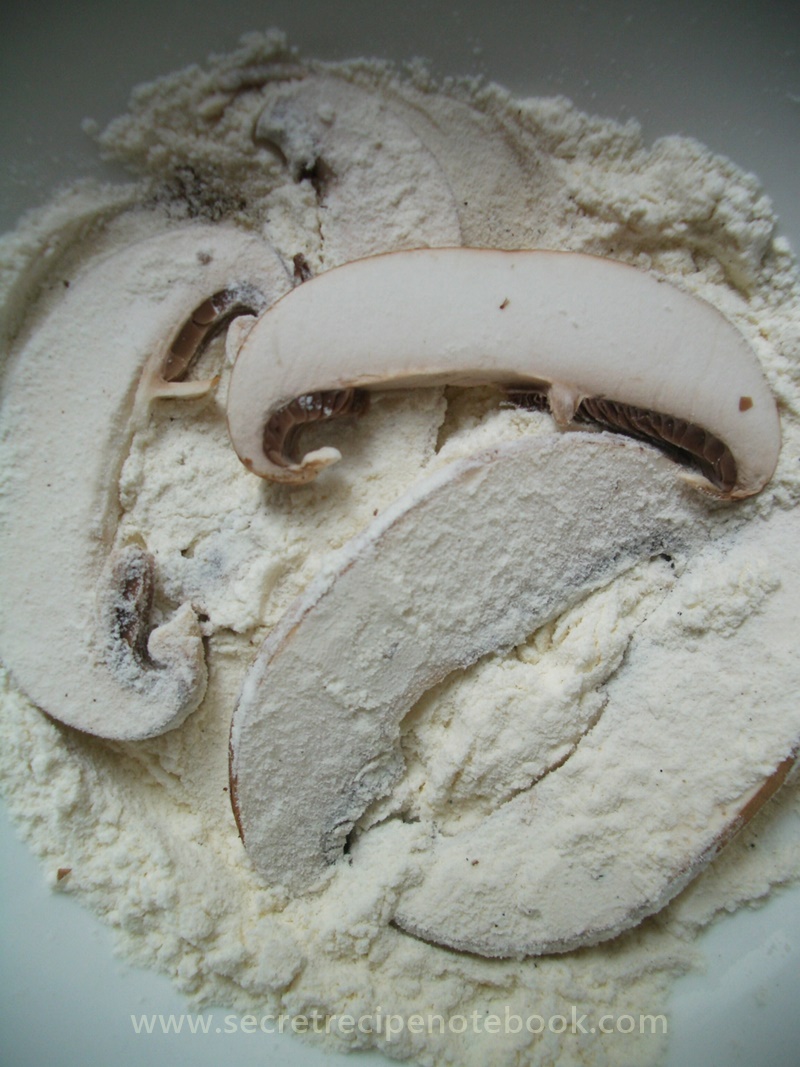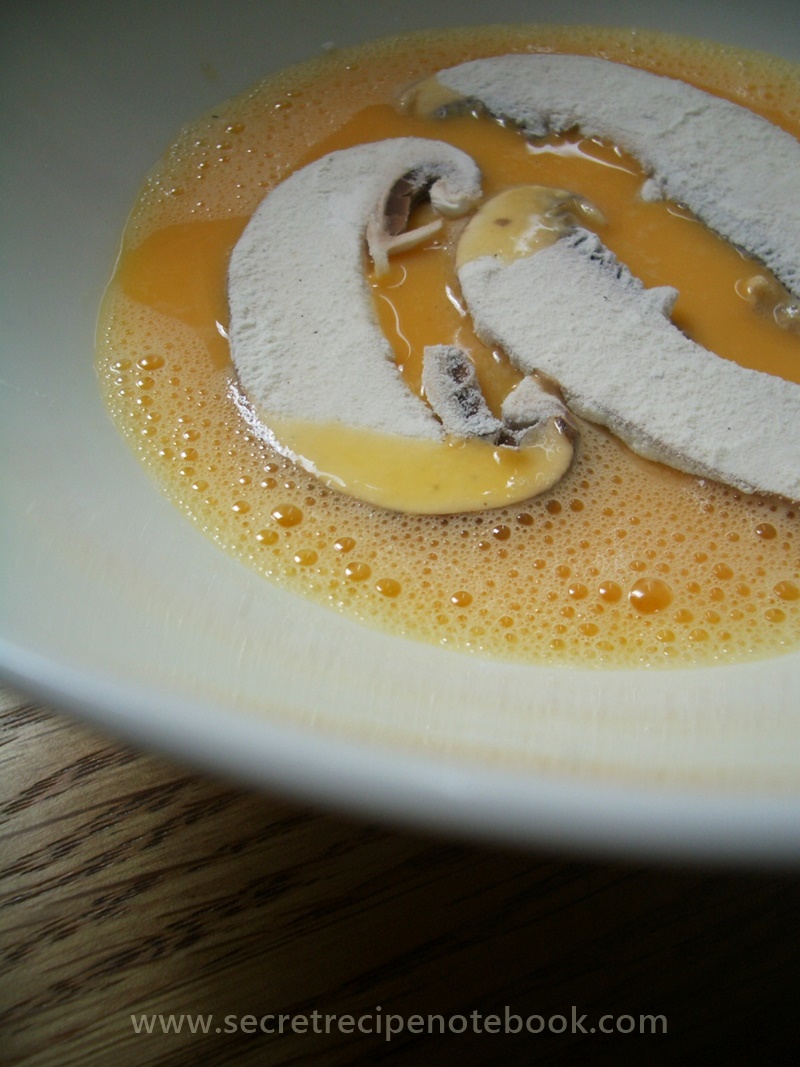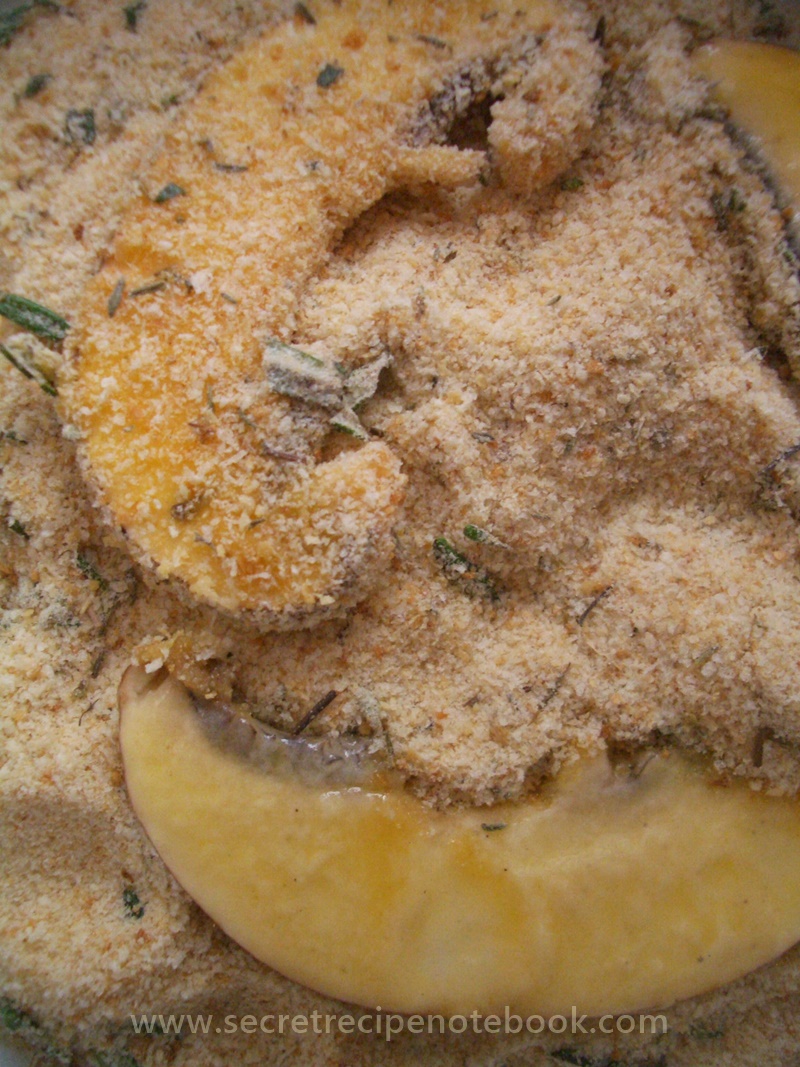 Baking mushrooms
Arrange mushroom slices on baking sheet lined with baking paper (you will need to do this in 2 batches) then brush generously each slice with olive oil, Bake for 5-6 minutes then flip each slice and bake for another 4-5 minutes, until they are golden and crisp. Sprinkle them with some freshly grated lemon zest!
That's it – your crispy mushrooms are ready to enjoy!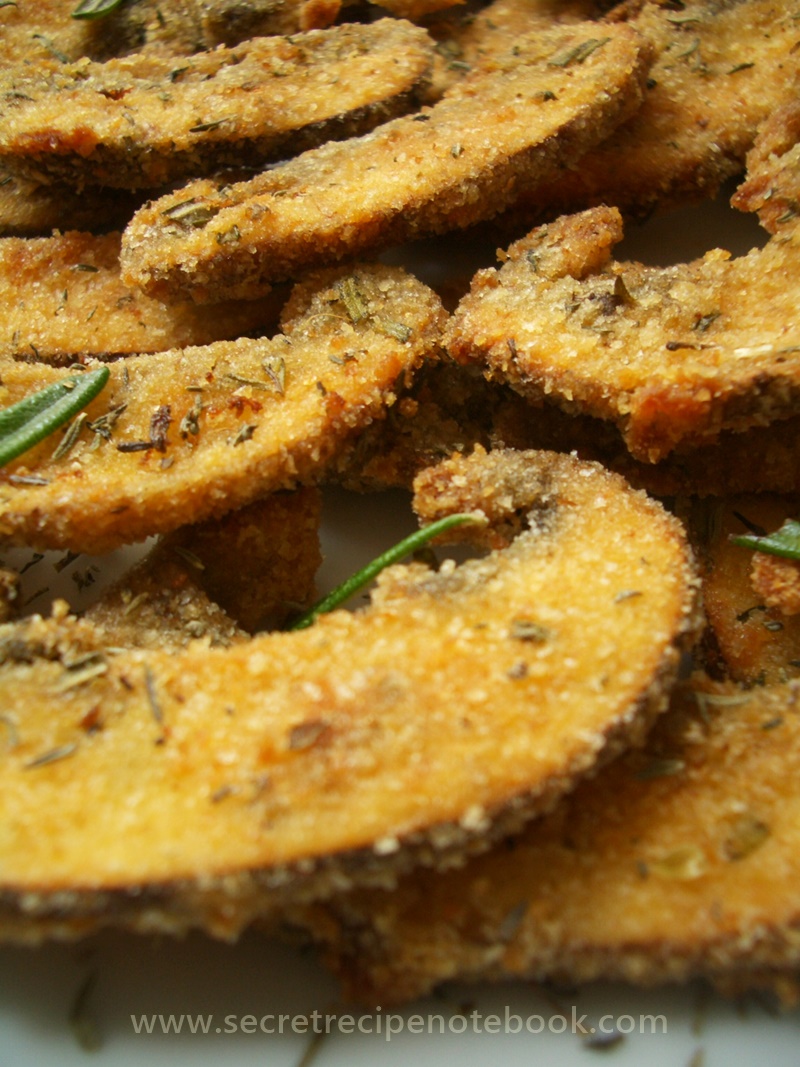 Making ahead baked breaded mushrooms
These delicious mushrooms can be make ahead. Just bread them the day before and keep in the fridge, covered with clingfilm or aluminium foil. Then bake them as usual. They will be the same delicious.
A FEW OF OUR FAVOURITE SIDE DISH RECIPES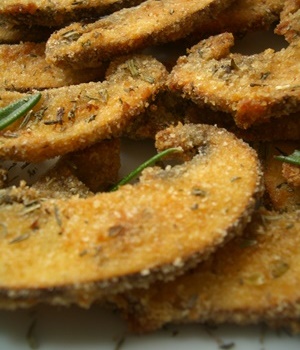 HANDY KITCHEN PRODUCTS
6 large button mushrooms (around 300 g)
60g plain flour (1/2 cup)
1 teaspoon salt
1/4 teaspoon ground black pepper
2 eggs
60ml water or milk (1/4 cup)
150g fine dried breadcrumbs (1 cup)
1 tablespoon dried thyme
1 tablespoon dried oregano
2 tablespoons fresh rosemary,
60ml olive oil (1/4 cup)
Wipe the mushrooms with dump kitchen paper (don't wash them) and remove the stems.
Cut each mushroom vertically into long slices (2mm thin) using a sharp knife. This can be done using a mandolin slicer.
Place the flour in a small deep bowl. Add salt and ground pepper and stir to combine.
Whisk the eggs and water in another one.
Stir the breadcrumbs and herbs in the third bowl.
Toss handful of mushroom slices into the flour until they are lightly coated, drop them into whisked eggs and dip until completely coated (you can do this using two forks).
Finally, transfer them into breadcrumbs and toss until coated all over making sure to press the crumbs so they stick well. Shake off the excess of the breadcrumbs.
Preheat the o and line the baking sheet with baking paper. You will need to bake these mushrooms in 2 batches. Brush the paper with the olive oil.
Arrange slices of mushroom across the baking sheet then brush them generously with olive oil. Bake for 5-6 minutes, then turn each slice and bake for another 4-5 minutes, or until they are crisp and golden brown. Transfer them to serving plate and serve with your favourite dip. Serve the mushrooms on a plate with the dip in a small bowl.
Shop best sellingkitchen products
Looking for more recipes?
We are a participant in the Amazon Services LLC Associates Program, an affiliate advertising program designed to provide a means for us to earn fees by linking to Amazon.com and affiliated sites.
These Crispy Air Fryer Breaded Mushrooms are crunchy on the outside and soft and juicy on the inside. They are so snackable, you won't be able to stop eating until they're gone.
One of my favorite breaded snacks is mushrooms. I used to order them whenever I saw them on a fast food menu. It was somewhat of a rarity to find them, though. Now I can make them at home any time I want with this recipe and my trusty air fryer.
The best part about making them in the air fryer is that you don't sacrifice the crispy goodness and it uses way less oil, like with air fryer frozen French fries and onion rings.
These breaded mushrooms can be super easy, with just a few ingredients. Or you can dress them up with more seasonings and spices, if you want more flavor.
Baby mushrooms – Use small button mushrooms for the best outcome. Larger mushrooms don't cook as quickly on the inside so you will have crispy done mushrooms outside, and raw inside.
All-purpose flour
Salt and ground black pepper – this is all the seasoning you really need for good flavor, but you can also add additional seasonings like paprika, oregano, sage, garlic salt, or any kind of dry seasoning you like.
Egg
Milk
Breadcrumbs – Finely ground breadcrumbs work best for these, but you can also use Panko. When I use Panko, I try to break up the crumbs a bit smaller so they stick to the mushrooms better.
How to Make Breaded Mushrooms
The best way to make sure your mushrooms are crispy and the breading stays on is to make a dipping station.
You'll need three bowls or plates.
Flour seasoned with salt and pepper.
Egg and milk (and garlic, if you like).
Plain breadcrumbs or Panko. Note: You can also add additional spices to the breadcrumbs if you wish – like paprika, Italian seasoning, or garlic salt.
Step One
Start by rolling the mushrooms in flour. This will help the breading stick to the mushrooms.
Step Two
Next, roll them in the egg mixture. Coat them well, but then shake off any excess egg.
Step Three
Then roll them in the breadcrumb mixture. Again, coat them well, but shake off excess crumbs.
Step Four
Put the mushrooms on a tray. Spray them with cooking spray. The more evenly they're sprayed the more golden they will get all around. It's not necessary to spray them at all, but they won't get golden crispy if you don't.
Put them in the air fryer, spaced out if possible, at 400° F (200° C) for 10-12 minutes, or until they're looking browned and crispy. If you shake the basket half way do so very carefully. If the mushrooms are stuck to the basket it could rip the coating off.
Why Use an Air Fryer
An air fryer is an incredibly easy way to cook just about anything. You place the food in a fryer-style basket and hot air rapidly circulates all around the food, making the food crisp – much like deep-frying, but without the oil. You can cook anything you'd make in the oven.
I use a Ninja MaxXL air fryer (pictured left). If you don't have an air fryer yet, check out these options to find one that fits your needs.
See reviews and prices for air fryers on Amazon.
Here's a printable Air Fryer Cooking Times Cheat Sheet to get you started.
Learn how to make fun things in the air fryer, like potato wedges, pork belly bites, and chicken wings.
How to Reheat Fried Mushrooms in the Air Fryer
It's also super easy to reheat fried mushrooms in the air fryer. If you happen to have some left overs, you can re-crisp them in about 5 minutes in the air fryer.
You can also air fry or reheat fried mushrooms that you bought at the store. Usually store-bought crispy mushrooms have oil on them already, so all you need to do is put them in the air fryer and cook them for about 8 minutes. If cooking from frozen, they'll take about 10 minutes.
Always shake the basket halfway through cooking.
What to Serve Breaded Mushrooms With
These make a great appetizer or snack. I usually make a big batch and set them out in the afternoon when we're watching a movie. They're gone in no time. These mushrooms love a good sauce.
Air Fryer Frozen Breaded Mushroom Brands
I usually prefer to bread my own mushrooms at home, because you get less additives and preservatives. You can also control the amount of oil going on. But there are some great brands that you can buy at the store as well.
Our favorite brands of breaded mushrooms to air fry are:
Molly's Kitchen Whole Battered Mushrooms
Farm Rich Breaded Mushrooms
Tips For Making the Best Breaded Mushrooms
Choose mushrooms of a similar size – this will ensure the mushrooms cook evenly.
Use fine breadcrumbs – Panko is too large of pieces to make for good breading on mushrooms. It's best to use finely ground breadcrumbs. If you only have Panko, put it in the food processor for a minute to break it down.
Cooking oil spray – You can use whatever cooking oil spray you like, but it needs to be a fine mist so it coats the mushrooms evenly without ruining the breading.
Space the out – It's best to space these out in the air fryer and not over lap them. They will cook better with space in between.
Store-bought breaded mushrooms cooked in the air fryer
What Oil & Oil Sprayer is Best for the Air Fryer?
The biggest issue most air fryer lovers face is finding the right oil and oil sprayer to use on food cooked in the air fryer. A fine mist of oil will help the entire piece of food crisp evenly, so it's very important.
My personal preference is to use canola oil, extra virgin olive oil, or avocado oil. I use both a refillable spray bottle like the Evo one pictured below and non-propellant extra virgin olive oil, which has not harmful aerosols or chemicals.
Frequently Asked Questions
What are the best mushrooms to use?
I use baby button or bella mushrooms. They're the perfect size. You can also use regular sized button mushrooms, cremini mushrooms or small Portobello mushrooms. Just make sure whatever mushroom you use they are all the same size.
How do you get the coating to stick?
The process of dipping the mushroom into the flour, egg/milk mixture, and then the breadcrumbs is what helps the coating stick. Don't skip this step.
YOU MIGHT ALSO LIKE
These Air Fryer Crispy Breaded Mushrooms are crunchy on the outside and soft and juicy on the inside.
Clean the mushrooms and remove any long stems.
Make 3 dipping stations: a plate for flour, salt and pepper, a bowl for the egg and milk (whisked together), and a bowl for the breadcrumbs.
First coat the mushrooms in the flour. Then dip them in the egg mixture, shaking off any excess. Then roll them in the breadcrumbs. Complete the breading process for all the mushrooms.
Set the mushrooms in the air fryer basket, spaced out a bit. Spray evenly with oil. Air Fry at 400° F (200° C) for10-12 minutes, depending on your preferred level of crispiness, carefully shaking the basket at the halfway point.
Use finely ground breadcrumbs for a more even coating.
There's no need to spray store-bought breaded mushrooms before putting them in the air fryer.
Mushrooms can be cooked from frozen. They will need an extra 2 minutes to cook through.
All air fryers have different wattage and may cook at different rates. You may need to adjust the time or temp for the best results.
Let us know how it was!
Pin it for later!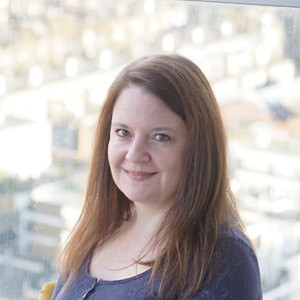 Laura is a passionate foodie and owner of Air Fry Anytime She is dedicated to sharing delicious recipes and helpful tips for using air fryers at home. With years of experience in the kitchen and a love for healthy, flavorful cooking, Laura has become an expert at using air fryers to create amazing meals that are both nutritious and delicious.
Coated in a crisp, garlicky breading, these Baked Breaded Garlic Mushrooms are a healthier alternative to deep-fried versions.
Recipe Video Print
These Baked Breaded Garlic Mushrooms make for the perfect guilt-free and low-fat appetizer. Try this simple, healthy recipe at home and get all the flavor of a restaurant-style appetizer, without the fat and calories!
Serve these guilt-free Baked Breaded Garlic Mushrooms as a healthier alternative to deep-fried versions.
These little babies are ridiculously tasty; I could eat them every day!  The best thing is, while being wonderfully crispy and garlicky, they are also low-fat and all over pretty healthy!
I don't really eat a lot of fried food and never have. While I make exceptions for certain foods when eating out, I hardly ever fry things at home. Not really because of the calories. It's the greasy taste and oily residue left in my mouth that are the bigger turn-off. With this recipe, you get none of those nasty side effects.
If you like restaurant-style appetizers, this recipe is for you! These Baked Breaded Garlic Mushrooms are seriously crispy and ridiculously delicious! They taste just like at your favorite restaurant but are so much healthier and lower in fat.
Why this recipe works
The Parmesan in the garlic breading makes these baked garlic mushrooms extra crispy.
Coating the mushrooms in flour keeps the breading from falling off.
It's a simple and quick appetizer recipe that even beginners can master.
These baked mushrooms are great as snacks for parties and you can serve them with whatever dip you choose.
The clean-up after cooking is easier as there is no frying involved.
In a small bowl, add plain breadcrumbs, Parmesan cheese, paprika, salt, and black pepper.
Mix until fully combined.
In a separate shallow bowl whisk the egg together with the minced garlic.
In another dish, add the flour and season with salt & pepper to taste.  Make sure the mushrooms are completely dry.
Coat each mushroom with a light coating of flour. Then dip each floured mushroom first in the egg mixture, then fully coat with the breadcrumb mixture.
Coat the breaded mushrooms with the cooking spray.
Bake until golden brown.
Serve my Baked Breaded Garlic Mushrooms with a dip of your choice. Usually, I eat my baked mushrooms with a sour cream and chive dip, but you can serve them with whatever you choose.
They are great for parties or just for a snack and once you try them, I think you'll agree there is no need for frying.
Cook's Tips
Cleaning the mushrooms: only ever rinse mushroom if they're going into a salad or soup. If you're pan-frying, frying or coating, just rub them down with a slightly damp paper towel or brush them clean with a pastry brush or toothbrush.
Peeling a garlic clove: garlic is easier to peel if you loosen the skin first. To do so, place the side of a chef knife over a clove of garlic. Press the knife down on the unpeeled clove with the heel of your hand. As we are going to mince the garlic anyway, you can flatten the clove a bit, which will make it easier to mince.
Recipe Variation
Substitute plain breadcrumbs with panko breadcrumbs for extra crispiness.
Parmesan can be substituted with Pecorino Romano.
Use Smoked Spanish paprika for even more depth of flavor.
Receive new recipes & dinner ideas straight to your inbox!
white button mushrooms
more salt and pepper to season flour
Preheat oven to 400F/200C degrees. Line a baking sheet with non-stick foil and set aside.
In a shallow dish combine the breadcrumbs, Parmesan cheese, paprika, salt, and black pepper.
In a separate shallow bowl whisk the egg together with the minced garlic.
In another dish, add the flour and season with salt & pepper to taste.
Make sure the mushrooms are completely dry.
Coat each mushroom with a light coating of flour.
Dip each floured mushroom first in the egg mixture, then fully coat with the breadcrumb mixture and place on the prepared baking sheet.
Repeat with remaining mushrooms.
Lightly coat the breaded mushrooms with the cooking spray.
Bake the mushrooms for 12-16 minutes or until golden brown. Serve warm with a dip of your choice.
Nutritional Data Disclaimer
Breaded garlic mushrooms, breaded mushrooms, garlic mushrooms