When you need a simple dessert for a party, a birthday, or just because, turn to this collection of easy-to-make and easy-to-love cakes. From coffee cakes to snacking cakes to single-layer cakes packed with fruit, our easy cake recipes are light lifts for the baker but always deliver on flavor.
Some have a simple glazing or a cream cheese frosting; others, like bundts and our Apple-Cider Donut Cake, are so good looking straight out of the pan that no decoration is needed. We recommend giving each one a try.
Red-Velvet Sheet Cake
We cut back on the food coloring, but not on the flavor for this sheet cake rendition of the popular dessert. The balance of cocoa powder, butter, sugar, eggs, and sour cream gives it an almost fudge-like flavor. Swoops of tangy cream-cheese frosting finish this cake in style.
Strawberry Shortcakes
These shortcakes are vanilla cupcakes—not the biscuits you might expect. They're made in one bowl, no mixer needed. Plus, you can skip frosting because you already have macerated strawberries and whipped cream to serve them with.
Apple-Cider Donut Cake
Essentially, this is a giant cakey donut made in a Bundt pan. It's a tad healthy, too, thanks to the combination of whole-wheat flour and applesauce. The latter keeps the cake moist.
Spiced Snacking Cake
Easy to make and easy to love, this casual cake is spiced with cinnamon and cardamom and is as good with a cup of coffee as it is after dinner. An easy lemon glaze is all the decoration it needs.
Lemon Snack Cake with Raspberry-Cream Cheese Frosting
This single-layer confection skips the fuss and saves you the fun of frosting. The easy cream-cheese icing is colored by and flavored with ground freeze-dried raspberries—and you can apply it in generous swoops (then hide any flaws with fresh raspberries).
Simple Layer Cake With Vanilla Frosting
Just the thing for birthdays or just because, this all-purpose yellow layer cake with vanilla frosting is a classic.
Chocolate Bundt Cake
This bundt cake's elegance belies its simple make-ahead preparation.
Lemon-Olive Oil Cake
Paola + Murray
Extra-virgin olive oil adds moisture and a fruity flavor to this simple yellow cake. Use a mix of summer berries as a colorful topping, along with some whipped mascarpone cream.
Plum Cake
This moist, lemony plum cake needs little more than a dusting of confectioners' sugar on top. You might want to try a dollop of sour cream, too; it makes a delicious accompaniment.
Vanilla Pound Cake
Classic pound cake made from scratch with just six ingredients and three simple steps—is there anything better? The result is a cake that hits the sweet spot.
Strawberry Cake
The ultimate cake for strawberry lovers, this easy, buttery treat contains a whole pound of berries—and smells as good as it tastes.
Gingerbread Snacking Cake
If you love ginger, but worry that making gingerbread seems complicated, try this simpler alternative.
Coconut-Pineapple Loaf Cake
It's simple, yes, but this tropical cake is also exciting and delicious. Toasted coconut balances the sweetness of pineapple and provides a delectably crunchy topping.
Chocolate Pudding Cake
José Manuel Picayo Rivera
Made with just six ingredients, this delicate flourless cake has a decadent, pudding-like center.
Banana-Pecan Cake
Here's another one-layer cake that's as easy to make as it is lovely to look at.
Warm Almond-Cherry Cake
Frozen cherries are juicy and intense when baked into this tender cake, and they're easy enough to find at your local supermarket no matter the time of year.
Applesauce Cake
What makes this favorite cake so delightful? It's full of apple flavor and super moist, thanks to the applesauce and honey. Plus, it's tall, good looking, and doesn't need filling or frosting.
Blueberry-Sour Cream Pound Cake with Lemon Cream
Blueberries, sour cream, and a lemon-cream topping: These few extra ingredients and flavors make this cake all the more varied and exciting. Your guests will never guess you simply jazzed up a classic pound cake recipe.
Cinnamon-Raisin Pound Cake with Basic Glaze
Add cinnamon and raisins to our classic pound cake recipe and you've got yourself a treat worth bragging about.
Spiced Carrot Cake
If you can shred carrots (you can!), you can make a carrot cake. Trust us. The only thing missing from this light dessert is a guilty conscience.
Cinnamon Coffee Cake
Meaning "something strewn" in Old German, streusel is easy to put together—and then to throw on top of this sour-cream coffee cake.
Walnut Honey Cake
There's nothing fancy to prepare here—just one layer of cake—but the fragrant toasted walnuts and sweet honey make it extra sophisticated.
Cherry Sheet Cake
Feed a crowd with this easy sheet cake. We used frozen cherries to make a fruit-studded cake that you can throw together even when fresh cherries aren't in season. Spruce it up with a bit of simple whipped cream, and you're set.
Upside-Down Pecan Cake
If you like, once you zest the orange for the batter, you can cut the fruit into sections to serve alongside the moist and crunchy cake. How's that for an easy garnish?
Orange Cornmeal Cake
Easy to make, but sophisticated, too, this is just the type of cake you'd enjoy after lunch in Italy.
Blueberry Crumb Cake
Since the blueberries are distributed throughout the cake and the crumbs are simply scattered atop it, you don't have to worry about being a perfectionist with this recipe.
Apple-Cinnamon Upside-Down Cake
Take a few minutes to arrange the apple slices in neat circles on the bottom of the pan—when the cake is baked and inverted, you'll find them decorating the top. It's as simple and pretty as that.
Easy Chocolate Cake
It's all in the title. You don't have to be a master baker to deliver a high-quality chocolate cake for your next celebration.
Spicy Pumpkin Bundt Cake
Show off this seasonally-appropriate and deliciously spicy pumpkin bundt cake at your next fall gathering. Once again, the bundt pan is a baker's friend; it will help you make things look perfect and symmetrical.
Chocolate Marble Pound Cake
When chocolate meets vanilla, the result is a cake with twice the appeal. And the marble effect is so easy to recreate. All it takes is a simple swirl of the batters with a knife.
И снова тортик без Декора 😋
Идеальный вариант, если ребенок хочет украсить самостоятельно 🥰
Для надписи – Вы выбираете цвет, а я кладу в коробочку мешочек с кремом, такого цвета, который Вы выбрали 😊
#идеальныйвариант #тортбездекора #своетворчество
А у кого-то праздник сегодня намечается 😋
#тортик на день рождения 🎁
#тортик #вишняшоколад #медовик #ассорти 🌸🌸🌸
Доброе утро и прекрасного четверга 🥰
Есть ли идеи?😊 Ну и сама, естественно, тоже пошла думать 🧠
🌷 Уже совсем скоро 8 марта 🌷 🌷 Так хочется, чтобы День 8 марта был вкусным 🌷 (P.S. Фото не мое, но с удовольствием сделаю такое же фото с Вашей помощью🥰)
Дорогие девушки! Спешу поздравить ВАС С МЕЖДУНАРОДНЫМ ЖЕНСКИМ ДНЕМ!💓
Хочу пожелать Вам, чтобы Ваша жизнь была яркой, в сердцах всегда была весна, было крепкое здоровье и чтобы рядом с Вами были только те САМЫЕ люди💓🌸💓🌸💓
Ну и, естественно, чтобы жизнь была вкусной и сладкой, а я Вам с этим помогу 🌷
Целую, обнимаю! 🎂
А к этому тортику прилагалась инструкция 😍
Сначала была идея сделать «съедобный»прудик, но в итоге именинник из пруда пил через трубочку «горячительный и праздничный» напиток💓🎉
💓Божественная Прага 💓Даже те, кто не особо любят сладкое, о Праге этой мечтают, особенно после того, как случайно скушают тортик из магазина 😍
💓Успеваем попасть в лист заказа 💓
По технической причине принимаю заказы сейчас ТОЛЬКО через личные сообщения и звонки 🙈
Google-форма перестала со мной дружить. Идут разбирательства. пока причину не нашла😇
Поэтому пишите, звоните, всегда готова с Вами поговорить 💓
pinned «💓 Внимание💓 По технической причине принимаю заказы сейчас ТОЛЬКО через личные сообщения и звонки 🙈 Google-форма перестала со мной дружить. Идут разбирательства. пока причину не нашла😇 Поэтому пишите, звоните, всегда готова с Вами поговорить 💓»
А может по тирамису?💓
Из дома фото не успела сделать красивенькое, но все же 🥰 #шоколадный торт с орешками и мягкой карамелью
Шайба съедобная😌 (абрикосовая начинка)
Объявляю следующую неделю профитрольной ☀️
В такой коробочке по 12 профитролек😋
При заказе профитролек к следующей неделе или на следующей неделе, дополнительные профитрольки в подарок 🎁
Давно не выставляла ничего ☺️
Как же здорово, когда возвращаются домой близкие и родные люди 😻
Let's make a cake!
Turn Everyday Into Dessert Day
1 and a half cups of milk
1 tsp of vanilla
4 eggs separated
2 tsps of baking powder
3 cups of flour
1 and ¾ cups of sugar
2 sticks of softened butter
Step 1.
In a mixing bowl, beat the egg yolks, sugar and butter.
Step 2.
Add flour, milk, vanilla and baking powder to the mix.
Step 3.
Add the egg whites slowly and a shake of salt to the mix.
Step 4.
Turn into the another bowl and mix.
Step 5.
Grease the sides of the baking pan with butter
Step 6.
Bake for 40 to 50 minutes at 350F until done.
For the icing you'll need
1 tsp of vanilla
A Box or a pound of powdered sugar
1 pckg or 8oz cream cheese, softened
1 stick of butter, softened
Beat the cheese and butter.
Gradually add the sugar while beating.
Add vanilla and some nuts for crunchiness.
Decorate surface of your vanilla cake.
Not only will it bring out the artist in you, cakes will also make you more inquisitive about the limitless possibilities and combinations of baked delights. Have a slice of heaven my friends! Ciao!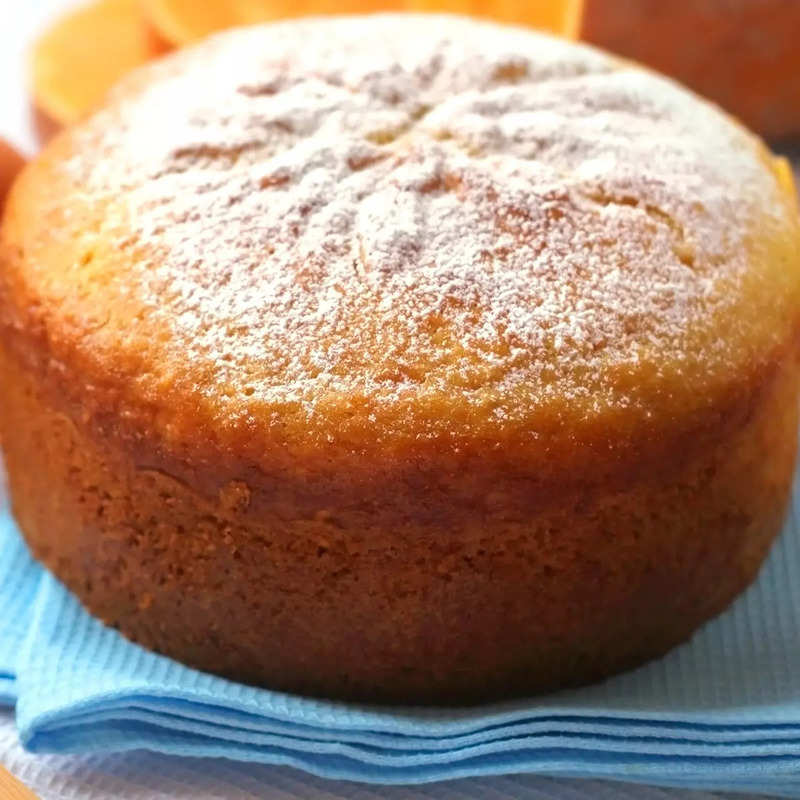 Updated : Dec 17, 2021, 16:05 IST
Wondering how to make a simple cake at home? Try this easy homemade cake recipe today!
Ingredients of Homemade Cake
3 cup all purpose flour
1 1/2 cup powdered sugar
4 egg
1 cup butter
2 teaspoon baking soda
1 cup milk
2 teaspoon vanilla essence
Add to Shopping List
How to make Homemade Cake
Making a homemade sponge cake was never so easy. Begin by mixing sugar and butter together. Whisk well until light and fluffy with a manual whisker or a fork. Once done, add the beaten eggs and blend well. Beat further so that the mixture turns white and creamy.
Step 2 / 5 Combine flour mix and beaten eggs
Sift together the all-purpose flour and baking soda. It is done to evenly distribute the baking soda in flour. Gradually, add this to the egg mixture. If required, add a little milk and mix till the batter is fluffy and soft. You may not add the entire milk if you feel the consistency of your cake is fine and it pours down like canned condensed milk. Add vanilla essence and blend well. Vanilla essence is important to camouflage the smell of eggs and to make the cake taste delicious.
Step 3 / 5 Bake the cake as per your convenience
Now, take a baking tin to cook the cake and grease it well using some butter or cooking spray. Then, sprinkle some maida or all-purpose flour on it. It will prevent the cake from sticking to the base. You can also line it with butter paper so that when the cake is baked, it can be taken out easily. Pour the prepared cake batter into the prepared tin and place it on a stand in a pressure cooker. Do not add water to the cooker and ensure that the tin does not touch the base of the cooker. You can also keep the baking dish on an inverted steel plate. Increase the flame and pressure cook for two minutes. Now, remove the whistle and cook on low flame for 35-40 minutes. If you are using an electric oven, cook at 180 degrees for 30-35 minutes.
Step 4 / 5 Check with a knife or skewer if it is cooked and serve
Insert a knife or a metal skewer into the cake and if it comes out clean, then the cake is ready. Remove from the oven/cooker and allow to cool on a wire rack. This cooling process is done so that the cake doesn't break down in between and comes out nice and clean. Once cooled enough, turn the cake tin upside down to remove the cake. You can also use the butter paper to lift off the cake, but you have to be a pro to make it happen quickly as it can also break the cake. So, it's better to turn the tin upside down for a better cake. Before decorating, cut an even slice of the cake from the top to prevent any doomed top. But make sure you do this step when the cake is still warm and not completely cold. Now, take some whipping cream and line the cake with it evenly and scrape any extra cream. Once done, you can use cherries to decorate the cake or even tutti-frutti, it completely depends on your choice. The cake is ready now.
Step 5 / 5 How to make whipping cream
To make whipping cream for a cake at home, all you need is a mixing bowl, some heavy whipping cream, powdered sugar, vanilla extract and an electric mixer. Take the bowl and add heavy whipping cream in it along with powdered sugar and vanilla extract in it. Whip them all together at medium-high speed. One must understand here that it should not be overdone. If the cream comes out grainy and curdled, it's a hint that you have over-whipped the cream. The soft whipping cream will be done in a few minutes, say about 2-3 minutes. Make sure to stop in between and check the consistency of the whipping cream. The perfect whipping cream will have a sturdy peak in it when lifted off. It should not be too soft or liquidy, and curdled or heavy. Once done, you can transfer in a cone as well to decorate your cake.
Tips
For making Homemade Cake, make sure you whisk the cake mix well. And better use an electric blender for mixing all the ingredients, as this will make the mixture frothy and light.
If you do not have butter at home, you can even use clarified butter or ghee. Or you can use homemade white butter for extra flavour.