Может быть интересно
Saturday mornings are for pancakes! Get those hot cakes on the griddle faster by having pancake mix ready and waiting for you.
No need to get flour all over the place, or dirty a bunch of dishes. Scoop some ready-made pancake mix into a bowl, crack an egg, add some milk, and you're ready to start cooking!
What's in This Mix?
DIY Pancake mix is like using Bisquick, only more affordable! All you're doing is creating a bulk mix of the dry ingredients—flour, sugar, baking powder, baking soda, and salt.
The best part is it will stay fresh for up to six months!
Now, on Saturday morning all you need is to scoop the mix in a bowl and add the wet ingredients—eggs, milk, butter, and if you're feeling fancy, vanilla extract.
Milk vs Buttermilk
I'm always on Team Buttermilk when it comes to pancakes. I think they make the fluffiest pancakes, but I wanted to make a mix that would work even for those weekends when I only had regular milk in the fridge.
Buttermilk is thicker than milk, so if you want to have a pancake that's nearly equal in texture to a buttermilk pancake (light and fluffy, not rubbery), a 1-to-1 replacement of milk for buttermilk won't quite work. However, decreasing the amount of milk works very well.
For this recipe, you can use either 1 cup buttermilk or 3/4 cup milk for the perfect light, fluffy pancake every time!
How to Make Perfect Pancakes
Pancakes by nature are simple and forgiving, but here are a few tips to help make them just right:
Your skillet should be sizzling hot.
Don't over-mix your batter. A little lumpy is fine!
Keep butter by your side to fry the perfect cake.
Flip when the edges look a little dry, and bubbles are coming to the surface.
Ways to Switch Up Your Pancake Game
Dress up your pancakes! Add blueberries, chocolate chips, or sliced bananas into the batter just before flipping.
Also, feel free to experiment with other kinds of flour! I'm partial to half spelt and half all purpose, or substituting whole wheat pastry flour (it gives you a lighter, fluffier texture than whole wheat flour) for all or part of the all-purpose flour.
How to Freeze and Reheat Pancakes
Let the pancakes cool to room temperature, then layer between sheets of parchment paper, and seal in a gallon-sized, zip-top bag.
To reheat, spread a few frozen pancakes on a plate in a single layer (it's okay if they overlap a little) and zap in the microwave for about 30 to 45 seconds, then pop them in the toaster. The microwave thaws them, and then the toaster to finishes the job and also provides the crisp fresh-off-the-griddle edges.
More Ways to Have Pancakes for Breakfast!
If using milk rather than buttermilk to make the pancake batter, add either a 1/4 teaspoon of cream of tarter or a 1/2 teaspoon of lemon juice to help the baking soda react. Buttermilk will neutralize the metallic taste of baking soda. If using milk, you want to add something acidic like cream of tarter or lemon juice to mimic the role of buttermilk in the batter.
For the pancake mix (makes 7 cups):
To make the pancakes (makes 6 pancakes):
, or 1 cup buttermilk
melted plus more for the pan
Make the mix:
In a large bowl, combine flour, sugar, baking powder, baking soda, and salt. Whisk together. Transfer mix to an airtight container. Write "batter recipe" on a note card, and tape it to the canister. Store for up to 6 months.
Serve with maple syrup or powdered sugar and fruit. If feeding a crowd, keep warm on a plate in a low oven until ready to serve.
Show Full Nutrition Label
Hide Full Nutrition Label
Nutrition information is calculated using an ingredient database and should be considered an estimate. In cases where multiple ingredient alternatives are given, the first listed is calculated for nutrition. Garnishes and optional ingredients are not included.
Do you know how to make a mixture for pancakes? If you hear about this product for the first time, we will describe its detailed recipes below.
General information about homemade delicacy
Pancakes are called culinary product, whichprepared by frying a batter, poured on a hot pan. This dish usually has a round shape. It can be served to a table with completely different snacks. In addition, thin pancakes are often used to wrap the filling in them.
How can you cook such a tasty and high-calorieproduct? A ready mix for pancakes is sold practically in all shops. However, not always it meets all the requirements of quality and safety. Therefore it is better to cook it yourself.
How to make a mixture for pancakes at home?
sugar white – ½ cup;
salt iodized – ½ dessert spoon.
Drying process
Mixture for pancakes homemade prepared easily andjust. To do this, use a deep bowl and saucepan. In it, spread wheat and corn flour, and also add white sugar, milk powder and iodized salt.
To ensure that in the process of frying pancakes are well prepared and do not turn out to be caked, in the loose mixture it is also necessary to add a little baking powder or the so-called baking powder.
Where to store bulk material?
A mixture for pancakes can be stored for quite a long time. But this is provided, if such a product will be placed in a dry room, without access to sunlight.
You can keep the finished mass in a glass jar or in a conventional polyethylene bag.
Make a mixture of dried buttermilk
A dry mix for pancakes at home can be prepared using different products. If you have in stock loose buttermilk, then from it you will get very tasty and hearty products.
So, to prepare a dry mass for pancakes, you need to buy:
sugar beet – ¼ cup;
soda canteen – 2 dessert spoons;
baking powder – 20 g;
egg powder – 1 large spoon;
salt, cooked – 5 g.
Method of preparation of a dry product
The mixture for pancakes is being prepared inaccuracy is the same as in the previous recipe. To do this, take a large dry container, and then alternately lay in it light flour, freeze-dried buttermilk, table soda, beet sugar, table salt and baking powder. Also some housewives add to the basis of dry egg powder. He will make pancakes more elastic and tasty.
Keep the mixture ready only in a dry place, where the sun's rays do not reach.
Recipe for a pancake mixture with sour cream and egg powder
Very few people know, but apart from the traditional liquidsour cream, which is sold in stores, you can easily buy a similar product, but only in dry form. Thanks to this component, your pancakes will become more tender and tasty.
So, to make a mixture for pancakes at home, you need to buy:
light sugar – 1/3 cup;
egg powder – 10 g;
soda canteen – 2 dessert spoons;
How to cook?
Prepare a dry pancake mixture can eventeenager. To do this, all the listed components are laid out alternately in a deep dish, after which it is stirred intensively. In this case, the homogeneity of the mass is necessarily obtained.
Use the finished mixture immediately aftermixing all the ingredients, and after some time. It should be noted that such a loose product can be stored in a dark place for several months.
How to use?
Use a mixture for baking pancakes as welleasy, like cooking it. To do this, use completely different products. Someone mixes loose bulk with drinking water, and someone adds milk, kefir and even yogurt to it. The main thing is to choose the appropriate proportions.
So, to make delicious homemade pancakes,it is necessary to connect a full glass of water with one glass of dry mixture. Mix these ingredients should be very carefully, so that the bowl is not formed lumps.
If you did not add egg powder to the dry mix, then you can include 1 fresh chicken egg. The same applies to buttermilk and sour cream.
Also very delicious are pancakes, whichare made using melted butter. These liquid ingredients are mixed in a separate container and only then the bulk material is added thereto. For homogeneity of the dough, it can be kneaded by a whisk or a mixer at low speeds.
How to fry?
Fry the pancake base prepared fromdry mix, should be exactly the same as the usual dough. To do this, a part of the base is laid out in a preheated and oiled frying pan and then fried until a characteristic rosy surface appears (on both sides).
After the pancakes are ready, they must be flavored with butter.
Customer Reviews
How many housewives use a dry mixture for pancakes? Reviews say that such people are a minority. Part of this is due to the fact that modern ladies do not even suspect the possibility of preparing a mixture for pancakes at home.
The same people who use a similar mass whenany opportunity, they say that thanks to her they have finally learned to cook not only a tasty but also a quick breakfast for their family. Having a pancake powder available, it should only be diluted with water or some other liquid, and then used as directed.
It should also be noted that the taste of dessert, made on the basis of a dry mix, does not differ from the taste of pancakes prepared in the traditional way.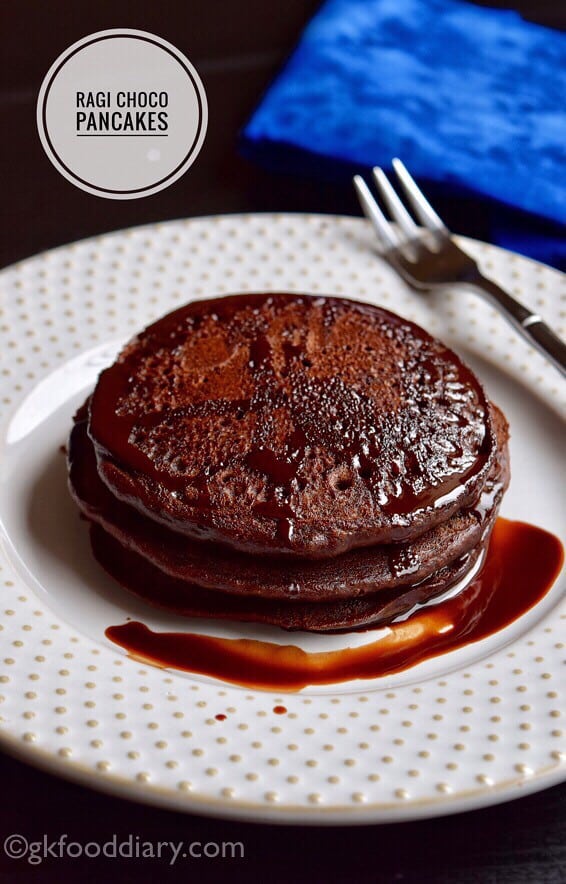 Ragi Chocolate Pancakes: Eggless, Soft, Fluffy pancakes made with ragi flour, cocoa powder and whole wheat flour. Ragi is one of the best weight gaining, nutritious, and healthy food for growing kids. This ragi chocolate pancake is one of the best and easiest way to include ragi in your child's diet. Check out other healthy ragi recipes for babies and toddlers here
These ragi choco pancakes can be given to babies after one year as finger food. You can top it with maple syrup, dates syrup, chocolate syrup/ honey or fruits of your choice. Tastes so good!
Check out other similar recipes of pancakes here:
Now Let's get on to check how to make this easy ragi chocolate pancakes recipe for babies, toddlers, and kids.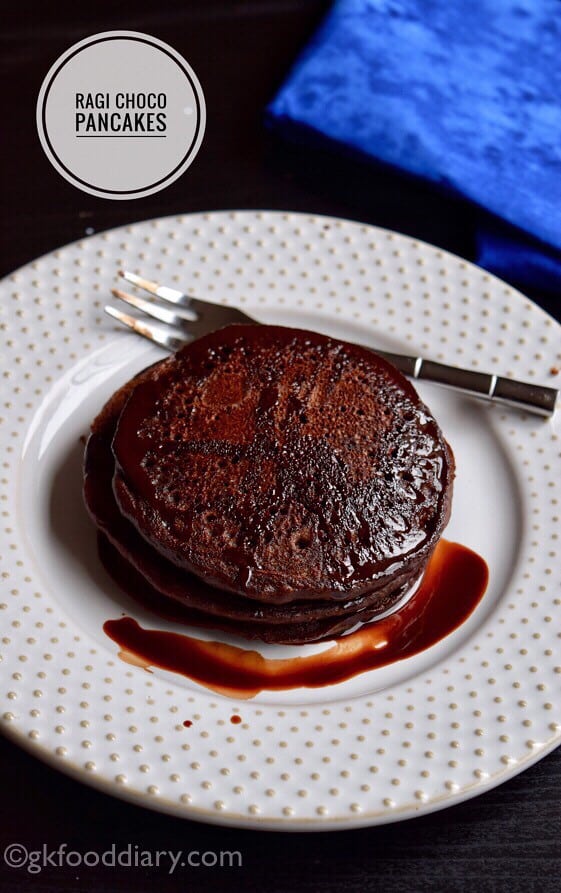 Ragi Chocolate Pancakes – Eggless fluffy pancakes with ragi flour, cocoa powder, and whole wheat flour. Delicious breakfast option for toddlers and kids
Servings( Adjustable )
Ragi flour- ½ cup
wheat flour – ¼ cup
Cocoa powder- ¼ cup
Baking powder- ½ tsp
Baking soda- ¼ tsp
Salt- a pinch
Butter- 1.5 tbsp
Powdered Palm Sugar / Powdered Jaggery- ¼ cup
Vanilla extract- ½ tsp
Milk- ¾ cup
Measure and keep all the ingredients ready.
In a cup add in melted butter. Now powdered palm sugar.
Mix everything using a hand whisk. Add in milk and give a quick mix.
In a mixing bowl, place a sieve. Then add ragi flour, whole wheat flour, cocoa powder, salt, baking soda, and baking powder. Sift the flour.
Now transfer the butter-milk mixture to the ragi flour mix. Stir it gently until moistened.
Heat a tawa or iron skillet, Sprinkle ½ teaspoon of butter. Add ¼ cup of pumpkin pancake batter to it and spread it to form a circle. Don't spread too much. It should be thick like pancakes.
Cook in low, medium flame. Cook until bubbles form on top of pancakes and flip it carefully. Cook the other side for 2 minutes. Repeat the same for the remaining ragi pancake batter.
Here is the video of how to make ragi choco pancake for Toddlers and Kids
1. Measure and keep all the ingredients ready.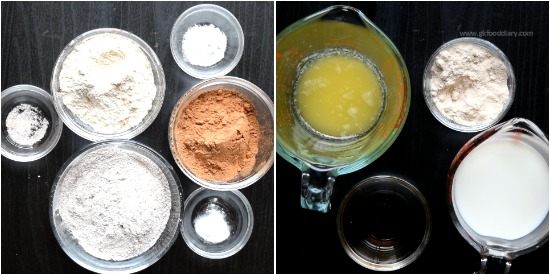 2.  In a cup add in melted butter. Now powdered palm sugar.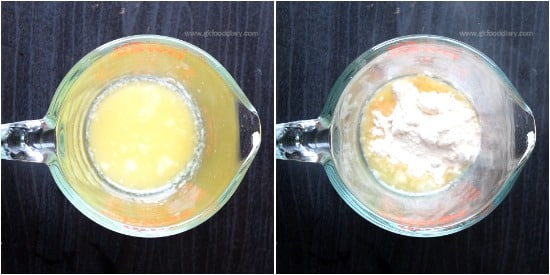 3. Mix everything using a hand whisk. Add in milk and give a quick mix.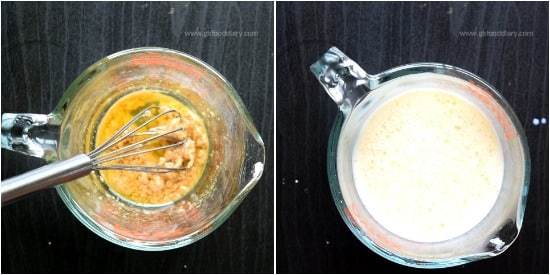 4.  In a mixing bowl, place a sieve. Then add ragi flour, whole wheat flour, cocoa powder, salt, baking soda, and baking powder. Sift the flour.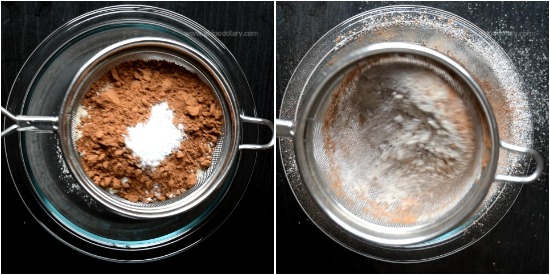 5. Now transfer the butter-milk mixture to the ragi flour mix. Stir it gently until moistened.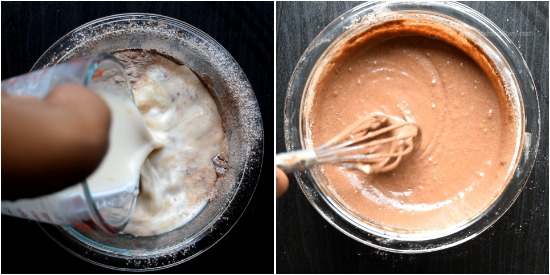 6. Heat a tawa or iron skillet, Sprinkle ½ teaspoon of butter. Add ¼ cup of ragi pancake batter to it and spread it to form a circle. Don't spread too much. It should be thick.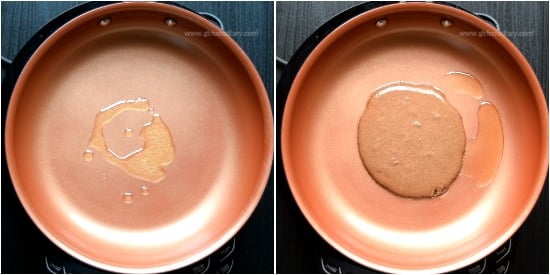 7. Cook in low, medium flame. Cook until bubbles form on top of pancakes and flip it carefully. Cook the other side for 2 minutes. Repeat the same for the remaining ragi pancake batter.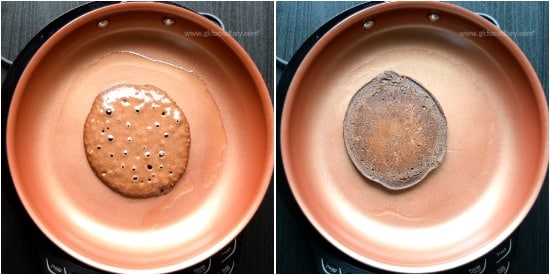 The delightful ragi pancakes are ready to serve!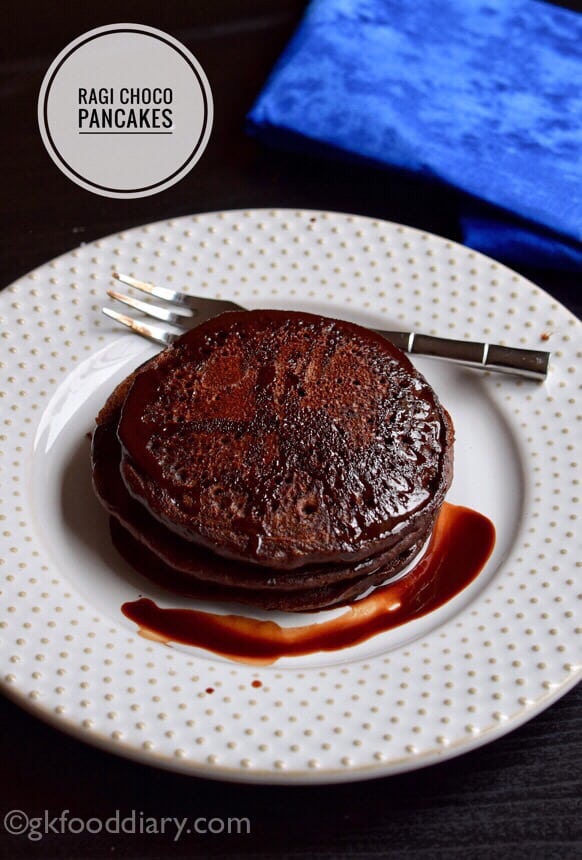 Notes
You can add the nuts powder to the ragi pancake batter to make it more healthy.
Cook everything in low to medium flame; otherwise, it gets burnt or sticky.
You can skip baking soda and baking powder.
Don't spread this ragi pancakes thin. Otherwise, it won't be fluffy.
Always check with your pediatrician before introducing any new food.
More Breakfast/Dinner
The Spruce Eats / Lecia Landis
While it's pretty easy to make your own pancakes from scratch with a few basic pantry ingredients, it's also nice to have a trusted pancake mix on hand to save on time and dishes. Most pancake mixes only require the addition of water, so you can have pancake batter ready for a hot griddle in no time. It's also easier to scale a batch of pancakes for a single person or for a crowd when using a pancake mix.
King Arthur Flour
What We Like
Makes flavorful pancakes
Includes buttermilk and malt extract
No artificial colors, flavors, or preservatives
What We Don't Like
Requires several ingredients to prepare
Can be hard to find
King Arthur Flour is known for its line of baking flours and trusted baking recipes, so it's a little surprising that this pancake mix takes the cake. This mix promises easy, light, and fluffy pancakes reminiscent of the ones you might get at your local diner.
The mix contains a blend of King Arthur's tried and true unbleached flour, along with whole wheat flour and malted barley flour. It's also got a touch of sweetness, contains no artificial colors, flavors, or preservatives, and is non-GMO verified.
This mix produces consistently fluffy, mildly sweet pancakes that are a blank canvas for fresh fruit, chocolate chips, whipped cream, or whatever other toppings make you happy.
Makes flavorful pancakes
No artificial ingredients
This mix is more expensive than some competitors, but it's made with minimal ingredients and offers consistent results. This mix requires the addition of egg, milk or buttermilk, and melted butter.
Is the taste superior to other, more budget-friendly pancake mixes? That comes down to individual preference. Some reviewers think they taste better, while others say they're comparable.
It's worth mentioning this mix is sweeter than Stonewall Kitchen's Farmhouse Pancake Mix. Sugar is the second ingredient, and one serving of pancakes contains 5 grams of sugar versus 1 gram of sugar per serving in the Farmhouse mix.
Courtesy of Walmart
Available in several sizes
Easy to make
Krusteaz offers an extensive line of affordable done-for-you mixes for whipping up everything from pancakes to quick breads, cookies, and muffins. The brand has a pancake mix for every occasion, including a wide variety of flavors like blueberry, chocolate chip, honey wheat, and pumpkin spice.
When it comes to getting traditional buttermilk pancakes prepped for a crowd, you can't beat this mix available in 5-pound or 7-pound family-sized packages, which will make about 130 and 180 pancakes, respectively. You don't need any other ingredients on hand since this pancake mix simply needs to be mixed with water.
Contains whole grains and fiber
Contains added protein
Only needs water
Thanks to the high-protein amount and the fact that it only requires water, we adore this pancake mix from Kodiak. Despite its unique ingredients like wheat protein isolate and whey protein concentrate, it still comes out fluffy with the classic slightly tangy buttermilk taste.
We also love that this mix offers different prep methods for different amounts of protein. You'll get 14 grams of protein making these with just water, 17 grams if you replace the water with milk, and 20 grams of protein if you use milk plus an egg. Even if you don't add anything besides water, the pancakes still are enough to fill hungry teenage boys up.
Although the pancakes are sure-fire winners, we don't love the recipes for muffins, chocolate chip cookies, and waffles printed on the box. They require some extra effort, and the convenience of combining the mix with some water and tossing it onto a griddle is truly unmatched.
"We always get the buttermilk flavor since it's slightly tangy, fluffy, and very customizable. I'll toss in blueberries, chopped strawberries, chopped nuts, or chocolate chips, depending on my mood. If you want to leave the add-ins to the professionals, there's a variety of flavors: Birthday Cake, Chocolate Chip, Dark Chocolate, or Cinnamon Oat and all can keep pancake boredom at bay." — reviewer Rachel Knecht
Includes recipes for pancakes and waffles
Produced in a gluten-free facility
For those with a gluten sensitivity or those who choose not to consume gluten for other reasons, this pancake mix is a favorite. It uses a gluten-free flour blend consisting of sweet and brown rice flours, sorghum flour, potato starch, and tapioca flour. Bob's Red Mill assures its gluten-free products are produced in a dedicated gluten-free facility and undergo laboratory testing to ensure there's no cross-contamination with gluten-containing products.
This mix does require adding egg, milk, and melted butter, but the results seem to be worth the added effort—customers love the light and fluffy texture and liken it to pancakes made with wheat flour. The mix itself is dairy-free, and if you'd like to create dairy-free pancakes, you can opt to use your favorite butter and milk substitutes.
Courtesy of Thrive Market
Made from grain-free flours
Easy to make
Can be used for waffles
Only 8 servings per bag
Somewhat gritty texture
Grain-free consumers turn to Birch Benders for their pancake needs. The brand offers both "keto" and "paleo" pancake mixes. The keto mix is made from a blend of grain-free flours, including almond, tiger nut, coconut, and cassava. Tiger nut and cassava, if you're wondering, are made from root vegetables similar to tubers. This special blend of flours results in 5 grams of net carbohydrates per serving.
Pearl Milling Company is known for pancake syrup, so it makes sense that the brand also offers a full line of pancake mixes. Unlike its original pancake mix, which requires you to have fresh milk, oil, and eggs on hand, the complete mix only requires the addition of water, making pancakes less time-consuming to whip up on busy mornings, while traveling, or when you're running low on groceries.
Reviewers like the light and fluffy texture and ease of preparation of this pancake mix. If you're looking for the most nutritious pancake mix, you'll want to consider some of the other options on this list since the second ingredient by weight is sugar, and the mix contains a longer list of food additives and preservatives than other brands. But buyer beware, some reviewers were disappointed to discover this mix is packaged directly into the cardboard box without a plastic bag or liner. This can attract pests and, in our experience, can lend a cardboard quality to the taste.
Bob's Red Mill
Contains fiber and whole grains
Produces hearty pancakes that can hold heavier toppings
Includes recipes for pancakes and waffles
There are a lot of whole grain and multigrain pancake mixes to choose from. If you prefer whole grains, we suggest keeping it simple and going with a classic buckwheat pancake mix. This mix is made with organic whole grain buckwheat flour and organic whole wheat flour. Buckwheat creates a thick and hearty flapjack that stands up well to heavier fruit toppings. Reviewers rave about the nutty, whole-grain flavor.
This mix will produce pancakes that have a whopping 7 grams of fiber per serving. There are only 2 grams of sugar per serving. This mix is prepared with oil, egg, and water, and it's also dairy-free.
Courtesy of Target
Made with real blueberries vs. flavoring
Easy to prepare
Can also be used to make waffles
Yes, you can turn any pancake mix on this list into blueberry pancakes by tossing a handful of fresh blueberries into the batter. But fresh blueberries can be expensive, and blueberry season is a short one, so we thought it best to include a done-for-you blueberry pancake mix to enjoy year-round.
There's a big difference in terms of ingredients when it comes to blueberry-flavored versus actual blueberries. Our top pick for this category is Birch Benders Blueberry Pancake Mix since it contains dried blueberries as the second-most ingredient by weight. In other words, these pancakes will be bursting with real, whole blueberries.
Using real blueberries eliminates artificial coloring and flavors that other blueberry pancake mixes contain. Making things even better, this mix only needs water to prepare.
Price at time of publish: $16
King Arthur Flour Diner-Style Pancake and Waffle Mix is our top recommendation because of its quality ingredients and the fluffy flapjacks it creates. If you need to feed the whole family, the 5-pound bag of Krusteaz Buttermilk Pancake Mix is cheap and delicious.
What to Look for When Buying Pancake Mix
Often, you reach for pancake mix when you want to prepare a quick and easy breakfast. So make sure to take a peek at the ingredient list before settling on the right pancake mix for you. Some mixes require nothing more than water, while other mixes require additional pantry staples like milk, eggs, and butter. While the former is certainly more convenient, keep in mind: you may get more homemade-like results from mixes that require more ingredients, since they're closer to a from-scratch recipe.
If you have dietary requirements — gluten-free or keto, for example — there's still a pancake mix for you. Today, there are so many different types of pancake mixes on the market. Some are specifically tailored to suit special diets; others have ingredient lists that simply happen to satisfy; and still others provide instructions for simple ingredient swaps to help guide you.
While there are plenty of different flavored mixes out there — blueberry and confetti, for example — you can often get the flavor you desire from any pancake mix. The easy solution: just stir in whatever mix-ins you might like, whether nuts, fruit, sprinkles, or even a swirl of peanut butter or chocolate chips.
FAQs
Yes, most pancake mixes can also be used to make waffles. Pancake mix packages usually include directions for how to make waffles from the same mix. The steps are similar to making pancake batter, but usually require adding more fat in the form of oil or butter.
How you do make funnel cake with pancake mix?
You can use pancake mix as a shortcut to make funnel cake batter. Funnel cake traditionally contains flour, sugar, and a leavening agent, which are the same ingredients found in dry pancake mix. This works best with a traditional pancake mix that contains wheat flour.
Start by adding approximately 0.5 cup of water for every cup of pancake mix you're using. Add additional water if needed until the consistency of the batter is thinner than what you'd use for pancakes, but not overly runny. It should be similar to cake batter. You can add a teaspoon or two of vanilla extract for extra flavor. You can also add sugar for a sweeter funnel cake, but if you're using a pancake mix that already contains added sugar, it's not necessary.
Pour the batter into a squeeze bottle or a resealable plastic baggie with a corner snipped off, then squeeze the batter in a circular, squiggly pattern into a Dutch oven of hot oil and fry on each side, about 1 minute, until golden brown. Use tongs or a wire strainer to flip and remove funnel cakes from hot oil. Drain funnel cakes on a wire rack or paper towel lined plate, then dust with powdered sugar.
Can you make biscuits with pancake mix?
If you're short on all-purpose flour or time, pancake mix can be used to make biscuits. Some pancake mixes are on the sweeter side, so if you're craving savory biscuits, a tangier, buttermilk pancake mix is your best bet.
Add 0.5 cup of milk to 2 cups of pancake mix and stir just until a dough forms. If you don't have buttermilk pancake mix, you can add a tablespoon of white vinegar to your milk before adding it to the dry mix. You can fold extras into the dough, like garlic, herbs, shredded cheese, or cinnamon, for flavored biscuits.
Some recipes call for rolling the dough on a floured work surface and cutting into rounds with a biscuit cutter, but it's quicker and easier to use a drop method. Drop the dough by heaping spoonful onto a parchment paper lined baking sheet, brush the tops with melted butter, and bake at 400 degrees Fahrenheit for 10-15 minutes or until biscuits are golden brown.
Does pancake mix go bad?
Pancake mix will keep for a long time, usually up to 12 months, when stored properly. Pancake mix should be stored at room temperature in a cool, dry environment and away from any sources of moisture. Once opened, leftover pancake mix should be kept in an airtight bag or storage container.
Pancake mix can start to grow mold if exposed to air and humidity. If you notice any blue or green specks in the mixture, or it smells off, toss it and reach for a fresh package. If you've had an unopened package of pancake mix in your pantry for some time, check for a best by date on the package.
How We Researched
To compile this list, our team of editors and contributors spent hours researching the best pancake mixes on the market, evaluating their key features—like ingredients, texture, and price—in addition to reviews from customers and other trusted sources. We then used this research to assign a star rating from one to five (five being the best; one being the worst) to certain products on the list.
Why Trust The Spruce Eats?
As a Registered Dietitian Nutritionist, Sharon Lehman, author of this pancake mix roundup, is no stranger to studying ingredient lists and nutrition labels looking for products that offer the best combination of flavor, ease of preparation, and nutrition. Although a big fan of scratch-made baked goods, flapjacks made from Kodiak Cakes mixes are a weekend staple in her home. She also keeps her personal pantry stocked with several products from other brands on this list, including Bob's Red Mill, King Arthur Flour, and Stonewall Kitchen.
The article was later updated by Brigitt Earley to reflect additional product picks, as well as to include nutritional information and shopping advice. Brigitt is a graduate of the French Culinary Institute, plus has been writing for publications like The Spruce and Good Housekeeping for over 12 years. She regularly makes pancakes from scratch, but also stocks mixes from the likes of Stonewall Kitchen and King Arthur Flour for times when she wants to whip up a family-pleasing breakfast in a flash.
Amanda McDonald is an editor at The Spruce Eats and has over seven years of experience researching, writing, and editing about all things food — from what new products are at the grocery store to chef-approved hacks that keep tricky leftovers fresh for days. She also updated this article to include the most up-to-date information.