You only need a few simple ingredients to make this homemade Chocolate Pudding recipe. It's the perfect quick sweet treat or dessert as it is so rich, chocolatey, and so easy to make from scratch. After giving this recipe a try, you won't buy a box mix again!
This chocolate pudding is what dreams are made of. It's creamy, silky, luscious, and full of decadent chocolate flavor. It is so easy to make at home with kitchen staples, you won't need to pick up a box mix on your next grocery run. A nostalgic but classic recipe, this homemade pudding comes together in a few easy steps.
I love how this pudding is both a kid-friendly treat but can double as an elegant dessert when guests come over. You can make it as fancy as you want with the toppings. Chocolate pudding also makes for a great snack when you need a mid-day chocolatey treat! Want another chocolate-filled treat? Try my chocolate biscotti recipe, chocolate bundt cake recipe, or chocolate soufflé recipe.
What You Need to Make This Recipe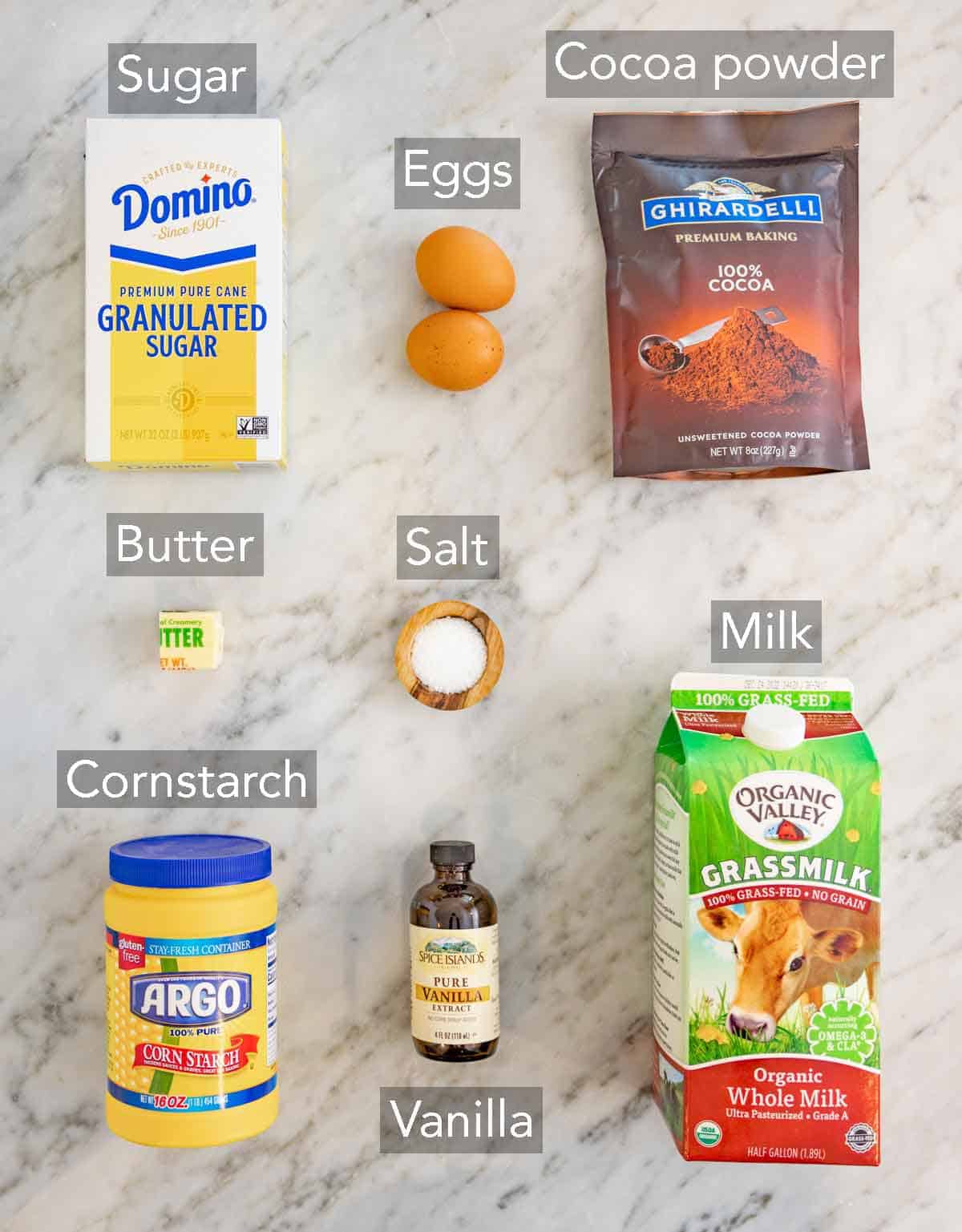 Milk — while I use whole milk, you can use a full-fat oat or almond milk in place of regular whole milk for a lactose-free chocolate pudding. Keep in mind that if you use low-fat milk, the pudding will be a bit less decadent in comparison to using whole milk.
Cocoa powder — I use unsweetened cocoa powder, but you can use Dutch-processed cocoa powder for a darker chocolate flavor.
Egg yolks — egg yolks add richness and act as a binding agent. Don't toss your egg whites, though! Save them to make my angel food cupcakes.
Cornstarch — you need to use cornstarch to thicken the pudding.
Butter — adding butter to the pudding mixture will increase the richness and make it taste even more decadent. The butter also gives the pudding a glossy finish.
How to Make Chocolate Pudding
1. In a small saucepan, combine 2 cups of milk, sugar, cocoa powder, and salt. Whisk until well combined. Cook over medium heat until very steam and just starting to simmer, stirring frequently.
2. Meanwhile, in a large mixing bowl, whisk together the egg yolks, cornstarch, and remaining ¼ cup of milk.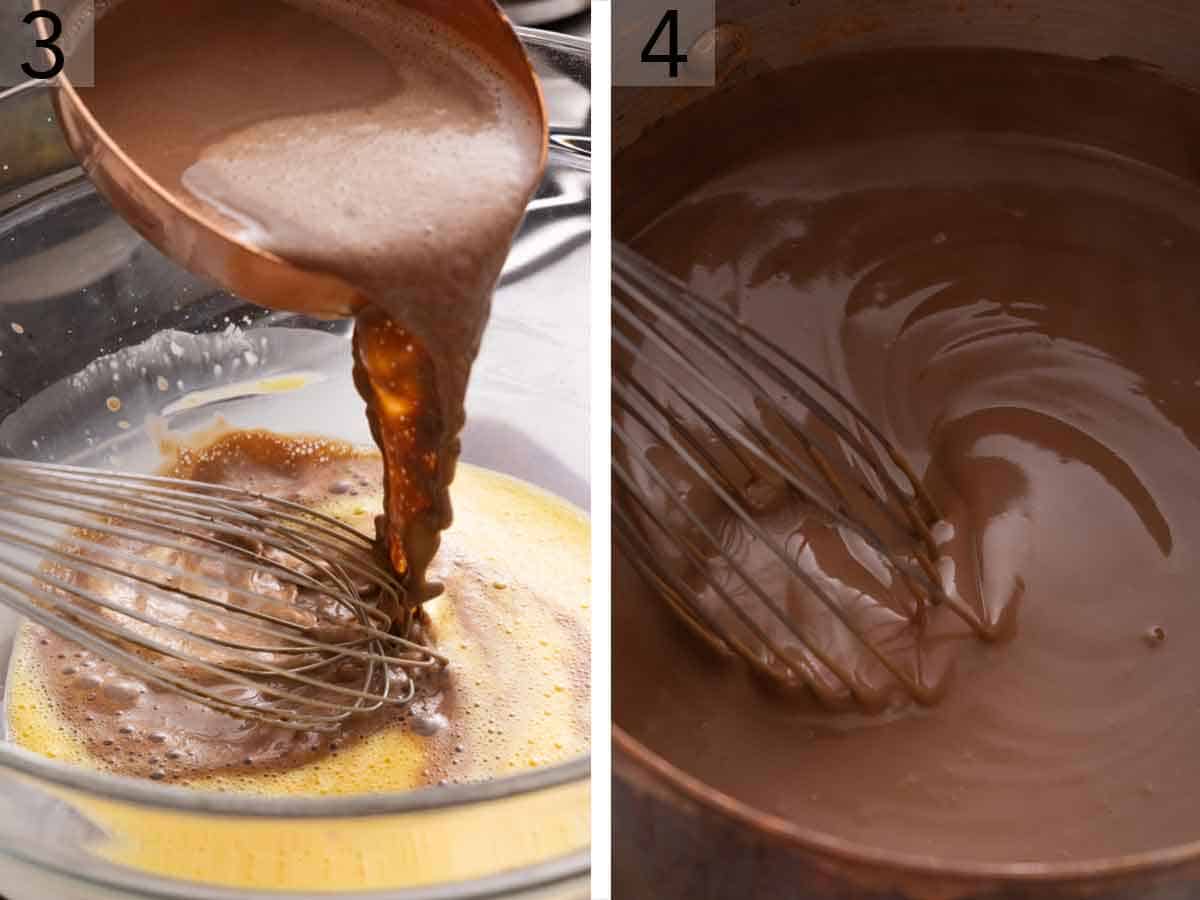 3. When the chocolate milk is hot, slowly whisk about a cup into the egg yolk mixture. Whisk in the remaining hot milk. Pour the mixture back into the saucepan.
4. Place the saucepan back over medium heat and cook stirring constantly until the mixture bubbles. Continue cooking until thickened enough that the whisk leaves a trace when stirring in the mixture, about 3 minutes. (Temperature should be about 170F on an instant-read thermometer.)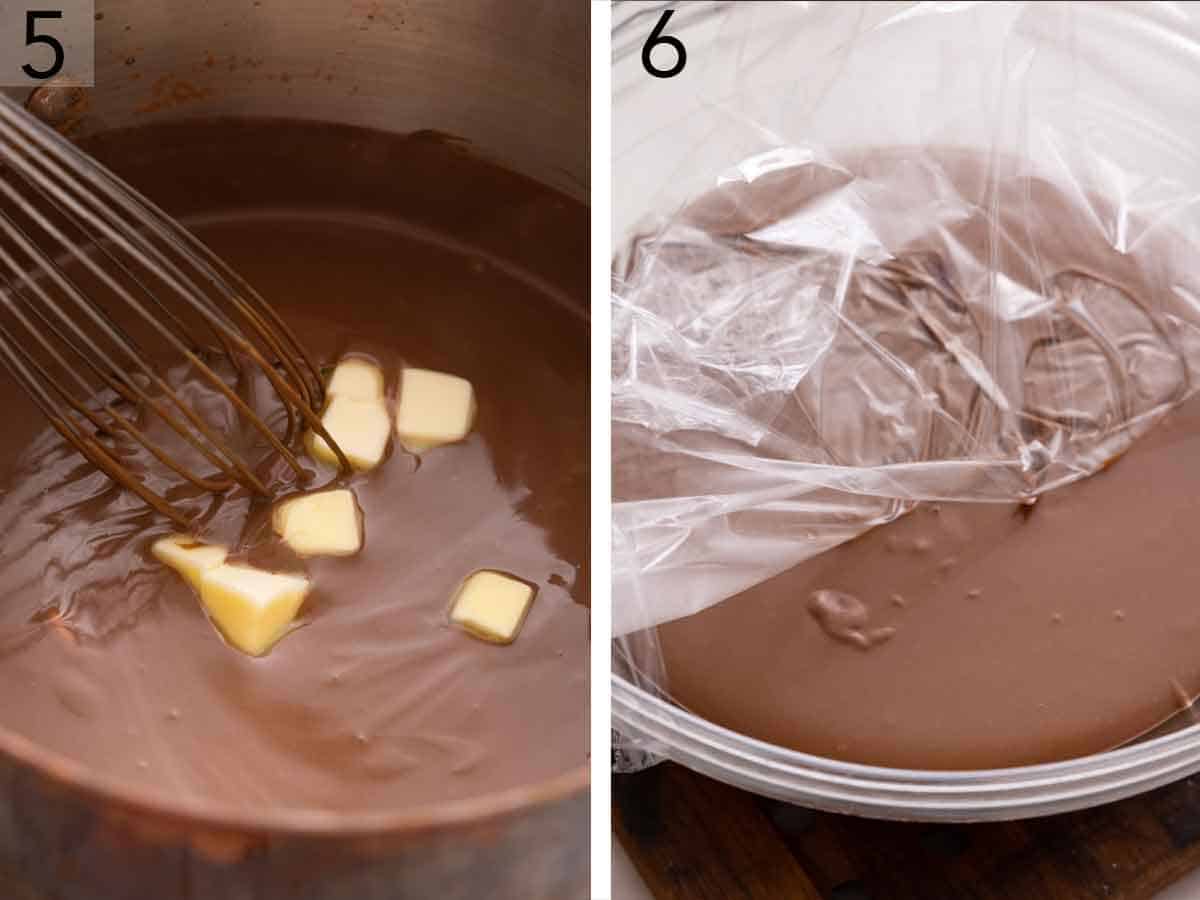 5. Remove from the heat and whisk in the butter and vanilla until melted and combined.
6. Transfer the pudding to a bowl and press plastic wrap to the surface. Refrigerate until chilled, about 3 hours, or up to 4 days. Give it a good stir before dishing it into serving bowls. Serve with whipped cream, if desired.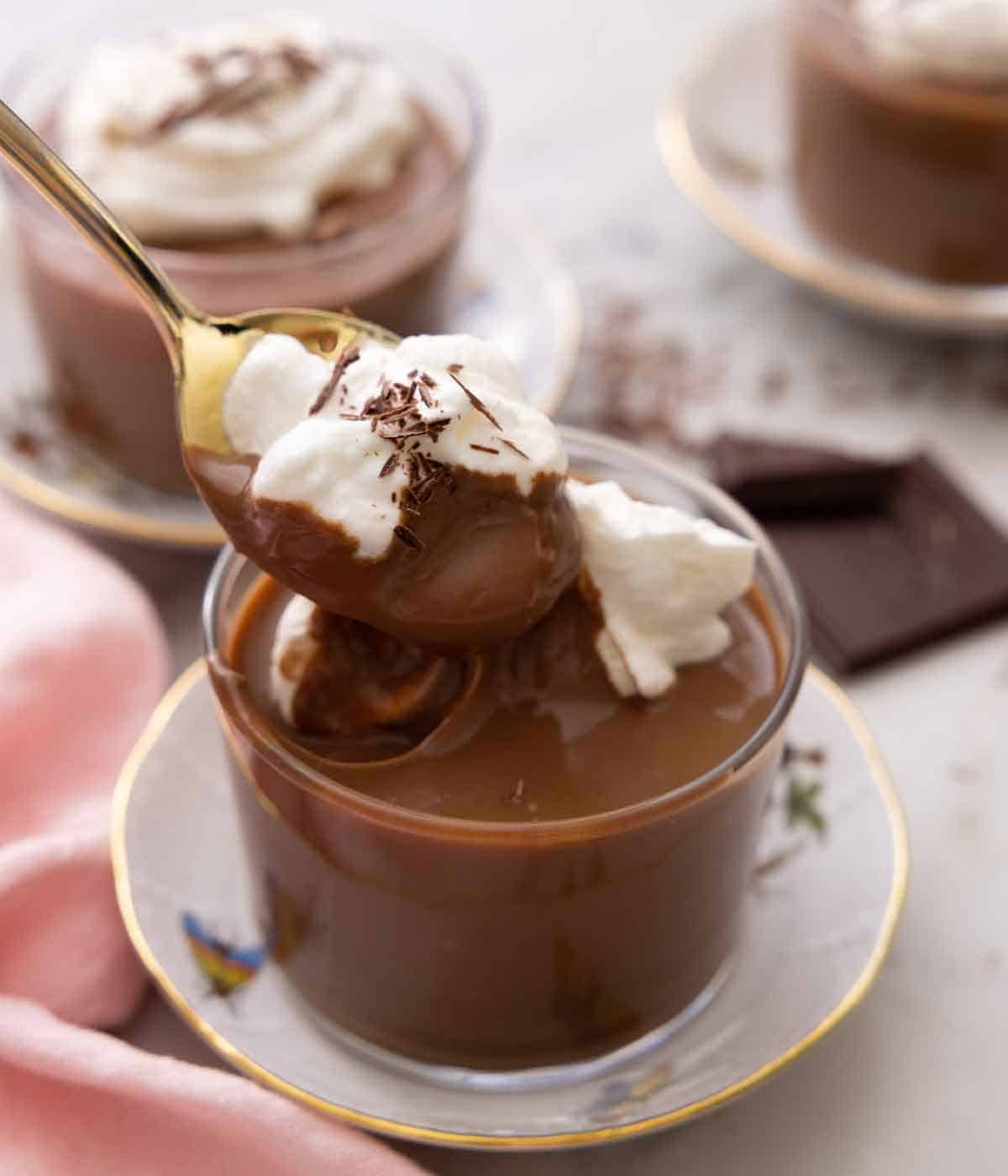 Pro Tips for Making This Recipe
Make sure you whisk the mixture constantly, as you do not want the chocolate to stick to the pan.
When wrapping the pudding to chill, make sure to press the plastic wrap directly onto the surface to prevent a skin from forming over the top of the pudding.
As the pudding sets, it becomes a little dense. Make sure to stir the pudding before serving to help aerate it.
Use real vanilla extract for the best flavor. Try making my homemade vanilla extract ahead of time! It is so flavorful.
Make sure you slowly pour the chocolate mixture into the egg mixture, and not the other way around. This will prevent the eggs from cooking from the heat.
Try making my homemade whipped cream to serve with the chocolate pudding.
To make chocolate shavings for the topping, you can scrape the chocolate bar with a knife on an angle before chopping it to melt.
You can chill the pudding faster if you portion them out into individual containers ahead of time. Again, make sure to press the plastic onto the pudding as it chills.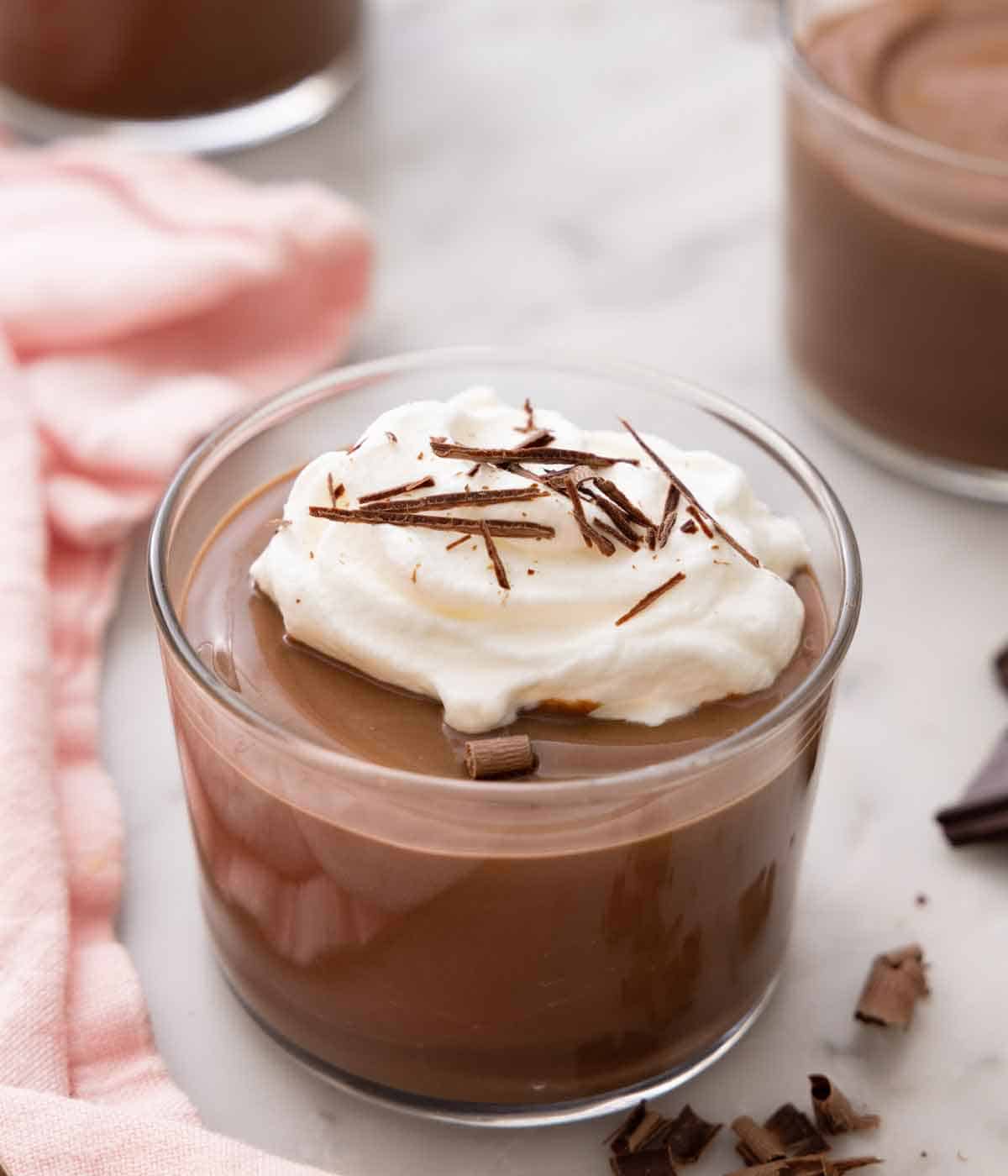 Frequently Asked Questions
How do I store the pudding?
Store your homemade chocolate pudding in an airtight container in the refrigerator for up to 4 days. Make sure to cover tightly with the plastic wrap again if you still have leftovers.
Can I freeze this?
This pudding is best enjoyed while fresh. After it freezes and defrosts, the texture changes. However, if you do not mind the texture change, you can freeze the pudding for up to three months in a freezer-safe container. Make sure to stir well after defrosting before serving.
What are some toppings I can use?
Other than whipped cream and shaved chocolate, you can also add fresh fruit such as strawberries or cherries, chopped nuts, crushed graham crackers, or sprinkles! This pudding pairs well with all kinds of toppings.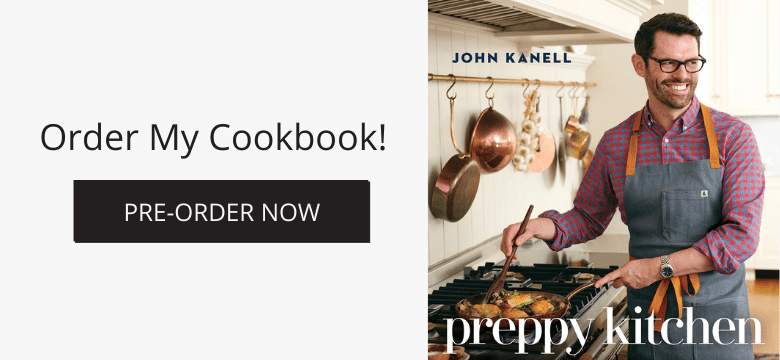 If you've tried this Chocolate Pudding recipe, then don't forget to rate the recipe and let me know how you got on in the comments below, I love hearing from you!
Silky, smooth, and creamy, this homemade Chocolate Pudding recipe is full of rich, chocolate flavor.
With each and every one of my pregnancies I craved chocolate milk like crazy. Like standing in front of the fridge guzzling it straight from the fridge crazy. Morning, noon and night crazy. I don't drink chocolate milk anymore but I really wanted to know if you could make a chocolate cake that tastes just like chocolate milk.
Turns out you can. And I did!
Dust off your bundt pans bakers – this cake is going to be your new favorite!
What makes this cake so good?
This chocolate cake is as easy as it is delicious! Here's a few reasons why you'll love this recipe:
Nostalgic flavor – the secret ingredient in this cake is an old childhood favorite. It has a rich and delicious chocolate milk flavor that makes you feel like a kid again!
Super chocolately – no shortage of chocolate here! We're topping this rich, deliciously moist cake with lots of chocolate milk frosting for the ultimate chocolate dessert!
Simple to make – This cake is a cinch to make with just a handful of simple ingredients you probably already have in your pantry.
Easy to decorate. Add a drizzle of the easy 3-ingredient chocolate milk frosting for a picture perfect cake!
Ingredients
You can whip up this pretty bundt cake in about an hour with just a few basic ingredients. Here's what you'll need:
Flour – regular all-purpose flour gives the cake a moist but sturdy crumb. For best results, measure the flour with a digital kitchen scale.
Butter – butter helps give the cake lots of flavor and a tender crumb. Make sure the butter is softened to room temperature.
Sugar – granulated sugar makes this cake perfectly sweet, but not too sweet!
Eggs – we're using 4 whole eggs. Set them out to reach room temperature when you set out the butter.
Chocolate milk – there's chocolate milk in both the cake and the frosting for lots of classic chocolate milk flavor!
Cocoa powder – I like to use Dutch-process cocoa powder for a rich, deep chocolate flavor.
Vanilla – use a high quality vanilla like Rodelle or Neilsen-Massey for the best taste.
How to make chocolate milk cake
Step 1: Preheat oven to 350°F. Set out a 12 -15 cup bundt pan along with non-stick baking spray. Do not spray the pan until just before filling.
Step 2: In the bowl of a stand mixer fitted with the paddle attachment, cream together the butter and sugar on medium-high speed until light and fluffy, about 4 minutes. Scrape down the sides of the bowl.
Step 3: Add the eggs one at a time, mixing on low speed until well combined. Scrape down the sides of the bowl between each addition.
Step 4: Add the vanilla. Mix well.
Step 5: In a separate bowl, whisk together the flour, cocoa powder, baking soda, baking powder and salt.
Step 6: Add the flour to the egg and butter mixture in three additions, alternating with the chocolate milk.
Step 7: Continue alternating the flour mixture and chocolate milk until the batter is smooth and shiny. Do not over mix.
Step 8: Generously spray the inside of the bundt pan with non-stick baking spray, making sure to coat all sides but don't let the oil pool at the bottom of the pan. Carefully transfer the batter into the bundt pan, smoothing the top with a spatula.
Step 9: Bake the cake for 45 to 50 minutes or until a toothpick inserted into the center comes out clean or with a few crumbs remaining. Remove the cake from the oven and set on a wire rack.
Step 10: Set a timer for exactly 10 minutes. After 10 minutes, invert the cake in one motion onto a wire cooling rack or cake platter. Allow the cake to cool completely.
Step 11: Once the cake is completely cooled, make the chocolate milk glaze and drizzle it over the top of the cake. The frosting will begin to set within 10 to 15 minutes.
Tips to release a bundt cake from the pan
Choose a simple design. Fewer nooks and crannies in the pan will make for an easier release.
Prep your pan. I've tested greasing a bundt pan every which way and I have the most success coating the pan with a non-stick baking spray that contains flour. I love this one from Bakers Joy. No need to add extra flour or cocoa powder to the pan.
Do not overfill. For best results, fill your bundt pan 3/4 of the way full. If you have extra batter, use it to make mini bundts!
It's all in the flip! This trick works like a charm every time. Once you remove the cake from the oven, set your timer for exactly 10 minutes. When the timer goes off, set a wire cooling rack or cake plate on top of the cake, hold firmly on both sides and flip the cake 180° in one fell-swoop. The cake should slide right out of the pan. Don't despair if you have a few pieces that stick to the bottom. Just press them back on top of the cake and cover with extra frosting.
How to make chocolate milk frosting
This chocolate milk glaze is so good you'll want to devour it straight from the bowl. But trust me, it's even better with cake! You can make this frosting in about one minute in just three easy steps.
Step 1: Sift the powdered sugar into a large bowl.
Step 2: Sift in the cocoa powder – I like to use Dutch-process for a rich, deep chocolate flavor.
Step 3: Add the chocolate milk and whisk until smooth and shiny!
How to store
I can never seem to make this cake last more than a day but if you happen to have a few slices left over, store them tightly covered at room temperature for up to three days.
The cake freezes beautifully but I recommend freezing it before adding the glaze. Wrap the cake tightly in two layers of plastic wrap and one layer of aluminum foil. Freeze for up to 3 months. Defrost at room temperature, drizzle with the glaze and then slice and serve!
FAQ's
Why did my cake turn out dry?
First, check that you measured the correct amount of flour. Over measuring the flour is often the main reason that baked goods turn out dry. Also, be careful not to over bake the cake. Remove it from the oven when just a few moist crumbs remain when a toothpick is inserted into the center of the cake.
My glaze soaked into the cake. What did I do wrong?
Your cake was likely too warm when you poured the glaze on top. Make sure your cake is cool to the touch before glazing. This will take at least 2 hours.
Can I make mini bundts instead of one big bundt?
Absolutely! That's a great idea for feeding a crowd or to serve up individual dinner party desserts.
Can I make this cake gluten free?
Yes. I have no tested the recipe using gluten free flour but I would recommend using a gluten free flour blend like Bob's Red Mill Cup-For-Cup that contains xanthan gum.
Enjoy the cake!
Looking for more chocolate desserts? You'll love these recipes
This chocolate milk cake is a nostalgic dessert that tastes just like your favorite childhood treat. So easy and so delicious!
For Cake
(340 g) unsalted butter, room temperature
(450 g) granulated sugar
large eggs, room temperature
vanilla
(325 g) all-purpose flour
(125 g) Dutch-process cocoa powder, sifted
1 1/2 teaspoons baking soda
1 1/2 teaspoons baking powder
salt
chocolate milk, room temperature
boiling hot water
For Glaze
powdered sugar, sifted
1 1/2 tablespoons Dutch process cocoa powder, sifted
up to chocolate milk
Prevent your screen from going dark
Preheat oven to 350°F.
Add the eggs one at a time, mixing until well combined. Scrape down the sides of the bowl after each addition.
Add the vanilla and mix to combine well.
In a separate bowl, whisk together the flour, cocoa powder, baking soda, baking powder and salt.
Add the dry ingredients to the butter and egg mixture in three additions, alternating with the chocolate milk. Begin and end with the flour mixture. Do not overmix.
Remove the bowl from the stand mixer and use a large spatula to stir in the boiling hot water, again being careful not to overmix.
Spray a 12 to 15 cup Bundt pan with non-stick baking spray. Carefully transfer the batter to the prepared pan and smooth the top with a spatula.
Bake for 45 to 50 minutes or until a toothpick inserted into the middle of the cake comes out clean or with a few crumbs remaining. If the cake is getting too dark towards the end of the baking cycle, cover it with aluminum foil to prevent over-browning.
Remove the cake from the oven and set the pan on a wire rack. Set a timer for exactly 10 minutes. After 10 minutes, lay a cake platter or wire cooling rack over the top of the cake pan and carefully invert the pan 180° in one swift motion. The cake should release easily.
Cool completely on a wire rack before drizzling with glaze.
Sift the powdered sugar into a large bowl.
Sift in the cocoa powder.
Add the chocolate milk and stir until smooth and shiny. If the glaze is too thick, add more chocolate milk. If too thin, add more powdered sugar. The glaze should be thick, but pourable.
Notes
Store the cake tightly covered at room temperature for up to 3 days.
May be frozen.
Keywords: chocolate milk cake, chocolate cake, chocolate milk bundt cake
Although store-bought chocolate puddings are actually pretty decent in terms of flavor and quality, I absolutely love to make my own chocolate pudding at home. It's one of the easiest and quickest desserts you can make, and it's heavenly eaten on its own or as a component in other desserts.
Since pudding travels so well, I have many times taken it on picnics for dessert or brought it to friends' houses for parties. In those cases, I'll usually do something more elaborate, like making a pudding parfait with a graham cracker layer on the bottom, chocolate pudding on top, whipped cream, and chocolate shavings. Or roasted marshmallows! You can do anything with it, really.
A lot of chocolate pudding recipes only call for cornstarch as the thickener, but I like to use both cornstarch and egg yolks, bringing in a little bit of that French custard feel to the pudding. I find that using both gives the pudding the best silky, thick, luscious texture that we all want when we're eating chocolate pudding!
From Joanne Ozug of Fifteen Spatulas.
Advertisement – Continue Reading Below
2Large Egg Yolks
2 tbsp.
2c.Whole Milk, Divided
1/2 c.
1/4c.Unsweetened Cocoa Powder
1/4 tsp.
2tsp.Chocolate Extract (or Vanilla Extract)
Directions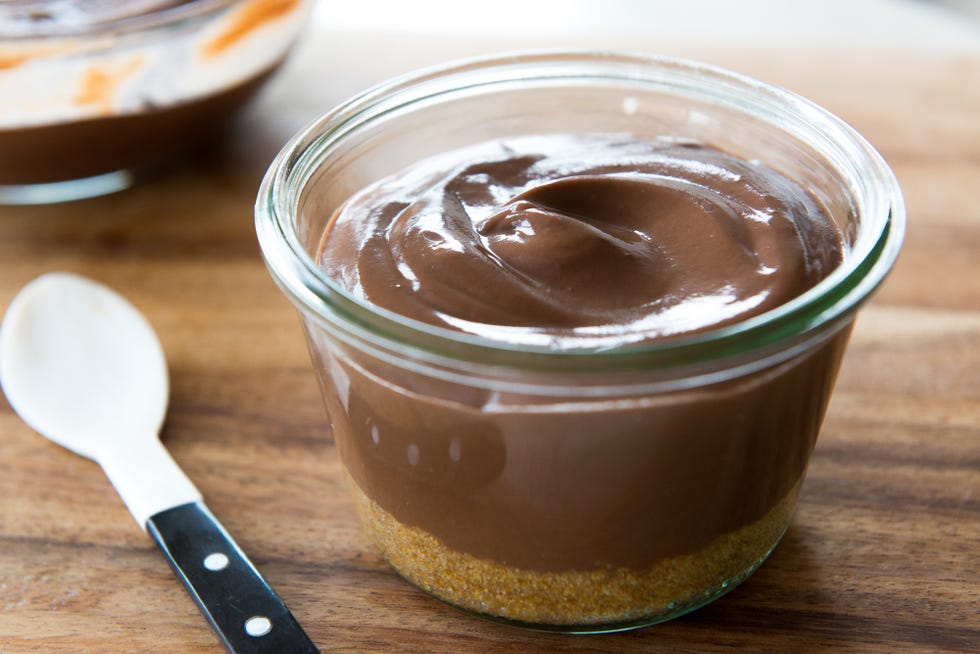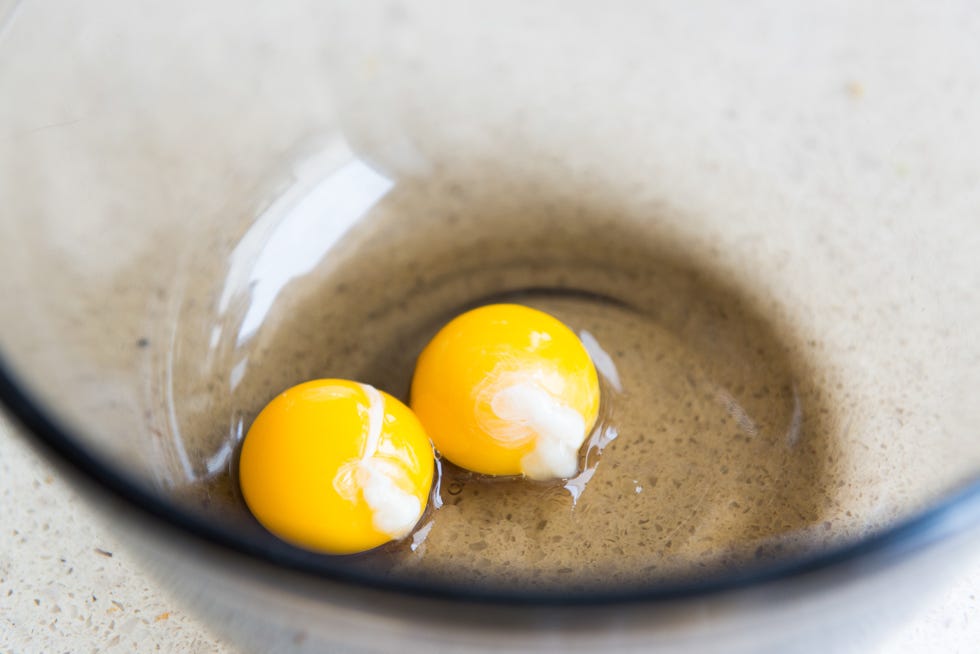 To start, place two egg yolks into a bowl.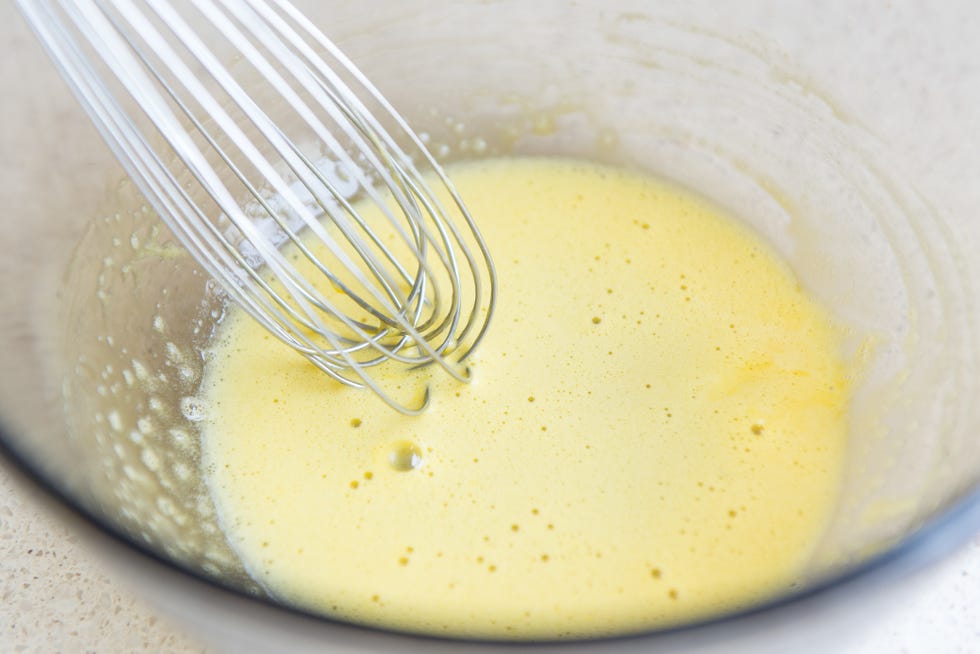 Whisk the egg yolks vigorously for about 60 seconds, until the yolks lighten in color and thicken to a frothy, foamy texture.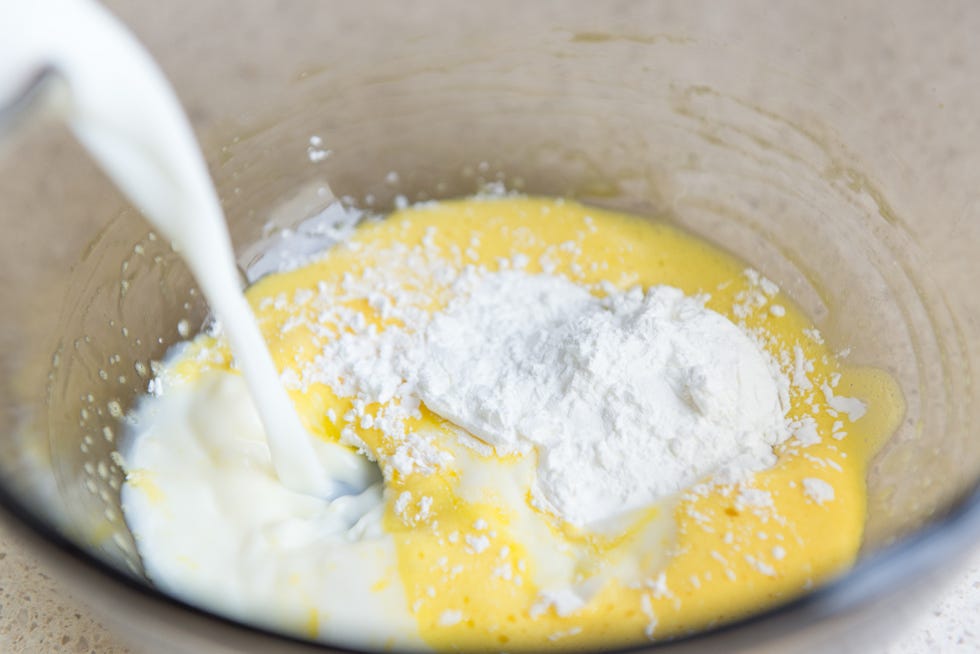 Add cornstarch and some milk to the egg yolks.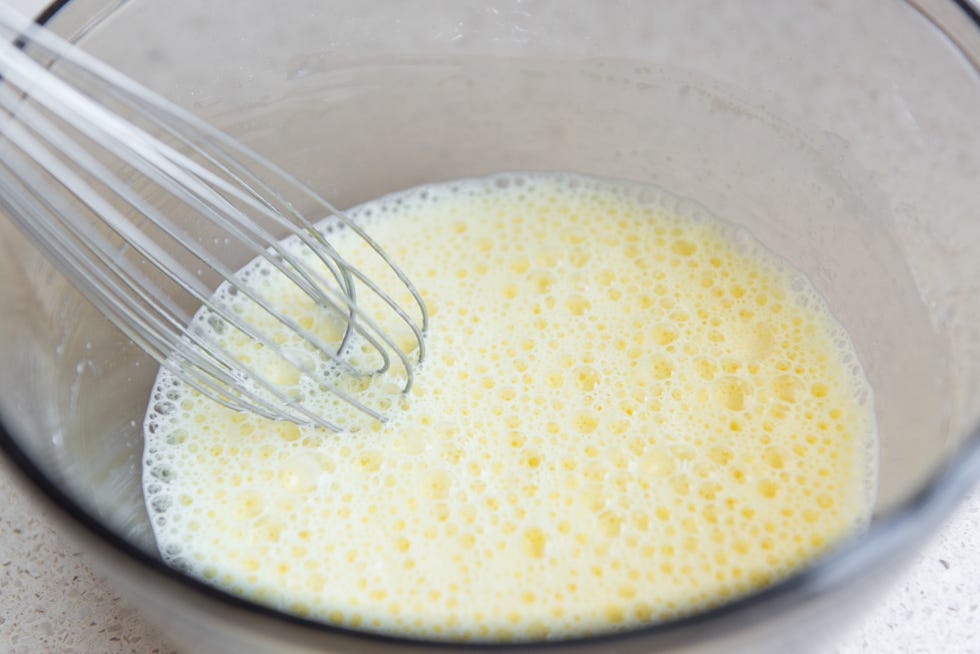 Whisk until fully combined, then set aside.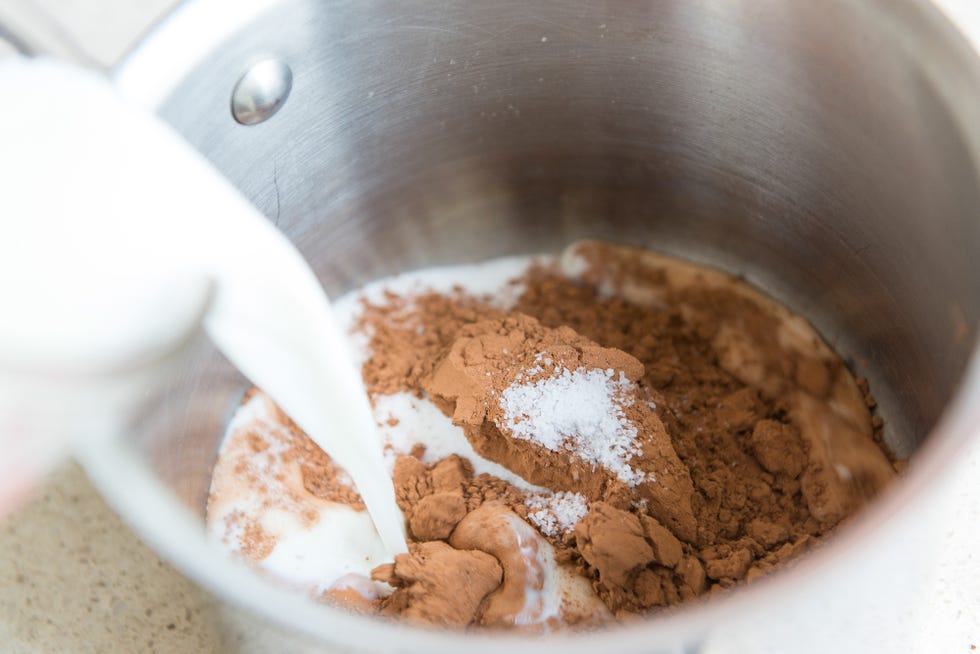 In a small saucepan, combine sugar, cocoa powder, salt, and milk.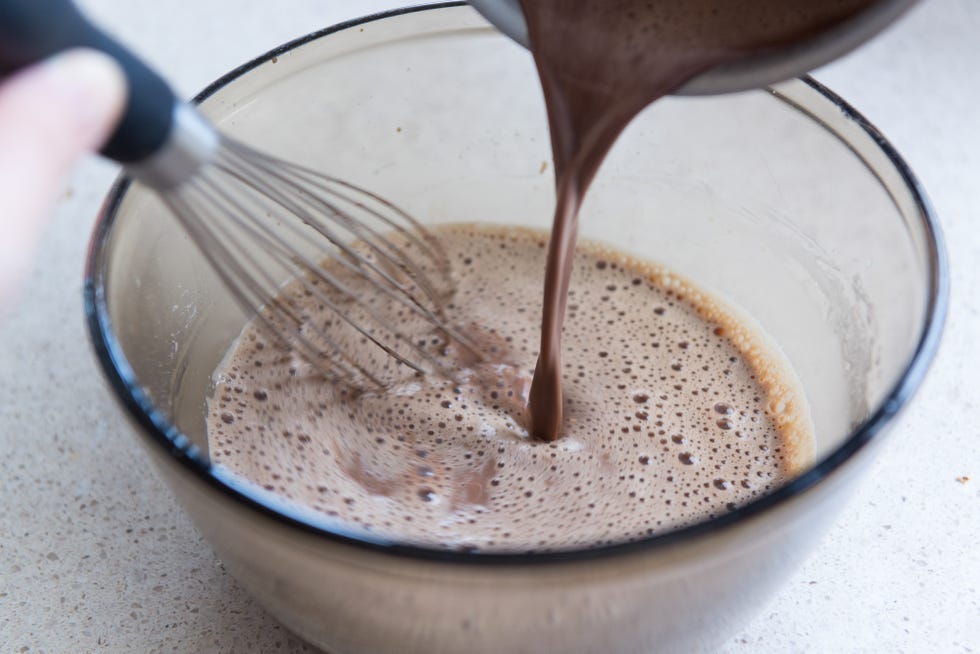 Heat this mixture to a scalding temperature, then whisk it into the egg cornstarch mixture.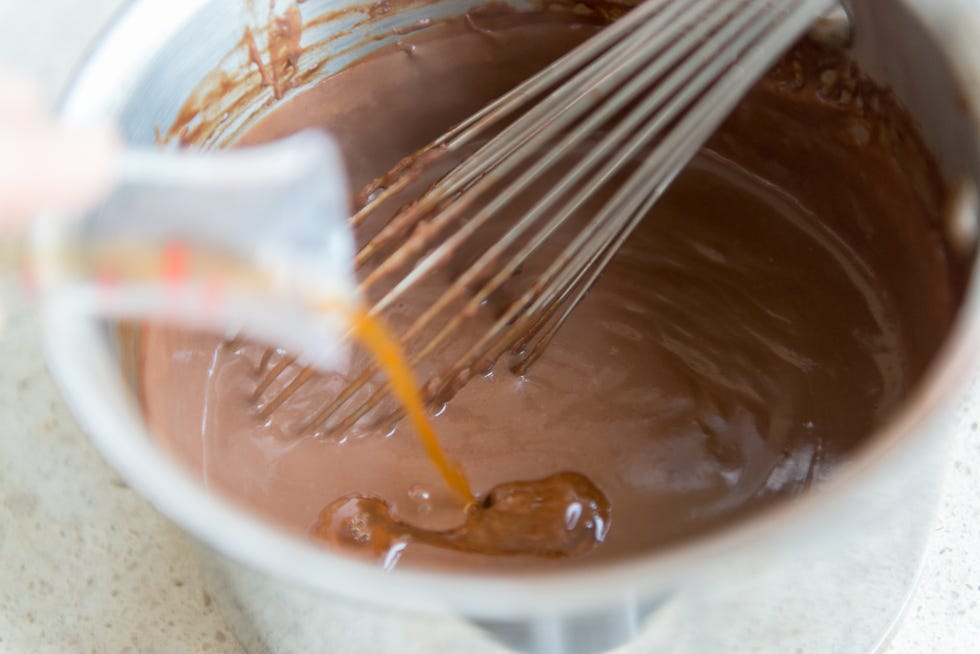 Pour everything back into the saucepan and cook over high heat until the pudding thickens into a luscious, silky consistency. Then remove the pudding from the heat and stir in chocolate or vanilla extract for extra flavor.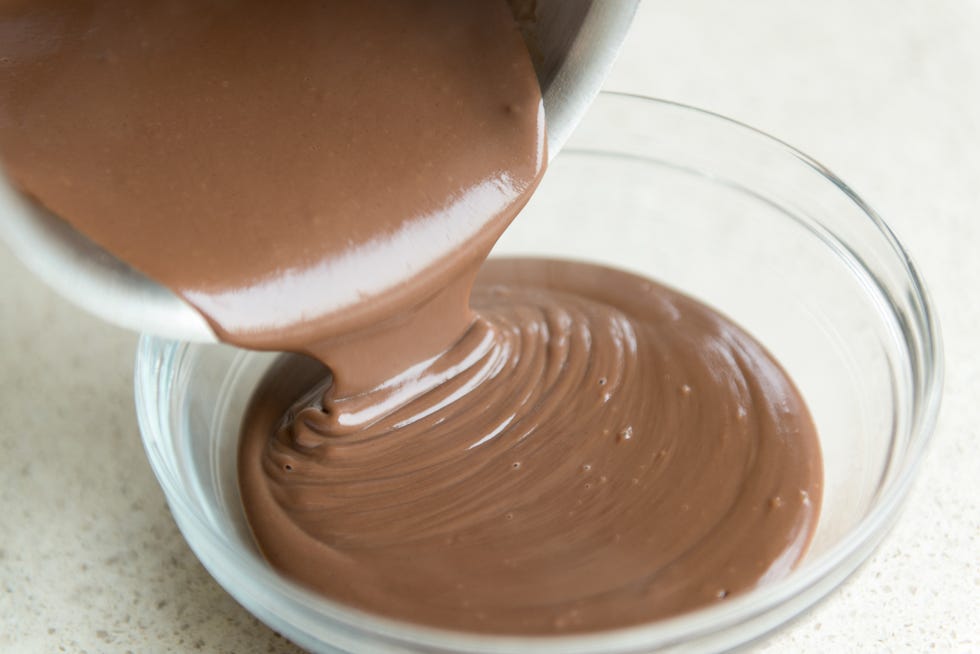 Pour the chocolate pudding into a big bowl to chill.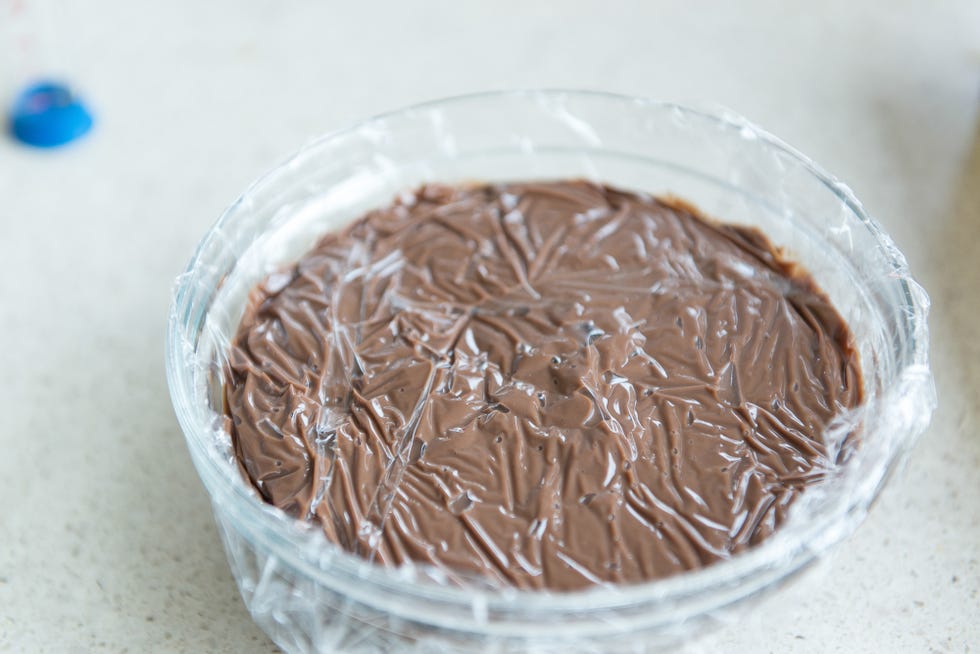 Then I press plastic wrap directly onto the surface of the pudding, so a skin doesn't form. Pudding skin gives me the heebie jeebies, and no one wants the heebie jeebies, right?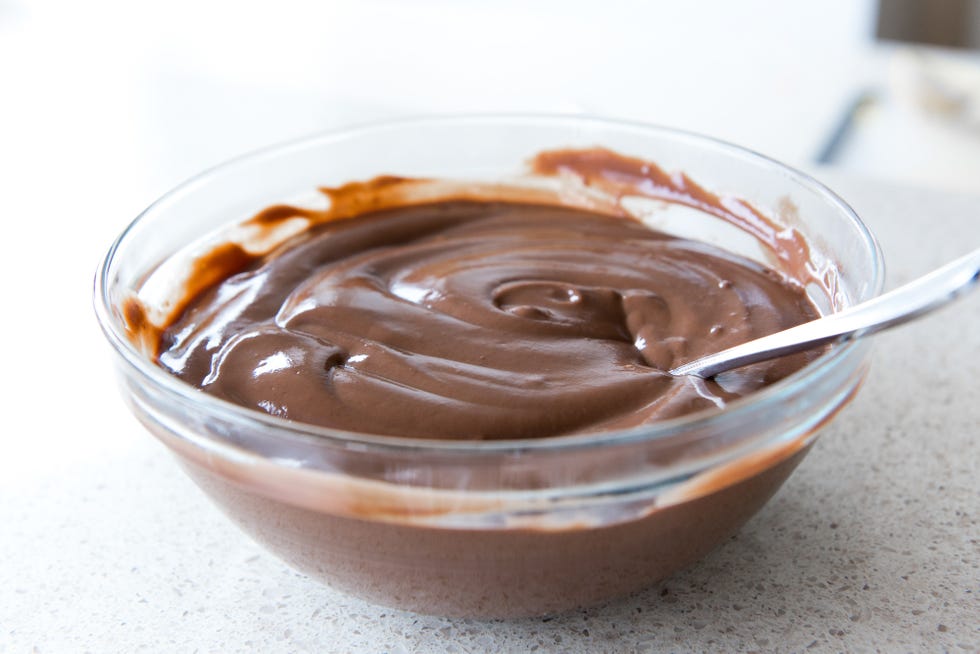 Chill the pudding for an hour or two in the refrigerator, then give the pudding a stir and serve. Enjoy!
If you're craving chocolate, this collection of our favorite chocolate dessert recipes is for you. Whether you're looking to perfect a simple Chocolate Cake or switch it up with decadent Chocolate Cream and Orange Brioche Buns, you've come to the right place. Our collection of the best chocolate recipes showcases the versatility and deliciousness of chocolate, from brownies to black-cherry chocolate ice cream sandwiches, chocolate puddings, and so much more.
Spiced Chocolate Fondue
The chocolate holds its silky texture at room temperature, which makes it great for making ahead of your Valentine's day dinner. Serve this fondue with pieces of pound cake, gingerbread, apples, pears, strawberries, bananas, and/or marshmallows, for dunking. If you like, offer a few pretzels or salt-topped cookies for a sweet-salty dessert experience.
Chocolate Party Cake with Dark Chocolate Ganache and Homemade Sprinkles
Rich, chocolaty, and so very festive, this chocolate cake with ganache frosting is worthy of a party on its own. Ganache has many applications in pastry, and here Chef Paola Velez uses it to make the silky-smooth frosting to top her chocolate cake.
Chocolate French Crullers with Dried Raspberries and Fudge Glaze
Made with a classic choux dough, these French crullers are full of personality, featuring a crunchy crust, an airy center, and a colorful topping of dried raspberries and fudge.
Chocolate Fudge Loaf
Chocolate Fudge Loaf.Jennifer Causey / Food Styling by Chelsea Zimmer / Prop Styling by Thom Driver
This rich and fudgy cake is topped with a thick blanket of dark chocolate ganache and sprinkled with cacao nibs and flaky sea salt. Ingredients like coffee, rye flour, and crème fraîche enhance the robust, nutty, and slightly sweet aroma of Dutch-process cocoa. However, the real secret ingredient here is salt. A generous dose of salt acts as a flavor enhancer and balances the brown sugar for a decadent, not overly sweet loaf.
Chocolate-and-Citrus Cassata
This spectacular holiday dessert comes from chef Rebecca Wilcomb's New Orleans restaurant, Gianna. To decorate it, use an offset spatula, a bench scraper, and a cake turntable for the smoothest cake with straight sides. Prevent air bubbles from forming in the dark chocolate ganache glaze by using a spatula to stir the melting chocolate.
Air Fryer Brownies
With the help of an air fryer, these gooey, fudgy brownies — baked in ramekins and reminiscent of a molten chocolate cake — are less than an hour away.
Double-Chocolate Rye Cookies
A mix of unsweetened cocoa and bittersweet chocolate bars gives these fudgy cookies a deep chocolate flavor. Dark rye flour adds a lightly savory note that balances the sweet intensity of dark chocolate well and plays off the crunchy sea salt garnish. The addition of light brown sugar makes these cookies extra chewy and helps to extend their shelf life.
Chocolate-Buttermilk Snack Cakes
In her update of the classic chocolate Hostess cupcake, Chicago pastry chef Mindy Segal uses mascarpone to make the rich and creamy filling.
Chocolate-Raspberry Icebox Cake
Crushed cookies, fresh raspberries, and layers of tart raspberry sorbet and vanilla ice cream transform into a gorgeous marbled layer cake in about 15 minutes — no frosting required. The raspberries sink into the milky, sweet layers of ice cream, adding a tart flavor and pops of color to the cake, and crunchy chocolate cookie crumble layers are the perfect sweet and salty counterpoint, adding satisfying texture and a hint of bittersweet flavor.
Chocolate and Fig Cake
You've got options: The large range of figs called for in this cake recipe leaves the decoration and texture of this dense and fudgy chocolate dessert up to you. Four ounces of figs creates two small rings around the cake, while the full 12 ounces of fruit will cover the entire top with a jammy layer.
Salty-Sweet Chocolate Pretzel Bars
There are only a handful of ingredients in these simple but outrageously decadent and fun dessert bars from Food & Wine's Justin Chapple. If big pieces of hard pretzels aren't your thing, feel free to swap in thinner pretzels.
Chocolate Cardamom Cream Tart with Pistachio-Sesame Brittle
This recipe adds creaminess from milk chocolate and plenty of richness from heavy cream. A touch of cardamom in the custard and the whipped-cream topping, plus the contrasting crunch of homemade nut brittle, elevate this dessert.
Double Chocolate Layer Cake
"This is the most fabulous chocolate cake that I've ever made," Ina Garten declared when we ran her recipe in 2007. The buttermilk keeps the cake moist and light, and the bit of coffee in the cake and frosting keeps the sweetness in check.
Black Cherry–Chocolate Ice Cream Sandwiches
Homemade chocolate cookies encase store-bought black cherry ice cream for the ultimate ice cream sandwiches. Plus, wrapped in wax paper or parchment paper, sandwiches will keep in freezer up to 1 month.
Miso Chocolate Tart with Black Sesame–Chocolate Graham Cracker Crust
This dessert is savory-sweet. The nutty, crunchy crust lays the foundation for a velvety-smooth filling and the addition of miso mixed with melted dark chocolate adds depth and umami, an almost buttery quality, and saltiness to balance the sweetness in the truffle-like ganache.
Peanut Butter–Chocolate Pie
With the smooth, nutty peanut butter filling, glistening ganache, and salty roasted peanuts on top, this pie evokes all the sweetness of a childhood memory, delivered in the form of an elegant, nuanced dessert that adults will want to savor.
Bûche de Noël with Mascarpone Cream and Dark Chocolate Ganache
Butter and corn syrup in the ganache keep it smooth and glossy. Stirring slivered toasted almonds into the ganache frosting gives it a "tree bark" look and adds contrasting texture to the silky filling and tender cake.
Milk Chocolate–Peanut Custards
These clusters are built with low-fat chocolate milk and silken tofu for texture. Plus, roasted peanuts add terrific flavor and a little crunch.
Black and Ruby Cookies
Paola Velez adds her own spin to the iconic New York City treat of her youth: the Black and White cookie. She starts by going all-chocolate with the topping: one side gets piped with dark chocolate ganache and the other with ruby chocolate, a fruity chocolate with a pink hue.
Lee Lee's Double Chocolate Chunk Brownies
Pastry chef Lee Lee Reid is a self-proclaimed brownie aficionado. "I'm always looking for that perfect chew," she says. Needless to say, the chocolate chunk brownie recipe she developed, which customers can find at her husband's bakeshop, Nathaniel Reid Bakery in St. Louis, is the ideal balance of cakey and fudgy—falling in line with Nathaniel's own baking philosophy.
Giant Chocolate Cookie with Cacao Nibs and Flaky Salt
The only thing better than a dark cocoa cookie with a hint of chewiness and a generous sprinkle of flaky salt is this impressively oversized one that's designed to feed a crowd. Cut into wedges, the cookies resemble chocolate shortbread, but these treats — studded with chopped bittersweet chocolate and cacao nibs — are far more indulgent.
Cocoa Cola Bundt Cake
In her modern-day version of the Coca-Cola cake, cookbook author Vallery Lomas flips tradition on its head by making a cola-flavored cake with cola-flavored icing. The batter is splashed with a bit of cola, sometimes for flavor but mostly for fluff; the soda's carbonation acts as a leavening agent, similar to baking soda or baking powder, helping the cake rise and come out light and airy.
Salted Tahini Chocolate Shortbread
These buttery, nutty, salty shortbread cookies have enough structure to hold together when you pick them up, but when you take a bite, they are meltingly tender. The salt compliments the tanginess of the chocolate, and brings out the nuttiness from the tahini.
Chocolate Puddings with Miso Caramel
As if the chocolate-hazelnut spread gianduja isn't delicious enough straight off the spoon, Grace Parisi has folded in whipped cream and crème fraîche to create a truly decadent (and ridiculously easy) mousse. For a supereasy ice cream sandwich, spoon the mousse between chocolate wafers and freeze overnight.
Warm Chocolate Cakes with Mascarpone Cream
In his riff on Black Forest cake, a favorite dessert of his father's, Hosea Rosenberg tops individual cakes with mascarpone cream instead of whipped cream and luscious brandied cherries instead of jarred.
Chocolate-Peppermint Brownies
These rich peppermint brownies topped with crushed candy canes are from London's renowned bakery Violet. No candy canes? Use striped peppermint candies.
Molten Chocolate Cakes
It seems as though every restaurant in America offers a version of this amazing cake created by master chef Jean-Georges Vongerichten. But his supremely rich and chocolaty original is in a class by itself.
Chocolate Cream and Orange Brioche Buns
Chocolate Cream and Orange Brioche Buns.Jennifer Causey / Food Styling by Chelsea Zimmer / Prop Styling by Thom Driver
Tender and lightly sweet, these rich, buttery brioche buns from Timmy Gibbons and Bobby Schaffer of Chicago's Lost Larson bakery are the perfect canvas for the bold flavors of orange and chocolate. The buns begin with a rich brioche dough that includes a touch of whole-wheat flour, which adds a nutty undertone without distracting from the sweet and buttery base.
Crunchy Milk Chocolate-Peanut Butter Layer Cake
The genius of this layer cake is its extraordinarily crunchy filling, made with almonds, salted peanuts, creamy peanut butter, chocolate and Rice Krispies. The silky milk-chocolate ganache frosting almost pushes the recipe over the top.
Icebox Chocolate Cheesecake
Grace Parisi brilliantly layers chocolate cookies with a quick mix of cream cheese, chocolate syrup and a little water. The cookies soften as the cake chills overnight for a perfectly moist, chocolate cheesecake.
Chocolate Brownie Cookies
Dana Cowin, a cookie connoisseur and former F&W editor in chief, declares these double-chocolate ones the most delicious she's ever had. They're like crispy-chewy brownies in cookie form.
Chocolate Ganache Sandwich Cookies
Pastry chef Paola Velez's recipe for these chocolate sandwich cookies creates crisp, buttery cookies filled with rich, fluffy milk chocolate ganache. The creamy filling is made with chocolate and butter instead of the usual heavy cream, resulting in a softer ganache.
Vegan Chocolate-Chipotle Ice Cream
This recipe is 100% vegan, but you would never know it: It's rich and decadent, like frozen ganache, with a bit of smoky tang from the chipotles. The finished product is as creamy as it gets for being made without dairy, and the flavor combination of chocolate and chipotle, which is smoky and a bit hot, adds personality.
Chocolate-Cookie Crunch Trifle
Any kind of cookie works as a layer in this decadent and super-chocolaty trifle from Washington, DC, pastry chef Tiffany MacIsaac.
Mom's Chocolate Cake
This is a real old-fashioned American chocolate layer cake. It's very moist, very chocolatey, a snap to make and best baked the day before serving. Marcia Kiesel acquired the recipe from her friend Joyce Cole, who got it from her mother.
Chocolate Panna Cotta with Spiced Pepita Brittle
This light, silky panna cotta tastes a lot like hot cocoa in custard form. The brittle is easy to make; heat sugar and water on the stove, swirl in butter and spiced pepitas (shelled pumpkin seeds), then let cool.
This post may contain affiliate links. Read my full disclosure policy.
Why settle for store-bought chocolate pudding when homemade is so easy to make?
If you've never had homemade chocolate pudding, you're in for a real treat. It's silky-smooth and intensely chocolatey — a world apart from the instant or store-bought varieties. While kids may love chocolate pudding, its nostalgic appeal makes it a fun and crowd-pleasing dessert for grown-ups too. Despite the ease and convenience of ready-made mixes, making chocolate pudding from scratch is surprisingly simple. With just a few ingredients, like milk, cocoa powder, cornstarch, chocolate, and sugar, you can whip up a rich, creamy pudding that will please everyone's sweet tooth. The only challenge is waiting for it to set up in the fridge — you'll need to allow at least 5 hours — but the wait is well worth it!
What You'll Need To Make Chocolate Pudding
Step-by-Step Instructions
Combine the sugar, cocoa, cornstarch and salt in a heavy medium saucepan.
Whisk to combine.
Add half of the milk and whisk until the mixture is smooth. Whisk in the remaining milk.
Continue whisking over medium heat until the pudding thickens and comes to boil, about 8 minutes. Continue to boil 1 minute longer, whisking constantly.
Spoon the pudding evenly into 4 dessert bowls.
Top with a dollop of whipped cream, if desired, and serve.
You May Also Like
unsweetened natural cocoa powder, such as Hershey's
semi-sweet chocolate, finely chopped (best quality, such as Ghirardelli)
Homemade whipped cream, for serving (optional)
Gluten-Free Adaptable Note
Rich, chocolatey, and ultra creamy, this delicious healthy chocolate pudding recipe is surprisingly easy to make at home!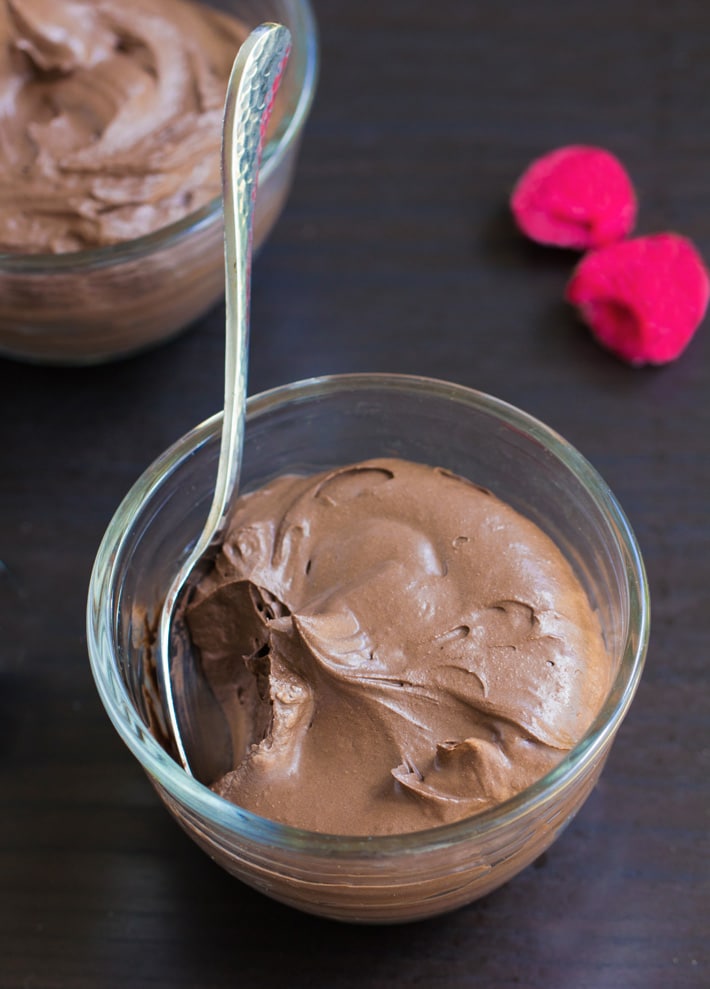 A classic chocolate pudding recipe with no tofu, no banana, and no avocado!
Not that there is anything wrong with avocado, but sometimes you just want traditional homemade chocolate pudding without any surprise ingredients.
As much as I love recipes where you can't taste the hidden vegetable, such as in the famous Sweet Potato Brownies, my everyday meals are usually much more simple.
This thick and healthy chocolate pudding can be soy free, sugar free, egg free, gluten free, nut free, and dairy free.
Also be sure to try these Vegan Chocolate Chip Cookies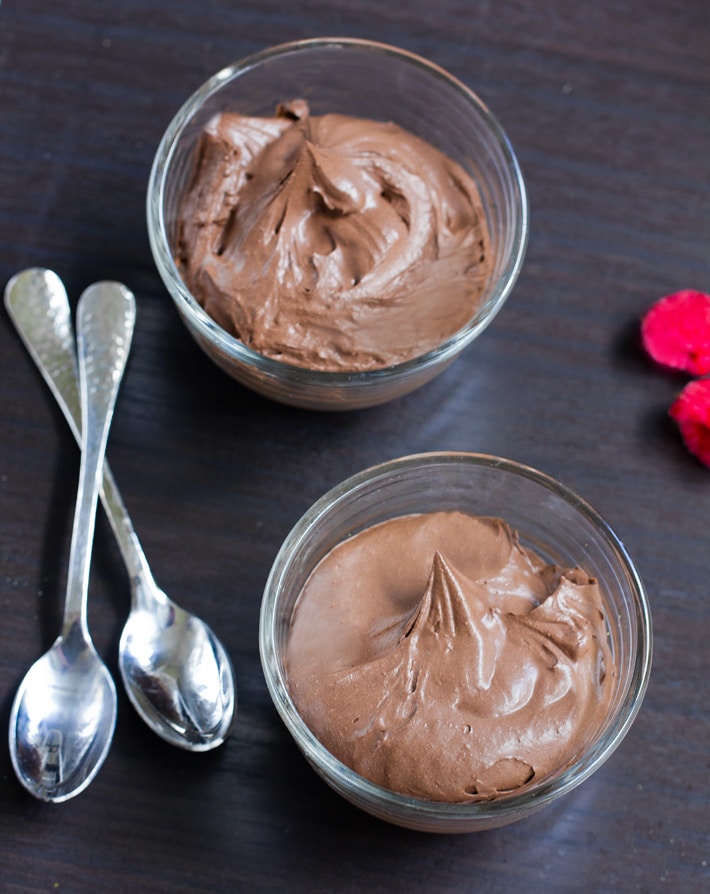 Creamy vegan chocolate pudding
In sixth grade, I went through a chocolate pudding phase, where I'd make a package of Jell-O chocolate pudding, add an obscene amount of Cool Whip to the top, and savor it slowly with a small spoon as I watched the Dallas Stars games.
(Hockey was another of my sixth-grade obsessions. I am a girl of many obsessions!)
Today's recipe is a homemade version of that packaged chocolate pudding. And like most homemade recipes, it is so much better than anything that comes in a box.
This healthy chocolate pudding is super creamy, chocolatey, and absolutely fantastic!
If you want to avoid the hydrogenated oils, artificial flavors, high fructose corn syrup, and hard-to-pronounce ingredients found in store bought Cool Whip, try topping the dairy free chocolate pudding with Coconut Whipped Cream or Coconut Ice Cream.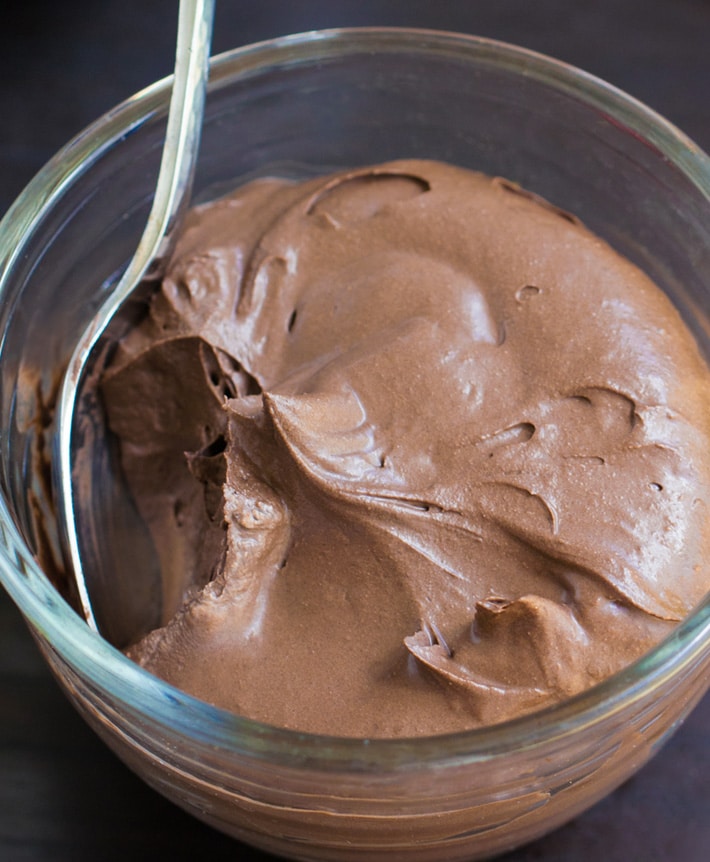 Healthy chocolate pudding ingredients
Here is what you need: milk, cocoa, sweetener, salt, cornstarch, and vanilla extract.
A few readers have substituted arrowroot for cornstarch and say it works if you use less arrowroot. I have not personally tried this substitution.
For healthy chocolate pudding with no cornstarch, try my Vegan Chocolate Mousse or this sugar free and paleo Keto Chocolate Mousse.
Feel free to test out different milks in this recipe to find your favorite taste and texture. If you use canned coconut milk, it is super thick and velvety like chocolate mousse.
I also love making the dairy free pudding with almond milk or cashew milk.
You can also change up the flavor if you wish, by adding a few drops of pure peppermint extract, maple extract, or even coconut extract along with the vanilla.
Still craving chocolate? Make your own Chocolate Truffles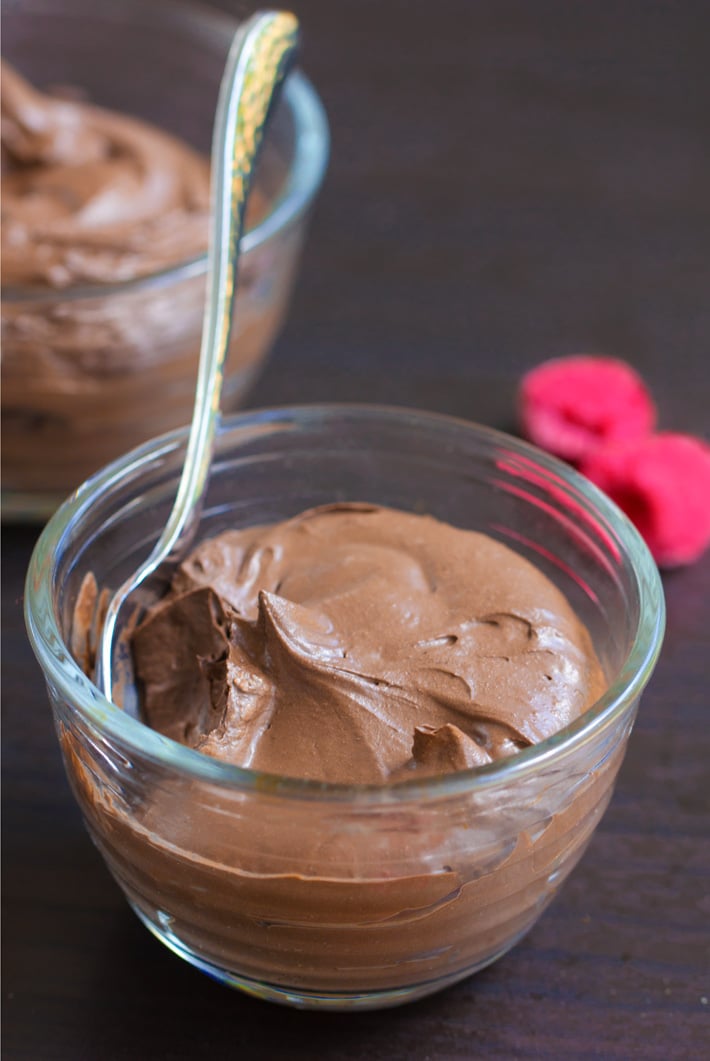 How to make the healthy dessert
Start by heating two cups of milk in a small pot with the salt, cocoa powder, and sweetener of choice.
Meanwhile, whisk the cornstarch and the remaining half cup of milk in a small bowl until the cornstarch is completely dissolved.
When the mixture in the saucepan is warm, whisk in the milk with cornstarch and bring to a boil. Once boiling, stir constantly with a whisk or spoon for two minutes.
Lower the heat to a simmer for an additional minute, then turn off the heat and add the pure vanilla extract. If using the optional chocolate, stir it until completely melted.
Transfer the chocolate pudding to the refrigerator to thicken. It gets thicker and thicker the longer it sits and will be ready to eat after a few hours or overnight.
*If you do want a recipe with avocado, make this Avocado Chocolate Mousse.
Watch the healthy chocolate pudding video above

milk of choice OR canned coconut milk
heaping 1/8 tsp salt
dutch cocoa powder
(sugar, pure maple syrup, erythritol, or honey)
milk of choice + 3 tbsp cornstarch
optional 3 oz chocolate chips or broken-up bar
pure vanilla extract
More Healthy Desserts
Chocolate Banana Bread
Deep Dish Cookie Pie
Vegan Chocolate Cake
Healthy Chocolate Chip Cookies
More About The Cookbook
Chocolate Covered Katie is one of the top 25 food websites in America, and Katie has been 
featured on The 
Today Show, CNN, 
Fox, The 
Huffington Post, and 
ABC's 5 O'Clock News. Her favorite food is chocolate, and she believes in eating dessert every single day.
chocolate gluten-free healthy recipes soy-free sugar-free
Get Free Recipes
Don't Miss Out On The NEW Free Healthy Recipes
Sign up below to receive exclusive & always free healthy recipes right in your inbox: