Set of 2 assorted – Posable Cupcake and Gingerbread House Body Design Kitchen Elf Christmas Ornament, Shelf Sitter, 9 1/4 – 12 inches (hat down/pulled up) Made of fabric, plastic and wires from the Kurt S Alder (KSA) collection. Price is for 2 pieces, 1 of each style
Collect both styles for your own collection for kitchen decor or your tree, or give them as gifts.  Both feature a pastry design  on the body area of the front with a solid color on the back of the body area. The hat, arms, and legs have wires for posing atop a shelf or just about anywhere.  All sides are nicely detailed and it is make with high quality fabric.  The hat will stay upright at an angle with the wires.  Each includes a red ornament string at the lower front of the hat.  (New 2022)
In this Series
KA_17651 Gingerbread House – The front details include a house with 3 windows and a door.  The back of the boy area is solid brown.
KA_17652 Cupcake  – The front details include a red and white striped cupcake liner design stopped with a layer of pink fabric and white fabric plus multi-color little pom poms for sprinkles.  The back of the body area is solid red
Size, Weight
9 1/4 – 12 inches long (hat bent over versus hat pulled straight up)
4 1/8 – 9 inches wide (arms down/extended outward from sides)
2 1/8 deep (back of head to end of nose)
1.7 ounces
Sitting on shelf allow 5 5/8″ height with hat bend over, 8 3/4″ with hat up at an angle
There is a bar I pop into now and then that always has a pastry in the counter that I almost never say no to — they call it simply a fig and walnut pastry (treccia con fichi e noci) and while it's different to this (that one has something like a frangipane type base and a deep caramel flavour), it definitely inspired the braided shape of this pastry. The thing is that making pastries at home means you get to eat them while they are fresh out of the oven, shatteringly crisp, the filling oozing and warm.
This filling is essentially the filling of a Sicilian cookie that I love called buccellati (which I wrote about here for my newsletter, with a Christmas cookie tin idea). It tastes like Christmas as it's heavy with dried fruit, candied fruit and nuts of all kinds, plus it is scented with orange zest and cinnamon — so festive!
For some other ideas for Italian treats for Christmas, try one of these:
Maritozzi always have a special place in my heart.
My ultimate Yule Log (tronco di natale) with candied walnuts and sugared rosemary decorations.
Australians who have cherry season might like to try these fresh cherry crostatine with my favourite shortcrust pastry.
Although these might be a bit strong for breakfast, panforte is probably one of the best ways to end a Christmas meal (or as a pick me up in the late afternoon!) — there is a chestnut version too.
If you love pandoro, try turning it into a wonderful no-bake dessert with homemade mascarpone and fruit.
Braided fig and nut pastries
Treccia con fichi e noci
Makes 16 pieces
150 grams dried figs, halved
80 grams walnuts (or your favourite nuts), chopped roughly
2 tablespoons brown sugar, plus extra for sprinkling
75 grams (1/4 cup) fig jam
1 unwaxed, organic orange or lemon, zested
1/2 teaspoon cinnamon
2 eggs (save one for the egg wash)
2 sheets store-bought puff pastry
Soak the figs in just boiled water for about 15 minutes to soften. Drain them completely then pulse them in a food processor until they become like a rough paste. Place this is a bowl and add the brown sugar, jam, citrus zest, cinnamon and an egg and mix until well combined. Let this chill in the fridge for at least 30 minutes, overnight is even better, if you are good at preparing things in advance, as the flavours have time to develop. You can even leave it for 3 or 4 days if you need to get things out of the way.
When ready to bake, heat oven to 200C (390F).
Unroll a puff pastry sheet and place the filling in the centre, so that it is about 3-4 inches (7-10cm) wide or taking up about a third of the pastry sheet. On either side of the filling, cut strips at an angle (refer to the photo). Now to "braid" it, simply alternate strips in a criss-cross fashion over the top of the filling from each side and at an angle — it's not a true braid but it looks like one! Repeat with the second pastry.
With the saved egg, beat it in the bowl and brush over the top of the braids, then sprinkle some brown sugar over the top.
Bake until the top is golden brown, about 20 minutes. If the bottom looks quite pale, give it an extra 5 minutes on the bottom shelf of your oven for a total of 25 minutes.
Remove and let cool slightly so you can handle the pastries, then slice into 8 smaller slices or 4 larger ones. Serve immediately if you can (if serving these later, you can always warm them up again in the oven until crisp).
For a long time, I didn't quite comprehend the widespread affinity for red sauce Italian American food. I wasn't the mom who made lasagna or spaghetti and meatballs, perhaps because the best versions require the mixing of milk and meat, which isn't allowable in our kosher home. Eggplant parmesan was an option, but my kids weren't fans. When we dined out as a family, we were much more likely to eat at an Asian restaurant, rather than go out for pizza or Italian food.
While it sounds ridiculous for someone to find eating wildly popular dishes like fettuccini alfredo and chicken parmigiana as going outside one's comfort zone, it's pretty much how I feel as my first visit to Caruso's Grocery approaches.
Carusos's Grocery is what's referred to as a red sauce Italian American joint. It opened on Capitol Hill in May 2021 and at Pike and Rose in December 2022. It is the brainchild of chef/partner Matt Adler and restaurateur Michael Babin of Neighborhood Restaurant Group, based on their respective family ties to Italian American restaurants. Upon opening, Adler tells the public not to expect a modern interpretation of classic dishes. Instead, the focus is on execution and high-quality ingredients.
I first met Adler when he was executive chef at Osteria Morini near Yards Park. I was a frequent diner there, returning often for his hand-rolled pasta and creative takes on burrata, and my admiration for his skills run deep. So, despite lacking a personal connection to the Carusos's Grocery concept, I'm enthused about dining there, as early reviews and word-of-mouth reports are glowing.
Adler says that Caruso's Grocery success was almost immediate. "In part it was our timing, opening in the middle of the pandemic. And also, the type of food we were serving – comfort food, nostalgic, and super recognizable. We knew pretty quickly that we had something here."
So, while many diners are initially enticed by the opportunity to recreate food memories, my experience is from a different vantage point.  I can appreciate the red leather banquettes, the black and white photos on the wall, and the heaping plates of pasta being set on neighboring tables. But I 'm not here for nostalgia.
It's the consistently satisfying food that wins me over. The food isn't fussy or artsy, yet there is charisma on the plate. Fried calamari are audibly crisp. Garlic bread announces its arrival with a delightfully pungent scent and a four-cheese dipping sauce on the side. Veal piccata is bright and tart and melts in your mouth.
I'm taken in by perfectly cooked shrimp scampi, tomato braised meatballs, and house made bucatini with spicy red sauce. Roasted garlic Caesar salad is an excellent accompaniment to the hearty appetizers and entrees. While it feels like you can't possibly eat another bite, it doesn't seem right if you don't conclude with classics like tiramisu and cannoli. Save room.
We return to Caruso's Grocery a couple of times, including Super Bowl Sunday. This visit features  an order of lovely trout piccatta with lemon butter wine sauce and crispy capers. Neapolitan ice cream topped with hot fudge is sublime. And yes, I do recall the slabs of this tricolor dessert being served at birthday parties I attended as a kid. My intention is to write a blog post with the headline "Bowled Over," but the timing gets away from me.
Caruso's Grocery trout piccata
Caruso's Grocery Neapolitan ice cream
I am thrilled when I learn Caruso's Grocery is coming to Pike and Rose in N. Bethesda, taking over the back room of Owen's Ordinary (now Owens Tavern & Garden), which is also owned by NRG Group. While it's challenging to open a restaurant, perhaps now more than ever, there are numerous factors that make this endeavor less of a risk.
"Even though the bar at Owens does quite well there, the restaurant part itself never really came back from the pandemic," says Adler.  "The space is already built out. We just needed to make some small aesthetic changes. We have a kitchen that's already built out, which is the very expensive part. So, we made the decision to move forward in May or June 2022 and were able to get the restaurant open by the beginning of December."  Adler says reservations for its first week of operation were filled within 36 hours. The customer base continues to grow and patrons of the DC location, who were already coming from Montgomery County, are happy to have a location nearby.
I make a beeline to Pike & Rose during Caruso's opening weekend. I am delighted by creamy burrata on a bed of pesto and spicy seafood fra diavolo with clams, mussels, calamari, and shrimp over fresh tagliatelle. The dish still leaves its mark on the sweater I wore that night, and I'm not mad about it.
Caruso's Grocery burrata
Caruso's Grocery Fra Diavolo
There is much about the enjoyment of food that is tied to memory. Caruso's Grocery's success begins for the owners and many of the customers with nostalgia. My return to the restaurant is rooted in experiences based on previous visits. And making new memories is just as significant as recreating old ones.
Caruso's Grocery at Pike and Rose is open for dinner Wednesday through Saturday beginning at 5:00PM and  Sundays beginning at 4:00PM and for lunch Wednesday through Sunday from noon – 2:30 pm.
The Roost, 914 14th Street SE DC
Pike & Rose, 11820 Trade St. N. Bethesda MD
The space formerly housing the café at Oklahoma City Museum of Art (OKCMOA) has transformed into something far more interesting. To step inside the new, extended dance version of the OKCMOA Store is to step into a world of pure imagination, dotted with beautiful objects created by the likes of Dale Chihuly and Jonathan Adler, served up alongside sparkling flutes of Champagne and fairytale-grade pastries crafted by Ganache Patisserie. (Pastry) case in point: the MOA Tart's pistachio frangipane with dark cherries, milk chocolate ganache, raspberries and gold spark.
The Ganache + Museum Store collab is a fanciful, artful, delicious solution to an equation OKCMOA has been puzzling over for years. How to offer visitors refreshment without the challenge of being a restaurateur? The museum had tried four or five different business models and partnered with some of our city's most venerated hospitality groups, but the code seemed uncrackable, even as the Downtown/Midtown restaurant scene blossomed.
The Store performed. "And that is what has allowed us to take over this space. When we decided to exit the restaurant business, I was looking at the space. At the time, we had just landed the Jonathan Adler account, which was two years in the making, and I had already started moving some pieces in just to trim out some of the areas of the restaurant," Bruner says. Running the bar was another piece of the puzzle, as was figuring out how to feed visitors enough — but not too much. Bruner jokes, "I'm used to being on the other side of the bar. But it's such a beautiful space. And it's so clean and modern and full of air and space. It just felt right. And so we talked with our CEO, and it was such a quick decision."
He had a little more than a month to move the store to its grand new spot. Kismet stepped in, in the form of Bruner's husband, Michael, who is the visual director for Macy's at Penn Square, and who had access to a warehouse filled with fixtures which he helped curate for Bruner's use. "There are several tables that I'm using now that actually are handbag tables that had Michael Kors on them. Macy's just really came through."
Next task? Wooing the folks at Ganache, already established in Chisholm Creek. "We wanted to offer something that wasn't broad, but we wanted it to be the best in its category. And Ganache is the best at what they do in Oklahoma City. As far as pastries, patisserie, sweet and savory options for a coffee or a tea — they own it. And it just felt right, that they should be in the Museum Store," Bruner says. To his knowledge, OKCMOA is the only museum shop/wine bar/coffee shop tribrid in the country.
It's also quickly becoming a global epicenter for collectors of Chihuly and Adler pieces, with a heavy smattering of local artists' work (OKC artist Clint Stone designed the current T-shirt), jewelry, accessories, self-care and gifts at every price point, right down to museum-branded pencils, intentionally budget friendly for visiting schoolchildren.
"When we started selling Jonathan Adler, I didn't realize that the Adler customer was also a Chihuly customer. So there have been several instances where we have sold a Jonathan Adler credenza, and then a Chihuly piece of glass that will sit on that credenza." Bruner said his clients are visual people who make Adler or Chihuly their own, from wherever they are in the world. "We've shipped to Palm Springs, Palm Beach, Boston, Chicago, New York City, Beverly Hills. And then we've also shipped to Australia, Germany, the U.K. I had no idea. I had no idea the reach that it was going to hit. And it's just been phenomenal.
We like stunning. If you do, too, do yourself a favor: Next time you find yourself between meetings downtown, take a break from the humdrum and pop in on Bruner and his merrymakers at the Museum Store. Browse. Peruse. Pick up a pastry, some prosecco and find a spot on the patio some sunny fall afternoon. We'll see you there.
If you are wondering what you can do with a bunch of lemons or lemon curd, look no further! This collection of 8 lemon dessert recipes features fresh and easy ways you can use them all up. From cookies, to cake to bars, you cannot go wrong with any of these delicious desserts!
As a trained pastry chef, I am used to playing with a lot of different flavors. Lemon though has always been a favorite. There is something about the bright, fresh flavor that it brings to liven up recipes. I love using the juice instead of extract, and using the zest to punch up the flavor!
Lemon curd is also one of my favorite things to eat with just a spoon! But you can also use it to fill cakes, dollop, onto cookies, or swirl into buttercream frosting.
In this post you'll find 8 refreshing lemon dessert recipes from my blog that are all tried, tested and true! Please let me know which one you like the best!
Super Fluffy Lemon Poppy Seed Cake
This Lemon Poppy Seed Cake is SO incredibly fluffy. You can make it into a layer cake or bake it into a sheet cake, just adjust the baking time to bake longer as a sheet cake. This cake also has a delicious lemon cream cheese frosting!
Get the recipe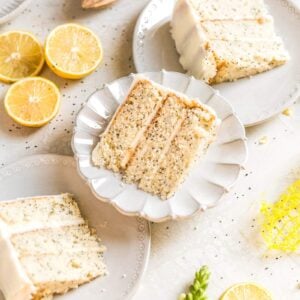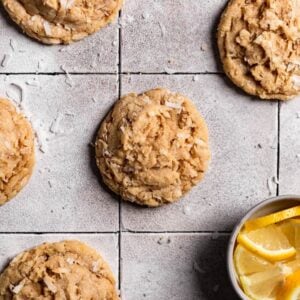 Zesty Lemon Buttercream Frosting
This lemon buttercream frosting has serious flavor to it! It's made with both lemon juice and lemon zest for that extra flavor punch. This icing is perfect to add to all your favorite Spring desserts!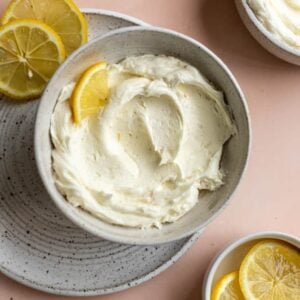 Easy and Fresh Lemon Meringue Cookies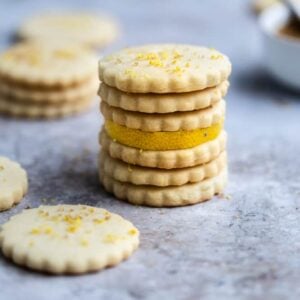 Easy Lemon Bars
These Lemon Bars are BURSTING with lemon flavor! They have a melt in your mouth shortbread crust, and an easy to make lemon filling. Dust them with powdered sugar and you are set!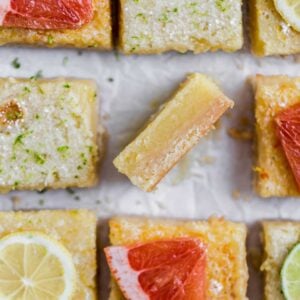 Easy Blueberry Lemon Scones
These Blueberry Lemon Scones are absolutely delicious. They come together in just a few minutes and bake up golden and flaky. Top them with a lemon glaze and its the perfect breakfast treat!
FAQ about Lemon Desserts
What the best way to zest a lemon? The best way to zest a lemon is with a microplane. This is a gadget that will get all the zest off a lemon easily.
How do I add lemon zest to a recipe? A pastry chef tip is to zest your lemon on top of the sugar in your recipe so that you save all the oils from the zest. If you zest the lemon into another bowl and then transfer it, you are losing some of the essential oils and flavor!
Can you freeze lemon desserts? Yes! You can freeze all of the recipes listed here at some form. Please check the individual recipe post to see the specific instructions.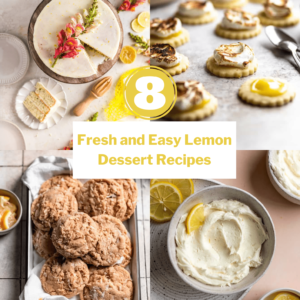 8 Fresh and Easy Lemon Dessert Recipes Including Easy Lemon Shortbread Cookies
Print
Pin
Rate
citrus desserts, easy lemon desserts, lemon desserts, summer desserts
from 1 lemon
all purpose flour
Preheat the oven to 350°F and line two rimmed baking sheets with parchment paper.
Add the 2 tsp lemon zest, 1/2 tsp lemon juice, and 1/4 tsp vanilla extract (if using), and mix lightly to combine. Add in the 2 cups of flour and 1/4 tsp kosher salt. Mix until a unified dough forms.
Shape the dough into a disc and wrap in plastic wrap. Chill in the fridge for 1 hour. Unwrap the dough and place it between 2 pieces of parchment paper. Roll the dough into 1/2″ thickness and cut out shapes using a cookie cutter. Repeat the process with scraps. You might have to chill the scraps for a few minutes again before re-rolling. Lift the cookies using an offset spatula 1 1/2″ apart onto their baking tray.
If possible chill the cookies for another 10 minutes on the baking tray.
Bake for 10-12 minutes until firm. Sprinkle with turbinado sugar or more lemon zest if you want!
Turbinado sugar is a coarse type of sugar that can be added to the top of the shortbread.
If the cookies are falling apart while cutting and moving them, chill the dough for a few minutes to harden it up.
The vanilla extract is optional to add extra flavor.
8 Fresh and Easy Lemon Dessert Recipes Including Easy Lemon Shortbread Cookies
Amount Per Serving (1 cookie)
% Daily Value*
Saturated Fat 5g
Trans Fat 1g
Polyunsaturated Fat 1g
Monounsaturated Fat 2g
Vitamin A 236IU
Vitamin C 1mg
* Percent Daily Values are based on a 2000 calorie diet.
Sam Adler is a Le Cordon Bleu professionally trained pastry chef, Saveur Blog Award winner, food photographer, and food blogger over on FrostingandFettuccine.com. She has been featured in numerous online and in-print publications including Taste of Home Magazine, Saveur Magazine, The Feed Feed, and Food Blogger Pro. Sam lives in Hollywood florida with her husband, two young kids, and french bulldog. When she's not baking and dancing in her kitchen you can find her at her favorite yoga spot.
Reader Interactions
2023 New Release and New to our Site
Over 75% of the below items are new release 2022 designs.  The image and item details page will include whether the product is a 2022 new design or a previous years release (you will see "added" versus "new" on the image).    (as of 8/30/22 all new Kurt Adler items have been added)
This post might have affiliate links, please check out my full disclosure policy.
Summer is the perfect time to bake with delicious in-season cherries! This easy recipe for Fresh and Fluffy Cherry Coffee Cake gives you the perfect excuse to do just that. The cake is moist and fluffy, with a sweet cherry flavor and a delicious streusel crumb topping!
It's no secret that baking with fruits in season makes a treat taste SO much better. That's why I love making desserts like this cherry crumb cake! As a trained pastry chef I love to make the most out of each seasons produce.
Cherries give baked goods such a wonderful flavor. They're tart and sweet at the same time, with a delicate flavor that is both unique and refreshing. They're perfect in pies and cobblers, and of course cakes! This cherry coffee cake is one of my favorites.
This cherry cake is versatile and can be served as a summer dessert or for a sweet and tasty breakfast! I love to enjoy a slice (or two) with my morning coffee.
It also feeds 10-12 people depending on how big you cut the slices. I know I would want a BIG slice of this!
If you want to change it up you can try my banana coffee cake, my apple coffee cake or even my rhubarb coffee cake!
WHY YOU SHOULD MAKE THIS RECIPE
It's beautifully sweet and tart, with a delicate cherry flavor.
This cake is moist and fluffy, with a delicious crumb topping!
It's versatile and can be served as a dessert or for breakfast.
INGREDIENTS NEEDED
All-Purpose Flour – Makes up the base of the crumb topping by adding its dry crumbly texture.
Brown & White Sugar – Creates a deliciously sweet crust on top of the cake.
Cinnamon – Gives the crumb topping its warm and fragrant flavor.
Salt – Balances out the sweetness.
Cold Butter – Makes the topping nice and crumbly when baked and adds buttery flavor.
For Cake
Pitted Cherries – I used fresh sweet cherries for this recipe, but you can use any variety you enjoy. Instructions on how to use frozen cherries are below.
Unsalted Butter – Adds flavor and moistness to the cake along with a buttery flavor.
Granulated Sugar – Sweetens up the base of the cake.
Egg – Binds all of the ingredients together and also adds richness to the batter.
Vanilla Extract – Adds a light vanilla flavor that enhances this dessert.
Buttermilk – This type of milk is perfect for baking because it's thick and tangy and helps tenderize the flour.
Baking Powder & Baking Soda – Helps the cake to rise and become fluffy.
All-Purpose Flour – Gives the cake its structure.
Cinnamon – A small amount of cinnamon warms up the banana flavor and compliments the sweetness.
Salt – Balances out all of the flavors in the cake.
Optional Glaze – By using a mix of cream and powdered sugar, you can add a sweet drizzle to the top of the cake that rounds out all of the flavors.
HOW TO MAKE CHERRY COFFEE CAKE
Assemble the crumb topping: You'll want to make this first so it has time to chill. Mix the flour, sugars, and salt into a bowl and whisk to combine. Add the cold butter to the mix and press it into the mixture using a pastry cutter or your fingers until damp crumbles form. Store in the fridge.
Prepare for baking: Preheat the oven to 350F. Spray a 10" springform pan with baking spray and set aside.
Mix the wet ingredients: Add the butter to the bowl of a stand mixer with the paddle attachment and cream on medium speed for one minute. Scrape down the sides and then add the sugar, egg, and vanilla extract making sure to scrape down the sides. Mix for one minute.
Assemble the dry ingredients: In another bowl, add the flour, baking powder, and baking soda, salt, and cinnamon. Use a whisk to fully combine.
Create the coffee cake batter: Add the dry ingredients alternating with the buttermilk to the wet ingredients 1/3 at a time and mix until just combined.
Dust the cherries: Add the cherries to a bowl and add the remaining flour on top. Toss to combine. Mix them into the prepared batter lightly.
Bake, cool, and glaze: Pour the batter into the prepared pan. Top with the crumb mixture. Bake for 50-55 minutes or until the cake is set. Let it cool completely. Mix the sugar and cream until a glaze is formed, then drizzle it on top of the cooled cake. Let harden. Slice, serve, and enjoy!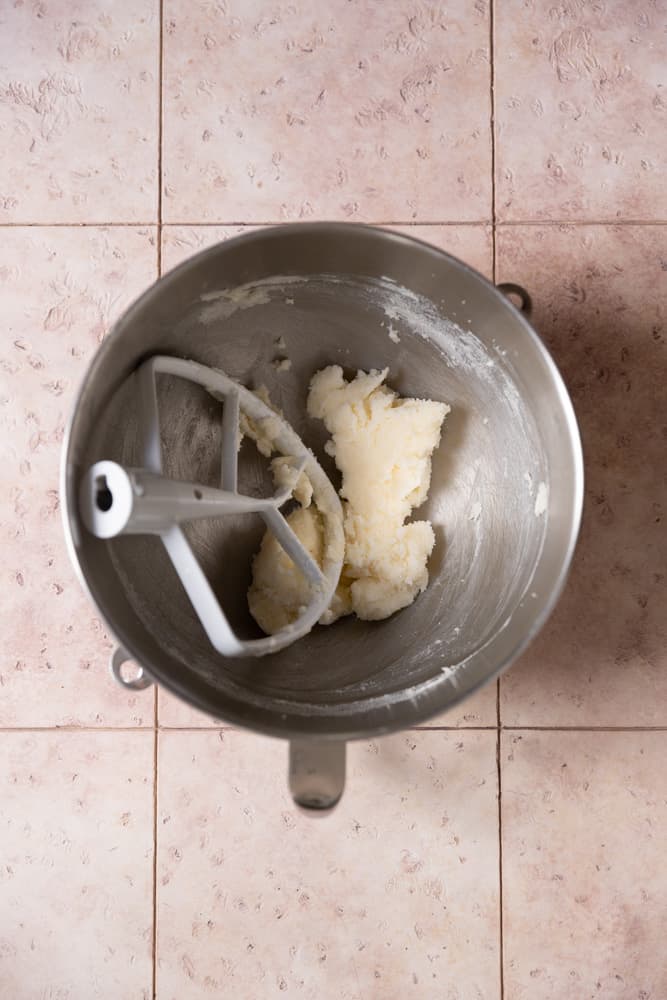 Cream the butter and sugar.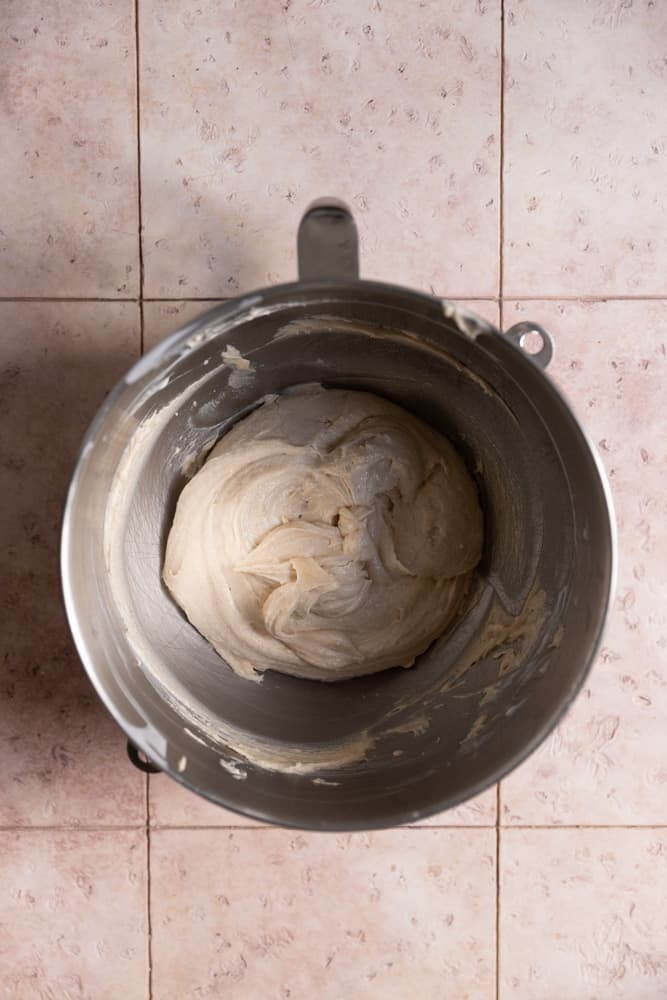 Finish the batter.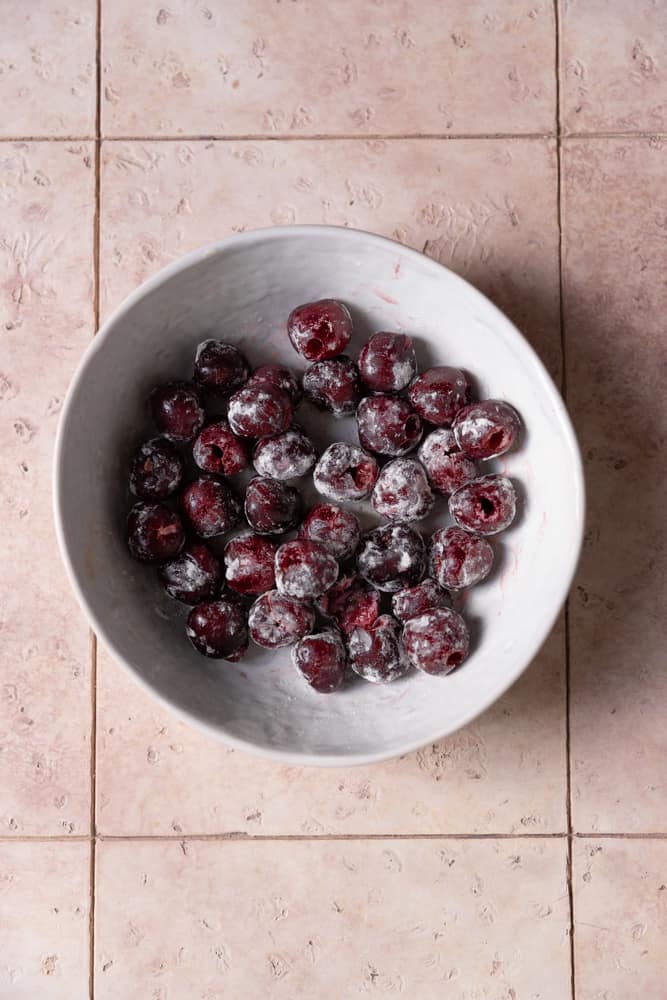 Dust cherries with flour.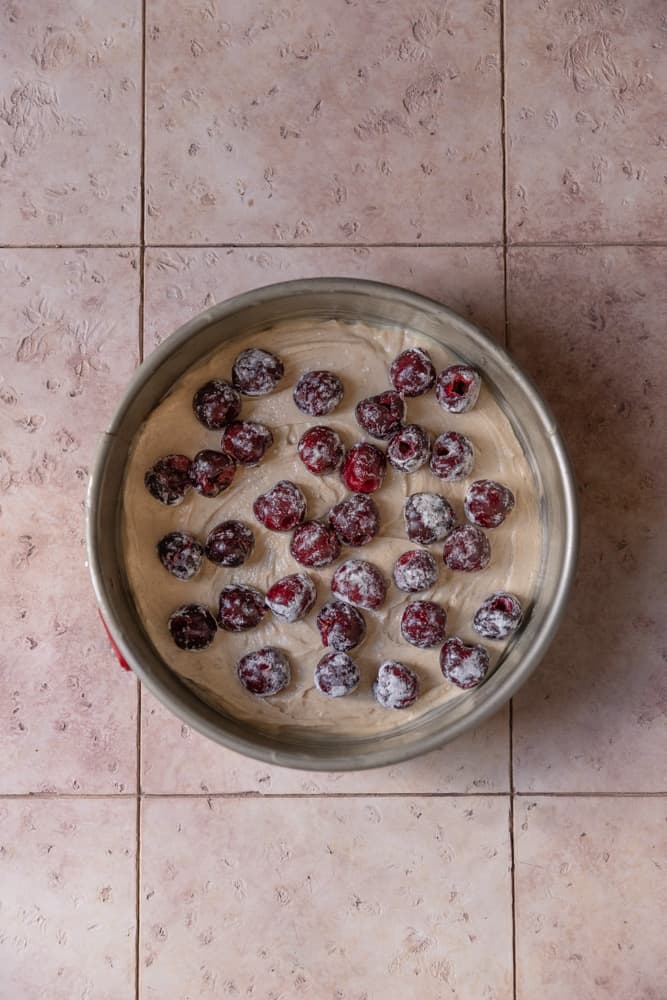 Add cherries to half the batter.
Top cherries with remaining half.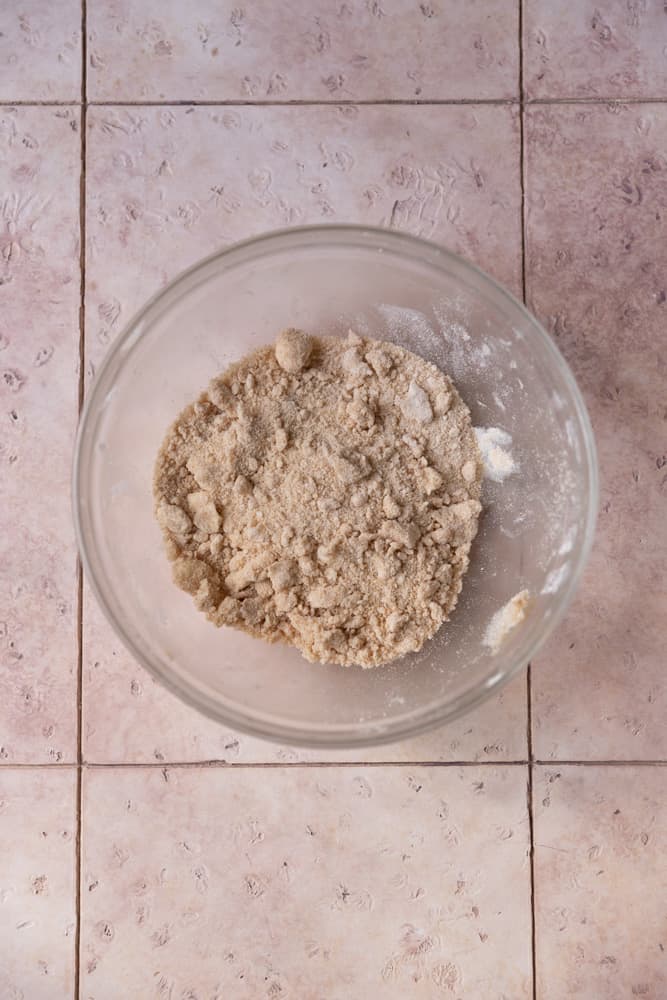 This is what the streusel should look like.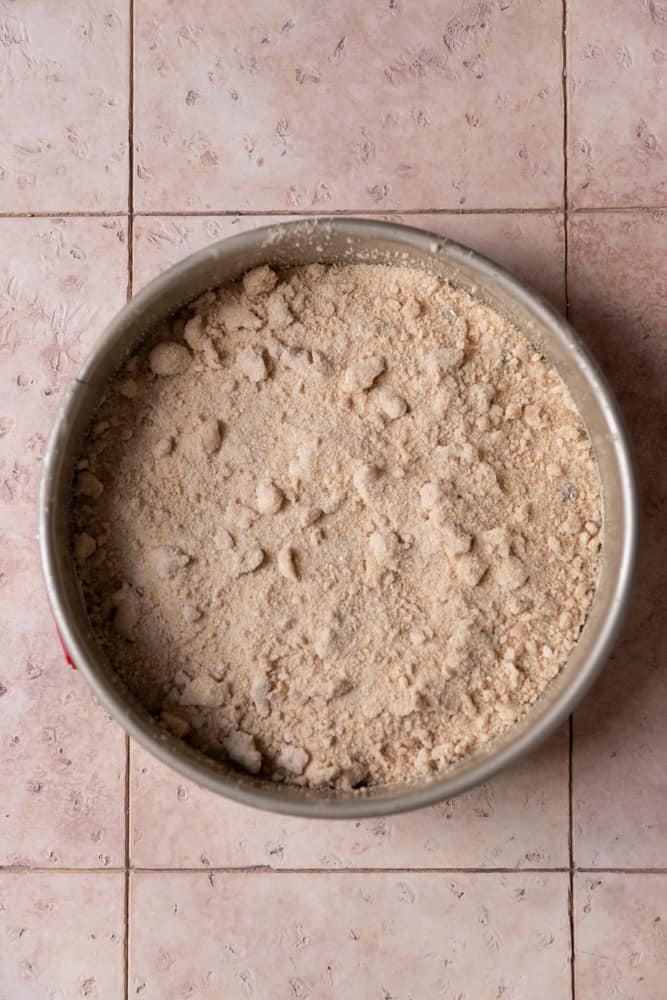 Add streusel to batter.
Powdered sugar and milk for the glaze.
TIPS FOR RECIPE SUCCESS
When mixing the wet and dry ingredients, do not overmix the batter. Overmixing can result in a tough cake.
For the cherries, I like to use fresh sweet cherries, however, you can substitute frozen or even canned cherries. If using frozen, make sure to thaw them completely and drain any excess cherry juice before adding them to the batter.
If you don't have buttermilk on hand, you can make a substitution by adding milk and vinegar. For every one cup of buttermilk needed, add one tablespoon of white vinegar or lemon juice to a measuring cup and then fill the rest of the way with milk. Give it a stir and let it sit for five minutes before using.
Everything except the butter for the crumb topping should be at room temperature. This will help everything mix together more easily and prevent any clumps.
Let the cake cool completely before glazing. This will help the glaze to set and not drip down the sides of the cake.
To properly measure out the dry ingredients, spoon the flour into the measuring cup and then level it off with a knife. Do not scoop the flour directly from the container as this will cause you to add too much.
VARIATIONS
For a fun twist, squeeze cherry juice into the glaze for a bright pink-colored frosting.
Instead of vanilla, use other flavor extracts such as almond, coconut, maple, butter, or cherry.
Substitute peaches, raspberries, or blueberries for the cherries for a fun summer dessert.
Make a cherry almond cake by adding sliced almonds to the batter along with the cherries.
STORAGE AND FREEZING
Storing: This cherry cake can be stored at room temperature, in the fridge, or in the freezer. If stored at room temperature, it's best to keep it in an airtight container or wrapped tightly. It will stay fresh for about four days stored this way. If you need to store it for longer, pop it in the fridge where it will last for up to one week.
Freezing: To freeze, wrap the cherry cake tightly in plastic wrap, then place it in a freezer-safe bag. Remove as much air as possible before sealing. The cake will stay fresh for up to three months frozen. When you're ready to enjoy, thaw overnight in the fridge or for a few hours on the counter.
Recipe FAQ
What pan is best for coffee cake? I like to use a springform pan but you can use any 9″ round cake pan as long as you spray it well with baking spray and/or line it with parchment paper.
How do you pit the cherries? You can use a cherry pitter or poke the cherries with a sturdy straw to push out the pit.
MORE Breakfast recipes
Summer is the perfect time to bake with delicious in-season cherries! This easy recipe for Fresh and Fluffy Cherry Coffee Cake gives you the perfect excuse to do just that. The cake is moist and fluffy, with a sweet cherry flavor and a delicious crumb topping!
apple coffee cake, breakfast cake, cherry cake, cherry coffee cake, cherry crumb cake
For crumb topping
all purpose flour
unsalted, cold, diced small.
For cherry cake
113 g unsalted softened
all purpose flour 240g + 1 tbsp
or more to taste
Optional glaze
Make the crumb topping. In a small bowl combine the 1 cup flour, 1/2 brown sugar, 1/4 cup granulated sugar, 1/4 -1/2 tsp cinnamon, and 1/4 tsp salt.
Use a pastry cutter to cut in the ½ cup butter or pinch the butter into the mixture with your fingers gently until small clumps are formed no larger than the size of a pea. Place in the fridge while you make the cake.
Preheat the oven to 350°F. In the bowl of a hand or stand mixer fitted with the paddle attachment, cream the butter for one minute. Scrape down the sides and add the 1 cup sugar. Cream for 2 minutes on medium speed until light and fluffy.
In a separate bowl combine 2 cups flour, 1 tsp baking powder, ½ tsp kosher salt ½ tsp cinnamon and ¼ tsp baking soda. Mix lightly with a fork or whisk to combine.
Alternate adding the dry ingredients with the buttermilk starting and ending with the dry ingredients- ⅓ at a time- mixing in between each addition.
Take the remaining 1 tbsp flour and dust it over the cherries. Mix to combine and add to the batter, mixing lightly.
Spray a 10" springform pan with baking spray and pour in the batter.
Top with the crumb topping and bake for 50-55 minutes on until the cake is no longer jiggly.
When the cake is cooled, mix together the ½ cup confectioners sugar with 1 tbsp cream and drizzle all over the cake.
We use fresh cherries in this recipe but you can substitute canned or frozen cherries. Make sure to defrost well and dry well before adding the cherries to the batter!
Amount Per Serving (1 slice)
Saturated Fat 10g
Monounsaturated Fat 4g
Vitamin A 548IU