This post may contain affiliate links. Please read our disclosure policy.
This easy oatmeal raisin cookie recipe makes soft and chewy cookies. They are compulsively eatable! One of our favorite cookie recipes.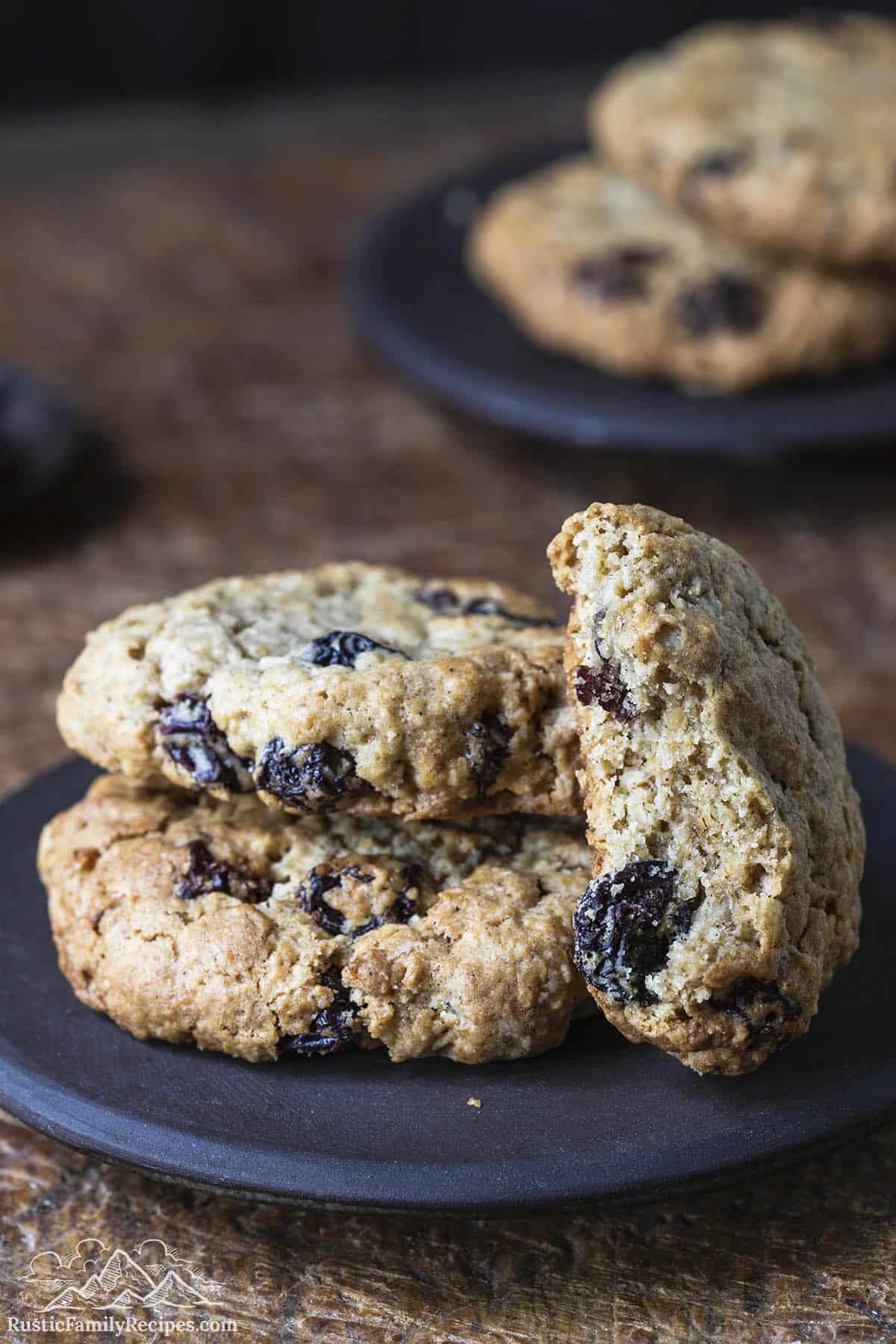 Table of Contents
These easy oatmeal raisin cookies are thick, soft, and chewy. In other words, everything you want in a homemade cookie! With plump raisins that were soaked in orange juice before being added to the cookie dough, even the raisins are tender. Brown sugar, vanilla, and cinnamon add even more flavor and make your kitchen smell amazing, which is honestly one of the simple pleasures of cooking baking that just can't be replicated.
If you're typically not a raisin lover, you can swap them out with dried cranberries or even dried blueberries. But because the raisins in this cookie recipe are soaked in orange juice, you'll be surprised by how perfectly sweet they are. You can also soak them in apple juice if you prefer – either one works as long as the juice is warm, which encourages the dried fruit to soak up more liquid.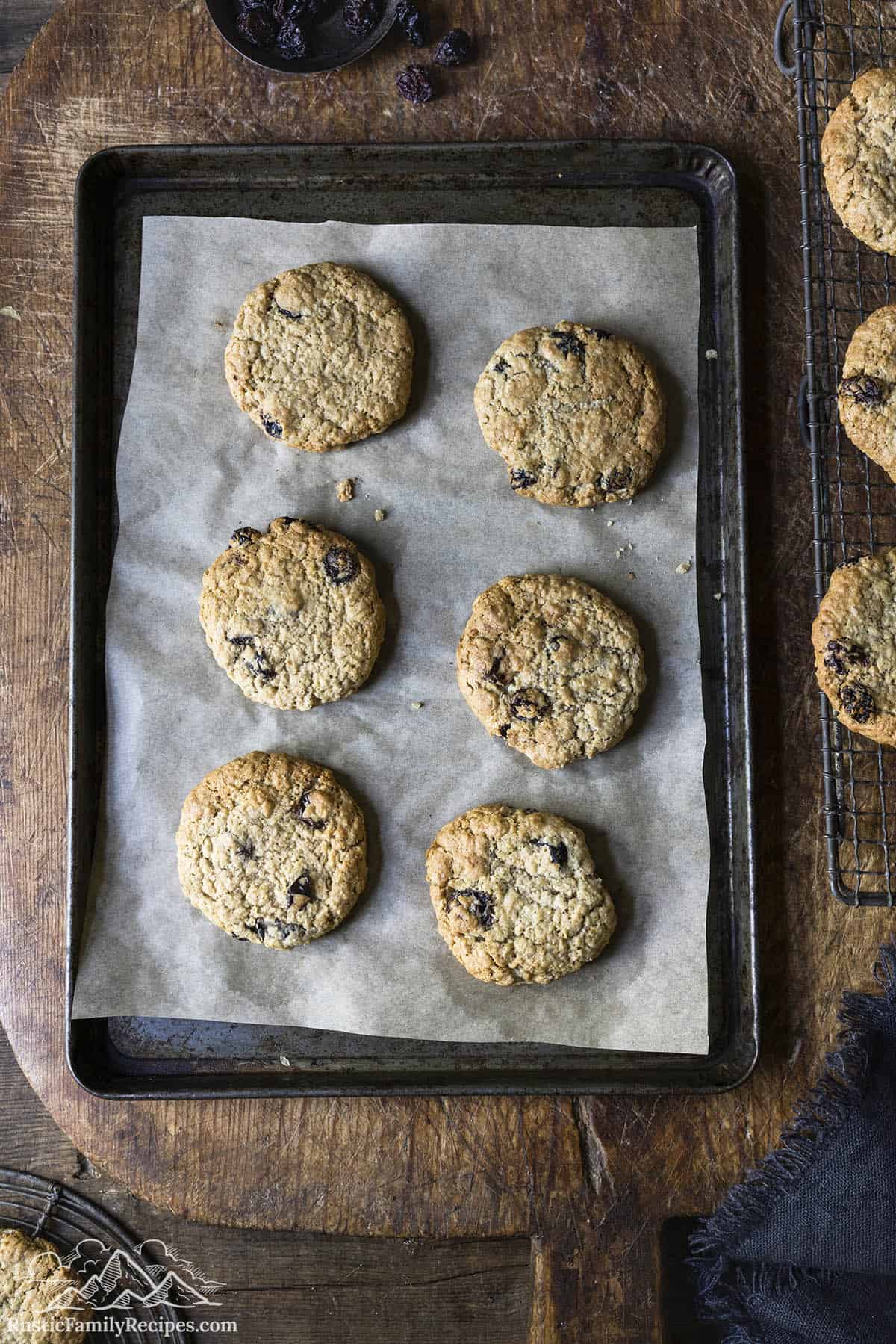 What Makes These Cookies The Best?
There are many reasons to love these oatmeal raisin cookies. Here are the main ones:
Perfectly sweet – These cookies are made with two kinds of sugar, raisins, and orange juice. The combination of flavors and sweetness is just right.
Plump raisins – Because the raisins are soaked in warm juice before being added to the batter, they are plump and soft. No hard bits of raisin in these cookies!
Flavorful – Brown sugar adds a slightly caramel flavor, while cinnamon and vanilla add warming notes ideal for fall baking. Your home will smell amazing by the way!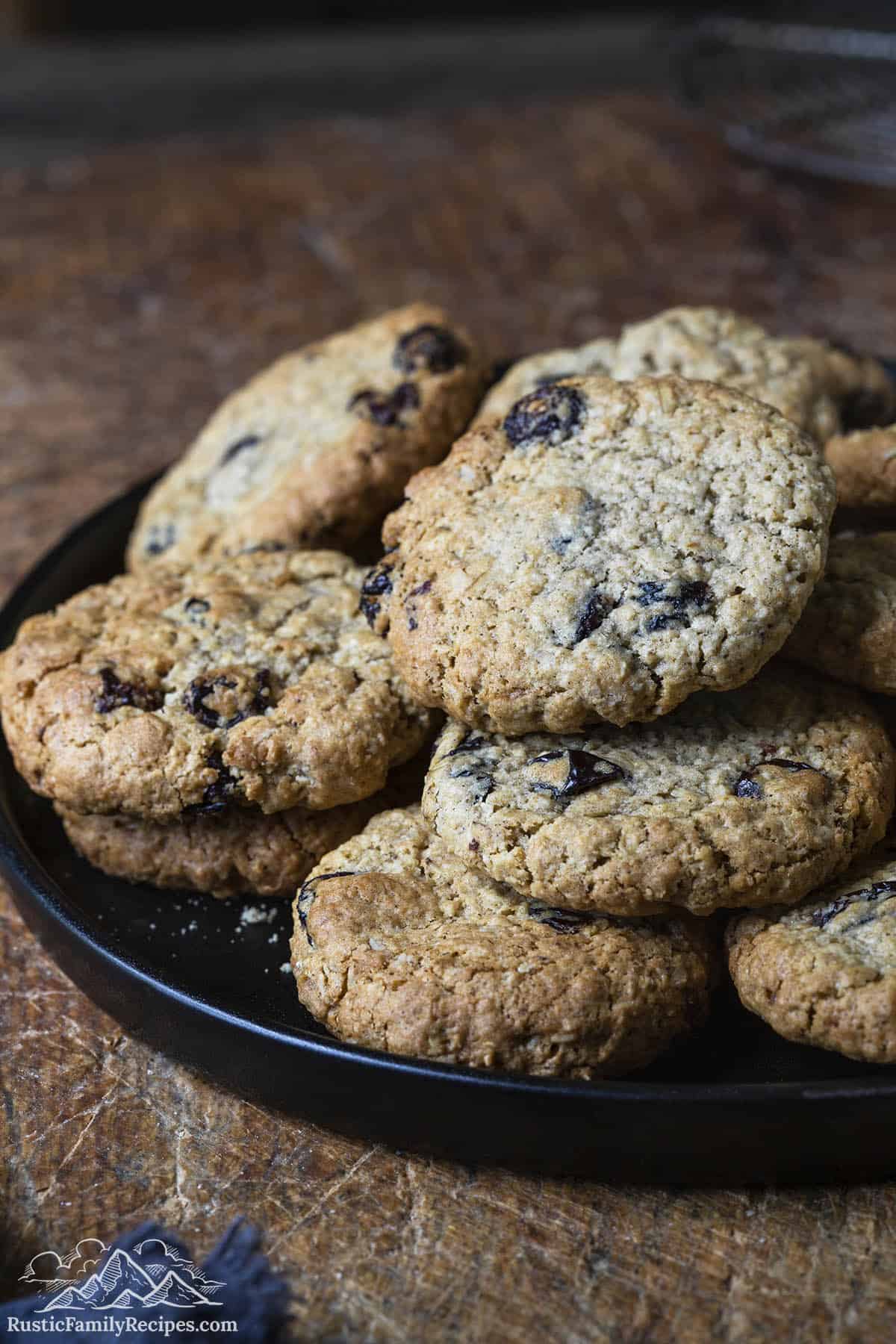 One of the great things about these cookies is that they only use ingredients that you're likely to already have in your kitchen. Here's what you'll need. You can find the exact amounts of each ingredient on the recipe card at the bottom of the page.
Unsalted butter – I recommend using unsalted butter so that you can have more control over the amount of salt that goes into the cookies. Make sure to take the butter out of the fridge a few hours before making these cookies, so it has time to soften. You can also put it in the microwave on low power for 30 seconds if you're in a pinch.
White sugar
Brown sugar – Brown sugar adds an almost caramel-like flavor to the cookies.
Eggs – Let them come to room temperature first. Room temp eggs are easier to combine with other ingredients.
Vanilla extract – Make sure to use pure vanilla extract, not synthetic stuff.
All-purpose flour
Baking soda
Kosher salt
Ground cinnamon
Rolled oats – It's important to use rolled oats for this recipe, and not a different style of oats.
Raisins – You can use regular or golden raisins for this recipe. If you want to substitute the raisins, dried cranberries or dried blueberries work as well.
Orange juice – We'll soak the raisins in juice before adding them to the cookie dough. You can also use apple juice.
Why are the raisins soaked in juice?
Soaking the raisins in orange juice helps the cookies in two ways. First, it plumps up the raisins as they absorb the juice. The raisins will be softer and juicier as a result. And second, it adds an additional layer of flavor that you don't normally get in oatmeal raisin cookies.
Can I use applesauce instead of butter?
I wouldn't recommend that in this recipe. However, if you want to make oatmeal raisin cookies that use applesauce, I have these Oatmeal Applesauce Cookies that are also lunchbox favorites!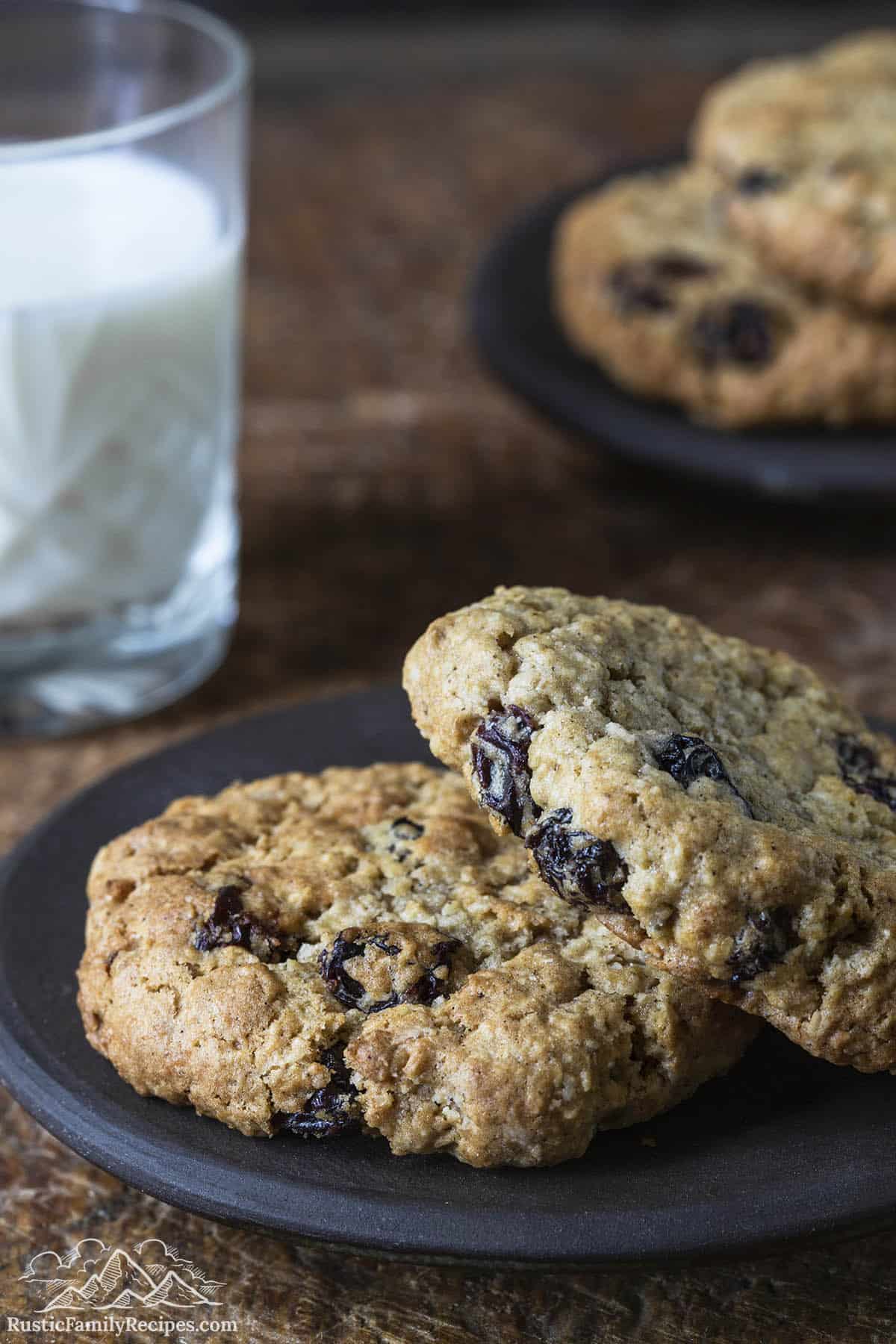 How to Make Oatmeal Raisin Cookies
This cookie recipe is about as simple as it gets. Here's how to make them:
Soak the raisins. Add the juice to the raisins and microwave to heat them, then let them rest while they absorb all the delicious flavor.
Mix the butter, sugar, and wet ingredients. To start with the dough, mix both of the sugars and the butter with a stand mixer paddle attachment. After the mixture becomes fluffy, add in the eggs and the vanilla extract.
Mix the dry ingredients. Take the remaining dry ingredients and mix them all together in a bowl.
Add the raisins. Remove the raisins from the juice and add them to the cookie dough. Mix on the low setting until the raisins are worked into the dough. Make sure there are no dry bits of dough in the stand mixer.
Chill. Cover the stand mixer bowl with plastic wrap and put it in the fridge for an hour.
Prep your tools. While the cookies are chilling, preheat the oven to 375F, then use a silpat or parchment paper to line a baking sheet or two, depending on how many cookies you're making.
Bake the cookies. Put the cookies in the preheated oven for 10-12 minutes. The edges will be a light golden brown when the cookies are done, but the middle should still be soft.
Do I Have to Chill the Cookie Dough?
Yes, you have to chill the cookie dough. I know, I know who wants to wait for the dough to chill right? But trust me, it's worth it. Chilling your dough gives the oats time to absorb moisture from the surrounding batter, which means your cookies will be soft and chewy. The chill time also firms up the dough a bit so that your cookies won't spread too much during baking.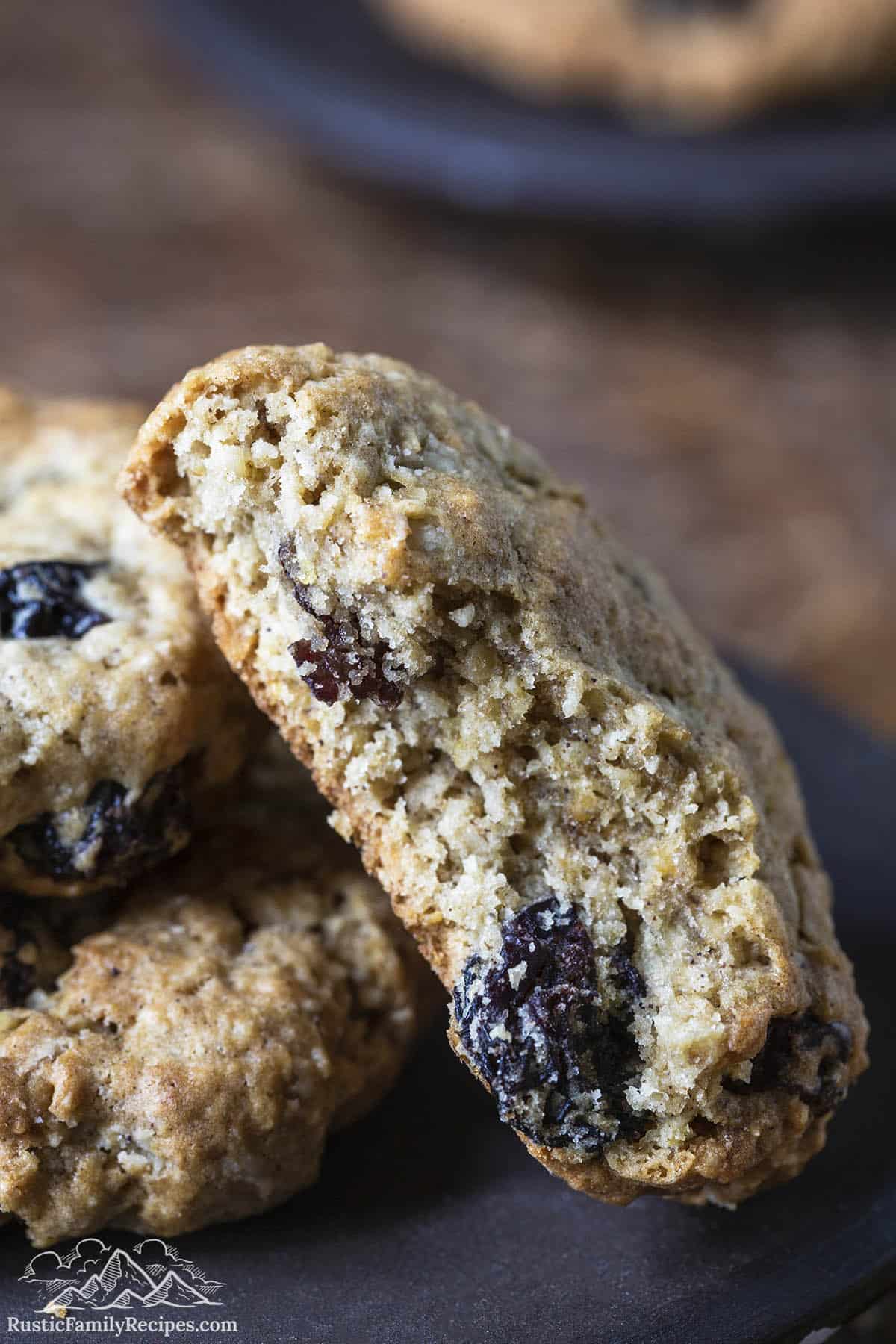 Tips For Perfect Cookies
Here are some tips I use to get perfect cookies every time:
Don't overbake them. The cookies will keep cooking even after you've taken them out of the oven, so it's important to pull them out when the middle is still soft. If you bake them for too long your cookies will be hard.
Beat your butter and sugar. It can be tempting to just mix the sugar into the butter and move on to the next step in the recipe. But if you thoroughly beat your sugar into the butter, you'll create small pockets of air in the dough that make the cookies lighter and fluffier.
Don't skip on cooling time. The residual heat will finish baking the cookies, while cooling will allow the dough to firm up. Let the cookies cool for 5 minutes on the baking rack before transferring them to a wire rack to finish cooling. If you try to transfer them too soon then the centers won't have set and your cookies will break.
How to Store Oatmeal Raisin Cookies
While these oatmeal cookies are wonderful when still warm, they're just as tasty and chewy the next day. Here are some different ways to store them.
On the counter: You can store these oatmeal raisin cookies on the counter in an air-tight container or bag. Cookies stored this way will last up to five days, but may not last as long if your home is super hot.
In the fridge: You can store your cookies for even longer in the fridge. Place them in an airtight container so that they don't dry out. They will last for up to 1 week when stored this way.
In the freezer: Cookies can be frozen for up to six months. Keep them in an air-tight bag, and make sure that you remove as much air as possible from the bag before placing it in the freezer. Individually wrapping each cookie in saran wrap also helps reduces freezer burn. To thaw the cookies, simply take them out of the bag and leave them at room temperature until they're fully thawed.
These chewy oatmeal cookies are moist and cakey, with a hit of flavor from plump raisins soaked in orange juice.
Prep Time:
Chill Time:
Cook Time:
Total Time: 1 hour 25 minutes
Yield:
Method:
Cuisine:
unsalted butter, softened
white sugar
light brown sugar
eggs, at room temperature
vanilla extract
all purpose flour
baking soda
kosher salt
1 1/2 teaspoons ground cinnamon
rolled oats
raisins
orange juice or apple juice
Prevent your screen from going dark
Prep the raisins. In a medium microwave-safe bowl, combine the raisins and juice. Heat in the microwave for 30 seconds. Set aside for at least 15 minutes.
Combine wet ingredients. In the bowl of a stand mixer fitted with a paddle attachment, combine the butter and both sugars. Beat on medium low until light and fluffy, about 2 minutes. Add the eggs and vanilla, then beat on low until just combined.
Mix dry ingredients. In a large bowl, combine the flour, baking soda, salt, cinnamon and rolled oats.
Combine wet and dry ingredients. Add half of the dry ingredients to the stand mixer, and mix on low until just combined. Add the remaining dry ingredients and mix on low until just combined.
Add the raisins. Pour the raisins into a sieve to remove the juice, then add to the stand mixer bowl. Mix on low until just combined. Scrape down the sides and bottom of your bowl to make sure there are no dry bits of dough.
Chill. Cover your stand mixer bowl with saran wrap and place it in the fridge to chill for 1 hour.
Prep your tools. Preheat your oven to 375F. Line a cookie sheet with parchment paper or a silpat. Set aside.
Shape the cookies. Scoop 2 tablespoons of cookie dough and roll into a ball with your hands. Place on the prepared cookie sheet, gently pressing down to slightly flatted the cookie dough ball. These cookies will spread slightly, so make sure to leave enough room for them to do so. I recommend baking 6 cookies at a time, placing the dough back in the fridge in between scooping. You will need to bake these cookies in batches. If you have more than one cookie sheet, you can use 2 at a time.
Bake. Place the cookie sheet in the preheated oven and bake for 10-12 minutes, until the edges of the cookies are a light golden brown. The centers of the cookies will still be quite soft but this is normal, they will firm up and the cookies will finish baking as they cool. Do not over bake the cookies or they will be hard.
Cool. Let the cookies cool on the cookie sheet for 5 minutes, then remove them to a wire rack to finish cooling.
Keywords: oatmeal cookie recipe, best oatmeal raisin cookies, easy cookies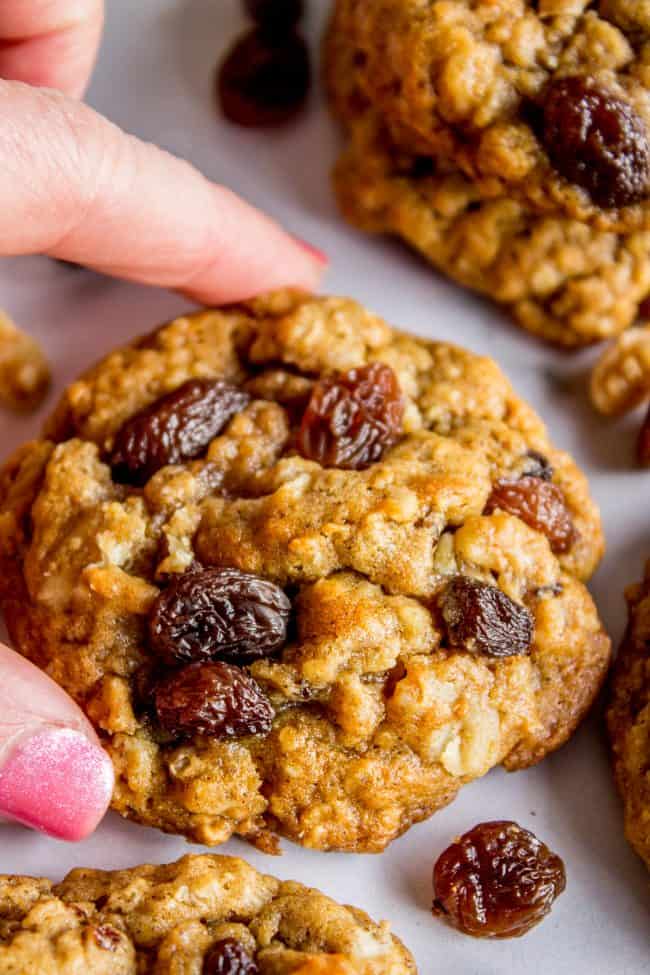 There's a new sheriff in town around here, folks. That's what my new parenting book says to tell my children, anyway. Reading a new discipline book is always a sure fire way to shake things up when parenting gets too boring (har, har).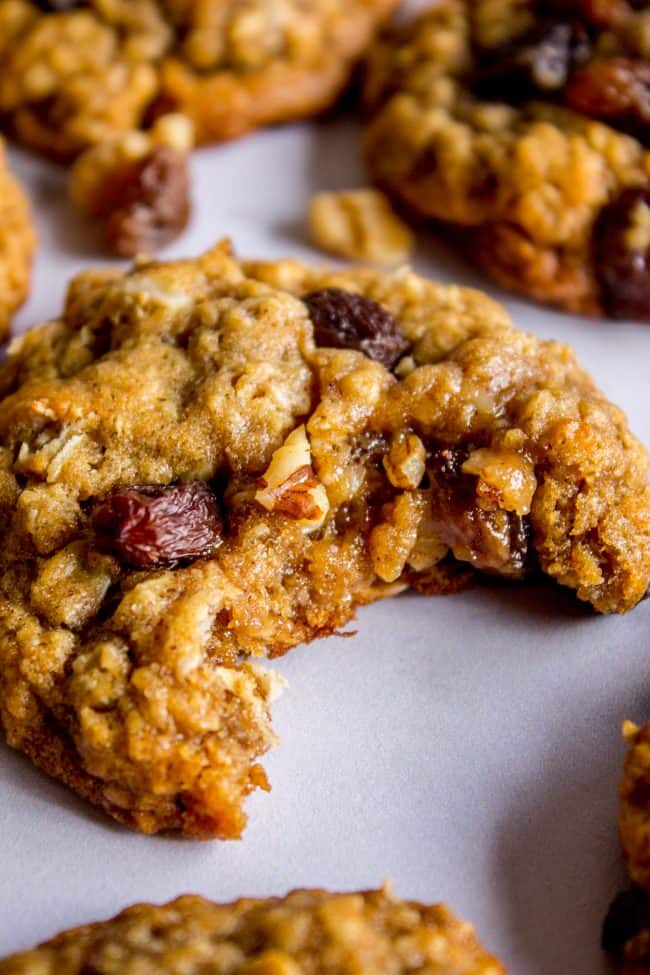 The book basically eschews all the "psychobabble" from the 1960s and tells you to parent the same as your great-grand parents did. (Minus the belt.) Lots of common sense. No BS. It's right up my ally, so no surprise I love it. No surprise, my kids are hating it.
You should see the looks on their faces when I tell them there's a new sheriff in town. It's as if I'm torturing them. You would not believe the weeping and wailing and gnashing of teeth going on around here, yours truly included (the Bible just has the best punishment imagery, doesn't it?).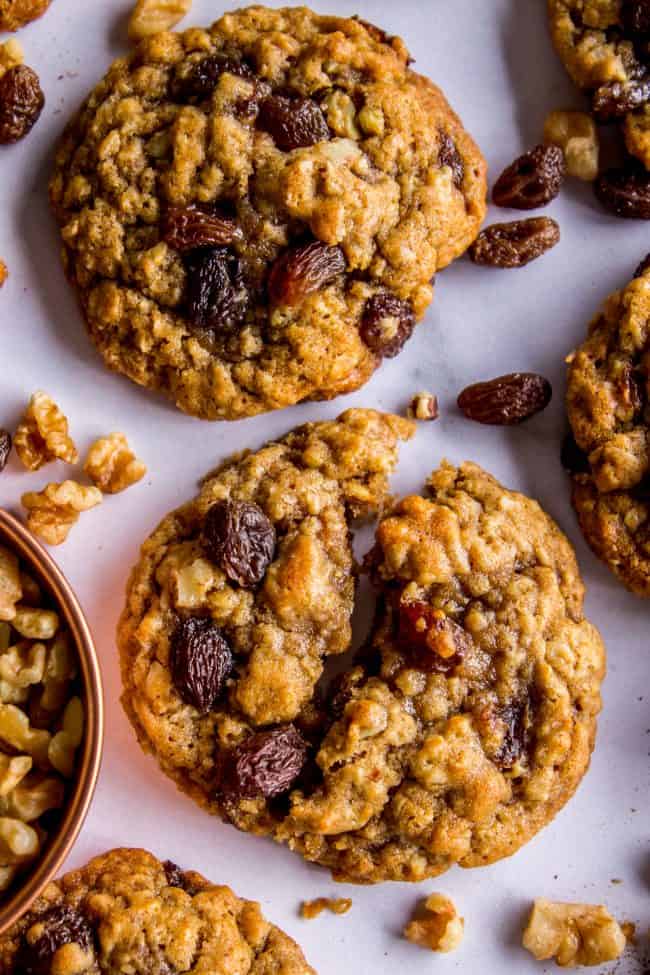 My son Truman should really be loving our new discipline regimen, because he's basically an 80 year old at heart. His favorite food is Brussels sprouts (no lie). He will not eat cake. He does not like sugar cookies or anything too sweet. He loves to snack on nuts. He will eat a chocolate chip cookie, but only one.
Ingredients for Chewy Oatmeal Raisin Cookies
Here's a quick shopping list to help you gather your ingredients. See the recipe card below for the full ingredients and instructions!
Butter
Brown sugar
Granulated sugar
Eggs
Vanilla extract
Molasses
Flour
Baking soda
Cinnamon
Nutmeg
Cardamom
Quick oats
Old fashioned (rolled) oats
Raisins
Walnuts (optional)
Why you should add Molasses
Molasses in your oatmeal raisin cookies? YES! I know this isn't gingerbread, but trust me, it's your secret helper for rich flavor. We're adding just a little bit to make the flavor more complex.
I saw this joke on Pinterest a while back, "Oatmeal raisin cookies that look like chocolate chip cookies are the main reason I have trust issues." I used to feel exactly the same way, but oh how the times have changed! Why do we have such a bias against raisins these days?? They are so good.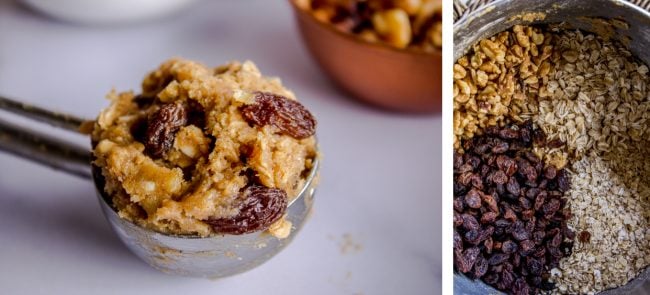 Well, I should qualify that. Raisins are just okay, until you soak them in boiling water for a few minutes. Then they are AMAZING. Plump and juicy raisins are so delicious and pop-able.  You will have to stop yourself from eating them all before you mix them into the cookies.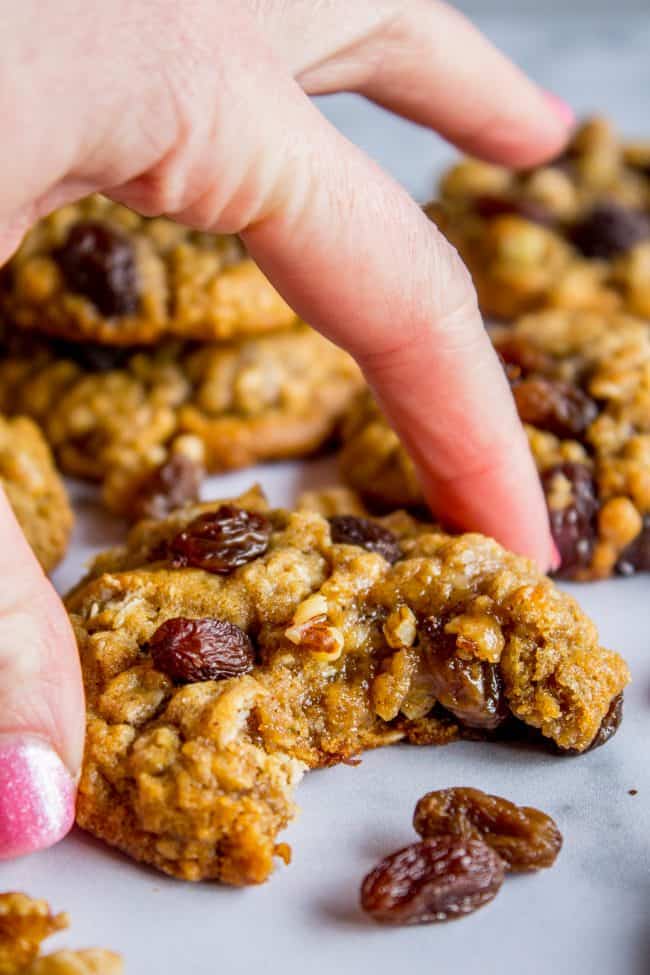 The other secret to making these the BEST oatmeal raisin cookies is to add a bit of molasses to the dough. It totally amps up the flavor in the best, deepest, blackstrappiest way. A little pinch of nutmeg in addition to the cinnamon helps too.
I like to use a combination of quick oats and old fashioned oats in these cookies. If you use only old fashioned oats, the cookies may not bind together as well. Most oatmeal raisin cookies call for less flour and more oats than this recipe, but I tested this multiple times and am in love with the texture of the recipe as written. I don't want a granola bar, I want a COOKIE, thank you very much!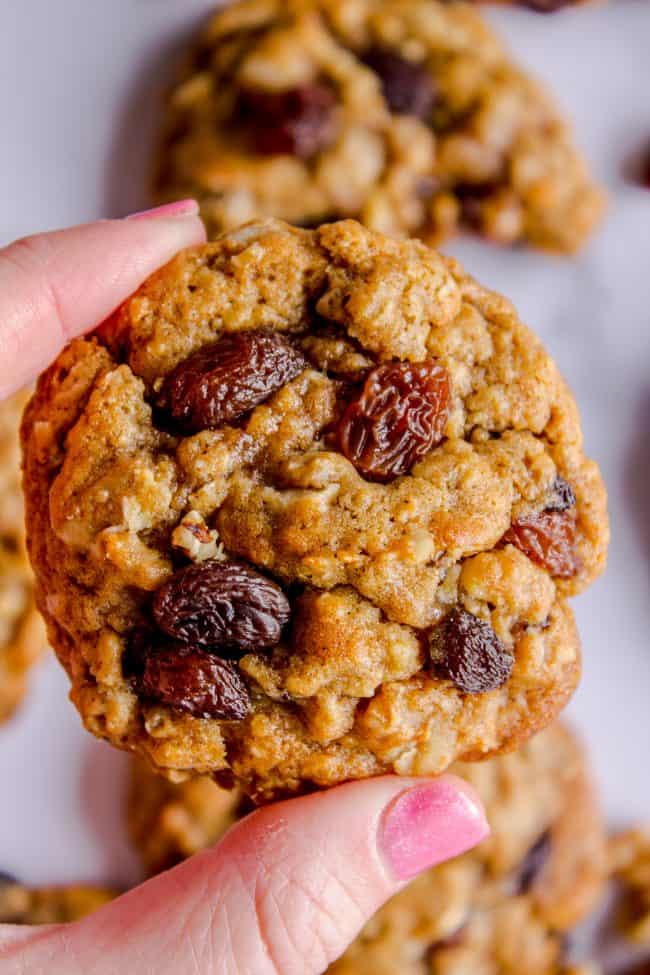 If you have only ever tried Oatmeal Raisin cookies that were bought at the store, you seriously need to try these out. They just do not compare AT ALL. I love me a good Chocolate Chip Cookie, but these Oatmeal Raisins seriously give them a run for their money, trust issues aside. 😉
Tips & Tricks to making the Best Oatmeal Raisin Cookie Recipe
Think you hate oatmeal raisin cookies? Me too, until I learned these tips and tricks for how to transform a cookie only a granny would eat into everyone's favorite.
Soak your raisins. Who wants a dry raisin when you can have a juicy plump one? I know soaking the raisins is an extra step, but I promise it's well worth it.
Shape the cookies right after baking. This trick is one I use for a lot of my cookies. To keep your oatmeal raisin cookies soft and tender, use two spoons to push the edges of each cookie toward the center immediately after they come out of the oven. Simple, but it makes a huge difference (and you get nice round cookies to boot).
Storing these Soft and Chewy Oatmeal Raisin Cookies
These cookies will stay fresh on the counter for up to a week in an airtight container. You can also freeze them for 2-3 months. If you want, you can freeze unbaked balls of dough instead for baking whenever the cookie craving strikes.
Chewy Oatmeal Raisin Cookies FAQs
Should you soak raisins before baking cookies?
Yes, yes, yes. Raisins out of the box are ok for toddlers but we're cookie gourmets here. We want the good stuff. When you soak raisins, they get plump, soft, and juicy. Who needs chocolate chips when you've got these babies?? (Ok, me. I still need chocolate. But I'm telling you, soaked raisins will totally transform your oatmeal raisin cookies.)
Why do my oatmeal raisin cookies get hard?
If you don't store your oatmeal raisin cookies in an airtight container, they will definitely dry out and get hard. If they're hard only moments after cooling, you may have overbaked them, or ignored my handy spoon technique. You'll want to pull the cookies out when they have juuuust a tiny bit of shine left, or the shine has just disappeared. Then immediately use two spoons to shape the cookie, pushing all around the edges toward the middle. This will keep your cookie nice and soft with no crunchy crispiness. Bonus, it makes the cookies a nice circle shape.
Why aren't my cookies spreading in the oven?
If your cookies are remaining little mounds of dough, you may have added too much flour. I like to use the fluff and scoop method. Use a spoon to fluff up your flour, then scoop it into your measuring cup. Don't pack it down! Once you're filled the cup to the top, gently level it off.
The very best oatmeal raisin cookies you will ever make! They are soft and chewy and I promise you will NOT be wishing those raisins were chocolate chips. (I know you) The trick is to plump the raisins in boiling water, and then add a bit of molasses to the cookie dough. It's to die for!
You can make this dough ahead of time and freeze for later. Shape the dough into balls, seal in a ziplock, and freeze for up to 3 months. No need to thaw before baking; put them frozen into a preheated oven and add 2-3 minutes to the bake time. Once the dough has been frozen, there is not as much need to use spoons to smoosh them together, although you can if you want.
chewy, Cookies, Oatmeal, raisin, soft
We are a participant in the Amazon Services LLC Associates Program, an affiliate advertising program designed to provide a means for us to earn fees by linking to Amazon.com and affiliated sites.
Most raisins benefit from being plumped before using. Soak the raisins in either a bit of the recipe liquid or hot tap water for 10 to 15 minutes before using until they plump up. Keep a jar of raisins soaking in rum, brandy, or liqueur to add extra depth to baked goods and keep them from hardening.Click to see full answer. Similarly, you may ask, how do you soften raisins before baking?Rehydrate them to plump them up before eating. Place the raisins in a bowl and pour boiling water to cover. They'll soften in minutes. This also works great when adding raisins (or other dried fruit) to recipes when baking.Also Know, how long should raisins be soaked? Place the raisins in a microwave-safe bowl and cover them with liquid; microwave for 2-3 minutes, then soak for 10-15 minutes before folding into batter. Cover the raisins with room temperature liquid and soak for 30 minutes. After that time has passed, they're ready to use! Additionally, should you soak dried fruit before baking? Dried Fruit – Rehydrate. When using dried fruit in a baking recipe, soak it first. If not done, it will absorb a lot of water from the recipe's ingredients, which results in a drier outcome. Soak the dried fruit using our "fast soak method".Should I soak dried cranberries before baking?When you don't have fresh cranberries but need them for a specific recipe, you can use dried cranberries—you just have to rehydrate them first. Reconstitute dried cranberries like you would raisins; simply soak the cranberries in hot water and let them stand for 15 to 20 minutes and strain before using in a recipe.
No tags for this post.
Soft, chewy, crisp – how do you like your oatmeal raisin cookies? These classic cookies are everything you want in your oatmeal cookies; they are hearty and wholesome with bursts of sweet raisins!
These classic oatmeal raisin cookies are little bites of heaven; like a warm hug on a cold day. Nothing beats fresh hot out of the oven cookies! They are crispy on the outside and chewy and soft on the inside, with a hint of cinnamon to warm things up.
Whether you're baking them for yourself or sharing them with friends and family, classic oatmeal raisin cookies are a treat that never gets old. The recipe feeds a crowd making them a great option for sharing or you can easily freeze that batter to have ready to bake cookies for a rainy day.
Large flaked oats
All-purpose flour
Unsalted butter
Brown sugar & granulated sugar
Eggs
Raisins
Vanilla extract
Ground cinnamon
Baking soda
Salt
Maldon salt (optional)
Variations
Oatmeal cookies are great cookies to use as a base and to then add your favourite nuts, chocolate or fruit. Use this cookie batter as your starting point and try adding new combinations of flavours.
Chocolate chips
Walnuts
Pecans
Apricots
A combination of raisins
Coconut
Tips for the Perfect Oatmeal Raisin Cookies
Bake time is very important in achieving the perfectly chewy oatmeal cookie. You want to underbake the cookies as they will continue to bake once out of the oven. It's okay for the centre of the cookies to look a little underdone.
If you like a crisp cookie bake the cookies 1-2 minutes longer.
Weigh your ingredients if you have a scale. Oatmeal cookies can easily get caky with too much flour, using a scale will help avoid this issue.
Use large flaked oats and avoid using instant oats!
Make sure your butter and eggs are at room temperature. This will help with the texture and flavour of your cookies by avoiding overmixing and by incorporating the batter properly.
Golden Raisins vs. Sultan Raisins
When it comes to baking with raisins the type you use will affect your results. Golden raisins are a great option for people who want a milder more delicate flavour, whereas sultans are bolder and a little more tart. Both golden raisins and sultan raisins can be used interchangeably in recipes but sultans will stand out in a recipe.
Should I soak my raisins before baking with them?
Step One: Make your batter. Add dry ingredients to a bowl and mix together. Cream butter, sugars, eggs and vanilla together. Add dry ingredients to wet ingredients, mix in raisins. Place the cookie dough into the refrigerator for 30 minutes.
Step Two: Spoon the batter onto a baking sheet lined with parchment paper. Using a fork press down on the tops of each cookie ball and gently press down and slide the fork over the top. Bake until just starting to brown and the middle is still a little gooey. Let the cookies cool on a cooling rack.
Prep Time:
Cook Time:
Total Time:
Yield: dozen
Method:
Cuisine:
large flaked oats
all-purpose flour
ground cinnamon
baking soda
salt
unsalted butter, at room temperature
brown sugar, lightly packed
granulated sugar
large eggs, at room temperature
vanilla extract
raisins
Maldon salt (optional)
Line two baking sheets with parchment paper and set aside.
In a large bowl add oats, flour, cinnamon, baking soda and salt. Mix to combine ingredients and set aside.
In a large mixing bowl beat butter and sugars together until light and fluffy. Using a spatula scrape the bowl as needed. Add the eggs one at a time and the vanilla, beat until smooth and well incorporated.
Slowly add the dry ingredients to the butter mixture, approx. one cup at a time,  again scraping down the bowl as necessary.
Add raisins and mix to combine.
Cover the bowl with plastic wrap and place the batter into the refrigerator for 30 minutes.
Meanwhile, preheat the oven to 350˚F.
Once the dough has chilled spoon tablespoon size of batter onto the cookie sheet, leaving lots of room in between each cookie. Using a fork press into the cookie dough and slide over the top of each cookie.
Bake for 9-10 minutes in the oven or just until the sides start to brown and the middle is still a little gooey.
Remove cookies from the baking sheet and let cool on cooling rack.
Add a pinch of Maldon salt to the tops of each cookie (optional).
Notes
Store cookies in an airtight container for up to 3 days or freeze them for up to one month.
You can cut this recipe in half to make a smaller batch.
Nutrition
Serving Size:
Calories:
Sugar:
Sodium:
Fat:
Saturated Fat:
Unsaturated Fat:
Trans Fat:
Carbohydrates:
Fiber:
Protein:
Cholesterol:
Keywords: Oatmeal,Raisin, Cookies, Classic
FAQ's
Can I freeze oatmeal cookie dough?
Yes, this recipe makes a lot of cookies which makes it a great option to make up your cookie dough ahead and then freeze half the dough for later. Roll the cookie dough into 1 tablespoon size balls and place in a freezer bag or airtight container and freeze for up to 3 months. Defrost and bake as the recipe instructed.
Should I flatten my oatmeal cookies before baking?
It really depends on how you like your cookies, but I'd suggest slightly flattening them. Slightly flattening your cookies can help with even baking and to control spreading (especially if the cookie dough has been in the refrigerator and is firm).
Do I need to chill the oatmeal cookie dough before baking?
No, it's not necessary to chill oatmeal cookie dough before baking. Chilled dough can be easier to handle if the dough is too wet and it can help control spreading as the cookies bake.
You may also like:
Toll House Cookies
If you love rice pudding but can't stand the chewiness of raisins, don't worry – there's an easy way to soften them up. All you need is a bit of time and some patience. First, start by soaking the raisins in warm water for about 10 minutes. This will help to rehydrate them and make them plumper. Next, drain the raisins and place them on a clean, dry towel. Gently rub them to remove any excess water. Finally, place the raisins in a small, uncovered bowl and microwave on high for about 30 seconds. This will help to further soften the raisins so they're perfect for your next rice pudding recipe.
This rice pudding recipe is flavored with vanilla extract, raisins, and spices, which are all delicious. porridge is a custardy pudding-like dessert with a rich and creamy texture made from eggs and milk. Rice pudding can be used in a variety of ways. It is best served cold, but can also be topped with fruits, spices, or whipped cream. Preheat the oven to 350F (180C, Gas 4) and bake for about an hour. Spray a shallow baking dish with non-stick cooking spray or lightly butter it for two minutes. Add a pinch of nutmeg or substitute dried cranberry or blueberries for the raisins. Place 1/2 teaspoon of ground cinnamon on top of the garnish.
Rice pudding will thicken as soon as it is refrigerateed. Stir in a tablespoon or two of heavy cream if it's too thick for your liking and loosen the foam with a spoon. Rice pudding is most likely too thin if it was not cooked long enough to thicken the custard at the end.
Why Is My Rice Pudding Still Hard?
You may not have filled the container with enough liquid to begin with. If your rice appears dried or crunchy after all of the liquid has been absorbed, return it to a simmer with the lid on and add 1 cup water; the amount of water should be about 12 cups. It is critical to remain patient.
A stranger can assist me. The rice should be slowly cooked in milk according to the recipe. What are the best ways to wash rice before cooking in milk? Rice will be fine if it is cooked and then refrigerated; nothing wrong with it. A pan is not the same as risotto, and rice is not cooked in the same pan. If you're going to cook it in a rice boiler, I recommend cooking it until it's al dente. The first step is to avoid boiling it. If you use skim or 1% cream, you may not get a creamy flavor.
What's a good recipe for rice pudding? In a nutshell, either stir it frequently and cook it for a longer period of time or stir it frequently and cook it for a longer period of time. When you thicken it, it becomes tenderer, whereas when you add more milk, it becomes runny. When you combine it too vigorously, it may become too watery. When you mix too much, the ingredients will not come together properly, resulting in a lumpy pudding.
Rice Pudding Tips For The Perfect Consistency
If your rice pudding is too thick or curdled, it should be heated in a saucepan, then mixed in cornstarch with cold water, a little at a time, until it thickens as needed. The refrigerator should be returned to its original state. Even after cooking it through, the pudding will still be soft and runny. If you want to achieve a consistency desired, reheat it gently on the stovetop with a splash of milk over medium heat until heated through. By storing uneaten rice pudding in an airtight container for up to three months, you can freeze them.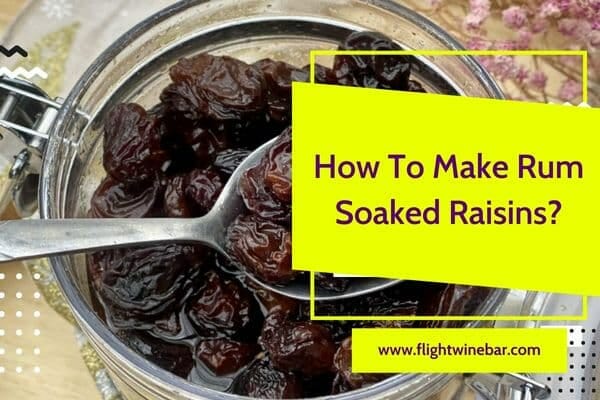 HomeRumHow To Make Rum Soaked Raisins?
Do you enjoy the sweet and rich flavors of rum-soaked raisins? If so, this post will help you make them easily! Not a fan of the taste? No worries—we'll show you how to adapt the recipe for different flavor profiles. Rum-soaked raisins can be enjoyed on their own or used in recipes ranging from salads to ice cream. With only three simple ingredients, making your own rum-soaked raisins is incredibly easy—and it's sure to impress your friends with its gourmet flair! Let's get started and learn how to whip up a batch of these delicious treats.
How To Make Rum Soaked Raisins?
The soaked raisins can be enjoyed as is or added to a variety of recipes. They make a delicious addition to oatmeal, porridge, and muffins. You can also use them in cakes, pies, cookies and other baked goods for an extra flavor boost. Soaked raisins are also great for adding to salads, yogurt and other cold dishes to provide a sweet taste. They can even be added to savory dishes such as rice or stir fry for an unexpected twist. For an extra special treat, try adding some of your soaked raisins to ice cream or homemade hot chocolate!
How Do You Plump Raisins In Alcohol?
When plumping raisins, it's best to use a non-metal bowl to do the soaking. Metal bowls can cause oxidation, which can give the raisins an off flavor. After 10-15 minutes of soaking, drain the liquid from the bowl and rinse with cold water for a few seconds before draining again. This will help remove any remaining sugar or flavoring residue. Once the raisins are plumped, you can use them in baking recipes like cakes and breads, as a topping for cereal or yogurt, or simply eat them as a healthy snack. Plumped raisins also make a great addition to trail mixes, salads, and other dishes.
How Do You Speed Up Soaking Raisins In Rum?
Once the raisins are microwaved for 2-3 minutes and left to soak in liquid for 10-15 minutes, they'll be ready to use in your recipe. For best results, wait 30 minutes for the raisins to soak in room temperature liquid. If you make sure to give them enough time, you'll end up with a delicious, moist treat!
Just remember to microwave the raisins for 2-3 minutes and allow them to soak for 10-15 minutes before adding them to your recipe. Letting them soak for 30 minutes ensures that they'reperfectly plump and ready to use. With this simple trick, you'll be able to add a tasty twist to your favorite recipes.
Are Rum Soaked Raisins Good For You?
Raisins that have been soaked are not only delicious, but they also provide a good source of vitamins B and C. The vitamins B and C in raisins help strengthen your immune system and reduce the risk of getting sick from infections. They can also help with digestion, boost energy levels, and improve skin health due to their abundance of vitamins and minerals. Soaking raisins can also help to release their healthy benefits, making them a great snack or addition to salads or other recipes.
Can Rum Raisin Make You Drunk?
Harley-Davidson's boozy flavors offer a unique twist on classic desserts. Rich, creamy ice cream with hints of rum and whiskey provide an indulgent treat that can be enjoyed at any time of day. While these frozen treats may not have the same kick as their alcoholic counterparts, they still bring a familiar flavor to the table – something that traditional desserts just can't do. As a result, these boozy ice cream flavors are the perfect way to end any evening with a light yet flavorful dessert.
How Long Should Raisins Soaked In Rum?
To ensure that your rum raisins are ready to use when needed, it's a good idea to soak them for at least 24 hours. This will allow the raisins to absorb most of the rum, though you may find that they need additional time depending on how strong the flavor is that you want. If soaking them for too long, be sure to store them in an airtight container so the rum doesn't evaporate. By properly prepping your rum raisins ahead of time, you can ensure that they are ready to use when needed and taste just right!
What Alcohol Should I Soak Raisins?
After a few days, your bourbon-covered raisins will be ready to enjoy. You can eat them as-is or you can use them in your favorite recipes. They make a delicious addition to oatmeal, pancakes, or muffins. You could also add them to your favorite desserts like pies and cobblers. Or, why not try adding them to a glass of bubbly for an extra special treat? Enjoy!
No matter how you use your bourbon-covered raisins, you are sure to love the unique flavor that they bring. So why not give them a try today – and experience this delicious combination for yourself! You won't be disappointed!
What Alcohol Can I Soak Raisins In?
A shallow container should be filled with a box of golden raisins.
Gin should be used to cover the raisins.
Allow the raisins to soak in the gin for a few weeks until the gin has evaporated; the raisins will not dry out and will retain their moisture just like regular raisins.
To help with arthritis, eat nine of these "drunken raisins" per day.
How Do You Plump Raisins In Rum?
Once the raisins have had time to soak up the liquid and plump up, remove them from heat. Drain any excess liquid and use the rehydrated raisins in your recipe or enjoy them as is! If you're using a spirit like rum or brandy, be sure to cook off all of the alcohol before adding the raisins to your recipe. Enjoy the delicious, plump raisins in a multitude of dishes or as a tasty snack!
Can You Soak Raisins In Cognac?
When the tart filling is finished, remove the raisins and star anise from the pan. Add them to the mixture, stirring until everything is evenly incorporated. For added flavor, sprinkle a teaspoon of ground cardamom over top before transferring it to your pre-baked crust. Bake according to instructions and enjoy!
What Is The Fastest Way To Soak Raisins In Rum?
Soak the raisins in rum for 1 hour in a bowl.
For a milder flavor, drain the rum and place the raisins in a container; for stronger raisins, combine the rum and raisins in a container or jar and refrigerate for up to 1 month.
Which Rum Is Best To Soak Raisins?
When making these rum-soaked raisins, be sure to use only 1/4 cup of dark rum. Don't skimp on the quality of your rum either; this special recipe calls for a good dark rum that will provide maximum flavor. The small amount used in the recipe makes it worthwhile to splurge and choose an excellent dark rum that will take your rum-soaked raisins to the next level. Your guests will appreciate the extra effort!
What Alcohol Is Good For Soaking Raisins?
Gin-soaked raisins are a type of snack made with golden raisins soaked in gin until the liquid has evaporated. The resulting snack is not only delicious, but also packed with nutritional benefits from both the raisins and the gin. Grapes contain essential vitamins and minerals such as potassium, calcium, magnesium, iron, and zinc, which are all beneficial to human health.
Gin contains essential oils that promote digestive health and is high in antioxidants that can help reduce inflammation and protect cells from damage. Eating gin-soaked raisins also has a range of other potential benefits such as improved immune system function, decreased blood sugar levels, and even enhanced mental clarity.
Can We Drink Raisin Soaked Water?
Raisins are known for their health benefits, but the full extent of these cannot be easily obtained from eating them raw. This is why soaking them in water is an effective way to enhance their nutritional power and reap more health benefits. The process of soaking raisins in water increases the bioavailability of its nutritional contents, making it easier for the body to absorb and utilize them.
This means that raisins soaked in water are more healthful than their raw counterparts, offering a number of nutritional benefits that can improve overall health. Some of these include increased energy levels, improved digestion, better heart health, and stronger immunity. They also provide valuable vitamins and minerals such as iron, copper, manganese, and potassium.
Can You Get Drunk From Rum And Raisin Chocolate?
Chocolate liqueur-flavored chocolates are a popular treat, but they should not be taken lightly. Although it would take an incredibly large amount of these chocolates to reach the legal blood alcohol limit, people can still become quite inebriated from consuming them. Eating a couple of kilograms of these chocolates could easily lead to a feeling of intoxication that would rival Oliver Reed's. Therefore, it is important to be mindful when indulging in chocolate liqueurs and practice moderation.
Can You Get Drunk Off Of Rum Cake?
For those who are looking for a boozy dessert, rum cake is an excellent choice. The addition of the rum adds flavor and complexity to the cake that makes it stand out from other desserts. Although consuming not enough dry rum cake will not make you drunk, making your own with extra rum can give you a tipsy feeling after eating it.
After baking your rum cake, you can soak it in additional rum and then refrigerate the cake. This will give the cake a richer taste and provide enough levels of alcohol for a person to feel "buzzed" after eating it. Not only is this an interesting dessert to serve at a party, but it's also great for special occasions like birthdays, anniversaries and weddings.
What Is The Best Alcohol To Drink To Get Drunk?
River Antoine Royale Grenadian Rum (90% Alcohol) River Antoine Royale Grenadian Rum (90%) River Antoine Royale Grena
Hapsburg Gold Label Premium Reserve Absinthe (89.9% Alcohol)
176 Vodka (88% Alcohol) from Balkan 176 Vodka from Balkan 176 Vodka from Balkan
Watch How To Make Rum Soaked Raisins Video
If you're looking for a unique and delicious recipe to make with rum, look no further – homemade rum soaked raisins are the perfect addition to any dish! Not only are they packed full of flavor and sweetness, but the added kick from the liquor creates an unforgettable taste. Whether you want to top off your favorite dessert or simply enjoy as a snack on their own, this recipe will definitely hit all the right notes. In just minutes, learn how easy it is to make these tasty treats in our step-by-step Watch How To Make Rum Soaked Raisins video!
Conclusion
This quick and easy recipe for rum-soaked raisins is a great way to impress your friends with minimal effort. With just three simple ingredients, you can create a batch of these delicious treats in no time. Whether you enjoy them on their own or use them as an ingredient in salads or desserts, rum-soaked raisins are sure to be a hit! Have you made your own rum-soaked raisins? What's your favorite way to eat them?
Recent Posts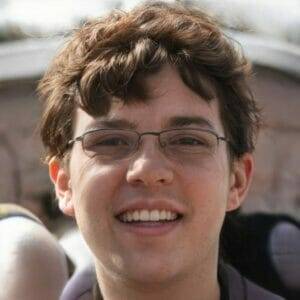 Morris Currey
I'm Morris Currey, and I've been writing about tips, buying guides, and reviews for as long as I can remember. I love helping people make the best purchase decisions possible, and I take great pride in my work. My goal is to always provide clear, concise information that helps readers make informed choices. Thank you for reading!
Leave a Comment
Oatmeal raisin cookies have so much goodness in every bite with healthy oats, whole wheat flour, and lots of raisins! Perfect for lunchboxes, snacks, or with coffee or tea.
Why you'll love it: These cookies are easy and delicious. They freeze well, both baked or unbaked.
How long it takes: 15 minutes to make the dough, 12 minutes to bake each batch
Equipment you'll need: large mixing bowl, baking sheet, wire rack for cooling
Servings: makes 42 cookies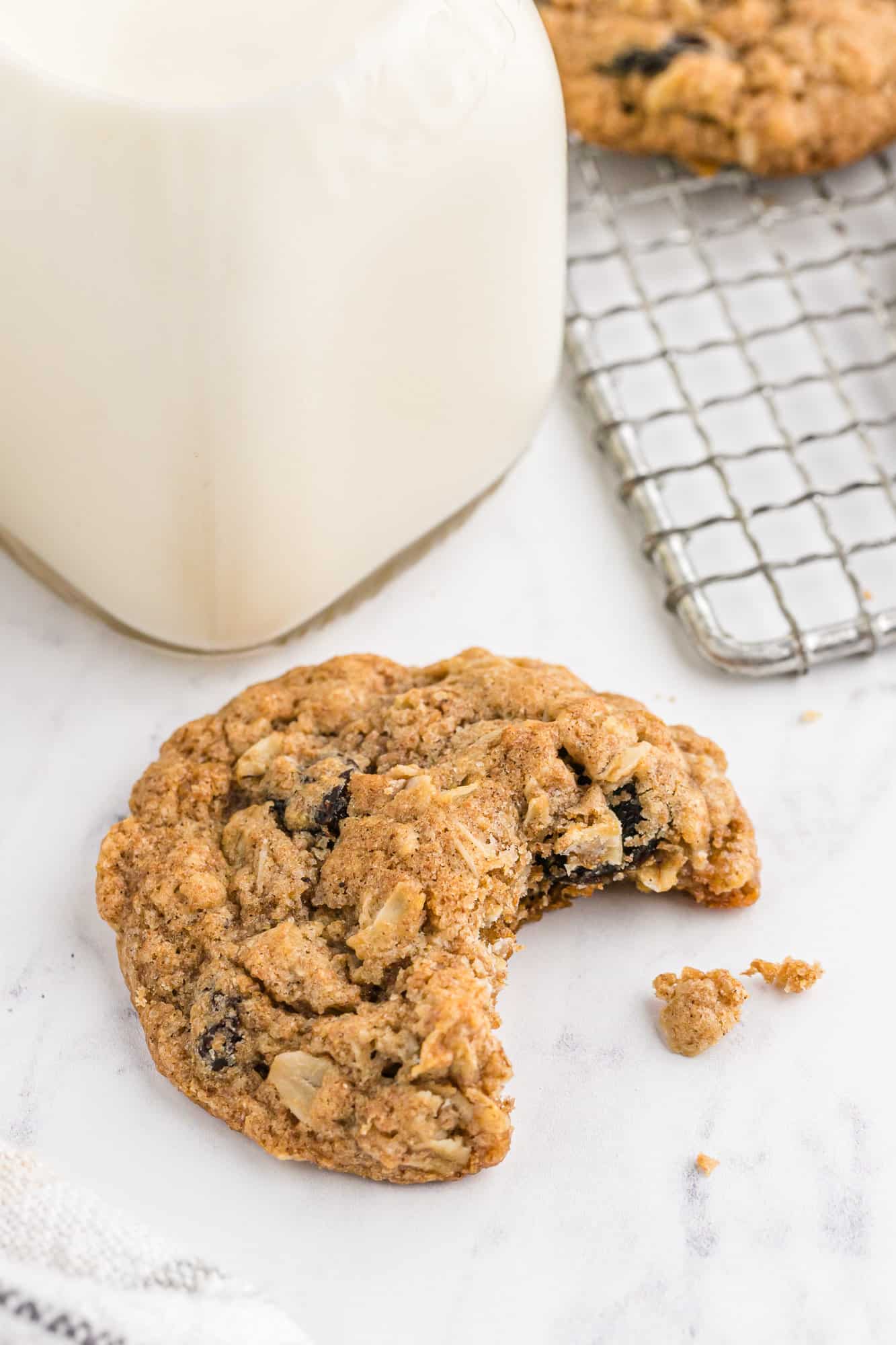 I love babies, and I love bringing a meal to new moms and dads. Along with that meal, I always bring cookies, but I do it with a twist. I bring some cookies that are baked and ready to eat, and I also bring frozen cookie dough balls (with baking instructions).
You might think, "Wow, why are you making them do the work?" Well, when you have a baby, you get a lot of visitors, and when you have a lot of visitors, you may feel compelled to offer them refreshments.
The fantastic thing about frozen cookie dough balls is that new moms can pop them in the oven when they get unexpected visitors. The visitors arrive, a half dozen cookie dough balls are popped into the oven (or toaster oven!), the house smells like freshly baked cookies, and everyone can enjoy a warm cookie fresh out of the oven.
THE NEW MOM WINS. She's amazing! She's the envy of the town! How does she do it? Everyone is so impressed. She has it all together!
Do you like to spread love through special care packages like homemade oatmeal raisin cookies? Psychologists have found that baking for others makes the baker feel as good, if not better, than the recipient. Sounds like a win-win to me!
About This Recipe
These oatmeal raisin cookies are quite hearty. They have lots of good-for-you rolled oats (3 cups!) and are made with whole wheat flour. Chewy raisins add sweetness and flavor, along with fiber, iron, and antioxidants.
To make these cookies stand out a bit, I add a few extra spices. You'll enjoy plenty of cinnamon in these cookies; nutmeg, ginger, and cloves enhance the flavor even more. The cookies smell just incredible when they are baking.
It's your choice whether to chill the dough before baking the cookies. Some bakers insist that chilling the dough improves the cookies. I've tried this recipe both ways and I'd say that there's no discernible difference. If it's more convenient for you to chill the dough, go for it.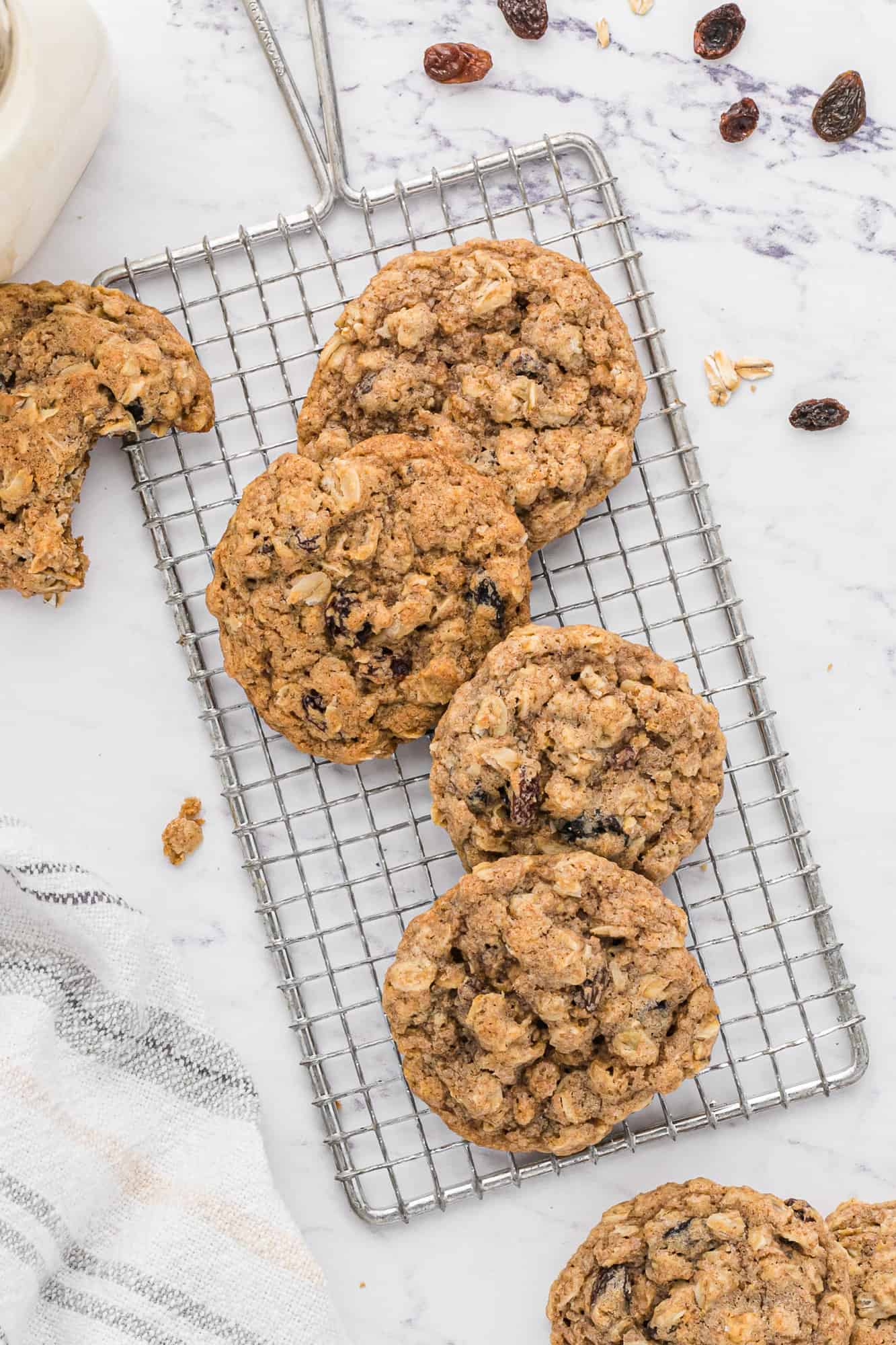 I'll get you started on making the cookies and give you lots of helpful tips. You'll find the recipe card near the end of the post with complete instructions, measurements, and nutrition information.
What You'll Need
The list of ingredients may look a little long but most of them are pantry items that are easy to measure and add.
Rolled Oats: The star of these oatmeal cookies: rolled oats! You'll need three cups of oats, either old-fashioned rolled oats or thick-cut rolled oats. Either type will work but don't go near steel cut or instant oats for this recipe, okay?
Whole Wheat Flour: Made from the whole grain, whole wheat flour has more flavor and texture than white flour. It also has more fiber and nutrition. I almost always use at least half whole wheat flour in my cookies. My family is used to it and they don't notice the difference. All-purpose flour can certainly be substituted if you prefer.
Raisins: Although raisins are high in sugar, they have lots of nutrition, too. These cookies just wouldn't be the same without them. Use regular or golden raisins.
Butter: Use unsalted butter for baking and make sure it's at room temperature (softened) before making your cookie dough.
Brown Sugar/White Sugar: Use a combination of these two sugars for the best tasting cookies. Brown sugar adds a caramel-like flavor.
Eggs: Eggs are a pretty common ingredient in cookies, except for shortbread cookies.
Cinnamon, Nutmeg, Cloves, Ginger: You'll love the flavor these warm spices bestow to the cookies. Use freshly grated nutmeg for the best flavor.
Baking Soda, Baking Powder, Salt: These common cookie ingredients provide leavening and seasoning.
Pure Vanilla Extract: Again, an ingredient often found in cookies, pure vanilla extract gives the cookies another layer of deliciousness.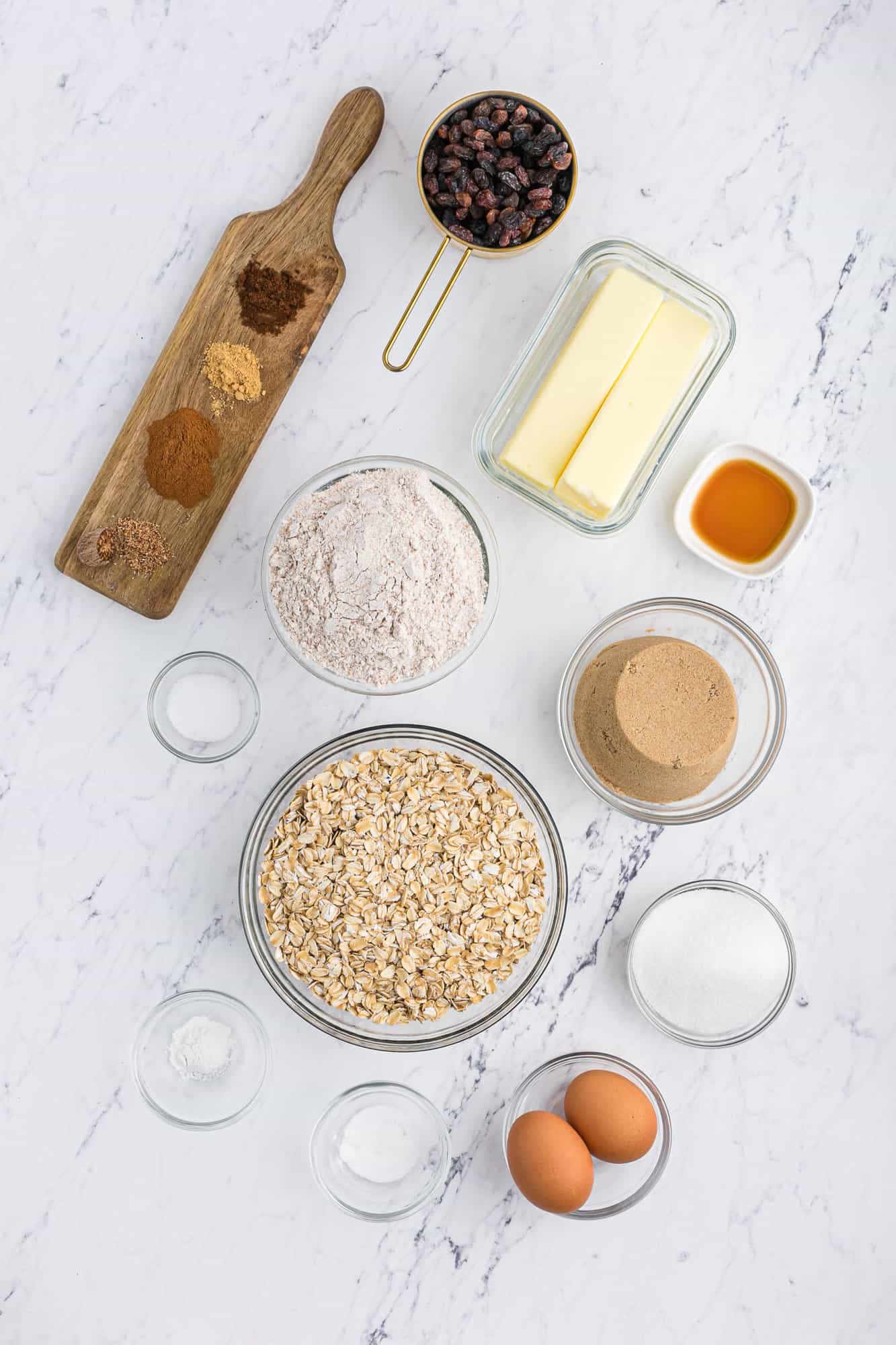 More About Thick Cut Rolled Oats
While old fashioned rolled oats are just fine, if you want something a little extra special, look for Bob's Red Mill thick cut rolled oats. Each oat is rolled extra thick, making the cookies extra chewy. The thick rolled oats are great for granola recipes, too.
How To Make This Recipe
You'll need a large mixing bowl to make these cookies. This is a one bowl recipe so cleanup is minimal.
Start by creaming the butter, sugar, and brown sugar together.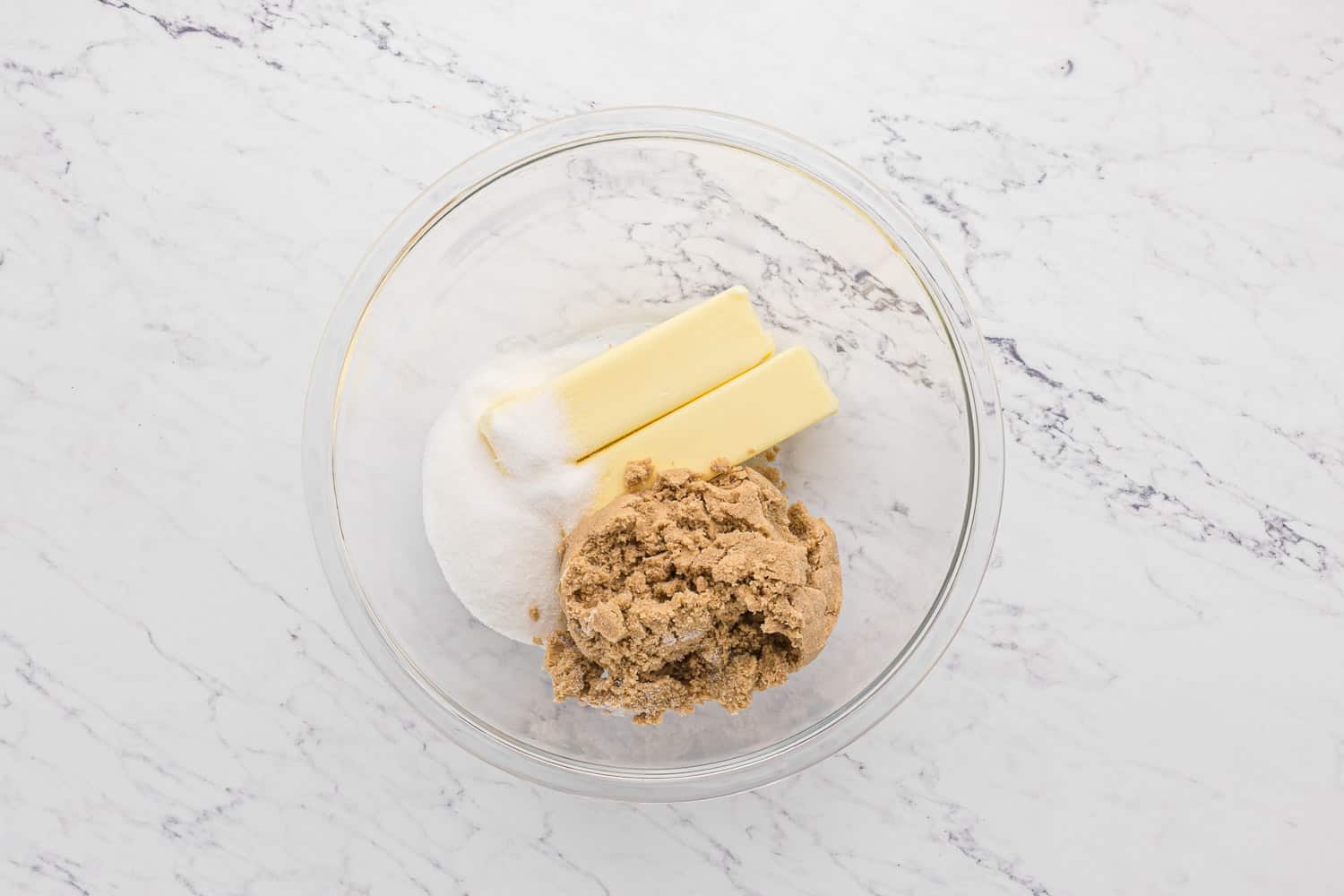 Use a stand mixer, hand mixer, or do it by hand. The mixture should be smooth and creamy, totally blended together. It's important to soften your butter first; chilled butter is nearly impossible to work with.
Blend in the eggs and vanilla extract.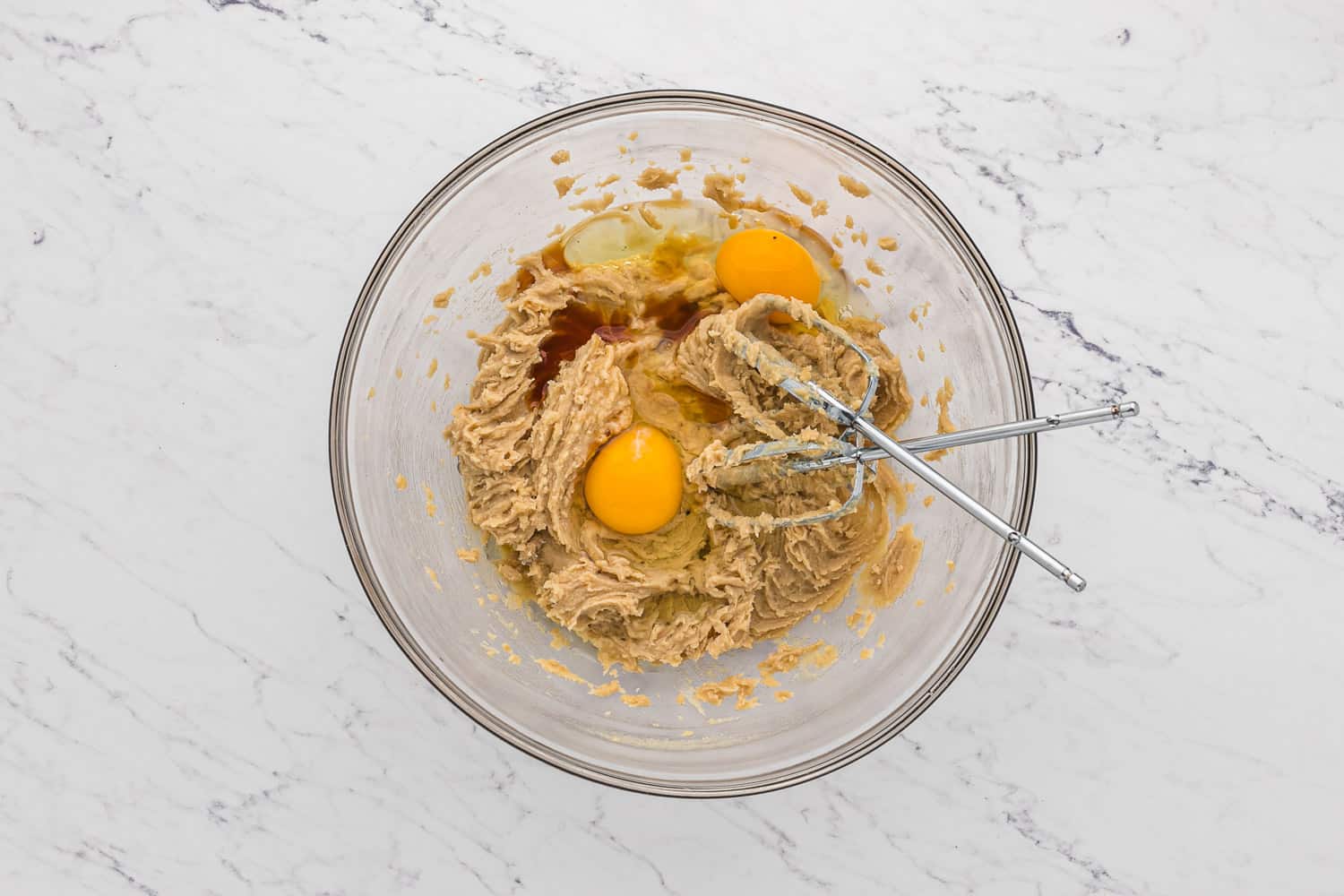 Next, measure out the flour. Spoon it lightly into the measuring cup. If you scoop the flour with the measuring cup, the flour will be too compacted and you'll end up with hard cookies. Don't shake the flour down to level it either; it's best to level it with a straight edge such as a table knife.
Add the flour on top of the butter mixture; don't mix it in yet. Measure out the baking powder, baking soda, salt, and the ground spices, putting them on top of the flour. Once all the dry ingredients are in the bowl, lightly blend them together using your fingertips or a spoon.
Now, stir the dry ingredients into the butter mixture just until they are blended together. Overmixing the dough may cause the cookies to become tough.
Add the oats and raisins to the dough and fold them in until they are distributed evenly throughout the dough.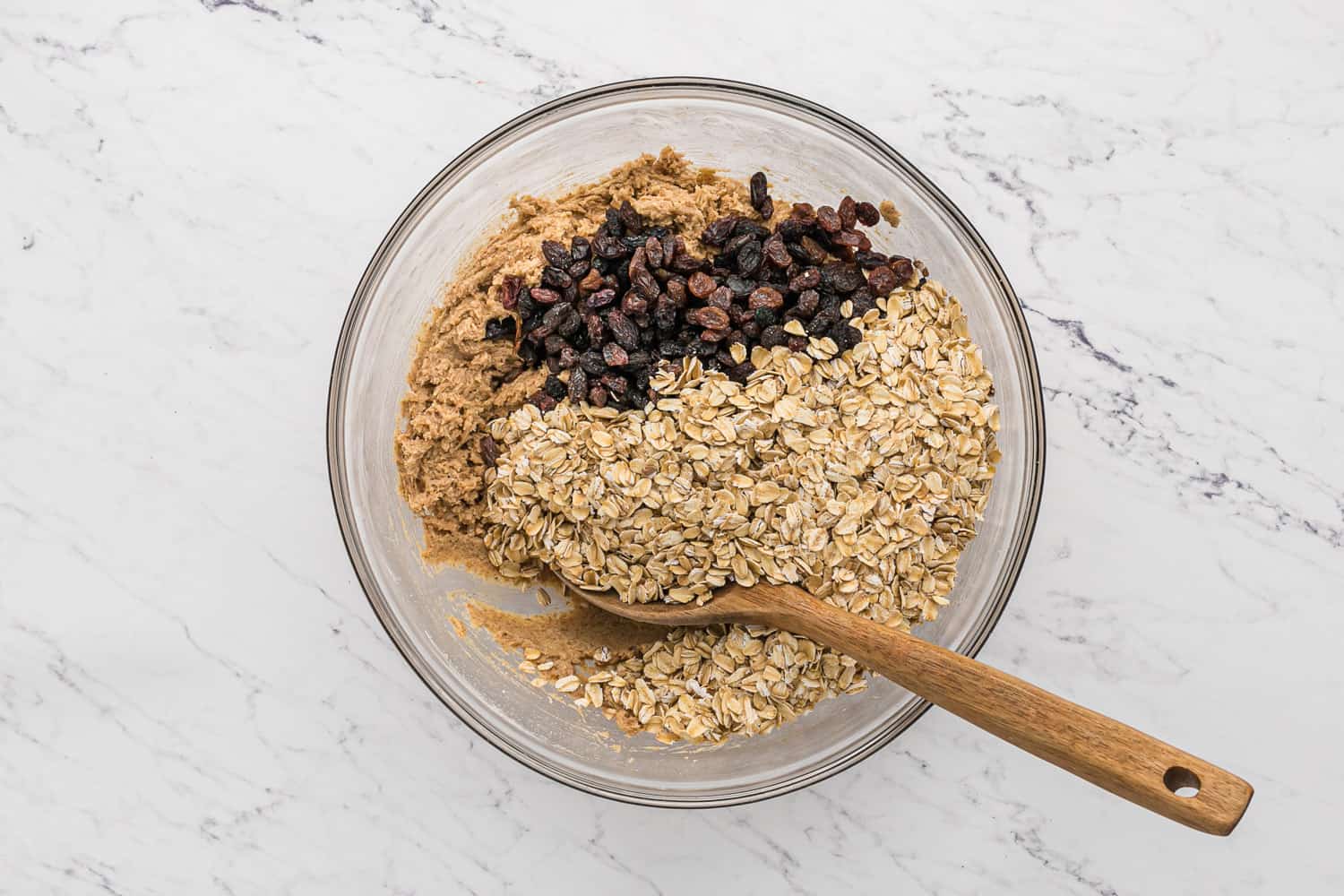 Use a cookie scoop (size 40) to make uniformly sized balls, about one and a half tablespoons. A spoon is fine, too, but you may have to shape the cookies a bit.
Arrange the dough balls on a cookie sheet lined with parchment paper.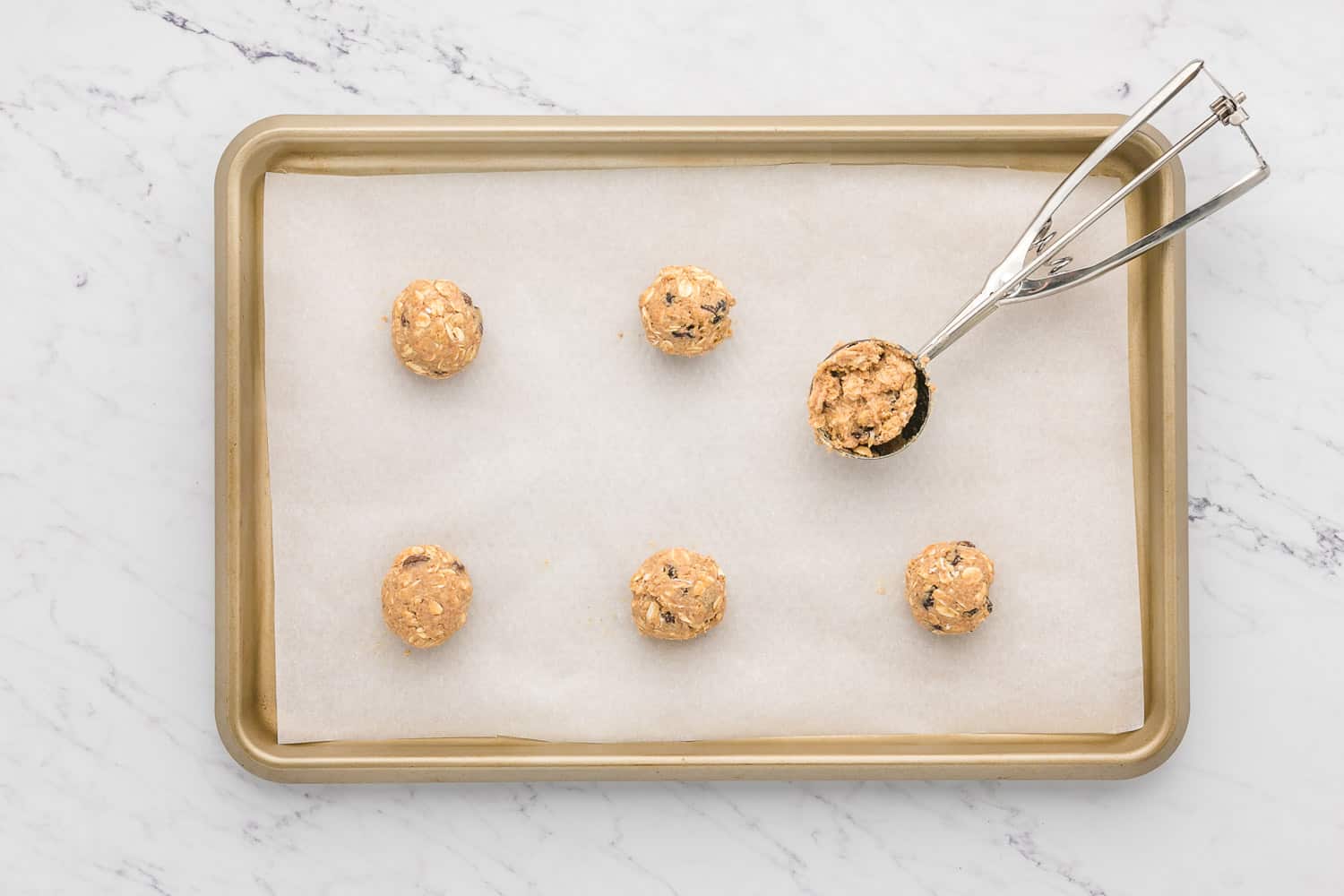 Bake the cookies until they are just golden brown around the edges. The longer you bake them, the crisper they will be.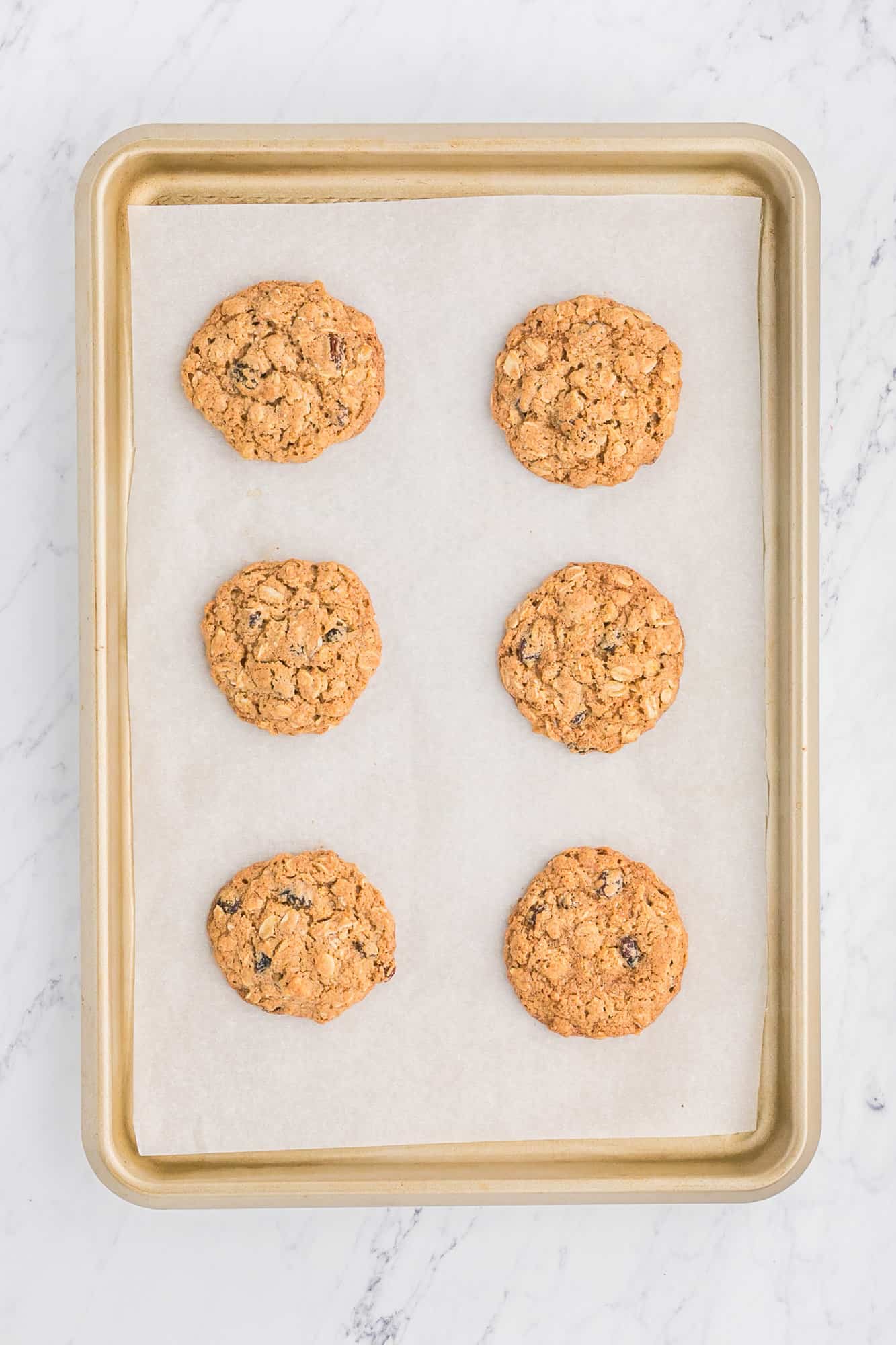 Allow the cookies to cool on the baking sheet a couple of minutes; then use a large spatula to transfer them to a wire rack to cool completely.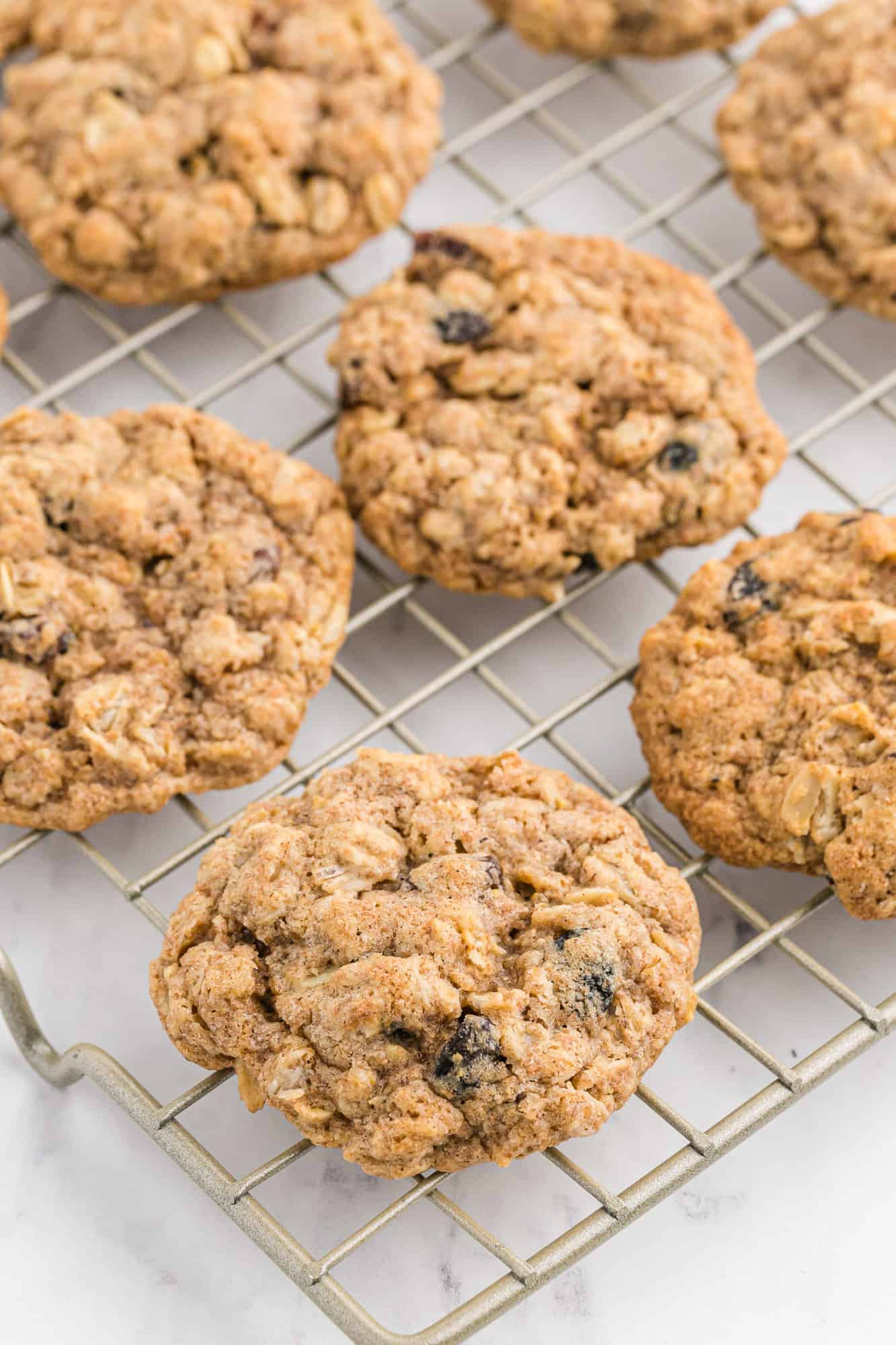 You'll probably want to try a warm cookie! They are hard to resist. Pour a glass of cold milk or make a cup of coffee or tea to go along with your warm oatmeal raisin cookie. Enjoy!
P.S. Each (generously sized) cookie is only 115 calories!
Soaking raisins before adding them to cookies is the baker's choice. Soaking the raisins in boiling water for 10 to 15 minutes will make them softer. Drain them well before adding them to the dough. If your raisins are a little old or extra dry, it's a good idea to soak them. If your raisins are soft and fresh, it's really not necessary.
Can I use quick oats in oatmeal raisin cookies?
Old fashioned rolled oats make the chewiest cookies. However, if you only have quick oats, they will work fine in this recipe. The cookies will be just a bit less chewy.What are quick oats? Simply put, quick oats are rolled oats that have been chopped into smaller pieces so they cook more quickly when you are making oatmeal.
Make It Your Own
Want these cookies to stand out a little more? Try using jumbo raisins, dried cherries, or dried cranberries.
Change the flavor of the cookies by substituting 1 tablespoon of finely grated orange peel for the cinnamon, ginger, nutmeg, and cloves.
If you're a nut-lover, add 1/3 cup chopped pecans or walnuts to the dough.
Substitute all-purpose flour for the whole wheat flour, if you prefer.
Not a fan of raisins? Try coconut oatmeal cookies or old fashioned iced oatmeal cookies.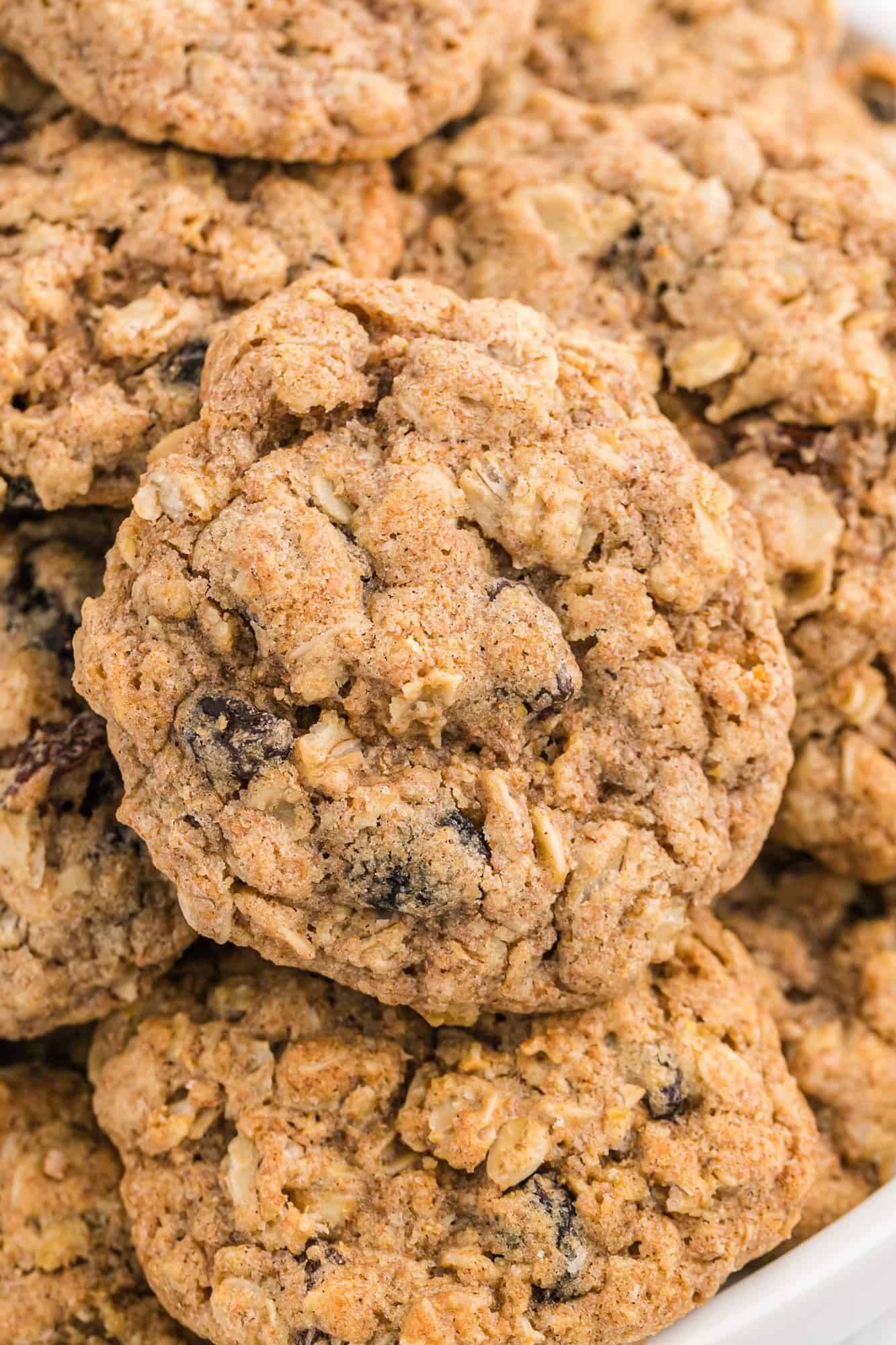 If you don't have time to bake the cookies right away, the dough can be covered tightly and refrigerated up to a day ahead or frozen up for up to three months.
To freeze cookie dough, scoop it out onto a tray (find one that fits in your freezer) lined with parchment paper, wax paper, foil, or plastic wrap. Freezing the dough on a tray first prevents the dough balls from squishing or sticking together.
Place the tray in the freezer, uncovered, until the dough hardens, about an hour. Transfer the dough balls into a zip-top bag or other freezer safe container. Label it with the name of the recipe and baking directions, if it's a gift.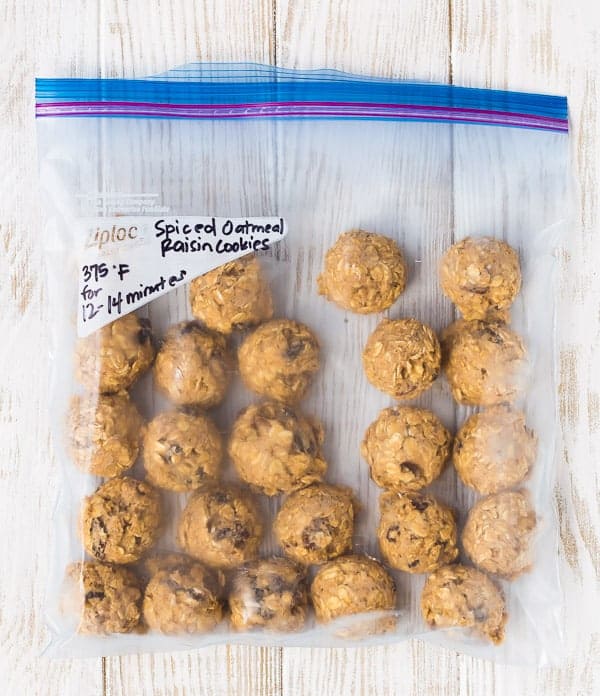 Cool the baked cookies completely before storing in an airtight container. Cookies will keep on the counter for up to a week, in the refrigerator for a couple of weeks, or in the freezer for at least a month.
More Cookie Recipes
packed brown sugar
(2 sticks) butter, softened
pure vanilla extract
whole wheat flour (all purpose flour can be substituted)
freshly grated nutmeg
old-fashioned rolled oats (not steel cut or instant oats)
Preheat oven to 350°F. Line cookie sheets with parchment paper.
In large bowl, combine sugar, brown sugar and butter; beat until light and fluffy. Add eggs and vanilla; beat until combined.
Add flour, baking soda, baking powder, salt, cinnamon, nutmeg, cloves, and ginger to bowl. Mix lightly to combine dry ingredients, then blend into wet ingredients. Do not overmix. Fold in oats and raisins.
Scoop dough by heaping tablespoonfuls (size 40 scoop) and place 3 inches apart on prepared cookie sheets.
Bake for 10-12 minutes or until edges are golden brown. Cool 2 to 3 minutes before removing from cookie sheets and placing on a wire rack to cool completely.
If desired, cover and chill dough for 1 hour, or overnight. Add 1-2 minutes to baking time.
Freezer Directions: Drop by heaping tablespoonfuls onto a tray lined with parchment paper (make sure the tray fits in your freezer!). Freeze one hour or until hardened and then transfer to an airtight freezer-safe container and store in the freezer for up to three months. Bake as directed in the recipe, adding 2-3 minutes to the baking time as needed.
This website provides approximate nutrition information for convenience and as a courtesy only. Nutrition data is gathered primarily from the USDA Food Composition Database, whenever available, or otherwise other online calculators.
اتصال به اینترنت شما ضعیف یا قطع است.
You may want to plump or rehydrate the raisins before making or baking to have a juicier raisin. At first, you should wash raisins carefully and put them in the water. Plumping raisins before using them is recommended in order to get the most out of their potential benefits. To give the raisins more volume, soak them for ten to fifteen minutes in either some of the liquid from the recipe or hot water directly from the faucet. This will allow the raisins to absorb more liquid. Dry well before continuing with the process if you are not going to use the soaking liquid that is called for in the instructions.
In addition to their usage in trail mix and consumption on their own, raisins have a wide variety of additional possible applications. These dried grapes, despite their little size, have the potential to significantly enhance the taste of any dish they are added to. You are about to do a complete about-face. raisins have this amazing property of growing in size and becoming more flavorful and juicy when they are plumped. To put the cherry on top of everything, plumping raisins is easy to do and does not call for any specific methods or recipes. Just pour some liquid into a plate, toss in some raisins, and let them sit there to soak while you finish preparing the rest of your supper (or overnight). When they have reached their full size, drain off any extra moisture and then incorporate them into your dish. They provide a flavor that is subtle but delectable to dishes such as hand pies filled with meat, chicken cooked in a pot, and even spaghetti. You may add the plumped-up raisins to the mixture that you'll use for your baked goods. You have the option of throwing away the liquid that was used for soaking or saving it for later use, such as a salad dressing.
The raisins will take on the taste of the liquid that they are soaked in, regardless of what that liquid may be. Make use of all you have in the refrigerator and the cupboard. In some recipes for carrot salad, plump raisins that have been soaked in lemon juice for just five minutes are required. Vinegar such as apple cider or balsamic, as well as different kinds of juice such as orange or lime, are alternative options for this recipe. It is correct that apple juice is one of the components that go into making this Spice Cake. Do you still have a small amount of liquid in the bottle? Just get it done. There is even a trickle of water! Consider soaking the raisins in warm liquid before using them in recipes, such as this side dish made with Brussels sprouts, so that they absorb more moisture and become plumper. It is not necessary to use a warm liquid, however, doing so will speed up the procedure significantly. Plumping may be done using both black and golden raisins; however, the drying process for the former yields a plumper final product than that for the latter.
Before being dried in an oven, golden raisins undergo a treatment that shields them from oxidation and prevents them from becoming brown. The drying process makes sun-dried black raisins more difficult to plump up than other types of raisins. After you've learned how to plump them yourself, there's no way you'll ever go back to purchasing them in a dry state again. It's possible that once you taste them in rugelach with raisin jam, you'll be hooked on them for the rest of your life. It's a well-known fact that adding raisins to baked goods helps the finished product taste better, but I'll take it a step further and suggest that soaking the raisins beforehand makes them even more appetizing. The fruit has had all of its moisture taken from it in order for it to be dried, and this may happen either naturally or mechanically. This makes them more stable over an extended length of time, but regardless of where you check, you will find that they are dry. If you soak raisins before adding them to the dough or batter, they will become plumper, finer looking, and have a more robust taste. To get the most flavor out of the fruit for fruit scones, tea cakes, hot cross buns, and festival loaves of bread like Pantone, soak the fruit in liquid first before adding it to the dough. Where can I get specific instructions on how to properly soak raisins before incorporating them into a recipe, and why is this step so important?
Before they can be used in baked products, dried fruits need to be reconstituted by soaking in water. Place the necessary quantity of raisins or sultanas in a ziplock bag, then pour enough hot liquid to cover them, which should come to around half a cup. Make sure the bag is sealed and soak the beans for at least an hour, but ideally throughout the whole night. Even if you just have water, this will be helpful in the event that you do not have any fruit juice or liquor. There are many excellent choices available, such as clear white rum, port (which can tint the dough), sherry, or kirsch; nevertheless, the effects will vary according to the recipe. After soaking, remove any excess liquid from the raisins by either draining the bowl or shaking the container. If the port will be used, but the dark color is not desired, give the raisins a second rinse.
How useful is this article to you?