The store will not work correctly in the case when cookies are disabled.
Applied Culinary Technology offers Ventless Culinary Development
Restaurant Consulting
Recipe Development
Concept Innovation
Dining Green Equipment
Andy Revella, EVP of Culinary Development and Executive Chef, has over 55 years of experience in the food and beverage industry. He was responsible for the menu development and operations for restaurants including Bennigan's, Steak & Ale, and Rainforest Cafe. He was also the head of food and beverage at Harrah's Casinos. Andy has developed over nine core branded concepts resulting in numerous new restaurants. In November of 2009, Andy was recognized as the Greenest Chef in America by the Captain Planet Foundation.
LloydPans supports Applied Culinary's green kitchen solutions, utilizing ventless and greaseless technology, with baking platforms engineered to fit with modern ovens. Utilizing air impinger ovens, LloydPans green bakeware compliments the recipe developments by Andy Revella with healthier, cleaner, energy-efficient kitchens.
Custom Pans for TurboChef High h Batch Oven built for the TurboChef High h Batch Oven.
Standard stocked green products for Pizza, Foodservice and Baking applications.
LloydPans Custom Products, developed for individual recipes that require an efficient baking platform.
LloydPans products are uniquely engineered with proprietary finishes that are permanent, stick-resistant, non-toxic and highly durable for commercial kitchens. There is not another product on the market that compares.
Dura-Kote permanent release coating on dark anodized aluminum
Pre-Seasoned Tuff-Kote engineered specifically for the pizza industry
Silver-Kote, applied over light anodized aluminum ideal for baking lightly crusted products
Custom products built for the TurboChef High h Batch Oven.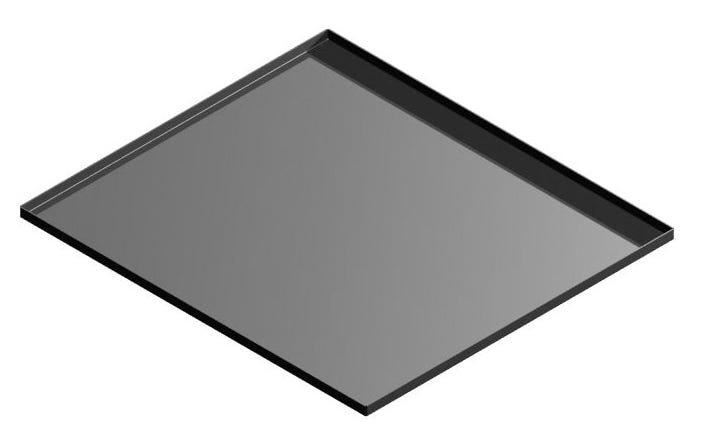 Solid Pan
To fit High h Batch TurboChef oven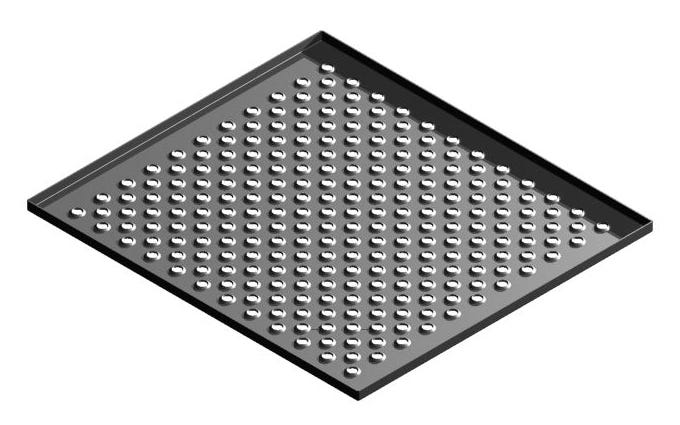 Volcano Pan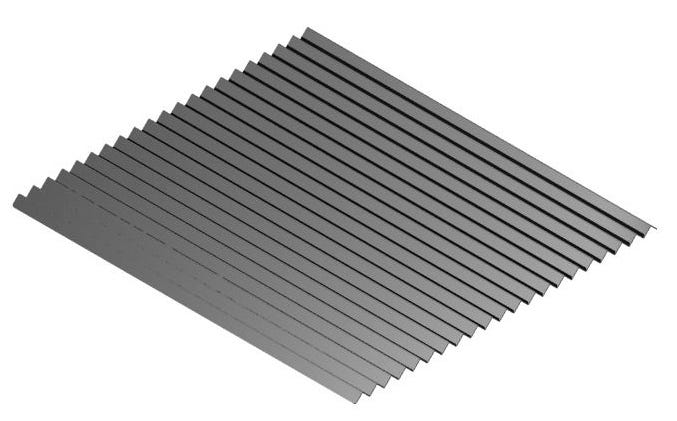 Corrugated Grill Pan
To fit High h Batch TurboChef oven.
Can be used standalone or inside RCT-14698-DK or RCT-14700-DK.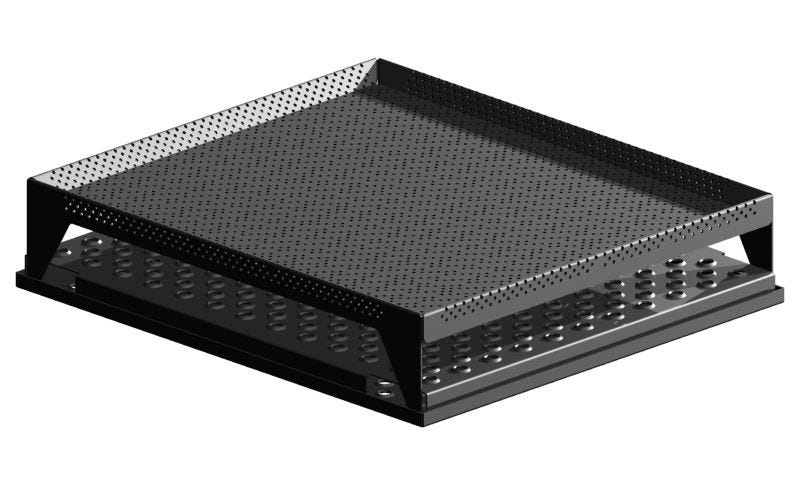 Fry Assembly
Shows RCT-14700-DK, RCT-14701-DK, and RCT-14680-DK assembled as a 'fryer' for use in a Highh Batch oven.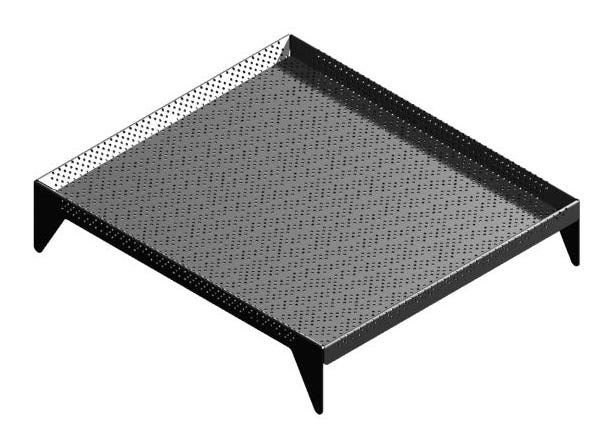 Fry platform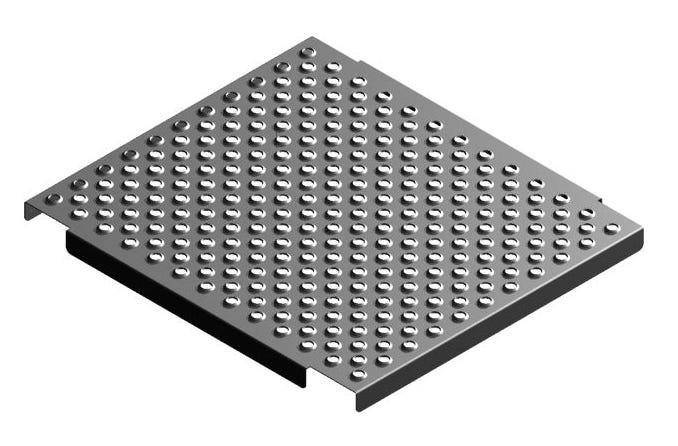 Volcano Style Baffle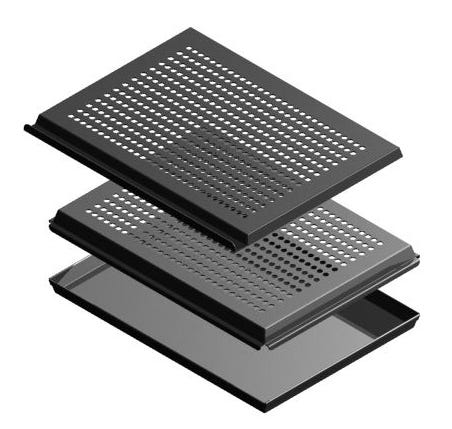 Coffee Roaster Set
Shows the three parts referenced below in an exploded view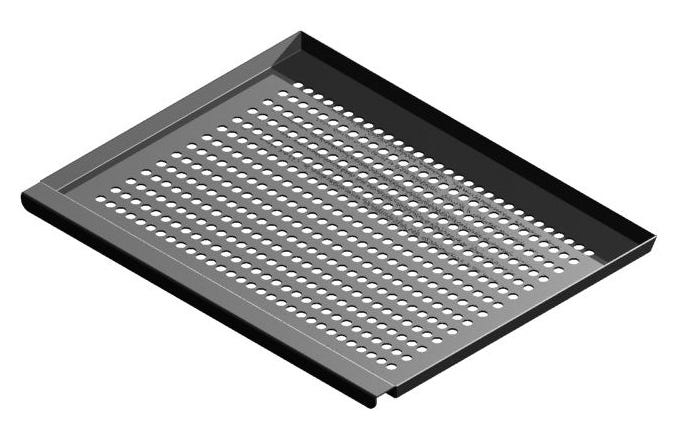 Coffee Roaster Outer Lid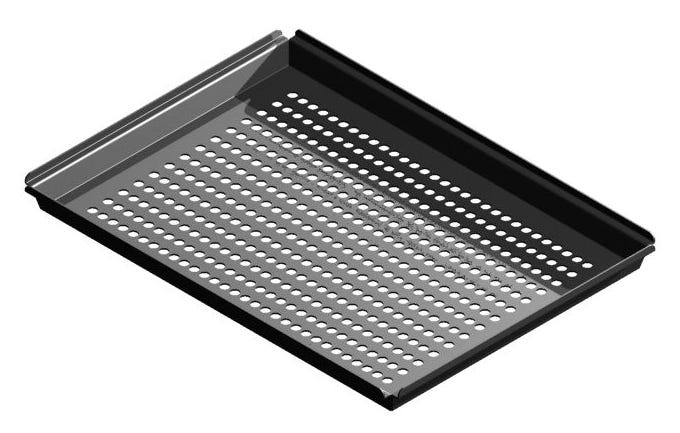 Coffee Roaster Inner Lid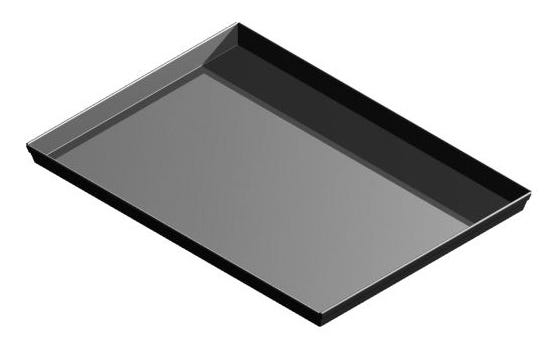 Coffee Roaster Base Pan
"I was in a fraternity in college and that's where it really started," says Andy Knudson, the Executive Chef at Tillie's. "That's where I got a taste for entertaining people and having fun. I ended up working for Daniel Boulud and just seeing what that level of hospitality looked like was inspiring. The attention to detail, the passion, the incredible ingredients, the way the servers are dressed, the way the chefs were kept clean—if you're gonna do it, do it right."
Chef Knudson has been all over the country, from the Upper East Side to Caesar's Palace to the Bahamas. Now he's back in his home state of Texas, taking hospitality to a whole new level.
"I came down to Texas in April of 2020. I think we did what everybody did in those first, like two weeks of COVID and played by the airport rules, and started drinking at seven in the morning. My wife and I were living in my parents' casita and all of the sudden we had a friend base of like 70 year olds," he laughs. "We were like oh, this isn't that fun, we have to find jobs."
The job he ended up finding was in line with his previous fine dining experience—a luxury hotel outside of Austin that's a true piece of Texas history. The namesake of Tillie's was Attilia "Tillie" Hancock, a world traveler, wife of Austin's first banker, and the first female developer in Austin. Her great grandson, Whit Hanks owns Camp Lucy, the resort 30 minutes outside of Austin where Tillie's is located. Chef Knudson describes the location as a key part of the dining experience.
"It's really an all-senses experience, starting with the visual," he says. "Our dining room is an old Vietnamese town hall that's been rebuilt here in Texas. It's from the 1700s and the walls are covered with Eastern and Western saints that are between 400 and 900 years old. People sometimes ask if it's a religious restaurant and I tell them if it was, I think the majority of my team would've been burned up when they walked inside."
When Chef Knudson started as the Executive Chef about a year and a half ago, despite the beautiful surroundings, the restaurant was struggling to find its voice.
"I took a step back and changed the format of the restaurant," he says. "They were doing a prix fixe brunch, five courses, and it just didn't make sense. So I changed it to a-la-carte and gave them a more American brasserie-style brunch. Dinner service was heat the food up, wait for somebody to order it, and then just slap it on a plate cafeteria style. It just wasn't cooking. I wanted to elevate the food to the environment it was being served in."
This started with sourcing ingredients locally as much as possible. This proved more of a challenge for some meats than others.
"The lamb chicken that I use are super local—both within about 15 miles of the restaurant," says Chef Knudson. "For the most part, all of my fish comes out of the Gulf. I have a heritage seafood guy so I'll get a call on his way down to the third coast, and then we just kind of base our menu off of what he has available for fish. We actually do less beef because it's hard to find in the quantities I want," explains Chef Knudson. "It's too hot down here, the cattle don't eat as much and you don't get that great marbling."
His focus on keeping the menu as local as possible has led Chef Knudson to improvise and try out different dishes, from his take on Southern classics to other experiments.
"We have a smoked chicken with dirty rice right now. The rice is grown south of Austin and the chickens are from here, so it's a very full circle, Texas kind of dish. Same thing with our shrimp and grits—the corn for the cornmeal is grown in Texas and milled right here in Dripping Springs and the shrimp comes out the Texas Gulf."
Currently, Chef Knudson's menu is also influenced by the intense heat. In the summer, he tries to use fewer grains, swap the butter for olive oil, and brighten dishes with the addition of citrus or melon.
"I try to look at cultures where it's hot all the time and get inspired by them. For example, Middle Eastern food has lots of acidic sauces and condiments plus lots of pickling and probiotics to help with digestion, so you don't feel weighed down by your food."
There is however, one aspect of the menu that Chef Knudson is not flexible about—kids menus. As a new father, he's looking forward to cooking for his child, but don't expect a kids menu to appear at Tillie's anytime soon.
"We get some picky eaters out here, and I tell them we've got chicken tenders, butter pasta, red sauce, pasta, and that's it. I refuse to print it. If it's for a kid, fine but I don't want to encourage drunk adults to order chicken tenders. My chefs came here to learn not to put frozen chicken tenders in a deep fryer."
What Chef Knudson does want to do for his chefs is provide the same sort of learning environment that his mentor did for him. His philosophy is, even if people are coming in with less culinary experience, to give them a skillset that will help this grow into a career for them.
Welcome to On Location, where we talk to the coolest cooks and makers around the country about what's inspiring them right now.
If you've been remotely paying attention to the "who's who" of cooking for the last few years, you've surely heard of Andy Baraghani. There's a good chance you've tuned in to his cooking YouTube videos with "Bon Appétit," where until 2021, he served up skills-building tutorials with a side of fan-building snarky charm. You may have also purchased his cookbook, "The Cook You Want to Be: Everyday Recipes to Impress," which debuted at #6 on the "New York Times'" Best Sellers List.
Recently, Baraghani taught us here at Spruce Eats how to make kufteh. Like all of Baraghani's recipes in "The Cook You Want to Be," the kufteh is a little bit traditional and a lot of bit Andy — they're giant, and stuffed with fresh herbs and turmeric. They're cooked in a wildly bright tomato sauce. They're irresistible, and with a little help from Baraghani, you can definitely make them for dinner tonight.
The key with lamb is salting it early, which brings out anything funky, and deeply seasons it. When it comes to shoulder and leg—the parts of the lamb that have a lot of intermuscular fat—you have to be a little more thoughtful with your approach, as compared to something simple like a lamb chop. Because these heartier cuts are already so robust, I try not to bury them with heavy ingredients. For example, I braise lamb in white wine, not red. It's a little more delicate. I load up on alliums, like onion and garlic, but don't take them to a very dark place; they're always very soft and sweet. And although rosemary is traditional, I think bay leaves and thyme are a touch more gentle. I promise lamb will taste so much better with a lighter hand.
The way you title your recipes is so unique—for example, "Fat Pieces of Citrus with Avocado and Caramelized Dates." What was your creative process like for naming dishes?Over my time cooking professionally, I've developed probably over 450 recipes—for newspapers, magazines, and websites. The recipe name has never been something I had full control over. With this book, I wanted to be able to touch every aspect of the recipe. So when it came to the titles, there were a few things. One, it needed to speak to my personality. Two, it had to catch the reader and make them want to cook the recipe. Finally, it was important I used real, evocative words that immediately resonated with readers.
This book is not about a specific type of cuisine. It's really my kind of cooking: vegetable-heavy, herby, tangy, acidic—it's a subtle commentary on how I think we should be eating now. Not a lot of meat; using what's in our pantries. The recipe titles are meant to relay that. Ultimately, I wanted them to feel appealing, smart, and delicious.
What type of cook do you hope your readers will become throughout their time spent with your recipes?There are certain themes throughout the book that I was very intentional about. I didn't want a book that was only full of delicious, highly-cookable recipes. I wanted readers to go the extra step; I wanted them to learn about an ingredient, a technique, or a cultural context that accompanies a dish. A recipe that works and is delicious is great, but it's a whole other thing when it teaches and empowers you—when it extends beyond the page.
I hope readers are more curious and open, both in and out of the kitchen, when they finish with this book.
What's one brave thing home cooks can do tonight that will expand their skill set and confidence?In the introduction of the book, I wrote my 10 rules for cooking. The very first rule is the most important. That's "Cook the Unfamiliar." If you're cooking the same thing over, and over, and over, you become numb to the experience; it narrows your mind and narrows your palate. If it's within your budget, grab that ingredient you've never tasted; try that technique you've never used. The worst thing that's going to happen is that it might turn out wrong, or not be as delicious as you thought. But you'll have learned something, and that seems like a win.
For all your sautéing, searing, frying, and baking needs.
,
a kitchen and dining writer at the Strategist.  
Previously, she was an editor at Bon Appétit and has worked in food media for nine years.
Photo: Marcus McDonald
It should be said up top: Skillets is a broad category. There are, after all, several types — cast iron, carbon steel, stainless steel, copper, and nonstick. And then within each type, there are a lot of options. Do you go with a classic brand or take a chance on a newly beloved direct-to-consumer company? When it comes to such an essential tool, is it always worth it to splurge? How many skillets do you really need? There's no one answer to each of these questions because the cookware you own should ultimately be a reflection of how you personally operate in the kitchen — something I've tried to help you think through here (with the recommendations of many pros, of course). If you're simply looking to fill a hole in your collection and know what you want, you can jump to any section by clicking the quick links below. But if you're starting from scratch or doing a full-on refresh, it's worth a full read through to make sure you end up with a well-rounded, hard-working assortment.
One note: For consistency, I've mostly linked to skillets that are approximately ten inches (it's a middle-ground size that works well for most dishes in households where you're generally cooking for two to four people). But with nearly every one on this list, you can go bigger or smaller.
This is so obvious it feels a little silly to say, but the most important factor in determining what skillets you need is the material. Pretty much all of the experts I spoke with agree that a mix of cast iron, nonstick, and stainless steel or copper (which are fairly interchangeable) are all you need to make first-rate food, so those are the types you will find on this list. (The one exception is carbon steel, what you might call a cousin to cast iron).
Some of these pans are meant to last a lifetime, others aren't. But regardless, upkeep is important. For this, I've noted when maintenance is just a simple run through the dishwasher or hand wash, versus when there's more to do.
Here, I've listed whether the pan is heavy, medium, or lightweight — something to consider when you think about moving them around the stove, storing them, and cleaning them.
Choosing a best overall skillet is easier than you might expect given the vastly different categories I laid out above. But really, if you only had to cook with this single one for the rest of your life, you'd be pretty okay. As a material, cast iron can pretty much do it all: get really hot and retain that heat, go from the stove to oven, and hold a nonstick surface if seasoned properly. (Lodge cookware comes pre-seasoned, which is a great bonus, but it might require some upkeep over the years.) You can sear, sauté, braise, fry, and bake with it. And while there are many companies that make cast-iron cookware (Butter Pat Industries and Smithey are two we've written about before), none is more beloved than the incredibly affordable, durable, and dependable Lodge.
It's the most common cast iron you'll see regular home cooks using: Strategist senior writer Liza Corsillo said it was the very best thing she bought in the entirety of the last decade, and I use mine so often it has taken up permanent residence on my front left burner. But professional chefs are just as devoted. "This pan will last you forever," says Daniel Cutler, co-owner and chef of Ronan in Los Angeles. "It always comes in handy and never disappoints," adds New Orleans–based chef and restaurateur Alon Shaya. For something so useful, the price is already seriously low, but Lani Halliday, founder and owner of Brutus Bakeshop, notes that you can often find them even cheaper at thrift shops, yard sales, and antique stores. "All you have to do is clean them up," she says.
For a long time, it was a fact in my mind that you shouldn't spend too much money on a nonstick skillet because — unlike cast iron and stainless steel — they are not meant to last forever. But after years of cooking in my own kitchen — many with this pan — as well as some very thorough research, I think it's safe to say what you want is a moderately priced nonstick. It should be a workhorse — frying and scrambling eggs, crisping up fish skin and leftover rice, griddling pancakes, gently toasting spices — but one you don't have to be overly precious about. Bottom line: I wouldn't spend much more than $100 on something that will inevitably need to be replaced, but I also wouldn't spend too little on a random pan that is bound to fall apart after only a year or two (if not sooner). The Zwilling Madura hits this sweet spot, and in many people's opinions, it's the way to go.
"I love that it's technically safe for metal utensils, something that I've always considered a nonstick no-no," says recipe developer and writer Rebecca Firkser. "I still try to be cautious when flipping things with my metal fish spatula, tongs, and slotted spoon, but even when I've scraped the pan accidentally, I've never seen a scratch on the surface. I also love that the handle stays cool to the touch, which is obviously not the case with every pan."
Recipe developer and cookbook author Andy Baraghani swears by the Zwilling Madura, too, noting its lightweight design and flared lip that make it easy to toss ingredients. For her part, recipe developer and cookbook author Molly Baz says, "I like the way it feels in my hand ergonomically. I can hold it in one hand without it hurting my wrist or flopping over to the side."
Though many nonstick skillets say they're oven and dishwasher safe, the Zwilling Madura has withstood both those tests. I use mine to make frittatas (as do Firkser and Baragahni), and Baz says, "I have been putting it in the dishwasher since I bought it four or five years ago, and it shows no signs of degraded coating."
Along with my ten-inch Zwilling Madura, I own an eight-inch Cuisinart Chef's Classic Nonstick. It's been in my regular rotation for the past two years, used primarily for eggs (I make scrambled, fried, omelets, or a frittata most mornings). Though eggs take a fairly gentle preparation, and leftover bits hardly require any scrubbing to get off (if they exist at all), I can say this skillet has held up beautifully so far — a good endorsement considering it's half the price of the Zwilling.
While Teflon coatings should be avoided because of the toxic chemicals that can scratch off from them, there are a bunch of other materials and processes that can make a skillet nonstick (both the Zwilling and the Cuisinart models are not coated with Teflon). But some folks are sticklers for ceramic-coated pans, supposedly the safest and healthiest of all. I'll be honest: I'm not a huge fan of ceramic because I find that the surface isn't quite as nonstick as others, especially over time. But many people swear by them, and GreenPan (which has different series of its ceramic nonstick pans with slightly varying properties) seems to be the favorite.
Recipe developer and food writer Caroline Lange has been using hers daily for almost two years (she even recipe-tested three cookbooks on them) — and they're showing "very minimal wear," she says. "They clean easily; if there's ever any oil cooked on (like if I fry an egg really hot), scrubbing with a bit of baking soda takes it right off. And I also like that they're really oven safe, up to 600 degrees. My oven doesn't even go to 600 degrees!" To that point, cookbook author Vallery Lomas even told me she's even baked a galette (which obviously goes in the oven) in her GreenPan.
In home kitchens, you're more likely to find stainless steel than copper skillets. And when it comes to stainless steel, All-Clad is the tried-and-true forever favorite. It's a brand that has surrounded me my whole life — in the classic Food Network cooking shows I used to watch, in my mom's cabinets from the time I was born, and in the test kitchen of Bon Appétit (where I used to work). Matt Rodbard, food writer, editor, and cookbook author, even says that the handle is so "iconic" that if you flip through "most cookbooks of the last 20 years, you'll spot it." Robert Guimond, the chef and owner of Public Display of Affection in Brooklyn, swears by his to steam ingredients or help them cook faster, and it comes with a matching lid for splatter control. "It's durable and it's beautiful," he says. "I often find myself daydreaming about sautéing some gnocchi or scallops with it right after I'm done washing it."
Culinary producer Kiano Moju swears by her Made In skillet — in fact, she swears by her whole Made In set, which made the pan an even better value. "I bought the set because of the price," she says, referring to the bundled deal Made In gives when you buy certain pieces together. And despite her initial belief that stainless steel is for chefs and not home cooks like her, she found the pans to be "well built, with the handles really welded on instead of attached from the outside." Builder agrees, describing the skillets as having "heavy bottoms with well-designed, easy-to-lift handles."
For the best of both worlds (a price about the same as All-Clad's stainless steel, with a touch of copper magic), Material makes a stainless-steel skillet with a copper core that I have used for several years now. To be fair, I've never cooked on straight Mauviel copper before, so I can't compare it directly — but what I can say is that this pan heats up and cools down evenly, and that I think the design is particularly sleek.
Like I hinted at earlier, carbon steel behaves very similarly to cast iron. It's not quite as versatile (the lower, more sloped sides mean it's difficult to fry, braise, or bake in it). But it is somewhat lighter (notably, it's the material most woks are made out of, practical for maneuvering around the stove and picking up and flipping ingredients). The surface tends to be a bit smoother than cast iron, making it more amenable to delicate ingredients like seafood. "I use mine for everything from paella to pressing Cubanos because they are quite heavy," says chef Jordan Wallace, culinary director of Denver's Pizzeria Locale. "And over a coal or wood fire camping, these are clutch."
The primary difference between cast iron or carbon steel and enameled cast iron is a thin coating that makes the surface very smooth and fairly nonstick without having to season the pan. The downside: The layer is susceptible to scratching or chipping, and once that happens, it can't be reseasoned to live on in perpetuity. But this shouldn't happen if you take care of your pan, and I've found that after several months of using this one, it still looks brand new. Think about it: Just like a Dutch oven (the vast majority of which are made from the same material), it's meant to be durable even if it can't handle quite the same amount of wear and tear as a Lodge (and it shouldn't go over the grill, either). The other difference is the look. Le Creuset's enameled cast-iron skillets, which come in a variety of colors, look nice going straight from the stove or oven to the table (whereas Lodge's cast-iron pans feel industrial and not like something you'd necessarily want to present food in). In mine, I make shakshuka and fried eggs for breakfast, toast sandwiches for lunch, sauté beans for dinner, and on and on. And when I'm done, a quick wash with water and dish soap cleans it right up.
Woks are a very particular type of skillet (if you can call them that at all). Because their primary purpose is for stir-frying, they're built in a V shape with extremely high sides to accommodate tossing lots of ingredients and have two handles to make maneuvering around a high flame easy. Still, they can be used for many of the same tasks as standard skillets, like braising, sautéing, and steaming (and even for things standard skillets can't be used for, like boiling stew or popping popcorn). In my roundup of the best ones, this Made In model was recommended by Lucas Sin, chef at Junzi Kitchen and Nice Day. It's almost like a hybrid of the more traditional woks on that list and the carbon-steel pan above: It's quite compact with slightly lower sides (though Sin says it "comfortably cooks for two"), has only one handle, and features a bottom on the wider side, which Sin prefers "for as much surface contact as possible."
• Andy Baraghani, recipe developer and cookbook author• Molly Baz, recipe developer and cookbook author• Maxine Builder, Strategist editor• Liza Corsillo, Strategist senior writer• Daniel Cutler, co-owner and chef of Ronan• Rebecca Firkser, recipe developer and writer• Robert Guimond, chef and owner of Public Display of Affection• Lani Halliday, founder and owner of Brutus Bakeshop• Caroline Lange, recipe developer and food writer• Vallery Lomas, cookbook author• Kiano Moju, culinary producer• Matt Rodbard, food writer, editor, and cookbook author• Alon Shaya, restaurateur and chef• Lucas Sin, chef at Junzi Kitchen and Nice Day• Jordan Wallace, culinary director of Pizzeria Locale
The Strategist is designed to surface the most useful, expert recommendations for things to buy across the vast e-commerce landscape. Some of our latest conquests include the best dining room décor items, coffee-makers, knife sets, Japanese coffee brewer, charcoal water filter, and drinking glasses for water and more. We update links when possible, but note that deals can expire and all prices are subject to change.
Every editorial product is independently selected. If you buy something through our links, New York may earn an affiliate commission.
The 12 Very Best Skillets
Lightning Round
Describe your cooking style in four words exactly.Thoughtful, curious, tangy, and herby.
Ditto, your eating style.Vegetable forward, and without borders.
Your favorite ice cream topping?Oh, no! I'm an annoying person. I don't want toppings. If the ice cream's good enough, I don't need all the stuff. Generally, I crave plain coffee ice cream; sour cherry with chocolate. Although I have been known to catch people off guard and order a banana split. And in that scenario, I want everything; the banana, the whipped cream, hot fudge, peanuts.