When you think of traditional bakeware, it's likely that metal and glass are the first things that come to mind, but silicone bakeware is becoming more and more common. Silicone bakeware is not only food- and oven-safe, it comes in a variety of colors, shapes, and sizes making it easier than ever to customize your dishes.
However, if you're about to dip your toes into the silicone bakeware world, make sure you seek out pieces that are made from 100% food-safe silicone to ensure quality.
What is silicone?
If you're unfamiliar with silicone, it is a soft, flexible material. According to the experts at Iowa State University (opens in new tab), silicone is 'created from a mixture of silicon, a naturally occurring element on the earth's crust, combined with carbon and/or oxygen to create a rubber-like substance'.
What are the benefits of silicone bakeware?
Silicone can be molded into just about any shape, so you can find bakeware pieces in a variety of styles that aren't available in the traditional metal and glass. Classic bakeware pieces like loaf pans, muffin pans, and cake pans all come in silicone as well. The material is also available as cupcake liners and baking sheets that can be flexed.
Another benefit of silicone is the fact that it's non-stick and easy to clean. Not only can you hand wash the material, it's also safe to go in the dishwasher and you can boil it if you ever need to sanitize your bakeware.
Is silicone safe to use in the oven?
The short answer is yes. But there are some nuances. Most silicone bakeware is safe in the oven up to 428℉ (220℃), but some pieces may be safe up to a higher temperature. It's important to double check the specifics from the manufacturer before using silicone in the oven to make sure you're using an appropriate temperature.
Is silicone safe to use in the microwave?
Yes, silicone is also safe to use in the microwave to heat up leftovers as well. The material will not melt as it heats up, and you can actually put silicone directly into the microwave from the freezer.
The main thing to keep in mind while using silicone in the microwave is that the material may get hot as well, so make sure to grab from the sides and consider using oven mitts to avoid touching a too-hot dish.
Is silicone safe to use in the freezer?
Silicone is safe to use in the freezer and you can find a variety of silicone products designed specifically for freezer use. Silicone ice cube trays are wildly popular and come in a variety of aesthetically pleasing shapes, think: large square cubes you might find at a high-end cocktail bar, small spherical cubes, and your typical ice cubes as well.
Where to shop the best silicone bakeware
Find the best silicone bakeware at Walmart (opens in new tab)
Shop Amazon's huge silicone bakeware range (opens in new tab)
Buy silicone bakeware at Target (opens in new tab)
Will silicone melt in the oven?
If you buy oven-safe silicone bakeware it is extremely unlikely to melt in the oven. Most silicone bakeware can withstand temperatures up to 428℉ (220℃), though some items may withstand a higher temperature. Always double check with the manufacturer's instructions before using silicone in the oven to make sure you're using an appropriate temperature.
Do you put silicone bakeware directly on the oven rack?
Yes, you can put silicone bakeware directly on an oven rack, however, some can be a little 'floppier' when heated, so putting it on top of a metal cooking tin can make it easier to handle and remove from a hot oven.
Bridget Mallon is an experienced design and lifestyle editor with over a decade of experience in the field. She was previously the Editorial Director at The Spruce and MyDomaine and has held positions at Apartment Therapy, HGTV, Elle Decor, and Veranda. Her work can also be found on sites like Cosmopolitan, Esquire, The Huffington Post, and House Beautiful. Bridget studied journalism through the Honors Tutorial College at Ohio University. She graduated Magna Cum Laude in 2013. Bridget writes about all things home for Homes & Gardens.
Blog
Baking with silicone molds is easy and they come in many shapes and sizes which makes the whole process of baking a lot more interesting and fun. Although they appeared quite recently, people found a lot of creative ways to put them to good use. They are great because they are made of a nonstick silicone material and can be washed and reused as many times as you want. They're usually of bright colors and interesting shapes, while available at affordable prices!
If you're tired of constantly washing greasy pans, using silicone molds instead can be the solution you've been looking for! You might be a master chef or someone who simply loves to cook, either way, silicone molds should find a way into your kitchen. Forget about old-fashioned metal pans and read through our 7 great tips on how to use silicone cupcake molds!
Baking Tips for Silicone Molds
The great thing about these molds is they can be used for a variety of things – for storage, for containers and, most often, for baking. There are a few things to know about molds when used for baking so let's look at some useful tips:
Use Smaller Silicone Molds
Baking with silicone molds is becoming more and more popular, with so many chefs including them in their cooking. Apart from being good for other things as well, smaller molds are more practical and affordable, thus easier to find and use. Equip yourself with some regular-shaped cupcake molds, as well as with some of the interesting shapes – like hearts or stars.
Once you've built a great collection, you'll find that everything you've been baking in regularly-shaped pans so far, can be baked in the silicone molds and allow you to provide your family and friends with creatively made pieces of food. If you have kids, they'll love everything that's small enough for them to hold and of an interesting shape, so you're in the lead here.
Mind the Temperature
Many people who buy silicone molds have the same question – Can you put silicone in the oven? While this is a completely justified question, we must tell you that you shouldn't worry too much about it. Silicone molds are usually very heat-resistant and can be used even at very low or high temperatures. Of course, you want to be aware of the temperature ratings and avoid melting the pan and ruining your hard work.
Choose Wisely
The market has a lot to offer on silicone molds nowadays. Shapes and sizes are numerous, but the practicality varies, too. They are quite inexpensive as well, but again, that doesn't mean they are practical enough. Many molds are very small and if you are preparing something for a larger group of people, you'll have to do more than one batch, which can be a bit tiring and boring. Go for regularly-shaped molds of average sizes and avoid cute or tiny shapes. We know how tempting it can be, but be smart!
Greasing Can Help
Generally, good old greasing is not really necessary with silicone molds. However, using cooking sprays or even greasing before baking and cooking can make your life a lot easier when it comes to washing them later on. Think of this as a means of prevention – you'll spend much less time doing the dishes afterward. Isn't that something we're all striving for?
Another option that can reduce the washing-up time is putting paper baking cups in the mold instead of greasing it and just use the mold as a structural form. Cleaning time will be minimal this way!
Check the Quality
Checking the quality of your silicone molds is a must if you're interested in buying a quality product. Baking in silicone is really easy and great, but only if the pan or the mold are made of 100% silicone, without added fillers. You want to be sure you're buying pure silicone so you need to check the way it was made.
How can you check your silicone mold is made of pure silicone? You should do the pinch test – pinch the silicone and twist it a bit. Once you do that and the color of it stays the same, you're dealing with a 100% silicone mold. If it turns white, it was probably mixed with some other material and you should steer clear from that one. Be careful! If you want to bake in silicone, buy pure silicone first.
Find Good Recipes
A great thing about baking with silicone is the variety of recipes available online! You don't have to be a master chef to be able to bake with silicone, you just have to find delicious recipes for silicone molds and start baking!
Recycle and Reuse
If you have children, you can use them to freeze little pieces of food or meat for them and avoid throwing away meals. Of course, their creative shapes make them great for containers, lunch or snack trays and even homemade DIY products! It's cute, it's practical, it's easy! Using silicone molds in your household is really great because they are easy to use, wash and stack. Make your pick!
Baking, baking, baking, isn't it fun? Once you get used to using silicone molds for baking and cooking, you won't even remember how it was before you had them. As you can see, they are very practical and easy to manage, while at the same time safe to use at different temperatures. Even if you haven't been a fan of baking so far, these cute molds might make you change your mind and turn you into a state-of-the-art baker!
Page load link
Go to Top
Listen to the article
Silicone baking molds come in all shapes and sizes, from the basic round ones to more complex pieces. They are indispensable for making cakes, cupcakes, and other desserts because they don't require much effort or time when cleaning up afterward.
One of the most challenging things about baking is taking the time to create something beautiful. Of course, you can't just whip out a cake or cookie and expect it to turn out perfect each time, but you don't have to worry if you're using silicone molds!
Check out the article below.
What are silicone molds?
Silicone molds are a type of baking pan made from silicone. They are usually flexible, come in various colors and shapes, and are nonstick. Your baked goods will slide right out without sticking to the pan. Silicone molds are also very affordable and can be reused many times. They are a great alternative to greasy pans and make cupcakes easily.
In addition, silicone molds can be used for a variety of purposes. For example, they can be used to bake cupcakes that look professional. Silicone molds are also very easy to use and can be cleaned easily.
Do silicone molds wear out?
No, silicone molds will not wear out. Silicone is a non-porous material that can withstand high temperatures and pressures without breaking down.
What are the benefits of using silicone molds?
There are many benefits to using silicone molds. They can be used for many different purposes, such as baking, cooking, frozen food, etc. Silicone is a durable material that can be washed and stored correctly to last a long time. Additionally, silicone molds are marvelous for small pieces of food or meat you want to freeze for your children.
Lightweight
Silicone is a lighter alternative to other bakeware, making it easier to move, store, and use for the whole family.
Even heating
This silicone will heat up uniformly, eliminating hotspots and burnt foIn addition, it. It saves time since you don't need to adjust cooking times based on your materials.
Non-stick
Silicone molds are nonstick but can become less nonstick over time. It is always better to be safe than sorry, so spray them with cooking before using them. It only takes a little cooking spray to make your silicone molds nonstick. This will help you avoid any sticking and make cleanup much easier.
Easy to clean
It is essential to clean the silicone mold right after use. Soap, water, and a sponge are the best cleaning methods for silicone molds. Silicone molds can be cleaned in the dishwasher. Add a dash of baking soda to clean the big messes.
Durable
Silicone molds are made out of very durable silicone material. This means that you can use them over and over again without having to worry about them breaking or tearing. They are also straightforward to clean, so you won't have to spend much time scrubbing them after each use.
This durability makes silicone molds an excellent investment for anyone who loves to bake. If you like to make cakes, cupcakes, or other desserts regularly, then investing in a few good-quality silicone molds will save you time and money in the long run. You'll be able to use them repeatedly without buying new ones whenever you want to make something special.
There are many different shapes and sizes of silicone molds available on the market, so you should be able to find ones that suit your needs perfectly. So whether you're looking for round molds for cakes or cupcakes, square molds for brownies or bars, or even shaped molds for cookies or other treats, there's sure to be a mold out there that's perfect for you. And since they're so versatile, you can even use them for non-food items like soap or candle making.
So, if you're looking for a durable and versatile baking mold, then silicone is the way to go. You'll be able to use them repeatedly; they're easy to clean, and they come in a wide variety of shapes and sizes. So what are you waiting for? Invest in some silicone molds today and start making your favorite desserts with ease!
It can be used in the oven, microwave, or freezer
Silicone baking pans are an excellent option for a versatile and durable baking pan. They are made with FDA-approved materials and can withstand temperatures up to 440 degrees Fahrenheit. Additionally, they are naturally nonstick so they can be used for various purposes, including baking, freezing, and more.
Variety of shapes and sizes
You can find silicone baking molds in all sorts of shapes and sizes. This means you can easily find one (or more) that will fit your needs.
Downsides of using some silicone bakeware
These are some known disadvantages of silicone bakeware:
Unknown long-term use safety
Suspected health risks and effects of silicone products, such as possible hormone disruption, remain inconclusive due to a lack of studies on the topic.
Chemical fillers
Depending on the quality of the silicone product, it may or may not contain chemical fillers. Generally, the higher the quality of silicone, the less likely it will contain chemical fillers.
Transferring chemicals to food
The migration of chemicals into food has been studied extensively, with studies finding chemicals in silicone products showing transparency. They have been found in storage containers, cookware, and nursing teats.
Migration of chemicals into the air
When silicone products are exposed to high temperatures (think baking), the chemicals in the product can be released into the air. The emitted particles persist in the air and pose a health hazard to the lungs.
Special recycling process
Items made of silicone must be brought to special recycling centers to be down-cycled.
How to keep yourself safe
This is a general guideline of how to keep safe when using silicone bakeware:
Look for medical-grade
Medical grade silicone or food grade silicone should contain little or no chemical fillers. By purchasing medical grade silicone, you are ensuring you're getting a product that is as close to 100 percent silicone as possible.
Avoid chemical fillers
After pinching the silicone surface with your fingers to check for chemicals, the silicone may contain a chemical if you can see the filler in the product. However, if the silicone does not exhibit any color change, it may be safe to assume that there are no chemicals in the product.
Wash before use
Clean the silicone before use with soap and clean water to decrease the likelihood of chemical contamination from the product.
Avoid exceeding the maximum temperature
Always look to see the maximum oven temperatures a silicone product can withstand and doesn't exceed the temperature.
What are the tips for using silicone baking molds?
Practicality should be your number one priority when it comes to choosing a silicone baking pan. That means avoiding tiny or cute molds in favor of regularly-shaped molds of average size. This way, you'll be able to get the most use out of your mold and avoid any frustrating baking mishaps.
Choose the suitable shape mold
There are a variety of silicone molds on the market, and it can be challenging to decide which one to buy. Silicone molds come in all shapes and sizes, but there are some things you should consider before making your purchase. First, avoid buying a very small or cute silicone mold – they may not be practical for your needs. Also, beware of silicone molds that are too cheap – they may not be made from high-quality materials and may not last very long. Instead, opt for an average-sized silicone chocolate mold that will be versatile and practical.
How do you clean silicone bakeware?
To clean silicone baking pans, use a gentle abrasive cleaner. This can be done by using lukewarm water and dishwashing liquid (not soap), then rinsing the pan with water.
You need two key things
You need two things to clean your silicone cake molds: hot water and grease-cutting commercial or homemade soap. This is one of those situations where the all-natural stuff might not cut it. You'll need something that will tackle that oil. Let's not forget the water. You want to wash it with hot water, and you may need to scrub for the first few seconds before you get all the dirt off.
The good news is that if you have a dishwasher, both Iacometta and Alexander confirmed that their company's products and many other brands are dishwasher-safe. Just be sure to check before you toss it.
Heat is your friend
When you're faced with removing food that has hardened on your bakeware, the key is to increase the heat. Put your silicone pan into an oven set to 350°F for 10 minutes and then soak it in hot water.
For really tough jobs, use baking soda
One thing you should never do? Use abrasive items on your silicone kitchenware. It will not help you clean the pan, but you might also damage it. In addition, you can end up causing pieces of the silicone to flake off the nonstick properties.
Know this one tip to avoid bad buildup
The best way to make sure your pan doesn't get greasy in the future is to skip the cooking sprays. They're not necessary because the cake pan is already nonstick, and it will just make for a sticky mess when you try to clean it.
Frequently asked questions about silicone kitchenware
We are answering and shedding light on people's popular questions regarding silicone kitchenware.
Can you put a silicone mold in the dishwasher?
A silicone baking mold is easy to clean with baking cups or cooking sprays. Greasing the mold before baking and cooking can make life easier when it comes to washing them later on. You can also put silicone molds in the dishwasher for easy cleanup.
Can silicone be washed with soap?
Greasing the silicone baking mold before baking can make it easier when washing later on. Putting paper baking cups in the mold instead of greasing them can save cleaning time.
Can you boil silicone molds?
If your silicone molds are starting to look dirty or grimy, you can clean them with boiling water. Boiling water will kill any bacteria or germs that may be on the surface of the mold, and it will also loosen any dirt or grime that may be stuck to the silicone.
To clean your silicone molds with boiling water, fill a pot with water and bring it to a boil. Then, place your silicone molds in the pool of boiling water and let them soak for a few minutes. After a few minutes, remove the molds from the pot and rinse them with cool water. Your molds should now be clean and free of any dirt or grime!
Is Silicone Good for Baking?
Does Silicone Bakeware Take Longer to Bake in?
How To Use Silicone Muffin Cups
How To Use Silicone Molds for Cakes
Baking in Silicone: FAQ
Now You Know How To Bake With Silicone Molds!
So you've purchased your first piece of silicone bakeware – be it a set of colorful cupcake molds or a silicone baking pan for some enticing red velvet cake.
But wait, you've never used silicone molds for baking before. Should you grease them? Aren't they already nonstick? Will silicone take longer to bake in? Do you adjust the baking temperature? Worry not – the answers are just a scroll away.
Simply read this fun, informative guide on how to bake with silicone molds to discover valuable tips, tricks, and more!
Is Silicone Good for Baking?
Silicone is a great choice for baking especially when it comes to cupcakes, muffins, and lighter cakes. Unlike metal bakeware, silicone bakeware is flexible, durable, nonstick, and dishwasher safe – what isn't there to love?
And the bright and plentiful varieties of silicone bakeware are especially appealing. Even seasoned bakers are singing silicone's praises, touting their ability to deliver bakery-worthy goods.
Does Silicone Bakeware Take Longer to Bake in?
Silicone may require longer bake times than its traditional metal counterparts. Silicone, being an insulator rather than a conductor, transfers heat at a slower rate due to its lack of conductivity. Some find that silicone molds need a little adjusting in terms of lengthening bake time.
How To Use Silicone Muffin Cups
You bought those silicone muffin cups because you couldn't resist their cheerful colors and now you've decided today is the day – you're finally going to use them. But can you put silicone muffin cups in the oven? What's the protocol?
Step One: First off, give that new piece of silicone a nice clean in some hot, soapy water and let dry. It's always a good idea to give a new product a quick clean before first use.
Step Two (optional): Second, if you'd like to grease your mold, go for it! If you're ready to trust in silicone and the magic of nonstick, skip this step.
Step Three: Place your mold on top of a flat metal baking sheet for stability. Do not skip this step! Silicone molds are super flexible, and once filled with batter, can be prone to spilling.
Step Four: Preheat your oven according to the recipe directions and make sure your oven rack is set to the middle of your oven.
Step Five: Fill 'em up! Fill those molds two-thirds of the way full with your batter. Spoon, ladle, or scoop, it doesn't matter – just keep your fill consistent.
Step Seven (optional): Allow to cool (about 15 minutes) before removing from the mold – release by simply pressing on the bottom of the mold and pulling the sides away. Still, this step is optional. Muffins and cupcakes can be stored in their silicone liners – they can be refrigerated (or even microwaved) without affecting the taste of these moist and dainty treats. Frost after waiting at least 45 minutes to cool, if desired.
Check out these silicone muffin and cupcake molds in action!
https://youtube.com/watch?v=3S5ISIE00EQ%3Ffeature%3Doembed
How To Use Silicone Molds for Cakes
Now is the time to master the art of cake baking in silicone. Where should you start?
Step One: As always, give that new piece of silicone a good clean in some hot, soapy water and let it dry.
Step Two: Unlike with cupcakes, it is often recommended for larger molds like cake molds to be greased to ease with release and stave off any danger of a breaking cake. Spray with cooking spray or grease with vegetable oil, being sure to get in all those nooks and crannies.
Step Three: Always set your cake mold atop a metal baking sheet to ensure stability and decrease any chances of messy spillage. This step is important – due to the malleable nature of silicone molds, they can fold in on themselves and spill without this added stability.
Step Four: Preheat your oven according to recipe directions and make sure your oven rack is set to the middle of your oven, this ideal position allows the heated air to evenly circulate around your cake, leading to even baking.
Step Six: Place your cake in the oven, but know you may have to extend bake time by 5 to 10 minutes. Unsure if your cake is done? You can implement the toothpick test or judge by touch and appearance. Light cakes should appear uniformly golden across the top.
If the center is still pale but the edges are dark, lower the oven temperature by 25° and bake longer. You can also tap the cake lightly in the center with your finger – does it feel firm and springy? If so, it's done. If the batter has no resistance or sticks to you, it's not.
Step Seven: Allow to cool completely before attempting to remove your cake from its silicone mold. You may wish to rest on a cooling rack to ensure the batter cools evenly. Release by flipping your mold over and slowly peeling back the edges of the mold. A little wiggling may be necessary.
Want to make a delicious heart-shaped cake using a silicone baking pan? Take a look below!
https://youtube.com/watch?v=uSZIHdy4XNc%3Ffeature%3Doembed
Baking in Silicone
Yes, you can put silicone molds in the oven! It wouldn't be called silicone bakeware otherwise! Each and every piece of silicone bakeware you buy should come with maximum bake temperatures. Always adhere to these limits.
Did you throw the packaging away before noting the number? Stick to the rule of thumb of only using silicone molds at a max temperature of 400°F – better safe than sorry!
Are Silicone Baking Pans Non-Stick?
Silicone is nonstick, so you shouldn't have to add cooking spray or oil, but some bakers recommended greasing your molds anyway, as this aids in easy cleanup and ensures smooth release for larger baked items.
Do You Grease Silicone Baking Pans?
You shouldn't have to grease silicone molds, as silicone itself is nonstick, so feel free to skip greasing or spraying your molds if you're trying to cut down on oils in your diet. But if you're terribly worried about that delicious bundt cake sticking, you can always grease the pan with cooking spray or vegetable oil to be extra cautious!
Ultimately, you may wish to go ahead and opt for greasing cake molds and larger items as these are more difficult to release in one piece, but trust the silicone on those smaller projects like cupcake molds.
Do I Need To Adjust Oven Temperature for Silicone Molds?
Many find silicone molds do just fine baking at the same temperature as any other pan, but some bakers have found the need to adjust bake times when using silicone molds. As silicone doesn't conduct heat as well as metal, it can take longer to bake.
Hearing this, you may be tempted to increase the baking temperature. This is not advised. If anything, you should decrease your baking temperature by 25ºF (10ºC) and/or increase the bake time – a few minutes for small, light items like cupcakes and muffins, longer for larger cakes and thicker batters.
How Do You Clean Silicone Molds?
More often than not, tossing your silicone molds in the top rack of your dishwasher should be enough to get them clean, but if your molds become sticky additional attention may be needed.
To clean sticky molds, fill your sink with hot water and add a strong degreaser or grease-cutting dish soap. Allow to soak – 30 minutes should be good – and scrub with a non-abrasive brush or sponge. Add additional soap and hot water if needed. This should solve the problem, but additional agents can be used, such as baking soda, if stickiness persists.
Now You Know How To Bake With Silicone Molds!
Silicone molds are my favorite way to bake mini cakes, and I often get questions whenever I use them. It's understandable since it's a relatively new baking material – so here's a post detailing all my tips on baking with silicone.
Silicone is rubber-like manufactured material containing no plastic. It's widely used in the medical device, baby product, and food manufacturing industries. For baking, use food-grade silicone, typically indicated on the manufacturer's labeling. These silicones are heat-safe up to 400°F/205°C.
These is my Ube Velvet cake recipe baked in silicone molds to create 4-inch mini cake layers.
Silicone is flexible, which is pretty different than other metal-based baking pans you may be used to. Generally, these types of molds are not only oven-safe but also microwave-safe and freezer-safe.
Silicone baking mats have been around for years – I use mine as a reusable eco-friendly alternative to disposable baking sheet liners such as foil. (They're pretty great for macarons.) Using them as a pan to bake liquidy stuff like cake and muffin batters has a few differences from working with metal, so let's get into it.
What are silicone mini cake molds and where to buy it?
The mold I use to make my mini cakes creates perfectly flat 4-inch (in diameter) layers that are a little less than an inch tall. There are 6 holes (or "cavities" as the mold industry refers to them), and each holds about 2 cupcakes worth of batter.
‍I buy mine from Amazon, which you can see here if you like.
I use these layers to make lunchbox cakes, which are cute mini cakes that fit in takeout containers.
This post goes over how I specifically use this mold, but you can use these tips for baking in all kinds of silicone molds.
How much batter do you need for these silicone molds?
Each hole in the mold can be filled with about 2 cupcakes worth of batter. That means that each of these molds holds about the same quantity of batter you'd use for 12 cupcakes.
Typical cupcake recipes or one box of cake mix (such as those from Pillsbury, Duncan Hine's, and Betty Crocker) create enough batter for 24 cupcakes. In that case, you'd need two molds.
Do you need to grease silicone molds for cake?
Silicone is naturally a bit nonstick on its own. Usually, my cakes have enough fat and sugar and will not stick to the surface without any extra greasing.
That being said, just grease the pan anyways. It's a bit of insurance to get that cake out later and doesn't really have any adverse effect on the final cake. A gentle light spray of cooking oil is all you need.
What temperature should you bake cakes in silicone molds?
You will just use the temperature indicated in the cake recipe. For my Cakeculator, all of my cakes bake at 350°F/176°C.
One thing to note. Although the mold will get hot and thoroughly cook your cake, it does not conduct heat as efficiently as metal pans.
This just means there won't be as much browning on the cake surfaces in contact with the mold. I don't mind this because it gives the finished cake a consistent look and color, even on the bottoms and sides.
How long does to bake a cake in a silicone mold?
These silicone molds for my mini cakes have a very short yet wide interior baking cavity, so it's a relatively small cake if you're used to baking 6 or 8-inch rounds.
I find that it bakes at almost the same time as a cupcake tray. All of my cupcakes bake from 18-22 minutes, and these cakes usually finish baking around the 21-22 minute mark.
If you're using a cupcake recipe other than mine, use the recipe's timing as a guideline. Start checking for doneness at the shortest time given in the recipe.
If you're using a different type of mold than what I'm showing here, you'll have to experiment a bit to get the timing right.
How to remove cake from a silicone mold?
To remove cakes from this mold, allow the cake to cool slightly.
At this point, I also like to trim the tops off of the cakes. This is helpful while they're still in the mold because the mold serves as a guide, and you'll get perfect even layers of cake.
Then gently pull the sides away from each cake. You can flip the mold over very quickly onto a flat surface to remove all the cakes, and they should fall out.
If you're unsure or baking a new recipe, try removing just one cake by inverting the mold to gently push out the cake. One of the advantages of using silicone is that it's flexible, so bend the mold as much as you need to so you don't break the cake.
How to bake mini cakes using a silicone mold
Step 1. Prepare the mold.
Spray the molds with some cooking oil. Place your molds on a baking sheet BEFORE filling. (Moving an unsupported silicone mold filled batter is a recipe for disaster.) The metal tray also helps transfer heat to the bottom of the mold while in the oven.
Step 2. Scoop the prepared cake batter into the mold.
I'm using a scoop to portion out my batter, and I put two scoops into each hole, which comes out to about 2/3 cup of batter. For most cake recipes, you'll want the batter to reach about 75% high inside the hole. That way, it will rise above and allow you to trim it down, so it's a perfectly flat cake cylinder.
Step 3. Gently tap to remove any large air bubbles.
It will depend on the recipe, but all of my recipes need 2-3 firm taps on the counter to remove any big air pockets. It's such a shallow mold that an air pocket can make a significant dent on the bottom of your cake, so settling the batter before baking is essential.
Step 4. Bake.
Use the cake recipe's temperature. (Mine are all baked at 350°F/176°C.) These cakes take around 18-22 minutes to bake.
Step 5. Allow cakes to cool slightly before trimming.
Remove the mold from the oven and allow it to cool slightly. Once I can touch the cakes without it being painful (they are still quite warm though), it's time to trim off the tops. Using a long serrated knife and the mold as a guide, gently slice off the cake tops so that your mini cake layers are all even.
Step 6. Quality Control
Those cake tops are strictly for quality control measures. Take a taste while they're still slightly warm and ensure your cake is delicious, which I know it is. Moving on.
Step 7. Remove mini cakes.
Gently pull the sides to ensure there's no cake sticking. If cakes look like they have shrunken away from the sides, it's probably easier to flip the entire silicone mold onto a flat surface all at once. They should all fall out. (See the rainbow mini cakes I made earlier in this post.)
If you have any doubts, try to remove one cake by inverting the mold. Remember, the mold is flexible, so bend it if necessary.
Step 8. Use immediately or store for later.
If you're using the mini cakes soon, you can let them sit on the rack. If it's more than a half-hour, I always wrap my cakes so they don't dry out.
For these, I put little squares of parchment in between each cake layer and stack them 5 or 6 layers tall. Then I wrap them in plastic wrap. You can keep them like this for a couple days on the counter or double wrap them and put them in freezer bags for a couple weeks.
Would you like to try one of my recipes with this mold? I have lots of flavors listed in my Cakeculator – just select the cake flavor and for the Pan Size select "4 inch Mini Cakes, Round."
I also have quite a few videos with tips on using this mold as well as assembling mini cakes or lunchbox cakes.
Do you put silicone bakeware directly on the oven rack? Unlike the question "Should cookies be baked on wax paper", this certainly seems like a no-brainer question. However, if you want to know the answer to this matter for sure, this article is certainly for you.
You can place silicone bakeware right on the oven since it's FDA-approved and food-grade. High-quality silicone bakeware can handle temperatures up to 500°F, so it's perfectly safe to utilize.
For smaller silicone bakewares like cupcake cups, you will need cookie sheets to prevent spillage of your batter. In today's article, I will talk about silicone bakeware and answer your questions.
I will also uncover the pros and cons of silicone bakeware, so let's dive right into it.
Since silicone is stain-resistant and non-toxic, many people prefer it over metal bakeware.
It's a heat-resistant material that can withstand temperatures up to 500°F. So, it's safe to use for baking. But here's the kicker. It's reusable, washable, and eco-friendly so why wouldn't you want to use it?
Silicone bakeware is also cheap and versatile, so you can easily gather a wide array of molds and forms for your recipes. Smaller baking molds are available everywhere. They're rigid and prevent baked goods from cracking, unlike larger pans.
Additionally, small silicone baking molds can also double as serving cups or containers at gatherings. They're especially useful when you need to serve bite-size desserts like mini cheesecakes, fudges, or tiny cookies at parties.
Generally, silicone bakeware produces different levels of success but it's not for everyone. Since it's very popular among homeowners, small brands try to sell low-quality silicone bakeware, so be cautious.
Otherwise, you can save money on something made with filler materials or impurities at the expense of your health. Cheap silicone material can be recognized by a white color that shows when it's twisted and stretched, Therefore, before purchasing, inspect the silicone bakeware for visible imperfections.
Now, let's learn how to use silicone bakeware for baking and summarize the pros and cons.
How To Use Silicone Bakeware For Baking?
Silicone bakeware is non-stick so you don't need a cooking spray
Bakeware made of silicone is completely safe in the microwave and oven. You can apply a cooking spray before using it. However, it's not necessary since silicone bakeware is non-stick by itself.
The best part? Silicone bakeware is super flexible, so it's easy to put and take out of the microwave and oven. However, there's also a risk of batter spillage, so proceed with caution every single time.
Consider using cookie sheets or similar things under your silicone bakeware to make things easier. After baking, place your food in a cooling rack. That way, your batter can temper all the way through.
What I like most about cooking or baking with silicone bakeware is peeling it right off. Meaning, you can easily flip your pan and take out the cake. Let it cool for a while and enjoy your cake in no time.
There's also a downside. Unlike other cooking and baking materials, silicone is a poor conductor of heat. Meaning, your baked goods will get a brownish color which is why silicone bakeware is suitable for light-colored cakes, muffins, and loaves that don't mind a little browning. Or where sticking can occur.
Lastly, since silicone bakeware is known for being a hit-or-miss, it's recommended to only utilize brands popular for their high quality. And don't forget to use cookie sheets for smaller bakewares.
Watch this video to know more:
Watch this video: How to Use Silicone Molds
https://youtube.com/watch?v=LndyQKxUVpU%3F
What Temperature Do You Use For Silicone Bakeware?
Silicone bakeware is tolerant of both cold and heat. You can use your silicone bakeware in the oven at a temperature up to 500°F. It's also microwave-safe, freezer-safe, and super easy to clean.
Advantages Of Using Silicone Bakeware
If you have no idea how to place silicone bakeware right on the oven right, it's time to learn new things. Silicone bakeware will surprise you in many ways.
It's the perfect alternative for other kitchenware in the home. The reason why is that it's safe to use and withstands 500°F.
Meaning, you can easily use it in hot pans to prepare scrambled eggs—a classic egg recipe everyone loves. Also, you don't need to worry. The silicone won't melt in your oven. The best part? It's non-stick and easy to clean.
Silicone bakeware, as I already mentioned at the very beginning, is FDA-approved. Now, let's summarize the main advantages of using silicone bakeware.
Reusable, washable, and eco-friendly.
Silicone bakeware is stain and rust-resistant.
Silicone cookware heats quickly and bakes everything evenly.
It's oven-safe, microwave-safe, freezer-safe, and dishwasher-safe.
It's non-stick so you don't need a cooking spray or cooking oil.
The removal of this product is quick and easy.
Ultra-lightweight and easy to store.
Disadvantages Of Using Silicone Bakeware
Not every silicone bakeware is made equally. It differs from company to company. Additionally, cheaper products can have hazardous fillers, so be careful when buying silicone bakeware.
Some bakers usually adjust their baking and cooking hours because they utilized silicone bakeware. Also, not every silicone bakeware features a non-stick surface and may need oiling or greasing.
This is one of the disadvantages of using silicone bakeware. Safety studies associated with the utilization of silicone bakeware aren't well-documented. This is why some bakers avoid utilizing it and although it's FDA-approved, there's just not enough solid evidence that silicone bakeware is 100% safe.
Silicone bakeware will melt when placed under direct fire.
It may degrade over time.
Silicone bakeware isn't suitable for use under direct fire, under a broiler, and stovetop. Otherwise, it will quickly melt. Therefore, it's perfect for oven settings instead of under direct fire.
In other words, when you want to make desserts with direct fire, it's better that you opt for well-built pans for baking, or specialized popover pans. These can withstand intense heat rather well, making them a better choice than silicone bakeware when it comes to tolerating fire.
Also, keep in mind that if you buy silicone bakeware from an unreliable brand, the silicone bakeware can degrade over time. Always buy silicone bakeware from a reputable, trusted brand.
Watch this video: How to Choose the Right Baking Pan
https://youtube.com/watch?v=TFQGbvYIDVA%3F
10 Tips For Successful Baking With Silicone Bakeware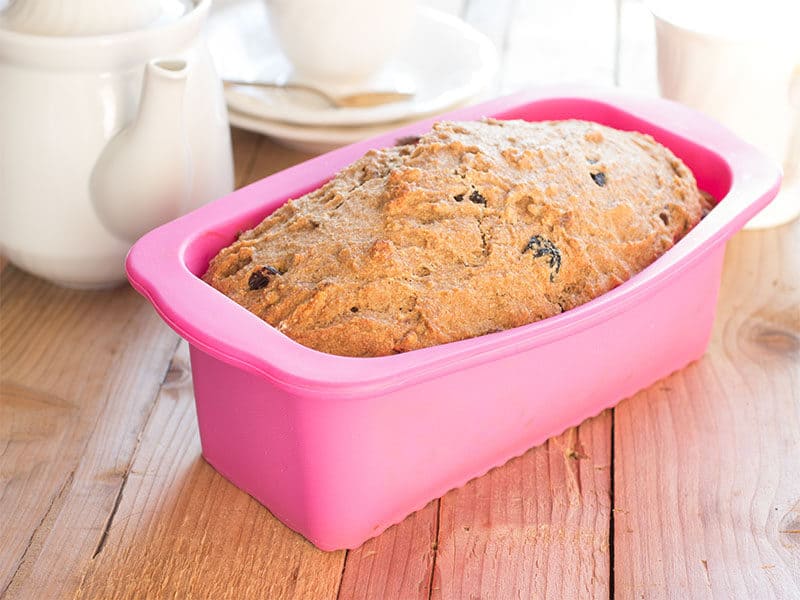 Silicone cookware heats quickly and bakes everything evenly
Silicone bakeware has a lot of benefits. It's almost impossible for you to not like it. You can purchase a set of cupcake molds or chocolate molds both online and in-person for cheap.
Purchase Smaller Pans
Use smaller pans such as cupcake cups and muffin cups since they're more rigid and don't deform easily. They're also cheaper, easier to locate in stores, and more versatile than larger ones.
Inspect For The Presence Of Fillers
Some cheaper silicone products can have fillers. Check for fillers by pulling or pinching the silicone cups. If there's a filler, the cups will turn white. Avoid silicone bakeware that contains fillers.
Check The Suggested Temperature
The silicone bakeware can endure high temperatures. However, it's always smart to check the suggested temperature for your specific baking molds before inserting them into the oven.
Utilize Hot Pads
Silicone bakeware turns super hot in the oven. Meaning, it's not safe to take it out with bare hands. Use a hot pad instead.
Grease Bigger Pans
Dusting and greasing are usually not necessary for silicone bakeware. However, doing this gives better results, especially in bigger pans as the goods baked in them have a higher chance of cracking.
Greasing Makes Cleaning Easier
Greasing the pans isn't necessary. However, it makes the cleaning process a lot easier. Therefore, grease your silicone bakeware only a little for effortless cleaning and easier cake or muffin removal.
Utilize Oven Trays
Since silicone molds are super flexible, removing them from the oven is a challenge. It's a smart idea to utilize an oven tray for preserving them in the oven. Removing them is easier with its help.
Avoid Utilizing Sharp Utensils
Don't utilize sharp utensils like forks or knives on your molds. Otherwise, you can damage your silicone bakeware and ruin all the fun.
Serve Your Party Snacks In Silicone Molds
To clean your silicone bakeware successfully, soak them in lukewarm soapy water right after use. Then, wipe them gently to take off some residual grease.
Watch this video: Clean Silicone Bakeware
https://youtube.com/watch?v=_fY2eyymTIM%3F
FAQs
How to store silicone bakeware properly?
It's very important how you store silicone bakeware. Unlike metal bakeware, you can't just stash your silicone bakeware into the drawer under the oven. It's recommended to wrap or keep your silicone tools in a plastic bin. Also, don't put anything on top of them. Otherwise, you will ruin their shape.
Do silicone pans take longer to bake?
Things like cornbread, brownies, cakes, or anything else in silicone pans take longer to bake. If your cake pan has a dark color, it requires additional time. However, some foods cook faster in other silicone bakeware. It depends on the food and color of the silicone bakeware.
Does silicone melt in the oven?
Silicone is flexible. However, it's also highly temperature resistant. Thus, it won't melt in the oven or microwave. Silicone bakeware can withstand a temperature up to 500°F and over, making it suitable for any type of cooking and baking. You can even use it for serving your meals.
How do you keep a cake from sticking to a silicone mold?
First and foremost, make sure the silicone mold is squeaky clean. Then, wash the silicone mold in hot soapy water to remove any residue. Rinse and dry it. If it's a bigger mold, grease it with olive oil. You can also use a cooking spray. This will keep your cake from sticking to the mold.
Do you need to grease a silicone baking mat?
It depends on the size. Most silicone bakeware is non-stick. However, it's suggested to grease larger pans for better results. I would also suggest greasing any silicone bakeware lightly just in case.
How long do silicone baking mats last?
If you take good care of your silicone baking mats and other silicone bakeware, it can last for up to 2 years. Avoid broiling and using sharp utensils.
Can you roast vegetables on a silicone baking mat?
Never roast veggies directly on the sheet tray. Otherwise, aluminum from the tray may get into your food. Silicone baking mats are perfect for roasting veggies since they're reusable and cheap.
Is it safe to bake with silicone bakeware?
Silicone is FDA-approved, so it's a food-safe substance. Silicone bakeware won't leach into your food. However, cheaper and low-quality silicone bakeware can contain additives or fillers that can cause smell during cooking and discolor over time. High-quality silicone bakeware is non-toxic and non-stick.
Life Is What You Bake Of It
Do you put silicone bakeware directly on the oven rack? As I already stated, yes. It's safe and won't melt in your oven. Silicone bakeware is super flexible, extremely durable, and cost-effective.
You can replace your metal bakeware with silicone bakeware and enjoy the benefits of silicone. It's FDA-approved. Meaning, it's safe to use. However, be careful as there's also a bad silicone out there.
Always check for fillers before buying silicone bakeware by pinching the product. If white color appears, avoid that silicone tool. Have you ever utilized silicone bakeware? What's your experience with it?
Table of Contents