Rum isn't just for drinking you know? And these rum desserts are proof.
When it comes to strong tropical or fruity drinks, you'll almost always find a bit of rum in the mix.
Want to save this recipe? Enter your email below and we'll send the recipe straight to your inbox!
But there's a lot you can do with rum beyond just the standard rum cake, rum raisin ice cream, and bananas Foster.
Some of the recipes on this list are things I would never have thought about trying to make if I hadn't run across the recipes first.
Rum Cake
If you're going to make rum cake, you might as well make the best, moistest, most buttery rum cake there is, and this recipe will help you do just that.
The rum cake itself is delicious, but the butter-rum sauce is what truly sets it apart from other cakes, and you'll make it with four simple ingredients: butter, water, sugar, and rum.
Once the cake is ready, you'll poke holes all in it and fill those holes with the butter-rum sauce.
Then, you'll pour even more of it on top. It's unimaginably incredible.
Boozy Grilled Pineapple
The boozy grilled pineapple would make any beach bum proud. It's the most summery dessert you'll ever taste.
Plus, it's not all that bad for you either, especially if you leave off the vanilla ice cream. (Trust me, I'm not advocating for that. It's delightful!)
Just be sure you give the pineapples ample time to marinate, and don't forget the rum sauce.
As long as you do those two things correctly, you can't really go wrong.
Apple Rum Raisin Bread Pudding
If you're looking for a hearty, comforting dessert that feels like coming home, you've to try the apple rum raisin bread pudding.
The crust is warm and thick, the custard is perfectly spiced, the apples are tartly sweet, and those rum-soaked raisins pull the whole thing together.
This is one dessert that's darned hard to beat.
Bananas Foster
You can make this simple, 15-minute treat with only seven ingredients. The bananas are sweet and tender, and the buttery rum sauce is exquisite.
Plop a large scoop of vanilla ice cream on top and enjoy!
Rum Raisin Ice Cream
All you'll need to make this velvety smooth, ultra-creamy rum raisin ice cream are raisins, rum, rum flavoring, heavy cream, condensed milk, and vanilla extract.
The light flavor of the vanilla comes through strongly, but each time you bite into one of those delectable rum-soaked raisins, you'll get a burst of rich flavor.
Chocolate Coconut Rum Balls
If you're looking for something sweet, easy, and melt-in-your-mouth tasty, these chocolate coconut rum balls are just the thing.
You don't have to do any actual cooking with them. In fact, you don't even have to heat anything or melt any chocolate! Sounds too good to be true, right?
It isn't. You can whip up a whole batch of these chocolatey, coconut delights in just 20 minutes with a minimal amount of work.
Mojito Cupcakes
If you prefer your desserts to have a blast of zesty, slightly tart flavor in them, then you'll go nuts for these mojito cupcakes.
Don't worry, though; between the rum, sugar, and vanilla, there's enough subtle sweetness to satisfy your sugar cravings, as well.
Spiced Banana Rum Cake
This divine cake is like carrot cake, only made with rum-soaked bananas.
Between the sultanas, pecans, cream cheese icing, and numerous spices, it'll be hard to find anyone who doesn't appreciate this dense, moist masterpiece.
Butter-Rum Sauce
Whether you need it for a dessert that calls for it or just like to smear it across your toast, homemade butter-rum sauce is quick and easy to make.
You'll only need butter, brown sugar, heavy cream, dark rum, and flaked sea salt. You can have it ready in 10 minutes or less.
Caramelized Rum Bananas and Ice Cream
This four-ingredient dessert takes less than 10 minutes to pull together, and it will blast your taste buds into overdrive.
It's a lot like the bananas Foster, only more buttery, more rum-flavored, and (at least in my opinion) even more delicious.
Pina Colada
I'm a firm believer that sweet, tasty drinks are just as good for dessert as anything you have to chew, and it doesn't get much sweeter or much more appetizing than a pina colada.
This three-ingredient drink is unbelievably easy to make, and it's perfect for enjoying while sitting oceanside or by the pool.
Spiced Pear and Rum Cake
This wonderfully spiced cake is dense, crumbly, and just a bit on the dry side.
Luckily, the fantastic, sticky rum glaze balances out the dryness of the cake perfectly.
It's rich and spicy, and it smells as good as it looks. Serve it for dessert or as a sweet breakfast treat. Either way, you won't find many people complaining.
Buttered Rum Shortbread Cookies
You'll get all the rich, buttery flavor of shortbread with these cookies, but they'll also come with a uniquely sweet, almost honeyed taste, thanks to the rum.
They're also gorgeous; the glaze almost looks like molten gold.
Tiramisu
Whether you already love tiramisu or have never really had a taste for it, you'll enjoy this recipe for the traditional Italian dessert.
Each vanilla cake finger is overflowing with boozy, coffee yumminess, and the layer of cashew cream around them is delightfully sweet and nutty.
The rich, powdery topping of cocoa powder won't hurt your feelings, either.
Stollen
This thick, hearty bread is sweet enough for dessert but filling enough for a warm, flavorful breakfast.
You won't believe everything this single loaf of bread has in it.
There are cranberries, raisins, candied lemon and orange zest, nutmeg, cardamom, and other spices, almonds, and more.
Top the whole thing off with powdered sugar for extra decadence.
It's perfect, especially if you serve it with a cup of hot coffee or tea.
Pecan Rum Bars
I never loved the way these crunchy bars looked, but their taste is a different story.
You'll make them with chopped pecans, butter, brown sugar, eggs, vanilla extract, flour, red candied cherries, candied pineapple, candied citron, and rum.
They'll put you in mind of a fruit cake, but somehow, these are better.
They'll take only 20 minutes to prepare, but you'll need at least an hour to bake them, so don't wait till the last minute.
Rumchata Cupcakes
If you've never had it before, rumchata is an unparalleled combination of rum, cream, cinnamon, and vanilla, and yes, it's just as good as it sounds.
Jamaican Banana Bread
Jamaican banana bread has the same dense texture and incredible smell as traditional banana bread, but you'll use a few more ingredients in it.
Some of those include cream cheese, rum, lime juice, lime zest, and flaked coconut.
You'll also add a topping of brown sugar, butter, lime juice, rum, toasted pecans, and more flaked coconut.
It adds crunch, a bit of tartness, and an overall tropical taste that you can't ignore.
Chocolate Chip Cookies with Rum
These chewy, chocolatey cookies are just as good as any homemade chocolate chip cookie.
However, they're less fattening, have fewer calories, and have a superb burst of additional flavor, thanks to the rum and vanilla.
Rum Raisin Oatmeal Cookies
I'm a huge fan of homemade oatmeal cookies, but I also think you can make them even better by adding cinnamon and raisins to them.
If those raisins just so happened to be soaked in a rich, sweet, and sugary rum, then that's even better.
Have you ever tried cooking with rum?
Choose a Rum that Complements Your Dish
When a recipe calls for rum, or when you think rum would make a nice addition to a rum-less dish, you have to pick the right one. Different varieties of rum have different flavor profiles. It's no different than adding any other ingredient.
You should also be careful with substitutions. A dark and spicy rum usually can't be replaced with white rum for most recipes because the flavor is so different.
Keep in mind that if you're going to be cooking with rum, the alcohol is going to burn off. In most cases, you want to pick a flavorful type of rum, or else it won't do anything to the recipe as a result.
You also want to choose a high-quality rum most of the time. A cheap rum could make the dish taste bitter.
Rum in Standard Desserts
Rum in dessert is a classic. Rum cakes, bananas foster, bread pudding, and plenty of other tasty desserts all include rum.
You can also make a sauce from rum and add it to any other dish, or even make your own rum-based vanilla extract. Rum goes so well with sweet dishes.
Here are a few great dessert recipes that use rum.
Considerations for Rum in Frozen Desserts
Rum raisin ice cream is a popular flavor, but did you know that using rum in frozen recipes is actually trickier than you'd think?
Alcohol has a lower freezing point than water. That means that while the rest of your recipe may be perfectly frozen, the rum may still be liquid. This could ruin the texture of your dish if you're not careful.
If you're making a frozen dish with rum that isn't a cold cocktail, consider making syrup or sauce with the rum first. This way, you can keep the flavor but cook the alcohol out.
Rum in Savory Meals
Rum definitely has a place in savory meals. Combining rum and dinner is more than just having a cocktail with your meal.
It's best to use your rum in a glaze or marinade. This way, the flavor won't be overpowering and you'll be able to cook the alcohol off, but you'll still have a hint of that delightful rum flavor.
Adding rum to a stew or soup can also be effective as long as the meal will be simmering for several hours so the alcohol can burn off.
Rums pair well with fruit, and this is true even in savory dishes. Consider using rum to make a compote, chutney, or fruit-based sauce. Pineapple in particular pairs well with dark rum.
Cooking With Rum Is Fun
Have you tried cooking with rum? Improving your favorite recipes with rum is a fun experiment, and you'll be shocked at how many of your favorite meals can be improved with just a splash from your favorite bottle.
Why not treat yourself to a new bottle of Pusser's rum for your favorite recipes and cocktails?
This post may contain affiliate links. Read my full disclosure policy.
This boozy, buttery rum cake is guaranteed to be the life of the party.
My maternal grandmother loved to bake and was famous for her rum cake. The cake was the hit of every family gathering, and no one could pass through her kitchen without sneaking just one more slice. She always kept the recipe a closely guarded secret, but when I became interested in cooking, she told me it was a Duncan Hines cake mix doctored up with instant vanilla pudding, butter, and lots of rum. Who knew?! (It'd be hard to keep the recipe a secret anymore. It's all over the internet; just google "Bacardi rum cake.") I've always wanted to recreate the cake from scratch, so I came up with this recipe, which is hardly any more work than the semi-homemade version. My grandmother would probably say it's not as good as hers, but I think it comes pretty close!
Rum cake is a traditional Caribbean dessert that dates back to the days of sugar plantations, as rum is a liquor made from sugarcane. The most well-known version of Caribbean rum cake, known as black cake because of its intensely dark color, is a fruitcake made from a variety of dried fruits soaked in rum for several weeks or even months before being baked. This lighter version is made by soaking a moist butter cake in a syrup of butter, sugar, and dark rum, giving it a rich, boozy flavor. There's almost a cup of rum in the cake, so it's definitely not for young kids or anyone avoiding alcohol. For a similar cake that's booze-free, try my Kentucky butter cake.
What you'll need To Make Rum Cake
Step-by-Step Instructions
Begin by combining the eggs, egg yolks, rum, vanilla extract, and almond extract.
Whisk and set aside.
Combine the flour, sugars, baking powder and salt in the bowl of an electric mixer fitted with the paddle attachment.
Beat on low speed to combine.
Add the butter.
Add one-third of the liquid ingredients and mix on low to combine.
Add another third of the liquid.
Bake the cake for 65 to 75 minutes, or until a tester comes out clean. Let cool on a rack for 10 minutes.
While the cake bakes, make the glaze. In a small saucepan, melt the butter.
Add the sugar and water and bring to a boil; then turn the heat down and simmer for 5 minutes until thickened.
It will thicken as it sits.
Using a toothpick or skewer, poke holes all over the bottom of the cake.
Let the cake cool completely before serving.
The cake portion of this recipe is based on a recipe from Perfect Cakes by Nick Malgieri. I changed the process, replaced the all-purpose flour with cake flour, swapped the white rum for dark rum and omitted the almonds. The glaze recipe is from my grandmother.
You may also like
large egg yolks
cake flour, spooned into measuring cup and leveled-off (see note)
packed light brown sugar
2 sticks (1 cup) unsalted butter, softened
For the Glaze
1 stick (½ cup)
¼ cup plus 2 tablespoons
Generous pinch of salt
Position an oven rack in the center of the oven and preheat to . Spray a Bundt pan with nonstick cooking spray with flour, such as Baker's Joy or Pam with Flour. (Alternatively, grease the pan with butter and then dust with flour.)
In a medium bowl, whisk together the eggs, egg yolks, rum, vanilla extract and almond extract. Set aside.
Add a third of the liquid ingredients and mix on low speed until just incorporated. Increase the speed to medium and beat for 2 minutes, then stop the mixer and scrape down the sides and bottom of the bowl with a rubber spatula. Add another third of the liquid and mix on low speed until just combined. Increase the speed to medium and beat for two minutes, then stop the mixer and scrape again. Add the remaining liquid and beat and scrape as before.
Transfer the batter to the prepared pan and smooth the top. Bake for 65 to 75 minutes, or until a toothpick inserted halfway between the central tube and side of the pan comes out clean.
Cool the cake on a rack for ten minutes.
Make-Ahead/Freezer-Friendly Instructions: The cake can be made up to 1 day ahead of time and stored in a cake dome or covered container at room temperature. It can also be frozen for up to 3 months. After it is completely cooled, double-wrap it securely with aluminum foil or plastic freezer wrap, or place it in a heavy-duty freezer bag. Thaw overnight on the countertop before serving.
Note: It's important to use cake flour in this recipe. All-purpose flour will make the cake dry and dense.
Nutrition Information
Per serving (16 servings)
Calories:
Fat:
Saturated fat:
Carbohydrates:
Sugar:
Protein:
Sodium:
Cholesterol:
See more recipes
Oftentimes, however, we leave out desserts because we place too much emphasis on the meal itself, opting to try appetizers, side dishes, and of course, the main entree.
But did you know that desserts can also with flavor and completely turn your world upside down? Using unexpected ingredients such as rum will add a shocking essence to your favorite baked goods and make dessert time your favorite part of dinner.
However, with so many rums available for purchase, how does one choose the right one?
Dark rum is probably the type of rum to use when it comes to baking. Whereas white rum is much sweeter, dark rum is chock full of bold flavor filled with rich aroma and hints of spice.
This makes dark rum a foolproof choice when planning most of your desserts, as you wouldn't want to add something sweet to a baked dish that is already very sweet. Dark rum will balance out all the flavors, such as in the case of rum cake.
Of course, some desserts would be nothing without the extra sweetness, such as white chocolate cake and cookies, so in this case, you could definitely try using a light rum.
Besides, some of us have quite the sweet tooth, so don't be afraid to play around with the flavors.
We have talked about desserts, but what else can you use rum for? Try this delicious sweet and salty milkshake recipe that will show you just how versatile rum is.
Rum & Dulce de Leche Milkshake
2½ cups milk regular, whole
2½ cups evaporated milk
½ cup white rum
½ cup condensed milk
3 cups vanilla ice cream
2  tsp vanilla extract
1 tsp cinnamon
1 cup dulce de leche
½ cup sea salt
Rub the rims of 4 large glasses with a little bit of rum. Dip the rims through sea salt. Place the glasses in the freezer for one hour.
In a blender, add all the milks, ice cream, vanilla extract, rum, and three tablespoons of dulce de leche. Reserve the rest of the dulce de leche for later. Blend until smooth.
When you're ready to serve, microwave the remaining dulce de leche for 15 seconds.
Remove the glasses from the freezer and drizzle with the warm dulce de leche. Pour in the milkshake and sprinkle with cinnamon.
Enjoy right away to savor the mix of cold and warm ingredients!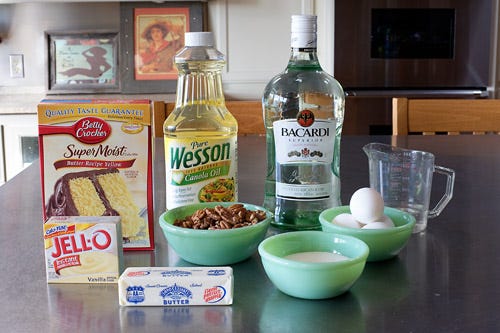 The Cast of Characters: Yellow Cake Mix, Rum (dark or light will work), Vanilla Pudding Mix, Eggs, Canola Oil, Water, Sugar, and Butter.
And a Bundt cake pan would be nice.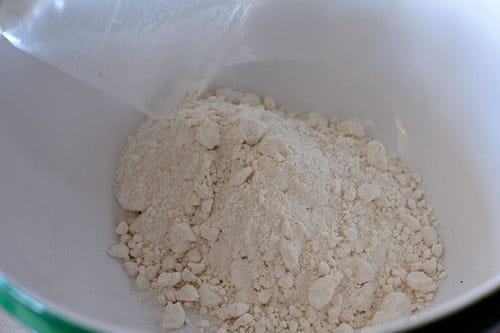 Preheat oven to 325 degrees. Then pour the dry cake mix into a large mixing bowl.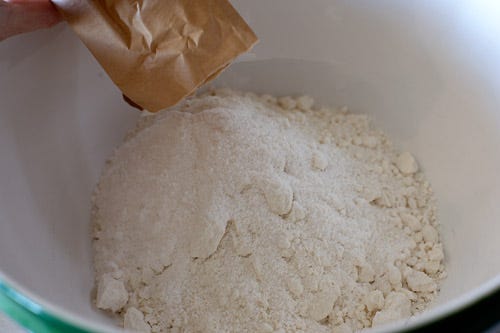 Next, dump in the dry vanilla pudding mix.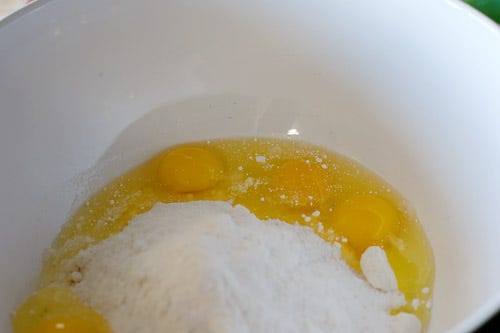 Crack in four eggs.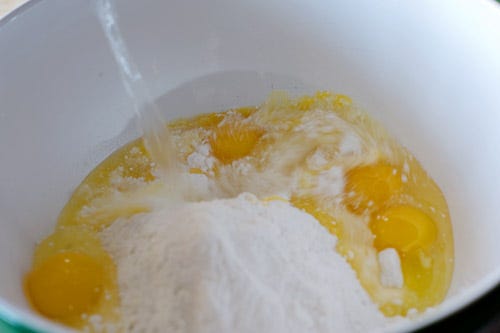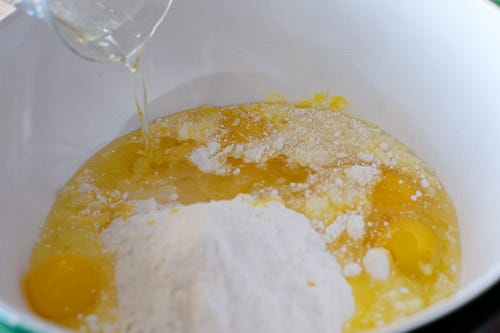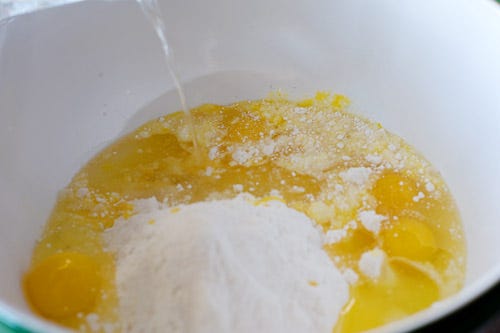 And 1/2 cup rum. Dark rum is best—it's what my mother-in-law uses—but I drank all my dark rum for breakfast before church yesterday morning and didn't have any left.
I'm kidding. *Hiccup* I think.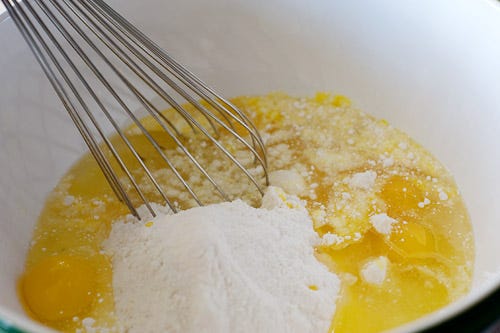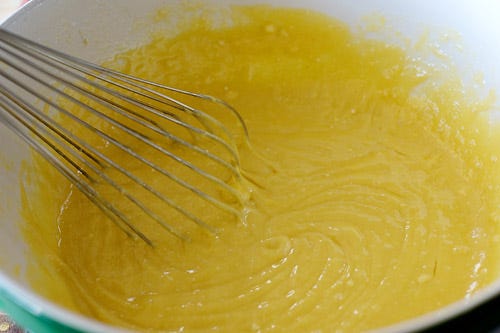 And mix it together 'til smooth.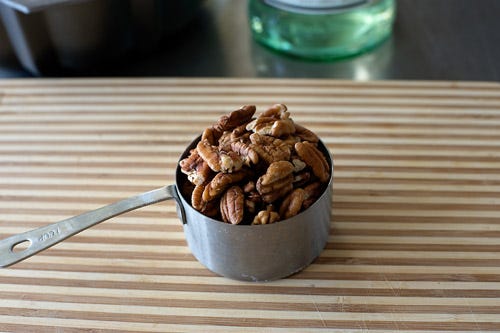 Measure a heaping cup of pecan halves. The recipe calls for "1 cup chopped pecans", which means you chop the pecans, then measure. So I just measure a heaping cup of pecan halves, figuring once they're all chopped up, they'll compress to about a cup.
But then again, I'm pretty much a fly-by-the-seat-of-my-pants mess in the kitchen, so don't listen to me.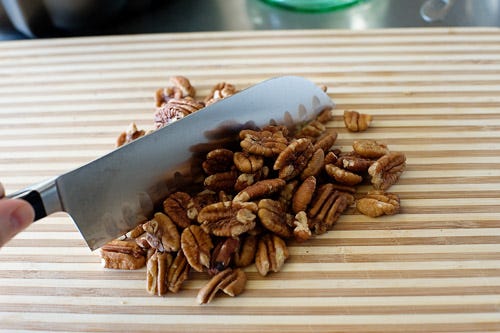 Now just chop away!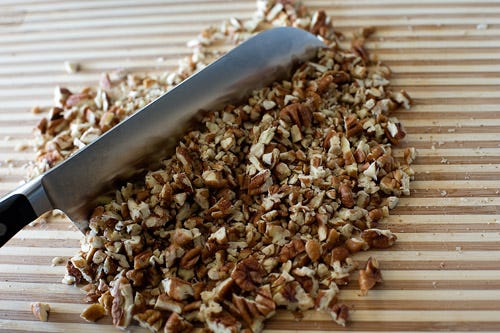 I like to chop them pretty finely, because I have an aversion to big chunks of nuts in my desserts. I like 'em tiny.
But only in my desserts.
No hidden meaning in that remark.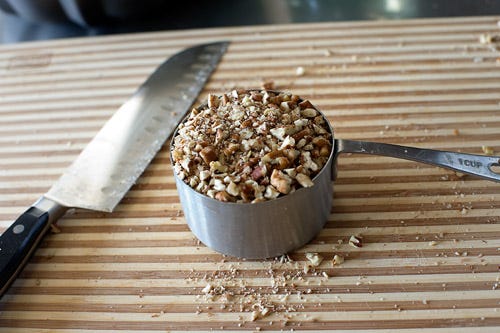 And will you look at this! 1 cup of chopped pecans!
Only problem is, I'm not Cajun.
I'm also not a chef.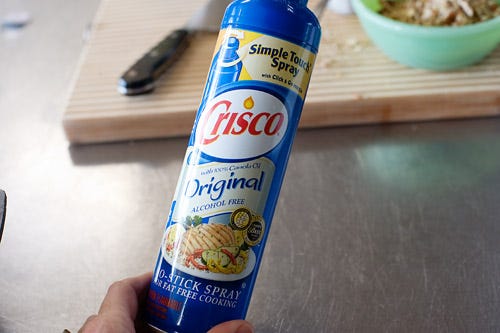 Next, you need to grease and flour your Bundt pan—which, in my world, means you grab the stuff in the blue can.
Look, I'm all for doing things from scratch, but this stuff WORKS. There are still a couple of baking recipes for which I won't use this, but they're getting fewer and farther between.
Here's my Bundt pan; I've had it for years. If I had it to do over again, I'd prefer not to have a pan that's black inside, because whatever's baking seems to brown more quickly. But I don't make Bundt cakes enough to really warrant buying a new one, so I usually decrease my baking time slightly.
Except this time. I forgot.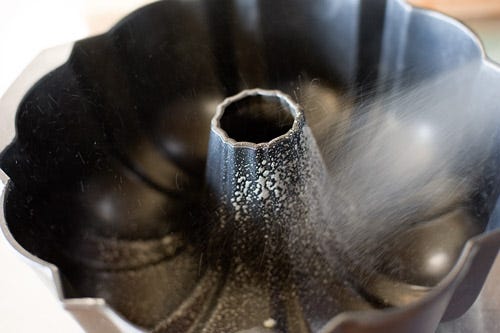 Go ahead and spray the heck out of the pan.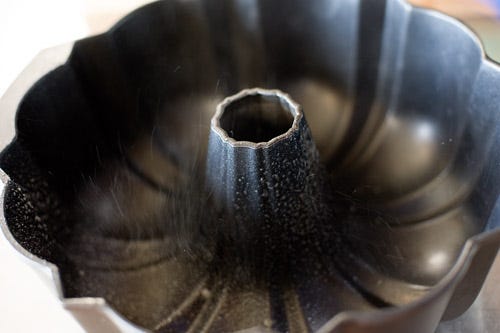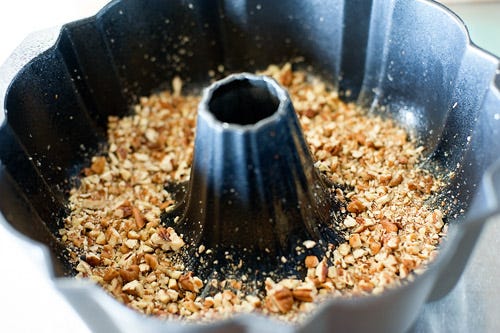 Next, sprinkle in the chopped pecans. Sometimes I also sprinkle some brown sugar over the nuts, but I forgot that, too.
But you feel free to remember, okay? It's not part of the original recipe, so it's entirely optional.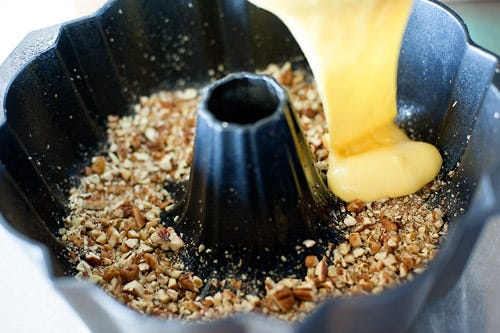 Now just pour the batter over the top of the nuts. Work slowly so you can distribute it evenly.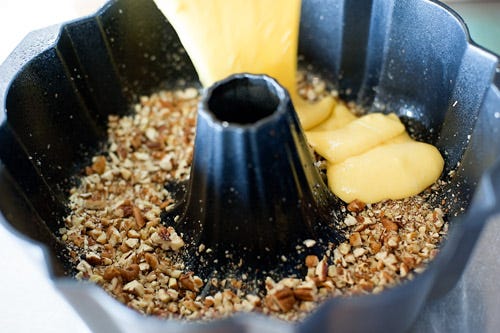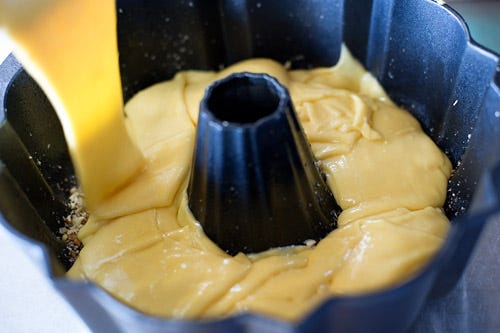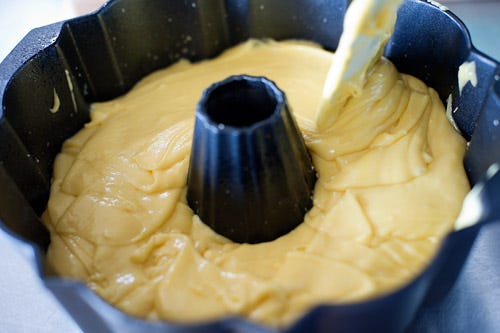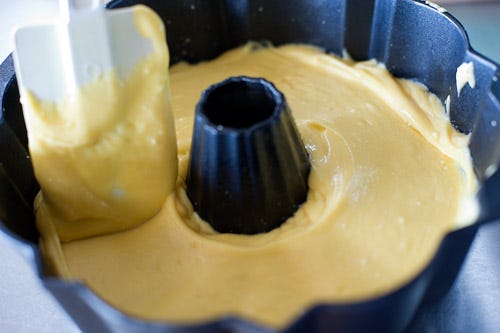 To even out the top. You want the cake to bake evenly.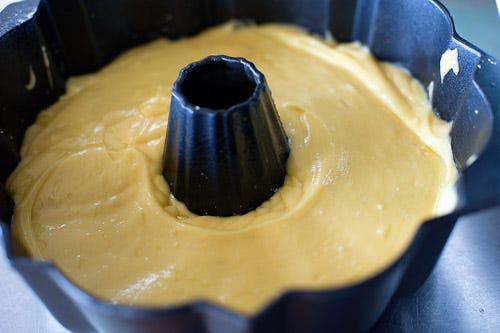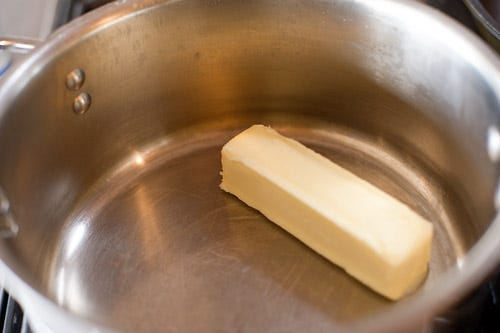 When the cake has about ten minutes left, go ahead and start the rum glaze, which, of course, must start with butter. This is 1 stick (1/2 cup), but I wound up adding another 1/2 stick, totaling 3/4 cup.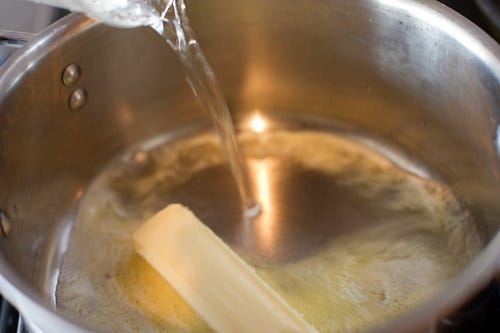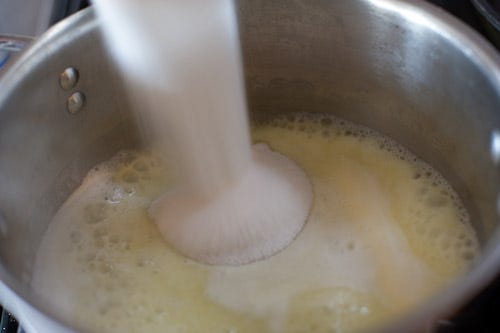 And 1 1/2 cups sugar—a little more if you're feeling dangerous.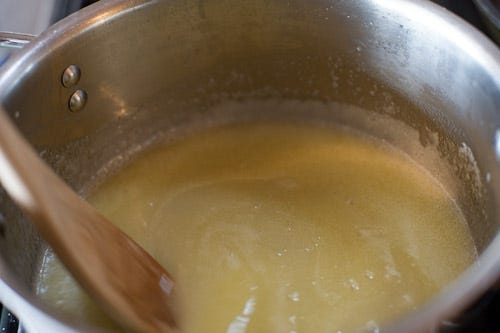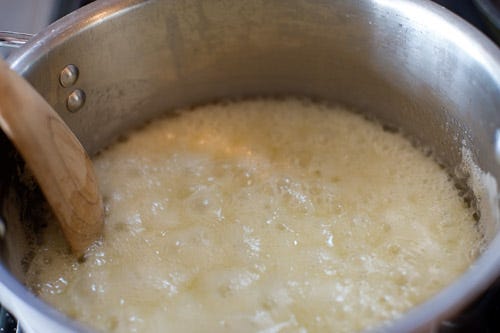 And bring to a gentle boil. Continue cooking for 4 to 5 minutes, stirring constantly.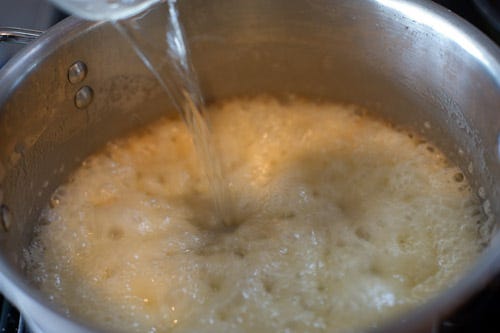 Turn off the burner so you won't singe your eyebrows, and pour in 3/4 cup rum.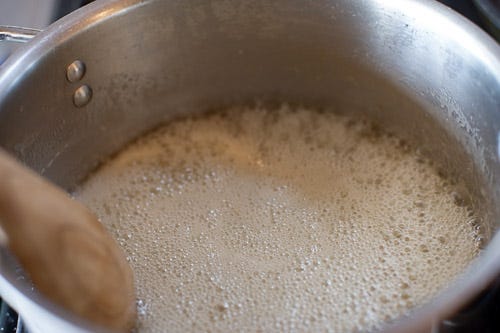 Stir together, then turn on the burner for thirty seconds, giving the new mixture a short boil. The mixture will be quite thin, but syrupy.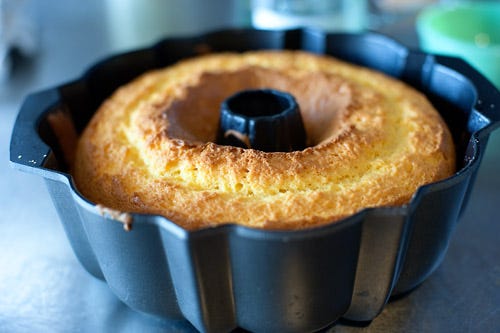 Time to take the cake out of the oven! And again, I forgot to decrease the baking time for my black pan. Ideally, the cake won't be totally pulled away from the sides of the pan. But if it is, as long as it's not burned, it's fine.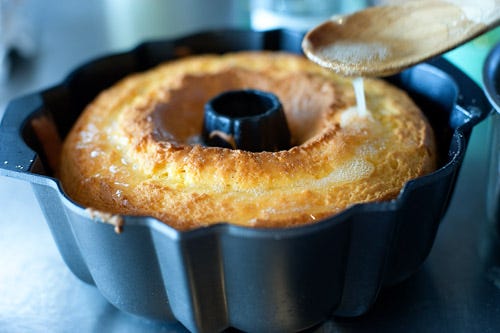 Now the key here is to get the cake as moist as possible with the yummy, sweet glaze. In a minute, we'll invert the cake, but before that, let's drizzle about 1/3 of the glaze over the bottom (presently the top) of the cake.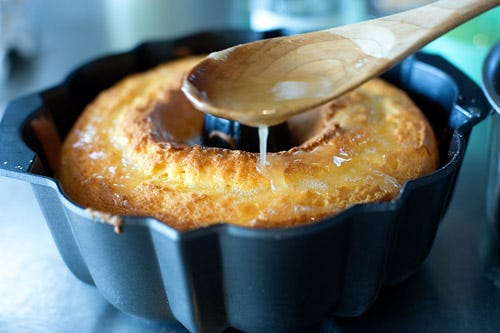 Drizzle it on slowly to give it a chance to seep in, and also let it drip down the sides and middle of the cake pan. This glaze is going to provide some much-needed moisture.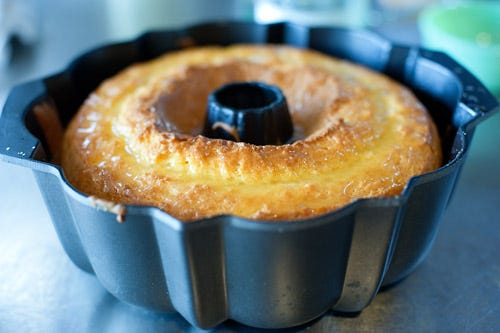 Let it sit for five minutes to ensure that the glaze seeps in.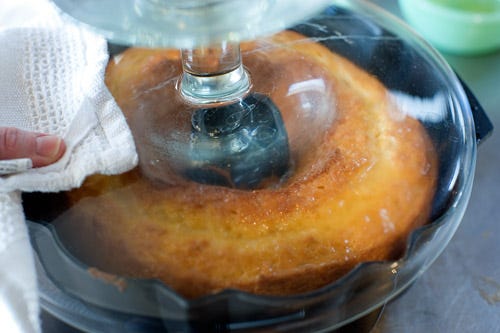 After five minutes, invert the cake by placing a cake plate upside down on top of the Bundt pan.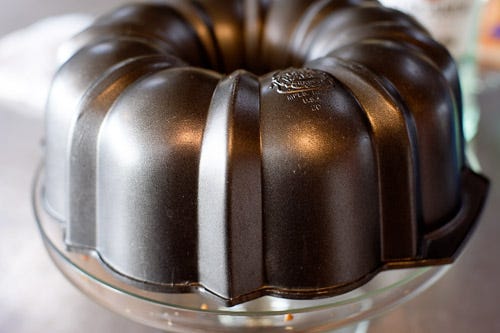 Holding on tightly, flip the pan over so that the Bundt pan is upside down on top of the cake plate.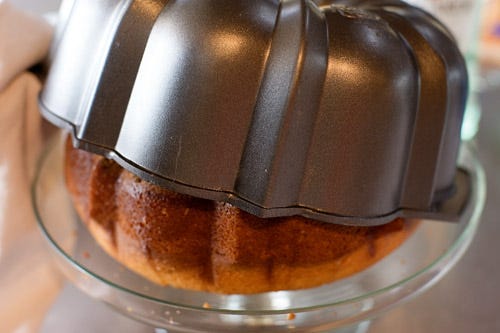 And because of the nonstick baking spray we used, the pan will lift right off—no harm, no foul.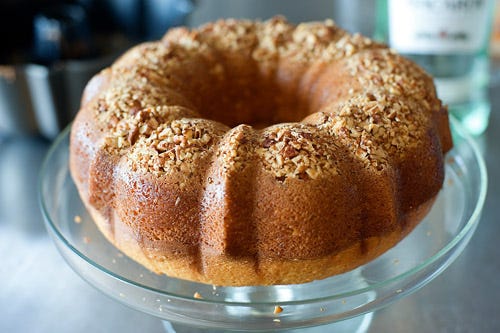 (You'll notice that the part of the cake that was touching the black pan is on the verge of being overly brown. Not that that will stop me from gorging myself on it or anything.)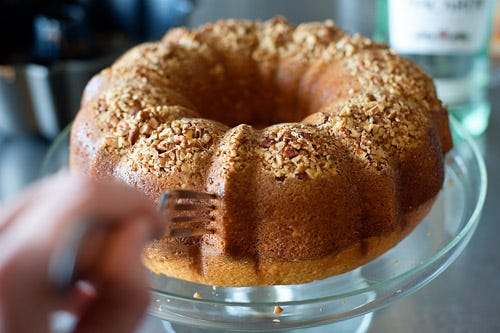 Next, grab a fork and begin pricking the cake with the tines. This is very important, because we want the glaze to be able to seep into the cake.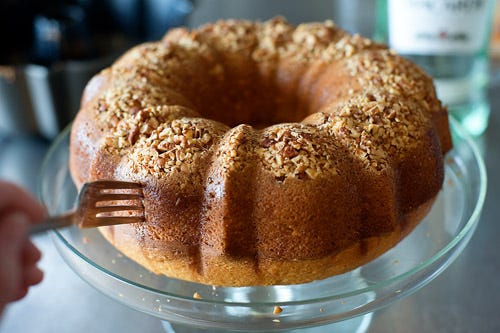 Just prick-prick-prick all over the sides and top.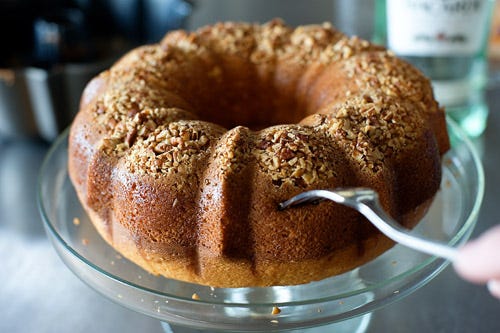 All in all, I'd say I pricked the cake about a hundred times. And don't be violent about it. Just sing your favorite song, gently poking and pricking along the way. By the time the first chorus is over, you'll be done. Pricking.
I just can't type that word any more. Sorry.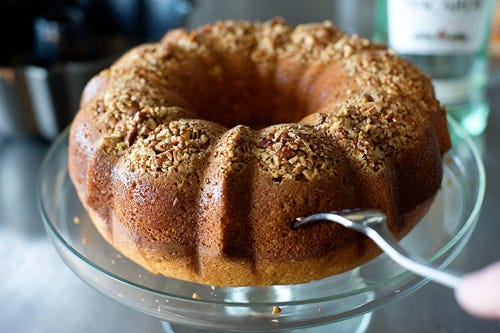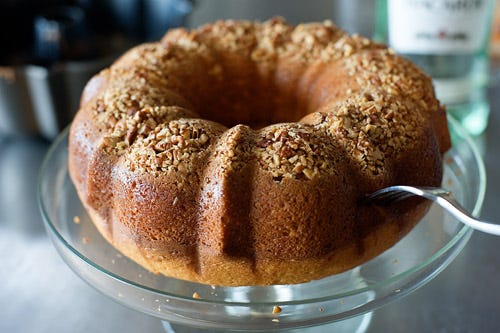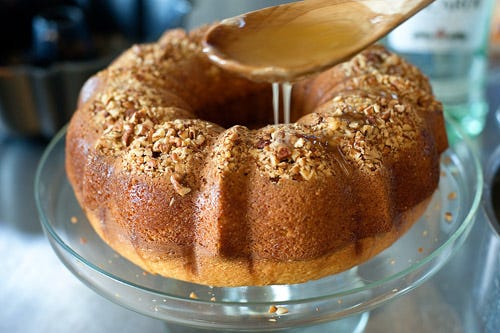 Next, begin drizzling the rum glaze over the top of the cake, allowing it to slowly drip down the sides.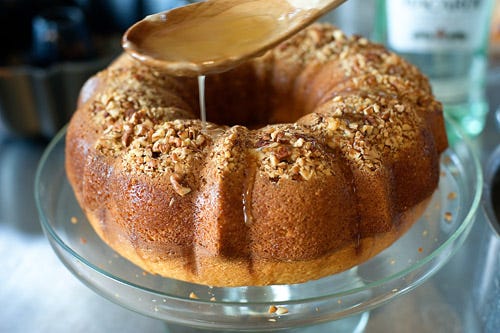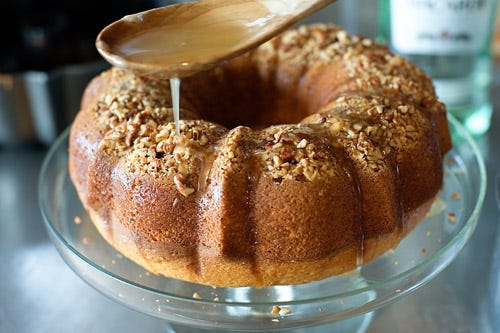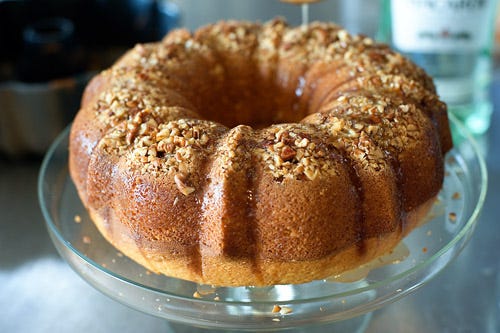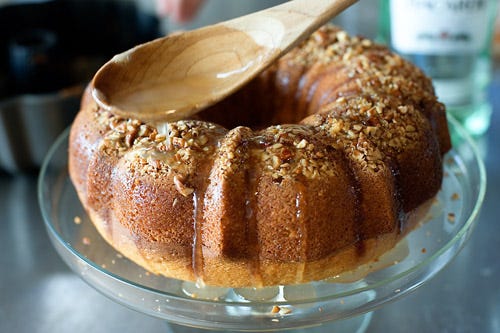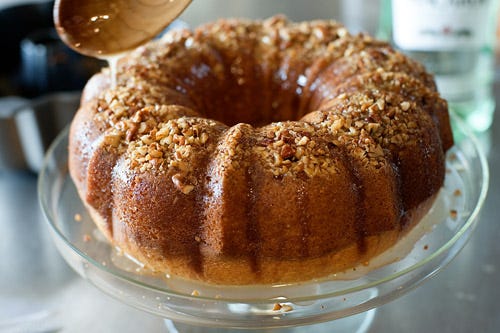 Try to keep as much on the cake as possible, but some glaze WILL run down the sides and pool at the bottom of the cake.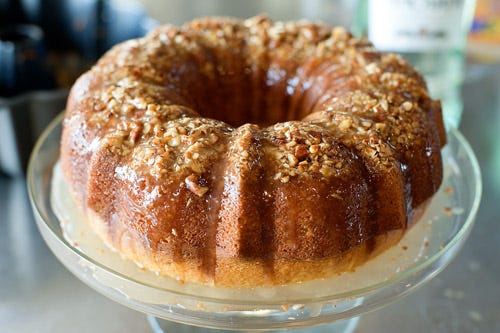 The whole glazing process should take five to ten minutes or so. Be patient. You really want the glaze to sink into that cake.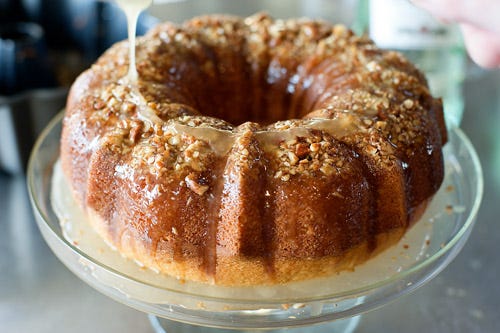 And use every last drop from the pan.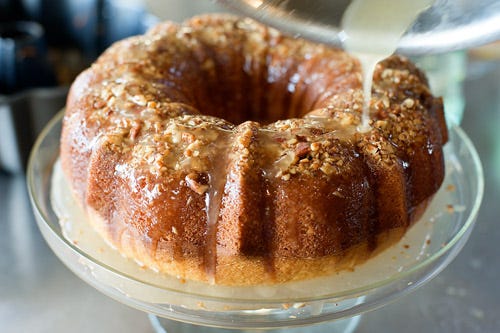 Rum glaze is a terrible thing to waste.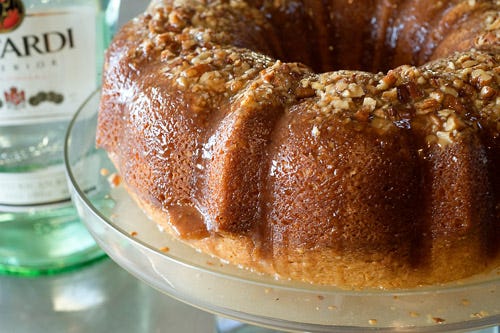 Oh, Lord. How good does THIS look?
Now. This is important: Allow the cake to cool to room temperature, because it tastes better that way, and besides, the rum glaze needs to continue seeping into the cake.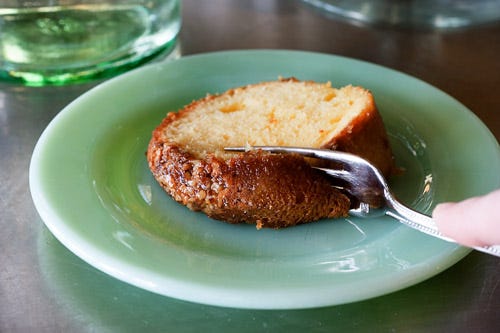 And believe me, the wait is worth it..
Enjoy! This rum cake is perfect for holiday parties.
And I'm having it for breakfast tomorrow. Don't tell anyone. It's like the scene in Gone With the Wind when Rhett says to Scarlett, "I know you drink in private and I know how MUCH you drink. You think I care if you like your brandy?"
I'll bet Scarlett regularly had rum cake for breakfast. Saucy little minx.
Ever since I was a child, there has been one item in the pastry case that I'm incapable of resisting. It's not the most beautiful sweet. In fact, it may be the least visually enticing: a brown orb, varying in size from golf ball to tennis ball, coated in chocolate sprinkles.
Brown on brown, unadorned and unfussy, the rum ball has nevertheless been the enduring object of my affection for decades.
Part of the rum ball's intrigue is that no two are alike. As I child I never much considered why; I just naturally favored the ones that contained bits of nuts or raisins, a welcome textural variation within the smooth, truffle-like surroundings. I often found my rum balls at supermarket bakery counters or European delicatessens in the Canadian Prairies, where, with prices hovering around $1.25, the likelihood they were made with real rum seems low. Instead, they were perfumed with the spicy, slightly sharp caramel notes of rum extract or flavoring.
In my early adulthood, I tried to make my favorite treat at home a few times, baking full pans of brownies only to grind them up, but they were never quite right. It wasn't until my second semester of pastry school that I finally discovered the truth: In most pastry shops there's no recipe for rum balls. They're an invention born of thrift, a zero-waste original made almost entirely of scraps. Like diplomat pudding, another pastry school classic made from offcuts soaked in custard and baked, the rum ball ensures that nothing is ever wasted but instead injected with new life (and, if you were my severe French pastry teacher, the heftiest dose of rum I'd ever encountered).
Photography by Rick Holbrook; food styling by Kaitlin Wayne
Rum balls are born of thrift, but that doesn't mean they can't be elegant.
When I later became a pastry chef, I always kept a bin in the freezer reserved for trimmings, salvageable mistakes, and stale baked goods to transform into rum balls. The gospel of every restaurant or bakery kitchen is to waste as little as humanly possible, whether that means repurposing yesterday's croissants as today's bread pudding or concocting a tart from dough and leftover vegetable scraps.
And while a no-waste, thrifty yet tasty confection seems ideal for these inflationary times, I still fear its eventual disappearance — might it finally be considered too stodgy or unsexy? I see rum balls less and less frequently in supermarket pastry cases, and while that might be a good thing for my sugar intake (as I still can't resist them), I want future generations to be able to enjoy these special sweets. And otherwise, where do all the pastry scraps end up?
Fortunately, one can always make them at home. While you probably don't produce anywhere near as many sweet scraps as a bakery, storing leftovers in the freezer means that eventually, a few times a year, you'll end up with enough to whip up a batch of delectable rum balls. (And for a formal recipe that's a bit more complicated but no less delicious, see Eggnog Rum Balls.)
How to make your own rum balls
Start accumulating your scraps: The rum ball begins with a bag in the freezer where pastry scraps are squirreled away, whether that's bits of cake from leveling off a layer cake, the edges of bar cookies when you want them cut perfectly straight, or even a mistake like a woefully underbaked brownie. Once you've accumulated a few cups worth, transfer to the fridge to thaw overnight.
If you don't have a stash of pastry scraps, you can use just about any brownie recipe to make rum balls.
Prep your fruit: Because I love texture, my rum balls always start with a handful of raisins (golden, by preference). I put them in a jar, cover them with dark rum, and leave them to plump overnight. If you're anti-raisin, however, simply substitute with another dried fruit, such as dried apricots — or skip this bit, but do have some rum on hand. (Any golden or dark rum will do; I like to use dark.)
Photography by John Sherman; food styling by Liz Neily
Got some leftover cake that's going stale? Use it to make rum balls.
Start mixing: Transfer your thawed scraps to the bowl of a food processor and pulse until finely ground. (This can also be done by hand.) Depending on the moistness of your scraps, they may already be turning into a dough-like consistency. (If that's not yet the case, it will happen once you add the rum.) Add the rum raisins (or just a big glug of rum), along with any other optional ingredients to provide added texture — I like a small handful of walnuts and a tablespoon or two of chunky marmalade. You can use other nuts or jams here too, if desired. Pulse to combine.
Tweak to your tastes: At this point, what you add is very much contingent on what sort of scraps you started with. What you're ultimately looking for is a rich, chocolate-forward flavor laced with rum but not to a biting degree. (Although the alcoholic tang will mellow out as the rum balls sit.) If your scraps were quite chocolatey, that might be that, but in all likelihood, you'll want to add some cocoa powder. Depending on the sweetness of your scraps, this may need to be balanced with a little confectioners' sugar. More rum? Up to you!
The texture should be that of a soft, slightly sticky dough punctuated with textural bits (nuts, dried fruit, peel) and firm enough to roll into balls. Add more cocoa powder or ground almonds if the mixture needs thickening.
Roll and coat: Bakery rum balls tend to be monstrously huge; I prefer to make them bite-sized at home. Roll tablespoon-sized pieces into balls, then roll in chocolate sprinkles to coat. You might alternatively roll them in cocoa powder or desiccated coconut, but, in my opinion, chocolate sprinkles really gild the lily. Place them in an airtight container (and nestled into mini cupcake liners, if you like!) and refrigerate until chilled, where they will keep for at least two weeks.
I like to think of rum balls as the original cake pop, only boozier. They will be the perfect addition to your holiday cookie plates or kept all for yourself whenever you need a delicious, chocolatey bite much greater than the sum of its parts.
If you're looking for the best cookie recipes to serve alongside your rum balls this season, see this new holiday collection: A Cookie for Everyone.
Cover photo (Eggnog Rum Balls) by Rick Holbrook; food styling by Kaitlin Wayne.
We use technologies like cookies to store and/or access device information. We do this to improve browsing experience and to show personalised ads. Consenting to these technologies will allow us to process data such as browsing behaviour or unique IDs on this site. Not consenting or withdrawing consent, may adversely affect certain features and functions.
The technical storage or access that is used exclusively for statistical purposes.
Storage or technical access that is used exclusively for anonymous statistical purposes. Without a request, voluntary compliance by your Internet Service Provider, or additional logging by a third party, information stored or retrieved solely for this purpose cannot be used to identify you.