Look no further for the best almond flour recipes with over 35 recipes for almond flour desserts, breads, pancakes, muffins, savory dinners, and snacks all in one place! Many are perfect for gluten-free, paleo, low carb, and keto diets. Learn how to make almond flour at home, the benefits, nutrition, and tricks for making recipes a success!
These almond flour recipes are delicious ways to use this flour alternative in your kitchen.
Unfortunately, with gluten-free treats, it's tough to get the traditional taste and texture of wheat flour. But with these recipes, you won't feel like you are missing out!
Want to save this recipe? Enter your email below and we'll send the recipe straight to your inbox!
From loaves of bread and desserts to delicious breakfast options, there's a recipe to satisfy your every craving.
From crunchy snack crackers to scrumptious scones and everything in between, there's no need to sacrifice taste to accommodate your dietary needs!
Let's get baking with these 23 almond flour recipes that are guaranteed to please!
Almond flour recipes are abundant on this site! It is one of my favorite ingredients to use! Making decadent treats with better for you ingredients is how I spend most of my days. Today, I'm rounding up some of my favorite almond flour recipes you have to try!
I would love to do a count of how almond flour recipes I have on this site. I'm fairly certain 95% of any baked good you find will have some almond flour in it.
Some sort of truffle? Probably made with almond flour. Cookies? You better believe there is some almond flour in that cookie dough! It's my go-to, tried and true, never fail recipe that I rely heavily on. I've always said, I'm a very nutty baker.
With this ultimate list of almond flour recipes you're bound to find a new recipe to love! Whether you need a special dessert for a holiday gathering, or you just want a quick treat to curl up on the couch with and binge your favorite show, there's bound to be an easy and delicious recipe on this roundup!
If you love baking, you have to check out my roundup of 50+ Gluten Free Dessert Recipes! You'll find everything from Chocolate Glazed Cake Donuts to Chocolate Chip Tahini Cookies!
This almond flour cake is so soft, light and fluffy with a moist crumb. Made with just 4 ingredients, it is mildly sweet and is delicious plain or made into a layer cake.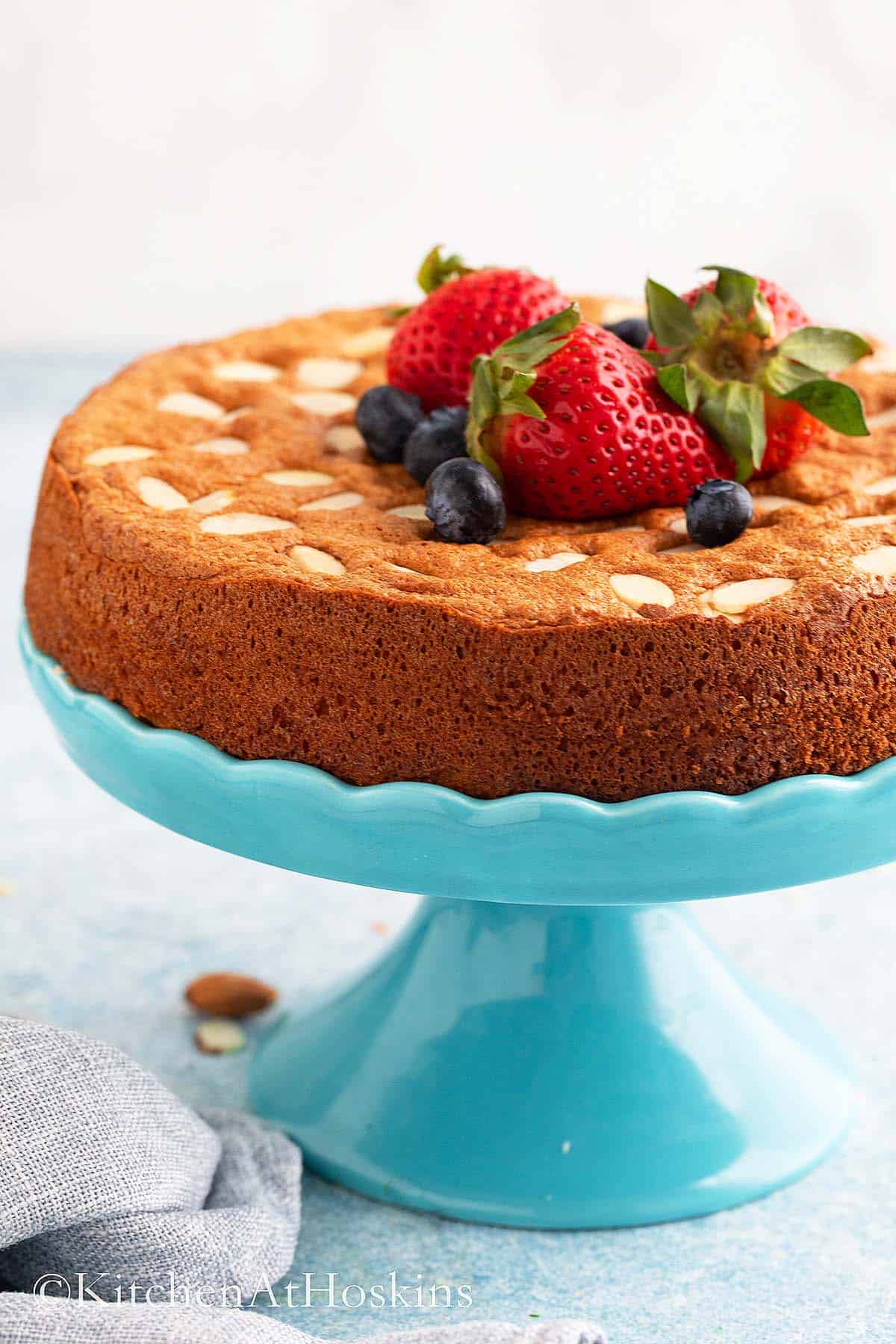 If you want to eat cake for breakfast or something light for dessert, then this almond flour cake is perfect for you. It tastes absolutely divine with an ultra soft fluffy texture and a moist crumb.
Almond flour transforms a cake's texture with it's high fat ratio which imparts an amazing moistness and a fine crumb to the baked good like this almond flour chocolate muffins or almond flour chocolate cake.
This easy cake recipe doesn't require separating the eggs, beating the egg whites or creaming butter. It boasts a straight forward method of beating eggs with brown sugar and then mixing in the dry ingredients.
Let the simplicity not fool you. It looks elegant with the sliced almonds and really doesn't need any other embellishment other than some fresh berries and may be a light dusting of confectioners sugar on top!
It's wonderful served with a cup of coffee or with whipped cream and berries for a simple dessert. This recipe is naturally gluten and dairy free because it is made without any butter or milk. If you love this recipe, check out this collection of almond flour dessert recipes!
Jump to:
Baking with almond flour brings extra protein and fiber to your desserts, and creates a lovely moist texture. Read on for some of our favorite almond flour cakes, cookies, muffins, and more!
Cookies are some of the easiest desserts to bake with almond flour. All of these are delicious and gluten-free!
Almond Flour Oatmeal cookies are crispy, chewy, and generously studded with chocolate chips. Gluten-free, and delicious as dessert or afternoon snack!
These Almond Flour Chocolate Cookies have a deep dark chocolate flavor and a slight nuttiness. Entirely gluten-free and so easy-to-make—no mixer required.
These Almond Flour Peanut Butter Cookies have a light peanut-y flavor studded with chocolate chips. Gluten-free, low-carb, and so easy—no mixer required.
If you love peanut butter like me, you're going to love these Peanut Butter Macarons. They're using the easy French macaron method and filled with a peanut butter buttercream.
Need a quick and easy almond flour cookie recipe that is perfect for the Holiday season or all year round and will satisfy any sweet tooth? These easy almond flour cookies combine simple ingredients like almond flour, chocolate chips, butter, and a touch of peppermint to make them a chocolatey, brownie, fudgy cross that is so moreish.
Allergy and vegan-friendly macaron cookies.
Perfectly chewy, sweet, and packed with warm cinnamon. Only 6 ingredients and 15 minutes needed to make these quick and easy, gluten free Vegan Cinnamon Cookies cookies!
These paleo chocolate chip cookies with almond flour are a thick, melt-in-your-mouth cookies recipe. Sweetened with maple syrup and just a hint of honey, these pale chocolate chip cookies are easy to make and contain ingredients you'll already have in your cupboards.
No-Bake Cookie Dough Bars
Everyone knows that cookie dough is better than the baked good, right? That may be a little dramatic, but cookie dough is still delicious to snack on.
There must be something about being told not to eat it that makes it taste so much better. Enjoy everything you love about cookie dough in these safe-to-eat bars.
Bite into a soft and chewy no-bake cookie dough bar for a sinful treat.
How to make?
You can find full printable recipe below, but here is a quick overview of the procedure along with step-by-step photos.
1 & 2: Add 4 eggs and brown sugar into a large bowl and begin beating with an electric beater for about 4 minutes. The egg mixture will have increased in volume and look pale in color.
Tip: Make sure to leave you eggs at room temperature for several hours before baking. When you beat with the mixer, the warmer egg's protein traps air bubbles and it expand when baking, which results in a lighter textured baked good.
3 & 4: Add blanched super fine flour, baking powder, salt and vanilla extract. Continue beating, beginning on low speed and gradually increasing to high.
5 & 6: The batter will have have thickened after about 1 minute. Remove beater and gently stir using a rubber spatula to mix any dry mixture attached to the sides of the bowl.
7: Grease a 8-inch round baking pan with cooking spray or melted butter and line the bottom with parchment paper. Transfer batter into the prepared baking pan and gently smooth the top so the batter is spread evenly.
8: We like to sprinkle the top with some sliced almonds which not only adds texture but also makes it visually appealing. Bake in a pre heated 350 degree oven for 30 to 35 minutes or a tooth pick inserted in the middle comes clean.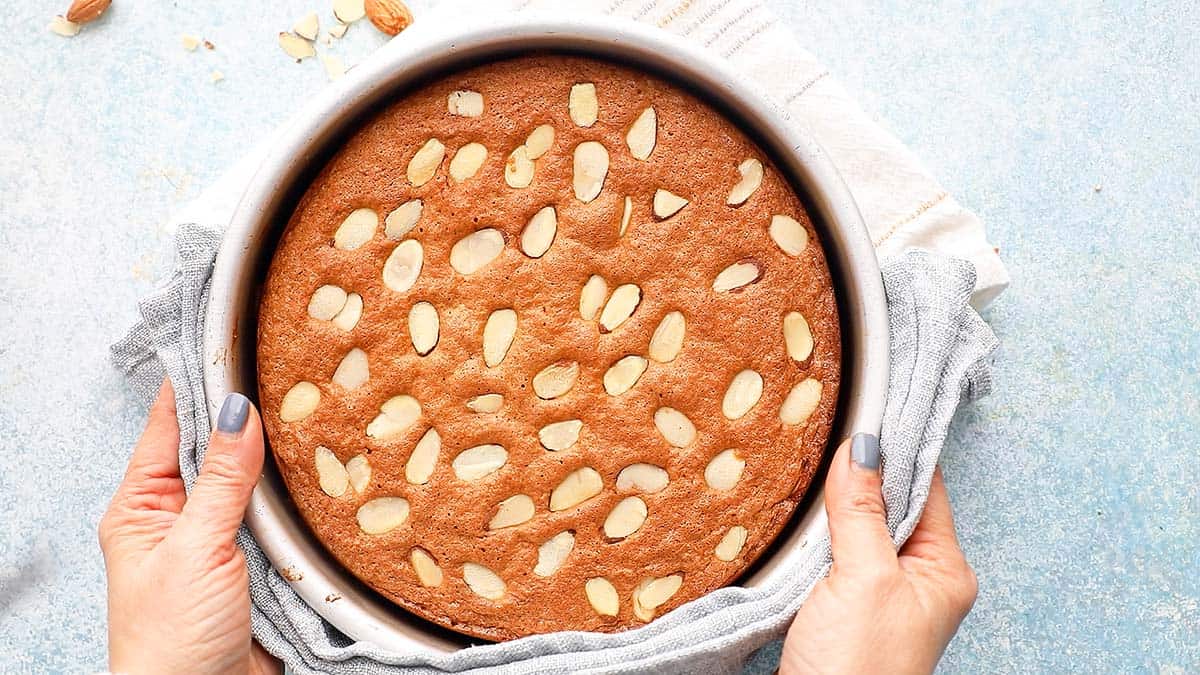 Homemade Vegan Twix Bars
Blueberry Almond Crisp
Fruit crisps are a delicious way to celebrate summer. Bake the season's most ripe fruit into an irresistible dessert.
This crisp combines the scrumptious flavor of almond with plump and juicy blueberries.
Add in some cinnamon streusel topping, and you'll have your new favorite dessert.
The blueberries bring all the sweetness this dish needs. Add cinnamon and brown sugar for a crisp that's out of this world.
Serve up a scoop of blueberry almond crisp with a whipped cream topping or a scoop of your favorite ice cream.
Almond Flour Shortbread Cookies
Shortbread cookies are the perfect holiday cookie, but are also delicious any time of year.
With plenty of butter and powdered sugar, this almond flour shortbread cookie is a must-try.
Serve these shortbread cookies in little triangles or use them as cut out cookie dough.
They are delicious just as they are, but can also be topped with icing and sprinkles.
Enjoy a cookie or two with your afternoon cup of tea for a brief moment of relaxation before continuing on with your busy day.
Almond Flour Blondies
Your favorite dessert now has a gluten-free twist! These almond flour blondies taste just like the traditional recipes.
Almond flour blondies are sweet and stout cookies that pair perfectly with an afternoon cup of coffee.
These blondies only dirty up one bowl and one pan, so cleanup is a breeze! There is no excuse to not make these almond flour blondies today.
Cakey Chocolate Peppermint Donuts using Almond Flour
I was walking through the store the other day and saw a pack of candy canes. Bahh candy cane season!! I totally forgot about youuu!! I was so hung up on gingerbread that peppermint was flying under the radar. Well, fly high my little peppermint. I've got big plans for you 🙂 As I was
One-Bowl Peanut Butter Muffins (Gluten-Free)
Peanut butter muffins are for all my peanut butter lovers!! If you love fluffy baked goods that require minimal effort these muffins are for you! These are absolutely perfect for make ahead treats and snacks for your week! If you need a weekend baking project, these deliciously moist and fluffy muffins are for you! If
Benefits of Almond Flour
Almonds have lots of healthy fats, fiber and protein. They also have some Vitamin E and Magnesium. Almonds can help reduce blood sugar levels, blood pressure and cholesterol levels.
Whether you're eating them raw or grinding them up into an almond flour for a delicious dessert, almond flour has tons of benefits!
Almond Flour Crackers
Crackers are such an easy option for snacking on the go. From charcuterie boards to simple peanut butter crackers, there are so many possibilities.
Keep these on hand for a last-minute snack you can feel good about!
Rich & Decadent Chocolate Banana Bread using Almond Flour
Chocolate bread is perfect for any time of day! I love it when I can categorize things both breakfast and dessert. Double chocolate, thick, moist, decadent dessert? Yep! Still a hearty bread that you can get away with having alongside your morning coffee? Yep! I'm sitting here now, forking deliciously chocolate bites into my mouth and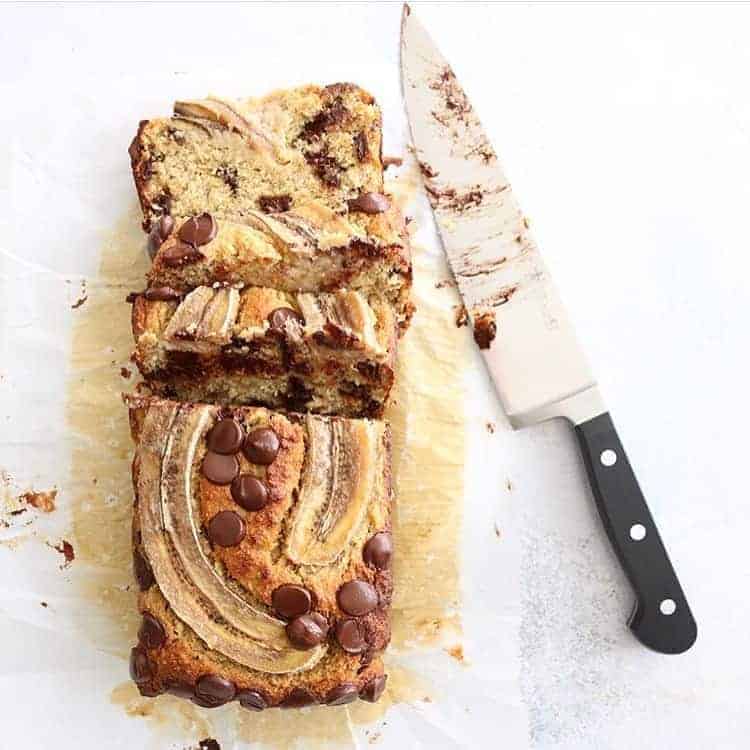 Almond Flour Red Velvet White Chocolate Chip Cookies
My intention was to get all the heart shaped and red things in before Valentine's day. Whelp, sometimes you need to embrace the fact that red velvet is a year-round kinda thing.
20-Min Chewy Almond Flour Double Chocolate Cookies
Tomorrow is Thanksgiving. I saved allll my thanksgiving dinner shopping for today and was seriously dreading it. Would people be cutthroat? Would I need to throw some bows? Would they be out of turkey, forcing me to buy chicken and lie to my family? Turns out, no. It was a completely normal food shop, only I bought
Variations
Spread a layer sweetened whipped cream and top with fresh berries.
You can use almond extract, lemon or orange zest instead of vanilla.
Almond Flour Waffles
According to Leslie Knope, waffles are one of life's most important things. Second only to friends, and listed right above work.
These almond flour waffles are the perfect way to appreciate all this cobbled pastry has to offer to the breakfast world.
Top with whipped cream and strawberries or maple syrup and butter, you'll love this delicious treat.
Almond Flour Millionaire Bars
Millionaire bars may be the richest dessert known to mankind. Whoever created this recipe took everything good on this earth and merged it into one cookie bar.
Enjoy the finer things in life with this delicious almond flour millionaire bars recipe.
The ooey-gooey, sweet goodness will have you making this recipe time and time again.
Pull out your baking dish and get to greasing. You'll want to try these millionaire bars sooner rather than later.
Lemon Almond Flour Cake
Another lemon option, this lemon almond flour cake is a delicious gluten-free dessert you can enjoy with family and friends.
Finish off the perfect meal with a slice of this extraordinary patisserie. This recipe is light enough you could also serve it as a coffee cake.
Either way, you'll enjoy this lemon almond flour cake at any time of day. It pairs well with sweet iced tea and a breezy back porch.
Almond Flour Banana Muffins
Start your day off right with these delicious banana muffins. There is no better use for last week's bananas sitting on your counter.
These muffins are flavored with cinnamon and nutmeg for a fall-infused baked good that's perfect for when the leaves start to change.
Don't limit yourself just to autumn though. Enjoy this recipe all year round.
With the moist crumb and decadent tops, you won't be able to resist these banana muffins.
Gluten Free Blueberry Muffins
These blueberry muffins are light, fluffy, and bursting with juicy blueberries! I used almond flour as the base with a couple tablespoons of tapioca flour to add some fluff. In college I used to get a muffin and a coffee to go every morning and eat it in class. It was my thing. What kind
My Favorite Almond Flour
Want to know the almond flour I always go for whenever I'm shopping online? This one from Anthony's is no-fail perfect! It's super fine and perfect for all your baking needs!
Coconut Almond Banana Bread
Summer has been crazy. It seems like all the sudden everything is moving really fast. The school year is over, and I can't believe in less than two weeks the movers will be here and we'll be shipping out of Philadelphia. I think it hasn't totally set in that the whole California thing isn't just
How to Store?
To store: Store leftovers in an air tight container at room temperature, for up to 1 week. You can store the cake in the refrigerator if you'd like to keep longer but make sure to leave at room temperature for a couple of hours before serving.
To freeze: This almond flour cake freezes well. Wrap the cooled cake tightly in plastic wrap, and store it in a freezer safe zip lock bag for up to 2 months.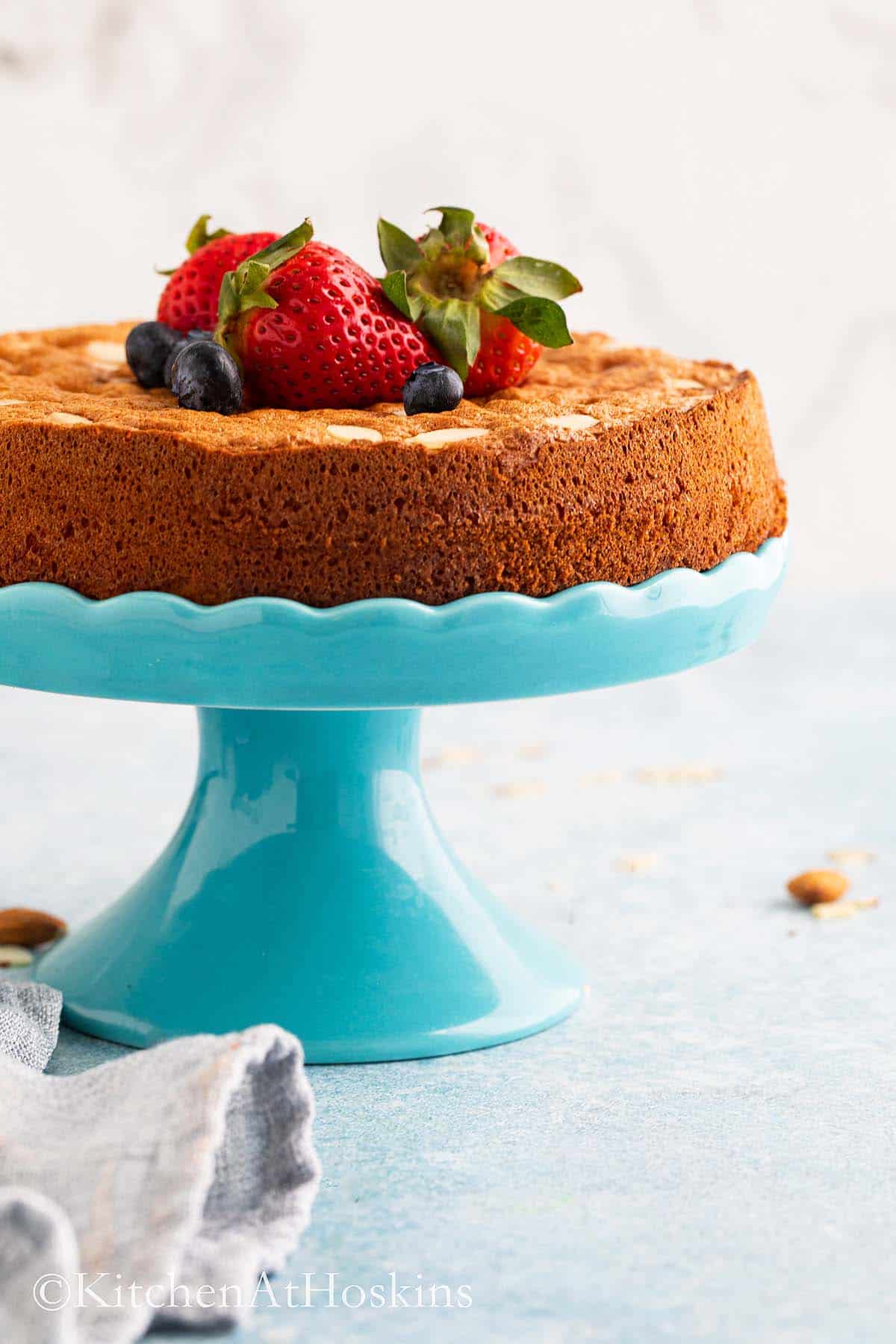 Almond Flour Nutrition
Calories: 170
Fat: 15 g
Saturated fat: 1 g
Protein: 24 g
Carbs: 6 g
Fiber: 2 g
Sugar: 1 g
Sodium: 0 mg
Calcium: 66 mg
Iron: 1 mg
Potassium: 190 mg
Chocolate Chip Tahini Banana Bread
Tahini Banana Bread is going to be your new favorite banana bread recipe! It's loaded up with chocolate chips and sesame flavor. It's just one of those recipes that's going to be a quick favorite. Tahini gives it a lot of nutty flavor but the texture is super creamy. It's not overpowering but the perfect
Quick Banana Chocolate Chip Muffins (Gluten Free)
Ever since I was a kid, banana muffins were a staple in our house. My mom always made the most epically amazing banana muffins. I could put three away in one sitting, no problem. These paleo banana muffins are a fun twist on your classic banana bread muffin! They're made with almond flour so they're
Almond flour vs almond meal
Blanched Almond Flour:
A blanched almond means the layer of skin enclosing the nut has been removed. Because blanched almond flour is ground almonds without their skin, it will have a consistent cream color (free of red-brown flecks of skin), as well as a smooth texture.
It is also more finely ground, lighter, and particularly good for making pastries and other delicate baked goods. Removing the skin does not impact the nutritional benefit. Whether the flour is blanched or unblanched, the benefits remain the same.
Suggested Uses: cookies, brownies, pastries, macarons, pancakes, cakes
Almond Meal:
For the most part, almond meal can be used interchangeably with almond flour. Almond meal is made of unblanched almonds, or almonds with their skins on.
It is less finely ground than blanched flour. This gives it a more coarse texture, which makes it great for gluten free bread crumbs and crust for proteins such as pork, chicken or fish.
Suggested Uses: bread crumbs, outer coating on proteins, scones, fruit crumble
Unblanched Almond Flour:
Unblanched almond flour means the almond skin has been left on. The red-brown flecks in the flour can affect the appearance of some dishes. This is beneficial for some dishes, giving it a more rustic look.
It is also said to be heavier than blanched almond flour. One deterrent can be that, while very healthy, unblanched flour is more fibrous than blanched flour and may cause digestive issues for some.
Suggested uses: pie crust, scones, biscuits
Cakey Chocolate Peanut Butter Donuts with Almond Flour
When I got a donut pan, my goal was to make ALL THE DONUTS. I had some really high hopes and tons of ideas. Then I made a chocolate donut, a vanilla donut, and then put my donut pan away for a good 6 months. Welp, it's back baby!! When I was in middle school, every
Peanut Butter Millionaire Bars (gluten free)
Holy peanut butter millionaire bars! These are amazing, Listen, I rarely come across a chocolate peanut butter combo that I don't immediately love. Chocolate + peanut butter is a match made forever in my heart. Today, we're adding some buttery soft shortbread as a base layer and topping it all with my favorite sweet combo.
Fudgey Chocolate Orange Brownie Cake using Almond Flour
Chocolate orange cake is such a fun dessert because it hits all the right notes. Chocolatey decadence? Check! Fudgey texture? You got it! Sweet orange flavor? It's in there! If you're someone that loves the chocolate + orange combo, this is the cake for you! Top this cake with some powdered sugar, your favorite chocolate
Ingredients
unsalted butter, melted
agave nectar (honey or maple syrup works)
vanilla extract
blanched almond flour (

Kitchen Hack: How to Make Almond Flour

)
salt
chocolate chips (

How to Melt Chocolate Chips in 5 Minutes

)
heavy cream or coconut cream
mini marshmallows
roasted, salted peanuts
flakey salt for sprinkling on top (optional)

Prevent your screen from going dark

Why you'll love this recipe?
Ease: Snack cakes are renowned for being easier than layer cakes, since there's no assembly or decorating required. The cake batter doesn't require any complicated mixing and everything is made in one bowl.
Only 4 ingredients: It's made with just 4 pantry ingredients, making it such an

easy dessert recipe

to make.
Texture: It's flavorful, moist with pillowy soft crumb.
Healthier: This recipe relies on the natural fat from almonds instead of butter or oil, which can often weigh down a cake. There's an unbeatable natural moisture from brown sugar and ground almonds that not only keeps the cake light, but also makes it a healthier sweet treat. Your friends and family will never know it's gluten free!
A Reader writes "Tried this recipe tonight on a whim since I had all of the ingredients and I've been wanting to experiment with this flour since I have never used it before. It came out so delicious!!! The cake texture is so good it reminds me of these guava cake bars at my local grocery story. I'm going to try it again but with a fruit/homemade jam filling in between a layer. I can already tell this one is a keeper my husband loved it too!!!"
25-Min Peanut Butter Swirl Brownies using Almond Flour
Recipe FAQs
Can I use coconut flour instead?
Coconut flour has a tendency to be drier and requires more liquid, therefore will not work in this almond flour cake recipe which does have any liquid.
Does almond flour make a cake moist?
It has a higher fat content when compared to plain flour and hence adds an unbeatable moisture, richness and mild sweetness to the cake.
Will this recipe work with flax eggs?
No. Eggs are essential in gluten free baking to help with binding and rise. Flax eggs can sometimes not offer that much needed structure.
Can I use different size cake pans?
Yes! You can use 9-inch round, square or a springform pan instead of the 8-inch pan, however the cake might be comparatively thinner in height.
How to line your pan with parchment paper?
Place your pan on a large sheet of parchment paper. Trace the bottom of the pan with a pencil or pen and cut on the traced line to make a circle. Grease the bottom and sides of your pan with cooking spray and place the parchment round on the bottom.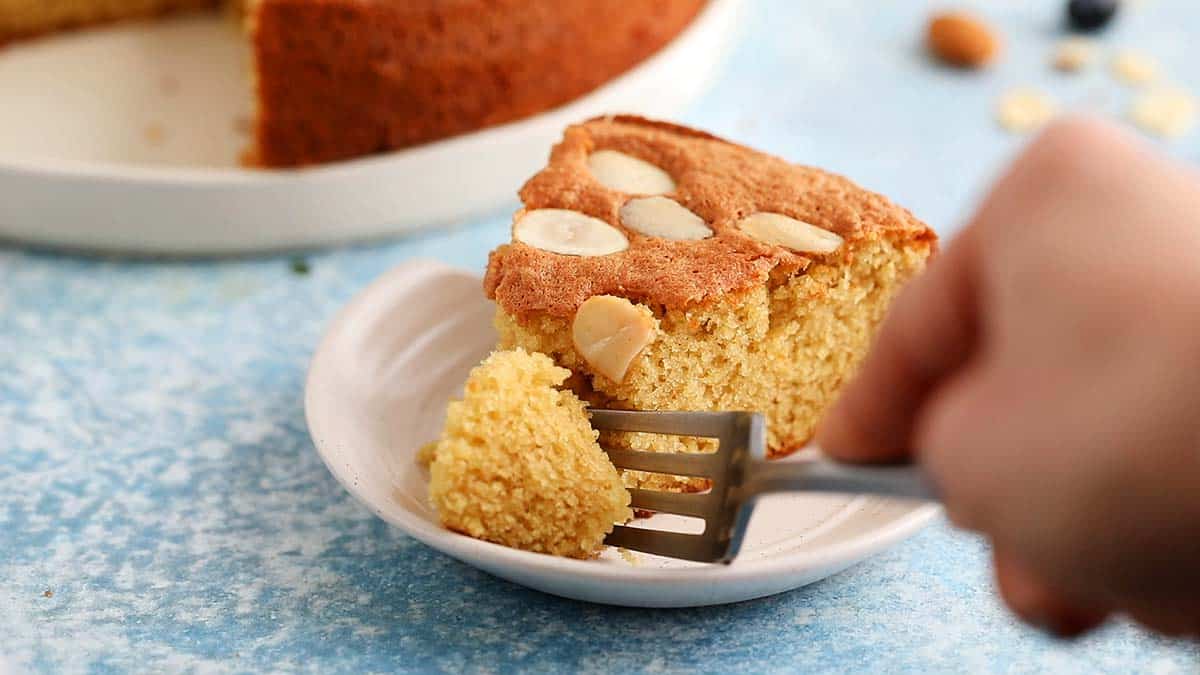 Mini Chocolate Chip Muffins
The other week I bought a dozen of mini chocolate chip muffins to pack for school snack time for my kids. They lasted maybe a day. My kids were so into them. I, too, was very into them. So in an effort to have a more cost-effective way to have our new favorite treat, I
Homemade Almond Flour
There's even a recipe for making your almond flour. Not only is the process incredibly simple, but it's also much cheaper than a store-bought brand.
If you've been woefully reading this list of recipes because you don't have any almond flour, make your own with this almond flour recipe.
Then, pick your favorite dish from this list and give it a whirl.
Almond Flour Dessert Recipes
Recipes with almond flour can be made into cookies, cakes, brownies, and more. Since almond flour is naturally gluten-free, this is especially good news for people who suffer from celiac or have gluten sensitivities.
1. Almond Flour Chocolate Chip Cookies
Learn how to make the best Almond Flour Chocolate Chip Cookies with this quick and easy recipe. A simple list of ingredients mixes together in minutes for soft, chewy gluten-free cookies made with almond flour!
Get The Recipe
2. Ultra-Fudgy Chocolate Brownies With Almond Flour
Get The Recipe
3. Almond Flour Blondies
The best almond flour blondies recipe makes a thick, soft and chewy blonde brownies dotted with gobs of gooey melted chocolate. With a classic blondie taste, no one will realize this dessert is actually grain-free, gluten-free, with an easy dairy-free option!
Get The Recipe
4. Easy 20-Minute Almond Flour Pie Crust
What makes my almond flour pie crust recipe special is that it holds it shape, requires no rolling or special equipment, and takes just 20 minutes to make! This almond flour pie crust works well with a variety of pies and fillings, such no bake pies, freezer pies, and even baked fillings, such as apple pie.
Get The Recipe
6. Almond Financiers (Easy French Dessert!)
This easy financiers recipe are are the perfect mixture of sweet and buttery with almond flour, egg whites, sugar, and nutty browned butter. These small, French almond flour cakes may easily be made gluten free with a simple adaptation.
Get The Recipe
7. Thick, Crispy Almond Flour Pizza Crust (Extra Easy)
Enjoy a thick, fluffy, yet crispy almond flour pizza crust with only a handful of ingredients and extra easy steps in less than 30 minutes! Here you will learn how to make almond flour pizza dough and turn it into a low carb, gluten-free pizza crust guaranteed to not disappoint!
Get The Recipe
9. Chocolate Financiers
Irresistible Chocolate Financiers recipe are a quick and easy dessert guaranteed to be the perfect ending to a meal. Bite-sized dark chocolate almond cakes have a hint of nuttiness from almond flour and browned butter with the perfect balance of sweetness.
Get The Recipe
10. Soft & Chewy Oatmeal Cookies with Almond Flour
Get The Recipe
11. Italian Almond Paste Cookies
Italian Almond Paste Cookies, also known as almond macaroons, are a soft, chewy, and highly addictive delight perfect for Christmas or Passover. Only four ingredients are required to make this flourless cookie recipe!
Get The Recipe
12. How to Make Chocolate Cake with Almond Flour
Get The Recipe
13. Almond Flour Biscotti
Enjoy almond flour biscotti so crunchy and delicious, no one will suspect it's gluten-free! This simple recipe is versatile for a variety of flavors, and morphs into a dairy-free or keto recipe with ease!
Get The Recipe
14. Fluffy Almond Flour Mug Cake in 2 Minutes
In only 2 minutes enjoy a light and fluffy chocolate almond flour mug cake as a gluten-free, dairy-free, and protein-rich treat! This easy recipe uses simple ingredients and can easily be adapted into a low carb keto mug cake as well!
Get The Recipe
Gooey Chocolate Mug Cake with Almond Flour
Gooey chocolate mug cake is so simple to make and so delicious! Once you give it a try it'll soon be your favorite weekly treat! When Caleb was born, Jaryd was working nights. My nights involved watching the 2012 summer Olympics, nursing my newborn, and timing my nightly habit of microwave mug cake in between
Gingerbread Banana Bread (gluten free + dairy free)
Gluten free gingerbread banana bread is going to be your favorite bread to make this holiday season! There's nothing quite like having a whole bunch of spotty bananas sitting on your counter to inspire ample amounts of banana recipes. Since we are coming up on gingerbread season I knew I have to made a ginger-spiced
Almond Flour Strawberry Bars
Strawberries are some of nature's finest candy. They're sweet, tart, and always a treat to eat. Capture their delicious flavor in these almond flour strawberry bars.
The strawberry pieces bake down to a glistening layer of fruit jelly on top of a cookie-like crust. You can enjoy these bars as a snack for a quick burst of energy, or as dessert.
They are hearty enough to fill you up, but sweet enough to satisfy any sweet tooth craving.
Substituting Almond Flour for Regular Flour
Because of the weight of the flours, a one-to-one conversion isn't always possible. In addition to weighing less than regular flour, almond flour also contains more moisture, which changes the chemistry of baked goods.
Increase the amount of almond flour by 25%, so for every 1 cup flour, use 1 1/4 cup almond flour.
Add extra leavening to offset the density of almond flour. 1/4 – 1/2 teaspoon of baking powder, baking soda, or combination of both will help.
Use less liquid in the recipe since almond flour adds more moisture. Using an egg yolk instead of the whole add egg or cutting back on moisture containing ingredients, such as milk, bananas, applesauce, or sour cream.
SAVE

Easy ALMOND FLOUR RECIPES

PINTEREST BOARD!
Let's be friends on Pinterest! I'm always sharing great recipes!
Almond pie crust,

baked and cooled

(zest lemons before juicing)

freshly squeeze lemon juice,

about 2-3 lemons

plain greek yogurt
Meringue Topping
large egg whites*,

cream of tartar
Frozen Lemon Pie Filling
In a medium saucepan combine heavy cream with 1 cup sugar. Bring to a boil over medium heat, stirring until the sugar dissolves. Reduce heat to low and let simmer for 3 minutes, stirring occasionally. Remove from heat.

Add the vanilla extract, lemon zest, lemon juice, and yogurt. Whisk vigorously until well combined and no lumps remain. Alternatively, use a hand mixer on LOW speed to combine.

Set aside lemon cream filling to cool to room temperature, about 30 minutes. Once the filling has cooled, pour into prepared pie crust, and freeze until solid, about 6 hours to overnight.
Meringue Topping
Preheat oven to 500°F. In a large bowl beat the egg whites and cream of tartar until frothy.

Gradually add the ⅓ cup sugar, a couple tablespoons at a time, beating continuously. Continue to beat until stiff, glossy peaks form.

Spread the meringue on top of the frozen pie, sealing all the way to the edges so no filling is exposed. Bake until peaks turn golden brown, about 3 minutes.

Either slice and serve immediately or return back to the freezer until ready to serve. If refreezing, let the pie sit out for 20-30 minutes before slicing or refrigerate one hour before slicing. Freeze any leftovers.

DID YOU MAKE THIS RECIPE?? DON'T FORGET TO LEAVE FEEDBACK AND RATE BELOW!
*Use 4 egg whites for less meringue, 5 whites if you like a lot of meringue topping
Best Tips
Swap out yogurt with 8 ounce softened cream cheese, 1 cup sour cream, or mixture of ingredients as long as it equals 1 cup.
If using cream cheese instead of yogurt, make sure it's softened and cubed, then beat on LOW speed to make the lemon filling smooth and homogeneous.
Remember to zest the lemons first before juicing.
For extra lemon flavor swap out vanilla extract for lemon extract.
Instead of topping with meringue, spread on homemade whipped cream, Cool Whip, sprinkle with toasted coconut, or fresh berries.
Serving instructions
For optimal slicing and serving avoid taking the pie from the freezer and immediately serving. It needs some time to soften to easily slice and enjoy.
Before serving, refrigerate the pie for 1 hour or set out at room temp 20-30 minutes. Run a sharp knife under hot water, wipe it dry, and slice through easily. Repeat running the knife through hot water as necessary.
Serve creamy frozen lemon pie as is or with fresh strawberries, blueberries, raspberries, or blackberries.
Adapted from Rachael Ray Magazine
Categories: Baking Dairy Free Fall Freezer-Friendly Gluten Free Grain Free Healthy(ish) Low Carb Recipes Resources Spring Summer Vegetarian Winter
Use different size cake pans
9-Inch round or square: The almond flour cake will be thinner and the bake time will be a few minutes shorter than a 8-inch round pan.
9×13 Inch: Double the recipe for a 9×13 inch quarter sheet snack cake.
Cupcakes: You can use a muffin tin and make cupcakes or muffins. If you're making cupcakes, I recommend checking them after 20 minutes.
Bundt Cake: Doubling this recipe would be plenty for a 10-12 cup Bundt pan. Make sure to liberally grease the pan and cool completely before attempting to remove.
More About Molly
Cooking healthy(ish) meals with seasonal ingredients is my passion. Trained as a French pastry chef, I spent over 10 years as a personal chef. Here you'll find well-tested recipes that you and your family will love!
Almond Flour Blueberry Muffins
Blueberry muffins are a breakfast-time favorite. Give them a makeover with this almond flour recipe! The results are soft tops with moist muffin bottoms!
Add to your muffin top with this delicious recipe. These blueberry muffins are so good, you won't be able to eat just one!
This is a fantastic gluten-free recipe for classic blueberry muffins. Get your favorite back with almond flour blueberry muffins.
Gluten Free Almond Flour Brownies
Almond flour brownies are my go-to recipe when I'm craving some chocolate. I love brownies. I'm also really specific about what makes a good brownie. It needs to be rich and chocolatey and fudgey and kinda gooey. I tested this recipe a few times. Sometimes the gooiness was good but the chewiness was off. Sometimes
Benefits of Cooking and Baking with Almond Flour
Almond flour has increasingly gained in popularity because of how it fits in specialized diets, such as a low carb, paleo, keto or gluten-free diet. However, many of the benefits go beyond just nutrition.
Easy almond flour recipes makes baked goods and savory dishes taste rich and satisfying, and includes great nutritional value. Since it is made from ground almonds, all the health benefits that apply to eating almonds also apply to almond flour.
It's also grain-free, dairy-free, high in fat and low in carbs, making it a healthy alternative to regular flour or all purpose gluten-free flour. In fact, you can even make homemade almond flour to save money!
Not-Gluten-Free Baking Recipes with Almond Flour
Sometimes almond flour is used to add texture, flavor, and nutritional value to a baking recipe but is paired with all-purpose or other flour. These recipes are not gluten-free, but still have some of the delicious benefits of baking with almond flour!
French Yogurt Cake with Almonds is an extremely easy-to-make cake that is moist and delicious—perfect for brunch or afternoon tea!
This version of Lemon Ricotta Cake features fresh lemon juice, ricotta cheese, almond flour, and olive oil. Super moist, lemony, and delicious!
This Apple Almond Cake is dreamy, moist, and studded with apples. Topped with a cinnamon-almond crumble, it's perfect for any time of day!
Buttery shortbread and soft caramel are perfectly matched in these salted bourbon caramel shortbread cookies. A delicious addition to any holiday party.
Can I Make Almond Flour At Home?
Yes. Making almond flour, or almond meal, at home is both simple and cost effective. With little equipment, and some almonds, you can learn how to make almond flour in no time!
Equipment needed:
Food processor or blender
8 ounces unsalted almonds, blanched or unblanched
How to Make Almond Flour or Meal:
Place blanched, or unblanched, almonds into a food processor or blender. Blanched almonds are used for almond flour, while unblanched are used in almond meal.
Pulse the almonds in short bursts until they are finely ground. Be sure to not over-process or the oils will release and you will end up with almond butter!
Tips to Remember:
For a more finely ground flour, a

powerful blender

works better than the food processor.
You can use more than 8 ounces of almonds, but for best results – do not grind more than 8 ounces at a time.
Starting with almonds that are cut, slivered, or chopped will process quicker and yield better results.
How to Blanch Almonds
If you would like to blanch your own almonds bring a small pan of water to boil. Toss in raw, unsalted almonds and boil for 60 seconds. Drain the almonds and rinse with cold water to cool them off. Lastly, squeeze each almond to remove the skin.
What Can I Make with Almond Meal?
Fruit crumble
Gluten free bread crumbs for casseroles
Meatballs
Scones
Crust for proteins such as pork, chicken or fish
Tortillas
Pizza crust
Biscuits
Fudgey Chocolate Brownie Cake with Almond Flour
Chocolate brownie cake is going to be your new favorite dessert! It's insanely fudgey and can be made in most cake pans! You can really customize it with fun toppings, or leave it as it (it's kinda perfect to be honest). If you love baking, check out my roundup of 50+ Gluten Free Dessert Recipes!
Almond Flour Muffins, Breads, Pancakes Recipes
By using almond flour in your muffins, bread and pancakes – your breakfast and sandwiches can be nutritious and just as tasty as it ever has been.
15. 15 Minute Almond Flour Banana Pancakes
As a seasoned gluten-free baker, I know from experience the ins and outs of baking well with almond flour. That's why these almond flour banana pancakes use blanched almond flour! It's more finely ground than almond meal, and results in light, fluffy pancakes that hold their shape nicely. The recipe is ready within just 15 minutes and there's an option for making the pancake batter by hand or in a blender!
Get The Recipe
16. Easy 25-Minute Almond Flour Banana Muffins
Muffins made with almond flour have a reputation for being dense—but not these fluffy beauties! Easy and quick to make, these almond flour banana muffins bake up moist, fluffy and full of terrific banana flavor. These banana muffins are suitable for a gluten free diet, and perfect for a filling snack or grab-and-go breakfast. Chocolate chips optional.
Get The Recipe
17. Gluten-Free Zucchini Bread with Almond Flour
Get The Recipe
18. Almond Flour Chocolate Chip Muffins
Whip up fluffy Almond Flour Chocolate Chip Muffins in minutes using a blender! Made with almond flour, oatmeal, and bananas, these healthy, gluten-free muffins are high in protein, have no refined sugar, and are dairy-free, but taste like a heavenly indulgence!
Get The Recipe
20. Almond Flour Zucchini Muffins
Decadently delicious, yet healthy, Almond Flour Zucchini Muffins are gluten-free, grain-free, and dairy-free breakfast or snack everyone will rave about! For low carb muffins, use the easy adaptation included!
Get The Recipe
Orange Pie Bars
Orange Pie Bars are so fun to make because they are loaded with sweet citrus flavor and are the perfect make-ahead treat. If you're prepping a big dinner and want something sweet to finish off the night but don't want to fuss around with it after the meal, these orange pie bars are the perfect
Paleo Almond Flour Cranberry Bread
When I was little my mom used to make holiday loaves for all our neighbors and have my brother and I adorably deliver them. It's a really cute gesture that I think I'm going to start doing. A holiday loaf? Everyone wants a homemade holiday loaf, am I right?! Making a loaf is the best
Almond Flour Carrot Cake Scones
Do you have a fancy brunch in your near future? What about a lazy Saturday? Whip up these delicious scones on any occasion!
Scones can be crumbly and dry, but not with this recipe! You'll get joyfully moist and supple scones that are perfect for any tea party.
Carrot cake is a favorite flavor that steps outside of traditional chocolate and vanilla. Bring a little variety to the table with this scrumptious recipe.
Ingredients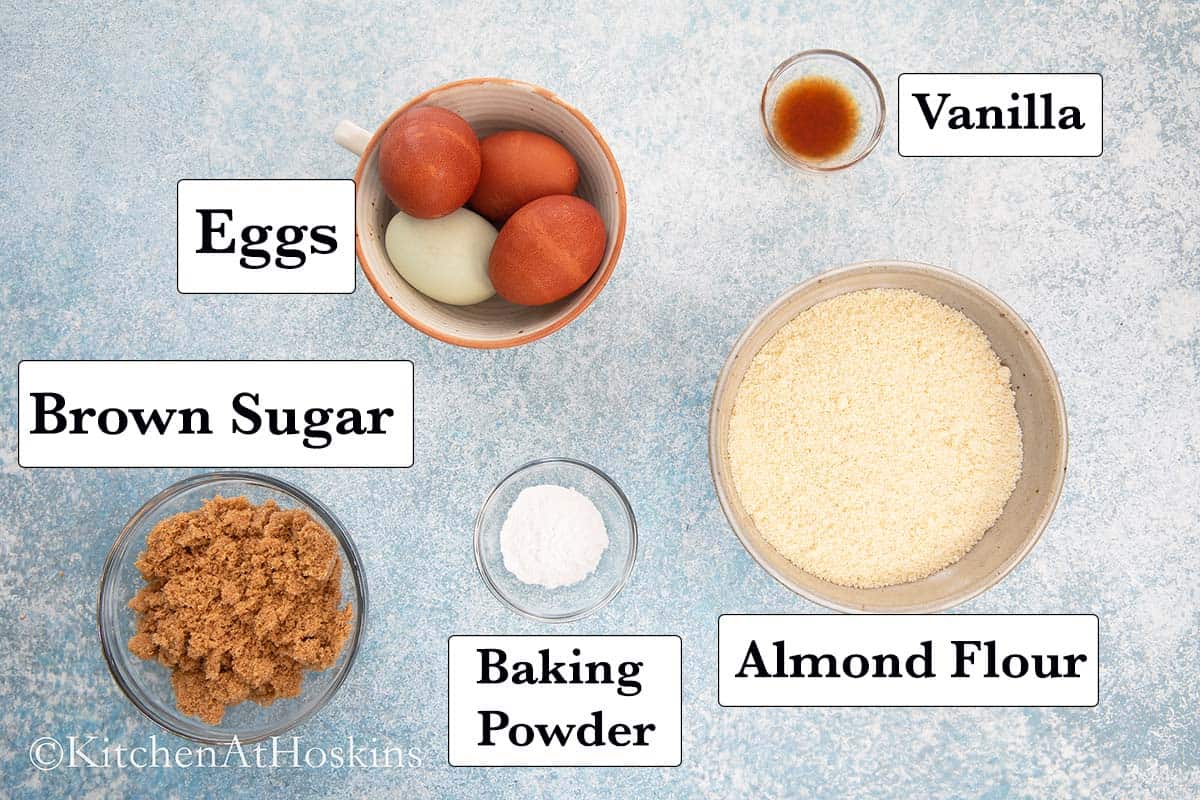 Scroll down to the recipe card below for full information on ingredients and amounts.
Almond flour- Make sure to use blanched variety to help guarantee a softer, lighter cake crumb. Almond meal is almonds ground with skin and is much coarser in texture which is not best suited for this recipe.
Eggs- You need 4 whole eggs for this almond flour cake recipe. The egg whites create an airy texture and the yolks are excellent for adding moisture and richness. Eggs also provide a lot of the structure, bind everything together and help the cake rise.
Brown sugar- You'll need light or golden brown sugar for this recipe. Dark brown tends to impart more caramel notes, which over shadows the lovely almond flavor.
Baking powder- It gives a much needed lift.
Almond Flour Biscuits
Biscuits are the backbone for so many dishes. From breakfast sandwiches to biscuits and gravy, everyone needs a good recipe in their back pocket.
Try this gluten-free recipe for almond flour biscuits. These biscuits are buttery and flaky, just like grandma used to make them.
If you think biscuits are too much work, think again! This recipe is easily attainable by bakers at any level, with any amount of time.
Banana Bread Buckeyes
You know when you have a bunch of spotty bananas and it's only a few quick days before they're donezo? That's me. So, I've been on the mission to use them ALL and not let any go to waste. Usually I pop them in the freezer for future smoothies, but I had this idea for
Almond Flour Banana Bread
Is it breakfast or dessert? Banana bread is a chameleon of a dish that can satisfy your hunger any time of day.
With its sweet banana flavor, you won't mind snacking on it all day long.
This recipe for almond flour banana bread is naturally sweetened with bananas and applesauce, so you can feel good about what you're eating.
Try spreading some homemade nut butter on top for an irresistible treat!
Almond Flour Pizza Crust
If you've been disappointed with gluten-free pizza crust in the past, get ready to have your faith restored.
This almond flour pizza crust is the perfect base for your custom pizza pie. Pile it high with all of your favorite toppings and enjoy a delicious homemade pizza.
This crust is delightfully crispy, just like a New York dollar slice! Get your favorite food back with this gluten-free crust recipe.
Cheesy Almond Flour Biscuits
Gluten Free Almond Flour Biscuits I love me a good biscuit! Nothing says cozy comfort food quite like hearty, carby, bready goodness. Today I'm sharing my new favorite biscuit recipe. They're no fuss, insanely easy to make, and although they feel like your favorite carby comfort food, they're actually keto and naturally gluten free. They
20-Min Fudgey Tahini Brownies with Almond Flour
Almond Flour Pancakes
Saturday mornings just aren't complete without a warm stack of buttery pancakes. Enjoy this recipe for the traditional breakfast reinvented with almond flour.
These pancakes are delicious by themselves or scrumptious with your favorite pancake toppings.
From maple syrup and whipped cream to fresh fruit and powdered sugar, you can't go wrong when topping your stack of homemade pancakes.
This recipe is adjustable for one serving or 10! Treat yourself or the entire neighborhood all with this recipe.
How high can you stack your pancakes? These flapjacks will go flying off of plates and into happy tummies.
Almond Flour Carrot Cake
Bake up something great with this almond flour carrot cake. It's delightfully moist, with the perfect balance of carrot flavor.
Moist & Fudgey Cosmic Brownies with Almond Flour
Raise your hand if you grew up on Cosmic Brownies 🙋🏼‍♀️ If you admired the chocolatey layers and colorful candies on top 🙋🏼‍♀️ If you regrettably forgot about cosmic brownies over the years only to see them pop up on a random corner of the internet resulting in a very specific strum on your heartstrings
Almond Flour Brownies
Who doesn't like brownies? Reclaim your old favorite with this almond flour brownie recipe. It's just as fudgy and delectable as a wheat flour treat!
Are you an edge or center person? After trying this recipe, you will say both! There isn't a bite of this brownie tray that you won't want.
Enjoy these brownies as they are, or a la mode with a scoop of your favorite ice cream dropped on top.
How to Store Almond Flour
Almond flour is best stored in a cool, dark place for up to one year. If you use it frequently, store in an airtight jar or container in the refrigerator.
It may also be stored in the freezer, but allow it to come to room temperature before using for baked goods.
Almond Flour Cake Recipes
Almond flour cakes are moist, flavorful, gluten-free, and generally keep well for several days.
Almond Flour Chocolate Cake has a fudgy texture and is packed with chocolate flavor. Almond flour adds mild nuttiness, and makes this recipe gluten-free!
This deep chocolate Almond Flour Mug Cake is single serving-sized and can be made in just 60 seconds!
When citrus is in season, make this gluten free clementine cake! A moist tender cake bursting with citrus flavor and drizzled in a dark chocolate ganache.
This almond apple cake has a fine, spongy almond crumb and the delicate sweetness of honey. topped with apple roses, it makes for a show-stopping dessert!
This Gluten-Free Pear and Raspberry Cake is simple to prepare and so delicious. Sweet, juicy pears and tangy raspberries add flavour and texture to a moist, almond cake batter.
Torta Caprese is a decadent Italian cake made with dark chocolate and almonds. The best part is that it's gluten free by nature so everyone will can enjoy this flourless chocolate cake.
Vegan gluten-free strawberry cake using only 6 ingredients. This flourless cake is packed with fresh strawberries and comes together in just a food processor or blender.
This Strawberry Almond Cake is a super light and moist dessert that is perfect for afternoon tea in Summer. The easy almond cake is topped with fresh strawberries and slivered almonds, creating a deliciously fluffy gluten-free dessert!
Extremely light and soft, this Flourless Pear and Almond Cake with almond crunch topping is a delicious dessert. This naturally gluten-free Pear Cake makes a great Autumn and Winter dessert to enjoy with your afternoon tea or serve as a dinner party dessert.
Grain free berry cake is a delicious and easy batter cake that's naturally gluten free.
The best keto red velvet cake (or cupcakes!) recipe. It features a soft velvety crumb, hints of vanilla and cocoa powder, and then it's coated in smooth and creamy cream cheese frosting!
Fudgey Chocolate Strawberry Brownies with Almond Flour
Strawberry brownies are a special kind of dessert. They blend that rich chocolate that we all love with juicy, fruity strawberry jam. If you love chocolate covered strawberries, these brownies will be a quick favorite for you! If you love baking, you have to check out my 50+ Gluten Free Dessert Recipes! I roundup all
How to serve?
Serve it simply sliced with a cup of coffee or with some whipped cream and fresh berries for a light dessert. If you love snack cakes, then try my orange cake or air fryer banana cake next.
You can also spread your favorite frosting on top for simple one layer almond flour cake or double the recipe, bake in two cake pans and make a layer cake.
Almond Flour Benefits
Recipes using almond flour have gained in popularity due to some of the health benefits listed below and the rich, nutty flavor it adds to dishes.
High in healthy fat and low in carbohydrates
Good source of fiber, vitamin E, monounsaturated fats and magnesium
May help reduce bad LDL cholesterol, blood pressure and insulin resistance
Can be used as a substitute for regular flour in foods such as: baked goods, casserole topping, coating on proteins, pie crust, pastries, pancakes, biscuits and more.
Almond Flour Bread
Almond flour bread is the perfect replacement for the staple sandwich loaf you have in your kitchen.
A slice of this bread is perfect for grilled cheese, sandwiches, or toast with butter.
There's nothing more satisfying than baking your bread. It's so joyous to watch it rise and then smell it throughout your home.
Bake a loaf of this delicious almond flour bread today and never settle for bagged bread again.
Enjoy this warm bread as part of a recipe or by itself. Slice it thin and smear on some butter for a simple, but delicious meal.
Healthy Apple Cinnamon Muffins
Apple cinnamon muffins have stolen my heart. Somewhere in the midst of all the pumpkin love I decided apple needed some time in the spotlight. This recipe is based off my apple bread which is so delicious. The main difference is we're using applesauce instead of a mashed banana to bump up the appleness. Other
Almond Flour Cookies
When you need something sweet, this almond flour cookie recipe is the perfect go-to! You'll get two dozen delightfully chewy and flavorful sugar cookies.
These cookies taste and feel just like the real deal! You won't miss wheat flour after biting into one of these babies!
Keep this recipe on hand for last-minute baking emergencies. You never know when a dozen homemade cookies may come in handy!
Hearty Banana Oatmeal Breakfast Cookies with Almond Flour
Who loves cookies for breakfast?! 🙋🏼‍♀️ Meee. Today I'm sharing a hearty and delicious breakfast cookie recipe that you will LOOOOVE. They're loaded with oaty texture, sweet chocolate chips, and a perfect recipe to make on a Sunday with your spotty bananas so you have easy grab and go breakfasts for the whole week. Plus,
Lemon Almond Shortbread Cookies
When summer is in full swing, I need all the lemon-flavored desserts I can get my hands on.
These lemon almond shortbread cookies are perfect to pack for your next picnic.
Want to save this recipe? Enter your email below and we'll send the recipe straight to your inbox!
These cookies have plenty of butter and are bursting with lemon flavor. This complements the almond flour nicely for a well-rounded cookie crunch.
Shortbread is a dainty cookie that toes a fine line between crisp and stale. Nail it every time with this lemon almond shortbread recipe!
Helpful Tips
Make sure to cool the cake completely before removing from the pan or else you risk the cake falling apart.
Beat the eggs for 4 minutes which provides the necessary aeration and guarantees a light cake.
Don't over-bake this cake.
Lining the pan with parchment paper guarantees seamless removal from the pan especially for a gluten free cake recipe.
Savory Almond Flour Recipes – dinners and snacks
Almond flour can be used in many savory dishes, as well as sweets. Consider using it in lunch, dinner, snacks, and savory dish recipes to decrease carbs and create dishes for the family.
22. Crispy Gluten-Free Baked Chicken
Crispy Gluten-Free Baked Chicken recipe is breaded in almond flour and parmesan for an easy weeknight dinner the whole family will enjoy! Turn almond flour chicken into many gluten-free chicken recipes, such as chicken nuggets, tenders, or breaded chicken breasts using simple kitchen pantry ingredients.
Get The Recipe
25. Zucchini Fries Recipe
Easy, oven-baked zucchini fries are coated with a golden Parmesan, almond flour breading so not only are they crispy and flavorful, but a healthy low carb, keto-friendly, and gluten free recipe!
Get The Recipe
26. Low Carb & Gluten-Free Eggplant Parmesan
Enjoy Gluten-Free Eggplant Parmesan with crispy, golden breading, fresh marinara, and lots of gooey mozzarella cheese. This effortless, baked dish is so divine, no one will know they are also enjoying a low carb and keto-friendly recipe!
Get The Recipe
More dessert recipes using almond flour
brown sugar (use light or golden)

firmly packed (do not use light/dark brown)

super fine almond flour

sliced almonds, optional
Tip – It is important to have room temperature eggs for this recipe. So, leave the eggs at room temperature for several hours or preferably overnight.

Pre heat oven to 350°F. Line the bottom of a 8-inch round baking pan with parchment paper and grease the bottom and sides with non-stick cooking spray and set aside.

Place eggs and brown sugar in a large bowl and beat with a hand held electric beater, on high, for about 4 minutes, until pale in color and thickened.

Add almond flour, vanilla extract, baking powder and salt. Continue beating for an additional one minute ( start on low speed and build to high).

Using a rubber spatula, scrape the sides of the bowl and gently stir couple of times.

Transfer batter to prepared pan, spread evenly and sprinkle sliced almonds on top (if using).

Bake for 30 to 35 minutes, until a tooth pick inserted in the middle comes clean. Place pan on a wire rack to cool completely.
Almond flour – Use super fine blanched almond flour and not almond meal.
Leave eggs at room temperature – It helps for eggs to be beaten to full volume when compared to cold eggs straight from the refrigerator. So, leave eggs out preferably over night or at least for 3 hours.
Use golden or light brown sugar and not dark brown.
Nutritional information is based on third party calculations, should be considered estimates and not be construed as a guarantee. Varying factors such as product types, brands purchased, produce, the way ingredients are processed and more change the nutritional information in any recipe.
Did you make this recipe? I'd love your feedback! Please let me know by leaving a comment, a star rating or review below.
All contents and images are my original work, unless and otherwise mentioned. Please do not use my recipes or images without linking back to www.kitchenathoskins.com. If you wish to republish a recipe, please rewrite in your own words and don't forget to include a link back to the original recipe.
Some of the links above are affiliate links, which pay me a small commission for my referral at no extra cost to you! I am a participant in the Amazon Services LLC Associates Program, an affiliate advertising program designed to provide a means for us to earn fees by linking to Amazon.com and affiliated sites. Thank you for supporting kitchenathoskins.com.
All contents and images are my original work, unless and otherwise mentioned. Please do not use my recipes or images without linking back to www.kitchenathoskins.com. If you wish to republish a recipe, please rewrite in your own words and don't forget to include a link back to the original recipe.
Some of the links above are affiliate links, which pay me a small commission for my referral at no extra cost to you! I am a participant in the Amazon Services LLC Associates Program, an affiliate advertising program designed to provide a means for us to earn fees by linking to Amazon.com and affiliated sites. Thank you for supporting kitchenathoskins.com
Cheesy Almond Flour Crackers
You can't trust me with a box of cheez-its. The box will be gone in one day 🤣 I thought maybe it would be a good idea to make a homemade cheesy cracker option with better for you ingredients. The best part about this recipe (I mean, aside from the sheer deliciousness) if how easy
30-Min Banana Chocolate Chip Bars using Almond Flour
Banana chocolate chip bars will be your new favorite treat! They're perfect for breakfast, an after school snack, or a sweet dessert at the end of your day. I'm always looking for new ways to use up my spotty bananas. I love those easy, one bowl recipes that come together way easier than you think.
Almond Flour Muffin Recipes
Muffins are one of our favorite things to bake with almond flour. Great texture, great flavor!
These Banana Muffins with Almond Flour are the perfect afternoon snack. Moist, tender, and packed with banana flavor.
Lemony Almond Flour Muffins have a moist crumb and a lightly sweet and lemony flavor. Almond flour adds mild nuttiness, and makes this recipe gluten-free! Perfect drizzled with this simple lemon glaze.
These Almond Flour Blackberry Muffins are a healthy, delicious snack. Packed with fresh blackberries and totally gluten-free and dairy-free!
These gluten free strawberry muffins are packed with fresh strawberries and make for the perfect afternoon snack or breakfast on the go.
A tender muffin with the perfect bakery-style muffin dome, topped with a crunchy almond streusel and bursting with fresh blueberries. Oh my! Those muffins get most of their sweetness from the blueberries and the gluten-free almond streusel topping which makes them a perfect breakfast on-the-go option. (does contain other flour)
These almond poppy seed muffins are made with an almond coconut flour blend, coconut oil, honey and other tasty wholesome ingredients. The almond extract adds a lovely almond flavor that pairs perfectly with poppy seed creating delicious, moist muffins that you're sure to love.
Try this healthy apple muffin with oats recipe that uses almond flour instead of all-purpose flour for a gluten-free rich treat. Look for gluten-free oats and use fresh apples for a delicious breakfast, dessert, or any time snack.
These gluten-free pumpkin muffins are not only GF (with almond flour), they're also oil-free, grain-free, dairy-free, and made in one bowl.
These vegan and gluten-free corn muffins are filled with whole fresh cherries and make a delicious summer baked good!
Almond Flour Cookie Bars
These magic bars have all of your favorite dessert flavors with the chewy texture of cookie you know and love.
Bite into one of these delicious cookie bars to satisfy your sweet tooth! With brown sugar and chocolate, these treats are hard to pass up.
Bring these to your next gathering and impress your friends with your gluten-free keto baking skills!