This TikTok trend promises an easier cleanup—but is it a good idea?
Photo: GETTY IMAGES
When it comes to handy kitchen tools we always have on hand, parchment paper is certainly on the list. It can be used for myriad tasks, including lining cake pans and wrapping food to cook en papillote. Now some home cooks are using parchment paper in their frying pans in the name of easy cleanup. Is this a good idea and one you should try? We asked experts to weigh in on the technique, plus what to keep in mind when using parchment paper in the kitchen.
Factors to Consider
As with many cooking tips and tricks, there are certain factors to consider before lining your frying pan with parchment paper. (Note that this trend is about parchment paper, not wax paper, with which it is often confused.) Parchment paper is designed for oven use, not stovetop use, and it is heat-resistant, but it is not flame-retardant. This means it's safe to use at high temperatures, such as those used in baking, but it can catch fire if it's exposed to an open flame. (For context, an item that's "flame-retardant" is one that prevents or slows the spread of fire.) With that in mind, it's worth noting that frying food isn't a one-size-fits-all affair. Some stovetops are electric and flameless, while others use gas to produce a flame. The type of stovetop you have will be one of the factors that determine whether you should try this method.
What the Experts Say
In general, it's not recommended to fry in parchment paper—especially if you have a gas stove, says Traci Weintraub, chef and founder of Gracefully Fed, a meal delivery service and restaurant in Los Angeles. Gas stovetops produce an open flame, which can spread to parchment paper. It might be safe to do on an electric stove, but even then, it's essential to avoid filling the pot or pan to the top, says Shawn Matijevich, lead chef of online culinary arts and food operations at the Institute of Culinary Education. Otherwise, if the oil bubbles over the side, it can lead to a grease fire.
Additionally, the method is not very practical. As Matijevich points out, if you accidentally poke just one hole in the parchment paper, you'll be left with a greasy pot and dripping oily paper. Said hole can also lead to ripping and breakage, potentially resulting in pieces of paper in your meal.
How to Keep Fried Food From Sticking
Fish en Papillote is just a fancy way of saying fish cooked in parchment paper. It's pretty popular, and that's because how easy it is to make, but really also because of how delicate, flakey, and perfectly it cooks up. Making it in the air fryer makes it even easier and quicker, and the fish turns out so perfect every time.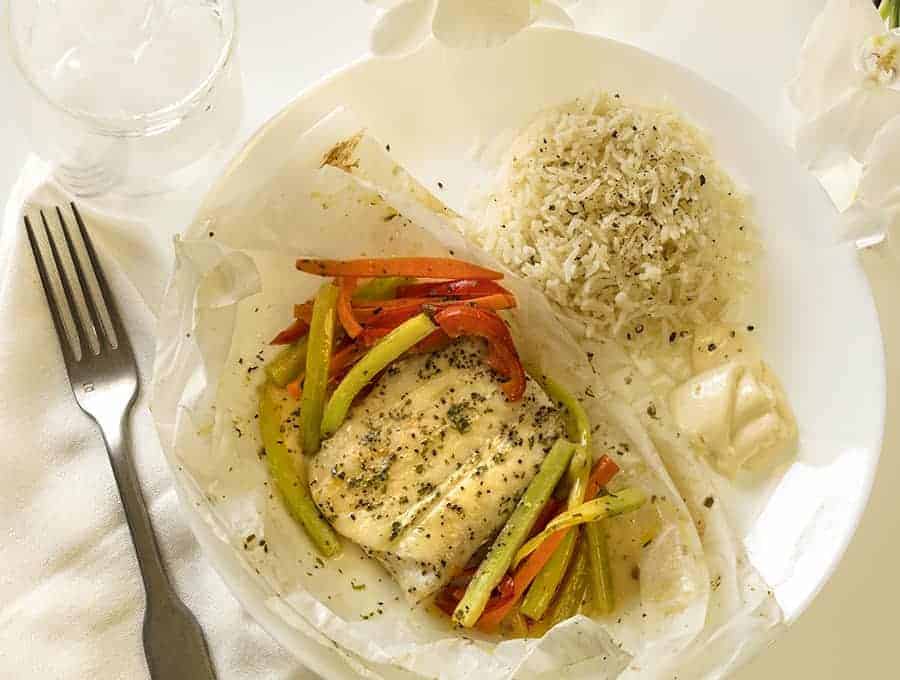 The clean-up is so minimal with this recipe that it makes me want to cook it even more often. Eat it as a stand-alone dish, or serve it with rice to make an even more well-rounded dish.
Obviously, you can choose the veggies that are cooked with this, but keep in mind that sturdier vegetables like broccoli may not cook in the amount of time the fish needs to cook. You don't want to overcook the fish, because it will dry out.
You can also vary the fish that you use, although you may need to test cooking times if you use thicker pieces than what you see in my picture.
WHY USE PARCHMENT PAPER FOR THIS AIR FRYER FISH EN PAPILLOTE
The parchment paper does four things.
First, it seals in the moisture so the fish can cook and still keep in all the amazing juice to keep the fish light and fluffy, and the veggies flavorful.
Second, it makes clean-up so simple. The parchment paper keeps all the mess together so it's just lifted and done.
Third, it contains the seafood odors better than if you'd just cooked fish and vegetables on the stovetop for example.
But the other neat thing is watching your guests open the packets of food. It's a mini Christmas because here you are, with a fragrant, steaming packet of SOMETHING–but you don't know what it is until you open it! This fourth benefit of cooking this way is my favorite part of using parchment paper packets.
I love serving this fish en papillote still wrapped in parchment paper, and then watching as people open it to discover their little portion of perfectly cooked fish, steaming vegetables and a light broth at the bottom of the packet.
Want More Air Fryer Recipes?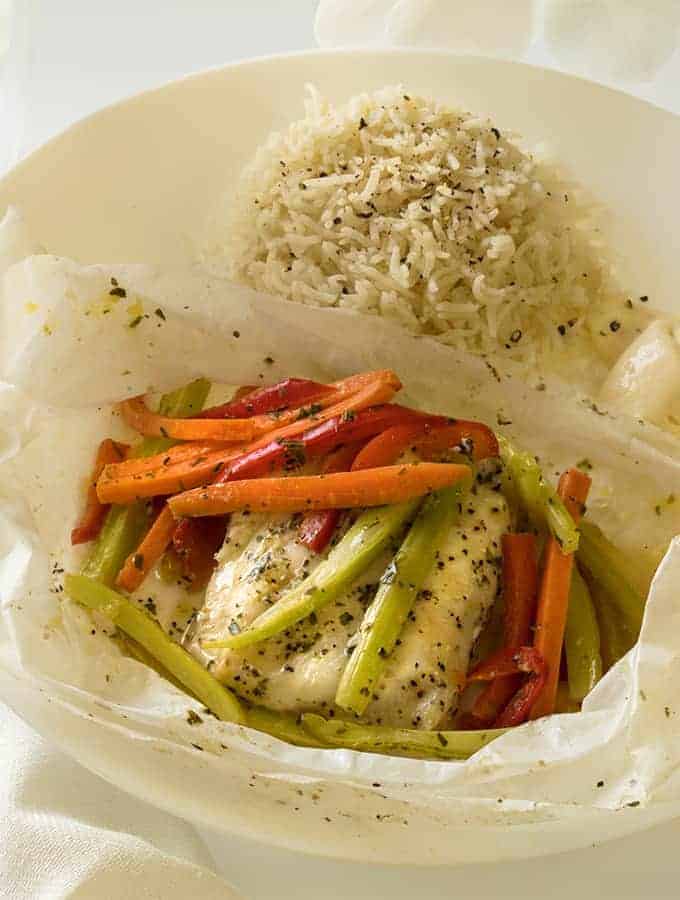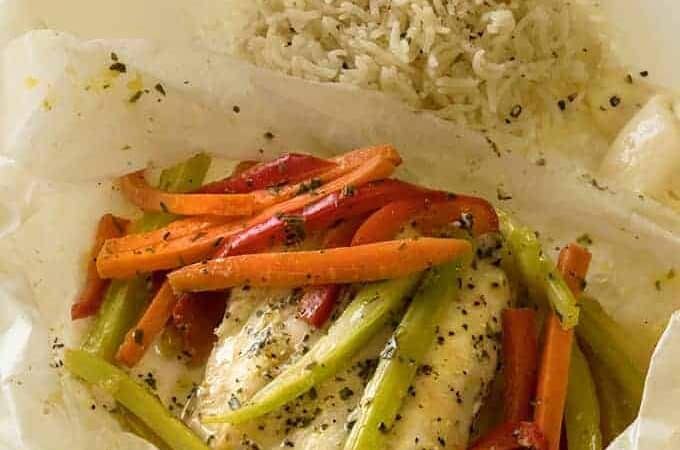 Fish en Papillote | Air Fryer Fish in Parchment paper
If you want an easy meal you can make in your Air Fryer, you need to try this Fish en Papillote! It's so good, and clean-up is a breeze!
air fryer fish recipe, air fryer seafood recipe, fish en papillote, parchment paper fish
Click on highlighted ingredients or Equipment to see exactly what I use to make this recipe
julienned fennel bulbs, or 1/4 cup julienned celery
thinly sliced red peppers
, or 1/2 teaspoon dried tarragon
Ground Black Pepper
In a medium bowl combine melted butter, tarragon, 1/2 teaspoon salt, and lemon juice. Mix well until you get a creamy sauce. Add the julienned vegetable and mix well. Set aside.
Cut two squares of parchment large enough o hold the fish and vegetables.
Spray the fish fillets with oil and apply salt and pepper to both sides of the fillets.
Lay one filet down on each parchment square. Top each fillet with half the vegetables. Pour any remaining sauce over the vegetables.
Fold over the parchment paper and crimp the sides to hold fish, veggies and sauce securely inside the packet. Place the packets inside the airfryer basket.
Set your airfryer to 350F for 15 minutes. Remove each packet to a plate and open just before serving.
Reader Interactions
Parchment paper is a kitchen necessity. This versatile paper, which is made from cotton fiber or pure chemical wood pulp, has a protective wax coating that ensures its resistance to grease, per the USDA. It is primarily used for baking, as it provides a barrier between pans and baked goods such as cookies and brownies, ensuring that these treats do not become stuck to the pan. According to Southern Living, parchment paper is also heat resistant — as long as the oven temperature is below 400 degrees Fahrenheit, that is — which helps give baked goods a lovely texture.
While it's widely used for baking, parchment paper is also useful for cooking. A popular cooking method that involves the use of parchment paper is the French phrase en papillote, which means "in paper" in English. According to MasterClass, en papillote is a French cooking method that involves placing food within folded parchment paper and allowing built-up steam to cook it. (Fish in parchment paper is one of the most popular proteins to cook by way of en papillote, and it's one of the more classically French dishes out of many associated with the method.) Due to parchment paper's versatility, it also leads to further questioning — for example, can you fry food in it?
Frying foods in parchment paper is not recommended
As Today explains it, parchment paper and frying became a TikTok trend — but not for cooking food, per se. Instead, a particular TikTok which went viral in September 2022 highlighted a hack for an easy clean-up method after cooking. The method itself involved lining frying pans with parchment paper to protect pan surfaces from oil and grease, and purportedly protected against food sticking to the pan while frying, per Today.
While the hack took off, the reality is that it's not recommended to fry foods on top of parchment paper. Why? Well, as the paper and packaging company Reynolds explains it, parchment paper is oven-safe but not flame-retardant — so while it can resist high temperatures to a certain degree, it can still catch fire quite easily.
According to Today, the chances of parchment paper catching fire are magnified when it is placed on a gas stove. Gas stoves use flames, meaning that a flame could catch the parchment paper while it's in the pot or pan and set it on fire. It's possible to fry foods on parchment paper if you have an electric stove, as these stoves do not use flames to produce heat. However, even then, using parchment paper in this way isn't necessarily the greatest idea. Because the material can rip at a slight movement, oil and grease may end up covering your pot anyway.
The difference between parchment paper and wax paper
If you do decide to try out the hack, be wary of mixing up parchment paper with a similar product, like wax paper. Indeed, parchment paper and wax paper look similar, which makes it easy for people to confuse them. But despite their similar appearances, these two types of paper are very different. The primary distinction between the two is their protective coatings. According to the Food Network, parchment paper is coated with silicone, which makes it nonstick and resistant to heat. Wax paper, on the other hand, is coated with paraffin wax, which makes it nonstick but not resistant to heat.
Wax paper's lack of heat resistance means that you should not use it for cooking with heat. You can, however, use it for wrapping foods like cheese, covering your countertop when decorating baked goods, or rolling dough, per Southern Living. If you need to bake something, use parchment paper, as it is heat resistant. Even so, keep in mind that parchment paper is not the best option for frying foods, and use caution if you decide to use it for frying in addition to baking.
Say hello to your new favorite way to prepare white fish: Fish en Papillote, which translates to fish "in paper". Fish is paired with veggies and then coated in garlic, butter and herbs and cooked in parchment pouches for an easy and delicious dinner recipe.
Fish en Papillote sounds fancy, but it's really not. In fact, it's a recipe I've made a handful of times so far, which is always a good sign. Plus it's another recipe as part of my "vacation series".
Don't know what I'm talking about? I traveled to Europe earlier this summer, and a few recipes in particular caught my attention and I immediately knew I wanted to recreate them. So far, I've made this fattoush salad and these Turkish eggs, and this fish in parchment is the third recipe I adored.
I ate this recipe at Clamato, and it was life-changing. The craziest part about it might be that it's so simple — it wasn't an overly unique recipe, but the flavors together created, in my opinion, the perfect fish recipe.
Recipe features
The fish is cooked in parchment, along with vegetables of your choice. I used radishes and carrots, but zucchini and/or tomatoes would be delicious as well.
The parchment packets, along with the butter, makes the fish extra flakey.
Baked in the oven and ready in less than 30 minutes.
Ingredients
Fish – Any kind of white fish fillet will work. Think: cod, halibut, tilapia, etc.
Vegetables – Most vegetables should work. This recipe uses carrots and radishes because that's what the dish I had on vacation used, but other good options are grape tomatoes, zucchini, lemon slices and/or olives.
Herbs – A combination of fresh dill and chives work well
Butter – Don't omit the butter! This is a buttery fish recipe and the butter is an absolute must.
Instructions
Step 1: Prepare the vegetables. First, thinly slice the carrots and radishes. The thinner you slice them, the softer they'll become in the oven (which is what we want!).
Step 2: Make the herb butter. Similar to my baked salmon fillet, you'll want to create an herb butter to spread onto the fish. Add softened butter to a small bowl, then stir in the garlic and fresh herbs.
Step 3: Assemble the packets. Tear a large piece of parchment paper and place it onto a rimmed baking sheet. Add half of the sliced veggies to the middle of the parchment paper. Then place a fish fillet on top of them and sprinkle it with a pinch of salt. Using the back of a spoon, spread half of the herb butter on top of the fish.
Lift the long edges of the parchment up toward the fish until the edges are touching, then fold them in toward the fish, pinching tightly so it's sealed. Then, roll the shorter ends toward the fish but make sure the rolls are going down toward the baking sheet. When you reach the end, tuck the parchment underneath the fish.
Repeat this process for the second parchment pouch.
Step 4: Bake the fish. Place the baking sheet in the oven and bake the fish until it flakes easily and the veggies are soft. Top fish with more fresh herbs and enjoy!
Tips and tricks
You want the parchment packets to be sealed well; otherwise, the butter will seep out onto the baking sheet.
Want to try different herbs? Fresh rosemary or parsley would be good as well.
The actual recipe I ate on vacation used more butter, so if you're want to, you can drizzle a few extra tablespoons of melted butter over the fish once it's done baking.
Can this recipe be made with salmon instead?
Yes! The recipe should be virtually the same with salmon, but as always, be sure to flake the fish with a fork to check for doneness. It should flake easily!
What pairs well with fish en papillote?
So many things! You could serve it with rice, quinoa, these honey roasted tomatoes, or my lemon orzo salad.
More easy fish recipes
If you made this recipe, be sure to leave a comment and star rating below. Thanks!
peeled and thinly sliced
or white fish of choice; thawed
plus more for serving
salt and pepper to taste
Preheat oven to 425°. Tear a large (approx. 8×12) piece of parchment paper and place it on a rimmed baking sheet.
Place HALF of the carrots and radishes in the middle of the parchment paper, then place a cod fillet in the middle and sprinkle it with ¼ teaspoon salt.
Make the herb butter: add the softened butter to a bowl, then stir in the garlic, chopped dill and chopped chives. Add HALF of the butter on top of the cod, using the back of a spoon to spread it over the fish.
Make the parchment packet: Take the two long ends of the parchment and pull them up over the fish until they touch, then roll them in tightly toward the fish until the top of the packet is sealed. Then, take the two shorter ends and roll them down toward the baking sheet. Once they reach the fish, tuck the ends in underneath the cod.
Repeat this same process with the second parchment packet.
Place the baking sheet in the oven and bake the fish for 15-20 minutes, until the fish flakes easily and the vegetables are soft. Top the fish with extra herbs, salt and pepper (and maybe drizzle with a little more melted butter if you're feeling adventurous) and enjoy!
*Calories are per serving and are an estimation
*Want to use different veggies? Try zucchini, sliced grape tomatoes and/or lemon slices
*Storage: store leftovers in a sealed container in the refrigerator for up to 2 days
Erin is the recipe developer, writer and photographer behind the healthy food blog, The Almond Eater. She's been blogging since 2014 and loves to create food for many different diets, including vegan, gluten free and/or Whole30 recipes.
A TikTok cooking hack has gone viral and a debate is raging on whether it's genius or dangerous.
The original video also went viral, garnering 4.3 million views, 382,500 likes and more than 5,000 comments, with most folks either praising the tip or questioning, often with confusion, about the particulars of the tip.
"Instructions were unclear I used paper and now my house is on fire," joked another commenter.
"Wax paper burns above 200 degrees, where parchment withstands 450 degrees," said another commenter, advising the multiple commenters who are confusing parchment paper with wax paper, the latter which isn't safe to bake in an oven with, let alone place on top of your stove in a pan with hot oil.
"Only works on electric stoves and certain things," said another TikTok commenter. "My friend's house nearly went up as she tried to do this and fry chicken on a gas stove."
That last commenter pointed out something we should all pay attention to from the original video: that the woman in it is using an electric stovetop — you know, the ones that cook without using flames? This may be a reason the parchment hack works for them since there's minimal risk of stove top ignition.
What the experts think
To find for sure whether or not this hack is advisable we spoke to a couple of folks who know their way around the kitchen.
"I honestly never thought about doing this before," Chris Spear, an in-home personal chef and culinary instructor told TODAY Food. Spear said he usually puts parchment paper on sheet trays to keep his trays clean, which he said is one of his biggest hurdles in having to handle cleanup after cooking at a client's house, which he often undertakes by packing everything up and washing all of his cookware at home.
"I have tons of dishes and I don't have a commercial dishwasher. So, I go to someone's home, bring all my stuff, cook there, and then bring it home and have to wash all of them in my sink and home dishwasher," Spear said. "I'm using parchment paper a lot to help mitigate some of that — but I've never seen this hack before. Now I'm like, 'Wow, this actually might make my cleanup a little easier.'"
Spear also said he regularly uses parchment when baking bagels and pizza on pizza stones, and those temperatures typically reach ranges of around 500 degrees. This is well above the smoke point of most oils, so essentially, your oil would disappear before the paper would. But don't break out the parchment for your Friday night fish fry just yet.
"My only concern would be that I use a gas range at home," Spear said. "So, if the paper overhangs, is there any chance that the paper is going to catch fire now? A wax paper would ignite but regular parchment paper I don't think is going to catch."
We also asked TODAY culinary producer Katherine Stilo whether or not folks should try the hack and she told TODAY Food that she wouldn't recommend it because the risk of fire is high. Most parchment paper is oven safe, yes, but the key words here are oven safe, as in: inside your oven it's safe to use.
Stillo said if you're using a gas stove, the flames could run up the sides of the pot and catch the parchment on fire as it's still paper, as heat resistant as it may be.
She also pointed out that a sheet of parchment paper is a rectangle so no matter what kind of scissor geometry you could conjure, you will be able to neatly cover the bottom and sides of a concave and round pot or pan. This could lead to the oil slipping under the parchment which may then just go sliding around all over the place, completely full of boiling hot oil. "This idea sounds like a recipe for disaster," she said.
According to Reynold's website, a maker of a well-known brand of parchment paper, all four types of their parchment paper are safe to a temperature of 425 degrees and are both oven and microwave safe. It doesn't say the parchment paper is stovetop safe, so take caution when using a kitchen item not as intended.
We reached out to Reynolds for comment on the viability of this hack, and they had this to say about the TikTok hack:
"We'll have to test this one ourselves," said Carlee Bilello, marketing director for Reynolds Kitchens. "We love to see the creative ways people use Reynolds Kitchens Parchment Paper to make their lives easier in the kitchen."
Despite the encouraging possibility of a new line of parchment pan liners thanks to social media, both experts I spoke to for this story agreed that parchment paper as it exists now can darken and turn brittle if baked at high temperatures and would in fact do so if exposed to direct flame.
Still, even though browned parchment paper won't release toxic chemicals, no one wants crispy bits of it in your food, which might happen if you aren't careful.
"I'm sure we all have roasted a tray of vegetables just a biiiit too long, right?" Stilo asked. "If you're using parchment, the edges become black/brown and the paper itself becomes brittle and breaks, which could easily happen when frying. Then you'll end up with pieces of paper in your food!"
Stilo suggests using parchment for the applications it suggests on its packaging, such as lining a baking tray for the oven to avoid items sticking to the bottom of the tray or lining a cake pan or baking dish for easy removal. There is also one hot oil application where parchment comes in handy.
"You can, however, proof a yeast-leavened item, such as a donut, on a small square of parchment and use the parchment to easily transfer and release the donut into the oil," Stilo said. "By quickly dipping the entire parchment square into the oil, the donut will easily slide off and you avoid squishing all of the beautiful air bubbles out of the dough."
TikTok is a foundry of hot tips for optimizing your time in the kitchen, from teaching us all how to make taco shells in the microwave to removing the pits from a basket of peaches with ease. For those of us trying something new we saw on the internet, though, let's be sure we're exercising kitchen caution and being safe about it, first.
This Mediterranean cod en papillote is the most genius way to quickly achieve a simple, healthy, and super delicious dinner!
Photo: Gayle McLeod
What is En Papillote?
Let's just say I'm convinced that "en papillote" (or "in paper") has become one of my favorite ways to do weeknights. It's a French cooking technique where a combination of fish (or poultry) and veggies are folded into a parchment paper pouch, then perfectly steamed in the oven.
So if you're looking to up the ante of my garlic herb baked cod, this Mediterranean cod en papillote recipe is a no-brainer. It hits the spot with simple and fresh coastal flavors while ensuring you have four all-in-one meals done at the same time.
Similar to my Greek sheet pan chicken, the cod is infused with bright Mediterranean flavors and surrounded by fresh vegetables. Here's what you'll need!
Seasoning & Aromatics: To infuse the cod with flavor, I'm using a simple combo of salt, pepper, fresh thyme, and lemon slices.
Vegetable: This recipe starts with a layer of zucchini slices, then it's topped with grape tomatoes and olives. For the olives, feel free to use Kalamata olives, green olives (I'm using Castlevetrano), or a combination of both!
Find the printable recipe with measurements below.
How To Make Cod en Papillote
Before we get started, I suggest grabbing a box of these parchment paper sheets. They're 12×16 inches — perfect for folding the fish into a pouch!
Assemble the packets. Fold the parchment paper in half, then open it. Add several slices of zucchini in the center of one half, then top with a piece of cod. Season it with salt and pepper.
Add toppings. Top the cod with 2 to 3 lemon slices, a few slices of shallot, a handful of tomatoes and olives, and a spring of thyme. Then drizzle a little olive oil on top of everything.
Helpful tip: If you're using larger cherry tomatoes rather than grape tomatoes, feel free to cut them into quarters. You can also slice the olives in half or in quarters, it's up to you!
Fold and seal the pouches. Fold the top half of the parchment paper over the bottom half, then tightly roll up the edges around the cod. Repeat this process with the other 3 pieces of cod.
Bake the cod. Place the 4 parchment paper packets on a baking sheet, place in the oven, and bake for 14 to 18 minutes at 400°F (200°C). The cook time will depend on the thickness of your fish, so keep an eye on it as cod can easily overcook.
Serve it up! Use a knife to pierce the center of each parchment packet, and open it up before serving.
Storage Tips
Storing for the week: This recipe is great for meal prepping individual meals. Just store it in an airtight container in the fridge for 3 to 4 days.
Freezing for later: You can freeze this in a freezer-safe container or bag for up to three months. Just make sure to let it thaw in the fridge overnight when you're ready to eat.
How to reheat cod: For the fastest method, just pop a portion in the microwave for a minute or two, until warmed through
Serving idea: Not only is this cod en papillote recipe super easy and healthy, but it also presents beautifully making it perfect for dinner parties! You can pre-slice all of the veggies, then just assemble and cook when guests arrive. I love to serve them up with a side of black lentils.
If you're having trouble visualizing this recipe (especially the folded pouches), take a peek at the video below!
There's a reason why I always gravitate toward these Mediterranean recipes. They're light, fresh, healthy, and will make you feel good from the inside out.
I guarantee this Mediterranean cod en papillote will become a dinner staple. Once you make it, let me know your thoughts about this recipe in the comment box below!
This Mediterranean cod en papillote is the most genius way to quickly achieve a simple, healthy, and super delicious dinner! Watch the video above to see how this comes together.
kosher salt and freshly ground black pepper,
, halved or quartered
extra-virgin olive oil
Assemble the packets. Preheat the oven to 400°F (200°C). Fold a 12×16-inch sheet of parchment paper in half, then open it. Add several slices of zucchini in the center of one half, then top with a piece of cod. Season with salt and pepper.
Add toppings. Top the cod with 2 to 3 lemon slices, a few slices of shallot, a sprig of thyme, 5 olives, and 5 tomatoes (it's okay if these fall to the side). Drizzle a little olive oil on top.
Fold and seal. Fold the top half of the parchment paper over the bottom half, then tightly roll up the edges around the cod. Repeat this process with the other 3 pieces of cod.
Bake. Place the 4 parchment paper packets on a baking sheet, place in the oven, and bake for 14 to 18 minutes (depending on thickness), or until the cod is opaque and flakes easily with a fork.
To serve. Use a knife to pierce the center of each parchment packet, and open it up before serving.
"I honestly never thought about doing this before," Chris Spear, an in-home personal chef and culinary instructor told TODAY Food. Spear said he usually puts parchment paper on sheet trays to keep his  trays clean, which he said is one of his biggest hurdles in having to handle cleanup after cooking at a client's house, which he often undertakes by packing everything up and washing all of his cookware at home.