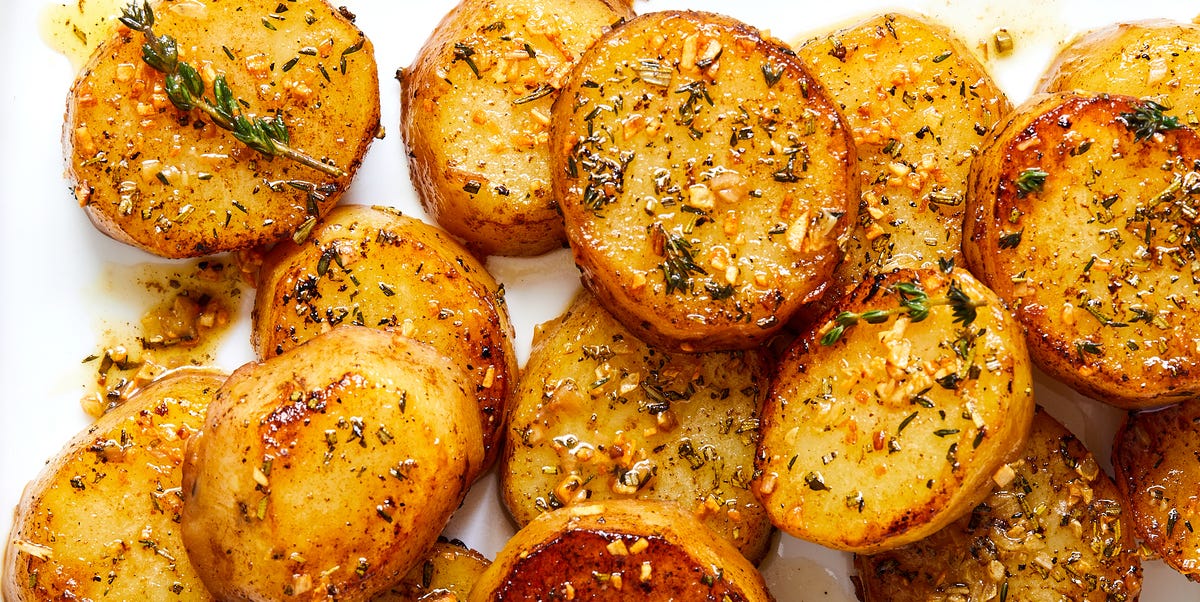 PHOTO: LUCY SCHAEFFER; FOOD STYLING: TAYLOR ANN SPENCER
The epitome of comfort food, there's nothing we love more than cozying up to potatoes in any (and every) form. The best part about this super spud? There are endless ways to enjoy it! While we included all the basics here—roasted, hash browns, mashed, taters, fries—we also threw in some creative takes on the famous staple. So if you need some weeknight dinner inspo, are looking for a late-night snack, or need a crowd-pleasing potato side dish for your next party, try whipping up one of these flavor-packed recipes to switch things up in the most delicious way.
If you think you've had potatoes every way possible, think again. Our toasted sesame oil mashed potatoes, French onion baked potatoes, and jalapeño popper potato salad are here to switch things up. We've also included plenty of ways to cook your dish to cut down on cooking time or give a different, crispy texture to the spud. From grilling recipes to golden brown air-fryer creations to Instant Pot soups, there are endless ways to prepare potatoes.
One of our favorite things about these recipes? Many of them have very few ingredients—or ones you likely already have on hand—making them simple and easy to prepare on the fly. If you've got some potatoes lying around and your favorite savory seasonings, you're already halfway there to making many of these easy recipes!
Can't get enough of the potato? Try our favorite sweet potato recipes for even more ideas!
Advertisement – Continue Reading Below
Perfect Mashed Potatoes
Quick: Name one thing better than creamy, buttery, steamy, perfect mashed potatoes! See? You can't! So, put down the instant potatoes, grab your favorite spuds, a large pot, a masher, and let's get ready for comfort in a bowl.
Get the Perfect Mashed Potatoes recipe.
Potato Rolls
Have a leftover baked potato? The only logical thing to do is to mash the insides and make dinner rolls. It's a great way to not waste leftovers, AND the results are truly stunning. Fluffiest. Dinner. Rolls. Ever.
Get the Potato Rolls recipe.
Air Fryer Crispy Potatoes
We pride ourselves for how perfect our roasted potatoes are. The only thing we've found to upgrade them? Using the air fryer. With just a little bit of oil, these potatoes get perfectly crispy on the outside while staying perfectly soft on the inside. One of our fave air fryer recipes to date, and that's saying a lot.
Get the Air Fryer Crispy Potatoes recipe.
Patrick's Day Nachos
For the base of these festive nachos, we skip the chips and load our toppings onto crispy roasted potatoes instead. All of customizable toppings—homemade corned beef, horseradish, pickled jalapeños, black beans, and plenty of cheese—are layered onto our crispy potatoes, giving a flavor-packed combo in every bite. Whether you change up the toppings or keep them the same, this hack just might change the way you enjoy nachos from here on out.
Get the St. Patrick's Day Nachos recipe.
Perfect Pan Fried Potatoes
The secret to a perfectly crispy, fried potato? It's all about the oils. Our best combo: mixing EVOO with vegetable oil (or another neutral oil with a high smoking point). Trust us, it makes a huge difference.
Get the Perfect Pan Fried Potatoes recipe.
Potato Curry
Potato curry can take on various forms depending on which part of the world you're looking to taste, but this easy number takes on an Indian influence, starting with curry leaves fried in ghee. Not only do the leaves serve as a fragrant, crispy garnish, they also flavor the entire curry by flavoring the ghee.
Get the Potato Curry recipe.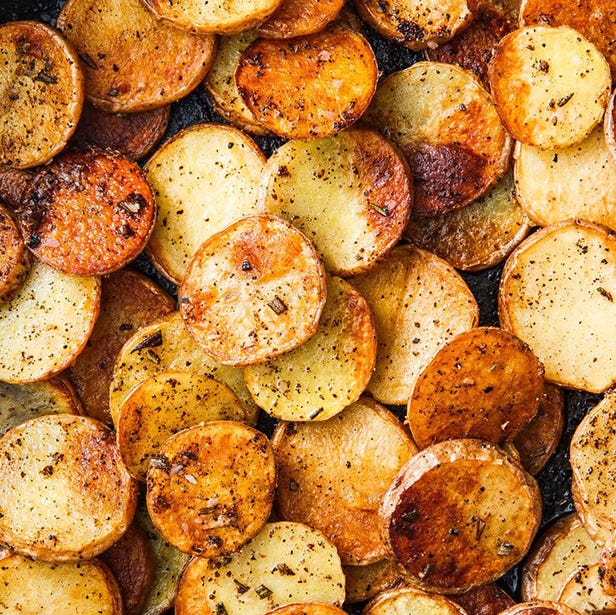 Baked, mashed or even fried, there's no wrong way of cooking potatoes. Whether you fancy enjoying them as a main dish, like in our Chicken and Sweet Potato Curry, or as an indulgent side dish, like in our Cheesy Scalloped Potatoes, there's plenty of ways you can use up all those spuds you have lurking about in the kitchen. Not to mention, they make great little snacks (hello, Sweet Potato Crisps) and the best work-from-lunch (Baked Potatoes, duh!).
Love sweet potato as much as we do? We've got a whole round-up dedicated to the starchy, sweet-tasting root vegetable. You're welcome!
Salt & Vinegar Roast Potatoes
Each day, tons of people search "how to cook a jacket potato." So don't be embarrassed to be here. You're not alone. While baking a potato is easy and takes zero kitchen skill, there are a lot of ways you can go wrong.
Get the Baked Potatoes recipe.
Air Fryer Sweet Potato Fries
We love a good, crispy sweet potato fry. Though the oven-baked variety is great, these air fryer fries get even crispier and take way less time! Paired with our favourite 3-ingredient secret sauce, we can't think of a better snack.
Get the Air Fryer Sweet Potato Fries recipe.
Bombay Potatoes or Bombay Aloo is a traditional Indian dish using potatoes as its main ingredient, that are boiled, fried and flavoured with a variety of spices. Often served as a side dish to a curry, we also love eating Bombay Aloo on its own, or with daal.
Get the Bombay Aloo recipe.
Cooking over the campfire is our favourite thing to do, and throwing everything into a foil pack makes it so easy! These cook up fast and make the perfect side dish. If you don't want to make these over the fire or grill, they also work great in the oven!
Get the Campfire Potatoes recipe.
Instant Pot Potato Soup
This soup is what an Instant Pot was made for. No need to boil potatoes for a long time or stand over a stove. Throwing everything in the Instant Pot will give you a delicious soup in about 40 minutes flat.
Get the Instant Pot Potato Soup recipe.
Microwave Baked Potato
You could spend 15 minutes preheating your oven and then another hour baking your potato, but why would you ever do that when you can microwave your potato in just 7 minutes?
Get the Microwave Baked Potato recipe.
Baked Sweet Potatoes
Adding sweet potatoes to your diet is an easy healthy habit to pick up when you're trying to eat healthy—the vegetable is a total superfood, packed with vitamin C and fibre. Baking them whole in the oven is arguably the easiest way to prepare them (if you're really pressed for time, you can always microwave your sweet potato), and makes them a perfect base for all types of toppings.
Get the Baked Sweet Potatoes recipe.
Cream of Potato Soup
What says comfort more than cream of potato soup? Not much and that is exactly why we love this recipe.
Get the Cream of Potato Soup recipe.
Cumberland pie uses chunks of beef rather than mince, and rather than mashed potato, you should traditionally use slices of potatoes, cooked and cut into rounds and laid across the top. And of course, the best part of this pie is the layer of cheese and breadcrumbs sprinkled on top to make it crispy and crunchy.
Get the Cumberland Pie recipe.
BBQ Chicken Twice-Baked Potatoes
Butternut Squash and Sweet Potato Soup
Is there anything quite as satisfying when it's cold outside than a huge bowl of steaming soup, served alongside a buttered crusty roll? And this butternut squash and sweet potato version is SO healthy, and incredibly easy to make.
Get the Butternut Squash and Sweet Potato Soup recipe.
This chicken and sweet potato curry is absolute comfort food goals. Thanks to the spices, it's gorgeously fragrant, and the addition of coconut milk makes it creamy.
Get the Chicken and Sweet Potato Curry recipe.
I never make French fries at home. Mostly because deep-frying anything is always messy, annoying, and time-consuming. (Anyone else hate cooking in batches?!) They also never turn out quite as crispy or good as McDonald's. But I recently discovered a genius hack that changes EVERYTHING. It yields astonishingly crispy on the outside, creamy on the inside frites.
Get the French Fries recipe.
Cheesy Sweet Potato Casserole
These potatoes are KILLER. If you want to make 'em a meal, go for big russets. If you'd like to serve them as hors d'oeuvres, choose a smaller potato.
Get the French Onion Baked Potatoes recipe.
Bacon Wrapped Parmesan Potatoes
Bloomin' Baked Potato
Get the Bloomin' Baked Potato recipe.
Hasselbackspotatis, aka Hasselback potatoes, are a Swedish invention that transforms a humble baked potato into an ingenious work of art. Each potato is partially sliced into a row of thin slivers that then get brushed with oil or butter and baked to roasty-toasty crispy-crunchy perfection.
Get the Hasselback Potatoes recipe.
Kung Pao Potatoes
If you're a big fan of sassy Kung Pao Chicken, this vegetarian version is definitely worth a try for your next weeknight dinner. We parboil the potatoes for a creamier consistency, then finish the cooking in a spicy, salty sauce for maximum flavour pay-off. Throw in some chopped red onions, bell peppers, and crunchy peanuts, and it's a vegetarian delight that's sure to please even the pickiest meat lovers in your life.
Get the Kung Pao Potatoes recipe.
Baked Camembert Potatoes
We've combined everyone's favourite melty, dippy cheese starter with potatoes to make the ultimate winter side dish! Think of it as dauphinoise potatoes meets baked Camembert, AKA, heaven.
Get the Baked Camembert Potatoes recipe.
Vegan Mashed Potatoes
Amazing, creamy mashed potatoes are still possible while being completely dairy free and these are here to prove it! If you're still slightly tempted by real butter then go ahead, but here's our vegan version!
Get the Vegan Mashed Potatoes recipe.
Fried Mashed Potato Balls
Leek and Potato Soup
Everyone should know how to make leek and potato soup. It's effortlessly easy, downright tasty, and it's basically autumn in a bowl.
Get the Leek and Potato Soup recipe.
Loaded Fried Mashed Potatoes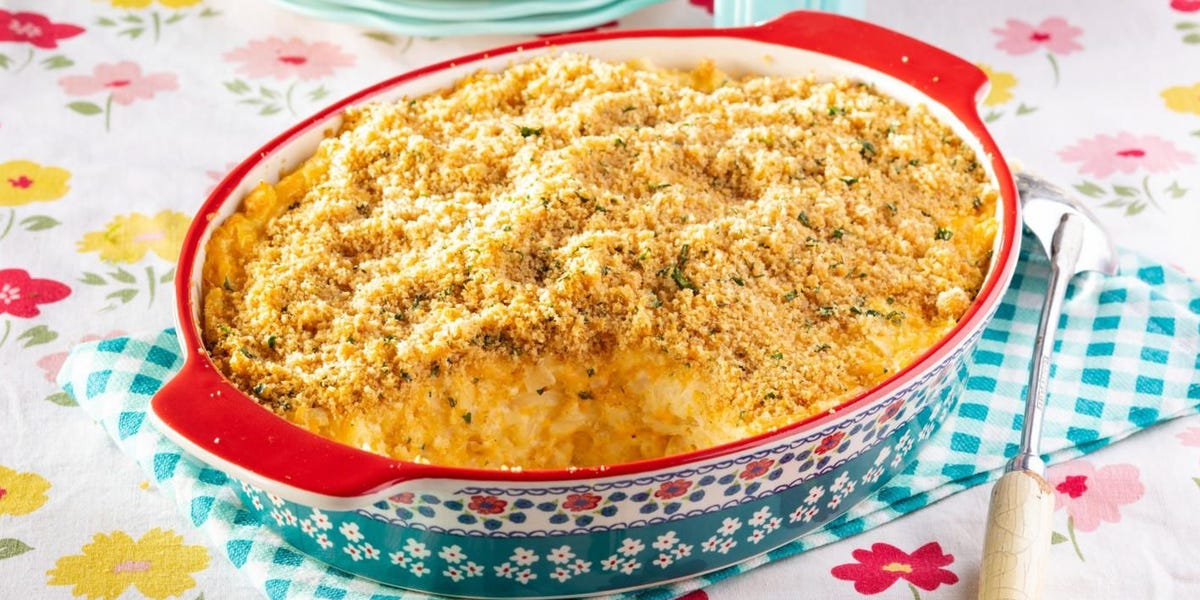 Looking for a breakfast casserole recipe featuring potatoes? We've got that, too! In fact, our sausage breakfast casserole is filled with frozen shredded hash browns so it couldn't be easier! And speaking of easy recipes, there are plenty of make-ahead dishes that you can prep before a big family dinner (or even your Christmas feast). For example, the shepherd's pie topped with creamy mashed potatoes can be fully prepared and baked, then cooled before storing in the freezer for up to two months! Or, try making the filling for the cowboy casserole in advance and when you're ready to serve, simply finish with tater tot potatoes and bake.
Whether you go with a classic potato recipe like potatoes au gratin or something a little more creative like a cheeseburger and fries casserole, this list of comforting dishes is sure to be a hit.
Cheesy Potato Casserole
Whether you're serving steak, turkey, or ham, this potato side dish works for all occasions. Heck, we don't even need a main course to love this dish—just a big scoop of this casserole and we'd be happy!
Get the Cheesy Potato Casserole recipe.
Cowboy Casserole
Get dinner on the table in less than an hour with this meat and potatoes casserole recipe. The creamy, beef filling is topped with tater tots and bacon for the ultimate meat-lovers meal.
Get the Cowboy Casserole recipe.
Creamy Pepper Jack Mashed Potatoes
Baking these mashed potatoes in a casserole dish gives them a crispy, cheesy topping that's lightly browned around the edges. You can also add a sprinkle of chili powder on top for an extra kick.
Get Ree's Creamy Pepper Jack Mashed Potatoes recipe.
Sausage Breakfast Casserole
Shredded hash browns, eggs, cheese, and sausage make this crowd-pleasing breakfast perfect for any holiday brunch. Plus, you can assemble the whole casserole, cover it, and refrigerate up to two days before baking.
Get the Sausage Breakfast Casserole recipe.
SHOP OVEN MITTS
Creamy Mashed Potatoes
Ree suggests placing your mashed potatoes in a baking dish, topping it with a few pats of butter, and finishing it in the oven. It's a great way to warm up the dish if you made it ahead of time, too.
Get Ree's Creamy Mashed Potatoes recipe.