No yeast? No worries! You can make bread without yeast. Check out our best sweet and savory quick breads that are a snap to put together.
Of all the quick breads we had growing up, this beautiful lemon blueberry bread is the best! The citrus glaze adds a lustrous finish and locks in moisture. —Julianne Johnson, Grove City, Minnesota
Ever wondered "what is quick bread?" We have the answer for you!
Copycat Starbucks Pumpkin Bread
Skip the line and bake Starbucks pumpkin bread in your own kitchen. This copycat recipe may be even better than the original! —Taste of Home Test Kitchen
New to baking bread? Check out our complete bread baking guide.
Zucchini Pineapple Bread
Add these essential bread baking tools to your online shopping cart ASAP.
Lemon Bread
I often bake this sunshiny-sweet lemon bread when company's due. It has a loaf-like texture. —Kathy Scott, Lingle, Wyoming
Quick breads aren't your only baking option. Here are a bunch of different types of bread you should try to make.
Spiced Apple Muffin Bread
Parmesan-Sage Beer Bread
I'm asked to bring this savory loaf to nearly every function I attend. It's great as a side dish, but if you're in the mood for an extraordinary sandwich, start with two slices of beer bread. —Betsy King, Duluth, Minnesota
I keep my freezer stocked for our harvest crew with home-baked goodies like this deliciously spicy, easy pumpkin bread recipe. —Joyce Jackson, Bridgetown, Nova Scotia
Buttery Cornbread
A friend gave me this cornbread recipe several years ago, and it's my favorite of all I've tried. I love to serve the melt-in-your mouth cornbread hot from the oven with butter and syrup. It gets rave reviews on holidays and at potluck dinners. —Nicole Callen, Auburn, California
Country Cinnamon Swirl Bread
I'm always busy with three active sons, so this rich quick bread is a favorite. I like to wrap these loaves to give as gifts. —Sharon Walker, Huntington Station, New York
Herb Quick Bread
This simple bread is especially good with soups and stews, but slices are also tasty alongside fresh green salads. The herbs make it a flavorful treat any time of the year. —Donna Roberts, Manhattan, Kansas
Chocolate Zucchini Bread
I shred and freeze zucchini from my garden each summer so that I can make this bread all winter long. Our family loves this chocolaty treat.—Shari Mckinney, Birney, Montana
Best Ever Banana Bread
Whenever I pass a display of bananas in the grocery store, I can almost smell the wonderful aroma of my best banana bread recipe. It really is amazingly good! —Gert Kaiser, Kenosha, Wisconsin
Classic Irish Soda Bread
This traditional Irish soda bread can be made with an assortment of mix-ins such as dried fruit and nuts, but I like it with a handful of raisins. —Gloria Warczak, Cedarburg, Wisconsin
Glazed Cranberry Sweet Potato Bread
This recipe stars one of our state's crops. Topped with an easy orange glaze, slices of the moist bread make a sweet snack
to enjoy anytime. —Sweet Potato Festival Committee, Vardaman, Mississippi
Carrot Honey Loaf
As a busy health-care professional and mom, one of the most meaningful gifts I give to the people I love is my time and skills in the kitchen. I have been baking since I was 7 years old and while I still am an avid baker, raising three children, caring for three dogs and working full-time leaves me with little energy! My family appreciates all my efforts and this is a favorite extra "gift" I give people for special events like a housewarming or welcoming a new baby. It is especially good toasted with butter. —Krystal Horudko, Charlottetown, Prince Edward Island, Canada
Grandma's Onion Squares
My grandma brought this recipe with her when she emigrated from Italy as a young wife and mother. It is still a family favorite. —Janet Eddy, Stockton, California
New bakers will love these easy bread recipes for beginner bakers.
Peach Cobbler Bread
I developed this recipe to take advantage of our wonderful Georgia peaches. My husband, Andy, says it tastes just like peach cobbler.
Chocolate Chai Mini Loaves
This bread is irresistible! A friend gets mad when I make it because I give her a loaf and she can't help but eat the whole thing! —Lisa Christensen, Poplar Grove, Illinois
Lemony Zucchini Bread
Flecks of zucchini give a third dimension to the popular lemon and poppy seed combination in this moist quick bread. My family loves this lemon zucchini bread at all times of the year.—Field Editor Carol Funk, Richard, Saskatchewan.
Soft Sesame Breadsticks
I've been making these tasty breadsticks that go with almost any meal for years. Since they use ingredients like flour, sugar, baking powder and milk, it's convenient and inexpensive to mix up a batch. —Nancy Johnson, Connersville, Indiana
Gluten- and Dairy-Free Cinnamon Raisin Bread
After learning of gluten and dairy sensitivities in our family, I knew I had to re-create our favorite sweet bread. This gluten-free bread can be made using a premixed gluten-free flour or your own homemade blend. We use coconut milk to make it dairy-free, but any type of milk works! —Courtney Stultz, Weir, Kansas
Cran-Almond Loaf
My delicious quick bread is comforting in the afternoon with a cup of tea, served toasted in the morning for breakfast, or as a midnight snack. Morning, afternoon or evening, this is always a treat! —Mary West, Marstons Mills, Massachusetts
Favorite Irish Bread
Serve this classic from the Emerald Isle with butter, jam and a hot cup of tea. Baking this beauty in a 9-in. pan means there is enough to go around. —Sadie Rotondo, Rockland, Massachusetts
Double Cranberry Banana Bread
We love quick breads, and I've found that they freeze nicely if properly wrapped. This is a scrumptious recipe to make before the holidays and freeze for last-minute guests or gifts. —Joan Hallford, North Richland Hills, Texas
Feast your eyes on our prettiest quick bread recipes.
Pumpkin Bread with Gingerbread Topping
This yummy pumpkin bread won first prize in the Acorn Pantry Bread Contest. It melts in your mouth, and the recipe easily doubles for gift-giving. —Renee' Nanez, Frederic, Wisconsin
Olive & Onion Quick Bread
I've been baking for over 50 years and I never get tired of trying new recipes for my family, friends and co-workers. Baking actually relaxes me. I feel like an artist creating a masterpiece of love. This savory loaf makes a great gift. —Paula Marchesi, Lenhartsville, PA
Honey Spice Bread
The texture of this bread is almost like a cake, so I usually serve slices of it for dessert. The loaf looks so festive with the pretty glaze drizzled on top. —Gaye O'Dell, Binghamton, New York
Ice Cream Bread
Ice cream gets a whole new use in this tender bread recipe that I pared down to serve two. Be sure to use full-fat ice cream for best results. —Katherine Kuehlman, Denver, Colorado
Cast-Iron Chocolate Chip Banana Bread
I love this cast-iron banana bread because it cooks evenly every time. The end result is so moist and delicious! —Ashley Hudd, Holton, Michigan
Crunchy Breadsticks
These thin, crisp breadsticks created in our Test Kitchen add a bit of elegance to a holiday dinner. Each bite is perfectly seasoned with thyme and coarse salt.
Chocolate Quick Bread
My husband and I both enjoy cooking, but the baking is left to me. Our sons loved this chocolaty quick bread when they were little—and still do as grownups! —Melissa Mitchell-Wilson, Wichita, Kansas
These are our picks for the best bread machines of the year.
Swiss Beer Bread
This recipe is a favorite of my family because it isn't greasy like most of the other cheese breads I have tried. It will not last long! —Debi Wallace, Chestertown, New York
Cheesy Garlic Herb Quick Bread
This could be the perfect bread for any dish. The sharp cheddar cheese makes it irresistible.—Taste of Home Test Kitchen, Milwaukee, Wisconsin
Bacon Parmesan Popovers
This recipe proves that simple ingredients often result in the best-tasting dishes. These popovers are a nice change from ordinary toast or muffins. —Donna Gaston, Coplay, Pennsylvania
Orange-Chip Cranberry Bread
Tart berries, crunchy nuts and sweet chocolate are simply scrumptious when mixed together in this easy quick bread. Sometimes I'll top it off with an orange-flavored glaze. —Donna Smith, Fairport, New York
Socca
Socca is a traditional flatbread from Nice, France. It's a common street food, cooked on a grill and served in a paper cone, usually chopped and sprinkled with salt, pepper or other delicious toppings. Bonus: It's gluten free. — Taste of Home Test Kitchen, Milwaukee, Wisconsin
Dutch Apple Loaf
Being of Dutch descent, I knew I had to try this recipe for a moist, fruity quick bread. It freezes well, so I often have a loaf on hand for church bazaars. —Gladys Meyer, Ottumwa, Iowa
Almond & Cranberry Coconut Bread
Here's an all-around great bread for any season. The red bursts of cranberry lend every slice extra appeal for Christmastime. —Rosemary Johnson, Irondale, Alabama
Cinnamon Swirl Quick Bread
While cinnamon swirl bread is a natural for breakfast, we love it so much we enjoy it all day long. This is a nice twist on traditional cinnamon swirl yeast breads. —Helen Richardson, Shelbyville, Michigan
Fresh Pear Bread
When our tree branches are loaded with ripe and juicy fruit, I treat my family and friends to lots of easy pear recipes. I always receive raves and requests for this particular pear bread recipe because of the mix of fun ingredients.—Linda Patrick, Houston, Texas
Eggnog Mini Loaves
The seasonal flavors of eggnog, rum extract and nutmeg shine through in these moist, golden loaves. Tender slices are just right with a cup of coffee. —Beverly Elmore, Spokane, Michigan
Parmesan Zucchini Bread
This loaf has a rugged, textured look that adds to its old-fashioned appeal. The mild Parmesan flavor nicely complements the zucchini, which adds bits of green color to every tender slice. —Christine Wilson, Sellersville, Pennsylvania
One-Bowl Chocolate Chip Bread
My family hops out of bed on Valentine's Day because they know I'm baking this quick bread for breakfast. They're major chocoholics, and the easy bread always hits the spot. —Angela Lively, Conroe, Texas
Pumpkin Banana Bread
I came across these loaves in a local newspaper about 10 years ago, and I still make this pumpkin banana bread recipe on a regular basis. It conveniently yields a number of mini loaves, making gift-giving easy. —Linda Wood, Roanoke, Virginia
Pistachio Quick Bread
I love making many of these special loaves to give away for the holidays. They also freeze well so it is easy to pull out for unexpected guests. —Judy Fischer, Green Bay, Wisconsin
Poppy Seed Bread with Orange Glaze
My neighbor gave me this recipe, and I love that it makes two loaves. We usually eat one and then give the other away or freeze it for later. The glaze complements the bread perfectly. —Heather Frese, Albany, Missouri
Candy Cane Chocolate Mini Loaves
Having a bunch of leftover candy canes after the holidays inspired me to use them up by adding them to a chocolate bread. Coffee and cocoa intensify the flavor. —Shelly Platten, Amherst, Wisconsin
Cranberry Orange Almond Quick Bread
You can customize this bread to your family's specific tastes. Try dried apricots and pecans, or dried blueberries and hazelnuts. —Taste of Home Test Kitchen
Pina Colada Zucchini Bread
At my husband's urging, I entered this recipe at the Pennsylvania Farm Show—and won first place! You'll love the cakelike texture and tropical flavors. —Sharon Rydbom, Tipton, Pennsylvania
Cinnamon Raisin Quick Bread
Cinnamon and raisins bring heartwarming flavor to this mildly sweet bread. It's ideal for an on-the-go breakfast or a quick snack before dinner. —Flo Burtnett, Gage, Oklahoma
I Like to Eat Apples and Bananas Bread
My children love to bake (and eat) all kinds of banana bread. They make this all by themselves, with just a little help from me to put it in the oven. —Kristin Metcalf, Charlton, Massachusetts
Rhubarb Bread
This is quite a good bread – our family really enjoys it! It's also very quick and easy to prepare, once you have the rhubarb diced. —Grace Capen, Sacramento, California
Skillet Herb Bread
We had a lot of family get-togethers while I was growing up. My grandmother, aunts and mom were all good cooks, and each had her own specialty when it came to bread. Mom's was my favorite—she created this recipe more than 40 years ago. The flavors call to mind the taste of cornbread stuffing! —Shirley Smith, Yorba Linda, California
Almond Tea Bread
My aunt brought her tea bread recipe with her from Scotland, and enjoying a fresh-baked loaf has become a family tradition during the holidays. Each slice is loaded with red cherries. —Kathleen Showers, Briggsdale, Colorado
Autumn Pear Bread
Cowboy Cornbread
This cornbread is richer and sweeter than others I've tried, and especially luscious alongside ham and beans. —Karen Ann Bland, Gove, Kansas
I got this apple quick bread recipe a long time ago and with a few changes it's become one of our favorites. Everyone who's ever tasted this apple bread has asked for the recipe! —Phyllis Herlocker, Farlington, Kansas
Banana Nut Bread
This quick bread is a family favorite, so I always try to have ripe bananas on hand for this recipe. I'm sure your family will love this tasty, nutty bread as much as mine does. —Susan Jones, La Grange Park, Illinois
Macadamia Nut Mini Loaves
While these loaves may be small, they have a big rich flavor. The macadamia nuts make them a special treat with tropical flair. Plus, they're so pretty with the toasted coconut topping. —Kim Gilliland, Simi Valley, California
Chocolate Chip Cranberry Bread
This cranberry bread is tender and moist. The first time I made it, it immediately became a favorite for the fall and winter holidays. The tart cranberries complement the sweet chocolate so well.—Jessica Hornaday, Nampa, Idaho
Sweet Italian Holiday Bread
This is authentic ciambellotto, a sweet loaf my great-grandmother used to bake in Italy. I still use her traditional recipe—the only update I made was for using modern appliances. —Denise Perrin, Vancouver, Washington
Sweet Potato Cinnamon Bread
My family loves quick breads. This one is moist and spicy. If you don't have mini loaf pans it works just as well in regular size pans. —Nancy Foust, Stoneboro, Pennsylvania
Spicy Applesauce Fruit Bread
I've had this fruity loaf in my recipe collection since 1975. I tweak it with spices and candied fruit, depending on the season. —Dawn Lowenstein, Huntingdon Valley, Pennsylvania
Appalachian Cornbread
On this westernmost ridge of the Appalachians, we get abundant rain and sunshine, which allows our children to grow a super sweet corn crop. With staggered plantings, there is enough to eat from mid-July through August, plus plenty to freeze for the long winter. This cornbread is just one way we use some of the bounty! —Anne Wiehler, Farmington, Pennsylvania
Moroccan Spiced Fruit & Nut Bread
Red pepper flakes combined with the cinnamon and allspice give each slice of this bread a subtle hint of warmth. —Donna Marie Ryan, Topsfield, Massachusetts
Lemon-Thyme Tea Bread
I received this recipe as part of a gift, along with a lemon thyme plant and a fresh loaf of this pound cake-like bread. Everyone who tries it asks for the recipe. —Jeannette Mango, Parkesburg, Pennsylvania
Cranberry Walnut Pumpkin Bread
This tasty bread is perfect for a Thanksgiving meal or any time of the year. I plant pumpkins in my garden, and this is one of my favorite ways to use them.
Jalapeno Buttermilk Cornbread
If you're from the South, you have to have a good cornbread recipe. Here's a lightened-up version of my mom's traditional cornbread that tastes just as delicious. —Debi Mitchell, Flower Mound, Texas
Caraway Cheese Bread
We enjoy cheese in a variety of ways. In this savory bread, cheddar cheese blends beautifully with just the right amount of caraway.
Orange Cranberry Bread
This orange cranberry bread is packed with the zesty taste of cranberries and orange peel. I suggest serving slices toasted with butter or cream cheese. —Ron Gardner, Grand Haven, Michigan
Yummy Apricot Pecan Bread
Every time I prepare this yummy bread, I always receive raves. It's perfect with coffee or as a gift, plus it's really quick and easy to prepare. —Joan Hallford, North Richland Hills, Texas
Next, take a look at our easy yeast bread recipes.
This Cinnamon Twists recipe is super easy and delicious. Since this recipe does not use any yeast, you can have finished cinnamon twists ready to serve your family in less than an hour!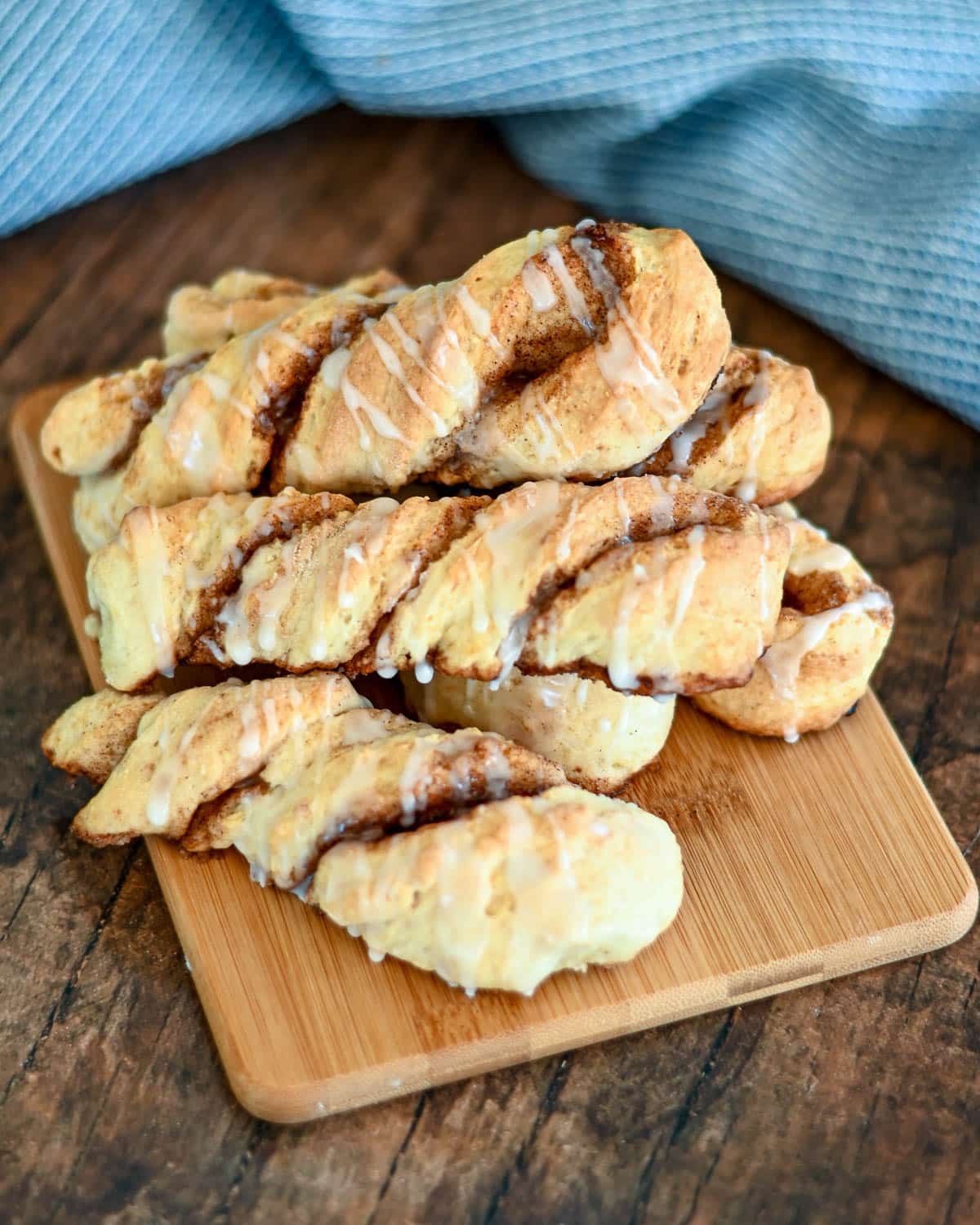 Your family might enjoy other yeast-free recipes: Baked Buttermilk Donuts and Pecan Honey Buns.
Why we love this recipe
They are quick and easy to make. These Cinnamon Twists are a fantastic weekend breakfast.
They will keep for several days. We keep ours in a covered container on the kitchen counter and slightly warm them in the microwave.
Recipe Ingredients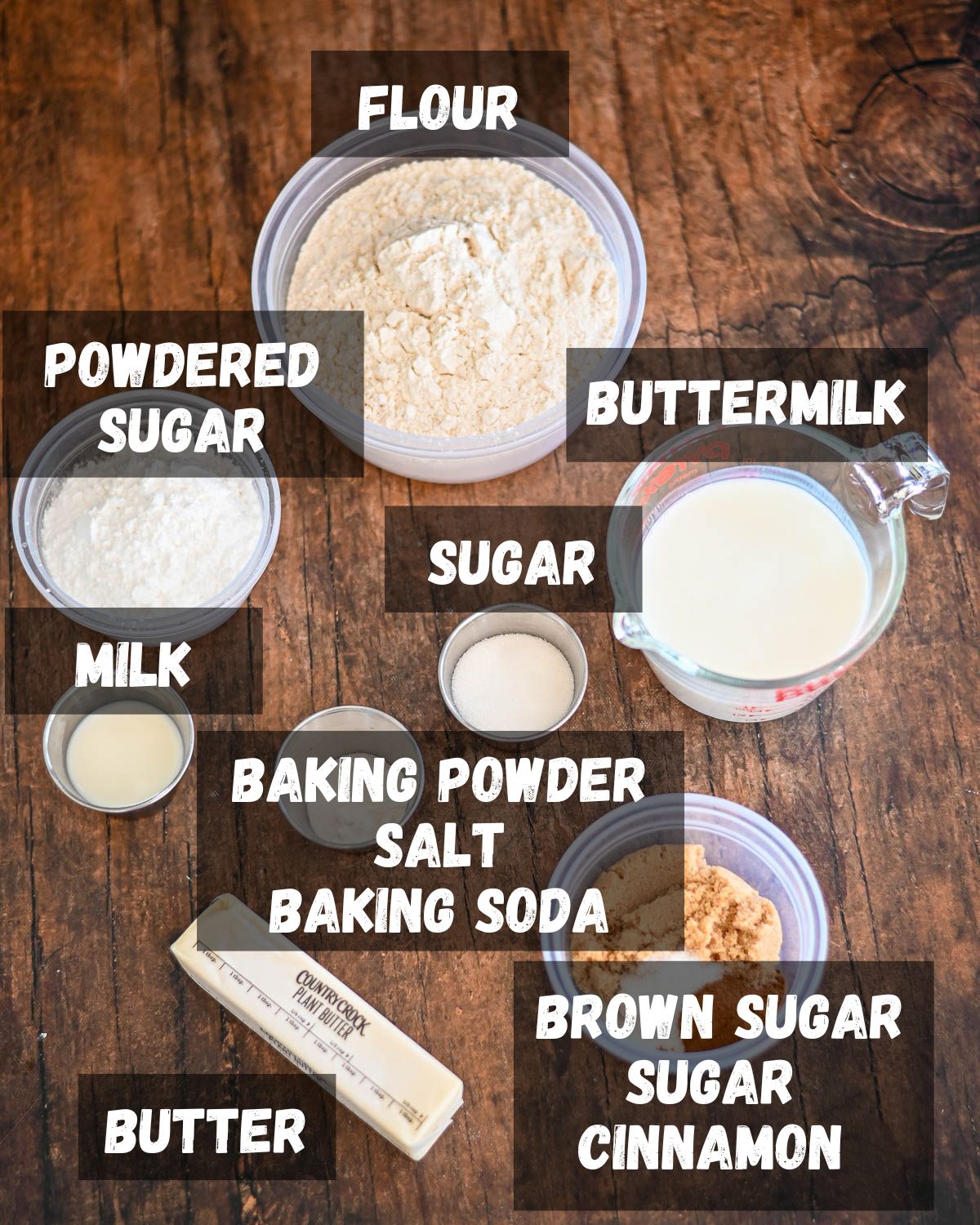 Step-by-step directions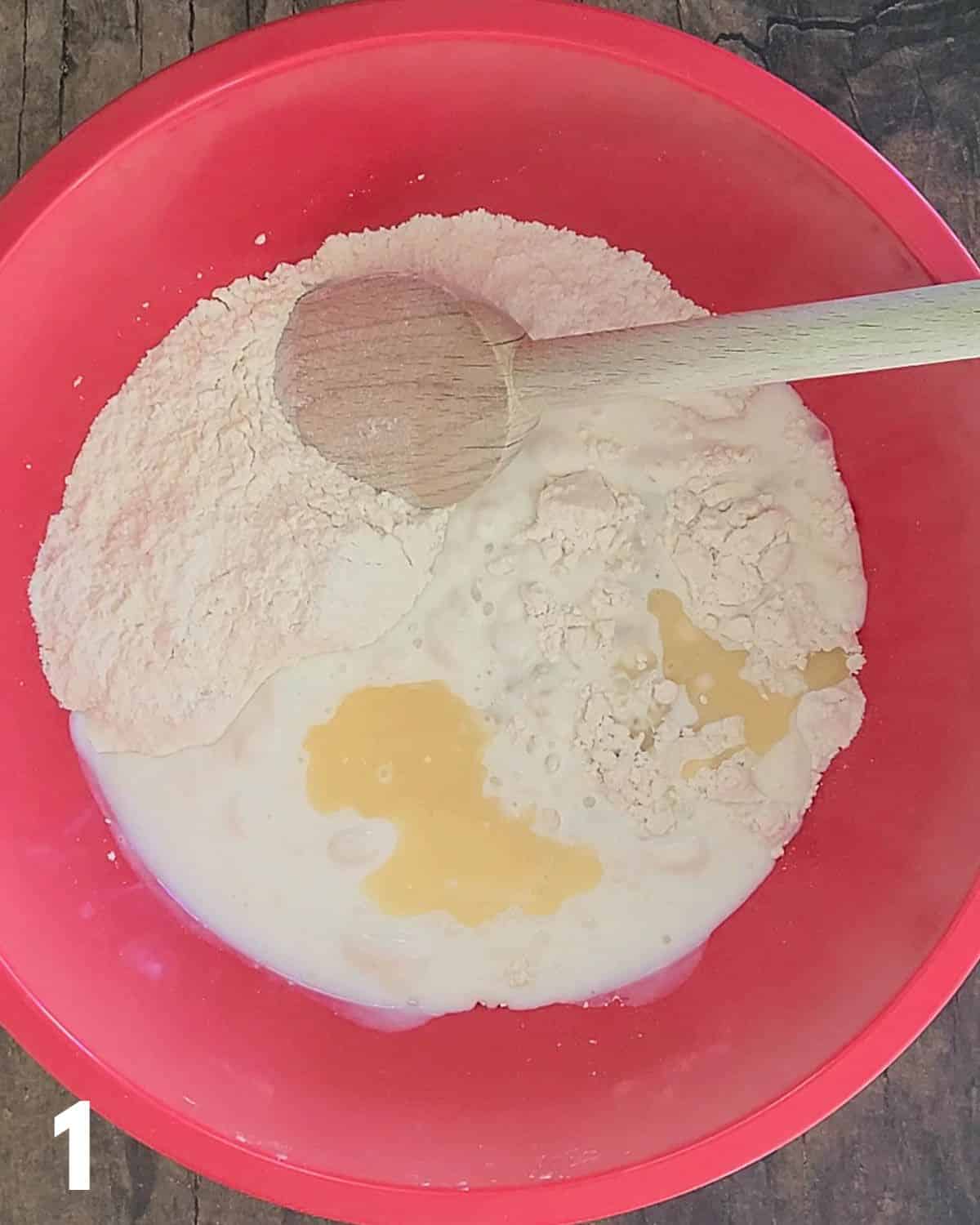 Add the flour, sugar, baking powder, and salt to a large bowl. Whisk together. Next, add the melted butter and buttermilk.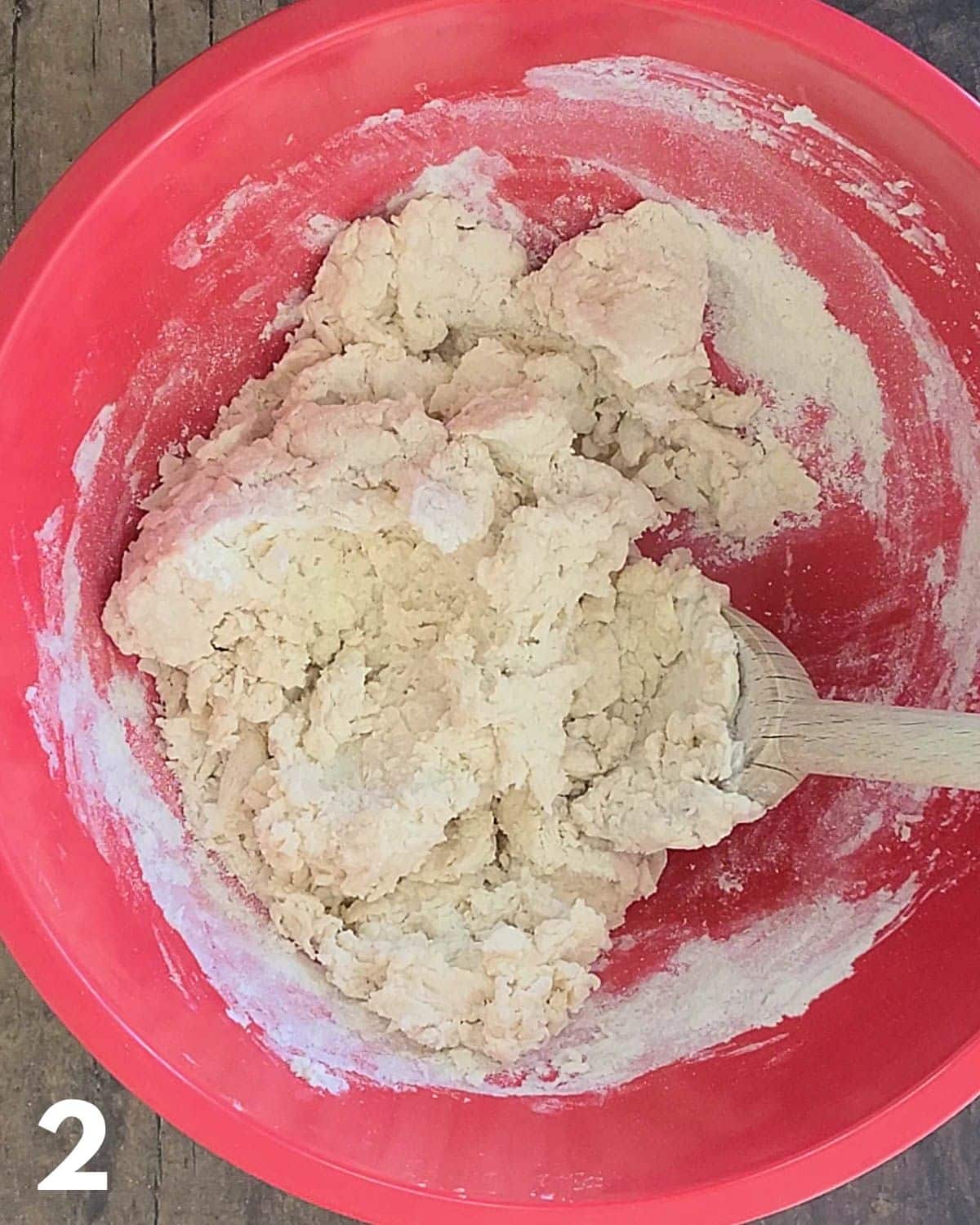 Using a sturdy wooden spoon, mix the ingredients until a dough starts forming.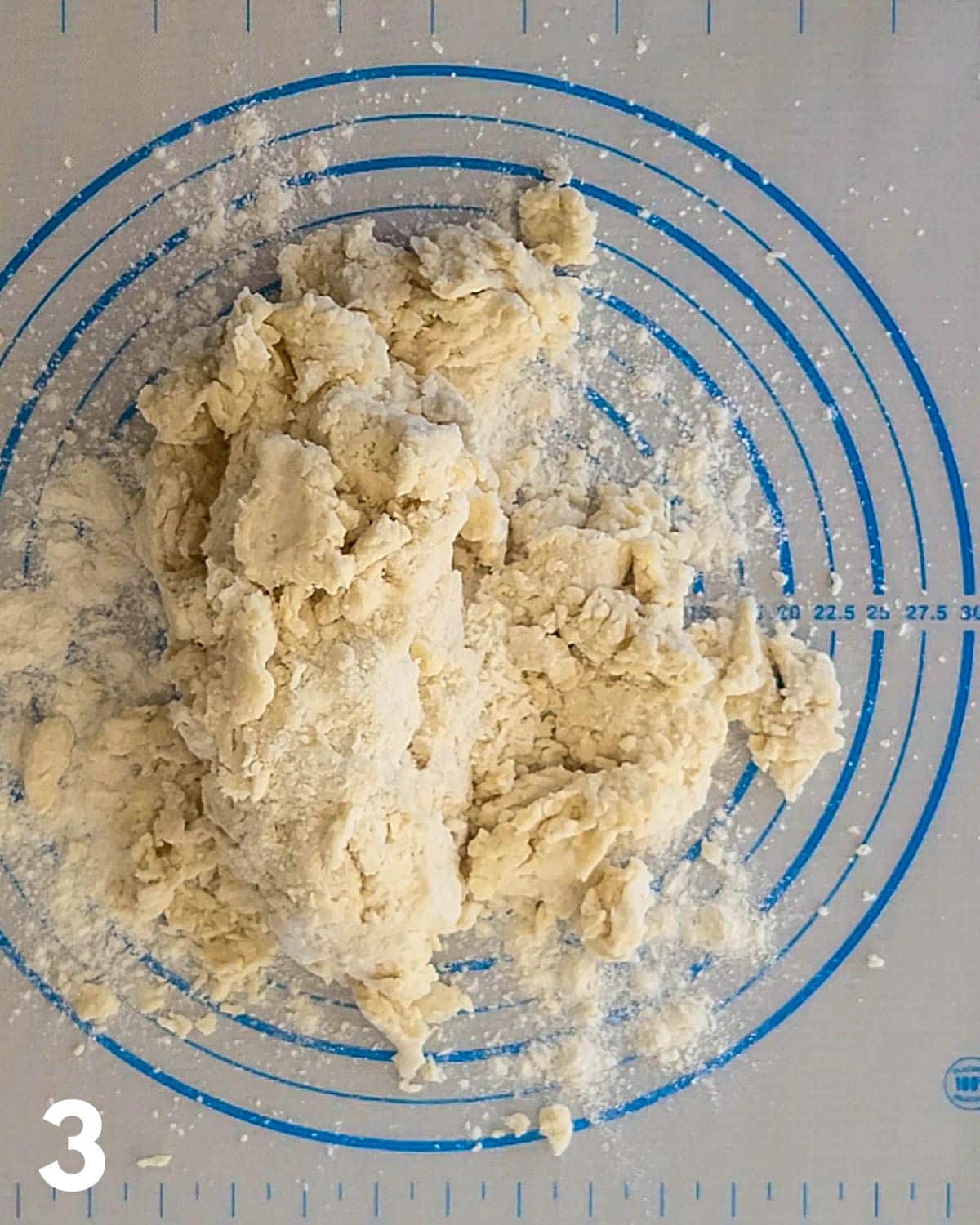 Put the cinnamon twists dough onto a work surface sprinkled with flour.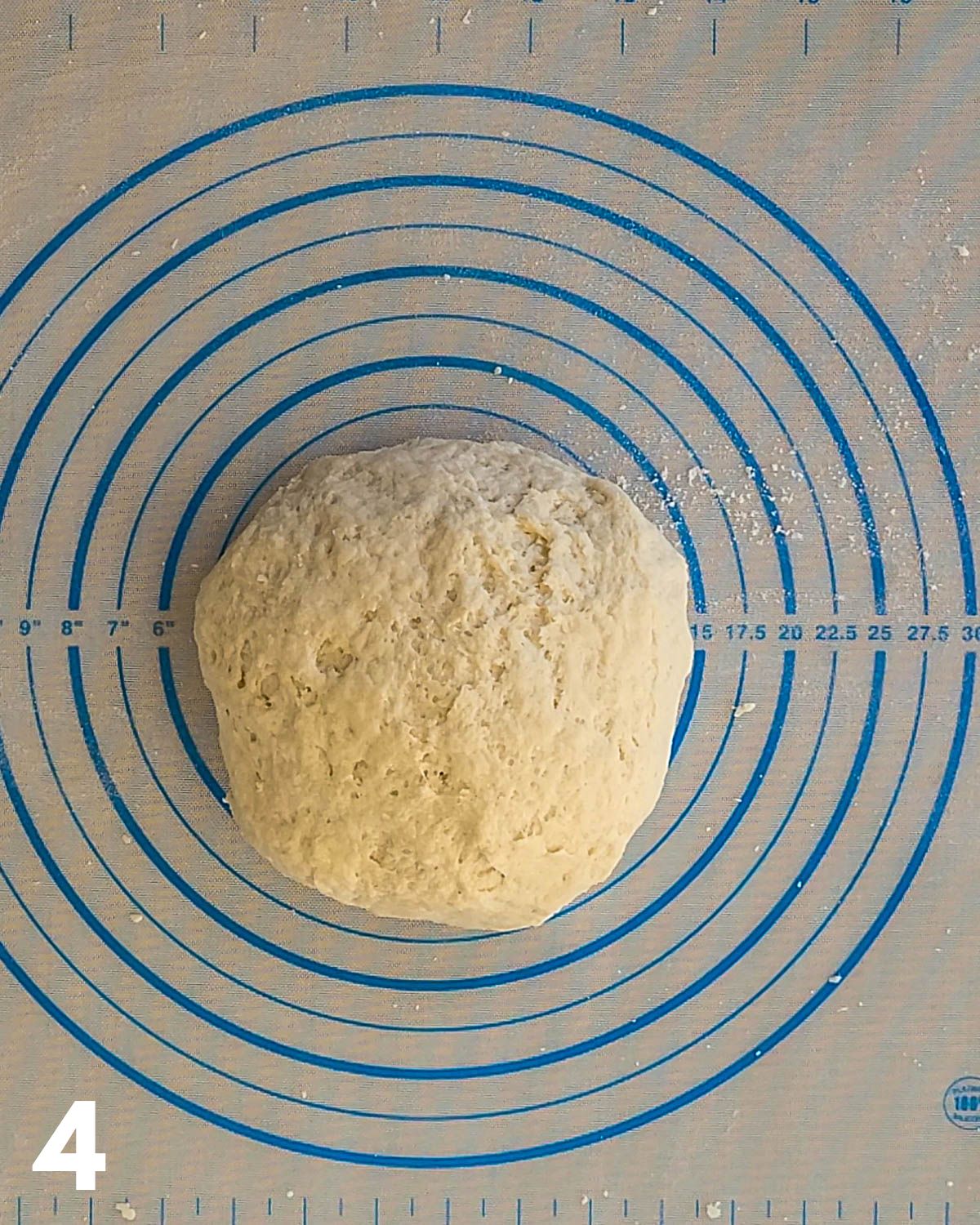 Work the dough, adding more flour until you can form it into a ball.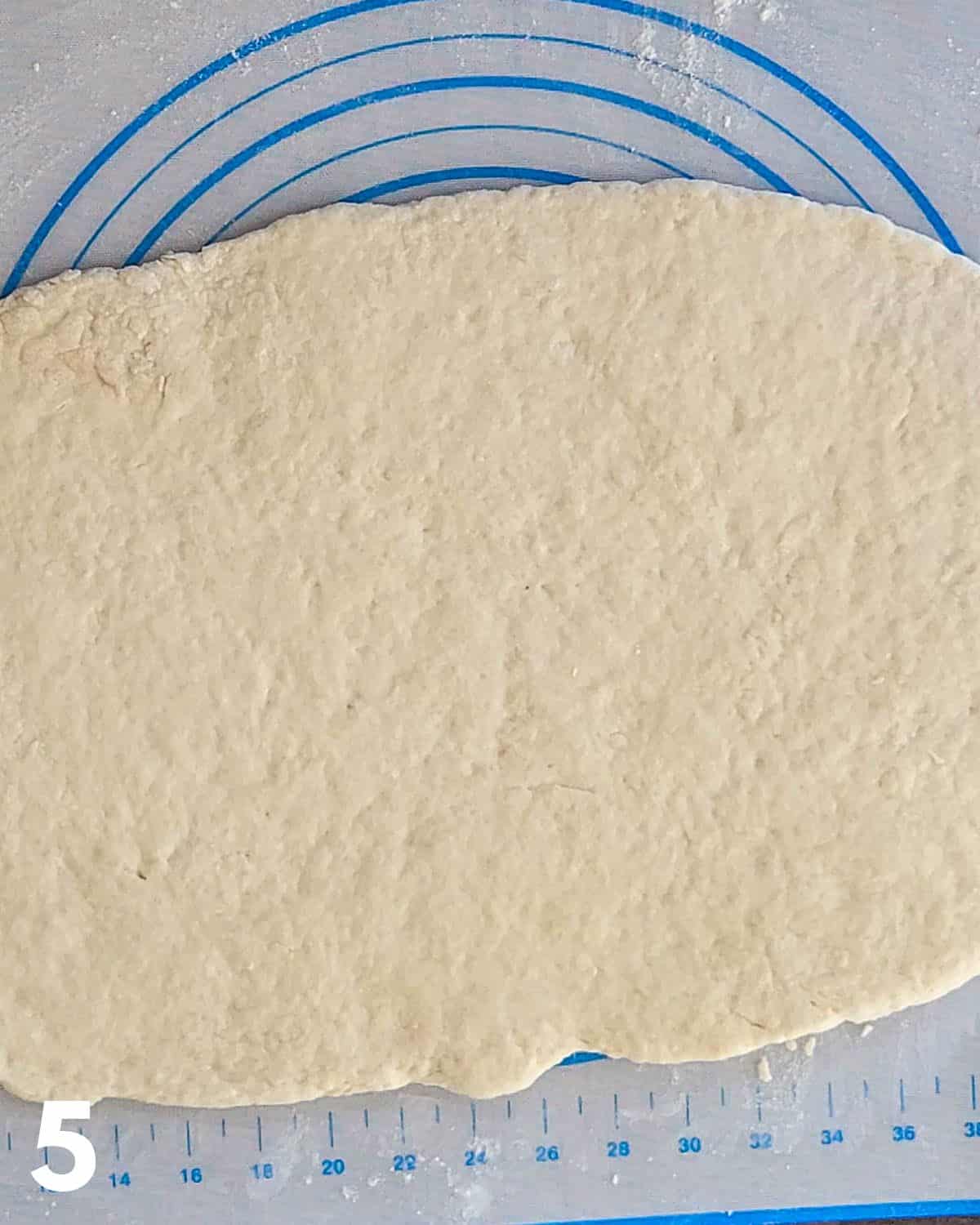 Sprinkle a bit more flour on the work surface and place the dough on top. Sprinkle more flour over the top and roll the dough until it measures approximately 16″ x 12″.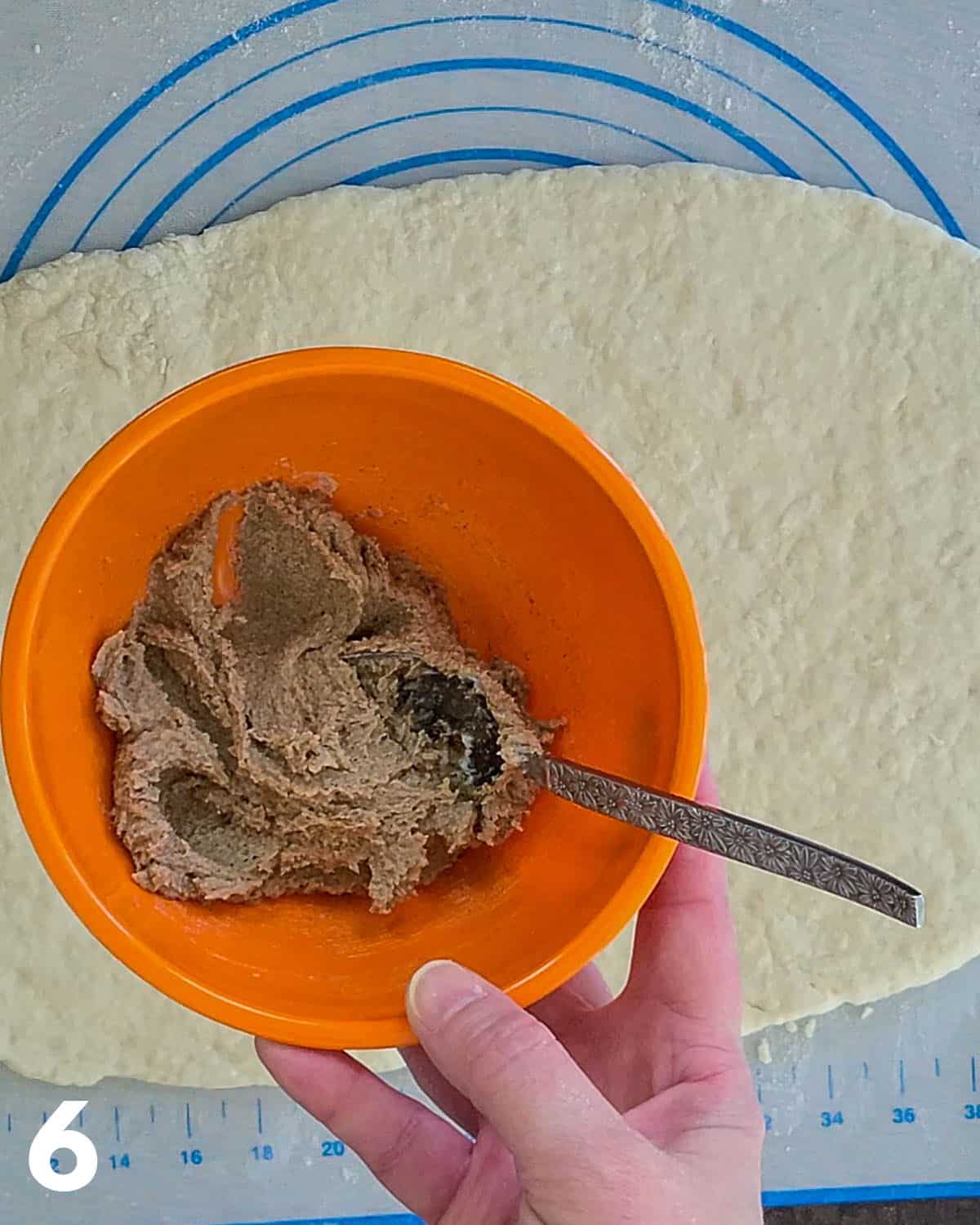 Mix the softened butter with the sugar, brown sugar, and cinnamon in a small bowl.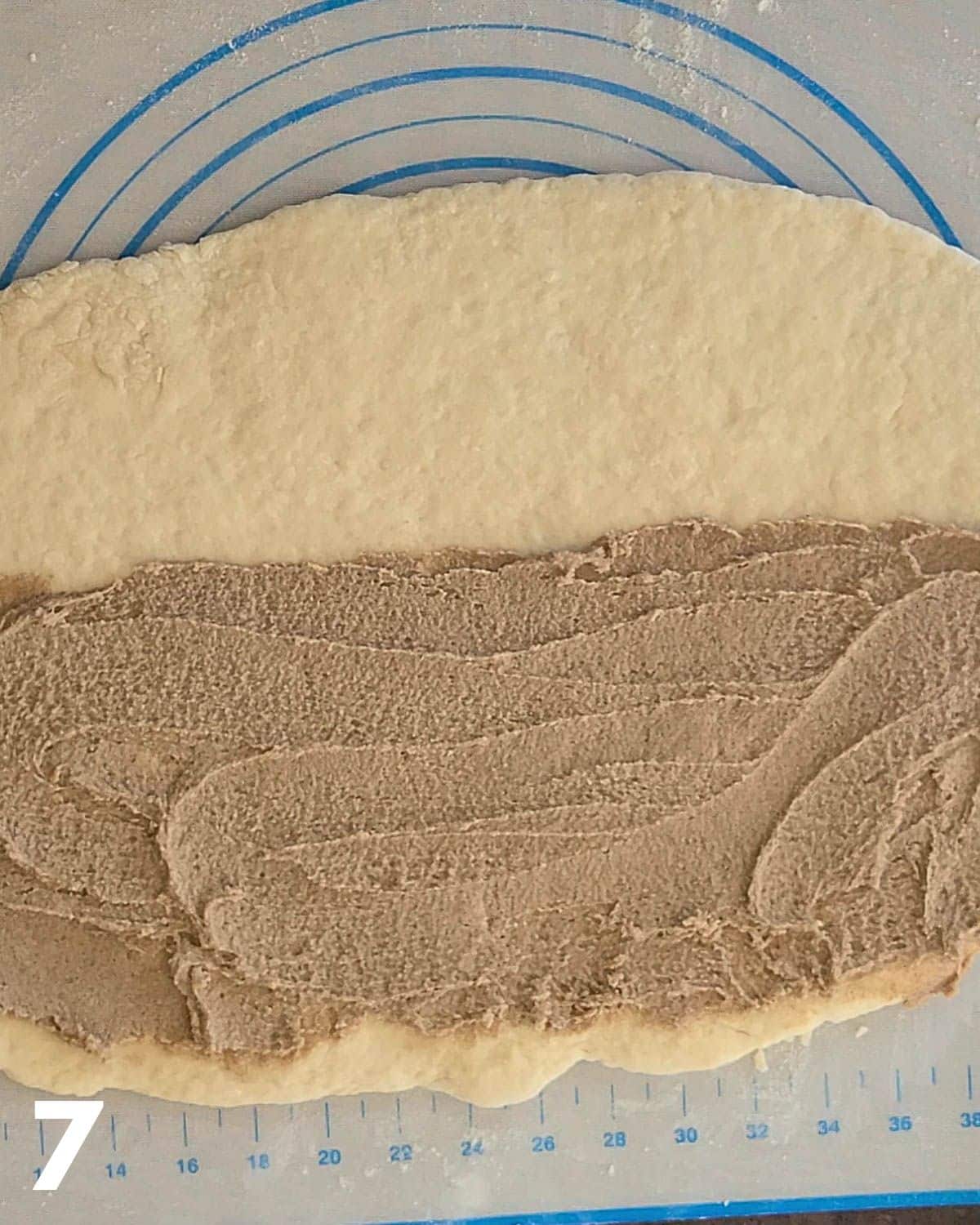 Spread the cinnamon mixture onto half of the rolled-out dough. Fold the dough over and seal the edges by pressing them together lightly.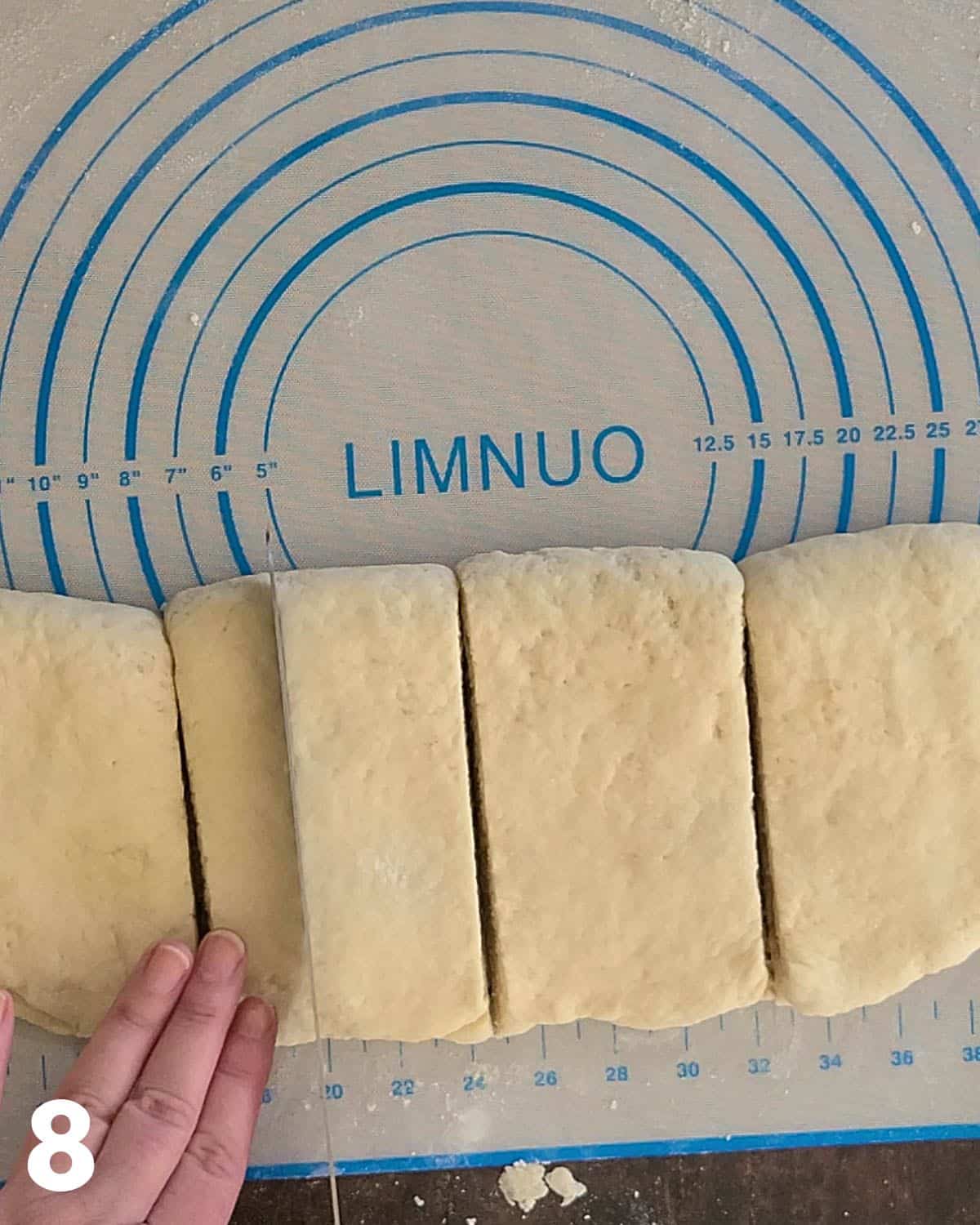 Cut the folded dough in half, then cut each half in half. You now have four sections.
Cut each of those four sections into three pieces. You should have 12 strips of folded dough.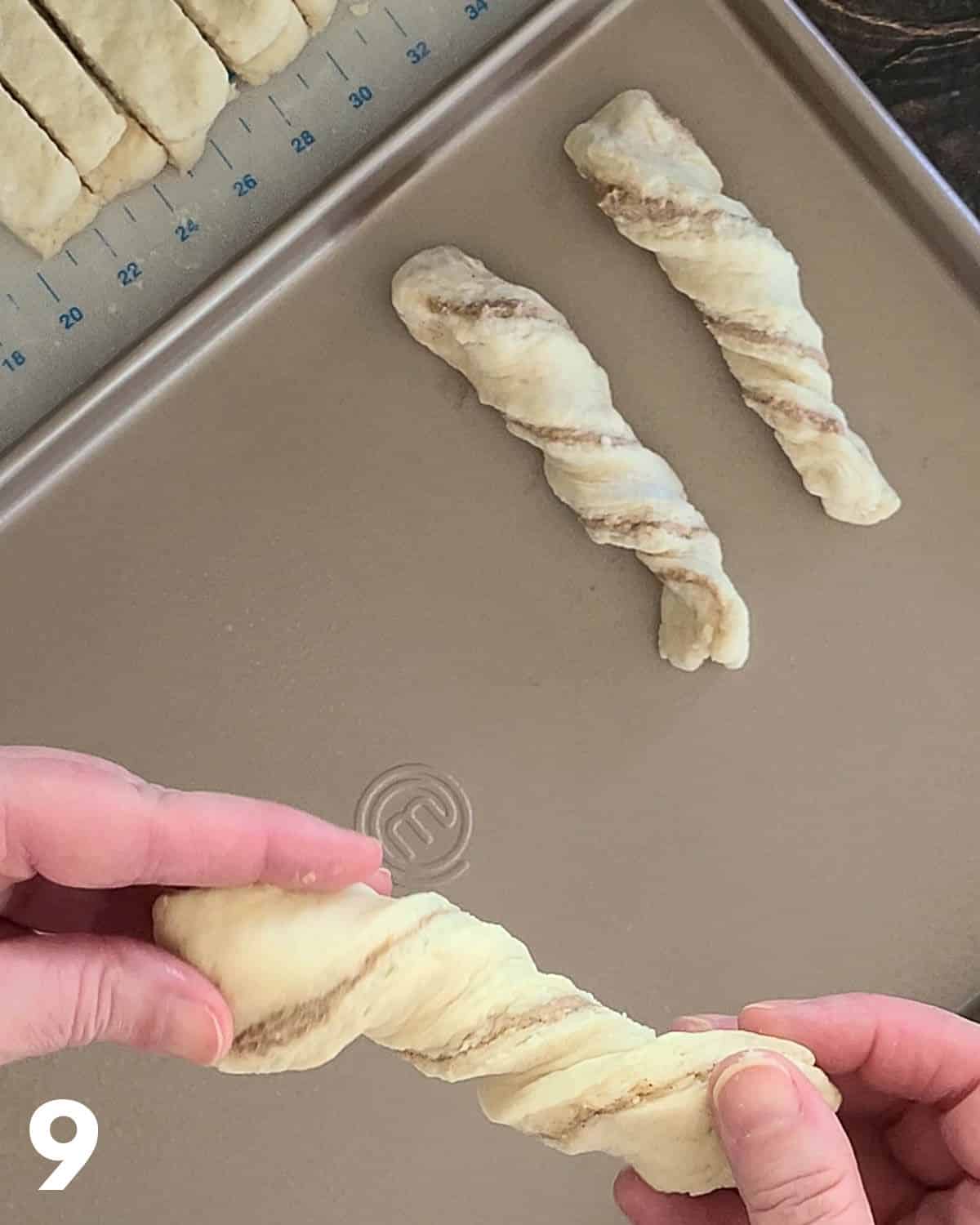 Pick up a strip of the cinnamon twist dough and give two or three turns to make the twist. Place each strip on the baking sheet.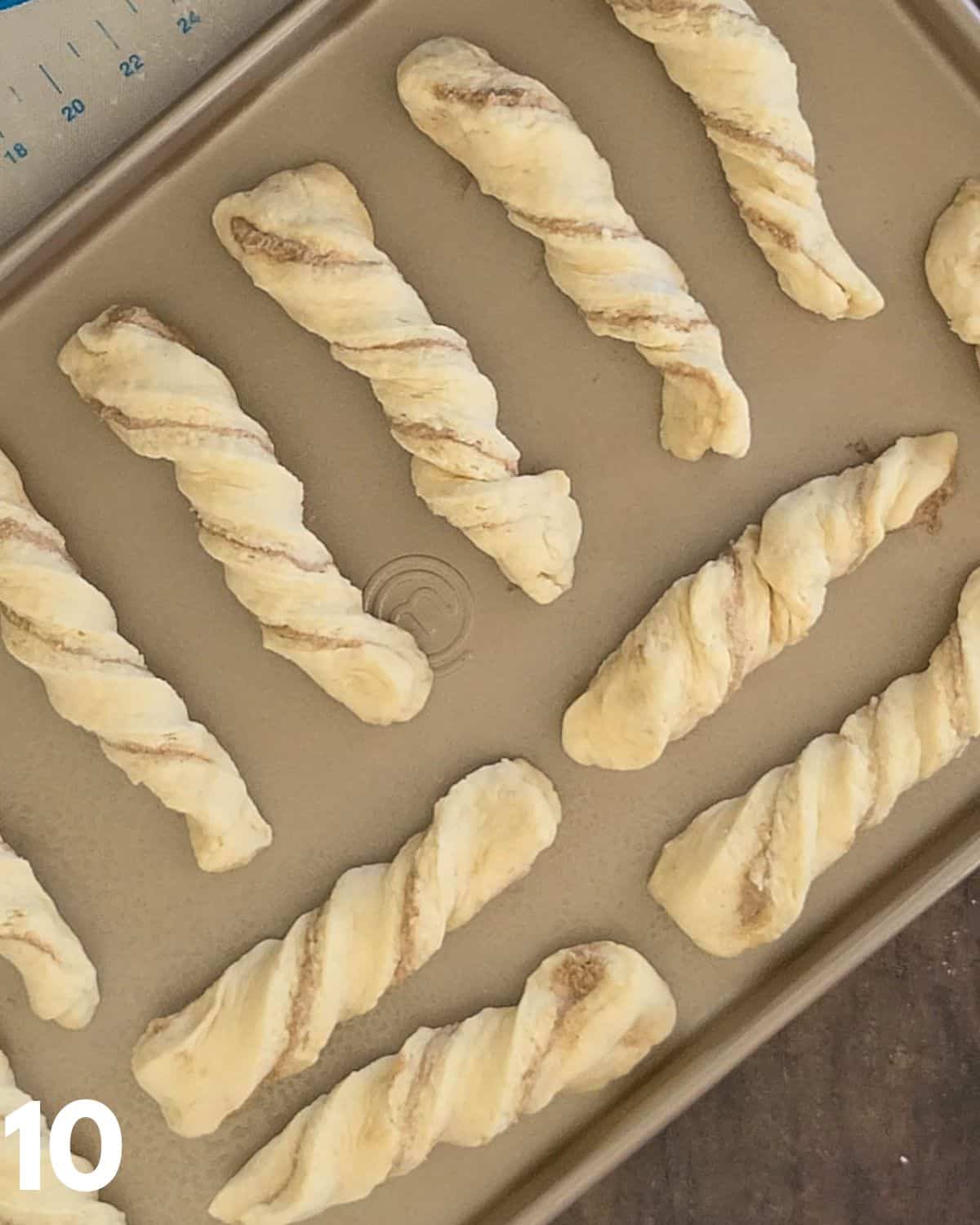 If you have an older baking sheet, you may want to spray it with non-stick spray. You can also use foil if needed.
All 12 cinnamon twist strips should fit on a large baking sheet.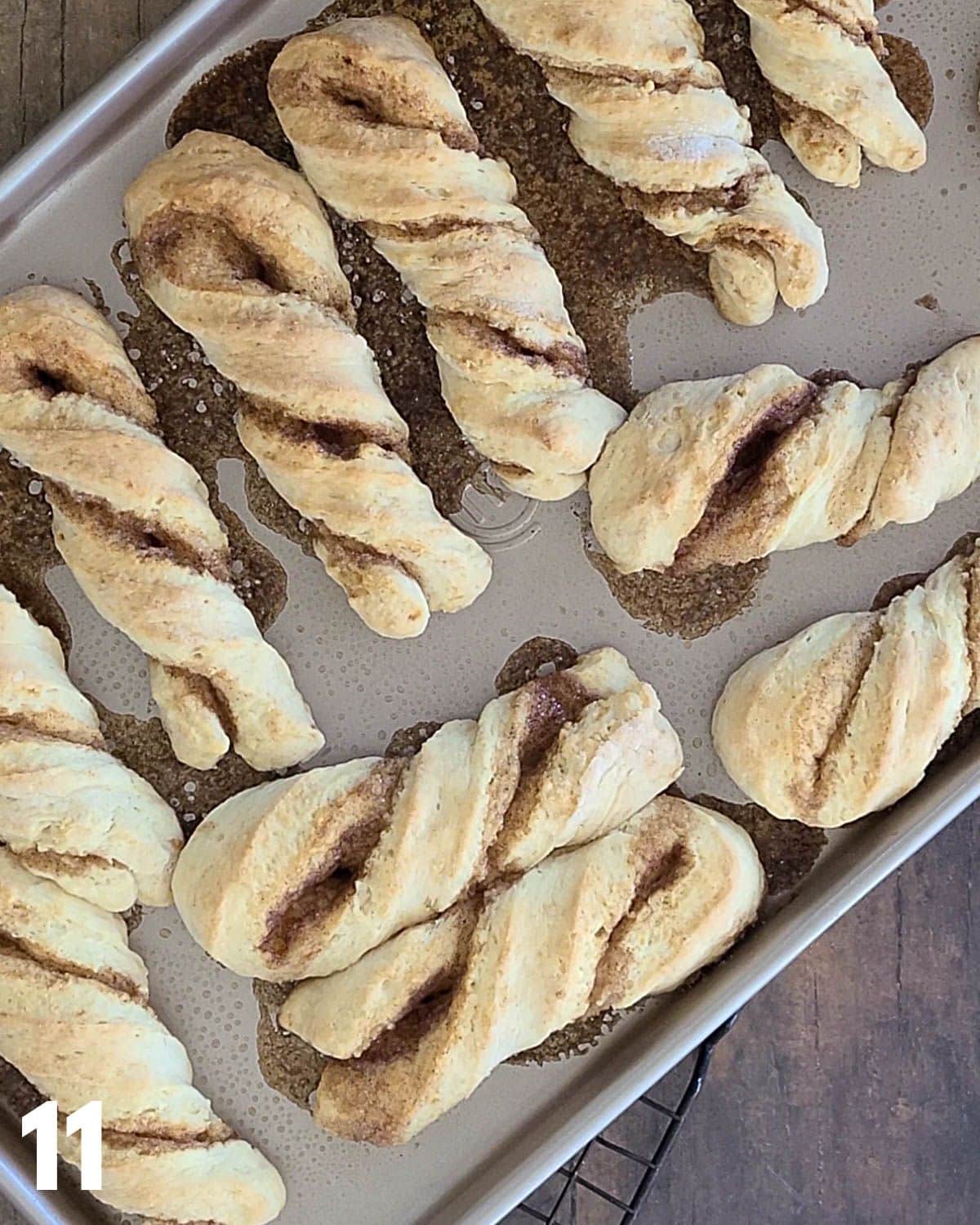 Bake the cinnamon twists for 20-25 minutes. If you want a darker golden brown, brush the twists with melted butter before baking.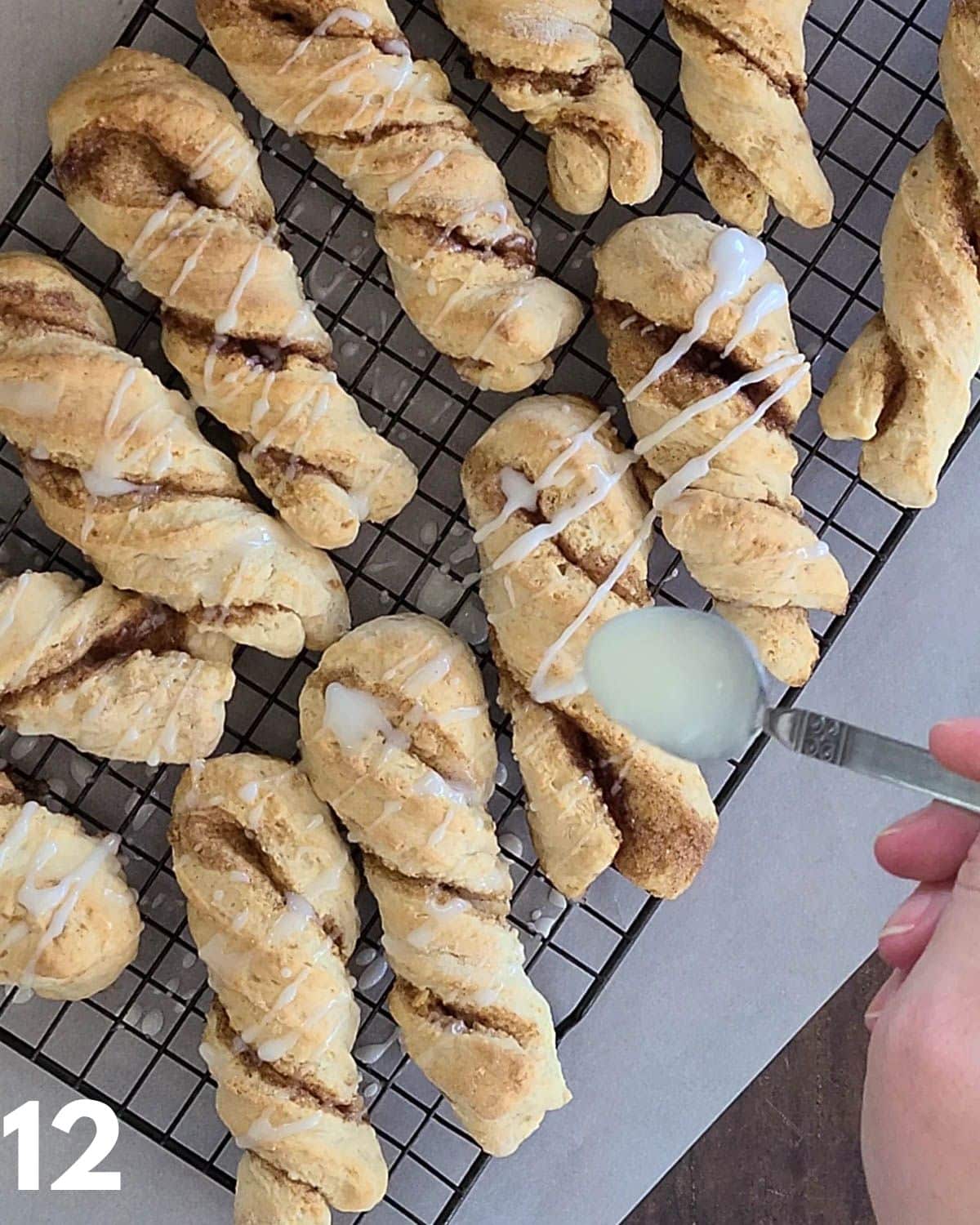 Let the cinnamon twists cool slightly and place on a rack. Drizzle the twists with some glaze if desired.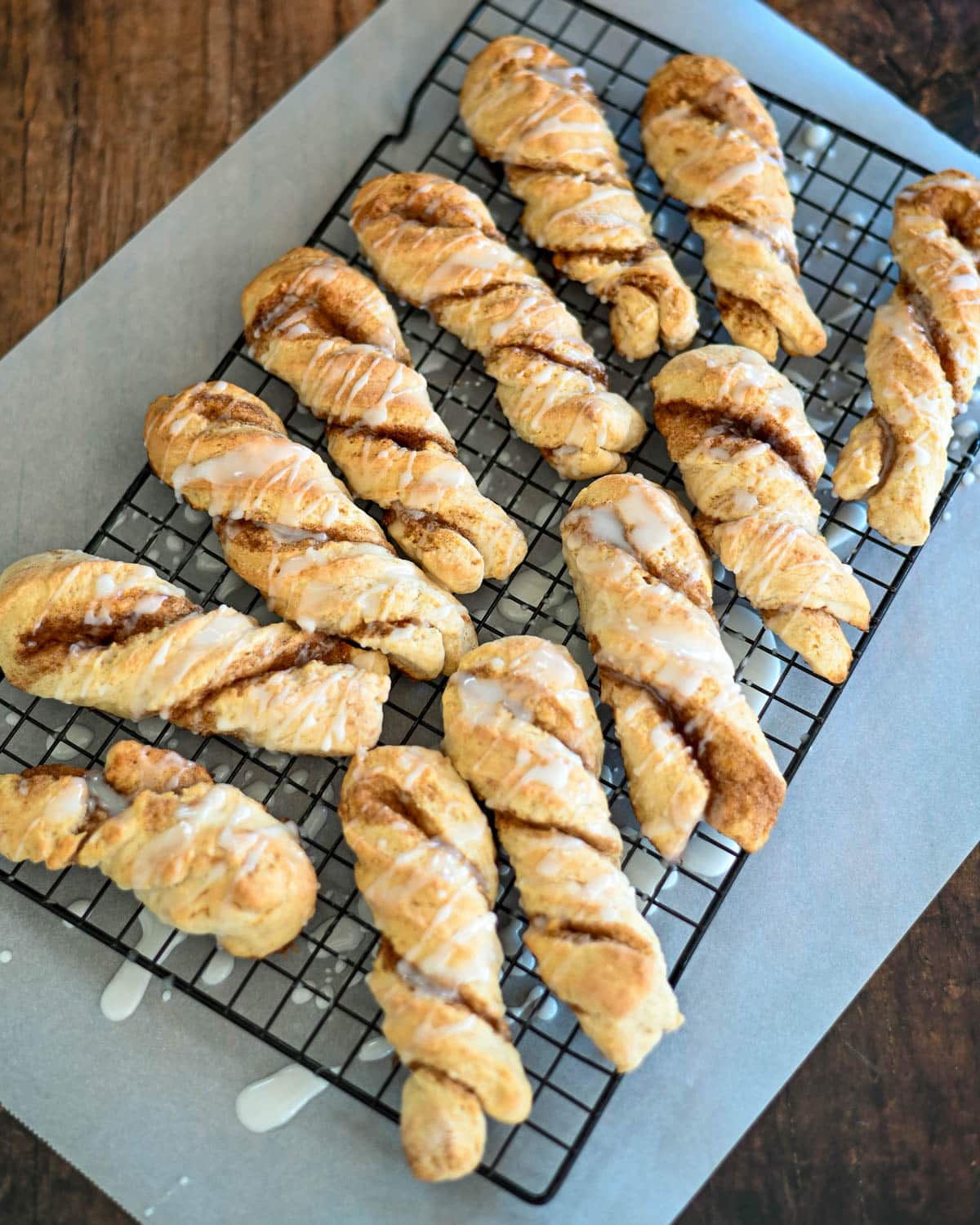 These Cinnamon Twists are best served warm. Store any leftover twists in a covered container. You can re-warm the twists in the microwave. Place the twist on a plate and cover lightly with a paper towel. Heat for 20 to 30 seconds at medium power.
Other recipes you might like
Why is the dough a little bit sticky?
No problem; gradually add a little flour until the dough is workable.
Our cinnamon twists a little dry.
You may have added too much flour. The best workaround is to spread some butter over the top of the cinnamon twists while they are warm. Next time you try the recipe, add the flour slowly and only add enough to make the dough workable, not firm.
What if I don't have buttermilk?
If you don't have buttermilk available, mix 1 cup of milk with one tablespoon of white vinegar or one tablespoon of lemon juice. Stir and let the milk set for a few minutes. You will notice it has thickened up.
Mom tip
Next time you plan on making cinnamon rolls, make the dough into twists instead. This method can also be used with yeast dough. Just remember to let them rise before baking!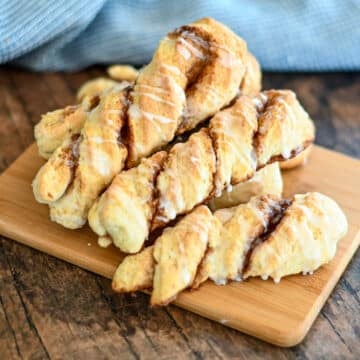 For the dough
Preheat oven to 400 degrees F.
Whisk the flour, sugar, baking powder, baking soda, and salt in a large bowl.
Add the melted butter and buttermilk. Mix with a sturdy spoon to combine the ingredients.
Move the dough to a floured work surface and knead until a ball starts to form. You want the dough workable (not too sticky) but not extra firm.
Working on a well-floured surface, roll out the dough until it measures approximately 12″ x 16″.
Mix together the sugar, brown sugar, cinnamon and butter.
Spread cinnamon mixture over half of the dough.
Carefully fold the dough in half lengthwise, then cut it into 12 strips.
Pick up a strip of the cinnamon twist dough and give 2 or three turns to make the twist. Place each strip on the baking sheet.
Bake for 20 – 25 minutes, until golden brown. Cool slightly and remove from pan.
For the glaze, mix together the powdered sugar and milk. Drizzle glaze over the Cinnamon Twists.
If you have an older baking sheet, you may want to spray it with non-stick spray. You can also use foil if needed.
If you would like a darker golden brown, you can brush the twists with melted butter before baking.
To warm up the cinnamon twists, place the twist on a plate and cover lightly with a paper towel. Heat for 20 to 30 seconds at medium power.
Reader Interactions
Go to Recipe
Cinnamon Fruit Biscuits
Because these sweet treats are so easy, I'm almost embarrassed when people ask me for the recipe. They're a snap to make with refrigerated buttermilk biscuits, sugar, cinnamon and your favorite fruit preserves. —Ione Burham, Washington, Iowa
Quick Cherry Turnovers
Refrigerated crescent rolls let you make these fruit-filled pastries in a hurry. My family loves these turnovers for breakfast, but they're so delicious, they'd be welcome any time of the day. Feel free to experiment with other pie fillings as well. —Elleen Oberrueter, Danbury, Iowa
Chocolate Banana Bundles
Banana with chocolate is such an irresistible combo that I make this quick dessert often. You can also top these tasty bundles with the butter and brown sugar mixture left over from coating the bananas, or sprinkle on a dash of sea salt. —Thomas Faglon, Somerset, New Jersey
Caramel Bubble Ring
Lots of caramel and ice cream topping make this quick pull-apart bread oh so gooey and delicious. It truly is a finger-lickin' good baked good.—Laura Clifton, Wenatchee, Washington
Lemon Pound Cake Muffins
I make these lemony muffins for all kinds of occasions. My family always requests them when we have a brunch. They're so good! —Lola Baxter, Winnebago, Minnesota
Cherry Chip Scones
These buttery scones dotted with dried cherries and vanilla chips are so sweet and flaky that I sometimes serve them for dessert. —Pam Brooks, South Berwick, Maine
Chocolate Toffee Biscuits
These sweet, crunchy biscuits are so quick and easy to mix up, they're my go-to treat with my morning coffee. —Wendy Weatherall, Cargill, Ontario
Ricotta-Raisin Coffee Cake
These few ingredients go together quickly so I can have a warm coffee cake to serve overnight guests for breakfast. If you don't have or don't like cardamom, substitute any sweet spice. I recommend ground nutmeg, cinnamon or allspice. —Carol Gaus, Elk Grove Village, Illinois
Raspberry Cheese Danish
After trying a pumpkin scone at a coffee house, I was inspired to look for a recipe to try at home. The glaze nicely complements the pumpkin flavor.
Banana Macadamia Muffins
These muffins taste even better the next day, so to save time, I often make them the night before. They stay moist for days. —Stasha Wampler, Clinchport, Virginia
Banana Beignet Bites
When I was a little girl, my grandmother took me aside one day and taught me how to make her famous banana beignets. Although we made them during the holidays, they're pretty fantastic any time of the year. —Amy Downing, South Riding, Virginia
Berry-Filled Doughnuts
Four ingredients are all you'll need for this sure-bet breakfast treat. Friends and family will never guess that refrigerated buttermilk biscuits are the base for these golden, jelly-filled doughnuts. —Ginny Watson, Broken Arrow, Oklahoma
Lemon Pull-Apart Coffee Cake
I found this recipe in a newspaper and make it often. I like to bake this coffee cake when unexpected company stops in and I need something speedy to go with a cup of coffee. —Mary Tallman, Arbor Vitae, Wisconsin
Pumpkin Ginger Scones
I made these lovely scones one day when looking for a way to use up leftover pumpkin, and I was so excited with the results. I often use my food processor to stir up the dough just until it comes together. It's so simple to prepare this way. —Brenda Jackson, Garden City, Kansas
Apricot Cream Biscuits
Melt-in-your-mouth good when warm, these shortcut biscuits with a hint of orange prove that the right mix really can offer homemade taste. —Betty Saint Turner, Attalla, Alabama
Pecan Coffee Cake
My mom serves this nutty coffee cake for Christmas breakfast each year. The simple recipe is a big timesaver on such an event-filled morning. Everyone loves the crunchy topping. —Becky Wax, Tuscola, Illinois
Pumpkin Doughnut Drops
I always have a few special treats handy when the grandchildren visit. These cake doughnuts are one of their favorite snacks. —Beva Staum, Muscoda, Wisconsin
Cranberry Banana Coffee Cake
I make this moist cake for Christmas morning every year. It tastes like banana bread but has a sweet golden topping with a nutty crunch. —Gloria Friesen, Casper, Wyoming
Glazed Doughnut Holes
Here's a simple recipe to create a colorful and fun breakfast—or snack! For the glaze, use any type of juice you like. —Taste of Home Test Kitchen
Sour Cream Chip Muffins
Take one bite and you'll see why I think these rich, tender muffins are the best I've ever tasted. Mint chocolate chips make them a big hit with my family and friends. —Stephanie Moon, Boise, Idaho
Apple Pear Coffee Cake
A friend gave me this apple pear coffee cake recipe to make for a breakfast I was hosting. The pan was empty before the breakfast was over! It's one of my most-requested recipes, probably because it's a bit different. —Joanne Hoschette, Paxton, Massachusetts
Cranberry Nut Muffins
These are delicious, beautiful muffins. I serve them during the holidays or anytime cranberries are available. The leftovers always make good breakfast treats. Through the years I've tried many cranberry recipes for bread and muffins, but this remains my family's all-time favorite! —Flo Burtnett, Gage, Oklahoma
Buttercup Squash Coffee Cake
Cappuccino Muffins
These are my favorite muffins to serve with a cup of coffee or a tall glass of cold milk. Not only are they great for breakfast, they make a tasty dessert or midnight snack. I get lots of recipe requests whenever I serve them. The espresso spread is also super on a bagel. —Janice Schulz, Racine, Wisconsin
Rich Chocolate Chip Coffee Cake
When I was a teacher, this recipe was recommended by one of my student's parents. I've made it so many times, I can't imagine hosting a brunch without it. Chocolate chips add sweet bursts of flavor to the rich and tender coffee cake. —Michelle Krzmarzick
Torrance, California
Raspberry Breakfast Braid
We also like using blackberries, Marionberries, a mixture of raspberries and blackberries, or all three in this quick and easy pastry. —Tressa Nicholls, Sandy, Oregon
Pecan Pie Mini Muffins
While these are delicious year-round, you could easily turn them into an edible Christmas gift. They look festive on a decorative tray wrapped in red or green cellophane or tucked into a giveaway cookie plate. And don't forget to include the recipe so your recipient can enjoy this treat over and over again! —Pat Schrand, Enterprise, Alabama
Monkey Bread
Both of my boys really enjoyed helping me make this butterscotch monkey bread when they were young. It seemed to taste twice as good when they helped fix it. It's one of our favorites for breakfast or as a snack. —Carol Allen, McLeansboro, Illinois
Cherry Almond Streusel Scones
My kids and I love to mix the ingredients together and turn out these delicious scones. The tart cherries and the brown sugar and almond streusel complement the tender scones perfectly. —Teresa Ralston, New Albany, Ohio
Monkey Bread Biscuits
I came up with an easy, savory—instead of sweet—dinner version of monkey bread featuring garlic and Italian seasoning. —Dana Johnson, Scottsdale, Arizona
Cinnamon Doughnut Muffins
Back when my children were youngsters, they loved these doughnut muffins as after-school treats or with Sunday brunch. —Sharon Pullen, Alvinston, Ontario
Lemon Blueberry Drop Scones
I enjoy serving these fruity scones for baby and bridal showers. They're a bit lower in fat than most other scones, so you can indulge with little guilt. —Jacqueline Hendershot, Orange, California. Check out this drop scones recipe by Queen Elizabeth.
They Still Rise to the Occasion
No yeast? No problem! These easy baking recipes require no yeast and bake up quickly in your home oven. Whether you want to bake bread without yeast or try your hand at homemade treats such as cinnamon rolls and scones, but don't have any on hand, these recipes will do the trick.
This shortcut recipe for quick no yeast cinnamon rolls makes buttery, homestyle rolls that fluff up beautifully—and in record time! Since you're skipping the yeast, you can also skip the traditional dough rising and kneading and have cinnamon rolls in about 40 minutes. They're perfect for the times you crave homemade cinnamon rolls, and don't want to wait!
I've been on a quest to develop a recipe for quick cinnamon rolls that maintain all the flavor and fluff without the patience and work that yeast requires. (Because, in reality, I'm tired but still want to bake something. LOL.) My homemade cinnamon rolls take about 4 and 1/2 hours, or need to be prepped the night before. Even my easy cinnamon rolls require patience, rising, and kneading.
So if you want from-scratch cinnamon rolls NOW, make today's no yeast version.
These No Yeast Cinnamon Rolls Are
Convenient if you're busy and tired but still want homemade cinnamon rolls.
Ready in less than 45 minutes.
Soft, fluffy, and buttery.
NOT dense! Surprisingly not dense at all!
Packed with sweet brown sugar and cinnamon spice.
Slathered with tangy cream cheese icing.
Perfect as a special breakfast without all the work and waiting.
Plus, there's NO kneading, NO rising, and the dough comes together in just 1 bowl. And you can bake them in a pie dish, cake pan, or even as cinnamon roll muffins. This recipe is dynamite.
Key Ingredients & Why This Recipe Works
Baking Powder & Baking Soda: Since we're skipping yeast, we need to replace it with another leavener. (Unless you want to eat cinnamon hockey pucks for breakfast!) I tried the dough with only baking powder at first, but quickly learned the dense rolls benefitted from a little baking soda as well. With the crutch of baking soda, the next batch browned a little nicer and fluffed up more.
Cold Buttermilk: Since we're using a little baking soda, we need an acid in the dough. Buttermilk does the job, plus it also adds a little tang, a little fluff, and a little softness. (Like it does in pancakes!) And grab the buttermilk right from the refrigerator because cold milk keeps the otherwise soft and buttery dough workable.
Baking soda, melted butter, and buttermilk are also key ingredients in my no yeast bread recipe.
After a few trials and errors, I was shocked with the final result. These no yeast cinnamon rolls taste similar to the yeasted version and only took me about 40 minutes total. Obviously they're not as flaky and doughy as the traditional, but I don't think anyone would EVER notice or complain that there's no yeast. (My 10+ taste testers ooh'd and ahh'd without batting an eye!)
Here are all of the ingredients you need for the dough & filling:
How to Make Quick No Yeast Cinnamon Rolls
You can go from craving to eating warm, gooey from-scratch cinnamon rolls in record time. Here's how my recipe works:
Make the dough: Whisk the dry ingredients together, then add in the wet ingredients. The dough should be quite soft, but not overly sticky.
Shape the cinnamon rolls: Roll the dough into a 10×14-inch rectangle. This measurement doesn't need to be exact, so don't stress. Spread butter on top and then sprinkle with cinnamon and brown sugar. Tightly roll up the dough and cut into 12 pieces. Place in a greased pan.
Make the icing: While the cinnamon rolls bake, make the icing using cream cheese, butter, confectioners' sugar, and vanilla extract.
Eat: Slather the icing on your warm cinnamon rolls and enjoy!
Here are step-by-step photos so you know what to expect:
The assembly steps are exactly like regular cinnamon rolls, only without the rise time.
Before cutting, you can mark the 14-inch log with a knife to ensure you have 12 even rolls. That's what I usually do:
Expect a Soft Dough
Do not incorporate more flour than you need in this dough. I want you to embrace a soft dough. Instead of mixing more flour INTO the dough to make it workable, use extra flour when shaping the rolls. If the dough is sticking to your counter and rolling pin as you work, dust it all with more flour.
Bottom line: Mixing in more flour than you need could result in crumbly, dense rolls. Instead, use it when assembling the rolls.
Cream Cheese Frosting
This cream cheese icing uses a little more butter and a little less confectioners' sugar than the icing I typically use on cinnamon rolls. But I love that it doesn't use gobs of confectioners' sugar; it's a nice creamy, buttery, tangy blanket for your rolls. You could also try the maple version used on these pumpkin cinnamon rolls, or for a simpler topping, try this vanilla icing instead.
Can I Bake These as Cinnamon Roll Muffins?
Yes! If you love the slightly crusty, chewy exterior of a cinnamon roll that's been baked closest to the edge of the pan, try baking these no yeast cinnamon rolls as muffins. After cutting your 12 rolls, place them in a greased standard 12-count muffin pan. Each roll gets that crusty edge all the way around, and they puff up beautifully when they bake. Such a fun recipe!
If you ever need an even quicker and easier option, these mini (no yeast) cinnamon buns use packaged crescent dough.
And if you're on a roll (ha!), try these cinnamon roll cookies too. 😉
See Your No Yeast Cinnamon Rolls!
This shortcut recipe yields a dozen classic, homestyle cinnamon rolls that fluff up beautifully—without any yeast, kneading, or rise time. They're perfect for the times you crave homemade cinnamon rolls, and don't want to wait!
and 3/4 cups () all-purpose flour (spoon & leveled), plus more as needed for rolling
() granulated sugar
baking powder
baking soda
salt
large egg
(180ml) buttermilk, cold*
() unsalted butter, melted & slightly cooled
Filling
() unsalted butter, extra softened
() packed light or dark brown sugar
ground cinnamon
Cream Cheese Icing
() butter, softened to room temperature
() confectioners' sugar
pure vanilla extract
Preheat the oven to 375°F (190°C) and grease a round 9-inch pie dish or 9-inch cake pan. (See Notes for muffin pan instructions.) For extra buttery rolls, I like to grease the baking dish with 1–2 teaspoons of melted butter instead of non-stick spray.
Make the dough: Whisk the flour, granulated sugar, baking powder, baking soda, and salt together. Add the egg, buttermilk, and melted butter. Mix with a wooden spoon or rubber spatula until a dough forms. Dough will be very soft and slightly sticky. If it's too sticky and wouldn't roll, add more flour, 1 Tablespoon at a time, until dough seems workable. Do not add more flour than you need; a soft dough is good.
Place dough on a floured work surface and, using a lightly floured rolling pin, roll dough into a 10×14-inch (25x35cm) rectangle.
Fill the rolls: Spread softened butter (the softer it is, the easier it is to spread!) all over the dough. Mix the brown sugar and cinnamon together. Sprinkle all over the top. Roll it up tightly into a 14-inch log. Using a very sharp knife, cut into 12 rolls; each roll is slightly wider than 1 inch. Arrange rolls in the prepared pan.
Make the icing: In a medium bowl using a handheld or stand mixer fitted with a paddle or whisk attachment, beat the cream cheese on high speed until smooth and creamy. Add the butter and beat until smooth and combined, then beat in the confectioners' sugar and vanilla until combined. Using a knife or icing spatula, spread the icing over the warm rolls and serve immediately.
Cover leftover frosted or unfrosted rolls tightly and store at room temperature for up to 2 days or in the refrigerator for up to 5 days.
Notes
Make Ahead Instructions: If absolutely needed, you can make the dough and assemble the rolls the night before. Cover and refrigerate, then bring to room temperature before baking as directed. The rolls don't puff up quite as nicely since the baking powder initially activates once wet. For best results, bake right away.
Freezing Instructions: Baked rolls can be frozen for up to 2–3 months. Thaw overnight in the refrigerator and warm up before enjoying.
Buttermilk: Buttermilk is required for this recipe, but in a pinch you can make your own DIY version of buttermilk if needed. Add 1 teaspoon of white vinegar or lemon juice to a liquid measuring cup. Then add enough whole milk to the same measuring cup until it reaches 3/4 cup. Stir it around and let sit for 5 minutes. The homemade "buttermilk" will be somewhat curdled and ready to use in the recipe.
Icing Alternatives: If cream cheese isn't your favorite, you could top the rolls with vanilla icing, the brown sugar icing from these pumpkin donuts, maple icing from maple cinnamon rolls, or even the caramel icing from apple cinnamon rolls. Lots of options!
Keywords: no yeast cinnamon rolls