This no-bake cake is made from biscuits, cottage cheese, and sweetened condensed milk. A sweet cream of cottage cheese and condensed milk is divided and cocoa is stirred into one half. Then biscuits, bananas and cream are layered alternately. After cooling in the fridge, the biscuit cake is topped with walnuts and served.
Please review recipe:
Ingredients
400 g quark
200 g sweetened condensed milk
1 tsp cocoa
2/3 cup milk
30 biscuits
1 banana
vanillin sugar, to taste
walnuts, for decoration
Utensils
bowl
spoon
large cake plate
cake ring
Instructions
Mix together half of the curd and half of the condensed milk with vanilla sugar.
In another bowl, mix together the second half of the curd with the remaining condensed milk and cocoa.
Place a cake ring on a flat plate.
A layer of biscuits Place on the plate.
Spread the light quark-vanilla mixture over the layer of biscuits.
Place slices of banana on top of the cake and spread with the cream.
Place the next portion of biscuits on top of the quark mixture and distribute the quark-chocolate mixture .
Place the cake in the fridge for several hours to set.
Decorate the biscuit cake with walnuts and enjoy with coffee.
That could also be interesting
This is a great ending for almost any meal that kids and adults all enjoy. The creamy lemon filling is always a hit with my husband. —Elizabeth Yoder, Belcourt, North Dakota
Go to Recipe
Simple Lemon Mousse
This classic, simple lemon mousse recipe is the refreshing dessert you need. Serve it with fresh fruit or eat it alone. —Taste of Home Test Kitchen
Lemony Limoncello Tiramisu
This limoncello tiramisu is a delightful citrus twist on a classic Italian dessert. It's always a favorite at holiday meals or summer gatherings! —Deena Resnick, Oregon City, Oregon
Lemon Ice
Limoncello Cream Pie
After a big Christmas dinner, we love the cool refreshment of a frozen lemon pie. Limoncello brings a little sophistication to each smooth, creamy slice. —Jessie Grearson-Sapat, Falmouth, Maine
Lemon Sherbet
Lemon juice provides the snappy flavor in this wonderful lemon sherbet recipe from our Test Kitchen. The light, make-ahead treat looks splendid served in individual "boats" made from lemon halves. —Taste of Home Test Kitchen, Milwaukee, Wisconsin
Coconut-Lemon Ice Cream Cake
This lemon ice cream cake is a cool treat my family loves anytime, but we find it especially refreshing on a hot summer day. The cream of coconut and lemon juice make a delicious combo, and the streusel adds a nice crunch. You can substitute any crunchy sugar, lemon or coconut cookie in place of the shortbread, as long as each cookie is about 2 inches. —Janet Gill, Canton, Ohio
Lemon Snow Pudding
My mother first served this light and refreshing snow pudding at a dinner for my brother, his new bride and their wedding guests back in the early '40s. When I got married in '47, I made sure I had the recipe. —Eula Voehl, Ottumwa, Iowa
Lemon Snowball
For a special occasion like a church supper, I make this beautiful dessert. The lemon and coconut flavors go so wonderfully together. Everyone will be asking for the recipe.—Lucy Rickers, Bonsall, California
Easy Lemon Berry Tartlets
These fruity, flaky tartlets filled with raspberries and topped with lemon-tinged cream cheese are a sweet ending to any weeknight meal. They are elegant yet come together quickly and easily. —Elizabeth Dehart, West Jordan, Utah
Blueberry Lemon Trifle
A refreshing lemon filling and fresh blueberries give this sunny dessert sensation plenty of color. Don't worry about heating up the oven—this trifle doesn't require baking. —Ellen Peden, Houston, Texas
Layered Lemon Dessert Squares
I found this recipe in an old cookbook and changed it to be extra citrusy. If you're a fan of Key lime pie, try lime flavors instead of lemon. —Dawn E. Lowenstein, Huntingdon Valley, Pennsylvania
No-Bake Blueberry Cheesecake
For an airy delight on a summer afternoon, try this mouthwatering cheesecake from Hastings, Nebraska's Ken Gallagher. Because it doesn't contain eggs, it's lighter but also very creamy and refreshing.—Ken Gallagher, Hastings, Nebraska
Berry, Lemon and Doughnut Hole Trifle
After my son called and said he was bringing home his college roommates, I was able to whip up this quick yet impressive dessert in only a few minutes. It's been a family favorite ever since. —Ellen Riley, Murfreesboro, Tennessee
Lemon Pie
This refreshing lemon pie is mixed in minutes and chilled while dinner is being served. —Joanne Schlabach, Shreve, Ohio
Lemon Ginger Icebox Cake
Everyone searches for grand desserts that have easy ingredients and minimal effort. My lemony ginger icebox cake is the answer. It's a holiday lifesaver. —Suzanne Banfield, Basking Ridge, New Jersey. If you don't prefer ginger in your cake, then be sure to check out this simple four-ingredient lemon icebox cake.
Fruit Juice Pops
I've used this recipe for years as a refreshing treat. My children enjoyed these pops more than any store-bought ones I ever brought home. They taste great with either pineapple or orange juice. Try freezing and serving in cups made from hollowed-out oranges. —Barbara Stewart, Garland, Texas
Lemony Coconut Frozen Yogurt
Sweet & Tart Lemon Jell-O
With its sunny lemon color, this gelatin mold brightens up any table. I usually make two molds for parties because it disappears so quickly. —Patricia Ryzow, Thousand Oaks, California
Red, White & Blue Berry Trifle
This luscious trifle tastes best if made the day before serving. Keep additional berries on hand for decoration. —Kaia McShane, Munster, Indiana
Lemon-Apricot Fruit Pops
With just 31 calories and less than 1 tsp. sugar per serving, these lemon ice pops are one light and refreshing summer dessert everyone can find room for! —Aysha Schurman, Ammon, Idaho
Lemon Custard Cake
This lemon custard cake recipe comes from my grandma— it's nice to whip up when unexpected company stops in. It's a cool, creamy dessert that tastes like you fussed. —Sue Gronholz, Beaver Dam, Wisconsin
Lemon Chiffon Blueberry Dessert
This cool and creamy no-bake dessert is perfect for hot summer days. I sometimes replace raspberries for half of the blueberries to make it look more patriotic. —Jodie Cederquist, Muskegon, Michigan
Lemon Curd Tartlets
This has been in my party recipe collection for over 30 years and never fails to satisfy my guests. I can always rely on these fancy treats to please even the fussiest in the crowdt. —Jessica Feist, Pewaukee, Wisconsin
Frosty Lemonade Pie
Crushed lemon sandwich cookies give this creamy pie extra flavor. It's a wonderful dessert to store in the freezer for nights when you need a low-sugar treat in a hurry. —Emma Overby, East Prairie, Mississippi
Lemon Cream Delight
Indulging in this creamy dessert is like eating cheesecake out of a bowl. Light and luscious, it's a pleasing finish to any meal. —Inge Schermerhorn, Kingston, New Hampshire
Frozen Watermelon Lemon Cream Tarts
These fruit tarts are so refreshing on a hot summer day! They are extremely healthy and convenient, and just a few ingredients means they're easy to make, too. —Bethany DiCarlo, Harleysville, Pennsylvania
Lemon Bark
I wasn't a fan of white chocolate until I made this candy. It's tangy, sweet and creamy all at the same time. The bark was a lovely treat during a springtime shower but would be nice year-round. —Diana Wing, Bountiful, Utah
Buttery Lemon Sandwich Cookies
My grandson approves of these lemony sandwich cookies made with crackers and prepared frosting. Decorate them with whatever sprinkles you like. —Nancy Foust, Stoneboro, Pennsylvania
Lemonade Icebox Pie
You will detect a definite lemonade flavor in this refreshing lemon icebox pie. High and fluffy, this dessert has a creamy smooth consistency that we really appreciate. It's the dessert that came to mind immediately when I put together my favorite summer meal. —Cheryl Wilt, Eglon, West Virginia
Raspberry Lemon Layer Cake
Cooking is my best and biggest hobby – trying recipes with different flavor combinations like pound cake with lemon curd and raspberries. — Janice Baker, London, Kentucky
Breezy Lemon-Berry Dessert
I love the combination of berries and lemon, and wanted to come up with a light, refreshing and tasty dessert that used them both. —Anna Ginsberg, Austin, Texas.
Lemon Gelato
On a recent trip to Italy, I became addicted to gelato. My favorite choice was lemon because Italian lemons have an intense flavor. This recipe brings back memories of our vacation. —Gail Wang, Troy, Michigan
The light fluffy texture of this fantastic flourless yogurt cake is almost soufflé-like, and the flavour is tangy and cheesecake-like. It's a decadent treat you can eat without feeling guilty – a lightened up cheesecake made without heavy cream cheese. Serve it just plain, sprinkled with a dusting of powdered sugar, or dress it up for company with billows of softly whipped cream and a pile of fresh berries.
Well, the calendar says 'Spring' but the view out of my window still says 'Winter', so I need to bring a feeling of spring to my kitchen. This bright and light yogurt cake is just the way to do it. One bite and I can feel the sunshine warming my face and hear the birds chirping. The texture of the cake is light as a cloud and the flavour has the irresistible tang of a delicate cheesecake. Absolutely yummy!
In truth, we've been hearing the honking of the returning Canada geese flying overhead and seen them out and about in pairs in the neighbourhood ponds. It snowed all day yesterday. The world was white and roads were terrible.  Then today the sun on the snow is so bright it's blinding, and water is gurgling and running down the eavestroughs as the snow melts off the roof. I guess that's our springtime here in Alberta – here one day, in hiding the next. So it's time to celebrate with cake.
This easy yogurt cake only has a few ingredients. You do need to separate the eggs and beat the whites and yolks separately, but if you have a stand mixer or electric hand mixer, the task's a breeze. (Even if you're whisking it by hand, the job can feel oddly therapeutic and rewarding.)
Fold in some sugar (I like to use organic evaporated cane sugar), a good heap of Greek yogurt, and a few spoonfuls of cornstarch (again, I use organic so I know it's not genetically modified) or potato starch, and pile it all into a parchment paper lined baking pan. The cake is naturally gluten free, so you can serve it with confidence to guests with this food allergy.
The size of pan you use does make a difference here. A small pan (7-inches/18cm in diameter) will give you the highest lift and a more fluffy soufflé-like texture. The 7-inch size is not a common size (though I like to have it on hand, now that I'm often making a cake for just two of us), so you can use an 8-inch/20cm round cake pan. Keep in mind your yogurt cake will be flatter and more cake-like than if you use the smaller pan. Still tastes just as amazing, though.
Use a big enough piece of parchment paper so that it forms a raised wall to contain the batter as it rises. The cake will puff up gloriously in the oven, and then fall somewhat as it cools, forming the perfect indent to fill with whipped cream, or just a dusting of powdered sugar.
use a big piece of parchment paper that fits into the pan with extra to spare, and crease the folds to lie as flat as possible. I used a ridged tart pan, but often just use a straight-sided small springform pan
Once the cake has cooled, peel off the parchment paper. The wrinkles and folds add a rustic textural element to this luscious cake.
the yogurt cake is golden and ready to enjoy
How to Serve a Yogurt Cake
You can just dust the top with powdered sugar for a simple presentation.
a slice of this cake is a perfect snack
Or top the cake with a pillow of softly whipped cream (see how to stablilize whipped cream here, so it stays fresh and fluffy for days), and then pile on a mound of fresh berries or fruit, and dust it with some more powdered sugar 'snow' (the only kind of snow I want to be seeing around here).
How Else to Eat this Luscious Yogurt Cake?
This cake seems to just disappear off the counter in a couple days in our house – I think we have a serious problem with cake-elves, but I can never catch those little tricksters in the act! I can attest to the fact that a slab of this gloriously tangy and fluffy cake eaten out of hand is truly a treat. It satisfies any cheesecake cravings you may have, without any of the heavy cheesecake calories that usually go along with it. It's that delicious Greek yogurt – it provides the cheesecake flavour notes, and the beaten eggs provide the fluffiness. (Together they actually contribute a good amount of protein to this cake.)
Try the yogurt cake:
plain, with a dusting of powdered sugar
topped with whipped cream and fresh berries or fruit
topped with ice cream and chocolate sauce
served with a big dollop of rhubarb curd – spring on a plate!
alongside a bowl of baked rhubarb compote
topped with a dollop of jam and a spoonful of lightly sweetened yogurt – double yogurt delight!
with berry sauce and ice cream or whipped cream
with praline cream
alongside a fresh fruit salad
as part of a dessert platter with this Strawberry Flip Dip
However you choose to serve it, this simple Yogurt Cake can be the dessert star at your next gathering (it would make a lovely Easter finale) or it can be the everyday cake everyone looks for on the countertop when they're feeling 'snackish'. It fills that role admirably well at our house. In fact, a cup of tea and a slab of this cake make a mighty fine breakfast when I'm feeling like a light bite in the morning.
Light, bright, and not too sweet – this yogurt cake's one of those unsung heroes in the cake world.
Guten Appetit!
Flourless Yogurt Cake
The light fluffy texture of this fantastic flourless yogurt cake is almost soufflé-like and the flavour is tangy and cheesecake-like. It's a decadent treat you can eat without feeling guilty – a lightened up cheesecake made without heavy cream cheese. Serve it just plain, sprinkled with a dusting of powdered sugar, or dress it up for company with billows of softly whipped cream and a pile of fresh berries.
fine sea salt
(325gms) Greek yogurt, 2% fat content or higher
pure vanilla extract
(50gms) cornstarch, potato starch, arrowroot starch, or any combination of these
Preheat the oven to 325°F (170°C). Tear off a large piece of parchment paper and push it down into a 7-inch (18 cm) round springform pan or cake pan so that the paper sticks up at least an inch (2.5cm) all the way around. Flatten the creases in the paper as best you can. To get the best rise and fluffiest cake, it's important to use this small size of pan. If you use a larger pan (no bigger than 8-inch/20cm) the yogurt cake will be flatter and not quite as fluffy, but still taste as good.
Using a stand mixer or hand mixer, beat the egg whites with the salt until they are stiff. Remove them to a separate bowl.
Add the egg yolks to the mixing bowl along with the sugar. Beat them together until they are pale yellow and fluffy. This will take 3 to 4 minutes on high speed. Beat in the yogurt and vanilla. Then add the starch and continue beating until it is mixed in.
Fold the beaten egg whites into the yolk/yogurt mixture ⅓ at a time. Gently fold in until only pea-sized pockets of beaten whites remain. Don't over-fold. Pour the batter into the parchment-lined baking pan. Bang it on the counter a few times to get any air bubbles to rise.
Bake for 40 to 50 minutes, until the center no longer feels liquid when gently pressed with your finger, and the edges are nicely browned.
Allow the cake to cool in the pan, then lift it out using the paper and gently peel off the parchment paper from the cake. Dust with icing sugar and serve with whipped cream and fresh fruit.
Serves 6 to 8.
If I just have cornstarch, that works great – it is the starch I use most often when I make this cake. But if you happen to have either some potato starch or arrowroot starch and substitute it for some of the cornstarch (even using 2 tablespoons each of all three starches), I find the texture of the cake seems to be even a bit more silky. I discovered this one day when I had only a bit of cornstarch left in the jar.
*I always use organic cornstarch, to ensure it is not made from genetically modified corn.
Let us know how it was!
PIN IT HERE to save the recipe for later:
You might also like:
Luscious Lemon Almond Flour Cake
Strawberry Velvet Cake
Moelleux au Chocolat (Fudgy Flourless Chocolate Cake)
Zucchini Chocolate Cake With Chocolate Ganache Glaze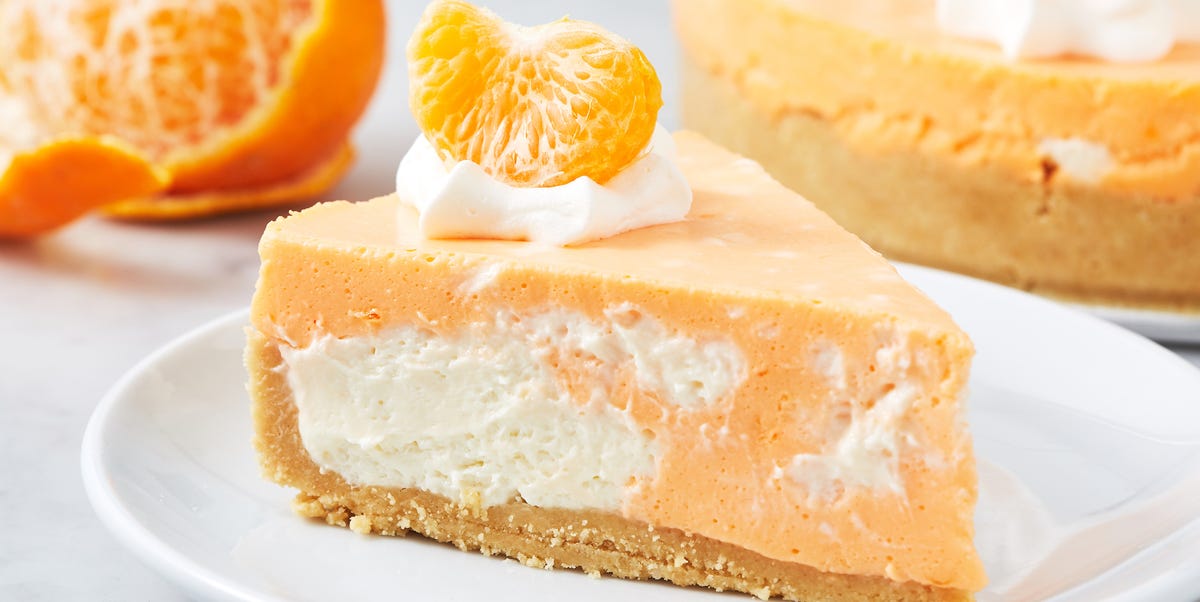 There are a TON of reasons you might want to make a dessert without having to turn on your oven. Maybe your oven isn't working quite right, or is too full of other, more important things (like a Thanksgiving turkey or Christmas ham). Maybe you're cooking with kids and don't want them going in and out of a hot oven. Maybe it's just too dang hot out (or inside your apartment, radiator heat'll get ya!), and you want to avoid turning on the oven at all costs. Whatever the reason, these 70 no-bake desserts are for you.
Some dessert recipes are inherently no-bake, like truffles, ice cream, or fudge, and we've included a number of our favorites here. Others are easy shortcuts to more complicated desserts, and that's where the meaning of no-bake really shines. Love cheesecake, but hate water baths? Yeah, us too. Make our no-bake blackberry cheesecake bars, our no-bake pumpkin cheesecake, or our lemon-blueberry mini cheesecakes, or our banana pudding cheesecake bars instead. More of a cake or pie fan? Try our éclair cake, our chocolate fluffernutter pie, our lemon icebox cake, or our mint chocolate chip pie. They'll scratch that itch without having to roll out dough or deal with cake layers. We will say, while making these recipes themselves is a lot easier, there is often a bit more patience required—check to see if these need to set up for a few hours/overnight and plan accordingly. Your future self will thank you.
While these are no-bake, that doesn't necessarily mean no-cook. We've included some recipes here that are cooked on the stove, or involve minor heating up of ingredients (more power to you to melt your chocolate in the microwave). Some, like our buckeyes, our no-bake oatmeal cookies, or our chocolate-covered strawberries, are still crazy easy to make. Others, like our peanut brittle, halva, or chocolate almond toffee take a little bit more finesse (and sometimes a candy thermometer). Even so, we think they're the kind of recipes you should have in your dessert arsenal, and make a great addition to any dessert table, year-round. (Hot tip: They also make awesome holiday gifts!)
Advertisement – Continue Reading Below
Fantasy Fudge
Fantasy fudge is a shortcut fudge that is just as good as the real thing. Our two favorite things about it are that 1) it's quick to make and 2) it's totally customizable! Not only can you use any chocolate you like, but you can also choose whatever mix-ins you want.
Get the Fantasy Fudge recipe.
No-Bake Oatmeal Cookies
Use the base of these impossible-to-mess-up cookies as your launchpad, then stir in some additions to make them your own. Unsweetened shredded coconut, almond extract, chocolate peanut butter or Nutella, and chopped nuts all add extra depth to these cookies. Use a crunchy peanut butter or almond butter if you like too.
Get the No-Bake Oatmeal Cookies recipe.
Oreo Truffles
Raid the cookie and candy aisles to jazz these up—a bit of crushed candy or changing up the variety of Oreo can add a fun boost of flavor and color to your truffles. Make sure to save a little extra too, so you can top each truffle with some crumbs.
Get the Oreo Truffles recipe.
Bourbon Balls
PHOTO: ANDREW BUI; FOOD STYLING: JASON SCHREIBER
If you're looking for a boozy treat to get the party started, these bourbon balls are calling your name. Made with finely chopped pecans, crushed vanilla wafer cookies, and of course, bourbon, these no-bake cookie truffles highlight the flavor of the bourbon while taming its typical burn. Warning: You won't be able to stop at one!
Get the Bourbon Balls recipe.
Banana Split
PHOTO: ANDREW BUI; FOOD STYLING: BROOKE CAISON
Topped with fruit syrups, chocolate sauce, whipped cream, and a cherry, few desserts are as recognizable as an ice cream sundae, and this recipe will help you make the ultimate version. The truly classic banana split features strawberry and pineapple syrup as well as chocolate sauce, so we've got it all for you here.
Get the Banana Split recipe.
Chocolate Toffee
This recipe is really simple, but toffee in general can be a littttlllleee fussy. Our biggest piece of advice: WHISK CONSTANTLY! The moment you walk away from the saucepan, the butter and sugar will separate.
Get the Chocolate Toffee recipe.
Confetti Squares
If you need a quick and easy dessert idea, these peanut butter and chocolate confetti squares are the perfect thing. They are a breeze to put together and after a quick chill in the fridge, everyone will go crazy for them. Rainbow marshmallows make for an extra fun pop of color, so use them instead of boring 'ole white.
Get the Confetti Squares recipe.
This Lemon Cake recipe is the ultimate dessert for lemon lovers made with velvety lemon cake, tangy-sweet lemon curd and lemon cream cheese frosting!
This Lemon Cake recipe is a show stopping dessert everyone will be raving about and destined to become one of your favorite cakes of all time – it is mine!  The cake is soft and airy thanks to the reverse-creaming method, infused with bright fresh lemon flavor, layered with luscious, zingy-sweet lemon curd and lemon curd infused cream cheese frosting!  It is a show stopping dessert for every occasion and 100% make ahead friendly. Tips and tricks, Step-by-Step Photos and Video, How to Make Ahead, How to Freeze all included!
Lemon desserts are my favorite bright and fresh desserts in the spring and summer! Don't miss these favorites:  Lemon Blueberry Cake, Lemon Pound Cake, Lemon Cheesecake, Lemon Cheesecake Bars, Lemon Pound Cake and Lemon Curd.
HOW TO MAKE Lemon Cake REcipe VIDEo
Best LEMON CAKE INGREDIENTS
The ingredient list for this recipe appears lengthy but most of the ingredients are pantry friendly staples and used multiple times in the cake, curd and/or frosting.  Here's what you'll need for each component (exact measurements in the printable recipe card at the bottom of the post):
For the cake
Lemon:  Use one fresh lemon because we also need the zest!  Microwave the lemon for 15 seconds and be amazed at how much easier it is to juice!
Lemon zest: This adds the concentrated lemon flavor. Make sure not to get the white pith because it is extra bitter.
Cake flour:  This flour is almost 30x finer than all-purpose flour!  It has a lower protein content (8-9%) than all-purpose flour (10-13%) so it is finer, lighter, and softer which translates into meltingly tender cake layers that are lighter and softer, with a fine, close crumb.   You should be able to find cake flour in the baking aisle with the other flours, otherwise I've included an easy substitution below which I use all the time.
Butter: Unsalted is typically best for baked goods so you can add the precise amount of salt. If you only have salted butter, reduce the salt in the recipe.
Milk: Any kind of milk will work but use 2% or whole milk for the moistest cake.
Sugar: Use granulated sugar to let the lemon really shine.
Baking powder: This leavening agent helps tenderize the cake and make it rise in the oven. Make sure it is fresh so it works!
Vanilla extract: All desserts need a little oomph of vanilla.  The better the quality, the better it tastes, so go as quality as you can.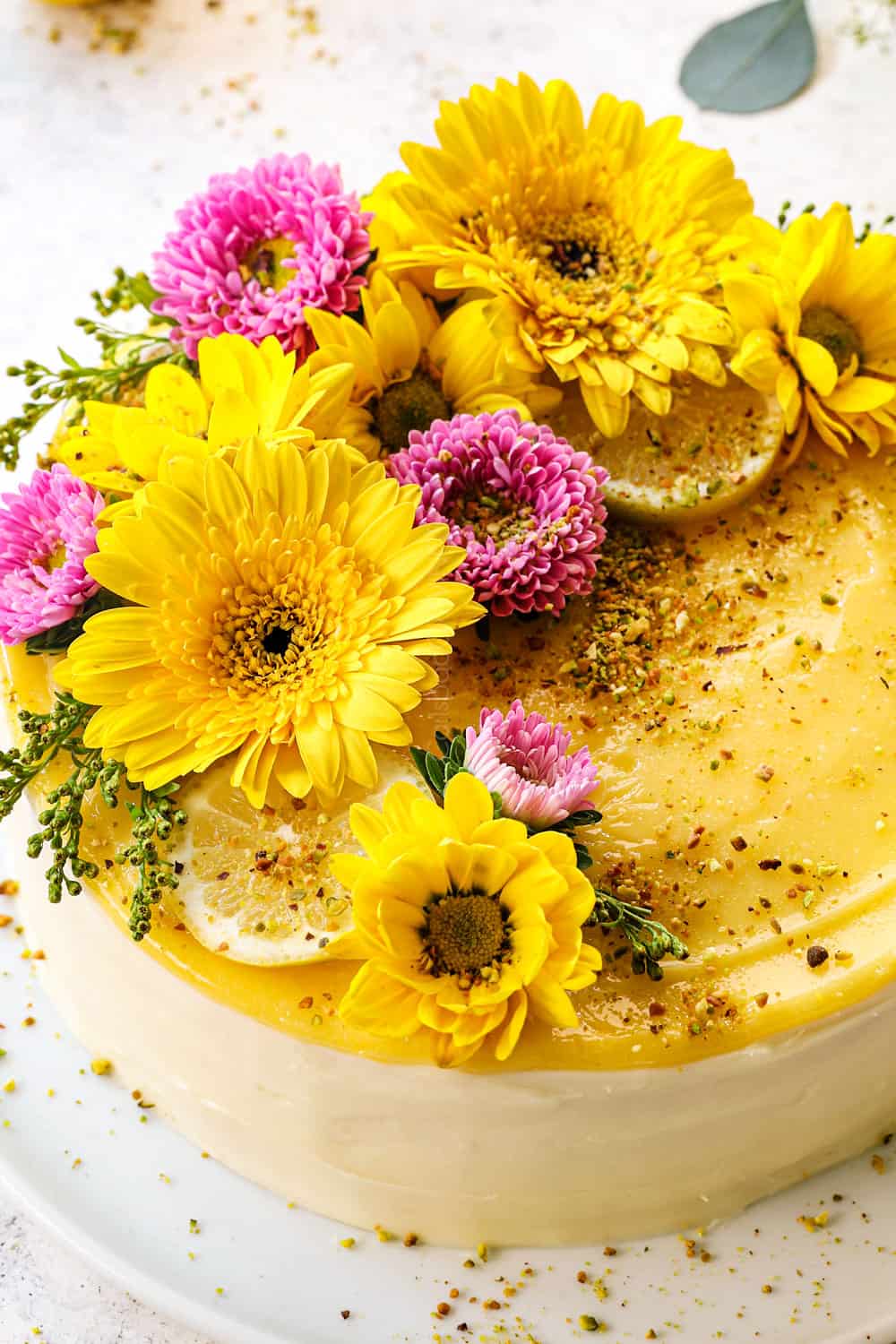 FOR THE LEMON CURD
Making homemade Lemon Curd is easy with this recipe!  You will need many of the same ingredients you used for the cake:
Eggs:  Eggs help the curd hold together like pudding.  You will need 4 large eggs and 2 large egg YOLKS only for a total of 6 eggs for the lemon curd.
Butter: This is essential to help thicken the curd and makes it super creamy, rich and decadent with a velvety mouthfeel and subtle buttery flavor.  Use unsalted butter or omit the salt in the recipe.
Sugar:  This provides the balancing sweetness to the tart lemon juice. Please use only granulated sugar or the flavor and consistency will be ruined.
Salt:  A pinch of salt balances the flavors. Use regular table salt and not anything larger.
Cornstarch: Set yourself up for lusciously thick and smooth success with this secret weapon.  Cornstarch not only ensures the curd thickens properly but more importantly, it binds to the egg proteins and acts to protect them from denaturing, helping to prevent your curd from curdling.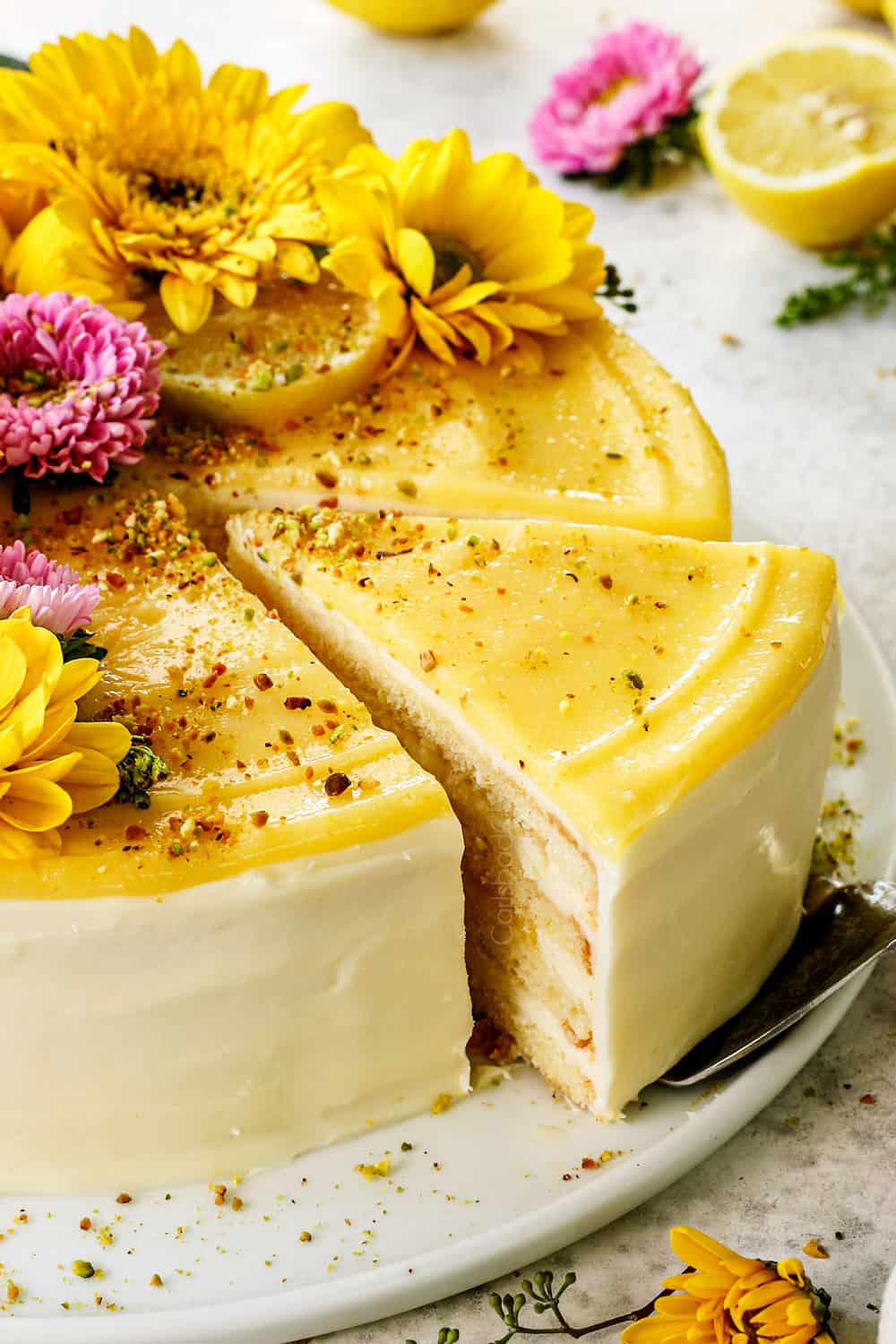 FOR THE LEMON CREAM CHEESE FROSTING
Cream cheese:  Use full-fat brick-style cream cheese for best results.  Please do NOT use ⅓ less fat because it is much softer and will create a sliding cake.
Butter:  You may use either unsalted butter with a pinch of salt or salted butter and omit.
Powdered sugar:  I recommend sifting the sugar before making the frosting if it's been sitting for a bit.
Lemon curd:  You will use ¼ cup lemon curd in the frosting to make it extra lemony!
Lemon juice:  One tablespoon is used instead of milk to cut through the sweetness of the powdered sugar.
Vanilla:  Use quality extract for the best flavor.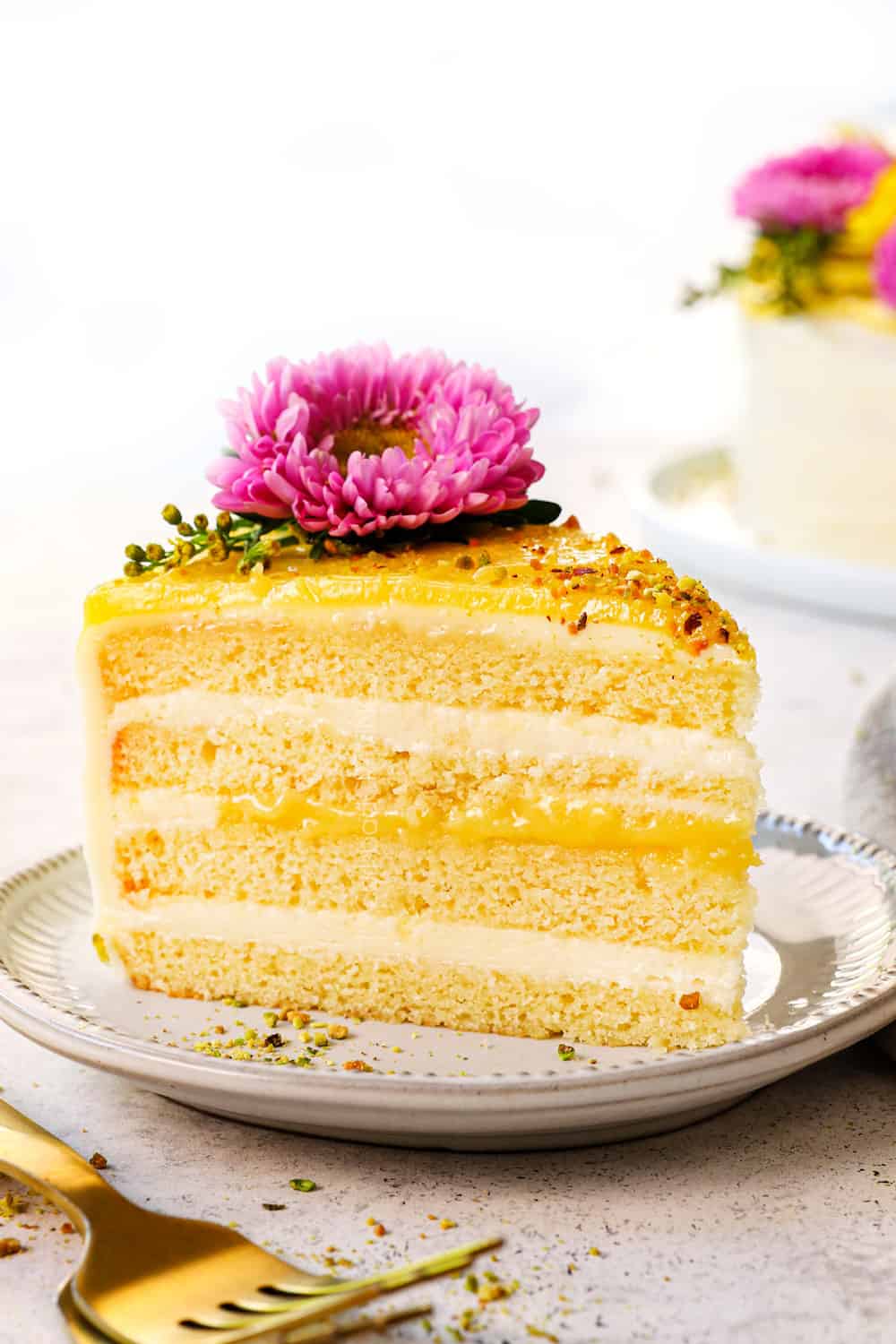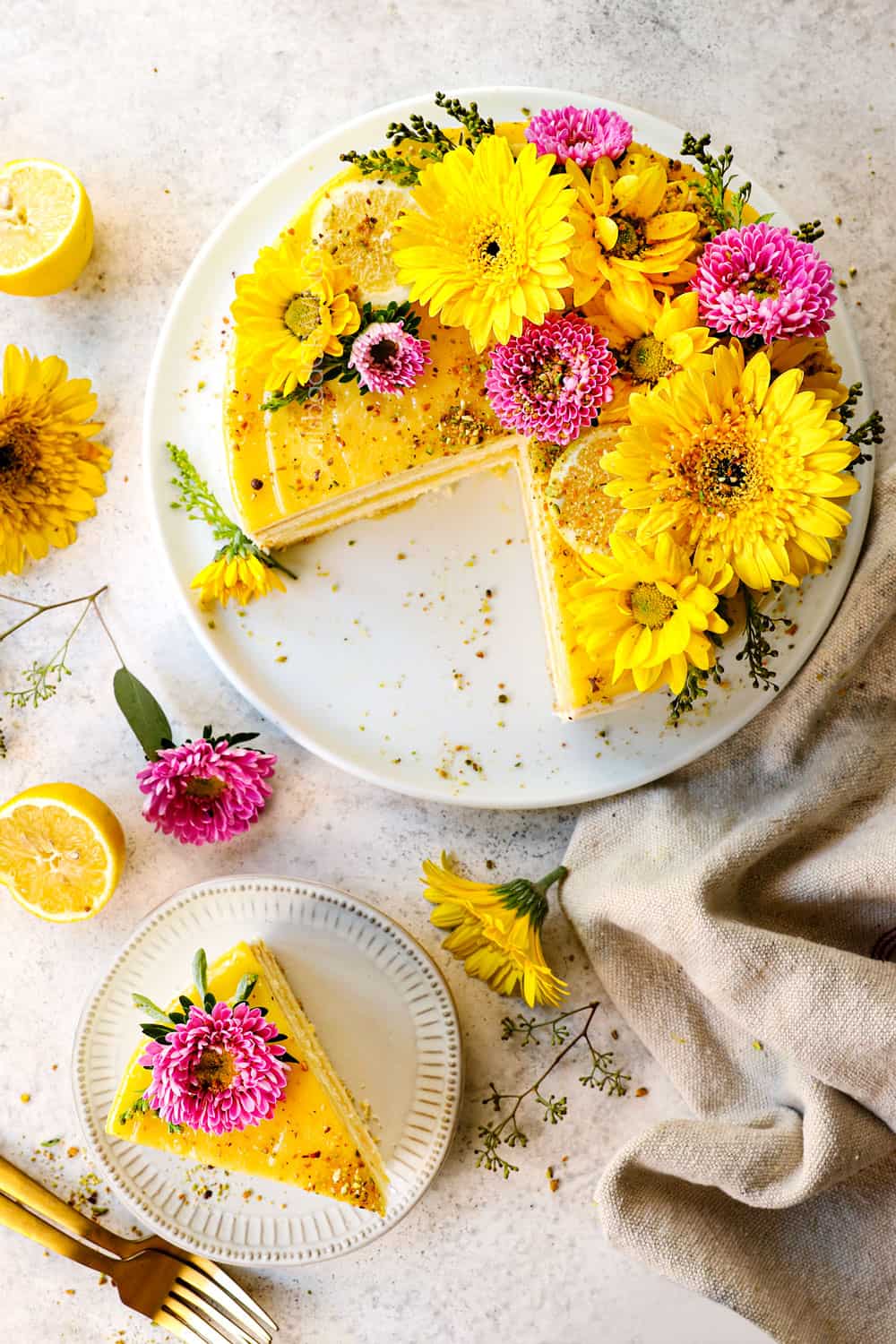 How to Make the Best Lemon Cake
Let's take a closer look at how to make this Lemon Cake or watch the How to Make Video in the recipe card (full recipe measurements in the printable recipe card at the bottom of the post):
MAKE THE LEMON CURD
This is the easiest technique I have found for making lemon curd. The key is to work over medium-low heat and to whisk constantly.  You can also watch the How to Make Video in my Lemon Curd post.
Combine the ingredients: Whisk the lemon juice, lemon zest, sugar, cornstarch and eggs in a small saucepan until the cornstarch dissolves and most of the sugar has dissolved.
Strain the lemon curd: Finally, strain the curd through a fine-mesh strainer/sieve into a small bowl to remove any small egg bits and you have rich, creamy, sweetly tart lemon curd.  The lemon curd will thicken and taste even more intensely glorious once chilled.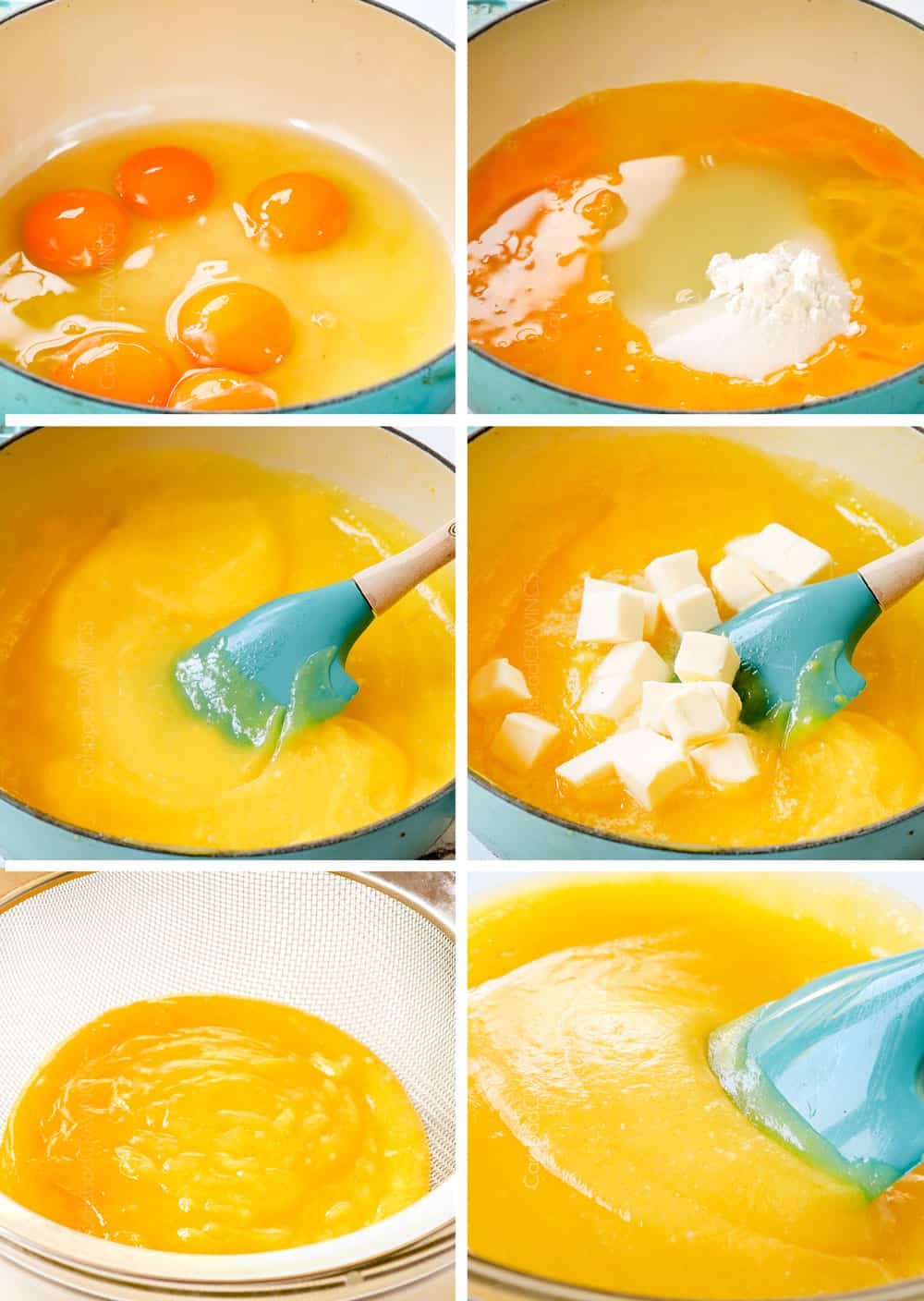 MAKE THE CAKE BATTER
Combine the wet ingredients:  Whisk the eggs, milk, lemon juice, lemon zest, and vanilla extract together in a 3-cup (or more) liquid measuring cup. Set aside.
Reverse creaming method:  Using a stand mixer fitted with paddle attachment, mix the cake flour, sugar, baking powder and salt on the lowest speed until combined, then add the butter one piece. Increase the speed to medium and continue to beat until the mixture resembles coarse meal.
Add the wet ingredients:  Add approximately half of the egg mixture to the flour mixture. Increase speed to medium-high and beat until light and fluffy, approximately 60 seconds. Reduce speed to medium-low and add remaining egg mixture and beat until incorporated.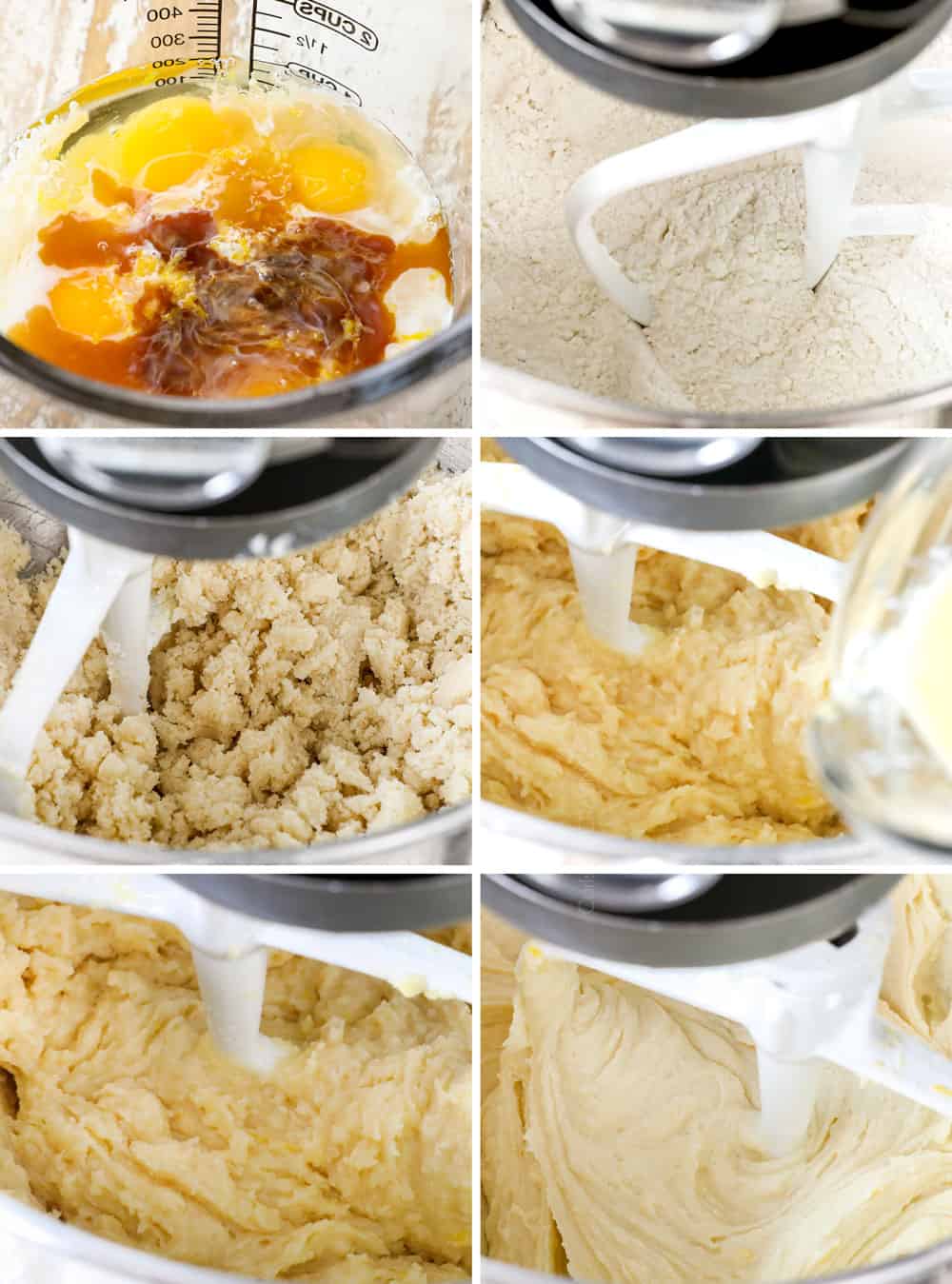 BAKE THE CAKES
Bake:  Divide the batter evenly between the cake pans (I use a kitchen scale), and bake at 350 degrees F for 20-25 minutes.
Cool.  Allow the cakes to cool in pans for 10 minutes then remove cakes to a wire rack and let cool completely.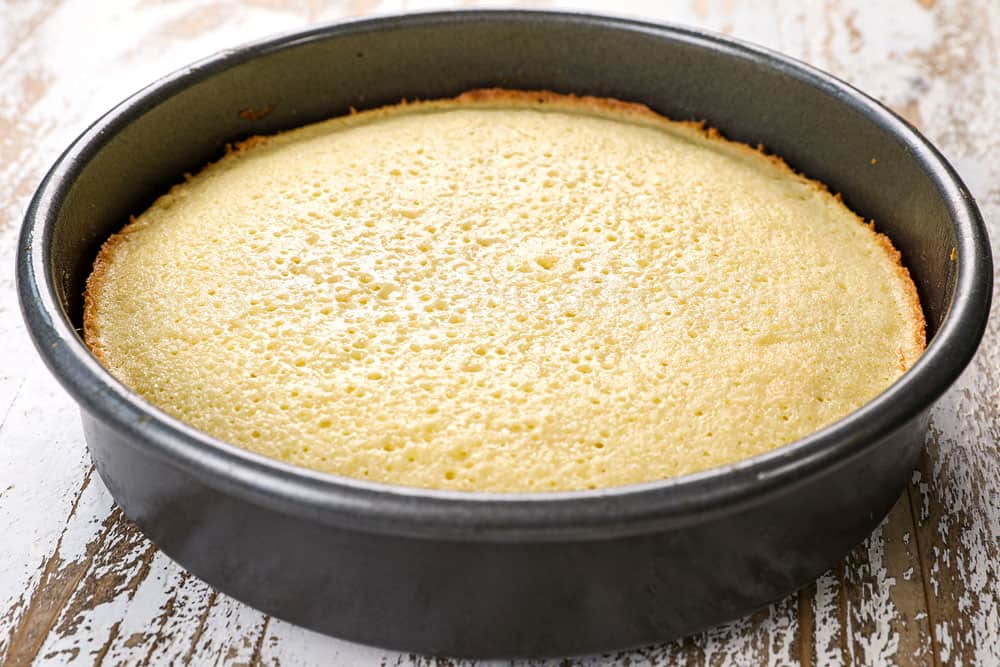 MAKE THE FROSTING
Beat the ingredients together:  Using a handheld mixer, beat the cream cheese and butter together until very creamy. Beat in ¼ cup lemon curd (from chilled Lemon Curd you made), lemon juice, vanilla extract and salt until smooth.
Add the powdered sugar:  Gradually beat in the powdered sugar then continue to beat until smooth and fluffy.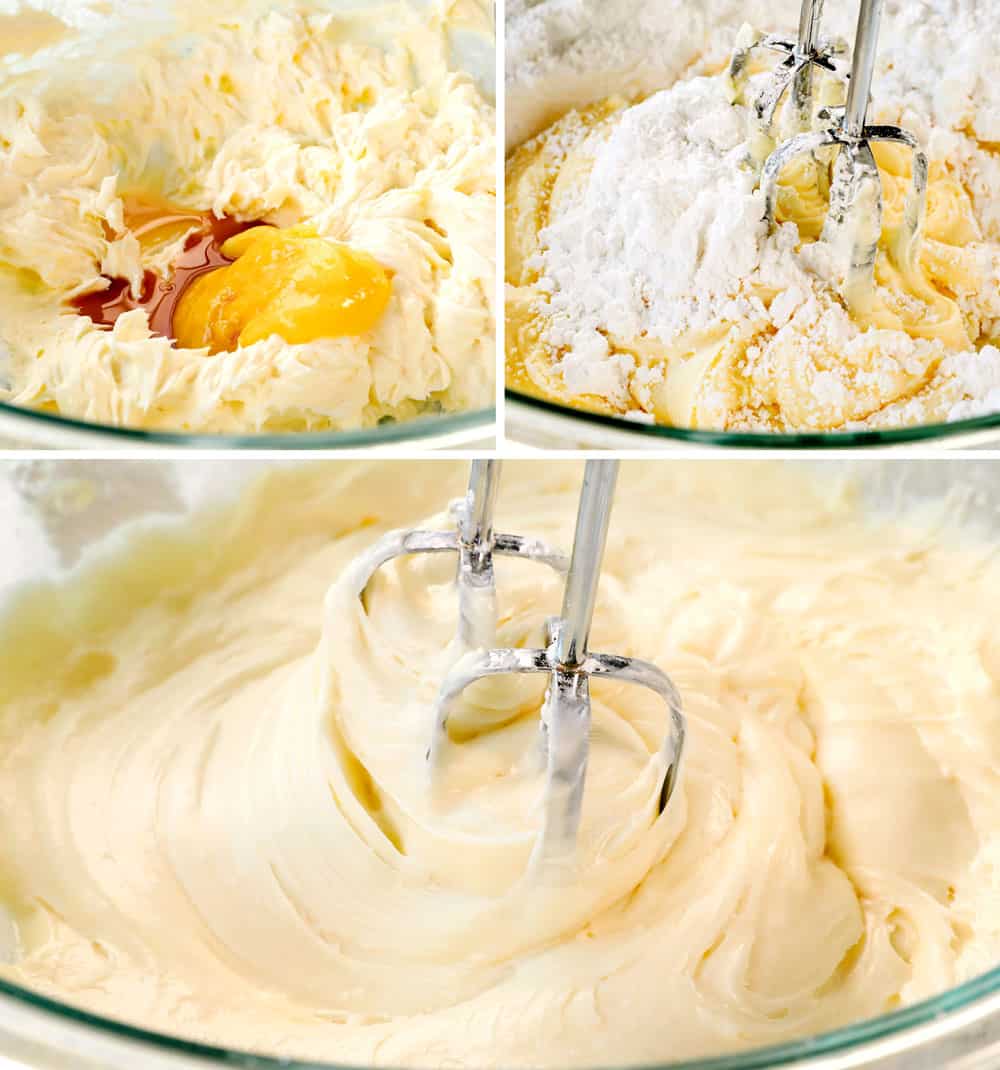 ASSEMBLE THE CAKE
Cut the cakes in half:  Slice the cakes horizontally through the equator using a long-serrated knife to create 4 even layers.
Layer 2 – Lemon curd:  Top with the 2nd cake layer, top side down.  Pipe a ring of frosting just inside the top edge of the cake then fill with half of the chilled Lemon Curd.
Chill:  Time permitting, place the cake in the refrigerator for 2 hours (cover if refrigerating longer) or the freezer for 30 minutes for the frosting to chill and harden a bit. This interim step means there isn't any chance of the top layer sliding around on slick warm frosting as you try to apply your crumb coat.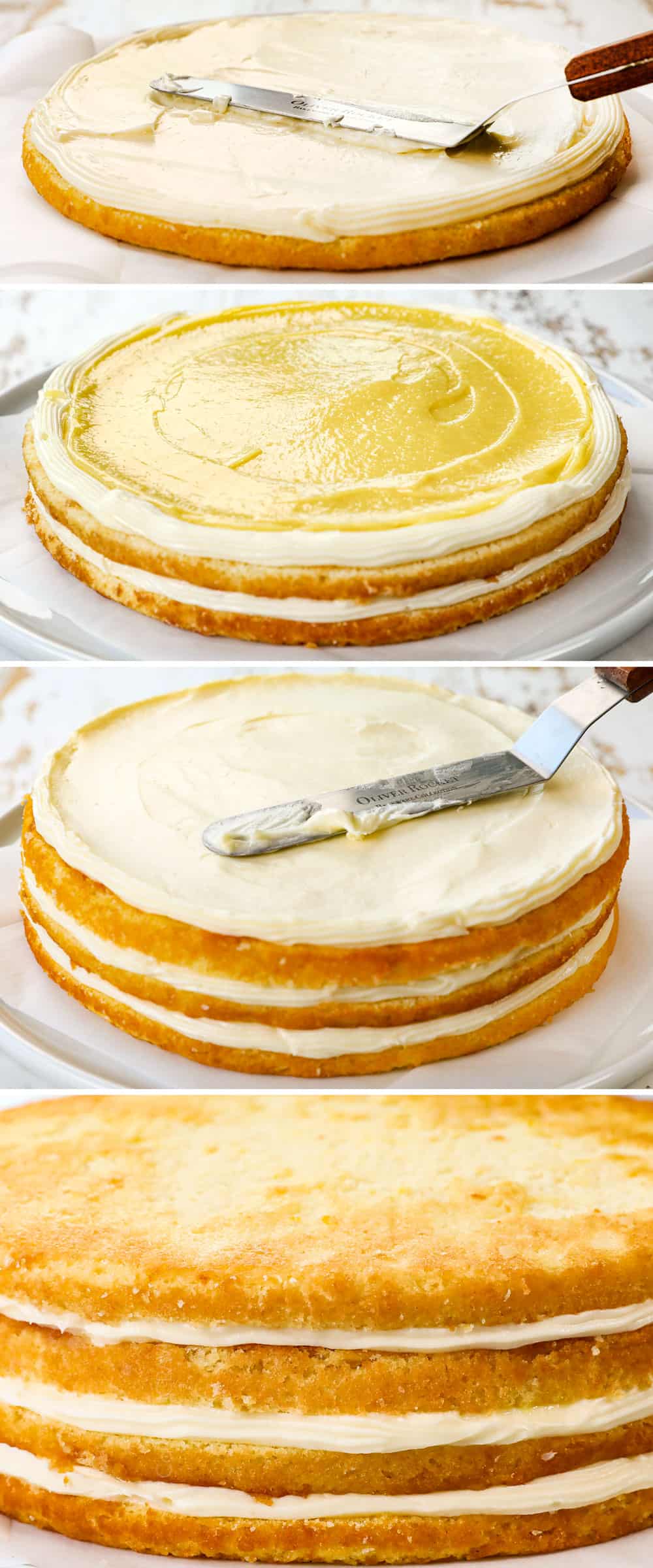 FROST CAKE
CHILL and Slice
Chill:  Freeze the cake for 30 minutes to firm up before slicing, or if not serving immediately, refrigerate until ready to slice.
Slice:  Slice, then serve the cake at room temperature, or pop slices in the microwave for no longer than 8-10 seconds.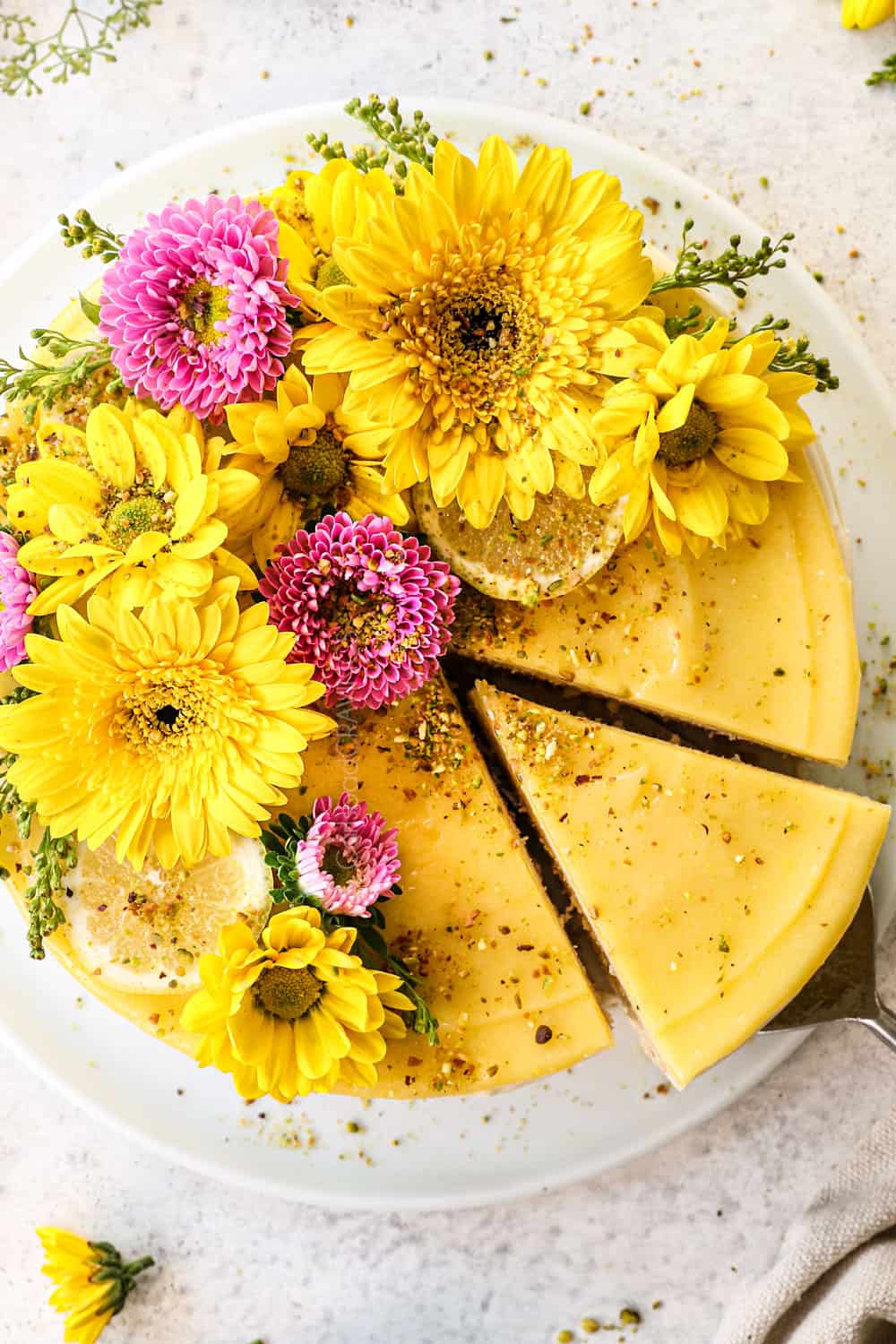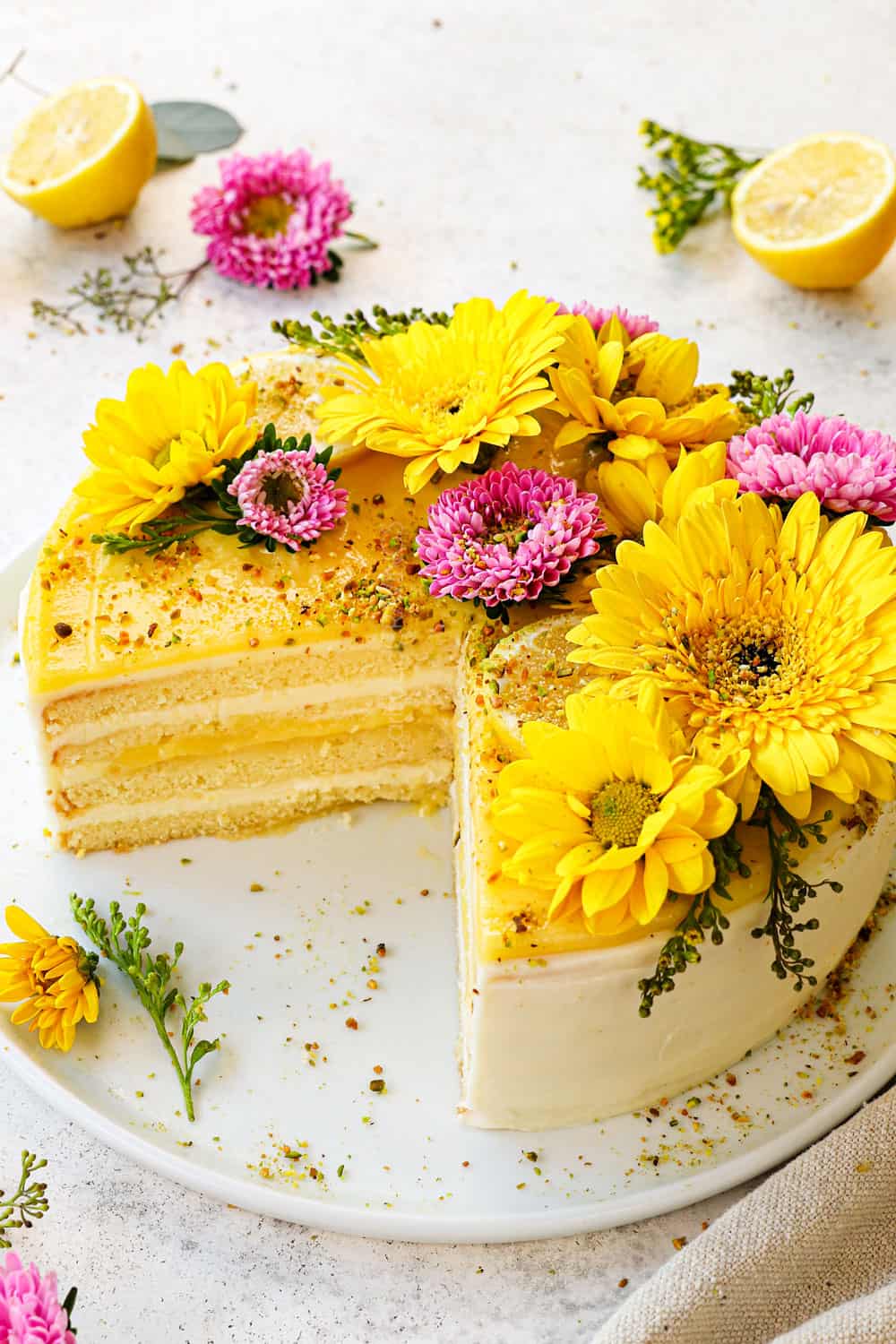 Different toppings: Add a dimension of flavor simply by lining the top of the cake with blueberries, raspberries or strawberries.  You can also decorate with white chocolate shavings.
Lemon Blueberry Cake:  Mix 1 ½ cups blueberries with one tablespoon flour to help the blueberries from sinking.  Fold floured blueberries into the cake batter at the very end of mixing. I try to use smaller blueberries as they seems to allow the batter to cook more evenly. See this recipe for exactly how I make it.
Lemon Poppy Seed Cake:  Simply add ¼ cup poppy seeds with the dry ingredients.
Lemon Almond Cake: Gently fold ½ cup slivered almonds into the batter before baking.  You can also add 1 teaspoon of almond extract.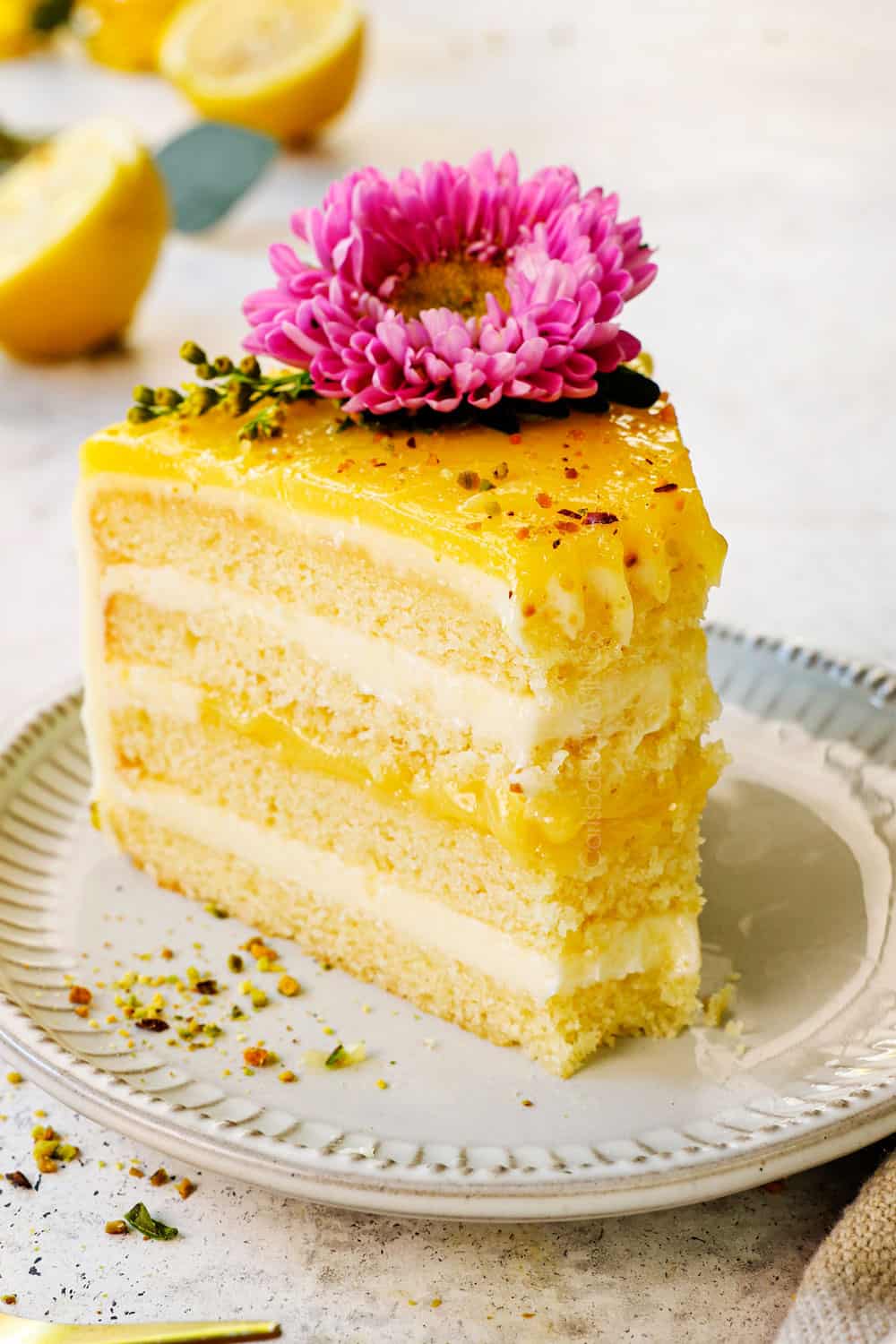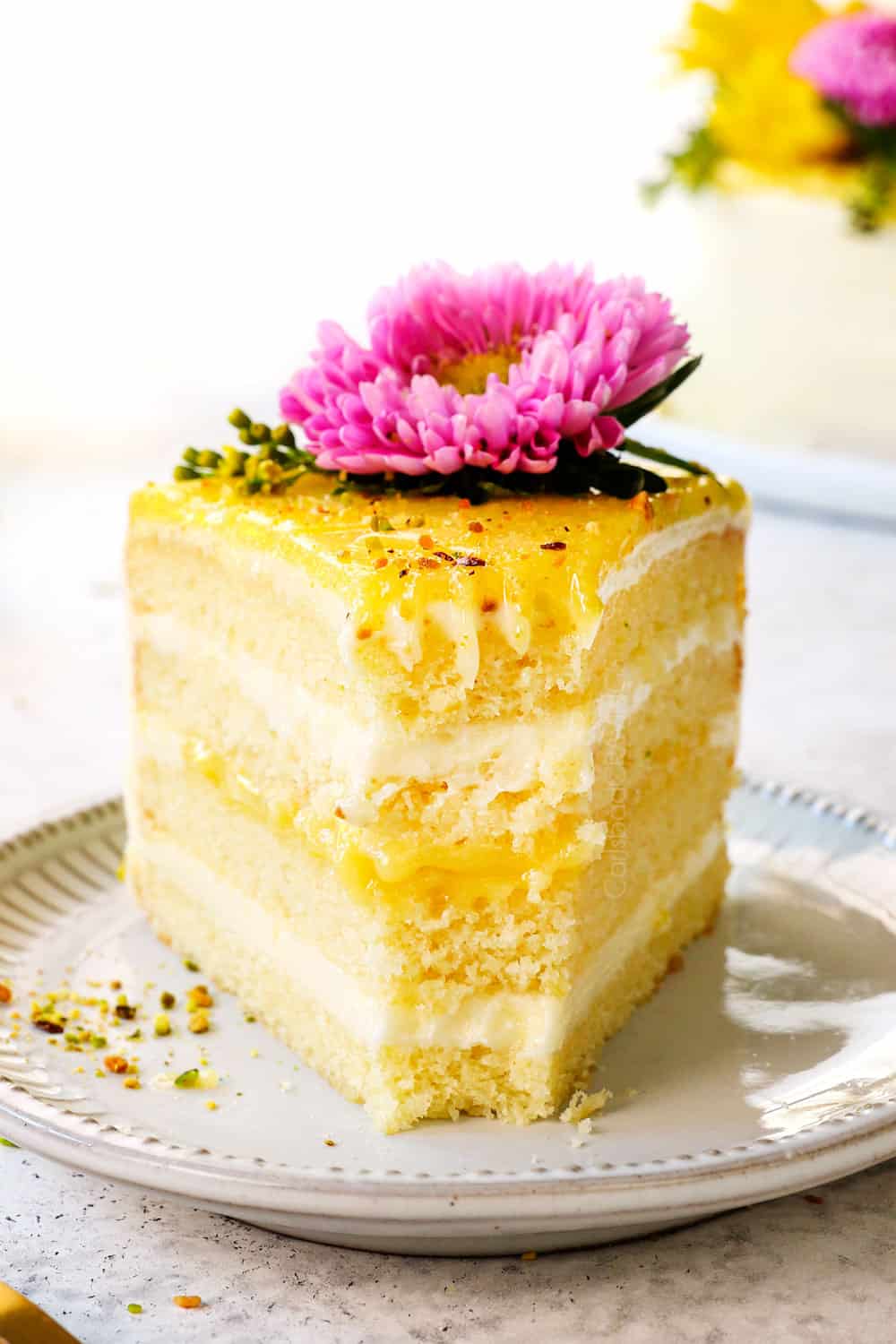 WANT TO TRY THIS Lemon Cake RECIPE?
You can now create an account on our site and save your favorite recipes all in one place!
milk (anything but nonfat),
(See DIY in Notes)
unsalted butter cut into 16 pieces,
LEMON CURD (MAY USE STORE BOUGHT) ***
full fat cream cheese, room temperature (don't microwave!)
room temperature (don't microwave!)
chilled lemon curd, from above (in directions)
Preheat oven to 350 degrees F. Line the bottom of two 9-inch cake pans with parchment paper. Spray with nonstick cooking spray WITH flour or butter and flour the pans.
Whisk the eggs, milk, lemon juice, lemon zest, and vanilla extract together in a 3-cup (or more) liquid measuring cup. Set aside.
Divide the batter evenly between the prepared cake pans, smooth with a spatula and drop a few times on the counter to remove air bubbles. Bake at 350 degrees F for 20-25 minutes or until a toothpick inserted in the center of the cakes comes out clean.
Cool the cakes in pans for 10 minutes then remove cakes to a wire rack and let cool completely.
Time permitting, after cooling, freeze the cakes for 30-60 minutes to make them easier to slice in half. (Make ahead: Alternatively, tightly wrap the cooled cakes in plastic wrap at this point and refrigerate until ready to slice and frost.)
Using a handheld mixer, beat the cream cheese and butter together at medium speed until very creamy. Beat in ¼ cup lemon curd (from chilled Lemon Curd you made), lemon juice, vanilla extract and salt until smooth.
Gradually beat in powdered sugar then continue to beat at medium-high speed until smooth and fluffy. If frosting is too runny, then refrigerate until more set.
Place four strips of parchment paper around the edges of a plate or cake stand to create a square with an open space in the middle (to keep cake stand clean).
Cut cakes in half horizontally using a long-serrated knife or cake leveler to create 4 even layers. Place 1 layer, cut side up, on the prepared serving plate/cake stand.
Top with the 2nd cake layer, top side down. Pipe a ring of frosting just inside the top edge of the cake then fill with half of the chilled Lemon Curd and spread into an even layer.
Add final cake, top side down.
Time permitting, place the cake in the freezer for 15-30 minutes for the frosting to chill and harden a bit. This interim step prevents the top layer from sliding around on slick warm frosting as you try to apply your crumb coat. (Make Ahead: Alternatively, cover the cake with plastic wrap and refrigerate until you're ready to continue.)
CHILL THEN SLICE
Read the recipe:  There are a few components to this recipe, but each step is simple when taken one at a time. As always, I suggest reading the recipe all the way through and allowing plenty of time.
Start the lemon curd first – or don't.  The lemon curd needs 2 hours to chill before using, so if you're in a time crunch, make it very first so you can get it in the refrigerator as soon as possible.  If you have more time, then make it while your cake is baking or cooling.  I typically do the latter and then refrigerate both the cakes and lemon curd until the next day.
Thicken the lemon curd enough:  You'll know the lemon curd is done when it's the consistency of pourable pudding and registers 180°F on an instant-read thermometer.  A thermometer is so helpful for this and eliminates all of the guesswork!
Use room temperature ingredients: Room temperature ingredients help the emulsion be more successful between the butter, sugar and eggs, or in other words, they will mix much easier together (so it's harder to overmix and over-activate the gluten) and whisk to a higher volume which results in a softer cake with maximum volume.
Room temperature eggs hack: Add warm (not hot) tap water to a bowl then add eggs (still in their shells) for at least 20 minutes.
Don't microwave your butter:   It is important that the butter be softened at room temperature and not microwaved because we want soft but not warm butter. Also, don't forget to slice your butter before softening – it's much easier this way!
Don't pack the flour: Whenever you measure flour, don't scoop it into the flour bag/container or else the flour will compress; packed flour yields denser, drier cakes. Rather, scoop the flour into a measuring cup and then level.
Beat the batter until fluffy:  Make sure to beat the flour with half of the egg mixture until fluffy in order to aerate the batter, otherwise your cakes won't rise in the oven.
Divide the cakes evenly:  I use a kitchen scale to measure each pan and adjust as needed.  This will create even cakes with the most even layers.
Don't microwave the cream cheese or butter: For the frosting, use cream cheese and butter softened at room temperature, to room temperature. If you soften either in the microwave, your frosting will be runny and create a wobbly mess.
Don't skip chilling before slicing: Due to the lemon curd, the cake is much easier to slice when chilled, otherwise, the cake can fall apart/layers squeeze out, under the pressure of the knife.
Make Ahead
This cake can be made entirely ahead of time or it is easy to make in stages:
Lemon Curd: According to the National Center for Home Food Preservation, Lemon Curd will keep in an air tight container in the refrigerator for up to four weeks. Of course, always use your best judgement. Lemon Curd freezes well for up to one year without any change in quality.
Frosting: Can be made up to 24 hours, covered and refrigerated.  Let it come close to room temperature before re-whipping if needed.
Cakes:  The cake layers can be made, cooled, and wrapped tightly in plastic wrap and refrigerated one day in advance or frozen for up to 3 months.
Frosted Cake: Assemble the entire cake, cover with a cake cover or tent with foil then refrigerate for 24 hours before slicing, then allowing to sit at room temperature for 1-2 hours before serving.
How to Store and Freeze
To store: The assembled and frosted cake should be covered with a cake cover or foil and refrigerated. It may be stored for up to 5 days, but is at peak freshness the first two days. Slice the cake, then bring to room temperature before serving or microwave individual slices for 8-10 seconds.
To freeze individual cake layers: Tightly wrap the individual cake layers in plastic wrap and freeze for up to three months.
Did You Make This Recipe?
Leave a Review, I Always Love Hearing From You!
This yogurt cake is incredibly light, fluffy and soft. It is just 3 ingredients and doesn't require any flour, butter or oil. It's a perfect dessert when you want to make a unique cake for family or friends.
I'm excited with how this yogurt cake came out. The texture and appearance are very much like Japanese cotton cheesecake. However, the cake is made with yogurt instead of cream cheese. The cake is so soft and light.
Eggs
Whole Milk Plain Greek Yogurt
Sweetened Condensed Milk
Eggs: Eggs are the key to the structure and texture of this cake. Eggs are separated and the egg whites are whipped to stiff peaks and folded in. This is what allows the cake to be so light and fluffy.
Greek Yogurt: For this recipe you do need to use Greek-strained yogurt. Regular yogurt is too runny. Try to use a brand of Greek yogurt that is very thick. I've come across some that are very runny and almost the same as regular yogurt. I have only tested this with whole milk Greek yogurt. I don't think it will work with low fat or fat free.
Condensed milk: Make sure to use full fat sweetened condensed milk.
Fluffy Yogurt Cake Texture
If you've ever had Japanese cheesecake, the texture of this cake is very similar to that. It's a cross between a souffle and a sponge cake. It's very light, airy, and soft. I actually have a 3 Ingredient Japanese cheesecake recipe as well.
How to Make Yogurt Cake
In a large bowl, combine egg yolks, condensed milk and yogurt. Whisk until you have a smooth mixture.
Then, beat the egg whites until stiff peaks. This can be done with a hand mixer or stand mixer, but I prefer stand mixer.
Gently fold the egg whites into the batter in three batches. The batter is then poured into your prepared cake pan.
The cake needs to be baked in a water bath. This simply means you need to put the cake pan in a bigger pan and fill the outer pan with water.
Make sure to use a regular one-piece round cake pan. Do not use a springform pan or a round cake pan with a removable bottom. This cake bakes in a waterbath and cake pans with removable bottoms can cause leaking and overcooking. Some people suggest simply wrapping the bottom of a springform pan in foil so that water from the waterbath doesn't get inside, but even though water doesn't leak in, the bottom layer of the cake still is affected by the boiling water and ends up cooking too much, creating a dense bottom layer.
To make it easier to remove the cake from the cake pan, you will want to make some parchment paper handles like the ones shown below. To do this, first grease the inside of your cake pan. Then place in two strips of parchment paper that run across the cake pan from one side to the other with some overhang. The two strips should cross and form an "X' at the bottom of the pan. Then line the bottom and sides of the cake pan with parchment paper as you would normally do.
Please refrigerate the cake after is done cooling. Just leaving it out for a few hours at room temperature is not enough. Letting the cake refrigerate will allow the flavors of the cake to develop. If you don't refrigerate the cake, it tastes like a moist souffle that isn't very sweet and doesn't have much flavor. However, after you refrigerate it, the cake is much sweeter, you taste the tanginess from the yogurt and the overall texture of the cake is better also (it is very moist when it is first baked but some of that moisture evaporates when you refrigerate it).
More Unique Cake Recipes to Try
straight from fridge
cup (227 g) whole milk plain greek strained yogurt
full fat sweetened condensed milk
Preheat oven to 350°F (177°C). Spray the inside of an 7 inch round cake pan with a cooking oil spray. Line with parchment paper. You will want to create handles along with lining the bottom and sides so that you can remove the cake easily after it is done. See notes for how to line the cake pan properly.
Separate egg yolks and whites. Place eggs whites into fridge until ready to use.
Add egg yolks, yogurt and condensed milk to a large mixing bowl. When measuring out the yogurt, be careful to remove any excess liquid (yogurt often has some liquid/water in the container, you don't want any of that in your mixture). Whisk until ingredients are fully incorporated and you have a smooth batter.
Remove egg whites from fridge. Place into a separate large mixing bowl. Beat at highest speed until stiff peaks form. I prefer to use a stand mixer but you can also use a hand mixer.
Add one third of the egg white mixture to your egg yolk batter. Fold it in gently with a spatula until no egg white lumps remain. Because this batter is very liquidy, make sure you scoop up batter from the very bottom of the bowl each time you fold to make sure all of the batter gets incorporated with the egg whites. Repeat with the next 1/3 and then remaining 1/3. Your batter should look very light and airy.
Pour batter into prepared baking pan. The cake will be baked in a water bath. To do this, place your cake pan into a larger baking pan that is at least 2 inches deep. I used a 9 x 9 inch baking pan. Place your cake pan into the bigger pan. Pour just enough water (cold tap water) into the outer pan so that the water level reaches 1/2 inch. Make sure to add the water to the outer pan after you've put the cake in. If you add 1/2 inch of water before, the added weight of the cake pan and cake batter will push up your water level more than 1/2 inch which can cause the bottom of the cake to cook too fast, which will create a dense bottom. I recommend using a ruler to measure the water level.
Before serving, bring cake out of the refrigerator. If desired, you can dust top with powdered sugar. You can serve the cake cold or at room temperature.
This cake is best made at least one day ahead of time because it needs to refrigerate for several hours or ideally overnight, so please keep this in mind if you are making it for an event.
This cake is sweet but not super sweet. I was really inspired by Japanese cheesecake which is also not super sweet. If you prefer sweeter desserts, you can add a sweet topping to the cake or you can add an extra 1/4 cup of condensed milk to the batter. However, adding the extra condensed milk may cause the bottom of your cake to have a thicker layer.
I use this Fat Daddio 7 inch round cake pan.*
*This product link is an affiliate link. This means I earn a commission from qualifying purchases.
Before lining the cake pan, you want to create some handles so that you can easily lift your cake out of the pan. See tips section and photo in post for reference. Then, line the bottom and sides of the cake pan with parchment paper as usual.
I have only tested this with full fat plain greek yogurt and full fat sweetened condensed milk.
I used US standard large eggs.
Nutrition estimate does not include powdered sugar topping.
The nutrition information provided are only estimates based on an online nutritional calculator. I am not a certified nutritionist. Please consult a professional nutritionist or doctor for accurate information and any dietary restrictions and concerns you may have.