Our 30 best indulgent chocolate slices
There's a reason why chocolate slices are so universally loved.
Sweet, easy and utterly indulgent, they satisfy those sugar cravings, every time. And whether you prefer a classic fudgy slice or a delightful coconutty version, you'll want to come back to these favourites time and time again. With bake and no-bake recipes and all manner of different additions, these treats are perfect for any occasion, so pop the kettle on and enjoy.
If you're a fan of the cherry ripe, you'll love our chocolate cherry slice. The combination of cherries, chocolate and coconut will be reminiscent of this quintessential chocolate bar, only better.
The darker and better quality the chocolate, the richer and more amazing this chocolate almond slice will be. Gorgeous served with a piping hot espresso.
Mint-chocolate cheesecake slice
Just like the mint-slice biscuits you used to eat as a child, this wonderfully creamy cheesecake perfectly balances rich chocolate with a fresh and fragrant minty centre.
Quick chocolate custard slice
Creamy custard slices are guaranteed to be a hit at any occasion, and this sweet chocolate recipe is the one to try next! We've added an extra layer of indulgence with a rich dark chocolate ganache on top.
This decadent chocolate and coconut slice is deliciously chewy and sweet, making it the perfect companion for your morning or afternoon cuppa.
A new version of a old favourite, this chocolate crackle slice updates the classic chocolate crackle. Cut into bars for a crunchy treat if you prefer.
Chocolate peanut slice
A simple yet decadent slice that is all about the classic combination of peanut and chocolate.
The coconutty chocolate rough slice recipe is just what you need when you're called on to make goodies for the school fete or local fundraiser.
Choc-caramel Oreo slice
Oreo-lovers will adore this decadent slice! With a crumbly biscuit base, a rich, oozy caramel and a sweet choc-oreo topping, your sweet tooth will thank you for this one!
Caramel slice is the ultimate afternoon indulgence, from its biscuity bottom to its chocolate top, and the perfectly gooey caramel layer in between.
Chocolate hedgehog slice with ganache
Packed full of fragrant Turkish delight chunks and crunchy slivered almonds, this creamy chocolate slice makes a super indulgent afternoon treat. Serve topped with a rich milk chocolate ganache and coconut for ultimate decadence.
Bringing together the flavours of coconut, coffee and chocolate, these mocha slices make a great snack, and perfect gift.
Chocolate hazelnut slice
A shot of Grand Marnier in the topping gives this chocolate hazelnut slice a slug of citrusy zing. You can use orange juice instead if you're making it for all the family.
Gluten-free hedgehog slice
Get creative in the kitchen with this decadent hedgehog slice. Sweet, chocolatey and delicious – the perfect after school treat.
Chocolate slice with macaroon topping
This gorgeous slice pairs the rich, creaminess of chocolate with a fluffy and nutty coconut topping. Make a batch for morning or afternoon tea when entertaining.
No-bake Mars Bar slice
Mars Bars are a classic treat and what better way to enjoy them than this quick and easy slice. It's perfect for kid's parties or just to satisfy the sweet tooth.
Chocolate coconut slice
This moreish slice is perfect for morning tea with a hot cuppa or as a delicious treat for the kids after school. They'll gobble it up!
Read More
This coconut chocolate slice is an easy no-bake recipe, reminiscent of the little golden rough chocolates enjoyed during many a childhood. It's made using simple, wholesome ingredients and is gluten, dairy, egg, and nut free too.
A nourishing version of a classic treat
I love a bit of food history, and on digging I found that the original Golden Rough was released by Masterfoods in the late 60s in Australia. Do you remember it? That little golden square usually sitting on the shelf beside a Mint Pattie.
There's just something about that combination of chocolate and coconut that works so well, isn't there? And with a few little tweaks we can make a much more nourishing version of this classic treat to enjoy.
Ingredients
There are just a few simple steps needed here. Once the coconut is toasted everything is tossed into a blender briefly, then pressed into a pan for chilling. The topping is optional, but I recommend it. What you end up with is a deliciously fudge-y coconut chocolate slice everyone will love.
Desiccated coconut – Gives a nice fine texture to the slice, and also gives some crunch.
Cocoa – It wouldn't be a chocolate coconut slice without this key ingredient!
Coconut oil – Brings summery vibes and some fat to the recipe to add flavour. Just remember in very hot weather this can also make the slice melt a touch in your fingers. It's always best served straight from the freezer.
Coconut cream – Adds a softer coconut flavour and is also what helps to make the slice fudge-like.
Maple syrup – This is adding sweetness, but also has that classic slightly caramel/toffee taste. Overall it provides more depth of flavour to the slice.
Vanilla essence – Helps to enhance the flavour of the other ingredients.
Salt – Helps to balance out the sweetness of all the other ingredients.
If you're short on time and decide against making the topping I still suggest giving it a quick sprinkle with some extra desiccated coconut. Just something that will make it pretty and presentable!
How To Make Coconut Chocolate Slice
If you'd prefer to just mix this all up in a bowl instead of pulling out your blender you definitely can. The final texture of the slice will be coarser, but it will be equally delicious.
Preheat the oven to 160ºC / 325ºF. Line a large baking sheet with baking paper, and also line a 20 x 14 cm / 8 x 5.5-inch tin to set the slice in.
Pour the coconut onto the baking sheet and spread it out. Bake for 3 minutes on the middle shelf, remove, and stir well then return to the oven and bake for another 3 minutes. If it's not quite toasty enough put it in for 2 more minutes. Remove from the oven and allow to cool.
Add the cooled, toasted coconut, cocoa, coconut oil, coconut cream, maple syrup, vanilla essence, and salt into a blender. Blend on a medium speed until well combined.
Pour the slice mixture into the prepared dish and press down so that it's flat across the top.
To make the topping – melt the chocolate chips/buds with coconut oil then pour over the slice. Sprinkle with a little extra desiccated coconut to finish.
Chill in the freezer for 30 mins to 1 hour. Remove, slice into 12 squares, and serve immediately. If there are any leftovers these should be stored in the freezer.
The topping for this slice is optional (though delicious and recommended!). If you opt to leave it out, simply add a sprinkling of extra desiccated coconut over the top.
FAQ
Can I use shredded coconut?
Technically this would work however, it's far more coarse than desiccated coconut. As such I do recommend the desiccated. If you only have the shredded though, just leave the mix to blend for an extra 10 seconds. This will help break up the coconut a little more.
How long does slice last in the fridge or freezer?
This coconut chocolate slice will last for several weeks in the freezer. To ensure it still tastes at its best I recommend leaving it no longer than 10 days.
Topping ingredients (optional)
Preheat the oven to 160ºC / 325ºF. Line a large baking sheet with baking paper, and also line a 20 x 14 cm / 8 x 5.5-inch tin to set the slice in.
Tip the coconut onto the baking sheet and spread it out so it's flat. Bake for 3 minutes on the middle shelf, remove from the oven, and stir thoroughly then flatten out again. Return to the oven and bake for another 3 minutes. If at this point it's not quite toasted enough – give it another stir, flatten out and cook for 2 more minutes. Remove from the oven and allow to cool completely (see note 1 below).
Pour the mixture into the prepared dish and press down so that it's flat (see note 2).
To make the topping – melt the chocolate with the coconut oil on the stove-top or in the microwave then pour over the slice. Spread it out to each corner so the entire top of the slice is covered. Sprinkle with a little extra desiccated coconut to finish (see note 3).
Place in the freezer to chill for 30 minutes to an 1 hour. Remove, slice into 12 squares, and serve immediately. If there are any leftovers these should be stored in the freezer.
Note 1: If preferred the coconut can also be toasted in a skillet on the stove. This is best done in batches to ensure it all toasts evenly. If doing it this way, be sure to keep moving the coconut around in the pan with a wooden spoon so the bottom doesn't burn.
Note 2: To help get a flat top, I use both a spatula and the back of a spoon. The mixture is quite moist so it's easy to shape.
Note 3: If you want something simpler than having to melt chocolate you can just sprinkle over a little extra coconut before freezing. I will say the chocolate makes it extra delicious though!
General note: If you'd prefer to just mix this all up in a bowl instead of pulling out your blender you definitely can. The final texture of the slice will be coarser, but it will be equally delicious.
Pin This Recipe For Later
This no-bake chocolate slice is every chocolate lover's dream. It's rich, fudgy, and unapologetically chocolatey!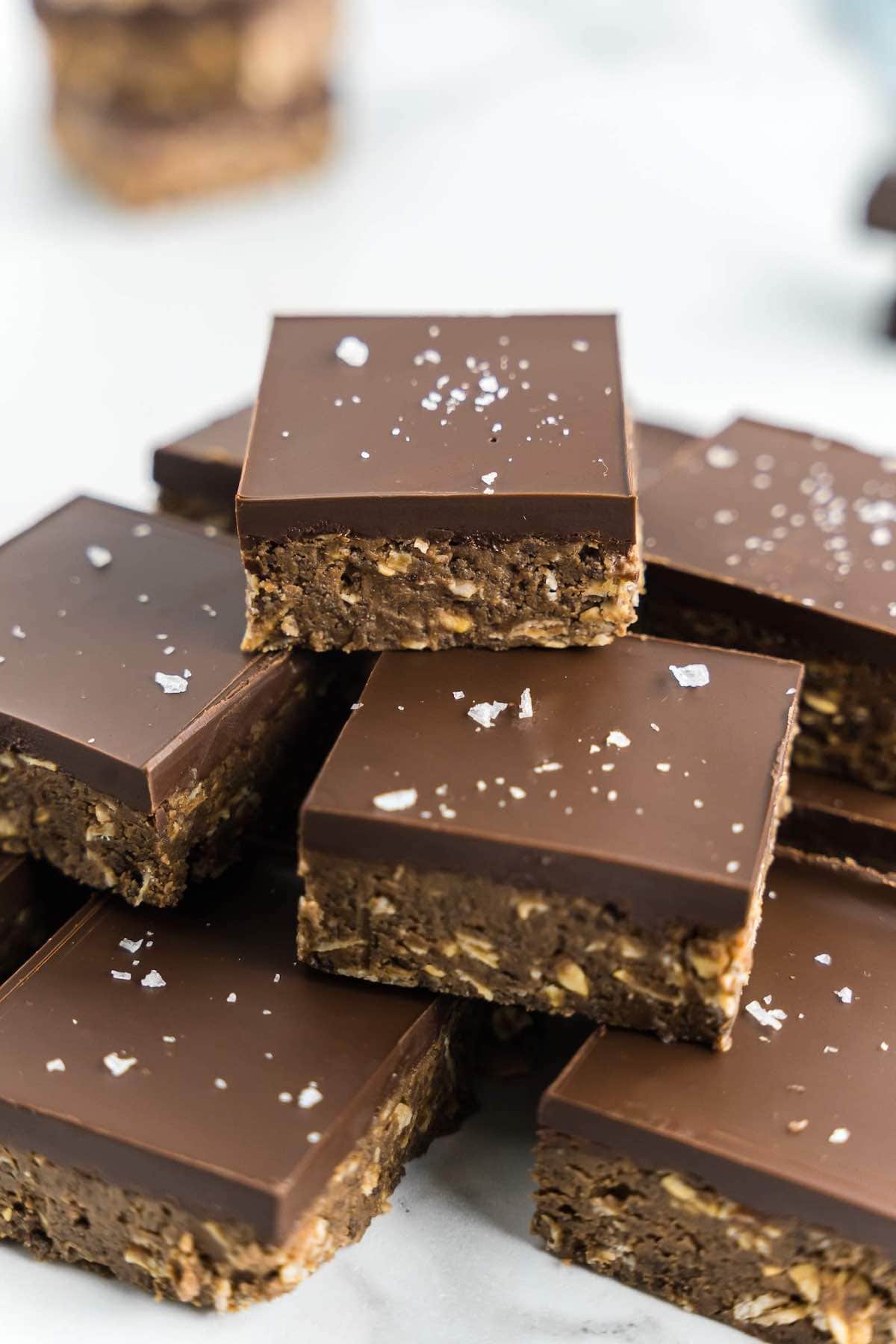 No bake desserts are my personal favorite.
What is not to love about them? The oven gets ignored, there is little prep needed, and you satisfy the sweet tooth in no time.
If you've made our cornflake bars, caramel slice, or cookie dough bars, then a chocolate slice MUST be next on your agenda!
Table of Contents
Why this recipe works
If you are not much of a baker but still enjoy homemade sweets, then my chocolate slice recipe is what you should try next. Made with plain chocolate cookies, oats, dark chocolate, and peanut butter, this chocolate slice turns out sweet, luscious, and so delicious!
Easy and quick. Chocolate slice is the perfect dessert to make if you have leftover chocolate cookies and it doesn't even matter if they are homemade or not. And while this chocolate slice may take a couple of hours to fully set, making it takes a matter of minutes.
Only 6 ingredients. Unlike most dessert recipes that have a long list of dry and wet ingredients, this chocolate slice recipe only calls for a couple of everyday ingredients.
What I love about this recipe is just how versatile it is! You can serve them at events and parties or make a batch for a cheeky dessert!
Ingredients needed
This rich and fudgy chocolate slice is made with a few simple ingredients. Here's everything you will need.
Oats. I use rolled oats for this recipe as they create a chewy texture.
Chocolate cookies. Plain chocolate cookies crushed to a fine crumb.
Sugar. Use confectioner's sugar for this recipe as it melts a lot easier than granulated sugar.
Dark chocolate. Finely chopped.
Peanut butter. To add sweetness and help bind ingredients.
Butter. Unsalted.
For the topping
Dark chocolate. As the slice is already pleasantly sweet, using dark chocolate has a fantastic contrast.
Peanut butter. When combined with the melted chocolate, it creates an almost fudge-like texture (like we used for our keto fudge).
Flaky sea salt. Sprinkle over the chocolate slices to decorate them. Salt also enhances the flavor of chocolate.
How to make a chocolate slice
This chocolate slice recipe doesn't require any baking which means that it is a breeze to make. Here is how you make this rich chocolate dessert in just a few steps.
Step 1- Prepare the chocolate base
Put the finely chopped dark chocolate in a microwave-safe bowl. Add the peanut butter and butter. Microwave in 20-second intervals until fully melted. Once melted, add in the rolled oats, chocolate cookies, and confectioner's sugar. Mix well until fully combined.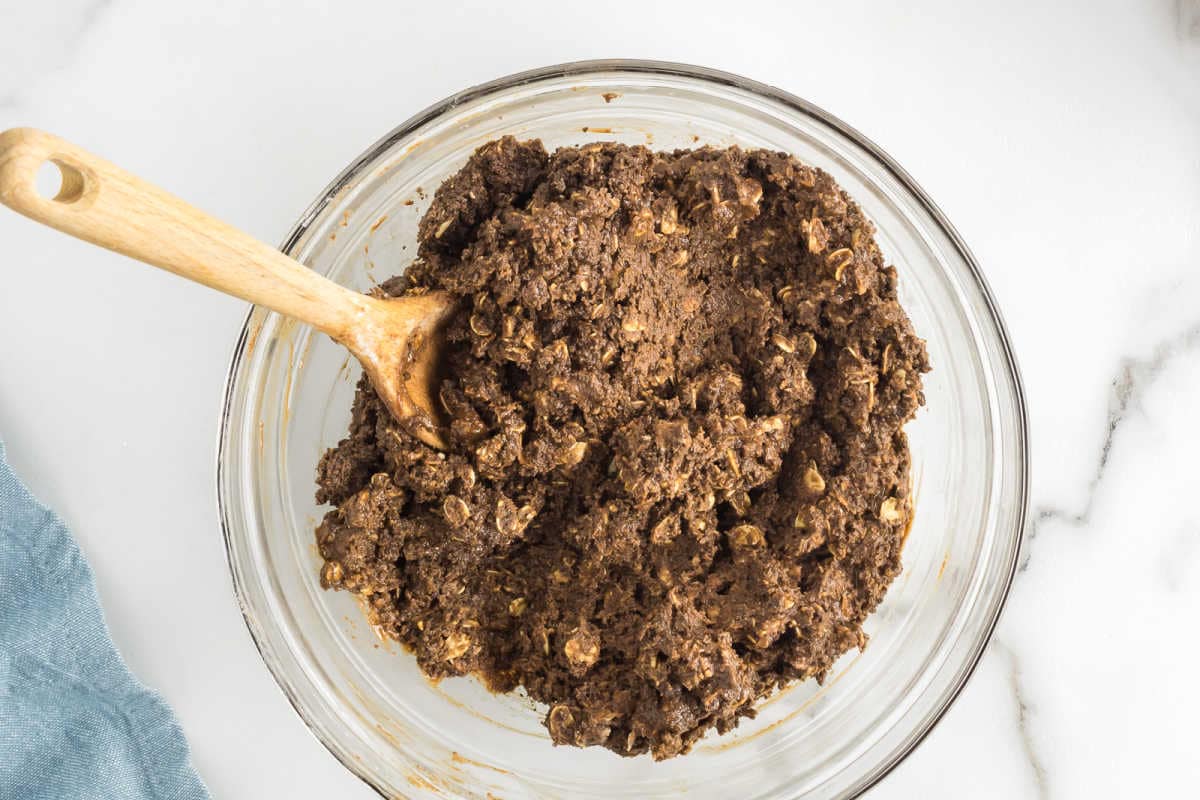 Line an 8×8-inch pan with parchment paper. Transfer the chocolate base to the pan and distribute it evenly using a spoon. Let the bar set until firm.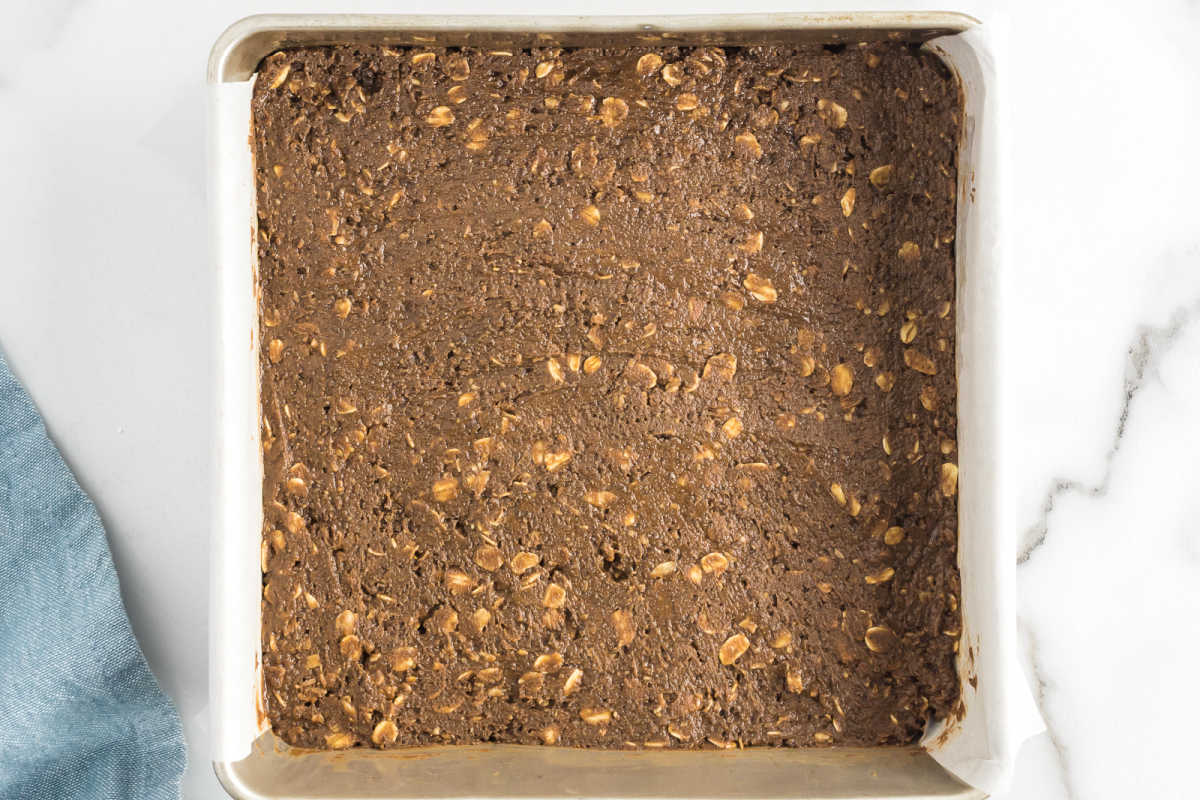 Step 2- Make the topping
For the topping, add chopped dark chocolate and peanut butter to a microwave-safe bowl. Microwave at 20-second intervals until fully melted and glossy.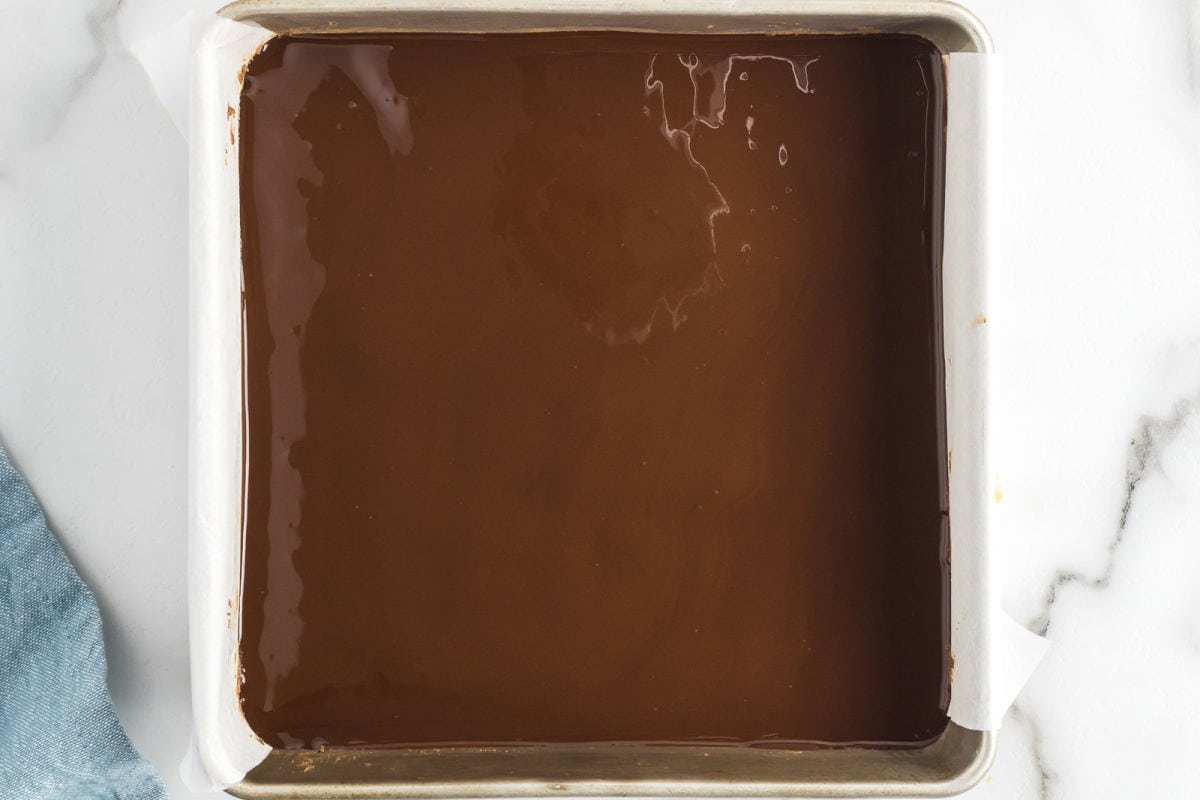 Step 3- Set, slice, and serve
Pour the chocolate peanut butter topping over the chocolate slice and refrigerate until firm. Once frim, allow the chocolate slice to sit at room temperature for a few minutes. Then slice, sprinkle with flaky sea salt, and serve.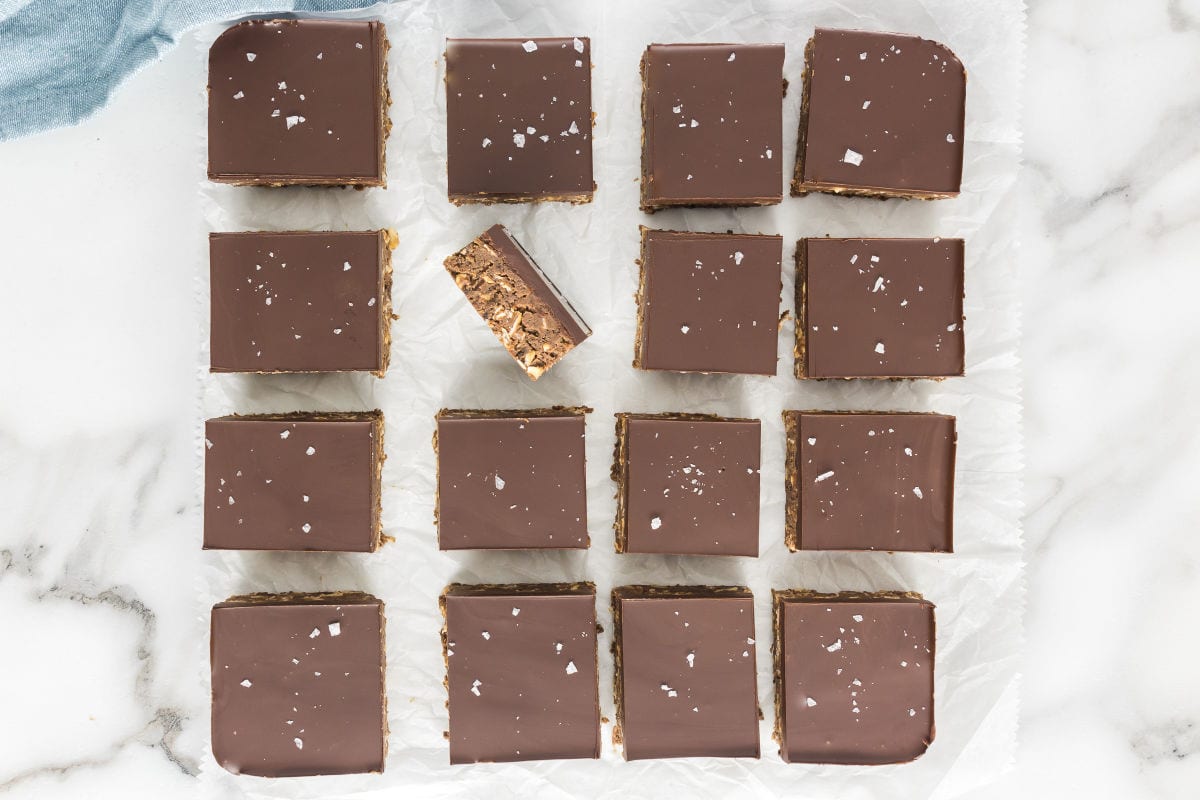 Tips to make the best recipe
Use a blender or a food processor to crush the cookies into a fine powder. Crushing the cookies by hand will result in inconsistent crumbs and interfere with the final texture of the chocolate slice.
Substitute dark chocolate with milk chocolate if you want a sweeter topping for the chocolate slice.
Remove the chocolate slice from the fridge and allow it to come to room temperature for around 20 minutes before you cut it. This will prevent the chocolate coating from cracking.
Coat your knife with cooking spray to cut perfect slices. Wipe the knife clean after each slice and apply cooking spray again before cutting another piece.
Storage instructions
To store: As this is a no bake dessert, the bars can be stored at room temperature in an airtight container. They will keep well for at least a week. If you'd like them to keep longer, store them in the refrigerator and they will keep well for at least four weeks.
To freeze: Place the slice in a ziplock bag and store them in the freezer for up to 6 months.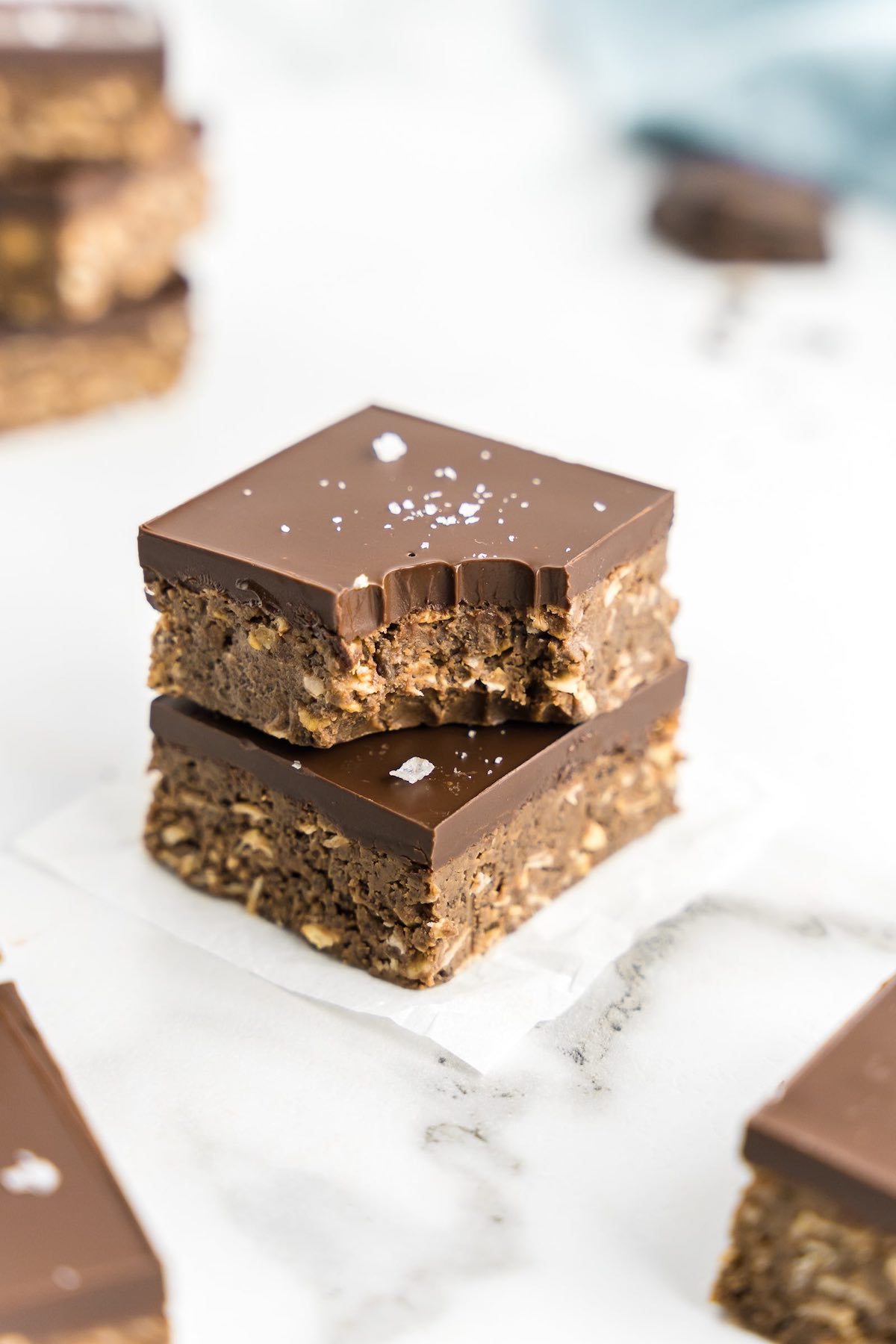 More no bake desserts to try
Love this Chocolate Slice recipe?
In a microwave-safe bowl, combine the dark chocolate, peanut butter, and butter. Melt in 20-second increments until melted.
Stir in the rolled oats, chocolate cookies, and confectioners sugar.
Transfer the mixture into a lined 8 x 8-inch pan. Let the bar base set until firm.
In a microwave-safe bowl, combine the chocolate and peanut butter until smooth and glossy. Pour over the top of the chocolate slice and refrigerate until firm.
Once firm, let it sit at room temperature before slicing and serving.
Disclosure: This post may contain affiliate links. I may earn a small commission for my endorsement, recommendation, testimonial, and/or link to any products or services from this website.
I'm a two time cookbook author, photographer, and writer, and passionate about creating easy and healthier recipes. I believe you don't need to be experienced in the kitchen to make good food using simple ingredients that most importantly, taste delicious.
You May Also Like
This post may contain affiliate links. Read my disclosure policy.
These Slice and Bake Chocolate Shortbread cookies are delicious and so so easy to make. It's an egg free chocolate cookie recipe that just need to be sliced and baked.
If you like cookies check out my Kinder Cookies, Toblerone Cookies, or Cardamom Chocolate Cookies.
Why this recipe is great
Really easy to make
No need for cookie cutters, you just need a knife
Can be stored in the freezer so it's great to use when a craving strikes or when you have unexpected guests
Egg free – this is especially great if you have egg allergies or don't eat eggs
What is a slice and bake cookie?
Slice and bake cookies are cookies that don't require cookie cutters. Instead of using cookie cutters, the cookie batter is rolled into a log and placed in the fridge or freezer to firm up, once firm you can slice it into rounds and bake.
Ingredients needed for Slice and Bake Chocolate Shortbread Cookies
Unsalted butter – softened – take this out 30-60 minutes before you need to use it, this may need longer in cold weather
Powdered sugar – also referred to as icing sugar
Cocoa powder – unsweetened is ideal
Plain / All Purpose flour – measured correctly
Salt – a little pinch to add balance to the flavours
Full instructions in the recipe card below.
Beat your butter and powdered sugar in a bowl of a stand mixer or a bowl for an electric hand mixer. Beat until smooth and creamy.
Add in the flour and cocoa powder. Beat until it forms a dough.
Remove the dough from the bowl and roll it into a roll approximately 5cm x 20cm.
Cover in a piece of plastic wrap and place in the freezer for 1 hour or until firm.
Preheat your oven. Slice into 1cm discs and bake.
Expert Tips for Slice and Bake Shortbread Cookies
Ensure the butter is softened for easy beating with the powdered sugar.
Measure flour correctly by fluffing up the flour with your flour scoop before scooping.
Roll the dough evenly into a log so that the cookies end up an even size.
Cut the slices evenly, approximately 1cm.
Use compound chocolate for decorating – compound chocolate is chocolate that does not include cocoa butter in the ingredients, it is not real chocolate and can set once melted. It is sometimes referred to as melting chocolate or melts. The best way to check is by reading the ingredients and making sure there is no cocoa butter. Real chocolate needs to be tempered where as compound chocolate does not making it easier to use for things like this.
Decoration Ideas
Nothing – these taste great on their own, you don't need to add any decorations if you don't want to
Drizzle with chocolate and top with crushed nuts
Drizzle with white chocolate for contrast
Dip the cookies in chocolate instead of drizzling
Freeze dried raspberries or strawberries would look great with white chocolate on these.
More Recipes
Rose Shortbread Cookies
Biscoff Shortbread Cookies
If you love chocolate, check out this Chocolate Sponge Cake from Spatula Desserts.
Frequently Asked Questions
Can you freeze Chocolate Shortbread Cookies?
Yes, you sure can, in fact this is a great cookie for freezing. Wrap the dough log well in plastic wrap and foil, then place in an airtight container if possible. The cookies will store in the freezer for up to 3 months. This makes a great option for when a craving strikes or for unexpected guests.
How long will Chocolate Shortbread Cookies last?
Store the cookies in an airtight container for 4-6 days.
chocolate, cookies, shortbread
Chocolate Cookies
In a stand mixer or bowl for a hand mixer, place in your butter and powdered sugar.
Beat the butter and sugar until light and creamy.
Add in your cocoa powder and flour and beat until everything is well combined and a dough forms.
Remove the dough and roll into a log shape. Approximately 5cm in diameter and 20cm long.
Place the log into a piece of plastic/cling wrap and place in the freezer for 30-60 minutes until hard.
Pre heat oven to 160c and line a baking sheet with baking paper.
Remove the dough from the oven and slice into approx. 1cm slices.
Place onto baking sheet and place in the oven for 15 – 17 minutes.
Remove from the oven and set aside to cool.
Decoration (optional)
Place the chocolate in the microwave for 20 seconds at a time until it is melted.
If the chocolate is too thick, a 1/2 teaspoon of flavourless oil can be added to thin and smoothen it.
Drizzle the chocolate over the cookies and sprinkle on the sprinkles. Let set.
*compound chocolate does not have cocoa butter in the ingredients and can be reset once melted.
By on July 18th, 2022
Prepare for the holiday baking rush with these make-ahead and chill cookies, like pinwheels, checkerboards, swirls and more. The day of your party, just slice, bake and eat!
Pinwheels and Checkerboards
Cinnamon Bun Cookies
I love cinnamon rolls, but working with yeast can be scary. These cookies give you the taste of a cinnamon roll in cookie form—no yeast required! They look like flattened cinnamon rolls and feel special enough to serve around the holidays. —Erin Raatjes, New Lenox, Illinois
Orange Pistachio Cookies
I had never tried pistachios until I visited a friend who served me these cookies. I was in love! I made the recipe my own, and now my family can't get enough of them. —Lorraine Caland, Shuniah, Ontario
Honey-Lime Almond Cookies
Decades ago my grandmother passed this buttery lime cookie recipe to me. Through years of baking, our cookie memories keep the family connected, although we're miles apart. —Paula Marchesi, Lenhartsville, Pennsylvania
Cherry Pinwheel Cookies
A crisp, light textured cookie with a mild cherry flavor will add great color to your holiday cookie tray.—Jenn Reagan, Maple Valley, Washington
Glazed Candied Fruit Cookies
Even if your family doesn't care for fruitcake, they'll love these festive cookies studded with candied fruit and pecans. A caramel glaze adds a delectable touch on top. —Susan Hein, Burlington, Wisconsin
Cherry Pistachio Cookies
Dried cherries, crunchy nuts, bits of orange, white chocolate—there's a lot to love in this cookie! It's very different from any I've had before. —Kathy Harding, Richmond, Missouri
Apricot Pinwheels
I decorate my little spirals with vanilla icing, but they're yummy without it, too. Dried apricots and lots of spice give the cookies Old World flavor. —Beverly Sadergaski, Saint Cloud, Minnesota
Lemon Slice Sugar Cookies
These lemon slice cookies are a refreshing variation of my grandmother's sugar cookies. Lemon pudding mix and icing add a subtle tartness that tingles your taste buds. —Melissa Turkington, Camano Island, Washington
Snickerdoodle Crisps
This classic cookie from New England can be made two ways: soft or crunchy. My happy version with cinnamon, ginger and nutmeg is crispy to perfection. —Jenni Sharp, Milwaukee, Wisconsin
Gingerbread Peppermint Pinwheels
Two holiday flavors—gingerbread and peppermint—come together in these impressive pinwheel cookies. I created the recipe especially for my husband, who loves the combination. —Joanna Quelch, Burlington, Vermont
Slice & Bake Coconut Shortbread Cookies
Light and buttery, these delicate shortbread cookies are melt-in-your-mouth good. The coconut flavor makes them extra special. —Roberta Otto, Duluth, Minnesota
Nanny's Fruitcake Cookies
My grandmother always made a holiday fruitcake. I turned her recipe into cookies that are perfect anytime, especially with a cup of tea. —Amanda Digges, South Windsor, Connecticut
Ginger & Maple Macadamia Nut Cookies
This spiced cookie has a real kick of ginger, similar to traditional German lebkuchen. If you don't have crystallized ginger, use colored sprinkles. —Thomas Faglon, Somerset, New Jersey
Chocolate Orange Checkerboard Cookies
I use these for gifts during the holidays because I like the elegant flavor combination of chocolate and orange. The shortbread texture melts in your mouth, and the walnuts add a nice crunch.—Sandy Paige, Ramstein Air Base, Germany
Bite-Sized Cinnamon Roll Cookies
If you love cinnamon rolls and spiced cookies, make a bite-sized version that combines the best of both worlds. These cinnamon roll cookies are genius! — Jasmine Sheth, New York, New York
Easy Candied Fruit Cookies
Family and friends always want me to have these for Christmas, so I make lots of them. They're easy to handle and store and also make nice gifts. —Nan Bush, Morganton, North Carolina
Pistachio Cream Cheese Cookies
My son-in-law is a big fan of pistachios. He looks forward to these buttery cookies at holiday time, but I make them for him more than just once a year. —Lily Julow, Lawrenceville, Georgia
Chocolate Orange Rounds
I send these chocolate orange cookies to family and friends in other areas of the country. The two-tone treats deliver a citrusy taste of the Sunshine State. —Geordyth Sullivan, Cutler Bay, Florida
Lime Shortbread with Dried Cherries
This fresh, sweet-tart cookie also works with dried cranberries and orange zest. I freeze the dough for up to a month. —Abigail Bostwick, Tomahawk, Wisconsin
Cornmeal Lime Cookies
Here's something a little different for your platter of Christmas sweets. Cornmeal gives these light cookies crunch, and the tart lime glaze tops them off perfectly.—Wendy Rusch, Fall Creek, Wisconsin
Sinterklaas Cookies
After opening our gifts on Christmas Eve as children, we would make these cookies for Santa Claus to snack on with his glass of milk. The crisp spice cookies are delicious dipped in that milk—or in your coffee on Christmas morning. —Charli Fontana, Pella, Iowa
Lemon Shortbread Trees
Here's a fun holiday recipe children can help with. And no cookie cutters are needed! I just shape the dough into a triangular log, refrigerate it and cut it into tree-shaped slices to bake and decorate. Broken pretzel sticks form the tree trunks. —Phyllis Schmalz, Kansas City, Kansas
Coconut Slice & Bake Cookies
Tinting flaky white coconut reminds me of snowflakes falling under holiday lights. The reds and greens add colorful Christmas wonder. — Lee Roberts, Racine, Wisconsin
Apricot Raisin Rugelach
Rugelach is a classic addition to holiday trays. The flaky, buttery pastry slices encase a spiced fruit and walnut filling. —Laurie Klett, Hamilton, Michigan
Chocolate-Nut Pinwheel Cookies
As a little girl, I made these with my mother every Christmas. Now I make them every year with my daughters-in-law, daughters and grandchildren!—Sedonie Zeitler, Luxemburg, Wisconsin
Homemade Chocolate Shortbread
Italian Spumoni Cookies
These festive cookies look and taste like they're made from scratch. But refrigerated cookie dough makes them a cinch to create. They go hand-in-hand with our other easy Christmas recipes. —Taste of Home Test Kitchen
Chocolate-Swirled Peanut Butter Cookies
Our kids' most-requested cookies are peanut butter and chocolate chip, so
I created this combination. The two doughs swirled together create a marbled pattern that's so pretty, the cookies don't need additional decorations! This is the best chocolate-peanut butter cookie you'll make! —Lori Kesinger, Baker, Montana
Orange Poppy Seed Cookies
My friend Sandy and I have gotten together for years to bake Christmas cookies. One year we made 16 different kinds in a day. I like this cookie because the orange flavor makes a nice change of pace from all the classic holiday cookies. —Kathy Jessen, Sarasota, Florida
Red & Green Pinwheels
My mom used to make these cookies every Christmas, and I still love them. They are so colorful. You can use different food coloring for different seasons.—Jill Heatwole, Pittsville, Maryland
Pistachio Buttons
This cookie recipe makes a big batch, which comes in handy during the holidays. The green center adds a festive touch. —Nella Parker, Hersey, Michigan
Frosted Eggnog Cookies
Eggnog stars in both the cookie and frosting in this new-found recipe, imparting a subtle holiday flavor.—Amanda Taylor, Glen Ewen, Saskatchewan
Cranberry Nut Swirls
This recipe originated with my sister-in-law. It gets used a lot over the holidays when we want to pull a fast one on the guys in our family. They claim they don't like cranberries in any shape or form, but everyone enjoys these. —Carla Hodenfield, Ray, North Dakota
Cran-Orange Icebox Cookies
These are among my family's favorite cookies around Christmas. The cran-orange flavor makes them special. —Nancy Rollag, Kewaskum, Wisconsin
Mango Fudge Refrigerator Ribbon Cookies
I've always thought that a ribbon cookie is especially nice. Although it's a single cookie, it really seems like two or three different cookies because of its lovely layers of flavor. These refrigerated ribbon cookies have a rich chocolate layer balanced by a bright orange-mango layer—a very special combination. —Jeanne Holt, Mendota Heights, Minnesota
Anise Icebox Cookies
These crisp, old-fashioned spice cookies are one of my favorite anise recipes to cook up—especially around the holidays. —Sharon Nichols, Brookings, South Dakota
Chocolate Mint Delights
I tuck a chocolate-covered peppermint patty into every one of these rich cookies. The drizzle on top adds a nice touch. I revised a brownie recipe to create these take-along treats. —Heather Sandberg, Waukesha, Wisconsin
Lemon Meltaways
Both the cookie and the frosting are spiked with lemon in these melt-in-your-mouth goodies. Your family won't be able to get enough of this lemon butter meltaway cookie recipe. —Mary Houchin, Lebanon, Illinois
Chocolate Coconut Neapolitans
These yummy striped cookies with a chocolaty twist are easy and fun to make, but they do need some time in the freezer. —Lena Marie Brownell, Rockland, Massachusetts
Double Delights
You get the best of both worlds with these chocolate and vanilla cookies. They're an appealing addition to any cookie tray. I usually serve them at the holidays, when they're often the first cookies to disappear, but you can have them any time of year. —Ruth Ann Stelfox, Raymond, Alberta
Cherry-Pecan Icebox Cookies
During the holiday season, I keep a roll of dough for these crisp cookies in the freezer. It's nice to offer unexpected company a home-baked treat. —Betye Dalton, Tupelo, Oklahoma
Chocolate Mint Creams
This recipe came from an old family friend and is always high on everyone's cookie request list. I make at least six batches for Noel nibbling and give some away as gifts. —Beverly Fehner, Gladstone, Missouri
Raspberry Ribbons
I make these attractive, buttery cookies to serve at our remote guest lodge, and all the cooks in the kitchen are addicted to them! —Patsy Wolfenden, Golden, British Columbia
Date-Nut Pinwheels
Pinwheel cookies with dates and walnuts are a family treasure. There are a few steps when prepping, so I sometimes freeze the dough and bake the cookies later. —Frieda Whiteley, Lisbon, Connecticut
Peppermint Candy Cookies
Taking a cue from Star Mints, I created a buttery cookie with a holiday look. This one melts in your mouth faster than its candy cousin. —Gloria McKenzie, Panama City, Florida
Ginger Thins
I like to serve these special treats with lemon curd or lemon sherbet, either of which it complements the ginger flavor. —Eleanor Senske, Rock Island, Illinois
Cappuccino Flats
These coffee-flavored cookies are so delicious they make my own kitchen seen like a gourmet bakery!
Caramel Swirls
These icebox chocolate butter cookies have a perfectly bittersweet dark chocolate flavor, and a soft and tender texture. They're made using an easy slice and bake method, and I'll even show you a simple chocolate drizzle decoration you can use to dress them up for your holiday cookie tray or any special occasion!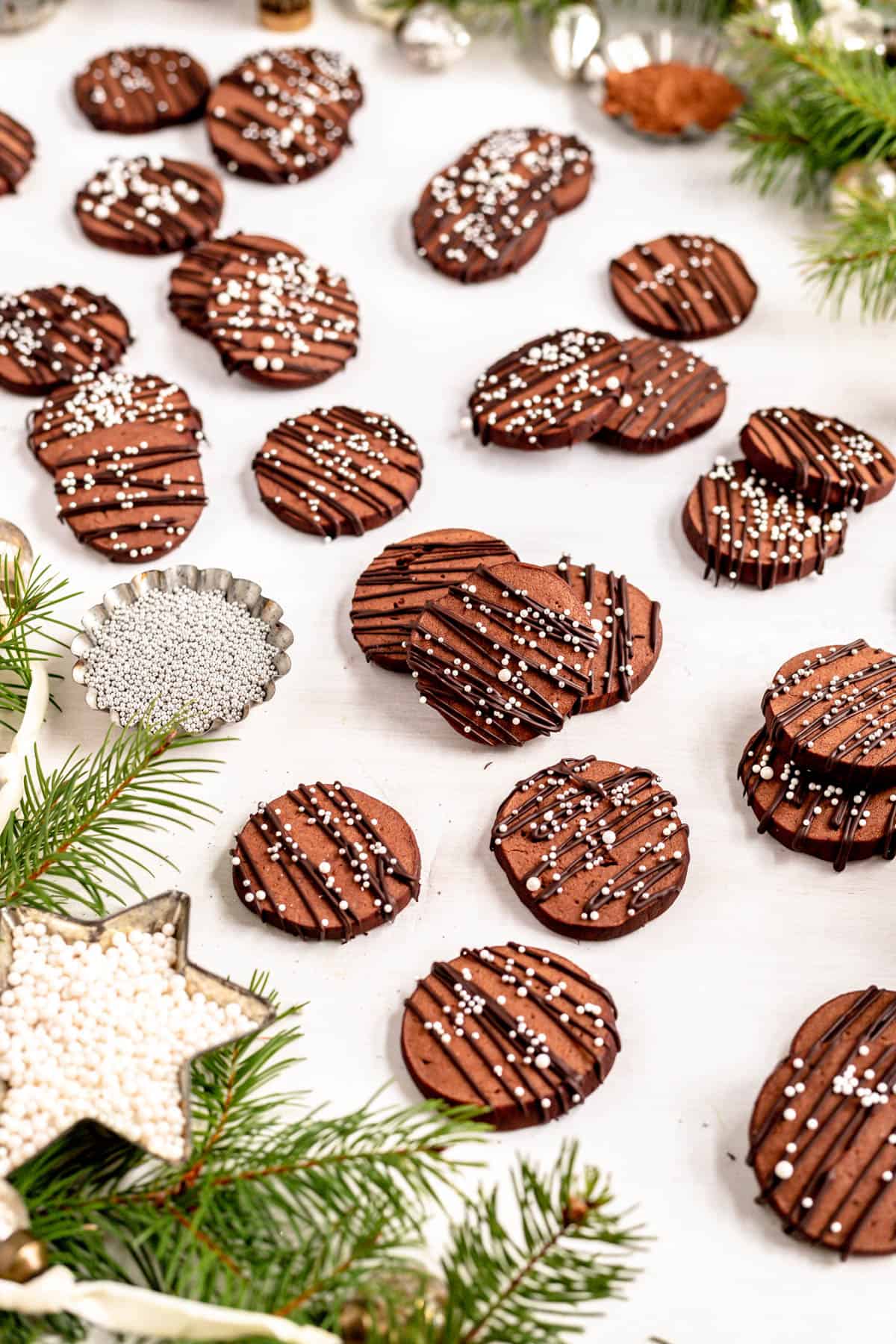 What are icebox cookies?
Chocolate butter cookies are a regular attendee on my family's annual Christmas cookie list. (Not that we don't enjoy them for tea parties at many other times of the year too!)
Their "icebox" title comes from their prep method. Essentially, icebox cookies are made from chilled or frozen cookie dough (aka one that's stored in the "icebox"). The dough is usually formed into a log after mixing. Then, once chilled, it's sliced into rounds and baked off for a prepped-ahead sweet treat.
In this recipe, I'll show you how to prepare and bake off the dough, and walk you through my favorite decoration method too!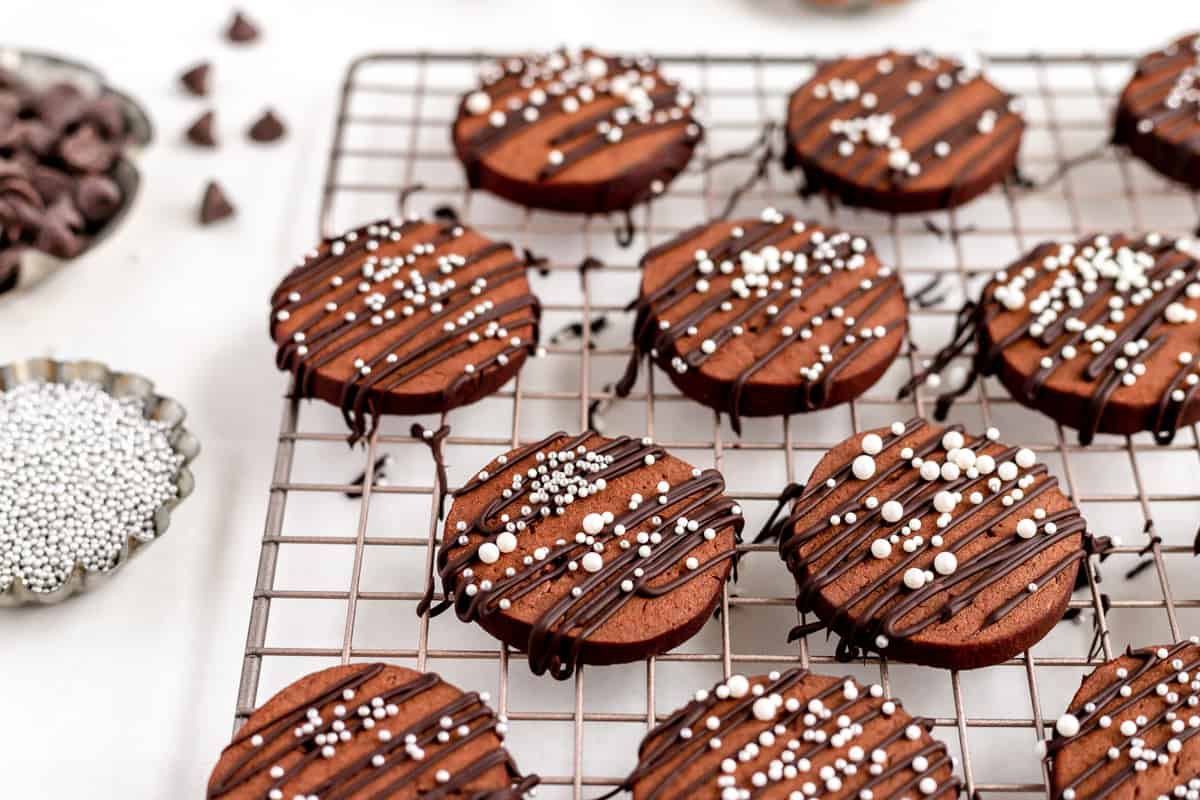 Why This Recipe Leads to Sweet Success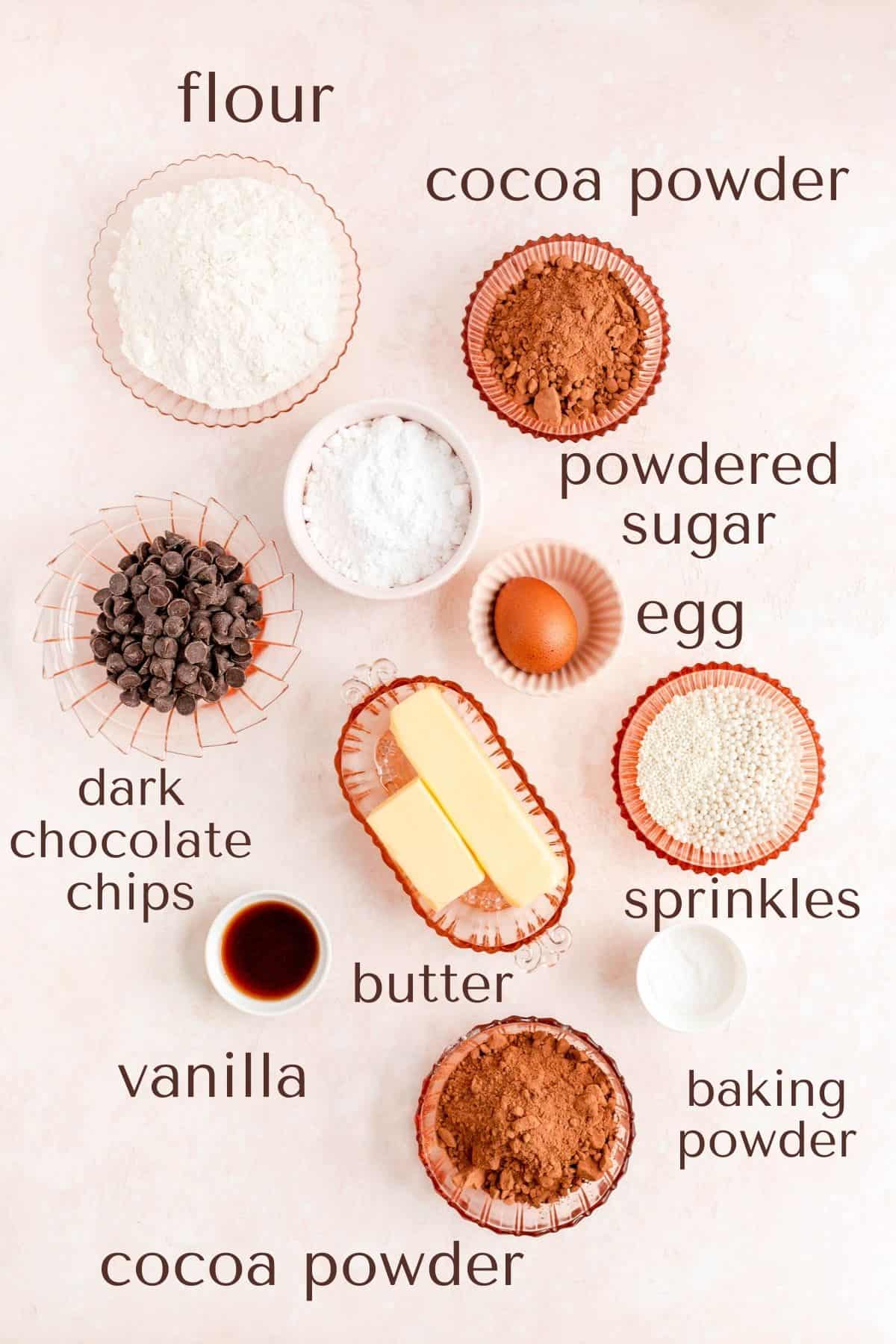 (p.s. for all the basic tips that no one ever taught you, that are super important to help you bake your best, check out my Baking 101 series!)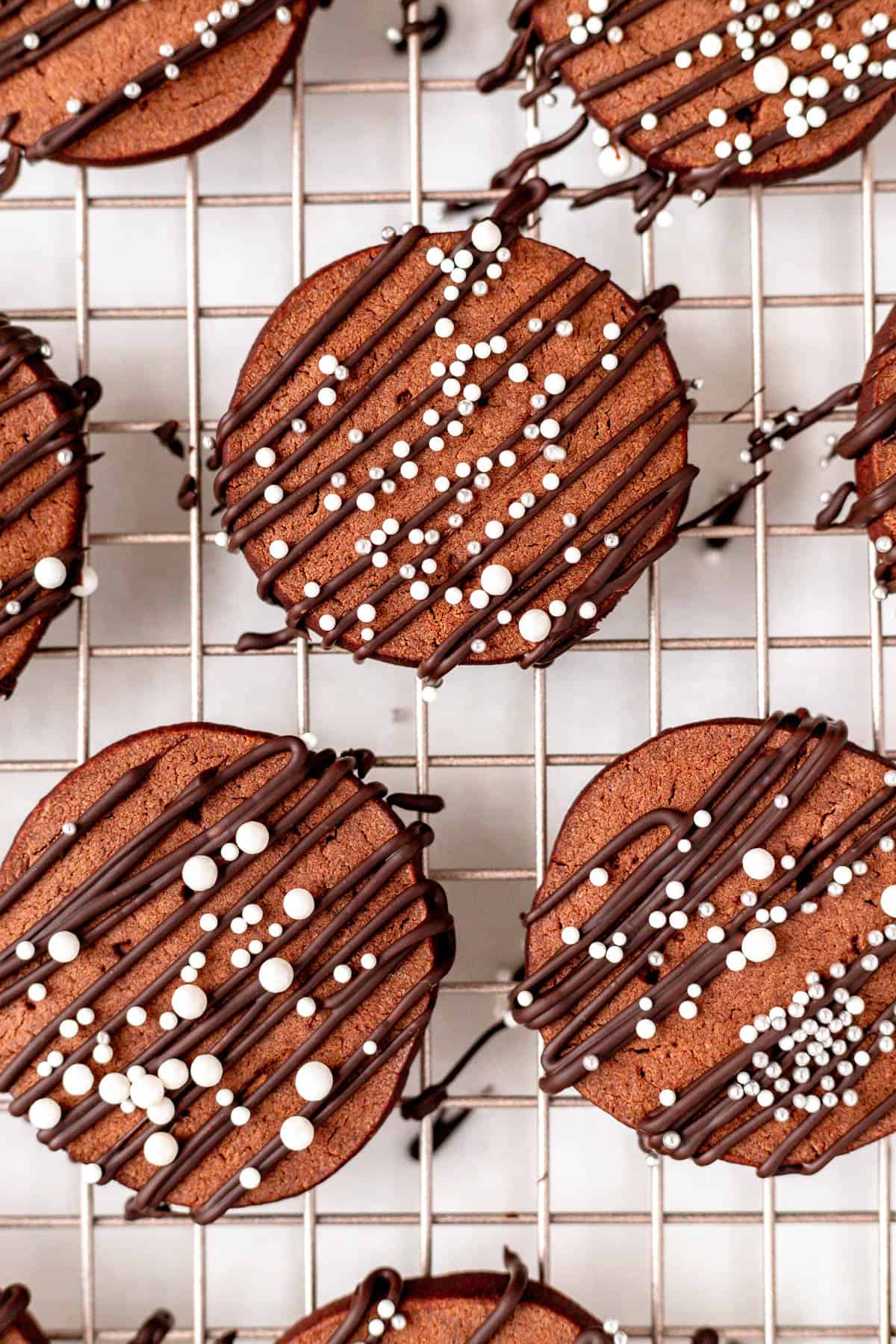 How to Make Icebox Cookies from Scratch
TO MAKE THE COOKIES: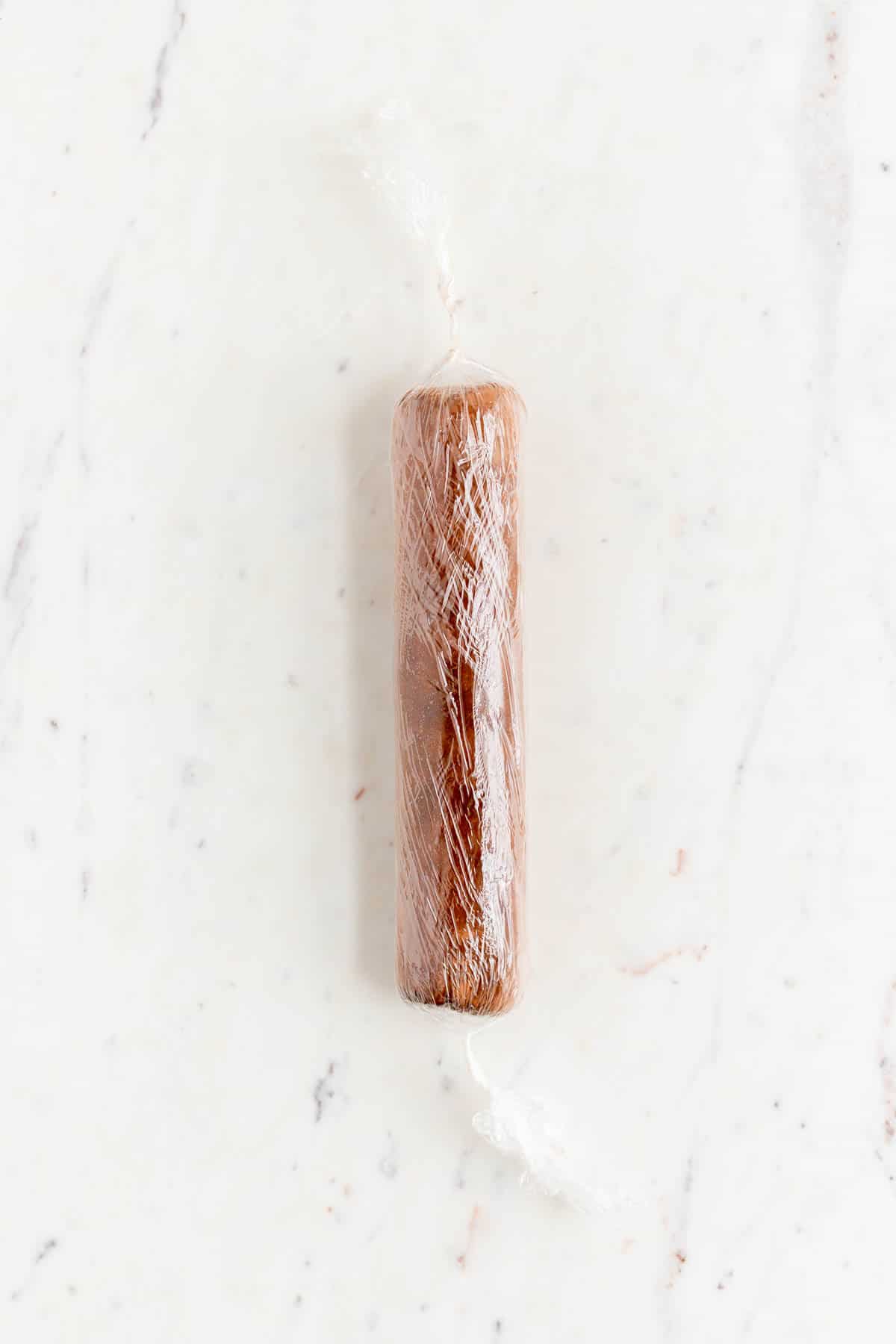 TO BAKE THE COOKIES:
At the end of the chilling time, preheat your oven to 350°F and line two baking sheets with parchment paper.
Slice cookies into ¼" slice, tray them up on prepared pans, and bake for 14-16 minutes until dry, matte, and fully set on top.
TO DECORATE (optional):
Place cookies on a cooling rack over parchment, foil, or plastic wrap.
Melt the chocolate chips or chopped bars fully.
Use a dinner fork to drizzle chocolate back and forth over the cookies.
Sprinkle some sprinkles on top if you like then allow chocolate to set for a few hours before enjoying these rich, dark chocolate delights!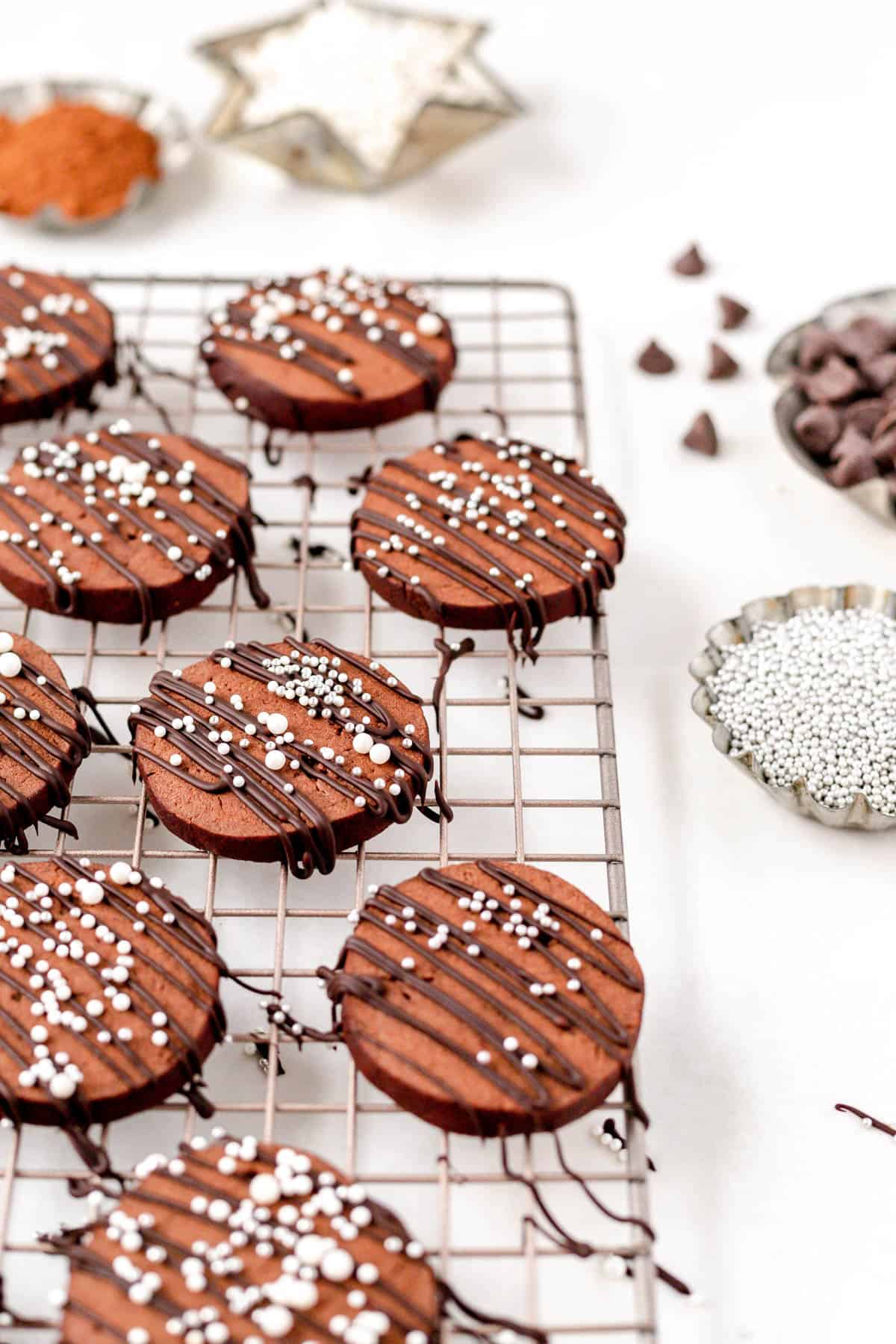 Check out the full RECIPE WEB STORY for a click-through tutorial!
*Expert Tips and Tricks* for Better Baking
What's the TOP TIP for making the best icebox cookies?
My #1 tip would be to make sure these cookies are fully chilled (a bare minimum of two hours) before you slice and bake them.
I know they sound delicious and you want to get them in the oven right away, but if they're not chilled enough, they'll pancake out into a thin cookie crisp when they're baked.
Can you freeze icebox cookie dough? How do you bake them from the freezer?
How do you keep icebox cookies round?
1) Make sure your dough is fully chilled through before baking.
2) Re-round your cookies at a few critical points in the chilling process (I'll walk you through this in the recipe card!).
Why do icebox cookies need to be refrigerated?
Icebox cookie dough, by design, needs to be really well chilled (often fully frozen) before it's baked.
1) This fully re-solidifies the butter before the bake, which will help the cookies to maintain their structure and round shape in the oven. Essentially, it'll help them not turn into cookie pancakes.
2)The rest time in the fridge also allows the flour to hydrate which stabilizes the dough further.
3) Only once the log is fully chilled, will it stand up to slicing. Thus, that long chill is required to portion your cookies using the slice and bake method as opposed to a roll and cut-out method.
What is the difference between a sugar cookie and a butter cookie?
While the ingredients are fairly similar between a sugar cookie and a butter cookie, there are a few common differences.
1) Typically a sugar cookie is going to have a much higher ratio of sugar (and often eggs) to flour than a butter cookie. Alternatively, a butter cookie would have a much higher ratio of butter to flour than a sugar cookie.
2) You'll also usually have little or no leavener (baking powder or baking soda) in a butter cookie. But there's often at least some
leavener in a sugar cookie so it has a little rise in the oven.
3) While it depends on the type of sugar cookie we're talking about, you will usually try to whip some air and lightness into a sugar cookie batter. However, butter cookies will typically be minimally mixed, with little air in the batter, as you're looking for a tender final cookie, with little to no rise.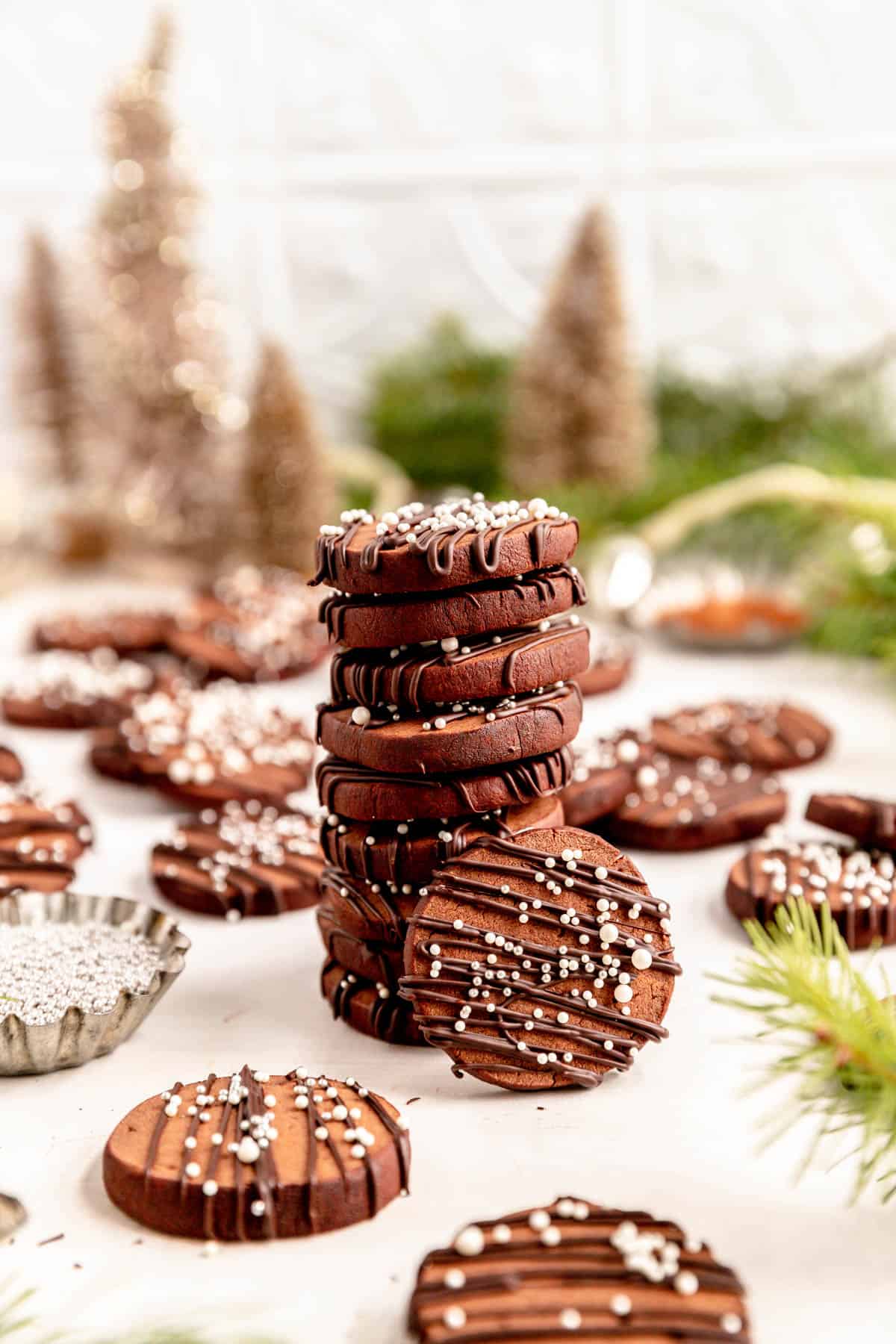 Other Recipes You'll Love
If you're a chocoholic like me, be sure to check out my Fudgy Dark Chocolate Brownies, Double Fudge Brownie Truffles, Fudgy Blondie Brownies and Chewy Double Dark Chocolate Chip Cookies.
For a traditional roll and cut vanilla butter cookie, head over to my Jammy Dodger recipe!
Last, but certainly not least, here's a few other holiday favorites: No-Chill Cut Out Sugar Cookies, Gingerbread Sandwich Cookies with Orange Cream Filling, and Easy 7-layer Magic Bars, and Bourbon Pecan Pie Bars!

📖 Full Recipe
These icebox chocolate butter cookies have a perfectly bittersweet dark chocolate flavor that balances their soft and tender texture.
FOR THE COOKIES
(1 ½ sticks) unsalted butter
dutch or natural cocoa powder
dutch or natural cocoa (for dusting the counter)
FOR DECORATION (optional)
dark chocolate chips or chopped bars
Sprinkles, chocolate shavings, or crushed candy canes
TO MAKE COOKIES
Cream butter and sugar: cream butter with powdered sugar for 1 minute on medium speed until light and fluffy.
Coat the dough fully in cocoa: lightly sprinkle cocoa over your work surface (just like you would when flouring a work surface). Transfer the dough to your work surface, form it into a single mass (doing your best to work out any major holes in the center), and form it into a thick cylinder (re-coating the surface and dusting your hands with cocoa as needed). The dough will be very sticky to start, but as soon as you get a full coat of cocoa powder on it, it should be easy to work with.
Chill, roll, then chill again: place your dough log in the fridge for 30 minutes. After that, pull your log out of the fridge and re-round it by just rolling it on the counter (while it's still in the plastic wrap), now that the dough is a little stiffer. Place the log back in the fridge and allow it to chill for another 30 minutes, then re-roll it once more. Finally, place the dough in the freezer for at least one more hour or overnight to fully chill through (you can even leave the dough in the freezer for up to a month as long as it's wrapped air-tight).
TO BAKE THE COOKIES
To decorate or not to decorate: these cookies are absolutely delicious on their own and don't require any additional decor or gilding, but there are definitely some options to snazzy them up if you like!
Melting chocolate: if using the microwave, use 50% power or less in 30-second intervals, stirring well between each to prevent burning the chocolate.
Chocolate set time: if simply melting your chocolate for the drizzle, you'll want to give your cookies a few hours for the chocolate to harden after decorating.  If you want your chocolate to set much faster, you can always temper it (just make sure it is couverture chocolate).  Here's a great tutorial on tempering if you'd like to learn how to temper.
Please add a star rating and let me know in the comments how it went for you!
About Jocelyn at M+M
Based on traditional German Heidesand Cookies, these Chocolate Slice and Bake cookies are a rich chocolatey version that still give the same light, crumbly, melt in your mouth texture. This recipe is made with SACO Pantry Premium Cocoa which gives them the best chocolate flavor!
How to keep the cookies from spreading?
I grew up with these cookies using powdered sugar which gives them that light texture but it also means the cookie dough is very soft. So, they need to be chilled overnight to firm up enough for slicing.
How long do Slice and Bake cookies last?
These cookies are great because stored in an airtight container they will last for 3-4 weeks!
Are Heidesand Cookies crispy or chewy?
These cookies 100% fall into the crispy category but they aren't break your teeth hard. They snap easily and melt in your mouth and they're also delicious dipped in a hot coffee!
Dutched Cocoa or Natural Cocoa Powder?
These cookies use the Blended Premium Cocoa Powder from Saco Pantry which gives them a delicious chocolatey flavor!
Tips for making Chocolate Heidesand
Don't over whip the butter and sugar mixture – we aren't trying to whip air into it rather just combine. If too much air is added in the cookies will get air bubbles and spread.
Only briefly mix in the flour, if you over mix them they will be tough. Mix until fully combined but no longer.
Press down firmly when rolling the dough log in the sugar, this will help it stick as well as re-round the log if it isn't very circular after coming out of the fridge.
If you notice the log starting to flatten out on the bottom as you cut the slices, rotate the log after every few slices to keep the pressure going in different directions.
Ingredients for Chocolate Slice and Bake Cookies
Butter: Butter is what holds these cookies together, the higher fat content the yummier. Be sure the butter is soft when starting the recipe.
Powdered Sugar: Powdered sugar is used instead of granulated sugar for the cookie dough for the light and tender texture.
Almond and Vanilla Extract: Both extracts enhance the flavors in the cookies, if you are allergic or don't have it the almond extract can be left out or replaced with coffee extract.
Milk: Any milk will work in this dough, it helps to loosen up the dough.
Cocoa Powder: As mentioned before, Premium Saco Pantry cocoa powder is used for these cookies!
All Purpose Flour: Any all purpose flour will work for these! I have not yet tried any other flours with this recipe.
Granulated Sugar: Granulated sugar is what the cookies are traditionally rolled in before slicing and baking.
How to make Chocolate Heidesand
In a medium mixing bowl, add in the butter, milk, powdered sugar and both extracts.
Mix on medium but start on low, until just combined. Scrape down the sides of the bowl and add in the cocoa powder.
Mix again until just combined.
Add in the flour and mix once more.
Wrap the log in a sheet of aluminum foil to help it keeps its shape. Place in the fridge overnight to chill.
Slice and Bake the Cookies
Preheat the oven to 350º F and place two racks in the oven so it is divided into thirds.
Line two baking sheets with parchment paper or silicone baking mats.
The next day, sprinkle the granulated sugar over a cutting board.
I find it easiest to work with the log in two portions so unwrap the log and cut it in half.
Roll both portions in the granulated sugar. Press hard to get the sugar to stick and correct any shaping if necessary. It's ok if they aren't perfectly round.
Use a sharp knife to cut each log into 1/2 cm thick slices. Rotate the log as necessary if one edge starts to flatten out.
Place the slices on the lined baking sheets with at least 1″ between each slice.
Bake the cookies in the preheated oven for 6 min then rotate and swap the baking sheets and bake for another 6 minutes.
Take the sheets out of the oven and place on wire racks to cool for at least 5 minutes before eating and allow them to cool fully before storing in an airtight container.
Afternoon Kaffee, Dessert
cookies, Slice and Bake
For Rolling
Preheat the oven to 350º F and place two racks in the oven so it is divided into thirds.
Line two baking sheets with parchment paper or silicone baking mats.
The next day, sprinkle the granulated sugar over a cutting board.
I find it easiest to work with the log in two portions so unwrap the log and cut it in half.
Roll both portions in the granulated sugar. Press hard to get the sugar to stick and correct any shaping if necessary. It's ok if they aren't perfectly round.
Use a sharp knife to cut each log into 1/2 cm thick slices. Rotate the log as necessary if one edge starts to flatten out.
Place the slices on the lined baking sheets with at least 1″ between each slice.
Bake the cookies in the preheated oven for 6 min then rotate and swap the baking sheets and bake for another 6 minutes.
Take the sheets out of the oven and place on wire racks to cool for at least 5 minutes before eating and allow them to cool fully before storing in an airtight container.
Notes
These cookies are not the time to worry about them being perfectly round. But, if you are concerned about it, you can re-shape/roll them after 30 minutes in the fridge.  Store them in an airtight container once cooled for 3-4 weeks.
Nutrition
This page may contain affiliate links. This means that if you click on one of the product links above and complete a purchase, I'll receive a small commission at no extra cost to you. I will never place a link nor make a recommendation on a product or service that I don't love or use personally. Read our privacy policy here. Thank you for supporting Red Currant Bakery.