It's not a pumpkin. Or is it?
Three pies sat on my table. A sweetly spiced aroma wafted through the room while condensation glistened atop the baked custard. Freshly whipped cream with speckles of black vanilla bean mounded high in an earthenware bowl. One pie was deep orange, while another was more salmon-colored, and the third had a cinnamon-brown tone.
A dozen people sat around, waiting for the first slice. They scrutinized the selections. My friends had gathered for a pie tasting; their duties were to test all three and tell me which reigned supreme. All the pies adhered to the same recipe except for one ingredient. And I wouldn't tell my friends what it was.
Tamalyn, a certified chef, tasted and savored each one. Then she accused, "Hey, this is sweet potato!"
I just smiled. None of the pies were made with  actual "pumpkin."
Pumpkin Pie is a seasonal favorite and if you want your pie to really shine, here are the 10 best pumpkins for pies as well as other desserts, soups, and sides.
Making your own homemade pumpkin puree can add a complexity of different flavors to your fall dishes. Depending on what pumpkins are available, the flavors can be sweeter, richer, more colorful, and with a smoother consistency. Each year I like to make a large batch of pumpkin puree to freeze for recipes throughout the season. Here is everything you need to know about the best pumpkins for pies and all of your cooking needs.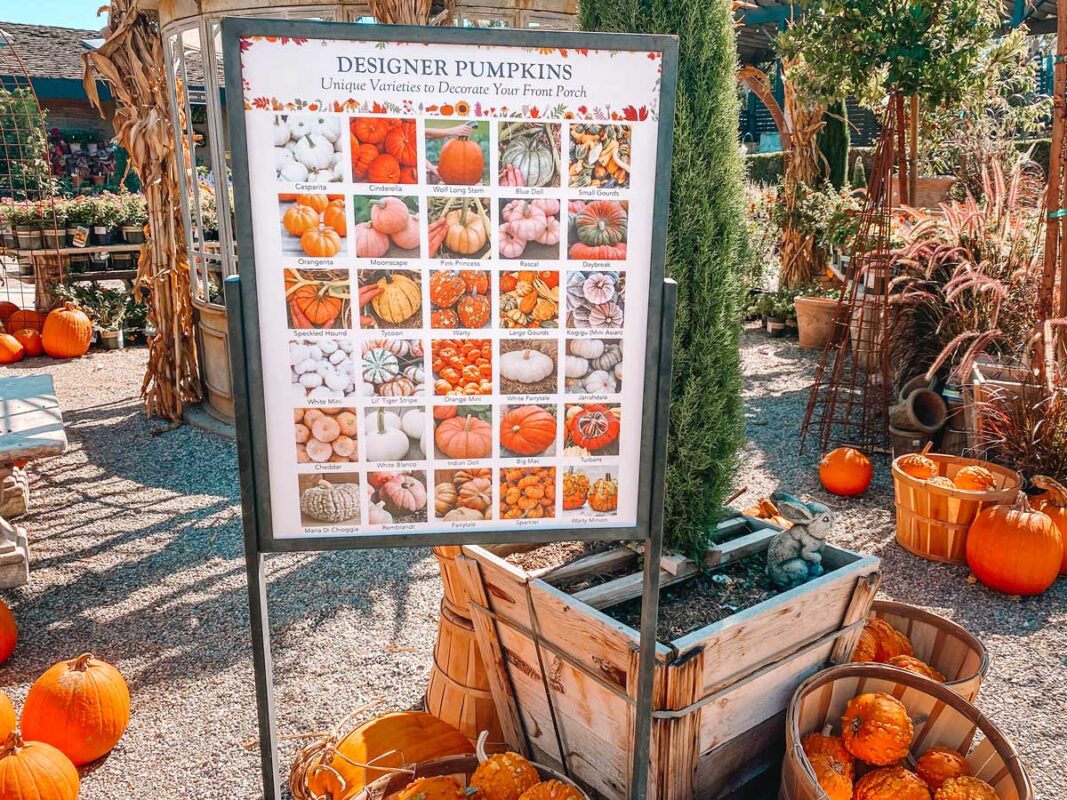 The best pumpkin pie demands the best pumpkin purée – and the best pumpkin purée needs the absolute best gourmet pumpkins.
The best pumpkins for pie are heirloom culinary varieties with dense, sweet flesh that's not watery or stringy. Some of the best pumpkin for making pumpkin pie include Fairytale Pumpkins, Jarrahdale Pumpkins, Dickinson Pumpkins, Long Pie Pumpkins, and Red Kuri Squash. Skip the carving/Jack-O-Lantern types and opt for an heirloom cultivar chosen for its cooked flavor and texture. Even the attractively-named "Sugar Pie Pumpkin" pales in comparison to the varieties below when baked in pies.
Read on to learn all about the best types of pumpkins for making gourmet pumpkin pie!
Go for the unique-looking heirlooms, not the bright orange jack-o-lantern types
A note about Pumpkins vs. Squash: All pumpkins are squash, but not all squash are referred to as "pumpkins". The winter squash we call "pumpkins" in casual terms are simply those winter squash that tend to have round shapes and ribs down the side. Some varieties are sold as "squash" and others are sold as "pumpkin" (depending on local tradition), but they are all part of the Cucurbita botanical genus. Lots of pumpkins are species Cucurbita pepo, but some are Cucurbita maxima or Cucurbita moschata. In terms of the best pumpkins for making pie filling, most are Cucurbita maxima or Cucurbita moschata due to the thicker, more flavorful flesh.
Dickinson pumpkin – american culinary heirloom
Canned pumpkin puree is a fall baking essential, but are you really buying the best brand? We tested eight options to find the best can for your pumpkin pies and other fall treats.
Our editors and experts handpick every product we feature. We may earn a commission from your purchases.
Why You Want the Best Canned Pumpkin
At Taste of Home, we love everything pumpkin: pumpkin pie, pumpkin bars—even savory pumpkin recipes. And while these recipes run the gamut of flavor, they all start with one staple ingredient: canned pumpkin. (Yes, it's better to bake with canned pumpkin instead of fresh pumpkin.)
Despite making all these amazing recipes, chances are you don't think twice about what brand of pumpkin puree you grab at the store. But since many of these treats are so beloved, our Test Kitchen wants to make sure that they taste their absolute best. How do we do that? With a blind taste test, of course!
Our Canned Pumpkin Taste Test
Color: Part of what makes pumpkin recipes so appealing is the vibrant color. A good can of pure pumpkin should have a rich orange hue—nothing pale or dull.
Texture: When making pumpkin puree from scratch, it can be challenging to get a super smooth texture. It's why folks prefer the canned stuff. Our Test Kitchen wanted to find canned pumpkin brands with a velvety smooth feel with minimal (if any) pulp.
Flavor: Canned pumpkin should contain just one ingredient: pumpkin! It should taste fresh and, well, squash-like. There should be no metallic flavors or saltiness there—just pure, unadulterated pumpkin.
Eight brands were considered for this test, and three were crowned winners by our Test Kitchen. Check out our Test Kitchen-Preferred canned pumpkin brands.
Best Canned Pumpkin Overall
In this taste test, our Test Kitchen pros found that the biggest name in the pumpkin game does, in fact, make the best canned pumpkin on the market. Libby's 100% Pure Pumpkin is a favorite among our culinary crew.
Libby's canned pumpkin has a really rich orange color that is quintessential fall. This deep shade is perfect for giving recipes like this copycat Starbucks pumpkin bread, gluten-free pumpkin bread and spiced pumpkin bars their appetizing appearance.
As for the taste, Shannon Norris in the Test Kitchen explains that "this brand has more depth of flavor than the others." A scoop of Libby's canned pumpkin has "great pumpkin flavor: earthy with a tiny bit of sweetness," according to the Test Kitchen's Josh Rink.
You'll also find that Libby's pumpkin is exceptionally smooth. There are no visible fibers in this can of pumpkin—just a velvety smooth pumpkin puree.
Best Organic Canned Pumpkin
If you prefer to use organic foods at home, our Test Kitchen suggests 365 by Whole Foods Organic Pumpkin Purée for fall recipes. Despite being organic, this brand is still very affordable; in fact, it's on par with Libby's for price.
This Whole Foods canned pumpkin wowed our team of tasters with its color. "I love the bright orange," says Shannon. "This is the sort of brand I would pick for my pies for the color alone." (We prefer making pumpkin pies with canned pumpkin vs fresh pumpkin.)
In addition to the bright color, our team describes this brand as also having a very bright, fresh flavor. "This one has a lighter consistency," explains Shannon, and a taste that is akin to a freshly steamed pumpkin—slightly vegetal with a whisper of sweetness. It would work in so many canned pumpkin recipes.
Best Budget Pumpkin
If you have a lot of pumpkin bakes lined up this fall, you can save some money by opting for a generic canned pumpkin option. Walmart's Great Value 100% Pure Pumpkin hits all the marks but costs significantly less than brand name options.
This can of pumpkin isn't as vibrantly hued as others in this test, but it has a winning texture. "This one is nicely pureed with a creamy consistency," says Ellie Crowley in the Test Kitchen. That velvety texture is perfect for recipes like this pumpkin cheesecake and homemade pumpkin ice cream.
Beyond smooth consistency, this canned pumpkin smells fresh and tastes of pure pumpkin without any extras. It does have a slightly milder flavor than our other top pumpkin picks, but when paired with pumpkin spice and topped with whipped cream, this brand will make an amazing pumpkin pie.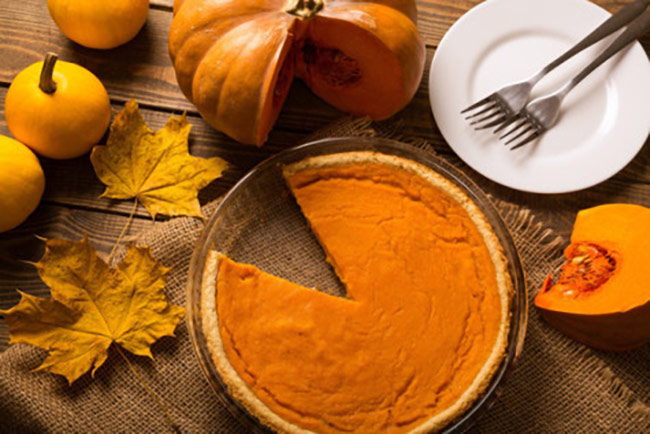 nstead of reaching for a can of commercially canned pumpkin, consider making your own delectable fresh pie filling with locally grown squash from the farmers' market.
But wait — which pumpkins are used for pies?
Pumpkins are squash — but not all squash are pumpkins — nor are all pumpkins created equally! To understand this curious cucurbit, you need to know a little about the squash and gourd family. Pumpkins and squash belong to the Cucurbitaceae family. Pumpkins fall into the Cucurbita pepo, C. maxima, and C. moschata species. The bright orange-skinned variety of pumpkin we think of at Halloween is the C. pepo species and is recognized as the true pumpkin. This group also includes gourds and many summer squash.
The C. maxima species includes squashes with pumpkin-like fruit but the skins are usually more yellow than orange, do not have ridges, and are generally referred to as 'pumpkin-squash' or 'squash-type pumpkins.' Other squashes in the C. maxima group include fall-winter squash varieties like Hubbard squash, kabocha squash, banana squash, buttercup, and turban squash.
The C. moschata species include cultivars of squash and pumpkin that produce long and oblong fruits, with tan or buff color skins rather than orange skins. It's the members of this group that is used for canned pumpkin pie production — not the orange pumpkins most associated with pumpkin pie! The texture is more cheese-like and actually resembles a wheel of cheese in color and shape. Non-pumpkin members include the winter crookneck squash and butternut squash.
Squash Pie — Hmmm
You have to admit, 'pumpkin pie' has a better ring to it than 'squash pie.' But, you may find (like Libby's did!) that squash, with its sweeter, fleshier, and creamier texture makes a better pie filling than most pumpkins. However, pie pumpkins have been developed specifically for eating. Here's a list of some of the best pumpkins and squash to use for pie filling.
Sugar Baby Pumpkin
You'll find lots of sugar babies available at the farmers' market. Also known as Sugar Pie pumpkins, these thin-skinned squash are smaller (4-8 lbs.) and have a sweet, dense flesh with a fine-grained, smooth texture. The cooked flesh is a bit drier, which makes a great pie filling.
Rouge Vif D'Etampes (Cinderella Pumpkin)
This bright, orangey-red French heirloom variety harkens back to the Pilgrim days and is thought to be the pumpkin that was cultivated and served at the second Thanksgiving. You'll recognize this variety when you see it —it resembles the squat pumpkin that Cinderella's godmother magically transformed into a carriage. The flesh has a smooth, silky texture similar to canned pumpkin. According to Donna Iles of Rodoni Farms, "Chefs have told me it is their favorite for roasted pumpkin soups or stews. I love it for baking bread, muffins, and to sauté with other veggies. Tender and beautiful, Cinderella pumpkins usually store for a long time." Rodoni Farms has a limited supply of these pumpkins available — so don't delay picking one up if you plan to try it.
Winter Luxury Pumpkins
According to Sarah Machado, owner of Upstarts Organic Seedlings, Winter Luxury pumpkins are one of her favorite pie pumpkins. "My husband rates Winter Luxury a 5 out of 5 for best taste and texture. It's one of the best-tasting pie pumpkins you can grow  — it has a delightful taste and a smooth, velvety texture. It's a small pumpkin (about 6 lbs.) and has a distinctive white netting on its skin. It's the favorite pie pumpkin of many people who grow it."
Pink Banana Squash
Pink Banana squash is the one you see at grocery stores that is usually cut into chunks and wrapped in plastic. Part of the reason it's marketed this way, it practically requires power tools to cut it! However, it's worth the effort — it has a finer-grained, sweeter flesh than pumpkin and makes a superb pie.
Dickinson Squash
So what is in those cans of Libby's pumpkin filling? Libby's uses a variety of squash that was developed specifically for them called Dickinson. It more closely resembles a butternut squash than the orange pumpkins we imagine. Elongated and weighing up to 40 lbs., it has tan skin and slightly furrowed ridges. It has a drier flesh, which is ideal for canning and pies.
Homemade Vs. Canned Pumpkin — Which Makes a Better Pie?
While many prefer the DIY approach to avoid processed foods, there are some advantages to using the old, familiar, canned standby for your holiday pumpkin pie.
One important advantage is consistency — the canned product has a more predictable texture, taste, and moisture content. This is important when you're baking a pie filling! Unless you understand which varieties of squash and pumpkin need to be drained to remove excess moisture after puréeing, or how to adjust the sweetness in your recipe to the variety of squash you are using, it can be a daunting task to reformulate a standard canned pumpkin pie recipe. Who wants to risk serving a pie that's a soupy mess on Thanksgiving? Most recipes for pumpkin bread, muffins, and other dishes are based on the moisture content of canned pumpkin — so bear this in mind when you make your own pumpkin purée.
Using canned pumpkin eliminates any guesswork when baking, but it's worth exploring the lovely flavors and textures of other squashes. Keep a cooking diary and make notes about your favorite squashes. Experiment with making various squash purées and test your pie recipes when time isn't a major factor.
RECIPES: How to Cut and Peel Winter Squash, How to Make Fresh Pumpkin Purée, Sarah's Pumpkin Pie

I'd wager that the vast majority of pumpkin pies are made with a common variety called Sugar Pie. These are easy-to-access, bowling ball-sized pumpkins that show up in the grocery stores a couple of months before Halloween rolls around. When you buy those, you're buying the standard taste of the pumpkin pie that comes in a box. Don't get me wrong, they're pretty okay, but let's explore the other options that are out there—the kind that can make a big difference in the kitchen as pie filling and any other baked goods you might be planning on cooking up.
I should point out that damn near any pumpkin or squash can be used for making a pumpkin pie, but having said that, your basic carving pumpkin is going to leave a lot to be desired if you try to make its insides into a pie filling. Generally speaking, the smaller the pumpkin variety is, the more flavor it's going to have. Of course, there will be exceptions, but this is the general rule. Keep that in mind when you're shopping around for a good pumpkin to make into a pie worthy of dishing out for friends and family.
Winter Luxury
Let this list start with my absolute favorite for any baked goods recipe that calls for pumpkin. This variety, which generally weighs anywhere from 4 to 6 pounds (I've seen monsters weighing upward of 10 though), looks like your standard pie pumpkin, except it appears to have been coated in something akin to icing sugar or flour. From the aesthetic of it alone, it's an appealing gourd.
As far as taste goes, this pumpkin has what I can only describe as a much more condensed pumpkin flavor, with a savouriness that standard pie pumpkins lack. You might be asking yourself "if it's such a superior pumpkin to the standard sugar pie, why isn't it sold in grocery stores across North America in mass quantities?" Well, that brings us to the Winter Luxury's downfall—they have a fairly short shelf life. Three weeks is about as good as it gets for these pumpkins, so plan to use them inside that time span after purchase.
Orange Smoothie
If there were an award for best-tasting pie pumpkin with an exceptional shelf life and wonderful decorative features, this pumpkin would win year after year. If stored in a cool, dark, and dry place, this pumpkin will last up to 6 months after harvest.
Though typically used for dishes like soups, it excels as a pie pumpkin as well. If you've got your hands on a few of them, try using it to make things like pumpkin bread and filling for pumpkin pie butter tarts. If you've never had them, they're worth the trouble to make.
Rouge Vit d'Etampes
Quite the name, right? These ones are often better known as Cinderella Pumpkins, and when you hear that, the image that your mind conjures is most likely pretty accurate of what the pumpkin actually looks like. These pumpkins admittedly have a creamier texture to their flesh, but they're absolutely suited to the purpose of pie filling.
Here's the thing though—these pumpkins can get big. How big? A twenty-pound Cinderella pumpkin is not exactly out of the ordinary. When it comes to using something that's of such a size, you're dealing with a lot of leftover pie filling.
With that being said, you're dealing with a pumpkin that is born and raised for things that don't actually involve being made into a pie. Being a classic winter squash, these pumpkins will last up to 6 months or more when properly cured after being cut from the vine. While I highly recommend this variety for use as pie, mostly because if you cut one open, it has a sweet flavourful aroma similar to melon with that down-home pumpkin taste, you're also dealing with an extremely visually pleasing squash that makes a great autumn decoration prior to being turned into a fantastic pie. This squash is, by all accounts, a solid 8 out of 10 on the pie pumpkin charts.
Musquee De Provence
This is a heavy-weight pumpkin whose historic popularity resides in the heart of France, even though they are originally thought to have a genetic history stemming from South America. A big, flat pumpkin that almost resembles a 20-pound wheel of cheese, its uniqueness actually lies inside the squash rather than its cosmetic look. When cut open, it smells as sweet as a melon. When you look at one of these delicious pumpkins, picture an oversized standard Sugar Pie variety, because the actual taste is almost (but not quite) the same.
As with a lot of heirloom pumpkin varieties, you can expect an exceptional shelf life with this particular variety of roughly 9 months. That's a general statement though, I've kept them for over a year and still cooked with them. As long as they're stored in a cool, dark place, and the pumpkin itself has no blemishes on the skin, they'll keep for a long time without any effects on the taste itself.
Grey Ghost
This one is more of a winter squash than anything else, but I couldn't make a list of great pumpkins to use for baking and not include this one. When you see one of these, you'll never forget it. They're a weird, subtle blueish-grey fruit with widely ribbed sections and a stem that looks like it might be made from 40-year-old cedar limbs. They weigh an average of roughly 10 pounds, but if conditions are right, they can reach the 20-pound mark. This is a cultivar that stores well, especially for being a hybrid variety, with a shelf life averaging 4 to 6 months if stored properly.
Once you cut one of these open, you're really in for a treat. The inside flesh has thick seeds that, just on their own, are delicious when baked. The taste of the meat inside is very sweet, very rich, and very thick—so much so that it would be next to impossible to carve one of these into a jack o' lantern.
It's a breed that excels if you roast the whole thing all day long at a low heat and then cut it into sections. Once you've reached that point, it will make getting the flesh off the skin that much easier. It took me a little while to learn how to properly work with one of these, but once I got the hang of it, working with this squash became far easier. I know this is about pumpkins worthy of baking with, but the Grey Ghost is really spectacular for pumpkin soup, too.
Worst Pumpkins for Pies, Baking, & Cooking
Since we're discussing the best pumpkins for pies, baking, and cooking we should also talk about the worst. You may be surprised to know that the Sugar Pumpkins sold at grocery stores and toted as pumpkins for pies, are the worst! They are bitter and yield a horrible flavor.
You should also avoid the large pumpkins used for carving which are also bitter and incredibly stringy.
Blue Doll pumpkin
Blue Doll Pumpkin is a medium-large, blue-grey modern hybrid pumpkin variety bred to have the appearance and flavor of an old-fashioned heirloom pumpkin. Fruits are deeply ribbed and reach 15-20 pounds per fruit.
The flesh is bright orange and sufficiently dense and flavorful to make an heirloom-quality pie filling. The flavor is not overly sweet and is a great choice for those who prefer a more savory taste in their pie filling (as opposed to the more saccharine pie filings).
The Blue Doll Pumpkin is a hybrid Cucurbita cultivar.
Black Futsu pumpkin
Futsu Black Pumpkin is a small-sized, green-black heirloom pumpkin from Japan. These unique pumpkins are round and very dark green as they start to mature, developing deep ribs and a wrinkly rind. Ripe Black Futsu Pumpkins turn a dusky brown color, and weighing about 3 pounds.
Black Futsu Pumpkins have a sweet, nutty flavor (think chestnuts or hazelnuts). The resulting purée is similar to a Butternut Squash purée if a little bit nuttier, deeper, and in a slightly darker yellow-orange shade.
The Black Futsu Pumpkin is a Cucurbita moschata cultivar, along with other pumpkin pie-making favorites like Dickinson Pumpkin, Fairytale Pumpkin, and Seminole Pumpkin.
Hubbard squash
Hubbard Squash is a large, teardrop-shaped heirloom squash that is known for its excellent cooking characteristics. These big fruits have grey-green-blue bumpy skin and weigh 15-20 pounds when ripe (if not more!).
Hubbard Squash makes fine-grained, smooth purée with a lovely subtle flavor. The yellow-gold flesh is sweet and earthy.
Hubbard Squash is a Cucurbita maxima cultivar, along with other pumpkin pie-making favorites like Jarrahdale Pumpkin, Kabocha Pumpkin, and Galeux d'Eysines Pumpkin.
Marina di chioggia pie pumpkin
Dickinson pumpkin
The Dickinson Pumpkin is an American heirloom pie pumpkin considered to be the go-to pie-making pumpkin by many bakers and chefs. These medium-sized, tall pumpkins are American heirlooms, with roots in Kentucky and Illinois. Ripe pumpkins weigh about 10-14 pounds each.
Dickinson pumpkins have dense orange flesh with minimal water content. Flavor is sweet and complex, while the texture is firm, making a thick purée. The dense flesh is not at all watery when puréed for pie, and this heritage cultivar is known for its rich flavor when baked.
The Dickinson Pumpkin is a Cucurbita moschata cultivar, along with other pumpkin pie-making favorites like Musquée de Provence (Fairytale Pumpkin), Butternut Squash, and Seminole Pumpkin.
"Grown by Elijah Dickinson, born in 1795, he brought the Dickinson pumpkin seeds to Eureka, Ill., from Kentucky in 1835. He didn't know he was carrying with him the seeds of a million dollar pie pumpkin and one of the most valuable heirlooms in history. It is the backbone of the pie industry even today."
Fairytale pumpkins – french culinary heirloom
Long Island Cheese pumpkin
Long Island Cheese Pumpkin is a medium-sized, tan heirloom pumpkin cultivar from Long Island (NY, USA). These pumpkins have a pale pastel creamy-yellow rind, rather like a big wheel of cheese. Each pumpkin weighs in the range of 6-10 pounds.
Long Island Cheese Pumpkin is popular for making pie filling as it makes a hearty purée perfect for cozy fall meals. The rich flavor is slightly earthy, but still well-balanced with dessert-quality sweetness.
The Long Island Cheese Pumpkin is a Cucurbita moschata cultivar, along with other pumpkin pie-making favorites like Dickinson Pumpkin, Fairytale Pumpkin, and Seminole Pumpkin.
Buttercup squash
Buttercup Squash is a winter squash that works well as a small, green-skinned pumpkin in festive autumn displays. They have a turban-like button on the bottom, and the rind often has thin vertical grey streaks. Ripe fruits weigh about 3 pounds each.
Buttercup Squash looks and taste quite a bit like Kabocha Pumpkins, but with a sweeter flavor. Like Kabocha, the purée is thick and rich – perfect for pumpkin pie! When mixed into pumpkin pie filling, the result is a creamy and smooth baked pie.
Buttercup Squash is a Cucurbita maxima cultivar, along with other blue/green colored pumpkin pie-making favorites like Jarrahdale Pumpkin, Kabocha Pumpkin, and Hubbard Squash.
Cinderella or Rouge Vif d'Etampes
Cinderella Pumpkins or Rouge Vif d' Etampes is a French heirloom variety. These pumpkins have also grown in popularity for their beautiful white coloring and can be found in most grocery stores and nurseries. These are perfect for decorations and baking pies.
Cinderella Pumpkins have nice sweet firm flesh and are great in desserts as well as savory dishes.
Amish Pie squash
Amish Pie Squash (also known as Amish Pie Pumpkin) is an extra-large winter squash developed to make delicious baked goods. These giant white pumpkins can reach 60-80 pounds when ripe!
Amish Pie Squash has dense, sweet flesh that stays somewhat moist in a purée. These giant pumpkins make very large batches of pumpkin purée when roasted (enough for MANY pies!).
Amish Pie Squash is a Cucurbita maxima cultivar, along with other large-sized pumpkin pie-making favorites like Jarrahdale Pumpkin, Cinderella Pumpkin, and Queensland Blue Pumpkin.
Jaune Gros De Paris pumpkin (Yellow of Paris pumpkin)
Jaune Gros De Paris Pumpkin (Yellow Of Paris Pumpkin) is a large, yellow heirloom pumpkin variety from France. These big yellow pumpkins typically weigh 40-50 pounds but can grow to reach over 100 pounds in good conditions. While this heirloom is beautiful, it is known mainly for its tender, sweet cooked flesh. Use this pumpkin variety in pies, soups, or baked goods like pumpkin bread.
Jaune Gros de Paris Pumpkins make a bright yellow purée. The flesh is thick, making a dense yet tender purée for pumpkin pie. The bright color remains somewhat yellow-orange when cooked, for a nicely-colored cooked pie.
The Jaune Gros de Paris Pumpkin is a Cucurbita maxima cultivar, along with other pumpkin pie-making favorites like Jarrahdale Pumpkin, Kabocha Pumpkin, and Hubbard Squash.
Pie pumpkins come in all shapes and sizes.
Seminole pumpkin
Seminole Pumpkin is a small tan heirloom cooking pumpkin from the Everglades (Florida, USA). These pumpkins taste a lot like Butternut Squash but can be grown in hotter, more humid climates.
Seminole Pumpkins make a smooth and sweet pumpkin pie filling with a deep orange color. The flesh is dense and rich, making a hearty pie filling. Seminole Pumpkin pie filling tends to be a bit sweeter than pie filling from some other common choices, such as Jarrahdale or Butternut Squash.
The Seminole Pumpkin is a Cucurbita moschata cultivar, along with other pumpkin pie-making favorites like Musquée de Provence (Fairytale Pumpkins), Butternut Squash, and Dickinson Pie Pumpkin.
Dickinson Pumpkins
Dickinson Pumpkins are most commonly cultivated and used by Libby's popular canned pumpkin puree. They are found more on the east coast and midwest. Dickenson Pumpkins are actually a variety of Butternut Squash which is what you will typically find in almost all store-bought pumpkin purees.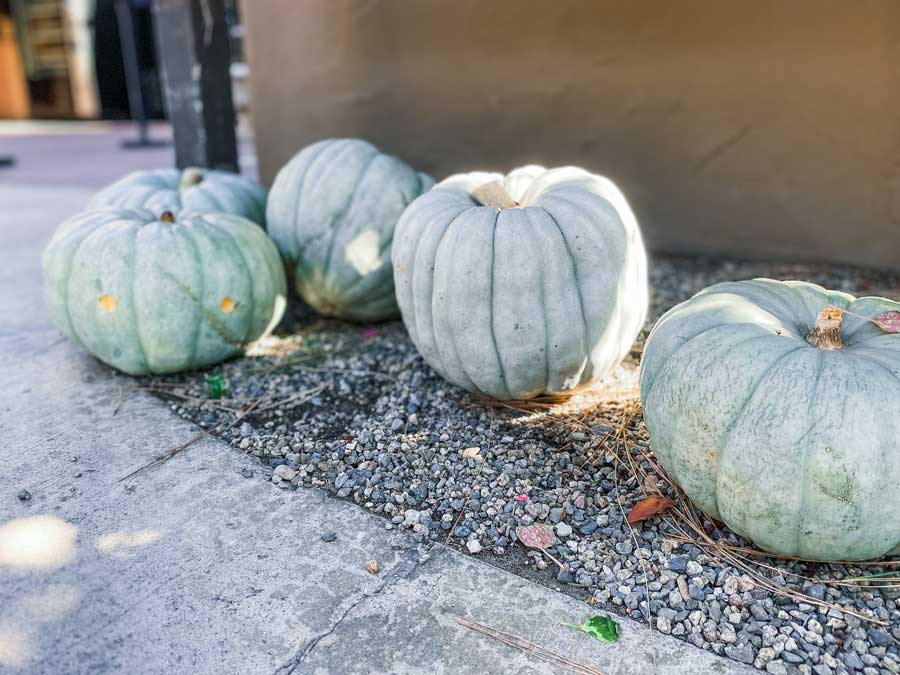 Kabocha
Kabocha Squash is a popular type of pumpkin that actually has a green flesh, with a vibrant orange flesh. It is commonly used in baking because of its low water content and rich flavor. It also produces a beautiful orange coloring with a velvety smooth finish.
Kabocha pumpkins are also great for roasting as they have a subtly sweet, but earthy flavor. If you've ever eaten in a Japanese Restaurant, you've likely enjoyed Tempura Battered Kabocha Squash.
Porcelain Doll pumpkin
Porcelain Doll Pumpkin is another medium-large modern hybrid pumpkin bred to have the appearance of an old-fashioned heirloom, but with a pale pink-colored rind. Individual pumpkins weigh 18-22 pounds and are deeply ribbed. A portion of proceeds from Porcelain Doll Pumpkins and seeds goes to support Breast Cancer research.
Porcelain Doll Pumpkins make a smooth, deep orange pumpkin purée. The orange flesh is sweet, but still nicely balanced in flavor.
Porcelain Doll is a Cucurbita maxima cultivar, along with other big pumpkin pie-making favorites like Jarrahdale Pumpkin, Cinderella Pumpkin, and Queensland Blue Pumpkin.
Two of my favourite pie pumpkins!
Galeux d'Eysines pumpkin (Peanut pumpkin)
Galeux d'Eysines Pumpkin (Peanut Pumpkin) is a medium-sized, tan heirloom pumpkin from France. These pumpkins are known for their peach-colored skin that's covered in bumpy "warts"! The more warts on a Galeux d'Eysines Pumpkin, the sweeter the flavor of the pumpkin will be!
Galeux d'Eysines Pumpkins are well-known as excellent baking pumpkins. The flesh is very flavorful, smooth, and sweet. Galeux d'Eysines (Peanut Pumpkin) makes a deliciously sweet pumpkin pie filling!
The Galeux d'Eysines Pumpkin is a Cucurbita maxima cultivar, along with other pumpkin pie-making favorites like Jarrahdale Pumpkin, Kabocha Pumpkin, and Hubbard Squash.
The Quest For The Perfect Pie
Like most of my homesteading adventures, the quest for the perfect pumpkin pie began in my garden. And my first endeavor as a gardening adult involved pumpkins.
Raise your hand if you chose specialty French or Italian varieties for your first pumpkin-growing endeavor. You probably chose jack o' lanterns, right? They're cute, easy, and seeds are 99 cents a packet.
And they taste horrible.
But I didn't know that. Because it's a pumpkin! And pumpkins make pies. So I grabbed the first seed packet labeled "pumpkin" from the dollar store shelf and planted. Jack o' lanterns swelled up almost as big as my water bill. Then I cut the ripe fruit, roasted it and pureed loose, watery, bitter flesh into something that looked nothing like the deeply hued selections in commercial cans.
Photos by Shelley DeDauw
Realizing I had chosen the wrong type of pumpkin, I tried again the next year. I logged onto the seed company's website and searched up, "pumpkin." And I chose the only one that also had "pie" in the description, convinced that "Small Sugar" was key to the pies, breads and cookies of my dreams. Small sugar pumpkins did well in my climate. By October, I had 20 pretty orange globes curing atop my chicken coop. I couldn't wait to try the first one. Since it wasn't yet November, I baked bread first. After cutting the top off, scooping out the guts, and roasting the fruit, I tasted the cooked flesh. It was bitter, not sugary as the name suggested. But it was denser than the jack o' lantern flesh so, after draining it in a colander for over an hour, I made bread.
I had to be missing something.
To the internet I went. How could I turn my garden pumpkins into the sweet, dense purée offered in the cans? By searching, "best pumpkins for pies," I found articles with conflicting claims. They all agreed on one thing, though:
The best choice wasn't a pumpkin at all.
The best pumpkins for pies may not be pumpkins after all, at least to Americans. What we call pumpkins here might not match the rest of the world.
Cinderella pumpkin (Rouge Vif d'Etampes)
Cinderella Pumpkin (Rouge Vif d'Etampes) is a large, red-orange heirloom pumpkin variety from France. These pumpkins weigh about 20-30 pounds and are known for their brightly colored rind and classic flattened heirloom pumpkin shape.
Cinderella pumpkins have dense bright flesh perfect for baking in pies. The flavor is not as sweet as some other heirlooms and is a good choice for those who like their pumpkin pie filling on the more savory end. The flavor of this pumpkin is an excellent match for nutmeg, cinnamon, and other popular pumpkin pie spices.
The Cinderella Pumpkin is a Cucurbita maxima cultivar, along with other pumpkin pie-making favorites like Jarrahdale Pumpkin, Kabocha Pumpkin, and Queensland Blue Pumpkin.
Zucchino Rampicante squash
Zucchino Rampicante Squash is an Italian heirloom squash with tender flesh and a sweet, delicious taste. While sometimes eaten when young as a summer squash, the Zucchino Rampicante can be left to mature into a winter squash with a tan-color rind (like butternut). The ripe fruits are very long and slender (like a zucchini), with a bulb-like end.
Zucchino Rampicante Squash has a subtle, sweet taste when used to make pumpkin pie filling. These Italian heirlooms are prized for their complex yet light flavor. The elongated shape of the squash means that it's difficult to peel and cube the really thin parts, but fortunately, if you're growing this one yourself, the plants are so vigorous that quantity will likely not be a problem.
The Zucchino Rampicante Squash is a Cucurbita moschata cultivar, along with other pumpkin pie-making favorites like Musquée de Provence (Fairytale Pumpkins), Butternut Squash, and Dickinson Pie Pumpkin.
"The Italians use it for stuffing in gnocchi and ravioli; the flesh is rich and flavorful, great for baking and pies! The vines produce good yields of this great all-purpose squash. The mature fruit grow very long. This one is in very high demand at specialty markets"
Kabocha pumpkin (japanese black pumpkin)
The whole mix-up involves jack o' lanterns. They're so popular, due to American traditions, that we've come to accept those as the standard "pumpkin." The term has become synonymous with round, ribbed fruits and cavernous seed hollows. Pretty pictures and marketing have convinced us that pies are made with these glowing orbs.
Though pumpkins are native to North America, their introduction to Tudor England made them a popular pie filler. Pumpkin pie recipes are found in English cookbooks written as early as 1675. The Pilgrims carried the concept of pumpkin pie back to New England with them while the English took squash recipes in a different direction.
But jack o' lanterns are a fairly new thing outside of America. Nick Johns, living in the United Kingdom, claims that in his first 20 years, jack o' lanterns were only seen on TV and recently became popular when trick-or-treating overshadowed Britain's autumn holiday of Bonfire Night. Nick says even butternut squash recently gained popularity due to the rise of celebrity chef shows.
Back in America, pumpkin pie is a regional thing. Pretty pictures and marketing often dismiss sweet potato pie, which is a cheaper and more available filling in the southern United States, but more difficult to grow up north. When drained to the same consistency, baked winter squash and baked sweet potato flesh are interchangeable within recipes.
In my pie tasting party, only Tamalyn, the certified chef, knew the difference.
Jerrahdale
Jarradale Pumpkins are a light muted green color and are known as one of the best pumpkins for pies and desserts. They have very sweet and fruity flesh, almost like a melon, and create a perfect puree for pie fillings. They have minimal stringiness and make for a wonderfully smooth texture.
These pumpkins are also much more difficult to find and are more pricey. You will have better luck finding them at your local nursery. Although the price can be as high as $20-$30, they are larger and will produce a large batch of pumpkin puree to enjoy for pies, soups, and more.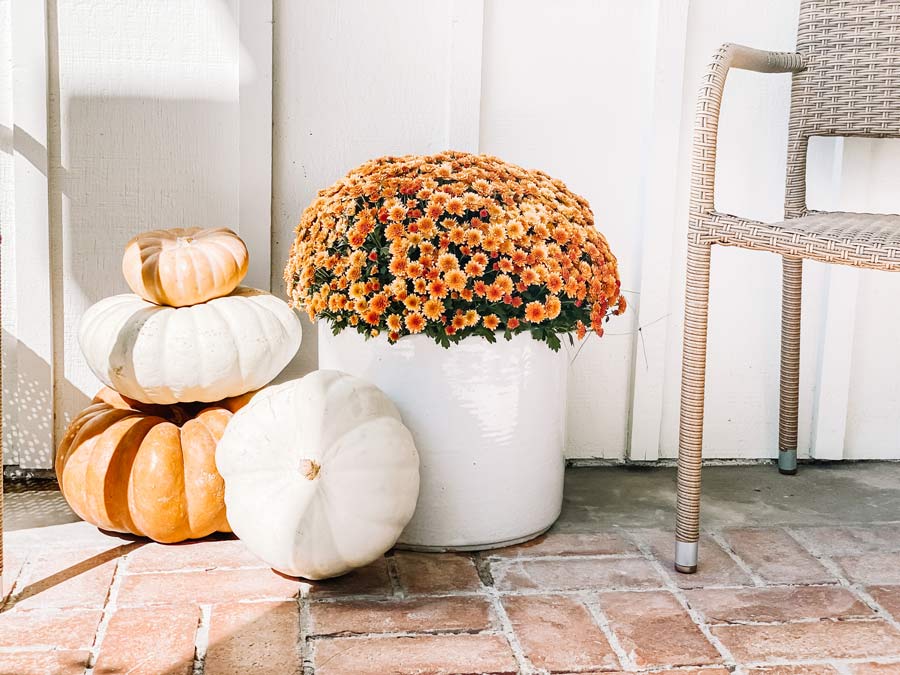 Farm Fresh Pumpkin Pie Recipe
Instead of peeling and cubing the squash, simply stab it with a knife and set it on a cookie sheet. Lower your oven rack until the pumpkin fits then bake at 400°F until a knife can easily insert through the sides. Cool the squash then cut it open and remove the seeds. Scrape out the flesh. Let the roasted flesh drain in a colander for at least 30 minutes.
If you want to save and roast seeds, cut the top off and scrape seeds out before baking. Then put the top back on and roast the whole pumpkin until it is soft.
Remember, "pumpkin" is a subjective term. You can even use roasted sweet potato if a loved one can't eat squash. For a more distinguished flavor, substitute evaporated goat milk for the heavy cream or use 1 and ¼ cups honey instead of sugar.
Crust Ingredients
1 cup white or whole wheat flour
½ cup rolled oats
½ cup cold butter
¼ cup cold water
Custard Ingredients
3 cups roasted, drained squash
1 cup raw or brown sugar
2 ¼ cups heavy cream
4 large eggs
½ teaspoon salt
1 teaspoon vanilla extract
1 ½ teaspoons ground cinnamon
1 teaspoon freshly ground nutmeg
½ teaspoon ground ginger
¼ teaspoon allspice
Heat oven to 425°F.
Pulse the rolled oats in a food processor until the texture of coarse meal. Mix oats and flour in a bowl. Cut in the butter until the mixture resembles pea-sized chunks. Sprinkle in cold water, mixing with a fork, until the dough comes together and isn't dry.
Combine all the custard ingredients in a blender or food processor. Pulse until smooth.
Bake at 425°F for 15 minutes. Then turn the oven down to 350°F and bake another 45-60 minutes, until a metal fork inserted into the middle comes out clean. Remove the pie from the oven and let cool completely before serving.
Top with real whipped cream.
Queensland Blue pumpkin
Queensland Blue Pumpkin is a large, blue-grey heirloom pumpkin cultivar from Australia. The gorgeous grey-blue pumpkins have deep ribs and a flattened, almost cylindrical frame. These pumpkins store for many months due to their thick rind.
Queensland Blue Pumpkins have thick and meaty flesh with a wonderful bright golden-orange color. The resulting purée is very sweet and keeps a bit of its golden color after being baked in the oven.
The Queensland Blue Pumpkin is a Cucurbita maxima cultivar, along with other pumpkin pie-making favorites like Jarrahdale Pumpkin, Kabocha Pumpkin, and Hubbard Squash.
Kabocha Japanese pumpkin (Kabocha squash)
Kabocha Pumpkin is a small, dark green Japanese heirloom culinary pumpkin. These pumpkins have a rough outer rind and a bright orange interior. Each pumpkin ranges in size from about 3-5 pounds, so bakers may want to purchase a few squashes to roast.
Kabocha Pumpkins have moderately sweet, fine-textured flesh that makes an excellent, thick pie filling. Despite being a thick purée, the texture is rich and creamy while the flavor is subtle and earthy (but not mild enough to be completely obscured by the spices). The dark color of the squash also looks lovely in a baked pie shell, if not quite as bright as the Red Kuri Squash purée.
The Kabocha Pumpkin is a Cucurbita maxima cultivar, along with other pumpkin pie-making favorites like Buttercup Squash, Jarrahdale Pumpkin, and Hubbard Squash.
A Pumpkin By Any Other Name
But all pumpkins are squash. And, in some places, all winter squash are pumpkins.
While working on a story for Countryside, I delved into the reasons "growing pumpkins" was really about growing squash.
It was while I researched that story that I realized people in Australia and New Zealand use the word "pumpkin" for all winter squash.
Back to the internet I went, this time to a large and cherished group of fellow writers. I asked those living in different countries, "What does 'pumpkin' mean where you live?"
Michael Manz was first to respond. He's an expatriate Canadian living in China. Though other Canadian friends confirmed that "pumpkin" referred to jack o' lantern types, Michael said pumpkins in his part of China are small and green. They're still orange on the inside, and sweet. The Chinese pumpkins are dipped in egg and fried.
Then Holly Kench replied. She lives in Tasmania, just south of the Australian continent. "The concept of being able to carve a pumpkin makes no sense to me outside the movies," she explained. The things she calls pumpkins are very hard and thick, but still sweet. They're also green.
Holly showed pictures of the most common Kent pumpkin, a round and squat fruit with thick orange flesh and a small seed cavity. The skin is forest green with yellow spots. I'd call it a kabocha squash. Lighter-colored Jarrahdale pumpkins are blue-gray. Holly described the only orange-colored pumpkins as "butternut pumpkins" and showed me a picture of my beloved butternut squash.
At that point, Michael spoke up and identified the photo of the "Kent pumpkin" as the type he eats in China. But in Chinese, they're called Nan Gua, or "South Melon." Michael says, "Everything is a melon in Chinese. Cucumbers are 'yellow melons.'"
Even Wikipedia agrees the term "pumpkin" has no specific botanical or scientific meaning. A pumpkin within one region is a squash within another and a melon in yet a third.
Fairytale Pumpkins or Muscade de Provence
Fairytale Pumpkins have grown in popularity as ornamental heirloom pumpkins. Luckily they also make for great pumpkin pies with their mild sweet flavor and spicy scent. Their low water content will yield a nice thick puree. I also like these pumpkins for savory dishes.
Butternut squash
Butternut Squash, known as Butternut Pumpkin (or Gramma) in Australia and New Zealand, is a commonly-available winter squash that makes excellent pumpkin pie filling.
Butternut Squash makes a yellow-orange purée with a sweet, nutty flavor. The aroma is almost like that of mashed sweet potatoes, but with a texture that's slightly juicier and a brighter yellow color. Butternut Squash makes sweet pumpkin pies with a classic "nutty" autumn aroma.
Butternut Squash is a Cucurbita moschata cultivar, along with other tan/yellow-colored pumpkin pie-making favorites like Dickinson Pumpkin, Fairytale Pumpkin, and Seminole Pumpkin.
Tokyo Blue squash (Tokyo pumpkin)
Tokyo Blue Squash (Tokyo Pumpkin) is a small, dark green heirloom pumpkin from Tachikawa City, Tokyo (Japan). These early-maturing fruits typically weigh about 5 pounds when ripe.
Tokyo Blue Squash is known for its incredibly smooth texture and sweet taste in pumpkin purée. When used for pie filling, the fine-grained flesh is aromatic, a bit earthy, and retains some of the yellow colors after cooking.
The Tokyo Blue Squash is a Cucurbita maxima cultivar, along with other pumpkin pie-making favorites like Jarrahdale Pumpkin, Kabocha Pumpkin, and Queensland Blue Pumpkin.
Flat White Boer pumpkin
Flat White Boer Pumpkin is a large, creamy-white heirloom pumpkin variety historically cultivated in South Africa. These pale pumpkins grow to 25-30 pounds when ripe. This variety is great both for decorating and for use in cooked pumpkin recipes.
Flat White Boer Pumpkins have sweet orange flesh that makes a great pie filling. While not as flavorful as some other old-fashioned varieties, these pumpkins still make a smooth and delicious pumpkin pie.
The Flat White Boer Pumpkin is a Cucurbita maxima cultivar, along with other pumpkin pie-making favorites like Jarrahdale Pumpkin, Kabocha Pumpkin, and Queensland Blue Pumpkin.
Pie pumpkins! Cinderella is the big red-orange one (bottom center).
Winter Luxury pumpkin
Winter Luxury Pumpkin is a medium-sized, tan, North American heirloom pumpkin cultivar. These pumpkins grow to reach 6-8 pounds when ripe and are known for both their pale, rough, webbed rind and incredibly sweet, smooth flesh. Winter Luxury remains a sought-after pie pumpkin for bakers.
Winter Luxury makes a thick purée with a sweet flavor and a silky smooth texture. This pumpkin is a different botanical type than most pie pumpkins but has undeniably smooth and balanced characteristics that are so sought after by bakers.
The Winter Luxury Pumpkin is a Cucurbita pepo cultivar, like the Long Pie Pumpkin.
"Distinguished by its find and close netting. Unequaled table quality: The proof is in the pie."
Marina Di Chioggia pumpkin
Marina Di Chioggia Pumpkin is a medium-sized, dark green heirloom pumpkin from the town of Chiogga, Italy (just south of Venice). These Italian heirlooms weigh about 10-12 pounds each and are known for their warty, wrinkly, almost bubbly rind.
Marina Di Chioggia is an excellent cooking pumpkin, making a purée with a deep, dark orange color. This rich, dense winter squash is delicious in pies due to its sweet flavor that is enhanced by roasting the flesh prior to pureeing.
The Marina Di Chioggia Pumpkin is a Cucurbita maxima cultivar, along with other pumpkin pie-making favorites like Jarrahdale Pumpkin, Kabocha Pumpkin, and Hubbard Squash.
Try these delicious pumpkin recipes
To say I like cooking with pumpkin would be an understatement. Each year I make new pumpkin recipes and I love to get creative. Check out my Pumpkin Panna Cotta, Vegan Pumpkin Donuts, and Delicious Pumpkin Muffins.
Red Kuri squash
Red Kuri Squash is a Japanese heirloom squash that makes delicious, bright orange, rich, and flavorful pumpkin pies. This red-orange, teardrop-shaped squash weighs 5-8 pounds each. Some pie-makers may want to roast 2 squashes when making larger (or multiple) pies.
Red Kuri Squash is fantastic for pumpkin pie not only because of its dense, deliciously-sweet flesh but also because the bright color of the puree shines through even after the pie has been cooked. These squash make pumpkin pies that look just as good as they taste!
Red Kuri Squash is a Cucurbita maxima cultivar, along with other pumpkin pie-making favorites like Jarrahdale Pumpkin, Kabocha Pumpkin, and Hubbard Squash.
How to Make Pumpkin Puree
A key to making pumpkin puree is to reduce the water content. This is why denser pumpkins make for better purees. Since we want a denser puree, the absolutely worst thing you can do is boil your pumpkin or use any technique that would add water! If you are going through the trouble of making your own pumpkin puree do not boil your pumpkin, use the instant pot, or crock pot.
Instead, you want to roast your pumpkin in the oven. The roasting will also add some caramelization, making your pumpkin puree even more flavorful.
depending on the size of your pumpkin, either cut the top off if it is small or cut it into large chunks
remove all of the seeds and any stringiness
place the pumpkin skin side up on a baking sheet lined with foil
bake at 350 degrees for 45- 60 minutes until the pumpkin is fork tender
remove all of the pumpkin, discard the skin, and puree in a food processor
During the holiday season, you will likely find Red Kuri Squash in your produce department. It has a vibrant orange red hue, sweet flavor, and produces a creamy puree. This is a favorite to use in baking because it will make your dishes both look and taste amazing.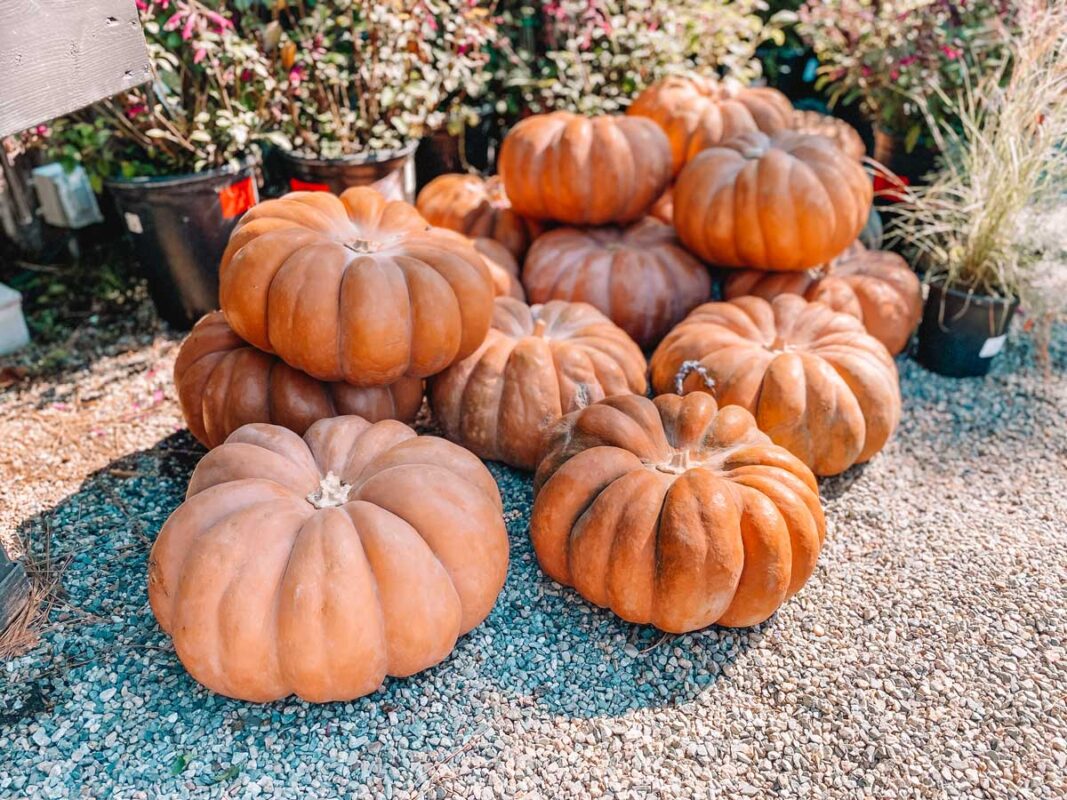 Are You Going to Reveal the Best Pumpkin or Not?
Jack o' lanterns can make pies, if you roast the flesh then drain it long enough. But any palatable flavor comes from the sugar and spices. Cinnamon, nutmeg, allspice and ginger give pumpkin pie its traditional flavor. And even sub-par pumpkin can improve with good spices. Small sugar pumpkins work better. But if you're also on a quest to make the best pumpkin pie, why not take it up a notch?
Pie #3 was voted most flavorful. But not everyone wanted the deep, full-bodied tone of sweet potatoes.
Pie #1 was prettiest, a brilliant orange from the Castilla squash I'd purchased at the Hispanic market. With small seed cavities and undeniable sweetness, Castilla squash have stringy crimson flesh, which must be pureed for the best texture. They are bigger than Long Island Cheese and are also called Musque de Provence.
But the winner was made from a zucchino rampicante grown within my own garden. Like a butternut with a really long neck, these are tan on the outside and light orange within. Other names include tromboncino or zucchetta rampicante, and they're often eaten young as a summer squash. Seeds only form within the swelling at the end, leaving one to three feet of neck that can be peeled, diced, roasted, or made into pies. Pie #2 was such a favorite that one of the judges started zucchino rampicante in her garden the next year.
The best pumpkin pie recipe calls for the sweetest, densest winter squash. Usually, they're cucurbita moschata or cucurbita maxima, as the pepo species is often too mild and watery. Grow buttercup or Musque de Provence within your garden or purchase butternut at the grocery store. Give zucchino rampicante a try or cultivate unique squash like Galeux D'eysines or Marina Di Chioggia, which get their warts from sugars seeping through the skin. Make sure squash are fully ripe before roasting, draining and crafting into your perfect pie.
Storage
I like to make a large batch of pumpkin puree that I can use for the entire season. I recommend filling freezer-safe small ziplock bags with 1 cup of pumpkin puree. This measurement is most common in recipes. Then just defrost the puree the evening before and it is ready to use.
Have you used any of these heirloom pumpkins for baking or cooking? I would love to hear your thoughts on the best pumpkins for pies, baking, and cooking! Comment below on your favorites.
Jarrahdale pumpkin
Jarrahdale Pumpkin is an heirloom cooking pumpkin considered to be one of the best pumpkins for making pumpkin pie filling. These medium-large sized culinary pumpkins were originally cultivated in Australia, and grow to be in the range of 12-18 pounds when ripe.
Jarrahdale pumpkins have sweet, fruity flesh that roasts to absolute gourmet perfection. The flavor is almost melon-like, and the texture is smooth with minimal stringiness. Jarrahdale pumpkins make a balanced, savory-sweet pumpkin pie that's perfect for those who shy away from overly-sweet desserts.
The Jarrahdale Pumpkin is a Cucurbita maxima cultivar, along with other pumpkin pie-making favorites like Buttercup Squash, Kabocha Pumpkin, and Hubbard Squash.
Red kuri squash – gourmet japanese heirloom
Long Pie pumpkins (Nantucket pumpkins)
Long Pie Pumpkins, also known as Nantucket Pumpkin, are an heirloom culinary pumpkin from the East Coast. These pumpkins are elongated (about 12″ long and 5″ wide) and weigh about 4 pounds each when ripe. The young rind is a dark green color, maturing to a tan-orange color.
Long Pie Pumpkins have thick orange flesh that makes an absolutely decadent pumpkin purée. These heirlooms have the classic old-fashioned pumpkin pie taste that is hard to find. This is a pumpkin worth searching for!
The Long Pie Pumpkin is a Cucurbita pepo cultivar, like the Winter Luxury Pumpkin.
Jarrahdale pumpkins – australian culinary heirloom
Characteristics of the best pumpkins for pies.
There are certain characteristics that makes pumpkins great in pies. Listed below are the reasons why these are the best pumpkins for pies, baking, and cooking.
Low Water Content: the more dense the pumpkin, the better the puree will turn out for use in recipes. It will also add more flavor to any baked dish.
Little to no string: If you've ever carved a pumpkin, you are probably aware of all the stringy fibrous pumpkin that needs to be scooped out. These stringy fibers are not pleasant to eat and result in a chunky puree.
Flavor: Large carving pumpkins can actually be bitter in taste. When choosing the best pumpkin for pies, you want to opt for pumpkins that have a slight sweetness to the flesh, while savory dishes I like more nutty or earthy flavors.
Color: You can achieve a much more vibrant and beautiful coloring depending on the type of pumpkin used. Regular carving pumpkins and even the sugar pie pumpkins found in most grocery stores can have very dull, light orange coloring.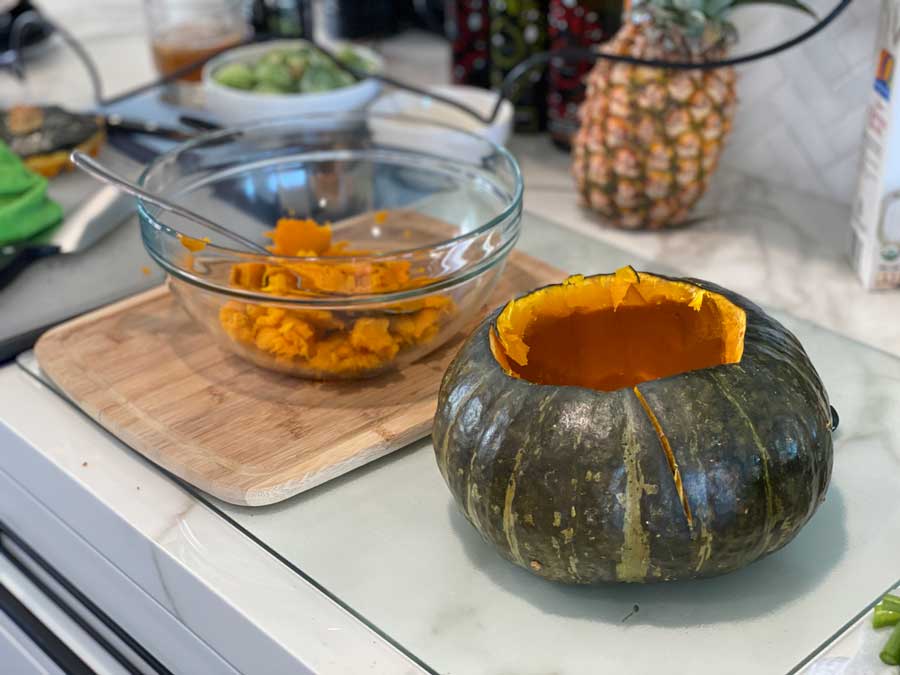 Fairytale pumpkins (Musquée De Provence/Calabaza de Castilla)
Fairytale Pumpkins (also known as Musquée de Provence, Calabaza de Castilla, or Castilla Squash), are French heirloom gourmet culinary pumpkins. These medium-large-sized fruits have a dusky-tan exterior when ripe.
The Fairytale Pumpkins have a sweet, fresh flavor when used for pumpkin pies. Flesh is firm, making a thick pumpkin purée with a spicy scent and a sweet, mild flavor. Overall, Fairytale Pumpkin makes a delicious pumpkin pie filling that is creamy, smooth, and tender.
The Fairytale Pumpkin is a Cucurbita moschata cultivar, along with other pumpkin pie-making favorites like Dickinson Pumpkin, Butternut Squash, and Seminole Pumpkin.