Here are 15+ Mother's Day recipes including madeleines, scones, cookies, strawberry shortcake cake, tea cakes, cinnamon rolls, and more! Mom will love each and every thoughtful recipe.
Happy Mother's Day weekend to every kind of mother and motherly figure. Strong mamas, women on the journey to be moms, mothers to be, mamas to babies, mothers who never held their babies, mothers no longer with us, and every type of mother in between. This weekend we celebrate, remember, and embrace each other. Here are 15+ Mother's Day recipes to celebrate mom's worth, even if that mom is you.
By the way, if you need gift ideas for mom, here's our collection of Gift Ideas for Bakers.
---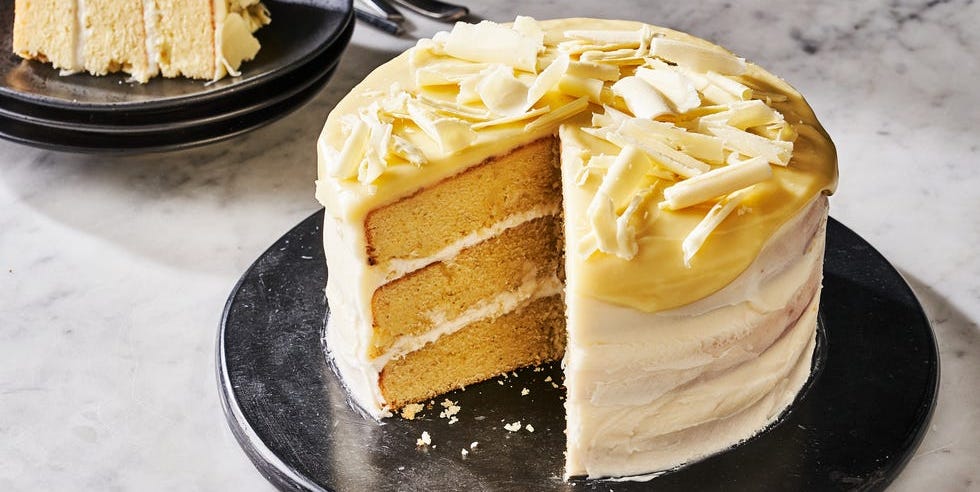 It's just not a celebration without cake. And as far as we're concerned, cakes make the best treat on Mother's Day. They just might outshine any of the Mother's Day gifts you picked up for mom.
Whether your mom loves chocolate, cookie cake, or even rich and creamy cheesecakes, we've got plenty that will sweeten up her day. You really can't get any fancier than this white chocolate cake or our Swiss roll cake. If you're wanting a more low-key (but still delicious cake), definitely add our strawberry cheesecake, giant Oreo cake, and honey cake to the top of your to-bake list.
When it comes to Mother's Day cakes, there's nothing better than a cake the kids can get involved with, whether it be baking or decorating. Our cookie cake couldn't be easier to bake up and is a dream to decorate, especially when it means adding frosting, sprinkles, and even more chocolate chips. The same is true for our fudgy mini chocolate raspberry cakes, which require no extra tools to make the adorable cakes and means you'll have leftovers to make cake pops with (or just snack on while you decorate!)
Advertisement – Continue Reading Below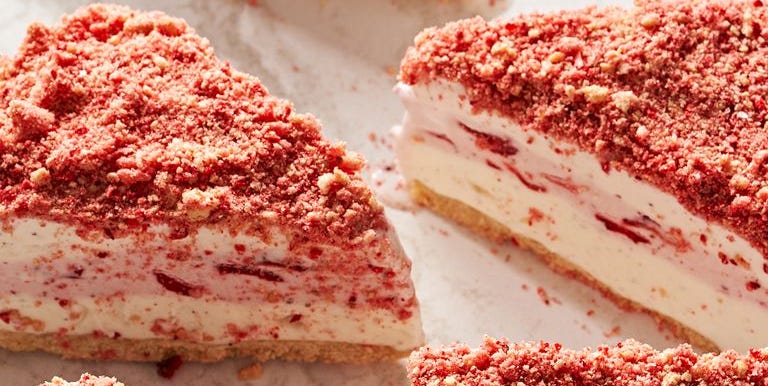 Help mom celebrate in the most delicious way possible—with cookies, cake, brownies, or ice cream. If you haven't already spoiled her with maybe the best gift of all, homemade Mother's Day brunch, don't worry. You still have time to whip up a favorite dessert to let mom know how special she is.
Whatever her dessert of choice may be, we've got plenty of easy, impressive recipes to really sweeten up her day. If the oven is not necessarily your bestie, we've got tons of no-bake desserts ideal for any baker. A store-bought pound cake can become something spectacular when you get crafty and transform it into cheesecake-stuffed pound cake, bursting with fresh raspberries. We also can't get enough of how beautiful these no-bake blackberry cheesecake bars turn out every time.
Dessert really is one of our favorite Mother's Day gift of choice. There's always leftovers, no crowded restaurants to deal with, and, the best yet, it's homemade and really shows the love. Whether you opt for fancy crème brûlée and French macarons or more basic fudgy homemade brownies, you can't go wrong with any of these recipes.
On a time crunch? We've got plenty of last-minute Mother's Day gifts, easy desserts, and quick dinners perfect for a spontaneous celebration for mom.
Need more Mother's Day inspiration? Try our Mother's Day lunch ideas, Mother's Day cake recipes, and even our favorite mimosas to kick off the day.
Advertisement – Continue Reading Below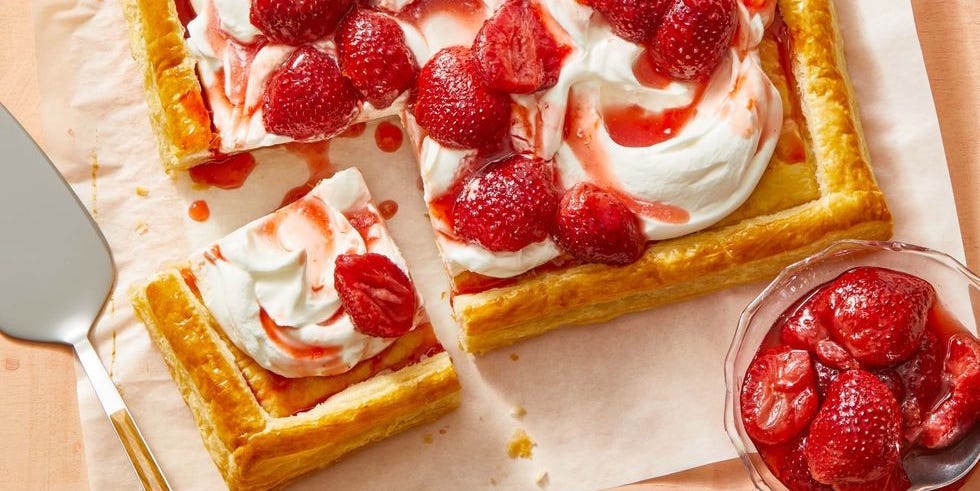 The fastest way to mom's heart is through her stomach, and the fastest way to anyone's stomach is through dessert (obviously). So make one of these easy Mother's Day desserts for her to have on her special day, whether she loves an over-the-top cake recipe, a tray of homemade cookies, fudgy brownies or an elegant fruit tart. We rounded up all that (and more!) so you can choose the best treat for your gal.
After kicking off the day with a special Mother's Day brunch (or breakfast-in-bed), be sure to end it on a sweet note by baking Mom (or your grandma, aunt, mother-in-law — any motherly figure!) one of these lovely desserts. From light, colorful and spring desserts to decadent chocolate treats that are delicious any time of year, these baked goods are impressive enough — even the easiest ones — to double as a Mother's Day gift. The best part — besides how good they taste — is that they instantly show just how much you appreciate Mom by taking the time out of your day to make her something special and homemade (and that's the kind of gift you can't put a price tag on).
While a few of these treats are pretty elaborate, others can be whipped up in a breeze or, better yet, require no baking at all. Fill store-bought brioche buns with whipped cream for a 15-minute stunner that she'll love, or put together an impressive layer cake, complete with edible flower "petals" if you're a more experienced baker. No matter her favorite sweet treat, put the cherry on top of Mother's Day dinner with an unforgettable (and tasty) dessert to make her feel just as special as she is.
Advertisement – Continue Reading Below
This heartwarming video of the mother-son duo will win you over.
Among all the videos on social media, kids' videos have to be our favourite category. We love to see clips of adorable toddlers getting messy while eating, or just entertaining us with their cute requests and demands. Parents would agree that when it comes to children, it's all about keeping them busy and engaged with different activities. Recently, we saw a video on Reddit where a kid requested his mother to bake some cookies with him. The duo captured a video of this fun activity, and the adorable kid being grateful for this moment will surely make your heart melt. Take a look at the full video here:
(Also Read: Viral Video: Adorable Baby Eats Full Chicken Wing On His Own; Wins Hearts)
In the clip, we could see a behind-the-scenes view of the fun activity of baking. The mother had taken the video of the fun activity in which she and her son were mixing the cookie dough in big bowls. The mother wrote in the caption, "He saw cookie cutters in the store today and asked if we could make cookies. I had never made cookies from scratch before but he was very adamant in wanting to make cookie dough so I got all the ingredients to try. We came home and got to work." While she was hoping that she got everything right, the kid couldn't help but be grateful for all the effort his mom was making. "Thank you, mom," he exclaimed in the video and gave her a big hug and a kiss. "You're welcome," she said, to which the kid replied, "I love you!"
Take a look at the sweet reactions to this heartfelt video:

What did you think of the adorable kid being grateful for baking with his mother? Tell us in the comments.

About Aditi AhujaAditi loves talking to and meeting like-minded foodies (especially the kind who like veg momos). Plus points if you get her bad jokes and sitcom references, or if you recommend a new place to eat at.
When I am in middle school, my mom confirms that I am, in fact, a baked good.
"Children are like bread," she explains to me one night at the kitchen table as we talk about the kind of person I am and the kind of person I will become. "You can choose which ingredients you will add to the mix when they are younger and there is still time to shape them after the dough has risen. But once you put them in the oven, it's difficult to do much else."
"You're already in the oven," she tells me. "It's all you now."
Growing up, my mother was the director in the kitchen, but she always invited me to contribute to her culinary production, especially during the monthly occurrence of what we called Baking Day. Pounding hazelnuts with a small brass hammer for chocolate chip hazelnut cookies; folding the yogurt and semolina flour together for namoura, a semolina cake soaked in orange blossom syrup with sliced almonds on top; braiding four elastic strands of dough into loaves of Swiss bread. These were some of my small but essential tasks when it came time every several weeks to replenish our pantry and freezer with nourishments and treats.
By the time I wake up on one such Baking Day, my mom is already zipping around the kitchen in her floral cotton house dress, the one with pockets. Framed by a jet black pixie, her fair cheeks (which she often describes as "tahini" colored) are flush from activity. Her mug of Earl Grey with a splash of milk is almost empty, and the determined look on her face has my nine-year-old self sitting up straighter in expectation. She butters me the last slice of raisin bread and pours me a cup of milk with a splash of tea. As I eat my breakfast, we go over the plan. She consults her yellowing spiral recipe notebook, confirming steps under her breath as she flips between pages of her Arabic script and pasted-in photocopies from old magazines.
I watch as she kneads dough briskly with her pale, veiny knuckles. This dough will become triangle pastries stuffed with sautéed spinach, onions, and sumac, known as fatayer, and manakeesh, hand-sized pizzas painted with olive oil and za'atar that my mother gets from Palestine via a local grocer.
My most important job during all of this is to pay attention and absorb as she narrates each step of the process. Although my mother had a tendency to turn many experiences into a classroom, I had learned from girlhood that the kitchen was at the heart of Najat's School of Life.
"Natalie, always remember to roast the nuts before you put them in the batter."
"This is how I learned to cook from my grandmother, Natalie."
"Don't forget: you're in charge, not the spatula."
The smell of cookies, bread, and roasting nuts begins traveling through the house. "Natalie, did you close the bedroom doors?" my mother will inevitably ask, reminding me of her conviction that kitchen smells belong in the kitchen.
Each time she slides something in or out of the oven, she notes the time on a piece of paper stuck to the fridge with a magnet. Nothing will be burned under her watch.
Hours and dozens of trays later, we sit down to enjoy the labors of our day. Before she raises anything to her mouth, she will hold it gently for a moment, her eyeglasses slipping down her nose as she rotates it in front of her. When I laugh at her, she tells me she has the right to admire her creations. Sometimes I catch her looking at me the same way.
When I moved off to college, I could only participate in a Baking Day about once a year. A decade later, my mom moved in with me, and we became roommates for a while before becoming the neighbors we are now. When we were apart, my mother's dough metaphor developed into something of a touchstone. "I've been in the oven for a while now," I'd say to myself when I needed reassurance on why I can't stop fussing over some small details like writing the perfect message in a birthday card or un-seeing a tiny, stubborn oil stain from a blouse. I reminded myself of it when I met my partner in our thirties and some of our habits felt intractable. Would he ever get excited about cleaning? Would I ever learn to be spontaneous? I bring the dough metaphor up with my mom when I'm picking up groceries for her and she tells me to check the expiration date and get her the newest product, the package in the back. Every. Single. Time. "You're pretty much a crouton now," I joked once. She didn't disagree.
On other days, I wrestle with my mother's notion, dismissing it as an unyielding view from a former early childhood teacher who of course believes that childhood is the foundational time in an individual's life. Can't I still evolve as the years pass? Have I really not fundamentally changed since I was a young girl standing at my mother's elbow as she measured cup after cup of flour?
"Don't worry," I now remember her saying, "there's always time to add a little egg wash in between rounds or some sesame seeds or jam once you're out."'
I am now nearly the same age my mother was when I was growing in her womb—a fully-baked 35-year-old. Only recently have I realized that what she was really sharing with her bread analogy was her personal parenting philosophy.
For my entire childhood, she poured her stories, her quirks, her pain, her strength, and her joy into me—her only child—folding each piece together with precision, vitality, and care. She gave me the freedom to rise and take shape in the world, knowing she had given me all the ingredients she had in her pantry, with all the love she brought to every Baking Day. Her metaphor was never about the making and baking of the dough; it was about trusting her work and then letting go.
Tonight, my mom and I sit at her kitchen table together, drinking tea and eating her homemade ma'moul—semolina shortbread cookies filled with dates or nuts and dusted with powdered sugar. I remember how each cookie fell from the intricate wooden Damascene mold that she would press the dough into before thwacking it against the granite counter, and I remember how I used to put my small hand out to catch each one.
These cookies are the only thing she made this morning, her knuckles now swollen with arthritis. I tell her about my week, the projects I'm working on, the meals I'm creating, the friends I've gathered. She holds the cookie mid-bite, as she always did, but this time looks past it to my face. In her quick glance I see both pride and a flicker of admiration. She is proud of the adult I've become with the ingredients she has given me, her most cherished dough.
Nothing says, "I love you, Mom" like something sweet baked from scratch. If you can't get together with your mom this Mother's Day, try virtually baking with her instead.
Incredible Coconut Cake
I found this coconut cake recipe in a newspaper many years ago and modified it to suit my taste. This is my all-time favorite cake, and my family and friends absolutely love it. —Lynne Bassler, Indiana, Pennsylvania
Strawberry Mascarpone Cake
Don't let the number of steps in this recipe fool you —it's easy to assemble. The cake bakes up high and fluffy, and the berries add a fresh fruity flavor. Cream cheese is a good substitute if you don't have mascarpone cheese handy. —Carol Witczak, Tinley Park, Illinois
Magic Brownie Bars
When I was a kid, one of my all-time favorite treats was magic cookie bars. This recipe combines all the same classic flavors in a magic brownie bar! —Mandy Rivers, Lexington, South Carolina
Strawberry Cupcakes with Whipped Cream Frosting
Fresh strawberries are full of water, so they have a tendency to weigh down cake batters and make soggy cakes. That's why these strawberry cupcakes rely on strawberry jam or preserves. The concentrated flavor is just right for light and tender cupcakes. —Lisa Kaminski, Wauwatosa, Wisconsin
Berry-Patch Brownie Pizza
I just love the combination of fruit, almonds and chocolate that makes this brownie so unique. The fruit lightens the chocolate a bit and makes it feel as though you are eating something sinfully healthy. —Sue Kauffman, Columbia City, Indiana
Lovely Lemon Cheesecake
Wait for the oohs and aahs when you present this luxurious lemon cheesecake recipe. The lemon flavor gives it a bright, tangy flavor. —Margaret Allen, Abingdon, Virginia
Red Velvet Cinnamon Rolls
Turn a box of red velvet cake mix into this easy dessert—or breakfast! The icing tastes good and makes a pretty contrast with the rolls. —Erin Wright, Wallace, Kansas
Chocolate Lace Cookies
My mother and I make these elegant lace cookies filled with melted chocolate chips. Baking together is a delightful way to spend an afternoon. —Stacey B., Stillwater, Oklahoma
Can't get enough recipes like this? Discover more Mother's Day dessert recipes.
Strawberry-Rhubarb Upside-Down Cake
I prepare this colorful dessert quite often in the late spring or summer when fresh rhubarb is abundant. I make this rhubarb cake with cake mix and take it to church potlucks. People actually line up for a piece. —Bonnie Krogman, Thompson Falls, Montana
Blueberries and Cream Coffee Cake
This blueberry coffee cake is my go-to recipe for all of our holiday get-togethers because it's perfect for breakfast or dessert. It's easy to make, and it's the most delicious coffee cake I've ever had. —Susan Ober, Franconia, New Hampshire
Mimosa Butter Cookies
You can add many different flavors to butter cookies to make them your own. Try an alternate type of citrus zest, or add an alternate liquid to change things up. —Sara Lark, Raton, New Mexico
(For an extra-special homemade Mother's Day gift, make these into a cookie bouquet!)
Cherry Hand Pies
There's nothing better than a sweet, from-scratch delight like traditional cherry pie. These precious little hand pies always go fast when I sell them at my pie bakery! —Allison Cebulla, Milwaukee, Wisconsin
Flower Petal Sweet Rolls
I adapted this recipe from the back of a frozen dinner roll package. You can prepare the rolls the night before for convenience. Then, bake them in the morning to make a lasting impression on guests as they step into the kitchen and smell the sweet aroma. —Celinda Skogsberg, Tuxedo Park, New York
Rum Raisin Creme Brulee
Inspired by a favorite ice cream flavor, I created this make-ahead recipe to free up some time in the kitchen. You can also serve this as a custard if you choose to not caramelize the top. —Eleanor Froehlich, Rochester, Michigan
Mamaw Emily's Strawberry Cake
My husband loved his mamaw's strawberry cake recipe. He thought no one could duplicate it. I made it, and it's just as scrumptious as he remembers. —Jennifer Bruce, Manitou, Kentucky
Ginger Plum Tart
Sweet cravings, begone: This free-form plum tart is done in only 35 minutes. It's extra awesome when served warm. —Taste of Home Test Kitchen
Almond Tea Bread
My aunt brought her tea bread recipe with her from Scotland, and enjoying a fresh-baked loaf has become a family tradition during the holidays. Each slice is loaded with red cherries. —Kathleen Showers, Briggsdale, Colorado
Chocolate Lover's Strawberry Shortcakes
As a mom of four, I appreciate shortcut recipes. This one uses refrigerated biscuits, giving me time for special touches, like adding homemade whipped cream and hot fudge. —Melissa Haines, Valparaiso, Indiana
Cherry Coffee Cake
Coffee cakes are one of my favorite thing to bake and serve to friends and family. This one is extra special with cherries and almond extract flavoring.—Heidi Schwanz, Chili, Wisconsin
Strawberry-Chocolate Meringue Torte
I make this rich and delicious torte whenever I'm asked to bring dessert to any occasion. Use reduced-calorie whipped topping to create a lighter version. —Christine McCullough, Auburn, Massachusetts
Berry Pinwheel Cake
Blueberry Scones
I love serving this blueberry scone recipe to visiting friends and family. I always make sure a have a few in the freezer. Just pop a frozen scone in the microwave for 20 seconds or so. —Joan Francis, Spring Lake, New Jersey
Skillet Pineapple Upside-Down Cake
For a change of pace, you can substitute fresh or frozen peach slices for the pineapple in this old-fashioned recipe. —Bernardine Melton, Paola, Kansas
Luscious Almond Cheesecake
I received this recipe along with a set of springform pans from a cousin at my wedding shower 11 years ago. It makes a heavenly cheesecake. My son Tommy has already told me he wants it again for his birthday cake this year. —Brenda Clifford, Overland Park, Kansas
Berry-Filled Butter Ribbons
Tangy boysenberry is an unusual for a cookie, but it goes well with chocolate. I change the sprinkles and even the type of chocolate to suit the season.—Amy Sauerwalt, Columbia, Maryland
Pineapple Coconut Tassies
These cookies may sound and look fancy, but they're rather easy to make Their simplicity makes them an ideal choice for baking with children. My granddaughter enjoys helping me measure the ingredients. Children also can help shape the dough into balls, and then you can finish them together. —Connie Shuff, York, Pennsylvania
Tart & Tangy Lemon Tart
Our family adores lemon desserts. I often make this citrus tart for brunch. For extra special events, I bake it in my heart-shaped tart pan. —Joyce Moynihan, Lakeville, Minnesota
Glazed Strawberry Cookies
Raspberry Pistachio Thumbprints
Cinnamon Doughnut Muffins
Back when my children were youngsters, they loved these doughnut muffins as after-school treats or with Sunday brunch. —Sharon Pullen, Alvinston, Ontario
Pixie Dust Cookies
These crisp and buttery cookies are based on a favorite Scottish shortbread recipe. They're just the right amount of sweet—and fun to decorate! —Peggy Goodrich, Enid, Oklahoma
Lemon Angel Cake Bars
A neighbor gave me this recipe years ago and it's been in flavor rotation ever since. It can be made ahead and serves a bunch, so it's perfect for parties and potlucks. —Marina Castle, Canyon Country, California
Rhubarb Berry Upside-Down Cake
I had leftover rhubarb and wanted to create something fresh. With blueberries, strawberries and dried cranberries on hand, I discovered I had a berry upside-down cake. —June Paul, Portage, Wisconsin
Strawberry Rhubarb Coffee Cake
Although my coffee cake makes a large pan, it never lasts very long! It's great for a Sunday brunch after church and nice to bring to family reunions, too. —Dorothy Morehouse, Massena, New York
Rich Fruit Kuchens
This German classic is such a part of our reunions, we designate a special place to serve it. Five generations flock to the "Kuchen Room" for this coffee cake. —Stephanie Schentzel, Northville, South Dakota
Chocolate Caramel Kiss Cookies
I make this cookie every Christmas with my family. It's a fun twist on a classic peanut butter blossom because of the cinnamon in the batter and the caramel kiss on top. We love the cinnamon-caramel combination, but you could switch out the kiss for a different festive flavor. —Kristen Heigl, Staten Island, New York
Black Forest Tart
Cherry pie filling and a melted chocolate drizzle top a rich, fudgy cake made from chocolate cookie crumbs. —Taste of Home Test Kitchen
Surprise Meringues
These crisp, delicate cookies are light as a feather. Mini chocolate chips and chopped nuts are a delightful and yummy surprise in every bite. Mom knows this fun dessert is a fitting finale to a big meal. —Gloria Grant, Sterling, Illinois
Black Bottom Brandy Bites
The idea for these bite-sized tarts started with little chocolate bottles of brandy. For an extra dash of fabulous, I place chocolate in the bottom of each pastry cup. —Arlene Erlbach, Morton Grove, Illinois
Blueberry Sour Cream Coffee Cake
Holiday breakfasts would not be the same at our house without this delicious coffee cake. Whenever I take it anywhere, everyone raves about it and wants the recipe. —Susan Walschlager, Anderson, Indiana
Raspberry Cream Sugar Cookies
We make sugar cookies and fill them with a tangy raspberry cream cheese. They taste best after they've been refrigerated for at least 45 minutes.—Heidi Farnworth, Riverton, Utah
Apple Streusel Muffins
These apple streusel muffins remind us of coffee cake, and my husband and kids love them as a quick breakfast or snack on the run. The drizzle of glaze makes them pretty enough for company. —Dulcy Grace, Roaring Spring, Pennsylvania
Lemon & Rosemary Butter Cookies
Cooling lemon and aromatic rosemary make these butter cookies stand out at the holidays. I use them to punch up the cookie trays for potlucks or as gifts.—Elizabeth Hokanson, Arborg, Manitoba
Ginger Apple-Pear Crisp
Enjoy autumn aromas—apples, cinnamon and spices—in this delicious recipe. It's even better with a scoop of vanilla or pumpkin ice cream! Whipped cream is always an option. —Holly Battiste, Barrington, New Jersey
Mini Cherry Cheesecakes
These little cheesecakes make a fun dessert that's just right for cooks who don't have a lot of time for fussy recipes. Plus, you get to eat a whole mini cheesecake yourself! —Kay Keller, Morenci, Michigan
Carrot Cake
My family's best carrot cake recipe dates back to my great-grandmother! We bake up a few of these carrot cakes for special occasions to make sure there's enough to go around. You'll love the texture this pretty, moist treat gets from pineapple, coconut and, of course, carrots! —Debbie Terenzini-Wilkerson, Lusby, Maryland
Strawberries 'n' Cream Scones
This strawberry scones recipe is rich with cream and packed with berry goodness. If you are like me, you won't be able to eat just one! —Agnes Ward, Stratford, Ontario
Berry-Topped Coffee Cake
This tasty, wholesome coffee cake is loaded with fresh berries. It's perfect for those with a sweet tooth. —Heather O'Neill, Troy, Ohio
Chocolate-Glazed Cupcakes
Because I have a dairy allergy, I'm always on the search for treats I can eat. I prepare these cupcakes with dairy-free chocolate chips and vanilla coconut milk instead of cream. —Kirstin Turner, Richlands, North Carolina
Lemon Pound Cake
Citrus trees grow abundantly in California, and I'm always looking for new recipes which use the fruit from the orange and lemon trees in my yard. This lemon pound cake is one of my favorites! My mother passed this recipe down to me. —Richard Killeaney, Spring Valley, California
Orange-Nutella Cookie Cups
These cups are easy to put on a platter for impressive presentation—they're a true one-bite pleasure! Top them with the fresh fruit of your choice: Half a strawberry or a piece of mandarin orange complements the hazelnut chocolate flavor of the Nutella. —Joanie Fuson, Indianapolis, Indiana
Blueberry Kuchen
In the summer, we can get beautiful, plump blueberries, which I use in this easy-to-make coffee cake. I like to freeze extra blueberries so I have them available anytime I want this treat. —Anne Krueger, Richmond, British Columbia
Blackberry-Orange Cake
Lime Angel Food Cake
For my husband's family reunion, I took a store-bought angel food cake and turned it into this special dessert with a lovely lime cream frosting topped with toasted coconut. It went over big! —Nancy Foust, Stoneboro, Pennsylvania
Berry Cream Muffins
If you can't decide which berries to use in these muffins, you can't go wrong using half raspberries and half blueberries! —Linda Gilmore, Hampstead, Maryland
Special Raspberry Torte
With raspberry preserves, a burst of lemon and a homemade buttercream frosting, this berry-topped cake always gets rave reviews. It's my mom's absolute favorite. —Lori Lee Daniels, Beverly, West Virginia
Lemon Pound Cake Muffins
I make these lemony muffins for all kinds of occasions. My family always requests them when we have a brunch. They're so good! —Lola Baxter, Winnebago, Minnesota
Chocolate Pudding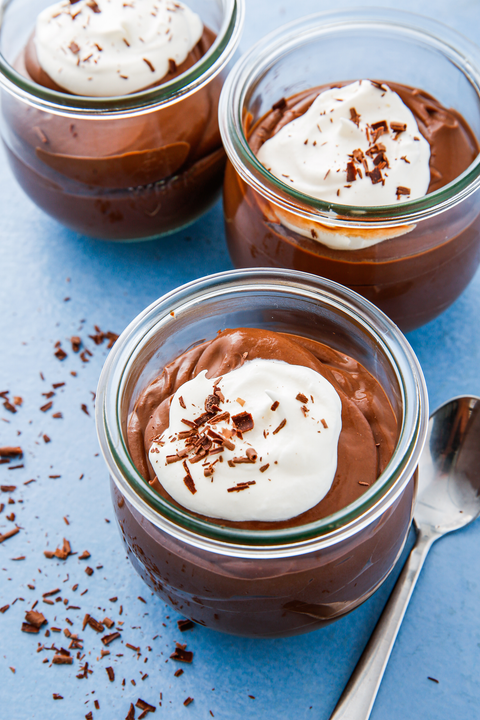 Emily Hlavac Green
Get the Chocolate Pudding recipe.
Yellow Cake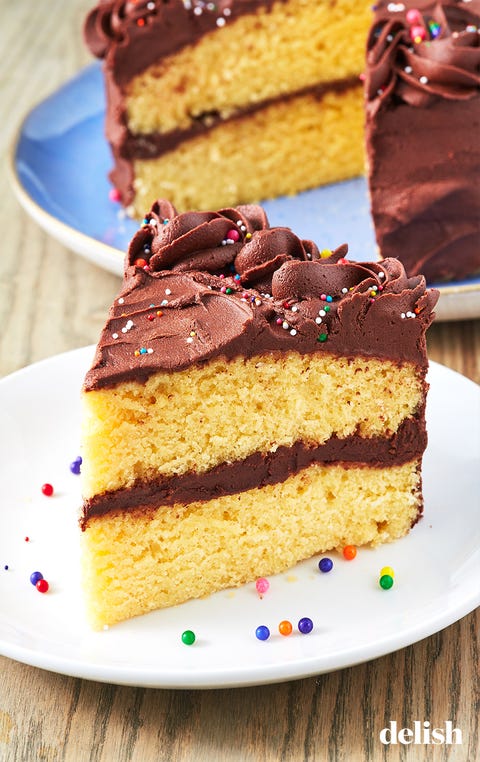 Classic yellow cake brings us right back to childhood celebrations. It's basically a vanilla cake made with extra egg yolks, which make the cake perfectly dense with a super-rich flavor. It's far better than a vanilla cake and pairs perfectly with a thick, fudgy chocolate frosting.
Get the Yellow Cake recipe.
Easy Cinnamon Rolls
Coconut Macaroons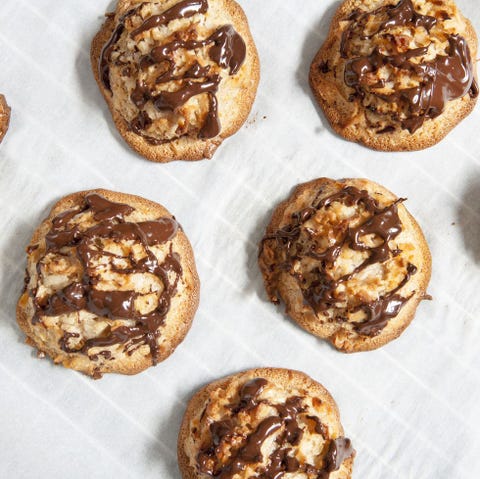 Get the Coconut Macaroons recipe.
Madeleines or Petit Fours
Light & airy, my homemade madeleines feature a delicious buttery lemon flavor. And if mom is craving something extra special with her tea, she would love petit fours.
Mini Chocolate Raspberry Cake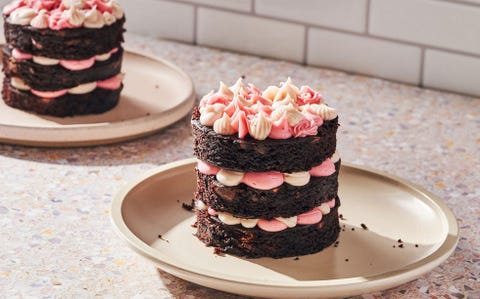 The chocolate cake is rich and almost brownie-like and goes so well with the tart raspberry cream cheese frosting. Add raspberries between the layers for extra cuteness! The best part? You don't need to buy any special cake pans to make these mini cakes.
Get the Mini Chocolate Raspberry Cake recipe.
Gluten Free Chocolate
This deliciously moist and rich flourless chocolate cake is naturally gluten free, super easy to prepare, and there's no special assembly required. Or try this 7 ingredient gluten free and vegan chocolate coconut almond tart.
Lemon Pudding Cakes
With fluffy lemon cake on top and rich lemon pudding on the bottom, these unique lemon pudding cakes are a texture dream. It's all made from 1 easy cake batter and 8 simple ingredients.
Crème Brûlée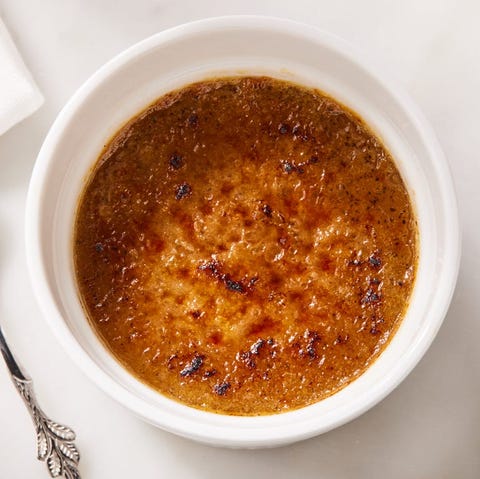 We upped the ante with a flavorful twist on the classic: the addition of Earl Grey tea and citrus zests adds serious depth and an aromatic bitterness. And cracking that glassy sugar surface right before your first bite? Delightfully fun.
Get the Crème Brûlée recipe.
Scones
My scones recipe is a go-to for brunch. With over 15 varieties, I'm confident you'll find one mom loves. Blueberry scones and chocolate chip scones (pictured below) are two favorites! I also have these savory ham & cheese scones. Top sweet scones with lemon curd (pictured below) for an extra special treat.
Raspberry Almond Crumb Cake
Lemon Blueberry Cake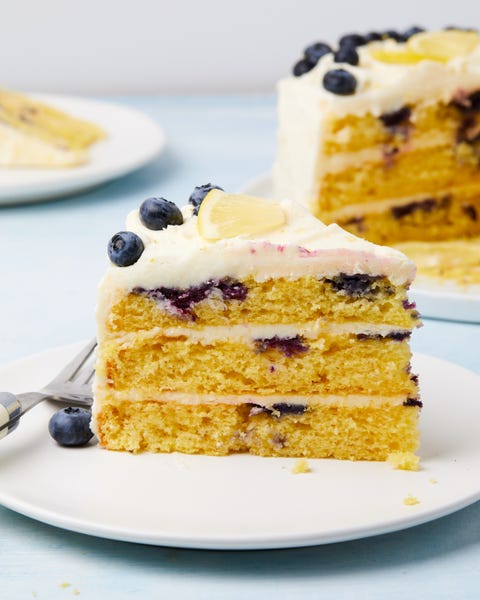 Lemon Blueberry Cake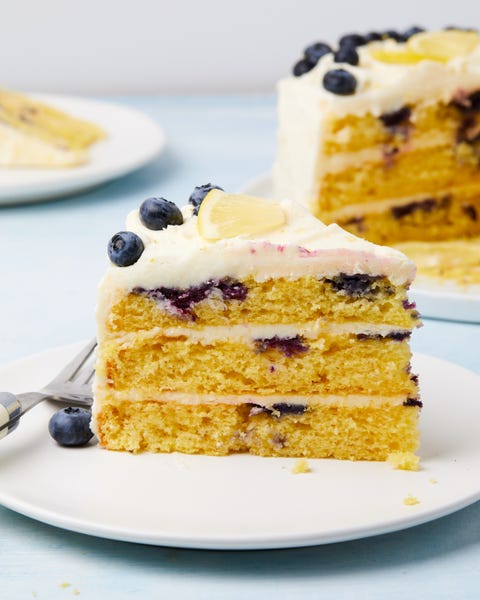 The tart sweetness of the blueberries is amplified by the zing of the citrus. This three-layer masterpiece is sure to make mom feel loved.
Get the Lemon Blueberry Cake recipe.
Strawberry Shortcake
Simple to prepare, the classic strawberry shortcake celebrates the season's freshest flavors. And this strawberry shortcake cake and strawberry cream cheese pie are just as impressive!
For even more recipe inspiration, you'll love this list of all my favorite spring dessert recipes.
No-Bake White Chocolate Meltaways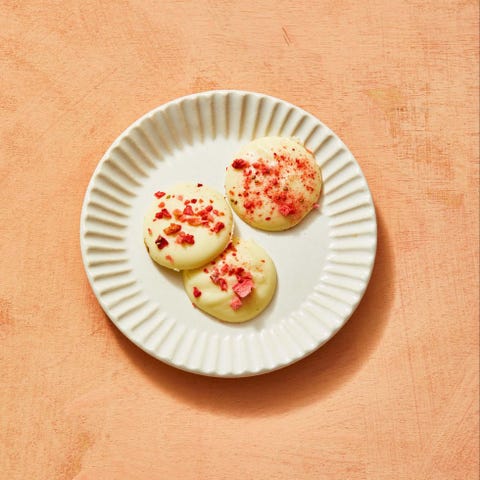 This two-ingredient dessert is a melt-in-your-mouth treat. After you melt the chocolate and top with strawberries, it just needs to sit for 15 mins.
Get the White Chocolate Meltaways recipe.
Baked Alaska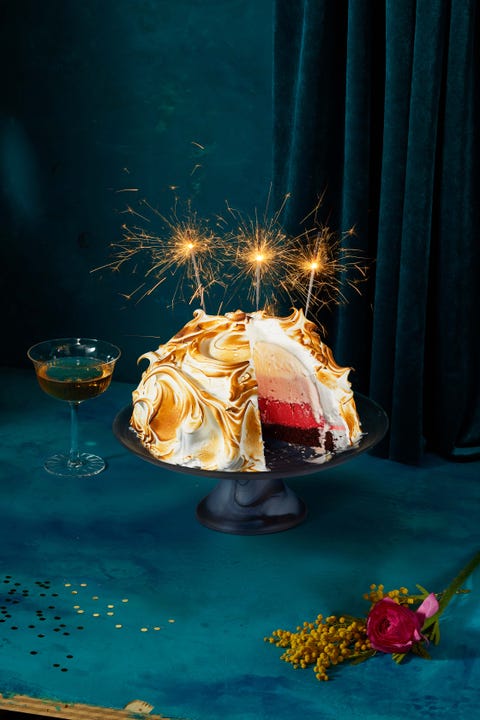 Who's more deserving of a seriously over-the-top treat than Mom? Layer ice cream into a bowl to create the base, top it with meringue and torch it for a dessert she'll never forget.
Get the Baked Alaska recipe.
Lovely Layer Cakes
Three reader favorite recipes include this lemon coconut cake, this strawberry cake, and this popular lemon blueberry cake. Each cakes burst with flavor and are lovely choices for any spring occasion.
Lemon Layer Cake
This lemon cake may look old-school and humble, but it's truly next-level. The bright flavor is bold enough to wake you up, and the lemony cream cheese frosting is so good you'll want to eat it by the spoonful.
Get the Lemon Cake recipe.
Flourless Peanut Butter Chocolate Cake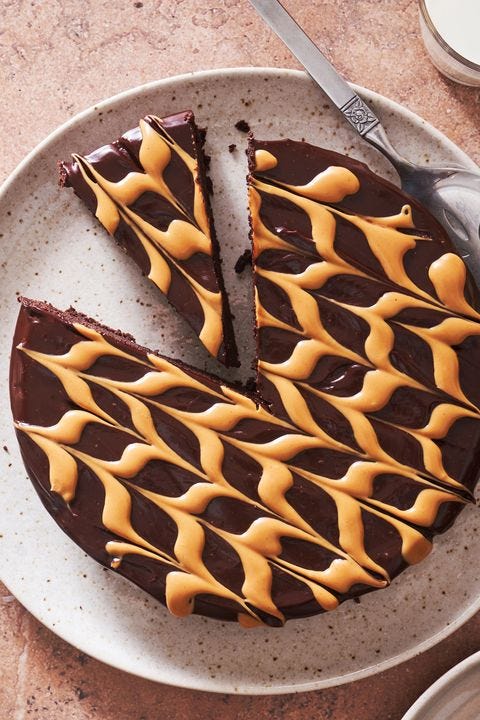 Honey Pecan Cheesecake
Birthdays and holidays are great times for cheesecake, and Christmas is ideal for this particular one. In our annual church baking contest, it won first place! —Tish Frish, Hampden, Maine
Marshmallow Cake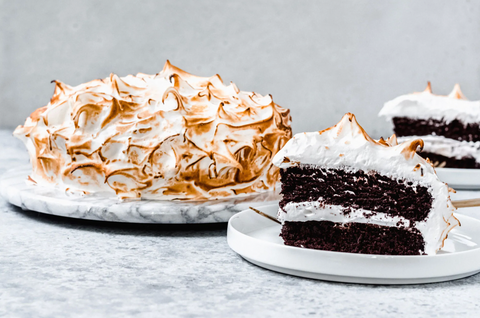 Classic buttercream is great and all, but have you ever had Italian meringue? The not-too-sweet frosting pairs well with the rich chocolate cake and is great for toasting the outside.
Get the Marshmallow Cake recipe.
Strawberry Cheesecake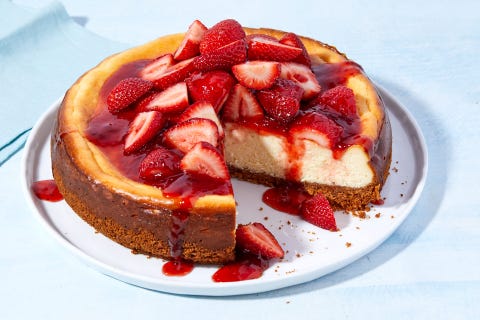 Our favorite recipe for the most classic of all cheesecakes. This jammy topping looks impressive, but comes together easily with strawberry preserves and lemon juice.
Get the Strawberry Cheesecake recipe.
Blueberry Crème Fraîche Semifreddo with Pecan Crumble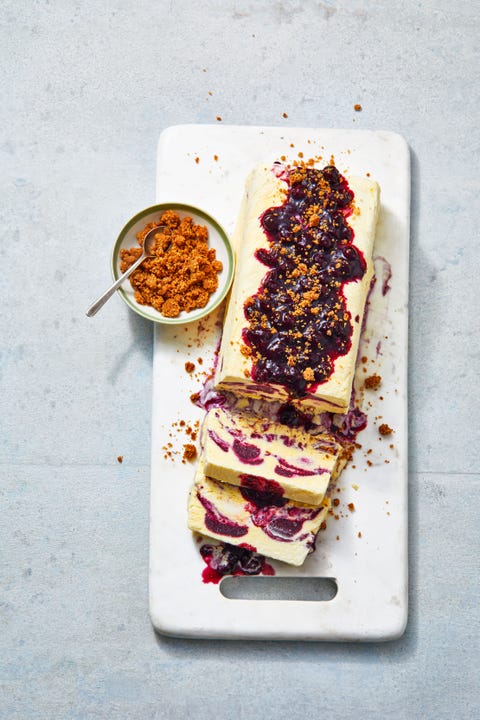 Chocolate Sugar Cookies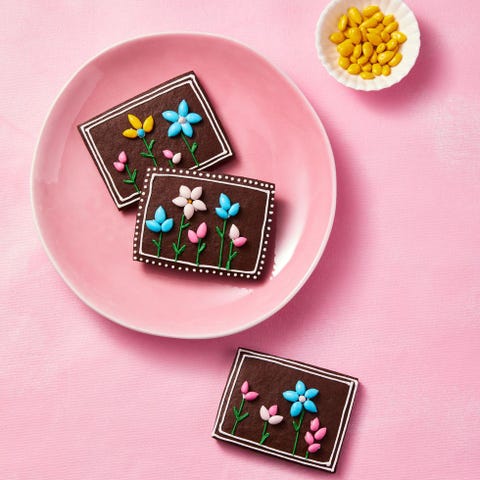 Classic sugar cookies get a chocolate twist. We used tinted icing and candied sunflower seeds to create the sweet flowers you see.
Get the Chocolate Sugar Cookies recipe.
Maritozzi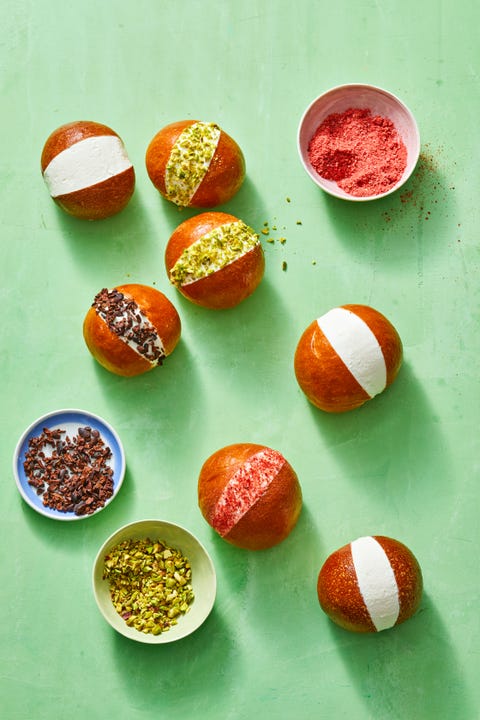 This classic Roman snack combines store-bought brioche buns with homemade whipped cream for an easy dessert that tastes like you put a lot of work — and love — into it.
Get the Maritozzi recipe.
Honey Cake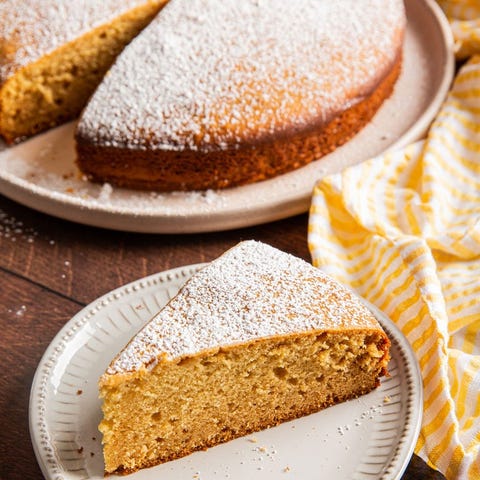 Emily hlavac green
The trick for this super simple cake is to use really good honey. In most cases clover honey is typically used in baking because its flavor is mild, but here we want the honey flavor to stand out. A wildflower honey, which is sweet and floral, and gives the cake lots of flavor and an orange blossom honey would also be amazing.
Get the Honey Cake recipe.
S'mores Icebox Cake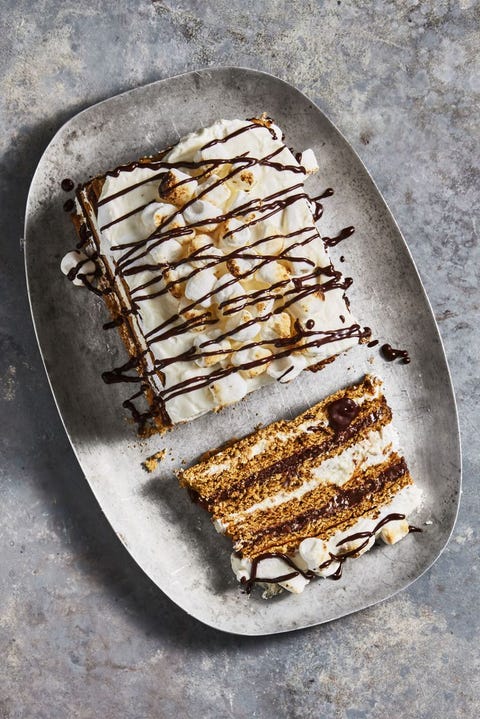 Mike Garten
You don't even have to uncover the fire pit or turn on the oven to bring this graham cracker, marshmallow and chocolate beauty to life.
Get the S'mores Icebox Cake recipe.
Lemon Pound Cake
Few things are as tasty as a classic lemon pound cake, and our recipe calls for lemon icing to make it even better.
Get the Lemon Pound Cake recipe.
Favorite Muffins
Double chocolate muffins and jumbo blueberry muffins have been in my recipe rotation for years, so if you're looking for a muffin mom will love, both are prime choices. I also have this base muffin recipe where you can use your favorite add-ins and flavors.
Ice Cream Float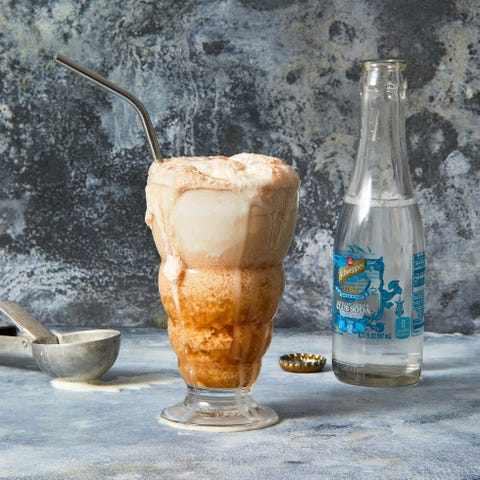 It's a classic for a reason! Pair vanilla ice cream with your mom's favorite soda for a simple but sweet dessert.
Get the Ice Cream Float recipe.
Simple One Layer Cake
If you're having a small celebration, this marble loaf cake or this 6 inch 1 layer chocolate cake may be just the thing to reduce leftovers, yet still impress!
White Chocolate Cake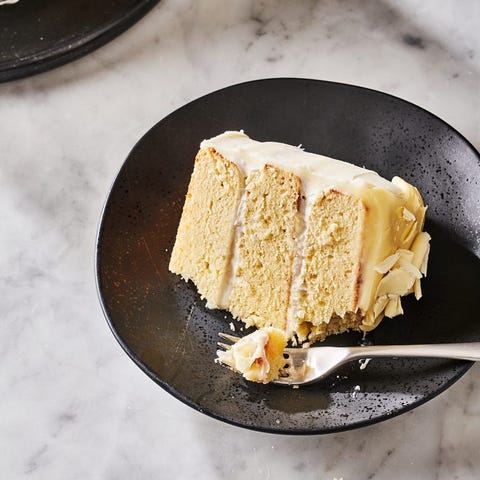 A classic chocolate cake is always a good idea, but if you're looking to stun with something a little different try this white chocolate cake. It's soft and layered with a white chocolate mousse and then topped with a simple cream cheese frosting.
Get the White Chocolate Cake recipe.
Cream Cheese French Toast Casserole
As a mom, I say with 100% honesty that any mother would appreciate a MEGA BIG SERVING of this baked cream cheese french toast casserole. Or add some berries and make it a berries & cream french toast casserole.
Easy Fruit Tart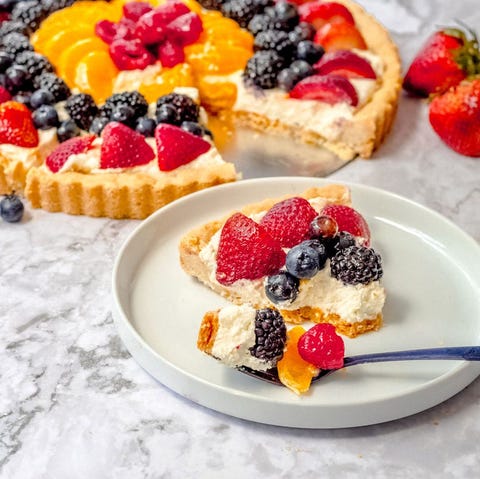 Envious of those bakery tarts in the window? This fruit tart will blow your mind with how easy it is to whip up. Be sure to press this shortbread crust to the top of your tart pan because it shrinks as it bakes.
Get the Fruit Tart recipe.
Lemon Layer Cake With Flower Petals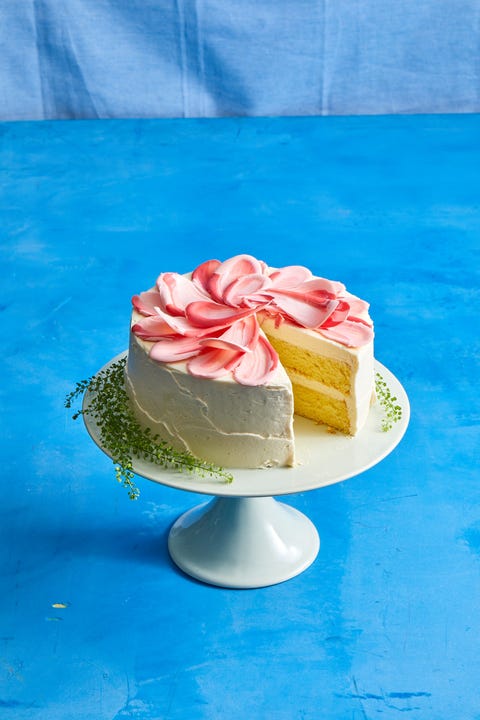 White chocolate, coconut oil and candy melts are all you need to make these pretty, decorative "petals." Not interested in baking the cake? Skip it and pick up a store-bought option instead.
Get the Lemon Layer Cake With Flower Petals recipe.
Eclair Cake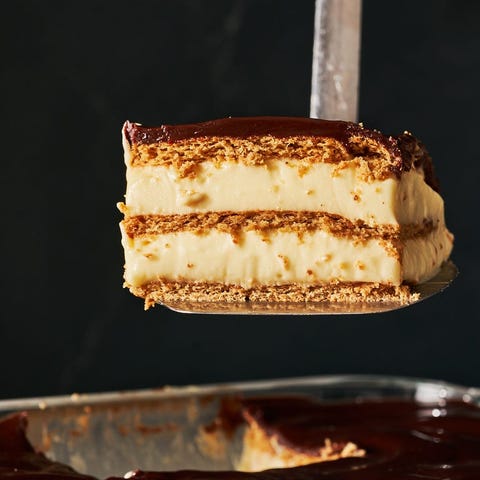 While eclairs can be a difficult pastry to make (especially when it comes to pate a choux of profiteroles fame), we use graham crackers for this cheater version of the classic.
Get the Eclair Cake recipe.
Margarita Cupcakes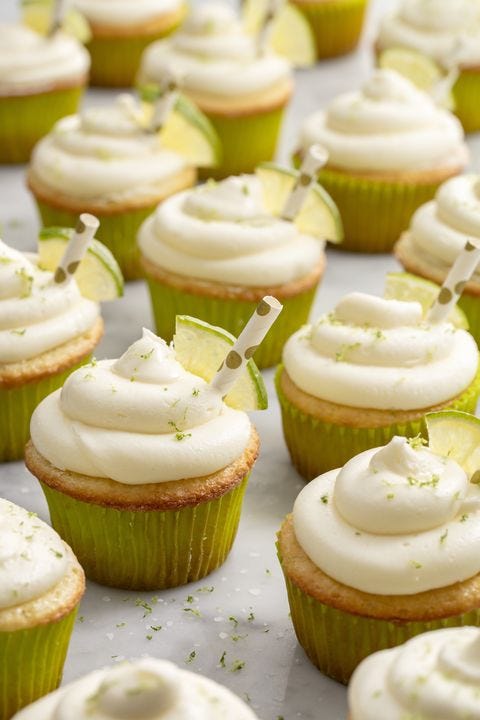 These are so bright and delicious, with even a cheeky bit of tequila and a sprinkle of sea salt in the frosting to really make you feel like you're enjoying a refreshing margarita.
Get the Margarita Cupcakes recipe.
S'mores Brownies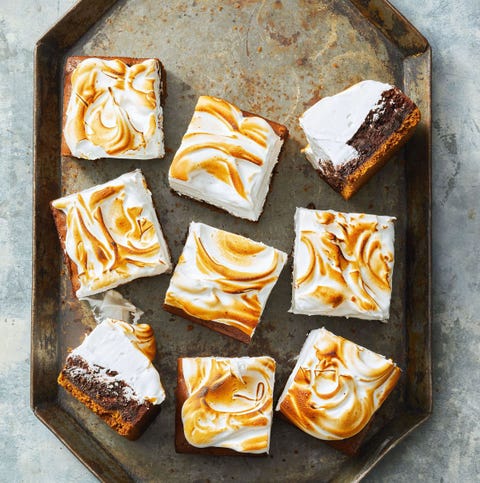 If Mom has a serious sweet tooth, she'll love these meringue-topped brownies complete with a graham cracker crust.
Get the S'mores Brownies recipe.
Buttercream Rose Cupcakes
Little cupcake bouquet with rose cupcakes is fun to make and I guarantee your cupcakes have never looked more lovely. You can even try two-toned frosting roses, too!
Basque Cheesecake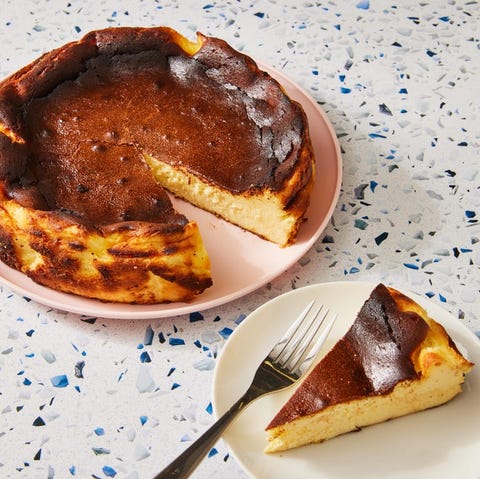 Unlike an American-style cheesecake, this Spanish-style one is baked without a crust and at a super-high temperature, which caramelizes the outer layer while the center stays light and creamy.
Get the Basque Cheesecake recipe.
Banana Pudding Cake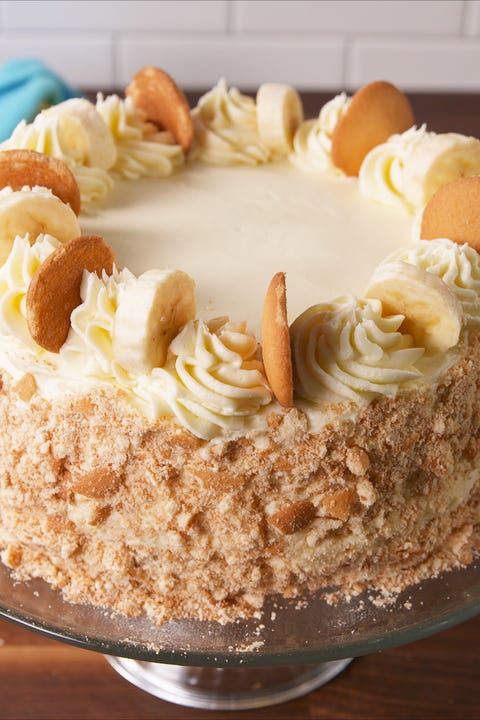 Though it will be hard, try to resist adding a ton of pudding in between the layers. Otherwise, things will get pretty messy. If that means there's extra pudding leftover, so be it. We know you'll find some use for it. 😉
Get the Banana Pudding Cake recipe.
Waffle Cookies with Strawberry Buttercream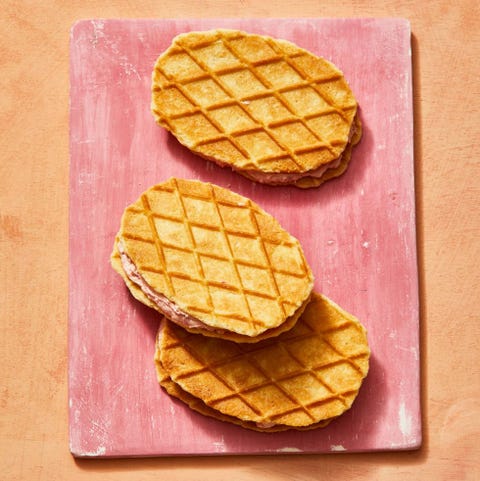 Key Lime Pie Mousse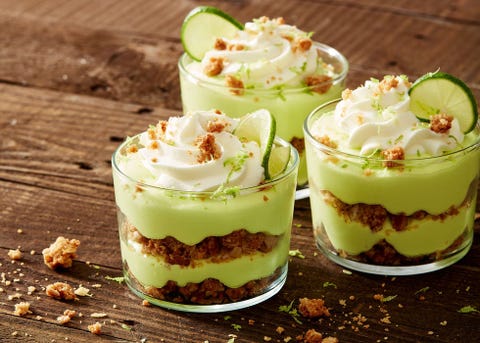 Nothing says summer quite like a tart key lime pie. This mousse is every bit as refreshing, with a fluffy texture and crispy oat crumble you'll want to eat on its own. Key limes are more tart than traditional limes; they're worth finding for this mousse.
Get the Key Lime Pie Mousse recipe.
Cookie Cake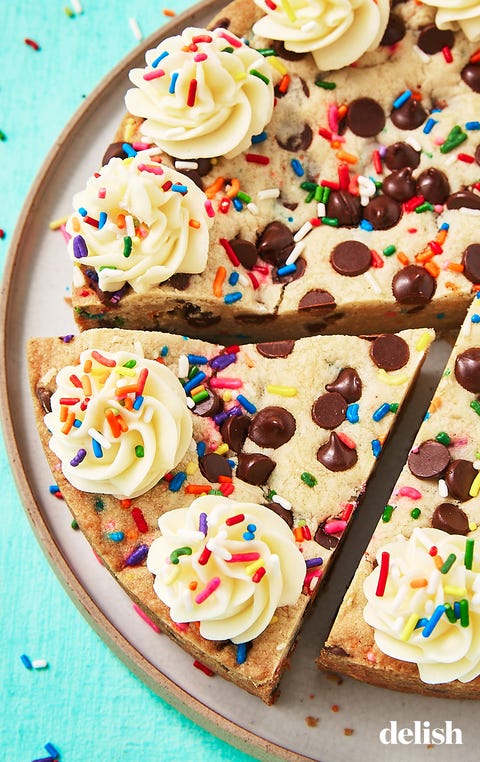 Bigger is better, especially when we're talking cookies. The key to baking a cookie cake is pressing the dough into a round cake pan, rather than freehand it on a baking sheet, which ensures that it'll bake evenly.
Get the Cookie Cake recipe.
White Chocolate and Lavender Madeleines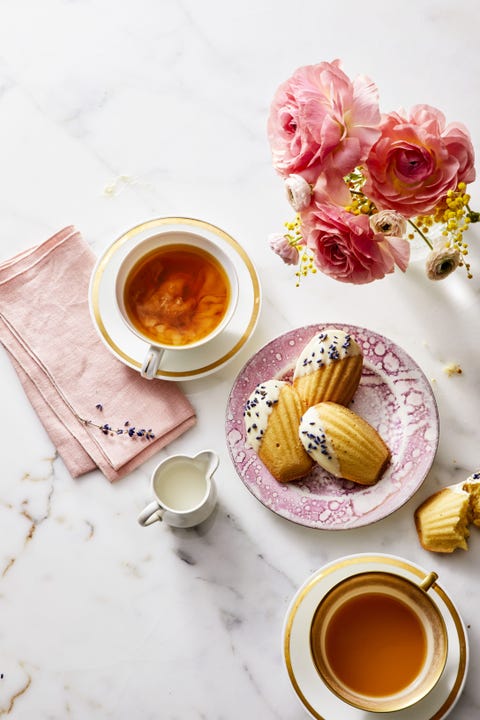 While you wait for the day that you can treat her to a Parisian adventure, make her these cake-like French treats. And while you're at it, brew a cup of her favorite herbal tea to go with them.
Get the White Chocolate and Lavender Madeleines recipe.
Sugared Lavender Cupcakes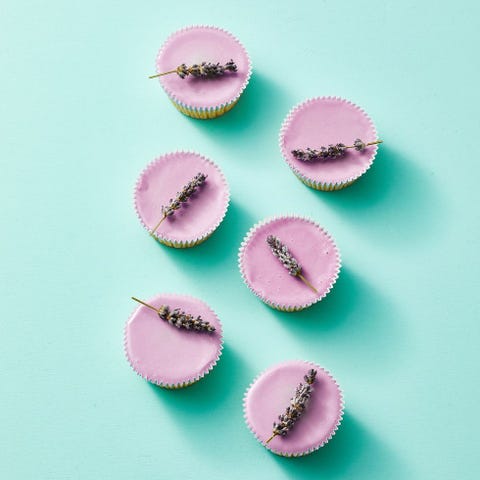 Inside, you'll get a lovely mix of lavender and vanilla, while the outside gets a sweet confectioners' sugar glaze. They're almost too pretty to eat!
Get the Sugared Lavender Cupcakes recipe.