Who says you can't have dessert with breakfast? Not us! These easy pastry recipes take less than 15 minutes to prep and are the perfect excuse to indulge in the morning.
While cinnamon swirl bread is a natural for breakfast, we love it so much we enjoy it all day long. This is a nice twist on traditional cinnamon swirl yeast breads. —Helen Richardson, Shelbyville, Michigan
Go to Recipe
Cinnamon Fruit Biscuits
Because these sweet treats are so easy, I'm almost embarrassed when people ask me for the recipe. They're a snap to make with refrigerated buttermilk biscuits, sugar, cinnamon and your favorite fruit preserves. —Ione Burham, Washington, Iowa
Quick Cherry Turnovers
Refrigerated crescent rolls let you make these fruit-filled pastries in a hurry. My family loves these turnovers for breakfast, but they're so delicious, they'd be welcome any time of the day. Feel free to experiment with other pie fillings as well. —Elleen Oberrueter, Danbury, Iowa
Chocolate Banana Bundles
Banana with chocolate is such an irresistible combo that I make this quick dessert often. You can also top these tasty bundles with the butter and brown sugar mixture left over from coating the bananas, or sprinkle on a dash of sea salt. —Thomas Faglon, Somerset, New Jersey
Caramel Bubble Ring
Lots of caramel and ice cream topping make this quick pull-apart bread oh so gooey and delicious. It truly is a finger-lickin' good baked good.—Laura Clifton, Wenatchee, Washington
Lemon Pound Cake Muffins
I make these lemony muffins for all kinds of occasions. My family always requests them when we have a brunch. They're so good! —Lola Baxter, Winnebago, Minnesota
Cherry Chip Scones
These buttery scones dotted with dried cherries and vanilla chips are so sweet and flaky that I sometimes serve them for dessert. —Pam Brooks, South Berwick, Maine
Chocolate Toffee Biscuits
These sweet, crunchy biscuits are so quick and easy to mix up, they're my go-to treat with my morning coffee. —Wendy Weatherall, Cargill, Ontario
Ricotta-Raisin Coffee Cake
These few ingredients go together quickly so I can have a warm coffee cake to serve overnight guests for breakfast. If you don't have or don't like cardamom, substitute any sweet spice. I recommend ground nutmeg, cinnamon or allspice. —Carol Gaus, Elk Grove Village, Illinois
Raspberry Cheese Danish
After trying a pumpkin scone at a coffee house, I was inspired to look for a recipe to try at home. The glaze nicely complements the pumpkin flavor.
Banana Macadamia Muffins
These muffins taste even better the next day, so to save time, I often make them the night before. They stay moist for days. —Stasha Wampler, Clinchport, Virginia
Banana Beignet Bites
When I was a little girl, my grandmother took me aside one day and taught me how to make her famous banana beignets. Although we made them during the holidays, they're pretty fantastic any time of the year. —Amy Downing, South Riding, Virginia
Berry-Filled Doughnuts
Four ingredients are all you'll need for this sure-bet breakfast treat. Friends and family will never guess that refrigerated buttermilk biscuits are the base for these golden, jelly-filled doughnuts. —Ginny Watson, Broken Arrow, Oklahoma
Lemon Pull-Apart Coffee Cake
I found this recipe in a newspaper and make it often. I like to bake this coffee cake when unexpected company stops in and I need something speedy to go with a cup of coffee. —Mary Tallman, Arbor Vitae, Wisconsin
Pumpkin Ginger Scones
I made these lovely scones one day when looking for a way to use up leftover pumpkin, and I was so excited with the results. I often use my food processor to stir up the dough just until it comes together. It's so simple to prepare this way. —Brenda Jackson, Garden City, Kansas
Apricot Cream Biscuits
Melt-in-your-mouth good when warm, these shortcut biscuits with a hint of orange prove that the right mix really can offer homemade taste. —Betty Saint Turner, Attalla, Alabama
Pecan Coffee Cake
My mom serves this nutty coffee cake for Christmas breakfast each year. The simple recipe is a big timesaver on such an event-filled morning. Everyone loves the crunchy topping. —Becky Wax, Tuscola, Illinois
Pumpkin Doughnut Drops
I always have a few special treats handy when the grandchildren visit. These cake doughnuts are one of their favorite snacks. —Beva Staum, Muscoda, Wisconsin
Cranberry Banana Coffee Cake
I make this moist cake for Christmas morning every year. It tastes like banana bread but has a sweet golden topping with a nutty crunch. —Gloria Friesen, Casper, Wyoming
Glazed Doughnut Holes
Here's a simple recipe to create a colorful and fun breakfast—or snack! For the glaze, use any type of juice you like. —Taste of Home Test Kitchen
Sour Cream Chip Muffins
Take one bite and you'll see why I think these rich, tender muffins are the best I've ever tasted. Mint chocolate chips make them a big hit with my family and friends. —Stephanie Moon, Boise, Idaho
Apple Pear Coffee Cake
A friend gave me this apple pear coffee cake recipe to make for a breakfast I was hosting. The pan was empty before the breakfast was over! It's one of my most-requested recipes, probably because it's a bit different. —Joanne Hoschette, Paxton, Massachusetts
Cranberry Nut Muffins
These are delicious, beautiful muffins. I serve them during the holidays or anytime cranberries are available. The leftovers always make good breakfast treats. Through the years I've tried many cranberry recipes for bread and muffins, but this remains my family's all-time favorite! —Flo Burtnett, Gage, Oklahoma
Buttercup Squash Coffee Cake
Cappuccino Muffins
These are my favorite muffins to serve with a cup of coffee or a tall glass of cold milk. Not only are they great for breakfast, they make a tasty dessert or midnight snack. I get lots of recipe requests whenever I serve them. The espresso spread is also super on a bagel. —Janice Schulz, Racine, Wisconsin
Rich Chocolate Chip Coffee Cake
When I was a teacher, this recipe was recommended by one of my student's parents. I've made it so many times, I can't imagine hosting a brunch without it. Chocolate chips add sweet bursts of flavor to the rich and tender coffee cake. —Michelle Krzmarzick
Torrance, California
Raspberry Breakfast Braid
We also like using blackberries, Marionberries, a mixture of raspberries and blackberries, or all three in this quick and easy pastry. —Tressa Nicholls, Sandy, Oregon
Pecan Pie Mini Muffins
While these are delicious year-round, you could easily turn them into an edible Christmas gift. They look festive on a decorative tray wrapped in red or green cellophane or tucked into a giveaway cookie plate. And don't forget to include the recipe so your recipient can enjoy this treat over and over again! —Pat Schrand, Enterprise, Alabama
Monkey Bread
Both of my boys really enjoyed helping me make this butterscotch monkey bread when they were young. It seemed to taste twice as good when they helped fix it. It's one of our favorites for breakfast or as a snack. —Carol Allen, McLeansboro, Illinois
Cherry Almond Streusel Scones
My kids and I love to mix the ingredients together and turn out these delicious scones. The tart cherries and the brown sugar and almond streusel complement the tender scones perfectly. —Teresa Ralston, New Albany, Ohio
Monkey Bread Biscuits
I came up with an easy, savory—instead of sweet—dinner version of monkey bread featuring garlic and Italian seasoning. —Dana Johnson, Scottsdale, Arizona
Cinnamon Doughnut Muffins
Back when my children were youngsters, they loved these doughnut muffins as after-school treats or with Sunday brunch. —Sharon Pullen, Alvinston, Ontario
Lemon Blueberry Drop Scones
I enjoy serving these fruity scones for baby and bridal showers. They're a bit lower in fat than most other scones, so you can indulge with little guilt. —Jacqueline Hendershot, Orange, California. Check out this drop scones recipe by Queen Elizabeth.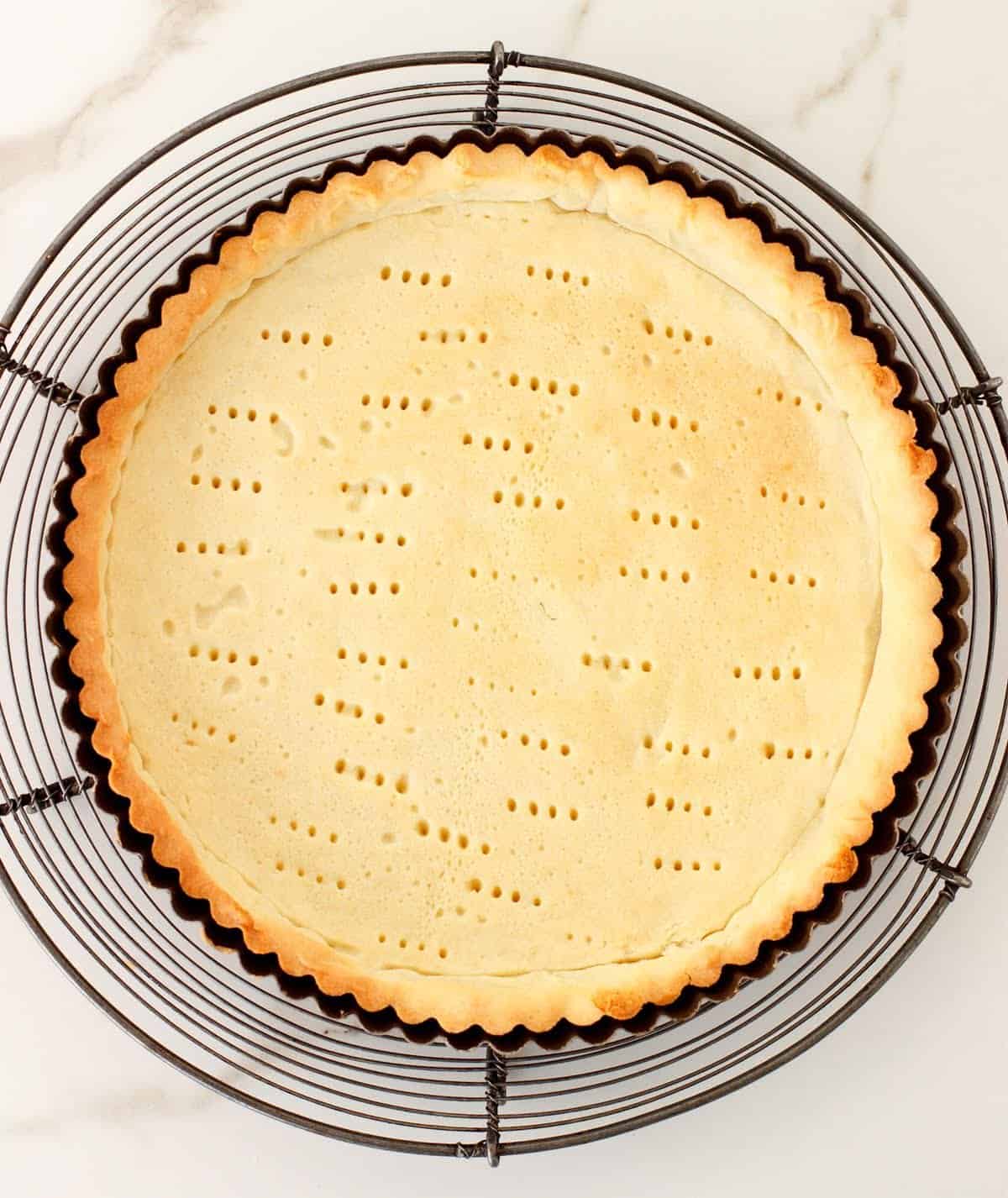 As an Amazon Associate, I earn from qualifying purchases. Please read my disclosure policy.
Do you make your own pastry or pie crust? If you don't I urge you to give it a try. It makes a huge difference once you master the details to make great homemade dough.
This is the best shortcrust pastry for sweet recipes I know. I use it mostly for tarts like the pear frangipane tart and chocolate raspberry tart. And also for some rustic free-form tarts like the fresh peach galette.
Making homemade pie crust is not hard but it takes some organization and practice. Read this post and recipe carefully before starting and make sure you have enough counter space and the ingredients ready.
About sweet short pastry or pate sucrée
Shortcrust means that the fat content (butter in this recipe) is high, and the baked result will be flaky and crumbly. Pate sucrée in French translates to sweet dough.
So this is an all-butter, sweet tart dough, with a much higher sugar content than the traditional flaky pie crust used in the US which is more neutral.
As usual with basic recipes, different recipes might have slight variations in the ingredient ratio. And sometimes in the ingredients themselves. This recipe uses whole egg and no liquid, but you might find others use egg yolk and sometimes cold water.
What can you use it for?
This sweet pastry crust is best suited for French-style sweet tarts or those that don't have a large amount of filling, though you absolutely can.
Fruit tarts: they include fresh fruit ones with cream fillings (like pastry cream or whipped cream) as shown in this strawberry cream tart or baked ones like a pear frangipane tart.
Individual tartlets or mini tarts: since the dough can be rolled very thin, it's ideal for small tarts.
French chocolate tart: this tart has an intense filling so there's not a lot of it. Our raspberry chocolate tart is a great example.
Lemon tarts: usually made with lemon curd and sometimes served with a dollop of whipped cream. A lemon meringue pie is great with this homemade pastry, but not what's usually used in the US.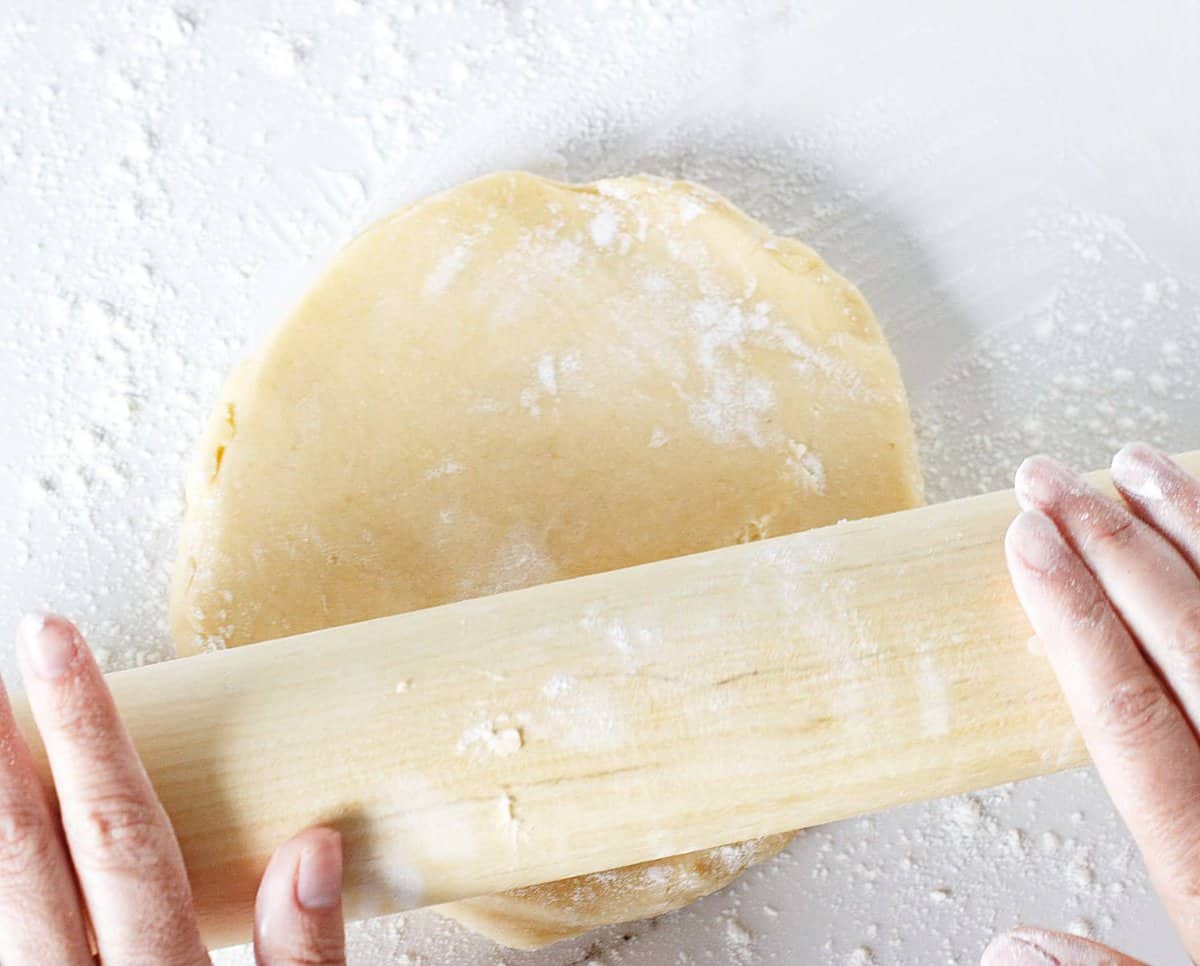 This tart crust uses only 5 simple ingredients that you probably have at home right now.
Unsalted butter.
Flour: the most common is all-purpose flour, but, depending on the country, cake flour can also be used which is more refined (more powdery) and sometimes has a small amount of cornstarch or a similar product, making it smoother.
Sugar: powdered sugar, also called confectioners' sugar or icing sugar. it's powdery and adds a smooth finish to the dough.
Egg: whole egg, fresh.
Salt: a pinch of salt is recommended, as it enhances the flavors of the other ingredients.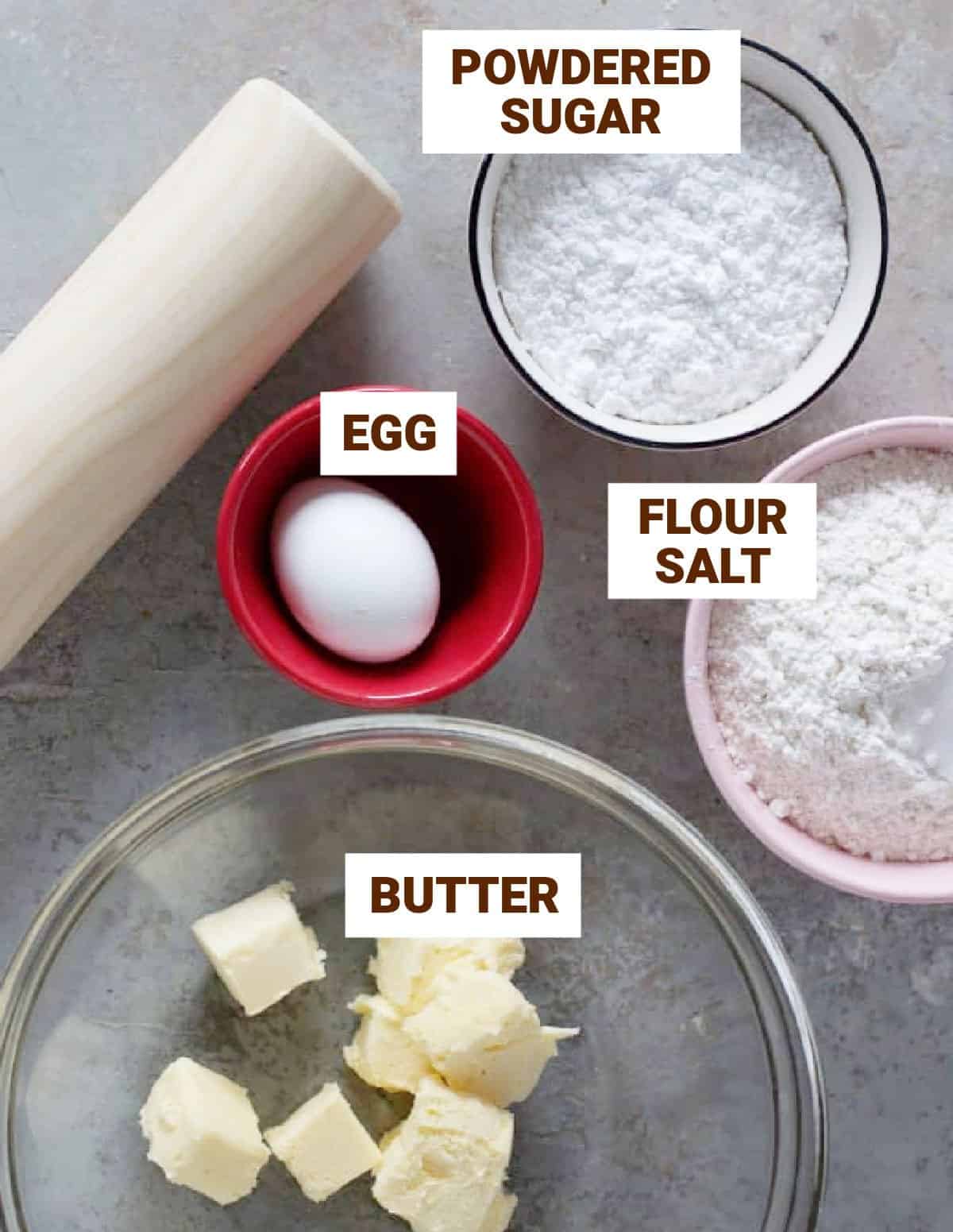 Watch our video tutorials 👇🏻
How to make pate sucree by hand
The step-by-step recipe tutorial will guide you through the process of making the dough with a bowl, spatula, and your hands.
Large bowl: I like using glass, but any material that is apt for food works.
Room temperature butter: most traditional doughs use cold butter, but this is not the case. Butter at room temperature is easier to mix and creates a soft dough.
Creaming method: use a spatula or a wooden spoon to incorporate the powdered sugar into the butter. It takes several minutes and I use a rubber spatula.
Adding the egg: the mixture will be soupy and lumpy at first and you don't have to mix until it's completely smooth.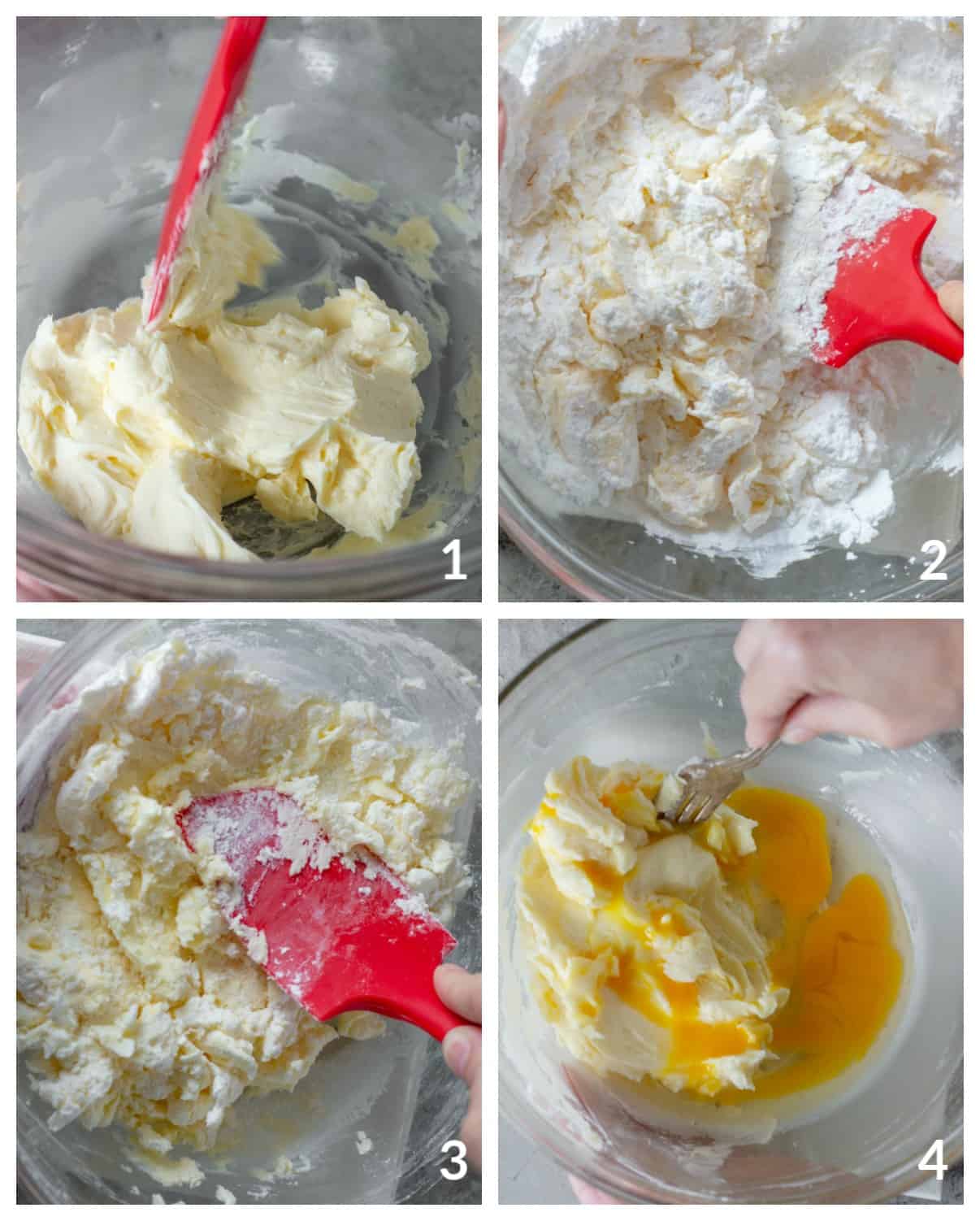 Dry ingredients: add the flour and salt and mix with a fork or spatula until no dry spots remain. It will be a shaggy mass.
Don't overwork the dough! Start gathering it together with your hands. You can do this on the counter or in the mixing bowl (as shown in the video). Use the heel of your hand sliding it downwards, to help the flour and butter come together with the least amount of manipulation. You don't want to warm the dough more than necessary but it should have no dry parts.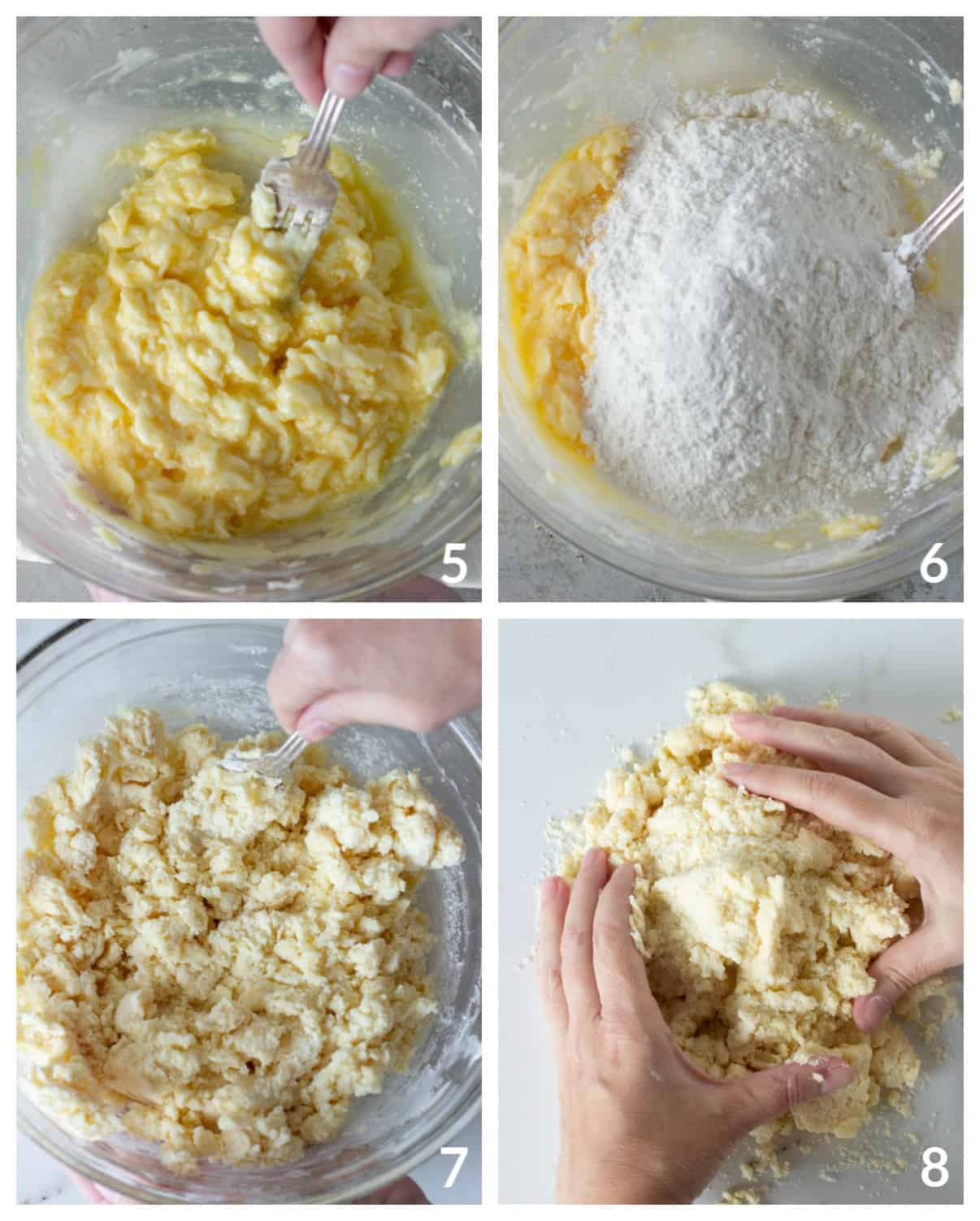 Final dough disc: flatten the round piece of dough and use plastic wrap, cling film, or freezer sheets to wrap it well before refrigerating it. There should be no open places where air can get in.
Dough rest: this is a crucial step if you want it to be rolled easily and be tender yet crisp after it's baked. The sweet shortcrust pastry dough needs to rest in the refrigerator for 1 hour or in the freezer for 20 minutes before you continue.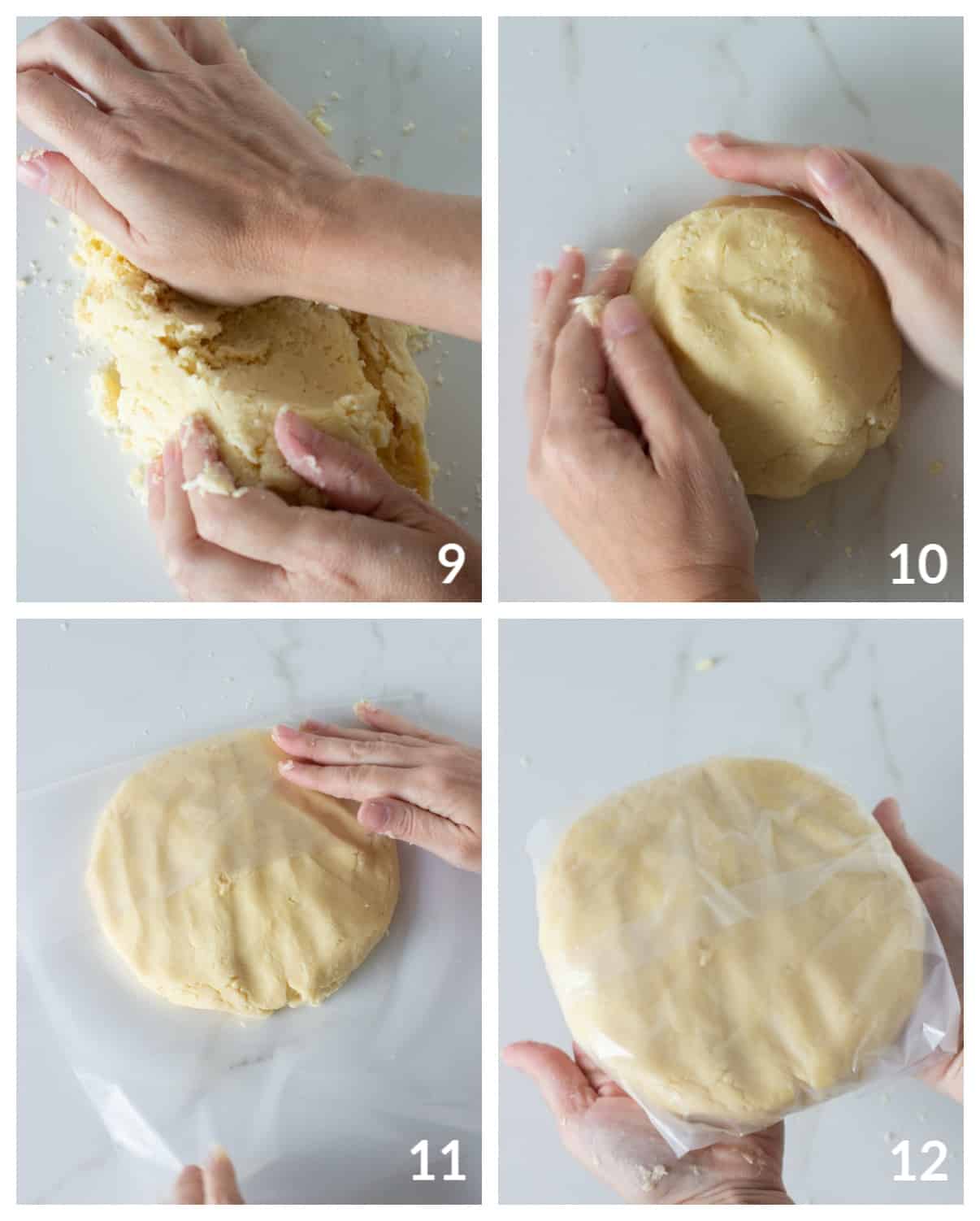 Rolling pie dough
Once the dough has rested, you're ready to roll it.
Cold dough: make sure the pie dough is softened enough to be rolled but still cold, as cold as possible. This can be tricky. Usually, you'll feel it's still too hard, but it will soften quickly once you start manipulating it.
Prepare the working table: make sure you have enough cleared counter space and a floured rolling pin.
Working surface: before starting to roll, lightly flour a clean surface that is large enough for you to work comfortably.
Turn the dough and use extra flour if needed. Start rolling and make sure you do a quarter turn often (I do it to the left). That means making a few rolls and then lifting the dough and turning it a little to the left. This ensures that the dough never sticks too much to the counter and, if it does, you fix it by adding some flour.
If you roll it without checking if it needs more flour it might soften too much, stick to the surface and it will be difficult to lift it without tearing it.
Measure the pan: when the dough is a few inches larger than the pan you're using, stop rolling. Make sure the crust is even in thickness. Adjust if needed.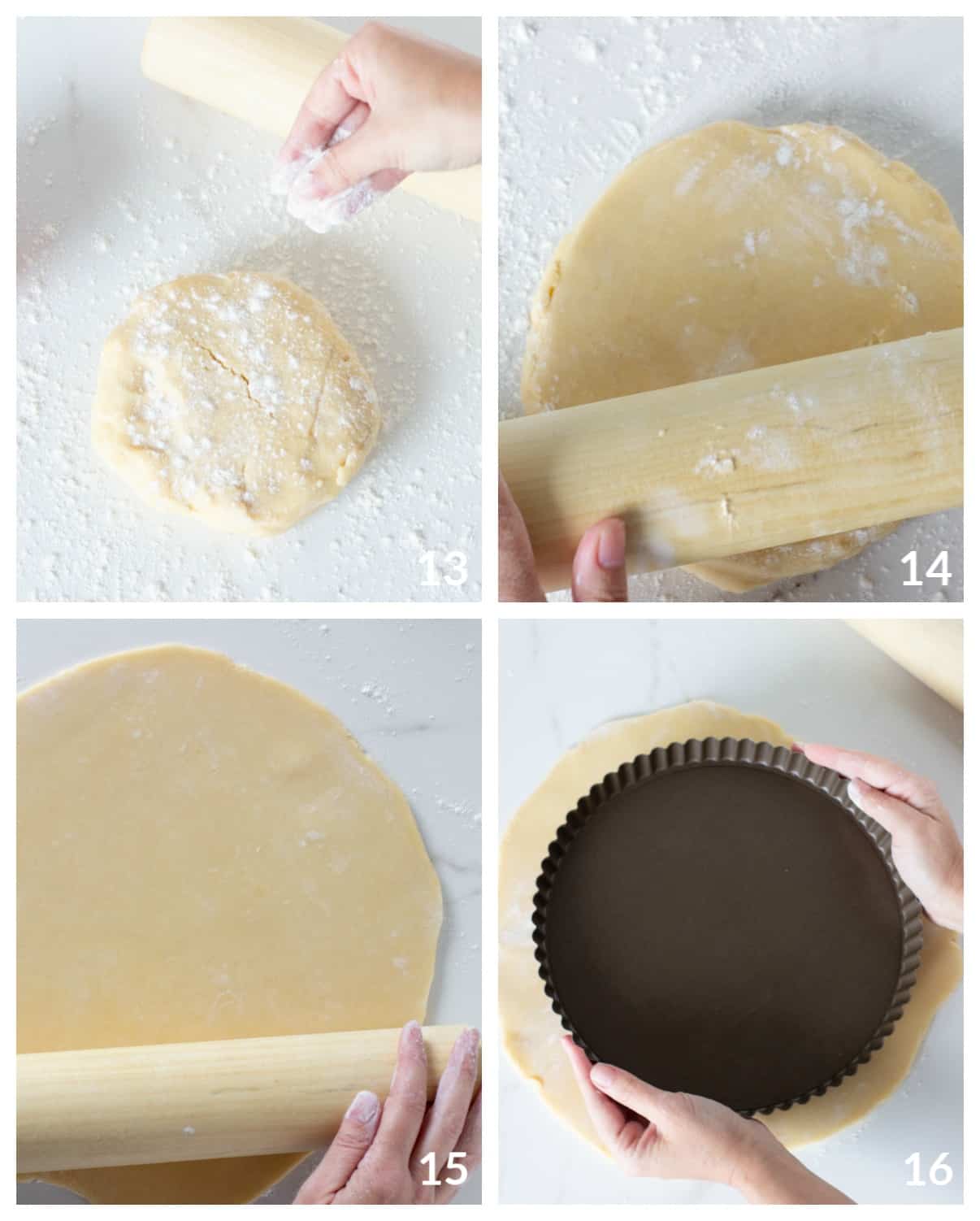 Lining the pan
This sweet shortcrust pastry or pâte sucrée dough is good for any type of pie pan but works best in metal pans with removable bottoms. With taller or shorter sides depending on what type of recipe I'm making.
Work quickly: once you have the rolled pie dough to fit your pan, fold it in half, lift it with both hands, and place it in the middle of the pan.
Unfold the dough to cover the whole pan, and let it ease itself into the pan, don't stretch it to fit. This is very important so the dough shrinks as little as possible during baking. Help by adhering it to the sides with your hands, but never stretching it, remember that.
Excess pastry: the final lined pan will have some excess pastry around.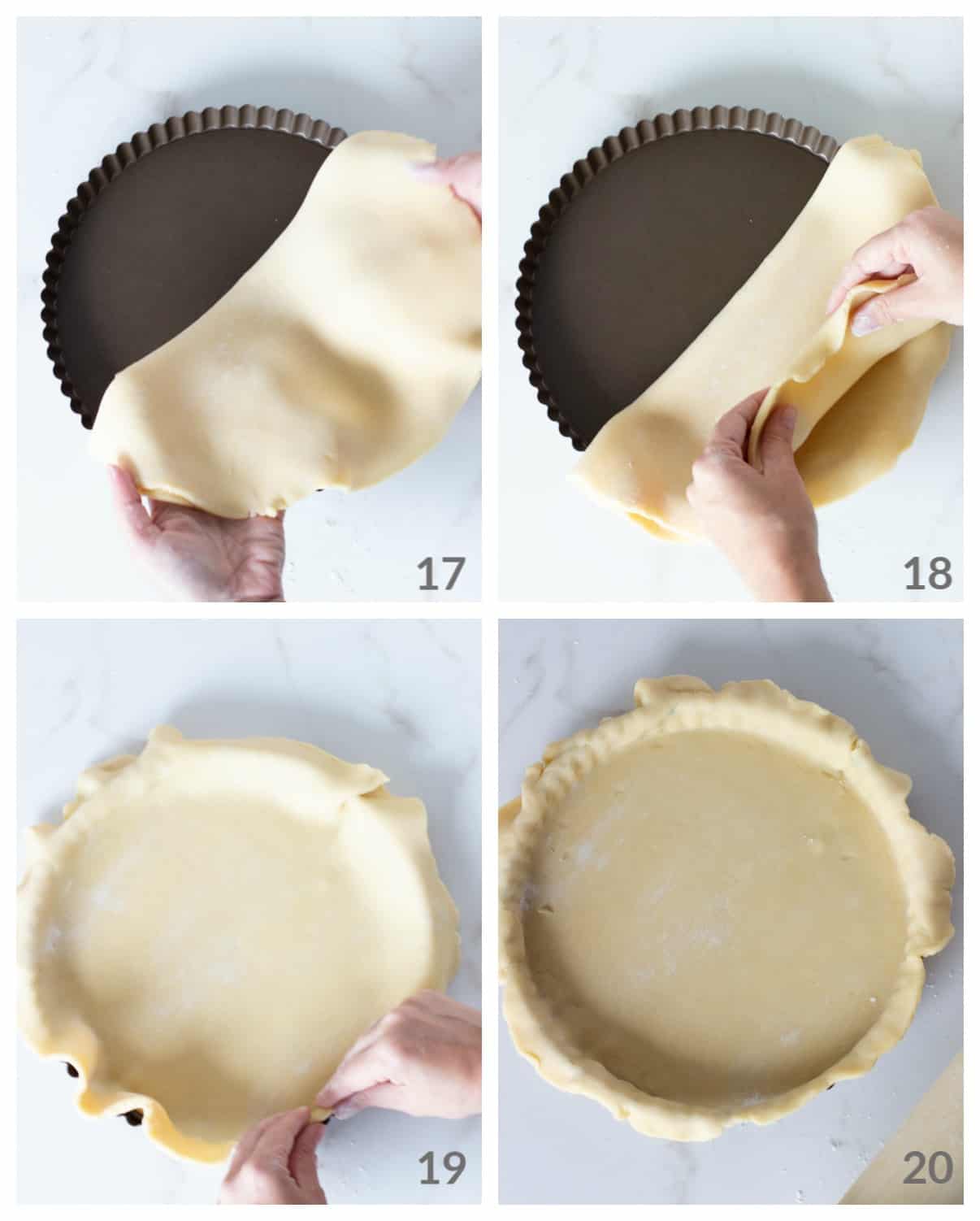 Removing excess pastry
Rolling pin: my favorite method when using metal tart or pie pans is to use a rolling pin. Simply roll from one side to the other and the weight of the pin will cut the dough. Remove any excess dough still clinging to the pan and you're set.
Dough scraper or smooth bladed knife: you can also cut the excess dough with a scraper or a knife. This is a good option but the cut is more uneven than the first option. You will have to finish it by hand, smoothing it after you scrape it.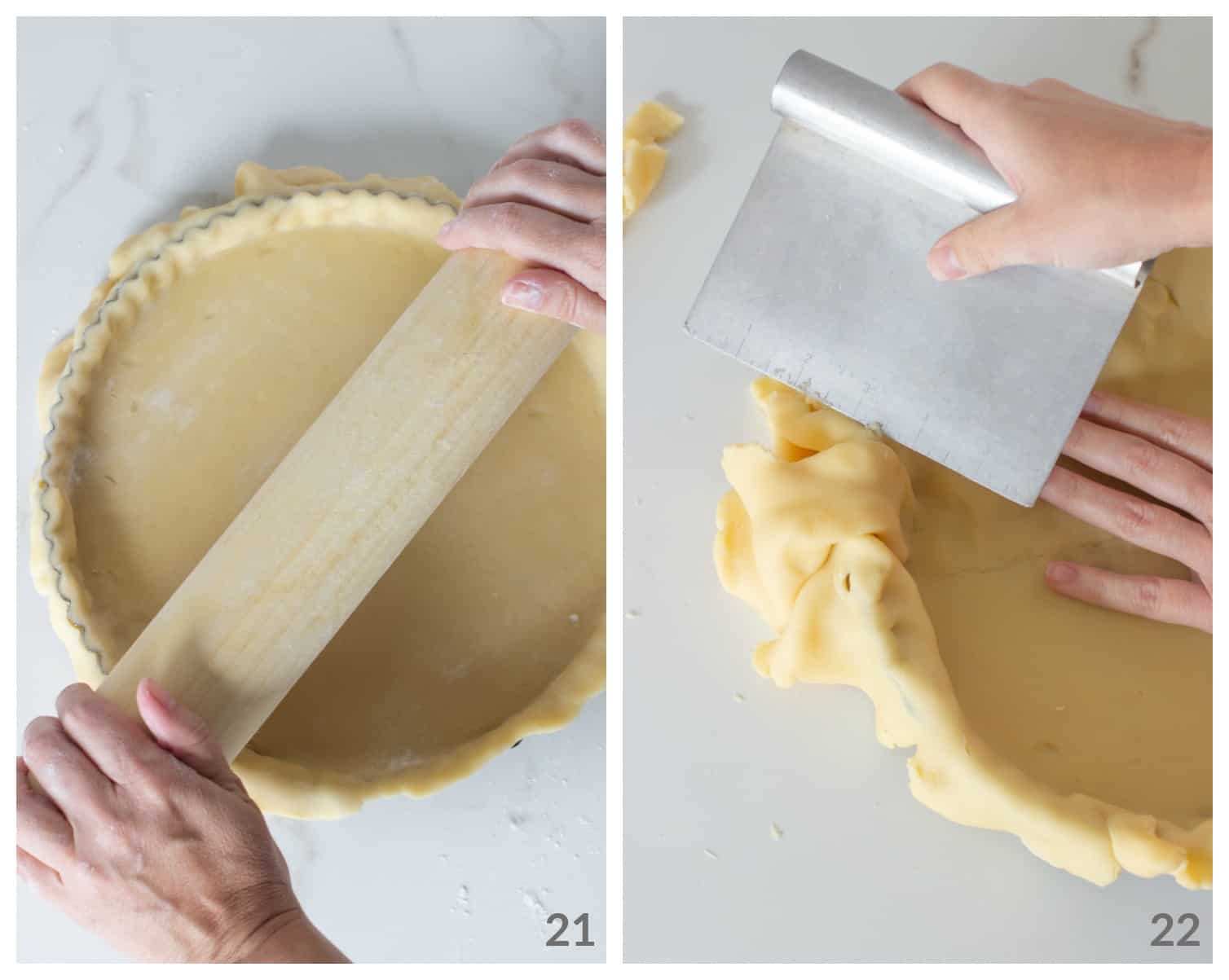 Pricking the crust
Once the pie pan is lined and the excess dough removed, we need to prick the bottom of the pan with a fork (dock a pie crust as we say).
Why do we do this? In the oven, the dough will try to grow and puff up too much, reducing the amount of space left for the filling.
Piercing the bottom helps it stay put and not grow as much because the air trapped inside will be able to escape through the holes.
This, combined with blind baking, is what we do in order to have a flat tart shell with a crisp texture.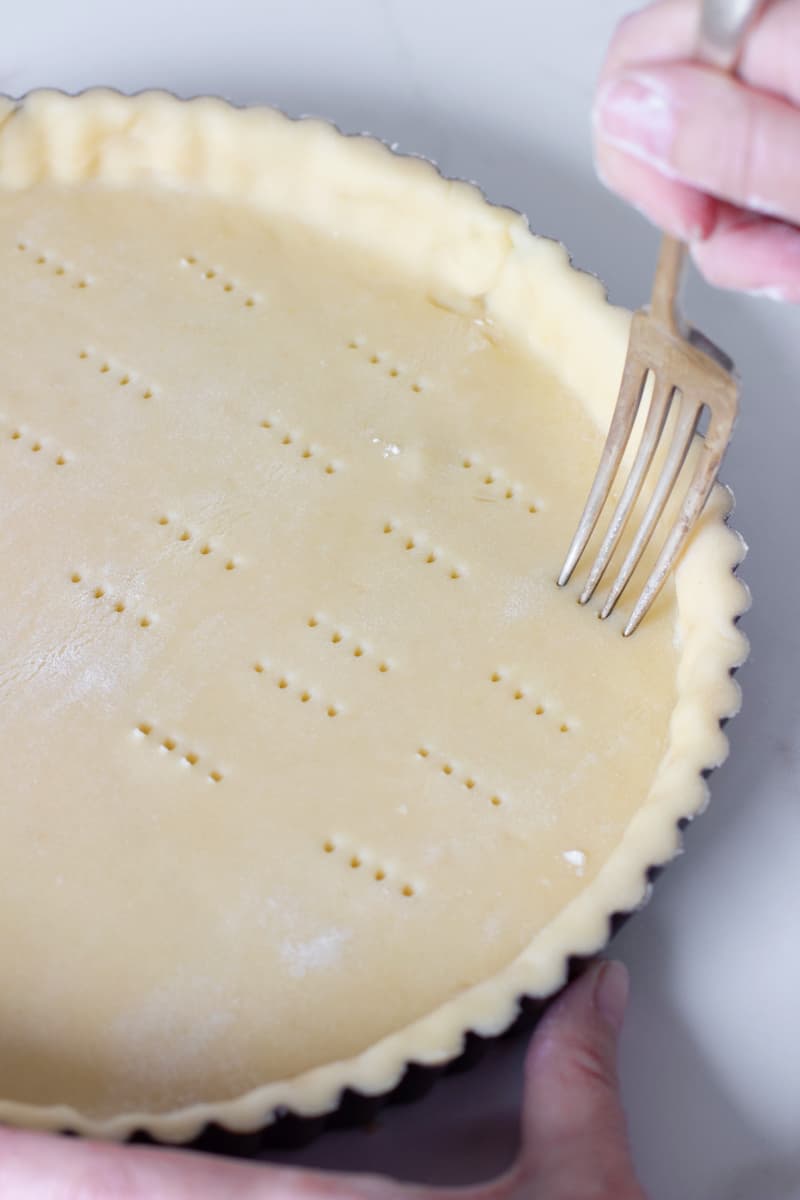 What is blind baking?
Blind baking is pre-baking the dough with weight on top. It is called blind because the raw pie dough is completely covered with paper (aluminum foil or parchment paper).
Why is this step recommended?
To prevent a soggy crust: some fillings tend to seep into the unbaked dough while baking, so this step ensures that the dough develops a dry layer before the tart is filled and is not soggy after it is baked.
To keep the shape: if left to chance without refrigerating, pricking, and blind baking, the pie dough will puff and shrink as it bakes. We don't want that. We want it to keep its shape and have enough space for the filling.
Steps for blind baking pie dough
Preheat the oven to 350°F and take out the lined pan from the refrigerator or freezer (always my first choice).
Cut a piece of aluminum or parchment paper that is larger than the tart pan. Cover the cold dough with it, adjusting it so that it takes the shape of the dough. You can also use parchment paper, but it's usually coarser and more difficult to make it take the shape of the pan and cover the dough well.
Add weight. I use round ceramic pie weights that you can buy online, but any raw grains and legumes can be used, such as beans, lentils, rice, or even flour. Simply fill the aluminum paper with flour or rice or whatever you're using until you have added a layer of weight that will be enough to keep the paper down during baking.
Bake for 15 minutes. It might be a few minutes more or less depending on the type of pie crust, but the idea is to let the dough bake and dry out enough so that we can lift the aluminum paper without having bits of raw dough attached to it. The paper should lift easily and the dough below should be half-baked, slightly wet.
Bake it for 5 more minutes. Just until it loses its shine and is dry. Don't let it bake fully unless you're using a no-bake filling.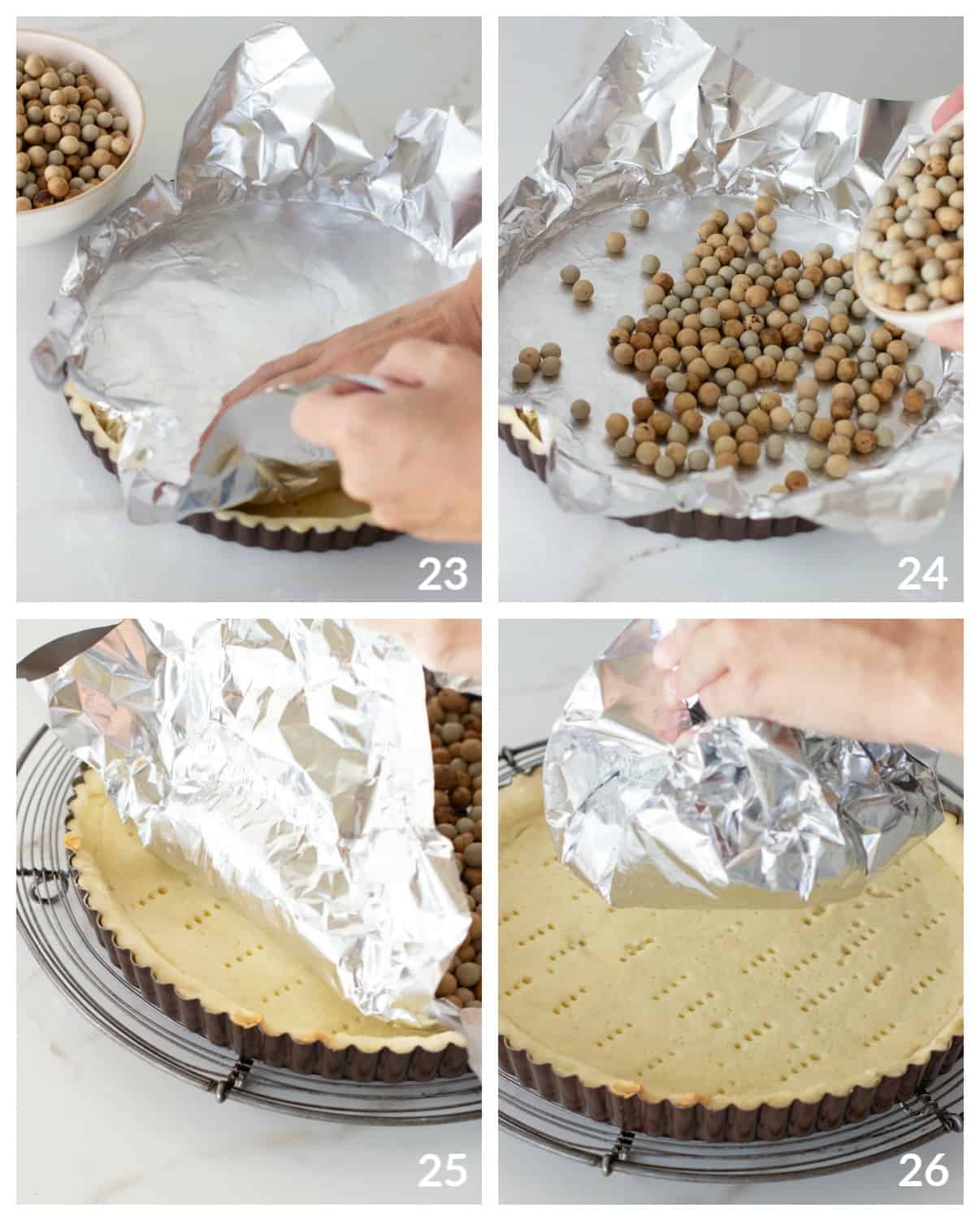 Pan types and sizes
Depending on the tart or pie you're making is the pan you'll need.
Metal: these pans are my favorites because they conduct heat better and the crust bakes evenly. They usually come with a removable bottom (springform pan) which is great when serving tarts. This shortcrust pastry dough is perfect for these pans, whether it's a shorter quiche-like pan or a metal pie pan with high sides.
Traditional pie dishes: the most popular ones are the ceramic pie dish and the glass pie pan, which don't have removable bottoms and act as serving dishes. This dough works with these pans but is not ideal for them IMO because you don't achieve the crimping that is so traditional.
Pan sizes: this recipe makes enough for a 9-inch round tart, an 8-inch lattice tart, or a deep-dish 8-inch pie.
Freezing sweet pastry dough
Well wrapped: this is essential to prevent dryness and unnecessary freezer burn. I put it in airtight bags or cover it well with plastic wrap (cling film) twice.
Lasts a month: at least. I've had doughs for two months and used them and they were perfect.
Label it: make sure you put what type of dough it is and the date you made it.
Lined pan: many times I line the pan and then freeze it, well wrapped. I did this once with a dough I didn't use and it turned out so well that now I tend to have a ready-to-be-baked pie pan in the freezer. It saves a lot of time because you blind bake it directly, no need to defrost it.
Defrosting dough disks
For rounds of dough that have been frozen, the best way to defrost them is in the refrigerator. It will be gradual, they will thaw more evenly, and the dough will be cold when you roll it.
It will take several hours. I put the wrapped packet with the frozen dough in the fridge from one day to the other.
If you're in a hurry you can defrost it at room temperature. Let it come to a point where it is very cold and barely softened. Again, be careful it doesn't get too soft because it won't give you the tender and flaky pastry crust you want.
It's best that you roll it out while still very cold.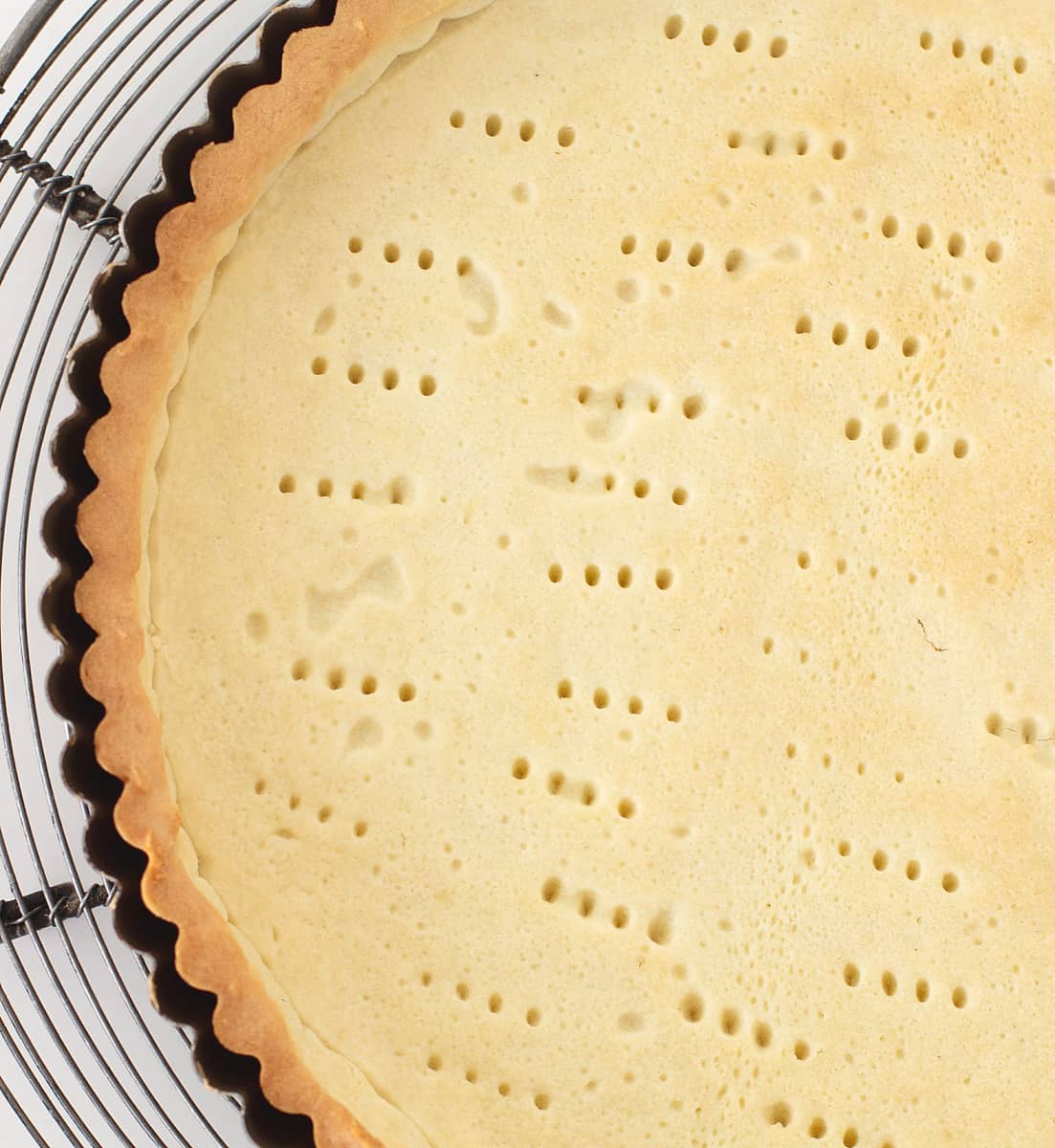 Organization: read the recipe first and make sure you have ingredients at the right temperatures, equipment needed, and enough workspace. This will make the process so much easier!
Baking time: all ovens and pans are different, even if they look the same or very similar. The baking time in my recipes is as accurate as it can be, but it might take you more or less time. Use a thermometer inside the oven (like the OXO oven thermometer) to check that the temperature is right. I recommend you keep track of how your oven works and what tiny details you might need to adjust.
Food processor: you can use this small appliance. It's important not to overprocess it once the flour is added or gluten will start to develop. We don't want that as it prevents the dough from stretching well when rolled and the result will not be a tender crust after baking.
Stand mixer: if using it with the paddle attachment, be very careful not to overwork it once you add the flour, the same as with the food processor. Always mix on low speed and just until mixed.
Using only egg yolks: you can use 2 egg yolks instead of 1 whole egg. The pastry shell will be very crisp. This is great for mini-tarts that are one or two bites.
Flavorings: add ground spices (a pinch of cinnamon or cardamom), vanilla extract, or any citrus (lemon zest, orange zest) to the butter mixture before adding the flour.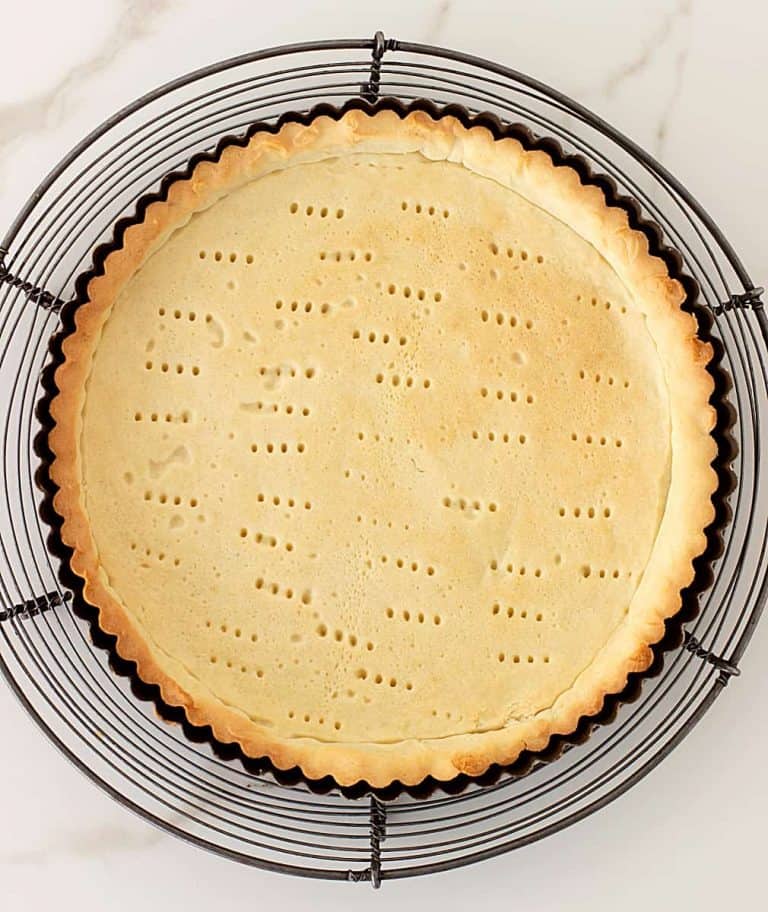 (120g) powdered sugar
Pinch of salt
(250g) all-purpose or cake flour
+ (125g) unsalted butter, at room temperature
egg, at room temperature
Notes
Organization: read the recipe first and make sure you have ingredients at the right temperatures, equipment needed, and enough workspace. This will make the process so much easier!
Baking time: all ovens and pans are different, even if they look the same or very similar. The baking time in my recipes is as accurate as it can be, but it might take you more or less time. Use a thermometer inside the oven (like the OXO oven thermometer) to check that the temperature is right. I recommend you keep track of how your oven works and what tiny details you might need to adjust.
Food processor: you can use this small appliance. It's important not to overprocess it once the flour is added or gluten will start to develop. We don't want that as it
: watch videos for Making the sweet pie dough and Rolling and lining pie dough.
Paula Montenegro
Pies & Tarts
Serving Size:
Calories:
Sugar:
Sodium:
Fat:
Carbohydrates:
Protein:
Cholesterol:
sweet shortcrust pastry, pate sucree
Photo: Blaine Moats
Bring the aromas of your favorite bakery home with our pastry recipes. If you're a beginner, don't be intimidated. Pastry dishes always start with a dough consisting of flour, water, and solid fat (which can be shortening, butter, or lard). Some common examples include pies, tarts, donuts, croissants, Danishes, and scones. Here's a handful of our favorite recipes, including some easy shortcuts, such as frozen puff pastry or refrigerated piecrust.
Blueberry-Cream Cheese Pastries
Attention blueberry-lovers: These flaky breakfast pastries are full of your favorite bite-size berries. Give them a spread made with cream cheese, vanilla, and lemon juice for a sweet-tart kickoff to the day.
Potato Cinnamon Rolls
We're letting you in on the secret ingredient to the most fluffy, delicious cinnamon rolls you'll ever taste—potatoes. That's right, this top-rated recipe from our Test Kitchen uses mashed potatoes to achieve the ultimate soft, pillowy rolls you know and love.
Buy It: OXO Potato Masher ($16 Target)
Layers of light and flaky puff pastry sheets, spiced apple slices, and cream cheese fill this Danish pastry recipe. Save yourself some prep time and skip a step by substituting canned apple pie filling for the spiced apples.
Almond and Vanilla Bean Scones
These rich, moist scones get their incredible flavor from almond extract and vanilla-bean paste. To ease cutting the pastry dough, cover it with plastic wrap and freeze for 20 minutes before slicing. You can also freeze the dough up to two months for delicious homemade pastries at a moment's notice.
Buy It: Nielsen-Massey Madagascar Bourbon Vanilla Paste ($37, Williams Sonoma)
Cream Cheese Danishes
The key to creating a flaky pastry, like this classic Danish, is all about the puff pastry. Luckily, the frozen version at your grocery store is delicious, and definitely worth buying as a shortcut. Top this easy breakfast recipe with your favorite fruit preserves.
Lavender-Honey Lemon Tart
This delicious pastry recipe is a showstopping brunch treat or dessert that only looks complicated. It takes a mere 10 minutes of hands-on time to get this sweet and tangy tart together. The candied lemons are also easy to make and are an impressive topper.
Make easy work of these sweet pastries—a plastic bag quickly pipes a homemade chocolate filling into purchased cannoli shells. Look for the shells at Italian grocery stores and larger supermarkets.
Buy It: Wilton Decorating Bags with Tips ($12, Walmart)
Here our homemade strawberry jam is infused with cardamom for a zesty take. Stuffed inside a flaky pastry and drizzled with powdered sugar icing, this is a breakfast recipe that's sweet enough for dessert.
Rustic Blood Orange Tart with Salted Pecan Crust
Add some nutty flavor to your dough with toasted pecans. Blood oranges make a tangy filling and beautiful presentation. Just remove the white pith from the citrus, as it tends to have a bitter taste.
Buy It: Beech Wood Rolling Pin ($9, Target)
Stuffed Churro Puffs
Some flavors were just meant to be paired, such as the dulce de leche that stuffs these churro-inspired cream puffs. If you've never made choux pastry, watch our video to show you how easy it is to make from scratch.
Danish Pastry Apple Bars
Serve these delicious apple pastry bars to really win over the breakfast guests. You'll love that the recipe can make 32 bars, and they'll love the crunch of the hidden layer of cornflakes.
This classic pastry recipe from the 1953 edition of the Better Homes and Gardens New Cook Book is our favorite. We've updated the donuts to use butter (and more of it) instead of shortening, but kept its classic cinnamon-nutmeg spice.
Buy It: Hamilton Beach Deep Fryer ($45, Walmart)
French Market Beignets
Originally developed in New Orleans, these elegant, fried French pastries are dusted with a generous coating of powdered sugar. Fun fact: The word "beignet" is actually French for "fritter."
Start with purchased crescent roll dough to make these tender, rich pastries in just 35 minutes. A dark filling of almond paste and chocolate makes these treats bakery-worthy.
They may look complicated, but puff pastry desserts are SO easy to make.
Twist them, roll them, and fill them with fruits, nuts, or sweet, syrupy goodness, and voila! You'll be a master of pastry dessert-making.
Want to save this recipe? Enter your email below and we'll send the recipe straight to your inbox!
As a kid, I've always been intrigued by puff pastry treats sold at dessert shops.
I mean, how do you get those buttery, flaky crusts that match so well with different fillings and ingredients?
Puff pastry is made with hundreds of layers of butter and dough through repeated rolling and folding.
While making homemade puff pastry is possible, you wouldn't want to mess with this French staple if you're a beginner baker.
The alternative is to use the store-bought version to make easy, crave-worthy puff pastry desserts.
Don't just take my word for it. Here are 21 puff pastry recipes that require minimal effort but yield fantastic desserts!
Chocolate Puff Pastry Twists
These braided puff pastry treats are golden, literally and figuratively.
Chocolate hazelnut is generously spread on thawed puff pastry, then rolled up into a log and cut in half lengthwise.
They're twisted together, forming an extra-large braided puff pastry dessert.
A quick egg wash gives these chocolate braids the golden brown edges, while the sanding sugar adds extra crunch.
Puff Pastry Fruity Cream Cheese Danish
You can make this Danish dessert in a snap, thanks to the convenience of frozen puff pastry.
The sweet cream cheese and the red fruity filling are married together at the center of each Danish pastry.
You'll love the fresh-tasting bits of red fruits!
This creamy and fruity dessert is already gorgeous and delicious by itself.
Take it to the next level by adding a drizzle of homemade icing or powdered sugar on top.
Blueberry Galette
A galette is a sweet, free-form crusty cake hailed from France. It's like a pie that's easier to make, so much so that you won't mess it up.
Just like a pie, this blueberry galette is buttery, flaky, and full of fruity flavors.
A galette traditionally uses homemade or store-bought pie crust, but puff pastry works just as well.
If you don't like blueberries, you can try making the galette with strawberries, apples, peaches, kiwi, or a combination of fruits!
Cherry Pastry Pies
Have you ever had a Pillsbury toaster strudel? These cherry pastry pies are just like that, but better.
For one, they're homemade. And second, they're made from real fruit!
These handheld delightful pies are filled with summer sweet cherries and baked until crisp and golden brown.
Cherries are the star of the show, so be sure you get the best ones.
For a flavor-packed filling, mix the fruit with lemon juice, sugar, salt, and vanilla extract.
Mini-Peach Puff Pastry Tarts
Small but mighty, these mini-tarts will leave you in awe first, and wanting more second.
The sweet, juicy peaches meet the buttery and crisp puff pastry, creating a combination of flavors and textures like no other.
The peaches are flavored with honey and vanilla, so you'll get more deliciousness besides the natural fruity taste.
These peach tartlets are a perfect summer treat when served with some ice cream!
Toaster Strudel
This is a copycat recipe of the famous boxed version of toaster strudel. It's semi-homemade if using frozen puff pastry.
Another great shortcut is to use a store-bought jam for the filling.
Despite the shortcuts, this recipe yields a sweet treat with a fresh homemade taste.
The addition of salted butter and almond extract to the icing makes all the difference.
Kouign Amann
Don't be put off by the fancy name. This classic French dish can be made with minimal prep time and effort.
Best of all, you'll still get the ultimate pastry experience!
These rolls are crusty, buttery, and sugary, with a caramel-y outer crust.
This cheater recipe will only require you to use three ingredients to get all that flavor and texture.
Bring out your puff pastry, sugar, and melted butter. With a little dipping, rolling, pressing, and baking, you'll be done in less than an hour.
Cream Horns
Also called trubochki, these cream horns are an impressive treat for any occasion. They're like waffles, but crisp and creamy.
For this Russian dessert, you'll need molds to make the crispy horns. Pipe in the cream cheese filling, dust everything with powdered sugar, and devour!
Strawberry Puff Pastry Tart
Who doesn't love strawberries? They're juicy, fruity, and sweet, with a subtle tangy kick.
These vibrant red berries are best when fresh and placed on a buttery, creamy puff pastry.
For maximum buttery flavor, you'll want to use the all-butter puff pastry.
Mix the fresh berries with strawberry jam to make gorgeous glazed tarts.
Apple Turnovers
Apple turnovers are like portable apple pies. Pick them up on a lazy afternoon to indulge in warm, fruity flavors.
The apple filling goes into the crisp puff pastry with a glaze on top.
Top tip: refrigerate the turnovers before baking to reduce leaks filling out from the crimped edges.
Apple Pandowdy
Apple pandowdy is a favorite fall dessert at home. A juicy bite from the sliced apples and crunchy taste from the sugar-rolled puff pastry is the BEST combo!
Don't forget to press the dough pieces down after baking. That's how they soak up all the delicious fruity juices.
Peanut Butter Chocolate Pop Tarts
Chocolate and peanut butter make a heavenly duo, and you'll love them in these crisp golden brown pop tarts.
The best part is, you'll only need five simple ingredients and less than 30 minutes of baking time.
Have fun making variations using other nut butter and chocolates.
Puff Pastry Almond Croissant
This is a faux croissant made with puff pastry yet unbelievably flaky and flavorful.
The croissant is both crisp and soft and is brushed with almond syrup for a tasty bite.
The toasted chopped almonds on top add a nice, extra crunch. Take the sweetness up a notch by filling the croissant with almond pastry cream.
Tarte Tatin
Tarte tatin is a French-style upside-down tart made with a pastry crust, butter, sugar, and apples.
Of course, you can make things easier by using store-bought puff pastry.
But unlike other puff pastry desserts where the fruits are tucked in, this tart boldly displays its caramel-y sweet apples.
The soft fruity top makes a lovely contrast to the crisp, flaky base.
Puff Pastry Cinnamon Rolls
This recipe made me fall in love with cinnamon rolls all over again! It's SUPER easy to make, and you'll only need three ingredients: puff pastry, brown sugar, and cinnamon.
These rolls wouldn't be complete without the vanilla icing on top. Make it fancier by adding some raisins if you like.
Puff Pastry Sticky Buns
Unlike the time-consuming traditional sticky buns, this recipe will free you up more time and energy.
Save them for devouring these puff pastry sticky buns or making another batch because the whole family will love them!
Sweet and zesty, the filling is made with white and brown sugar, orange zest, and cinnamon.
Add pecans and raisins to load up the buns and create an impressive texture combination.
Banana Puffs
Making these mini-banana puffs can be a fun bonding time with the kids. They're easy to make, but don't expect to have a no-mess kitchen area!
Serving these banana tarts to the kids is a great way to include fruits in their meals.
Adding nutmeg or cinnamon makes these puffs extra delicious and fragrant!
Puff Pastry Cheesecake Fruit Pizza
There's beauty in simplicity, and this dessert pizza proves it.
This fancy-looking treat combines fresh fruits and cream cheese, infused with vanilla for an extra flavor boost.
This versatile recipe allows you to use any fruit you have on hand. Some great options include plums, apples, peaches, and different kinds of berries.
If you always keep some puff pastry, you can make this indulgent dessert anytime. A little cutting, filling, and baking, and you're done!
Puff Pastry Palmiers
Even the elegant French palmiers can be made with puff pastry — how awesome is that? Very.
Because puff pastry palmiers can hit the table in 30 minutes or less!
If you want the classic palmiers, simply dress them up with sugar. For a next-level filling, you can add dried, chopped fruits or shredded cheese.
Fig Brie Pastry Pops
Fig and brie pastry pops are lollipops for the grown-ups. They're not overly sweet, with a bonus of savory taste.
Create fun-looking desserts by turning these pastry pops into any shape you like. Serve with your go-to jam for a simple afternoon snack.
Chocolate Filled Pastry
If you like dessert for breakfast, this easy and quick recipe is for you. Your mornings will instantly brighten up with some chocolate-filled pastries!
These crispy rolls with melted chocolate inside are incredibly delicious, even when you eat them plain.
I'll bet they're insanely good with a scoop of ice cream.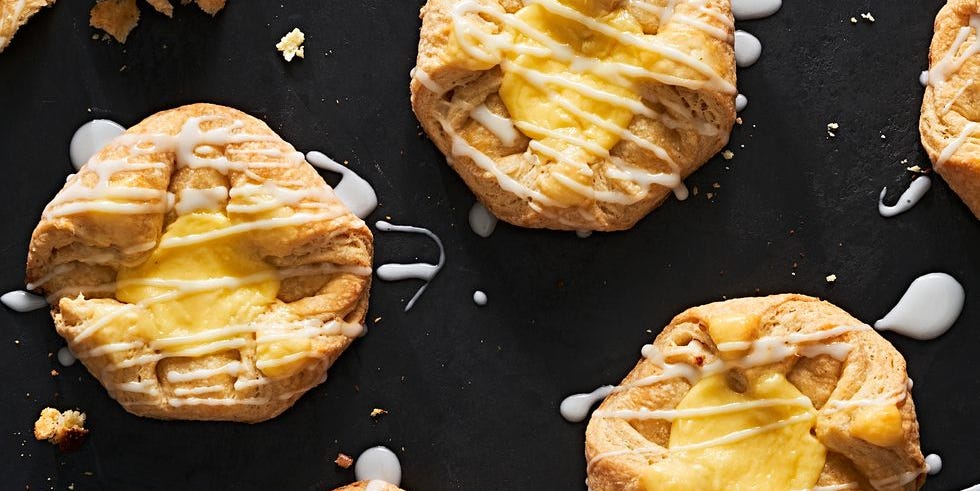 Pretty much anywhere you could travel to will have their own variety of region-specific pastries that they've been known for for hundreds, if not thousands, of years. French pastries are some of the most well-known, and we've got recipes for all the classics here. Well-laminated dough (meaning it has had butter folded into it several times) is a lengthy, multi-day process, so we've admittedly taken some shortcuts to make some of them more achievable at home. Check out our shortcut croissants, macarons, madeleines, beignets, and profiteroles. Looking to expand your pastry knowledge? Try our Middle Eastern ma'amoul cookies, our Italian zeppole, our Jewish sufganiyot, our Mexican concha, our Japanese mochi, or our Chinese mooncakes. Remember—pastry chefs can take years to master these recipes, so if yours don't turn out perfectly the first time, don't stress! Pastries are as much about the process as they are about the end result, so enjoy the journey.
And don't think it's just sweets. Traditional pastry methods can translate to some very tasty savory options too, like Indian samosas, Turkish borek-inspired scrunch bread, Jewish potato knish, Greek spanakopita, and Chinese baozi (steamed buns). The great thing about these recipes is that once you've got their basic concept down, you can get as creative as you like with the fillings.
Want more dessert inspiration? Check out our favorite cookie recipes, our favorite pies, and our top dessert bars too.
Advertisement – Continue Reading Below
Homemade Samosas
We almost never order Indian food without getting some samosas along with it, and good news: They aren't hard to make at home! The spiced potato filling is quick and easy, and the dough comes together fast using melted ghee. The crust is sturdy, but still fries up extra crisp and shatter-y. 😍
Get the Homemade Samosas recipe.
PHOTO: ANDREW BUI; FOOD STYLING: MAKINZE GORE
A danish is a type of laminated dough—in other words, dough that has had butter folded into it several times—but to help make the process a little more straightforward, we borrow from our croissant recipe, which relies on a "rough" puff pastry. These have warm, buttery, flaky layers and a just-sweet-enough cream cheese filling that make the effort SO worth it.
Get the Cheese Danish recipe.
Spanakopita Spinach Pies
Spanakopita is a popular savory Greek spinach pie frequently served as cut pieces from a whole slab pie, but we made individual pockets to save you the waiting time between baking, cooling, then slicing. As soon as they pop out of the oven, they're ready to be plated and devoured by your hungry guests, no knives necessary.
Get the Spanakopita Spinach Pies recipe.
Walnut and Pistachio Baklava
Sticky and rich, baklava is a Turkish and Greek dessert made of layered sheets of phyllo dough, nuts, spices, sugar, and/or honey. Our version uses walnuts and pistachios, but feel free to use whichever nuts you like the most.
Get the Walnut and Pistachio Baklava recipe.
Sufganiyot (Jelly Donuts)
Emily hlavac green
Get the Sufganiyot (Jelly Donuts) recipe.
Mochi
PHOTO: ANDREW BUI; FOOD STYLING: BROOKE CAISON
Mochi is a sweet, chewy rice pastry that hails from Japan. Traditionally made from cooked and pounded rice, mochi are also easily made with rice flour. Here, each ball is filled with a sweet red bean paste, but you're just as likely to see ice cream, a matcha green tea filling, or black sesame paste inside mochi.
Get the Mochi recipe.
Potato Knishes
Brought to the city by Eastern European (mostly Ashkenazi Jewish) immigrants at the turn of the 20th century, knishes quickly rose in popularity among working class New Yorkers. These hearty pastries—mashed potatoes, studded with bits of caramelized onion, enveloped in a thin crust—accomplished three things very well. They were delicious, they were filling, and they were extremely cheap. Now you can make them at home!
Get the Potato Knishes recipe.
Cheesy Beef Empanadas
This filling is loosely based on a very traditional Mexican (top-secret!) recipe. It's delicious as is, but if you want to give it even more pizzaz, we highly recommend adding a splash of red wine vinegar, finely chopped capers and green olives, and a good squeeze yellow mustard. Once you've got the pastry down, you can pretty much stuff them with anything!
Get the Cheesy Beef Empanadas recipe.
Easy French Macarons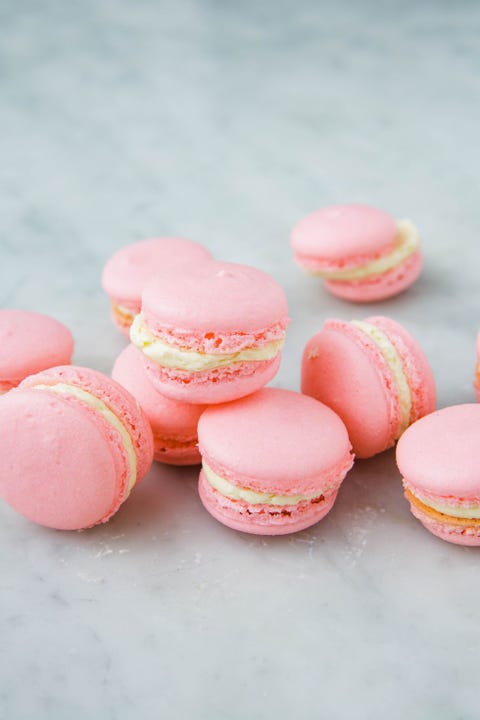 These delicate French pastries are somehow simultaneously crispy, chewy, soft, and light as air. This makes them the perfect blank canvas for creative flavors and colors. Make sure all your ingredients are room temperature to achieve the greatest success.
Get the Easy French Macarons recipe.
Galette De Rois
While king cake is made of a yeasted dough rolled with a cinnamon sugar filling, galette de rois is made of puff pastry sheets filled with almond frangipane and jam. Prior to baking, the puff pastry is scored and egg washed, giving the final pastry a beautiful golden hue.
Get the Galette De Rois recipe.
This classic tart construction relies on fruit being laid over caramel, then topped with puff pastry. The caramel might be a little tricky, but we promise going low and slow and resisting the urge to stir is the way to make sure that you have the perfect caramelized bottom.
Get the Tarte Tatin recipe.
Fruit Tart
The mascarpone filling is light, slightly tart, and just sweet enough to pair well with the apricot preserve-glazed fruit of your choice. Bonus: The shortbread-like crust here gets pressed in rather than rolled out, which makes it no-fuss and stress-free.
Get the Fruit Tart recipe.
This shortcrust pastry is a light, sweet, crumbly dough used for making tarts and small pies. It's so easy to make: Beat the butter and sugar in a stand mixer with the paddle attachment, then add eggs, then the flour. It's exactly like making cookie dough.
In fact, the dough itself is basically cookie dough. If you spooned it out onto a cookie sheet and baked it, you'd get shortbread cookies.
It helps to keep the butter cool—this prevents the gluten in the flour from developing too quickly, which would produce a chewy, rather than light and crumbly, pastry crust. The consistency you want is almost like a crumbly shortbread cookie.
The reason this is called short dough, and indeed, the reason shortening is called shortening, is that fats literally shorten the strands of gluten, so that instead of developing into long elastic chains like in bread dough, they stay short and crumbly.
This does make the dough harder to work with because it tends to break apart. This is why it's best for making small tarts (4 to 5 inches) with. Trying to get it to stretch across a 9- or 11-inch tart pan without breaking into multiple pieces and then trying to mend those pieces together, will be an exercise in frustration, if not outright futility.
You can also use this shortcrust dough for making savory tarts—just omit the sugar. And remember, don't overmix the dough or mix it at too high of a speed. Doing so will overwork the glutens. Instead of light and crumbly, you'll get something closer to pizza crust.
You could substitute vegetable shortening or lard for half the butter, as long as the total adds up to 250 grams. Butter is much more flavorful than shortening.
Note that you need to chill the dough for a few hours to allow the glutens to relax. If you're in a rush, you could probably get away with chilling for an hour. But no matter what, make sure to let the dough come back to room temperature before you try rolling it out, or it will for sure break apart.
You'll need to use flour to keep the dough from sticking to your rolling pin, but use the least amount of flour you can get away with. The more flour there is, the heavier your dough will be.
For precision, the ingredient amounts below are given in weights rather than volumes. So you'll need a digital scale that can be set to grams.
(375 grams) , sifted
(250 grams)
(95 grams)
(70 grams) , beaten
Using the paddle attachment of a stand mixer at a low speed, combine the butter, sugar, and salt until they're fully mixed.
Add the eggs and keep mixing until they're incorporated.
Add the flour. You're only going to mix until the flour is fully incorporated and not a second longer.
Chill the dough for 3 to 4 hours before using.