This irresistible eclair cake recipe comes together super easily with just five ingredients!
An avid cook and baker, Ana Cerovski is a writer who lives in Croatia. Korcula is her favorite place there for finding new recipes and sourcing out different flavors. Here, she dishes on the sweetest part of her country's cuisine – Croatian desserts.
Visit Croatia, and you'll discover it's a country of many surprises.
If you've gone to Split, for example, you no doubt remember scratching your head, trying to figure out where Diocletian's Palace is, then laughing as you realize you're already in it. (It's not a separate building, and the Old Town is built in and around the palace.)
Another surprise is the variety of traditional Croatian food dishes – they reflect a host of cultural and regional influences (from Austrian to Turkish).
Croatian desserts, in particular, are sinfully delicious!
Coffee and cake (or a sweet) is a time-honored tradition in Croatian culture.
All over the country, you find cafés filled with locals and visitors alike, chatting and relaxing over a good hit of java and a sweet treat.
From north to south, from west to east, every region has its own specialties and delicacies.
These Croatian cakes, cookies, pastries, pies and other sweets are lovingly made, using recipes handed down from generation to generation.
Here's my guide to the 33 best Croatian desserts.
Note: some links on this page are affiliate links which means, if you buy something or take an action after clicking one of these, I may earn a small commission as an Amazon Associate at no extra cost to you. I appreciate your support! Read Disclosure Here.
Cake Napoleon was one of the two favorite cakes of my childhood. When I decided to give up dairy products, I mentally said "goodbye forever" to all the goodies like ice cream, cakes, and all kinds of creams. Who would have thought that all of this could be replicated using plant-based products!
The sweeter the better?
I used to cook special, delicious things (to my taste) and go to treat my colleagues or acquaintances – but they were not impressed. And I could not understand whether they didn't want to admit sweets to be delicious because they knew it was vegan, or whether there was something wrong with me and in reality I was that bad at cooking. But when I returned to the original recipe and added more sugar and oil, their reactions changed positively. Things went even better if I didn't mention that the cake was vegan 😀 Now, when I cook desserts for someone else than me and my hubby, I strive to make sweets sweeter and it works well.
One of my favorite layer cakes – Russian traditional cake "Napoleon". I was so happy to discover veganized alternative! My non-vegan friends couldn't guess what the cream was made of – they thought I made it with milk just for them or gave up being vegan 😀 !
Rate & Comment
Low Calorie, Low Fat, Vegan, Vegetarian
Easy recipe, Layer Cake, Napoleon cake, Vegan cream
For the dough
Mix all ingredients for the dough together in order to receive a soft and fatty dough.
Divide it into 8-10 pieces and leave it in the refrigerator for 30 minutes. By the way: it's no big deal if you would like to use half as much oil as in the recipe. For instance I strive to use as less oils as possible, so from my experience, the layering and crispness of a dough will be the same if you use less oil.
Cream
Blend peeled nuts together with water and sugar in a blender. (I use 3/4 cup of sugar and it's enough for us. But if you want to impress a purchased cakes-lover use a full cup of sugar).
As a result you will get sweet almond "milk". Pour it into a sauce pan (no need to filter). Gradually add semolina and stir constantly.
Bring it to boil and cook semolina till it's ready.
Let this "porridge" to cool down.
Divide the cream in 2 portions (even if you have a super powerful blender). Put 1 portion into the blender, add 2 tbsp. of lemon juice, vanilla and lemon zest. Blend well. Repeat the same with the second portion using the rest of ingredients (again, 2 tbsp. of lemon juice, vanilla and lemon zest) Cream is ready!
Final stage
When crusts are ready and cooled down you can design your cake. Spread evenly cream on each layer.
The last crust is traditionally broken into crumbs and sprinkled on top.
But I prefer a lighter option. If you amount of oil (to 1/4 cup) and replace sugar with erythyrol (and also reduce the amount to 1/2 cup), then the calorie content will be reduced to 220 kcal for the same 150 grams. The cake will be delicious anyway!
Decoration. You can decorate your layer cake in a different way. One day I tried to mix half of cream with frozen raspberries in a blender (I had about a cup or less of it). And I decorated  the top with strawberries. It turned out very nice!
*Sweetener. Nowadays many people try to avoid sugar, and I find it very . If you are also looking for alternatives, I advise you to watch this short video on different substitutes. Maybe it will help you with decidion! My husband and I have tried Erythritol and so far we like it, but we also want to try xylit – it also has good characteristics.
You don't have an oven? No big deal!
The cake you see in the pictures down below is the one I baked without an oven. It turned out that I had no oven at the time. So, I had to improvise! I didn't expect that the crust would be equally crunchy and layered from the frying pan as from the oven.
Do you like this recipe?
I appreciate your support and your interest in what I do!
Have a nice day!
Anastassiya Vizzini
Lithuania is a small country near the Baltic Sea which is known for its beautiful capital, one of the oldest languages, country landscapes, flatlands, lakes, amber, and beautiful dunes.
Many people have never heard of traditional Lithuanian savory foods, which include pink cold beetroot soup with potato dumplings: cepelinai. However, most of the country's guests are pleasantly surprised by the taste and combination of flavors.
When it comes to desserts, Lithuanian cuisine has a lot to offer. Many of them are in common with neighboring countries. However, having being made in Lithuania for centuries, they've become traditional desserts.
Typically, desserts are most commonly eaten at weekends or special occasions such as birthdays or weddings, although a few of them can be a fulfilling breakfast or brunch. Typical desserts usually require a bit of effort to make at home; however, some of them are extremely easy.
Here are 15 of the most popular Lithuanian desserts you should try while visiting Lithuania.
Šakotis (Tree Cake)
Šakotis is the most popular traditional Lithuanian cake. Its distinctive shape means it can't be confused with anything else. The spikes of the cake look like the branches of a tree; hence its name, which is translated as tree cake or, literally, branchy.
It's prepared on a special device that keeps a rod rotating next to the fire or an electric heat source while it is coated with many layers of liquid dough. Baked šakotis has a firm texture, is sweet, and is broken off and eaten by hand. Preparing the dough is quick and easy; it contains only sugar, flour, eggs (usually around 40!), butter, and sour cream.
But the baking technique is complicated and takes a long time. You could spend between 3 and 6 hours standing next to the oven, depending on the size of the cake.
You can find this unique sweet in many supermarkets and pastry shops. However, the best and the most authentic are handmade in the villages and sold under their own labels.
Tinginys (Lazy Cake)
This traditional Lithuanian dessert will satisfy any sweet tooth! It is similar to Italian chocolate salami, but additionally contains condensed milk, hence not quite the same.
The preparation of tinginys is completely different to šakotis; it is called a lazy cake for a reason. You simply mix crushed-up biscuits (traditionally made with gaidelis, or "little rooster", melted butter, condensed milk, and cocoa. Once mixed, place it in a plastic bag or a tightly cling wrap pop in the refrigerator for at least 6 hours or, even better, overnight. Alternative recipes include dulce de leche (cooked condensed milk), which gives it a caramel flavor, curd cheese, and various nuts or dried fruit. There are also healthier versions with sugar-free cookies, light coconut milk or sugar-free condensed milk.
Definitely give it a try and prepare one at home! But if you are too lazy even for a lazy cake, you can find it in supermarkets, coffee shops and pastry shops.
Šimtalapis (Hundred Leaves Cake)
Photo Credit: irveljigamina
Lithuania is home to many nationalities, including Tatars, who have lived here for hundreds of years. Tatar desserts and savory pastries, kibinai, have became traditional to Lithuania.
This round cake is unique due to its appearance – a thick roll of multiple layers of yeast pastry sheets covered with a butter and sugar mixture. Sweet poppy seeds and raisins fill the centre of the cake. It is a heavy dessert and is typically eaten only once or twice a year, usually at Christmas, other big occasions or traditional weddings.
It is possible to prepare it at home, although it requires some time, patience, and determination. Like most Lithuanian desserts, it can be found in bigger supermarkets and bakeries. However, the best ones are made to order by Tatars.
You can't find an alternative to this cake anywhere, so it is a must-try dessert when visiting the country.
Skruzdėlynas (Anthill Cake)
Photo Credit: ziezdre
One ingredient Lithuanians absolutely love is honey. It is a common ingredient in Lithuanian desserts, as well as an alternative to sugar when it comes to sweetening your tea.
One of the best-known honey cakes is skruzdėlynas, which literally means anthill. It is a tall, multiple layered hill-like cake made of separately oil-fried crispy pieces of thin dough, covered in a honey-butter coating, and topped with poppy seeds and/or raisins.
Skruzdėlynas is crispy and sticky and typically eaten by hand. This dessert is fairly easy to make and the size of it can be easily adjusted according to the amount of ingredients. It takes time to prepare, therefore if you need one with your afternoon coffee, it is easier to buy it from one of the bigger supermarkets.
Medaus Tortas (Honey Cake)
While skruzdėlynas has a unique look and texture, the most loved honey-containing cake is medutis. This dessert is the more traditional cake shape – round, with alternate layers of sponge and cream.
There are two ways of making it. The first includes baking each thin sponge layer separately, which takes longer. The other is baking a sponge cake and slicing it into thinner pieces. Then each piece is topped with cream. The authentic cream is made with sour cream, sugar, and a drizzle of lemon juice.
Medaus tortas is soft, sweet, and literally melts in your mouth. It is a Lithuanian classic, often baked for birthdays or other occasions. Everybody loves it, and if you try it next time you visit a coffee shop or a bakery, you'll find out why.
Napoleonas (Napoleon Cake)
Photo Credit: minimali_virtuve
Another classic Lithuanian cake is Napoleonas. And no, it is not because of Napoleon Bonaparte. There are multiple stories and debates among French, Italian, and Russian confectioners about the origin of the cake's name, but no one knows for sure. Although this cake is common in other countries, it is definitely a favorite in Lithuanian.
Multiple layers of puff pastry connected with buttercream and the addition of bitter cranberry jam create the perfect balance of flavors. Nearly each bakery has a signature version of this delicious dessert, which makes a perfect addition to any friend's gathering or birthday. The best ones are freshly made in bakeries or coffee shops!
Žagarėliai (Angelwings)
Photo Credit: venesiux
This delicious treat has been made in most households in Lithuania for many years. To get the interesting winged shape, the dough is cut into small rectangles, a small cut is put in the middle and one edge is wrapped through the hole.
Žagarėliai are crunchy and coated with powdered sugar. It is the perfect snack with a coffee. They are easy to make and typically last many days. They can also be found in supermarkets. A perfect crunchy treat!
Kuršėnų Vyniotinis
Lithuanian cuisine includes many cheese products – butter, sour cream, milk, buttermilk, kefir, and the very popular curd – a type of cottage cheese.
Kuršėnų vyniotinis is a dessert filled with a creamy, sweet curd filling. The outer layer is a typical sponge cake, baked in a flat baking tin. Kuršėnų vyniotinis was invented 50 years ago by a confectioner living in the village of Kuršėnai, hence the name.
It is a popular lighter cake option that can be found in supermarkets, local coffee shops, and bakeries.
Varškės Spurgos (Curd Cheese Doughnuts)
Photo Credit: lessaisons.lt
These golden doughnut balls are made from a mixture of curd, eggs, flour, sugar, and a pinch of salt. The dough is formed into small balls and deep-fried until golden. After, they are placed on paper towels to absorb any excess oil and the crispy doughnuts are dusted with powdered sugar.
This dessert is a common Sunday afternoon treat, perfect in the cold season. It is easy and relatively quick to make, as well as popular in bakeries across Lithuania.
Varškės Apkepas (Curd Cheesecake)
Photo Credit: bengu_cooks
There are many cheesecakes in the world, most of them being made with cream cheese, giving a thick texture and high-fat content. However, Lithuania offers an alternative – curd cheesecake.
Don't expect it to be the same as a New York cheesecake; this is totally different! Varškės apkepas is typically made with curd, eggs, flour or semolina, and sugar and sometimes with raisins. It is a high-protein cake, served with fresh fruit, jam, and sour cream or yoghurt.
It is considered more as a meal rather than a dessert, so is perfect for weekend brunch or as a quick breakfast. It can be found in breakfast and brunch restaurants.
Varškėčiai (Curd Cheese Pancakes)
If you thought that was surely to end of curd desserts, you are wrong. Lithuanians really love curd. These small curd pancakes resemble the big curd cake mentioned above. However, they are quicker to make, and the portion size is easier to adjust.
They are popular for breakfast or brunch and can be served with fresh fruit, jam, sour cream or yoghurt, honey or condensed milk. These pancakes are the sweet meal many Lithuanians grew up with.
They are quick and easy to make and are definitely worth trying at a café or restaurant if you are looking for something sweet but healthier for your breakfast.
Sūreliai (Curd Snack)
Last but not least, these small chocolate-covered curd cheese snacks are one of the most unique Lithuanian desserts.
This rectangular-shaped dessert is made of soft sweet curd and may contain many fillings, such as condensed milk, caramel, jelly, poppy seeds, chocolate pieces, and even nuts.
Sūrelis is widely popular in Lithuania and enjoyed by tourists as a snack between meals or as a dessert with coffee or tea. It is small and easy to indulge in, so be careful; they are hard to resist once you start!
Sūreliai can be found in any supermarket across Lithuania.
Sausainiai Grybukai (Mushroom Cookies)
These are authentic cookies, nostalgic for many Lithuanians. Their taste will remind you of gingerbread. Their appearance resembles the most valuable Lithuanian forest mushroom – boletus, hence the name.
Sausainiai grybukai are covered with a sugar glaze and have a white shaft, dark brown cap, and poppy seeds on the bottom, imitating real mushrooms.
You can find this sweet treat at local Lithuanian fairs or in bigger supermarkets, but those sold at fairs will be freshly made and taste much better.
Meduoliai (Gingerbread Cookies)
Photo Credit: milie__l
Meduoliai is a soft gingerbread-like cookie which you can enjoy with your tea. They are firm, are shaped like half-spheres, and have a thin sugar glaze over the top.
These meduoliai can be found in any local supermarket as they are commonly eaten as a sweet treat with tea or coffee or used for cooking other desserts.
You can also find another variation of meduolis at local fairs. They come in many interesting shapes, decorated with a colorful glaze and even with phrases written on top. It is a typical fair snack, which can't normally be found elsewhere.
Saldainiai Vilnius (Vilnius Sweets)
Photo Credit: marta_matskiv
Finally, the most representative Lithuanian dessert. Vilnius chocolate is the most popular Lithuanian chocolate candy and is produced by the biggest Lithuanian chocolate factory Pergalė. These chocolates are firm, yet quite soft to bite. They contain 1.7% ethyl alcohol, which gives them a rich and unique flavor. Make sure you try them, as well as other local sweets from this factory.
These local edible souvenirs are perfect for bringing back home to treat your friends and family, and they can be found in a nice box, ready to be gifted!
Although Lithuanian cuisine is less known in Europe, these desserts prove its diversity, rich and unique flavors, and unlimited ways of combining similar ingredients.
It is no surprise that these desserts can be found in other European countries. Lithuanian cuisine was influenced by Russian, Polish, Belarussian, and French cuisines.
Although many of the desserts seem to be heavy, most of them are suitable for those who don't like their desserts to be too sweet, since curd adds sour and savory notes to them.
This article doesn't cover all typical Lithuanian desserts; there are countless traditional variants of cookies and pies. If you like your desserts soothing, filling, and made from simple ingredients, Lithuanian cuisine is just right for you. There's much to discover.
Be sure to save the list of desserts covered in this article for when you next visit Lithuania!
Evelina Bogdiun
Evelina Bogdiun is a Lithuanian copywriter based in Vilnius, Lithuania's beautiful capital city. Evelina likes to write about food, travel and fitness.
She has an MSc focused in Digital Marketing from the Vilnius University and speaks four languages: English, Lithuanian, Polish and Russian.
Rich, wholesome, and delicately striking the perfect balance between sweet and savory flavors, Lithuanian desserts are one of Europe's hidden treats.
Curd cheese, poppy seeds, and fruit jams are just some of the many iconic ingredients in Lithuania's eye-opening array of cakes, pastries, and sweet snacks.
Prepare yourself for a grumbling stomach that longs for these rich, hearty treats, as a native writer takes us on an adventure to explore 16 of Lithuania's most popular and traditional desserts.
1 – Kūčiukai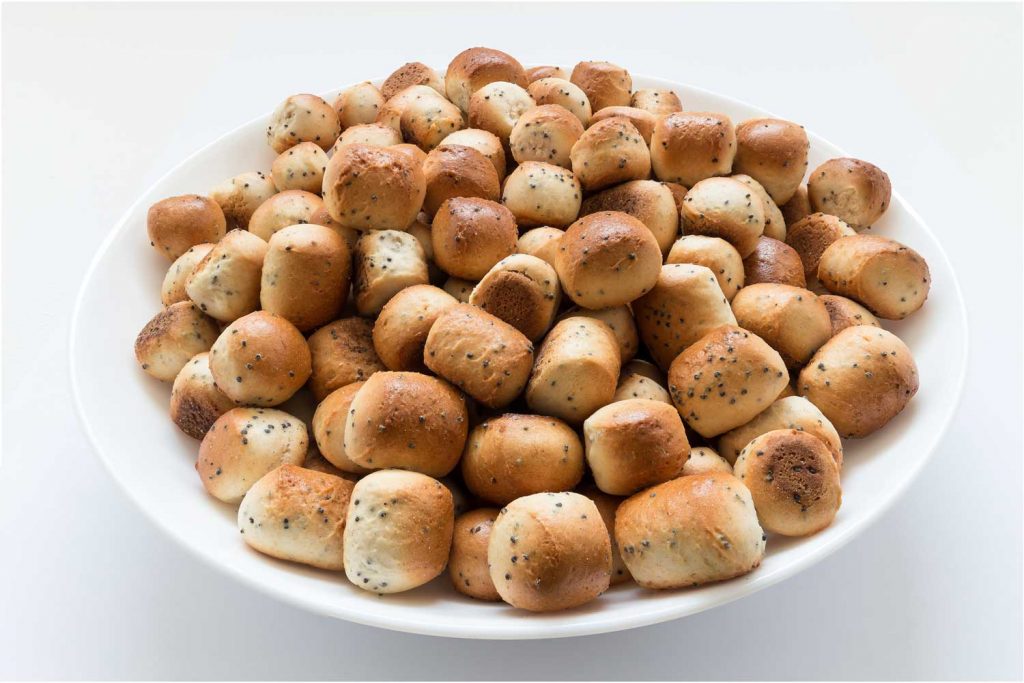 Kūčiukai is one of the most unique desserts in Lithuania. It is a seasonal food, appearing in supermarkets and bakeries from mid-November until mid-January.
Traditionally, however, Kūčiukai is a special dish with an important meaning, only prepared for Christmas Eve.
Lithuanians prepare Kūčiukai as an offering of food to the souls of the dead. Hence, it's a Lithuanian dessert with huge traditional and historical significance.
Kūčiukai are the size of a hazelnut. Each is a simple and delicious bite-size baked biscuits, made from flour, water, sugar, and poppy seeds.
It can be eaten as is, but on Christmas Eve, they are served in poppy milk, a mixture of boiled water, poppy seeds, and a pinch of sugar.
2 – Šakotis (Tree Cake)
Because of its size, Šakotis is often considered the king of Lithuanian cakes and desserts. Some Šakotis can be up to one meter in length!
This wholesome Lithuanian dessert is made from a simple mixture of eggs, sugar, flour, butter, and sour cream.
Although the cake looks large, it is in fact hollow. This is due to its baking technique, which requires you to pour the dough over a special cylinder, attached to a huge spit over an open flame.
Šakotis can be both soft or crunchy, depending on its cooking time. It's perfect to eat with a piping hot cup of tea or coffee.
Although described as a cake, Šakotis' soft or crunchy texture is closer to that of a cookie.
Traditionally, Šakotis can be eaten as it is, adorned with its iconic golden yellow color. However, it can also be decorated with chocolate icing or colorful flowers made from sugar.
A much loved traditional food, it's commonly the showpiece food at a range of festivals and celebrations, including birthdays and weddings.
3 – Medaus Tortas (Honey Cake)
This delicious cake was made popular by Empress Elizabeth Alexeievna in 19th-century Russia, who fell in love with the cake after a newly hired chef cooked it to impress her, despite having no idea she despised the taste of honey.
Honey cake is common throughout countries of the former Soviet Union. It's popular at celebrations and festive events.
The recipe is relatively simple. It is made by layering baked dough sheets and delicious cream frosting.
Once baked, this cake can be decorated with sugar powder, berries, or chocolate.
While it's commonly made in households across the country for birthdays and celebrations, it can also be found at cafes, bakeries, and supermarkets in Lithuania.
4 – Tinginys (Lazy Cake)
There's a reason this sweet, comforting Lithuanian dessert has such a name. It refers to the simple preparation and the fact that no baking is required.
Tinginys, or Lazy Cake, is made by mixing small pieces of plain cookies with melted butter, condensate milk, and a few spoons of cacao powder.
Once the mixture is ready, it's pressed on a chopping board, and placed on a rectangular tray.
From there, Lithuanians like to let it set for several hours, or even overnight in the refrigerator.
Served as square pieces with tea or coffee, it's a very easy dessert to make. It's a popular choice at cafes and bakeries across Lithuania.
5 – Šimtalapis (Hundred Leaves Cake)
Hundred Leaves Cake not only has an interesting name but also a very rich history.
The idea of this dessert was brought to Lithuania in the 15th century by the Tatars people, of which a small community still lives in the country today.
It's a rich and filling cake, made from big yeast pastry sheets, covered in sweet, sugary poppy seeds, and filled with raisins.
The whole pastry is twisted and formed into a circle, then cut into smaller pieces.
Šimtalapis is pretty popular to make for special occasions, but you can also find it and try this dessert in cafes, restaurants, and bakeries.
This cake is most popular in the southern part of Lithuania, where the biggest Tatars community lived.
These days bakers make this cake not only with poppy seeds but also with savory ingredients, like curd filling and even ham.
6 – Skruzdėlynas (Anthill – Pastry with Honey)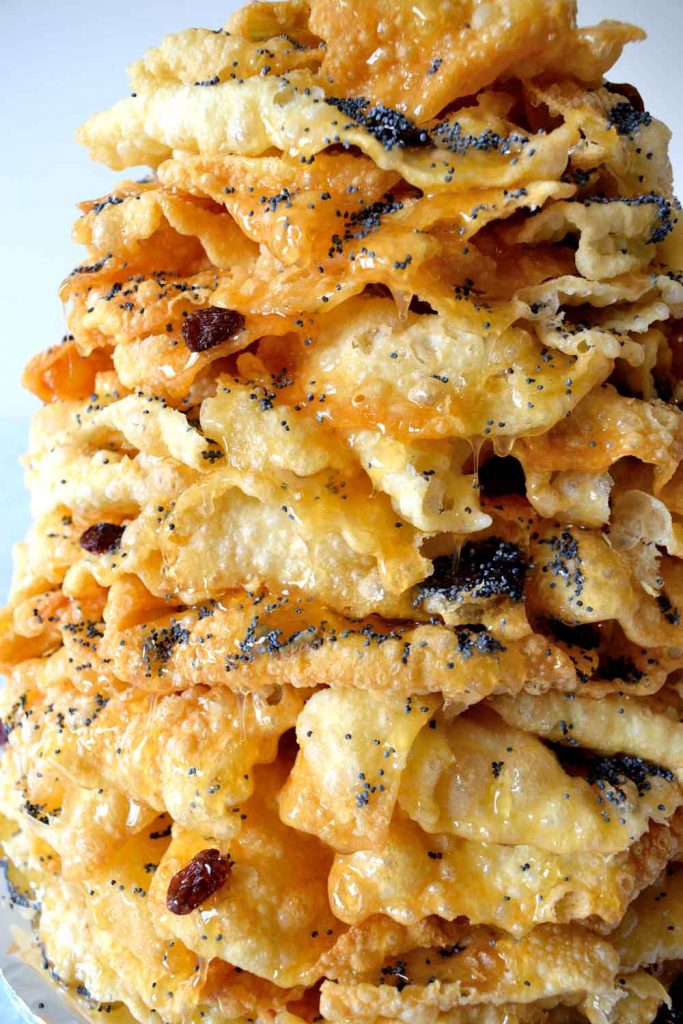 Skruzdėlynas gets its name from its unique appearance, which resembles an anthill.
This big, eye-catching Lithuanian dessert is assembled of 3-4 centimeter-sized pastry pieces, baked in oil until crispy.
These baked dough pieces are, one by one, stuck together by using a special syrup, made from honey, sugar, butter, sour cream, and water.
It can be built from fifteen to fifty centimeters high, and it is garnished with poppy seeds or raisins.
Skruzdėlynas is definitely one of the most unique desserts in Lithuania. It's very popular for special occasions, such as weddings, birthdays, and christenings.
Even if it takes some time to make it at home, the fun and challenge of the process alone make it worthwhile, let alone its delicious flavor.
7 – Varškės Sūrelis (Curd Snack)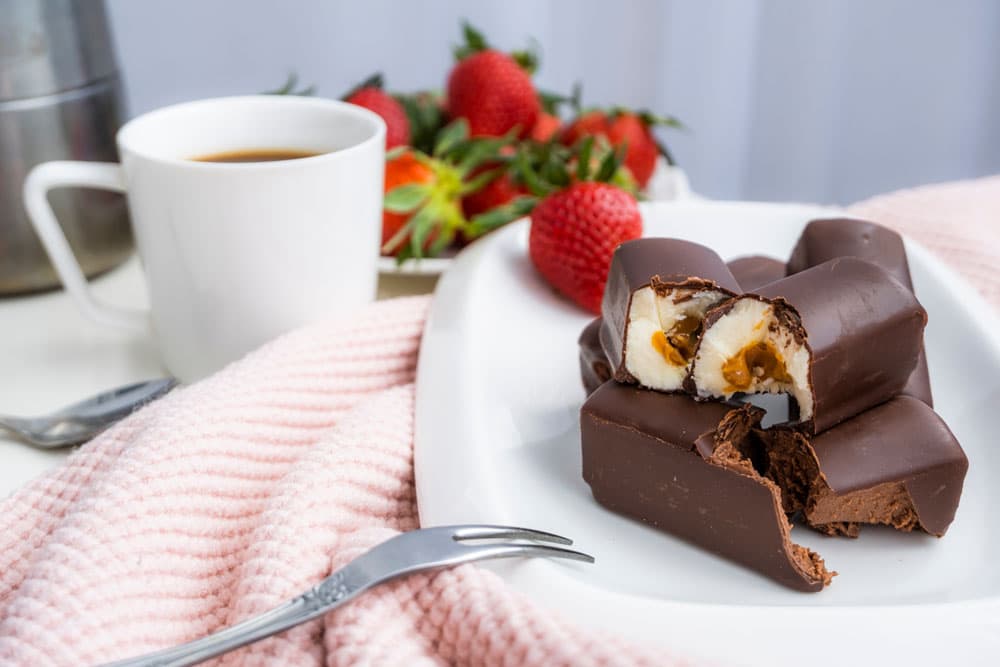 One of the most unique Lithuanian desserts is Curd Snack, known as Varškės sūrelis.
It is a rectangular-shaped dessert, made of soft curd cheese, and covered in dark chocolate.
Traditional Varškės sūrelis have a vanilla flavoring, but there are many other types. These include cacao, poppy seeds, chocolate chips, condensate milk filling, and even pistachios.
Sūrelis has been widely popular in the country for decades. It's enjoyed as a snack between main meals, breakfast, or as a dessert with coffee or tea.
This product is popular in all the former Soviet Union countries, and it's also commonly found in special Polish or Russian supermarkets all over Europe.
8 – Varškės Pyragas "Draugystė" (Cake with Curd Cheese "Friendship")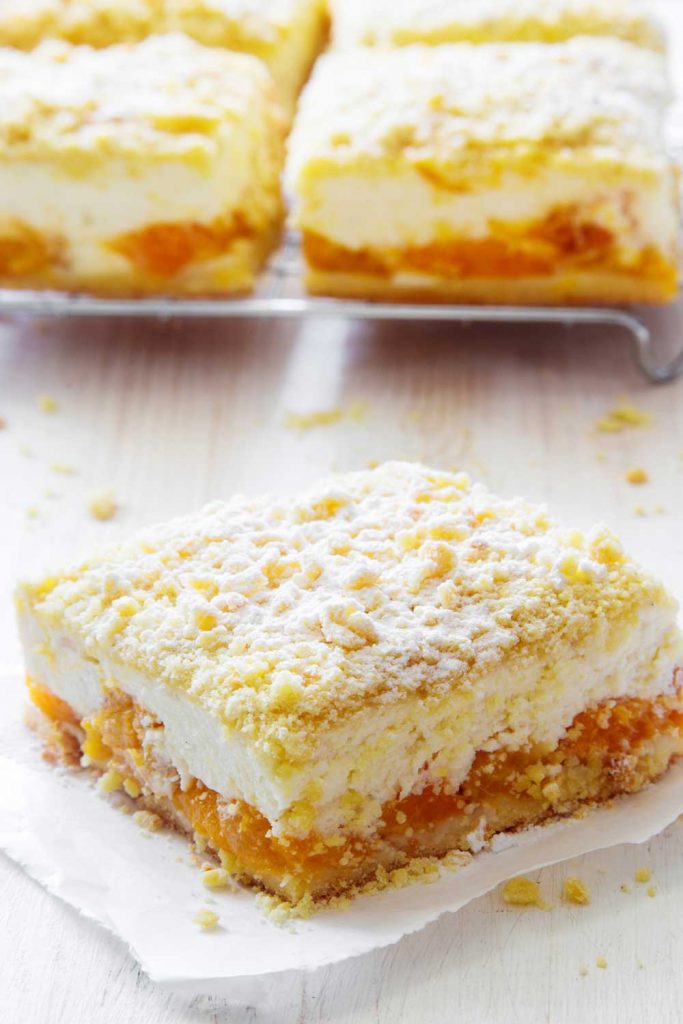 Varškės pyragas is a rich, sweet, and filling layered sponge cake, enjoyed throughout Lithuania. It has a moist, filling texture, with plenty of sharp, fruit notes.
It has several layers, consisting of a sponge cake layer, jam, and a curd cheese layer usually in the middle of the cake.
Many different jams are used in this cake, including apple, cherry, or blueberry jam.
The real star of the show, however, is the curd cheese layer. This creamy, savory texture perfectly complements the richness of the sponge and the sweetness of the jam.
This dessert is commonly found at bakeries, supermarkets, and cafes across Lithuania. Order it with tea or coffee, and you've got yourself a perfect Lithuanian dessert.
9 – Pyragas "Napoleonas" (Cake "Napoleon")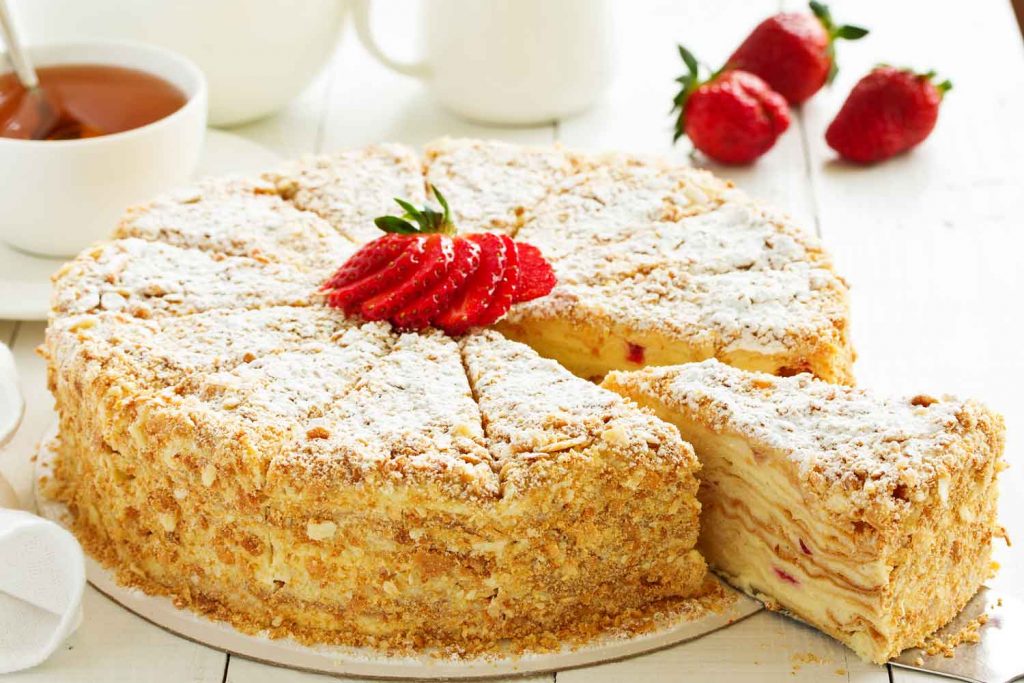 Napoleon cake has a fascinating history, whilst also being utterly delicious. It is made of puff pastry sheets, layered together with buttercream.
This dessert can also be made with an extra layer of cranberry, cherry, or blueberry jam, giving it a richer taste.
Often, Napoleon cake is decorated with powdered sugar or small chocolate chunks.
The origin of this cake and its unique name is a hot topic of debate throughout Europe. Many theories have been put forward.
Napoleon cake is a popular dessert to celebrate birthdays and festivities with. It's also eaten casually, as an afternoon snack or dessert.
10 – Sausainiai Grybukai (Mushroom Cookies)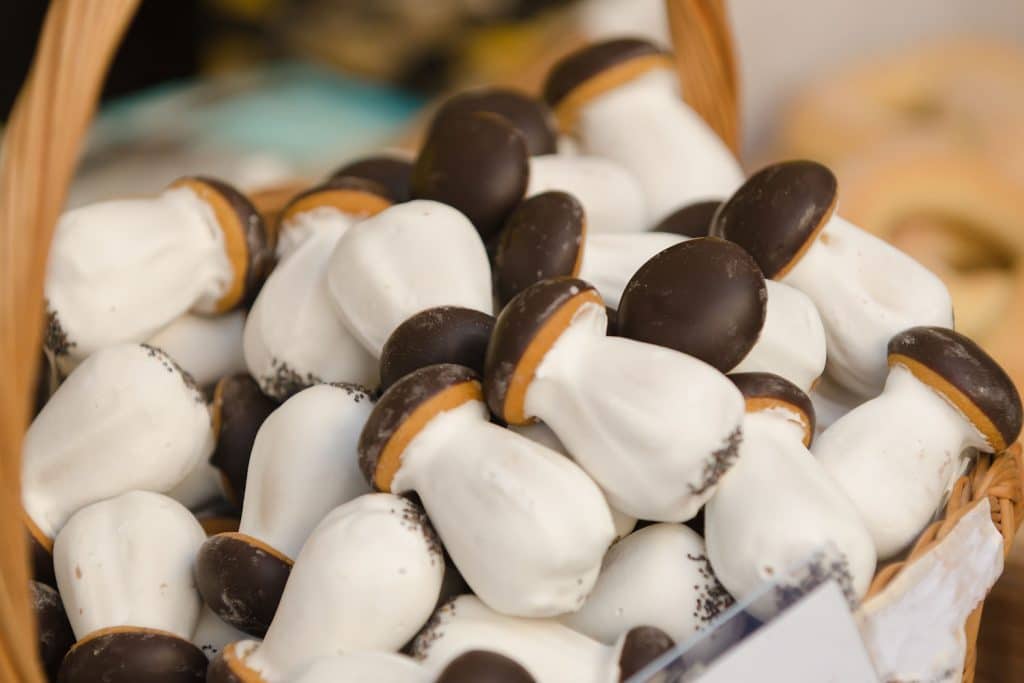 Mushroom cookies are one of the most popular desserts in Lithuania. They are named so due to their resemblance to forest mushrooms.
To achieve such a unique shape, they are cooked in a special pan with mushroom-shaped indents. Their texture is similar to gingerbread, but a little softer.
Typically, Sausainiai Grybukai have a white base, or stalk, and a dark brown top, or hat, resembling the colors of a mushroom.
Both sides are covered with a special sugar glaze, and the top achieves a dark, rich brown color due to the use of cacao or chocolate glaze.
You can buy these cookies at local Lithuanian fairs, or enjoy them at home during festivals and celebrations.
11 – Sausainiai "Skarelės" (Cookies "Little Scarfs")
Sausainiai are rich, delicious cookies. As with Sausainiai Grybukai, they're named after their appearance.
Traditionally, these cookies are made from a simple mixture of curd cheese, flour, sugar, and butter.
The dough is first cut into circles, using a glass or bowl to measure them out. Then, the edges of the circles are folded in, creating a beautifully wrapped scarf shape.
The cookies are then filled with fruity, sweet fillings, commonly various fruit jams. Once baked, they're dusted with sugar as a finishing touch.
These cookies have been baked in Lithuania for decades. They are sweet, filling, and perfect for any occasion.
12 – Varškės Spurgos (Curd Cheese Doughnuts)
There are many types of doughnuts in the world, but few are made using a curd cheese. Step forward this delightful dough-based Lithuanian treat!
You've probably noticed that curd cheese is commonly used in Lithuanian desserts. Hence, it's no surprise this ingredient is used in making these doughnuts.
Along with curd cheese, Varškės Spurgos are made from a mixture of eggs, flour, sugar, and a pinch of salt.
Once the ingredients are mixed into a dough, you roll the dough out into small balls, then fry them in oil on high heat.
These doughnuts are served dusted with powdered sugar. Served hot, they are a great dessert for cozy autumn or winter afternoons.
In Lithuania, it's pretty common to bake them at home, as well as buy at the local supermarket or bakery.
13 – Lietiniai su Varške (Crepes with Curd Cheese Filling)
While crepes may be originally from France, French influence on Russian cuisine led to them becoming popular in Lithuania.
And it's probably come as no surprise to you that in Lithuania we fill them with curd cheese!
Along with curd cheese, other popular fillings include sugar, fruit jams, and yogurt.
Crepes are a versatile food in Lithuania. They are served as both a dessert and a savory snack or main, with savory ingredients such as cheese or ham.
Crepes are usually served with different kinds of jams, fresh berries, or a pinch of sugar and cinnamon. They are truly delicious.
14 – Varškėčiai (Curd Cheese Pancakes)
If you thought we'd covered all the ways to use curd cheese in desserts, you were wrong! Curd cheese pancakes are very popular in Lithuanian cuisine.
Deeper and fluffier than crepes, these pancakes are made from a simple batter of flour, eggs, and sugar.
Once cooked, these pancakes are traditionally served with sour cream, different types of jams, fresh berries, sugar powder, or ice cream.
A simple and wholesome homemade meal, you can also order curd cheese pancakes at cafes and restaurants across Lithuania.
15 – Zefyrai (Zefirs/Zephyrs/Zephirs)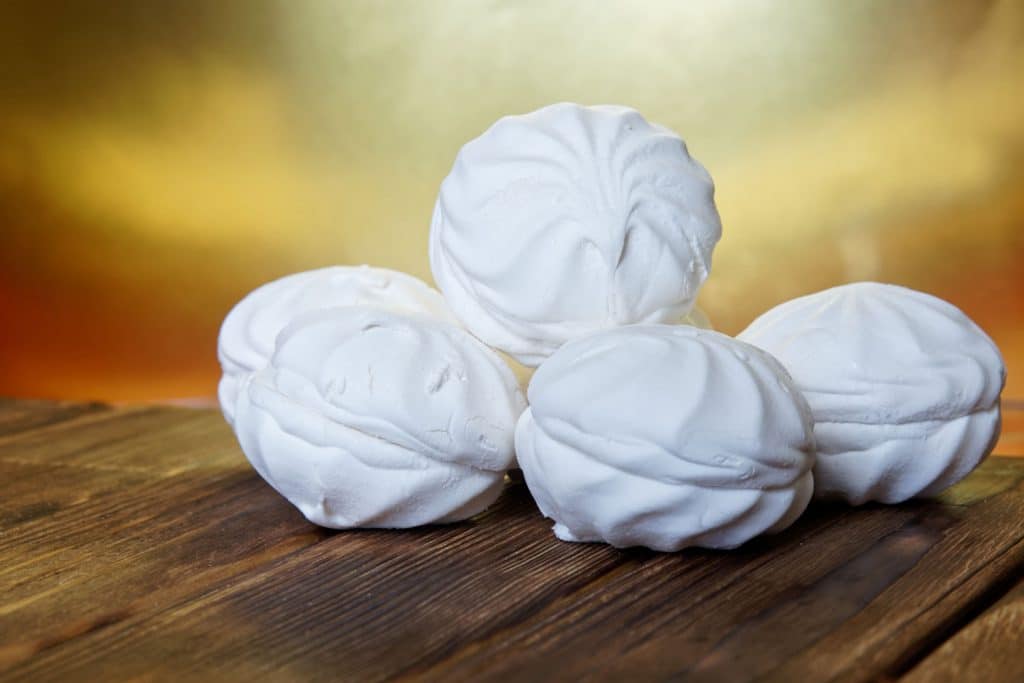 Neither cookies nor candies, zephyrs are unique and savory sweets, popular across Lithuania.
Zephyrs are made of whipped fruit mass, mixed with sugar and egg white. Once individual domes have been made, they are stuck together in pairs to create a delightful little clam-like shaped dessert.
Zephyrs are popular throughout the countries of the former Soviet Union, and each has their different little take on the recipe.
The most common zephyrs are the ones coated in chocolate. You'll commonly see these at coffee shops, bakeries, and sweet shops.
16 – Žagarėliai (Angel Wings)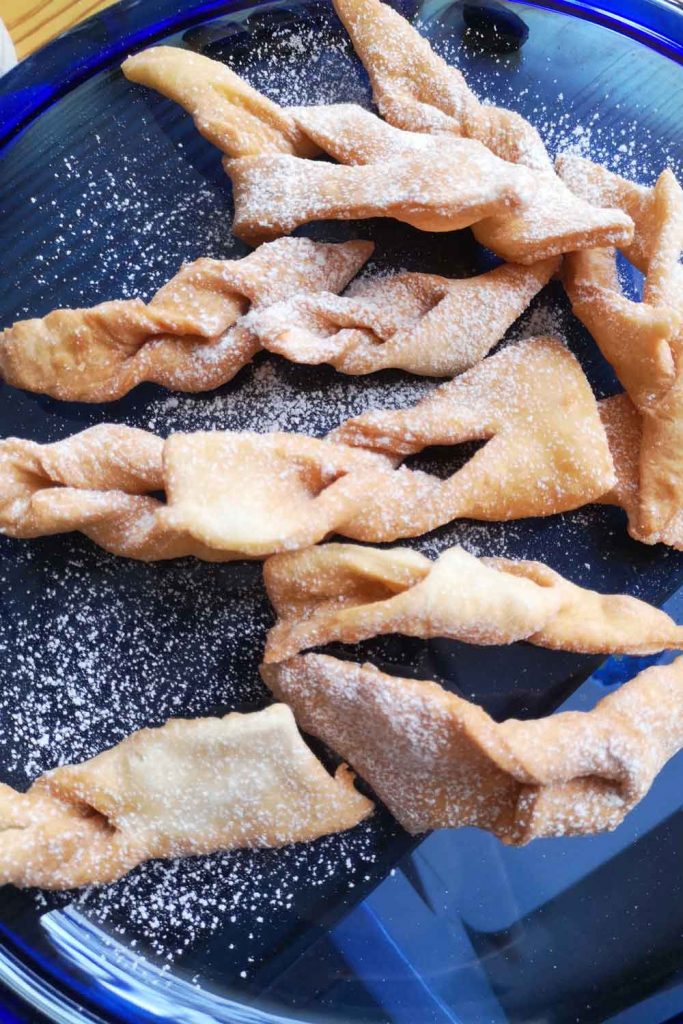 Žagarėliai induce nostalgic memories of childhood for so many Lithuanians. This delicious sweet treat is made in households across the country.
The main ingredients of this snack are flour, eggs, butter, sugar, a pinch of salt, and plenty of powdered sugar to coat them once fried.
As you can see, they have an interesting shape. To create their winged shape, the dough is cut into small stripes, a hole in the middle formed, and finally, the edges are wrapped through the hole.
Angel wings have a crunchy texture. They are a delicious sweet snack to eat with tea or coffee.
Lithuanian Desserts Summary
Lithuanian cuisine may be one of the lesser-known in Europe, but these desserts are a testament to its rich flavors and wholesome dishes.
The decadence and precision in Lithuanian dessert cooking is utterly astounding. Many of these desserts are true works of art.
But it comes as no surprise, with French, Russian, and Central European cuisines all having an influence on the foods of Lithuania.
Lithuanian desserts are also perfect for anyone who doesn't like their foods too sweet. Ingredients like curd cheese and nuts help add plenty of savory notes to many cakes and snacks.
If you love your desserts soothing, filling, and beautiful to look at, you'll get along just fine with Lithuanian cuisine. There's so much to enjoy.
So before we leave Lithuania, one final time here's the full list of all the desserts covered in the article.
Be sure to have this list of Lithuanian desserts handy when you visit so that you can try one or more of these popular and traditional desserts.
You Might Also like to Read
Save and Pin for Later
Want to keep all of these delicious Lithuanian desserts in a safe place? Save this article to one of your food or travel boards on Pinterest. That way, you'll also be able to find this wonderful list of foods to try in Lithuania.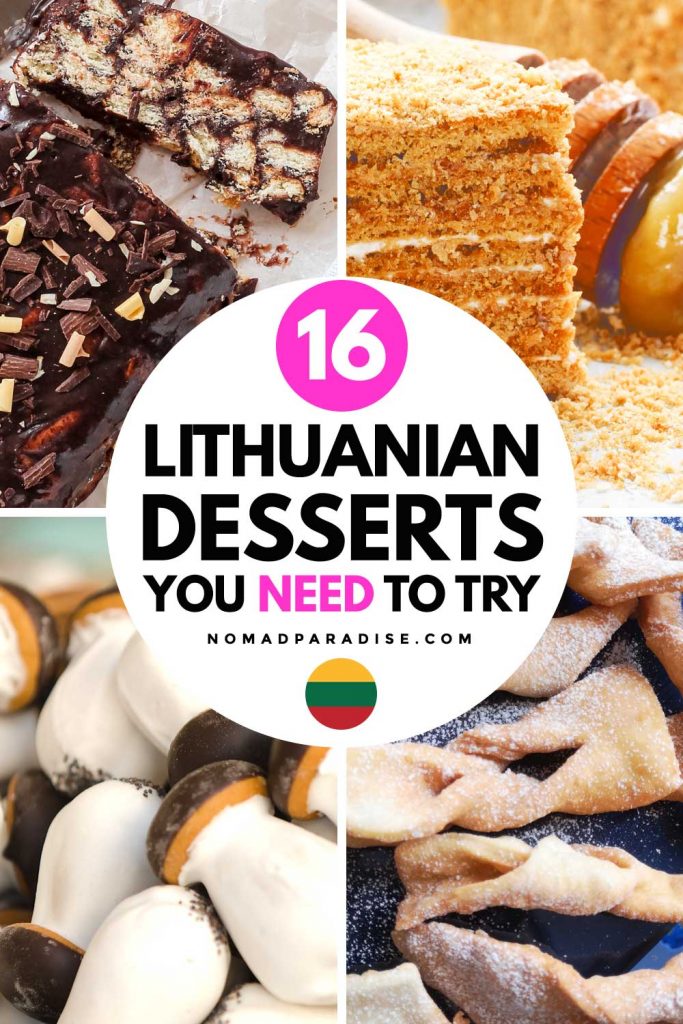 Contributor: Ieva Cicirkaite is a translator and creative writer from Lithuania. Fluent in several languages, Ieva has written about Lithuanian cuisine, culture, and travel, for various publications.
Images licensed by Shutterstock, unless stated.
1) Kuglof (Bundt cake)
Kuglof is a bundt cake baked in a ribbed molded cake pan. Shaped like a large doughnut, with a hole in the middle, this yeast-based cake is a classic Christmas dessert in Croatia.
There are two different styles of kuglof in Croatia.
In northern regions, it's enriched with raisins and walnuts. In the south of Croatia, kuglof is made with candied lemon, orange zest, almonds and/or figs.
While the cake itself dates back to medieval times, the modern-day bundt pan was invented in 1949 in Minneapolis.
15) Paprenjaci (Black pepper cookies)
Who would think you'd put pepper into cookies! Papar means pepper in Croatia, and paprenjaci (black pepper biscuits) are named after the pepper that's added to the baking mixture.
Besides pepper, other main ingredients in paprenjaci are walnuts, sugar, honey and cinnamon. For decoration, chefs imprint them with interesting designs like leaves, hearts and crosses.
These traditional Croatian biscuits are typically made for the Christmas season.
26) Dalmatian smokvenjak (Croatian fig cake)
Figs are an integral and traditional part of the Dalmatian diet; they're often used in Croatian baking. And one of the most famous desserts from Croatia is smokvenjak, made with dried figs.
This fig cake calls for jam, fruit brandy, almonds and, of course, figs in the recipe. And that's it!
Think of the modern-day energy bar. The texture and taste of this round cake is similar (though I'd argue much more scrumptious).
Smokvenjak is typically served as one of the Easter sweets and during the Christmas season, accompanied by an aperitif. And it can last for weeks (unlike some of the other fresh cakes from Croatia covered here).
2) Kremsnita (Vanilla custard cake)
Vanilla custard cake (or in Croatian, kremsnita) is a delicious sweet made of puff pastry (sometimes layers of puff pastry) and a whipped egg cream filling, dusted with icing sugar on top.
The most popular kremsnita comes from the charming small town of Samobor, about 15 miles from the Croatian capital of Zagreb.
There, you can try a true custard cream cake, properly served slightly warm. The sweet creamy goodness is to die for!
Other delicious Croatian sweets
I'm not finished yet. There are still more sweet Croatian snacks and desserts to tempt you!
27) Fritule (Croatian fritters)
Mostly prepared in Istria and Dalmatia, fritule are small and deliciously sweet fried fritters, tasting somewhat like doughnuts.
They can have raisins in the dough. Or be dusted with sugar. Or maybe even filled with jam, apple sauce or chocolate.
Whatever, crunchy on the outside and soft and chewy on the inside, they're one of the most popular Croatian sweets.
Oh, and since they're small, you can take them as a snack while you're wandering through the streets of the teeny medieval village of Trogir (nicknamed "Little Venice") or other places in Dalmatia and Istria. Perfect, right?
Éclair Cake Ingredients
These are the ingredients you'll need to make this decadent éclair cake recipe:
Milk: This rich and creamy eclair cake starts with three cups of milk.
Whipped topping and pudding mix: A container of frozen whipped topping and two packages of instant vanilla pudding mix are the convenient secret ingredients.
Graham crackers: Layers of graham crackers break up the creamy layers with welcome crunch.
Chocolate frosting: The recipe calls for a package of chocolate frosting, but you can make homemade frosting if you want to go the extra mile.
9) Rapska torta (Rab cake)
Legend has it that when Pope Alexander III consecrated the cathedral on the island of Rab in 1177, he was served this cake. It was baked by the nuns from the Monastery of St Andrew on the island.
And I'm going to let you in on a secret. The original recipe for Rapska torta (or Rab cake) is written in calligraphy and still kept in the monastery.
That doesn't matter though. Because while there is a recipe, there are no measurements for its ingredients.
And therein lies its beauty, say the local people. Each time the cake is made, it tastes just a little bit different.
Baked in a spiral on top of a thin crispy pie crust, this beautiful Croatian dessert has a marzipan-like filling of almonds, maraschino liqueur, lemons and oranges.
22) Zagorje's zlevanka (Sweet cheese cornbread)
The Zagorje region in northern Croatia is a bucolic place of forests, rolling green hills, vineyards, fairytale castles and picturesque villages. The capital of Zagreb is found in Zagorje.
The region is also known for some of the best traditional dishes of Croatia.
One favorite sweet dish is zlevanka. The basic ingredients in this traditional dessert are corn grits and fresh cheese. Sometimes grated apple is added to the batter.
Zlevanka tastes a little like "cornbread meets cheesecake." Even though it's a simple dessert, it's one of the tastiest.
24) Plum Dumplings
But who says that we can't eat them as the main course? It's true. Sometimes vegetarians eat these dumplings as the main course.
The soft dough is made from mashed potatoes and filled with fresh plums. The dumplings are then boiled and once cooked, rolled in sweetened fried breadcrumbs.
Just imagine getting a mouthful of warm dumpling with melted plum and crispy crumbs. I bet you'd be tempted to skip the main for dinner and go straight to these plum dumplings too!
29) Medimurska gibanica (Croatian strudel)
This is probably the most unique dessert that we'll talk about here because it combines so many different ingredients.
Medimurska gibanica is a cross between a layer cake and strudel. With a phyllo dough pastry bottom, it has four different fillings – poppy seed, fresh quark cheese (like cottage cheese, but made from soured milk), walnuts and apples.
It's baked in a casserole and then served warm from the oven (or at room temperature), covered in sweet cream. How's that for a decadently delicious fusion of flavors!
21) Pogaca cake
Pogaca cake is actually more like a sweet Croatian bread. A round shape is most traditional, but it can also be baked in other shapes such as a star, braid or flower.
Raisins, poppy seeds and even jam are sometimes added to the dough for different flavors.
To eat it, we always break off a chunk from the pogaca cake in Croatia; we don't slice it.
17) Krostule (Sweet pastry knots)
I love making krostule – and eating them on lazy mornings. They're one of my favorite Croatian pastries!
This very old, traditional recipe from Dalmatia calls for deep frying sweet dough, then sprinkling the crispy pastries with sugar. While krostule comes in different shapes and sizes, they're mostly tied in a knot.
11) Cukarini
Cukarini are sweet crispy cookies that, like harubica (#6), are also a traditional sweet from Korcula.
The original recipe calls for ammonium bicarbonate (similar to baking powder) in the buttery cookie mix, giving cukarini a crumbly and tender texture. Lemon zest is also added for a subtle citrus flavor.
How to Make Éclair Cake
You'll find the step-by-step recipe with detailed instructions below, but here's a brief overview of what you can expect when you make this éclair cake at home:
Stir the milk, whipped topping, and pudding mix together.
Line a baking pan with graham crackers.
Spread half of the whipped topping mixture on top of the graham crackers.
Repeat once, ending with a layer of graham crackers.
Chill the cake, cover with frosting, then chill again.
6) Harubica (Carob cake)
Let's go visit the region of Dalmatia, which covers a central coastal strip in Croatia and cluster of islands in the Adriatic Sea. Korcula is found here.
Said to be the birthplace of Marco Polo, this beautiful forested island – with a medieval fortified town of the same name – is one of the top places to visit in Croatia. (My heart belongs to Korcula.)
Its traditional gastronomy is nothing short of amazing.
One of Korcula's most delicious recipes is for harubica, a dessert made of carob. Coming from the carob tree, carob is an alternative to cocoa and is sold as carob powder or carob chips, like chocolate chips.
Korcula's carob cake is typically made as cupcakes, with a dollop of orange jam on top of each little cake.
30) Bucolaj (Croatian doughnuts)
Do you like doughnuts? Then bucolaj is for you.
Originating from Bujstina, in the northwest part of Croatia's Istrian peninsula, this traditional Croatian dessert is usually made for family festivities such as baptisms, weddings, Easter and other gatherings.
Similar to the doughnut, bucolaj can be shaped like a small scone or bagel. Once baked, it's dipped in milk, then sprinkled with sugar or chocolate. (It can also be made as a chocolate version).
Talk about yummy!
28) Kotonjata of Vis (Quince cheese)
Made in winter, this traditional Christmas sweet is a favorite among Croatians, who call it kotonjata. It's also known as quince cheese – except that it's not a cheese. Confusing? Never mind.
Puréed quince fruit is part of this Croatian recipe, however. Kotonjata is made with quinces, sugar and lemon. The cooked quince puree is then poured into a parchment paper-lined pan, cooled and cut into squares.
Tasting like a jellied candy, kotonjata comes from the island of Vis, where the Mama Mia sequel, Here We Go Again, was filmed (Vis was the fictional Greek island of Kalokairi in the movie sequel).
Katonjata can be sprinkled with sugar or dipped in chocolate sauce. But once you taste it, you'll never forget it!
How to Store Éclair Cake
Cover the éclair cake tightly (or place it in an airtight storage container) and store in the refrigerator for up to five days.
16) Raspucanci (Chocolate crinkle cookies)
These are delicious chocolate cookies covered in powdered sugar!
They're called raspucanci because they are raspucani (the Croatian word for "cracked").
4) Madarica (Layered chocolate torte)
One of the best Croatian desserts is the madarica. It's my favorite dessert!
It's such a gorgeous cake – to look at and eat! No wedding, birthday, party, celebration or other gathering in Croatia goes without it.
The traditional madarica features a couple of dough layers covered in chocolate.
But today, there are many different variations. You can find it layered with jam, white chocolate and other fillings, and there may be more layers too.
My grandmother has years and years of experience making and baking Croatian cookies, sweets and cakes, and I have to boast that the way she makes madarica can't be beaten!
18) Pinca or sirnica (Easter bread)
Pinca (also known as sirnica) is a traditional sweet bread prepared for Easter in Dalmatia, Istria and other regions. To be honest, Easter simply isn't Easter without this Croatian bread!
Of course, it can also be made with chocolate chips mixed into the dough (or pouring chocolate syrup on top when you eat it). But that's a more modern take – delicious too, of course!
Since the traditional version isn't too sweet (if you don't add all the extras), pinca is also served with cooked ham during the Easter breakfast in Croatia.
33) Rozata (Crème caramel)
Another one of the most popular Croatian desserts is rozata.
With medieval roots, Rozata is part of the history of the town Dubrovnik; its recipe is generations and generations old.
The pudding looks and tastes like crème caramel. But it's not a true rozata if it's not made with the Dubrovnik liqueur known as Rozalin (rose hip liqueur).
3) Dubrovacka torta (Dubrovnik's cake)
One of the most delicious Croatian cakes is Dubrovnik's cake. And you guessed it, the cake comes from Dubrovnik.
Apparently, the recipe dates back to 1585, when it was used in a Dubrovnik monastery.
The main ingredients are oranges, almonds and chocolate.
After you've walked atop the Dubrovnik city walls – looking down at the sea and all the medieval buildings below – and you're sitting in a café for refreshments, this is the cake to order.
14) Blato's drowning men
Blato's drowning men are a classic sweet snack or cookie from the small pretty town of Blato (home of the Moreska sword dance) on the island of Korcula.
Combining sugar with roasted almonds or walnuts, these crispy cookies are just the ticket when you need a hit of sweetness in your day!
Allrecipes Community Tips and Praise
"I loved how quick, easy, and efficient it was," raves one Allrecipes community member."My kids can make this safely at home and it's great for selling at our grocery store with minimal expense! To top it off, it's delicious."
"Excellent," according to gamma penny. "Served at our group dinner and everyone wanted the recipe. So easy. I made a chocolate ganache (dark chocolate chips) in place of icing."
"This is an easy, DELICIOUS recipe," says ERIKANELSON. " I get requests to make it at least once every holiday season. I add a bit of pure vanilla extract to the pudding mixture to intensify the vanilla flavor."
Editorial contributions by Corey Williams
25) Palacinke (Croatian crepes)
Each country usually has its own way of making pancakes.
Palacinke is the Croatian version – and one of the favorite Croatian desserts in many households.
Made from a batter of flour and eggs, palicinke is heavier than a crepe but much thinner and lighter than, say, North American pancakes.
You can eat many different versions of palacinke.
Savory ones, baked in the oven, can feature a cheese or ham-and-cheese filling.
Sweet ones can be spread with jam or chocolate sauce, then rolled up to eat. Or you can simply squeeze lemon juice on top and sprinkle the crepe with sugar.
Oh, and in case palacinke don't turn out the way they should when making them, they can always be served as smarn (see #31).
13) Medenjaci (Ginger honey cookies)
Gingerbread cookies aren't unique to Croatia. But we've put a twist on these cookies.
Traditional Croatian recipes call for the addition of honey (sometimes even rum!) to go along with the ginger, instead of molasses, which is common in North America.
So our ginger honey cookies (medenjaci) are lighter in color and a touch sweeter than North American gingerbread.
Popular Christmas sweets, these cookies can be simple round treats or shaped in all sorts of cute patterns, like Christmas trees or snowmen. And they can be decorated with white icing or chocolate sprinkles.
No matter how they look, I can tell you that kids of all ages love them. Is the kid in you dying to bite into one of these?
19) Grandfather's mustache
This is one of the most interesting looking Croatian pastries.
Spread apricot jam over a strudel-like dough, sprinkle walnuts on top, roll up the two sides, then slather it all with melted chocolate. And you have grandfather's mustache!
With the two sides being rolled in to create a spiral, the pastry resembles an elderly gent's mustache – hence its name.
The recipe for this is quite old and a favorite for many generations.
10) Breskvice (Peach cookies)
When it comes to traditional Croatian dessert recipes, Grandma's little black book is always the best inspiration. That's where peach cookies or breskvice come from.
These are small, sweet and cute-looking cookies, with rum mixed with peach or apricot jam sandwiched between two caps. Both caps of cookie dough are coated with pink juice and sugar.
While they might look like mini peaches, breskvice tastes much more decadent.
These Croatian cookies are popular at weddings, birthdays, family get-togethers and other special occasions. They're a bit time-consuming to make, but so totally worth it!
7) Imotski cake (Almond lattice cake)
Originating from the small off-the-beaten-path town of Imotski, this almond cake has a thin latticed pie crust on top with an almond, orange, lemon zest and cinnamon filling.
Imotski cake is hailed as the queen of all Croatian cakes, thanks not only to its tantalizing harmony of flavors, but because the pie crust is pinched high in points all around the cake to make it look like a crown.
31) Smarn (Scrambled pancakes)
Have you ever made pancakes when it just wasn't your day so all the pancakes looked bad? In Croatia, we have a dessert that's actually made as a pancake-gone-wrong.
The name smarn comes from the German word schmarrn, which is a dish made of eggs, flour, milk and sugar. (Sometimes rum-soaked raisins are tossed into the batter too.) It's almost like a pancake, but denser.
When the mixture is half baked in the frying pan, it's torn into small pieces with a fork to continue cooking briefly.
Smarn tastes great sprinkled with powdered sugar or served with jam, chocolate sauce or fresh fruit salad.
Can You Make Éclair Cake Ahead of Time?
Yes! Since the éclair cake is served chilled, it's the perfect make-ahead dessert. You can store it for up to five days, but it will be best in the first day or two — the graham crackers will likely become a bit soggy over time.
8) Hrapocusa (Cake of Brac)
Hrapacusa, hropocusa, hrapocusa. The name of this cake may have different spellings.
But all variations refer to the same rich cake from the unique stone village of Dol on the island of Brac.
Brac is famous for its high-quality white stone.
Slaves hauled away pure white limestone from Brac quarries almost 2,000 years ago to build the famous opulent palace in Split for the Roman emperor Diocletian. (By the way, wandering around that palace is a must-do in Split.)
More recently, it was said that the stones used to build the White House in Washington came from the island of Brac. (Not true. The New York Times printed a retraction, saying the White House stones were quarried from Virginia and Maryland.)
The stone around Dol, however, is rougher and yellower in color than the rest of Brac's radiant white limestone. The old stone houses and buildings in Dol, with their stone roof slabs and window sills, have an ancient weathered look.
To glorify Dol's rustic beauty, the ladies of the village were inspired to create a recipe for a cake that looks like Dol stone.
The bottom layer of this Croatian walnut cake is a dense sponge cake made of egg yolks, some egg whites, flour, loads of walnuts and maybe lemon zest. The top layer is made of egg whites, sugar and more nuts.
And there's no one recipe for the cake – every household in Dol has their own closely-guarded recipe.
Dubbed Brac's "sweet aphrodisiac," the cake is so special that it's even listed by Croatia's Ministry of Culture as protected cultural heritage.
Every year on August 16, the village (which only has 100 inhabitants) hosts "Hrapocusa Night," where all the women compete to bake the best version of the cake.
12) Korcula's spomilje (Almond meringue)
As you might have figured out by now, many recipes for traditional Croatian desserts come from Korcula. Spomilje is another one of them.
This is a meringue-type dessert made with egg whites and sugar, decorated on top with almonds.
It's so popular that it's recommended in numerous brochures and tourist guides about Croatia. But if you want the real thing, you know which island to visit!
5) Skradin's cake (Chocolate cake)
Is there anything better than a cake covered in chocolate? Absolutely not!
Skradin's cake is a traditional masterpiece.
Its main ingredients are ground walnuts, rose brandy, honey, lemons and oranges. And then the cake is smothered in chocolatey goodness.
Are you drooling yet? Once you see it, you certainly will be. This is truly a beautiful Croatian dessert!
23) Makovnjaca + orehnjaca (Poppyseed and walnut rolls)
These two desserts are made using the same recipe – the only difference is in their fillings.
Yeast-based dough is kneaded then rolled out flat.
For makovnjaca (poppyseed rolls), a sweet poppyseed filling is spread out evenly onto the rolled-out dough. For orehnjaca (walnut rolls), a sweet walnut filling is spread on top.
Once the dough is covered, it's rolled up from one end to the other. (Makovnjaca can also have raisins in the filling.)
After it's baked, makovnjaca and orehnjaca are sprinkled with powdered sugar.
Oh, and if you're craving a Croatian walnut roll, you'll be happy to know that most bakeries and cafés sell walnut rolls.
Best Croatian cakes
Creamy? With flaky pastry? Chocolatey? There's a whole range of Croatian cakes to satisfy your sweet tooth.
32) Snenokle (Meringue in custard)
This quick sweet dessert comes from Austria originally. But snenokle has become a Croatian tradition too now.
The simple recipe only uses a few ingredients – eggs, milk, sugar and vanilla. But the end result is an irresistible concoction of soft foamy meringue clouds floating in a light vanilla custard.
20) Lumblija
Let's return to the island of Korcula, because this dessert is only made there in the towns of Blato and Vela Luka (a port town founded by the people of Blato to export their wine and olive oil).
Lumblija is a bread-like cake, filled with raisins and almonds and covered in sugar and sweet grape syrup called varenik.
Its origins are believed to date back to Napoleonic times.
After Napoleon Bonaparte conquered Dalmatia, a young French soldier, who was also a baker, fell in love with a young woman from Blato.
When the army left Korcula, he left her with this sweet bread-cake and the words "don't forget me."
She didn't forget him, and lumblija is now baked in the memory of those who are gone.
Final thoughts on Croatian sweets
Croatian cuisine has come a long way in recent years as the country has welcomed more and more visitors. But we still honor our time-tested traditional food. And desserts and sweets are an integral part of our gastronomical culture.
When you visit Croatia, you're sure to love these popular Croatian desserts. They're just one more reason why you must put Croatia on your travel bucket list!
From Dubrovnik's swimming beaches to medieval towns to idyllic islands – and of course its cuisine (and desserts!) – Croatia will turn out to be one of your absolute favorite countries in the world.
Experience more food deliciousness!
With a background in journalism and a passion for cooking and home design, Croatian-born Ana Cerovski is a senior writer at Kitchen Toast.