Expand your camp cooking repertoire with these delicious Dutch oven recipes! A Dutch oven is one of the most versatile pieces of camp cooking equipment you can own. Sauté, steam, simmer, fry, and bake – if you can imagine it, you can make it in a Dutch oven.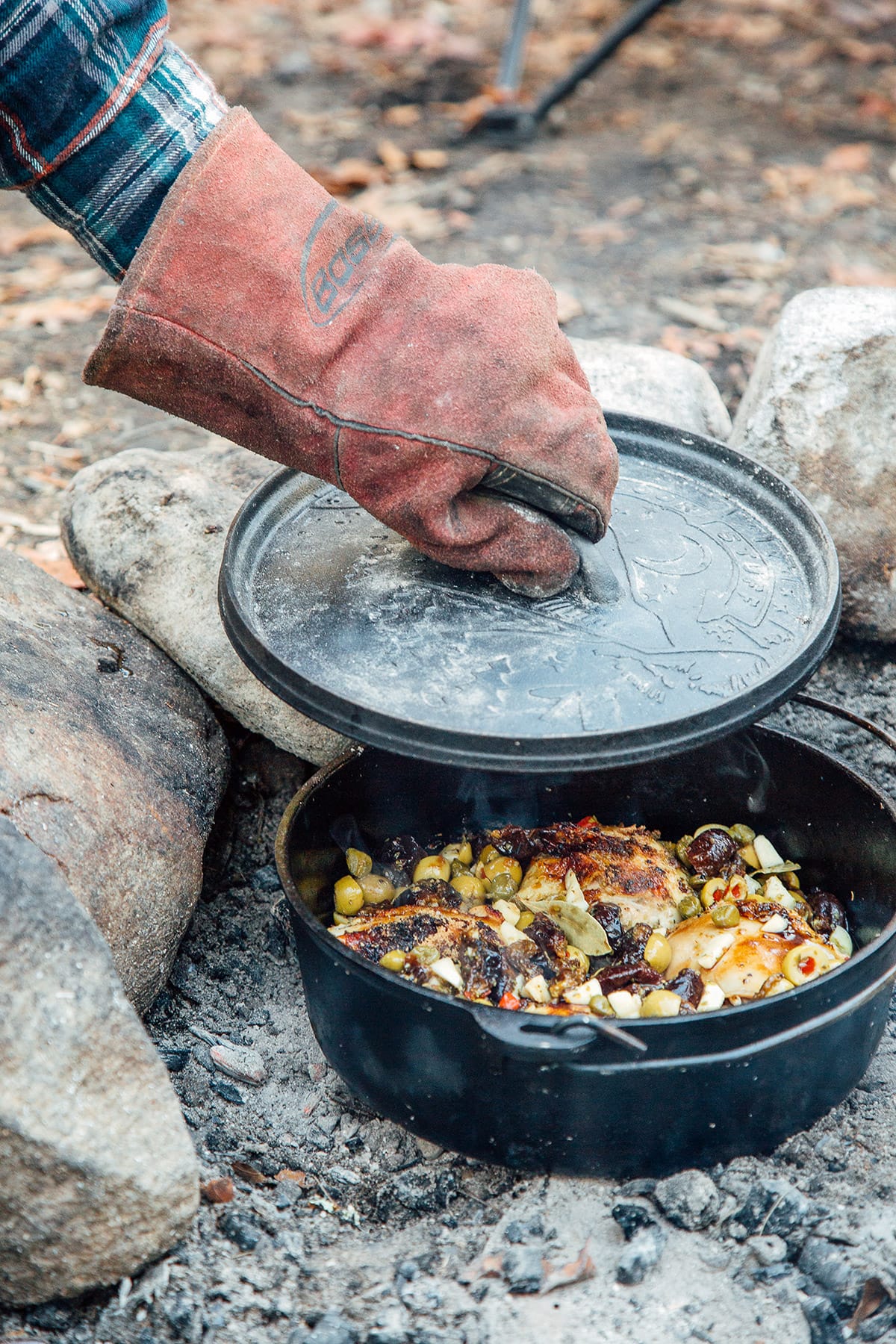 When we first got our Dutch oven a few years back, it opened up a new world of camp cooking to us. Recipes that would have been impossible to make on a camp stove, all of a sudden became entirely do-able.
While it takes a little practice to get good at cooking in a Dutch oven over live coals or embers, the entire process is a lot of fun. There is a bit of experimentation when it comes to different heat levels, coal ratios, etc. But once you get the hang of it, you're in for a treat.
If you're new to Dutch oven cooking, we've got a short primer to get you started below. If you're a well-seasoned pro looking for some new recipes to try out, you can skip to the recipes.
Best Dutch ovens for camping
Certain Dutch ovens are made specifically for camping.
Unlike a home Dutch oven, which has a flat bottom and sealed in enamel, a camping Dutch oven is made entirely from cast iron, has support legs on the bottom, and comes with a flat flanged lid. Coals or embers can be placed underneath and on top of the lid, allowing you to heat from both sides.
Camping Dutch ovens also come in two different depths. Shallow Dutch ovens are the most versatile option and are best for baking, while deep Dutch ovens are best for making large amounts of soups, stews, or anything else with a lot of liquid.
↠ Lodge 10" 4 qt: This Dutch oven is the size and dimension as the one that we own. It's relatively inexpensive, comes pre-seasoned, and is great for somebody just getting into Dutch oven cooking. Ideal for 2-4 people.
↠ Lodge 12" 6 qt (shallow): A slightly wider version, this Dutch oven is ideal for 4-6 people.
↠ Lodge 12" 8 qt (deep): This is a deeper and wider Dutch oven that is great for making larger quantities of soups and stews. Ideal for 6-8 people.
How to cook in a Dutch oven
There are lots of different ways to cook with a Dutch oven, but here are the most common.
For baking, you want to create an even ambient temperature inside the Dutch oven. (Similar to setting the temperature on your home oven) This is achieved by placing hot coals or embers underneath the Dutch oven and on top of the lid. Cast iron does a great job of radiating heat, so by heating from the top and the bottom, you evenly distribute the heat through the inside.
Due to the insulating properties of the ground, you will find you need proportionally much more heat coming from the top than from the bottom. So, you will want to have more coals on top of the lid than you will have underneath your Dutch oven.
You can also use a Dutch oven as a heavy-duty, fire-resistant pot and place it over a campfire. Since it's made entirely from cast iron, there's nothing that can melt or warp. You can even use it on a camp stove like a regular pot, provided that legs fit through the grate.
Like we said above, it's super versatile! You can learn all about Dutch oven cooking in this primer.
↠ Chimney Starter: Ditch the lighter fluid! A charcoal chimney is a quick, natural way to get your coal lit. This collapsible version is great for camping because they lay flat and come in a carrying case.
↠ Lid Lifter: A lid lifter can be really handy. We own this 4-in-1 lid lifter from Lodge, which functions as a lid-lifter, bail hook, pot stand, and lid stand. It folds up and fits inside our 10" Dutch oven.
↠ Long Metal Tongs: If you're using charcoal briquettes, a pair of long metal tongs will allow you to move and reposition them with ease.
↠ Heat Resistant Gloves: We've tried a lot of different welding mitts, and these heat resistant grill gloves are far superior.
↠ Tripod: If you frequently camp in areas that don't provide grates over the campfire, you may want to pick up a tripod to hang your Dutch oven over the fire. This will allow you to adjust the height dial in the heat for a perfect low simmer.
↠ Liners or Parchment Paper: One of the secrets to easier Dutch oven baking is to use liners where possible. You can pick up single use, pre-cut liners, but we prefer to make them ourselves out of parchment paper.
The best dutch oven recipes for camping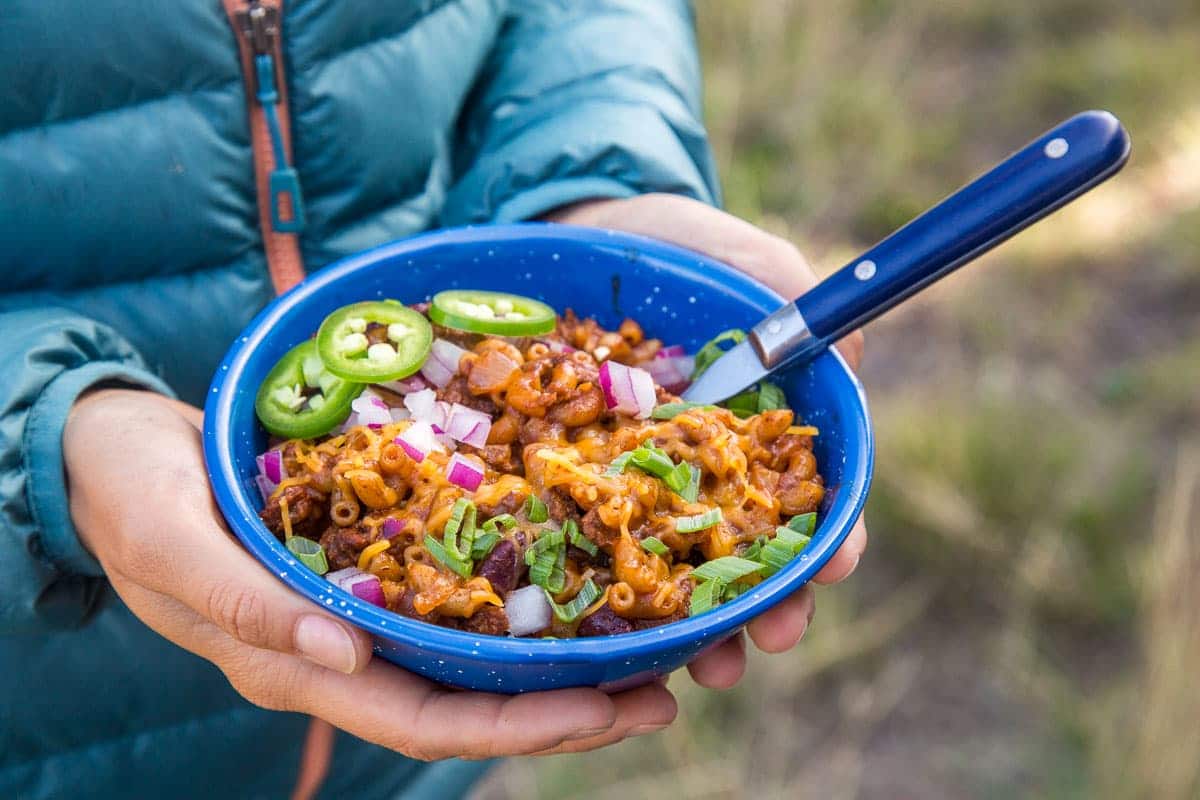 Chili mac
Blending the best of both worlds, chili mac combines the smoky and spicy flavor of chili with the rich and creamy texture of mac & cheese. It's a camping classic that kids and adults will love.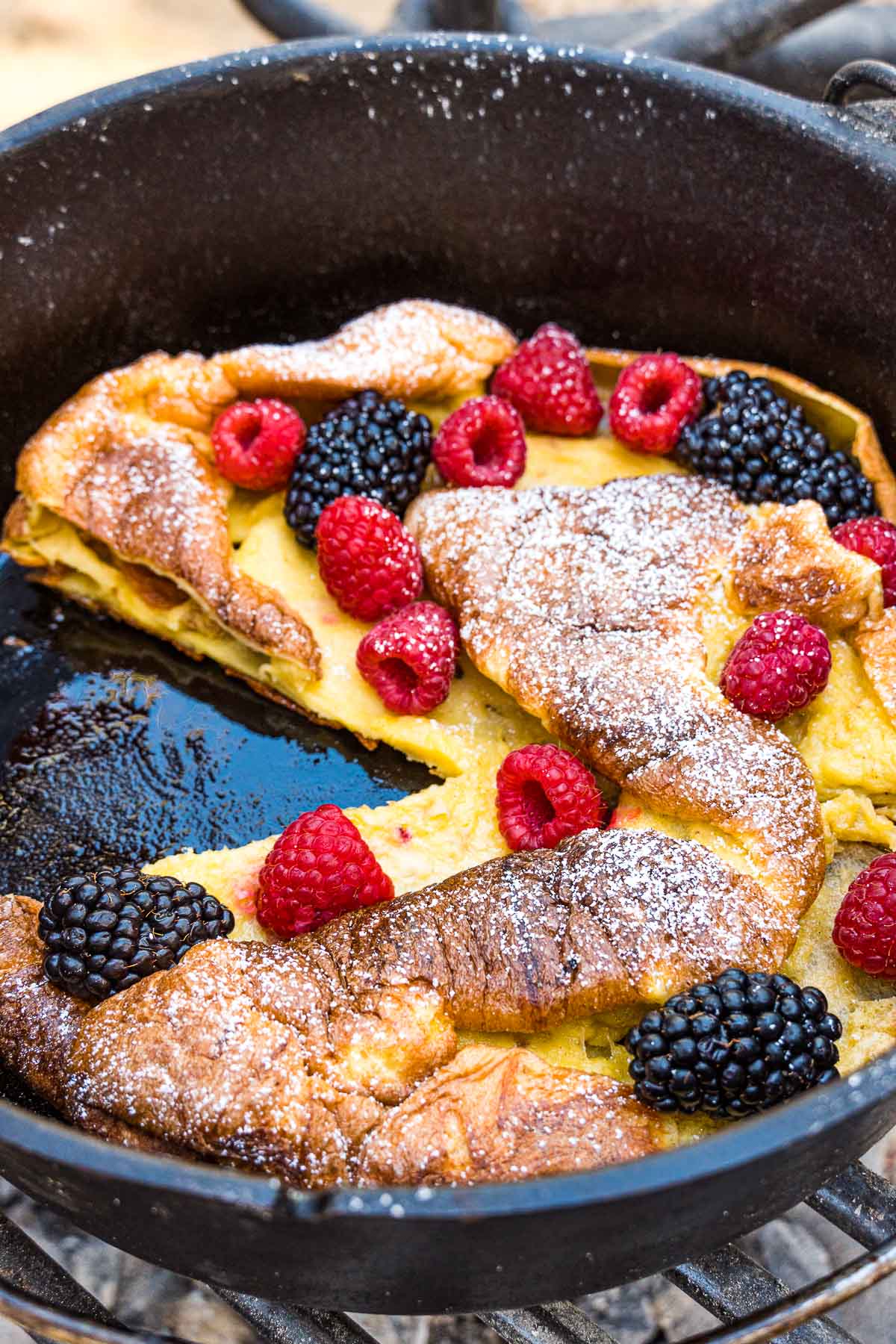 Dutch baby
A Dutch baby is a light and airy pancake that lies somewhere between a crepe and a pastry. We love it topped with fresh berries and drizzled with maple syrup.
Dutch oven chili + cornbread
Dinner and a side, all in one pot. Make a quick bean chili, top with an easy cornbread batter, and stick your Dutch oven over the coals. Put your feet up and dinner is ready in just over half an hour.
Banana bread
Making baked goods at your campsite is half the fun of owning a Dutch oven. This Banana Bread is a fun breakfast treat that's perfect with a cup of camp coffee.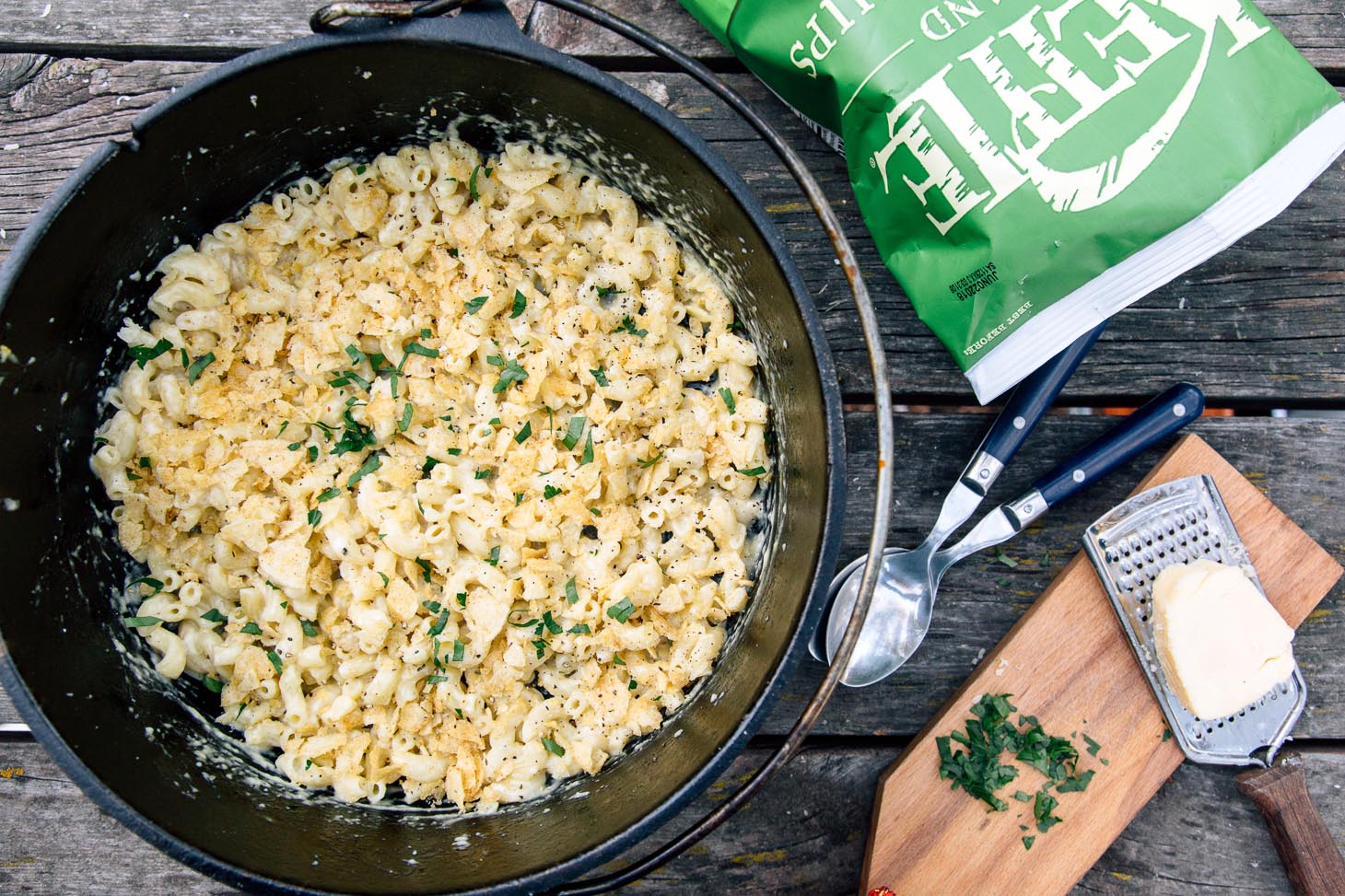 Mac and cheese
All you need is 15 minutes to make this super simple Dutch oven mac & cheese. We love to finish it off with crumbled chips for a crunchy topping.
Dutch oven enchiladas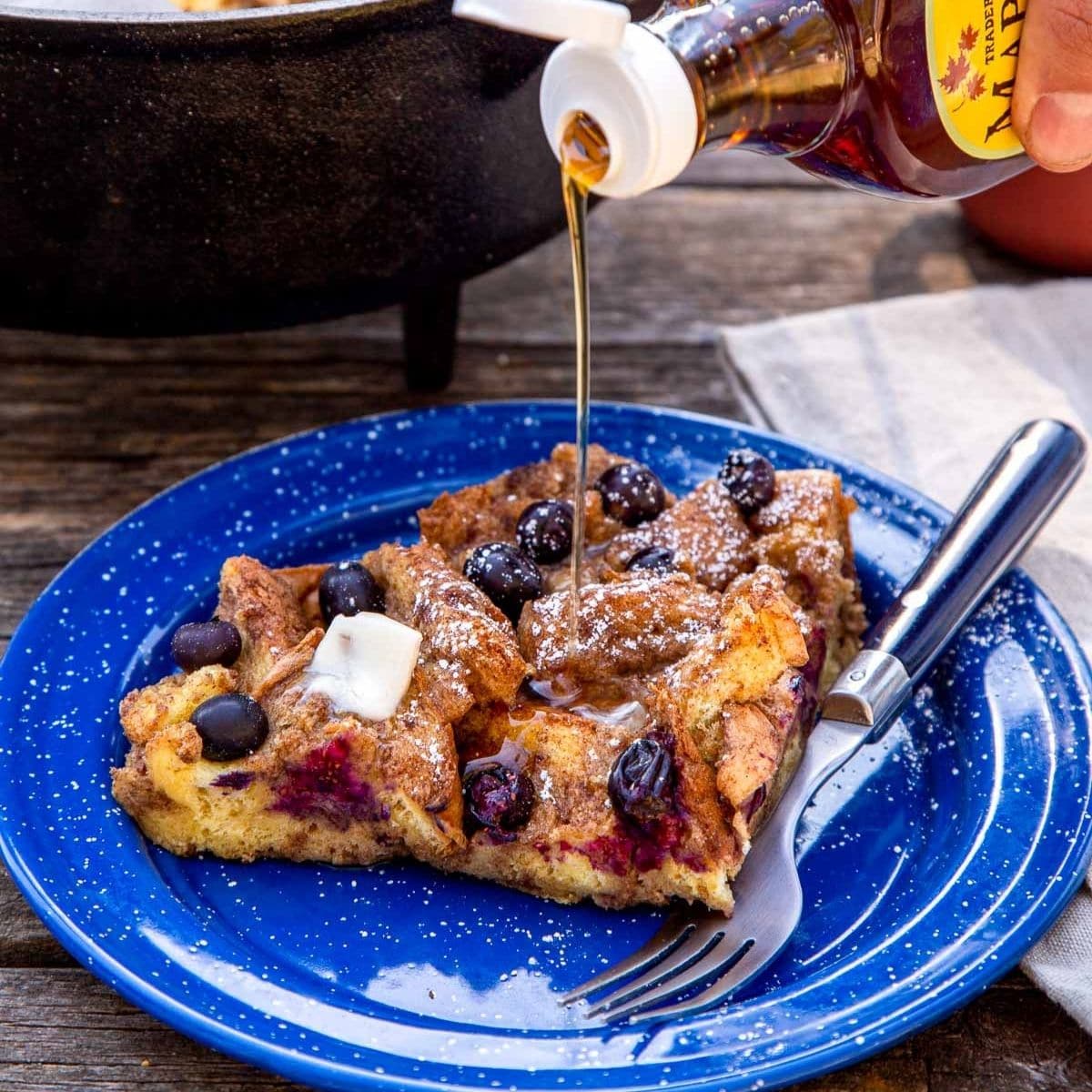 French toast bake
This Dutch Oven French Toast Bake is a great breakfast idea when feeding a crowd! Toasty edges and tender on the inside, it's everything you love about French toast – just a lot more of it!
Dutch oven pizza
Pizza is another classic camping Dutch oven recipe. We'll show you the technique and offer a variety of delicious topping combinations in this recipe.
Dutch oven peach cobbler
Make the most out of summer's best produce: peaches! This easy Peach Cobbler is a wonderful Dutch oven dessert that is perfect for cooking over the campfire.
Pull-apart garlic bread
If you're looking for a great appetizer or side dish, this pull-apart cheesy garlic bread is super easy to make and is good for sharing with a group. All you need is a round loaf of bread, shredded cheese, olive oil or butter, and garlic (lots of garlic!).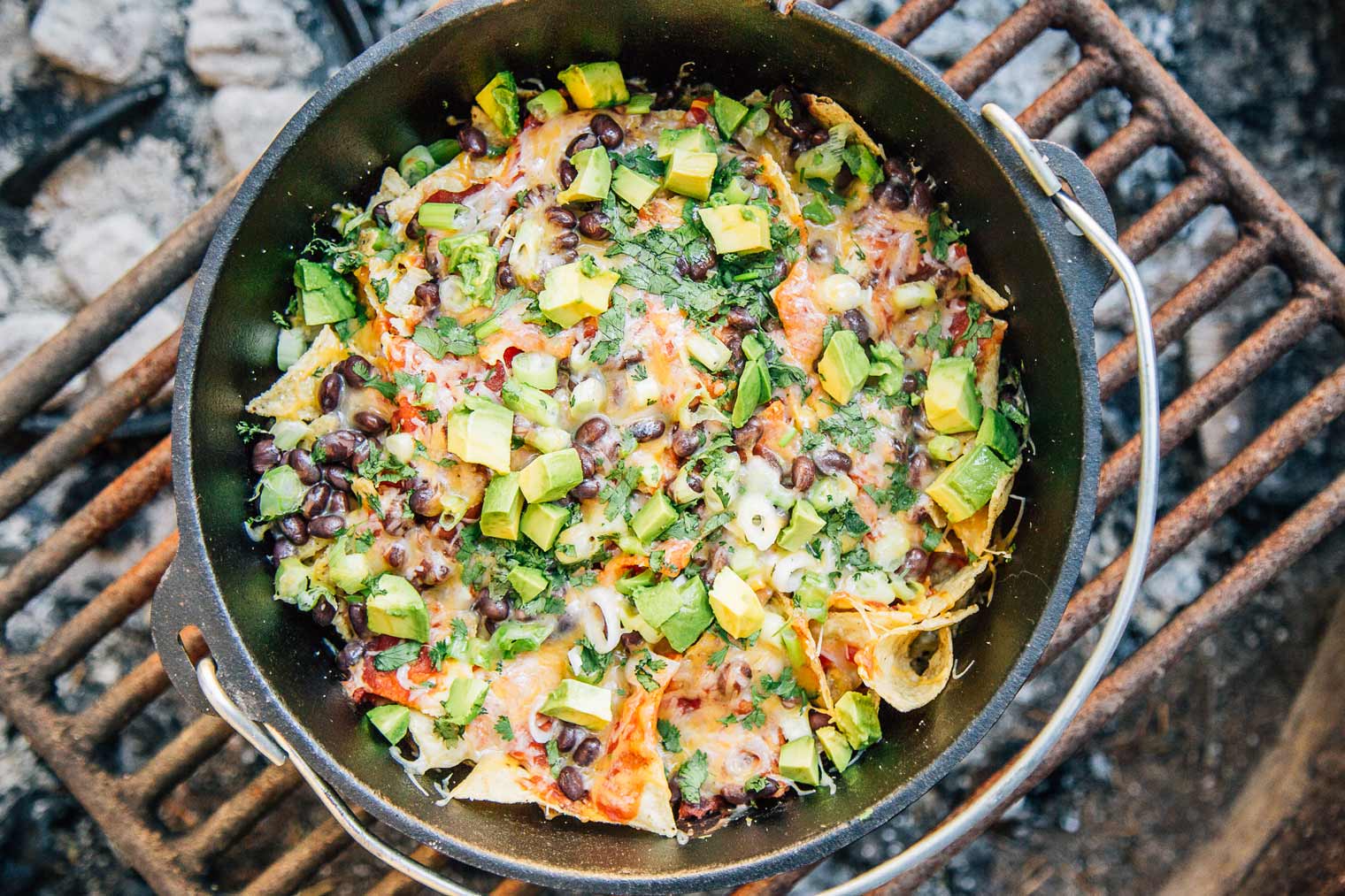 Campfire Nachos
Some would call nachos an appetizer, we often call it dinner! Tortilla chips loaded with beans, avocado, onions, salsa, and melty cheese, this happy hour classic is a snap to make at the campsite.
Chicken Marbella
A gourmet meal with easy camp-friendly preparation, this take on the hit 1980's dinner party favorite is full of great flavor thanks to a punchy marinade that can be made ahead.
Dutch oven apple cobbler
If you're not up to making a homemade pie on a camping trip, this apple cobbler is the next best thing. Juicy apples, under a buttery, biscuit topping spiked with cinnamon and sugar, this is the perfect end to any camping meal.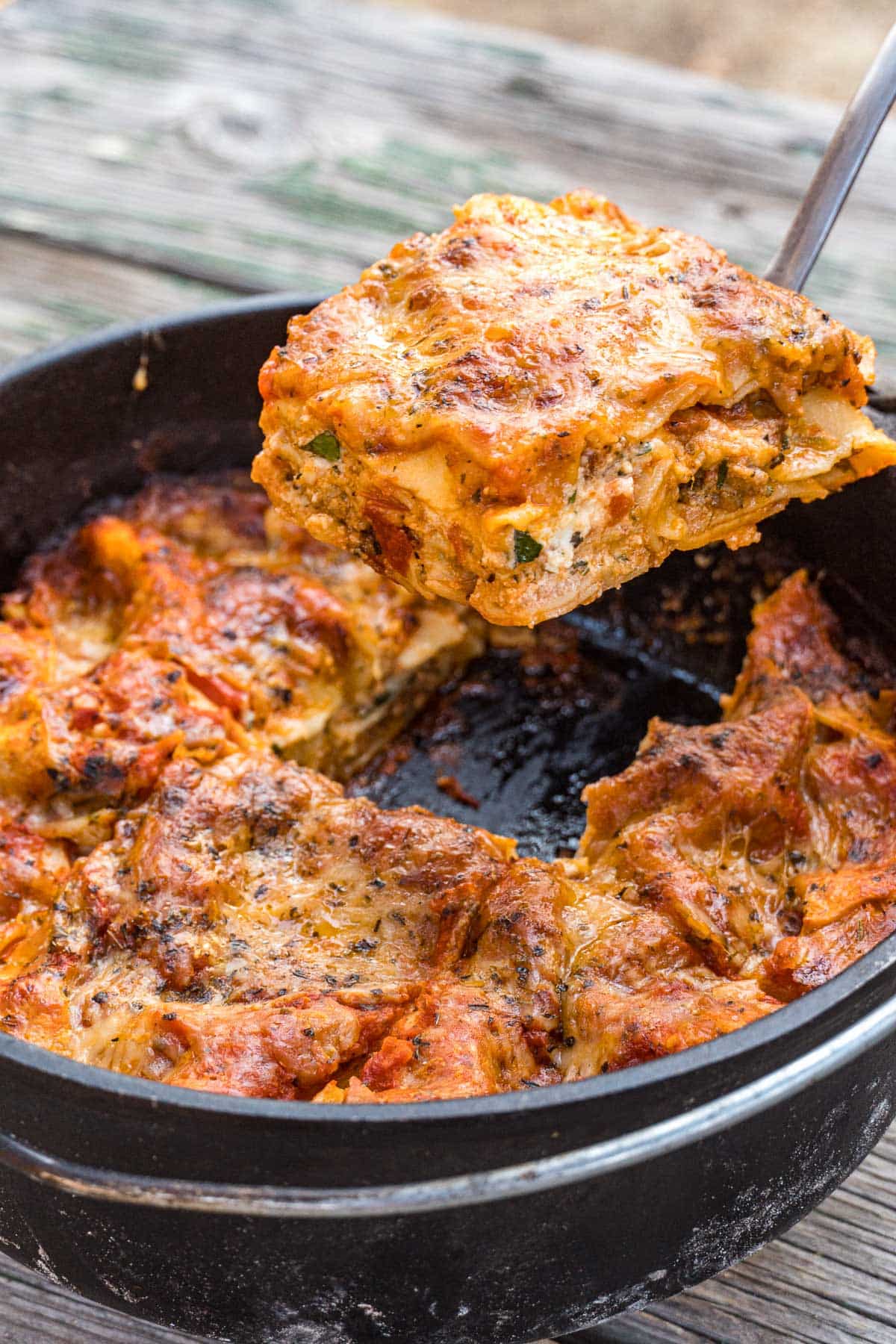 Dutch oven lasagna
This lasagna is a great family-style meal. This easy vegetarian preparation is pretty low fuss and could be easily customized with different fillings. It's a great recipe that takes advantage of the Dutch oven's baking capabilities.
Sweet potato peanut stew
his West African-inspired Sweet Potato Peanut Stew is one of the most popular Dutch oven recipes on our blog, for good reason! It's super satisfying and full of flavor. While it happens to be vegan, this is definitely a stick-to-your-ribs meal that is perfect for cooler nights.
5 can chili
This easy chili is as simple as opening five cans (black and kidney beans, tomatoes, chipotles, and beer) and chopping up an onion. It's spicy, flavorful, and you don't have to spend the whole evening cooking.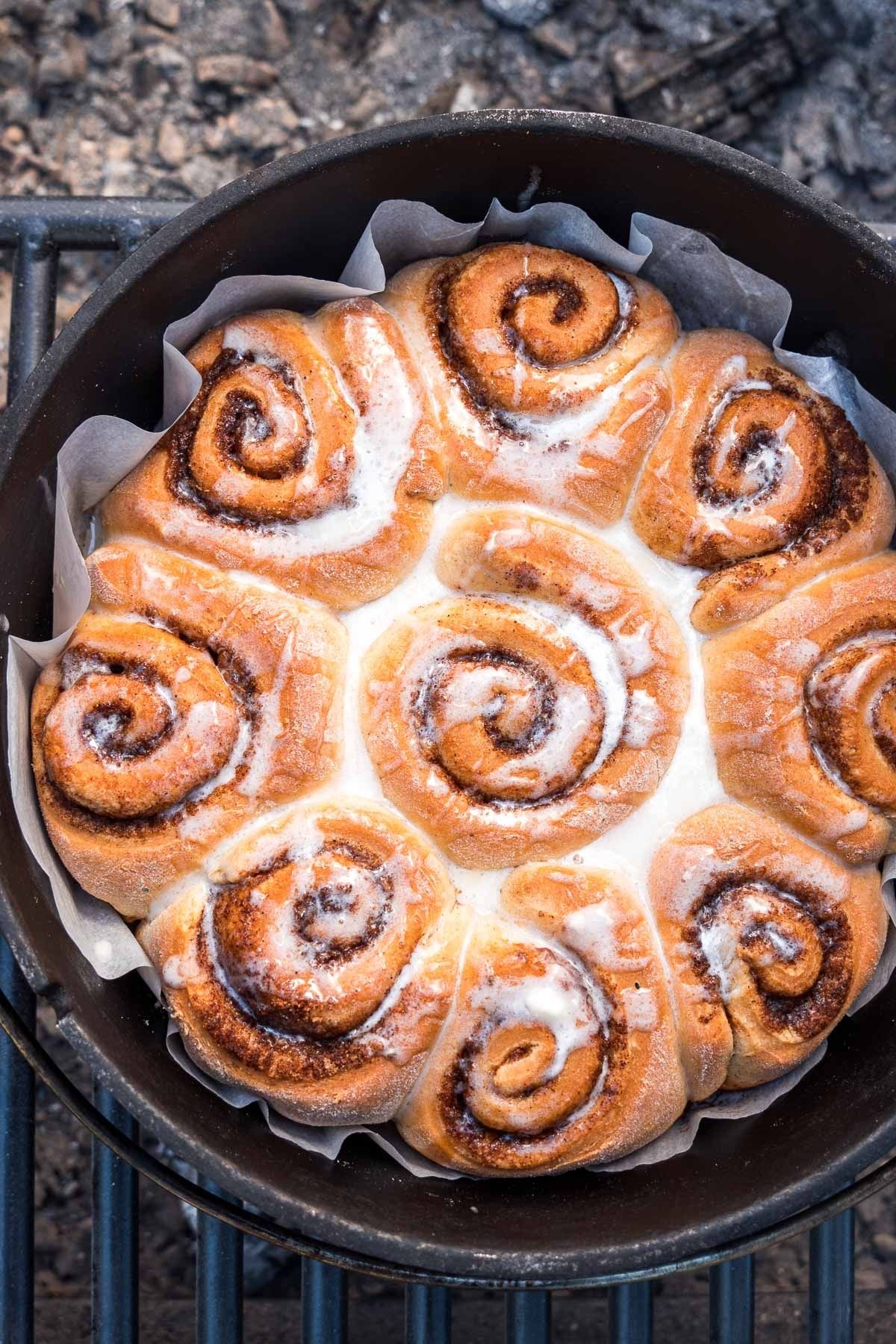 Dutch oven cinnamon rolls
These cinnamon rolls can be prepared at home before your trip and then baked in the Dutch oven in the morning for a truly gourmet camp breakfast!
Dutch oven vegetable stew
Loaded with mushrooms, potatoes, carrots, and onions, this Dutch oven vegetable stew is a hearty vegan-friendly take on stew. It's a great one-pot camping meal to keep you warm all night long!
Red beans and rice
Smoky, spicy, and deeply satisfying, this hearty one-pot meal is a camp-friendly adaptation of red beans and rice.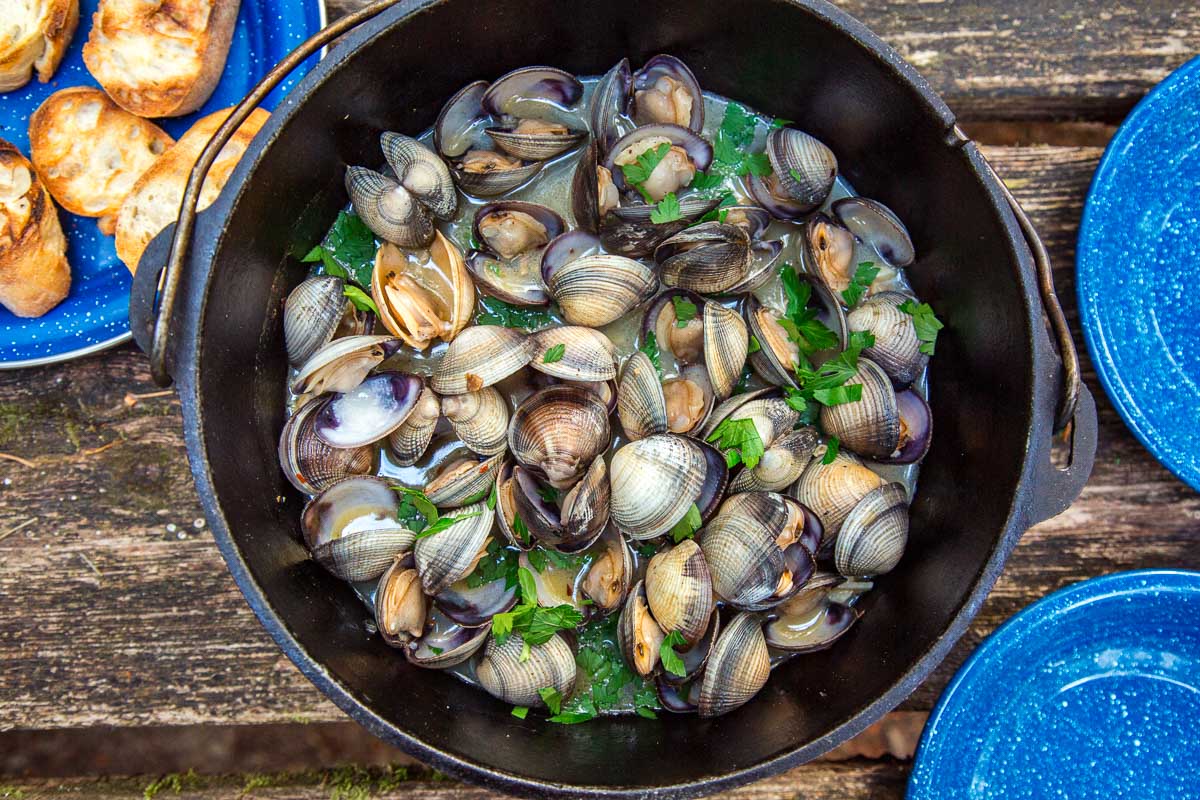 Steamed clams
If you're looking to class up your camp menu, try these campfire steamed clams. We love to make this when we're camping near the coast. The garlic and white wine sauce is perfect for dunking grilled bread in, too.
Dutch Oven Blueberry Cobbler
Delicious blueberry filling, a fluffy biscuit topping, topped off with dollop of whipped cream, this Blueberry Cobbler is a perfect summer time camping dessert.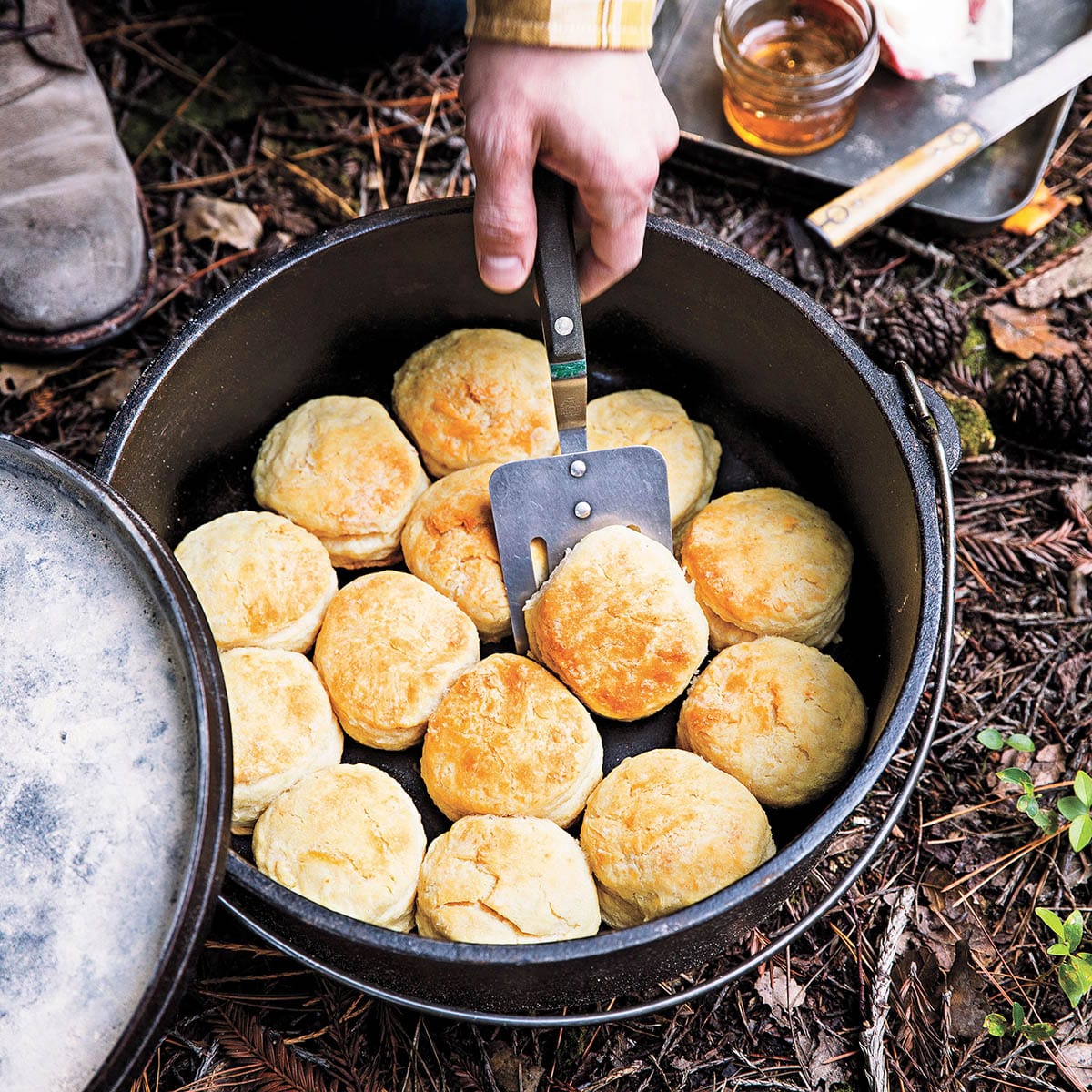 Dutch oven biscuits
Bake these biscuits from Sunset to serve as a side with chili or stew. You can make them at home ahead of time and store them in your cooler until you're ready to cook them.
Dutch oven chicken cacciatore
This Chicken Cacciatore from Family Spice is a camp-friendly take on a traditional Italian "hunter's stew" using chicken thighs. It's packed with mushrooms, olives, and basil, simmered in a tomato-wine sauce.
BBQ chicken and potatoes
Chicken and potatoes are cooked together in BBQ sauce in this Dutch oven meal from Clarks Condensed. Serve with a side of vegetables and dinner is done!
Dutch oven jambalaya
This jambalaya combines shrimp, sausage, chicken, and rice in a flavorful one-pot meal that is packed with flavor.
Stuffed pork chops
Pork chops stuffed with breadcrumbs and apples, then glazed with a spiced orange sauce, this recipe from Lodge is a next-level Dutch oven meal.
Campfire chile verde
Pork simmered in tomatillos and green chiles, this Chili Verde recipe from Lodge is a super flavorful meal.
Mountain man breakfast
Sopa de Lima
This zippy chicken soup from Barebones is flavored with fresh lime juice, jalapenos, and tomatoes. Topped with avocado, tortilla strips, and cilantro it's a fresh and warming meal for cooler nights.
Fresh Off The Grid is a culinary resource for the outdoor community. We offer a collection of recipes, how-to guides, and camp cooking gear to help you enjoy great food in the great outdoors!
The Fresh Loaf
DIY Portable Backyard Bread Oven Project
Last year, we used a Dutch oven to make a loaf of sourdough over a campfire.  It kind of worked, but it was less than ideal.  I wanted to make something that I could take camping with us, but also something that could be used at the house to bake a loaf outside in the summer instead of heating up the house.  After about 3-4 months of planning and scheming, the prototype is getting close to a reality.  Hoping to do the first bake with it in a couple weeks.
Cool project!   As Tim the tool man would say: Argh! Argh! Argh!
Natural stone or clean clay is needed:
– granite or marble – no epoxy "fills".   I have a 1′ x 2′ pure granite floor tile, no fillers, and polished on one side that I plan to cut to size.
– Unglazed "quarry tiles" are also mentioned as safe, but now being manufactured mostly outside the US, you can't trust there are no toxic fillers or inclusions.
– Travertine tiles are mentioned as safe, but all have some degree of clay fillers. And you don't know what is in the clay.
So granite or marble, well-inspected, seems the safest baking surface.
Good luck, amigo/
Thanks for the heads up!  I
I'll do a little digging on that.  I could possibly get a custom sized Fibrament stone too, but I don't know how thin they make them.  My Fibrament oven stone is close to 1″ thick and that would take up too much vertical height.  I'm somewhat height challenged on this project.  My barrel was probably a tad too small and there were too many unknowns before firing it.  After last night, I think I could have gone a bit taller.
Maybe binder material.
I'm not a materials engineer or scientist so I can't say for certain, but "ceramics" may  have things in them that specific purpose refractory materials don't.
Refractory or "fire brick" is designed/intended to be heated thousands of times, thousands of hours.  Floor tile "ceramics" are designed to be fired a couple three times at the factory and expected/intended to never be fired again.
Think red bricks for chimney versus red bricks for exterior wall decoration. Should a home builder know the difference, or is "brick is brick is brick" ?
I don't think it's logical to assume "all the possible 'bad stuff' has been burned off."   Heat does things to chemicals, and not necessarily all at once or all up front. It may be a "slowly, over time" thing, and it may be a chain wherein it isn't until  the 2nd, 3rd or more, order heat-induced by-product that it turns toxic. A quickly turns to B, B is what they want in the tile, but further firing might make B slowly turn to C, and then C breaks down to something toxic.  Just imagining possibilities.
So yeah, check with tile manufacturers.
I forget exact measurements, but I seem to recall that tavertine and granite can come in 1/4″ thickness.
I think it's unlikely that
I think it's unlikely that additional reactions are occurring.  The material is fairly porous and anything volatile in any binders would have volatilized and off-gassed in the kiln step during manufacturing.  They take it to much higher temps than what I'm hitting in the oven.
However, your point about heat cycles is a good one and that's probably where any risk lies.  If the material contains any heavy metals or fibers, they may become airborne and get inhaled/ingested as dust if the tile breaks down.  I can definitely see how that could happen.
I'll take a look at a Lowes or Home Depot this week and see if I can find a granite or marble tile.
I had a portable aluminum
oven in Indonesia 30 some years ago.  It was a light weight DIY from a local sold in the market. It was a recycle large square shaped cooking oil can with a hole cut in one side to sit over the heat source (gas stove) a baking chamber floor and glass door built into it. Venting holes high at the back and around the inside of the baking chamber and one little rack shelf.  I put an oven thermometer in it and set it on 4 tuna cans to hold it up.  Had a handle on top to lift it when hot or to hang onto it when the door was opened. (Which threw it off balance when empty.)  It could easily be set over campfire coals and such.  This might be something to think about.
Thanks for the ideas Mini!
Thanks for the ideas Mini! Some of these are right in-line with phase 2.  Phase 1 was proof of concept and making sure it would even get to baking temps.  Phase 2 is making it functional.  🙂
You're spot on about airflow and I have a damper for the stack on the top to let me control it.  Handles are a good idea to help make it portable when not in use.  I think I can put them into each side before I insulate and wrap it.  Still need to work out a vent for the bread chamber.  Plan to just crack the door for now but some kind of grill type vent would probably work quite well. I don't think it would need to be very big.  I like the idea of a rack versus a stone!  I always use parchment paper anyway.  Need to see if I can come up with something that doesn't take too much height.
I'll likely stick with the rocket stove concept.  It looks more complicated than it is.  The combustion chamber and tall stack are actually one piece and the oven compartment is another.  The tall stand it sits on a third piece.  So I can disassemble it and reassemble it somewhere else in a matter of minutes. From assembly to baking bread in maybe 20 minutes.  I like the fact that it's self contained, can be set up anywhere with ease, and is extremely fuel efficient (I can bake bread with the sticks I pick up in my yard each spring).
That little oven in the
That little oven in the chimney pipe is exactly what I have!
I love to tinker, so yeah, this has been a fun project.  Will be even better if it works.  😁
We used to bake in Dutch ovens on river trips
Good luck on the project, though you might want to give the Dutch oven another shot. YouTube video is totally Rube Goldberg, but looks like a fun diversion.
UPDATE: Bake #1 in the books
I'll apologize upfront for the awkward video at times.  I wasn't quite coordinated enough to video with one hand and bake with the other.  Need to find a video crew (or at least a tripod) for the next update. 😁
– insulated and cladded
– polished marble instead of ceramic tile
– damper added to vent stack
Thought it worked really well for the initial bake.  Got a little hot and burned the bottom of the first loaf.  Used a little rack in the second loaf and it turned out much better.  Since then, I thought a bit more about my electric oven setup and have added a distributor plate under the baking chamber to avoid the heat impinging directly below the stones.  Hoping that prevents the hot spot in the center of the chamber.
(for crumb shots at the end, 1st loaf is on the right and 2nd loaf is on the left)
Next bake with it will be this weekend!
Congrats on the baptismal fire. The oven shows promise and with just a few tweaks will do a fine job. Did the switch to marble from clay make a difference? I am thinking that starting the bake on the stone and then putting the loaf on a taller rack would work better. If you have any money left over after buying that loading peel;-) I would also recommend getting an IR thermometer to see just how hot the stone is. It is a vital tool with my pizza oven.
Thanks Don!  I was encouraged
The small cooling rack is one I had at the house.  If I stay with that route, I'll want something larger that's easier to get the bread on without worrying about it falling off during the transition.  Before buying a new rack, I made something with a piece of sheet steel that acts as a deflector below the oven chamber.  Should eliminate the heat going directly from the stack to the bottom of the oven.  That's step one.  It was cheap and if it works will eliminate the double dough handling.  Step 2 will be buying a larger rack.
At first glance on my small screen I  mistook the bird's eye maple for a piece of wafer board plywood so never mind my comment. However I would look for something better to use as a spacer for the stone besides a piece of sheet rock. It am afraid it will burn and off gas
With the stone being so hot it might do a nice job with pizza.
Just saw the video. That does look cool!   You're good with tools.
In addition to a flame/heat baffle under the baking chamber, putting the marble stone on 3 or 4 small legs, even just 2 to 3 mm tall, will reduce the conduction heating between the metal oven floor and the stone, and likely allow its temp to be more uniform, and closer to the oven's air temp.
The stone will still heat up via both radiation and convection heating. (IE, the metal floor of the oven will still radiate much heat across the 3mm gap.
I second MT's suggestion of a laser thermometer to read the stone temp.
Thanks Dave.  I'm always open
Thanks Dave.  I'm always open to ideers!  🙂
I like that one too!  Would be easy to lay a couple strips of sheet stock along each edge and use that as the lift for the stones.
What happens when
you slip the rack under the stone before heating it?
The stone might be cooler for loaves with more even heat distribution.
Great test run!
That could work too, but I'd
That could work too, but I'd need a bigger rack.  The one I have now is pretty small, and the marble is actually two tiles cut to fit.  Would need a rack big enough to support both of them.
That would work too.  Here's
That would work too.  Here's what I went with for this round.  Enough space to create an air gap but have minimal impact on oven height.  If that's not enough, I'll get it up a little higher.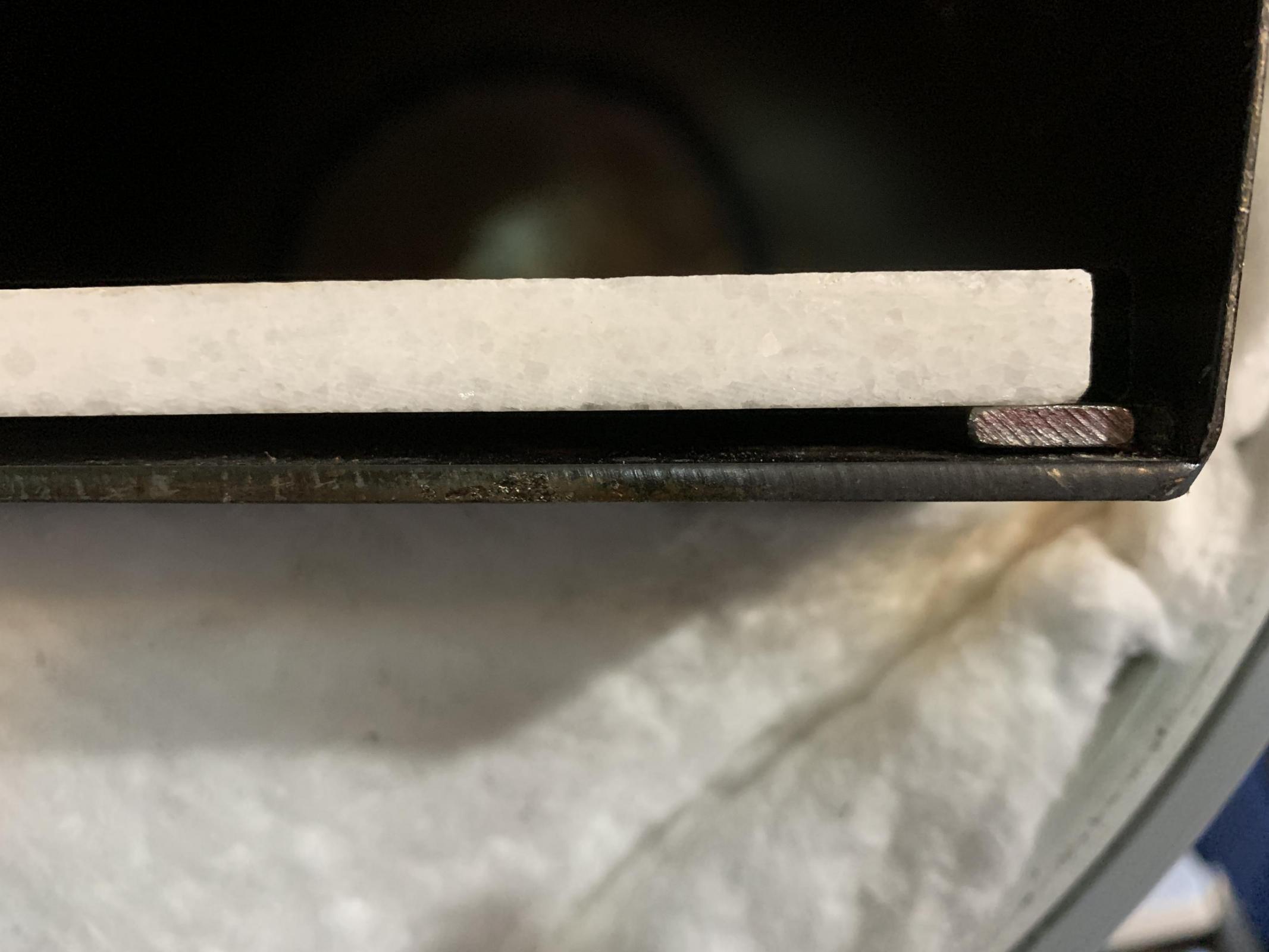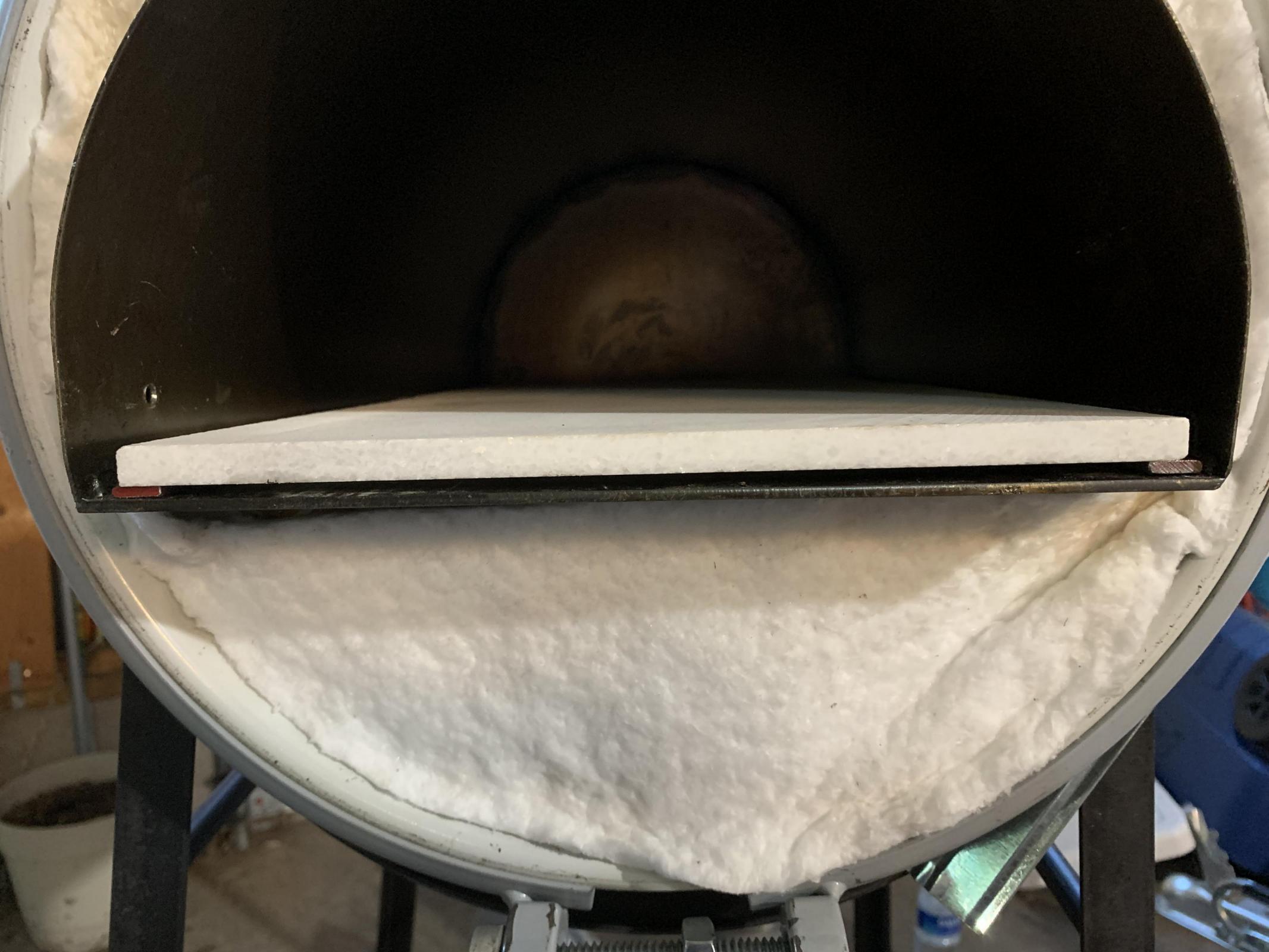 Tripods and a kettle on an open campfire sound like a great way of outdoor cooking, but a stone stove or outdoor survival oven is a much better way to go.
Gusts of wind that might blow smoke and sparks all over the place won't bother you anymore, and heat stays where it is needed. Stone stoves and outdoor survival ovens beat an open campfire, no matter how well built and maintained, every time.
I love preserving old knowledge, and this article is no exception. It is based on Harper's Outdoor Book for Boys by Joseph Adams, which is freely available at the Gutenberg Project. This is my 'modern' rewrite of it, with original pictures.
Whether you're preparing for whatever may come your way, or specifically looking for a great weekend outdoor backyard project, these outdoor cooking stoves and ovens are worth looking at.
Read on below and discover which stone stoves and outdoor survival ovens are best for you and your outdoor cooking needs!
Table of contents
Stone stoves are a much better option for cooking fires, as shown in fig. 32. With most stone ovens, the fire stays in the stone enclosure and the majority of the heat remains in the center, right underneath your pot.
To make this stove, start by collecting flat stones and some clay if you can get it. Clay is often found in the bed of creeks and dry river beds and can be used to seal the joints of your stone stove.
Sealing the joints will make your fire burn better, as the only entry for draught is the draught-hole (the doorway at the base of the stove), which is also where you feed sticks into the fire.
Make a draught hole on 2 or 3 sides of your stone stove. You can use just one, and close off the other holes to suit the direction of the wind.
Hang the pot on the center pole so it touches the top of the stove and holds the heat. You can also use a pan on top of the stove for frying fish or meat, and in a pinch for smoking meat while camping.
You can make this stone stove either round or square. If you have bricks available, they're easier to use than stones because they're simpler to stack nearly without big gaps.
The center pole (or ridge pole) should be supported by 2 sticks in a tripod (or two-pod) on one end, and a yoked stick on the other end. Embed the yoked stick into the ground for at least a foot, so you can remove the center pole without the whole thing collapsing.
Always build your campfire or stove in the shade; it won't burn well in the sun. If it rains, you can put a canopy over the stone stove to keep it dry.
How to Build a Trench Cooking Fire
Onto figure 33, which is another setup suitable for using for a few weeks whether in the backcountry of the national park or in your backyard.
The trench cooking fire is a great idea to build with the kids and enjoy your favorite grills and roast chestnuts on for the summer holidays, or camp around in the backyard!
Dig a trench with square sides, 18 inches wide, a foot deep, and as long as the distance between your upright poles. Make the fire in the hole, on the ground.
The wind won't bother you half as much as a normal campfire above ground, so long as you set your trench up decently.
If you have the gear and want to go a step further, have a closer look at figure 35. The trench cooking fire involves walling up the sides of the trench with bricks and building a small chimney at one end.
Metal 's' hooks can be used to hang kettles on your center pole as well, making it even more convenient.
How to Build a Hillside Stove/Outdoor Survival Oven
Figure 36 shows us an outdoor kitchen that the army used to use for camp cooking, and it's a great outdoor kitchen for all-around stuff.
You can use this design for heating water/making coffee as well as cooking/baking most camp food. Outdoor survival ovens are also utilized for heat and as a central gathering place for engaging in fun and games around the camp.
A decent outdoor survival oven does take a fair bit more time to build than the other DIY stoves above, but it is well worth it, for the cooking and novelty factor.
Start constructing your outdoor survival oven by digging a hole, about 3 feet square and 2 feet deep. It's best to dig into the side of a hill, if possible.
The next couple of steps seem more complicated than they really are. We suggest reading over them a couple of times in a row and having an additional look at the graphics.
Continue by running a lateral shaft on one side, approximately 1-foot square and 6 feet long, 1 foot from the surface of the ground.
At the extreme end, sink a shaft vertically and form a chimney, and pierce holes at equal distances.
Make the holes the right size so kettles don't slip through. Like this, the kettles can be placed over the fire to boil, or on the side to simmer.
A reproduction of a regimental bake oven in a grass hill at Valley Forge National Historical Park
How to Build an Outdoor Bread Oven
I want to tell the young camper how to bake his own bread in camp, so if he camps far from a store or house where he can buy his bread he will not have to eat crackers, or those indigestion-producers, flapjacks, that the youthful camper knows how to make, or thinks he does.
We'll refer to figure 37 now:
A bank from 4 to 6 feet is the best for this outdoor bread oven type stone stove.
Start by digging down the bank to a vertical face and excavate a hole at the base of 3 to 4 feet horizontally.
Make sure you keep the entrance to your bread oven as small as possible.
Hollow out the sides and arch the roof next. Work them until the floor of the oven is about 2 feet wide, and the arch is about 16 inches at its center.
Now, carefully "tap" the back end for a chimney, and put a piece of stove pipe in it if you have it. Aim for a hole that measures 4 to 6 inches wide.
Make sure to wet the inside and smooth over the walls. That way the mud hardens properly. Leave it to dry for a day.
When you're ready to bake bread in the oven, build a good fire in it, and remove the fire when it is nice and hot. Scrape the ashes out and put the pans of dough inside.
Close the entry with a board and cover it with mud so you keep all the heat in. If you look after this oven, it'll last you several weeks!
DIY Oven Without a Bank
In the case you don't have a bank to build the bread oven in, you can build a good oven on level ground also. I've put the same illustration on here again because we'll refer to figure 34 this time.
If you have a barrel, use it. If you don't have a barrel, use twigs of willow stuck into the ground and bent over to form a mold.
Over the barrel or willow mold, plaster a stiff mortar made of mud, starting at the base.
Fair warning: building stone stoves like these requires a bit of patience, if not practice.
Lay the mortar onto the barrel, applying it onto the surface about 6 inches thick. Leave the barrel and plaster to dry for one to two days before moving on.
Once the barrel/mortar are nearly dry, cut a door at one end and a flue on the other end.
If you don't have a piece of stove pipe handy, you can build a small mud chimney to increase draught. In the case you used a barrel for creating your mold, you can burn it out without hurting your oven.
Lastly, remove all the dirt and keep up a fire for at least half a day before baking. The next step is actually using this nifty stone stove for baking bread or making campfire pizza!
Traditional Moroccan outdoor earth clay oven made of sandstone and mud.
FAQs About Stone Stoves and Outdoor Survival Ovens
How do you build a rock stove?
Building a rock stove is similar to, and sometimes is one and the same thing, as making a stone stove or outdoor survival oven. The most basic rock stove is built by leaning two semi-large rocks together, on top of a flat stone or another hard surface. The fire is built inside of the small hole created by the two to three rocks.
What's the difference between a stone stove and a rock stove?
The main difference between a basic rock stove and a stone stove is that rock stoves are often more primitive, and much smaller. Further, rock stove designs typically allow just enough room for a small fire for warmth, heating, and minimal cooking. Stone stoves and outdoor survival ovens, on the other hand, are normally designed for greater functionality, including cooking, heating, and as a social point.
What is the best simple camping stove to build?
The list of simple stoves you can build while camping is a long one. Some of the best options include stone stoves and rock stones, including trench, pit, mound, hillside types, and more. Building an outdoor survival oven is also a great alternative for your cooking and heating needs during camping trips.
A Final Word About Building Stone Stoves and Outdoor Survival Ovens
Building a stone stove or outdoor survival oven is almost always the best choice. Especially in comparison to an open fire and a kettle, or backpacking a heavy cooking stove to your camping site.
Building stone stoves or outdoor survival ovens is a far better solution.
Hopefully, with all of the choices listed above, you can now decide which stove or oven is best for you. Just remember to keep all of your outdoor cooking styles/needs in mind when you do so!
From stone stoves for use with a cooking pot to trench-style cooking stoves and outdoor survival ovens to bread ovens. You have plenty of options to choose from for your next backyard cooking session or camping trip!
If you've built a stone stove/outdoor oven in your backyard or while camping, I'd love to hear about it.
Let us know all about it in the comments section, and don't be shy with your photos either!