No-bake bars and cookies are just as delicious as baked versions, but they won't heat up the house or take up valuable oven space. These delectable desserts are quick, easy, and—most importantly—don't require an oven!
No-Bake Lemon Drops
Get ready to pucker up for this no-bake cookie recipe. It's got a double dose of sour. Tangy crushed lemon drop candies are mixed into the cookie, and then each ball is rolled through even more crushed candies. Though these no-bake lemon cookies are small, they pack a ton of citrus flavor into a one-bite dessert.
Pistachio Bars
These gorgeous no-bake bars are SO pretty when they're sliced. You can truly appreciate the layers of pistachio-graham cracker crust, pistachio pudding, and luscious chocolate ganache. With a sprinkle of extra pistachios on top, this pistachio dessert is eye-catching and enticing even before you make the first cut.
Chocolate-Marshmallow-Peanut Clusters
Peanut-lovers, add this peanut butter no-bake cookie recipe to the very top of your list of desserts to try. Chocolate and peanut butter help hold together honey roasted peanuts and mini marshmallows in this tasty crunchy and chewy dessert. The recipe makes about 45 servings, so you'll be able to serve a crowd.
Test Kitchen Tip: Prepare these no-bake treats on baking sheets lined with waxed paper to prevent sticking and have less mess to deal with later.
Choose-Your-Flavor Edible Cookie Dough
If you find yourself reaching for a taste of the cookie dough before your cookies go in the oven, here's an easy no-bake dessert to try. In order to make raw flour safe for eating, all you have to do is spread it on a shallow baking pan and pop it in the oven for a few minutes. From there, you can build the cookie dough of your dreams. Choose from chocolate chips, sprinkles, peanut butter cups, you name it!
Chocolate-Cherry Dips
This chocolate no-bake cookie recipe might trick your guests into thinking you spent all day baking in the kitchen. But really, these easy chocolate-cherry treats don't require much effort. Just sandwich a scoop of creamy cherry filling between two vanilla wafers, dip in melted chocolate, add sprinkles if you're feeling fancy, and let them cool. You'll have a showstopping dessert in minutes not hours.
Dulce de Leche Pretzel Bites
Sweet-and-salty pretzel bites easily make any dessert plate look more festive. A decadent dulce de leche filling is sandwiched between two crunchy pretzels then covered with vanilla candy coating. Since dulce de leche is sticky enough to hold the pretzels together on its own, this is a rare no-bake cookie recipe without peanut butter (great news for anyone with allergies!).
No-Bake Butterscotch Bars
Love Butterfinger candy bars? Then you've got to make these no-bake butterscotch bars that use Butterfingers as one of the main ingredients. We mixed some of the chopped candy bars into the butterscotch pudding layer, and the rest are sprinkled on top of the chocolate frosting. Each square is like your own homemade candy bar!
Classic No-Bake Cookies
These classic no-bake oatmeal cookies are one of our all-time favorites. Rolled oats, peanut butter, and chopped peanuts make for an extra tasty cookie, while a scoop of cocoa powder makes them chocolaty to boot. In fact, this easy recipe only takes 20 minutes of hands-on time. The other 30 minutes is just testing your patience while you wait for them to cool.
Peanut Butter Truffles
Just as good as no-bake peanut butter bars, this chocolate peanut butter cookie is essentially the same thing in bite-size ball form. Dark chocolate pairs with creamy peanut butter in these decadent treats. And you can make your homemade truffles look like they came from a fancy bakery by sprinkling with chopped peanuts before the chocolate is set.
No-Bake Butterscotch-Pretzel Bars
A pretzel-peanut butter crust holds these bars together but lets the butterscotch flavor shine. Everything about this dessert is delicious (you can't go wrong with peanut butter desserts, after all), but it's the combination of salty and sweet in every bite that makes this one of our best no-bake bars.
Chocolate Cheesecake Bars
Any collection of no-bake dessert bars must include cheesecake bars, like this chocolate version. Spike the cream cheese frosting with chocolate liqueur for a rich, boozy finish. Top off this sweet recipe with chocolate chips to add even more decadence to these extra-chocolaty bars.
Yummy No-Bake Bars
Peanut butter and chocolate are like the PB&J of the dessert world: a perfect match! This is especially true in the form of no-bake peanut butter bars. A sweet peanut butter-cereal crust is topped with layers of creamy vanilla pudding and rich chocolate frosting. If you want to add a little crunch to your no-bake bars, add a sprinkle of peanuts on top.
No-Bake Cake Batter Puppy Chow Bars
Colorful sprinkles and vanilla extract are the secrets to capturing the flavor of cake batter in these no-bake bars. Toss them with butter, marshmallows, cereal, and vanilla candy coating to make this easy treat. A final sprinkle of powdered sugar is the finishing touch.
No-Bake Irish Cream Pudding Bars
These crispy bars are a jazzed-up version of the classic rice cereal treats. Make them stand out by adding your favorite dried fruit, chopped nuts, and flavored baking pieces. You can easily make these no-bake dessert bars a treat for the holidays by mixing in nutmeg, dried cranberries, and chopped pecans.
No-Bake Peanut Butter-Oat Bites
Reminiscent of peanut butter cookies, this no-bake cookie recipe is peanut butter and honey at its core. Coconut, oats, chocolate, and fruit make these bites look pretty, but they also amp up the flavor. Roll each ball through shredded coconut before chilling to give the exterior a fancier finish.
Prizewinning Caramel Apple Bars
These six-ingredient bars may look complex, but they only take 25 minutes to toss together. Let them sit for an hour before enjoying the peanut buttery, caramel-appley, nutty fusion of flavor. Indulging in one of these yummy no-bake bars is healthier than having a traditional caramel apple for dessert thanks to the higher protein and smaller serving size.
4-Layer Nougat Bars
Maybe our fastest no-bake cookies ever, these crunchy gems take just a few minutes to assemble once you melt the candy coating. Even better, you only need five ingredients to make these cookies. Since they're so speedy, simple, and delicious, we're ready to name them our best no-bake cookie recipe ever when time is at a premium.
Chocolate-Raspberry Bites
As this no-bake cookie recipe proves, chocolate and raspberry are a truly decadent combination. Spread sweet raspberry jam between two chocolate wafers, then add a thick layer of chocolate icing and let it drip over the side for effect. For a fresh finish, try adding a raspberry on top of this no-bake dessert (before the chocolate fully hardens).
No-Bake Browned Butter Cookie Dough Bars
If you love edible cookie dough, these no-bake bars are a must-make. Stick with our classic browned butter chocolate chip or try one of our variations like cake batter, monster cookie, and peanut butter cup. We recommend baking a batch and storing them in the freezer for up to 3 months so you've got a treat whenever a craving hits!
Coconut-Date Cracker Bars with Browned Butter Glaze
Crackers make for a super easy, buttery crust that balances the browned butter topping (and a tasty change from graham crackers). The coconut-date layer adds bursts of flavor and texture, and the dates do double duty as a natural sweetener. You can freeze these no-bake dessert bars for up to a month, so feel free to get a jump on your holiday dessert-making now.
No-Bake Lemon Dreams
Make these sweet-tart treats with off-the-shelf sugar cookies and luscious lemon curd. Decorating the edges with stars or rosettes (of piped-on purchased frosting) gives these cookies a gourmet look. The easy no-bake cookie recipe looks homemade but lets you skip the time-consuming baking and go straight to the fun of cookie decorating.
Key Lime Cheesecake Bars
Rather than spending a huge part of your day making a cheesecake from scratch, make these no-bake cheesecake bars. They're still creamy and delicious but a lot less work. Lime gelatin and key lime wedges give these bars their tang, while cream cheese and cottage cheese (yes, cottage cheese!) make them smooth and creamy. This no-bake dessert might even be gobbled up faster than key lime pie.
Neapolitan Marshmallow Treats
The classic Neapolitan flavors, chocolate, strawberry, and vanilla, shine in these easy marshmallow treats. Take a cue from on of our BHG home cooks and customize it with your favorite flavors. "I used raspberry jam instead of strawberry!"
These healthy No Bake Cake Pops are melt in your mouth good with a creamy white chocolate shell, sprinkles, and no oven or cake mix required.
Made with oat flour, sunflower seed butter, and applesauce to sweeten, they are a healthier option! Best of all, they're great for kids to bring to school because they're allergy-friendly.
You'll love these no bake cake pops for birthdays, spring parties, or a fun treat that will easily in the freezer for a couple months.
Need another healthy no bake treat? Try my white chocolate cereal bars.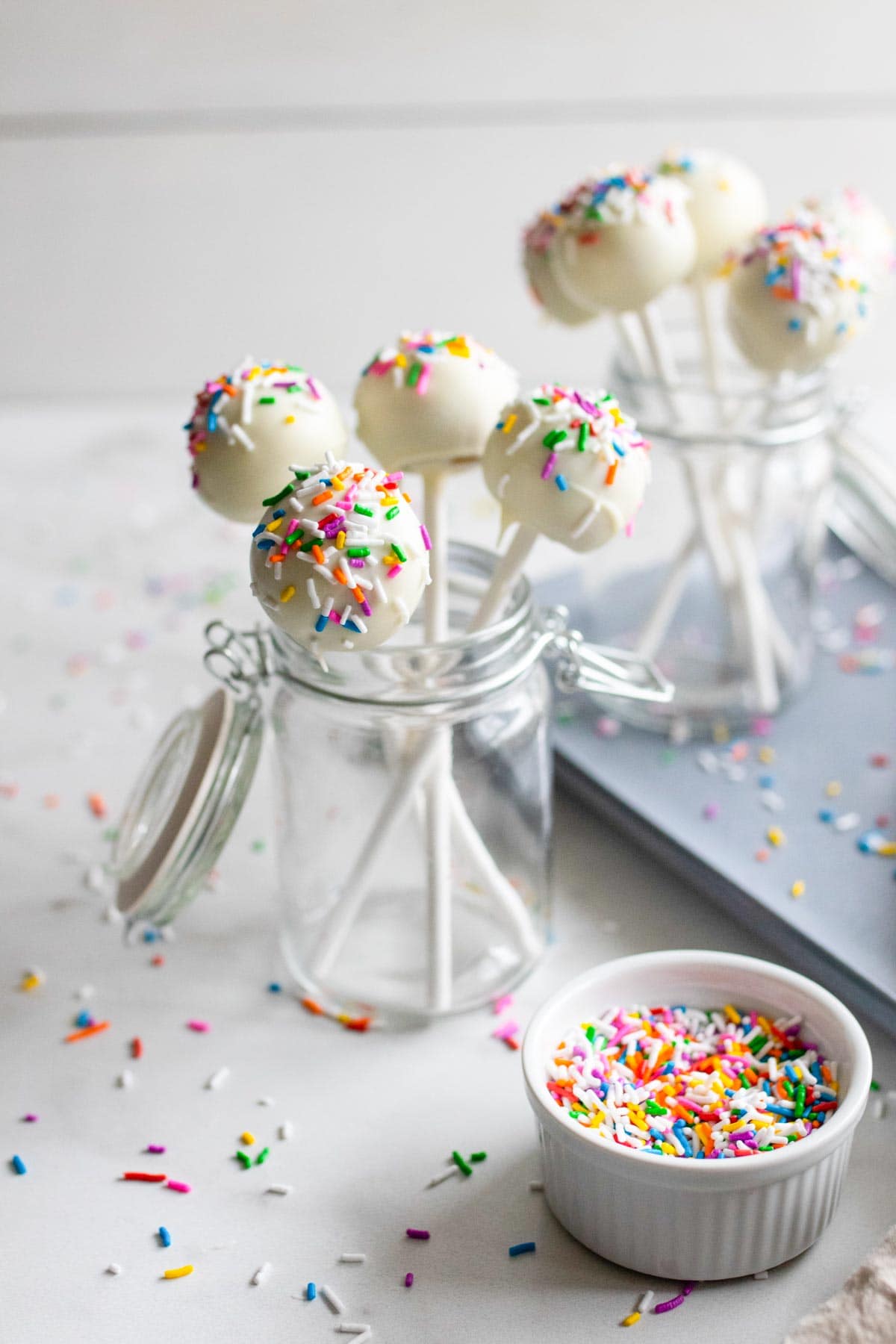 The Best No Bake Cake Pops
What's so great about this recipe is it accommodates so many types of diets while being super delicious. After I finished the cake pops and tasted one, I almost didn't want to give them away!
You'll love these no bake cake pops because:
Allergy Friendly – These are nut free, gluten free, egg free and can be made dairy free.
Delicious – They're soft on the inside almost like a truffle and have the classic white chocolate shell on the outside.
Healthy – The applesauce lends a lot of natural sweetness.
Easy – No need to bake a cake or even use cake mix for these!
Why You Shouldn't Use A Cake Mix
It's really important that you don't use cake mix in no bake cake balls without baking it first for health reasons. A lot of us get concerned about using raw egg and salmonella, even if it's a small risk. What people fail to realize is raw flour can actually cause a food borne illness.
This is why oat flour is used in this recipe. Because it's just ground oats, it is ok to eat raw.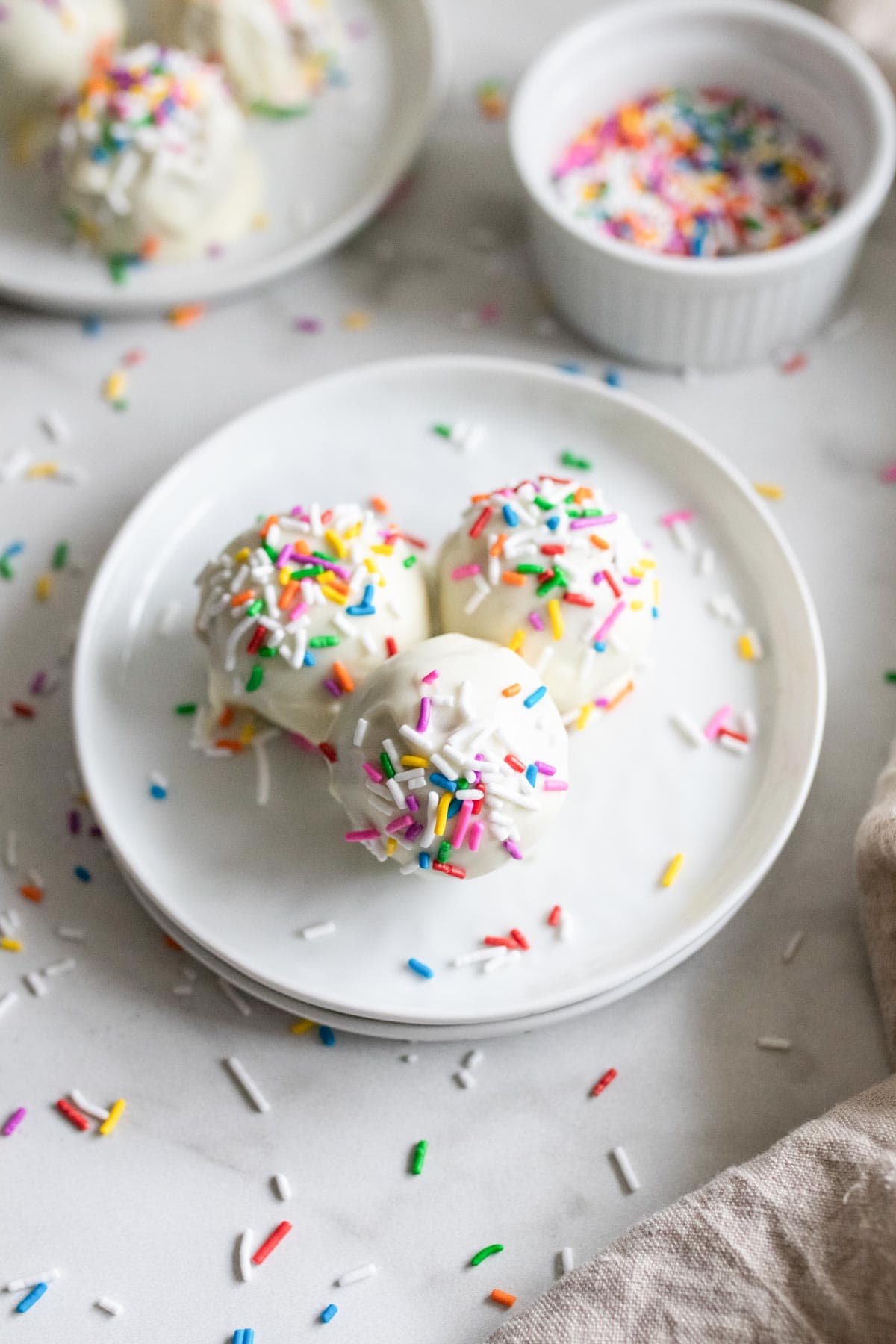 Cake Pops without Candy Melts
A lot of cake ball recipes use candy melts because it's easier to work with and hardens quickly, plus it's a little more stable at room temperature. However, I find both the taste and texture is not as good as real white chocolate. Plus the ingredients aren't as good!
If you are careful with melting the chocolate, you should not have any issues. This involves using a low heat – either in the microwave in increments or using a double boiler method. This is called tempering. Overheating chocolate can cause it to become muddy.
Ingredients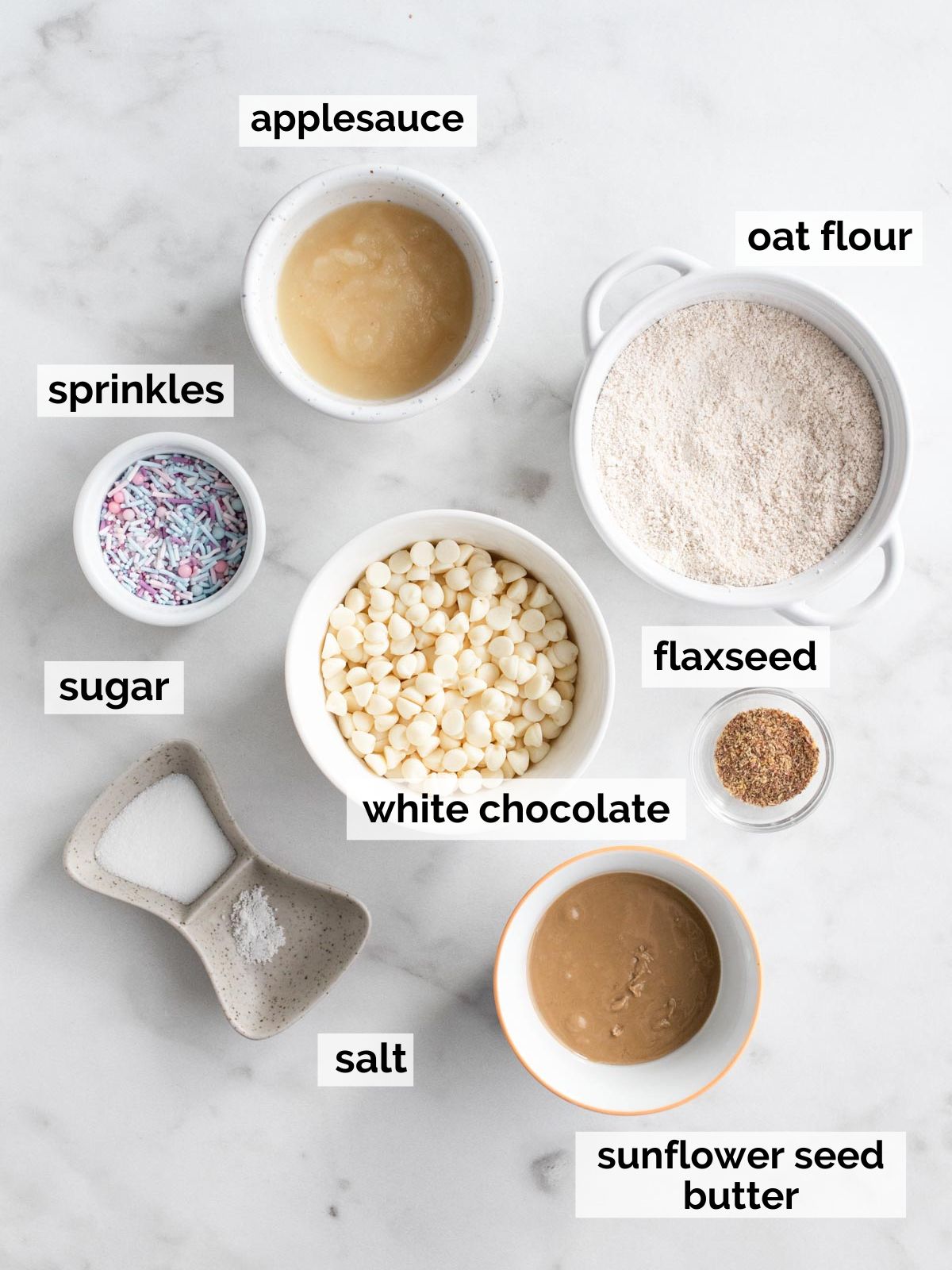 Just a few simple ingredients are needed for these no bake cake pops.
Oat Flour – You can buy this or make it at home by grinding rolled oats in a food processor till they form a flour consistency.
Sunflower seed butter – I used Sunbutter organic brand, but pumpkin seed butter would work here too.
Applesauce – This works as the "icing" that gets mixed in and helps to form the ball. I recommend unsweetened.
Flaxseed meal – This ground flaxseed actually gives you a brain health boost with Omega 3 fatty acids and fiber.
Sugar – I recommend adding this if using unsweetened applesauce and sunbutter.
White Chocolate Chips – My favorites are Callebaut, Divine, Ghirardelli. Walmart and Enjoy Life make white baking chips that are dairy free, although I find Enjoy Life doesn't melt quite as well as other brands.
Sprinkles – Any fun colored sprinkles will work! You can even find some sprinkles that are naturally dyed with vegetables if you're into that.
Step-by-Step Process
These healthy no bake cake pops are allergy friendly and nut free, making them great for a school birthday treat. Filled with a mix of sunbutter, applesauce, and oat flour, they're coated in white chocolate and sprinkles. A great birthday cake ball!
Step 1: Make the dough
Place the oat flour, flaxseed, sunflower seed butter, applesauce, sugar, and salt in a bowl and stir till fully combined. Use a cookie scoop to scoop even balls and roll in your hands, placing them on a parchment paper.
Chill in the freezer for at least 30 minutes to 1 hour. If using cake pop sticks and have the room in the freezer, insert them now so they can be frozen with the ball.
Step 2: Melt the white chocolate
Meanwhile, either using a double boiler or microwaving in 20 second increments and stirring often, melt the white chocolate. I prefer the double broiler so the chocolate doesn't overheat and seize up.
A double boiler is just a heat proof bowl over a pan of low simmering water. Stir the white chocolate pieces often till smooth and melted.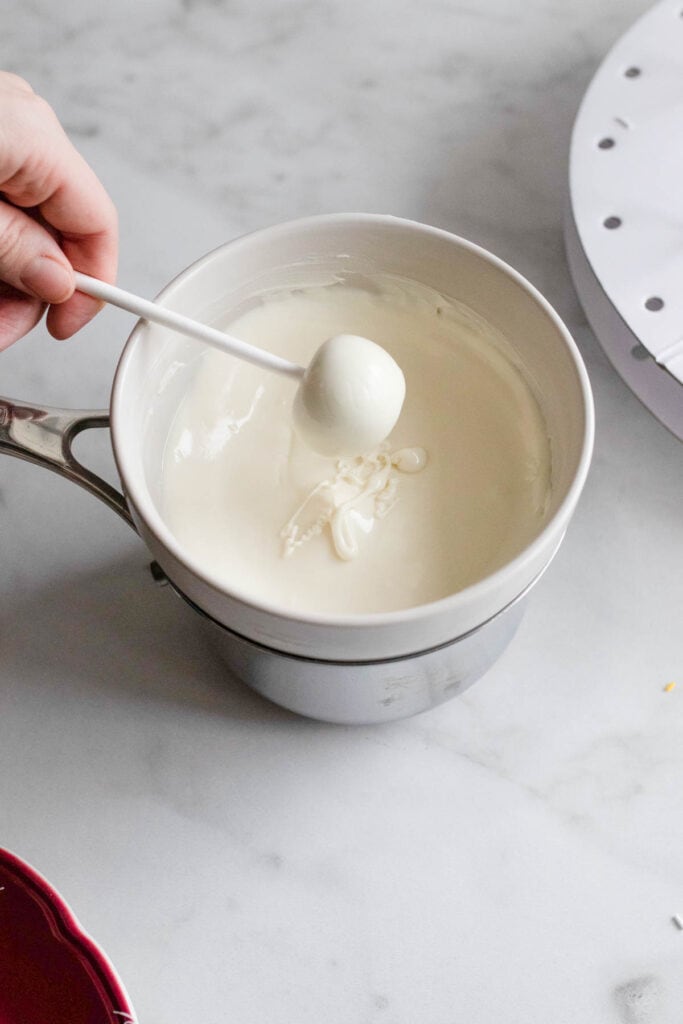 Step 3: Coat the balls with white chocolate
If freezing the balls without the sticks, you may need to wait 15-20 minutes for them to soften enough to add the sticks. Add cake pop sticks, if using, and dip the chilled cake balls into the melted white chocolate. You can use a cake stand to let them cool or punch holes in an old cardboard box.
These are also great just as balls without pop sticks. If making this way, use a spoon to dip into the white chocolate and let them cool on parchment paper.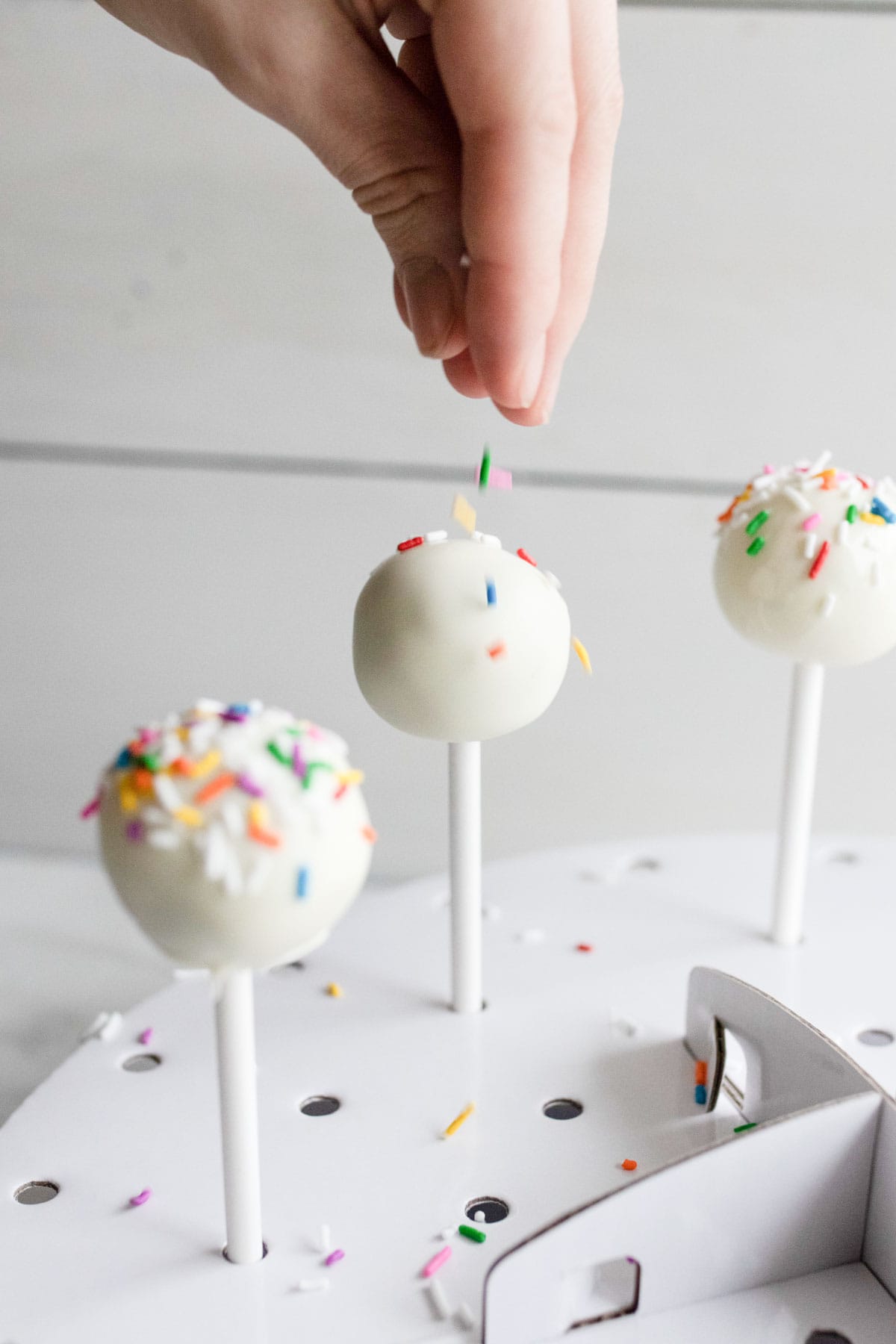 Step 4: Add sprinkles
Before the white chocolate hardens, add colorful sprinkles on the tops. Store in a cool place (or in the fridge) till the white chocolate hardens. These also store well in the freezer if you're making balls instead of pops.
Do I Need a Cake Pop Stand?
Using a cake pop stand like this one isn't necessary, but it does make life easier and also makes a nice display. You can find them on Amazon. If you don't intend to display them, just use a leftover cardboard box that you can poke holes into! This will allow them to dry and harden in a pretty way!
Storage Tips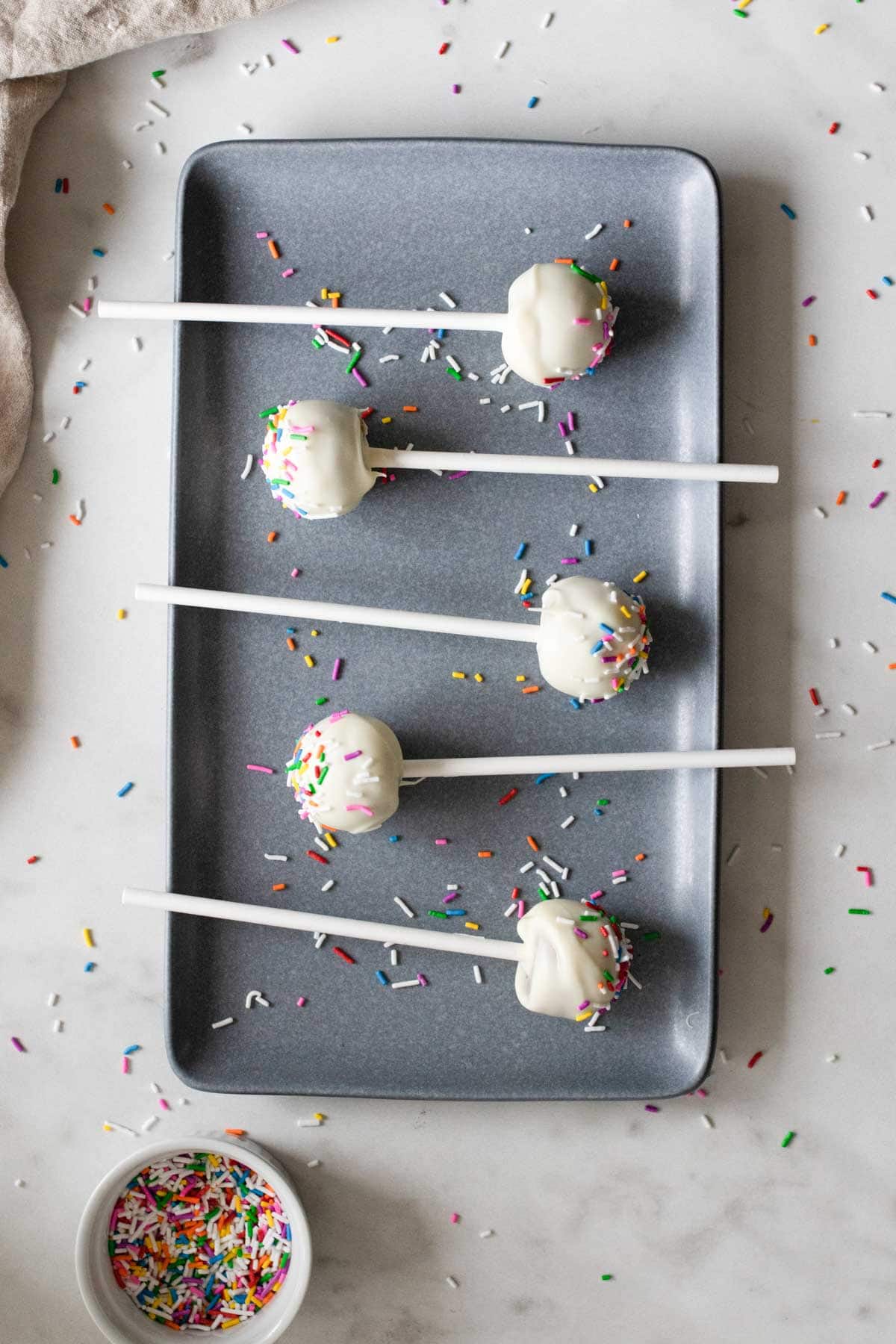 If serving that day, store the cake pops in the fridge till ready so the white chocolate doesn't soften, especially if it's a warm day.
These store in the freezer for up to 5 months. Before serving from the freezer, allow the cake pops to sit at room temperature for at least 15 minutes. Otherwise they'll be too hard to bite into!
Substitutions
Sunflower seed butter – Can be subbed with pumpkin seed butter (88 acres) or any other type of nut butter (if tolerated).
For extra sweetness – I've used ground biscoff cookies or shortbread cookies instead of oat flour to make these extra decadent! They don't need the added sugar. Just pulse the cookies in a food processor to get cookie flour.
For vegan – Use a dairy free, vegan white chocolate.
Sprinkles – Try adding extra sprinkles to the dough for a birthday cake pop!
Recipe FAQ
How do I form the dough into a ball?
Getting cake pops to stick together means you need a good balance of liquid to flour. If you find yours are falling apart, try adding a little more applesauce to the mix. Too soft to form? Add more oat flour.
How do I get the cake pop to stay on the stick?
It's essential your cake pops are chilled! Freezing them will help them hold together, especially when dipping into the melted chocolate. You can also dip the stick into the chocolate first before placing it into the ball.
Can I make these into no bake cake balls?
Yes! No pops needed! All you have to do is roll the cake ball in chocolate and place onto a sheet of parchment paper to cool.
Help! My cake pops fall off the stick.
Try inserting the stick before freezing the cake ball. This can be tricky with freezer space, but it will help the cake pop stay on the stick. Also, serve these cold since you are using good quality white chocolate. If using a compound chocolate, the outer shell will not soften as fast at room temperature.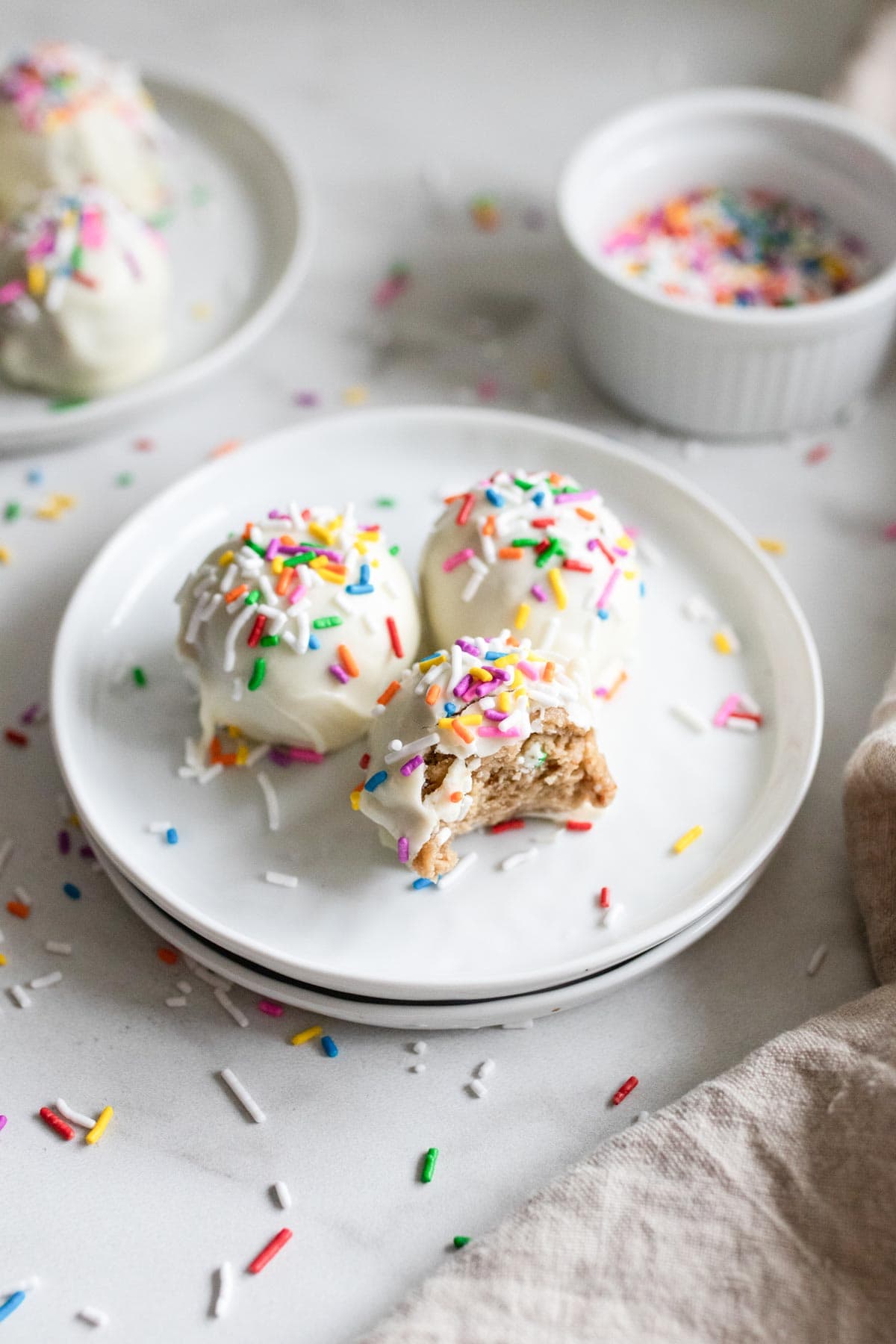 White Chocolate Desserts
sunflower seed butter
white chocolate chips
pinch of salt
Combine all the ingredients in a bowl except white chocolate and sprinkles. Stir with a spatula till well-combined. Use a 1 inch cookie scoop to scoop the dough and form into round balls with your hands. If using sticks, insert the sticks now if you have room in your freezer. Freeze for 1 hour.
To melt chocolate with a double boiler – place a heat-safe bowl over a pot of simmering (not boiling) water – maintain the heat between low to medium to keep the water from boiling. Place the white chocolate pieces or bars in the bowl and stir consistently till the pieces have melted and are smooth. Remove from heat immediately.
To melt chocolate in the microwave – place white chocolate pieces in a microwave-safe bowl and heat in 20-30 second increments until just starting to melt. Stir after each increment until fully melted and smooth.
If inserting the sticks after freezing, you will need to wait 15-20 minutes for the balls to soften enough to insert. Then coat a cake pop stick tip with melted white chocolate and place into the ball. Dip the balls into the melted chocolate, top with sprinkles, and poke a hole into a sturdy cardboard box or use a cake pop stand to allow the chocolate to harden.
If not using a cake pop stick, use two spoons to coat the balls into the chocolate, then top with sprinkles. Place on parchment paper to harden. If you have space in the refrigerator, it will speed the process.
Serve cool or store in the freezer for up to 6 months, allowing them to sit at room temperature for at least 15 minutes before eating so they can soften.
This recipe makes between 15-20 cake pops.
Add optional 1 teaspoon of non-alcoholic vanilla extract for a boost of flavor!
For better flavor, texture, and ingredients, use white chocolate. If you need a coating that's easier to work with and hardens quickly, use candy melts.
For a birthday cake cake pops, stir in 1 tablespoon of sprinkles directly into the dough when mixing.
White chocolate will seize up if water comes into contact with it, so be careful to not let the water boil over if using a double boiler method.
These are best stored in the fridge till you're ready to serve.
If wanting to make these into cake balls, use two spoons to dip the ball into the white chocolate and place on parchment paper to harden.
Classic cheesecake gets a healthy twist with this healthy cottage cheesecake recipe. Enjoy a delicious cookie crust with a silky, creamy cottage cheese filling and a luxurious blackberry sauce.
Baking with cottage cheese is a winning choice for health-conscious bakers. Not only is it packed with high protein and calcium content, but it is low in fat and carbs.
So this easy and quick cheesecake without cream cheese, but made with blended cottage cheese instead, is perfect for those looking to pamper themselves guilt-free.
Interestingly, the subtle saltiness of cottage cheese compliments the flavors of this easy cheesecake recipe saving you from the need to add a pinch of salt.
Why you should try this recipe
Healthier cheesecake. Due to low calories and high nutritional profile, this cottage cheese cake, sometimes spelled like this, is a healthier alternative to classic cheesecake.
Brings a nutrient-pack food to kids. While cottage cheese is on a list of foods that kids dislike, cottage cheese in baking is almost unnoticeable. So don't pass this opportunity to introduce cottage cheese to your kids' diet.
Easy cheesecake recipe. With simple ingredients and no water bath required, this one-bowl recipe (with a food processor or blender option) is easy to make.
Makes a special breakfast. Choose a no crust cheesecake version (see below) and make it for breakfast. Serve it with blackberry sauce to upgrade it to an extra-special morning treat.
Perfect for any occasion. This cottage cheese dessert is warm and cozy and is a delicious alternative to a traditional birthday cake. Cottage cheesecake brings so much comfort to the table.
Cookies: Use digestive biscuits, graham crackers, or gluten-free alternatives. Crush them with your hands, use a food processor, or place cookies in a plastic bag and crush them with a rolling pin.
For an easy cheesecake base, try using store-bought regular graham cracker crumbs. Or turn those biscuit scraps from Medovik Tort into a delicious cookie crust.
Butter: The recipe calls for unsalted butter, melted and cooled to room temperature.
Cottage cheese is the key ingredient. For the best results, choose full-fat cottage cheese, but you can replace it with low-fat or fat-free options.
Sour cream: To make your cheesecake creamy, opt for full-fat sour cream, although a healthier low-fat alternative will also work.
Almond flour: use almond flour (not almond meal) or replace it with hazelnut meal.
Eggs: Use large eggs at room temperature. Take them to the counter about 30 minutes before you start.
Sugar: The recipe calls for granulated or caster sugar.
Vanilla extract: Choose the most flavorful Madagascar Bourbon pure vanilla extract or replace it with an alcohol-free vanilla flavor.
Blackberry: Use fresh or frozen blackberries to make the berry sauce. Let the frozen berries defrost, collecting the juice. You can replace blackberries with raspberries if desired.
Cornstarch is used as a thicker to make the blackberry sauce.
Variations & Substitutions
You can create the perfect cottage cheesecake for any occasion with numerous variations and ingredient substitutions.
Cheesecake with cottage cheese and cream cheese: Swap half of the cottage cheese in your cheesecake with full-fat cream cheese for a smooth and creamy twist.
No crust cheesecake. Omit the cookie crust and make a crustless cottage cheese cheesecake in no time.
Farmer cheesecake (aka dry curd cottage cheese cheesecake): Enjoy a delicious Eastern European twist on old fashion cheesecake with cottage cheese.
Just omit the cookie crust and replace cottage cheese with store-bought or homemade farmer's cheese to create a traditional Ukrainian cheesecake called Zapekanka.
Gluten-free cottage cheesecake. Replace wheat cookies or biscuits with gluten-free digestive, rich tea biscuits or other cookies of your choice.
Lemon cheesecake with cottage cheese: Add half of the lemon zest to the cheesecake filling to bring a tangy note.
Cottage cheese yogurt cheesecake: Enjoy creamy and delicious cheesecake by switching out sour cream with Greek yogurt.
Low carb cottage cheese cheesecake: Instead of full-fat dairy products, use fat-free or low-fat cottage cheese and sour cream.
You can cut back on the sugar or choose your favorite sweetener instead. If you are looking for a sugar-free cottage cheesecake recipe, try this diabetic cheesecake.
Single serving cheesecakes: Make mini cottage cheese cheesecakes using individual ramekins. Just don't forget the softened butter for greasing them.
Play with add-ins. Add raisins or chocolate chips to the cheesecake filling and bake as directed in the recipe.
Mix and match cheesecake toppings. Serve your cheesecake with fresh fruit, homemade berry compote, store-bought cherry pie filling, chocolate shavings, melted chocolate, streusel topping with caramel, etc.
How to make cottage cheese cheesecake
Preheat oven to 375 degrees F/190 degrees C. Place cottage cheese in a large fine-mesh sieve, stainer, or colander lined with a cheese or mesh cloth. Let the excess liquid drain.
Meanwhile, grease a 7-inch (18 cm) leakproof springform pan and line it with parchment paper on the bottom and sides.
To make a cookie crust, place crushed cookies with melted butter in a bowl and mix. With the flat bottom of a glass or the back of a tablespoon, press the crust into the bottom of a springform pan (photo 1). Set it aside.
To make the cottage cheesecake filling, transfer the drained cottage cheese to a large mixing bowl. Combine cottage cheese with sugar, sour cream, vanilla extract, and whole eggs with a hand whisk. Fold in almond flour and gently mix again (photo 2).
PHOTO 1 PHOTO 2
Pour the cottage cheese mixture into the prepared pan (photo 3) and bake cheesecake for 35-40 minutes (photo 4).
Take it from the oven and let it cool down (still in the pan) to room temperature for a couple of hours. Or chill the cheesecake in the refrigerator for 2-4 hours.
PHOTO 3 PHOTO 4
To make blackberry sauce, place blackberries with one tablespoon of water in a heavy-bottomed saucepan. Cover it with a lid, and cook over low-medium heat for about 7-8 minutes. Blackberries will fall apart and release juice.
In a small bowl, mix corn starch, sugar, and 1 tablespoon of water. Remove the cooked blackberries from the heat, and add the cornstarch mixture, stirring constantly.
Bring the saucepan to heat and cook, frequently stirring, on low for about 5 minutes until the sauce thickens. If it seems too thick, add 1-2 tablespoons of water, mix, and heat again. Pass the sauce through a fine-mesh sieve and discard the berries.
To serve, spoon the blackberry sauce over the individual slices and decorate with fresh berries.
Expert Tips
To recalculate ingredients for a springform pan of a specific size, please, use this simple cake pan converter.
Use a food processor or a blender to mix the cheesecake ingredients from start to finish if preferred.
To sieve cottage cheese manually, use the back of a tablespoon to pass cottage cheese through the fine mesh sieve. Working in small batches helps.
Don't overbake cheesecake: it is ready when it's center still wobbly. It will firm up as it cools.
Let the baked cottage cheesecake cool down before cutting it with a sharp knife.
How to store it
Store your cottage cheesecake refrigerated in an airtight container for up to 3 days.
Can you freeze cottage cheesecake? Wrap it with plastic film and aluminum foil and freeze it for up to 3 months. To thaw, please leave it in the refrigerator overnight.
Is there cheese in cheesecake?
Cheesecake is made with soft, fresh cheese as a primary ingredient, such as cream cheese, mascarpone, cottage cheese, or ricotta.
Is cheesecake healthy?
Despite cheesecake being rich in protein and calcium, it is high in fat and sugar, so it carries a high-calorie intake. So cheesecake is a food that should really be enjoyed in moderation.
Can you use cottage cheese in cheesecake?
You can make cheesecake with a healthier alternative to cream cheese – cottage cheese, which is high in protein, calcium, and selenium and low in fat and carbs.
Is cottage cheese cheesecake healthier than regular cheesecake?
While cottage and cream cheese are rich in vitamins, cottage cheese is packed with more protein, fewer calories, and less fat and carb content than cream cheese. So it seems that cottage cheesecake is a healthier winner than its regular counterpart.
Where to buy cottage cheese?
You can buy fresh cottage cheese in a dairy department or a specialty cheese or deli area in a grocery store. Look for it in a farmer's market along with farmer's cheese, which is an excellent alternative to cottage cheese.
Love cottage cheese desserts? Try these next!
No worries! This simple cake pan converter is here to help. Now you can easily adjust any size of pan to fit your needs.
Recipe card
This cottage cheese cheesecake is a healthy twist on a classic cheesecake. Enjoy a delicious cookie crust with a silky, creamy cottage cheese filling and a luxurious blackberry sauce.
Total Time: 1 hour (plus resting time)
Yield:
Method:
Cuisine:
For cookie crust:
() crushed cookies/biscuits
butter, melted
For cottage cheesecake filling:
+ 2 tablespoons () cottage cheese, drained
+ 2 ½ tablespoons () sour cream
large eggs
() granulated sugar
vanilla extract
() almond flour
For blackberry sauce (optional):
() blackberry (plus a few for decoration)
water
granulated sugar
cornstarch
Prevent your screen from going dark
Preheat oven to 375 degrees F/190 degrees C. Place cottage cheese in a large fine-mesh sieve, stainer, or colander lined with a cheese or mesh cloth. Let the excess liquid drain. Meanwhile, grease a 7-inch (18 cm) leakproof springform pan and line it with parchment paper on the bottom and sides.
To make a cookie crust, place crushed cookies with melted butter in a bowl and mix. With the flat bottom of a glass or the back of a tablespoon, press the crust into the bottom of the pan. Set it aside.
To make the cottage cheesecake filling, transfer the drained cottage cheese to a mixing bowl. Add sugar, sour cream, vanilla extract, and eggs, and mix with a hand whisk. Fold in almond flour and gently mix again.
Pour the mixture into the prepared pan and bake for 35-40 minutes. Take it from the oven and let it cool down to room temperature for a couple of hours. Or chill the cheesecake in the refrigerator for 2-4 hours.
In a small bowl, mix cornstarch, sugar, and 1 tablespoon of water. Remove the cooked blackberries from the heat, and add the cornstarch mixture, stirring constantly.
To serve, spoon the blackberry sauce over the individual slices and decorate with fresh blackberries.
Notes
To recalculate ingredients for a springform pan of a specific size, please, use this simple cake pan converter.
Use a food processor or a blender to mix the cheesecake ingredients from start to finish if preferred.
To sieve cottage cheese manually, use the back of a tablespoon to pass cottage cheese through the fine mesh sieve. Working in small batches helps.
Don't overbake cheesecake: it is ready when it's center still wobbly. It will firm up as it cools.
Let it cool down before cutting it with a sharp knife.
Store your cottage cheesecake refrigerated in an airtight container for up to 2-3 days.
Nutrition
Serving Size:
Calories:
Sugar:
Sodium:
Fat:
Saturated Fat:
Carbohydrates:
Fiber:
Protein:
Cholesterol:
Keywords: cottage cheese cheesecake, cottage cheesecake
The nutritional information has been calculated using an online recipe nutrition calculator such as Verywellfit.com and is intended for informational purposes only. These figures should be used as a general guideline and not be construed as a guarantee.
This chocolate marble cheesecake is made with a combination of vanilla and chocolate batter – with a bit of sour cream for extra tanginess – and swirled together to create a marble effect.
Nestled into a crust made of Oreo cookies, this chocolate swirl cheesecake is super creamy, dense, and has the best of both worlds. It's quite an impressive dessert that is sure to please a crowd.
Why You'll Love This Recipe
This is a total showstopper recipe, that doesn't require too much effort (although a bit of time). This chocolate marble cheesecake would be perfect for birthdays, and even better for Valentine's Day!
Texture: This is a dense, yet creamy baked New York-style cheesecake, most akin to a traditional cheesecake. It's got that crunchy chocolate crumb crust that contrasts perfectly with the filling.
Flavor: This cheesecake has the best of both worlds – chocolate cheesecake and vanilla cheesecake! A classic vanilla flavor mixed with a rich chocolate flavored batter, and neither one is too overpowering. I chose to go with a chocolate crust to bring home the dark chocolate flavor, which I think compliments the bake best.
No traditional water bath: if you're a big lover of cheesecake making, you probably know how much of a pain it is to wrap your springform pan and pray to the Gods that the water bath doesn't leak through to your precious baked good!
Luckily, I've found a method that eliminates that step, which is to put a pan of boiling water in the bottom of the oven. This helps to create enough steam and moisture to replicate a true water bath! Ta da!
This recipe uses the basic cheesecake recipe from my Caramel Pecan Cheesecake, which is a perfect vanilla cheesecake base. It's also used in my Mini Strawberry Cheesecake Cups and Mini Speculoos Cheesecake.
The ingredients for the chocolate marble cheesecake are quite simple, most of which you likely already have as a pantry staple.
Sugar, Oreo crumbs, butter, cornstarch, eggs, cream cheese, chocolate, vanilla, sour cream.
Oreos. Almost a full pack is used for the crust, both the creme filling and the cookie. This way, you don't have to do any tedious separating.
Butter. Unsalted, melted butter is used to bind the crust.
Cream cheese. Full-fat, Philadelphia brand cream cheese bricks will produce the most superior cheesecake in both flavor and texture. Be sure the cream cheese is very soft so no clumps form. I like to leave mine out on the counter for at least 6 hours prior to making the cheesecake.
Granulated sugar.
Cornstarch. This helps to set and add structure to the cheesecake and should not be skipped.
Eggs. At a full room temperature, and whisked.
Sour Cream. Full fat, and at a full room temperature.
Chocolate (melted). I prefer semi-sweet (60-70% cacao) or dark chocolate. Milk chocolate doesn't give you that chocolate flavor that you're really looking for. Be sure to use a chocolate bar and chop it, rather than using chocolate chips. Chocolate chips contain anti-melting agents, and we want to make sure we have a super smooth, melted chocolate to incorporate into the batter. I do not suggest using cocoa powder in the chocolate batter.
See recipe card for quantities.
Here's a few ways you can mix up the chocolate marble cheesecake to make it your own.
Crust – use chocolate graham crackers, vanilla wafers, or standard graham crackers.
Chocolate – if you want to go double chocolate, add melted white chocolate to the vanilla batter (4oz).
Toppings – while I wouldn't suggest adding anything over top of the cheesecake (so you don't hide the gorgeous swirled top), you can top slices with raspberry sauce, extra melted chocolate, chocolate fudge sauce, or caramel sauce.
How to Make This Recipe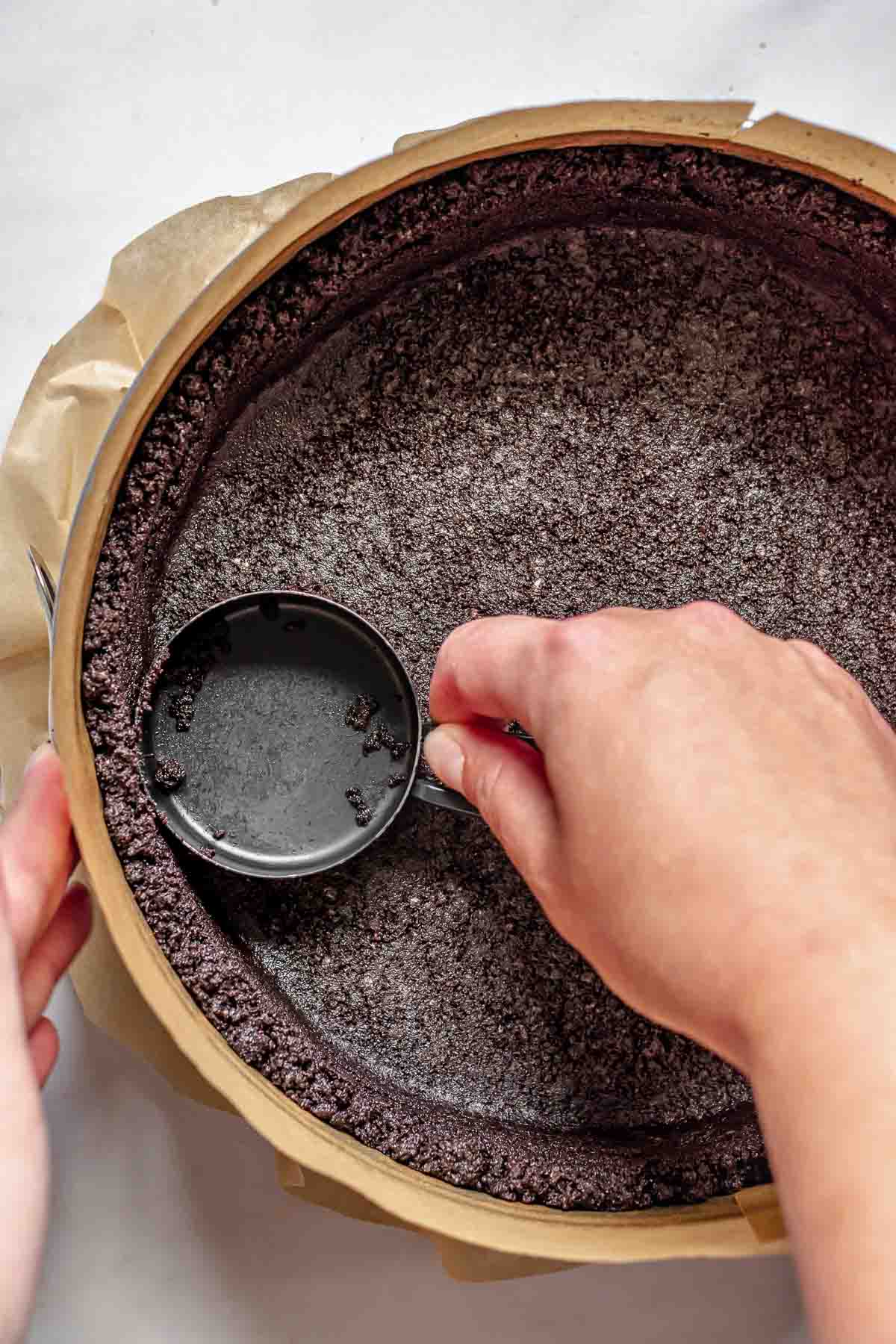 One: Pulverize the Oreos in a food processor to a fine crumb, then mix with the butter and salt. Press the crumbs halfway up the sides of the pan, then bake to set and cool.
Two: Mix the cream cheese to break it down, then add the sugar and cornstarch and mix again.
Hot tip! Be patient when mixing the cheesecake batter. Everything should be done on the lowest speed for the smoothest batter. Beating too much air into the cheesecake can cause it to crack. Low and slow will produce the best results.
Three: Whisk together the eggs, then add them into the cream cheese mixture in four batches to slowly incorporate.
Four: Fold in the sour cream by hand until no streaks remain.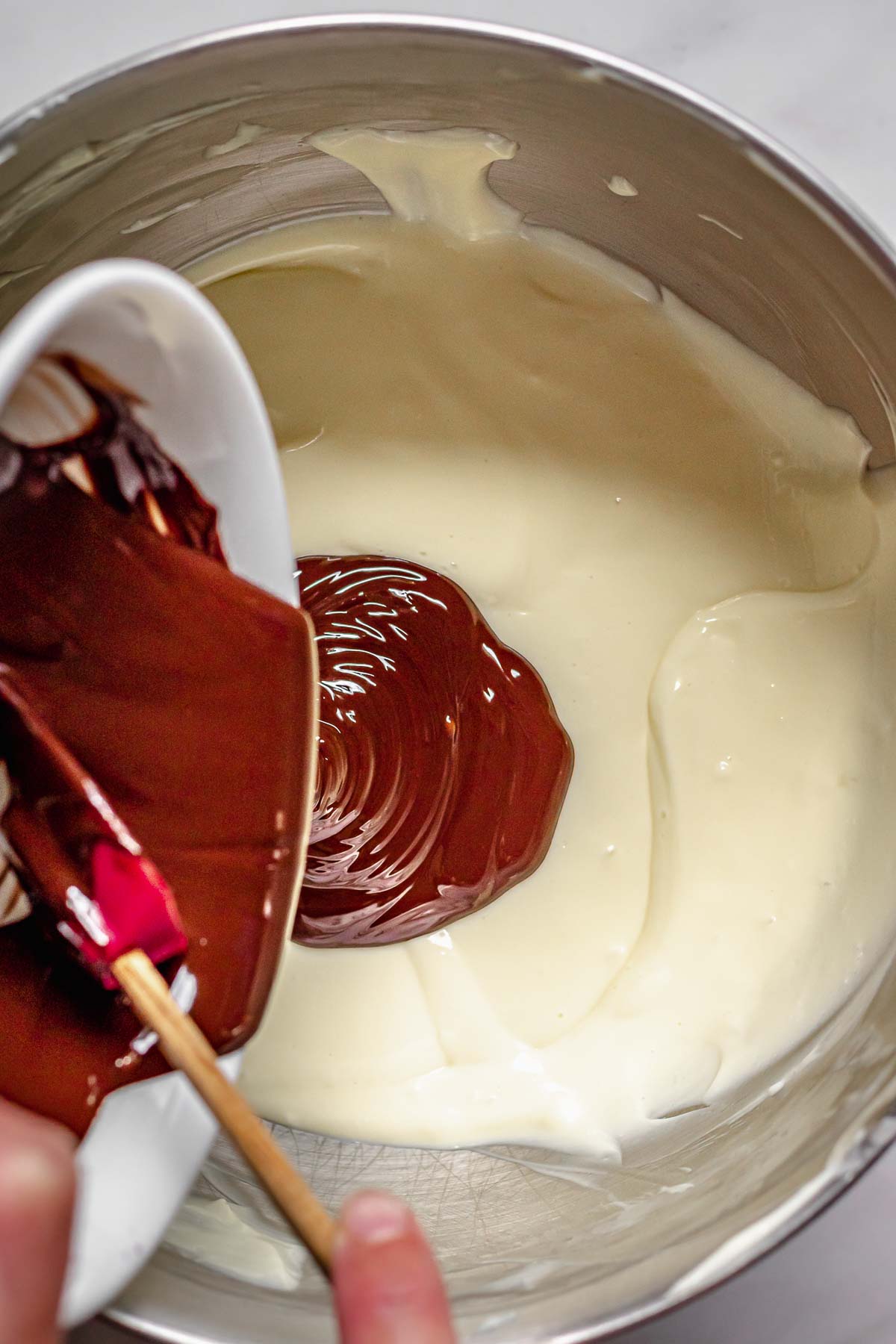 Five: Separate the cheesecake batter into two separate bowls, then add melted chocolate into half of the batter.
Six: Use a rubber spatula to fold the chocolate into the batter until no vanilla streaks remain.
Seven: Add the vanilla mixture and chocolate mixture to the crust in scoops, trying to alternate mixtures for best distribution. Gently tap and wiggle the mixture to settle it into the crust.
Eight: Use a table knife to swirl the batter together, getting down the whole way to the crust (without piercing through it). Then bake, adding a roasting pan of hot water to the bottom of the oven to act as the water bath.
Bake the cheesecake, then turn the heat off and crack the oven door for one hour before transferring to the fridge. Do not cover the cheesecake in plastic wrap, simply add it to the fridge completely uncovered to chill for eight hours.
Line both the bottom and sides of the springform pan with parchment paper. Watch how to prepare your pan for a crumb crust.
Use room temperature ingredients! I cannot stress how important this is to get a smooth cheesecake batter.
Mix the batter on low speed only. Fight the urge to increase the speed!
Use an oven thermometer to ensure the correct oven temperature. Baking the cheesecake at too high of a temperature can cause it to crack.
Add the pan to the bottom of the oven, then add boiling water to the pan rather than trying to transfer a pan of hot water to the oven.
Recipe FAQs
Which cream cheese is best for cheesecake?
Philadelphia brand, full-fat brick cream cheese is hands down the most superior type of cream cheese for cheesecakes. It's thick, creamy, and fluffy. Some other brands of cream cheese can be very dense and have more of a sour cream flavor, which produces stogy baked goods.
Is a water bath required for cheesecake?
Technically no, but you should really use one. The moisture created keeps the cheesecake super moist and creamy, and also helps to produce an even bake. Cheesecakes baked without a water bath are also more prone to cracking.
Why did my cheesecake crack?
This can be for a few reasons: too much air was whipped into the batter, the oven temperature was too high, the oven door was slammed at some point, or the cheesecake was removed from the oven right away, and cooled in a drafty area.
Cover the cheesecake with plastic wrap in the fridge for one week. The cheesecake can be eaten straight from the fridge.
To freeze the cheesecake, wrap the cheesecake or slices tightly in plastic wrap, aluminum foil, and then place it into a zip-top bag. Freeze the cheesecake for three months. To thaw, unwrap the cheesecake and thaw uncovered in the fridge to allow moisture to release. Re-cover with plastic wrap to store.
📖Recipe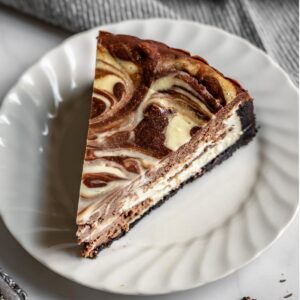 This chocolate marble cheesecake with a chocolate crumb crust is made with a combination of vanilla and chocolate batter and swirled together to create a marble effect.
Rest and Chill
Food processor or blender
9-inch springform pan
Stand mixer with paddle attachment, or handheld mixer
Oreo Crust
full-fat cream cheese
vanilla paste or extract
full-fat sour cream room temperature (235g)
semi-sweet chocolate bar (60-70% cacao) melted and slightly cooled
Preheat the oven to 350℉/180℃ and line a 9″ springform pan with parchment paper. Gently grease the pan, then line the bottom and sides.
Pulverize the Oreos (including the filling) until a very fine crumb forms, then combine with the melted butter and salt and combine with a fork until fully moistened.3 cups oreo crumbs, ½ cup unsalted butter, ¼ teaspoon kosher salt
Press the mixture into the springform pan, going at least halfway up the sides. A ⅓ cup dry measuring cup is a great tool for this. Be sure to compact it tightly into the bottom, corners, and sides.
Bake the crust for 10 minutes, then use the ⅓ cup measuring cup to re-compact the crust as it will fall slightly during baking. Cool while you make the cheesecake layer.
Reduce the oven temperature to 300℉/150℃.
Cheesecake Layer
Add the cream cheese to the bowl of a stand mixer fitted with the paddle attachment and mix on low speed until broken down. Scrape down the sides.32 ounces full-fat cream cheese
Mix together the sugar and cornstarch in a bowl, then add it to the cream cheese and mix on low until incorporated. Scrape down the sides again.1⅓ cups granulated sugar, 3 tablespoons cornstarch
Whisk together the eggs and vanilla, then drizzle it into the cream cheese mixture (with the mixer running on low speed) in four batches until fully incorporated.4 large eggs, 2 teaspoons vanilla paste or extract
Scrape down the sides once more, then add the sour cream and mix on low speed until combined.1 cup full-fat sour cream
Add half of the cheesecake batter to another bowl and set it aside.
Add the melted chocolate to one bowl of batter and use a rubber spatula to fold it in until the chocolate is fully incorporated into a smooth, chocolate batter.
Cheesecake Assembly
Use a large cookie or ice cream scoop (or large spoon) and alternate adding the chocolate and vanilla batters into the crust until they are completely used up.
Gently jiggle and tap the pan to settle the batter, then use a butter knife to make swirls throughout the batter. Be sure to get down to the crust, without breaking through the crust.
Add a 9×13″ pan to the bottom oven rack and fill it with boiling water.
Carefully place the marbled cheesecake onto the center rack, then bake for 1 hour 45 minutes.
Turn off the oven, crack open the oven door, and allow it to slowly cool for one hour.
Transfer the baked cheesecake to the refrigerator (uncovered) and chill for at least 8 hours to full set and cool.
Be sure the cream cheese, eggs, and sour cream are at true room temperature before beginning. I like to take mine out about 6 hours prior to making the cheesecake. Any cold ingredients will lead to a lumpy batter.
Crust: be sure to line the pan – watch how to do this. Then, work the crust up the sides first before working it into the corners and bottom. Use a ⅓ cup dry measuring cup to do this.
Be patient and work on the lowest speed during the cheesecake batter process. A high speed can whip too much air into the batter and cause the cheesecake to crack during the baking process.
Storage: cover the cheesecake and refrigerate for one week. Eat from cold.
Freezing: wrap the cheesecake or individual slices in plastic wrap, then aluminum foil, and place them into a zip-top bag. Freeze for three months. Unwrap completely and thaw uncovered in the fridge before enjoying.
Let us know how it was!
HurryTheFoodUp is reader-powered. If you click through using links on our site we may earn a small commission at no cost to you.
I love a delicious cheesecake, don't you? With a crunchy, buttery base and a smooth and silky top, this is cottage cheese cheesecake of my favorite recipes for health-conscious cheesecake lovers.
And as it's high protein it's a great option if you want a creamy dessert that loves your waistline as much as you do.
Jump to
Let's take a look at what main ingredients we have in this recipe.
For this delicious dessert, I've gone for something a bit different on the base. Rather than the traditional cheesecake base of digestive biscuits, I've chosen to use ground-up granola.
It still gives us a lovely crunchy, crumbly base and is perfect for this healthy cheesecake recipe.
I then combine it with melted butter which holds it all together nicely and not only gives a buttery taste but it also helps it go golden brown in the oven.
However, you can still use a biscuit base if you prefer. If you're aiming for being health-conscious, aim for low-fat biscuits if possible.
On top of the cheesecake before baking I added some fresh berries. I recommend raspberries or blueberries.
The heat from the oven as it bakes really helps the berries to burst so they can release all their flavor and help the cheesecake taste even more amazing!
How many calories are in a healthy cheesecake?
There are a sensible calories in this healthier cheesecake.
It also has grams of protein which will help you feel fuller than a regular cheesecake will.
Here is an overview of the rest of the information for this healthy dessert recipe.
Health benefits
You may ask what health benefits can come from eating cheesecake, but the best part about this dessert is that it's a protein cheesecake (we love a good high protein pudding).
It has all the taste of some of the best cheesecake recipes but the key ingredient that is helping on the health side is the cottage cheese.
Having a high-protein ingredient means it is great at helping us to feel fuller for longer. This is important if you are eating a diet that is aimed at weight loss.
You shouldn't deny yourself any food groups when it comes to watching your weight.
Within a calorie-controlled diet, it is great to get that sweet fix with healthy cheesecake recipes like this one.
Cottage cheese can also help when building muscle. It's also high in B vitamins, selenium, and calcium which help to support bone strength.
Although I have reduced the amount of sugar to keep it a low-fat cheesecake recipe, it is still loaded with taste and flavor.
This all comes from the natural ingredients like the vanilla, lemon, and berries that I've added.
Subscribe to get our FREE 7-Day Vegetarian High Protein Meal Plan for Weight Loss
Ideal for weight loss
Easy vegetarian recipes only
Automated grocery lists
Use on mobile or download as PDF
How to make cottage cheese cheesecake?
2 hours and 45 minutes.
Prep time:First of all, preheat the oven. Then use a food processor to grind up the granola. Melt the butter and combine it to form a firm layer on the bottom of a springform pan.
Crunch time:Place the base into the oven to crisp up in just 6-8 minutes.
Bake time:Bake the cheesecake in the oven for 30 minutes. You'll know when it's ready because it should hold firm but still have a slight jiggle to it.
Rest time:Once it's out of the oven and cooled, rest it in the fridge for 2 hours and then it's ready to serve, enjoy!
Cheesecake FAQs
We've answered some of your key cheesecake questions!
How many calories are in cottage cheese?
There are 98 calories in 100 grams of cottage cheese.
How to store cheesecake?
It is best to keep the cheesecake in an airtight container inside the fridge for 3-4 days (if you can make it last that long!).
What to serve with cheesecake?
You can serve your cheesecake with more fresh fruit, or you could add low-fat whipped cream or natural yogurt.
Can I make cottage cheese cheesecake ahead?
You can make cheesecake ahead of time as long as it's used within 48 hours to keep it at its freshest.
Is cheesecake healthier than cake?
Cheesecake certainly can be healthier than cake. Taste.com gives some reasons why in their article.For this easy dessert, I chose lower amounts of sugar and a high-protein ingredient to make this a nice healthy cheesecake.
What can I replace sugar with in cheesecake?
To replace the sugar you could use a sugar-free alternative such as Xylitol or Stevia which is a plant-based alternative.
What sweets can I eat while trying to lose weight?
Within a calorie-controlled diet, you can eat most sweets while trying to lose weight. However, it is best to aim for around 200 calories for a dessert.
Staying within this guideline means you can still enjoy a sweet treat but that will also help you stay on track with your weight loss.
Recipe Variations
Next time you could try this cheese cake a different way:
More Recipes Like This
If you like this recipe I'm sure you're going to love these too:
Now you really can have your cake and eat it with this healthy high protein cheesecake. Low on sugar but not low on yum!
low sugar granola or muesli (alternatively sweet, low-fat biscuits like Graham crackers)
low fat cottage cheese (or use regular cottage cheese if you'd prefer)
(medium or large)
(or ½ vanilla bean)
raspberries or blueberries
Preheat the oven to 200 C, 390 F.
Process or grin the granola (or biscuits if using) roughly. Place it on a baking pan.1 ½ cups low sugar granola or muesli
Melt the butter and drizzle over the granola. Mix until incorporated.3 tbsp butter
Press the granola mix into the base of a circular 26cm baking tin (or rectangle 20cm x 28cm) with your hands until you have an even layer.
Meanwhile, blend the cottage cheese, eggs, cornstarch, cream, sugar, lemon zest, vanilla extract and salt until completely homogenous, shiny and creamy.3 cups low fat cottage cheese, 2 tbsp cornstarch, ⅓ cup cream, 4 tbsp sugar, ¼ tsp salt, 1 tsp vanilla extract
Pour batter over the cookie base and scatter the berries on top.½ cup raspberries or blueberries
Bake for 30 minutes until most of the cheesecake is solid and the center still has a bit of a jiggle when moved and the edges have some browning.
Take out of the oven and rest for at least 2 hours in the fridge.
Amount per Serving
% Daily Value*
* Percent Daily Values are based on a 2000 calorie diet.
This is no average cheesecake recipe and it has quickly become one of my favorite desserts.
It has that amazing cheesecake flavor but doesn't interrupt my healthy eating plan. I can still get the best results from my healthy diet (that's as long as I don't accidentally eat the entire thing!).
There is also a weekly high-protein meal plan available to help you gain muscle and tone up.
Dave
I'm not a foodie, although I do love eating. I believe food should serve us and our goals, not hinder. Taking control and responsibility for what I eat is important to me.
Abril
Creator and photographer of this wonderful recipe!
I am a recipe developer and food photographer from Quito, Ecuador. I work with websites and blogs from around the world developing recipes and photographing them. I also work with online and print magazines writing about food. I dedicate my work in the kitchen and through the lens to explore food from different backgrounds, origins and diets. I would describe my style as "comfort food with a twist". My goal is to create recipes that are homely, yet attractive, delicious and have something different and exiting to them.