What's the first thing you think of when you hear fancy desserts? Is it crème brûlée or mille-feuille?
How about something like a chocolate souffle that takes a bit of baking magic to get right?
Want to save this recipe? Enter your email below and we'll send the recipe straight to your inbox!
The truth is, it's so easy to make a fancy dessert these days, and most of the time, they're made up of super simple components. It's how you plate them that matters!
Yes, some can be complex and full of difficult techniques and exotic ingredients. But that's not what these recipes are about.
I've pulled together a list of 25 fabulous desserts that anyone can make at home.
Dust off your best apron and get your camera ready because these fancy treats will need a serious photoshoot when you're done!
No-Bake Cheesecake with a Surprise Inside
I've tried many no-bake cheesecakes, and unless you eat it right away, the best recipes will have gelatin.
Unfortunately, without it, it's not unusual to see it start to sag and melt, even at room temperature.
The beauty of no-bake cheesecake is that you can add in all kinds of fun stuff that you wouldn't be able to if it were baked, such as a giant chocolate-covered strawberry!
Your guests' eyes will light up when they cut into this creamy dessert and find it full of sweet, juicy fruit!.
Cheesecake Brownies
Brownies will always be a hit, and everyone will devour them in seconds.
If you're looking for a way to jazz things up a bit, how about adding some creamy cheesecake swirls to the mix?
I love the color contrast from the swirls on top, and the cheesecake flavors really compliment the deep, decadent brownies.
Dark Chocolate Tart
If you can get the pastry case nice and neat, the chocolate filling will do all the heavy lifting here.
You'll be making a chocolate ganache, using a bit more chocolate than cream, so it sets nice and firm.
All you'll have to do is pour it in, and it will settle beautifully flat and clean.
It's such an easy dessert to make, but you can't deny how fancy it looks with a sprinkling of sea salt.
No-Bake Blueberry Cheesecake
One of the easiest ways to elevate a simple cheesecake is to add a topping. What's better than a vibrant layer of sweet blueberries?
You can use store-bought blueberry filling if you're in a rush or make your own if you have the fruit on hand.
I like to make my own because I prefer it a little less sweet. I also prefer the blueberries to be mostly whole for better texture.
Berries and Cream Crepes
Crepes are lovely, thin, sweet, or savory pancakes that most people associate with the French – so they're definitely fancy!
This recipe will be filled with cream cheese and whipped cream filling along with a thick berry sauce.
The colors and flavors are gorgeous, and these are perfect for a light dessert or even for breakfast!
How To Make Palmiers
Palmier cookies are super light and insanely buttery. They need just two ingredients and a bit of love, but they'll look like you spent hours in the kitchen.
To make these tasty treats, you'll need puff pastry and sugar – that's it! Sometimes I add a bit of cinnamon to the mix, but they're just as good without.
After 12 minutes in the oven, they will be golden brown and beautifully flaky.
Beignets
I've been a beignet lover since that first bite. I can still picture the sunshine, the music, and the intoxicating beauty that is New Orleans and Café Du Monde.
These pillowy donuts are super light and extra sweet, thanks to the powdered sugar on the top.
If you don't have a fryer at home, you can easily use a Dutch oven instead. Just be sure to use a thermometer and oven mitts!
Crepe Cake Recipe
I have to preface this with a warning – this cake takes a while to put together.
Unless you have multiple pans that are the same size, you can only make one crepe at a time, and it is time-consuming because you need so many!
That being said, this cake looks stunning once it's finished. The layers are impossibly distinct and thin, leaving you with the perfect ratio of sweet cream to pancake.
You can even change up the filling to make it a little more decadent if you want. Chocolate or strawberry – or a mix of the two – would look fantastic!
French Apple Cake
If one thing is for sure, it's this: French desserts are simply to die for!
This light and fruity cake is no exception. Adding big chunks of apple to the batter will infuse it with great flavor and plenty of moisture.
Easy Eton Mess
I think most people see meringue as a fancy dessert, but it's not always easy to get it looking perfect.
That's why I love this recipe. The key is in the title!
With an Eton mess, you'll break up your meringue, so there's no need to worry about any little cracks.
Death By Chocolate Recipe
The layering in this is what gets me! You just can't beat the deep, dark chocolate against the gorgeous white cream.
This would look sensational in a larger trifle dish. But if you don't have one, the individual portions are super cute and much easier to put together.
If you want it to look even more chef-y, try adding some dark chocolate shards to the top!
Ischler Törtchen (Austrian Shortbread)
These fantastic little cookie sandwiches consist of a buttery, almond shortbread, sweet apricot filling, and a rich dark chocolate top.
Now, apricot and chocolate might not be the first combination you think of. I'm a big fan of raspberry and chocolate, myself, but it works so well with the nutty cookie.
Of course, you can use any jam filling you like here. In fact, a mix of a few would make for a tasty cookie platter!
Homemade Strawberry Cake
As much as I love a bright and colorful cake, you just can't beat the beauty of a natural-looking frosting.
It's pale and often pretty subtle, but it just looks so elegant! And the fragrant strawberries can really shine when they're added to the frosting.
French Hot Chocolate
After dinner, hot chocolate is a favorite in my house during the winter. It's sinfully rich and such a lovely sweet treat on a cold night.
But I'm not talking about a pack of sugary cocoa!
I'm talking about a cup of thick, silky smooth chocolate ganache made with dark chocolate and a bit of espresso powder for an extra kick!
Cheesecake Stuffed Strawberries
Strawberries are always going to look fancy. They're just so bright and beautiful, and they don't need much to be delicious.
I love this little recipe, and it's an excellent option for BBQs and parties.
These bite-sized babies need to be washed a dried before you fill them with a light cheesecake filling.
The blueberries look adorable, or why not add a drizzle of chocolate?
Mini-Cheesecake Bites (+5 Flavors)
When making cheesecake, there are a few rules to make sure it's perfect every time.
One: always use room temperature ingredients, so they blend flawlessly. The last thing you need is a lumpy cheesecake!
Two: always blend your cream cheese before adding anything else to the bowl.
This will ensure you won't have any lumps of cream cheese in the mix and will help to avoid over-mixing once you add the eggs.
Chocolate Covered Strawberries Tuxedo-Style
I've made these so many times, and I can't tell you how excited people get when they see them.
Full disclosure: they're insanely easy! You'll just need to dip your strawberries in white chocolate before letting it set and strategically dipping them in dark chocolate.
One key thing for this recipe is to get lovely, big strawberries. The bigger, the better!
It's hard to double-dip with smaller berries, and you won't get the same effect.
Cream Cheese Chocolate Truffles Recipe
Truffles are a quick and delicious fancy dessert that you can make last minute.
I usually use a simple ganache, but adding in cream cheese will give you a delightfully creamy texture and added tangy to the otherwise rich chocolate.
Fresh Strawberry Cream Cheese Cake
Like with the French apple cake from above, this cake relies on the fruit for added moisture. There's no frosting needed.
As the strawberries cook, they will seep into the cake a little, giving lovely flavor and color when you cut a slice.
Plus, they will darken slightly on top for a gorgeous finish.
Classic French Madeleines
Madeleines are soft and lighter-than-air cookies you would usually see in the window of a Parisian boulangerie.
They're billed as a cookie, but the spongy texture is more of a buttery cake.
Where it differs from other recipes is that the batter needs to be chilled before you bake it.
Berry Vanilla Cheesecake Parfaits
When you want something colorful for your fancy desserts, look no further than fresh fruit!
This recipe uses blueberries and strawberries for a lovely contrast to the simple cheesecake filling, but I think mango and raspberry would look incredible!
Blueberry Ice Cream
You might not think it, but if you pull out a batch of homemade ice cream, you'll look extra fancy!
After all, who makes their own ice cream? Chefs! That's who!
This recipe doesn't need an ice cream machine, but it's just as light and creamy.
French Lemon Tart
When life gives you lemons, forget the lemonade – make a lemon tart!
It's sweet, zesty, a little tangy, and silky smooth. If you like it a little sweeter, add a touch more sugar and serve with some whipped cream.
Strawberry Panna Cotta
Vanilla panna cotta is dreamy and elegant. Strawberry panna cotta is its fancier cousin!
To ensure you still get that velvety finish, you have to strain your strawberry juice – twice if necessary.
I still recommend using vanilla paste if you have it because the flecks just make the whole thing pop.
Creamy Strawberry Semifreddo
Semifreddo is almost like an ice cream cake. It consists of whipped cream, yogurt, and fresh fruit.
It's creamy, tangy, and ready in just a few hours! You won't want this to sit in the freezer too long; that way, you can slice it with ease.
Unlike the recipe above, you want chunks of fruit in this for fabulous pops of sweet color.
Something I've noticed about Cheryl Day's baking recipes is that her textures are always spot-on. Whether it's the soft, cottony crumb of her Cold Oven Pound Cake, or the towering, flaky layers of her biscuits, each bite—tender and luscious, or crunching and then giving way—transports me back to my childhood. "I think about what people are craving every day, and make things that are very textural in quality," she tells me over Zoom. "I like to think of myself as a very intuitive baker."
Day, who originally hails from Los Angeles, sees common ground between California-style baking and her signature Southern style of seasonal baking. "I like to play around with different spices and botanicals. Things a lot of bakers wouldn't normally turn to, like coriander." I mentioned to Day that one of my very first Epi assignments focused on using biochemistry to improve your baking, and that the combination of coriander and blueberry featured heavily in the piece. "See?!" she says, laughing. "That's an intuition I didn't even know I had."
Day gets inspiration every day from the young bakers and chefs in her community. "One of my missions in life, with Treasury of Southern Baking, is to tell stories of my Black heritage, whether my personal stories, or things from history that people would normally know nothing about," she says. As an extension of that mission, Day currently uses her platform to spotlight people in her community through a program called Lift Every Voice. "I named it after a Black anthem, 'Lift Every Voice and Sing,' that I learned from my mom and used to sing as a kid."
The program shines a spotlight on up-and-coming local chefs in a series of pop-ups at Day's bakery and studio. "I handle the baking, and they do all the cooking, and we just try to get more eyes on what these young, rising stars are doing," she explains. "In the world we live in, people of color, we're never just handed anything. You can't get a seat at the table, because you don't even know where the table is." And so Day helps young chefs carve out their own spaces and encourages them to find their voices.
Who says you can't have dessert with breakfast? Not us! These easy pastry recipes take less than 15 minutes to prep and are the perfect excuse to indulge in the morning.
While cinnamon swirl bread is a natural for breakfast, we love it so much we enjoy it all day long. This is a nice twist on traditional cinnamon swirl yeast breads. —Helen Richardson, Shelbyville, Michigan
Go to Recipe
Cinnamon Fruit Biscuits
Because these sweet treats are so easy, I'm almost embarrassed when people ask me for the recipe. They're a snap to make with refrigerated buttermilk biscuits, sugar, cinnamon and your favorite fruit preserves. —Ione Burham, Washington, Iowa
Quick Cherry Turnovers
Refrigerated crescent rolls let you make these fruit-filled pastries in a hurry. My family loves these turnovers for breakfast, but they're so delicious, they'd be welcome any time of the day. Feel free to experiment with other pie fillings as well. —Elleen Oberrueter, Danbury, Iowa
Chocolate Banana Bundles
Banana with chocolate is such an irresistible combo that I make this quick dessert often. You can also top these tasty bundles with the butter and brown sugar mixture left over from coating the bananas, or sprinkle on a dash of sea salt. —Thomas Faglon, Somerset, New Jersey
Caramel Bubble Ring
Lots of caramel and ice cream topping make this quick pull-apart bread oh so gooey and delicious. It truly is a finger-lickin' good baked good.—Laura Clifton, Wenatchee, Washington
Lemon Pound Cake Muffins
I make these lemony muffins for all kinds of occasions. My family always requests them when we have a brunch. They're so good! —Lola Baxter, Winnebago, Minnesota
Cherry Chip Scones
These buttery scones dotted with dried cherries and vanilla chips are so sweet and flaky that I sometimes serve them for dessert. —Pam Brooks, South Berwick, Maine
Chocolate Toffee Biscuits
These sweet, crunchy biscuits are so quick and easy to mix up, they're my go-to treat with my morning coffee. —Wendy Weatherall, Cargill, Ontario
Ricotta-Raisin Coffee Cake
These few ingredients go together quickly so I can have a warm coffee cake to serve overnight guests for breakfast. If you don't have or don't like cardamom, substitute any sweet spice. I recommend ground nutmeg, cinnamon or allspice. —Carol Gaus, Elk Grove Village, Illinois
Raspberry Cheese Danish
After trying a pumpkin scone at a coffee house, I was inspired to look for a recipe to try at home. The glaze nicely complements the pumpkin flavor.
Banana Macadamia Muffins
These muffins taste even better the next day, so to save time, I often make them the night before. They stay moist for days. —Stasha Wampler, Clinchport, Virginia
Banana Beignet Bites
When I was a little girl, my grandmother took me aside one day and taught me how to make her famous banana beignets. Although we made them during the holidays, they're pretty fantastic any time of the year. —Amy Downing, South Riding, Virginia
Berry-Filled Doughnuts
Four ingredients are all you'll need for this sure-bet breakfast treat. Friends and family will never guess that refrigerated buttermilk biscuits are the base for these golden, jelly-filled doughnuts. —Ginny Watson, Broken Arrow, Oklahoma
Lemon Pull-Apart Coffee Cake
I found this recipe in a newspaper and make it often. I like to bake this coffee cake when unexpected company stops in and I need something speedy to go with a cup of coffee. —Mary Tallman, Arbor Vitae, Wisconsin
Pumpkin Ginger Scones
I made these lovely scones one day when looking for a way to use up leftover pumpkin, and I was so excited with the results. I often use my food processor to stir up the dough just until it comes together. It's so simple to prepare this way. —Brenda Jackson, Garden City, Kansas
Apricot Cream Biscuits
Melt-in-your-mouth good when warm, these shortcut biscuits with a hint of orange prove that the right mix really can offer homemade taste. —Betty Saint Turner, Attalla, Alabama
Pecan Coffee Cake
My mom serves this nutty coffee cake for Christmas breakfast each year. The simple recipe is a big timesaver on such an event-filled morning. Everyone loves the crunchy topping. —Becky Wax, Tuscola, Illinois
Pumpkin Doughnut Drops
I always have a few special treats handy when the grandchildren visit. These cake doughnuts are one of their favorite snacks. —Beva Staum, Muscoda, Wisconsin
Cranberry Banana Coffee Cake
I make this moist cake for Christmas morning every year. It tastes like banana bread but has a sweet golden topping with a nutty crunch. —Gloria Friesen, Casper, Wyoming
Glazed Doughnut Holes
Here's a simple recipe to create a colorful and fun breakfast—or snack! For the glaze, use any type of juice you like. —Taste of Home Test Kitchen
Sour Cream Chip Muffins
Take one bite and you'll see why I think these rich, tender muffins are the best I've ever tasted. Mint chocolate chips make them a big hit with my family and friends. —Stephanie Moon, Boise, Idaho
Apple Pear Coffee Cake
A friend gave me this apple pear coffee cake recipe to make for a breakfast I was hosting. The pan was empty before the breakfast was over! It's one of my most-requested recipes, probably because it's a bit different. —Joanne Hoschette, Paxton, Massachusetts
Cranberry Nut Muffins
These are delicious, beautiful muffins. I serve them during the holidays or anytime cranberries are available. The leftovers always make good breakfast treats. Through the years I've tried many cranberry recipes for bread and muffins, but this remains my family's all-time favorite! —Flo Burtnett, Gage, Oklahoma
Buttercup Squash Coffee Cake
Cappuccino Muffins
These are my favorite muffins to serve with a cup of coffee or a tall glass of cold milk. Not only are they great for breakfast, they make a tasty dessert or midnight snack. I get lots of recipe requests whenever I serve them. The espresso spread is also super on a bagel. —Janice Schulz, Racine, Wisconsin
Rich Chocolate Chip Coffee Cake
When I was a teacher, this recipe was recommended by one of my student's parents. I've made it so many times, I can't imagine hosting a brunch without it. Chocolate chips add sweet bursts of flavor to the rich and tender coffee cake. —Michelle Krzmarzick
Torrance, California
Raspberry Breakfast Braid
We also like using blackberries, Marionberries, a mixture of raspberries and blackberries, or all three in this quick and easy pastry. —Tressa Nicholls, Sandy, Oregon
Pecan Pie Mini Muffins
While these are delicious year-round, you could easily turn them into an edible Christmas gift. They look festive on a decorative tray wrapped in red or green cellophane or tucked into a giveaway cookie plate. And don't forget to include the recipe so your recipient can enjoy this treat over and over again! —Pat Schrand, Enterprise, Alabama
Monkey Bread
Both of my boys really enjoyed helping me make this butterscotch monkey bread when they were young. It seemed to taste twice as good when they helped fix it. It's one of our favorites for breakfast or as a snack. —Carol Allen, McLeansboro, Illinois
Cherry Almond Streusel Scones
My kids and I love to mix the ingredients together and turn out these delicious scones. The tart cherries and the brown sugar and almond streusel complement the tender scones perfectly. —Teresa Ralston, New Albany, Ohio
Monkey Bread Biscuits
I came up with an easy, savory—instead of sweet—dinner version of monkey bread featuring garlic and Italian seasoning. —Dana Johnson, Scottsdale, Arizona
Cinnamon Doughnut Muffins
Back when my children were youngsters, they loved these doughnut muffins as after-school treats or with Sunday brunch. —Sharon Pullen, Alvinston, Ontario
Lemon Blueberry Drop Scones
I enjoy serving these fruity scones for baby and bridal showers. They're a bit lower in fat than most other scones, so you can indulge with little guilt. —Jacqueline Hendershot, Orange, California. Check out this drop scones recipe by Queen Elizabeth.
Even though our Test Kitchen professionals are capable of any culinary feat you can imagine, Southern Living has long developed recipes with ease, quickness, and affordability in mind. We're no stranger to a five-ingredient supper or even a dump cake, and most of our dishes can be easily picked up by novice cooks looking to learn something new without a headache. But all athletes have to flex their muscles from time to time, and our Test Kitchen experts do, too. From the towering white cakes that have graced December covers past to upside-down confections and the fluffiest soufflés, we're sharing some of the most impressive dessert recipes we have with you. Whether you want to wow a fall crowd with an impressive Pumpkin Spice Cake or Apple Stack Cake or you're in need of a beautiful dessert to leave the supper club speechless as they sip their coffee, this is the list of recipes you need. Hone your decorating skills with beautiful desserts like our Buche de Noel or Apple Rose Tart, or perfect your baking chops with our Crème Brûlée Cheesecake or Little Layer Chocolate Cake. Whichever you choose, these impressive dessert recipes will give your meal a showstopping finish that your guests won't soon forget.
Lemon Bar Cheesecake
Photo: Jennifer Davick
Recipe: Lemon Bar Cheesecake
This indulgent recipe marries two delicious desserts: lemon bars and cheesecake. Using a dark springform pan ensures a golden brown crust without having to bake before adding the filling.
Red Velvet Soufflés with Whipped Sour Cream
Recipe: Red Velvet Soufflés with Whipped Sour Cream
These snazzy red velvet soufflés are not only eye catching, but drool-worthy desserts that will dazzle any dessert table.
Peach-Bourbon Upside-Down Bundt Cake
Antonis Achilleos; Prop Styling: Lindsey Lower; Food Styling: Emily Nabors Hall
Recipe: Peach-Bourbon Upside-Down Bundt Cake
There's no prettier finale to a summer celebration than this peach Bundt cake. At the link above, get Hey Y'all host Ivy Odom's tips for making this beauty when you watch the video on the recipe page.
Blackberry Jam Cake
Victor Protasio; Prop Styling: Cindy Barr; Food Styling: Torie Cox
Recipe: Blackberry Jam Cake
Chef Damaris Phillips made this stunning cake recipe inspired by her Aunt Julie's Kentucky jam cake. "Eating a slice of Aunt Julie's jam cake reminds me of sliding into a warm bed," she writes. "Imagine the comfort of worn quilts, the excitement of clean sheets, and the sigh of relaxing into a soft mattress, and you'll have an idea of how a bite of this cake makes you feel."
Vanilla Custard with Bourbon-Caramel Sauce
Antonis Achilleos; Food Styling: Emily Nabors Hall; Prop styling: Lydia Pursell
Recipe: Vanilla Custard with Bourbon-Caramel Sauce
With these pretty little custards, you can get creative with your vessels. If you're lucky, you'll have leftover Bourbon-Caramel Sauce to drizzle on ice cream the next night.
Little Layer Chocolate Cake
Recipe: Little Layer Chocolate Cake
Southern Living Test Kitchen pro and Hey Y'all host Ivy Odom asked for this cake on her birthdays growing up, with an additional layer added for each year.
Chocolate-Coconut Pavlova Cake
Antonis Achilleos; Prop Styling: Christine Keely; Food Styling: Tina Bell Stamos
Recipe: Chocolate-Coconut Pavlova Cake
This mile-high dessert sure looks stunning, but it has an amazing secret for hosts of those with food allergies: It's dairy-and gluten-free! Who would've thought?
Caramel Apple Cake
Photo: Hector Sanchez
Recipe: Caramel Apple Cake
Talk about photo-worthy! Full of fall flavor, this Caramel Apple Cake tastes as good as it looks.
Red Velvet Ice-Cream Cake
Greg DuPree; Prop Styling: Heather Chadduck Hillegas; Food Styling: Torie Cox
Recipe: Red Velvet Ice-Cream Cake
This festive showstopper will be better than fireworks as the finale to your summer get-together. Since it needs so much chill time, it's a great make-ahead option.
Crème Brûlée Cheesecake
Micah A. Leal
Recipe: Crème Brûlée Cheesecake
Creme brûlée is a go-to for impressing guests, so amp it up with a dessert mashup that combines that crisp, beautiful topping with classic cheesecake flavor.
Pumpkin Soufflé
Photographer: Antonis Achilleos, Prop Stylist: Claire Spollen Food Stylist: Chelsea Zimmer
Recipe: Pumpkin Soufflé
These fluffy delights are the perfect finisher for a fall dinner party. A dusting of powdered sugar on top makes for elegant presentation.
German Chocolate Cake
Victor Protasio; Food Styling: Rishon Hanners; Prop Styling: Audrey Davis
Recipe: German Chocolate Cake
A rich German chocolate cake is one confection every Southern baker should try at least once. Make extra Coconut-Pecan Frosting for thick layers that will dazzle.
Florida Orange Grove Pie
Victor Protasio; Prop Styling: Kay E. Clarke; Food Styling: Ana Kelly
Recipe: Florida Orange Grove Pie
Southern cooks know that some of the best recipes come from the pages of Junior League cookbooks, like this citrus pie, which includes a crust made of baked meringue.
Buche de Noel
Photographer: Jennifer Causey Food Stylist: Ana Kelly Prop Stylist: Kay Clarke
Recipe: Buche de Noel
If you've never made a yule log cake during the holidays, this is the one baking project you have to try this season.
The Coconut Chiffon Cake
Recipe: The Coconut Chiffon Cake
The Coconut Chiffon Cake is the queen of the Southern dessert sideboard, and yes, it is a labor of love to get her to her throne.
Brennan's Bananas Foster
Photo: Hector Sanchez; Styling: Karin Olsen
Recipe: Brennan's Bananas Foster
Even with simple ingredients, a flambeed dessert like this amed New Orleans one will always impress.
Lemon-Cheese Layer Cake
Victor Protasio; Food Styling: Ruth Blackburn; Prop Styling: Ginny Branch
Recipe: Lemon-Cheese Layer Cake
Test Kitchen pro and Hey Y'all host Ivy Odom makes this vintage confection every Easter with her family. Even though it's a towering beauty, the separate parts of this cake can be prepared in advance.
Rum Babas with Fresh Blackberries
Photographer Victor Protasio, Food Stylist Emily Nabors Hall, Prop Stylist Audrey Davis
Recipe: Rum Babas with Fresh Blackberries
North Carolina chef Bill Smith recreated a recipe he typically makes during the holidays with fresh summer blackberries. "They seem extra festive but are also a bit more trouble than the simpler recipes that I prefer," he says.
Erika Kwee's Spiced Carrot Cake with Candied Pecans and Caramel Sauce
Greg DuPree; Food Styling: Chelsea Zimmer; Prop Styling: Kathleen Varner
Recipe: Erika Kwee's Spiced Carrot Cake with Candied Pecans and Caramel Sauce
Houston-based food blogger Erika Kwee was one of our 2021 Cooks of the Year, and this incredible layered loaf cake shows exactly why. All of the reviews for it are five stars, including one that reads: "There are no words to describe how good this cake is."
Plum Torte
Will Dickey; Prop Styling: Christina Daley; Food Styling: Rishon Hanners
Recipe: Plum Torte
Even though this pretty plum dessert looks impressive, it comes together with pantry staples you have on hand already. It's a beautiful complement to an afternoon coffee or tea.
Apple Stack Cake
Photo: Victor Protasi; Prop Styling: Cindy Barr; Food Styling: Torie Cox
Recipe: Apple Stack Cake
Author Ronni Lundy's layered masterpiece is a true fall stunner of a dessert. Since the cake must "ripen," it takes days of love and preparation to get it on the table complete.
Battenberg Cake
Victor Protasio, Food Stylist: Emily Nabors Hall, Prop Stylist: Kathleen Varner
Recipe: Battenberg Cake
If there's one cake that truly shows off some baking and decorating skills, it's the British Battenberg cake. This one combines sweet, tart raspberry jam with chocolate and vanilla cake.
Coconut Panna Cotta with Blood Orange Granita
Antonis Achilleos; Prop Styling: Giulietta Pinna; Food Styling: Ali Ramee
Recipe: Coconut Panna Cotta with Blood Orange Granita
This beautiful, personally portioned dessert was inspired by the flavors of vintage-favorite ambrosia. This recipe comes together entirely on the stovetop and in the freezer, no pre-heat required.
Lemon-and-Chocolate Doberge Cake
Photo: Victor Protasio; Prop Styling: Cindy Barr; Food Styling: Torie Cox
Recipe: Lemon-and-Chocolate Doberge Cake
"My Lemon-and-Chocolate Doberge Cake recipe takes me a full day and requires every bowl in my kitchen—and I make desserts for a living," writes chef David Guas, but we promise, the end result is totally worth it.
Butterscotch-Bourbon Lava Cakes
Recipe: Butterscotch-Bourbon Lava Cakes
These single-serve cakes are a luscious way to end a special meal. A dollop of bourbon-spiked whipped cream on top makes them the ultimate dinner party treat.
Buttermilk-Chocolate Cake
Victor Protasio; Prop Styling: Heather Chadduck Hillegas: Food Styling: Torie Cox
Recipe: Buttermilk Chocolate Cake
Buttermilk lends to the incredible texture of this chocolate cake, and layers of Swiss Meringue Buttercream make it positively dreamy, but the real wow-factor comes in with the flower cake toppers.
Apple Rose Tart
Photographer: Jennifer Causey Food Stylist: Melissa Gray Prop Stylist: Christina Daley
Recipe: Apple Rose Tart
Even though the apple topping on this tart looks intricate, it actually starts with a refrigerated pie crust. For extra-special presentation, finish it with powdered sugar, vanilla ice cream, or whipped cream.
White Cake with Cranberry Filling and Orange Buttercream
Courtney West/Southern Living
Recipe: White Cake with Cranberry Filling and Orange Buttercream
This is one of our most popular Christmas cake recipes of all time. Though the white cake recipe is simple, a vibrant cranberry filling and orange buttercream liven it up for the season.
Molten Red Velvet Cakes
HECTOR MANUEL SANCHEZ
Recipe: Molten Red Velvet Cakes
"This cake has become my go-to for special occasions. So easy and yet so impressive," wrote one reviewer who gave this indulgent mini cake recipe five stars.
Pumpkin Spice Cake
Victor Protasio; Prop Styling: Claire Spollen; Food Styling: Torie Cox
Recipe: Pumpkin Spice Cake
We're not lying, y'all: This Pumpkin Spice Cake is magic. Silky flan and a moist pumpkin spice layer magically flip while in the pan.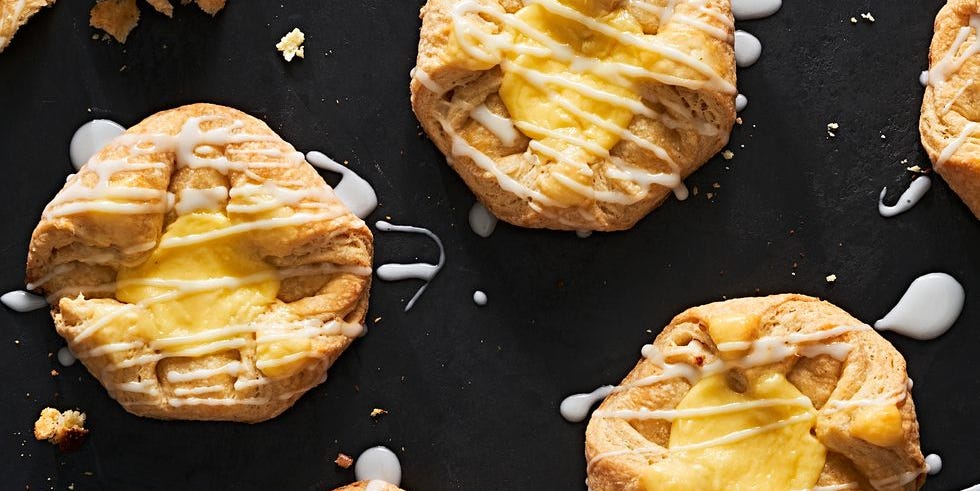 Pretty much anywhere you could travel to will have their own variety of region-specific pastries that they've been known for for hundreds, if not thousands, of years. French pastries are some of the most well-known, and we've got recipes for all the classics here. Well-laminated dough (meaning it has had butter folded into it several times) is a lengthy, multi-day process, so we've admittedly taken some shortcuts to make some of them more achievable at home. Check out our shortcut croissants, macarons, madeleines, beignets, and profiteroles. Looking to expand your pastry knowledge? Try our Middle Eastern ma'amoul cookies, our Italian zeppole, our Jewish sufganiyot, our Mexican concha, our Japanese mochi, or our Chinese mooncakes. Remember—pastry chefs can take years to master these recipes, so if yours don't turn out perfectly the first time, don't stress! Pastries are as much about the process as they are about the end result, so enjoy the journey.
And don't think it's just sweets. Traditional pastry methods can translate to some very tasty savory options too, like Indian samosas, Turkish borek-inspired scrunch bread, Jewish potato knish, Greek spanakopita, and Chinese baozi (steamed buns). The great thing about these recipes is that once you've got their basic concept down, you can get as creative as you like with the fillings.
Want more dessert inspiration? Check out our favorite cookie recipes, our favorite pies, and our top dessert bars too.
Advertisement – Continue Reading Below
Homemade Samosas
We almost never order Indian food without getting some samosas along with it, and good news: They aren't hard to make at home! The spiced potato filling is quick and easy, and the dough comes together fast using melted ghee. The crust is sturdy, but still fries up extra crisp and shatter-y. 😍
Get the Homemade Samosas recipe.
PHOTO: ANDREW BUI; FOOD STYLING: MAKINZE GORE
A danish is a type of laminated dough—in other words, dough that has had butter folded into it several times—but to help make the process a little more straightforward, we borrow from our croissant recipe, which relies on a "rough" puff pastry. These have warm, buttery, flaky layers and a just-sweet-enough cream cheese filling that make the effort SO worth it.
Get the Cheese Danish recipe.
Spanakopita Spinach Pies
Spanakopita is a popular savory Greek spinach pie frequently served as cut pieces from a whole slab pie, but we made individual pockets to save you the waiting time between baking, cooling, then slicing. As soon as they pop out of the oven, they're ready to be plated and devoured by your hungry guests, no knives necessary.
Get the Spanakopita Spinach Pies recipe.
Walnut and Pistachio Baklava
Sticky and rich, baklava is a Turkish and Greek dessert made of layered sheets of phyllo dough, nuts, spices, sugar, and/or honey. Our version uses walnuts and pistachios, but feel free to use whichever nuts you like the most.
Get the Walnut and Pistachio Baklava recipe.
Sufganiyot (Jelly Donuts)
Emily hlavac green
Get the Sufganiyot (Jelly Donuts) recipe.
Mochi
PHOTO: ANDREW BUI; FOOD STYLING: BROOKE CAISON
Mochi is a sweet, chewy rice pastry that hails from Japan. Traditionally made from cooked and pounded rice, mochi are also easily made with rice flour. Here, each ball is filled with a sweet red bean paste, but you're just as likely to see ice cream, a matcha green tea filling, or black sesame paste inside mochi.
Get the Mochi recipe.
Potato Knishes
Brought to the city by Eastern European (mostly Ashkenazi Jewish) immigrants at the turn of the 20th century, knishes quickly rose in popularity among working class New Yorkers. These hearty pastries—mashed potatoes, studded with bits of caramelized onion, enveloped in a thin crust—accomplished three things very well. They were delicious, they were filling, and they were extremely cheap. Now you can make them at home!
Get the Potato Knishes recipe.
Cheesy Beef Empanadas
This filling is loosely based on a very traditional Mexican (top-secret!) recipe. It's delicious as is, but if you want to give it even more pizzaz, we highly recommend adding a splash of red wine vinegar, finely chopped capers and green olives, and a good squeeze yellow mustard. Once you've got the pastry down, you can pretty much stuff them with anything!
Get the Cheesy Beef Empanadas recipe.
Easy French Macarons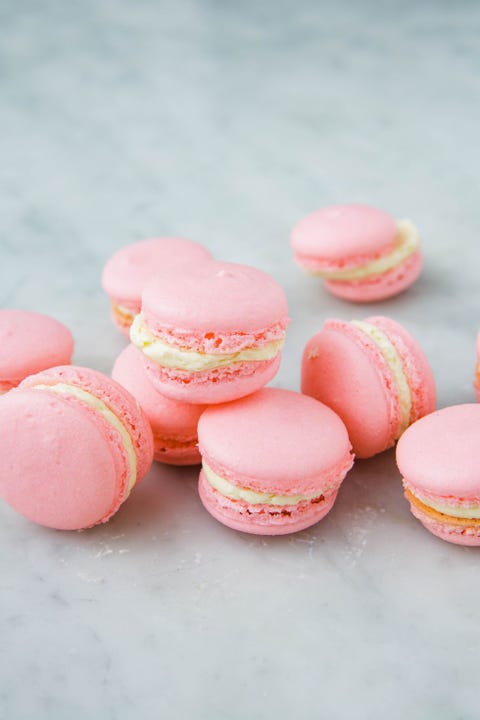 These delicate French pastries are somehow simultaneously crispy, chewy, soft, and light as air. This makes them the perfect blank canvas for creative flavors and colors. Make sure all your ingredients are room temperature to achieve the greatest success.
Get the Easy French Macarons recipe.
Galette De Rois
While king cake is made of a yeasted dough rolled with a cinnamon sugar filling, galette de rois is made of puff pastry sheets filled with almond frangipane and jam. Prior to baking, the puff pastry is scored and egg washed, giving the final pastry a beautiful golden hue.
Get the Galette De Rois recipe.
Tarte Tatin
This classic tart construction relies on fruit being laid over caramel, then topped with puff pastry. The caramel might be a little tricky, but we promise going low and slow and resisting the urge to stir is the way to make sure that you have the perfect caramelized bottom.
Get the Tarte Tatin recipe.
Fruit Tart
The mascarpone filling is light, slightly tart, and just sweet enough to pair well with the apricot preserve-glazed fruit of your choice. Bonus: The shortbread-like crust here gets pressed in rather than rolled out, which makes it no-fuss and stress-free.
Get the Fruit Tart recipe.