What's Inside: This delicious collection of 30-minute Gluten-Free Dairy-Free Dinners will get you excited to make dinner again! You won't miss the dairy as these recipes are full of amazing ingredients that will nourish your body, fill you up and satisfy your tummy. Whether you prefer steak or salad, this list will contain something that you can't wait to go home to. You'll find Paleo, and AIP-friendly recipes here.
My Favorite Gluten-Free Dairy-Free Dinner
As a Nutritional Therapy Practitioner, I always recommend including good protein in all your meals. My favorite dish on this list would have to be the quick Sunflower Seed Pad Thai. It has a TON of flavor and it's so filling which is perfect for those busy days when you get home late and need to whip something up that will satisfy your cravings and nourish your body with the nutrients it needs – you can find this in the Chicken section!
Another dish that I cannot get enough of is the Philly Cheesesteak Skillet, pictured above. It's classic American comfort food, without the bread or cheese! Tender strips of steak and vegetables are coated in my delicious dairy-free cheese sauce! It's absolutely amazing!
Table of contents
Before you dive into this delicious list of gluten-free dairy-free dinners below, here are the 3 top-rated reader favorites that you just can't miss!
Healthy Coconut Curry Soup with Shrimp (Paleo, Whole30)
This coconut curry soup recipe with shrimp and zoodles is Whole30 and Paleo. It's a super easy weeknight meal and packed with veggies! This recipe proves healthy eating can happen in 30 minutes or less.
Get The Recipe
Paleo Greek Meatballs
Easy gluten-free meatballs that are also Paleo and AIP-friendly. They pack a punch of herbs and FLAVOR! Without the potential allergens! You will love this for a Sunday meatball recipe and it's great for meal prep, too.
25-minute Zesty Ground Chicken Taco Salad (NOT spicy!)
This Paleo Ground Chicken Taco Salad recipe is easy to make, packed with nutritious ingredients, and takes bland ground chicken to a super delicious meal. Plus, it's simple with minimal ingredients and it's Whole30 and AIP-friendly.
Dairy-Free Chicken Dinners
Living a dairy-free gluten-free lifestyle doesn't need to be boring or unmanageable. Not only do these chicken dinners taste great, they can all be made in under 30 minutes and they are filled with body loving ingredients. Everyone I have served these dishes to over the years have loved them, regardless of their dietary requirements. So why don't you liven up your dinner time with one of these incredibly tasty gluten-free diary-free chicken dinners!
Healthy Gluten-Free Orange Chicken (30-Minutes!)
This quick gluten-free Orange Chicken and broccoli rice is the ultimate "fakeout" meal you can feel good about since it's low-carb, Paleo, AIP, and Whole30-friendly!
30-Min Greek Instant Pot Chicken Stew (Paleo, AIP, Whole30)
A delicous, quick Instant Pot Chicken Stew with Greek "stifado" flavors in a rich tomato-cinnamon sauce! It's also eeasy to make AIP-friendly and cook on your stovetop instead if you wish.
One Pan Chicken and Veggies with Bacon
Easy, flavorful, and great for any weeknight meal, this one-pan skillet meal will be a new favorite! The addition of savory bacon mixed with sweet squash and crispy chicken and brussels sprouts is both comforting and bursting with flavor.
Sautéed Lemon-Garlic Chicken Liver & Onions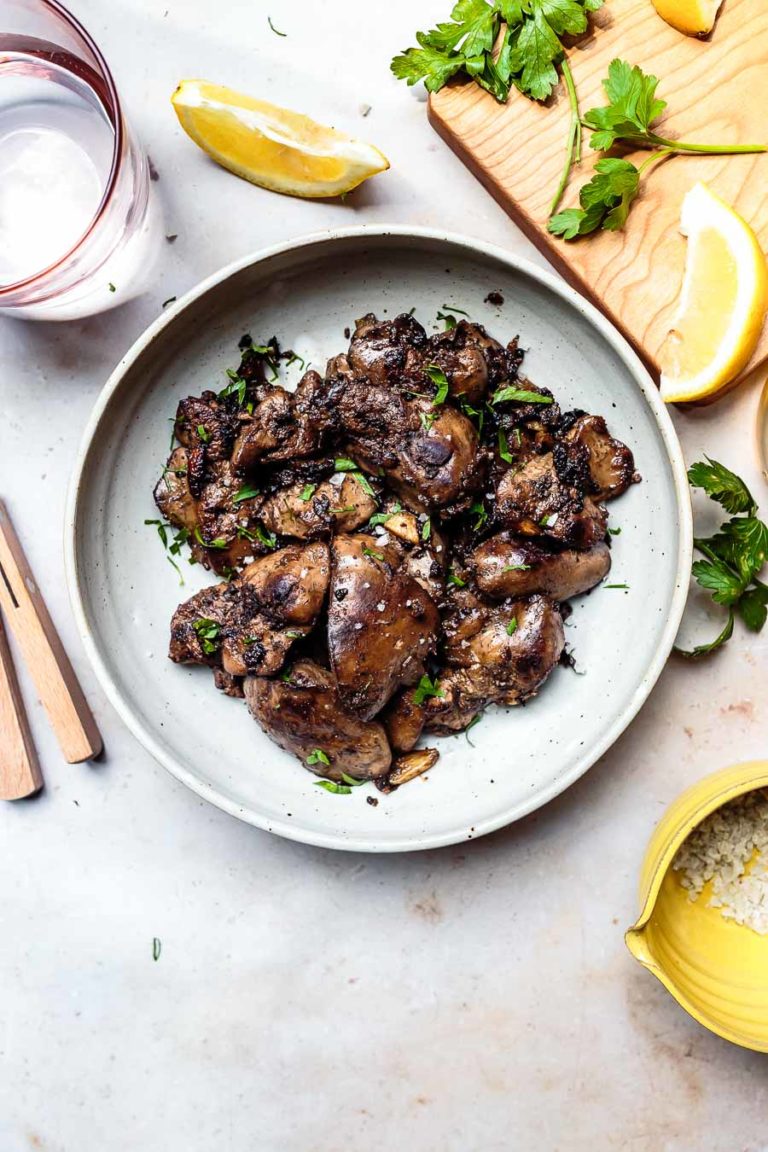 Pasture-raised chicken livers are a superfood packed full of vitamins and minerals. Sautéed with garlic, onions, lemon juice, and more, this chicken liver recipe will turn anyone into a beLIVER! Recipe is Paleo, AIP-friendly, and Whole30-compliant.
Instant Pot Chicken Chili Verde
Cozy up to this super easy and flavorful meal you will love! Serve over cauliflower rice, greens, or whatever you'd like. (Paleo, Whole30, Gluten-free, Grain-free, AIP-options)
Tropical Chicken Salad (Paleo, AIP)
Tropical flavors with shredded, poached chicken swimming in a lime-cilantro vinaigrette! The textures and flavors really come to life and will have you craving salads.
Sunflower Pad Thai (Paleo, Whole30)
An easy (mostly) raw dish swimming in a flavorful sauce! Using sunflower seed butter and coconut aminos instead of peanuts and soy – this dish is paleo and Whole30 approved.
tip!
Need more side dish ideas for dinner? Browse easy, nutritious sides right here!
Beef, Lamb, and Pork Meals
Because there's more to life than chicken! These quick and easy meaty dinners will fill your tummy with the love it's craving. These dishes have been made with families in mind, so even though it's dairy-free, it might not taste like it! Please the full house with any of these yummy meaty dishes, the kids won't even know it's not real cheese!
30-Minute Philly Cheesesteak Skillet (It's Dairy-Free!)
This Philly Cheesesteak Skillet recipe packs in all the flavors of this classic American sandwich without any of the bread or cheese! It's Paleo, Whole30, dairy-free, and delicious with my creamy dairy-free cheese sauce! I also have AIP options.
30-Minute Baked Greek Kofta Kebabs With Tzatziki
Easy low-carb baked kofta kebabs with dairy-free tzatziki make a great weeknight meal or appetizer! The fresh and dried herbs will have you hooked. Plus, it's friendly for diets like Paleo, AIP, and Whole30.
Grilled Picanha Steak with Chimichurri & Grilled Veggies
Love Brazilian steak? Then, make it at home! This grilled Picanha steak, also known as Coulotte or Top Sirloin is a juicy, tender cut of meat with a fat cap giving it extra flavor. Serve it up grilled with a simple chimichurri sauce and grilled veggies for a quick, nourishing meal.
20-minute Healthy Egg Roll Skillet (Soy-free!)
This Egg Roll Skillet Recipe takes just 20-minutes and delivers on what you love about Chinese takeout, but it's Paleo, Whole30, and AIP.
Fast Instant Pot Greek Spaghetti (Gluten-free)
This Instant Pot Greek Spaghetti recipe is easy to make and comes together in just minutes thanks to the pressure cooker. Plus its gluten-free, Paleo, and AIP-friendly!
Grilled Pork Chops with Pineapple Salsa (Paleo, AIP)
This Grilled Pork Chops recipe topped with fresh and vibrant Pineapple Salsa is going to be your new favorite summertime meal!
The Best Baby Lamb Chops with Chimichurri Sauce
Baby lamb chops are pan-seared and drizzled with a zesty, homemade greenchimichurri sauce. This easy lamb chops recipe is ready within 20 minutes.
Quick Seafood Dinners without Dairy
These easy seafood dinners are seriously delicious! Even my gluten and dairy-loving family and friends all enjoy these right along with me, happily, I would like to add! This selection of diary-free dinners are full of flavor and will charge your body with the goodness it needs.
Pan-seared Cod with Lemon Caper Sauce (Paleo, Whole30)
This simple but restaurant-inspired dish will make for a fancy, buttery, flavorful dinner! The sauce is so versatile, you can use on any seafood or skinless fish you'd like.
AIP Canned Tuna Pasta
A delicious, quick canned tuna pasta recipe made straight from your pantry that's AIP, Paleo, and Low-carb with Hearts of Palm Pasta.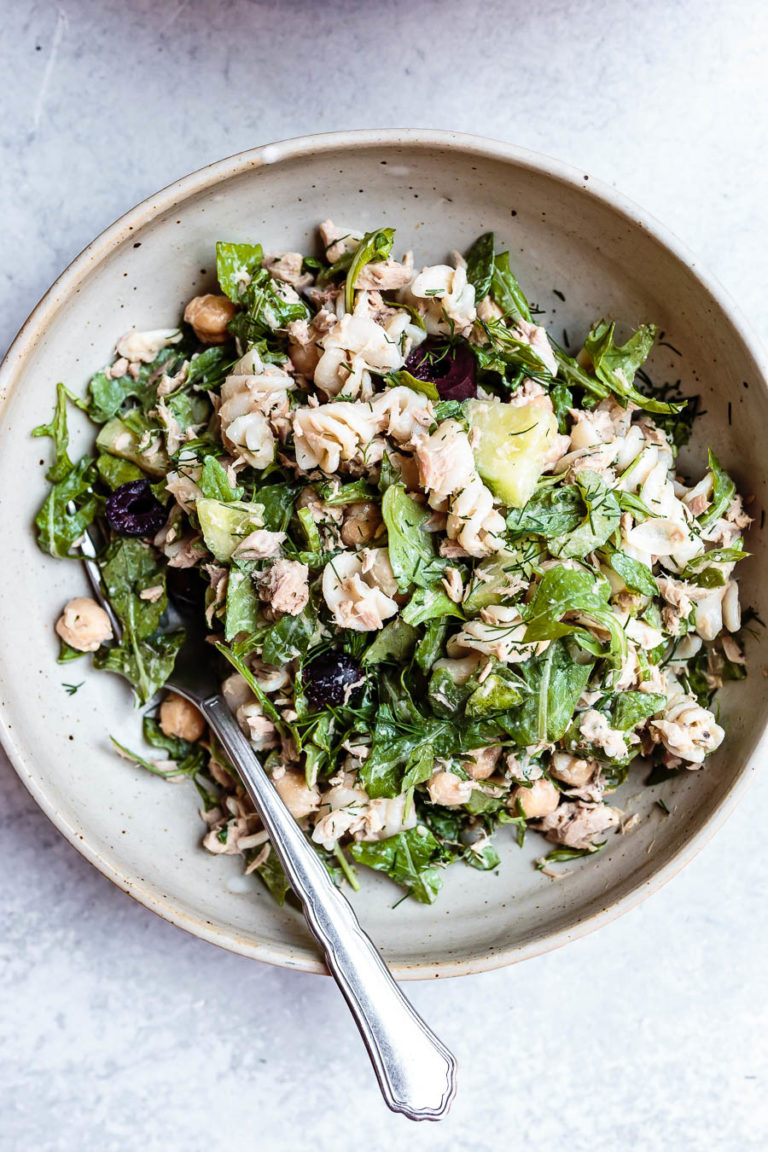 Instant Pot Collection
For when you need it fast – and you don't want to stand over a pot.
More Healthy Recipe Collections To Try
white sweet potato  peeled and chopped 1-inch thick
unsweetened coconut yogurt
STEAK AND VEGGIES
1- 1 ½ rinsed and patted dry
plus more to taste
extra virgin olive oil
yellow or white onion
green bell pepper
red bell pepper
Make the dairy-free cheese sauce. Add chopped sweet potato and enough filtered water to cover, and bring to a boil. Cook until fork-tender for approx. 10-12 minutes and drain. Add sweet potato to a high-speed blender with coconut yogurt, nutritional yeast, and garlic powder. Blend until smooth, adding water as needed to loosen (no more than ¼ cup or so should be fine).
Make the steak and veggies. Slice steak thinly into strips with a sharp knife and season generously with sea salt and pepper.
Heat a cast iron skillet on medium-high heat, and add 1 tablespoon olive oil, once shimmering add onion and peppers. Season with 1 tsp sea salt and saute for 5 minutes or until golden brown.
Remove the vegetables from the skillet and add another tablespoon of olive oil to the hot skillet. Once shimmering again, add the sliced steak and stir with a wooden spoon to coat in the oil. Let cook until crispy, at least 2 minutes per side (the steak will release liquids, cook it beyond that as the liquids reabsorb).
Add vegetables back into the skillet and continue cooking together so the flavors can meld for 30 seconds more or until everything is cooked to your liking. Turn heat off and drizzle the cheese sauce over the skillet and serve hot. Store excess cheese sauce in an airtight container in the refrigerator for 3-4 days.
*Make it AIP-friendly: substitute sliced carrots and zucchini in place of peppers and omit black pepper.
Alison Marras
A round-up of 30 healthy and simple dairy-free dinner recipes. From Teriyaki Stir Fry to Black Bean Burgers, to Mac and Cheese, we've got you covered here!
Quick And Easy Dairy-Free Dinner Recipes
Whether you're dairy intolerant or you want to keep dairy out of your diet, you can still enjoy tasty meals without sacrifices! I know that making a dietary change can be challenging, but we are here to help with our best dairy-free dinner recipes!
Everything here can be made for under 1 hour and all recipes are great for meal prep! No matter if you have hours to spend in the kitchen (I mean, who has?), or you are short on time, you will enjoy these simple weeknight dinner recipes. You can find plenty of plant-based and gluten-free options as well!
What can you eat when you're eating dairy-free?
The thing I suggest focusing on is finding new ways to eat your favorite foods. For example, if you are a big fan of cheesy pasta, you may try making a dairy-free mac and cheese and see how you like it. Or maybe you're into old-fashioned desserts like rice pudding, in which case we have the dairy-free recipe for you. Nothing is off-limits and It's all about finding what you can ADD to your diet, not what you can take!
I hope that these recipes will give you some inspiration to be creative in the kitchen and cook something fun!
Vegetable Teriyaki Stir Fry
This Vegan Stir Fry takes just 30 minutes to prepare! It's made of fried vegetables and tofu that are coated with a sticky teriyaki sauce. It's gluten-free and is great for meal prep! We love to enjoy it with a side of rice, potatoes, or cooked quinoa.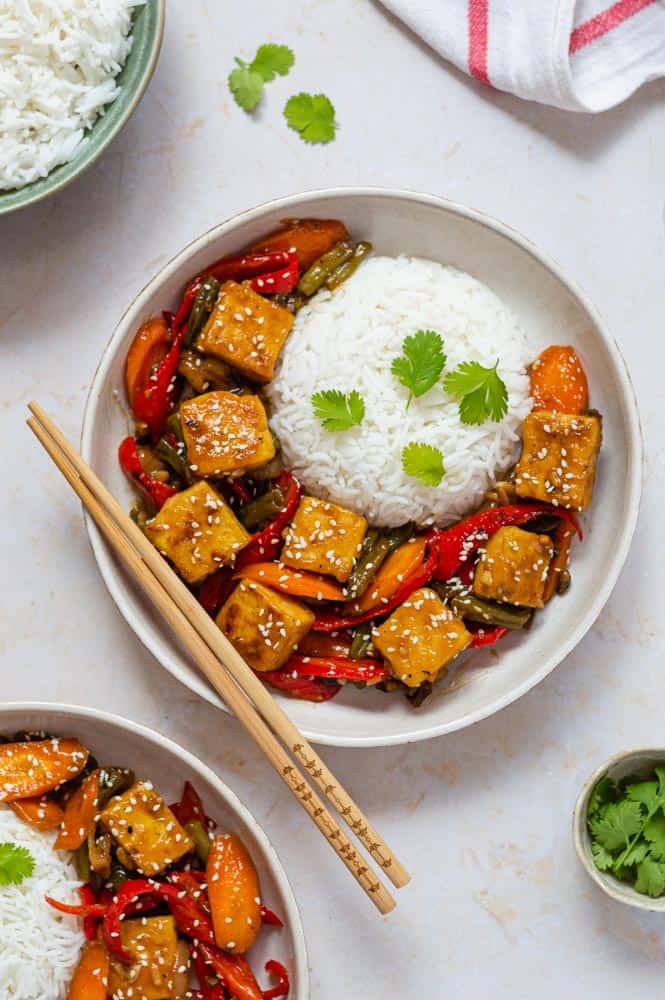 1-Pot Coconut Broccoli Soup
Healthy broccoli soup that requires just 10 simple ingredients and less than 1 hour to prepare! This soup is creamed with coconut milk, for the perfect dairy-free dinner! We love to top it off with some crispy chickpeas, and that takes it to the next level!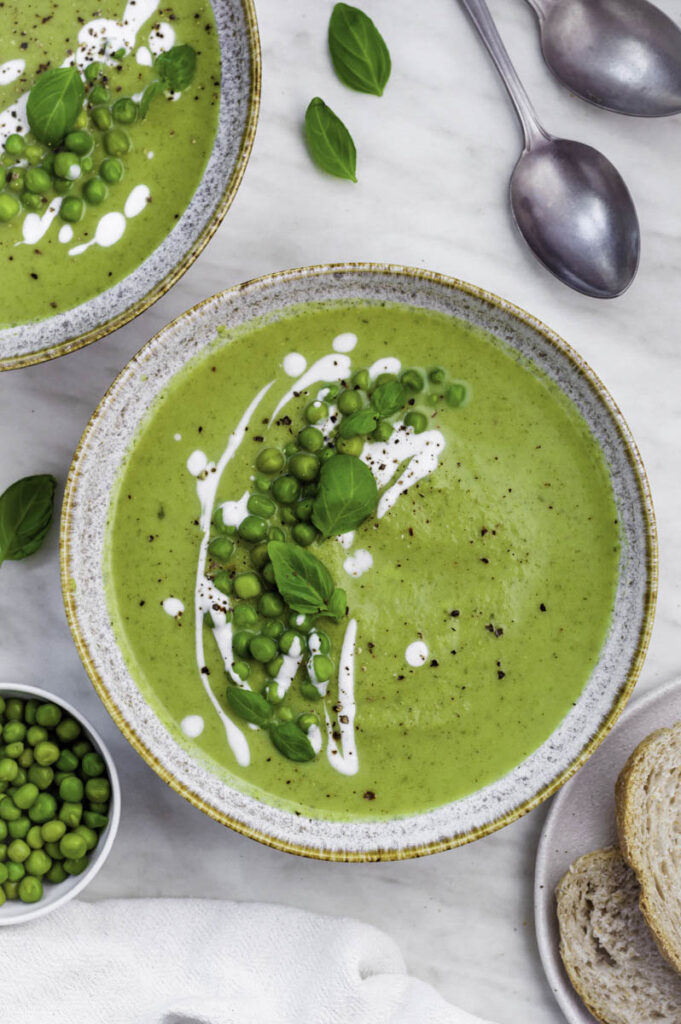 Vegan Kimchi Alfredo Fettuccine
Our spin on the classic vegan alfredo, but spiced up with some kimchi! If you are feeling like pasta night, this is the recipe for you! It's SO simple and easy to make, yet it's quite impressive and packed with flavor! I have to say, this may be my favorite out of all these dairy-free dinner recipes!
Taco Stuffed Sweet Potatoes
Looking for new and creative ways to eat sweet potatoes? Look no further than these taco-stuffed sweet potatoes! They are filled up with a smokey black bean "meat" for a delicious plant-based meal. We love to add a dollop of guacamole, as well as some cashew sour cream for a nice final touch.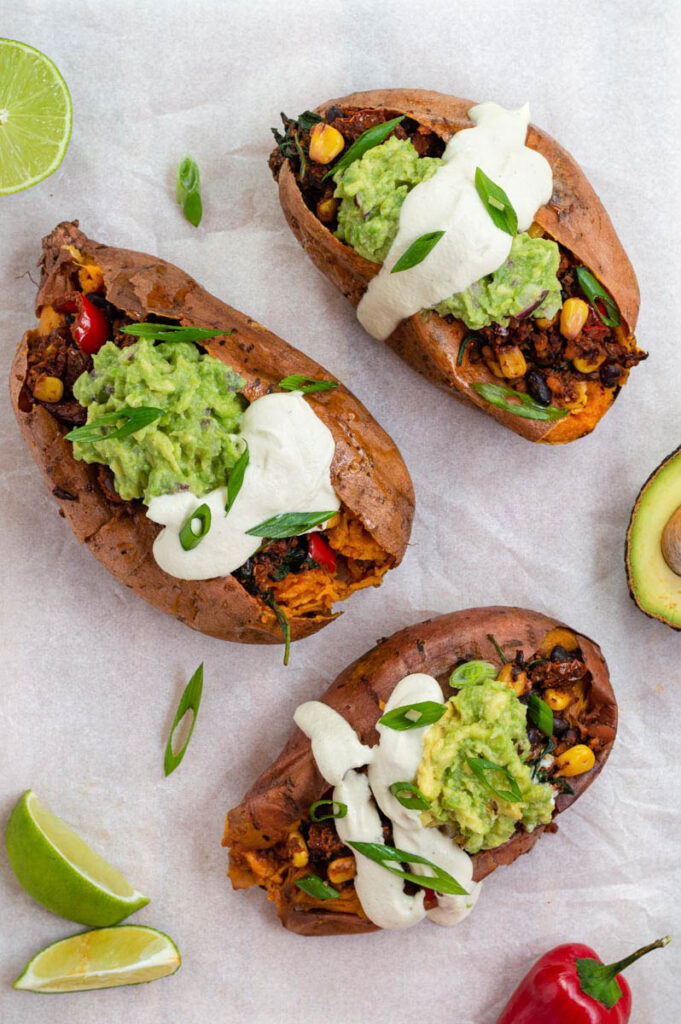 Simple Vegan Lentil Bolognese
This Vegan Lentil Bolognese comes together in under 30 minutes, thanks to the help of some store-bought ingredients! You will need just 8 ingredients to make this speedy pasta dish, and you can save any leftovers for lunch the next day!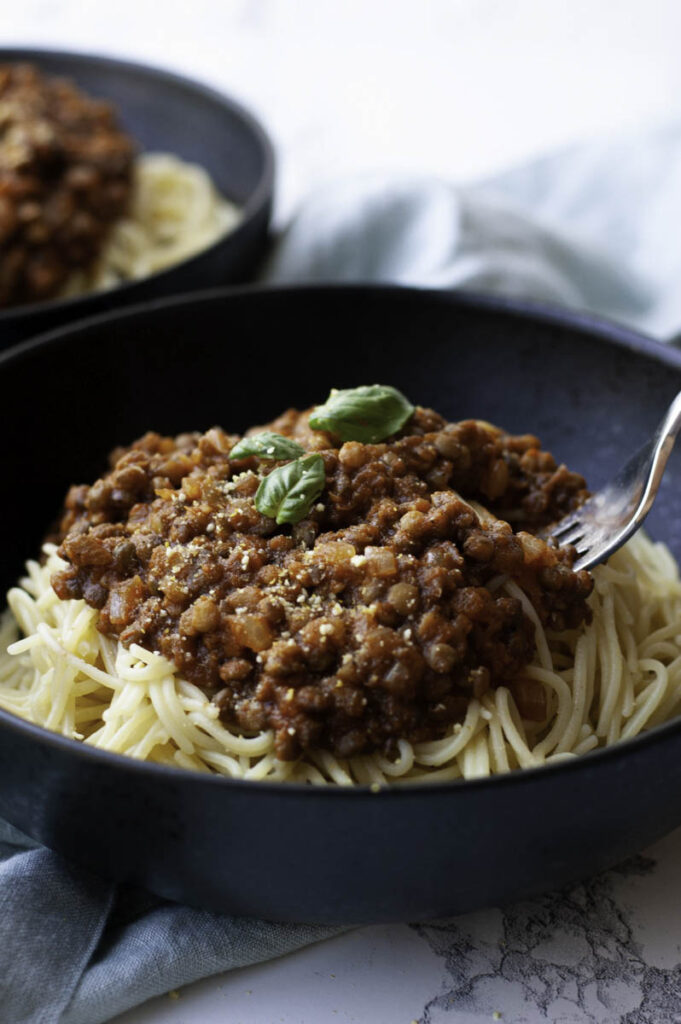 Creamy Polenta with Roasted Squash and Chickpeas
If you have never tried polenta, now is the time! Polenta is pretty much a porridge made from ground corn. It has a creamy and soft texture and is slightly sweet.
I love polenta because it's so versatile, and this combo is one of my favorites. Crispy chickpeas, roasted pumpkin, and caramelized onion. So good!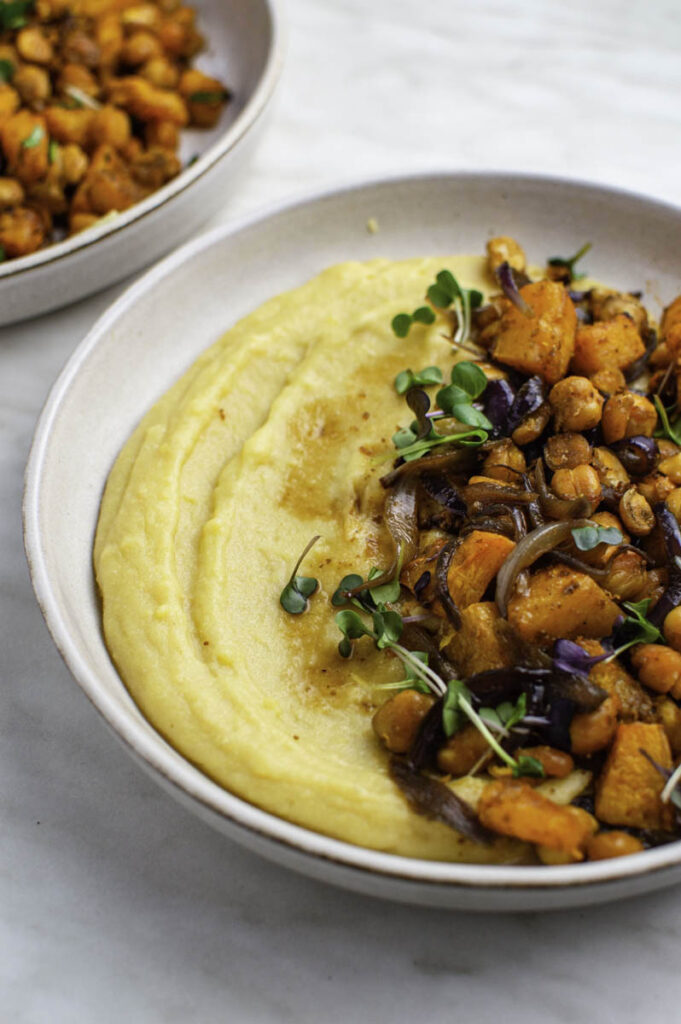 Cauliflower Tinga Tacos
Are you up for taco night? Try these Spicy Cauliflower Tacos next! Loaded with chipotle flavor and topped off with avocado crema, these are a big crowd pleaser!
Easy Black Bean Burger
You can still enjoy a delicious burger, even without the meat and the dairy! This black bean burger comes together in just 30 minutes and is amazing paired with guacamole, spicy mayo, or regular ketchup. You can enjoy it in a bun or even with a side of fresh salad!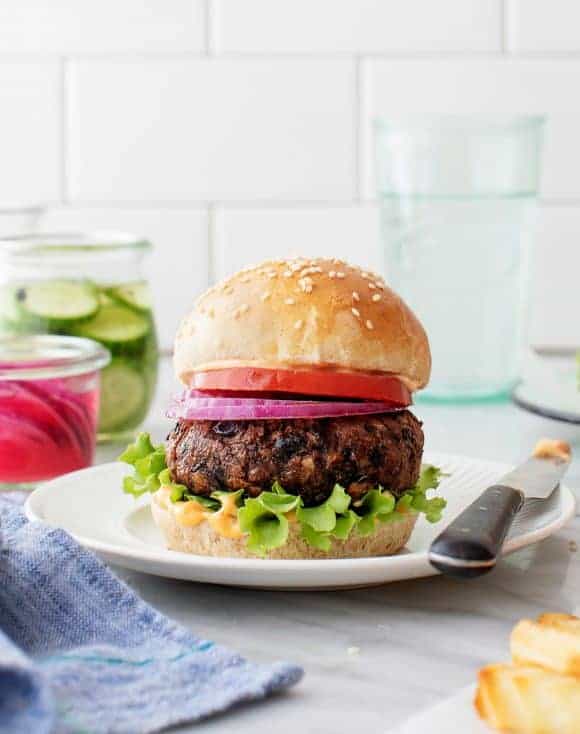 Easy Zucchini Boats
Zucchini boats are an easy summer dinner that the whole family will enjoy! Stuffed with lentils, tomatoes, and fresh herbs, and topped off with a sprinkle of vegan parmesan! Packed with protein and flavor, you have to try this recipe!
Greek-inspired Chickpea Stew by Lazy Cat Kitchen
Craving a big bowl of cozy stew? This Greek-Inspired Chickpea Stew is ideal for a light, but nourishing dinner! It's easy to make and uses canned chickpeas, which is great if you have to serve dinner on the table fast!
Wild Rice Mushroom Soup
Hearty, cozy, and easy to make, this Wild Rice Mushroom Soup comes together in just 1 hour! This recipe is packed with flavor yet it's healthier than traditional wild rice soup.
Vegan Baked Spaghetti
This Vegan Baked Spaghetti casserole is an easy and comforting family dinner! It's a one-pan recipe, made with healthy pantry ingredients!
Eggplant Lentil Curry
This Eggplant Lentil Curry comes together in around 30 minutes! It's hearty, comforting, and packed with flavor and plant-based protein. We love to serve it alongside some coconut rice or curried mashed potatoes.
Vegan Mac and Cheese without Cashews
This Vegan Mac and Cheese is creamy, cheesy, and made with absolutely no cashews! It's quick and easy to make, with just 20 minutes needed! Nut-free and gluten-free.
Golden Noodle Soup
This Vegan Golden Noodle Soup comes together in around 35 minutes! It's comforting, packed with flavor, and easy to make! Serve it up for dinner on a cozy winter night!
Vegan Rainbow Lasagna
Veggie-packed vegan rainbow lasagna which is wholesome and healthy. The colors make it the perfect dinner centerpiece too!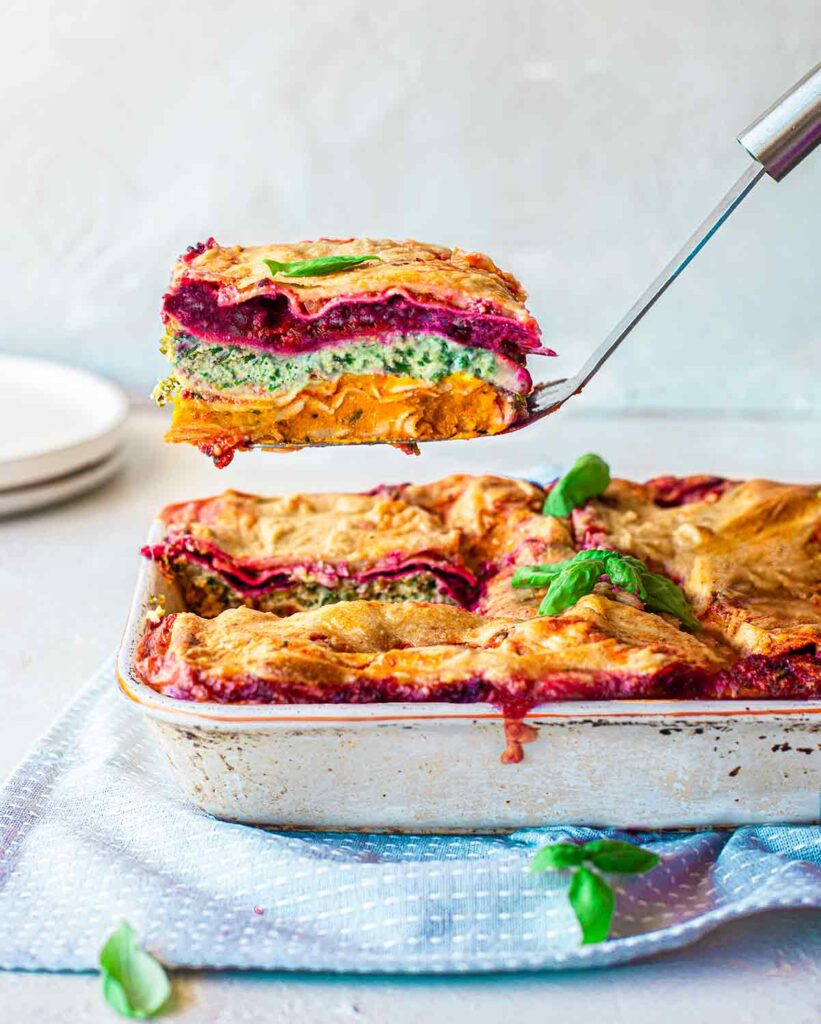 by Rainbow Nourishment
Chickpea and Spinach Curry
This chickpea and spinach curry in creamy coconut milk are fast, easy, and comforting.
Healthy Vodka Sauce Pasta
This Healthy Vodka Sauce Pasta recipe comes together in just 30 minutes! Perfect to serve at a family dinner- it's spicy, creamy, and naturally vegan!
Easy Potato Goulash
This Potato Goulash recipe is an easy 1-pot flavourful dish that's especially popular around Central Europe. The basic recipe only requires 6 simple ingredients– it makes the perfect weekday lunch or dinner!
Stuffed Butternut Squash
Looking for a hearty vegetarian main dish? Roast up these Vegan Stuffed Butternut Squash filled with cranberry rice, pecans, and chickpeas.
Air Fryer Falafel
Ditch the deep-fryer and make healthier Air Fryer Falafel instead! These falafels have a crispy outer shell and are soft and tender inside. This vegan and gluten-free recipe comes together in just 20 minutes too!
Mushroom Stew by Nourish Plate
This is an easy one-pot meal that is ready in less than 30 minutes. You can eat this delicious Mushroom Stew all year round and it goes well with pasta, quinoa, rice, or mashed potatoes. This recipe is vegan, low-fat, and can be made gluten-free.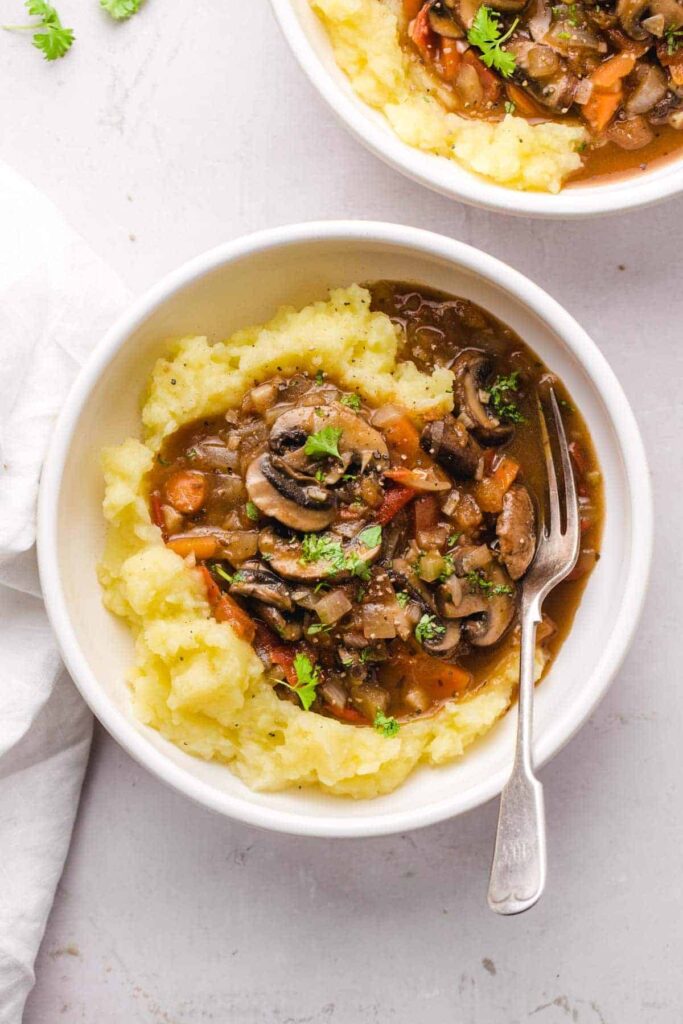 This vegan Mediterranean Buddha bowl recipe is loaded with nutritious, real food. Fresh Mediterranean-inspired ingredients with an easy dairy-free tahini dressing.
15-Minute Vegan Sloppy Joes
Dinner can be ready in just 15 minutes with these ridiculously simple Vegan Sloppy Joes. Made with lentils, peppers, onions, and a handful of other pantry basics, dinner is served in no time and is delicious and filling!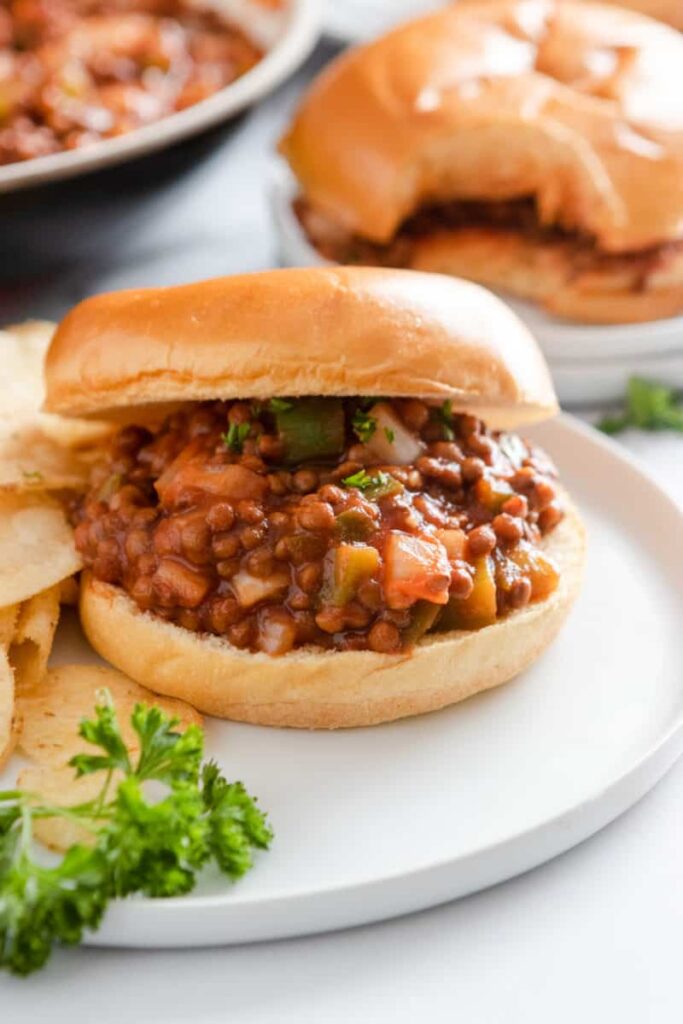 Vegan Broccoli Cheese Soup
Creamy, "cheesy" broccoli soup filled with veggies. No cashews required
Veggie Soba Noodles
An easy, healthy weeknight meal that can be made vegan and gluten-free, and is a veggie bowl that even non-vegetarians will love!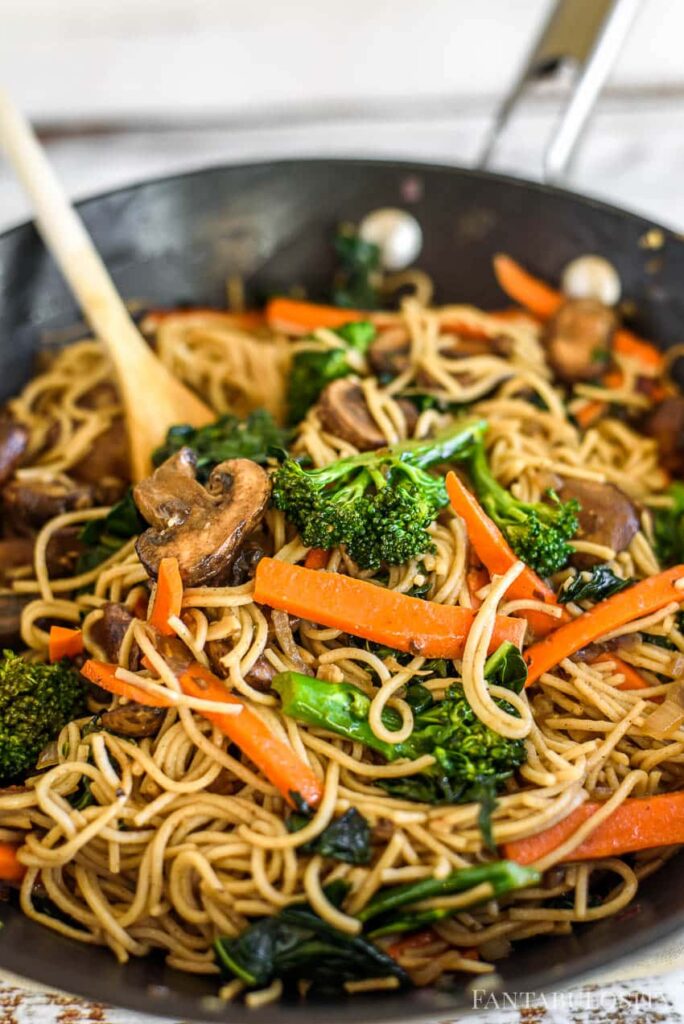 Brussels Sprouts Curry
Hearty and deliciously satisfying Brussels Sprout Curry is the perfect fall weeknight dinner! The curried brussels sprouts, potatoes, and carrots coated with a warm-spiced coconut curry sauce infused with tahini and sesame seeds are simply irresistible!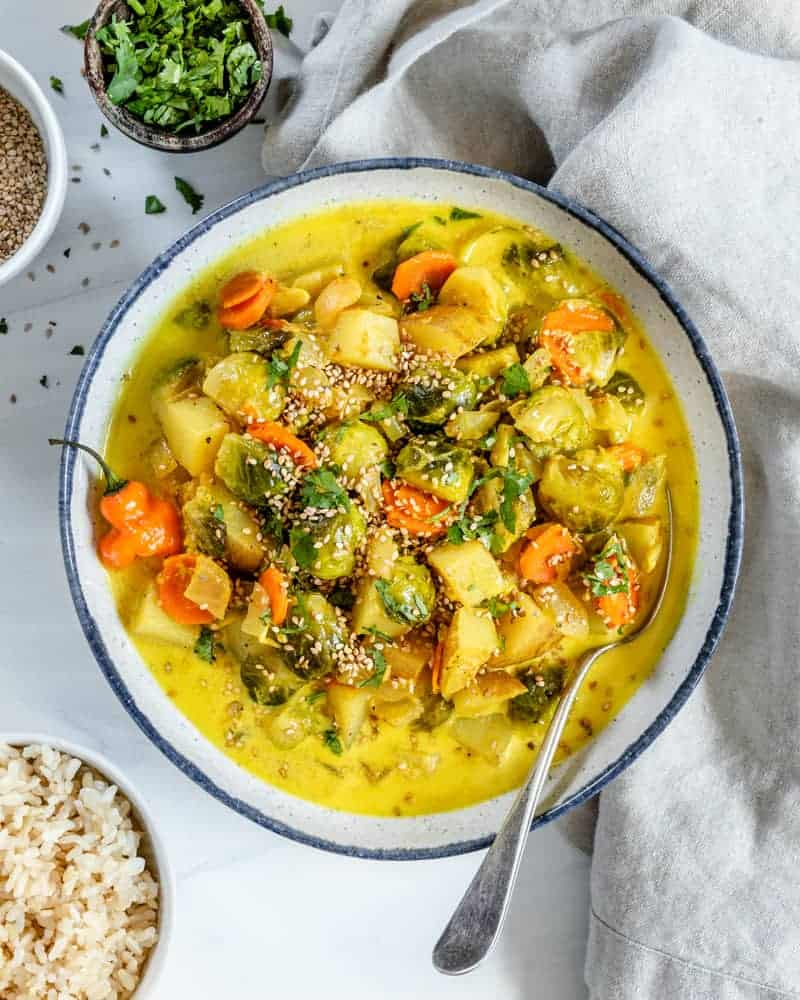 Dairy-free Potato Leek Soup
Let me show you how to make the BEST dairy-free potato leek soup! It turns out super creamy and silky smooth, yet it's healthy and easy to make!
Stuffed Veggies with Bulgur
Full of goodness, this healthy stuffed veggies with bulgur wheat recipe will become a favorite one if you try it. It's a traditional Greek dish with a twist that is perfect for a big family and children will love it.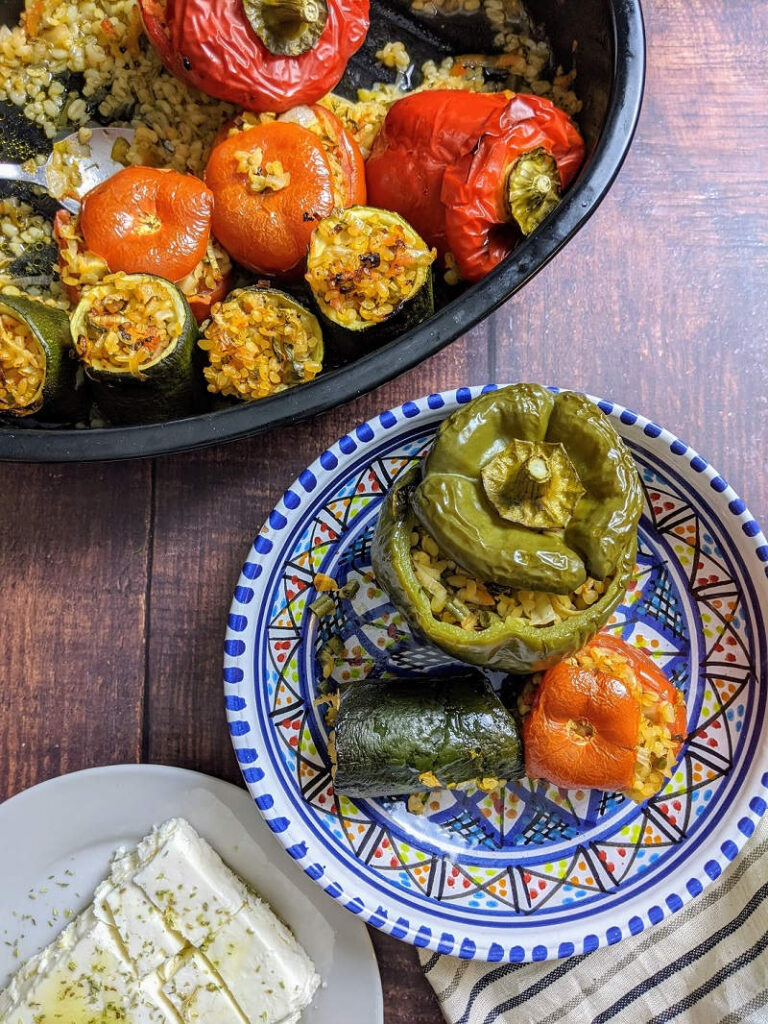 Vegan Sweet Potato Shepherd's Pie
Vegan Shepherd's Pie is savory, hearty, and delicious. This easy recipe gets some serious umami from wine-braised mushrooms and is topped with tasty sweet potato mash for rustic comfort food that everyone will love.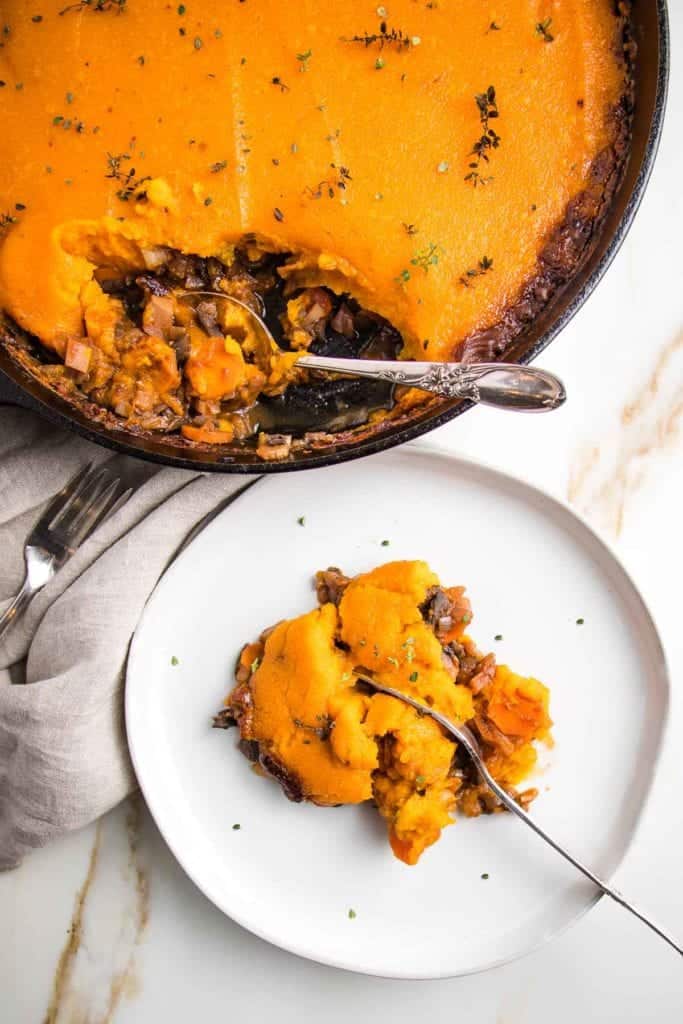 This collection of dairy free dinner recipes will help you answer the big question, 'what's for dinner tonight?'. With plenty of options for all different tastes and moods, you'll find an idea for an easy, delicious meal in this list.
Whether you or someone you're cooking for has an allergy or lactose intolerance, you'll be able to find a recipe here that doesn't feel like you're missing out just because you can't use milk, cheese, butter or cream. You won't even realise these meals are 100% dairy-free!
From stir fries and noodles, to soups and creamy pastas, and plenty of vegetarian and vegan options, this recipe collection will help ensure you can get dinner on the table for the family without too much stress.
I hope you enjoy these dairy free dinner ideas and find something you add to your dinner menu this week!
1. Teriyaki Salmon and Avocado Rice Bowls
This easy 20 minute meal is one of my favourites to throw together after a busy weekday. With a super simple homemade sweet and sticky teriyaki sauce, baked salmon and fresh avocado on a bed of rice you'll be making this regularly in no time!
2. Slow Cooked Curried Sausages
While not the prettiest dish, this classic comfort food is popular for a reason! The whole family will love these curried sausages plus you can turn the slow cooker on in the morning and be rewarded with a wholesome and comforting meal at the end of the day.
3. Dairy Free Mac and Cheese
This dairy free mac and cheese is the ultimate comfort food and my go to when my cupboards are looking a little bare and I'm searching for dinner ideas. It's super rich and creamy but without any actual cheese but definitely with a huge cheesy flavour!
4. 15 Minute Garlic Prawn Noodles
Short on time but still want a delicious and full of flavour meal? These 15 minute garlic prawn noodles come together quicker than you can order takeaway with thick and chewy udon noodles coated in a rich oyster sauce with broccoli and prawns.
5. Dairy-Free Butter Chicken
This is a super simple version of this family favourite meal that is so easy to make from scratch. It will become a staple in your weeknight recipe repertoire as you'll love just how easy and delicious it is.
6. 20 Minute Hoisin Pork Stir Fry
Get dinner on the table fast with this quick 20 minute hoisin pork stir fry made with tender strips of pork, crunchy vegetables and a big flavour hit of ginger and chilli. This is the perfect simple weeknight meal you'll want to keep on rotation.
7. BBQ Prawn Tacos
Fire up the BBQ and make these prawn tacos with zingy lime and chipotle grilled prawns, crunchy red cabbage and the ultimate creamy avocado jalapeno sauce. These are an easy light dinner and can be customised to suit your tastes!
8. One Pan Baked Salmon and Broccoli
This one pan baked salmon and broccoli is the perfect recipe for an easy weeknight dinner and is super delicious thanks to the sweet and sticky maple ginger glaze. It's delicious, healthy and comes together in just 20 minutes!
9. Creamy Salmon Tagliatelle
This creamy salmon tagliatelle is the ultimate dairy-free comfort food. Its rich and creamy with a thick sauce, peas, flaked baked salmon and a squeeze of lemon. You won't believe it's dairy free!
10. Easy Chicken Fried Rice
For the perfect family friendly meal to get on the table quickly with minimal fuss on those busy weeknights you can't go past chicken fried rice. With simple ingredients, this dish is sure to be a frequent addition to your menu.
11. Lemon and Garlic Chicken Tray Bake
This garlic and lemon chicken tray bake is the perfect weeknight meal with just 10 minutes hands on prep time. Made with just a few everyday ingredients, you really can't go wrong with a tray bake!
12. Crispy Chicken Burger
These crispy chicken burgers are the ultimate made at home takeaway food. While they have a little more prep time than others on this list, it's 100% worth it for the big pieces of juicy fried chicken!
13. Mum's Pumpkin Soup
This is my mum's recipe and absolutely one of my must makes every winter season, and a classic in homes around the country! This version is dairy free and can easily be adapted to be vegan/vegetarian as well.
14. One Pot Cajun Chicken Pasta
This one pot Cajun chicken pasta is creamy, spicy, and quite simply delicious. Plus it's completely dairy free! This easy pasta recipe is perfect for weeknight cooking when you want something easy but without compromising on flavour.
15. Cottage Pie
If you're looking for something more traditional, this cottage pie is made with a rich savoury beef mince and a layer of creamy mashed potato and cooked until golden brown. It is the perfect homemade comfort food that the whole family will love!
16. Homemade Sweet Potato Gnocchi with Garlic and Spinach
This vegetarian dish is so much easier to make than you might think using just 4 ingredients. The gnocchi are then pan fried to crispy, pillowy perfection and served simply with spinach and garlic oil.
17. Thai Red Curry with Baked Chicken Meatballs
Zesty chicken meatballs are packed full of flavour and definitely not dry thanks to being baked in the oven. Tossed in a thick and creamy Thai red curry sauce and served over a bed of fluffy rice, this a perfect twist on a classic weeknight dinner.
18. Dairy-Free Potato and Leek Soup with Bacon Crumb
Made with just a few inexpensive ingredients, this easy meal is the perfect comfort food to feed the whole family. The bacon crumb is optional, but also, you should make it because it's amazing.
19. Honey Soy Chicken
Homemade honey soy chicken is so delicious and easy to do – the whole family will love the rich flavour of this meal that will rival any takeaway. Serve with your favourite veggies and rice for a complete meal.
20. 10 Minute Peanut Butter Noodles
What do you cook when you want takeaway but should really just eat the food you have in your house? These easy peanut butter noodles can be made within 10 minutes. They are creamy, cosy and so simple, they'll quickly become a go-to!
21. One Pot Vegan Mushroom Stroganoff
You can't get easier than a one pot meal for weeknight cooking. This vegan mushroom stroganoff could not be easier to make. Plus this variation on a family favourite is also dairy-free and vegan with a gluten free option.
Brand new to an allergy-friendly diet? Use these awesome gluten-free dinners to get you started!
I have an advertisement relationship with the ads in this post. Check out my disclaimer here
It can feel overwhelming at first to eliminate food groups, especially when most healthy recipes rely on wheat, milk, and cheese. But you do have options! These dairy and gluten-free dinner recipes will fire up your taste buds and give you some new family favorites!
How To Eliminate Dairy & Gluten From Your Diet
It's not easy making the switch to a dairy-free diet or gluten-free diet, so if you're brand new, know that it does get better!
While at first omitting traditional pasta, cheese, and butter from your diet is super scary, eventually you get sued to the alternatives.
And finally, know the benefits of a dairy-free diet so you know what awesomeness to expect!
Then, remember to double-check the ingredients on items like pasta, crackers, dressings, and chips/snacks. More often than not, things are hidden.
You do have some good swaps for dairy-free recipes though:
When it comes to dairy-free recipes, know that not everything is going to taste exactly like the traditional version. However, that doesn't mean there are not some wicked, delicious recipes! It just means there might be some adjustment time for your palate.
Below is a list of thirty delicious dairy and gluten-free dinner recipes that the family will love.
The best part though is that these dairy-free recipes are also:
Simple to make for busy weeknights
Kid-approved
Fueling and loaded with whole foods
There's a large range of dinner ideas here and all your regular comforts. You'll find gluten-free pasta, casseroles, one-pot meals, and more. With these gluten-free dinner recipes, I know you'll find some new family favorites as there's something for everyone.
Expect to be eating a lot of nourishing comfort foods all with allergy-friendly swaps! And if you need more of a plan, check out this 30-day dinner meal plan or the best recipes for busy moms!
No mess and no fuss! These sheet pan steak fajitas make the perfect weeknight dinner recipe. Made with fresh veggies, lean beef, and homemade fajita seasoning, this easy, healthy dinner comes together in under 20 minutes.
Italian sausage and sweet bell peppers mixed with leeks and garlic all mixed in with an easy tomato sauce. This sausage, peppers, and rice skillet make for an easy weeknight dinner!
Garlic Thyme Chicken is an easy, quick family friendly meal. Ready in under 25 minutes this dish is full of lemon thyme chicken flavour and is gluten/dairy free, and top 8 allergen free.
Packed with flavor from homemade fajita seasoning, these chicken fajita bowls make a wicked meal prep recipe! Topped with juicy chicken and seasoned veggies, these bowls are a wicked weeknight dinner recipe
These Gluten Free Cinnamon Apple Pork Chops are delicious made with sliced apples and cinnamon blended with brown sugar, nutmeg, rosemary, and paprika.
Authentic chicken cacciatore is an impressive, but easy one pan meal. Basic vegetables and chicken are the foundation of this recipe; easy, delicious and no side dishes needed!
It comes together in about an hour and the process literally couldn't be any easier. Braised chicken thighs recipe uses plenty of vegetables and it serves the best with rice, since there is plenty of delicious sauce to pour over it.
My easy slow cooker Southwest Chicken recipe is savory, tangy and spicy deliciousness! You'll love this juicy, melt-in-your-mouth tender chicken! Use it in a wide variety of meals throughout the week. It's chicken meal prep heaven! And, it's a naturally gluten and dairy free recipe.
This Hamburger Potato Casserole recipe is simple, affordable, and delicious comfort food. And, Potato and Ground Beef Casserole is naturally gluten free.
Super tender, this baked teriyaki chicken is coated in a sweet, gluten-free teriyaki sauce. This gluten-free dinner recipe uses boneless chicken thighs to make for easy weeknights!
An easy, flavorful dinner recipe made in just 15-minutes. Made with dairy-free, basil pesto and gluten-free noodles, this creamy chicken pesto pasta makes the perfect weeknight meal.
Vegan Thai Drunken Noodles (Pad Kee Mao) top the list of my all-time favorite Thai recipes. Spicy, saucy, with a hint of sweet, and packed with healthy vegetables and fresh basil, these Tofu Drunken Noodles take less than 30 minutes to prepare in one pot, are gluten-free, dairy-free and meatless.
This stir fry has all your favorite ingredients like steak, broccoli and tapioca flour. It's perfect for celiac, keto, and paleo diets.
Ready in under 45 minutes, Instant Pot Chicken Stew is a comforting and filling gluten-free weeknight dinner to make for your family!
A quick and easy gluten-free chicken fried cauliflower rice recipe uses cauliflower rice instead of white rice, healthing up this popular Chinese dish by adding in more vegetables.
Slow cooker lemon pepper chicken is a delicious and easy one-pot meal. Tender chicken pieces, potatoes, and carrots cooked in a light lemon-pepper, and garlic sauce.
This vegan sweet potato burrito bowl is quick comfort food! Made with roasted sweet potatoes and avocado dressing this gluten-free dinner idea is perfect for meatless Monday.
These chicken wings are super easy to make containing just 3 ingredients. They're flavorful, crispy and yummy.
A creamy Tuscan chicken recipe made in the slow cooker. Infused with garlic, leek, and basil undertones this crockpot Tuscan chicken could be right out of Italy. Made with a base of coconut milk and bone broth this easy, gluten-free weeknight dinner is also paleo and whole30 approved.
Whether you don't like cheese alternatives, can't find them at the grocery store or simply want to save money, this cheeseless pizza is for you! The caramelized fennel and onion add so much flavor that you won't even miss the cheese.
Mom's Best Classic Gluten-Free Vegan Baked Ziti without the dairy, but still under 5 ingredients! This make-ahead "cheesy" pasta dinner casserole is soy-free too, super easy, delicious, and baked in 20 minutes! Great as a freezer meal or having leftovers throughout the week!
Bursting with flavor this lemon noodle bowl recipe is the perfect 30-minute meal. The soba noodle bowl dressing is made from freshly squeezed lemon juice and miso, brightening up your palate.
Classic ingredients with a fun twist! This healthy cobb salad is made with a cobb salad dressing that's both easy and refreshing! It's a summertime salad that hits the sweet spot of protein-packed deliciousness.
An easy weeknight dinner recipe this sheet pan lemon chicken is literally bursting with flavor. Gluten-free dairy-free sheet pan chicken and potatoes that are baked in the oven until juicy and paired with vegetables of your choice.
These dairy-free, grilled vegetable hummus wraps are a meal you can prepare in just minutes. Made creamy with a smear of hummus and loaded with veggies.
A tender, slow cooker teriyaki chicken recipe that takes under ten minutes to prep! This easy teriyaki chicken recipe is sweetened with honey to give you a sweet but healthy teriyaki sauce.
Made with just sausages, green beans, and tomatoes but topped with a quick honey garlic sauce, this gluten-free dinner makes the perfect weeknight meal
A 30-minute, weeknight dinner, this easy, gluten-free meatball recipe is perfect for busy nights. These meatballs are tender, simple, and flavorful. Furthermore, they're topped with a sticky, homemade teriyaki sauce!
This gluten-free slow cooker lamb shoulder super easy. With just five ingredients you can throw it on in the morning for a delicious fuss free meal at dinner time.
A flavorful sweet peach curry recipe made with immune-boosting ingredients. This easy curry recipe is the perfect blend that combines traditional curry flavors with a sweet twist. A gluten-free 30-minute meal perfect for weeknights.
Sweetened with honey, these teriyaki chicken skewers make a tasty gluten-free dinner recipe or easy meal prep idea. Easy to make, this chicken dinner uses a homemade teriyaki sauce to give them their classic flavor.
A protein-loaded, comfort meal perfect for Sunday night dinner. This venison chili recipe is easy to make and packed full of classic flavor. Cozy up with a big bowl of gluten-free venison chili and warm up from head to toe.
Packed with protein and a fiery kick these gluten-free turkey meatballs make a great weeknight dinner! Baked in the oven to juicy perfection this turkey meatballs recipe is also easy to make and a great meal prep recipe.
An energizing and refreshing, plant-based power bowl! This Buddha bowl with quinoa is topped with raw beets, chickpeas, and a light tahini orange dressing.
An irresistible, creamy, one-pot sausage dish! This tomato sausage pasta is a 30-minute weeknight meal recipe that no one can refuse. Naturally dairy-free and made with gluten-free noodles this one-pot meal will become a family favorite!
A one-pot pasta recipe made in under thirty minutes. This creamy, dairy-free chicken alfredo is the perfect weeknight meal. Whipped up with a blend of coconut milk and gut-healing broth, this chicken alfredo pasta makes an easy, flavorful dinner.
Tender, juicy chicken breasts with just 5-minutes of prep! This crock pot balsamic chicken is as easy as it gets for a gluten-free dinner. Soaked in maple balsamic dressing and cooked slowly over the day, this maple chicken makes the perfect busy mom, weeknight dinner.
Shelby aka Mama Bear
Meet Shelby – a Certified Strength Coach who has spent the last 10 years teaching women how to show up for their goals.
Her website, Fitasamamabear.com is a crucial resource for busy moms who need help making fitness and healthy living practical.
Learn how an everyday smoker and fast food junkie turned into a super fit mom of 3. If you want to send Shelby a message, visit her contact page.
Reader Interactions
Go to Recipe
Wash this satisfying dish down with a dairy-free dessert or a tall glass of lactose-free milk.
Baked Pot Stickers with Dipping Sauce
Twisting these wonton wrappers like little candies makes them fuss-free, and the dipping sauce is packed with sweet heat. —Taylor Marsh, Algona, Iowa
Air-Fryer Peanut Butter Cookies
An iconic American cookie, this version is so easy to mix up and bakes even faster in the air fryer. With these air-fryer peanut butter cookies, cravings can now be satisfied in mere minutes. —Maggie Schimmel, Wauwatosa, Wisconsin
Cranberry Meatballs
Lots of people have asked me for this recipe, but I knew I had a real winner when my grandmother asked me for it! —Tammy Neubauer, Ida Grove, Iowa
Grilled Southwestern Steak Salad
Pasta salad loaded with steak, peppers and onions makes both my boyfriend and me happy. Plus, it's versatile! We serve it hot, room temperature or cold. —Yvonne Starlin, Westmoreland, Tennessee
Pork and Apple Tamales
Serve this family favorite for all occasions: a quick dinner, brown-bag lunch, hearty snack or even a fun appetizer. —Marie Macy, Fort Collins, Colorado
Pumpkin Pecan Whoopie Pies
These whoopie pies are chock-full of pumpkin flavor—a perfect treat for fall! For a finishing touch, I like to roll the outside edges in mini chocolate chips or chopped nuts and dust with cinnamon sugar. —Rashanda Cobbins, Milwaukee, Wisconsin
Party Spinach Spread
This appetizer is delicious, easy and pretty, too! Everyone who tries it asks for the recipe. The spread keeps for several days, so it's great for making in advance for a party. But once you put it out, it won't last long! —Maire Macy, Fort Collins, Colorado
Mom's Soft Raisin Cookies
With four sons in service during World War II, my mother sent these favorite cookies as a taste from home to "her boys" in different parts of the world. These days, my 11 grandchildren are enjoying them as we did, along with my stories of long ago.— Pearl Cochenour, Williamsport, Ohio
Spaghetti with Bacon
As children, we always requested this dish for our birthday dinners. Our mother got the recipe from her grandmother. Now I pass on our tasty tradition. —Ruth Keogh, North St. Paul, Minnesota
Dairy-Free Lemon Scones
Butter is traditional in scones, but I use coconut oil, which is solid at room temperature and can be cut in like butter. My family enjoys these for brunch on Sundays. Stir in a tablespoon of poppy seeds for a fun twist. —Linda Persall, Cullman, Alabama
Garlic Garbanzo Bean Spread
My friends and family always ask me to make it. I guarantee you'll be asked for the recipe. —Lisa Moore, North Syracuse, New York
Chocolate Chip-Banana Belgian Waffles
Gluten-free pancake mix and rice milk are the secret ingredients in this treat from my cookbook, Cooking for Isaiah: Gluten-Free & Dairy-Free Recipes for Easy, Delicious Meals. Chocolate and bananas never tasted better! —Silvana Nardone, Brooklyn, New York
Banana Macadamia Muffins
These muffins taste even better the next day, so to save time, I often make them the night before. They stay moist for days, plus the ingredients you need for this dairy free food are easily accessible at any grocery store. —Stasha Wampler, Clinchport, Virginia
Super Spud Brownies
These moist and cakelike brownies came from my mom's old cookbook. Mashed potatoes may seem like an unusual ingredient, but they work beautifully—this recipe took first place at a local festival. —Marlene Gerer, Denton, Montana
Lahmajoon (Armenian Pizza)
With my family's Armenian background, I grew up surrounded by great cooks. Since Armenian food is time-consuming and labor-intensive, cooking for any party started weeks in advance. I learned to cook from my mom but have revamped many of her dishes to make them healthier, simpler and quicker, like this version of Armenian Pizza. —Jean L. Ecos, Hartland, Wisconsin
Chipotle Focaccia with Garlic-Onion Topping
Chipotle peppers leave some people tongue-tied; others can't get enough of the smoky heat. I came up with this recipe for chipotle, roasted garlic and caramelized onion focaccia. Some wanted it spicier—it's only a medium heat pepper—and some like it just the way it is. Add more if you crave the fire. —Frances "Kay" Bouma, Trail, British Columbia
Italian Pignoli Cookies
Cookies are the crown jewels of Italian confections. I can't let a holiday go by without baking these traditional almond cookies rolled in mild pine nuts.—Maria Regakis, Somerville, Massachusetts
Savory Turkey Potpies
This will perk you up on a cold, rainy day. You can use chicken in place of turkey, and I like to serve the potpies with a fresh green salad or cranberry sauce on the side. —Judy Wilson, Sun City West, Arizona
Puerto Rican Coconut Pudding
Tembleque, or coconut pudding, brings back so many memories of the days my family would vacation in Puerto Rico to see my relatives. It was one of my favorite things to eat—I'm sure it will become a much-loved recipe with your family, as well. —Linette Serenil, Upland, California
Portobello Bruschetta with Rosemary Aioli
By caramelizing onions, broiling peppers and whipping up a homemade aioli with fresh herbs, you will add dimensions of flavor not found in store-bought bruschetta. —Stephanie Metzger, Camp Hill, Pennsylvania
Mini BLT Appetizers
Pan-Roasted Chicken and Vegetables
This one-dish roast chicken with vegetables tastes as if it took hours of hands-on time to put together, but the simple ingredients can be prepped in mere minutes. The rosemary gives it a rich flavor, and the meat juices cook the veggies to perfection. It's unbelievably easy! —Sherri Melotik, Oak Creek, Wisconsin
Garbanzo-Stuffed Mini Peppers
Mini peppers are so colorful and are the perfect size for a two-bite appetizer. They have all the crunch of pita chips but without the extra calories. —Christine Hanover, Lewiston, California
Rosemary Flatbreads
My family loves this as a pizza crust. But with a touch of olive oil and fresh herbs it makes a lovely flatbread appetizer. —Sue Brown, West Bend, Wisconsin
Lime & Gin Coconut Macaroons
I took these lime and coconut macaroons to our annual cookie exchange, where we name a queen. I won the crown! —Milissa Kirkpatrick, Angel Fire, New Mexico
Ginger Butternut Squash Bisque
This soup is filling enough for my husband, and it's vegetarian, which I love. The couple who introduced us made it for us on a freezing night and we've been hooked ever since. —Cara McDonald, Winter Park, Colorado
It's hard for our family to imagine eating mashed potatoes any other way but this. It tastes great on its own or drizzled with tahini sauce. —Nikki Haddad, Germantown, Maryland
Mango Sticky Rice
As a nice contrast to traditional desserts, this Thai mango sticky rice recipe is a refreshing treat with a sweet and simple sauce that perks up your post-dinner taste buds.—Monnie Norasing, Mansfield, Texas
Best Ever Veggie Burger
It was so hard finding a veggie burger that tasted good, didn't fall apart on the grill and was easy to make so I decided to create my own. —Sarah Tramonte, Taste of Home Associate Culinary Producer
Thai Pasta with Spicy Peanut Sauce
We love how the whole wheat pasta and crisp, raw vegetables blend with the rich and creamy peanut sauce. The addition of fresh lime juice really brightens the flavor of the dish. Some eat it hot, but my husband and I prefer to wait until it's closer to room temperature. —Donna McCallie, Lake Park, Florida
Ham & Potato Salad Sandwiches
These little sandwiches with zingy toppings are super simple to pull together. This classic version originated in a deli in Prague, where they're a really popular winter party food. —Cara McDonald, Winter Park, Colorado
Rustic Cranberry Tarts
I like to serve colorful desserts for gatherings with family and friends. These beautiful tarts are filled with cranberry and citrus flavor, and they're easy to make and serve. —Holly Bauer, West Bend, Wisconsin
Summer Garden Fish Tacos
I like to serve fish tacos with quinoa and black beans for a complete and satisfying meal. If you've got them, add colorful summer toppings like bright peppers, green onions or purple carrots. —Camille Parker, Chicago, Illinois
Pork Picadillo Lettuce Wraps
Warm pork and cool, crisp lettuce are a combination born in culinary heaven. My spin on a lettuce wrap is chock-full of scrumptious flavor and spice. —Janice Elder, Charlotte, North Carolina
Rhubread
We moved into a house with a yard of fresh rhubarb. To use some of those ruby stalks, we made rhubarb bread with cinnamon and pecans. —Erika Elliott, Panola, Illinois
BBQ Chicken Bites
Chicken bites wrapped in bacon get a kick from Montreal seasoning and sweetness from barbecue sauce. We love the mix of textures. —Kathryn Dampier, Quail Valley, California
Smoked Salmon Deviled Eggs with Dill
My family is of Danish heritage, and my husband makes our smoked salmon. To use it, I came up with these dilly deviled eggs. They're a real treat and nice addition to any meal. —Charlotte Giltner, Mesa, Arizona
Veggie Thai Curry Soup
My go-to Thai restaurant inspired this curry soup. Shiitake mushrooms are my favorite, but any fresh mushroom will work. Fresh basil and lime add a burst of bright flavors. —Tre Balchowsky, Sausalito, California
Chili-Lime Roasted Chickpeas
Looking for a lighter snack that's still a crowd pleaser? You've found it! These zesty, crunchy chickpeas will have everyone happily munching. —Julie Ruble, Charlotte, North Carolina
Honey Cinnamon Bars
My Aunt Ellie gave us the recipe for these sweet bar cookies with cinnamon and walnuts. Drizzle with icing, and serve with coffee or tea. —Diane Myers, Star, Idaho
Thai Coconut Beef
Marinated stuffed olives go over so well with company that I try to keep a batch of them in the fridge at all times. —Larissa Delk, Columbia, Tennessee
Aunt Lou's Fresh Apple Cake
My Great-Aunt Lou made a luscious fresh apple cake recipe that became a family tradition. My mom makes it for our annual beach trip to the Outer Banks. —Cristy King, Scott Depot, West Virginia
Chicken in Coconut Peanut Sauce
My youngest son has been out of the country for several years teaching English. When he returned to the United States, I made this home-cooked meal for him that combined Asian and American cuisine. He loved it! —Sheila Suhan, Scottdale, Pennsylvania