Jump to Recipe
Ralph Waldo Emerson may have famously said that 'There are only 10 minutes in the life of a pear when it is perfect to eat', however, he can't possibly have been talking about White Wine Poached Pears, one of the world's most classic and beguilingly simple desserts.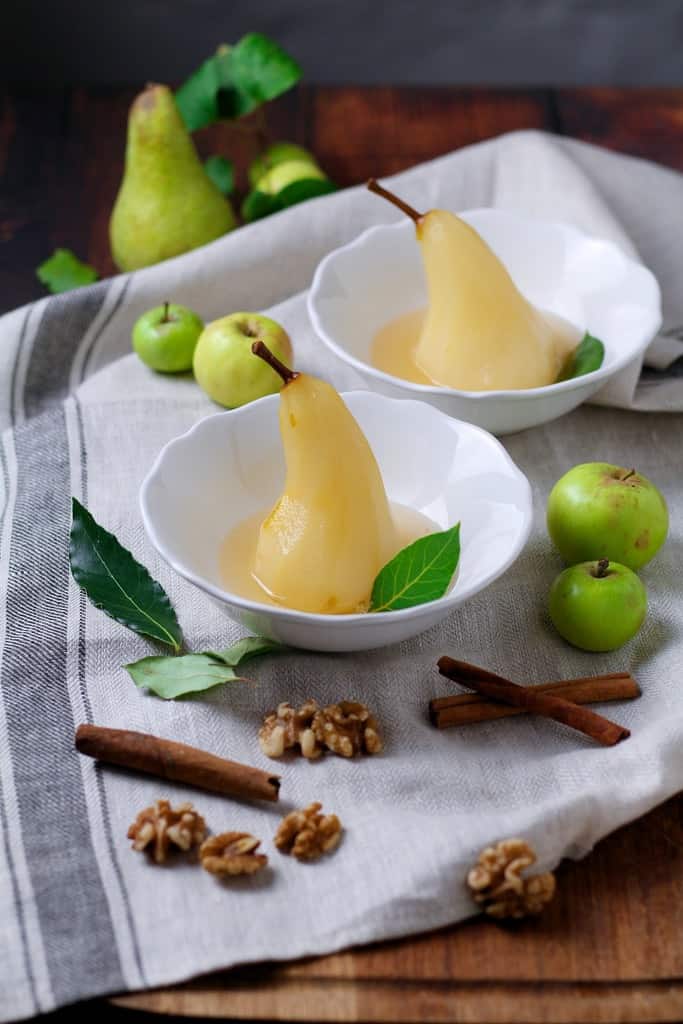 When it is time for dessert after a nice dinner, do you switch to coffee or tea? Wine is a great alternative and can be amazingly good with dessert if paired correctly.
Bright and buttery white wines are an ideal match for plenty of dishes, but cooking with white wine can be even better. Delicious pastas, seafood dishes, and plenty of chicken recipes are made even more flavorful when you add wine. Chicken breasts with white wine sauce, garlicky linguine with clams, or brothy mussels make for the perfect dish with Sauvignon Blanc or Pinot Grigio. Read on for some of our favorite ways to cook with white wine.
Jelly with White Wine
Watermelon Sorbet with White Wine
Lean Treats with White Wine
Cherry Sorbet with White Wine
Turkish Delight Cookies with White Wine
Corn Muffins with White Wine and Blueberries
Frozen Dessert with Strawberries and Wine
Turkish Delight Wine Cookies
Granny`s Wine Cookies with Vanilla
Granny's Wine Cookies
Wine Cookies with Turkish Delight
Butter Biscuits with Wine
Mariana Petrova Ivanova
Crunchy Cigars with Turkish Delight and Wine
Delicious Wine Cookies
Wine Cookies with Marmalade
Crunchy Turkish Delights with Lard and Wine
Chocolate and Walnuts Cream
Sweets with Turkish Delight
Lemon and Champagne Sorbet
Poached pears in white wine sauce is a classic French dessert that's easy to make and delicious to eat. The mainstay in the recipe, which varies in the sauce ingredients and type of pears, is the use of good quality wine. If you can drink it by the glass, you can cook with it, and a nice wine will impart a better flavor to the fruit. For this recipe, opt for sweeter wines like a Chardonnay, Moscato, or Riesling. If choosing a dry white wine, the flavor will change from very sweet to dry but the fruit will retain its natural sweetness.
Pears are one of the best fruits to poach because the flesh stays firm and their shape is still recognizable after poaching. With so many pear varieties available, try different kinds of this sweet fruit to achieve diverse textures and flavors. While you can use nearly any pear variety, some are better choices for poaching: always go for sweet and firm pears like Bosc, Anjou, Concorde, or French butter pears and avoid softer pears like ripe Bartlett or Comice.
To serve your pears, choose a bit of crème patisserie or crème fraîche, as the cream perfectly accents the spiced wine syrup and sweetness of the pears. Mascarpone or vanilla ice cream are also great additions. If you'd like to try a fancier presentation, poires belle Helene is a beautiful and delicious choice.
"I love poached pears, but poaching them in a white wine-simple syrup makes them even more special. They don't need much more that to be served in a small, pretty bowl with some of the lovely vanilla-flavored wine sauce." —Diana Andrews
firm preferably with stems

, or 1/2 teaspoon vanilla extract

freshly squeezed
Show Full Nutrition Label
Hide Full Nutrition Label

(Nutrition information is calculated using an ingredient database and should be considered an estimate.)
Gather the ingredients.

The Spruce / Julia Hartbeck




Peel the pears, making sure to keep the stems intact. Shave a thin slice from the bottom of the pears so they will stand up in the pan and when serving.

The Spruce / Julia Hartbeck




In a large, deep saucepan, stir together the white wine, water, cinnamon, vanilla bean, lemon zest, and lemon juice. Bring the mixture to a simmer over medium-high heat.

The Spruce / Julia Hartbeck




Lower the heat to medium-low. Add the pears, standing them upright in the pan. The liquid should cover most of the pears' height.

The Spruce / Julia Hartbeck




Poach the pears, uncovered, until slightly tender but still firm enough to hold their shape, about 10 minutes. Watch this process carefully as you do not want the pears to overcook or they will collapse.

The Spruce / Julia Hartbeck




Remove the pears from the poaching liquor with a slotted spoon and place them on individual serving plates or small shallow bowls.

The Spruce / Julia Hartbeck




Return the poaching liquid to a simmer over medium heat. Add the sugar and allow the mixture to reduce in volume by half, about 6 to 8 minutes. The syrup is ready when it is thick enough to coat the back of a spoon.

The Spruce / Julia Hartbeck




Remove the cinnamon stick and vanilla bean from the syrup and strain the liquid through a fine sieve.

The Spruce / Julia Hartbeck




Drizzle each pear with the wine syrup and add any other topping that you'd like.

The Spruce / Julia Hartbeck



Other Tasty Ways to Eat Poached Pears
Although these pears are a great finale for a savory meal, there are other ways to enjoy this preparation:
Salads: Slice the poached pears and toss them with mixed greens and balsamic vinegar. Top with crushed walnuts or pistachios and dollops of goat's cheese.
Side: Serve slices of pears with turkey, pork, or game. The pears make a great contrast to the savory meats. Alternatively, you can process the pears with some of the poaching liquid and reduce the resulting sauce until it has a thicker and saucier texture. Serve this sauce with your roasts and chops.
Sandwiches and wraps: Use the pears as sandwich fillings and pair them with strong and bold cheeses like Blue, Brie, Camembert, Manchego, or Gouda. Alternate slices of cheese and pears and top the sandwich with arugula or sauteed baby kale.
Bread: Add cubes of poached pears to your favorite banana bread recipe.
Rate This Recipe
I don't like this at all.
It's not the worst.
Sure, this will do.
I'm a fan—would recommend.
Amazing! I love it!
Thanks for your rating!
With with a Cheese Platter
This guide focuses on sweet desserts, but it is also common to eat cheese after the meal. For a mixed cheese platter, Sauvignon Blanc or Pinot Noir are good pairings.
Tips! We recommend you to read our detailed guide about wine and cheese pairing. There you will find the perfect wine for many different types of cheeses.
Enjoy your wine and dessert!
Latest guides
Coq au Riesling
In this creamy take on coq au vin, the chicken is braised in dry Riesling. Silky, rich crème fraîche is stirred in at the end, making it extra decadent.
Lobster Thermidor
This classic lobster thermidor stuffs gently cooked lobster meat back in its shell with a wine-based sauce and a touch of cheese before it goes under the broiler. The natural sweetness of lobster still shines through the rich, but not heavy, cremini mushroom and dry sherry-laced cream sauce. A touch of cayenne adds warmth, not spice, that brightens the whole dish, while Parmesan cheese gets bubbly and brown under the broiler to finish each impressive stuffed lobster tail.
Rustic Garlic Chicken
Yes, three heads of garlic. You don't have to peel the cloves first; they soften during cooking and take on a subtle sweetness. At the table, each person squeezes the garlic out of its skin onto the plate to eat with the chicken.
Caramelized Onion and Bread Soup with Brûléed Blue Cheese
In this vegetarian version of classic French onion soup, blue cheese and oloroso sherry bring new layers of flavor and depth. Notes of toasted nuts and fruit compote in the sherry pair well with caramelized onions, and its briny acidity cuts through the richness of the cheese.
Asparagus and Potato Salad with Riesling-Tarragon Vinaigrette
In this recipe from chef David Bouley, simply cooked asparagus and Yukon Gold potatoes are made magnificent with a flavorful vinaigrette. To prepare it, chopped fresh herbs and ground coriander seeds are combined with Riesling, white wine vinegar, Dijon mustard, and olive oil until perfectly emulsified.
One-Pot White Wine Pasta with Mushrooms and Leeks
This creamy, savory one-pot pasta dish comes together without the need to boil the pasta separately. Savory sautéed mushrooms and gently sweet leeks combine with cream, lemon juice, and white wine to create the rich sauce. Feel free to switch up the flavor by adding tarragon instead of dill.
Chicken Breasts with White Wine Pan Sauce, Crème Fraîche, and Spring Herbs
This simple white wine pan sauce enriched with créme fraîche and a generous handful of tender fresh herbs turns pan-roasted chicken breasts into a special meal. The sauce's delicate flavors are also a good match for thick fillets of trout, salmon, or halibut, which may be substituted for the chicken.
Pappardelle with White Bolognese
This cozy, meaty pasta is full of flavor from the blend of pork, beef, and veal, as well as the mushrooms and Parmesan cheese. Make sure you give yourself enough time to reduce the white wine and the stock; it's worth it for the super tender meat and depth of flavor that develops.
Poached Salmon with Corn and White Wine-Butter Sauce
Poaching fish in wine is an easy way to infuse it with subtle flavor. Since some of the seasoning inevitably washes off, serve it with a sprinkling of coarse salt.
Roasted Peaches with Mascarpone Ice Cream
Chef Daniel Humm infuses roasted peaches with honey-rosemary syrup and displays a strong Italian influence by using mascarpone in this ice cream.
Chicken with Roasted-Garlic Pan Sauce
This dish is inspired by the rotisserie chicken and sauce from El Asador de Nati in Córdoba. The base for the rich, extremely flavorful pan sauce comes from the chicken pan drippings and a whole head of luscious roasted garlic.
Summer Squash Gratin
Recipe developer Laura Rege puts abundant summer squash and zucchini to good use in this beautiful and very simple gratin, which gets fantastic flavor from white wine, leeks, and Gruyère cheese.
Variations
Filling the pears it perhaps the fiddliest part, so if you'd prefer to give it a miss, simply serve the poached pears with the mascarpone cream or even vanilla ice cream or custard on the side, which is perfectly delicious too.
Are you a pear fan? Or do you avoid them at all costs? What's your favourite pear recipe? Let me know in the comments below!
---
General rules for pairing wine & desserts
When it comes to choosing the best wine for your dessert, you should consider a sweet wine. The sweetness in the wine will match the sugar in the dessert. Before looking into the different categories of desserts, there are a few general rules you need to keep in mind:
A darker dessert usually requires a darker wine
The wine should be sweeter than the food
The flavors of the wine should match the flavors of the food
Wine with Chocolate & Caramel desserts
You can also pair dry wines with chocolate and caramel desserts, but remember that a glass of dry red wine can taste bitter with chocolate (especially with dark chocolate). This is because of the tannins found in both wine and chocolate. If you still want a dry red wine, make sure to pick one with rich berry fruit flavors. Great wine pairings with chocolate desserts are:
Milk chocolate with

Tawny Port

or

Ruby Port

.

Pinot Noir

is a good alternative for those who prefer dry red wines.
Dark chocolate with

LBV Port

or

Vintage Port

.

Zinfandel

or

Sherry

also pair well with dark chocolate.
Chocolate with fruit or nuts with

Vintage Port

or

Zinfandel

.
Chocolate with caramel or salty nuts with

Tawny Port

or

Madeira

.
White chocolate with

White Port

or a fruity rosé wine. An off-dry

Riesling

is also a good choice.
Chocolate cake with

Ruby Port

.
Chocolate mousse with

Brachetto d'Acqui

,

Sherry

or

Shiraz

.
Banoffee pie with off-dry

Riesling

or

Madeira

.
Peanut butter pie with

Madeira

or

Pinot Noir

.
Slow-Roasted Lamb Shoulder with Shallots and White Wine
Pre-salting the lamb (the longer the better) will deepen its flavor and increase the moisture and tenderness. Afterward, a simple sear then braise renders fork-tender shreds of meat. A spoonful of garlicky gremolata heightens those long-cooked flavors.
Linguine with Red Clam Sauce
Pasta tossed with plenty of chopped clams, garlic, and tomato sauce is an iconic Italian-American dish. Here, a few simple touches enhance that homestyle taste: A dose of anchovies boosts the savory flavor of the clams, herby vermouth stands in for dry white wine (although you could use either), and a touch of butter tossed in at the end unites the pasta and sauce in a truly magical way.
Cooking pears = Magic
Pears, I feel, are unfairly judged, much less popular than apples despite their sweet and juicy flesh.
I have to admit that there is some truth that stone-hard fruit turns overripe in the blink of the eye though, and that is where a little kitchen magic can work miracles.
Poaching pears in white wine with sugar and aromatic spices transforms even the most uninvitingly crunchy fruit into a soft and sweet dessert. Kick it up a notch by filling the pears with sweetened mascarpone cream and you have a dinner party worthy wonder dish. And best of all? It's so easy!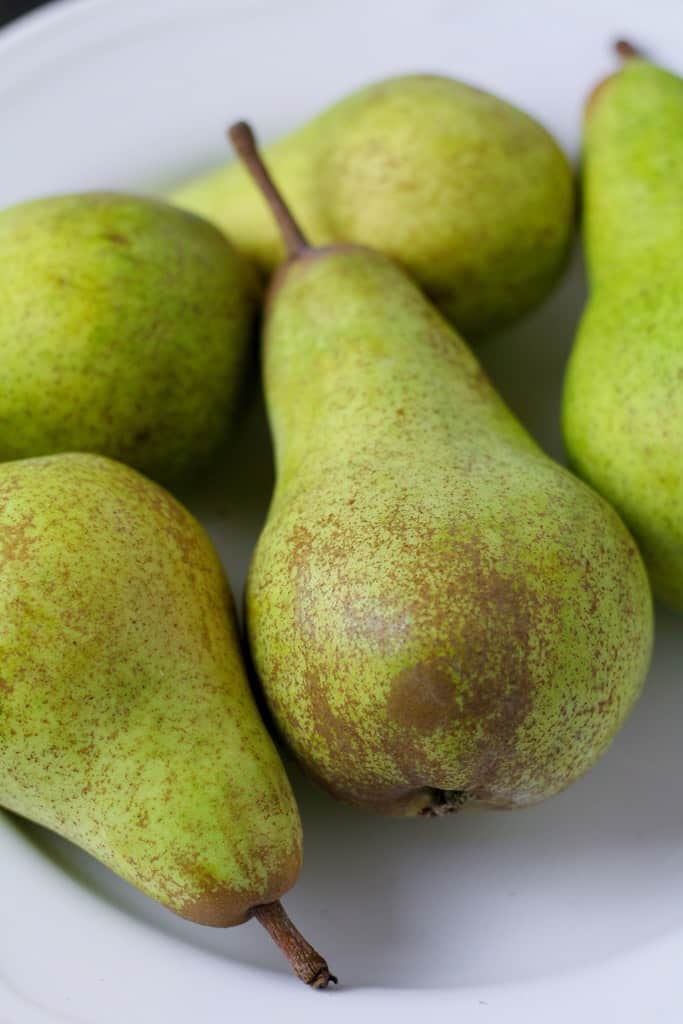 Save the good wine for drinking
This is not a dish to get out your fancy wine or champagne. A cheap bottle of table wine will be fine, especially after it has been sweetened and spiced.
You can even re-use the poaching liquid to make a cocktail syrup or a delicious granita for another day.
White Wine Poached Pears are also popular for dinner parties because you do most of the work in advance, and they are a light and easy finale to a big meal.
You'll enjoy this sweet treat even more with the right type of wine
Red velvet cake and Pinot Noir
Sometimes the easiest way to pair any food with wine is to match the color, and this is especially easy with our 4 layer red velvet cake and a pinot noir. This wine is great for bringing out the undertones of chocolate in the cake and accenting them with its own berry and cherry flavors.
Cheesecake and white dessert wine
The best wine and food pairings complement each other, which is why cheesecake and a white dessert wine work so well together. Cheesecake typically has a high-fat content, and a white wine that's a little more acidic – such as Sauternes – creates a very nice balance.
Lemon-flavored cakes and Prosecco
Whether it's a lemon cake or just one that is lemon flavored, Prosecco is your best bet. This is because not only is it a light wine, its citrus flavors will bring out the tartness in the lemon. This will augment both the wine and the cake.
Vanilla cake and Riesling
To bring out the best flavors in a vanilla cake, you should look for a Riesling that says "off-dry" on the label. This means that it is a little bit sweet but won't overpower the sweetness of the cake.
Chocolate devil's food cake and red blends
Some red blends actually have hints of chocolate, which will be much more evident when paired with a rich devil's food cake. Syrah, Cabernet, and Grenache are some of the best wines with chocolate cake.
Carrot cake and sherry
Sherry is an excellent choice when indulging in . Because sherry is slightly sweet and has a dry finish, it will pair nicely with a carrot cake's creamy components.
Strawberry shortcake and sparkling rosé
If there was ever an ideal cake and wine pairing, this may be it. Because rosé has such a nice, fruity flavor, it will do a wonderful job of intensifying the taste of the strawberries.
If you like wine and you like cake, but you've never put the two together before, now's your chance. You can use some of the suggestions above for your next birthday party, event, or just an ordinary day, or create your own unique dessert wine pairing. Don't be afraid to experiment with your cake and wine pairings (and if you stumble upon something really great, let us know!). If you already have the perfect bottle of wine and you just need the cake to go with it, we can hook you up. Whether you want to pick it up or have us ship it to you, you can start your order . For any questions, please get in touch. You can call us toll-free at 888-901-CAKE or just fill out our online contact form.
Venetian Shrimp with Polenta
"All you need to do is make a batch of polenta, which isn't hard at all; it just requires some stirring," says food writer David McCann. "And while the polenta simmers away, all you'll need to do is cook some garlic and white wine and stock, add butter, and, literally two minutes (at most) before you want to serve, toss in the shrimp."
Baked Clams with Bacon and Garlic
This ultimate version of baked clams has chopped clams in the filling, doubling down on briny clam flavor. Bacon, parsley, lemon, and a touch of Parmigiano-Reggiano cheese add a savory, herby kick.
Seared Scallops with Pinot Gris Butter Sauce
Chef Hugh Acheson flavors shallots with butter and Pinot Gris to create a sauce for scallops: "Pinot Gris loves shellfish," he says.
FREQUENTLY ASKED QUESTIONS
Can I make poached pears in advance?
You can poach the pears up to 48 hours in advance (and I have successfully poached them several days in advance). Do make the filling on the day though as it is fresher.
What do I do with all the delicious smelling poaching syrup?
What sort of wine should I use to make poached pears?
Nothing fancy! As you're adding loads of spices as well as sugar to the wine this is not the time to use an expensive bottle as it will go to waste. Any table wine will do, though I would avoid anything too heavy like an oaky chardonnay.
Looking for more fruit desserts?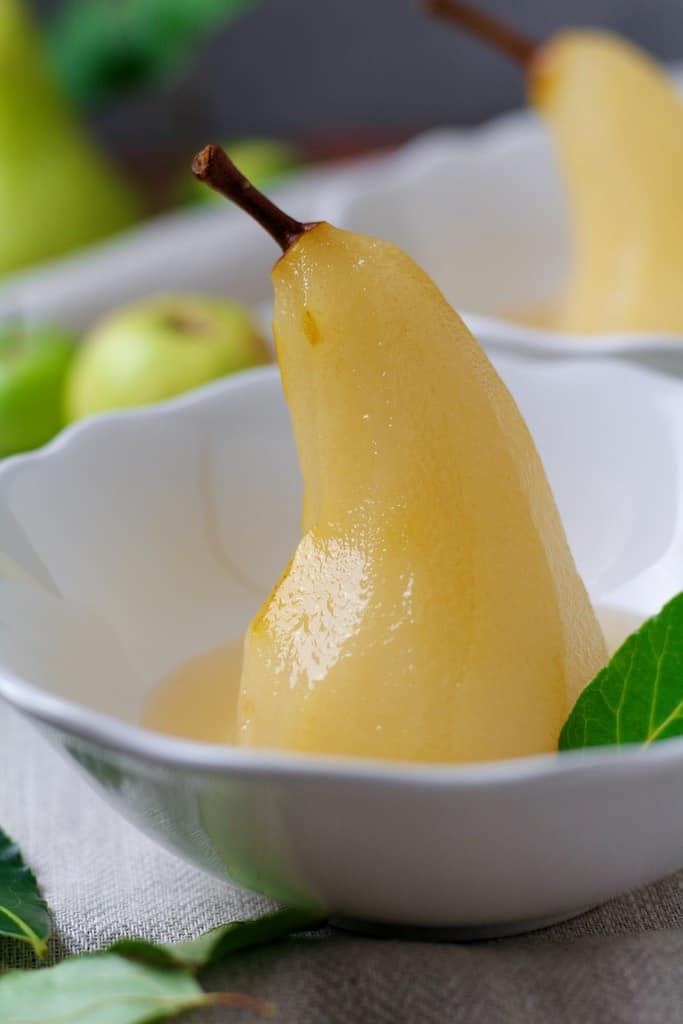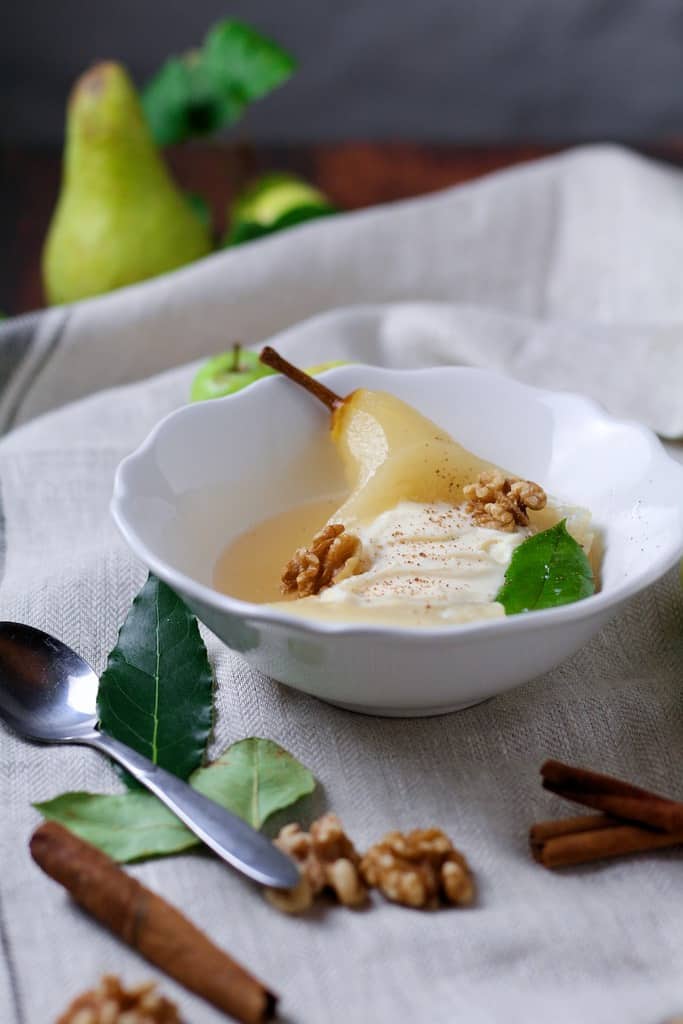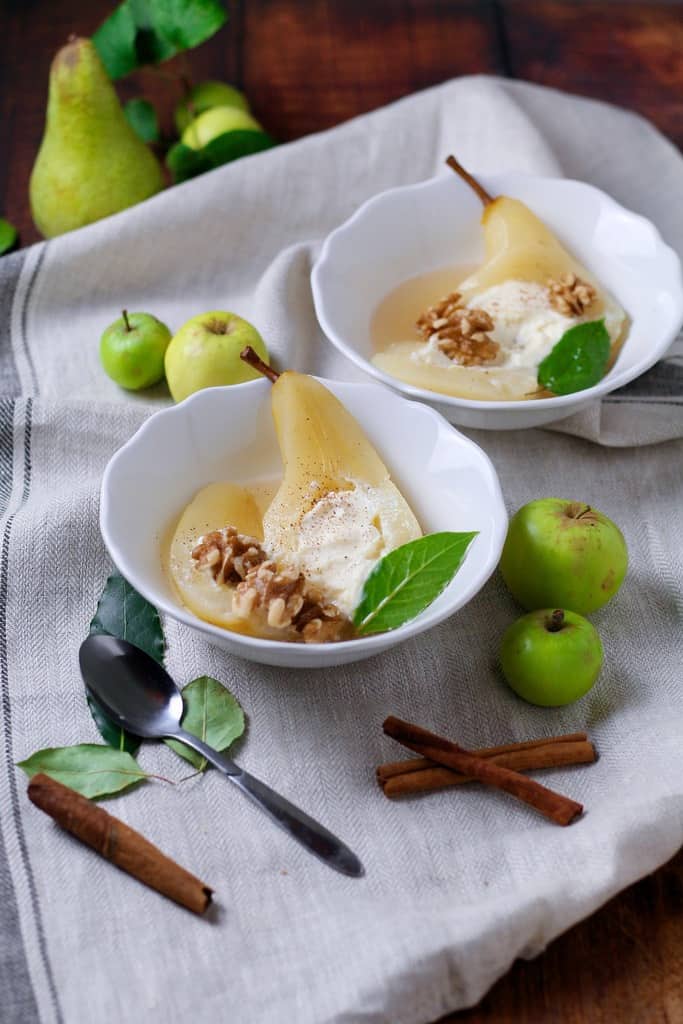 Ingredients
750ml (1 bottle) white wine
300g (1.5 cups) sugar
2 cinnamon sticks
1 vanilla bean, halved or 2 tsp vanilla extract
1 cm fresh ginger
2 bay leaves
juice of 1 lemon
6 firm pears
for the mascarpone filling:
250g (½ lb.) mascarpone cheese
50ml 4 Tbsp cream
50g (½ cup) powdered sugar
zest of 1 orange
to serve:
Instructions
MAKE POACHING LIQUID: In a large saucepan, stir together the white wine, sugar and 500ml (2 cups) water over medium heat until the sugar has dissolved. Add the cinnamon sticks, vanilla, ginger, bay leaves and lemon juice then bring to a simmer.
POACH PEARS: Meanwhile peel the pears, leaving the stem intact. When the syrup is simmering, place the pears into the liquid, cover with a piece of baking paper cut into a circle and a lid and simmer gently for 25-30 minutes until the pears are soft. You can test this by inserting a sharp knife into the base of one of the pears. Remove from the heat and set aside to cool for a minute or two, then carefully lift the pears into a bowl or dish.
CHILL: Strain the poaching syrup through a fine-mesh sieve. Pour 250ml (1 cup) of the liquid over the pears, cover and refrigerate. Reserve the remaining poaching syrup (see FAQ'S below). The pears can be kept refrigerated for 48 hours.
MAKE THE FILLING: Beat the mascarpone, cream and icing sugar until smooth. Stir through the orange zest, then cover and refrigerate until needed.
STUFF PEARS: When you are ready to prepare the pears, cut off the base of each pear so that they sit flat on a serving dish. Use a melon baller or small knife to remove the cores, then spoon the mascarpone filling into the pears, using the back of the spoon to push the filling right in.
SERVE: Chill until ready to serve. Before serving, taste the poaching liquid, and if you'd like it a little sweeter reduce it over medium heat. Allow to cool, then spoon over the pears directly before serving. Sprinkle with nutmeg and serve with walnuts.
Wine with Vanilla & Custard desserts
Mild, buttery and sweet vanilla desserts pair well with white wines, including sparkling wine. Classic pairings with vanilla desserts are:
Crème brûlée with

Sauternes

.
Tiramisu with a slightly sweet sparkling like

Prosecco Secco

,

Champagne Demi-Sec

or

Asti Spumante

. Read more about

sparkling wine sweetness levels here

.
Ice-cream (vanilla, hazelnut or chocolate) with

Vin Santo

or

Muscat

.
Pannacotta with

Muscat

.
Cheesecake with off-dry

Riesling

, late harvest Sauvignon Blanc or a

Zinfandel Rosé

. A

Prosecco Rosé

is also a good choice if it is a cheesecake with lots of berries.
Pork Loin Roast with Caramelized Onions and White Wine–Dijon Sauce
In this classic recipe from chef Alex Guarnaschelli, it's important to make sure the pork roast has enough air circulating around it (especially underneath) as it cooks; use a roasting pan fitted with a rack to elevate the meat.
Sauvignon Blanc-Steamed Mussels with Garlic Toasts
A crisp, citrusy Sauvignon Blanc, such as Indaba, would be great in these mussels — and to drink with them.
Choucroute Garnie
Families in Alsace generally eat choucroute garnie during the wintertime, because it's such a hearty, filling dish. Chef Jacques Pépin has adapted the recipe to make it quicker and easier — calling for store-bought sauerkraut instead of the homemade kind, for instance, and suggesting peanut oil as a substitute for duck or goose fat, which may be less accessible.
Broccoli Rabe Risotto with Grilled Lemon
This vegetarian risotto is enriched with a flavorful broccoli rabe that's stirred in before serving. The method is a little simpler than the one for traditional risotto: Instead of stirring in hot stock by the cupful, it's added in just two batches.
Sherried Mushrooms with Fried Eggs on Toast
Chef Cindy Pawlcyn sautés mushrooms and onions with the Spanish dry sherry oloroso to make a fabulous topping for a fried egg on toast.
Bouillabaisse
Chef Ludo Lefebvre's bouillabaisse starts with a quick-cooking, but deeply flavored, seafood broth. Layering a base of aromatics with fresh snapper, scallops, shrimp, and a mix of Pernod and dry white wine creates a long-simmered flavor in under an hour.
Wine with Fruity & Spicy desserts
Many desserts contain fruit, berries and different types of spices like cardamom and cinnamon. Fruit and spices influence the choice of wine for desserts. In general, a wine with high acidity is good choice for this type of dessert because the acidity cuts through the sweetness and fruitiness of the dessert. Some classic pairings are:
Apple pie with

Gewürztraminer

or a slightly sweet

Riesling

(Kabinett, Spätlese, and Auslese).
Lemon meringue pie with

Riesling

or a late harvest Viognier, Chardonnay or Chenin Blanc. These wines have citrus-y flavors that complement the lemon in the dessert.
Berry dessert with a slightly sweet rosé wine or a sparkling rosé. The delicate berry notes from the wines matches with the flavors of the dessert.
Fruity ice-cream with

Zinfandel rosé

,

Riesling

or

Prosecco Rosé

.
Pumpkin pie with

Tawny Port

or

sweet Chenin Blanc

.
Cookies with Prosecco Dolce or

Champagne Doux

.
Banana dessert with

Tawny Port

or

Sauternes

.
Classic Cheese Fondue
Chef Ryan Hardy makes his luxurious fondue with two kinds of Swiss cheese (Emmentaler and Gruyère) and two kinds of spirits (white wine and kirsch), all traditional ingredients. Some of the dipping items are also classic, like cubes of crusty bread and pickles, but some are unconventional, like slices of Hardy's salami and other hearty house-cured charcuterie, which are all wonderful with the winey fondue.