It might be pumpkin spice season, but I also think of the colder months as the perfect time to break out my many cinnamon desserts.
Though it gets used year-round, there's something undeniably warm and cozy about cinnamon.
Want to save this recipe? Enter your email below and we'll send the recipe straight to your inbox!
Sure, I'll eat cinnamon rolls in the heart of summer, and palmiers are my go-to quick cookie for a last-minute coffee morning with the gals.
But warm apple cinnamon bars, spiced scones, and cinnamon bread just make those dark, cold mornings a little more toasty.
Keep this list of 24 sweet cinnamon desserts close because once you get started, you'll want to try them all!
Cinnamon Dessert Nachos with Salted Caramel Apple Dip
I've been making a variety of dessert nachos for some time, and they're always a hit!
There's something so satisfying about the crunch of baked tortillas covered in cinnamon sugar, combined with an assortment of toppings.
For this recipe, you'll be making a jaw-dropping salted caramel apple dip that you should keep in a dish for dipping. This way, the "nacho" chips don't go soggy.
If you like caramel apple pie, this recipe is for you!
Crispy Sand Tart Cookies With Cinnamon
Sand tart cookies are essentially very thin sugar cookies. They can be as thin as ⅛ inch and will crisp up in the oven.
They come together much like any other cookie recipe, but the trick to getting them so thin is to chill the dough.
I like to roll mine between parchment sheets and keep the dough in the fridge until it is hard enough to cut.
Be careful when baking. Since they're so thin, they will burn quickly if you don't keep an eye on them.
Cinnabon Cinnamon Rolls
Cinnamon rolls might just be the most indulgent cinnamon dessert out there.
Served warm and smothered in cream cheese frosting, they're tender, sweet, and lightly spiced with a cinnamon sugar filling.
Though some recipes don't include butter in the filling, I find it helps to make sure it gets spread evenly across the dough.
It also adds a nice nutty flavor once it starts to bake and brown.
You'll need a bread machine for this recipe, or you could use a simple brioche.
I like to make my dough first thing and keep it in the fridge for the day.
Before bed, roll it out and make up your rolls. Wrap and keep them in the fridge overnight and pull to rise for an hour or so before baking.
Cinnamon Raisin French Toast Bake
French toast casserole is the perfect thing to make for a crowd.
Make it the night before and let the custard soak into the bread. Bake first thing in the morning for a warm and filling start to the day.
For this super fast recipe, you'll be using cinnamon raisin bread from the store – but don't be afraid to try making your own.
Easy Cinnamon Cookies
These soft and chewy cookies are easy and delicious. They're spiced with cinnamon and baked just until the edges turn golden.
Starting with room-temperature ingredients, make sure to beat the butter and sugar until they turn pale and extra fluffy.
Slowly incorporate the eggs and mix the dry by hand until it just forms a dough.
These are great by themselves, but a few white chocolate chips would make a nice creamy extra.
Soft and Chewy Snickerdoodle Recipe
When it comes to snickerdoodles, I love to throw in some dark chocolate chunks or chopped pecans.
The sugar-cookie-like treats are covered in cinnamon sugar before baking and are soft and incredible served warm.
But I do like to mix things up a little with added extras.
Another great alternative would be to make smaller cookies and sandwich them together with cream cheese frosting.
Cinnamon Apple Dumplings
These apple dumplings are the perfect end to a winter dinner.
Once the dough is formed, you'll need to wrap the apples, pitching the seams, so they're enclosed.
A great way to infuse extra flavor is to poach the apples in cinnamon simple syrup for a few minutes before wrapping and baking.
Depending on the size of your apples, they can be individual servings. Try baking them in cute little dishes with a drizzle of warm creme Anglaise.
Sugary Cinnamon Twists
These incredible twists need a little love – and an hour to rise – to bake into the perfect mid-morning snack.
Once your simple yeast-based dough has been mixed and allowed to rise for an hour, you can punch it down before rolling and cutting it into rectangles.
Don't be shy with the cinnamon sugar. After another quick rise, they will bake for about 15 minutes.
Drizzle them with glaze for a cross between a cinnamon roll and a donut.
Baked Cinnamon Sugar Donuts
Speaking of donuts!
They might not be fluffy and fried, but these baked donuts are light and tender, with a beautiful sugary coating.
Be careful when mixing the dough. You'll want it just combined for the most tender crumb!
I love to make these in my mini-donut pan and hooking them onto the rim of my hot chocolate mug.
Churro Waffles
Waffles make for a sweet change from the usual pancakes.
There's just something special about the crisp edges and the pockets full of syrup.
Once you have your waffles are made, brush them with some melted butter and coat them in cinnamon sugar.
For an extra kick, try broiling for a few minutes to get some caramelization on the sugar.
Cinnamon Apple Cake
I can't say enough good things about this cake.
It's incredibly moist, perfectly flavored with both brown sugar and cinnamon, and packed full of chopped apples.
I love the bigger pieces of apple used here, but you can make them smaller if you prefer the flavor to be more evenly distributed.
The cake is moist enough that you don't need anything on the side. But it wouldn't hurt to serve it warm with a scoop of ice cream, either.
Irish Potato Candy
We've talked about potato candy before, and I know you raised your eyebrows then and chuckled at the thought of it.
So here's a recipe that's a little easier to visualize.
These little bites might look like mini-potatoes, but they're actually a creamy mixture of butter, cream cheese, powdered sugar, brown sugar, coconut, and cinnamon.
As far as truffles go, these are creamy and cool on the inside, with a fabulously sweet and spicy coating.
Cinnamon Pudding Cake
Even with a moist cake, I often add an extra sauce. It's not about fixing a dry cake. It's about adding another layer of flavor.
For this recipe, the spiced cake is filled with chopped pecans and baked with a fantastic caramel poured right over the top.
Once baked, the sauce will seep through, infusing flavor, and collect on the bottom, much like a pineapple upside-down cake.
Just be sure to invert the cake while it's still warm to prevent it from cooling too much and getting stuck.
Mexican Cinnamon Cookies
Also known as reganadas, these are traditionally made from puff pastry and served on the Day of the Dead.
The layers are thought to represent the souls of the people waiting in purgatory.
For this recipe, you'll be making more of a crunchy cookie, using lard as a binder and for moisture.
Once the dough is together, it needs kneading a few times before being portioned.
Coat them in the powdered sugar and the cinnamon mix while still warm.
Snickerdoodle Cupcakes
Sour cream and buttermilk keep these cupcakes ultra moist, and the cinnamon sugar topping will add a nice crust to the finished cake.
Cream cheese frosting is the perfect partner, especially when you sprinkle it with extra cinnamon.
Or an excellent sweet option would be to top with a salted caramel frosting.
Cinnamon Sugar Puff Pastry Palmiers
With just three ingredients and around 10 minutes, you can have a tray of these crisp cinnamon cookies in the oven.
Using frozen puff pastry and cinnamon sugar, the only caveat is that you need the pastry to thaw before you can roll and cut.
I like to roll mine from either end, making a cute double swirl effect. But they look just as effective as one big swirl.
If I'm craving something extra, I'll even grate a little dark chocolate over the filling.
Simple Cinnamon Crescent Rolls
As impressive as cinnamon rolls are, I don't always have the time to make dough from scratch.
The beauty of these crescent rolls is that you get the same tender, buttery crumb with the indulgent cinnamon filling and sweet glaze.
Using cinnamon sugar is far easier in this case, given that you can't really spread a butter filling onto the small triangle as well.
Bake until golden and dip into the glaze for total coverage and sweetness in every bite.
Cinnamon Roll Cheesecake Bars Recipe
The key to these neat little bars is the layers.
You'll need a classic graham cracker crust – though a pecan crust would add some swoon-worthy flavor.
The cheesecake filling is simple, using cream cheese, sugar, and eggs – though brown sugar would add a nice caramel flavor.
Finally, it gets topped with a cinnamon layer that not only tastes incredible but looks great, too.
Let them cool all the way down before cutting and serve with a dollop of whipped cream.
Apple Cinnamon Crumb Bars
Rather than a shortbread crust, this recipe ingeniously uses brown sugar, butter, and graham cracker dough full of apple pie flavor, with the texture of shortbread.
I like to prep my apples by mixing into the sugar and cinnamon and leaving it to macerate (draw out the moisture into the surrounding sugar).
With this technique, the apples and sugar will create a thick syrup, and you don't need additional flour or cornstarch to thicken your filling.
Crumble the remaining top over the apple and bake until bubbly and golden.
Maple Glazed Brown Sugar Cinnamon Scones
Scones are one of those British treats that I don't think we give enough love to.
They're soft and sweet (or sometimes savory), can be full of fruits and chocolate (or cheese and bacon), and keep well in both the freezer and in an airtight container.
I love the color and caramel flavor you get from using brown sugar here, and the cinnamon gives the whole thing extra warmth.
The trick when making scones is to stop mixing when the dough is still a little shaggy.
Turn it out and finish bringing it together with your hands, gently pressing it into a thick round that you can portion.
Apple Brown Betty
Making an apple pie can be such an accomplishment.
But who has the time when it's 8:00 pm on a Thursday and the craving hits?
Enter Apple Brown Betty!
Once you have your apples sliced, the crumble top can be mixed in just a few minutes.
You can use a mixer to create the top, or I would just rub the butter into the dry between my fingers to save on dishes.
After 45 minutes in the oven, you'll have a bubbling apple base with a crunchy, spiced top.
Cinnamon-Candy Cookies
Most people are happy with a lightly spiced cinnamon dessert.
Some people, on the other hand, want that overwhelming spice you get when eating Red Hots.
Though I'm in the first group, I can definitely see the appeal, and this recipe packs a punch.
These have Red Hots blitzed right into the dough for all the flavor and color you can't miss.
Cinnamon Swirl Quick Bread
I almost always have some kind of loaf in the house and the freezer. I never just make one.
They're great for breakfast, a mid-morning snack with coffee, or a late-night sugar fix.
I think it's safe to say we've banana'd ourselves out during lockdown, and it's time for something different.
Made using oil and sour cream, this bread has a moist cake-like crumb with a fantastic dark cinnamon swirl throughout.
Coffee And Cinnamon Brownies
If you've never added coffee into your chocolate cake or brownies before, you're missing out.
You don't really taste the coffee due to baking's magic, but it definitely enhances the chocolate for something indulgent and rich.
For this recipe, you'll get all that decadence plus another layer of warmth from the cinnamon that will have people begging you for the recipe.
I would also mix through some chili chocolate chunks for an extra spice kick!
These super flakey, sweet cinnamony, buttery Puff Pastry Cinnamon Twists are so simple to make and totally delicious! Store-bought puff pastry is brushed with rich butter and then sprinkled with a yummy mixture of cinnamon sugar before being twisted up and popped into the oven to bake. This recipe is the kid-friendly, adult tasty approved, easy peasy homemade sweet treat recipe you've been looking for!
💡How to thaw puff pastry (store-bought)?
If you've ever wondered, how to use frozen puff pastry? Frozen puff pastry is a super convenient option and brands like Pepperidge Farm Puff Pastry work just as well as homemade puff pastry. However, it needs to be thawed out before it can be used and still be cold. Here are some tips that will help you successfully thaw out puff pastry.
To thaw out at room temperature just remove the sheet puff pastry from the packaging. Then allow the sheets to thaw out until they unfold easily. The time it takes can vary but it should not take more than 40 minutes.
To thaw the pastry out in the microwave you'll need to watch it carefully. First, remove one sheet of pastry from the packaging and then wrap it in a paper towel. Next, put the sheet into the microwave for 15 seconds on high. Then turn the sheet over and microwave it for another 15 seconds on high. At this point, if it unfolds easily it is done. Yet, if it doesn't, just put it back in the microwave for another 5 seconds on high on each side.
🌟 Why this is the best cinnamon twist recipe
Quick and easy – How to make puff pastry cinnamon twists? With this simple 6-ingredient recipe it's super easy. You only need a package of store bought puff pastry and a few basic pantry ingredients. And the cinnamon twist pastry takes just minutes to make and bake, it is one of the easiest puff pastry desserts.
Crazy delicious – Made with super flaky buttery puff pastry that is twisted together with a cinnamon sugar mixture, these homemade cinnamon twists are unbelievably good! Your family won't believe you didn't buy them at the bakery.
Super versatile recipe – These cinnamon puff pastry twists highlight cinnamon as the star ingredient. However, you can easily use any spices you like such as ginger, cardamon, or nutmeg. You could even use vanilla sugar or add some cocoa powder. You can even make pastry cinnamon rolls just by rolling up the same pastry into a different shape.
📝 Ingredient notes
Puff Pastry: Both refrigerated or frozen store-bought puff pastry works perfectly for this recipe and saves time. But I actually made puff pastry and you can too if you like with my easy Rough Puff Pastry recipe.
Cinnamon: Ground cinnamon adds a lovely touch of warm spice to the twists and is a star ingredient in this recipe. Yet, feel free to add other warm spices like cardamom, nutmeg, or ginger.
Milk: A splash of milk is needed for the egg wash. Yet, if you don't have any milk on hand, water will work too.
🛒 You'll find detailed measurements for all Ingredients in the printable version of the Recipe Card at the bottom of this post
👩‍🍳 How to make this recipe
If using homemade puff pastry, check my easy rough puff pastry recipe.
Join My Newsletter
Join my Newsletter to receive an EXCLUSIVE Spring Recipe e-Book!
Mix the ground cinnamon and granulated sugar together in a small bowl
Melt the butter in the microwave on low heat and then allow it to cool to room temperature. Hot butter will melt the pastry.
Line 2 baking sheets with parchment paper or silicone baking mats.
Unfold one sheet of the puff pastry dough onto a lightly floured work surface. Then gently roll a rolling pin over the top of the pastry sheet to seal together any folds.
Use a pastry brush to brush the sheet of dough with the melted butter. Then sprinkle the cinnamon sugar mixture on top of the butter. Now, fold the top half of the sheet onto the bottom half and then gently press them together.
Use a sharp knife or pizza cutter to cut the dough into 2 cm / 1 inch strips and twist each strip. Then grab the prepared large baking sheet and place twists on the sheet making sure to leave enough space between them so that the dough has plenty of room to puff up. Probably you will fill two baking sheets.
💡 Top Tip: If using frozen puff pastry, thaw it out but make sure it is still cold before you begin. It is impossible to handle warm puff pastry so use the refrigerator wisely, if necessary.
How to bake this cinnamon pastry
Preheat the oven to 190C / 370F (no fan).
Whisk the egg together with a dash of milk in a small bowl to make an egg wash. Then use a pastry brush to apply a light layer of the egg wash on the cinnamon puff pastry swirls. This step is optional but adds a nice finish.
Then place the unbaked twists in the fridge or freezer to chill while the oven gets hot.
Allow the baked cinnamon pastry twist to cool on the baking sheet for 5 minutes and then transfer them to a cooling rack.
Serve these cinnamon sugar puff pastry twists immediately or store them at room temperature for up to 3 days.
💡 Top Tip: Keep the second sheet of puff pastry in the fridge while you are making the first tray of twists. This way it stays nice and cold.
🎓 Expert tips
Always unfold the pastry sheets on a lightly floured surface or silicone mat so that it doesn't stick to the counter.
If the pastry cracks when being unfolded, sprinkle the crack with a bit of water and then press the edges together to seal.
The pastry must be cold to work with. If it becomes too warm to handle you need to put it in the fridge or freezer to chill before continuing on with the recipe.
Use high-quality 82% fat content European-style unsalted butter for the best flavor.
The melted butter must come to room temperature before being applied or it will melt the pastry dough.
The twists must chill in the freezer while the oven is preheating. This helps them to maintain their shape.
Check the bottom of the pastry before taking the cinnamon twists out of the oven to make sure that they are fully baked.
🥣 Equipment Notes
This easy cinnamon twist recipe requires no fancy equipment!
However, for the best baking experience, you should always use a Digital Scale when measuring ingredients. This holds true for any recipe no matter how simple because it's the only way that you know that you are using the correct ratios. Also, a Digital Oven Thermometer is a super handy tool to double-check your oven temperature. Oftentimes, we don't even realize that our oven being slightly off is the real cause of our baked goods not coming out quite as good.
As for this recipe, it's not absolutely necessary, but a Rolling Pin is really useful to flatten out the puff pastry dough. And a Pastry Brush makes things a little less messy when applying both the melted butter and egg wash.
❓Cinnamon Twists recipe FAQs
How long does frozen puff pastry last in the freezer?
Typically store-bought puff pastry can be kept in the freezer for up to 6 months if it's kept in its original packaging.
How do you know when a pastry is cooked?
When puff pastry is fully baked it will be golden brown and crispy on the top and bottom.
How to store cinnamon twists?
The puff pastry cinnamon sticks will keep in an airtight container for up to 3 days.
Can you freeze cinnamon twists?
Yes! Simply freeze the twists once they are formed for up to 3 months. Then bake them right before serving. Or, you can also freeze the baked cinnamon twists for up to 3, if stores correctly in plastic wrap.
🍰 More puff pastry recipes
Have you tried this recipe?
Please leave a 5-star ⭐️⭐️⭐️⭐️⭐️ rating on the recipe card and consider leaving a comment as well! I would love to hear about how your dessert turned out and your feedback also helps other Readers!
store-bought or 1 portion of my homemade rough puff pastry
melted but not hot
for egg wash
Spash of milk for egg wash
US customary cup measurement is an indicative figure only. Measure the ingredients with a digital scale by weight (gram). Baking is art but also science which requires precision and accuracy.
Thaw the puff pastry sheets (if using frozen) but make sure they are still cold
Mix cinnamon with granulated sugar
Gently melt butter in the microwave on low heat then let the butter come back to approx. room temperature. Do not use it hot as it would melt the pastry.
Line 2 baking sheets with parchment paper, no need to grease them as the puff pastry contains enough fat
Unfold one sheet of the puff pastry sheets onto a lightly floured kitchen counter. Using a rolling pin, gently roll the top of the pastry to seal together any folds.
Using a pastry brush, brush the pastry with the melted but not hot butter the cinnamon sugar on top. Fold the top half of the sheet onto the bottom half and gently press the two sheets together.
Using a pizza wheel or sharp knife, cut the dough into 2cm / 1 inch strips and twist each strip into a twist then place them onto the baking sheet leaving enough space in between them to puff up.
If at any point the puff pastry would become warm to handle, pop it into the freezer for a few minutes to chill. Do not force the pastry while it is still hot, it would only make a mess.
Whisk one egg with a dash of milk then apply a light egg wash on top of the pastry
Pre-heat oven to 190C / 370F (no fan) while chilling the pastry either in the fridge or freezer. Chilling will keep the pastries´ shape better.
Let them slightly cool in the baking tray for 5 minutes then move them onto a cooling rack
Serve them fresh. Any leftover can be stored at room temperature for 2-3 days
Work as quickly with the pastry as you can as over time, when the pastry warms, it will stick and would make it very difficult to handle
Check the bottom of the pastry – whether it is well baked – before taking the Cinnamon twists out of the oven
Try the pastry with different spices eg. cardamom or vanilla sugar
Reader Interactions
These peanut butter cinnamon cookies are perfect for bake sales, potlucks or holiday gift baskets. Use fun cookie cutters for any occasion you are celebrating. The cookie glaze dries shiny, so they look professional. —Kallee Krong-McCreery, Escondido, California
Go to Recipe
Cashew Baklava
Mama's Spice Cake
Whenever I get a craving for a tasty old-fashioned treat, I make this cake. Great cooks in my family have been baking it for generations, and their families have been enjoying the wonderful spice flavor and rich frosting.
—Nancy Duty, Jacksonville, Florida
Cinnamon Crackle Cookies
This recipe is the compilation of many years of baking. I make these cookies for a holiday bazaar and year-round for our family. They freeze well. —Vicki Lair, Albert Lea, Minnesota
Cinnamon-Sugar Apple Pie
Cinnamon apple pie baked in a cast iron skillet is a real stunner. This beauty, with its flaky, tender crust, also works in a 9-inch deep-dish pie plate. —Renee Schettler Rossi, New York, New York
Cinnamon Peanut Brittle
Snickerdoodle Cheesecake
My maternal grandmother preferred sewing and quilting to cooking and baking, but there were some things that she cooked and baked really well. She was the only person I knew who made snickerdoodles, simple but yummy cookies that I've always enjoyed. Since cheesecake is my very favorite dessert, I couldn't resist coming up with one that re-creates those flavors. I think of my grandmother each time I make it! Sometimes I'll drizzle the slices with maple syrup. —Lisa Varner, El Paso, Texas
Caramel Snickerdoodle Bars
What did I do when I couldn't decide between two of my favorite desserts? I combined them! This snickerdoodle-blondie hybrid proved even better with caramel, always a favorite ingredient. —Niki Plourde, Gardner, Massachusetts
Baklava Thumbprint Cookies
The topping on my sister-in-law's peach cobbler was so delicious that I asked for the recipe, then decided to use that to top a cookie I developed with the flavors of baklava. My adult son tried one and immediately ate two more—which is unusual for him! It's a good recipe to mix up the night before and bake fresh the next day for company. —Sharon Eshelman, Harrington, Delaware
Pumpkin Cake with Whipped Cinnamon Frosting
My mom made this for me, and one bite can completely take me back to my childhood. You can easily convert it into a great carrot cake recipe: just use grated carrots in place of pumpkin and add raisins. —Melissa Pelkey Hass, Waleska, Georgia
Mexican Tea Cookies
Mexican tea cookies are a holiday favorite in our family. I updated the recipe by frosting them with a buttercream made with dulce de leche. They are tender, crumbly cookies that everyone enjoys. —David Ross, Spokane Valley, Washington
Honey Cinnamon Roll-Ups
This cinnamon treat reminds me of baklava, but with only a few easy ingredients, it's a fraction of the work. It's my aunt's recipe, and I think of her when I make it. —Sue Falk, Sterling Heights, Michigan
Cinnamon Apple Cheesecake
An attractive topping of cinnamon-spiced apple slices and a homemade oat-and-walnut crust make this creamy dessert a definite showstopper. —Emily Ann Young, Edmond, Oklahoma
Maple Nut Coffee Cake
Every time I make this coffee cake for the holidays or church functions, the pan is emptied in a hurry. People rave about it. —Rosadene Herold, Lakeville, Indiana
Candied Pecans
I pack these easy candied pecans in jars tied with pretty ribbon for family and friends. My granddaughter gave some to a doctor at the hospital where she works, and he said they were too good to be true! —Opal Turner, Hughes Springs, Texas
Vanilla & Cinnamon-Kissed Apple Latkes
Latkes are crispy fried pancakes, often made with potatoes. But this sweet version with apples, orange juice, cinnamon and vanilla falls in the dessert realm. —Candy McMenamin, Lexington, South Carolina
Cinnamon Twirl Cookies
These rolled cookies are tasty and fun to make with your family. The sugary mixture of walnuts and cinnamon is a light, sweet filling that will leave everyone wanting another bite. —Phyllis Cappuccio, Malden, Massachusetts
Spiced Pumpkin Bars
These bars are moist, with bold pumpkin and spice flavors. When I want to lower the cholesterol, I use egg whites in place of the eggs.—Richard Case, Johnstown, Pennsylvania
Bite-Sized Cinnamon Roll Cookies
If you love cinnamon rolls and spiced cookies, make a bite-sized version that combines the best of both worlds. These cinnamon roll cookies are genius! — Jasmine Sheth, New York, New York
No-Bake Pumpkin Cheesecake
It takes mere minutes for Leila Flavell of Bulyea, Saskatchewan to ad holiday flair to a no-bake cheesecake. She used canned pumpkin and spices to dress up the mix with thick, creamy results.
Slow-Cooker Cinnamon Roll Pudding
A slow cooker turns day-old cinnamon rolls into a comforting, old-fashioned dessert. It tastes wonderful topped with lemon or vanilla sauce or whipped cream. —Edna Hoffman, Hebron, Indiana
Cinnamon White & Dark Chocolate Chip Cookies
I wanted to put a spin on the traditional chocolate chip cookie, and who doesn't love cinnamon? Depending on what you use to drop your cookies, the serving quantity may change. —Cassie Colosimo, Reading, Pennsylvania
Honey Cinnamon Bars
My Aunt Ellie gave us the recipe for these sweet bar cookies with cinnamon and walnuts. Drizzle with icing, and serve with coffee or tea. —Diane Myers, Star, Idaho
Cinnamon-Sugar Crisps
For an old-fashioned sweet treat just like Grandma used to make, try this slow-cooker rice pudding. It has a rich cinnamon flavor and is made wonderfully light after whipped cream is stirred in at the end. —Jennifer Bennett, Salem, Indiana
Honey-Nut Swirls
Puff pastry creates a quick and easy "dough" for pretty pinwheel-type cookies featuring two types of nuts. The flaky treats are hard to resist.—Sally Sibthorpe, Shelby Township, Michigan
Cinnamon-Cranberry Oat Bars
I'm a swim coach for kids, and I started making these bars for them as a snack. I wanted something that was easy to eat but would also give them energy. The kids loved them from the very first time I brought them. Now I bring them to every team event. —Sarah Riviere, Prescott, Arizona
Cinnamon-Sugar Sweet Potato Pastries
We always have leftover mashed sweet potatoes after our Thanksgiving feast. I take what's left to make an indulgent filling for sweet potato empanadas. Convenient crescent roll dough makes this recipe easy as pie. —Sarah Vasques, Milford, New Hampshire
Cinnamon Almond Brittle
It simply wouldn't be Christmas at our house without this old-time favorite twist on peanut brittle. No one believes how easy it is to make! —Lynette Kleinschmidt, Litchfield, Minnesota
Cinnamon Crescents
I've had the recipe for these crispy cinnamon-sugar roll-ups for years. They're one of my family's favorites and so easy to make. We enjoy them at breakfast with a cup of coffee. —Emily Engel, Quill Lake, Saskatchewan
Cinnamon-Apple Brown Betty
If I had to define the "Betty" of Apple Brown Betty, she'd be a smart and thrifty Southern gal with a knack for creating simple, soul-comforting desserts. In this sweet dish, spiced apples are slow-cooked between layers of cinnamon-raisin bread cubes for a wonderful twist on the traditional oven-baked classic. —Heather Demeritte, Scottsdale, Arizona
Campfire Cinnamon Twists
Cinnamon rolls get the toasty treatment when wrapped around skewers and warmed over a fire. Brush with butter, then sprinkle with sugar and spice. —Lauren Knoelke, Milwaukee, Wisconsin
Craving a cinnamon roll but don't have time to make one? Here find the best store-bought cinnamon rolls to satisfy your craving.
Cinnamon-Raisin Banana Bread Pudding
My family likes to change the toppings for this luscious dessert. We use berries, chopped nuts or fruit, ice cream, whipped cream or caramel topping. If I'm making the dessert for adults only, I love to add a little rum to the milk mixture to give the pudding extra flavor. —Aysha Schurman, Ammon, Idaho
Cinnamon Bun Cookies
I love cinnamon rolls, but working with yeast can be scary. These cookies give you the taste of a cinnamon roll in cookie form—no yeast required! They look like flattened cinnamon rolls and feel special enough to serve around the holidays. —Erin Raatjes, New Lenox, Illinois
Overnight Cinnamon Rolls
I like to try different fun fillings in these soft rolls, and each one is packed with cinnamon flavor. They are definitely worth the overnight wait. —Chris O'Connell, San Antonio, Texas
While cinnamon swirl bread is a natural for breakfast, we love it so much we enjoy it all day long. This is a nice twist on traditional cinnamon swirl yeast breads. —Helen Richardson, Shelbyville, Michigan
When it's baking time, my family lobbies for these Mexican crinkle cookies. You can replace 1 oz. unsweetened chocolate with 3 Tbsp. cocoa powder plus 1 Tbsp. shortening, butter or oil.—Kim Kenyon, Greenwood, Missouri
Mexican Chocolate Sugar Crisps
My grandma loved these so much, she would hide them from my grandpa! I think of her every time I make a batch. Like Mexican spice? Try stirring in a little chili powder. —Michele Lovio, Thousand Oaks, California
Cinnamon Fruit Biscuits
Because these sweet treats are so easy, I'm almost embarrassed when people ask me for the recipe. They're a snap to make with refrigerated buttermilk biscuits, sugar, cinnamon and your favorite fruit preserves. —Ione Burham, Washington, Iowa
For Christmas one year, a friend gave us a pan of these delicious brownies. Before I figured out their secret was cinnamon, half the pan was already gone! —Gail Mehle, Rock Springs, Wyoming
Cinnamon Pecan Bars
I'm a special education teacher and we bake these bars in my life skills class. It 's an easy recipe that my special-needs students have fun preparing. —Jennifer Peters, Adams Center, New York
Sweet Potato Cinnamon Bread
My family loves quick breads. This one is moist and spicy. If you don't have mini loaf pans it works just as well in regular size pans. —Nancy Foust, Stoneboro, Pennsylvania
Pumpkin Cheesecake with Sour Cream Topping
Instead of a traditional pie, I like to surprise holiday guests with a silky cheesecake. Make it a day ahead and let it chill overnight. It's one less thing you'll have to make on the big day. —Dorothy Smith, El Dorado, Arkansas
Apple Dumpling Bake
I received this recipe for baked apple dumplings with Mountain Dew from a friend of mine, then tweaked it to suit my family's tastes. The soda is definitely the secret ingredient in this rich apple dessert. —Chris Shields, Monrovia, Indiana
Sugar Cream Pie
I absolutely love Indiana sugar cream pie; especially the one that my grandma made for me. Here, we serve it warm or chilled and call it "Hoosier" sugar cream pie. —Laura Kipper, Westfield, Indiana
Cinnamon-Spiced Pumpkin Flan
I love pumpkin and decided to add it to a traditional recipe for flan. It's an interesting change of pace from the usual holiday pie. —Alisha Rodrigues, Tetonia, Idaho
Pear Tart
My sister-in-law brought this pretty pastry to dinner one night, and we all went back for seconds. It is truly scrumptious. —Kathryn Rogers, Suisun City, California
Jump to Recipe
These crispy Puff Pastry Cinnamon Twists are bursting with cinnamon-sugar flavor, and are super easy to make. A perfect little treat for the holidays or every day!
Cinnamon sugar and puff pastry are such a delicious combination. If you prefer pinwheels to twists, check out my recipe for Cinnamon Swirls.
Why Make This Recipe
Only 4 Ingredients: These cinnamon twists have only 4 ingredients, most of which you may well have on hand in your refrigerator or freezer.
So Easy: The prep for these twists takes only 5 minutes. Then just pop them in the oven for 15 minutes, and they're done!
Make-ahead: You can make these ahead of time and freeze before you bake them, so they are ready to bake whenever you are ready to serve.
Want to see how easy it is to make? Check out this quick video!
🥗 Ingredients
Sugar: So important for this recipe! Cinnamon on its own would be too bitter. You could replace with a sugar substitute, as long as it is granulated.
Cinnamon: The cinnamon flavor in these twists is just lovely, but you could also play around with other spices as well. Try adding nutmeg, allspice, or some ground cloves as well to double-down on those wintery spices.
🥣 Step-by-Step Instructions
Preheat oven to 400 degrees Fahrenheit. Line a large baking sheet with parchment paper. Stir 2 tablespoons sugar and 1 teaspoon cinnamon together in a small bowl. Taste and if you'd like a more sugary mixture, add another tablespoon of sugar.
Sprinkle a little bit of flour over a large cutting board. Unfold a puff pastry sheet, and roll gently with a rolling pin to even out the surface and flatten just a little.
Whisk 1 egg in a small bowl to make an egg wash. Use a pastry brush to brush the egg wash in a thin layer all over the rolled out dough. (You won't need all of the egg wash.)
Sprinkle cinnamon sugar evenly over the dough, reserving a little for the end.
To make long breadsticks, cut dough vertically into slices that are close to 1-inch wide. To make short breadsticks, cut the dough in half horizontally to make two rectangles. Then slice each rectangle into 1-inch slices. Pick up each strip, hold each end, and twist several times.
Place twists on baking sheet, leaving an inch of space between them. (You may need to bake these in two batches if they don't all fit on your baking sheet.) Brush any exposed dough not covered in cinnamon sugar with egg wash, and sprinkle with any reserved cinnamon sugar.
Bake for 15 minutes, until puffed and golden brown.
🧐 Recipe FAQs for Puff Pastry Cinnamon Twists
Can you freeze puff pastry cinnamon twists?
Can you make cinnamon twists with puff pastry ahead of time?
Yes. They are at their most crunchy and delicious right after baking, and up to 1-2 hours afterwards. After that, they lose a little crunch. That said, they will keep well at room temperature for a few days (stored in an airtight container), and can be reheated in a 375-degree oven for 3-5 minutes to bring back some of their crunch!
Can you make cinnamon twists using other dough?
👩‍🍳 Expert Tips
The key to working with puff pastry is making sure that it is at the right temperature. Wait until your puff pastry sheet is defrosted (but not too soft) to unfold it. Unfolding the dough when it is still quite cold can cause it to break or tear. Then, don't wait too long to begin working with your dough. If it warms up and gets soft, it is much harder to make the twists before the dough becomes droopy. But don't worry, if the dough becomes too soft to work with, just pop it into the refrigerator for a little while until it firms up again.
These cinnamon puff pastry twists are excellent as is, but you can also serve them with a glaze or dipping sauce. Try making the powdered sugar glaze from my Puff Pastry Cinnamon Rolls with Apple recipe.
You don't need to brush the exposed dough in your twists with egg wash before baking, but it gives these homemade cinnamon twists a little extra shine.
For best results with these cinnamon-sugar twists, take care to not cut the dough strips too thin. Very thin strips stretch easily when you twist them, becoming even thinner. When baked, they may brown more than you'd like and won't have the same fluffy layers as a slightly thicker strip. Similar advice goes for the length. As mentioned in the instructions, you can choose to make long cinnamon twists, but the longer the strip, the harder it is to twist it evenly.
Love cinnamon? Try these delicious Cinnamon Crescent Rolls from our friends at One Hot Oven.
Fancy a savory version of this recipe? Once you've tried these cinnamon pastry twists, try making these Easy Puff Pastry Cheese Straws. Slightly different technique when using cheese, but totally delicious!
📖 Recipe Card
2–3 tablespoons sugar
1 teaspoon ground cinnamon
1 tablespoon flour (for rolling out dough)
1 egg
1 sheet puff pastry dough (8.8 ounces)
Preheat oven to 400 degrees Fahrenheit.
Line a large baking sheet with parchment paper.
Stir 2 tablespoons sugar and cinnamon together in a small bowl. Taste, and add more sugar if you'd like the mixture a little sweeter.
Sprinkle flour over a large cutting board.
Unfold puff pastry sheet, and roll gently with a rolling pin to even out the surface and flatten just a little.
Whisk egg in a small bowl to make egg wash.
Use a pastry brush to brush the egg wash in a thin layer all over the rolled out dough. (You won't need all of it.)
Sprinkle most of the cinnamon sugar evenly over the dough, reserving a little.
To make long breadsticks, cut dough vertically into slices that are close to 1-inch wide.
To make short breadsticks, cut the dough in half horizontally to make two rectangles. Then slice each rectangle into 1-inch slices.
Pick up each strip, hold each end, and twist several times.
Place twists on baking sheet, leaving an inch of space between them. (You may need to bake these in two batches if they don't all fit on your baking sheet.)
Brush any exposed dough not covered in cinnamon sugar with egg wash and sprinkle with reserved sugar.
Bake for 15 minutes, until puffed and golden brown.
Storage: These are at their most crunchy and delicious right after baking, and up to 1-2 hours afterwards. After that, they lose a little crunch. That said, they will keep well at room temperature for a few days (stored in an airtight container), and can be reheated in a 375-degree oven for 3-5 minutes to bring back some of their crunch!
Expert Tips: Wait until your puff pastry sheet is defrosted (but not too soft) to unfold it. Unfolding the dough when it is still quite cold can cause it to break or tear. Then, don't wait too long to begin working with your dough. If it warms up and gets soft, it is much harder to make the twists before the dough becomes droopy. If the dough becomes too soft to work with, just pop it into the refrigerator for a little while until it firms up again.
1
Amount Per Serving:
20g 5g 0g 14g
More About Molly
Cooking healthy(ish) meals with seasonal ingredients is my passion. Trained as a French pastry chef, I spent over 10 years as a personal chef. Here you'll find well-tested recipes that you and your family will love!
Whip up these quick and easy Cinnamon Sugar Puff Pastry Knots with just 6 simple ingredients. Perfect for a quick sweet treat or an accompaniment to your tea and coffee.
Have you ever had a big craving for a perfectly flaky and golden pastry but don't want to go out or spend hours making anything? Us too. These Cinnamon Sugar Puff Pastry Knots, inspired by cruffins, are just what you need! Made with just 6 ingredients and take only 10 minutes to prep.
Golden, flaky, and delicious. Next time you have unexpected guests or are just craving something sweet and buttery whip out the puff pastry and give these a try. We always have puff pastry in our freezer for this exact reason!
Why you'll love this recipe
Golden, flaky, and delicious!
Comes together with just 6 ingredients.
Just 15 minutes of active prep time.
Perfect for a last minute dessert!
Top tips for making puff pastry twists
Keep your puff pastry cold. It shouldn't be frozen, just thawed enough to work with. The colder you're able to keep it the flakier the layers will be once baked.
Freeze before baking. For the best bake we recommend placing them in the freezer for 10 minutes before baking. This will ensure the fat in the puff pastry puffs up while baking resulting in light, airy, and flaky layers.
Brush with butter right out of the oven. It's best to brush with some butter right out of the oven so the butter coats the outside of the pastry evenly.
Toss in cinnamon sugar when warm. As soon as you've brushed with melted butter, toss into some cinnamon sugar for the best coating.
Best eaten day of. Puff pastry does not keep well unless it's stored in an air-tight container. Even when stored properly, we find the best time to enjoy these sweet treats is the day you bake them – and even better fresh out of the oven.
Puff Pastry – Not all puff pastry is vegan-friendly. Be sure to check the ingredients on every puff pastry product to ensure you are getting one that does not have any animal products in it.
Vegan Butter – We use the Becel Plant Based Sticks, but you can use whatever vegan butter you prefer.
White Sugar – Not all white sugar is vegan, but if you live in Canada almost all of it is. If this is a concern for you, be sure to do research into which white sugar brands you are able to have as a vegan.
Puff pastry should be a dark golden brown puffy. We like to use a time as a guideline, then go by eye for when the puff pastry is fully baked. Don't be afraid to bake until it is a deep golden colour, as long as it's not burnt it will be delicious.
What if I can't find vegan puff pastry?
These would also be great with our pie crust dough from our Vegan Butter Tart recipe or you can use any dough you want. Just keep in mind that changing the dough will affect bake time and texture. For a super quick solution Pillsbury Crescent Dough is a great option!
Puff Pastry Knots
pre-rolled puff pastry sheets,
(3 tbsp) melted vegan butter
(¼ cup) white sugar
(1 tbsp) cinnamon
(1 tbsp) non-dairy milk
(1 tbsp) maple syrup
(2 tbsp) melted butter
(½ cup) white sugar
(2 tbsp) cinnamon
Preheat oven to 400°F and line two baking sheets.
Working with one puff pastry sheet at a time (keep the other in the fridge until needed), roll out one sheet of puff pastry and brush with half the melted butter. Sprinkle half the white sugar and cinnamon until evenly coated.
Roll into a log, starting from the long side, like you're making cinnamon rolls.
Slice the long into thirds. Then each third you want to cut in half length wise, exposing the layers inside. Roll each strip like a snail and place on the prepared lined baking sheet. Place in the freezer until ready to bake.
Repeat steps 2-4 with remaining puff pastry sheet.
In a bowl combine remaining cinnamon and sugar. Set aside until ready to use.
Allow to cool for 2 minutes before brushing with melted butter. Roll each knot in the cinnamon sugar mixture and enjoy!
We love these on their own or with some vanilla ice cream, but they are best enjoyed fresh, the day you baked them.
https://youtube.com/watch?v=kATEAXIfnLc%3Fversion%3D3%26rel%3D1%26showsearch%3D0%26showinfo%3D1%26iv_load_policy%3D1%26fs%3D1%26hl%3Den-CA%26autohide%3D2%26wmode%3Dtransparent
Pin it for later
Buttery, sweet, and lightly spiced, puff pastry with cinnamon sugar is a match made in heaven. You can call it a star or a snowflake, but either way it's delicious! Make it with store bought puff pastry, or make your own easy puff.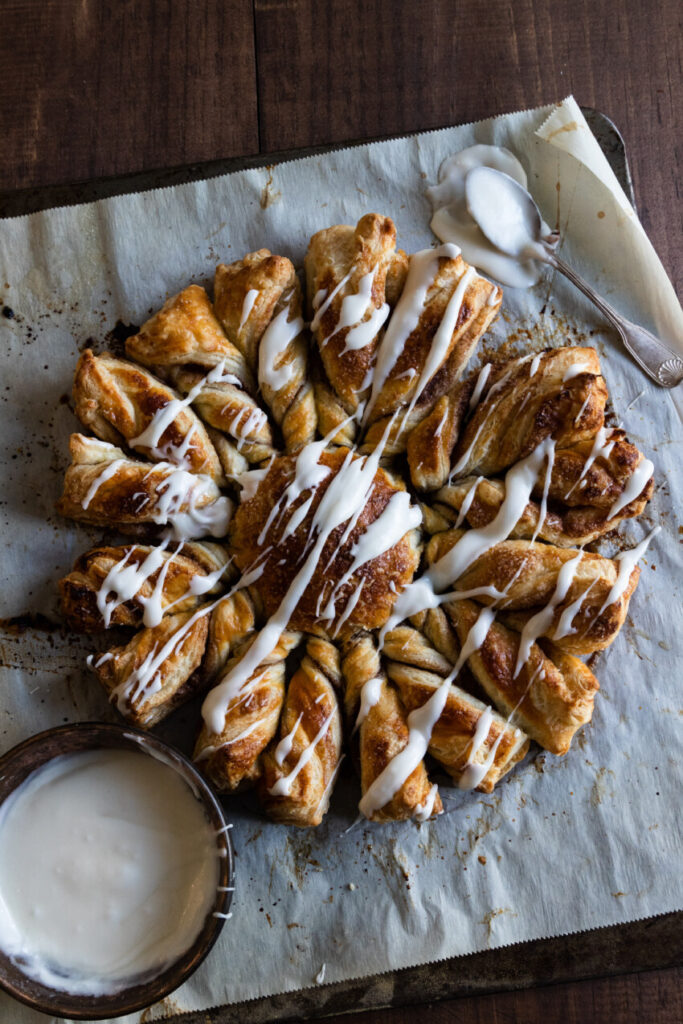 What is Puff Pastry?
Puff pastry is a laminated, flaky pastry make with butter, flour, salt, and water. A large sheet of butter is folded into a dough, and through several rolls and folds creates thin layers of butter throughout the pastry. As it bakes, the moisture from the butter evaporates, creating steam and giving the pastry it's puff.
While full puff pastry requires several hours of time with folding and rolling the dough, you can also make easy puff pastry. Also called rough puff or cheater puff, this recipe gives you two flaky, delicious sheets of pastry in fraction of the time.
Where Can I find Puff Pastry in the Store?
Puff Pastry is in the freezer section of your grocery store. It should be near the frozen pie crusts and the phyllo dough. If you have a smaller local grocery store, they may not stock it.
The most common puff pastry stocked in grocery stores is Pepperidge Farms. While it does puff nicely, it has fats besides butter in it which changes the flavor. DuFour Puff Pastry is all butter, and also sells all-butter puff pastry sheets.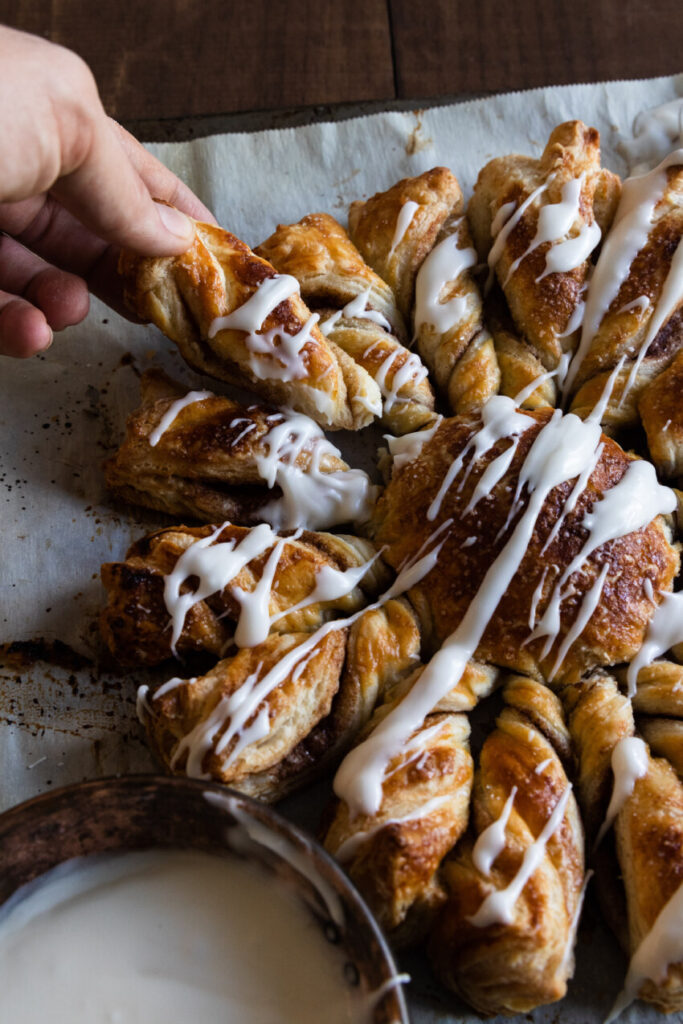 Ingredients for the Puff Pastry Star with Cinnamon Sugar
1/4 cup sugar– white, granulate sugar works best here
1 1/2 Tablespoons ground cinnamon-you can add more or less, depending on how "spicy" you'd like your pastry to be
1 Tablespoon of soft butter-as if there wasn't enough butter in the puff pastry, right? But a little smear of butter on the pastry helps the cinnamon sugar to stick better when baking.
Frosting Ingredients
1 Tbsp. butter – melted
3/4 cup powdered sugar – sift to remove any lumps
1-2 Tablespoons milk – add this until the frosting is a good drizzling or dipping consistency. You don't want it runny, but it also shouldn't be too thick
1/2 teaspoon vanilla extract – it's just not the same without that li'l hint of vanilla, you know?
Assembling and Baking the Puff Pastry Star with Cinnamon Sugar
Begin by rolling your puff pastry sheets to slightly larger than a 12″ square. Place a 12″ plate on the pastry and use a wheeled cutter to cut around it. I used a pizza cutter, so it doesn't need to be anything fancy!
If you wish to use a smaller plate, you absolutely can. Just roll the pastry to the appropriate size.
Spread a thin layer of butter over both pieces of puff pastry. It doesn't need to be much, but a little bit helps the cinnamon sugar stick.
Layering the Puff Pastry and Cinnamon Sugar
Mix together 1/4 cup of sugar and 1 1/2-3 tablespoons of ground cinnamon. You can add more or less, depending on how spiced you like it. I personally prefer it on the spicy side, but if you want it milder reduce the cinnamon to one tablespoon.
Sprinkle a generous amount over the buttered side of one pastry circle. Place the other round of pastry dough over the other, with the buttered side down. Line them up as closely as you can.
A Note on Cinnamon Sugar
You can make your cinnamon sugar spicier or sweeter by changing the amount of cinnamon added.
Shaping the Pastry
Place a small bowl over the center of the layered pastry dough, and use a sharp knife to cut it into quarters. Then, cut each of those quarters into 4 sections. You should end up with sixteen sections.
Beat an egg well and brush it over the top of the cut pastry. This helps create the golden brown finish and also acts as a glue to hold the twists in place as they bake.
Working in pairs, twist each section of the dough three times in opposite directions. Fold the ends over and press down firmly to seal them. If your puff pastry is warm, pop it in the oven for about 20 minutes before baking. This helps solidify the butter again and gives you a better puff.
Bake the pastry at 425° for 20-25 minutes, or until it's a deep golden brown.
Remove the pastry from the oven and allow it to cool before frosting and serving.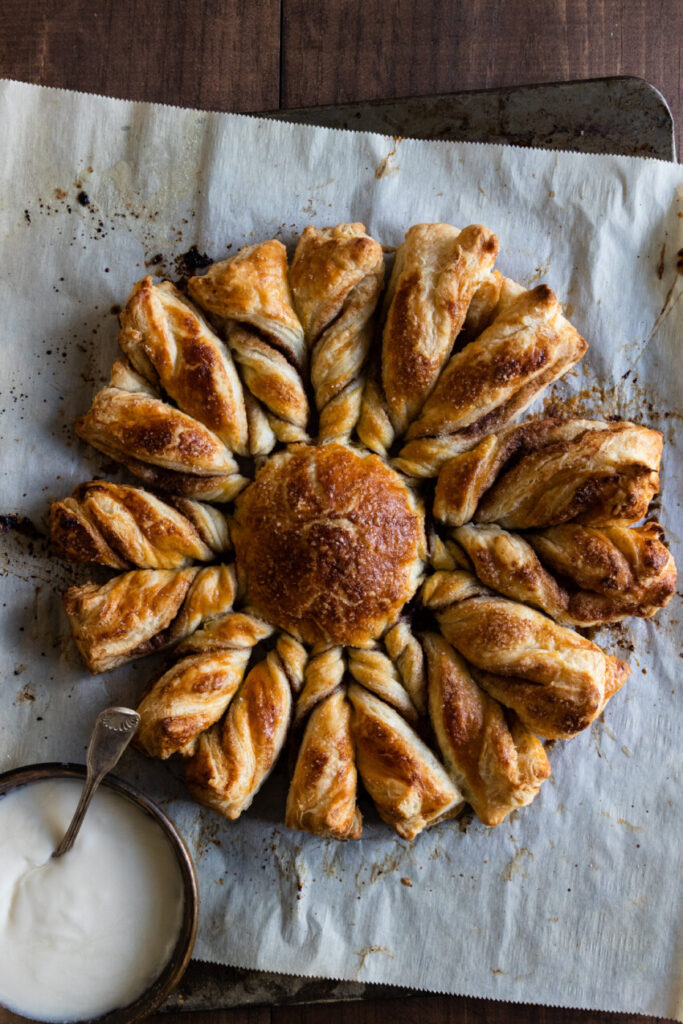 Making the Frosting and Serving the Puff Pastry Cinnamon Sugar Star
To make the frosting, melt the butter and allow it to cool. Mix in the sifted powdered sugar, then add a teaspoon of vanilla. Stir in the whole milk, a tablespoon at a time, until it's thin enough to drizzle, but thick enough that it won't soak into the pastry.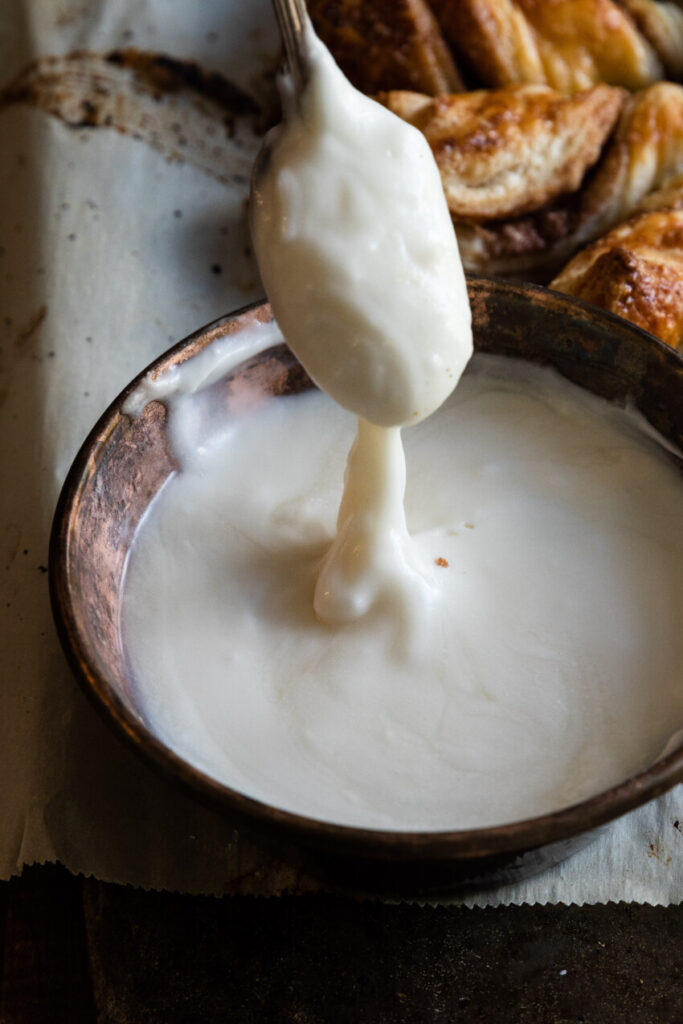 To decorate the top of the puff pastry star, get some frosting on a spoon. As it slowly drips off, move it across the pastry, causing it to fall in lines. Just play with it and continue until you're happy with the way it looks!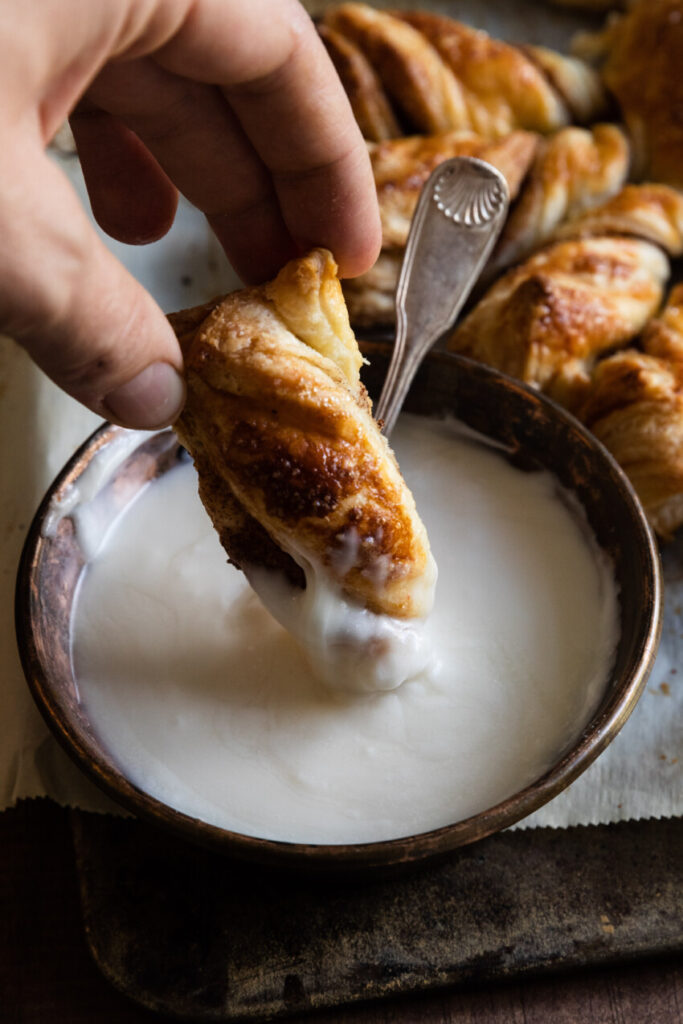 Serve the puff pastry star with extra frosting for dipping. Each section can simply be pulled off by hand for eating.
Recipe Notes and Tips
sheets of puff pastry
sugar
1 1/2 Tablespoons ground cinnamon
of soft butter
For the Frosting
. butter, melted
powdered sugar
– Tablespoons milk
vanilla extract
Preparing the Pastry Sheets
puff pastry with cinnamon sugar,