Try these keto donut recipes for low-carb treats to enjoy any time!
Eating healthy can be a challenge. No doubt with the keto diet sweeping the nation, we can find recipes to make it easier!
Want to save this recipe? Enter your email below and we'll send the recipe straight to your inbox!
I firmly believe that knowing what to cook is half the battle of a successful diet.
It is important to occasionally give your body what it's craving, and sometimes, that's a sweet donut.
Thankfully, there are countless recipes to help you with those cravings.
The key to making a low-carb donut is a few key substitutions. Understandably, flour and sugar are the two biggest keto no-nos.
These recipes substitute flour with primarily almond or coconut flour. There are a variety of low-carb sweeteners to replace granulated and confectioners sugar.
You don't have to cave for over-processed, store-bought donuts with these 23 keto donut recipes.
Your sweet tooth will be satisfied, and these are all kid-approved, too!
Keto Donuts With Chocolate Glaze
You know I had to start out with an ultra-sweet and rich chocolate donut! These are so easy to make with just a few keto ingredients.
You'll find this recipe is like a low-carb chocolate cake batter. Load your batter into a silicone donut pan and bake away.
Top it with chocolate glaze, or enjoy it as is!
Keto Glazed Donuts
There's something about a simple glazed donut that hits the spot every time.
You can even keep these in the freezer and warm them up later. This is one recipe you'll make over and over again!
Powdered Keto Donuts
The only bad thing about these donuts is the evidence they leave on your shirt.
You know what I'm talking about. But really, low-carb never tasted so good!
This is a classic donut that never gets old! Nobody will believe you when they find out these are totally keto-friendly.
Eight ingredients are all you need to have healthy powdered donuts for breakfast.
Keto Cinnamon Sugar Donuts
Is it just me, or are cinnamon sugar donuts totally irresistible? Made with almond flour, these are so moist and delicious!
The key to that perfect cinnamon sugar coating is all in the sweetener you use. Monk fruit sweetener is a great alternative for granulated sugar texture.
Keto Krispy Kreme Donuts
Mmm, Krispy Kreme takes the award for the best glazed donuts. These donuts are fluffy and warm, and they taste just like Krispy Kreme!
Because these donuts are fried, they mimic the warm fluffy texture of Krispy Kreme.
Grab a hot cup of coffee and settle in for some morning delight!
Sugar-Free Keto Donuts
It sounds a bit counterintuitive, but sugar-free sugar donuts are definitely a thing.
These donuts are beautifully baked, cakey, and satisfying. Warm vanilla and sugar are two peas in a pod when it comes to donuts.
They're even better when they're ready in just 20 minutes!
Keto Blueberry Donuts
I'm not sure what it is, but blueberry donuts are so much better than muffins!
Maybe it's the hole in the center, or maybe it's the glaze. Who knows, but these donuts don't last long in my house.
Fresh blueberries burst with flavor in every bite. They're low-carb, gluten-free, and delicious. Who knew healthy food could be so good?
Keto Donut Holes
Honestly, you can never just have a couple. With this recipe, you won't feel bad about having a second serving.
Using coconut and almond flour makes a sturdier dough, as it's perfect for forming little donut balls.
The caramel dipping sauce is better than any glaze you'll ever have.
Keto Jelly Donut Bites
Have a hankering for some jelly-filled donuts? Look no further! Make your own jelly, and you're ready for low-carb-filled donuts.
They might be shaped like muffins, but these are donuts in disguise. You'll feel just like you walked out of the bakery with a box of happiness!
Keto Krispy Kreme Raspberry Donuts
Some donuts are just too messy to eat on the go. Then, there are these sturdy raspberry-filled donuts that are healthy and portable.
Thick donut batter makes for a tasty shell for sugar-free raspberry jelly. Oh, and don't forget to let them take a swim in the creamy glaze!
Keto Strawberry Donuts
When princesses eat donuts, these are the donuts they eat. They're low-carb, pretty, and so easy to make.
Sure, sugar-free Jell-O is dirty keto, but they're still healthier than others!
Cream cheese, lemon, and pureed strawberries add the perfect tang to this recipe.
The creamy strawberry glaze is the final touch you'll add to have these breakfast ready!
Keto Lemon-Glazed Donuts
Some prefer rich donuts, and others prefer light and fresh flavors. This recipe definitely fits the latter group!
A bright lemon flavor compliments the warm vanilla batter.
This recipe uses coconut flour and almond flour for a sturdy, cake-like donut.
You dip the baked treats in a sweet lemon glaze after they've cooled. These are one way to start the day out right!
Keto Coconut Mocha Donuts
Everyone knows that a cup of coffee is best with sweet donuts. This recipe brings the two together with instant coffee and cocoa powder.
This recipe doesn't have a glaze. The donuts are delicious on their own, but they're also great with a light coffee glaze, too!
Chocolate Cinnamon Keto Donuts
This recipe uses new flavors and great baking alternatives. Rather than almond flour, these are made with green banana flour.
Warm and nutty with cocoa, vanilla, and cinnamon spice, the flavor is unlike any other. There are also healthy ingredients like avocado and apple cider vinegar.
They're delicious, healthy, and new to the breakfast scene!
Low-Carb Blueberry Cake Donuts
If blueberries are your berry of choice, you won't want to miss out on these very-blueberry donuts.
Blueberry batter and crisp blueberry glaze make these sweet and scrumptious.
This recipe is nutritious in so many ways. Not only are they low-carb, but they're vegan and dairy-free, too! Guilt-free sweets are all the better.
Keto Pumpkin Donuts
Feeling like your sugar-free pumpkin spice latte is missing something? It's probably these donuts.
Warm fall spice is baked into your favorite breakfast treat.
Pumpkin puree makes these moist and tender. The recipe calls for a chocolate glaze, but I prefer a cinnamon sugar dipping instead.
Try them both and see what you prefer.
Keto Apple Cider Donuts
I can never say no to a hot cup of apple cider. Now, I can add apple cider donuts to that list.
Thankfully, these are sugar-free, so I won't have to feel bad about having two.
First, you bake your spiced cake donuts. Then, roll the donuts in sugar, spice, and everything nice! These donuts are sweet, tart, and full of fall flavor.
Keto Mint Chip Donuts
These donuts are so rich, they feel like dessert for breakfast. Most bakeries won't have a donut of this stature.
Chocolate donuts are covered in a keto mint chip frosting. Are these mini-cakes or donuts? I'm not sure, but who cares when they taste so good?
Keto Chocolate Chip Donuts
The best diet food tastes nothing like diet food. These chocolate keto donuts meet that criteria and then some!
You'll never believe these are low-carb with how tasty they are. Gooey chocolate glaze and chocolate chips? You know what that means!
Double chocolate in every bite.
Mini-Keto Chocolate Donuts
Chocolate donuts are easy to make, and they're a popular pick for all ages. Chocolate cake and a firm chocolate shell will satisfy any sweet tooth.
You bake your chocolate donuts, then dip them in the chocolate glaze. They're keto-friendly, low-carb, and totally delicious.
Make a big batch and freeze some for later!
Keto Boston Cream Donut
Are you more of a jelly-filled or custard-filled donut person? If you said custard, give this recipe a try! The pastry cream is delicious enough to eat on its own.
Cream-filled, chocolate-covered donuts are easily made low-carb and gluten-free.
Because the dough is sturdier, you cut the donuts in half to fill with custard.
Keto Sour Cream Donuts
If you're not baking with sour cream, you're missing out! It adds a little tang and a whole lot of moisture to cake donuts.
Mix up a warm nutmeg batter, bake, and smother it in vanilla icing. The hardest part of this recipe is letting the donuts cool after baking.
Keto Raspberry Cream-Filled Donuts
If you're familiar with Polish culture, you know paczki are essential on Fat Tuesday! There's no need to miss out on this Polish staple due to dieting.
These donuts have a creamy raspberry filling and are rolled in powdered sweetener.
With a little extra effort and the right alternatives, these are ready to serve!
23 Best Low Carb Keto Donuts Recipe Collection
Try these keto donut recipes for low-carb treats to enjoy any time! From glazed to cinnamon sugar to chocolate chip, you won't be able to resist these donuts.
Ingredients
Select your favorite recipe.
Organize all the required ingredients.
Prep a keto donut in 30 minutes or less!
These sugar-free keto low carb donuts are made without any flours! They are high in protein with 10 grams and just 2 g net carbs!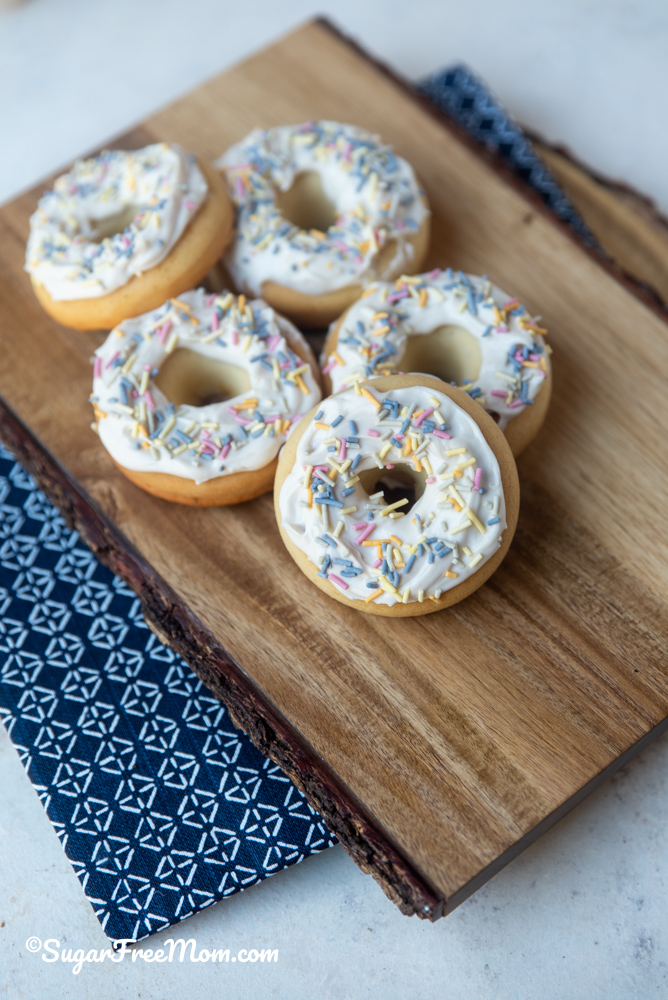 Low Carb Donut Recipe
This easy keto donuts recipe doesn't need coconut flour, almond flour, sunflower seed flour or any hard to find ingredients.
Just simple ingredients you already have in your keto kitchen. These are the best keto donuts with a cup of coffee on your keto diet or low carb diet, providing 10 grams of protein per donut!
You will feel completely satisfied and be guilt-free knowing these donuts won't cause you a sugar crash in an hour!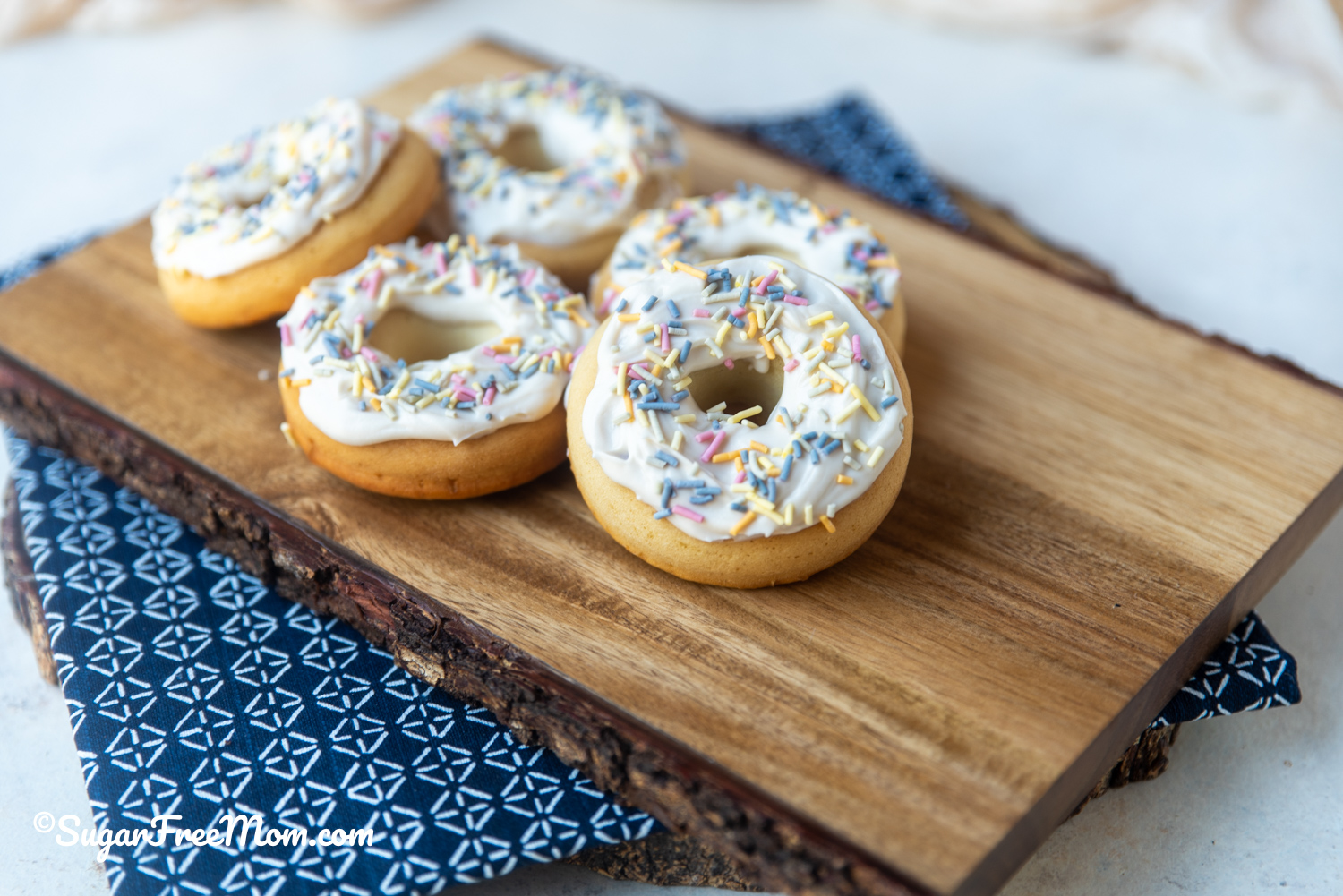 Carbs in Dunkin Donuts and Krispy Kreme Donuts
Traditional donuts from a donut shop will not be something to enjoy on your ketogenic diet since the high carbs will certainly kick you out of ketosis. Even if you are on a low carb diet, when you spike your blood glucose you will have sugar cravings.
A glazed donut from Dunking Donuts has 31 grams of total carbs and 260 calories with only 3 grams of protein.
A glazed donut from Krispy Kreme has 22 grams of total carbs and 190 calories and only 3 grams of protein.
Our glazed donut has 170 calories and just 3 grams of total carbs with 10 grams of protein. This low carb donut will not cause sugar cravings and will not spike blood sugar.
All nutritional information is at the bottom of this blog post directly under the recipe card.
Delicious Keto Donut Recipe
Our keto doughnuts resemble more like cake donuts in texture, but for sugar-free donuts these are a great recipe that won't spike blood sugar like classic donuts would. The creamy, dairy free vanilla cream cheese frosting with sugar-free sprinkles make these wonderful sweet treats for the whole family!
Tools for Keto Donuts
Stand Mixer or Hand Mixer and large bowl
High Powered Blender or Food Processor could also be used.
Silicone Donut Pan- I do not recommend metal as it sticks even when greasing it.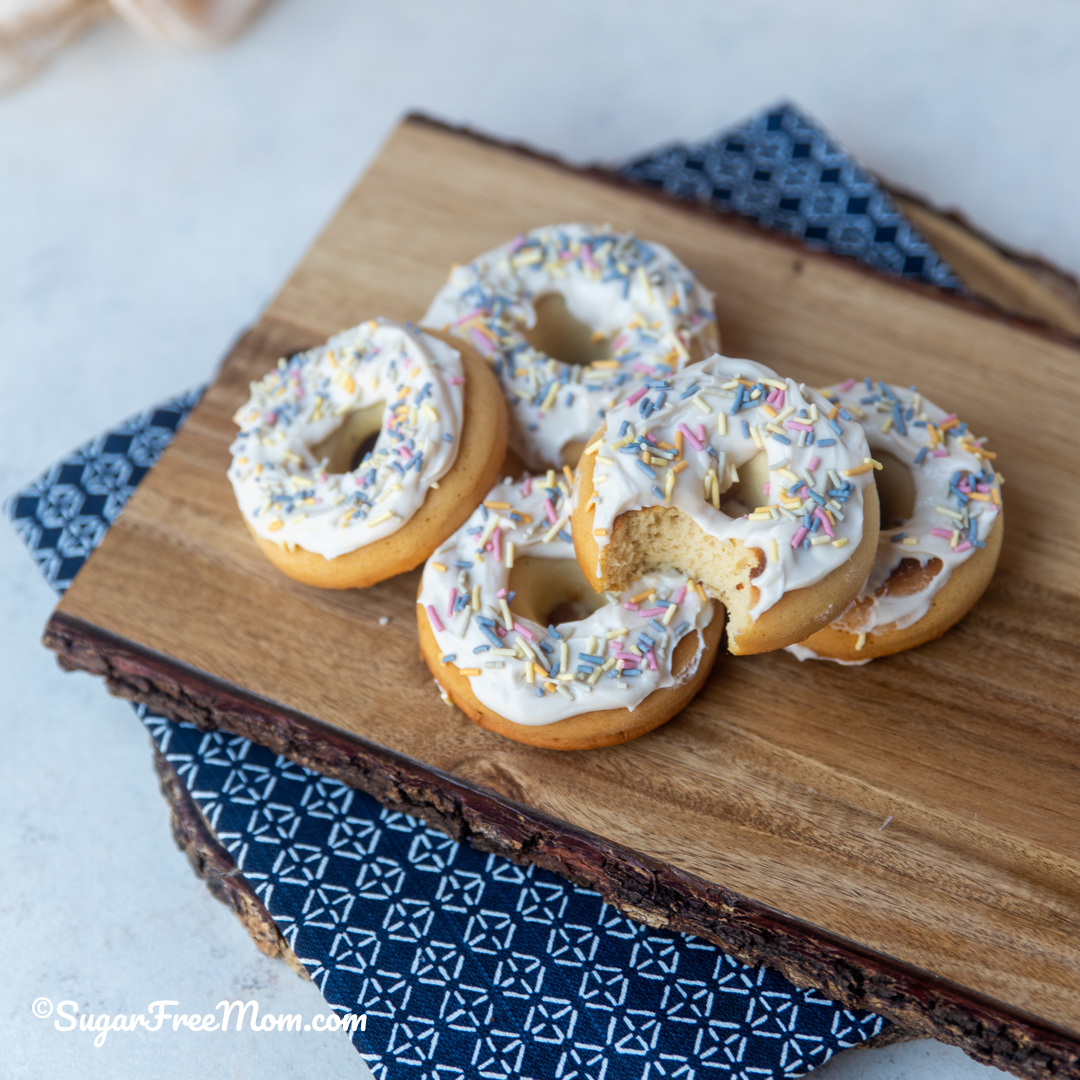 How to Make Keto Donuts
Please view the exact measurements and printing ability below in the recipe card at the very bottom of this post.
Wet Ingredients
3 large eggs, best if they are at room temperature which will help make stiff peaks when whipping whites.
Allulose liquid or use my Keto Simple Syrup
vanilla liquid stevia
Vanilla Frosting
dairy free cream cheese
Dry Ingredients
vanilla egg white protein powder
Directions
Preheat oven at 300 degrees F.
Place your egg whites in a stand mixer with the vinegar and whip until stiff peaks. This should take about 10-15 minutes. Set aside.
Place the egg yolks in a high powered blender with the remaining ingredients and blend until smooth.
Spoon some of the yolk mixture into the whipped egg whites. Do this in 3 batches until combined.
Pour donut batter into each cavity of the silicone donut pan or use a piping bag if you prefer.
Bake on the middle shelf of oven for 15 minutes. Once cool, you can make the vanilla frosting.
Place frosting ingredients into a large mixing bowl or a large bowl for a stand mixer and blend with the paddle attachment or electric hand mixer until smooth. Taste and adjust sugar substitute to see if you need it sweeter.
Spread frosting onto each donut and if you desire, use sugar-free sprinkles.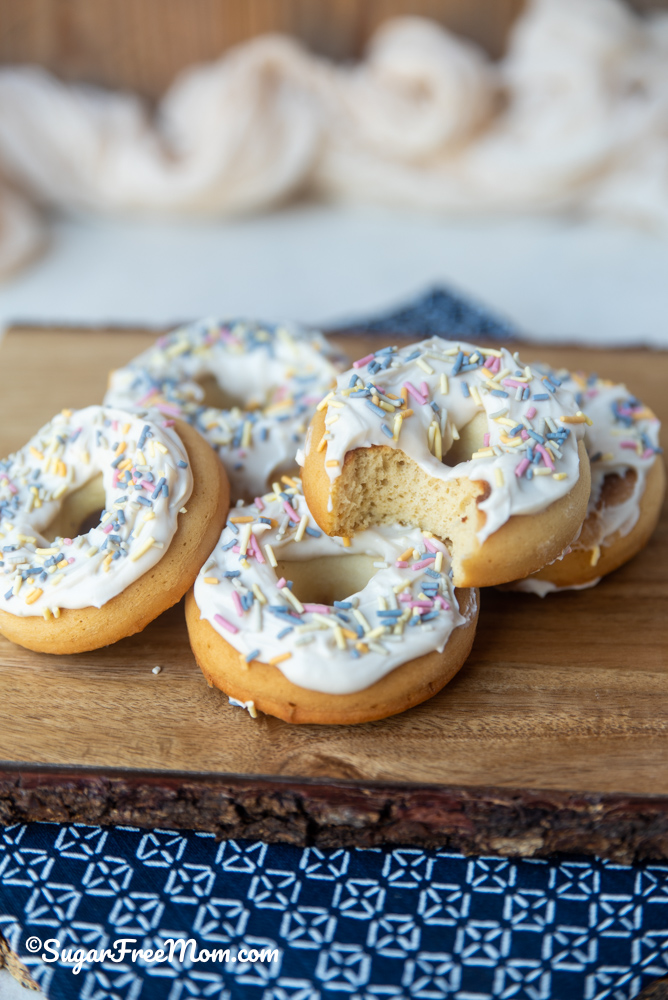 Sugar Free Keto Sweetener Options
Liquid Allulose is wonderful in this recipe because it helps provide a soft and chewy texture, but it does not add much sweetness.
Including vanilla liquid stevia helps bring that sweetness level up to more of a sweetness similar to a traditional donut recipe.
If you don't have liquid Allulose, you can make my Keto Simple Syrup to replace it using the same amount. In fact the vanilla flavored simple syrup would be amazing in this recipe.
If you don't have vanilla liquid stevia, you could use extra vanilla extract and another low carb sweetener, perhaps Monk Fruit sweetener or Swerve sweetener. Use my conversion chart to decide how much to use in place of liquid stevia.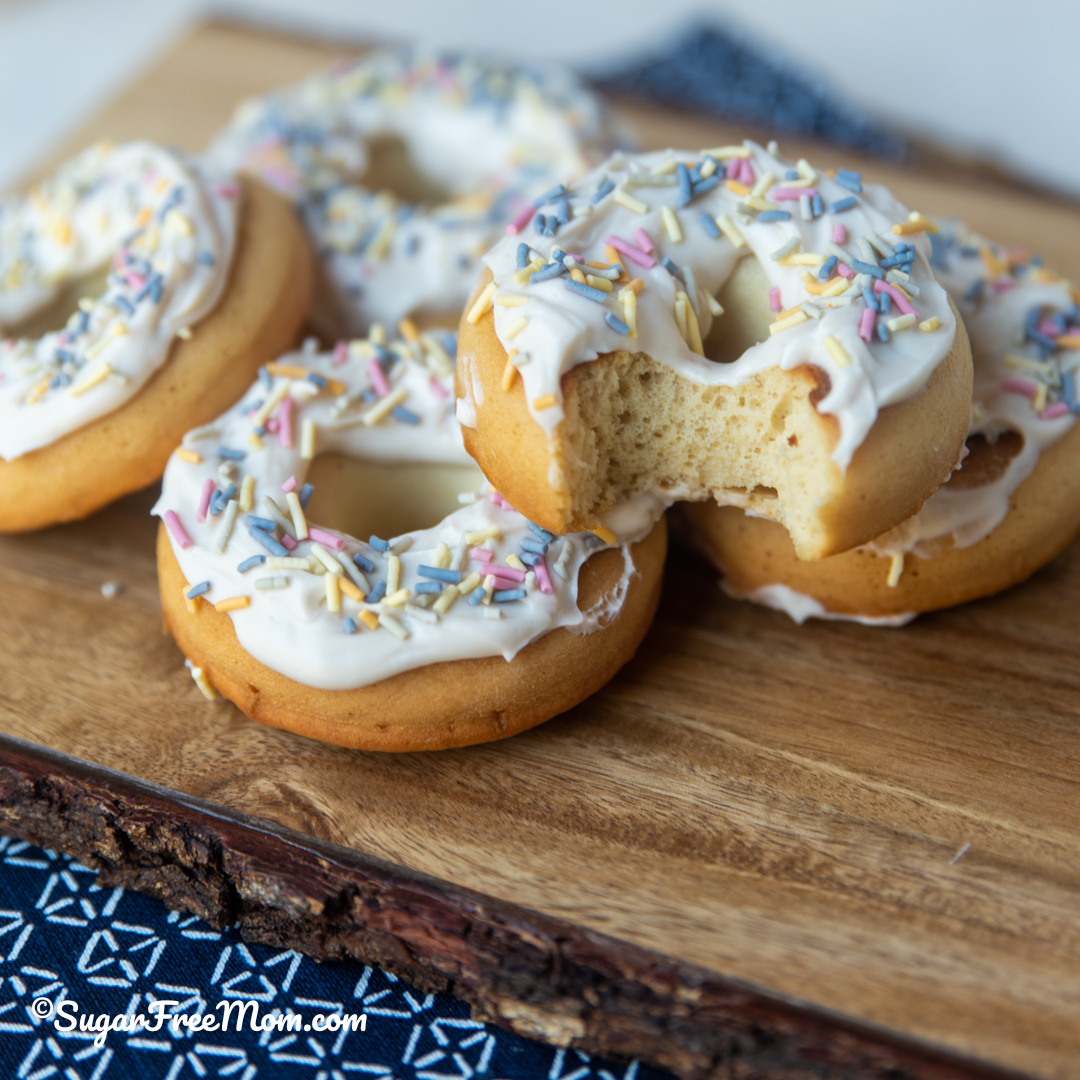 How to Store Keto Donuts
Store vanilla frosted keto donuts in an airtight container in the refrigerator for up to 3 days.
FAQs
I've not tested this out removing the mayonnaise for anything else but in my dairy free cloud bread recipe which is similar, I did suggest replacing mayonnaise with dairy such as sour cream or cream cheese. Again, not tested in this recipe but it might be an option.
Why is there no xanthan gum?
I've found that xanthan gum makes the donuts deflate.
Can I add cocoa powder to make these chocolate keto donuts?
You could add cocoa powder to make these keto chocolate donuts, but just a little so you don't dry them out, maybe just 1-2 tablespoons.
Can I use coconut cream to replace vegan cream cheese?
Yes you can use canned coconut cream to replace the dairy free cream cheese used in the vanilla frosting recipe for these keto donuts.
Can I use heavy cream to replace the dairy free cream cheese?
Yes you could use heavy cream to replace the cream cheese in the frosting but you will want to stabilize the whipped cream. Please see this whipped cream frosting recipe.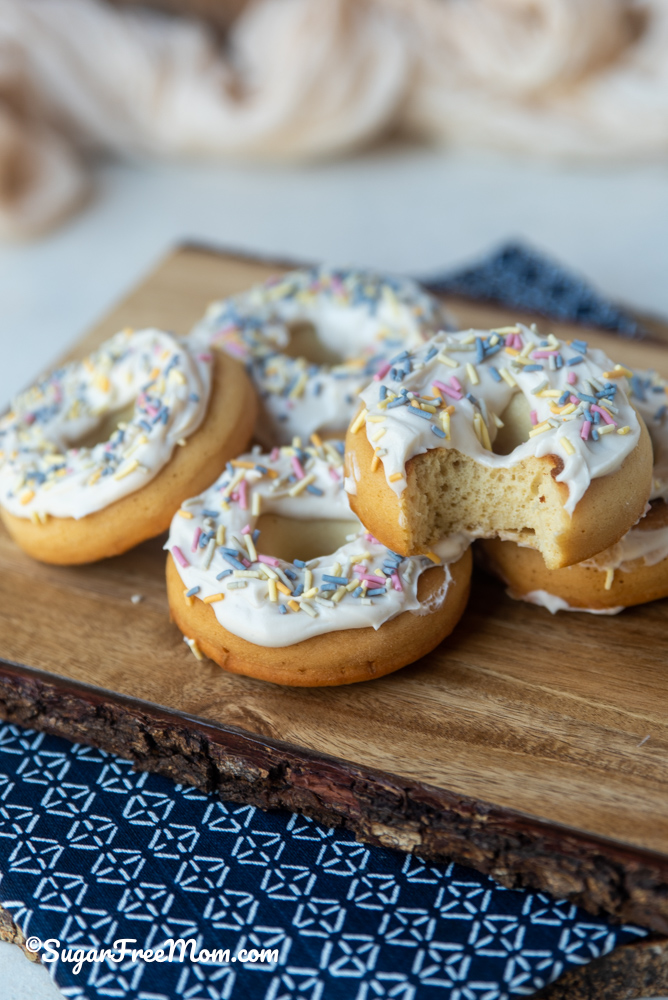 More Sugar Free Donut Keto Recipes
Chocolate Glazed Almond Flour Donuts
Turn these Dairy Free Blueberry muffins into blueberry donuts simply by pouring the cake batter into a silicone donut pan.
You could turn the vanilla frosting into a strawberry flavor by using berry liquid stevia and natural food coloring to make it pink. You could also add some freeze dried strawberries over the top of the frosting for keto strawberry donuts!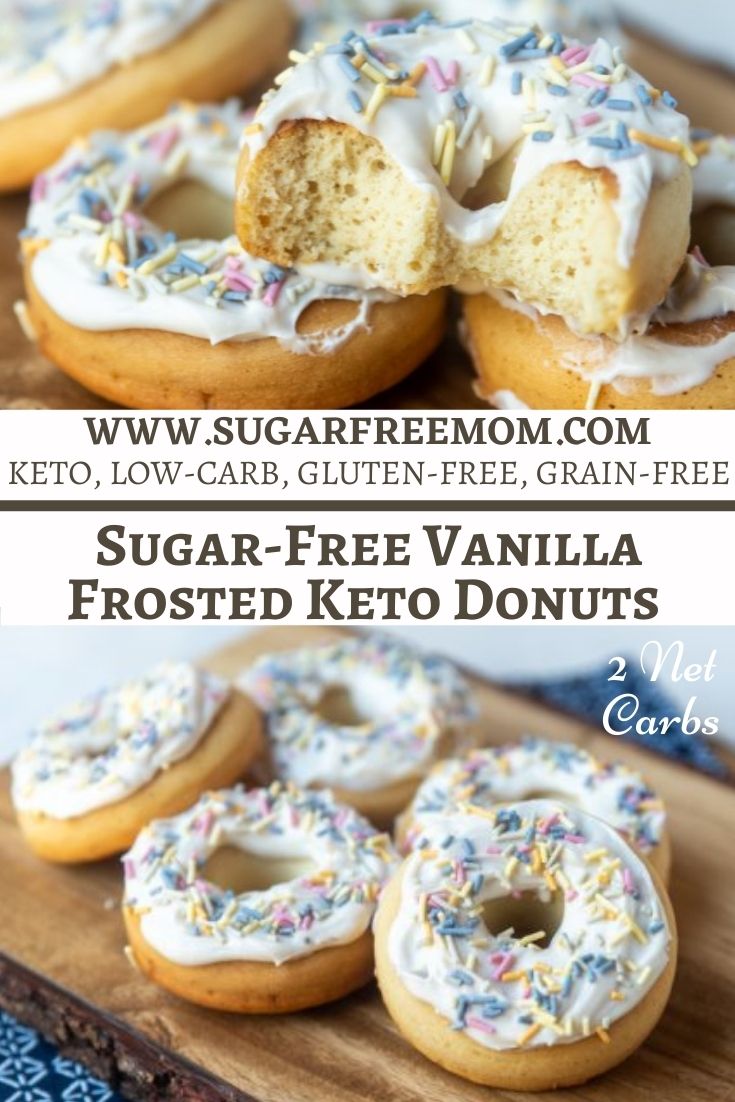 Best Tips for Perfect Keto Donuts
This recipe was adapted from my Dairy Free Cloud Bread Loaf and Mini Bagels using a mini donut pan.
Silicone donut molds are the best to use in my opinion since they easily pop right out without losing any donut, which has happened when I made these for the first time using a very greased metal donut pan.
You could turn these into 12 mini donuts just by using a mini donut pan instead of a large donut pan for 6.
Keto Dairy Free Vanilla Frosted Donuts
vanilla liquid stevia
vanilla egg white protein powder
Preheat oven at 300 degrees F.
Place the egg yolks in a high powered blender with the remaining ingredients and blend until smooth.
Spoon some of the yolk mixture into the whipped egg whites. Do this in 3 batches until combined.
Pour batter into each cavity of the donut pan.
Bake on the middle shelf of oven for 15 minutes. Allow to cool before adding frosting.
Net Carbs: 2g
Nutrition info includes frosting.
With an almond and coconut flour mix!
And with the help of the almond and coconut flour mix we achieve *just* that, a delightful texture that stays nice and moist.
My top tips
Otherwise I would actually advise against most mini donut molds in the market as they're silicone, and it simply doesn't conduct heat like metal (which is king). i.e. the texture comes out a mess.
Instead just hack a mini donut pan like I did: grease and flour it, toss a little aluminum ball in the center and pipe out the batter around it.
The Sweetener
You've got a few options, just note that each sweetener will likely give you varying results in terms of texture.
But the sweeteners must be powdered.
So get your blender out, make sure it's completely dry, and process your sweetener of choice until powdered. Just make sure you wait a few moments for the dust to settle before opening the blender or food processor.
And if using xylitol, make sure to be careful if you have a pup around the house, as it's highly toxic to the little guys!
almond flour powdered sugar donuts, gluten free powdered sugar donuts, keto powdered sugar donuts
mini donut pan hack see post for reference pics!
donut hole pan
For the powdered 'sugar' coating
or xylitol/erythritol, as needed
optional (but nice if using erythritol sweeteners to offset the cooling)
Preheat oven to 350°F/180°C. Line (or grease and flour) a mini donut pan (donut hole pan or muffin tray).
Whisk together in a medium bowl almond flour, coconut flour, baking powder, xanthan gum and salt. Set aside.
Mix in the vanilla extract and the melted butter until well incorporated.
Add in the dry flour mix in two parts, alternating with the sour cream. Distribute batter evenly into the prepared pan, smoothing out the tops with wet fingertips.
Bake for 10-15 minutes (think shorter bake time for the donut holes and longer for the mini donuts), until golden and a toothpick inserted comes out clean. Check in on it after minute 10 though, as I can imagine these ranging a bit depending on pan used used.
Allow to cool completely before rolling in powdered sweetener. Store in an airtight container for 3 days, but do note that powdered sweetener will cake up without adding something like corn or tapioca starch, so its best to add the powdered sweetener right before serving 😉
These amazing keto donuts taste almost like the real thing. The moist, delicate crumb and the luscious chocolate glaze are wonderful!
They're really good with just the glaze, but it's also fun to use different toppings, such as crushed nuts and shredded coconut.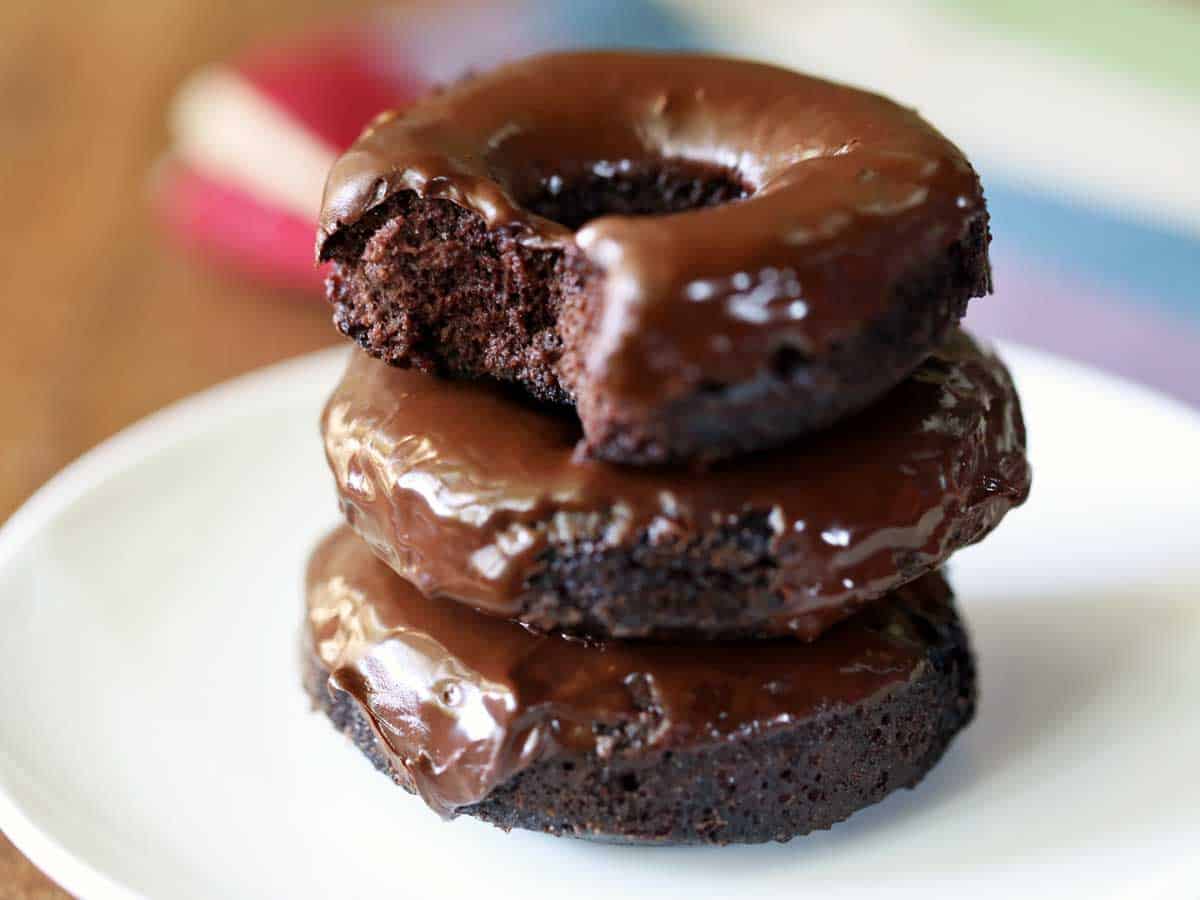 These wonderful donuts are yet another proof that one can indulge in amazing treats even on a low-carb diet. They are soft, moist, and wonderfully chocolaty. They remind me of chocolate cake donuts – an old favorite. 🍩
You'll need a donut pan to make them, but other than this special piece of equipment, making them is a straightforward affair and not particularly challenging.
You'll only need a few simple ingredients to make these tasty keto donuts. The exact measurements are listed in the recipe card below. Here's an overview of what you'll need:
Eggs: I use large eggs in almost all of my recipes, this one included.
Unsalted butter: I love using European butter, it's so flavorful.
Milk: Only three tablespoons. You can replace it with heavy cream if you wish.
Sweetener: I use stevia glycerite, which pretty much eliminates the bitter aftertaste typical of stevia products. You can probably replace it with a granulated sweetener.
Coconut flour: An excellent flour substitute. Try to measure it by weight if you can. Every extra gram makes a difference in this ultra-dry ingredient.
Cocoa powder: It's best to use natural unsweetened cocoa powder in this recipe.
Salt and baking soda: If you'd like to try using gluten-free baking powder (though I haven't tested it in this recipe), remember that ¼ teaspoon of baking soda is equivalent to 1 teaspoon of baking powder.
For the glaze: Dark chocolate chips and avocado oil. I use extra dark chocolate chips (85% cacao) to make the glaze. You can find them on Amazon (I included a link below in the recipe card). You can also use extra-dark chocolate such as Lindt 85% or Lindt 90%. You could use stevia-sweetened chocolate chips, but personally, I'm not a huge fan of them and prefer to use the real thing.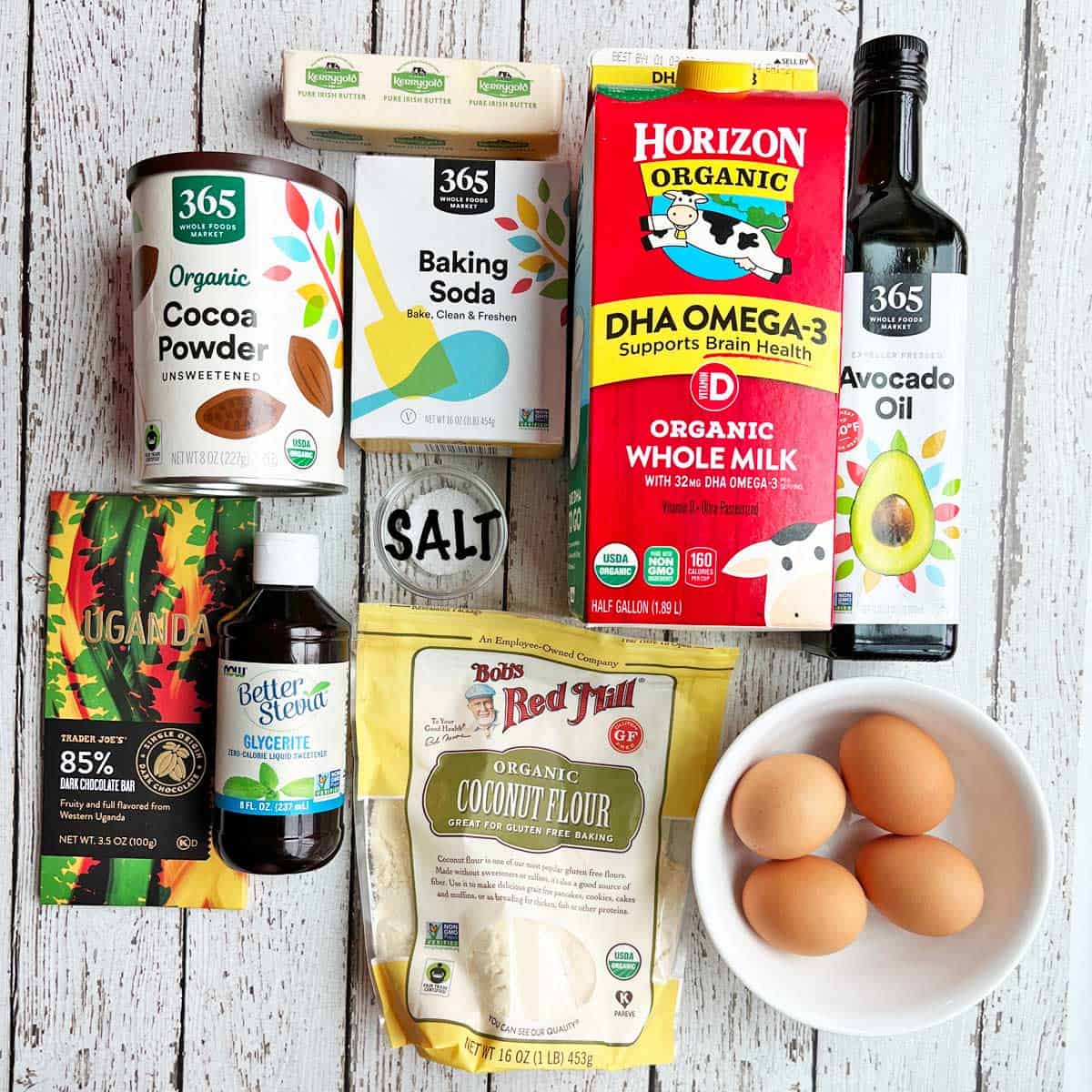 Instructions
Making these keto donuts is easy! The detailed instructions are included in the recipe card below. Here are the basic steps:
You start by whisking all the ingredients (except for the glaze ingredients) in a single bowl.
The donuts are really good at this point! But we do want to glaze them. So your next steps are to completely cool them, then carefully remove them from the pan and glaze them. Allow the glaze to set, then enjoy!
Expert tip
The baking soda in this recipe needs an acid to react with. The milk provides some, via lactic acid. But for best results, it's best to use natural cocoa powder and not Dutch-processed cocoa powder that was treated with alkali.
The natural cocoa powder is acidic and will react with the baking soda to produce fluffy donuts.
Frequently asked questions
What pan should I use?
It's really important to use a silicone donut pan. These donuts are made with coconut flour and stick to metal pans – including nonstick ones.
They sometimes very lightly stick even to silicone. So when it's time to release them from the pan, do so very slowly, using a knife or a tiny rubber spatula to very gently separate them from the pan as needed.
What are keto donuts made of?
They can be made with any low-carb flour. Two popular choices are almond flour and coconut flour. In this particular recipe, we're using coconut flour.
It's especially suitable for donuts because it tends to produce baked goods with a slightly spongy texture, which works well in a donut recipe.
Can I substitute almond flour for coconut flour?
Unfortunately, you can't. This recipe was specifically written for coconut flour, which is extremely absorbent and needs extra eggs and liquids to prevent baked goods from being too dry.
Variations
I love this recipe as is and almost always make it as written. But in case you'd like to vary the basic recipe, here are a few ideas for you:
As mentioned above, you can use heavy cream instead of milk.
You can use baking powder instead of baking soda (gluten-free if needed). You'll need 1 teaspoon of baking powder.
I like to top the donuts with shredded coconuts and chopped nuts. Another tasty option is to drizzle the donuts with melted peanut butter.
Serving suggestions
These donuts are very rich and are best served as dessert. However, on occasion, I do serve them for an indulgent breakfast – they're perfect with a strong cup of coffee!
Reader reviews
And Mel posted this gorgeous photo of her own creation:
She says: "Just in time for National Donut Day! Found a keto donut recipe that may just work as a cake recipe! These donuts are more of a cake-like moist donut! So good!
I only glazed 2 of them so the others can try them with other glazes. This recipe is kid and hubby approved! Little man kept walking to the kitchen asking what's that smell!? while they were baking."
Storing leftovers
Once completely cool, keep the leftovers in the fridge, in a single layer in an airtight container, for up to 4 days. Remove them from the fridge 30-60 minutes before you plan on eating them. Chocolate always tastes best at room temperature.
👩🏻‍🍳 I typically publish a new or an updated recipe once a week. Want these recipes in your inbox? Subscribe! You can unsubscribe at any time.
Recipe card
These amazing keto donuts taste almost like real cake donuts! They are soft, moist, and chocolaty.
melted (112 grams)
(equals ⅓ cup sugar)
unsweetened natural cocoa powder (not treated with alkali)*
Preheat oven to 350 degrees F. Grease 10 silicone donut pan cavities.
Whisk together the eggs, melted butter, milk and stevia.
Whisk in the coconut flour, cocoa powder, salt, and baking soda.
Place the pan on a cooling rack and allow to cool for 15 minutes.
Meanwhile, in a shallow bowl, melt the chocolate chips in a microwave-safe bowl, in 30-second intervals, stirring after each session. Stir in the avocado oil.
Gently run a knife around the edges and center of each donut. Carefully release them from the pan. Dip each donut into the glaze.
If desired, sprinkle the donuts with toppings such as shredded coconut or chopped nuts, or drizzle them with melted peanut butter.
*The baking soda in this recipe needs an acid to react with, and cocoa powder treated with alkali will not provide that acid.
The nutrition label includes donuts and glaze, but no toppings.
I typically publish a new or updated recipe once a week. Want them in your inbox? Subscribe!
A buttery keto doughnut hole dusted with cinnamon and your favorite sugar replacer. These churro bites make a perfect on-the-go breakfast or a sweet mid-afternoon snack.
Serving Size: 1 donut hole
Donut cravings are legit. I love eating them with my morning coffee. Besides donut holes, chocolate glazed donuts and Krispy Kreme glazed donuts are my favorite.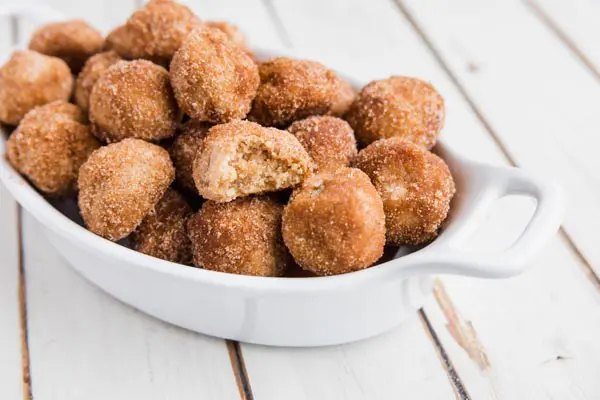 Speaking of donuts, did you know you can spell it doughnut or donut. Donut is the Americanize version. Either way, they are delicious but filled with tons of fat and carbs. I don't mind the fat but I don't want the carbs!!
Luckily I came up with a fabulous keto donut hole recipe that is only 0.7 g carbs per bite! These donut holes are buttery, soft and tastes like a churro since they are dusted with cinnamon sugar mixture.  Instead of using sugar, we use a sugar free sweetener.
Now you can satisfy your doughnut cravings with these churro bites!
How to make keto donut holes
Recipe Details
Similar recipes others love
Purpose of protein powder in keto baking
Purpose of sour cream in donuts
Chocolate glaze donut holes
Donuts & coffee
Storage information & meal prep
FAQs
Nutrition information: facts & macronutrients
How to make keto donut holes
Mix up donut batter using almond flour, low carb protein powder, baking powder, xanthan gum, cinnamon, salt, butter, sour cream and water.
Roll dough into 1 inch sized balls.
Bake donut holes in the oven until golden brown all around.
Dust with cinnamon sugar mixture made of butter, cinnamon and monk fruit sweetener.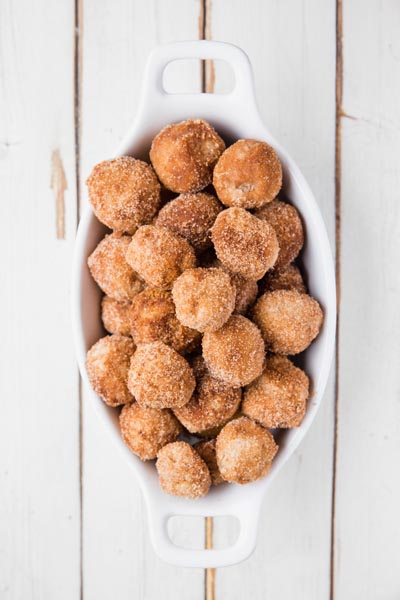 Keto Donut Holes Recipe Video
Preheat oven to 325 degrees. Quick Tip Line a baking sheet with parchment paper.
Donut hole batter Add almond flour, protein powder, baking powder, xanthan gum, cinnamon, salt, melted butter, sour cream and hot water to a small bowl. Mix until combined. Quick Tip If dough is crumbly, add a splash more of water.
Bake at 325 degrees Fahrenheit for 6 minutes. Quick Tip Let keto donut holes cool completely before handling. They are very delicate after they finish baking and may crumble if you handle them too soon.
Dip in butter Once doughnut bites have cooled to the touch, dip each one in the melted butter. Then dip in a mixture of monk fruit and cinnamon. Quick Tip Melted coconut oil can be used in place of butter for a dairy free option.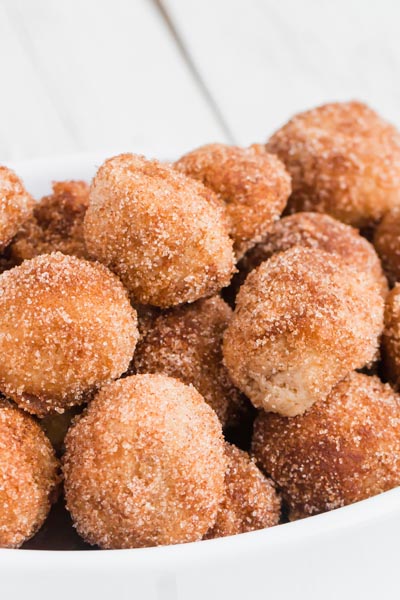 Purpose of protein powder in keto baking
Not only does adding protein powder to baked goods supply extra protein in your meal, but it substitutes as a flavorless flour and this non-gritty. Protein powder is used to provide a protein matrix to tray air bubbles released from leavening agents. It works similar to gluten in all-purpose flour but most protein powder is gluten free!
Adding too much protein powder can make your baked desserts too dry, so make sure you balance it out by adding lots of liquid and fat.
Purpose of sour cream in donuts
The sour cream is in this recipe to provide moisture. Protein powder can produce a dry, crumbly baked good. The sour cream adds fat and moisture to help balance out the protein powder. It also provides a creamy flavor.
Sour cream is keto approved. One tablespoon of sour cream has 0.3 grams of carbs so it is keto friendly. It is also higher in fat and has protein.
If you don't want to use sour cream in this doughnut recipe, you can substitute with a full fat greek yogurt or heavy cream.
For a dairy free option, use dairy free yogurt like one made from almonds.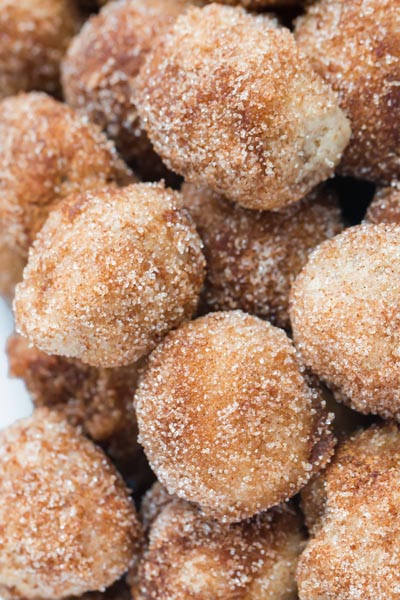 Chocolate glaze donut holes
The keto doughnut holes are the perfect on the go keto breakfast or just enjoy them as a quick bite. My favorite way to eat this churro bites is to have them with a hot cup of coffee – either in the morning or as an afternoon snack and pick me up! If you are a donuts and coffee sort of person, this recipe is for you!
For some delicious keto coffee recipes, try these:
Storage information & meal prep
These keto doughnut holes are an easy treat to make, but you can prep them ahead of time too because they stay fresh at room temperature, left out on the counter.
If you want to prep up as make ahead breakfast or bite sized keto dessert, you can make these and portion them out throughout the week.
Keto Churro Donut Holes
I don't have protein powder. What can be used in it's place?
Instead of protein powder, try using coconut flour. Use the same amount 1/4 cup of coconut flour.
Nutritional information & Macros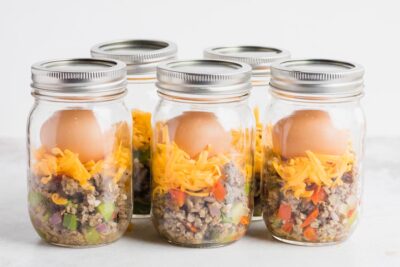 See the Recipe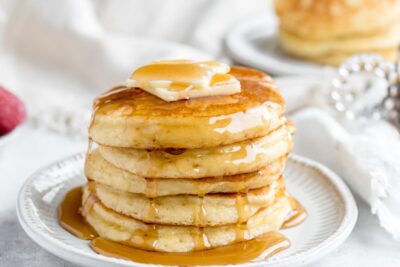 Almond Flour Pancakes
Jump to Recipe
This recipe for keto sour cream donuts makes a tender cake donut that is lightly spiced with nutmeg for the flavor profile of old-fashioned donuts we all remember and love.
Made with a combination of almond and coconut flour these sugar-free donuts are low in carbs, gluten-free and keto-friendly.
If you're a fan of Dunkin Donuts and you are missing their cake donuts you are in for a real treat with this delicious, simple low carb old-fashioned donut recipe.
Do also check out our recipe for keto cinnamon sugar donuts that give us that classic flavor most us of crave. AND our keto strawberry donuts for a seasonal treat!
And of course our entire collection of keto donuts where I am sure you'll find a few favorites.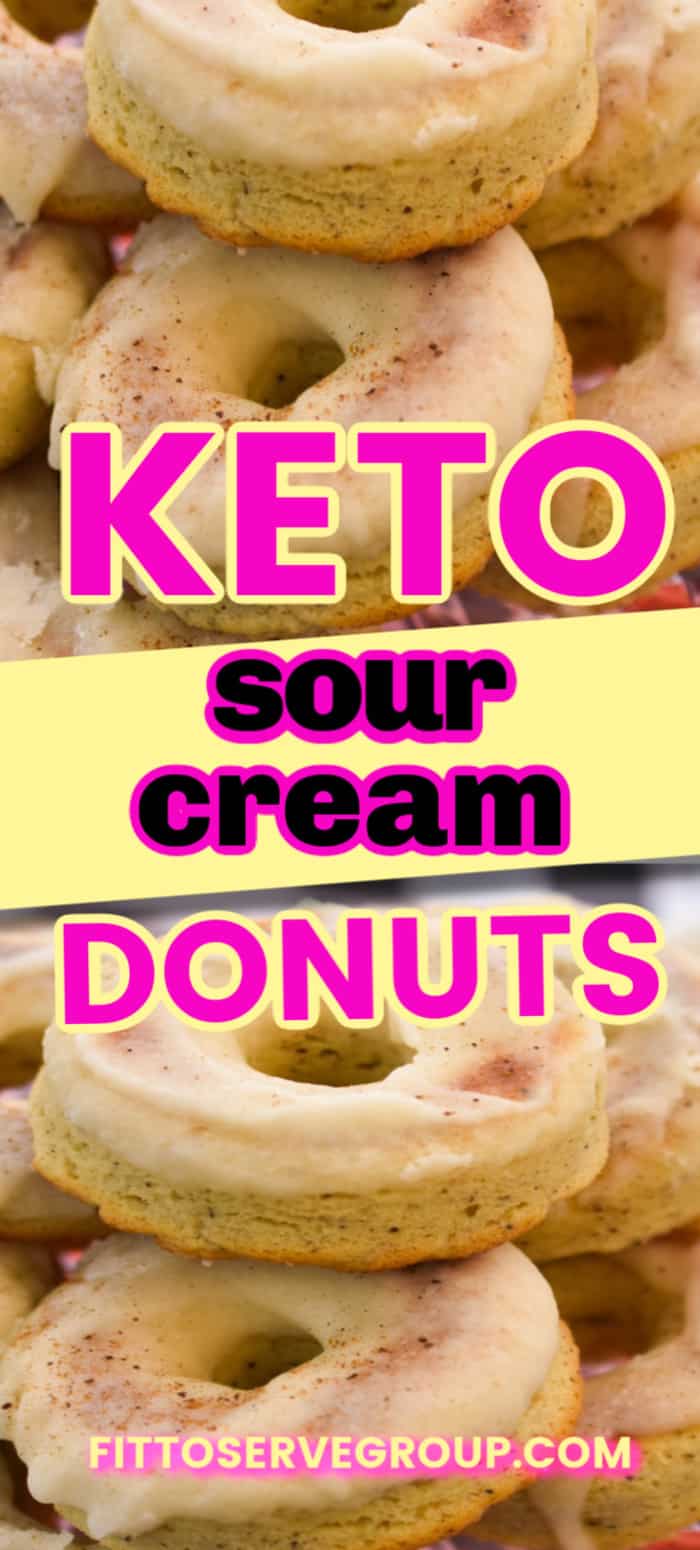 Keto Old Fashion Sour Cream Donuts
These cake donuts use sour cream in the batter to ensure they have a moist, tender crumb. It also adds a very slight tang that gives them that old fashion quality.
I opted to use a combination of almond and coconut flour because in my humble option it also plays a role in getting the perfect cake donut texture.
The addition of a little ground nutmeg gives them an added flavor distinction. If that's not enough, these keto donuts also feature a vanilla glaze that makes them irresistible.
How To Make Keto Old Fashioned Donuts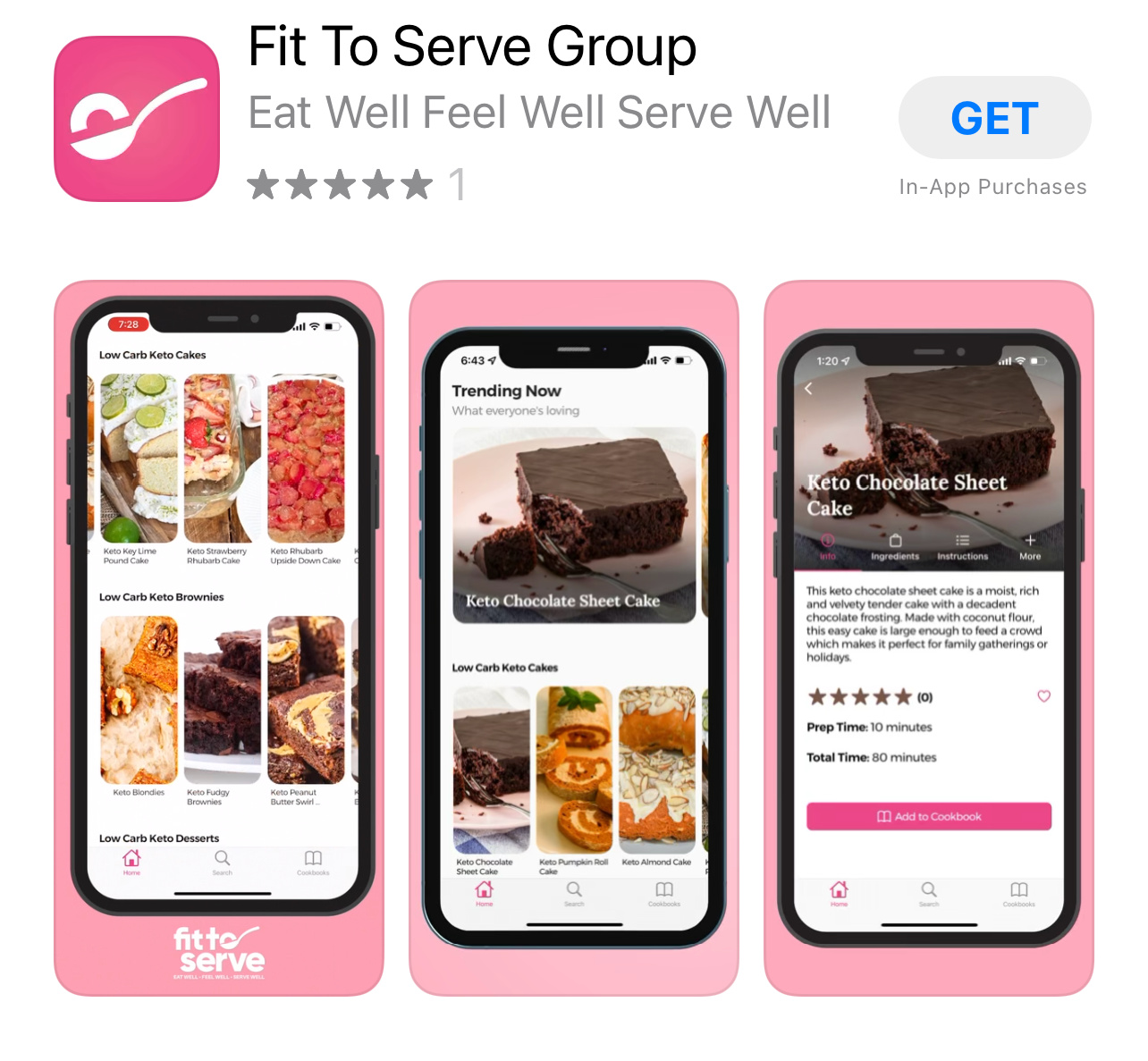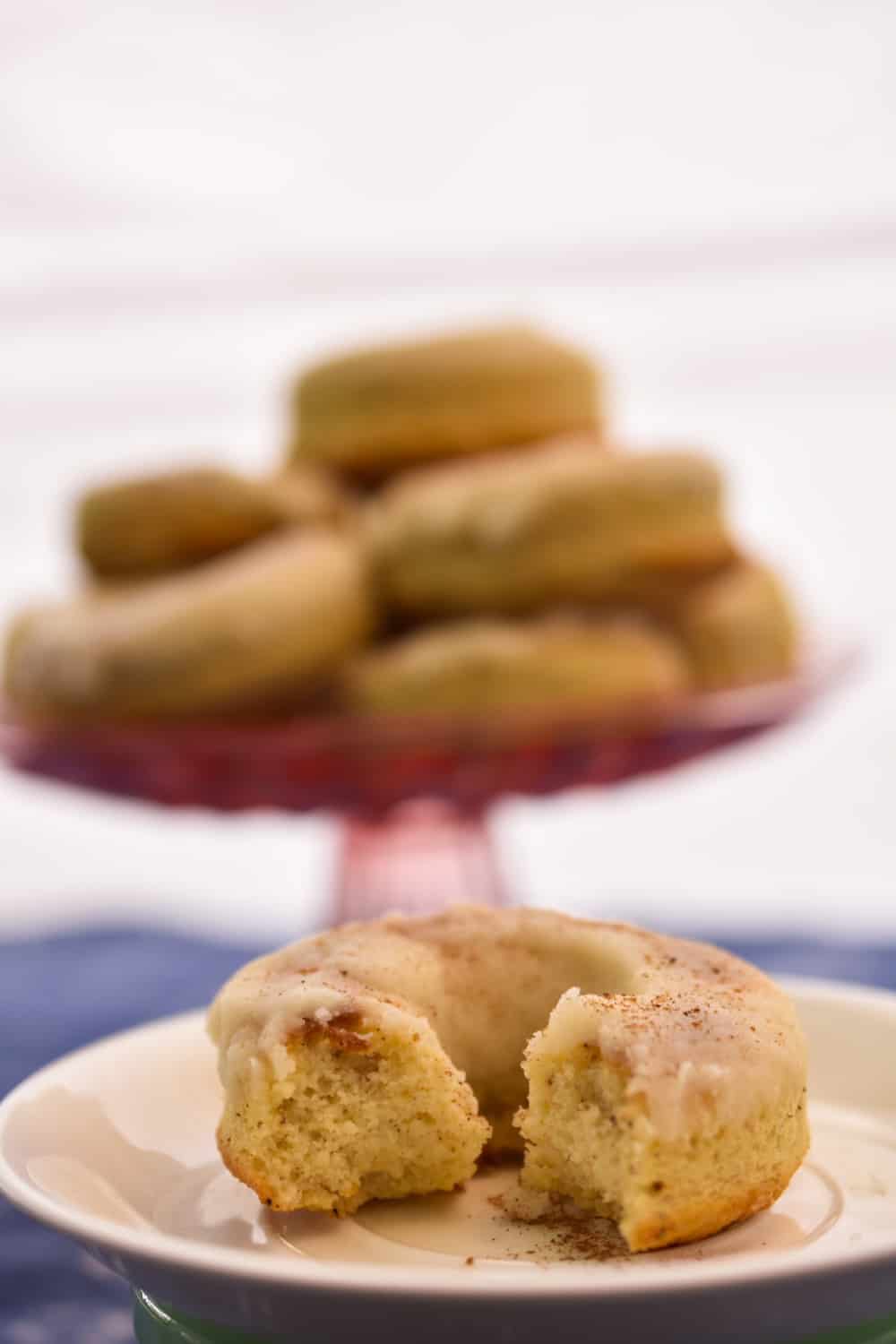 keto old fashion donut
Disclosure: Some of the links below are affiliate links, meaning at no additional cost to you, I will earn a commission if you click through and make a purchase.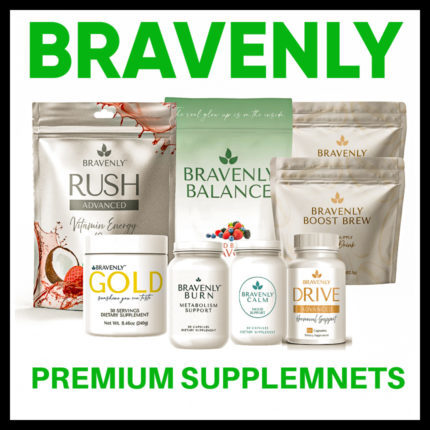 These keto donuts come together easily. Once you have pre-heated your oven to 350 degrees and greased your donut molds it's then simply a matter of mixing your dry and wet ingredients together.
First, you'll combine the almond and coconut flour, sugar substitute, baking powder, nutmeg, and salt in a large bowl.
To this mixture, you'll then add the sour cream, melted butter, whole eggs, and vanilla extract and combine well. I use an electric mixer to ensure the batter is well incorporated.
To easily add the batter into the donut molds I recommend using a pastry bag or placing the donut batter into a large ziplock bag with the corner snipped off.
I like using silicone donut molds but a non-stick donut baking pan will also work. In both instances, you will need to grease them well.
For even baking I place my silicone molds on top of a cookie sheet, this also makes it easier when it comes time to take them out of the oven.
After the donuts are baked and cooled you'll proceed to make the icing and then allow the icing to set by placing your donuts on a baking rack.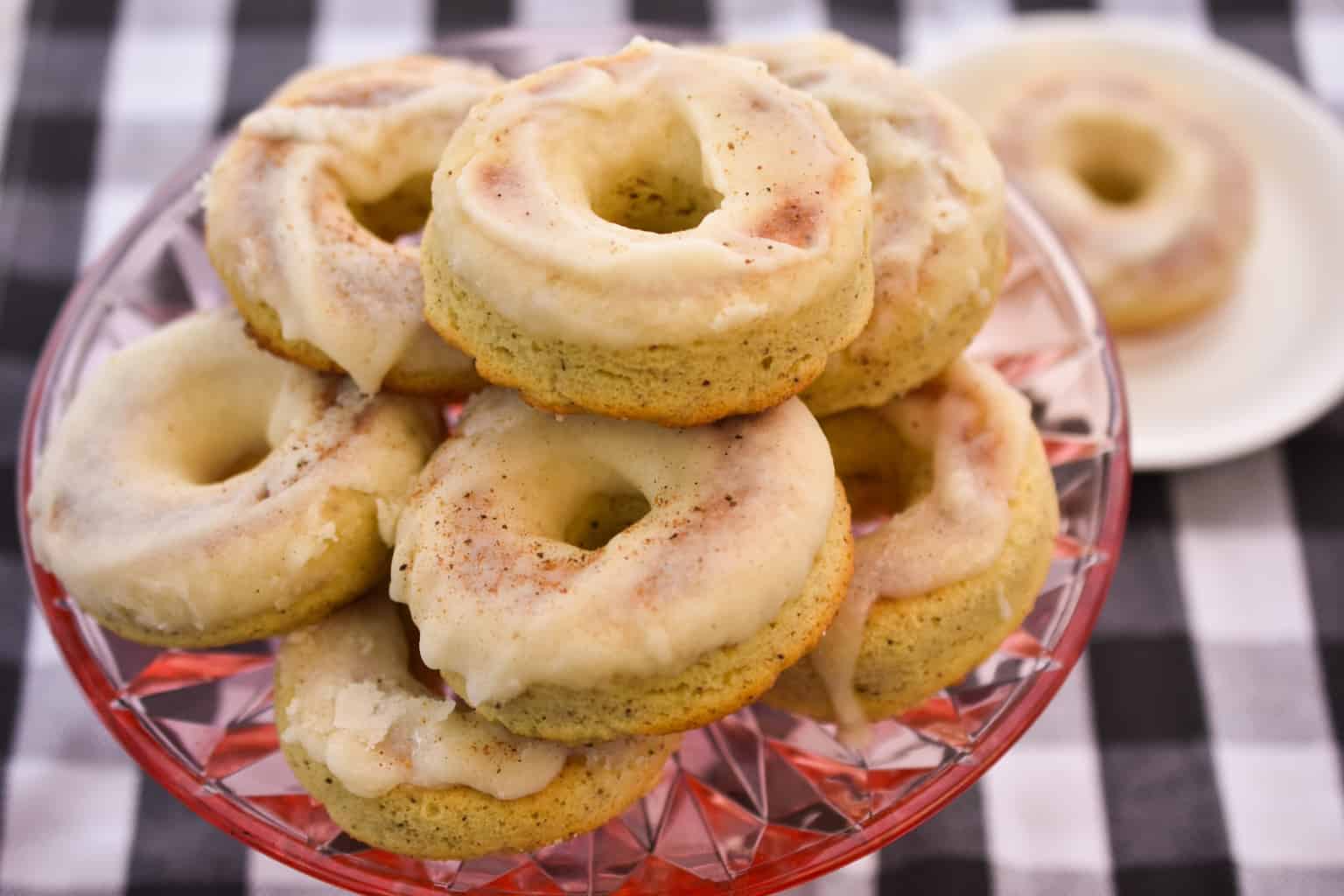 Sugar-free Sweetener Options
As far as which sugar substitute to use for this keto sour cream cake donuts, I have a few recommendations. If you are regular on our site you know I'm a huge fan of Lakanto Monk Fruit.
This is because the texture of Lakanto is spot on and since there is barely any aftertaste. It is a monk fruit and erythritol blend.
I love that Lakanto Monk Fruit is all-natural and it gets its sweetness from antioxidants called mogrosides, instead of fructose or sucrose. And it has zero calories and zero glycemic impact.
I'm also partial to Swerve another erythritol blend.  It works well in this keto donut recipe and is a great choice if you are looking for a sugar substitute that has no bitter aftertaste and measures just like sugar.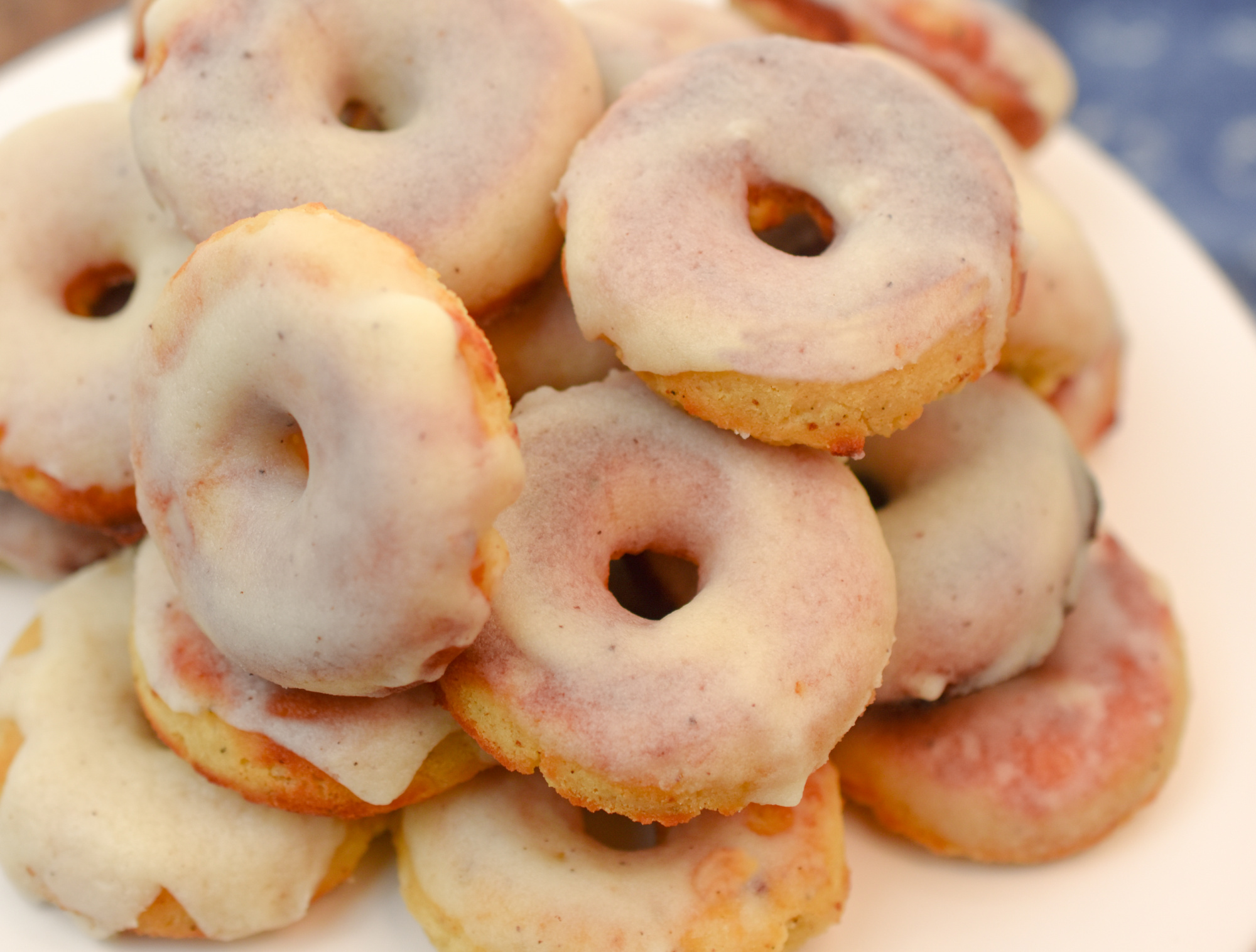 Baked keto sour cream donuts
Swerve is made from ingredients found in select fruits and starchy root vegetables and contains no artificial ingredients, preservatives, or flavors. Like Lankanto, Swerve has a 0 % impact on blood sugar.
If you are more of a fan of stevia, you can use the stevia and erythritol-based brand Pyure in this recipe. However, it's important to note that if you are using Pyure you will want to use 1/2 the amount called for in this recipe since it's a much sweeter option.
Lastly, if you cannot easily find a more natural sugar substitute you can also use Splenda with great success. You will want to use the Splenda that has a bulking agent. It's the one that comes in larger bags.
I don't recommend Splenda Bake because it's actually half sugar half sucralose product and will be too high in carbs to be considered keto-friendly.
You will need a confectioner's sugar substitute for donut icing. Thankfully, both Lakanto and Swerve have great ones.
Tag Us
Also, check out our for our recommendations. You might be surprised by how many great keto options are at your disposal.
Grab Our Books!
In case you don't know we have authored two books for you, Essential Keto Bread and Essential Keto Desserts both inspired by your requests over the years. It's my prayer these keto cookbooks will help make keto a delicious breeze for you.
Join Our Jesus And Keto Movement
Looking for an online support system to help you stay the course on keto? As a family, we came to the keto diet looking at it from a Christian perspective. As believers, we live our lives supported by God's grace.
Be sure to request our FREE Jesus and Keto E-Book (First 7 Days) We hope it blesses you.
Fittoservegroup Keto App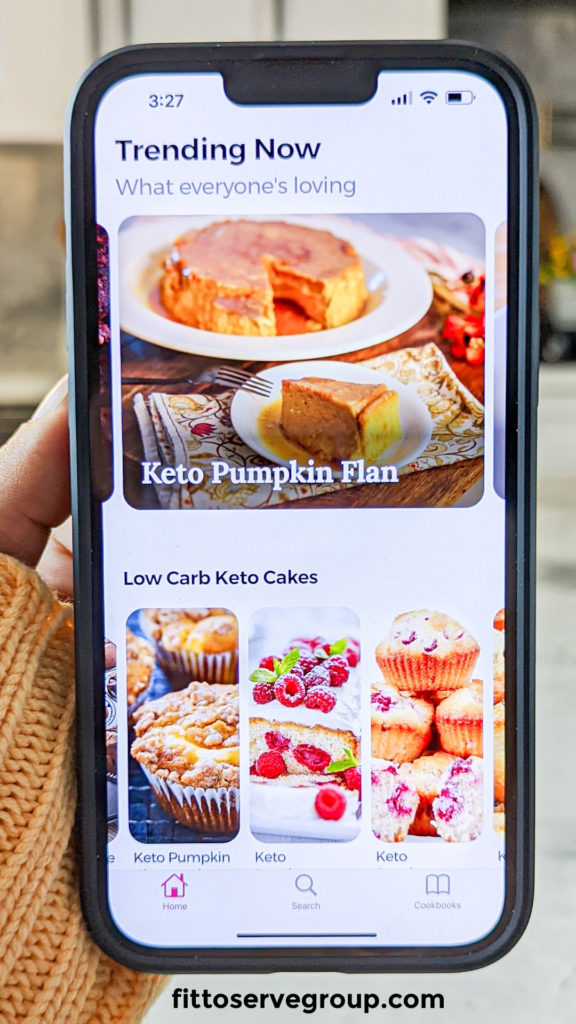 Fit To Serve Group App
Looking for a fast way to access our keto recipes? We got you covered. There's an app for that. Yup, there's a Fit To Serve Group App and it's going to make your keto diet a delicious breeze!
Access hundreds of recipes that are all sugar-free, gluten-free, and keto-friendly.
Enjoy early access to recipes before they go live on the website. Plus, bonus recipes that are exclusive to the app. Make your own personal cookbooks that you can use to organize your favorite recipes.
The app is loaded with hundreds of yummy recipes for breakfast, lunch, dinner, snacks, and even desserts!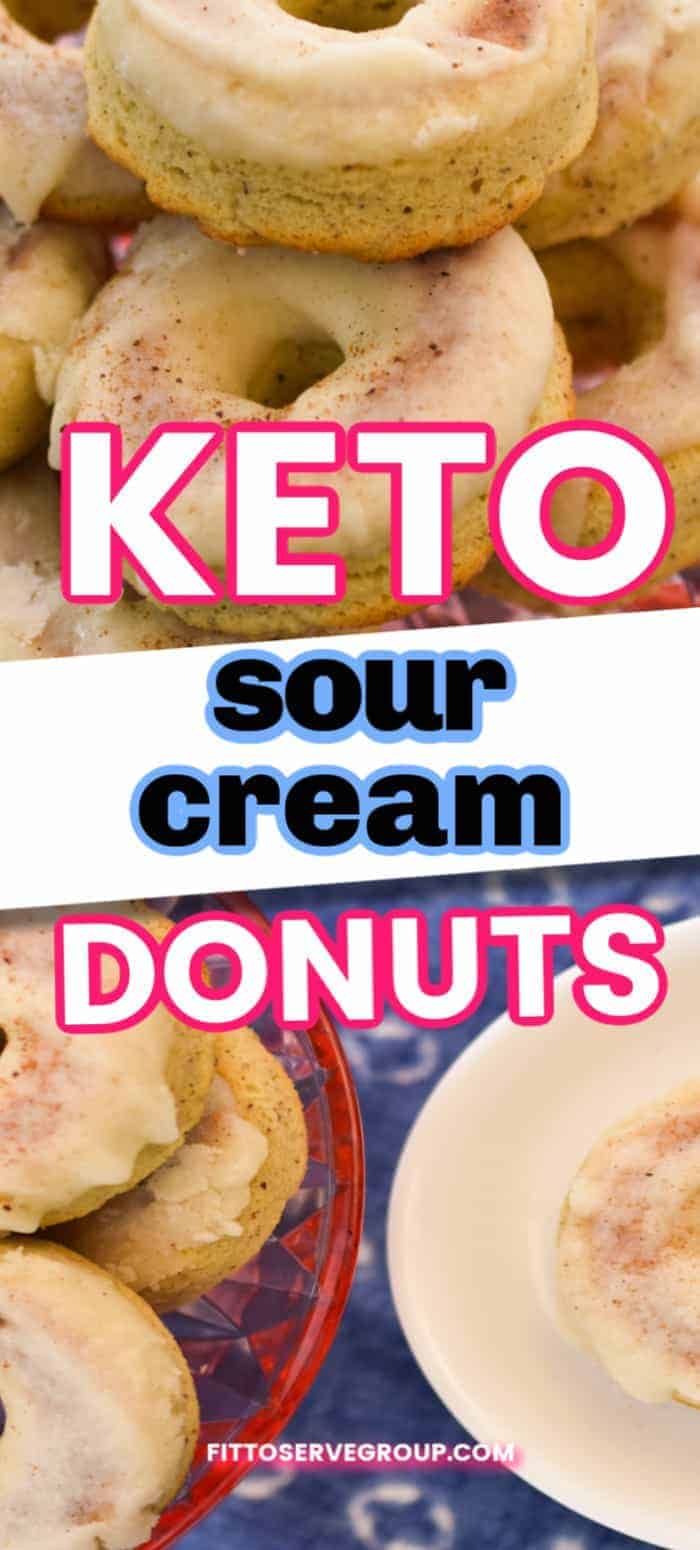 Pre-heat oven to 350 degrees.
Grease well two 6 cavity donut pans.
Melt 1/4 cup unsalted butter melted and set aside.
In a large mixing bowl combine the almond flour, coconut flour, sugar substitute, baking powder, nutmeg, and salt until well combined.
To the dry ingredients add the sour cream, melted butter, vanilla extract and the 3 eggs one at a time.
Mix the batter using an electric mixer until fully incorporated.
Pipe the batter into the two prepared donut pans with a pastry bag or a large ziplock bag that the corner has been cut. Pipe the batter into the donut pan cavities.
I lightly tapped the batter into the donut pans using my fingers.
Note that you will be filling the donut pans just to the rim because these donuts do not rise much.
Bake donuts for minutes for 25-30 minutes until donuts are fully cooked and you can insert a toothpick and it comes out clean.
Allow the Keto Donuts to fully cool at room temperature before taking them out of the mold.
Once the donuts are removed from the donut mold, place them on a baking rack and proceed to make the icing.
Keto Vanilla Icing
Melt the butter and add to a medium-sized bowl.
To the bowl the confectioners, sugar substitute, vanilla extract, sea salt, and nutmeg.
Mix well and then add the hot water. Start with 3 tablespoons and add the additional tablespoon if the consistency is too thick.
Quickly dip the donuts into the icing and set them on a baking rack to dry. The donuts will form a thin frosted shell on the surface.
Store Your Donuts
Once the donuts icing has set store them in the refrigerator in a sealed container for up to 5 days. You can place the donuts on top of each other since the icing hardens. You can also freeze your donuts by placing them in a freezer-proof container for up to 3 weeks.
Allow your donuts to come to room temperature for the best flavor.
1
Amount Per Serving:
26g 13.1g 4g
These rich keto chocolate donuts only have 3g net carbs in each one! Enjoy a low-carb chocolate donut for breakfast or a quick sweet snack in the afternoon.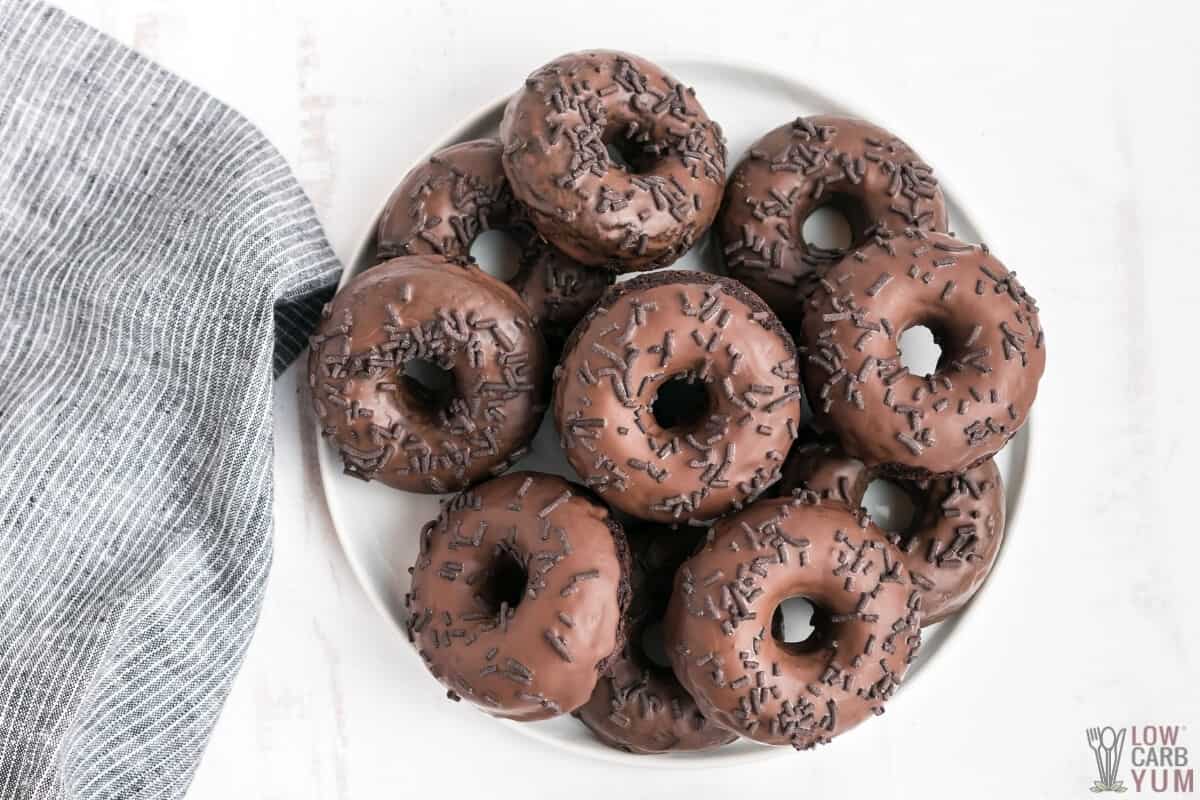 This post is sponsored by ChocZero.
Even the super dedicated keto dieters crave things like chocolate donuts, and who can blame them? There is something so pleasurable about biting into a chocolate cake donut with sprinkles!
For me, it reminds me of my childhood.
Did you ever go to a donut shop and pick out your favorite kind of donut? I sure did! My favorite one has always been chocolate cake donuts.
I really don't want to give up donuts just because I changed my eating habits. I knew there had to be a way to use keto-friendly ingredients to create donuts that taste just like the sugary versions.
After I finally was able to nail down my recipe for pancake mix donuts, I'm thrilled to tell you that I was able to come up with a chocolate donut recipe!
Each of these chocolate donuts with chocolate glaze only has 3g net carbs each.
Ingredients Needed For Keto Chocolate Donuts
I basically used low-carb swaps and they turned out perfect. All of the ingredients that I used are really easy to find. In fact, you probably already have them in your refrigerator or pantry!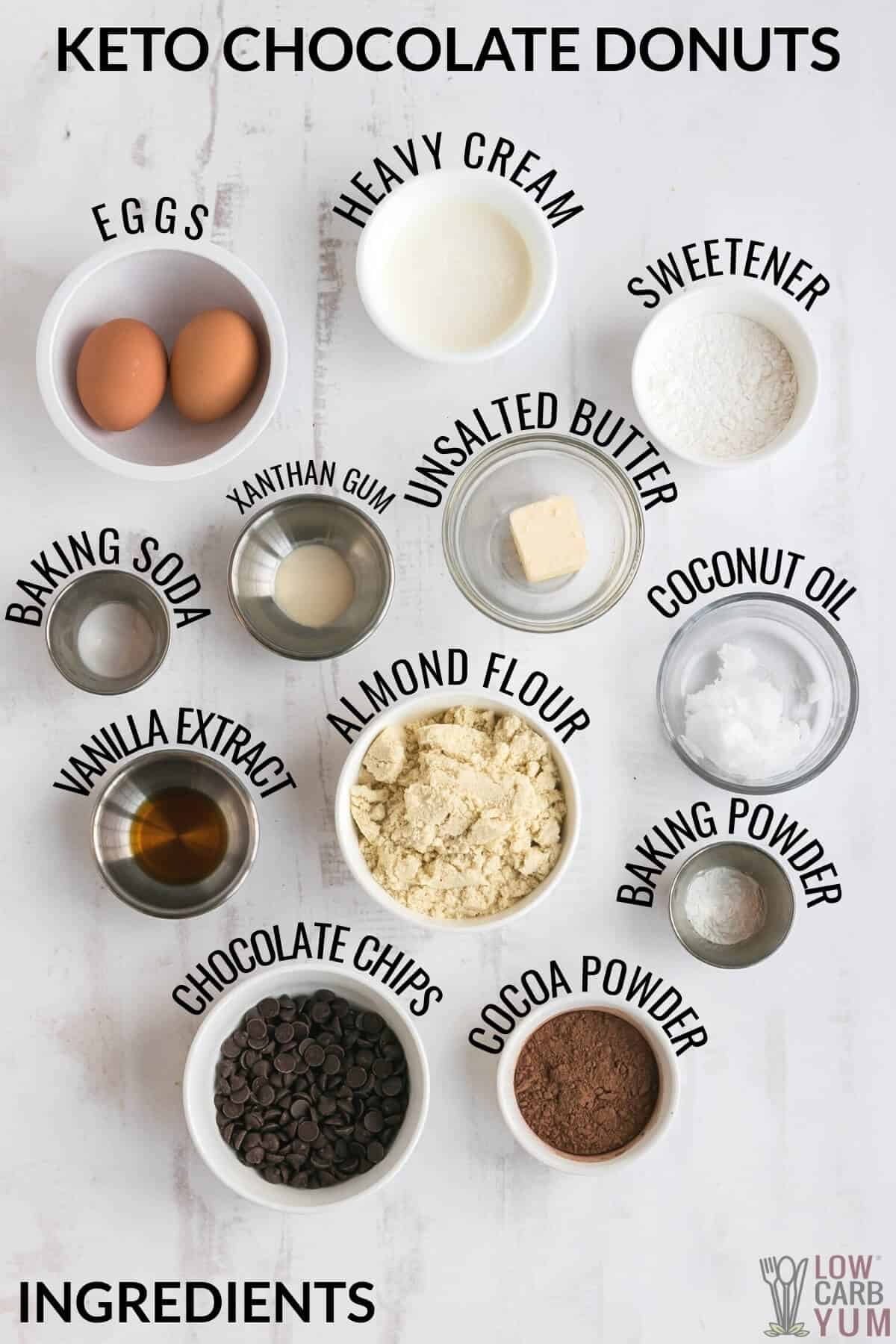 Low-Carb Flour
For these chocolate donuts, I used almond flour. Do not try to substitute coconut flour for it. If you do, it will turn out extra dry and crumbly.
For the almond flour, make sure you use almond flour, not almond meal. They are kept next to each other in the grocery store, but almond meal isn't ground up as fine and it grinds up the almond skins with it.
Almond flour has an extra-fine texture that is perfect for baked goods like these donuts.
When you bake with almond flour, always use xanthan gum with it. It acts like glue, keeping all the ingredients together.
Find out more info about all of the different types of low-carb flours in this helpful guide!
To make the chocolate donuts, you'll use unsweetened cocoa powder.
For the glaze, I melted some ChocZero milk chocolate baking chips with some coconut oil. Then, just dip the donuts into the melted chocolate. It's the perfect glaze!
Even though they are optional, I definitely recommend adding some keto chocolate sprinkles on top! Not only are they pretty, but they taste amazing too.
For the best texture, use a powdered sweetener. My favorite one is the Powdered Monkfruit Sweetener. It dissolves easily with almond flour and isn't overly sweet.
Heavy Whipping Cream
Make sure to use full-fat heavy cream; your body needs the fat to keep it in ketosis and fat-burning mode.
Please note: Check out the recipe card at the bottom for a full list of ingredients used to make this low carb recipe.
Quick Tips
Be creative with flavors. Mix in your favorite low-carb ingredients or use a sugar-free caramel drizzle.
Make a different glaze. For a change of glaze, use dark chocolate or white chocolate chips in place of the milk chocolate ones.
Leave out the milk chocolate chips. The ¼ cup milk chocolate chips can be omitted from the donut batter, but they enhance the chocolate flavor.
How To Make Keto Chocolate Donuts At Home
This is such an easy recipe. You literally just mix all the ingredients together in a large mixing bowl – everything except the chocolate chips.
Beat it all together really well so that it is combined completely.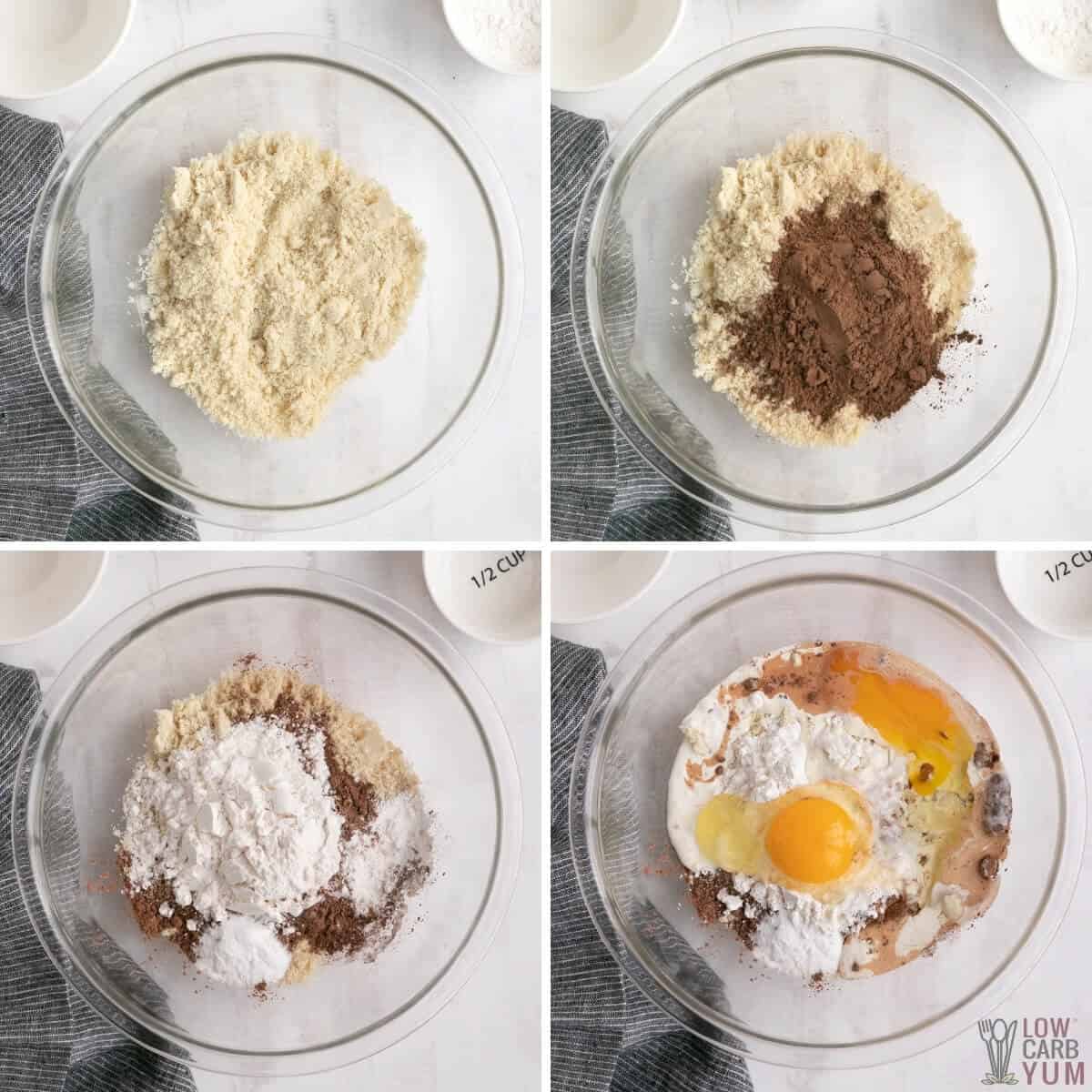 Fold In The Chocolate Chips
The last step before you bake is to fold in the chocolate chips. That means you very gently mix the chocolate chips into the batter. If you mix it together too much, the chocolate chips could melt a bit, so don't over mix.
Then, just fill the donut pan with the batter and bake them! I recommend using a piping bag to squeeze the batter into each mold.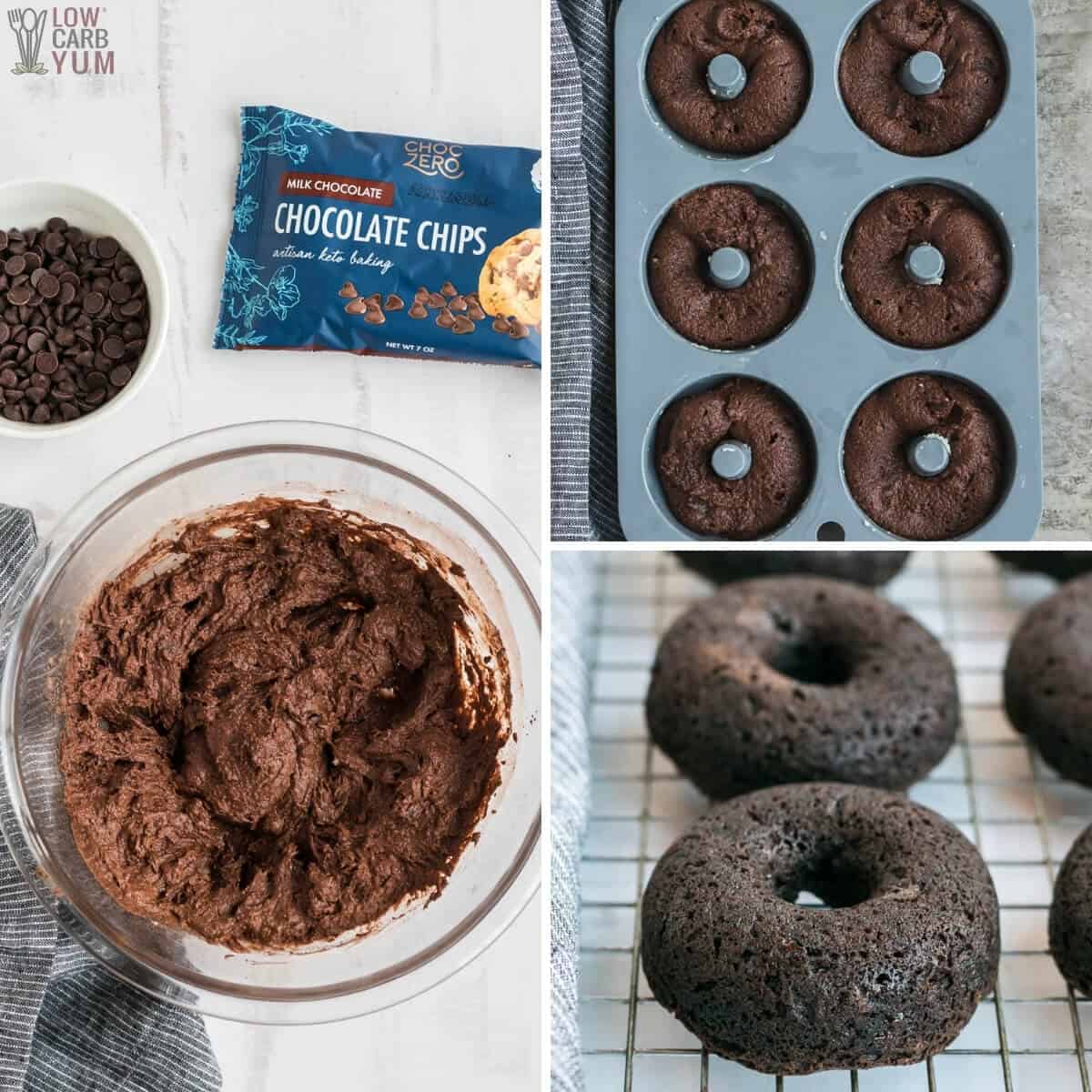 Glaze The Donuts
After the donuts are completely cooled off, make your chocolate glaze!
I melted the chocolate chips with some coconut oil. Then, just dipped the donuts into the chocolate glaze.
I recommend setting them on a cooling rack and let the glaze harden as it cools. If you want to add sprinkles, make sure to sprinkle them on as soon as you add the chocolate glaze. If you want to add the sprinkles after the glaze has hardened, they won't stick to the donut.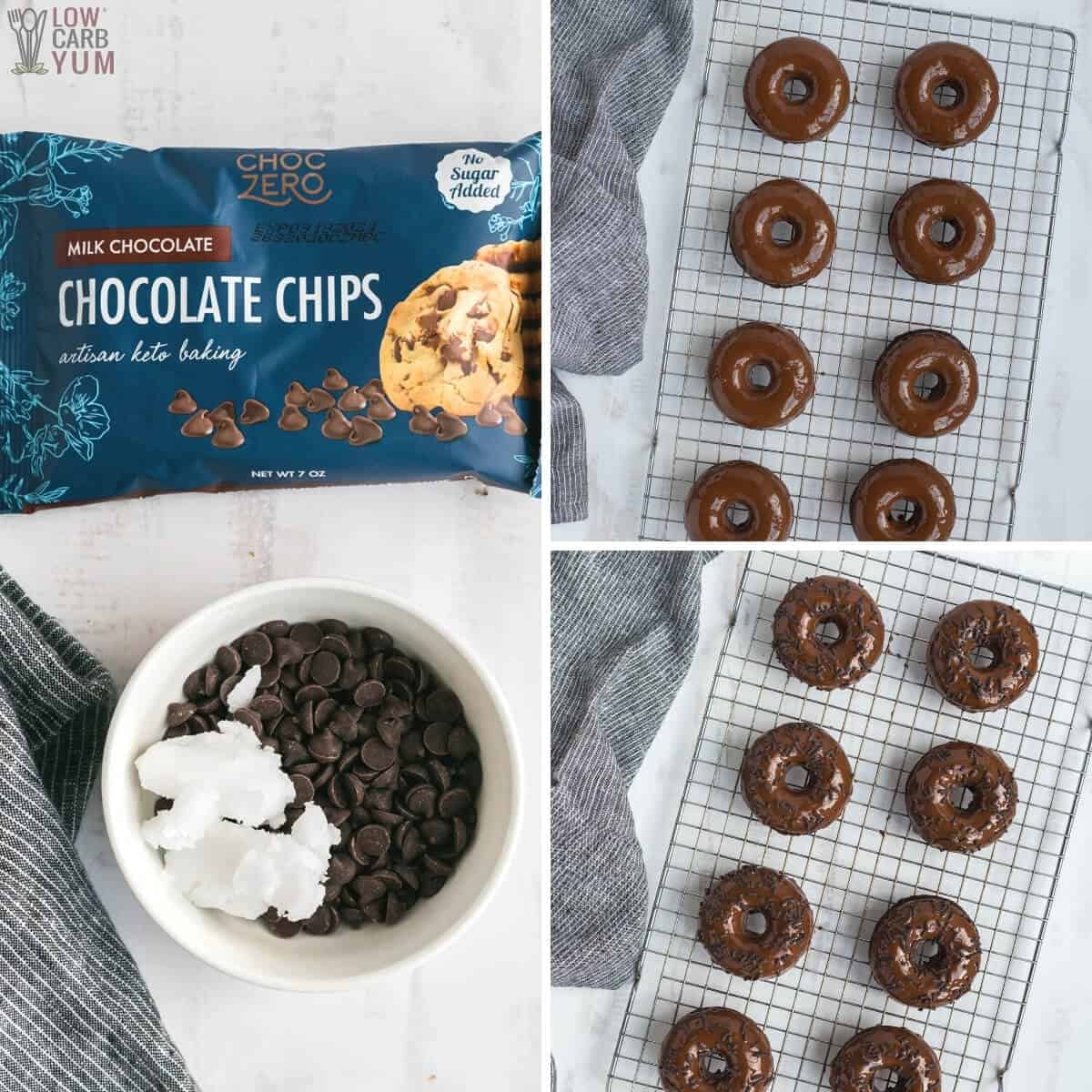 What To Serve With Keto Donuts
You could honestly enjoy them for breakfast. They taste amazing with a cup of hot bulletproof coffee or a mug full of sugar-free hot chocolate.
If you want something savory to eat with these sweet donuts, eat them with a bit of sausage, egg, and cheese casserole. You will have a very filling breakfast!
Frequently Asked Questions About Keto Cake Donuts
Here are some questions people often ask about low-carb baked donuts.
Is the chocolate glaze optional?
Yes, the chocolate glaze is optional. You can leave this step out and just eat the donuts without a glaze. Or, you can use a completely different type of glaze.
Melt some sugar-free white chocolate chips for a white chocolate glaze or dust the donuts with some powdered sweetener instead of a glaze.
How do you store low-carb donuts?
Just like with traditional donuts, you should store low-carb donuts in an airtight container at room temperature. The donuts will last about 5 days.
You can also put them in the fridge for 2 to 3 weeks. To keep longer, just freeze and place in an airtight container in the freezer for up to 5 months.
Can I use this recipe to make keto chocolate donut holes?
Yes, you can easily make donut holes too!
To make donut holes, just roll the batter into balls and then bake them in the oven for about 8-10 minutes. You will know they are done baking when a toothpick comes out clean.
Which Brand Of Chocolate Chips Are The Best?
I'm pretty picky when it comes to sugar-free chocolate chips. I want-sugar-free and carb-free but they still need to taste yummy.
My favorite brand of chocolate chips is from ChocZero! They have so many options when it comes to chocolate for baked goods. I highly recommend them.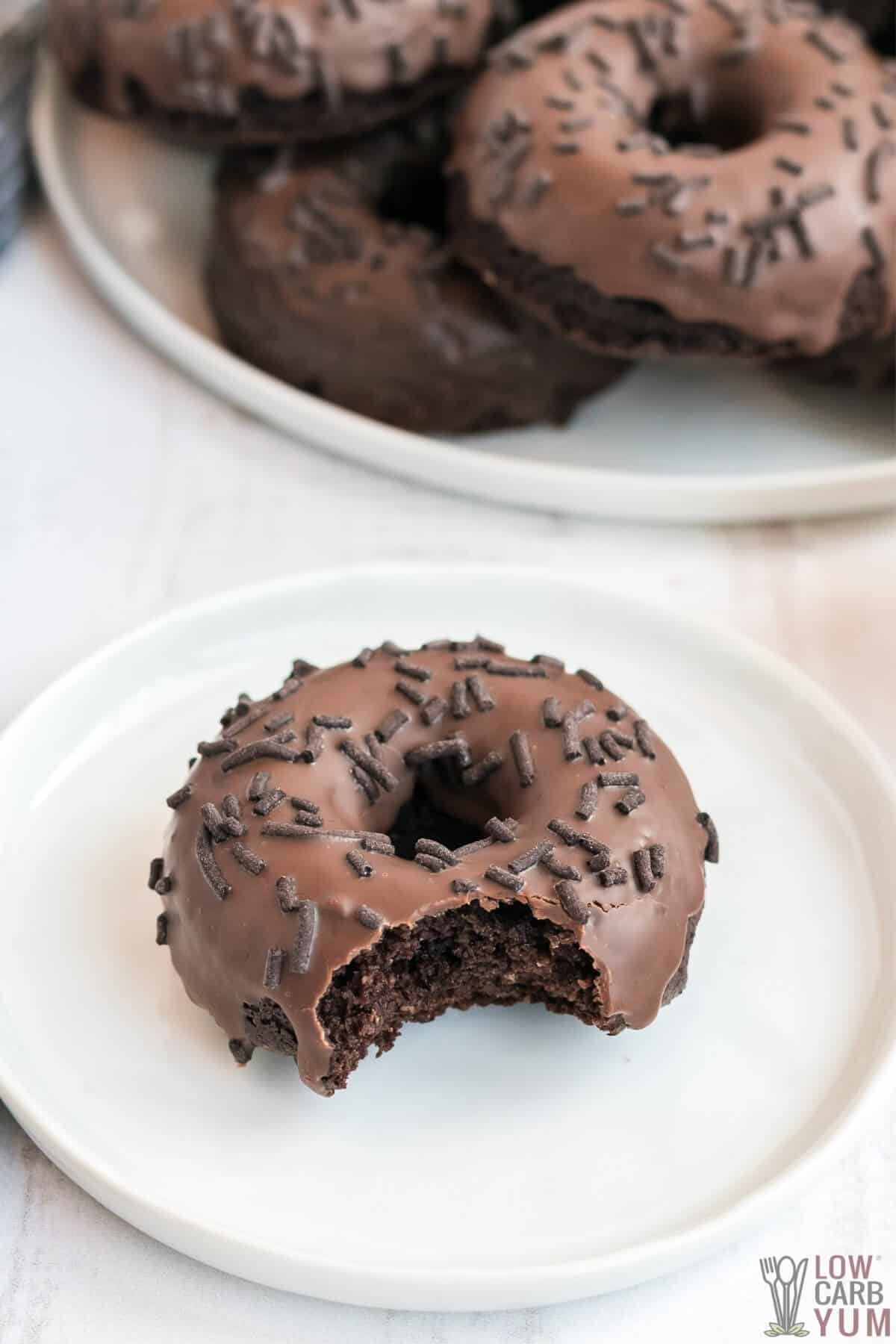 Yes, you can indulge in chocolate donuts even when you are on a low-carb diet. These donuts are a great alternative to double chocolate muffins.
More Low-Carb Chocolate Recipes
If you enjoyed these keto chocolate donuts, then you will love these low-carb desserts too! They are rich and satisfying.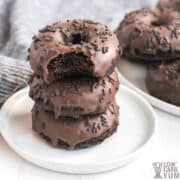 These rich keto chocolate donuts only have 3g net carbs in each one! Enjoy a low-carb chocolate donut for breakfast for a quick sweet snack in the afternoon.
Breakfast, Dessert, Snack
Diabetic, Gluten Free
Print
Pin
Review Recipe
Save Recipe
unsweetened cocoa powder
Powdered Monkfruit Sweetener
heavy whipping cream
ChocZero milk chocolate baking chips
keto chocolate sprinkles
Preheat the oven to 350 degrees.
In a mixing bowl, beat together the almond flour, cocoa powder, sugar substitute, xanthan gum, baking powder, baking soda, heavy whipping cream, eggs, vanilla and butter until well combined. Fold in ¼ cup chocolate chips.
Fill the sections of a well greased donut baking pan evenly with the batter.
Bake for 10-12 minutes until cooked through. Let the donuts cool.
Add remaining ½ cup baking chips and coconut oil to a microwave safe bowl and heat at 30 second intervals until completely melted and combined.
Dip the top of each donut into the melted chocolate, and place on a parchment lined baking sheet.
Place the baking sheet into the freezer for several minutes to set before serving.
The powdered sweetener used in the donut batter is 2x the sweetness of sugar. If desired, about ⅓ cup of Swerve or equivalent can be used in place of the 3 tablespoons monkfruit powdered sweetener.
For a change of glaze, use dark chocolate or white chocolate chips in place of the milk chocolate ones.
The ¼ cup milk chocolate chips can be omitted from the donut batter but they enhance the chocolate flavor.
Leftovers should be placed in an airtight container. They can be stored at room temperature for up to 5 days, refrigerated up to 3 weeks, or in the freezer for up to 5 months.
Notes on Nutritional Information
Nutritional information for the recipe is provided as a courtesy and is approximate only. We cannot guarantee the accuracy of the nutritional information given for any recipe on this site. Erythritol carbs are not included in carb counts as it has been shown not to impact blood sugar. Net carbs are the total carbs minus fiber.